𝐑𝐮𝐥𝐢𝐧𝐠 𝐨𝐧 𝐑𝐞𝐣𝐞𝐜𝐭𝐢𝐧𝐠 𝐚 𝐯𝐞𝐫𝐬𝐞 𝐢𝐧 𝐭𝐡𝐞 𝐐𝐮𝐫𝐚𝐧 𝐨𝐫 𝐑𝐞𝐣𝐞𝐜𝐭𝐬 𝐚𝐧 𝐀𝐮𝐭𝐡𝐞𝐧𝐭𝐢𝐜 𝐡𝐚𝐝𝐢𝐭𝐡

Mohamad Mostafa Nassar
Twitter:@NassarMohamadMR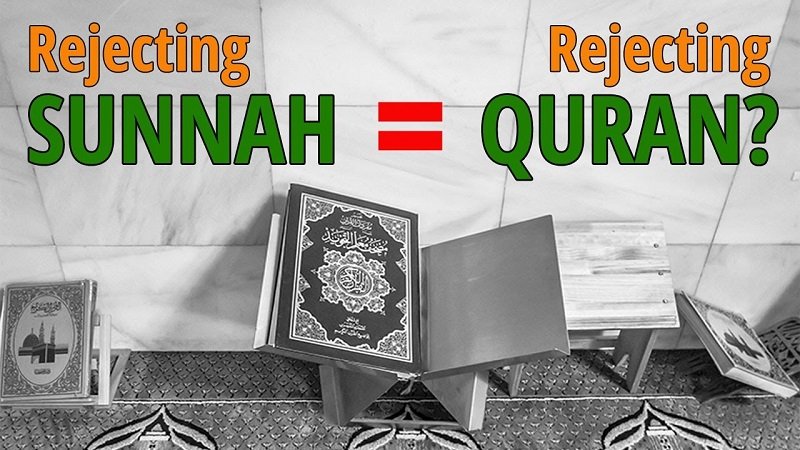 𝐑𝐮𝐥𝐢𝐧𝐠 𝐨𝐧 𝐑𝐞𝐣𝐞𝐜𝐭𝐢𝐧𝐠 𝐚 𝐯𝐞𝐫𝐬𝐞 𝐢𝐧 𝐭𝐡𝐞 𝐐𝐮𝐫𝐚𝐧
𝐐𝐮𝐞𝐬𝐭𝐢𝐨𝐧
𝐈𝐭 𝐢𝐬 𝐜𝐨𝐧𝐬𝐢𝐝𝐞𝐫𝐞𝐝 𝐤𝐮𝐟𝐫 𝐭𝐨 𝐫𝐞𝐣𝐞𝐜𝐭 𝐚𝐧 𝐚𝐲𝐚𝐡 𝐨𝐟 𝐭𝐡𝐞 𝐐𝐮𝐫𝐚𝐧. 𝐈 𝐰𝐚𝐧𝐭𝐞𝐝 𝐭𝐨 𝐤𝐧𝐨𝐰 𝐡𝐨𝐰 𝐭𝐡𝐞𝐫𝐞 𝐜𝐨𝐮𝐥𝐝 𝐛𝐞 𝐚 𝐝𝐢𝐟𝐟𝐞𝐫𝐞𝐧𝐜𝐞 𝐨𝐟 𝐨𝐩𝐢𝐧𝐢𝐨𝐧 𝐨𝐧 𝐰𝐡𝐞𝐭𝐡𝐞𝐫 𝐁𝐢𝐬𝐦𝐢𝐥𝐥𝐚𝐡 𝐢𝐬 𝐩𝐚𝐫𝐭 𝐨𝐟 𝐭𝐡𝐞 𝐐𝐮𝐫𝐚𝐧 𝐰𝐡𝐞𝐫𝐞𝐯𝐞𝐫 𝐢𝐭 𝐢𝐬 𝐰𝐫𝐢𝐭𝐭𝐞𝐧 𝐢𝐧 𝐭𝐡𝐞 𝐦𝐮𝐬𝐡𝐚𝐟.
𝐒𝐨𝐦𝐞 𝐬𝐜𝐡𝐨𝐥𝐚𝐫𝐬 𝐬𝐚𝐲 𝐢𝐭 𝐢𝐬 𝐚𝐧 𝐢𝐧𝐝𝐞𝐩𝐞𝐧𝐝𝐞𝐧𝐭 𝐯𝐞𝐫𝐬𝐞 𝐛𝐞𝐟𝐨𝐫𝐞 𝐞𝐯𝐞𝐫𝐲 𝐬𝐮𝐫𝐚𝐡 𝐧𝐨𝐭 𝐩𝐚𝐫𝐭 𝐨𝐟 𝐭𝐡𝐞 𝐬𝐮𝐫𝐚𝐡, 𝐬𝐨𝐦𝐞 𝐬𝐚𝐲 𝐢𝐭 𝐢𝐬 𝐩𝐚𝐫𝐭 𝐨𝐟 𝐭𝐡𝐞 𝐬𝐮𝐫𝐚𝐡, 𝐬𝐨𝐦𝐞 𝐬𝐚𝐲 𝐢𝐭 𝐢𝐬 𝐧𝐨𝐭 𝐩𝐚𝐫𝐭 𝐨𝐟 𝐭𝐡𝐞 𝐐𝐮𝐫𝐚𝐧, 𝐞𝐭𝐜.
𝐈 𝐰𝐚𝐬 𝐰𝐨𝐧𝐝𝐞𝐫𝐢𝐧𝐠 𝐢𝐟 𝐰𝐞 𝐜𝐨𝐮𝐥𝐝 𝐜𝐨𝐧𝐬𝐢𝐝𝐞𝐫 𝐢𝐭 𝐭𝐨 𝐛𝐞 "𝐧𝐨𝐭 𝐤𝐮𝐟𝐫" 𝐟𝐨𝐫 𝐫𝐞𝐣𝐞𝐜𝐭𝐢𝐧𝐠 𝐚𝐧 𝐚𝐲𝐚𝐡 𝐨𝐟 𝐭𝐡𝐞 𝐐𝐮𝐫𝐚𝐧 𝐝𝐮𝐞 𝐭𝐨 𝐭𝐡𝐞 𝐟𝐚𝐜𝐭 𝐭𝐡𝐚𝐭 𝐬𝐨𝐦𝐞 𝐬𝐜𝐡𝐨𝐥𝐚𝐫𝐬 𝐫𝐞𝐣𝐞𝐜𝐭 𝐛𝐢𝐬𝐦𝐢𝐥𝐥𝐚𝐡 𝐚𝐬 𝐩𝐚𝐫𝐭 𝐨𝐟 𝐭𝐡𝐞 𝐐𝐮𝐫𝐚𝐧?
𝐈𝐟 𝐢𝐭 𝐢𝐬 𝐬𝐭𝐢𝐥𝐥 𝐤𝐮𝐟𝐫 𝐭𝐨 𝐫𝐞𝐣𝐞𝐜𝐭 𝐚𝐧 𝐚𝐲𝐚𝐡 𝐨𝐟 𝐭𝐡𝐞 𝐐𝐮𝐫𝐚𝐧, 𝐭𝐡𝐞𝐧 𝐝𝐨𝐞𝐬 𝐢𝐭 𝐝𝐞𝐩𝐞𝐧𝐝 𝐨𝐧 𝐭𝐡𝐞 𝐚𝐲𝐚𝐡 𝐲𝐨𝐮'𝐫𝐞 𝐭𝐚𝐥𝐤𝐢𝐧𝐠 𝐚𝐛𝐨𝐮𝐭? 𝐈 𝐭𝐡𝐨𝐮𝐠𝐡𝐭 𝐚𝐥𝐥 𝐚𝐲𝐚𝐭=𝐯𝐞𝐫𝐬𝐞𝐬 𝐚𝐫𝐞 𝐰𝐨𝐫𝐝𝐬 𝐨𝐟 𝐀𝐥𝐥𝐚𝐡 𝐚𝐧𝐝 𝐜𝐚𝐧'𝐭 𝐛𝐞 𝐫𝐞𝐣𝐞𝐜𝐭𝐞𝐝.
𝐀𝐧𝐝 𝐩𝐥𝐞𝐚𝐬𝐞 𝐥𝐞𝐭 𝐦𝐞 𝐤𝐧𝐨𝐰 𝐢𝐟 𝐢𝐭 𝐜𝐚𝐧 𝐛𝐞 𝐬𝐚𝐢𝐝 𝐭𝐡𝐚𝐭 𝐭𝐡𝐞𝐫𝐞 𝐢𝐬 𝐚 𝐝𝐢𝐟𝐟𝐞𝐫𝐞𝐧𝐜𝐞 𝐨𝐟 𝐨𝐩𝐢𝐧𝐢𝐨𝐧 𝐨𝐧 𝐭𝐡𝐞 𝐢𝐬𝐬𝐮𝐞 𝐨𝐟 𝐝𝐞𝐜𝐥𝐚𝐫𝐢𝐧𝐠 𝐬𝐨𝐦𝐞𝐨𝐧𝐞 𝐚 𝐤𝐚𝐟𝐢𝐫 𝐟𝐨𝐫 𝐫𝐞𝐣𝐞𝐜𝐭𝐢𝐧𝐠 𝐚 𝐯𝐞𝐫𝐬𝐞, 𝐨𝐫 𝐢𝐟 𝐈 𝐚𝐦 𝐫𝐞𝐪𝐮𝐢𝐫𝐞𝐝 𝐭𝐨 𝐝𝐞𝐜𝐥𝐚𝐫𝐞 𝐡𝐢𝐦 𝐚 𝐤𝐚𝐟𝐢𝐫 (𝐬𝐢𝐧𝐜𝐞 𝐬𝐜𝐡𝐨𝐥𝐚𝐫𝐬 𝐬𝐚𝐲 𝐝𝐨𝐮𝐛𝐭𝐢𝐧𝐠 𝐭𝐡𝐞 𝐤𝐮𝐟𝐫 𝐨𝐟 𝐬𝐨𝐦𝐞𝐨𝐧𝐞 𝐜𝐨𝐦𝐦𝐢𝐭𝐭𝐞𝐝 𝐨𝐩𝐞𝐧 𝐤𝐮𝐟𝐫 𝐡𝐚𝐬 𝐜𝐨𝐦𝐦𝐢𝐭𝐭𝐞𝐝 𝐤𝐮𝐟𝐫 𝐡𝐢𝐦𝐬𝐞𝐥𝐟). —𝐓𝐡𝐚𝐧𝐤 𝐲𝐨𝐮
𝐀𝐧𝐬𝐰𝐞𝐫
𝐀𝐥𝐥 𝐩𝐞𝐫𝐟𝐞𝐜𝐭 𝐩𝐫𝐚𝐢𝐬𝐞 𝐛𝐞 𝐭𝐨 𝐀𝐥𝐥𝐚𝐡, 𝐓𝐡𝐞 𝐋𝐨𝐫𝐝 𝐨𝐟 𝐭𝐡𝐞 𝐖𝐨𝐫𝐥𝐝𝐬. 𝐈 𝐭𝐞𝐬𝐭𝐢𝐟𝐲 𝐭𝐡𝐚𝐭 𝐭𝐡𝐞𝐫𝐞 𝐢𝐬 𝐧𝐨𝐧𝐞 𝐰𝐨𝐫𝐭𝐡𝐲 𝐨𝐟 𝐰𝐨𝐫𝐬𝐡𝐢𝐩 𝐞𝐱𝐜𝐞𝐩𝐭 𝐀𝐥𝐥𝐚𝐡, 𝐚𝐧𝐝 𝐭𝐡𝐚𝐭 𝐌𝐮𝐡𝐚𝐦𝐦𝐚𝐝 𝐩𝐞𝐚𝐜𝐞 𝐛𝐞 𝐮𝐩𝐨𝐧 𝐡𝐢𝐦 𝐢𝐬 𝐇𝐢𝐬 𝐒𝐥𝐚𝐯𝐞 𝐚𝐧𝐝 𝐌𝐞𝐬𝐬𝐞𝐧𝐠𝐞𝐫.
𝐖𝐡𝐨𝐞𝐯𝐞𝐫 𝐫𝐞𝐣𝐞𝐜𝐭𝐬 𝐚 𝐯𝐞𝐫𝐬𝐞 𝐟𝐫𝐨𝐦 𝐭𝐡𝐞 𝐐𝐮𝐫𝐚𝐧 – 𝐚𝐟𝐭𝐞𝐫 𝐤𝐧𝐨𝐰𝐢𝐧𝐠 𝐭𝐡𝐚𝐭 𝐢𝐭 𝐢𝐬 𝐜𝐨𝐧𝐟𝐢𝐫𝐦𝐞𝐝 𝐢𝐧 𝐭𝐡𝐞 𝐌𝐮𝐬-𝐡𝐚𝐟 𝐨𝐫 𝐚𝐟𝐭𝐞𝐫 𝐭𝐫𝐮𝐬𝐭𝐰𝐨𝐫𝐭𝐡𝐲 𝐩𝐞𝐨𝐩𝐥𝐞 𝐢𝐧𝐟𝐨𝐫𝐦𝐞𝐝 𝐡𝐢𝐦 𝐭𝐡𝐚𝐭 𝐢𝐭 𝐢𝐬 𝐟𝐫𝐨𝐦 𝐭𝐡𝐞 𝐐𝐮𝐫𝐚𝐧 – 𝐭𝐡𝐞𝐧 𝐡𝐞 𝐢𝐬 𝐜𝐨𝐧𝐬𝐢𝐝𝐞𝐫𝐞𝐝 𝐭𝐨 𝐛𝐞 𝐚 𝐊𝐚𝐚𝐟𝐢𝐫 (𝐧𝐨𝐧-𝐌𝐮𝐬𝐥𝐢𝐦) 𝐚𝐬 𝐀𝐥𝐥𝐚𝐡 𝐜𝐨𝐦𝐦𝐚𝐧𝐝𝐞𝐝 𝐮𝐬 𝐭𝐨 𝐛𝐞𝐥𝐢𝐞𝐯𝐞 𝐢𝐧 𝐭𝐡𝐞 𝐞𝐧𝐭𝐢𝐫𝐞 𝐐𝐮𝐫𝐚𝐧; 𝐬𝐨, 𝐰𝐡𝐨𝐞𝐯𝐞𝐫 𝐝𝐞𝐧𝐢𝐞𝐬 𝐬𝐨𝐦𝐞𝐭𝐡𝐢𝐧𝐠 𝐟𝐫𝐨𝐦 𝐭𝐡𝐞 𝐐𝐮𝐫𝐚𝐧, 𝐡𝐞 𝐝𝐨𝐞𝐬 𝐧𝐨𝐭 𝐛𝐞𝐥𝐢𝐞𝐯𝐞 𝐢𝐧 𝐢𝐭.
𝐀 𝐠𝐫𝐨𝐮𝐩 𝐨𝐟 𝐬𝐜𝐡𝐨𝐥𝐚𝐫𝐬, 𝐚𝐦𝐨𝐧𝐠 𝐰𝐡𝐨𝐦 𝐚𝐫𝐞 𝐀𝐥-𝐐𝐚𝐚𝐝𝐡𝐢 𝐈𝐲𝐚𝐚𝐝𝐡 𝐚𝐧𝐝 𝐈𝐛𝐧 𝐐𝐮𝐝𝐚𝐚𝐦𝐚𝐡 𝐦𝐚𝐲 𝐀𝐥𝐥𝐚𝐡 𝐛𝐞 𝐩𝐥𝐞𝐚𝐬𝐞𝐝 𝐰𝐢𝐭𝐡 𝐡𝐢𝐦 𝐫𝐞𝐩𝐨𝐫𝐭𝐞𝐝 𝐚 𝐜𝐨𝐧𝐬𝐞𝐧𝐬𝐮𝐬 𝐟𝐫𝐨𝐦 𝐭𝐡𝐞 𝐬𝐜𝐡𝐨𝐥𝐚𝐫𝐬 𝐭𝐡𝐚𝐭 𝐰𝐡𝐨𝐞𝐯𝐞𝐫 𝐫𝐞𝐣𝐞𝐜𝐭𝐬 𝐚 𝐯𝐞𝐫𝐬𝐞 𝐟𝐫𝐨𝐦 𝐭𝐡𝐞 𝐐𝐮𝐫𝐚𝐧, 𝐡𝐞 𝐢𝐬 𝐚 𝐊𝐚𝐚𝐟𝐢𝐫 (𝐝𝐢𝐬𝐛𝐞𝐥𝐢𝐞𝐯𝐞𝐫),
𝐓𝐡𝐢𝐬 𝐢𝐧𝐜𝐥𝐮𝐝𝐞𝐬 𝐭𝐡𝐞 𝐁𝐚𝐬𝐦𝐚𝐥𝐚𝐡 [𝐢.𝐞. 𝐬𝐚𝐲𝐢𝐧𝐠: 𝐁𝐢𝐬𝐦𝐢𝐥𝐥𝐚𝐚𝐡 𝐀𝐫-𝐑𝐚𝐡𝐦𝐚𝐚𝐧 𝐀𝐫-𝐑𝐚𝐡𝐞𝐞𝐦 (𝐢𝐧 𝐭𝐡𝐞 𝐍𝐚𝐦𝐞 𝐨𝐟 𝐀𝐥𝐥𝐚𝐡, 𝐓𝐡𝐞 𝐌𝐨𝐬𝐭 𝐆𝐫𝐚𝐜𝐢𝐨𝐮𝐬, 𝐓𝐡𝐞 𝐌𝐨𝐬𝐭 𝐌𝐞𝐫𝐜𝐢𝐟𝐮𝐥)] 𝐰𝐡𝐢𝐜𝐡 𝐢𝐬 𝐩𝐚𝐫𝐭 𝐨𝐟 𝐚 𝐯𝐞𝐫𝐬𝐞 𝐢𝐧 𝐬𝐮𝐫𝐚𝐡 𝐀𝐧-𝐍𝐚𝐦𝐥 [𝐐𝐮𝐫𝐚𝐧 𝟐𝟕], 𝐚𝐬 𝐭𝐡𝐞𝐫𝐞 𝐢𝐬 𝐚 𝐜𝐨𝐧𝐬𝐞𝐧𝐬𝐮𝐬 𝐨𝐧 𝐭𝐡𝐢𝐬 𝐦𝐚𝐭𝐭𝐞𝐫 𝐚𝐬 𝐰𝐞𝐥𝐥.
𝐀𝐬 𝐫𝐞𝐠𝐚𝐫𝐝𝐬 𝐬𝐨𝐦𝐞𝐭𝐡𝐢𝐧𝐠 𝐰𝐡𝐞𝐫𝐞 𝐭𝐡𝐞𝐫𝐞 𝐢𝐬 𝐝𝐢𝐟𝐟𝐞𝐫𝐞𝐧𝐜𝐞 𝐨𝐟 𝐨𝐩𝐢𝐧𝐢𝐨𝐧, 𝐭𝐡𝐞𝐧 𝐨𝐧𝐞 𝐝𝐨𝐞𝐬 𝐧𝐨𝐭 𝐛𝐞𝐜𝐨𝐦𝐞 𝐚 𝐊𝐚𝐚𝐟𝐢𝐫 (𝐝𝐢𝐬𝐛𝐞𝐥𝐢𝐞𝐯𝐞𝐫), 𝐢𝐟 𝐡𝐞 𝐝𝐞𝐧𝐢𝐞𝐬 𝐭𝐡𝐚𝐭 𝐢𝐭 𝐢𝐬 𝐟𝐫𝐨𝐦 𝐭𝐡𝐞 𝐐𝐮𝐫𝐚𝐧, 𝐥𝐢𝐤𝐞 𝐝𝐞𝐧𝐲𝐢𝐧𝐠 𝐭𝐡𝐚𝐭 𝐢𝐭 (𝐭𝐡𝐞 𝐁𝐚𝐬𝐦𝐚𝐥𝐚𝐡) 𝐢𝐬 𝐩𝐚𝐫𝐭 𝐨𝐟 𝐭𝐡𝐞 𝐯𝐞𝐫𝐬𝐞 𝐢𝐧 𝐬𝐮𝐫𝐚𝐡 𝐀𝐥-𝐅𝐚𝐚𝐭𝐢𝐡𝐚𝐡, 𝐨𝐫 𝐭𝐡𝐚𝐭 𝐢𝐭 𝐢𝐬 𝐚 𝐯𝐞𝐫𝐬𝐞 𝐚𝐭 𝐭𝐡𝐞 𝐛𝐞𝐠𝐢𝐧𝐧𝐢𝐧𝐠 𝐨𝐟 𝐞𝐯𝐞𝐫𝐲 𝐒𝐨𝐨𝐫𝐚𝐡, 𝐚𝐬 𝐭𝐡𝐞𝐫𝐞 𝐢𝐬 𝐚 𝐝𝐢𝐟𝐟𝐞𝐫𝐞𝐧𝐜𝐞 𝐨𝐟 𝐨𝐩𝐢𝐧𝐢𝐨𝐧 𝐨𝐧 𝐢𝐭. 𝐈𝐛𝐧 𝐀𝐥-𝐀𝐫𝐚𝐛𝐢 𝐦𝐚𝐲 𝐀𝐥𝐥𝐚𝐡 𝐛𝐞 𝐩𝐥𝐞𝐚𝐬𝐞𝐝 𝐰𝐢𝐭𝐡 𝐡𝐢𝐦 𝐬𝐚𝐢𝐝:
"𝐈𝐟 𝐬𝐨𝐦𝐞𝐨𝐧𝐞 𝐬𝐚𝐲𝐬 𝐢𝐭 (𝐭𝐡𝐞 𝐁𝐚𝐬𝐦𝐚𝐥𝐚𝐡) 𝐢𝐬 𝐧𝐨𝐭 𝐚 𝐯𝐞𝐫𝐬𝐞 𝐚𝐭 𝐭𝐡𝐞 𝐛𝐞𝐠𝐢𝐧𝐧𝐢𝐧𝐠 𝐨𝐟 𝐞𝐯𝐞𝐫𝐲 𝐬𝐮𝐫𝐚𝐡, 𝐡𝐞 𝐝𝐨𝐞𝐬 𝐧𝐨𝐭 𝐛𝐞𝐜𝐨𝐦𝐞 𝐚 𝐊𝐚𝐚𝐟𝐢𝐫 (𝐝𝐢𝐬𝐛𝐞𝐥𝐢𝐞𝐯𝐞𝐫), 𝐚𝐬 𝐭𝐡𝐢𝐬 𝐢𝐬 𝐚 𝐦𝐚𝐭𝐭𝐞𝐫 𝐨𝐟 𝐝𝐢𝐟𝐟𝐞𝐫𝐞𝐧𝐜𝐞 𝐨𝐟 𝐨𝐩𝐢𝐧𝐢𝐨𝐧, 𝐛𝐮𝐭 𝐢𝐟 𝐬𝐨𝐦𝐞𝐨𝐧𝐞 𝐬𝐚𝐲𝐬 𝐭𝐡𝐚𝐭 𝐢𝐭 𝐢𝐬 𝐧𝐨𝐭 𝐟𝐫𝐨𝐦 𝐭𝐡𝐞 𝐐𝐮𝐫𝐚𝐧, 𝐭𝐡𝐞𝐧 𝐡𝐞 𝐛𝐞𝐜𝐨𝐦𝐞𝐬 𝐚 𝐊𝐚𝐚𝐟𝐢𝐫 (𝐝𝐢𝐬𝐛𝐞𝐥𝐢𝐞𝐯𝐞𝐫), 𝐚𝐬 𝐢𝐭 𝐢𝐬 𝐟𝐨𝐮𝐧𝐝 𝐢𝐧 𝐭𝐡𝐞 𝐯𝐞𝐫𝐬𝐞 𝐨𝐟 𝐒𝐮𝐫𝐚𝐡 𝐀𝐧-𝐍𝐚𝐦𝐥 [𝐐𝐮𝐫𝐚𝐧 𝟐𝟕]"
𝐀𝐬 𝐫𝐞𝐠𝐚𝐫𝐝𝐬 𝐭𝐡𝐞 𝐬𝐭𝐚𝐭𝐞𝐦𝐞𝐧𝐭 𝐨𝐟 𝐭𝐡𝐞 𝐬𝐜𝐡𝐨𝐥𝐚𝐫𝐬 𝐭𝐡𝐚𝐭 𝐢𝐟 𝐬𝐨𝐦𝐞𝐨𝐧𝐞 𝐝𝐨𝐮𝐛𝐭𝐬 𝐭𝐡𝐞 𝐊𝐮𝐟𝐫 (𝐝𝐢𝐬𝐛𝐞𝐥𝐢𝐞𝐟) 𝐨𝐟 𝐚 𝐊𝐚𝐚𝐟𝐢𝐫 (𝐝𝐢𝐬𝐛𝐞𝐥𝐢𝐞𝐯𝐞𝐫), 𝐡𝐞 𝐛𝐞𝐜𝐨𝐦𝐞𝐬 𝐚 𝐊𝐚𝐚𝐟𝐢𝐫 (𝐝𝐢𝐬𝐛𝐞𝐥𝐢𝐞𝐯𝐞𝐫), 𝐡𝐢𝐦𝐬𝐞𝐥𝐟, 𝐭𝐡𝐞𝐧 𝐭𝐡𝐢𝐬 𝐢𝐬 𝐢𝐧 𝐫𝐞𝐠𝐚𝐫𝐝 𝐭𝐨 𝐭𝐡𝐨𝐬𝐞 𝐰𝐡𝐨 𝐚𝐫𝐞 𝐝𝐞𝐟𝐢𝐧𝐢𝐭𝐞𝐥𝐲 𝐝𝐢𝐬𝐛𝐞𝐥𝐢𝐞𝐯𝐞𝐫𝐬 𝐥𝐢𝐤𝐞 𝐭𝐡𝐞 𝐉𝐞𝐰𝐬 𝐚𝐧𝐝 𝐭𝐡𝐞 𝐂𝐡𝐫𝐢𝐬𝐭𝐢𝐚𝐧𝐬 𝐨𝐫 𝐨𝐭𝐡𝐞𝐫𝐬.
𝐊𝐚𝐬𝐡𝐬𝐡𝐚𝐚𝐟 𝐀𝐥-𝐐𝐢𝐧𝐚𝐚', 𝐚𝐮𝐭𝐡𝐨𝐫𝐞𝐝 𝐛𝐲 𝐀𝐥-𝐁𝐮𝐡𝐨𝐨𝐭𝐢 𝐟𝐫𝐨𝐦 𝐭𝐡𝐞 𝐇𝐚𝐧𝐛𝐚𝐥𝐢 𝐒𝐜𝐡𝐨𝐨𝐥 𝐨𝐟 𝐣𝐮𝐫𝐢𝐬𝐩𝐫𝐮𝐝𝐞𝐧𝐜𝐞, 𝐫𝐞𝐚𝐝𝐬: "𝐖𝐡𝐨𝐞𝐯𝐞𝐫 𝐝𝐨𝐞𝐬 𝐧𝐨𝐭 𝐝𝐞𝐜𝐥𝐚𝐫𝐞 𝐚𝐬 𝐚 𝐊𝐚𝐚𝐟𝐢𝐫 (𝐝𝐢𝐬𝐛𝐞𝐥𝐢𝐞𝐯𝐞𝐫), 𝐬𝐨𝐦𝐞𝐨𝐧𝐞 𝐰𝐡𝐨 𝐭𝐚𝐤𝐞𝐬 𝐚 𝐫𝐞𝐥𝐢𝐠𝐢𝐨𝐧 𝐨𝐭𝐡𝐞𝐫 𝐭𝐡𝐚𝐧 𝐈𝐬𝐥𝐚𝐦, 𝐥𝐢𝐤𝐞 𝐭𝐡𝐞 𝐂𝐡𝐫𝐢𝐬𝐭𝐢𝐚𝐧𝐬 𝐚𝐧𝐝 𝐭𝐡𝐞 𝐉𝐞𝐰𝐬, 𝐨𝐫 𝐝𝐨𝐮𝐛𝐭𝐬 𝐚𝐛𝐨𝐮𝐭 𝐭𝐡𝐞𝐢𝐫 𝐝𝐢𝐬𝐛𝐞𝐥𝐢𝐞𝐟, 𝐨𝐫 𝐜𝐨𝐧𝐬𝐢𝐝𝐞𝐫𝐬 𝐭𝐡𝐞𝐢𝐫 𝐜𝐫𝐞𝐞𝐝 𝐭𝐨 𝐛𝐞 𝐜𝐨𝐫𝐫𝐞𝐜𝐭, 𝐭𝐡𝐞𝐧 𝐡𝐞 𝐢𝐬 𝐚 𝐊𝐚𝐚𝐟𝐢𝐫 (𝐝𝐢𝐬𝐛𝐞𝐥𝐢𝐞𝐯𝐞𝐫),"
𝐀𝐥𝐥𝐚𝐡 𝐊𝐧𝐨𝐰𝐬 𝐛𝐞𝐬𝐭.
𝐑𝐮𝐥𝐢𝐧𝐠 𝐨𝐧 𝐨𝐧𝐞 𝐰𝐡𝐨 𝐫𝐞𝐣𝐞𝐜𝐭𝐬 𝐚 𝐬𝐚𝐡𝐢𝐡=𝐀𝐮𝐭𝐡𝐞𝐧𝐭𝐢𝐜 𝐡𝐚𝐝𝐢𝐭𝐡 𝐨𝐟 𝐏𝐫𝐨𝐩𝐡𝐞𝐭 𝐌𝐮𝐡𝐚𝐦𝐦𝐞𝐝 𝐩𝐞𝐚𝐜𝐞 𝐛𝐞 𝐮𝐩𝐨𝐧 𝐡𝐢𝐦
𝐐𝐮𝐞𝐬𝐭𝐢𝐨𝐧
𝐃𝐨𝐞𝐬 𝐭𝐡𝐞 𝐨𝐧𝐞 𝐰𝐡𝐨 𝐫𝐞𝐣𝐞𝐜𝐭𝐬 𝐚 𝐬𝐚𝐡𝐢𝐡 𝐡𝐚𝐝𝐢𝐭𝐡 𝐛𝐞𝐜𝐨𝐦𝐞 𝐚 𝐝𝐢𝐬𝐛𝐞𝐥𝐢𝐞𝐯𝐞𝐫? 𝐎𝐧𝐞 𝐨𝐟 𝐭𝐡𝐞 𝐛𝐫𝐨𝐭𝐡𝐞𝐫𝐬 𝐫𝐞𝐣𝐞𝐜𝐭𝐬 𝐬𝐨𝐦𝐞 𝐨𝐟 𝐭𝐡𝐞 𝐬𝐚𝐡𝐢𝐡 𝐡𝐚𝐝𝐢𝐭𝐡𝐬 𝐭𝐡𝐚𝐭 𝐚𝐫𝐞 𝐧𝐚𝐫𝐫𝐚𝐭𝐞𝐝 𝐢𝐧 𝐚𝐥-𝐁𝐮𝐤𝐡𝐚𝐫𝐢, 𝐌𝐮𝐬𝐥𝐢𝐦 𝐚𝐧𝐝 𝐞𝐥𝐬𝐞𝐰𝐡𝐞𝐫𝐞, 𝐨𝐧 𝐭𝐡𝐞 𝐠𝐫𝐨𝐮𝐧𝐝𝐬 𝐭𝐡𝐚𝐭 𝐭𝐡𝐞𝐲 𝐜𝐨𝐧𝐭𝐫𝐚𝐝𝐢𝐜𝐭 𝐭𝐡𝐞 𝐐𝐮𝐫𝐚𝐧. 𝐖𝐡𝐚𝐭 𝐢𝐬 𝐭𝐡𝐞 𝐫𝐮𝐥𝐢𝐧𝐠 𝐨𝐧 𝐨𝐧𝐞 𝐰𝐡𝐨 𝐫𝐞𝐣𝐞𝐜𝐭𝐬 𝐚 𝐬𝐚𝐡𝐢𝐡 𝐡𝐚𝐝𝐢𝐭𝐡? 𝐃𝐨𝐞𝐬 𝐡𝐞 𝐛𝐞𝐜𝐨𝐦𝐞 𝐚 𝐝𝐢𝐬𝐛𝐞𝐥𝐢𝐞𝐯𝐞𝐫?
𝐀𝐧𝐬𝐰𝐞𝐫
𝐏𝐫𝐚𝐢𝐬𝐞 𝐛𝐞 𝐭𝐨 𝐀𝐥𝐥𝐚𝐡.
𝐅𝐢𝐫𝐬𝐭𝐥𝐲:
𝐓𝐡𝐞 𝐏𝐫𝐨𝐩𝐡𝐞𝐭'𝐬 𝐒𝐮𝐧𝐧𝐚𝐡 𝐢𝐬 𝐭𝐡𝐞 𝐬𝐞𝐜𝐨𝐧𝐝 𝐬𝐨𝐮𝐫𝐜𝐞 𝐨𝐟 𝐈𝐬𝐥𝐚𝐦𝐢𝐜 𝐬𝐡𝐚𝐫𝐞𝐞'𝐚𝐡. 𝐓𝐡𝐞 𝐫𝐞𝐯𝐞𝐥𝐚𝐭𝐢𝐨𝐧 𝐜𝐚𝐦𝐞 𝐝𝐨𝐰𝐧 𝐭𝐨 𝐭𝐡𝐞 𝐏𝐫𝐨𝐩𝐡𝐞𝐭 (𝐛𝐥𝐞𝐬𝐬𝐢𝐧𝐠𝐬 𝐚𝐧𝐝 𝐩𝐞𝐚𝐜𝐞 𝐨𝐟 𝐀𝐥𝐥𝐚𝐡 𝐛𝐞 𝐮𝐩𝐨𝐧 𝐡𝐢𝐦) 𝐰𝐢𝐭𝐡 𝐭𝐡𝐞 𝐒𝐮𝐧𝐧𝐚𝐡 𝐚𝐬 𝐢𝐭 𝐜𝐚𝐦𝐞 𝐝𝐨𝐰𝐧 𝐭𝐨 𝐡𝐢𝐦 𝐰𝐢𝐭𝐡 𝐭𝐡𝐞 𝐐𝐮𝐫'𝐚𝐧. 𝐓𝐡𝐞 𝐩𝐫𝐨𝐨𝐟 𝐨𝐟 𝐭𝐡𝐚𝐭 𝐢𝐬 𝐭𝐡𝐞 𝐰𝐨𝐫𝐝𝐬 𝐨𝐟 𝐀𝐥𝐥𝐚𝐡, 𝐦𝐚𝐲 𝐇𝐞 𝐛𝐞 𝐞𝐱𝐚𝐥𝐭𝐞𝐝 (𝐢𝐧𝐭𝐞𝐫𝐩𝐫𝐞𝐭𝐚𝐭𝐢𝐨𝐧 𝐨𝐟 𝐭𝐡𝐞 𝐦𝐞𝐚𝐧𝐢𝐧𝐠):
"𝐍𝐨𝐫 𝐝𝐨𝐞𝐬 𝐡𝐞 𝐬𝐩𝐞𝐚𝐤 𝐨𝐟 (𝐡𝐢𝐬 𝐨𝐰𝐧) 𝐝𝐞𝐬𝐢𝐫𝐞.
𝐈𝐭 𝐢𝐬 𝐛𝐮𝐭 𝐚 𝐫𝐞𝐯𝐞𝐥𝐚𝐭𝐢𝐨𝐧 𝐫𝐞𝐯𝐞𝐚𝐥𝐞𝐝"
[𝐚𝐧-𝐍𝐚𝐣𝐦 𝟓𝟑:𝟑-𝟒].
𝐀𝐥𝐥𝐚𝐡, 𝐦𝐚𝐲 𝐇𝐞 𝐛𝐞 𝐞𝐱𝐚𝐥𝐭𝐞𝐝, 𝐡𝐚𝐬 𝐞𝐧𝐣𝐨𝐢𝐧𝐞𝐝 𝐮𝐩𝐨𝐧 𝐭𝐡𝐞 𝐛𝐞𝐥𝐢𝐞𝐯𝐞𝐫𝐬 𝐜𝐨𝐦𝐩𝐥𝐞𝐭𝐞 𝐬𝐮𝐛𝐦𝐢𝐬𝐬𝐢𝐨𝐧 𝐭𝐨 𝐭𝐡𝐞 𝐰𝐨𝐫𝐝𝐬 𝐨𝐟 𝐭𝐡𝐞 𝐏𝐫𝐨𝐩𝐡𝐞𝐭 (𝐛𝐥𝐞𝐬𝐬𝐢𝐧𝐠𝐬 𝐚𝐧𝐝 𝐩𝐞𝐚𝐜𝐞 𝐨𝐟 𝐀𝐥𝐥𝐚𝐡 𝐛𝐞 𝐮𝐩𝐨𝐧 𝐡𝐢𝐦) 𝐚𝐧𝐝 𝐡𝐢𝐬 𝐡𝐚𝐝𝐢𝐭𝐡 𝐚𝐧𝐝 𝐫𝐮𝐥𝐢𝐧𝐠𝐬, 𝐭𝐨 𝐭𝐡𝐞 𝐞𝐱𝐭𝐞𝐧𝐭 𝐭𝐡𝐚𝐭 𝐇𝐞, 𝐦𝐚𝐲 𝐇𝐞 𝐛𝐞 𝐠𝐥𝐨𝐫𝐢𝐟𝐢𝐞𝐝, 𝐬𝐰𝐨𝐫𝐞 𝐛𝐲 𝐇𝐢𝐬 𝐝𝐢𝐯𝐢𝐧𝐞 𝐬𝐞𝐥𝐟 𝐭𝐡𝐚𝐭 𝐰𝐡𝐨𝐞𝐯𝐞𝐫 𝐡𝐞𝐚𝐫𝐬 𝐭𝐡𝐞 𝐰𝐨𝐫𝐝𝐬 𝐨𝐟 𝐭𝐡𝐞 𝐏𝐫𝐨𝐩𝐡𝐞𝐭 (𝐛𝐥𝐞𝐬𝐬𝐢𝐧𝐠𝐬 𝐚𝐧𝐝 𝐩𝐞𝐚𝐜𝐞 𝐨𝐟 𝐀𝐥𝐥𝐚𝐡 𝐛𝐞 𝐮𝐩𝐨𝐧 𝐡𝐢𝐦), 𝐭𝐡𝐞𝐧 𝐫𝐞𝐣𝐞𝐜𝐭𝐬 𝐭𝐡𝐞𝐦 𝐚𝐧𝐝 𝐝𝐨𝐞𝐬 𝐧𝐨𝐭 𝐚𝐜𝐜𝐞𝐩𝐭 𝐭𝐡𝐞𝐦, 𝐡𝐚𝐬 𝐧𝐨𝐭𝐡𝐢𝐧𝐠 𝐭𝐨 𝐝𝐨 𝐰𝐢𝐭𝐡 𝐟𝐚𝐢𝐭𝐡 𝐚𝐭 𝐚𝐥𝐥. 𝐇𝐞, 𝐦𝐚𝐲 𝐇𝐞 𝐛𝐞 𝐠𝐥𝐨𝐫𝐢𝐟𝐢𝐞𝐝 𝐚𝐧𝐝 𝐞𝐱𝐚𝐥𝐭𝐞𝐝, 𝐬𝐚𝐢𝐝 (𝐢𝐧𝐭𝐞𝐫𝐩𝐫𝐞𝐭𝐚𝐭𝐢𝐨𝐧 𝐨𝐟 𝐭𝐡𝐞 𝐦𝐞𝐚𝐧𝐢𝐧𝐠):
"𝐁𝐮𝐭 𝐧𝐨, 𝐛𝐲 𝐲𝐨𝐮𝐫 𝐋𝐨𝐫𝐝, 𝐭𝐡𝐞𝐲 𝐜𝐚𝐧 𝐡𝐚𝐯𝐞 𝐧𝐨 𝐅𝐚𝐢𝐭𝐡, 𝐮𝐧𝐭𝐢𝐥 𝐭𝐡𝐞𝐲 𝐦𝐚𝐤𝐞 𝐲𝐨𝐮 (𝐎 𝐌𝐮𝐡𝐚𝐦𝐦𝐚𝐝 (𝐛𝐥𝐞𝐬𝐬𝐢𝐧𝐠𝐬 𝐚𝐧𝐝 𝐩𝐞𝐚𝐜𝐞 𝐨𝐟 𝐀𝐥𝐥𝐚𝐡 𝐛𝐞 𝐮𝐩𝐨𝐧 𝐡𝐢𝐦)) 𝐣𝐮𝐝𝐠𝐞 𝐢𝐧 𝐚𝐥𝐥 𝐝𝐢𝐬𝐩𝐮𝐭𝐞𝐬 𝐛𝐞𝐭𝐰𝐞𝐞𝐧 𝐭𝐡𝐞𝐦, 𝐚𝐧𝐝 𝐟𝐢𝐧𝐝 𝐢𝐧 𝐭𝐡𝐞𝐦𝐬𝐞𝐥𝐯𝐞𝐬 𝐧𝐨 𝐫𝐞𝐬𝐢𝐬𝐭𝐚𝐧𝐜𝐞 𝐚𝐠𝐚𝐢𝐧𝐬𝐭 𝐲𝐨𝐮𝐫 𝐝𝐞𝐜𝐢𝐬𝐢𝐨𝐧𝐬, 𝐚𝐧𝐝 𝐚𝐜𝐜𝐞𝐩𝐭 (𝐭𝐡𝐞𝐦) 𝐰𝐢𝐭𝐡 𝐟𝐮𝐥𝐥 𝐬𝐮𝐛𝐦𝐢𝐬𝐬𝐢𝐨𝐧"
𝐐𝐮𝐫𝐚𝐧 [𝐚𝐧-𝐍𝐢𝐬𝐚' 𝟒:𝟔𝟓].
𝐇𝐞𝐧𝐜𝐞 𝐭𝐡𝐞𝐫𝐞 𝐰𝐚𝐬 𝐜𝐨𝐧𝐬𝐞𝐧𝐬𝐮𝐬 𝐚𝐦𝐨𝐧𝐠 𝐭𝐡𝐞 𝐬𝐜𝐡𝐨𝐥𝐚𝐫𝐬 𝐭𝐡𝐚𝐭 𝐰𝐡𝐨𝐞𝐯𝐞𝐫 𝐝𝐞𝐧𝐢𝐞𝐬 𝐭𝐡𝐚𝐭 𝐭𝐡𝐞 𝐒𝐮𝐧𝐧𝐚𝐡 𝐜𝐨𝐧𝐬𝐭𝐢𝐭𝐮𝐭𝐞𝐬 𝐬𝐡𝐚𝐫'𝐢 𝐞𝐯𝐢𝐝𝐞𝐧𝐜𝐞 𝐢𝐧 𝐠𝐞𝐧𝐞𝐫𝐚𝐥 𝐭𝐞𝐫𝐦𝐬, 𝐨𝐫 𝐫𝐞𝐣𝐞𝐜𝐭𝐬 𝐚 𝐡𝐚𝐝𝐢𝐭𝐡 𝐨𝐟 𝐭𝐡𝐞 𝐏𝐫𝐨𝐩𝐡𝐞𝐭 (𝐛𝐥𝐞𝐬𝐬𝐢𝐧𝐠𝐬 𝐚𝐧𝐝 𝐩𝐞𝐚𝐜𝐞 𝐨𝐟 𝐀𝐥𝐥𝐚𝐡 𝐛𝐞 𝐮𝐩𝐨𝐧 𝐡𝐢𝐦 – 𝐤𝐧𝐨𝐰𝐢𝐧𝐠 𝐭𝐡𝐚𝐭 𝐢𝐭 𝐢𝐬 𝐭𝐡𝐞 𝐰𝐨𝐫𝐝𝐬 𝐨𝐟 𝐭𝐡𝐞 𝐏𝐫𝐨𝐩𝐡𝐞𝐭 (𝐛𝐥𝐞𝐬𝐬𝐢𝐧𝐠𝐬 𝐚𝐧𝐝 𝐩𝐞𝐚𝐜𝐞 𝐨𝐟 𝐀𝐥𝐥𝐚𝐡 𝐛𝐞 𝐮𝐩𝐨𝐧 𝐡𝐢𝐦) – 𝐢𝐬 𝐚 𝐝𝐢𝐬𝐛𝐞𝐥𝐢𝐞𝐯𝐞𝐫, 𝐰𝐡𝐨 𝐡𝐚𝐬 𝐧𝐨𝐭 𝐚𝐭𝐭𝐚𝐢𝐧𝐞𝐝 𝐞𝐯𝐞𝐧 𝐭𝐡𝐞 𝐥𝐨𝐰𝐞𝐬𝐭 𝐥𝐞𝐯𝐞𝐥 𝐨𝐟 𝐈𝐬𝐥𝐚𝐦 𝐚𝐧𝐝 𝐬𝐮𝐛𝐦𝐢𝐬𝐬𝐢𝐨𝐧 𝐭𝐨 𝐀𝐥𝐥𝐚𝐡 𝐚𝐧𝐝 𝐇𝐢𝐬 𝐌𝐞𝐬𝐬𝐞𝐧𝐠𝐞𝐫.
𝐈𝐦𝐚𝐦 𝐈𝐬-𝐡𝐚𝐚𝐪 𝐢𝐛𝐧 𝐑𝐚𝐚𝐡𝐚𝐰𝐚𝐲𝐡 (𝐦𝐚𝐲 𝐀𝐥𝐥𝐚𝐡 𝐡𝐚𝐯𝐞 𝐦𝐞𝐫𝐜𝐲 𝐨𝐧 𝐡𝐢𝐦) 𝐬𝐚𝐢𝐝:
𝐖𝐡𝐨𝐞𝐯𝐞𝐫 𝐡𝐞𝐚𝐫𝐬 𝐚 𝐫𝐞𝐩𝐨𝐫𝐭 𝐟𝐫𝐨𝐦 𝐭𝐡𝐞 𝐌𝐞𝐬𝐬𝐞𝐧𝐠𝐞𝐫 𝐨𝐟 𝐀𝐥𝐥𝐚𝐡 (𝐛𝐥𝐞𝐬𝐬𝐢𝐧𝐠𝐬 𝐚𝐧𝐝 𝐩𝐞𝐚𝐜𝐞 𝐨𝐟 𝐀𝐥𝐥𝐚𝐡 𝐛𝐞 𝐮𝐩𝐨𝐧 𝐡𝐢𝐦) 𝐭𝐡𝐚𝐭 𝐡𝐞 𝐚𝐜𝐜𝐞𝐩𝐭𝐬 𝐚𝐬 𝐛𝐞𝐢𝐧𝐠 𝐬𝐨𝐮𝐧𝐝, 𝐭𝐡𝐞𝐧 𝐫𝐞𝐣𝐞𝐜𝐭𝐬 𝐢𝐭, 𝐧𝐨𝐭 𝐛𝐲 𝐰𝐚𝐲 𝐨𝐟 𝐝𝐢𝐬𝐬𝐢𝐦𝐮𝐥𝐚𝐭𝐢𝐨𝐧 (𝐰𝐡𝐞𝐧 𝐡𝐞 𝐡𝐚𝐬 𝐧𝐨 𝐜𝐡𝐨𝐢𝐜𝐞 𝐛𝐞𝐜𝐚𝐮𝐬𝐞 𝐨𝐟 𝐚 𝐭𝐡𝐫𝐞𝐚𝐭), 𝐢𝐬 𝐚 𝐝𝐢𝐬𝐛𝐞𝐥𝐢𝐞𝐯𝐞𝐫. 𝐄𝐧𝐝 𝐪𝐮𝐨𝐭𝐞
𝐀𝐬-𝐒𝐮𝐲𝐨𝐨𝐭𝐢 (𝐦𝐚𝐲 𝐀𝐥𝐥𝐚𝐡 𝐡𝐚𝐯𝐞 𝐦𝐞𝐫𝐜𝐲 𝐨𝐧 𝐡𝐢𝐦) 𝐬𝐚𝐢𝐝:
𝐘𝐨𝐮 𝐬𝐡𝐨𝐮𝐥𝐝 𝐮𝐧𝐝𝐞𝐫𝐬𝐭𝐚𝐧𝐝, 𝐦𝐚𝐲 𝐀𝐥𝐥𝐚𝐡 𝐡𝐚𝐯𝐞 𝐦𝐞𝐫𝐜𝐲 𝐨𝐧 𝐲𝐨𝐮, 𝐭𝐡𝐚𝐭 𝐰𝐡𝐨𝐞𝐯𝐞𝐫 𝐝𝐞𝐧𝐢𝐞𝐬 𝐭𝐡𝐚𝐭 𝐭𝐡𝐞 𝐡𝐚𝐝𝐢𝐭𝐡 𝐨𝐟 𝐭𝐡𝐞 𝐏𝐫𝐨𝐩𝐡𝐞𝐭 (𝐛𝐥𝐞𝐬𝐬𝐢𝐧𝐠𝐬 𝐚𝐧𝐝 𝐩𝐞𝐚𝐜𝐞 𝐨𝐟 𝐀𝐥𝐥𝐚𝐡 𝐛𝐞 𝐮𝐩𝐨𝐧 𝐡𝐢𝐦) 𝐜𝐨𝐧𝐬𝐭𝐢𝐭𝐮𝐭𝐞𝐬 𝐬𝐡𝐚𝐫'𝐢 𝐞𝐯𝐢𝐝𝐞𝐧𝐜𝐞 – 𝐰𝐡𝐞𝐭𝐡𝐞𝐫 𝐡𝐞 𝐝𝐞𝐧𝐢𝐞𝐬 𝐚 𝐫𝐞𝐩𝐨𝐫𝐭 𝐭𝐡𝐚𝐭 𝐬𝐩𝐞𝐚𝐤𝐬 𝐨𝐟 𝐬𝐨𝐦𝐞𝐭𝐡𝐢𝐧𝐠 𝐭𝐡𝐚𝐭 𝐭𝐡𝐞 𝐏𝐫𝐨𝐩𝐡𝐞𝐭 (𝐛𝐥𝐞𝐬𝐬𝐢𝐧𝐠𝐬 𝐚𝐧𝐝 𝐩𝐞𝐚𝐜𝐞 𝐨𝐟 𝐀𝐥𝐥𝐚𝐡 𝐛𝐞 𝐮𝐩𝐨𝐧 𝐡𝐢𝐦) 𝐬𝐚𝐢𝐝 𝐨𝐫 𝐝𝐢𝐝, 𝐢𝐟 𝐭𝐡𝐚𝐭 𝐡𝐚𝐝𝐢𝐭𝐡 𝐟𝐮𝐥𝐟𝐢𝐥𝐬 𝐭𝐡𝐞 𝐜𝐨𝐧𝐝𝐢𝐭𝐢𝐨𝐧𝐬 𝐬𝐭𝐢𝐩𝐮𝐥𝐚𝐭𝐞𝐝 𝐢𝐧 𝐮𝐬𝐨𝐨𝐥 𝐚𝐥-𝐡𝐚𝐝𝐢𝐭𝐡 – 𝐡𝐚𝐬 𝐜𝐨𝐦𝐦𝐢𝐭𝐭𝐞𝐝 𝐚𝐧 𝐚𝐜𝐭 𝐨𝐟 𝐝𝐢𝐬𝐛𝐞𝐥𝐢𝐞𝐟 𝐭𝐡𝐚𝐭 𝐩𝐮𝐭𝐬 𝐡𝐢𝐦 𝐛𝐞𝐲𝐨𝐧𝐝 𝐭𝐡𝐞 𝐛𝐨𝐮𝐧𝐝𝐬 𝐨𝐟 𝐈𝐬𝐥𝐚𝐦, 𝐚𝐧𝐝 𝐡𝐞 𝐰𝐢𝐥𝐥 𝐛𝐞 𝐠𝐚𝐭𝐡𝐞𝐫𝐞𝐝 (𝐨𝐧 𝐭𝐡𝐞 𝐃𝐚𝐲 𝐨𝐟 𝐑𝐞𝐬𝐮𝐫𝐫𝐞𝐜𝐭𝐢𝐨𝐧) 𝐰𝐢𝐭𝐡 𝐭𝐡𝐞 𝐉𝐞𝐰𝐬 𝐚𝐧𝐝 𝐂𝐡𝐫𝐢𝐬𝐭𝐢𝐚𝐧𝐬, 𝐨𝐫 𝐰𝐢𝐭𝐡 𝐰𝐡𝐨𝐦𝐞𝐯𝐞𝐫 𝐀𝐥𝐥𝐚𝐡 𝐰𝐢𝐥𝐥𝐬 𝐨𝐟 𝐭𝐡𝐞 𝐝𝐢𝐬𝐛𝐞𝐥𝐢𝐞𝐯𝐢𝐧𝐠 𝐠𝐫𝐨𝐮𝐩𝐬. 𝐄𝐧𝐝 𝐪𝐮𝐨𝐭𝐞.
𝐌𝐢𝐟𝐭𝐚𝐚𝐡 𝐚𝐥-𝐉𝐚𝐧𝐧𝐚𝐡 𝐟𝐢'𝐥-𝐈𝐡𝐭𝐢𝐣𝐚𝐚𝐣 𝐛𝐢'𝐬-𝐒𝐮𝐧𝐧𝐚𝐡 (𝐩 𝟏𝟒)
𝐀𝐥-'𝐀𝐥𝐥𝐚𝐚𝐦𝐚𝐡 𝐈𝐛𝐧 𝐚𝐥-𝐖𝐚𝐳𝐞𝐞𝐫 (𝐦𝐚𝐲 𝐀𝐥𝐥𝐚𝐡 𝐡𝐚𝐯𝐞 𝐦𝐞𝐫𝐜𝐲 𝐨𝐧 𝐡𝐢𝐦) 𝐬𝐚𝐢𝐝:
𝐑𝐞𝐣𝐞𝐜𝐭𝐢𝐧𝐠 𝐭𝐡𝐞 𝐡𝐚𝐝𝐢𝐭𝐡 𝐨𝐟 𝐭𝐡𝐞 𝐌𝐞𝐬𝐬𝐞𝐧𝐠𝐞𝐫 𝐨𝐟 𝐀𝐥𝐥𝐚𝐡 (𝐛𝐥𝐞𝐬𝐬𝐢𝐧𝐠𝐬 𝐚𝐧𝐝 𝐩𝐞𝐚𝐜𝐞 𝐨𝐟 𝐀𝐥𝐥𝐚𝐡 𝐛𝐞 𝐮𝐩𝐨𝐧 𝐡𝐢𝐦) 𝐰𝐡𝐞𝐧 𝐨𝐧𝐞 𝐢𝐬 𝐚𝐰𝐚𝐫𝐞 𝐭𝐡𝐚𝐭 𝐢𝐭 𝐢𝐬 𝐡𝐢𝐬 𝐡𝐚𝐝𝐢𝐭𝐡 𝐜𝐨𝐧𝐬𝐭𝐢𝐭𝐮𝐭𝐞𝐬 𝐛𝐥𝐚𝐭𝐚𝐧𝐭 𝐝𝐢𝐬𝐛𝐞𝐥𝐢𝐞𝐟. 𝐄𝐧𝐝 𝐪𝐮𝐨𝐭𝐞.
𝐀𝐥-'𝐀𝐰𝐚𝐚𝐬𝐢𝐦 𝐰𝐚'𝐥-𝐐𝐚𝐰𝐚𝐚𝐬𝐢𝐦 (𝟐/𝟐𝟕𝟒)
𝐈𝐭 𝐬𝐚𝐲𝐬 𝐢𝐧 𝐅𝐚𝐭𝐚𝐚𝐰𝐚 𝐚𝐥-𝐋𝐚𝐣𝐧𝐚𝐡 𝐚𝐝-𝐃𝐚𝐚'𝐢𝐦𝐚𝐡:
𝐓𝐡𝐞 𝐨𝐧𝐞 𝐰𝐡𝐨 𝐝𝐞𝐧𝐢𝐞𝐬 𝐭𝐡𝐚𝐭 𝐰𝐞 𝐬𝐡𝐨𝐮𝐥𝐝 𝐟𝐨𝐥𝐥𝐨𝐰 𝐭𝐡𝐞 𝐒𝐮𝐧𝐧𝐚𝐡 𝐢𝐬 𝐚 𝐝𝐢𝐬𝐛𝐞𝐥𝐢𝐞𝐯𝐞𝐫, 𝐛𝐞𝐜𝐚𝐮𝐬𝐞 𝐡𝐞 𝐢𝐬 𝐞𝐱𝐩𝐫𝐞𝐬𝐬𝐢𝐧𝐠 𝐝𝐢𝐬𝐛𝐞𝐥𝐢𝐞𝐟 𝐢𝐧 𝐀𝐥𝐥𝐚𝐡 𝐚𝐧𝐝 𝐇𝐢𝐬 𝐌𝐞𝐬𝐬𝐞𝐧𝐠𝐞𝐫 𝐚𝐧𝐝 𝐫𝐞𝐣𝐞𝐜𝐭𝐢𝐧𝐠 𝐭𝐡𝐞 𝐜𝐨𝐧𝐬𝐞𝐧𝐬𝐮𝐬 𝐨𝐟 𝐭𝐡𝐞 𝐌𝐮𝐬𝐥𝐢𝐦𝐬. 𝐄𝐧𝐝 𝐪𝐮𝐨𝐭𝐞.
𝐅𝐚𝐭𝐚𝐚𝐰𝐚 𝐚𝐥-𝐋𝐚𝐣𝐧𝐚𝐡 𝐚𝐝-𝐃𝐚𝐚'𝐢𝐦𝐚𝐡 (𝐯𝐨𝐥. 𝟐, 𝟑/𝟏𝟗𝟒)
𝐒𝐞𝐞 𝐚𝐥𝐬𝐨 𝐭𝐡𝐞 𝐚𝐧𝐬𝐰𝐞𝐫𝐬 𝐭𝐨 𝐪𝐮𝐞𝐬𝐭𝐢𝐨𝐧𝐬 𝐧𝐨. 𝟔𝟎𝟒, 𝟏𝟑𝟐𝟎𝟔 𝐚𝐧𝐝 𝟕𝟕𝟐𝟒𝟑
𝐒𝐞𝐜𝐨𝐧𝐝𝐥𝐲:
𝐀𝐬 𝐟𝐨𝐫 𝐭𝐡𝐞 𝐨𝐧𝐞 𝐰𝐡𝐨 𝐫𝐞𝐣𝐞𝐜𝐭𝐬 𝐚 𝐡𝐚𝐝𝐢𝐭𝐡 𝐚𝐧𝐝 𝐝𝐨𝐞𝐬 𝐧𝐨𝐭 𝐚𝐜𝐜𝐞𝐩𝐭 𝐢𝐭, 𝐝𝐞𝐧𝐲𝐢𝐧𝐠 𝐭𝐡𝐚𝐭 𝐢𝐭 𝐢𝐬 𝐭𝐡𝐞 𝐰𝐨𝐫𝐝𝐬 𝐨𝐟 𝐭𝐡𝐞 𝐏𝐫𝐨𝐩𝐡𝐞𝐭 (𝐛𝐥𝐞𝐬𝐬𝐢𝐧𝐠𝐬 𝐚𝐧𝐝 𝐩𝐞𝐚𝐜𝐞 𝐨𝐟 𝐀𝐥𝐥𝐚𝐡 𝐛𝐞 𝐮𝐩𝐨𝐧 𝐡𝐢𝐦), 𝐡𝐞 𝐢𝐬 𝐧𝐨𝐭 𝐥𝐢𝐤𝐞 𝐭𝐡𝐨𝐬𝐞 𝐰𝐡𝐨 𝐜𝐨𝐦𝐞 𝐮𝐧𝐝𝐞𝐫 𝐭𝐡𝐞 𝐟𝐢𝐫𝐬𝐭 𝐜𝐚𝐭𝐞𝐠𝐨𝐫𝐲.
𝐖𝐞 𝐮𝐧𝐝𝐞𝐫𝐬𝐭𝐚𝐧𝐝 𝐭𝐡𝐚𝐭 𝐦𝐚𝐧𝐲 𝐟𝐨𝐥𝐥𝐨𝐰𝐞𝐫𝐬 𝐨𝐟 𝐭𝐡𝐞 𝐧𝐞𝐰 "𝐞𝐧𝐥𝐢𝐠𝐡𝐭𝐞𝐧𝐦𝐞𝐧𝐭" 𝐭𝐫𝐞𝐧𝐝 – 𝐰𝐡𝐨 𝐡𝐚𝐯𝐞 𝐭𝐚𝐤𝐞𝐧 𝐢𝐭 𝐮𝐩𝐨𝐧 𝐭𝐡𝐞𝐦𝐬𝐞𝐥𝐯𝐞𝐬 𝐭𝐨 𝐣𝐮𝐝𝐠𝐞 𝐭𝐡𝐞 𝐏𝐫𝐨𝐩𝐡𝐞𝐭'𝐬 𝐒𝐮𝐧𝐧𝐚𝐡 𝐨𝐧 𝐭𝐡𝐞 𝐛𝐚𝐬𝐢𝐬 𝐨𝐟 𝐭𝐡𝐞𝐢𝐫 𝐯𝐢𝐞𝐰𝐬 𝐚𝐧𝐝 𝐚𝐟𝐟𝐢𝐥𝐢𝐚𝐭𝐢𝐨𝐧 – 𝐢𝐧 𝐟𝐚𝐜𝐭, 𝐡𝐚𝐯𝐞 𝐧𝐨𝐭 𝐜𝐨𝐦𝐞 𝐮𝐩 𝐰𝐢𝐭𝐡 𝐚𝐧𝐲𝐭𝐡𝐢𝐧𝐠 𝐧𝐞𝐰.
𝐑𝐚𝐭𝐡𝐞𝐫 𝐭𝐡𝐞𝐲 𝐚𝐫𝐞 𝐚 𝐜𝐨𝐧𝐭𝐢𝐧𝐮𝐚𝐭𝐢𝐨𝐧 𝐨𝐟 𝐭𝐡𝐞 𝐢𝐧𝐧𝐨𝐯𝐚𝐭𝐨𝐫𝐬 𝐰𝐡𝐨 𝐜𝐚𝐦𝐞 𝐛𝐞𝐟𝐨𝐫𝐞 𝐭𝐡𝐞𝐦, 𝐰𝐡𝐨𝐬𝐞 𝐬𝐩𝐞𝐜𝐢𝐨𝐮𝐬 𝐚𝐫𝐠𝐮𝐦𝐞𝐧𝐭𝐬 𝐭𝐡𝐞 𝐬𝐜𝐡𝐨𝐥𝐚𝐫𝐬 𝐪𝐮𝐨𝐭𝐞𝐝 𝐚𝐧𝐝 𝐭𝐨𝐨𝐤 𝐢𝐭 𝐮𝐩𝐨𝐧 𝐭𝐡𝐞𝐦𝐬𝐞𝐥𝐯𝐞𝐬 𝐭𝐨 𝐫𝐞𝐟𝐮𝐭𝐞 𝐭𝐡𝐞𝐦.
𝐓𝐨 𝐭𝐡𝐞𝐬𝐞 𝐩𝐞𝐨𝐩𝐥𝐞 𝐚𝐧𝐝 𝐨𝐭𝐡𝐞𝐫𝐬 𝐥𝐢𝐤𝐞 𝐭𝐡𝐞𝐦 𝐰𝐞 𝐬𝐚𝐲:
𝐀𝐜𝐚𝐝𝐞𝐦𝐢𝐜 𝐦𝐞𝐭𝐡𝐨𝐝𝐨𝐥𝐨𝐠𝐲 𝐝𝐢𝐜𝐭𝐚𝐭𝐞𝐬 𝐭𝐡𝐚𝐭 𝐰𝐞 𝐬𝐡𝐨𝐮𝐥𝐝 𝐞𝐱𝐚𝐦𝐢𝐧𝐞 𝐬𝐞𝐯𝐞𝐫𝐚𝐥 𝐢𝐦𝐩𝐨𝐫𝐭𝐚𝐧𝐭 𝐦𝐚𝐭𝐭𝐞𝐫𝐬 𝐛𝐞𝐟𝐨𝐫𝐞 𝐫𝐞𝐣𝐞𝐜𝐭𝐢𝐧𝐠 𝐚 𝐡𝐚𝐝𝐢𝐭𝐡 𝐨𝐫 𝐝𝐞𝐧𝐲𝐢𝐧𝐠 𝐭𝐡𝐚𝐭 𝐢𝐭 𝐢𝐬 𝐭𝐡𝐞 𝐰𝐨𝐫𝐝𝐬 𝐨𝐟 𝐭𝐡𝐞 𝐏𝐫𝐨𝐩𝐡𝐞𝐭 (𝐛𝐥𝐞𝐬𝐬𝐢𝐧𝐠𝐬 𝐚𝐧𝐝 𝐩𝐞𝐚𝐜𝐞 𝐨𝐟 𝐀𝐥𝐥𝐚𝐡 𝐛𝐞 𝐮𝐩𝐨𝐧 𝐡𝐢𝐦).
𝐓𝐡𝐞𝐬𝐞 𝐜𝐨𝐧𝐝𝐢𝐭𝐢𝐨𝐧𝐬 𝐚𝐫𝐞 𝐚𝐬 𝐟𝐨𝐥𝐥𝐨𝐰𝐬:
𝐓𝐡𝐞 𝐟𝐢𝐫𝐬𝐭 𝐜𝐨𝐧𝐝𝐢𝐭𝐢𝐨𝐧:
𝐖𝐞 𝐬𝐡𝐨𝐮𝐥𝐝 𝐬𝐞𝐞 𝐰𝐡𝐞𝐭𝐡𝐞𝐫 𝐭𝐡𝐞𝐫𝐞 𝐢𝐬 𝐚 𝐜𝐨𝐦𝐩𝐥𝐞𝐭𝐞 𝐜𝐨𝐧𝐭𝐫𝐚𝐝𝐢𝐜𝐭𝐢𝐨𝐧 𝐛𝐞𝐭𝐰𝐞𝐞𝐧 𝐰𝐡𝐚𝐭 𝐢𝐬 𝐦𝐞𝐧𝐭𝐢𝐨𝐧𝐞𝐝 𝐢𝐧 𝐭𝐡𝐞 𝐡𝐚𝐝𝐢𝐭𝐡 𝐚𝐧𝐝 𝐰𝐡𝐚𝐭 𝐢𝐬 𝐦𝐞𝐧𝐭𝐢𝐨𝐧𝐞𝐝 𝐢𝐧 𝐚 𝐐𝐮𝐫'𝐚𝐧𝐢𝐜 𝐭𝐞𝐱𝐭 𝐭𝐡𝐚𝐭 𝐢𝐬 𝐜𝐥𝐞𝐚𝐫 𝐚𝐧𝐝 𝐮𝐧𝐚𝐦𝐛𝐢𝐠𝐮𝐨𝐮𝐬 𝐢𝐧 𝐦𝐞𝐚𝐧𝐢𝐧𝐠 𝐚𝐧𝐝 𝐧𝐨𝐭 𝐚𝐛𝐫𝐨𝐠𝐚𝐭𝐞𝐝. 𝐖𝐞 𝐬𝐡𝐨𝐮𝐥𝐝 𝐞𝐦𝐩𝐡𝐚𝐬𝐢𝐬𝐞 𝐡𝐞𝐫𝐞 𝐭𝐡𝐞 𝐜𝐨𝐧𝐝𝐢𝐭𝐢𝐨𝐧 𝐨𝐟 𝐜𝐨𝐦𝐩𝐥𝐞𝐭𝐞 𝐜𝐨𝐧𝐭𝐫𝐚𝐝𝐢𝐜𝐭𝐢𝐨𝐧 – 𝐚𝐧𝐝 𝐧𝐨𝐭 𝐣𝐮𝐬𝐭 𝐚𝐧 𝐚𝐩𝐩𝐚𝐫𝐞𝐧𝐭 𝐜𝐨𝐧𝐭𝐫𝐚𝐝𝐢𝐜𝐭𝐢𝐨𝐧 𝐭𝐡𝐚𝐭 𝐦𝐚𝐲 𝐜𝐨𝐦𝐞 𝐭𝐨 𝐭𝐡𝐞 𝐦𝐢𝐧𝐝 𝐨𝐟 𝐨𝐧𝐞 𝐰𝐡𝐨 𝐡𝐚𝐬𝐭𝐞𝐧𝐬 𝐭𝐨 𝐣𝐮𝐦𝐩 𝐭𝐨 𝐜𝐨𝐧𝐜𝐥𝐮𝐬𝐢𝐨𝐧𝐬 𝐰𝐡𝐞𝐧 𝐞𝐱𝐚𝐦𝐢𝐧𝐢𝐧𝐠 𝐡𝐚𝐝𝐢𝐭𝐡.
𝐏𝐞𝐫𝐡𝐚𝐩𝐬 𝐭𝐡𝐨𝐬𝐞 𝐰𝐡𝐨 𝐚𝐫𝐞 𝐢𝐧𝐯𝐨𝐥𝐯𝐞𝐝 𝐢𝐧 𝐝𝐞𝐧𝐲𝐢𝐧𝐠 𝐭𝐡𝐞 𝐡𝐚𝐝𝐢𝐭𝐡𝐬 𝐰𝐢𝐥𝐥 𝐚𝐠𝐫𝐞𝐞 𝐰𝐢𝐭𝐡 𝐮𝐬 𝐨𝐧 𝐭𝐡𝐢𝐬 𝐜𝐨𝐧𝐝𝐢𝐭𝐢𝐨𝐧, 𝐛𝐞𝐜𝐚𝐮𝐬𝐞 𝐦𝐨𝐬𝐭 𝐨𝐟 𝐭𝐡𝐞 𝐚𝐩𝐩𝐚𝐫𝐞𝐧𝐭 𝐜𝐨𝐧𝐭𝐫𝐚𝐝𝐢𝐜𝐭𝐢𝐨𝐧𝐬 𝐭𝐡𝐚𝐭 𝐨𝐜𝐜𝐮𝐫 𝐭𝐨 𝐦𝐚𝐧𝐲 𝐩𝐞𝐨𝐩𝐥𝐞 𝐚𝐫𝐞 𝐧𝐨𝐭 𝐜𝐨𝐧𝐭𝐫𝐚𝐝𝐢𝐜𝐭𝐢𝐨𝐧𝐬 𝐢𝐧 𝐫𝐞𝐚𝐥𝐢𝐭𝐲; 𝐫𝐚𝐭𝐡𝐞𝐫 𝐭𝐡𝐞𝐲 𝐚𝐫𝐞 𝐦𝐞𝐫𝐞 𝐬𝐩𝐞𝐜𝐮𝐥𝐚𝐭𝐢𝐨𝐧 𝐢𝐧 𝐭𝐡𝐞 𝐦𝐢𝐧𝐝 𝐨𝐟 𝐭𝐡𝐞 𝐨𝐛𝐣𝐞𝐜𝐭𝐨𝐫.
𝐀𝐧𝐝 𝐢𝐭 𝐢𝐬 𝐩𝐨𝐬𝐬𝐢𝐛𝐥𝐞, 𝐰𝐢𝐭𝐡 𝐝𝐞𝐥𝐢𝐛𝐞𝐫𝐚𝐭𝐢𝐨𝐧 𝐚𝐧𝐝 𝐛𝐲 𝐞𝐱𝐚𝐦𝐢𝐧𝐢𝐧𝐠 𝐭𝐡𝐞 𝐬𝐡𝐚𝐝𝐞𝐬 𝐨𝐟 𝐦𝐞𝐚𝐧𝐢𝐧𝐠 𝐨𝐟 𝐝𝐢𝐟𝐟𝐞𝐫𝐞𝐧𝐭 𝐰𝐨𝐫𝐝𝐬, 𝐭𝐨 𝐚𝐧𝐬𝐰𝐞𝐫 𝐭𝐡𝐞 𝐨𝐧𝐞 𝐰𝐡𝐨 𝐭𝐡𝐢𝐧𝐤𝐬 𝐭𝐡𝐚𝐭 𝐭𝐡𝐞𝐫𝐞 𝐢𝐬 𝐚 𝐜𝐨𝐧𝐭𝐫𝐚𝐝𝐢𝐜𝐭𝐢𝐨𝐧, 𝐚𝐧𝐝 𝐝𝐞𝐦𝐨𝐧𝐬𝐭𝐫𝐚𝐭𝐞 𝐡𝐨𝐰 𝐭𝐡𝐞 𝐡𝐚𝐝𝐢𝐭𝐡 𝐢𝐬 𝐢𝐧 𝐡𝐚𝐫𝐦𝐨𝐧𝐲 𝐰𝐢𝐭𝐡 𝐭𝐡𝐞 𝐟𝐮𝐧𝐝𝐚𝐦𝐞𝐧𝐭𝐚𝐥𝐬 𝐚𝐧𝐝 𝐬𝐮𝐛𝐥𝐢𝐦𝐞 𝐚𝐢𝐦𝐬 𝐨𝐟 𝐬𝐡𝐚𝐫𝐞𝐞'𝐚𝐡.
𝐖𝐡𝐨𝐞𝐯𝐞𝐫 𝐬𝐭𝐮𝐝𝐢𝐞𝐬 𝐭𝐡𝐞 𝐛𝐨𝐨𝐤 𝐨𝐟 𝐚𝐥-'𝐀𝐥𝐥𝐚𝐚𝐦𝐚𝐡 𝐈𝐛𝐧 𝐐𝐮𝐭𝐚𝐲𝐛𝐚𝐡 𝐚𝐝-𝐃𝐞𝐞𝐧𝐨𝐨𝐫𝐢 𝐞𝐧𝐭𝐢𝐭𝐥𝐞𝐝 𝐌𝐮𝐤𝐡𝐭𝐚𝐥𝐢𝐟 𝐚𝐥-𝐇𝐚𝐝𝐢𝐭𝐡 𝐰𝐢𝐥𝐥 𝐫𝐞𝐚𝐥𝐢𝐬𝐞 𝐡𝐨𝐰 𝐫𝐞𝐜𝐤𝐥𝐞𝐬𝐬 𝐦𝐚𝐧𝐲 𝐨𝐟 𝐭𝐡𝐞𝐦 𝐰𝐞𝐫𝐞 𝐢𝐧 𝐭𝐡𝐞𝐢𝐫 𝐝𝐞𝐧𝐢𝐚𝐥 𝐨𝐟 𝐡𝐚𝐝𝐢𝐭𝐡𝐬 𝐨𝐧 𝐭𝐡𝐞 𝐛𝐚𝐬𝐢𝐬 𝐨𝐟 𝐭𝐡𝐞 𝐜𝐥𝐚𝐢𝐦 𝐭𝐡𝐚𝐭 𝐭𝐡𝐞𝐲 𝐚𝐫𝐞 𝐧𝐨𝐭 𝐢𝐧 𝐚𝐜𝐜𝐨𝐫𝐝𝐚𝐧𝐜𝐞 𝐰𝐢𝐭𝐡 𝐭𝐡𝐞 𝐐𝐮𝐫'𝐚𝐧, 𝐨𝐫 𝐭𝐡𝐚𝐭 𝐭𝐡𝐞𝐲 𝐜𝐨𝐧𝐭𝐫𝐚𝐝𝐢𝐜𝐭 𝐬𝐨𝐮𝐧𝐝 𝐫𝐞𝐚𝐬𝐨𝐧𝐢𝐧𝐠.
𝐁𝐮𝐭 𝐰𝐡𝐞𝐧 𝐈𝐛𝐧 𝐐𝐮𝐭𝐚𝐲𝐛𝐚𝐡 𝐦𝐞𝐧𝐭𝐢𝐨𝐧𝐬 𝐭𝐡𝐞 𝐜𝐨𝐫𝐫𝐞𝐜𝐭 𝐞𝐱𝐩𝐥𝐚𝐧𝐚𝐭𝐢𝐨𝐧 𝐨𝐟 𝐭𝐡𝐞𝐬𝐞 𝐡𝐚𝐝𝐢𝐭𝐡𝐬 𝐠𝐢𝐯𝐞𝐧 𝐛𝐲 𝐭𝐡𝐞 𝐬𝐜𝐡𝐨𝐥𝐚𝐫𝐬, 𝐢𝐭 𝐛𝐞𝐜𝐨𝐦𝐞𝐬 𝐜𝐥𝐞𝐚𝐫 𝐭𝐡𝐚𝐭 𝐭𝐡𝐞𝐫𝐞 𝐢𝐬 𝐚 𝐬𝐨𝐮𝐧𝐝 𝐢𝐧𝐭𝐞𝐫𝐩𝐫𝐞𝐭𝐚𝐭𝐢𝐨𝐧 𝐟𝐨𝐫 𝐭𝐡𝐞𝐦 𝐭𝐡𝐚𝐭 𝐢𝐬 𝐢𝐧 𝐡𝐚𝐫𝐦𝐨𝐧𝐲 𝐰𝐢𝐭𝐡 𝐈𝐬𝐥𝐚𝐦𝐢𝐜 𝐭𝐞𝐚𝐜𝐡𝐢𝐧𝐠𝐬, 𝐚𝐧𝐝 𝐭𝐡𝐚𝐭 𝐭𝐡𝐞 𝐧𝐨𝐭𝐢𝐨𝐧 𝐭𝐡𝐚𝐭 𝐭𝐡𝐞𝐬𝐞 𝐡𝐚𝐝𝐢𝐭𝐡𝐬 𝐜𝐨𝐧𝐭𝐫𝐚𝐝𝐢𝐜𝐭 𝐭𝐡𝐞 𝐐𝐮𝐫𝐚𝐧 𝐢𝐬 𝐛𝐚𝐬𝐞𝐝 𝐨𝐧 𝐜𝐨𝐫𝐫𝐮𝐩𝐭 𝐮𝐧𝐝𝐞𝐫𝐬𝐭𝐚𝐧𝐝𝐢𝐧𝐠.
𝐖𝐞 𝐚𝐬𝐤 𝐭𝐡𝐞𝐬𝐞 𝐩𝐞𝐨𝐩𝐥𝐞 𝐚𝐧𝐝 𝐭𝐡𝐞𝐢𝐫 𝐢𝐥𝐤, 𝐰𝐡𝐨 𝐡𝐚𝐯𝐞 𝐭𝐡𝐞 𝐚𝐮𝐝𝐚𝐜𝐢𝐭𝐲 𝐭𝐨 𝐫𝐞𝐣𝐞𝐜𝐭 𝐭𝐡𝐞 𝐒𝐮𝐧𝐧𝐚𝐡 𝐚𝐧𝐝 𝐜𝐚𝐬𝐭 𝐚𝐬𝐩𝐞𝐫𝐬𝐢𝐨𝐧𝐬 𝐨𝐧 𝐭𝐡𝐞 𝐡𝐚𝐝𝐢𝐭𝐡𝐬 𝐨𝐟 𝐭𝐡𝐞 𝐏𝐫𝐨𝐩𝐡𝐞𝐭 (𝐛𝐥𝐞𝐬𝐬𝐢𝐧𝐠𝐬 𝐚𝐧𝐝 𝐩𝐞𝐚𝐜𝐞 𝐨𝐟 𝐀𝐥𝐥𝐚𝐡 𝐛𝐞 𝐮𝐩𝐨𝐧 𝐡𝐢𝐦) 𝐰𝐢𝐭𝐡𝐨𝐮𝐭 𝐚𝐧𝐲 𝐚𝐜𝐚𝐝𝐞𝐦𝐢𝐜 𝐦𝐞𝐭𝐡𝐨𝐝𝐨𝐥𝐨𝐠𝐲 𝐨𝐫 𝐚𝐜𝐜𝐞𝐩𝐭𝐚𝐛𝐥𝐞 𝐜𝐫𝐢𝐭𝐢𝐜𝐚𝐥 𝐠𝐮𝐢𝐝𝐞𝐥𝐢𝐧𝐞𝐬, 𝐚𝐧𝐝 𝐰𝐢𝐭𝐡𝐨𝐮𝐭 𝐩𝐫𝐨𝐩𝐞𝐫𝐥𝐲 𝐮𝐧𝐝𝐞𝐫𝐬𝐭𝐚𝐧𝐝𝐢𝐧𝐠 𝐭𝐡𝐞 𝐟𝐮𝐧𝐝𝐚𝐦𝐞𝐧𝐭𝐚𝐥𝐬 𝐨𝐟 𝐡𝐚𝐝𝐢𝐭𝐡 𝐬𝐜𝐢𝐞𝐧𝐜𝐞 𝐭𝐡𝐚𝐭 𝐭𝐡𝐞𝐲 𝐚𝐫𝐞 𝐭𝐚𝐥𝐤𝐢𝐧𝐠 𝐚𝐛𝐨𝐮𝐭, 𝐭𝐡𝐞 𝐟𝐨𝐥𝐥𝐨𝐰𝐢𝐧𝐠:
𝐃𝐨 𝐲𝐨𝐮 𝐭𝐡𝐢𝐧𝐤 𝐭𝐡𝐚𝐭 𝐢𝐭 𝐢𝐬 𝐩𝐨𝐬𝐬𝐢𝐛𝐥𝐞 𝐟𝐨𝐫 𝐚 𝐡𝐚𝐝𝐢𝐭𝐡 𝐭𝐨 𝐜𝐨𝐦𝐩𝐥𝐞𝐭𝐞𝐥𝐲 𝐜𝐨𝐧𝐭𝐫𝐚𝐝𝐢𝐜𝐭 𝐭𝐡𝐞 𝐇𝐨𝐥𝐲 𝐐𝐮𝐫'𝐚𝐧 𝐭𝐨 𝐭𝐡𝐞 𝐞𝐱𝐭𝐞𝐧𝐭 𝐭𝐡𝐚𝐭 𝐭𝐡𝐞 𝐞𝐱𝐚𝐦𝐢𝐧𝐞𝐫 𝐦𝐚𝐲 𝐭𝐡𝐢𝐧𝐤 𝐭𝐡𝐚𝐭 𝐭𝐡𝐢𝐬 𝐡𝐚𝐝𝐢𝐭𝐡 𝐢𝐬 𝐧𝐨𝐭 𝐭𝐡𝐞 𝐰𝐨𝐫𝐝𝐬 𝐨𝐟 𝐭𝐡𝐞 𝐏𝐫𝐨𝐩𝐡𝐞𝐭 (𝐛𝐥𝐞𝐬𝐬𝐢𝐧𝐠𝐬 𝐚𝐧𝐝 𝐩𝐞𝐚𝐜𝐞 𝐨𝐟 𝐀𝐥𝐥𝐚𝐡 𝐛𝐞 𝐮𝐩𝐨𝐧 𝐡𝐢𝐦), 𝐚𝐭 𝐭𝐡𝐞 𝐭𝐢𝐦𝐞 𝐰𝐡𝐞𝐧 𝐰𝐞 𝐬𝐞𝐞 𝐚𝐥𝐥 𝐭𝐡𝐞 𝐬𝐜𝐡𝐨𝐥𝐚𝐫𝐬 𝐨𝐟 𝐈𝐬𝐥𝐚𝐦, 𝐟𝐫𝐨𝐦 𝐭𝐡𝐞 𝐭𝐢𝐦𝐞 𝐨𝐟 𝐭𝐡𝐞 𝐂𝐨𝐦𝐩𝐚𝐧𝐢𝐨𝐧𝐬 𝐨𝐟 𝐭𝐡𝐞 𝐌𝐞𝐬𝐬𝐞𝐧𝐠𝐞𝐫 𝐨𝐟 𝐀𝐥𝐥𝐚𝐡 (𝐛𝐥𝐞𝐬𝐬𝐢𝐧𝐠𝐬 𝐚𝐧𝐝 𝐩𝐞𝐚𝐜𝐞 𝐨𝐟 𝐀𝐥𝐥𝐚𝐡 𝐛𝐞 𝐮𝐩𝐨𝐧 𝐡𝐢𝐦) 𝐮𝐩 𝐮𝐧𝐭𝐢𝐥 𝐭𝐡𝐞 𝐩𝐫𝐞𝐬𝐞𝐧𝐭 𝐝𝐚𝐲, 𝐢𝐧 𝐚𝐠𝐫𝐞𝐞𝐦𝐞𝐧𝐭 𝐨𝐧 𝐚𝐜𝐜𝐞𝐩𝐭𝐢𝐧𝐠 𝐭𝐡𝐢𝐬 𝐡𝐚𝐝𝐢𝐭𝐡 𝐚𝐧𝐝 𝐜𝐨𝐦𝐦𝐞𝐧𝐭𝐢𝐧𝐠 𝐨𝐧 𝐢𝐭, 𝐢𝐧𝐭𝐞𝐫𝐩𝐫𝐞𝐭𝐢𝐧𝐠 𝐢𝐭, 𝐪𝐮𝐨𝐭𝐢𝐧𝐠 𝐢𝐭 𝐚𝐬 𝐞𝐯𝐢𝐝𝐞𝐧𝐜𝐞 𝐚𝐧𝐝 𝐚𝐜𝐭𝐢𝐧𝐠 𝐮𝐩𝐨𝐧 𝐢𝐭?
𝐃𝐨𝐞𝐬𝐧'𝐭 𝐫𝐚𝐭𝐢𝐨𝐧𝐚𝐥 𝐭𝐡𝐢𝐧𝐤𝐢𝐧𝐠 – 𝐨𝐧 𝐰𝐡𝐢𝐜𝐡 𝐭𝐡𝐞𝐲 𝐜𝐥𝐚𝐢𝐦 𝐭𝐨 𝐛𝐚𝐬𝐞 𝐭𝐡𝐞𝐢𝐫 𝐚𝐫𝐠𝐮𝐦𝐞𝐧𝐭 – 𝐝𝐢𝐜𝐭𝐚𝐭𝐞 𝐭𝐡𝐚𝐭 𝐭𝐡𝐞𝐲 𝐬𝐡𝐨𝐮𝐥𝐝 𝐫𝐞𝐬𝐩𝐞𝐜𝐭 𝐭𝐡𝐞 𝐜𝐨𝐧𝐬𝐞𝐧𝐬𝐮𝐬 𝐨𝐟 𝐬𝐩𝐞𝐜𝐢𝐚𝐥𝐢𝐬𝐭𝐬 𝐨𝐧 𝐭𝐡𝐞 𝐦𝐚𝐭𝐭𝐞𝐫 𝐭𝐡𝐚𝐭 𝐢𝐬 𝐚𝐭 𝐭𝐡𝐞 𝐡𝐞𝐚𝐫𝐭 𝐨𝐟 𝐭𝐡𝐞𝐢𝐫 𝐬𝐩𝐞𝐜𝐢𝐚𝐥𝐭𝐲?
𝐂𝐚𝐧 𝐚𝐧𝐲𝐨𝐧𝐞 𝐡𝐚𝐯𝐞 𝐭𝐡𝐞 𝐚𝐮𝐝𝐚𝐜𝐢𝐭𝐲 𝐭𝐨 𝐬𝐚𝐲 𝐭𝐡𝐚𝐭 𝐩𝐡𝐲𝐬𝐢𝐜𝐢𝐬𝐭𝐬, 𝐜𝐡𝐞𝐦𝐢𝐬𝐭𝐬, 𝐦𝐚𝐭𝐡𝐞𝐦𝐚𝐭𝐢𝐜𝐢𝐚𝐧𝐬, 𝐞𝐝𝐮𝐜𝐚𝐭𝐢𝐨𝐧𝐚𝐥𝐢𝐬𝐭𝐬 𝐨𝐫 𝐞𝐜𝐨𝐧𝐨𝐦𝐢𝐬𝐭𝐬, 𝐟𝐨𝐫 𝐞𝐱𝐚𝐦𝐩𝐥𝐞, 𝐡𝐚𝐯𝐞 𝐦𝐚𝐝𝐞 𝐚 𝐦𝐢𝐬𝐭𝐚𝐤𝐞 𝐢𝐟 𝐭𝐡𝐞𝐲 𝐚𝐠𝐫𝐞𝐞 𝐨𝐧 𝐚 𝐦𝐚𝐭𝐭𝐞𝐫 – 𝐞𝐬𝐩𝐞𝐜𝐢𝐚𝐥𝐥𝐲 𝐰𝐡𝐞𝐧 𝐭𝐡𝐞 𝐨𝐧𝐞 𝐰𝐡𝐨 𝐢𝐬 𝐨𝐛𝐣𝐞𝐜𝐭𝐢𝐧𝐠 𝐭𝐨 𝐭𝐡𝐞𝐦 𝐢𝐬 𝐧𝐨𝐭 𝐨𝐧𝐞 𝐨𝐟 𝐭𝐡𝐞 𝐬𝐩𝐞𝐜𝐢𝐚𝐥𝐢𝐬𝐭𝐬 𝐢𝐧 𝐭𝐡𝐚𝐭 𝐟𝐢𝐞𝐥𝐝.
𝐑𝐚𝐭𝐡𝐞𝐫 𝐚𝐥𝐥 𝐭𝐡𝐚𝐭 𝐜𝐚𝐧 𝐛𝐞 𝐬𝐚𝐢𝐝 𝐢𝐬 𝐭𝐡𝐚𝐭 𝐡𝐞 𝐡𝐚𝐬 𝐫𝐞𝐚𝐝 𝐬𝐨𝐦𝐞 𝐚𝐫𝐭𝐢𝐜𝐥𝐞𝐬 𝐚𝐛𝐨𝐮𝐭 𝐢𝐭 𝐨𝐫 𝐚 𝐟𝐞𝐰 𝐛𝐨𝐨𝐤𝐬 𝐚𝐥𝐨𝐧𝐠 𝐭𝐡𝐞 𝐥𝐢𝐧𝐞𝐬 𝐨𝐟 𝐒𝐜𝐢𝐞𝐧𝐜𝐞 𝐅𝐨𝐫 𝐃𝐮𝐦𝐦𝐢𝐞𝐬 𝐨𝐫 𝐓𝐡𝐞 𝐂𝐨𝐦𝐩𝐥𝐞𝐭𝐞 𝐈𝐝𝐢𝐨𝐭'𝐬 𝐆𝐮𝐢𝐝𝐞 𝐭𝐨 𝐒𝐜𝐢𝐞𝐧𝐜𝐞 [𝐢.𝐞., 𝐛𝐨𝐨𝐤𝐬 𝐭𝐡𝐚𝐭 𝐨𝐟𝐟𝐞𝐫 𝐚 𝐛𝐚𝐬𝐢𝐜 𝐢𝐧𝐭𝐫𝐨𝐝𝐮𝐜𝐭𝐢𝐨𝐧 𝐭𝐨 𝐚 𝐟𝐢𝐞𝐥𝐝]?
𝐓𝐡𝐞 𝐬𝐞𝐜𝐨𝐧𝐝 𝐜𝐨𝐧𝐝𝐢𝐭𝐢𝐨𝐧:
𝐓𝐡𝐞𝐫𝐞 𝐬𝐡𝐨𝐮𝐥𝐝 𝐛𝐞 𝐚 𝐰𝐞𝐚𝐤𝐧𝐞𝐬𝐬 𝐢𝐧 𝐨𝐧𝐞 𝐨𝐟 𝐭𝐡𝐞 𝐥𝐢𝐧𝐤𝐬 𝐨𝐟 𝐭𝐡𝐞 𝐢𝐬𝐧𝐚𝐝= 𝐧𝐚𝐫𝐫𝐚𝐭𝐢𝐨𝐧 𝐭𝐡𝐚𝐭 𝐜𝐨𝐮𝐥𝐝 𝐡𝐚𝐯𝐞 𝐥𝐞𝐝 𝐭𝐨 𝐭𝐡𝐞 𝐦𝐢𝐬𝐭𝐚𝐤𝐞 𝐦𝐞𝐧𝐭𝐢𝐨𝐧𝐞𝐝 𝐢𝐧 𝐭𝐡𝐞 𝐭𝐞𝐱𝐭.
𝐒𝐢𝐦𝐢𝐥𝐚𝐫𝐥𝐲, 𝐰𝐞 𝐭𝐡𝐢𝐧𝐤 𝐭𝐡𝐚𝐭 𝐭𝐡𝐢𝐬 𝐜𝐨𝐧𝐝𝐢𝐭𝐢𝐨𝐧 𝐢𝐬 𝐢𝐧 𝐡𝐚𝐫𝐦𝐨𝐧𝐲 𝐰𝐢𝐭𝐡 𝐬𝐨𝐮𝐧𝐝 𝐦𝐞𝐭𝐡𝐨𝐝𝐨𝐥𝐨𝐠𝐲 𝐚𝐧𝐝 𝐢𝐬 𝐚 𝐯𝐚𝐥𝐢𝐝 𝐜𝐨𝐧𝐝𝐢𝐭𝐢𝐨𝐧. 𝐍𝐨 𝐨𝐧𝐞 𝐬𝐡𝐨𝐮𝐥𝐝 𝐝𝐢𝐬𝐚𝐠𝐫𝐞𝐞 𝐨𝐧 𝐭𝐡𝐢𝐬 𝐩𝐨𝐢𝐧𝐭 𝐰𝐡𝐨 𝐮𝐧𝐝𝐞𝐫𝐬𝐭𝐚𝐧𝐝𝐬 𝐚𝐧𝐲𝐭𝐡𝐢𝐧𝐠 𝐚𝐛𝐨𝐮𝐭 𝐭𝐡𝐞 𝐩𝐫𝐢𝐧𝐜𝐢𝐩𝐥𝐞𝐬 𝐨𝐟 𝐚𝐜𝐚𝐝𝐞𝐦𝐢𝐜 𝐜𝐫𝐢𝐭𝐢𝐜𝐢𝐬𝐦.
𝐃𝐞𝐧𝐲𝐢𝐧𝐠 𝐭𝐡𝐚𝐭 𝐚 𝐭𝐞𝐱𝐭 𝐢𝐬 𝐭𝐡𝐞 𝐰𝐨𝐫𝐝𝐬 𝐨𝐟 𝐭𝐡𝐞 𝐏𝐫𝐨𝐩𝐡𝐞𝐭 (𝐛𝐥𝐞𝐬𝐬𝐢𝐧𝐠𝐬 𝐚𝐧𝐝 𝐩𝐞𝐚𝐜𝐞 𝐨𝐟 𝐀𝐥𝐥𝐚𝐡 𝐛𝐞 𝐮𝐩𝐨𝐧 𝐡𝐢𝐦) 𝐬𝐡𝐨𝐮𝐥𝐝 𝐦𝐞𝐚𝐧 𝐭𝐡𝐚𝐭 𝐭𝐡𝐞𝐫𝐞 𝐢𝐬 𝐚 𝐰𝐞𝐚𝐤 𝐥𝐢𝐧𝐤 𝐢𝐧 𝐭𝐡𝐞 𝐜𝐡𝐚𝐢𝐧 𝐨𝐟 𝐧𝐚𝐫𝐫𝐚𝐭𝐢𝐨𝐧 𝐭𝐡𝐚𝐭 𝐥𝐞𝐝 𝐮𝐬 𝐭𝐨 𝐦𝐢𝐬𝐭𝐚𝐤𝐞𝐧𝐥𝐲 𝐛𝐞𝐥𝐢𝐞𝐯𝐞 𝐭𝐡𝐚𝐭 𝐭𝐡𝐢𝐬 𝐡𝐚𝐝𝐢𝐭𝐡 𝐢𝐬 𝐭𝐡𝐞 𝐰𝐨𝐫𝐝𝐬 𝐨𝐟 𝐭𝐡𝐞 𝐏𝐫𝐨𝐩𝐡𝐞𝐭 (𝐛𝐥𝐞𝐬𝐬𝐢𝐧𝐠𝐬 𝐚𝐧𝐝 𝐩𝐞𝐚𝐜𝐞 𝐨𝐟 𝐀𝐥𝐥𝐚𝐡 𝐛𝐞 𝐮𝐩𝐨𝐧 𝐡𝐢𝐦), 𝐰𝐡𝐞𝐧 𝐢𝐧 𝐟𝐚𝐜𝐭 𝐢𝐭 𝐢𝐬 𝐧𝐨𝐭.
𝐈𝐦𝐚𝐦 𝐚𝐬𝐡-𝐒𝐡𝐚𝐚𝐟𝐚'𝐢 (𝐦𝐚𝐲 𝐀𝐥𝐥𝐚𝐡 𝐡𝐚𝐯𝐞 𝐦𝐞𝐫𝐜𝐲 𝐨𝐧 𝐡𝐢𝐦) – 𝐰𝐡𝐨 𝐢𝐬 𝐩𝐫𝐨𝐦𝐢𝐧𝐞𝐧𝐭 𝐢𝐧 𝐭𝐞𝐫𝐦𝐬 𝐨𝐟 𝐤𝐧𝐨𝐰𝐥𝐞𝐝𝐠𝐞 𝐚𝐧𝐝 𝐟𝐚𝐢𝐭𝐡, 𝐚𝐧𝐝 𝐰𝐚𝐬 𝐭𝐡𝐞 𝐟𝐢𝐫𝐬𝐭 𝐨𝐧𝐞 𝐭𝐨 𝐰𝐫𝐢𝐭𝐞 𝐨𝐧 𝐭𝐡𝐞 𝐭𝐨𝐩𝐢𝐜 𝐨𝐟 𝐮𝐬𝐨𝐨𝐥 𝐚𝐥-𝐟𝐢𝐪𝐡 – 𝐬𝐚𝐢𝐝:
𝐈𝐟 𝐚 𝐡𝐚𝐝𝐢𝐭𝐡 𝐢𝐬 𝐧𝐚𝐫𝐫𝐚𝐭𝐞𝐝 𝐛𝐲 𝐭𝐫𝐮𝐬𝐭𝐰𝐨𝐫𝐭𝐡𝐲 𝐧𝐚𝐫𝐫𝐚𝐭𝐨𝐫𝐬 𝐟𝐫𝐨𝐦 𝐭𝐡𝐞 𝐌𝐞𝐬𝐬𝐞𝐧𝐠𝐞𝐫 𝐨𝐟 𝐀𝐥𝐥𝐚𝐡 (𝐛𝐥𝐞𝐬𝐬𝐢𝐧𝐠𝐬 𝐚𝐧𝐝 𝐩𝐞𝐚𝐜𝐞 𝐨𝐟 𝐀𝐥𝐥𝐚𝐡 𝐛𝐞 𝐮𝐩𝐨𝐧 𝐡𝐢𝐦), 𝐭𝐡𝐞𝐧 𝐭𝐡𝐚𝐭 𝐢𝐬 𝐬𝐮𝐟𝐟𝐢𝐜𝐢𝐞𝐧𝐭 𝐭𝐨 𝐫𝐞𝐠𝐚𝐫𝐝 𝐢𝐭 𝐚𝐬 𝐚 𝐬𝐨𝐮𝐧𝐝 𝐡𝐚𝐝𝐢𝐭𝐡.
𝐈𝐤𝐡𝐭𝐢𝐥𝐚𝐚𝐟 𝐚𝐥-𝐇𝐚𝐝𝐢𝐭𝐡, 𝐢𝐧 𝐚𝐥-𝐔𝐦𝐦 (𝟏𝟎/𝟏𝟎𝟕).
𝐀𝐧𝐝 𝐡𝐞 𝐬𝐚𝐢𝐝:
𝐓𝐡𝐞𝐫𝐞 𝐢𝐬 𝐧𝐨 𝐨𝐭𝐡𝐞𝐫 𝐰𝐚𝐲 𝐭𝐨 𝐝𝐞𝐭𝐞𝐫𝐦𝐢𝐧𝐞 𝐰𝐡𝐞𝐭𝐡𝐞𝐫 𝐚 𝐡𝐚𝐝𝐢𝐭𝐡 𝐢𝐬 𝐬𝐨𝐮𝐧𝐝 𝐨𝐫 𝐨𝐭𝐡𝐞𝐫𝐰𝐢𝐬𝐞 𝐞𝐱𝐜𝐞𝐩𝐭 𝐛𝐲 𝐤𝐧𝐨𝐰𝐢𝐧𝐠 𝐡𝐨𝐰 𝐡𝐨𝐧𝐞𝐬𝐭 𝐚𝐧𝐝 𝐭𝐫𝐮𝐬𝐭𝐰𝐨𝐫𝐭𝐡𝐲 𝐭𝐡𝐞 𝐧𝐚𝐫𝐫𝐚𝐭𝐨𝐫𝐬 𝐚𝐫𝐞, 𝐰𝐢𝐭𝐡 𝐭𝐡𝐞 𝐞𝐱𝐜𝐞𝐩𝐭𝐢𝐨𝐧 𝐨𝐟 𝐯𝐞𝐫𝐲 𝐟𝐞𝐰 𝐡𝐚𝐝𝐢𝐭𝐡𝐬.
𝐀𝐫-𝐑𝐢𝐬𝐚𝐚𝐥𝐚𝐡 (𝐩𝐚𝐫𝐚. 𝟏𝟎𝟗𝟗)
𝐀𝐧𝐝 𝐡𝐞 𝐚𝐥𝐬𝐨 𝐬𝐚𝐢𝐝:
𝐌𝐮𝐬𝐥𝐢𝐦𝐬 𝐨𝐟 𝐠𝐨𝐨𝐝 𝐜𝐡𝐚𝐫𝐚𝐜𝐭𝐞𝐫 𝐚𝐫𝐞 𝐭𝐡𝐨𝐬𝐞 𝐰𝐡𝐨 𝐚𝐫𝐞 𝐠𝐨𝐨𝐝 𝐚𝐧𝐝 𝐬𝐨𝐮𝐧𝐝 𝐢𝐧 𝐚𝐧𝐝 𝐨𝐟 𝐭𝐡𝐞𝐦𝐬𝐞𝐥𝐯𝐞𝐬… 𝐀𝐬 𝐟𝐨𝐫 𝐰𝐡𝐚𝐭 𝐭𝐡𝐞𝐲 𝐬𝐚𝐲 𝐚𝐧𝐝 𝐝𝐨, 𝐢𝐭 𝐢𝐬 𝐭𝐨 𝐛𝐞 𝐫𝐞𝐠𝐚𝐫𝐝𝐞𝐝 𝐚𝐬 𝐬𝐨𝐮𝐧𝐝 𝐚𝐧𝐝 𝐚𝐜𝐜𝐞𝐩𝐭𝐚𝐛𝐥𝐞, 𝐮𝐧𝐥𝐞𝐬𝐬 𝐰𝐞 𝐟𝐢𝐧𝐝 𝐬𝐨𝐦𝐞𝐭𝐡𝐢𝐧𝐠 𝐢𝐧 𝐭𝐡𝐞𝐢𝐫 𝐚𝐜𝐭𝐢𝐨𝐧𝐬 𝐭𝐡𝐚𝐭 𝐢𝐧𝐝𝐢𝐜𝐚𝐭𝐞 𝐨𝐭𝐡𝐞𝐫𝐰𝐢𝐬𝐞. 𝐒𝐨, 𝐰𝐞 𝐬𝐡𝐨𝐮𝐥𝐝 𝐛𝐞 𝐜𝐚𝐮𝐭𝐢𝐨𝐮𝐬 𝐰𝐢𝐭𝐡 𝐭𝐡𝐞𝐦 𝐢𝐧 𝐜𝐚𝐬𝐞𝐬 𝐰𝐡𝐞𝐫𝐞 𝐭𝐡𝐞𝐢𝐫 𝐚𝐜𝐭𝐢𝐨𝐧𝐬 𝐝𝐢𝐟𝐟𝐞𝐫 𝐟𝐫𝐨𝐦 𝐰𝐡𝐚𝐭 𝐢𝐬 𝐞𝐱𝐩𝐞𝐜𝐭𝐞𝐝 𝐨𝐟 𝐭𝐡𝐞𝐦.
𝐀𝐫-𝐑𝐢𝐬𝐚𝐚𝐥𝐚𝐡 (𝐩𝐚𝐫𝐚. 𝟏𝟎𝟐𝟗-𝟏𝟎𝟑𝟎); 𝐬𝐞𝐞 𝐚𝐥𝐬𝐨 𝐚𝐥-𝐔𝐦𝐦 (𝟖/𝟓𝟏𝟖-𝟓𝟏 𝟗)
𝐀𝐟𝐭𝐞𝐫 𝐧𝐚𝐫𝐫𝐚𝐭𝐢𝐧𝐠 𝐬𝐨𝐦𝐞 𝐨𝐟 𝐭𝐡𝐞 𝐚𝐜𝐚𝐝𝐞𝐦𝐢𝐜 𝐩𝐫𝐢𝐧𝐜𝐢𝐩𝐥𝐞𝐬 𝐜𝐨𝐧𝐜𝐞𝐫𝐧𝐢𝐧𝐠 𝐭𝐡𝐢𝐬 𝐦𝐚𝐭𝐭𝐞𝐫, 𝐰𝐡𝐢𝐜𝐡 𝐢𝐬 𝐬𝐨𝐦𝐞𝐭𝐡𝐢𝐧𝐠 𝐭𝐡𝐚𝐭 𝐡𝐞 𝐝𝐢𝐬𝐜𝐮𝐬𝐬𝐞𝐝 𝐚 𝐠𝐫𝐞𝐚𝐭 𝐝𝐞𝐚𝐥 𝐢𝐧 𝐡𝐢𝐬 𝐯𝐚𝐫𝐢𝐨𝐮𝐬 𝐛𝐨𝐨𝐤𝐬, 𝐈𝐦𝐚𝐦 𝐚𝐬𝐡-𝐒𝐡𝐚𝐚𝐟𝐚'𝐢 (𝐦𝐚𝐲 𝐀𝐥𝐥𝐚𝐡 𝐡𝐚𝐯𝐞 𝐦𝐞𝐫𝐜𝐲 𝐨𝐧 𝐡𝐢𝐦) 𝐬𝐚𝐲𝐬 𝐭𝐡𝐚𝐭 𝐰𝐡𝐚𝐭 𝐡𝐞 𝐬𝐭𝐚𝐭𝐞𝐝 –
𝐒𝐨𝐦𝐞 𝐨𝐟 𝐰𝐡𝐢𝐜𝐡 𝐰𝐞 𝐡𝐚𝐯𝐞 𝐪𝐮𝐨𝐭𝐞𝐝 𝐡𝐞𝐫𝐞 – 𝐢𝐬 𝐧𝐨𝐭 𝐭𝐡𝐞 𝐯𝐢𝐞𝐰 𝐨𝐟 𝐨𝐧𝐥𝐲 𝐚 𝐟𝐞𝐰 𝐬𝐜𝐡𝐨𝐥𝐚𝐫𝐬, 𝐨𝐫 𝐡𝐢𝐬 𝐨𝐰𝐧 𝐩𝐞𝐫𝐬𝐨𝐧𝐚𝐥 𝐯𝐢𝐞𝐰; 𝐫𝐚𝐭𝐡𝐞𝐫 𝐭𝐡𝐞𝐬𝐞 𝐚𝐫𝐞 𝐭𝐡𝐞 𝐩𝐫𝐢𝐧𝐜𝐢𝐩𝐥𝐞𝐬 𝐨𝐧 𝐰𝐡𝐢𝐜𝐡 𝐭𝐡𝐞𝐫𝐞 𝐰𝐚𝐬 𝐜𝐨𝐧𝐬𝐞𝐧𝐬𝐮𝐬 𝐚𝐦𝐨𝐧𝐠 𝐭𝐡𝐞 𝐬𝐜𝐡𝐨𝐥𝐚𝐫𝐬 𝐰𝐡𝐨 𝐜𝐚𝐦𝐞 𝐛𝐞𝐟𝐨𝐫𝐞 𝐡𝐢𝐦. 𝐇𝐞 𝐬𝐚𝐲𝐬:
𝐀𝐭 𝐭𝐡𝐞 𝐛𝐞𝐠𝐢𝐧𝐧𝐢𝐧𝐠 𝐨𝐟 𝐭𝐡𝐢𝐬 𝐛𝐨𝐨𝐤 𝐨𝐟 𝐦𝐢𝐧𝐞, 𝐈 𝐪𝐮𝐨𝐭𝐞𝐝, 𝐢𝐧 𝐬𝐮𝐩𝐩𝐨𝐫𝐭 𝐨𝐟 𝐰𝐡𝐚𝐭 𝐈 𝐝𝐢𝐬𝐜𝐮𝐬𝐬 𝐨𝐟 𝐩𝐫𝐢𝐧𝐜𝐢𝐩𝐥𝐞𝐬 𝐚𝐧𝐝 𝐠𝐮𝐢𝐝𝐞𝐥𝐢𝐧𝐞𝐬, 𝐟𝐫𝐨𝐦 𝐚 𝐧𝐮𝐦𝐛𝐞𝐫 𝐨𝐟 𝐞𝐚𝐫𝐥𝐢𝐞𝐫 𝐬𝐜𝐡𝐨𝐥𝐚𝐫𝐬 𝐰𝐡𝐨 𝐡𝐚𝐝 𝐤𝐧𝐨𝐰𝐥𝐞𝐝𝐠𝐞 𝐨𝐟 𝐭𝐡𝐞 𝐐𝐮𝐫'𝐚𝐧 𝐚𝐧𝐝 𝐒𝐮𝐧𝐧𝐚𝐡, 𝐝𝐢𝐟𝐟𝐞𝐫𝐞𝐧𝐭 𝐬𝐜𝐡𝐨𝐥𝐚𝐫𝐥𝐲 𝐨𝐩𝐢𝐧𝐢𝐨𝐧𝐬, 𝐚𝐧𝐚𝐥𝐨𝐠𝐲 𝐚𝐧𝐝 𝐫𝐚𝐭𝐢𝐨𝐧𝐚𝐥 𝐭𝐡𝐢𝐧𝐤𝐢𝐧𝐠, 𝐚𝐧𝐝 𝐧𝐨𝐧𝐞 𝐨𝐟 𝐭𝐡𝐞𝐦 𝐝𝐢𝐟𝐟𝐞𝐫𝐞𝐝 𝐰𝐢𝐭𝐡 𝐚𝐧𝐨𝐭𝐡𝐞𝐫.
𝐓𝐡𝐞𝐲 𝐬𝐚𝐢𝐝: 𝐓𝐡𝐢𝐬 𝐢𝐬 𝐭𝐡𝐞 𝐯𝐢𝐞𝐰 𝐨𝐟 𝐭𝐡𝐞 𝐬𝐜𝐡𝐨𝐥𝐚𝐫𝐬 𝐚𝐦𝐨𝐧𝐠 𝐭𝐡𝐞 𝐂𝐨𝐦𝐩𝐚𝐧𝐢𝐨𝐧𝐬 𝐨𝐟 𝐭𝐡𝐞 𝐌𝐞𝐬𝐬𝐞𝐧𝐠𝐞𝐫 𝐨𝐟 𝐀𝐥𝐥𝐚𝐡, 𝐭𝐡𝐞 𝐓𝐚𝐚𝐛𝐢'𝐞𝐞𝐧, 𝐚𝐧𝐝 𝐭𝐡𝐞 𝐠𝐞𝐧𝐞𝐫𝐚𝐭𝐢𝐨𝐧 𝐰𝐡𝐨 𝐟𝐨𝐥𝐥𝐨𝐰𝐞𝐝 𝐭𝐡𝐞𝐦, 𝐚𝐧𝐝 𝐢𝐭 𝐢𝐬 𝐨𝐮𝐫 𝐯𝐢𝐞𝐰.
𝐖𝐡𝐨𝐞𝐯𝐞𝐫 𝐝𝐢𝐯𝐞𝐫𝐠𝐞𝐬 𝐟𝐫𝐨𝐦 𝐭𝐡𝐢𝐬 𝐩𝐚𝐭𝐡 𝐢𝐬, 𝐢𝐧 𝐨𝐮𝐫 𝐯𝐢𝐞𝐰, 𝐝𝐢𝐯𝐞𝐫𝐠𝐢𝐧𝐠 𝐟𝐫𝐨𝐦 𝐭𝐡𝐞 𝐩𝐚𝐭𝐡 𝐨𝐟 𝐭𝐡𝐞 𝐂𝐨𝐦𝐩𝐚𝐧𝐢𝐨𝐧𝐬 𝐨𝐟 𝐭𝐡𝐞 𝐌𝐞𝐬𝐬𝐞𝐧𝐠𝐞𝐫 𝐨𝐟 𝐀𝐥𝐥𝐚𝐡 (𝐛𝐥𝐞𝐬𝐬𝐢𝐧𝐠𝐬 𝐚𝐧𝐝 𝐩𝐞𝐚𝐜𝐞 𝐨𝐟 𝐀𝐥𝐥𝐚𝐡 𝐛𝐞 𝐮𝐩𝐨𝐧 𝐡𝐢𝐦) 𝐚𝐧𝐝 𝐭𝐡𝐞 𝐩𝐚𝐭𝐡 𝐨𝐟 𝐭𝐡𝐞 𝐬𝐜𝐡𝐨𝐥𝐚𝐫𝐬 𝐰𝐡𝐨 𝐜𝐚𝐦𝐞 𝐚𝐟𝐭𝐞𝐫 𝐭𝐡𝐞𝐦, 𝐮𝐧𝐭𝐢𝐥 𝐭𝐡𝐞 𝐩𝐫𝐞𝐬𝐞𝐧𝐭 𝐝𝐚𝐲, 𝐚𝐧𝐝 𝐡𝐞 𝐢𝐬 𝐨𝐧𝐞 𝐨𝐟 𝐭𝐡𝐞 𝐩𝐞𝐨𝐩𝐥𝐞 𝐨𝐟 𝐢𝐠𝐧𝐨𝐫𝐚𝐧𝐜𝐞.
𝐀𝐧𝐝 𝐚𝐥𝐥 𝐨𝐟 𝐭𝐡𝐞𝐦 𝐬𝐚𝐢𝐝: 𝐰𝐞 𝐜𝐚𝐧𝐧𝐨𝐭 𝐬𝐞𝐞 𝐚𝐧𝐲𝐭𝐡𝐢𝐧𝐠 𝐛𝐮𝐭 𝐭𝐡𝐞 𝐜𝐨𝐧𝐬𝐞𝐧𝐬𝐮𝐬 𝐨𝐟 𝐭𝐡𝐞 𝐬𝐜𝐡𝐨𝐥𝐚𝐫𝐬 𝐢𝐧 𝐚𝐥𝐥 𝐫𝐞𝐠𝐢𝐨𝐧𝐬, 𝐮𝐧𝐚𝐧𝐢𝐦𝐨𝐮𝐬𝐥𝐲 𝐚𝐠𝐫𝐞𝐞𝐢𝐧𝐠 𝐭𝐨 𝐫𝐞𝐠𝐚𝐫𝐝 𝐚𝐬 𝐢𝐠𝐧𝐨𝐫𝐚𝐧𝐭 𝐭𝐡𝐞 𝐨𝐧𝐞 𝐰𝐡𝐨 𝐝𝐞𝐩𝐚𝐫𝐭𝐬 𝐟𝐫𝐨𝐦 𝐭𝐡𝐢𝐬 𝐩𝐚𝐭𝐡. 𝐀𝐧𝐝 𝐭𝐡𝐞𝐲 – 𝐨𝐫 𝐦𝐨𝐬𝐭 𝐨𝐟 𝐭𝐡𝐞𝐦 – 𝐰𝐞𝐧𝐭 𝐞𝐯𝐞𝐧 𝐟𝐮𝐫𝐭𝐡𝐞𝐫 𝐚𝐧𝐝 𝐞𝐱𝐩𝐫𝐞𝐬𝐬𝐞𝐝 𝐦𝐨𝐫𝐞 𝐬𝐭𝐫𝐢𝐧𝐠𝐞𝐧𝐭 𝐯𝐢𝐞𝐰𝐬 𝐰𝐢𝐭𝐡 𝐫𝐞𝐠𝐚𝐫𝐝 𝐭𝐨 𝐭𝐡𝐞 𝐨𝐧𝐞 𝐰𝐡𝐨 𝐝𝐞𝐩𝐚𝐫𝐭𝐬 𝐟𝐫𝐨𝐦 𝐭𝐡𝐢𝐬 𝐩𝐚𝐭𝐡, 𝐛𝐮𝐭 𝐭𝐡𝐞𝐫𝐞 𝐢𝐬 𝐧𝐨 𝐧𝐞𝐞𝐝 𝐭𝐨 𝐪𝐮𝐨𝐭𝐞 𝐭𝐡𝐞𝐦 𝐡𝐞𝐫𝐞.
𝐈𝐤𝐡𝐭𝐢𝐥𝐚𝐚𝐟 𝐚𝐥-𝐇𝐚𝐝𝐢𝐭𝐡, 𝐚𝐥-𝐔𝐦𝐦 (𝟏𝟎/𝟐𝟏). 𝐒𝐞𝐞 𝐚𝐥𝐬𝐨: 𝐚𝐫-𝐑𝐢𝐬𝐚𝐚𝐥𝐚𝐡 (𝐩𝐚𝐫𝐚. 𝟏𝟐𝟑𝟔-𝟏𝟐𝟒𝟗).
𝐓𝐡𝐞 𝐟𝐢𝐫𝐬𝐭 𝐭𝐡𝐢𝐧𝐠 𝐭𝐡𝐚𝐭 𝐭𝐡𝐞 𝐨𝐧𝐞 𝐰𝐡𝐨 𝐫𝐞𝐣𝐞𝐜𝐭𝐞𝐝 𝐚 𝐡𝐚𝐝𝐢𝐭𝐡 𝐭𝐡𝐚𝐭 𝐢𝐬 𝐚𝐭𝐭𝐫𝐢𝐛𝐮𝐭𝐞𝐝 𝐭𝐨 𝐭𝐡𝐞 𝐏𝐫𝐨𝐩𝐡𝐞𝐭 (𝐛𝐥𝐞𝐬𝐬𝐢𝐧𝐠𝐬 𝐚𝐧𝐝 𝐩𝐞𝐚𝐜𝐞 𝐨𝐟 𝐀𝐥𝐥𝐚𝐡 𝐛𝐞 𝐮𝐩𝐨𝐧 𝐡𝐢𝐦) 𝐦𝐮𝐬𝐭 𝐝𝐨 𝐢𝐬 𝐫𝐞𝐬𝐞𝐚𝐫𝐜𝐡 𝐚𝐧𝐝 𝐟𝐢𝐧𝐝 𝐨𝐮𝐭 𝐭𝐡𝐞 𝐢𝐝𝐞𝐧𝐭𝐢𝐭𝐲 𝐨𝐟 𝐭𝐡𝐞 𝐧𝐚𝐫𝐫𝐚𝐭𝐨𝐫 𝐰𝐡𝐨 𝐰𝐚𝐬 𝐦𝐢𝐬𝐭𝐚𝐤𝐞𝐧 𝐢𝐧 𝐡𝐢𝐬 𝐭𝐫𝐚𝐧𝐬𝐦𝐢𝐬𝐬𝐢𝐨𝐧 𝐨𝐟 𝐭𝐡𝐢𝐬 𝐡𝐚𝐝𝐢𝐭𝐡.
𝐈𝐟 𝐭𝐡𝐞 𝐨𝐧𝐞 𝐰𝐡𝐨 𝐝𝐞𝐧𝐢𝐞𝐬 𝐭𝐡𝐞 𝐡𝐚𝐝𝐢𝐭𝐡 𝐜𝐚𝐧𝐧𝐨𝐭 𝐟𝐢𝐧𝐝 𝐚𝐧 𝐚𝐜𝐜𝐞𝐩𝐭𝐚𝐛𝐥𝐞 𝐫𝐞𝐚𝐬𝐨𝐧 𝐢𝐧 𝐭𝐡𝐞 𝐢𝐬𝐧𝐚𝐚𝐝 𝐟𝐨𝐫 𝐫𝐞𝐣𝐞𝐜𝐭𝐢𝐧𝐠 𝐭𝐡𝐞 𝐡𝐚𝐝𝐢𝐭𝐡, 𝐭𝐡𝐞𝐧 𝐭𝐡𝐢𝐬 𝐢𝐧𝐝𝐢𝐜𝐚𝐭𝐞𝐬 𝐭𝐡𝐚𝐭 𝐡𝐞 𝐢𝐬 𝐦𝐢𝐬𝐭𝐚𝐤𝐞𝐧 𝐢𝐧 𝐡𝐢𝐬 𝐦𝐞𝐭𝐡𝐨𝐝𝐨𝐥𝐨𝐠𝐲. 𝐈𝐭 𝐚𝐥𝐬𝐨 𝐢𝐧𝐝𝐢𝐜𝐚𝐭𝐞𝐬 𝐭𝐡𝐚𝐭 𝐢𝐭 𝐢𝐬 𝐞𝐬𝐬𝐞𝐧𝐭𝐢𝐚𝐥 𝐭𝐨 𝐡𝐚𝐯𝐞 𝐚𝐧𝐨𝐭𝐡𝐞𝐫 𝐥𝐨𝐨𝐤 𝐚𝐧𝐝 𝐭𝐫𝐲 𝐭𝐨 𝐮𝐧𝐝𝐞𝐫𝐬𝐭𝐚𝐧𝐝 𝐭𝐡𝐞 𝐡𝐚𝐝𝐢𝐭𝐡 𝐚𝐧𝐝 𝐭𝐡𝐞 𝐐𝐮𝐫'𝐚𝐧 𝐚𝐧𝐝 𝐭𝐡𝐞 𝐚𝐢𝐦𝐬 𝐚𝐧𝐝 𝐠𝐨𝐚𝐥𝐬 𝐨𝐟 𝐬𝐡𝐚𝐫𝐞𝐞'𝐚𝐡.
𝐒𝐨 𝐡𝐨𝐰 𝐚𝐛𝐨𝐮𝐭 𝐢𝐟 𝐭𝐡𝐞 𝐡𝐚𝐝𝐢𝐭𝐡 𝐰𝐚𝐬 𝐧𝐚𝐫𝐫𝐚𝐭𝐞𝐝 𝐰𝐢𝐭𝐡 𝐭𝐡𝐞 𝐬𝐨𝐮𝐧𝐝𝐞𝐬𝐭 𝐢𝐬𝐧𝐚𝐚𝐝𝐬 𝐨𝐧 𝐭𝐡𝐞 𝐟𝐚𝐜𝐞 𝐨𝐟 𝐭𝐡𝐞 𝐞𝐚𝐫𝐭𝐡? 𝐇𝐨𝐰 𝐚𝐛𝐨𝐮𝐭 𝐢𝐟 𝐭𝐡𝐞 𝐡𝐚𝐝𝐢𝐭𝐡 𝐰𝐚𝐬 𝐧𝐚𝐫𝐫𝐚𝐭𝐞𝐝 𝐯𝐢𝐚 𝐦𝐚𝐧𝐲 𝐜𝐡𝐚𝐢𝐧𝐬 𝐨𝐟 𝐭𝐫𝐚𝐧𝐬𝐦𝐢𝐬𝐬𝐢𝐨𝐧 – 𝐚𝐬 𝐢𝐬 𝐭𝐡𝐞 𝐜𝐚𝐬𝐞 𝐰𝐢𝐭𝐡 𝐦𝐨𝐬𝐭 𝐨𝐟 𝐭𝐡𝐞 𝐡𝐚𝐝𝐢𝐭𝐡𝐬 𝐭𝐡𝐚𝐭 𝐚𝐫𝐞 𝐫𝐞𝐣𝐞𝐜𝐭𝐞𝐝 𝐛𝐲 𝐭𝐡𝐞 𝐩𝐫𝐨𝐩𝐨𝐧𝐞𝐧𝐭𝐬 𝐨𝐟 "𝐞𝐧𝐥𝐢𝐠𝐡𝐭𝐞𝐧𝐦𝐞𝐧𝐭" – 𝐚𝐧𝐝 𝐟𝐫𝐨𝐦 𝐚 𝐧𝐮𝐦𝐛𝐞𝐫 𝐨𝐟 𝐭𝐡𝐞 𝐒𝐚𝐡𝐚𝐚𝐛𝐚𝐡 (𝐦𝐚𝐲 𝐀𝐥𝐥𝐚𝐡 𝐛𝐞 𝐩𝐥𝐞𝐚𝐬𝐞𝐝 𝐰𝐢𝐭𝐡 𝐭𝐡𝐞𝐦)?
𝐓𝐡𝐞 𝐭𝐡𝐢𝐫𝐝 𝐜𝐨𝐧𝐝𝐢𝐭𝐢𝐨𝐧:
𝐎𝐧𝐞 𝐬𝐡𝐨𝐮𝐥𝐝 𝐞𝐱𝐩𝐫𝐞𝐬𝐬 𝐡𝐢𝐬 𝐫𝐞𝐬𝐞𝐫𝐯𝐚𝐭𝐢𝐨𝐧𝐬 𝐚𝐛𝐨𝐮𝐭 𝐚 𝐡𝐚𝐝𝐢𝐭𝐡 𝐚𝐬 𝐚 𝐩𝐞𝐫𝐬𝐨𝐧𝐚𝐥 𝐯𝐢𝐞𝐰 𝐛𝐚𝐬𝐞𝐝 𝐨𝐧 𝐡𝐢𝐬 𝐨𝐰𝐧 𝐫𝐞𝐚𝐬𝐨𝐧𝐢𝐧𝐠, 𝐰𝐡𝐢𝐜𝐡 𝐦𝐚𝐲 𝐛𝐞 𝐫𝐢𝐠𝐡𝐭 𝐨𝐫 𝐰𝐫𝐨𝐧𝐠, 𝐚𝐧𝐝 𝐡𝐞 𝐬𝐡𝐨𝐮𝐥𝐝 𝐚𝐯𝐨𝐢𝐝 𝐬𝐭𝐚𝐭𝐢𝐧𝐠 𝐡𝐢𝐬 𝐯𝐢𝐞𝐰 𝐚𝐬 𝐜𝐞𝐫𝐭𝐚𝐢𝐧𝐭𝐲 𝐚𝐬 𝐢𝐟 𝐢𝐭 𝐢𝐬 𝐭𝐡𝐞 𝐜𝐨𝐫𝐫𝐞𝐜𝐭 𝐯𝐢𝐞𝐰. 𝐇𝐞 𝐬𝐡𝐨𝐮𝐥𝐝 𝐚𝐥𝐬𝐨 𝐚𝐯𝐨𝐢𝐝 𝐦𝐚𝐤𝐢𝐧𝐠 𝐚𝐜𝐜𝐮𝐬𝐚𝐭𝐢𝐨𝐧𝐬 𝐚𝐠𝐚𝐢𝐧𝐬𝐭 𝐨𝐭𝐡𝐞𝐫𝐬 𝐰𝐡𝐨 𝐝𝐢𝐟𝐟𝐞𝐫 𝐰𝐢𝐭𝐡 𝐡𝐢𝐦 𝐨𝐫 𝐜𝐚𝐬𝐭𝐢𝐧𝐠 𝐚𝐬𝐩𝐞𝐫𝐬𝐢𝐨𝐧𝐬 𝐨𝐧 𝐭𝐡𝐞 𝐢𝐧𝐭𝐞𝐥𝐥𝐢𝐠𝐞𝐧𝐜𝐞 𝐨𝐟 𝐌𝐮𝐬𝐥𝐢𝐦 𝐬𝐜𝐡𝐨𝐥𝐚𝐫𝐬.
𝐓𝐡𝐢𝐬 𝐚𝐩𝐩𝐥𝐢𝐞𝐬 𝐢𝐧 𝐜𝐚𝐬𝐞𝐬 𝐰𝐡𝐞𝐫𝐞 𝐭𝐡𝐞𝐫𝐞 𝐢𝐬 𝐚 𝐯𝐚𝐥𝐢𝐝 𝐫𝐞𝐚𝐬𝐨𝐧 𝐭𝐨 𝐡𝐨𝐥𝐝 𝐬𝐮𝐜𝐡 𝐚 𝐯𝐢𝐞𝐰, 𝐚𝐧𝐝 𝐩𝐫𝐨𝐯𝐢𝐝𝐞𝐝 𝐭𝐡𝐚𝐭 𝐨𝐧𝐞 𝐢𝐬 𝐪𝐮𝐚𝐥𝐢𝐟𝐢𝐞𝐝 𝐭𝐨 𝐬𝐩𝐞𝐚𝐤 𝐚𝐛𝐨𝐮𝐭 𝐬𝐮𝐜𝐡 𝐦𝐚𝐭𝐭𝐞𝐫𝐬 𝐚𝐧𝐝 𝐢𝐬 𝐩𝐫𝐨𝐟𝐢𝐜𝐢𝐞𝐧𝐭 𝐢𝐧 𝐭𝐡𝐞 𝐬𝐤𝐢𝐥𝐥𝐬 𝐧𝐞𝐞𝐝𝐞𝐝 𝐭𝐨 𝐮𝐧𝐝𝐞𝐫𝐬𝐭𝐚𝐧𝐝 𝐚𝐧𝐝 𝐫𝐞𝐬𝐞𝐚𝐫𝐜𝐡 𝐭𝐡𝐞𝐦. 𝐀 𝐡𝐚𝐝𝐢𝐭𝐡 𝐦𝐚𝐲 𝐚𝐩𝐩𝐞𝐚𝐫 𝐭𝐨 𝐛𝐞 𝐝𝐚'𝐞𝐞𝐟 (𝐰𝐞𝐚𝐤) 𝐭𝐨 𝐨𝐧𝐞 𝐬𝐜𝐡𝐨𝐥𝐚𝐫 𝐟𝐨𝐫 𝐚 𝐩𝐚𝐫𝐭𝐢𝐜𝐮𝐥𝐚𝐫 𝐫𝐞𝐚𝐬𝐨𝐧, 𝐛𝐮𝐭 𝐡𝐞 𝐬𝐡𝐨𝐮𝐥𝐝 𝐧𝐨𝐭 𝐬𝐩𝐞𝐚𝐤 𝐢𝐧 𝐚𝐜𝐜𝐮𝐬𝐚𝐭𝐨𝐫𝐲 𝐭𝐨𝐧𝐞𝐬 𝐨𝐟 𝐭𝐡𝐨𝐬𝐞 𝐰𝐡𝐨 𝐚𝐜𝐜𝐞𝐩𝐭𝐞𝐝 𝐭𝐡𝐞 𝐡𝐚𝐝𝐢𝐭𝐡.
𝐖𝐡𝐨𝐞𝐯𝐞𝐫 𝐝𝐨𝐞𝐬 𝐧𝐨𝐭 𝐜𝐨𝐦𝐩𝐥𝐲 𝐰𝐢𝐭𝐡 𝐭𝐡𝐞𝐬𝐞 𝐭𝐡𝐫𝐞𝐞 𝐜𝐨𝐧𝐝𝐢𝐭𝐢𝐨𝐧𝐬 𝐚𝐧𝐝 𝐩𝐞𝐫𝐬𝐢𝐬𝐭𝐬 𝐢𝐧 𝐝𝐞𝐧𝐲𝐢𝐧𝐠 𝐚𝐧𝐝 𝐫𝐞𝐣𝐞𝐜𝐭𝐢𝐧𝐠 𝐭𝐡𝐞 𝐡𝐚𝐝𝐢𝐭𝐡𝐬 𝐢𝐬 𝐞𝐱𝐩𝐨𝐬𝐢𝐧𝐠 𝐡𝐢𝐦𝐬𝐞𝐥𝐟 𝐭𝐨 𝐠𝐫𝐚𝐯𝐞 𝐝𝐚𝐧𝐠𝐞𝐫, 𝐛𝐞𝐜𝐚𝐮𝐬𝐞 𝐢𝐭 𝐢𝐬 𝐧𝐨𝐭 𝐩𝐞𝐫𝐦𝐢𝐬𝐬𝐢𝐛𝐥𝐞 𝐟𝐨𝐫 𝐚 𝐌𝐮𝐬𝐥𝐢𝐦 𝐭𝐨 𝐫𝐞𝐚𝐜𝐡 𝐚 𝐜𝐨𝐧𝐜𝐥𝐮𝐬𝐢𝐨𝐧 𝐭𝐡𝐚𝐭 𝐢𝐬 𝐧𝐨𝐭 𝐛𝐚𝐬𝐞𝐝 𝐨𝐧 𝐩𝐫𝐨𝐩𝐞𝐫 𝐦𝐞𝐭𝐡𝐨𝐝𝐨𝐥𝐨𝐠𝐲 𝐚𝐧𝐝 𝐰𝐢𝐭𝐡𝐨𝐮𝐭 𝐟𝐨𝐥𝐥𝐨𝐰𝐢𝐧𝐠 𝐚𝐧𝐲 𝐠𝐮𝐢𝐝𝐞𝐥𝐢𝐧𝐞𝐬, 𝐚𝐧𝐝 𝐜𝐫𝐢𝐭𝐢𝐜𝐢𝐬𝐞 𝐨𝐭𝐡𝐞𝐫 𝐬𝐜𝐡𝐨𝐥𝐚𝐫𝐬 (𝐰𝐡𝐨 𝐝𝐢𝐬𝐚𝐠𝐫𝐞𝐞 𝐰𝐢𝐭𝐡 𝐡𝐢𝐦), 𝐨𝐭𝐡𝐞𝐫𝐰𝐢𝐬𝐞 𝐡𝐞 𝐦𝐚𝐲 𝐟𝐚𝐥𝐥 𝐢𝐧𝐭𝐨 𝐬𝐢𝐧 𝐚𝐧𝐝 𝐞𝐫𝐫𝐨𝐫.
𝐈𝐦𝐚𝐦 𝐀𝐡𝐦𝐚𝐝 (𝐦𝐚𝐲 𝐀𝐥𝐥𝐚𝐡 𝐡𝐚𝐯𝐞 𝐦𝐞𝐫𝐜𝐲 𝐨𝐧 𝐡𝐢𝐦) 𝐬𝐚𝐢𝐝: 𝐖𝐡𝐨𝐞𝐯𝐞𝐫 𝐫𝐞𝐣𝐞𝐜𝐭𝐬 𝐭𝐡𝐞 𝐡𝐚𝐝𝐢𝐭𝐡 𝐨𝐟 𝐭𝐡𝐞 𝐌𝐞𝐬𝐬𝐞𝐧𝐠𝐞𝐫 𝐨𝐟 𝐀𝐥𝐥𝐚𝐡 (𝐛𝐥𝐞𝐬𝐬𝐢𝐧𝐠𝐬 𝐚𝐧𝐝 𝐩𝐞𝐚𝐜𝐞 𝐨𝐟 𝐀𝐥𝐥𝐚𝐡 𝐛𝐞 𝐮𝐩𝐨𝐧 𝐡𝐢𝐦) 𝐢𝐬 𝐨𝐧 𝐭𝐡𝐞 𝐛𝐫𝐢𝐧𝐤 𝐨𝐟 𝐝𝐨𝐨𝐦. 𝐄𝐧𝐝 𝐪𝐮𝐨𝐭𝐞.
𝐀𝐥-𝐇𝐚𝐬𝐚𝐧 𝐢𝐛𝐧 '𝐀𝐥𝐢 𝐚𝐥-𝐁𝐚𝐫𝐛𝐚𝐡𝐚𝐚𝐫𝐢 𝐬𝐚𝐢𝐝:
𝐈𝐟 𝐲𝐨𝐮 𝐡𝐞𝐚𝐫 𝐚 𝐦𝐚𝐧 𝐜𝐚𝐬𝐭𝐢𝐧𝐠 𝐚𝐬𝐩𝐞𝐫𝐬𝐢𝐨𝐧𝐬 𝐮𝐩𝐨𝐧 𝐚 𝐡𝐚𝐝𝐢𝐭𝐡 𝐨𝐫 𝐝𝐞𝐧𝐲𝐢𝐧𝐠 𝐚 𝐡𝐚𝐝𝐢𝐭𝐡, 𝐨𝐫 𝐠𝐢𝐯𝐢𝐧𝐠 𝐩𝐫𝐞𝐜𝐞𝐝𝐞𝐧𝐜𝐞 𝐭𝐨 𝐬𝐨𝐦𝐞𝐭𝐡𝐢𝐧𝐠 𝐞𝐥𝐬𝐞 𝐨𝐯𝐞𝐫 𝐚 𝐡𝐚𝐝𝐢𝐭𝐡, 𝐭𝐡𝐞𝐧 𝐬𝐮𝐬𝐩𝐞𝐜𝐭 𝐡𝐢𝐬 𝐜𝐨𝐦𝐦𝐢𝐭𝐦𝐞𝐧𝐭 𝐭𝐨 𝐈𝐬𝐥𝐚𝐦, 𝐟𝐨𝐫 𝐡𝐞 𝐢𝐬 𝐮𝐧𝐝𝐨𝐮𝐛𝐭𝐞𝐝𝐥𝐲 𝐟𝐨𝐥𝐥𝐨𝐰𝐢𝐧𝐠 𝐰𝐡𝐢𝐦𝐬 𝐚𝐧𝐝 𝐝𝐞𝐬𝐢𝐫𝐞𝐬 𝐚𝐧𝐝 𝐢𝐧𝐧𝐨𝐯𝐚𝐭𝐢𝐨𝐧.
𝐈𝐟 𝐲𝐨𝐮 𝐡𝐞𝐚𝐫 𝐚 𝐦𝐚𝐧, 𝐰𝐡𝐞𝐧 𝐲𝐨𝐮 𝐪𝐮𝐨𝐭𝐞 𝐚 𝐡𝐚𝐝𝐢𝐭𝐡, 𝐬𝐡𝐨𝐰𝐢𝐧𝐠 𝐧𝐨 𝐢𝐧𝐭𝐞𝐫𝐞𝐬𝐭 𝐢𝐧 𝐢𝐭 𝐨𝐧 𝐭𝐡𝐞 𝐛𝐚𝐬𝐢𝐬 𝐭𝐡𝐚𝐭 𝐡𝐞 𝐨𝐧𝐥𝐲 𝐰𝐚𝐧𝐭𝐬 𝐭𝐨 𝐡𝐞𝐚𝐫 𝐪𝐮𝐨𝐭𝐚𝐭𝐢𝐨𝐧𝐬 𝐟𝐫𝐨𝐦 𝐭𝐡𝐞 𝐐𝐮𝐫'𝐚𝐧, 𝐲𝐨𝐮 𝐬𝐡𝐨𝐮𝐥𝐝 𝐧𝐨𝐭 𝐝𝐨𝐮𝐛𝐭 𝐭𝐡𝐚𝐭 𝐡𝐞 𝐢𝐬 𝐚 𝐦𝐚𝐧 𝐰𝐡𝐨 𝐢𝐬 𝐟𝐨𝐥𝐥𝐨𝐰𝐢𝐧𝐠 𝐭𝐡𝐞 𝐩𝐚𝐭𝐡 𝐨𝐟 𝐭𝐡𝐞 𝐡𝐞𝐫𝐞𝐭𝐢𝐜𝐬, 𝐬𝐨 𝐠𝐞𝐭 𝐮𝐩 𝐚𝐧𝐝 𝐥𝐞𝐚𝐯𝐞 𝐡𝐢𝐦, 𝐚𝐧𝐝 𝐛𝐢𝐝 𝐡𝐢𝐦 𝐟𝐚𝐫𝐞𝐰𝐞𝐥𝐥. 𝐄𝐧𝐝 𝐪𝐮𝐨𝐭𝐞.
𝐒𝐡𝐚𝐫𝐡 𝐚𝐬-𝐒𝐮𝐧𝐧𝐚𝐡 (𝟏𝟏𝟑-𝟏𝟏𝟗)
𝐒𝐡𝐚𝐲𝐤𝐡 𝐚𝐥-𝐈𝐬𝐥𝐚𝐦 𝐈𝐛𝐧 𝐓𝐚𝐲𝐦𝐢𝐲𝐚𝐡 (𝐦𝐚𝐲 𝐀𝐥𝐥𝐚𝐡 𝐡𝐚𝐯𝐞 𝐦𝐞𝐫𝐜𝐲 𝐨𝐧 𝐡𝐢𝐦) 𝐬𝐚𝐢𝐝:
𝐖𝐡𝐚𝐭𝐞𝐯𝐞𝐫 𝐭𝐡𝐞 𝐌𝐞𝐬𝐬𝐞𝐧𝐠𝐞𝐫 (𝐛𝐥𝐞𝐬𝐬𝐢𝐧𝐠𝐬 𝐚𝐧𝐝 𝐩𝐞𝐚𝐜𝐞 𝐨𝐟 𝐀𝐥𝐥𝐚𝐡 𝐛𝐞 𝐮𝐩𝐨𝐧 𝐡𝐢𝐦) 𝐧𝐚𝐫𝐫𝐚𝐭𝐞𝐬 𝐟𝐫𝐨𝐦 𝐡𝐢𝐬 𝐋𝐨𝐫𝐝, 𝐢𝐭 𝐢𝐬 𝐨𝐛𝐥𝐢𝐠𝐚𝐭𝐨𝐫𝐲 𝐭𝐨 𝐛𝐞𝐥𝐢𝐞𝐯𝐞 𝐢𝐧 𝐢𝐭, 𝐰𝐡𝐞𝐭𝐡𝐞𝐫 𝐰𝐞 𝐮𝐧𝐝𝐞𝐫𝐬𝐭𝐚𝐧𝐝 𝐢𝐭𝐬 𝐦𝐞𝐚𝐧𝐢𝐧𝐠 𝐨𝐫 𝐧𝐨𝐭, 𝐛𝐞𝐜𝐚𝐮𝐬𝐞 𝐡𝐞 𝐢𝐬 𝐭𝐡𝐞 𝐦𝐨𝐬𝐭 𝐭𝐫𝐮𝐭𝐡𝐟𝐮𝐥 𝐨𝐧𝐞 [𝐧𝐚𝐦𝐞𝐥𝐲 𝐭𝐡𝐞 𝐏𝐫𝐨𝐩𝐡𝐞𝐭 (𝐛𝐥𝐞𝐬𝐬𝐢𝐧𝐠𝐬 𝐚𝐧𝐝 𝐩𝐞𝐚𝐜𝐞 𝐨𝐟 𝐀𝐥𝐥𝐚𝐡 𝐛𝐞 𝐮𝐩𝐨𝐧 𝐡𝐢𝐦)]. 𝐖𝐡𝐚𝐭𝐞𝐯𝐞𝐫 𝐢𝐭 𝐬𝐚𝐲𝐬 𝐢𝐧 𝐭𝐡𝐞 𝐐𝐮𝐫'𝐚𝐧 𝐚𝐧𝐝 𝐒𝐮𝐧𝐧𝐚𝐡, 𝐞𝐯𝐞𝐫𝐲 𝐛𝐞𝐥𝐢𝐞𝐯𝐞𝐫 𝐦𝐮𝐬𝐭 𝐛𝐞𝐥𝐢𝐞𝐯𝐞 𝐢𝐧 𝐢𝐭, 𝐞𝐯𝐞𝐧 𝐢𝐟 𝐡𝐞 𝐝𝐨𝐞𝐬 𝐧𝐨𝐭 𝐮𝐧𝐝𝐞𝐫𝐬𝐭𝐚𝐧𝐝 𝐢𝐭𝐬 𝐦𝐞𝐚𝐧𝐢𝐧𝐠. 𝐄𝐧𝐝 𝐪𝐮𝐨𝐭𝐞.
𝐌𝐚𝐣𝐦𝐨𝐨' 𝐚𝐥-𝐅𝐚𝐭𝐚𝐚𝐰𝐚 (𝟑/𝟒𝟏)
𝐒𝐞𝐞 𝐚𝐥𝐬𝐨 𝐭𝐡𝐞 𝐚𝐧𝐬𝐰𝐞𝐫𝐬 𝐭𝐨 𝐪𝐮𝐞𝐬𝐭𝐢𝐨𝐧𝐬 𝐧𝐨. 𝟐𝟒𝟓, 𝟗𝟎𝟔𝟕 𝐚𝐧𝐝 𝟐𝟎𝟏𝟓𝟑
𝐀𝐧𝐝 𝐀𝐥𝐥𝐚𝐡 𝐤𝐧𝐨𝐰𝐬 𝐛𝐞𝐬𝐭.
The Islamic Ruling on Shi`ites (Rawafid) by Early Muslims.
'Umar ibn Al-Khattab did not seek the help of Allah by virtue of the status of al-'Abbaas (may Allah be pleased with him)
The story of Ghadir Khumm and Shi'a claim that Ali ibn Abi Talib RA was the first rightful Caliph
Application of hudud punishments in Sharia law
Ten Things can make you OUT of Islam Fold- The things that nullify Islam.
The Raafidis=Shi'a are undoubtedly kuffaar=non-Muslims=Out of the fold of Islam for four reasons
Instant Death to Apostates (those who desert their religion) in the Bible's Old and New Testaments – Apostasy in Christianity
Apostates in Islam: Should they be killed or saved? Apostasy in Islam – Islam on Apostasy
Did the Prophet kill apostates who renounce Islam?
Are the Sufi shaykhs really in contact with Allah?
Lightning Strike on Sufis and Shi'as