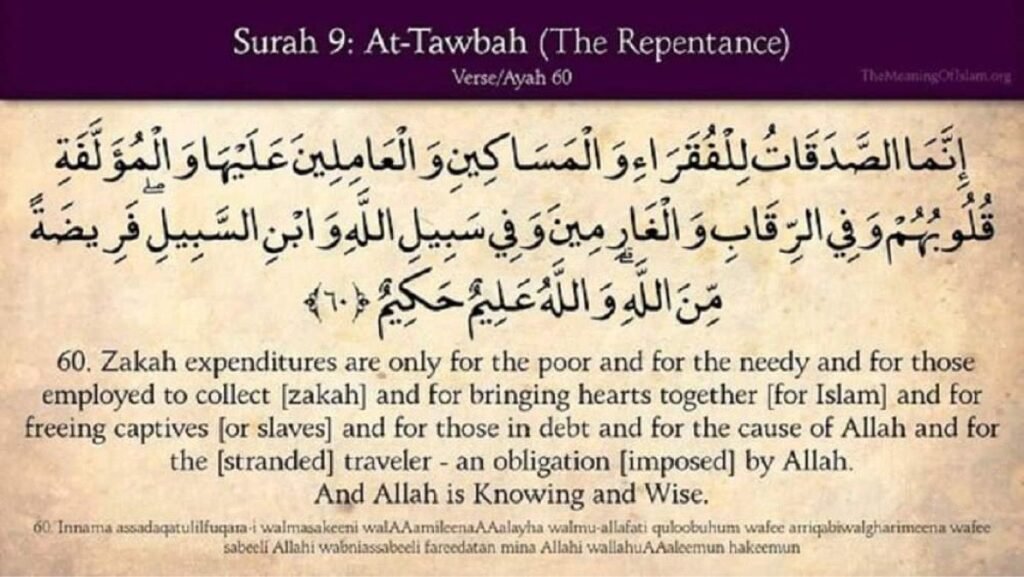 بسم الله الرحمن الرحيم
Bism Allah Ar Rahman Ar Raheem
أعوذ بالله من الشيطان الرجيم
I seek refuge in Allah from the accursed Satan
﴿ وَأَعِدُّوا لَهُمْ مَا اسْتَطَعْتُمْ مِنْ قُوَّةٍ وَمِنْ رِبَاطِ الْخَيْلِ تُرْهِبُونَ بِهِ عَدُوَّ اللَّهِ وَعَدُوَّكُمْ وَآخَرِينَ مِنْ دُونِهِمْ لَا تَعْلَمُونَهُمُ اللَّهُ يَعْلَمُهُمْ وَمَا تُنْفِقُوا مِنْ شَيْءٍ فِي سَبِيلِ اللَّهِ يُوَفَّ إِلَيْكُمْ وَأَنْتُمْ لَا تُظْلَمُونَ ﴾
[الأنفال: 60]
"Prepare against them what you ˹believers˺ can of ˹military˺ power and cavalry to deter Allah's enemies and your enemies as well as other enemies unknown to you but known to Allah. Whatever you spend in the cause of Allah will be paid to you in full and you will not be wronged." Quran (8:60)
﴿ إِنَّمَا الصَّدَقَاتُ لِلْفُقَرَاءِ وَالْمَسَاكِينِ وَالْعَامِلِينَ عَلَيْهَا وَالْمُؤَلَّفَةِ قُلُوبُهُمْ وَفِي الرِّقَابِ وَالْغَارِمِينَ وَفِي سَبِيلِ اللَّهِ وَابْنِ السَّبِيلِ فَرِيضَةً مِنَ اللَّهِ وَاللَّهُ عَلِيمٌ حَكِيمٌ ﴾
[التوبة: 60]
"Alms-tax is only for the poor and the needy, for those employed to administer it, for those whose hearts are attracted ˹to the faith˺, for ˹freeing˺ slaves, for those in debt, for Allah's cause, and for ˹needy˺ travellers. ˹This is˺ an obligation from Allah. And Allah is All-Knowing, All-Wise." Quran (9:60)
﴿ آمِنُوا بِاللَّهِ وَرَسُولِهِ وَأَنْفِقُوا مِمَّا جَعَلَكُمْ مُسْتَخْلَفِينَ فِيهِ فَالَّذِينَ آمَنُوا مِنْكُمْ وَأَنْفَقُوا لَهُمْ أَجْرٌ كَبِيرٌ ﴾
[الحديد: 7]
"Believe in Allah and His Messenger, and donate from what He has entrusted you with. So those of you who believe and donate will have a mighty reward." Quran (57:7)
﴿الَّذِينَ يُنفِقُونَ أَمْوَالَهُمْ فِي سَبِيلِ اللَّهِ ثُمَّ لَا يُتْبِعُونَ مَا أَنفَقُوا مَنًّا وَلَا أَذًى ۙ لَّهُمْ أَجْرُهُمْ عِندَ رَبِّهِمْ وَلَا خَوْفٌ عَلَيْهِمْ وَلَا هُمْ يَحْزَنُونَ﴾
[البقرة 261]
"The example of those who spend their wealth in the cause of Allah is that of a grain that sprouts into seven ears, each bearing one hundred grains. And Allah multiplies ˹the reward even more˺ to whoever He wills. For Allah is All-Bountiful, All-Knowing." Quran (2:261)
﴿وَمَثَلُ الَّذِينَ يُنفِقُونَ أَمْوَالَهُمُ ابْتِغَاءَ مَرْضَاتِ اللَّهِ وَتَثْبِيتًا مِّنْ أَنفُسِهِمْ كَمَثَلِ جَنَّةٍ بِرَبْوَةٍ أَصَابَهَا وَابِلٌ فَآتَتْ أُكُلَهَا ضِعْفَيْنِ فَإِن لَّمْ يُصِبْهَا وَابِلٌ فَطَلٌّ ۗ وَاللَّهُ بِمَا تَعْمَلُونَ بَصِيرٌ﴾
[البقرة 265]
"And the example of those who donate their wealth, seeking Allah's pleasure and believing the reward is certain,1 is that of a garden on a fertile hill: when heavy rain falls, it yields up twice its normal produce. If no heavy rain falls, a drizzle is sufficient. And Allah is All-Seeing of what you do." Quran (2:265)
Assalamu Alaykum Warahmatu Allah Wabaracatu= peace and blessings of Allah Exalted He upon you.
We pray to Allah Exalted that our website is of great benefit to Islam and Muslims, as you all are aware that enemies of Islam have been attacking Islam and spreading lies and misconceptions regularly. For that reason, we are trying to prepare responses to all those false religions and cults that have been attacking Islam.
Our methodology in Islam Compass:
Promoting Islam supported by The Glorious Qur'an and Authentic Hadith and by the understanding of our pious predecessors "Al Salaf-Al Salih"
Our website is a dedicated niche and resources website designed to help both Muslims and non-Muslims find refutations and response to various misconceptions about Islam.
We need your financial support to:
1) Grow, expand, and keep going Insha' Allah by maintaining this website, hosting, and upgrades.
2) Maintain ongoing one or more full time Muslim researchers who spend lots of hours in researching, translating, and interpreting.
3) Share our articles on various social media platforms.
4) If you see an error on our website, bring to our attention any mistakes as long as it is supported by crystal clear evidence from the Glorious Quran and Authentic Sunnah
5) If you cannot support us, financially make sure to at least make dua for us.
If can support us financially there are many ways to do that:
A) By Bank transfer:
Account name: M Nassar
Bank Commonwealth of Australia
BSB: 063-000
Account number: 12918497
If you are outside of Australia, use the same above bank account details and you will need this Swift Code: CTBAAU2S.
Additionally:
If you want to support us with reoccurring monthly payment such as five dollars or ten dollars a month you can use PayPal or Patreon icon. Perhaps via the bank account too.
If you prefer using Western union or Money Gram, you can do by sending to:
M Nassar
Melbourne- Australia
Copies of transfer receipts that include the money transfer control number can be emailed to: mohamadmnassar@gmail.com
May Allah reward you abundantly, Gazakum Allah Khiran Wassalamu Alaykum Warahmatu Allah Wabaracatu.
Mohamad Mostafa Nassar
Twitter @NassarMohamadMR
Website www.Islamcompass.com