𝐉𝐨𝐡𝐧 𝟏𝟎:𝟑𝟎 𝐈 𝐚𝐧𝐝 𝐦𝐲 𝐟𝐚𝐭𝐡𝐞𝐫 𝐚𝐫𝐞 𝐨𝐧𝐞


Mohamad Mostafa Nassar
Twitter:@NassarMohamadMR
Christans tend to say John 10:30 "I and the father are one" to claim that Jesus said He and God are one in nature and NEVER SEPARATED – Truth is they are NOT one in nature BUT one in MISSION. Again Christains to support their claim they go further by using John 14:9 "Whoever has seen me has seen the Father."
The Challenging Question here is: Hypothetically If Whoever has seen me has seen the Father. is correct as Christians claim. DOES that mean WHOEVER KILL me had KILLED that Father?
OBVIOULSY NOT at least from an Islamic point of view- Because Jesus was NOT killed NOR Crucified But saved as one of Almighty Allah mightest HUMAN Prophets for more information read the link and do not forget to watch the Video.
I repeat again
Christians who believe Jesus and God are one in nature are WRONG. John 10:30 talking about Jesus and God are One in MISSION = God sent a message to Prophet Jesus which makes Prophet Jesus on the mission which is the SAME that was given to him by God.
Jesus NEVER invented his own mission far away from God who sent him.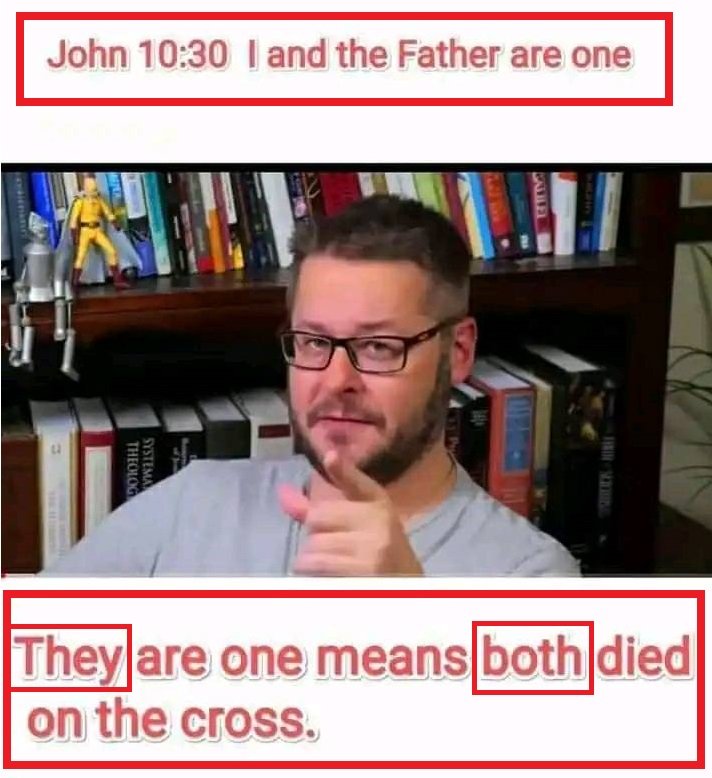 Let us Reverse this statement by asking the following Question:
IF Jesus and the Father are One in nature and they are one and NEVER separated as Christians claim, Christains will take it further by mentioning Jogn 14:9 "Whoever has seen me has seen the Father."
NOW is the Question if Christains calim Whoever has seen me has seen the Father., Does that mean whoever kill me had killed the Father? Obviously Christians are WRONG
The third verse which Christians claim validates the doctrine of the trinity is the verse of John 10:30
"I and my father are one."
This verse, however is quoted out of context. The complete passage, starting with John 10:23, reads as follows:
"And Jesus walked in the temple in Solomon's porch. Then came the Jews round about him, and said unto him, How long dost thou make us to doubt? If thou be the Christ, tell us plainly. Jesus answered them, I told you, and ye believed not: the works that I do in my Father's name, they bear witness of me.
But ye believe not, because ye are not of my sheep, as I said unto you. My sheep hear my voice, and I know them, and they follow me: And I give unto them eternal life; and they shall never perish, neither shall any man pluck them out of my hand. My Father, which gave them me, is greater than all; and no man is able to pluck them out of my Father's hand. I and my Father are one."
John 10:23-30
In divinity? In a holy "Trinity"? No! They are one in PURPOSE. Just as no one shall pluck them out of Jesus' hand, so too shall no one pluck them out of God's hand.
Need more proof? Then read:
"Neither pray I for these alone, but for them also which shall believe on me through their word; That they all may be one; as thou, Father, art in me, and I in thee, that they also may be one in us: that the world may believe that thou hast sent me. And the glory which thou gavest me I have given them; that they may be one, even as we are one I in them, and thou in me, …"
John 17:20-23
Is all of mankind also part of the "Trinity"? When we read the Bible as a literary whole rather as fragmentary verses we begin to see the truth and we begin to see that far from preaching the "Trinity" of the Church, Jesus (pbuh) only preached that which God told us in the noble Qur'an that he preached, namely, the strict and uncompromising Oneness (monotheism) of God alone.
Such terminology can be found in many other places, read for example:
"Know ye not that your bodies are the members of Christ? Shall I then take the members of Christ, and make them the members of an harlot? God forbid. What? know ye not that he which is joined to an harlot is one body? for two, saith he, shall be one flesh. But he that is joined unto the Lord is one spirit,"
1 Corinthians 6:15-17
And
"Whereby are given unto us exceeding great and precious promises: that by these ye might be partakers of the divine nature, having escaped the corruption that is in the world through lust."
2 Peter 1:4
And also
"One God and Father of all, who is above all, and through all, and in you all."
Ephesians 4:6
And
"For as the (human) body is one, and hath many members, and all the members of that one body, being many, are one body: so also is Christ. For by one Spirit are we all baptized into one body, whether we be Jews or Gentiles, whether we be bond or free; and have been all made to drink into one Spirit. For the body is not one member, but many."
1 Corinthians 12:12-14
Once we read the above verses and understand what the message was that Paul was trying to get across, then we can begin to understand his words in such places as
"There is one body, and one Spirit, even as ye are called in one hope of your calling; One Lord, one faith, one baptism, One God and Father of all, who is above all, and through all, and in you all."
Ephesians 4:4
"St. Paul" was speaking about Christian unity, not about a plurality of gods merged into one body. As we shall soon see, he was completely ignorant of where his teachings would later lead, and how decades later, they would be the foundations which would spawn the "Trinity" doctrine.
For more on this issue please read sections 1.2.3.2 and 1.2.3.23
Once again, here is our updated table:
Explicit Statement Implicit Statement
God is ONE Isaiah 43:10-11, Deuteronomy 4:39, Isaiah 45:18, Isaiah 44:6, Isaiah 45:6, Isaiah 45:22, Exodus 20:3, Exodus 34:14
God is TWO John 1:1, John 10:30 John.10:33, John 5:18 John 20:28, John.14:6,John 14:8-9
God is THREE 1 John 5:7 Matthew 28:1, I Corinthians 12:4-6, II Corinthians 13:14, Jude 1:20-21
God is MANY Genesis 1:26
Responding to Christian Missionaries Tactics – Christian Missionaries Sweeping the Islamic World
Trinity: Mary Worshipped as A God?
Ten Ways the Bible Disproves the Trinity
Biblical Verses that disprove the divinity of Jesus
Christianity Contradicts the Bible!