Did Jesus forbid anyone to worship him


Mohamad Mostafa Nassar
Twitter:@NassarMohamadMR
Yes, or No?
Answer in the Bible:
"But in vain do they worship me, teaching for doctrines the commandments of men."
(Matthew 15:19) [corrected from previous typo – 15:19 – sorry for that mistake]
And in prophesying the Last Days, he clearly taught the same message:
Answer in the Bible:
"But the hour comes, and now is, when the true worshippers shall worship the Father in spirit and in truth: For the Father seeks such to worship Him. God is Spirit and they that worship Him must worship Him in spirit and truth." John 4:23-24
"Not everyone who says to Me, 'Lord, Lord,' shall enter the kingdom of heaven, but he who does the will of My Father in heaven. (Matthew 7:21)
22 Many will say to Me in that day, 'Lord, Lord, have we not prophesied in Your name, cast out demons in Your name, and done many wonders in Your name?'
23 And then I will declare to them, 'I never knew you; depart from Me, you who practice lawlessness!'
I fell down before his feet to worship him. He said to me, "Look! Don't do it! I am a fellow bondservant with you and with your brothers who hold the testimony of Jesus. Worship God, for the testimony of Jesus is the Spirit of Prophecy." (Revelation 19:10)
Revelation 22:9 But he said, "No, don't worship me. I am a servant of God, just like you and your brothers the prophets, as well as all who obey what is written in this book. Worship only God!"
I said not to them except what You commanded me – to worship Allah, my Lord and your Lord. And I was a witness over them as long as I was among them; but when You took me up, you were the Observer over them, and You are, over all things, Witness. (Quran 5:117)
---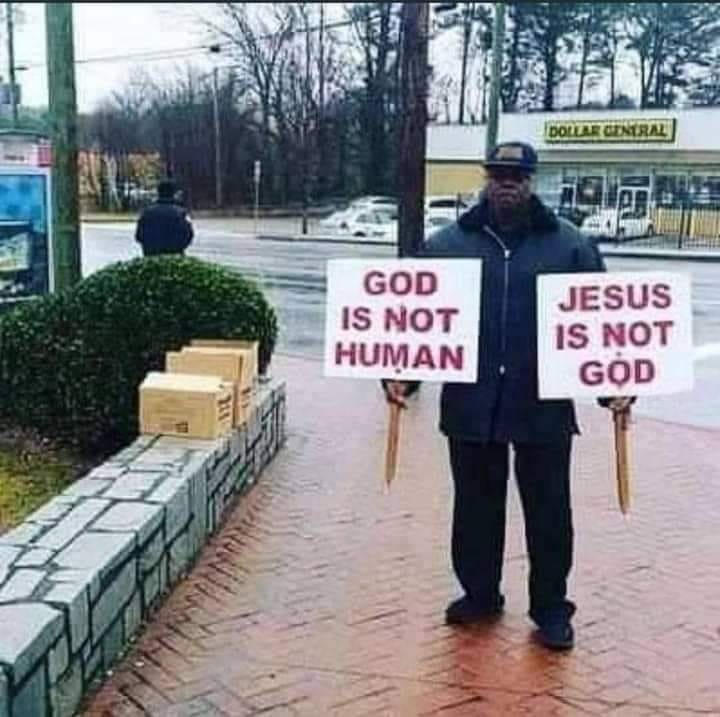 Jesus will deny those who die worshiping him on the Day of Judgement according even the christian bibles.
"On that day many will say to me, 'Lord, Lord, did we not prophesy in your name, and cast out demons in your name, and do many mighty works in your name?' 23 And then will I declare to them, 'I never knew you; depart from me, you workers of lawlessness" (Matthew 7:22-23)
𝐂𝐡𝐫𝐢𝐬𝐭𝐢𝐚𝐧𝐬 𝐓𝐫𝐲 𝐓𝐨 𝐓𝐰𝐢𝐬𝐭 𝐌𝐚𝐭𝐭𝐡𝐞𝐰 𝟕:𝟐𝟐-𝟐𝟑 𝐀𝐧𝐝 𝐎𝐭𝐡𝐞𝐫 𝐕𝐞𝐫𝐬𝐞𝐬, 𝐖𝐡𝐢𝐜𝐡 𝐒𝐡𝐨𝐰 𝐓𝐡𝐚𝐭 𝐉𝐞𝐬𝐮𝐬 𝐍𝐞𝐯𝐞𝐫 𝐃𝐢𝐞𝐝 𝐅𝐨𝐫 𝐀𝐧𝐲𝐨𝐧𝐞'𝐬 𝐬𝐢𝐧𝐬
They say it's about false believers, but the verses are very clear, it's not about them
– Jesus will say depart from me, I never knew you" because of calling him "Lord", breaking God's laws. Christians don't follow God's laws, they practice different things, none of the prophets practiced Christianity nor worshipped the triune God.
– Jesus never said "get away from me false believers", it's because of being evildoers, this is clear the false Jesus never died for anyone's sins, otherwise he wouldn't ignore them in judgment day because of their evil deeds.
– Anyone who speaks against the Holy Spirit will never be forgiven, either in this world or in the world to come (Matthew 12:32). Romans 2:6 God will judge everyone according to his deeds. Matthew 12:37 for by your words you will be justified, and by your words you will be condemned."
– Calling Jesus "Lord" is blasphemy to God! He said "the Lord, our God, the Lord is one" (Mark 12:29), "My God and your God" (John 20:17)
– The faslse Jesus claimed Christians would perfome miracles in his name as the false authors claimed in John 14:12, Mark 16:17-18, they suppose to do what Jesus did and greater things than what he did.
The truth has come and falsehood has vanished, indeed falsehood is a vanish thing!
Allah told us in the Qur'an that even the devil will deny the evil doers, pagans, christians, jews and etc on the Day of Accountability.
Allah said "his companion(satan/devil) will say: "Our Lord! I did not push him to transgression(in disbelief, oppression and evil deeds), but he was himself in error far astray"- Quran 50:27
Do not die in the worship of a fellow man(Jesus), as jesus himself spent the whole of his life worshiping Allah(God Almighty).
◄ Psalm 146:3 ►
New International Version
Do not put your trust in princes, in son of man, who cannot save.
◄ Psalm 49:7 ►
New International Version
No one can redeem the life of another or give to God a ransom for them-