𝐓𝐡𝐞 𝐌𝐲𝐭𝐡 𝐨𝐟 𝐆𝐨𝐝 𝐈𝐧𝐜𝐚𝐫𝐧𝐚𝐭𝐞
Mohamad Mostafa Nassar
Twitter@MohaadNassarMR
𝐃𝐢𝐬𝐜𝐥𝐚𝐢𝐦𝐞𝐫:
𝐖𝐞 𝐚𝐫𝐞 𝐪𝐮𝐨𝐭𝐢𝐧𝐠 𝐭𝐡𝐢𝐬 𝐚𝐫𝐭𝐢𝐜𝐥𝐞 𝐰𝐡𝐢𝐜𝐡 𝐝𝐨𝐞𝐬 𝐧𝐨𝐭 𝐧𝐞𝐜𝐞𝐬𝐬𝐚𝐫𝐢𝐥𝐲 𝐦𝐞𝐚𝐧 𝐭𝐡𝐚𝐭, 𝐢𝐝𝐞𝐚𝐬 𝐢𝐧 𝐭𝐡𝐢𝐬 𝐟𝐨𝐥𝐥𝐨𝐰𝐢𝐧𝐠 𝐚𝐫𝐭𝐢𝐜𝐥𝐞 𝐭𝐨 𝐛𝐞 𝐚𝐜𝐜𝐞𝐩𝐭𝐞𝐝 𝐞𝐢𝐭𝐡𝐞𝐫 𝐩𝐚𝐫𝐭𝐢𝐚𝐥𝐥𝐲 𝐨𝐫 𝐟𝐮𝐥𝐥𝐲 𝐛𝐲 𝐈𝐬𝐥𝐚𝐦
𝐖𝐞 𝐚𝐫𝐞 𝐬𝐢𝐦𝐩𝐥𝐲 𝐬𝐡𝐨𝐰𝐢𝐧𝐠 𝐭𝐨 𝐨𝐮𝐫 𝐫𝐞𝐚𝐝𝐞𝐫𝐬 𝐭𝐡𝐢𝐬 𝐞𝐯𝐞𝐧 𝐬𝐨𝐦𝐞 𝐂𝐡𝐫𝐢𝐬𝐭𝐢𝐚𝐧𝐬 𝐫𝐞𝐣𝐞𝐜𝐭 𝐭𝐡𝐞 𝐩𝐡𝐲𝐬𝐢𝐜𝐚𝐥 𝐦𝐚𝐧𝐢𝐟𝐞𝐬𝐭𝐚𝐭𝐢𝐨𝐧 𝐨𝐟 𝐆𝐨𝐝 𝐢𝐧 𝐭𝐡𝐢𝐬 𝐰𝐨𝐫𝐥𝐝 𝐢𝐧 𝐚𝐧𝐲 𝐬𝐡𝐚𝐩𝐞, 𝐰𝐚𝐲, 𝐨𝐫 𝐟𝐨𝐫𝐦. 𝐂𝐡𝐫𝐢𝐬𝐭𝐢𝐚𝐧𝐬 𝐚𝐫𝐞 𝐯𝐞𝐫𝐲 𝐜𝐨𝐧𝐟𝐮𝐬𝐞𝐝 𝐚𝐛𝐨𝐮𝐭 𝐭𝐡𝐞 𝐯𝐞𝐫𝐲 𝐟𝐮𝐧𝐝𝐚𝐦𝐞𝐧𝐭𝐚𝐥 𝐛𝐚𝐬𝐢𝐜𝐬 𝐨𝐟 𝐭𝐡𝐞𝐢𝐫 𝐟𝐚𝐢𝐭𝐡.
𝐎𝐛𝐯𝐢𝐨𝐮𝐬𝐥𝐲 𝐟𝐫𝐨𝐦 𝐚𝐧 𝐈𝐬𝐥𝐚𝐦𝐢𝐜 𝐩𝐨𝐢𝐧𝐭 𝐨𝐟 𝐯𝐢𝐞𝐰, 𝐉𝐞𝐬𝐮𝐬 𝐢𝐬 𝐚 𝟏𝟎𝟎% 𝐡𝐮𝐦𝐚𝐧 𝐏𝐫𝐨𝐩𝐡𝐞𝐭 𝐰𝐡𝐨 𝐰𝐚𝐬 𝐦𝐢𝐫𝐚𝐜𝐮𝐥𝐨𝐮𝐬𝐥𝐲 𝐛𝐨𝐫𝐧 𝐟𝐫𝐨𝐦 𝐯𝐢𝐫𝐠𝐢𝐧 𝐛𝐢𝐫𝐭𝐡 𝐭𝐨 𝐡𝐢𝐬 𝐰𝐞𝐥𝐥-𝐫𝐞𝐬𝐩𝐞𝐜𝐭𝐞𝐝 𝐦𝐮𝐦.
𝐑𝐞𝐥𝐞𝐯𝐚𝐧𝐭 𝐭𝐨𝐩𝐢𝐜𝐬:
𝐓𝐡𝐞 𝐑𝐞𝐬𝐮𝐫𝐫𝐞𝐜𝐭𝐢𝐨𝐧 𝐇𝐨𝐚𝐱, 𝐚 𝐁𝐢𝐠 𝐒𝐜𝐚𝐦
𝐈𝐬 𝐢𝐭 𝐏𝐨𝐬𝐬𝐢𝐛𝐥𝐞 𝐭𝐨 𝐒𝐞𝐞 𝐀𝐥𝐥𝐚𝐡 𝐢𝐧 𝐭𝐡𝐢𝐬 𝐰𝐨𝐫𝐥𝐝?
𝐅𝐫𝐨𝐦 𝐓𝐇𝐄 𝐌𝐘𝐓𝐇 𝐎𝐅 𝐆𝐎𝐃 𝐈𝐍𝐂𝐀𝐑𝐍𝐀𝐓𝐄
𝐅𝐫𝐨𝐦 𝐍. 𝐅. 𝐆𝐢𝐞𝐫, 𝐆𝐨𝐝, 𝐑𝐞𝐚𝐬𝐨𝐧, 𝐚𝐧𝐝 𝐭𝐡𝐞 𝐄𝐯𝐚𝐧𝐠𝐞𝐥𝐢𝐜𝐚𝐥𝐬
(𝐔𝐧𝐢𝐯𝐞𝐫𝐬𝐢𝐭𝐲 𝐏𝐫𝐞𝐬𝐬 𝐨𝐟 𝐀𝐦𝐞𝐫𝐢𝐜𝐚, 𝟏𝟗𝟖𝟕), 𝐂𝐡𝐚𝐩𝐭𝐞𝐫 𝟑.
𝐂𝐨𝐩𝐲𝐫𝐢𝐠𝐡𝐭 𝐡𝐞𝐥𝐝 𝐛𝐲 𝐭𝐡𝐞 𝐚𝐮𝐭𝐡𝐨𝐫
𝐅𝐢𝐫𝐬𝐭 𝐩𝐫𝐞𝐬𝐞𝐧𝐭𝐞𝐝 𝐚𝐬 𝐭𝐡𝐞 𝐏𝐫𝐞𝐬𝐢𝐝𝐞𝐧𝐭𝐢𝐚𝐥 𝐀𝐝𝐝𝐫𝐞𝐬𝐬 𝐚𝐭 𝐭𝐡𝐞 𝐍𝐨𝐫𝐭𝐡𝐰𝐞𝐬𝐭 𝐂𝐨𝐧𝐟𝐞𝐫𝐞𝐧𝐜𝐞 𝐨𝐧 𝐏𝐡𝐢𝐥𝐨𝐬𝐨𝐩𝐡𝐲
𝐄𝐚𝐬𝐭𝐞𝐫𝐧 𝐖𝐚𝐬𝐡𝐢𝐧𝐠𝐭𝐨𝐧 𝐒𝐭𝐚𝐭𝐞 𝐔𝐧𝐢𝐯𝐞𝐫𝐬𝐢𝐭𝐲, 𝐍𝐨𝐯𝐞𝐦𝐛𝐞𝐫 𝟑, 𝟏𝟗𝟖𝟒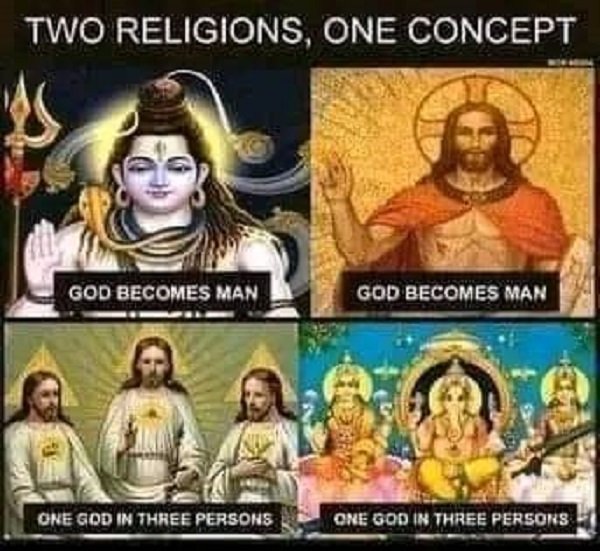 𝐈 𝐚𝐦 𝐆𝐨𝐝 𝐚𝐧𝐝 𝐧𝐨𝐭 𝐦𝐚𝐧.
𝐇𝐨𝐬𝐞𝐚 𝟏𝟏:𝟗
𝐅𝐨𝐫 𝐧𝐞𝐢𝐭𝐡𝐞𝐫 𝐢𝐬 𝐆𝐨𝐝 𝐢𝐧 𝐡𝐮𝐦𝐚𝐧 𝐟𝐨𝐫𝐦 𝐧𝐨𝐫 𝐢𝐬 𝐭𝐡𝐞 𝐡𝐮𝐦𝐚𝐧 𝐛𝐨𝐝𝐲 𝐆𝐨𝐝-𝐥𝐢𝐤𝐞.
𝐏𝐡𝐢𝐥𝐨 𝐨𝐟 𝐀𝐥𝐞𝐱𝐚𝐧𝐝𝐫𝐢𝐚
𝐉𝐞𝐬𝐮𝐬 𝐂𝐡𝐫𝐢𝐬𝐭 𝐢𝐬 𝐚𝐭 𝐨𝐧𝐜𝐞 𝐜𝐨𝐦𝐩𝐥𝐞𝐭𝐞 𝐢𝐧 𝐆𝐨𝐝𝐡𝐞𝐚𝐝 𝐚𝐧𝐝 𝐜𝐨𝐦𝐩𝐥𝐞𝐭𝐞 𝐢𝐧 𝐦𝐚𝐧𝐡𝐨𝐨𝐝,
𝐭𝐫𝐮𝐥𝐲 𝐆𝐨𝐝 𝐚𝐧𝐝 𝐭𝐫𝐮𝐥𝐲 𝐦𝐚𝐧, 𝐜𝐨𝐧𝐬𝐢𝐬𝐭𝐢𝐧𝐠 𝐨𝐟 𝐚 𝐫𝐞𝐚𝐬𝐨𝐧𝐚𝐛𝐥𝐞 𝐬𝐨𝐮𝐥 𝐚𝐧𝐝 𝐛𝐨𝐝𝐲.
𝐂𝐨𝐮𝐧𝐜𝐢𝐥 𝐨𝐟 𝐂𝐡𝐚𝐥𝐜𝐞𝐝𝐨𝐧
𝐆𝐨𝐝 𝐜𝐚𝐧𝐧𝐨𝐭 𝐛𝐞 𝐭𝐡𝐞 𝐟𝐨𝐫𝐦 𝐨𝐟 𝐚 𝐛𝐨𝐝𝐲.
𝐓𝐡𝐨𝐦𝐚𝐬 𝐀𝐪𝐮𝐢𝐧𝐚𝐬
𝐈𝐬 𝐢𝐭 𝐩𝐨𝐬𝐬𝐢𝐛𝐥𝐞 𝐭𝐨 𝐜𝐨𝐧𝐜𝐞𝐢𝐯𝐞 𝐨𝐟 𝐚 𝐦𝐨𝐫𝐞 𝐟𝐨𝐨𝐥𝐢𝐬𝐡 𝐜𝐨𝐧𝐭𝐫𝐚𝐝𝐢𝐜𝐭𝐢𝐨𝐧
𝐭𝐡𝐚𝐧 𝐨𝐟 𝐰𝐚𝐧𝐭𝐢𝐧𝐠 𝐭𝐨 𝐩𝐫𝐨𝐯𝐞…𝐭𝐡𝐚𝐭 𝐚 𝐝𝐞𝐟𝐢𝐧𝐢𝐭𝐞 𝐢𝐧𝐝𝐢𝐯𝐢𝐝𝐮𝐚𝐥 𝐦𝐚𝐧 𝐢𝐬 𝐆𝐨𝐝?
𝐒ø𝐫𝐞𝐧 𝐊𝐢𝐞𝐫𝐤𝐞𝐠𝐚𝐚𝐫𝐝
𝐈𝐟 𝐚𝐧𝐲 𝐦𝐚𝐧 𝐬𝐚𝐲𝐬 𝐭𝐡𝐚𝐭 𝐡𝐞 𝐮𝐧𝐝𝐞𝐫𝐬𝐭𝐚𝐧𝐝𝐬 𝐭𝐡𝐞 𝐫𝐞𝐥𝐚𝐭𝐢𝐨𝐧 𝐨𝐟 𝐝𝐞𝐢𝐭𝐲 𝐭𝐨 𝐡𝐮𝐦𝐚𝐧𝐢𝐭𝐲 𝐢𝐧 𝐂𝐡𝐫𝐢𝐬𝐭,
𝐡𝐞 𝐨𝐧𝐥𝐲 𝐦𝐚𝐤𝐞𝐬 𝐢𝐭 𝐜𝐥𝐞𝐚𝐫 𝐭𝐡𝐚𝐭 𝐡𝐞 𝐝𝐨𝐞𝐬 𝐧𝐨𝐭 𝐮𝐧𝐝𝐞𝐫𝐬𝐭𝐚𝐧𝐝 𝐚𝐭 𝐚𝐥𝐥 𝐰𝐡𝐚𝐭 𝐢𝐬 𝐦𝐞𝐚𝐧𝐭 𝐛𝐲 𝐚𝐧 𝐢𝐧𝐜𝐚𝐫𝐧𝐚𝐭𝐢𝐨𝐧.
–𝐖𝐢𝐥𝐥𝐢𝐚𝐦 𝐓𝐞𝐦𝐩𝐥𝐞
𝐍𝐞𝐢𝐭𝐡𝐞𝐫 𝐭𝐡𝐞 𝐢𝐧𝐭𝐞𝐧𝐬𝐞 𝐂𝐡𝐫𝐢𝐬𝐭𝐨𝐥𝐨𝐠𝐢𝐜𝐚𝐥 𝐝𝐞𝐛𝐚𝐭𝐞𝐬 𝐨𝐟 𝐭𝐡𝐞 𝐜𝐞𝐧𝐭𝐮𝐫𝐢𝐞𝐬 𝐥𝐞𝐚𝐝𝐢𝐧𝐠 𝐮𝐩 𝐭𝐨 𝐭𝐡𝐞 𝐂𝐨𝐮𝐧𝐜𝐢𝐥 𝐨𝐟 𝐂𝐡𝐚𝐥𝐜𝐞𝐝𝐨𝐧,
𝐧𝐨𝐫 𝐭𝐡𝐞 𝐫𝐞𝐧𝐞𝐰𝐞𝐝 𝐂𝐡𝐫𝐢𝐬𝐭𝐨𝐥𝐨𝐠𝐢𝐜𝐚𝐥 𝐝𝐞𝐛𝐚𝐭𝐞𝐬 𝐨𝐟 𝐭𝐡𝐞 𝟏𝟗𝐭𝐡 𝐚𝐧𝐝 𝟐𝟎𝐭𝐡 𝐂𝐞𝐧𝐭𝐮𝐫𝐢𝐞𝐬,
𝐡𝐚𝐯𝐞 𝐬𝐮𝐜𝐜𝐞𝐞𝐝𝐞𝐝 𝐢𝐧 𝐬𝐪𝐮𝐚𝐫𝐢𝐧𝐠 𝐭𝐡𝐞 𝐜𝐢𝐫𝐜𝐥𝐞 𝐛𝐲 𝐦𝐚𝐤𝐢𝐧𝐠 𝐢𝐧𝐭𝐞𝐥𝐥𝐢𝐠𝐢𝐛𝐥𝐞 𝐭𝐡𝐞 𝐜𝐥𝐚𝐢𝐦 𝐭𝐡𝐚𝐭 𝐨𝐧𝐞 𝐰𝐡𝐨
𝐰𝐚𝐬 𝐠𝐞𝐧𝐮𝐢𝐧𝐞𝐥𝐲 𝐚𝐧𝐝 𝐮𝐧𝐚𝐦𝐛𝐢𝐠𝐮𝐨𝐮𝐬𝐥𝐲 𝐚 𝐦𝐚𝐧 𝐰𝐚𝐬 𝐚𝐥𝐬𝐨 𝐠𝐞𝐧𝐮𝐢𝐧𝐞𝐥𝐲 𝐚𝐧𝐝 𝐮𝐧𝐚𝐦𝐛𝐢𝐠𝐮𝐨𝐮𝐬𝐥𝐲 𝐆𝐨𝐝.
𝐉𝐨𝐡𝐧 𝐇𝐢𝐜𝐤
"𝐓𝐡𝐞𝐫𝐞 𝐢𝐬 𝐧𝐨 𝐮𝐬𝐞 𝐭𝐫𝐲𝐢𝐧𝐠," 𝐬𝐚𝐢𝐝 𝐀𝐥𝐢𝐜𝐞, "𝐨𝐧𝐞 𝐜𝐚𝐧𝐧𝐨𝐭 𝐛𝐞𝐥𝐢𝐞𝐯𝐞 𝐢𝐦𝐩𝐨𝐬𝐬𝐢𝐛𝐥𝐞 𝐭𝐡𝐢𝐧𝐠𝐬."
"𝐈 𝐝𝐚𝐫𝐞 𝐬𝐚𝐲 𝐲𝐨𝐮 𝐡𝐚𝐯𝐞𝐧'𝐭 𝐡𝐚𝐝 𝐦𝐮𝐜𝐡 𝐩𝐫𝐚𝐜𝐭𝐢𝐜𝐞," 𝐬𝐚𝐢𝐝 𝐭𝐡𝐞 𝐐𝐮𝐞𝐞𝐧.
"𝐖𝐡𝐞𝐧 𝐈 𝐰𝐚𝐬 𝐲𝐨𝐮𝐫 𝐚𝐠𝐞, 𝐈 𝐚𝐥𝐰𝐚𝐲𝐬 𝐝𝐢𝐝 𝐟𝐨𝐫 𝐡𝐚𝐥𝐟 𝐚𝐧 𝐡𝐨𝐮𝐫 𝐚 𝐝𝐚𝐲.
𝐖𝐡𝐲 𝐬𝐨𝐦𝐞𝐭𝐢𝐦𝐞𝐬 𝐈'𝐯𝐞 𝐛𝐞𝐥𝐢𝐞𝐯𝐞𝐝 𝐚𝐬 𝐦𝐚𝐧𝐲 𝐚𝐬 𝐬𝐢𝐱 𝐢𝐦𝐩𝐨𝐬𝐬𝐢𝐛𝐥𝐞 𝐭𝐡𝐢𝐧𝐠𝐬 𝐛𝐞𝐟𝐨𝐫𝐞 𝐛𝐫𝐞𝐚𝐤𝐟𝐚𝐬𝐭."
𝐀𝐥𝐥 𝐏𝐚𝐠𝐚𝐧 𝐆𝐨𝐝𝐬 𝐂𝐚𝐦𝐞 𝐢𝐧 𝐭𝐡𝐞 𝐅𝐨𝐫𝐦 𝐨𝐟 𝐚 𝐌𝐚𝐧 𝐄𝐱𝐜𝐞𝐩𝐭 𝐈𝐬𝐥𝐚𝐦
𝐋𝐞𝐰𝐢𝐬 𝐂𝐚𝐫𝐫𝐨𝐥𝐥
𝐓𝐡𝐞𝐫𝐞 𝐚𝐫𝐞 𝐟𝐞𝐰 𝐂𝐡𝐫𝐢𝐬𝐭𝐢𝐚𝐧𝐬 𝐰𝐡𝐨 𝐰𝐨𝐮𝐥𝐝 𝐝𝐞𝐧𝐲 𝐭𝐡𝐚𝐭 𝐭𝐡𝐞𝐢𝐫 𝐫𝐞𝐥𝐢𝐠𝐢𝐨𝐮𝐬 𝐟𝐚𝐢𝐭𝐡 𝐚𝐧𝐝 𝐥𝐢𝐟𝐞 𝐠𝐨 𝐟𝐚𝐫 𝐛𝐞𝐲𝐨𝐧𝐝 𝐭𝐡𝐞𝐨𝐫𝐲 𝐚𝐧𝐝 𝐭𝐡𝐞 𝐥𝐢𝐦𝐢𝐭𝐬 𝐨𝐟 𝐫𝐞𝐚𝐬𝐨𝐧. 𝐈𝐧 𝐂𝐡𝐫𝐢𝐬𝐭𝐢𝐚𝐧 𝐭𝐡𝐞𝐨𝐥𝐨𝐠𝐲, 𝐭𝐡𝐞𝐫𝐞 𝐡𝐚𝐬 𝐚𝐥𝐰𝐚𝐲𝐬 𝐛𝐞𝐞𝐧 𝐚 𝐟𝐢𝐧𝐞 𝐛𝐮𝐭 𝐰𝐞𝐥𝐥-𝐫𝐞𝐬𝐩𝐞𝐜𝐭𝐞𝐝 𝐥𝐢𝐧𝐞 𝐛𝐞𝐭𝐰𝐞𝐞𝐧 𝐥𝐞𝐠𝐢𝐭𝐢𝐦𝐚𝐭𝐞 𝐚𝐩𝐨𝐥𝐨𝐠𝐞𝐭𝐢𝐜𝐬 𝐚𝐧𝐝 𝐭𝐡𝐞 𝐧𝐞𝐜𝐞𝐬𝐬𝐚𝐫𝐲 𝐩𝐫𝐨𝐭𝐞𝐜𝐭𝐢𝐨𝐧 𝐨𝐟 𝐂𝐡𝐫𝐢𝐬𝐭𝐢𝐚𝐧 𝐦𝐲𝐬𝐭𝐞𝐫𝐢𝐞𝐬.
𝐂𝐨𝐧𝐭𝐫𝐚𝐫𝐲 𝐭𝐨 𝐦𝐚𝐧𝐲 𝐜𝐨𝐦𝐦𝐞𝐧𝐭𝐚𝐭𝐨𝐫𝐬, 𝐃𝐨𝐧𝐚𝐥𝐝 𝐁𝐥𝐨𝐞𝐬𝐜𝐡 𝐡𝐚𝐬 𝐦𝐚𝐢𝐧𝐭𝐚𝐢𝐧𝐞𝐝 𝐭𝐡𝐚𝐭 𝐭𝐡𝐞 𝐂𝐨𝐮𝐧𝐜𝐢𝐥 𝐨𝐟 𝐂𝐡𝐚𝐥𝐜𝐞𝐝𝐨𝐧 𝐝𝐢𝐝 𝐧𝐨𝐭 𝐢𝐧𝐭𝐞𝐥𝐥𝐞𝐜𝐭𝐮𝐚𝐥𝐢𝐳𝐞 𝐭𝐡𝐞 𝐟𝐚𝐢𝐭𝐡, 𝐛𝐮𝐭 "𝐚𝐜𝐭𝐮𝐚𝐥𝐥𝐲 𝐬𝐮𝐜𝐜𝐞𝐞𝐝𝐞𝐝 𝐢𝐧 𝐬𝐚𝐟𝐞𝐠𝐮𝐚𝐫𝐝𝐢𝐧𝐠 𝐭𝐡𝐞 𝐟𝐮𝐧𝐝𝐚𝐦𝐞𝐧𝐭𝐚𝐥 𝐦𝐲𝐬𝐭𝐞𝐫𝐲 𝐚𝐧𝐝 𝐩𝐚𝐫𝐚𝐝𝐨𝐱 𝐨𝐟 𝐭𝐡𝐞 𝐟𝐚𝐢𝐭𝐡."
𝐋𝐚𝐭𝐞𝐫 𝐨𝐧 𝐁𝐥𝐨𝐞𝐬𝐜𝐡 𝐜𝐚𝐥𝐥𝐬 𝐭𝐡𝐞 𝐈𝐧𝐜𝐚𝐫𝐧𝐚𝐭𝐢𝐨𝐧 𝐚𝐧 "𝐚𝐛𝐬𝐨𝐥𝐮𝐭𝐞 𝐩𝐚𝐫𝐚𝐝𝐨𝐱" 𝐧𝐨𝐭 "𝐩𝐚𝐥𝐚𝐭𝐚𝐛𝐥𝐞 𝐭𝐨 𝐫𝐞𝐚𝐬𝐨𝐧."(𝟏) 𝐈 𝐛𝐞𝐥𝐢𝐞𝐯𝐞 𝐭𝐡𝐚𝐭 𝐁𝐥𝐨𝐞𝐬𝐜𝐡 𝐢𝐬 𝐜𝐨𝐫𝐫𝐞𝐜𝐭, 𝐚𝐧𝐝 𝐈 𝐬𝐡𝐚𝐥𝐥 𝐢𝐧𝐭𝐞𝐫𝐩𝐫𝐞𝐭 𝐡𝐢𝐬 "𝐚𝐛𝐬𝐨𝐥𝐮𝐭𝐞 𝐩𝐚𝐫𝐚𝐝𝐨𝐱" 𝐭𝐨 𝐦𝐞𝐚𝐧 𝐭𝐡𝐚𝐭 𝐧𝐞𝐢𝐭𝐡𝐞𝐫 𝐭𝐡𝐞 𝐭𝐫𝐮𝐭𝐡 𝐨𝐟 𝐭𝐡𝐞 𝐦𝐚𝐧-𝐆𝐨𝐝 𝐧𝐨𝐫 𝐭𝐡𝐞 𝐥𝐞𝐬𝐬𝐞𝐫 𝐜𝐥𝐚𝐢𝐦 𝐭𝐡𝐚𝐭 𝐢𝐭 𝐢𝐬 𝐜𝐨𝐡𝐞𝐫𝐞𝐧𝐭 𝐢𝐬 𝐝𝐞𝐦𝐨𝐧𝐬𝐭𝐫𝐚𝐛𝐥𝐞.
𝐁𝐥𝐨𝐞𝐬𝐜𝐡 𝐚𝐧𝐝 𝐦𝐚𝐧𝐲 𝐨𝐭𝐡𝐞𝐫 𝐂𝐡𝐫𝐢𝐬𝐭𝐢𝐚𝐧 𝐭𝐡𝐞𝐨𝐥𝐨𝐠𝐢𝐚𝐧𝐬 𝐦𝐮𝐬𝐭 𝐛𝐞 𝐩𝐫𝐚𝐢𝐬𝐞𝐝 𝐟𝐨𝐫 𝐫𝐞𝐬𝐩𝐞𝐜𝐭𝐢𝐧𝐠 𝐭𝐡𝐞 𝐚𝐥𝐥-𝐢𝐦𝐩𝐨𝐫𝐭𝐚𝐧𝐭 𝐝𝐢𝐬𝐭𝐢𝐧𝐜𝐭𝐢𝐨𝐧 𝐛𝐞𝐭𝐰𝐞𝐞𝐧 𝐟𝐚𝐢𝐭𝐡 𝐚𝐧𝐝 𝐫𝐞𝐚𝐬𝐨𝐧. 𝐁𝐞𝐜𝐚𝐮𝐬𝐞 𝐨𝐟 𝐭𝐡𝐞 𝐥𝐢𝐦𝐢𝐭𝐬 𝐨𝐟 𝐭𝐡𝐞 𝐩𝐡𝐢𝐥𝐨𝐬𝐨𝐩𝐡𝐢𝐜𝐚𝐥 𝐦𝐞𝐭𝐡𝐨𝐝, 𝐩𝐡𝐢𝐥𝐨𝐬𝐨𝐩𝐡𝐞𝐫𝐬 𝐦𝐮𝐬𝐭 𝐚𝐥𝐬𝐨 𝐚𝐜𝐤𝐧𝐨𝐰𝐥𝐞𝐝𝐠𝐞 𝐦𝐲𝐬𝐭𝐞𝐫𝐢𝐞𝐬 𝐭𝐡𝐚𝐭 𝐫𝐞𝐚𝐬𝐨𝐧 𝐰𝐢𝐥𝐥 𝐧𝐞𝐯𝐞𝐫 𝐛𝐞 𝐚𝐛𝐥𝐞 𝐭𝐨 𝐟𝐚𝐭𝐡𝐨𝐦.
𝐁𝐮𝐭 𝐰𝐡𝐲 𝐬𝐡𝐨𝐮𝐥𝐝 𝐚𝐧𝐲𝐨𝐧𝐞 𝐚𝐝𝐝 𝐮𝐧𝐧𝐞𝐜𝐞𝐬𝐬𝐚𝐫𝐲 𝐩𝐚𝐫𝐚𝐝𝐨𝐱𝐞𝐬 𝐭𝐨 𝐚 𝐮𝐧𝐢𝐯𝐞𝐫𝐬𝐞 𝐭𝐡𝐚𝐭 𝐚𝐥𝐫𝐞𝐚𝐝𝐲 𝐜𝐨𝐧𝐟𝐫𝐨𝐧𝐭𝐬 𝐮𝐬 𝐰𝐢𝐭𝐡 𝐬𝐨 𝐦𝐚𝐧𝐲 𝐮𝐧𝐫𝐞𝐬𝐨𝐥𝐯𝐞𝐝 𝐩𝐮𝐳𝐳𝐥𝐞𝐬? 𝐈 𝐜𝐨𝐧𝐭𝐞𝐧𝐝 𝐭𝐡𝐚𝐭 𝐭𝐡𝐞 𝐂𝐡𝐫𝐢𝐬𝐭𝐢𝐚𝐧 𝐝𝐨𝐜𝐭𝐫𝐢𝐧𝐞 𝐨𝐟 𝐈𝐧𝐜𝐚𝐫𝐧𝐚𝐭𝐢𝐨𝐧 𝐢𝐬 𝐨𝐧𝐞 𝐨𝐟 𝐭𝐡𝐞𝐬𝐞 𝐮𝐧𝐧𝐞𝐜𝐞𝐬𝐬𝐚𝐫𝐲 𝐦𝐲𝐬𝐭𝐞𝐫𝐢𝐞𝐬; 𝐚𝐧𝐝 𝐭𝐡𝐞𝐫𝐞 𝐢𝐬 𝐚 𝐠𝐫𝐨𝐰𝐢𝐧𝐠 𝐜𝐨𝐧𝐬𝐞𝐧𝐬𝐮𝐬 𝐚𝐦𝐨𝐧𝐠 𝐂𝐡𝐫𝐢𝐬𝐭𝐢𝐚𝐧 𝐥𝐢𝐛𝐞𝐫𝐚𝐥𝐬, 𝐚𝐭𝐭𝐞𝐬𝐭𝐞𝐝 𝐛𝐲 𝐭𝐡𝐞 𝐛𝐨𝐨𝐤 𝐓𝐡𝐞 𝐌𝐲𝐭𝐡 𝐨𝐟 𝐆𝐨𝐝 𝐈𝐧𝐜𝐚𝐫𝐧𝐚𝐭𝐞, 𝐭𝐡𝐚𝐭 𝐭𝐡𝐞 𝐝𝐨𝐜𝐭𝐫𝐢𝐧𝐞 𝐬𝐡𝐨𝐮𝐥𝐝 𝐛𝐞 𝐫𝐚𝐝𝐢𝐜𝐚𝐥𝐥𝐲 𝐫𝐞𝐢𝐧𝐭𝐞𝐫𝐩𝐫𝐞𝐭𝐞𝐝.
𝐀. 𝐓𝐡𝐞 𝐈𝐧𝐜𝐚𝐫𝐧𝐚𝐭𝐢𝐨𝐧 𝐚𝐧𝐝 𝐭𝐡𝐞 "𝐇𝐞𝐛𝐫𝐚𝐢𝐜" 𝐏𝐫𝐢𝐧𝐜𝐢𝐩𝐥𝐞
𝐎𝐧𝐞 𝐨𝐟 𝐭𝐡𝐞 𝐟𝐮𝐧𝐝𝐚𝐦𝐞𝐧𝐭𝐚𝐥 𝐚𝐱𝐢𝐨𝐦𝐬 𝐨𝐟 𝐭𝐡𝐞 𝐉𝐮𝐝𝐞𝐨-𝐂𝐡𝐫𝐢𝐬𝐭𝐢𝐚𝐧 𝐭𝐫𝐚𝐝𝐢𝐭𝐢𝐨𝐧 𝐢𝐬 𝐰𝐡𝐚𝐭 𝐈 𝐜𝐚𝐥𝐥 𝐭𝐡𝐞 "𝐇𝐞𝐛𝐫𝐚𝐢𝐜" 𝐩𝐫𝐢𝐧𝐜𝐢𝐩𝐥𝐞, 𝐛𝐚𝐬𝐞𝐝 𝐨𝐧 𝐭𝐡𝐞 𝐠𝐫𝐞𝐚𝐭𝐞𝐬𝐭 𝐝𝐢𝐬𝐜𝐨𝐯𝐞𝐫𝐲 𝐨𝐟 𝐭𝐡𝐞 𝐚𝐧𝐜𝐢𝐞𝐧𝐭 𝐇𝐞𝐛𝐫𝐞𝐰𝐬, 𝐧𝐚𝐦𝐞𝐥𝐲, 𝐭𝐡𝐞 𝐭𝐫𝐚𝐧𝐬𝐜𝐞𝐧𝐝𝐞𝐧𝐜𝐞 𝐨𝐟 𝐆𝐨𝐝. 𝐓𝐡𝐞 𝐩𝐫𝐢𝐞𝐬𝐭𝐥𝐲 𝐰𝐫𝐢𝐭𝐞𝐫𝐬 𝐨𝐟 𝐭𝐡𝐞 𝐒𝐢𝐱𝐭𝐡 𝐂𝐞𝐧𝐭𝐮𝐫𝐲 𝐁.𝐂.𝐄. 𝐧𝐨𝐭 𝐨𝐧𝐥𝐲 𝐨𝐯𝐞𝐫𝐜𝐚𝐦𝐞 𝐭𝐡𝐞 𝐩𝐫𝐢𝐦𝐢𝐭𝐢𝐯𝐞 𝐚𝐧𝐭𝐡𝐫𝐨𝐩𝐨𝐦𝐨𝐫𝐩𝐡𝐢𝐬𝐦𝐬 𝐨𝐟 𝐞𝐚𝐫𝐥𝐢𝐞𝐫 𝐇𝐞𝐛𝐫𝐞𝐰 𝐰𝐫𝐢𝐭𝐞𝐫𝐬 𝐛𝐮𝐭 𝐚𝐥𝐬𝐨 𝐦𝐚𝐝𝐞 𝐚 𝐜𝐥𝐞𝐚𝐧 𝐛𝐫𝐞𝐚𝐤 𝐰𝐢𝐭𝐡 𝐨𝐭𝐡𝐞𝐫 𝐍𝐞𝐚𝐫 𝐄𝐚𝐬𝐭𝐞𝐫𝐧 𝐯𝐢𝐞𝐰𝐬 𝐢𝐧 𝐰𝐡𝐢𝐜𝐡, 𝐟𝐨𝐫 𝐞𝐱𝐚𝐦𝐩𝐥𝐞, 𝐠𝐨𝐝𝐬 𝐛𝐚𝐭𝐭𝐥𝐞𝐝 𝐰𝐢𝐭𝐡 𝐬𝐞𝐚 𝐝𝐫𝐚𝐠𝐨𝐧𝐬 𝐨𝐫 𝐦𝐚𝐭𝐞𝐝 𝐰𝐢𝐭𝐡 𝐡𝐮𝐦𝐚𝐧𝐬. 𝐓𝐡𝐢𝐬 𝐨𝐟 𝐜𝐨𝐮𝐫𝐬𝐞 𝐭𝐡𝐨𝐫𝐨𝐮𝐠𝐡𝐥𝐲 𝐜𝐨𝐧𝐟𝐮𝐬𝐞𝐝 𝐭𝐡𝐞 𝐝𝐢𝐬𝐭𝐢𝐧𝐜𝐭𝐢𝐨𝐧 𝐛𝐞𝐭𝐰𝐞𝐞𝐧 𝐭𝐡𝐞 𝐝𝐢𝐯𝐢𝐧𝐞 𝐚𝐧𝐝 𝐭𝐡𝐞 𝐧𝐨𝐧𝐝𝐢𝐯𝐢𝐧𝐞.
𝐈𝐧 𝐭𝐡𝐞 𝐉𝐮𝐝𝐞𝐨-𝐂𝐡𝐫𝐢𝐬𝐭𝐢𝐚𝐧 𝐭𝐫𝐚𝐝𝐢𝐭𝐢𝐨𝐧, 𝐢𝐭 𝐰𝐚𝐬 𝐨𝐧𝐥𝐲 𝐭𝐡𝐞 𝐒𝐚𝐝𝐝𝐮𝐜𝐞𝐞𝐬 𝐰𝐡𝐨 𝐫𝐞𝐦𝐚𝐢𝐧𝐞𝐝 𝐭𝐫𝐮𝐞 𝐭𝐨 𝐭𝐡𝐞 𝐇𝐞𝐛𝐫𝐚𝐢𝐜 𝐩𝐫𝐢𝐧𝐜𝐢𝐩𝐥𝐞. 𝐀𝐥𝐨𝐧𝐠 𝐰𝐢𝐭𝐡 𝐭𝐡𝐞 𝐏𝐡𝐚𝐫𝐢𝐬𝐞𝐞𝐬, 𝐭𝐡𝐞 𝐒𝐚𝐝𝐝𝐮𝐜𝐞𝐞𝐬 𝐫𝐞𝐣𝐞𝐜𝐭𝐞𝐝 𝐭𝐡𝐞 𝐂𝐡𝐫𝐢𝐬𝐭𝐢𝐚𝐧 𝐢𝐝𝐞𝐚 𝐨𝐟 𝐈𝐧𝐜𝐚𝐫𝐧𝐚𝐭𝐢𝐨𝐧 (𝐭𝐨 𝐭𝐡𝐞𝐦 𝐚 𝐩𝐚𝐠𝐚𝐧 𝐦𝐢𝐱𝐢𝐧𝐠 𝐨𝐟 𝐭𝐡𝐞 𝐡𝐮𝐦𝐚𝐧 𝐚𝐧𝐝 𝐝𝐢𝐯𝐢𝐧𝐞), 𝐛𝐮𝐭 𝐭𝐡𝐞 𝐒𝐚𝐝𝐝𝐮𝐜𝐞𝐞𝐬, 𝐮𝐧𝐥𝐢𝐤𝐞 𝐭𝐡𝐞 𝐏𝐡𝐚𝐫𝐢𝐬𝐞𝐞𝐬, 𝐚𝐥𝐬𝐨 𝐞𝐬𝐜𝐡𝐞𝐰𝐞𝐝 𝐭𝐡𝐞 𝐫𝐞𝐬𝐮𝐫𝐫𝐞𝐜𝐭𝐢𝐨𝐧 𝐨𝐟 𝐭𝐡𝐞 𝐛𝐨𝐝𝐲 𝐚𝐧𝐝 𝐞𝐭𝐞𝐫𝐧𝐚𝐥 𝐥𝐢𝐟𝐞.
𝐈 𝐜𝐨𝐧𝐭𝐞𝐧𝐝 𝐭𝐡𝐚𝐭 𝐭𝐡𝐞 𝐜𝐨𝐧𝐜𝐞𝐩𝐭 𝐨𝐟 𝐡𝐮𝐦𝐚𝐧 𝐢𝐦𝐦𝐨𝐫𝐭𝐚𝐥𝐢𝐭𝐲 𝐢𝐬 𝐣𝐮𝐬𝐭 𝐚𝐬 𝐦𝐮𝐜𝐡 𝐚 𝐜𝐨𝐧𝐟𝐮𝐬𝐢𝐨𝐧 𝐨𝐟 𝐝𝐞𝐢𝐭𝐲 𝐚𝐧𝐝 𝐡𝐮𝐦𝐚𝐧𝐢𝐭𝐲 𝐚𝐬 𝐭𝐡𝐞 𝐈𝐧𝐜𝐚𝐫𝐧𝐚𝐭𝐢𝐨𝐧. 𝐓𝐰𝐨 𝐨𝐟 𝐭𝐡𝐞 𝐠𝐫𝐞𝐚𝐭𝐞𝐬𝐭 𝐦𝐢𝐬𝐭𝐚𝐤𝐞𝐬 𝐨𝐟 𝐫𝐞𝐥𝐢𝐠𝐢𝐨𝐮𝐬 𝐭𝐡𝐢𝐧𝐤𝐢𝐧𝐠–𝐭𝐡𝐞 𝐡𝐮𝐦𝐚𝐧𝐢𝐳𝐚𝐭𝐢𝐨𝐧 𝐨𝐟 𝐆𝐨𝐝 𝐚𝐧𝐝 𝐭𝐡𝐞 𝐝𝐢𝐯𝐢𝐧𝐢𝐳𝐚𝐭𝐢𝐨𝐧 𝐨𝐟 𝐡𝐮𝐦𝐚𝐧 𝐛𝐞𝐢𝐧𝐠𝐬–𝐡𝐚𝐯𝐞 𝐭𝐡𝐞𝐢𝐫 𝐬𝐨𝐮𝐫𝐜𝐞 𝐢𝐧 𝐚 𝐫𝐞𝐣𝐞𝐜𝐭𝐢𝐨𝐧 𝐨𝐟 𝐭𝐡𝐞 𝐇𝐞𝐛𝐫𝐚𝐢𝐜 𝐩𝐫𝐢𝐧𝐜𝐢𝐩𝐥𝐞.
𝐆𝐫𝐚𝐧𝐭𝐢𝐧𝐠 𝐭𝐡𝐞 𝐭𝐫𝐮𝐭𝐡 𝐨𝐟 𝐭𝐡𝐞 𝐇𝐞𝐛𝐫𝐚𝐢𝐜 𝐩𝐫𝐢𝐧𝐜𝐢𝐩𝐥𝐞 𝐢𝐬 𝐧𝐨𝐭 𝐭𝐡𝐞 𝐬𝐚𝐦𝐞 𝐚𝐬 𝐬𝐚𝐲𝐢𝐧𝐠 𝐭𝐡𝐚𝐭 𝐢𝐭 𝐡𝐚𝐬 𝐛𝐞𝐞𝐧 𝐩𝐫𝐨𝐩𝐞𝐫𝐥𝐲 𝐚𝐩𝐩𝐥𝐢𝐞𝐝 𝐢𝐧 𝐭𝐡𝐞 𝐜𝐥𝐚𝐬𝐬𝐢𝐜𝐚𝐥 𝐭𝐡𝐞𝐢𝐬𝐦 𝐨𝐟 𝐖𝐞𝐬𝐭𝐞𝐫𝐧 𝐫𝐞𝐥𝐢𝐠𝐢𝐨𝐧𝐬. 𝐒𝐨𝐦𝐞 𝐨𝐟 𝐭𝐡𝐞 𝐭𝐫𝐚𝐝𝐢𝐭𝐢𝐨𝐧𝐚𝐥 𝐚𝐭𝐭𝐫𝐢𝐛𝐮𝐭𝐞𝐬 𝐨𝐟 𝐆𝐨𝐝, 𝐞𝐬𝐩𝐞𝐜𝐢𝐚𝐥𝐥𝐲 𝐢𝐦𝐦𝐮𝐭𝐚𝐛𝐢𝐥𝐢𝐭𝐲
𝐚𝐧𝐝 𝐭𝐞𝐦𝐩𝐨𝐫𝐚𝐥𝐢𝐭𝐲, 𝐦𝐚𝐤𝐞 𝐭𝐡𝐞 𝐝𝐞𝐢𝐭𝐲 𝐬𝐨 𝐝𝐢𝐟𝐟𝐞𝐫𝐞𝐧𝐭 𝐟𝐫𝐨𝐦 𝐭𝐡𝐞 𝐰𝐨𝐫𝐥𝐝 𝐭𝐡𝐚𝐭 𝐚𝐧𝐲 𝐢𝐧𝐭𝐞𝐥𝐥𝐢𝐠𝐢𝐛𝐥𝐞 𝐫𝐞𝐥𝐚𝐭𝐢𝐨𝐧𝐬𝐡𝐢𝐩 𝐛𝐞𝐭𝐰𝐞𝐞𝐧 𝐆𝐨𝐝 𝐚𝐧𝐝 𝐭𝐡𝐞 𝐰𝐨𝐫𝐥𝐝 𝐚𝐩𝐩𝐞𝐚𝐫𝐬 𝐢𝐦𝐩𝐨𝐬𝐬𝐢𝐛𝐥𝐞. 𝐅𝐨𝐫 𝐞𝐱𝐚𝐦𝐩𝐥𝐞, 𝐀𝐮𝐠𝐮𝐬𝐭𝐢𝐧𝐞'𝐬 𝐭𝐡𝐞𝐨𝐫𝐲 𝐨𝐟 𝐝𝐢𝐯𝐢𝐧𝐞 𝐭𝐢𝐦𝐞 𝐚𝐬 𝐭𝐡𝐞 𝐜𝐨𝐩𝐫𝐞𝐬𝐞𝐧𝐜𝐞 𝐨𝐟 𝐩𝐚𝐬𝐭, 𝐩𝐫𝐞𝐬𝐞𝐧𝐭, 𝐚𝐧𝐝 𝐟𝐮𝐭𝐮𝐫𝐞 𝐢𝐬 𝐧𝐨𝐭𝐡𝐢𝐧𝐠 𝐥𝐢𝐤𝐞 𝐭𝐡𝐞 𝐭𝐞𝐦𝐩𝐨𝐫𝐚𝐥 𝐬𝐮𝐜𝐜𝐞𝐬𝐬𝐢𝐨𝐧 𝐰𝐞 𝐨𝐮𝐫𝐬𝐞𝐥𝐯𝐞𝐬 𝐞𝐱𝐩𝐞𝐫𝐢𝐞𝐧𝐜𝐞.
𝐎𝐧 𝐭𝐡𝐞 𝐨𝐭𝐡𝐞𝐫 𝐡𝐚𝐧𝐝, 𝐩𝐫𝐨𝐜𝐞𝐬𝐬 𝐭𝐡𝐞𝐨𝐥𝐨𝐠𝐲 𝐩𝐫𝐞𝐬𝐞𝐫𝐯𝐞𝐬 𝐚 𝐪𝐮𝐚𝐥𝐢𝐭𝐚𝐭𝐢𝐯𝐞 𝐝𝐢𝐬𝐭𝐢𝐧𝐜𝐭𝐢𝐨𝐧 𝐛𝐞𝐭𝐰𝐞𝐞𝐧 𝐆𝐨𝐝 𝐚𝐧𝐝 𝐭𝐡𝐞 𝐰𝐨𝐫𝐥𝐝, 𝐰𝐡𝐢𝐥𝐞 𝐚𝐭 𝐭𝐡𝐞 𝐬𝐚𝐦𝐞 𝐭𝐢𝐦𝐞 𝐦𝐚𝐤𝐢𝐧𝐠 𝐬𝐞𝐧𝐬𝐞 𝐨𝐟 𝐝𝐢𝐯𝐢𝐧𝐞 𝐢𝐦𝐦𝐚𝐧𝐞𝐧𝐜𝐞 𝐚𝐧𝐝 𝐚𝐯𝐨𝐢𝐝𝐢𝐧𝐠 𝐭𝐡𝐞 𝐞𝐱𝐭𝐫𝐞𝐦𝐞𝐬 𝐨𝐟 𝐭𝐡𝐞 𝐯𝐢𝐚 𝐧𝐞𝐠𝐚𝐭𝐢𝐯𝐚. 𝐏𝐫𝐨𝐜𝐞𝐬𝐬 𝐦𝐞𝐭𝐚𝐩𝐡𝐲𝐬𝐢𝐜𝐬, 𝐰𝐢𝐭𝐡 𝐢𝐭𝐬 𝐚𝐟𝐟𝐢𝐫𝐦𝐚𝐭𝐢𝐨𝐧 𝐨𝐟 𝐢𝐧𝐭𝐞𝐫𝐧𝐚𝐥 𝐫𝐞𝐥𝐚𝐭𝐢𝐨𝐧𝐬 𝐚𝐧𝐝 𝐬𝐩𝐚𝐭𝐢𝐚𝐥 𝐢𝐧𝐜𝐥𝐮𝐬𝐢𝐨𝐧, 𝐢𝐬 𝐢𝐝𝐞𝐚𝐥 𝐟𝐨𝐫 𝐢𝐧𝐜𝐚𝐫𝐧𝐚𝐭𝐢𝐨𝐧𝐚𝐥 𝐫𝐞𝐥𝐢𝐠𝐢𝐨𝐧𝐬, 𝐰𝐡𝐢𝐥𝐞 𝐬𝐮𝐛𝐬𝐭𝐚𝐧𝐜𝐞 𝐦𝐞𝐭𝐚𝐩𝐡𝐲𝐬𝐢𝐜𝐬 𝐢𝐬 𝐭𝐨𝐭𝐚𝐥𝐥𝐲 𝐮𝐧𝐬𝐮𝐢𝐭𝐚𝐛𝐥𝐞.
𝐄𝐱𝐭𝐞𝐫𝐧𝐚𝐥𝐥𝐲 𝐫𝐞𝐥𝐚𝐭𝐞𝐝 𝐬𝐞𝐥𝐟-𝐢𝐝𝐞𝐧𝐭𝐢𝐜𝐚𝐥 𝐭𝐡𝐢𝐧𝐠𝐬 𝐜𝐚𝐧𝐧𝐨𝐭 𝐛𝐞 𝐢𝐦𝐦𝐚𝐧𝐞𝐧𝐭 𝐢𝐧 𝐨𝐧𝐞 𝐚𝐧𝐨𝐭𝐡𝐞𝐫. 𝐄𝐯𝐞𝐧 𝐢𝐟 𝐩𝐫𝐨𝐜𝐞𝐬𝐬 𝐂𝐡𝐫𝐢𝐬𝐭𝐢𝐚𝐧𝐬 𝐰𝐞𝐫𝐞 𝐢𝐧𝐭𝐞𝐫𝐞𝐬𝐭𝐞𝐝 𝐢𝐧 𝐭𝐡𝐞 𝐥𝐢𝐭𝐞𝐫𝐚𝐥 𝐦𝐚𝐧-𝐆𝐨𝐝, 𝐭𝐡𝐞𝐲 𝐤𝐧𝐨𝐰 𝐟𝐮𝐥𝐥 𝐰𝐞𝐥𝐥 𝐭𝐡𝐚𝐭 𝐭𝐡𝐞𝐲 𝐜𝐨𝐮𝐥𝐝 𝐧𝐨𝐭 𝐦𝐚𝐤𝐞 𝐭𝐡𝐞 𝐢𝐝𝐞𝐚 𝐢𝐧𝐭𝐞𝐥𝐥𝐢𝐠𝐢𝐛𝐥𝐞 𝐞𝐯𝐞𝐧 𝐰𝐢𝐭𝐡𝐢𝐧 𝐭𝐡𝐞𝐢𝐫 𝐩𝐫𝐨𝐜𝐞𝐬𝐬 𝐜𝐚𝐭𝐞𝐠𝐨𝐫𝐢𝐞𝐬.
𝐈𝐧 𝐭𝐡𝐞𝐢𝐫 𝐟𝐢𝐫𝐦 𝐫𝐞𝐣𝐞𝐜𝐭𝐢𝐨𝐧 𝐨𝐟 𝐝𝐢𝐯𝐢𝐧𝐞 𝐢𝐧𝐜𝐚𝐫𝐧𝐚𝐭𝐢𝐨𝐧 𝐚𝐧𝐝 𝐨𝐭𝐡𝐞𝐫 𝐚𝐧𝐭𝐡𝐫𝐨𝐩𝐨𝐦𝐨𝐫𝐩𝐡𝐢𝐜 𝐢𝐦𝐩𝐨𝐬𝐢𝐭𝐢𝐨𝐧𝐬 𝐨𝐧 𝐭𝐡𝐞 𝐝𝐢𝐯𝐢𝐧𝐞 𝐧𝐚𝐭𝐮𝐫𝐞, 𝐌𝐮𝐬𝐥𝐢𝐦𝐬 𝐡𝐨𝐧𝐨𝐫 𝐭𝐡𝐞 𝐇𝐞𝐛𝐫𝐚𝐢𝐜 𝐩𝐫𝐢𝐧𝐜𝐢𝐩𝐥𝐞 𝐰𝐢𝐭𝐡 𝐨𝐧𝐞 𝐞𝐱𝐜𝐞𝐩𝐭𝐢𝐨𝐧: 𝐭𝐡𝐞𝐢𝐫 𝐛𝐞𝐥𝐢𝐞𝐟 𝐢𝐧 𝐡𝐮𝐦𝐚𝐧 𝐢𝐦𝐦𝐨𝐫𝐭𝐚𝐥𝐢𝐭𝐲. 𝐌𝐚𝐧𝐲 𝐄𝐚𝐬𝐭𝐞𝐫𝐧 𝐯𝐢𝐞𝐰𝐬, 𝐡𝐨𝐰𝐞𝐯𝐞𝐫, 𝐨𝐩𝐞𝐧𝐥𝐲 𝐜𝐞𝐥𝐞𝐛𝐫𝐚𝐭𝐞 𝐭𝐡𝐞 𝐜𝐨𝐥𝐥𝐚𝐩𝐬𝐞 𝐨𝐟 𝐭𝐡𝐢𝐬 𝐩𝐫𝐢𝐧𝐜𝐢𝐩𝐥𝐞. 𝐖𝐢𝐭𝐡 𝐭𝐡𝐞𝐢𝐫 𝐩𝐚𝐧𝐭𝐡𝐞𝐢𝐬𝐦 𝐚𝐧𝐝 𝐚𝐛𝐬𝐨𝐥𝐮𝐭𝐞 𝐦𝐨𝐧𝐢𝐬𝐦, 𝐭𝐡𝐞 𝐕𝐞𝐝𝐚𝐧𝐭𝐢𝐬𝐭𝐬 𝐜𝐥𝐚𝐢𝐦 𝐭𝐡𝐚𝐭 𝐭𝐡𝐞𝐫𝐞 𝐢𝐬 𝐧𝐨 𝐪𝐮𝐚𝐥𝐢𝐭𝐚𝐭𝐢𝐯𝐞 𝐝𝐢𝐬𝐭𝐢𝐧𝐜𝐭𝐢𝐨𝐧 𝐛𝐞𝐭𝐰𝐞𝐞𝐧 𝐁𝐫𝐚𝐡𝐦𝐚𝐧 𝐚𝐧𝐝 𝐀𝐭𝐦𝐚𝐧;
𝐫𝐞𝐚𝐥𝐢𝐭𝐲 𝐢𝐬 𝐚𝐧 𝐚𝐛𝐬𝐨𝐥𝐮𝐭𝐞 𝐮𝐧𝐢𝐭𝐲 𝐰𝐢𝐭𝐡𝐨𝐮𝐭 𝐫𝐞𝐦𝐚𝐢𝐧𝐝𝐞𝐫. 𝐎𝐧 𝐭𝐡𝐞 𝐨𝐭𝐡𝐞𝐫 𝐡𝐚𝐧𝐝, 𝐭𝐡𝐞 𝐒𝐚𝐧𝐤𝐡𝐲𝐚-𝐘𝐨𝐠𝐚 𝐝𝐮𝐚𝐥𝐢𝐬𝐦 𝐦𝐚𝐢𝐧𝐭𝐚𝐢𝐧𝐬 𝐚 𝐬𝐭𝐫𝐢𝐜𝐭 𝐝𝐢𝐬𝐭𝐢𝐧𝐜𝐭𝐢𝐨𝐧 𝐛𝐞𝐭𝐰𝐞𝐞𝐧 𝐬𝐩𝐢𝐫𝐢𝐭𝐮𝐚𝐥 𝐫𝐞𝐚𝐥𝐢𝐭𝐲 (𝐩𝐮𝐫𝐮𝐬𝐡𝐚) 𝐚𝐧𝐝 𝐦𝐚𝐭𝐞𝐫𝐢𝐚𝐥 𝐫𝐞𝐚𝐥𝐢𝐭𝐲 (𝐩𝐫𝐚𝐤𝐫𝐢𝐭𝐢). 𝐈𝐟 𝐕𝐢𝐬𝐡𝐧𝐮'𝐬 𝐢𝐧𝐜𝐚𝐫𝐧𝐚𝐭𝐢𝐨𝐧 𝐚𝐬 𝐊𝐫𝐢𝐬𝐡𝐧𝐚 𝐢𝐬 𝐬𝐞𝐞𝐧 𝐢𝐧 𝐭𝐞𝐫𝐦𝐬 𝐨𝐟 𝐭𝐡𝐢𝐬 𝐝𝐮𝐚𝐥𝐢𝐬𝐭𝐢𝐜 𝐦𝐞𝐭𝐚𝐩𝐡𝐲𝐬𝐢𝐜𝐬, 𝐭𝐡𝐞𝐧 𝐭𝐡𝐞 𝐩𝐫𝐨𝐛𝐥𝐞𝐦𝐬 𝐈 𝐟𝐢𝐧𝐝 𝐰𝐢𝐭𝐡 𝐂𝐡𝐫𝐢𝐬𝐭𝐢𝐚𝐧 𝐢𝐧𝐜𝐚𝐫𝐧𝐚𝐭𝐢𝐨𝐧𝐢𝐬𝐦 𝐚𝐥𝐬𝐨 𝐨𝐛𝐭𝐚𝐢𝐧 𝐢𝐧 𝐇𝐢𝐧𝐝𝐮 𝐞𝐯𝐚𝐧𝐠𝐞𝐥𝐢𝐜𝐚𝐥𝐢𝐬𝐦.
𝐓𝐡𝐞 𝐧𝐨𝐭𝐢𝐨𝐧 𝐨𝐟 𝐕𝐢𝐬𝐡𝐧𝐮 𝐛𝐞𝐜𝐨𝐦𝐢𝐧𝐠 𝐟𝐥𝐞𝐬𝐡 𝐰𝐚𝐬 𝐣𝐮𝐬𝐭 𝐚𝐬 𝐬𝐜𝐚𝐧𝐝𝐚𝐥𝐨𝐮𝐬 𝐭𝐨 𝐬𝐨𝐦𝐞 𝐇𝐢𝐧𝐝𝐮𝐬 𝐚𝐬 𝐚 𝐝𝐢𝐯𝐢𝐧𝐞 𝐦𝐚𝐧 𝐰𝐚𝐬 𝐭𝐨 𝐉𝐞𝐰𝐬. 𝐎𝐭𝐡𝐞𝐫𝐰𝐢𝐬𝐞, 𝐊𝐫𝐢𝐬𝐡𝐧𝐚 𝐰𝐨𝐮𝐥𝐝 𝐧𝐨𝐭 𝐡𝐚𝐯𝐞 𝐡𝐚𝐝 𝐭𝐨 𝐬𝐚𝐲 𝐭𝐡𝐚𝐭 "𝐟𝐨𝐨𝐥𝐬 𝐬𝐜𝐨𝐫𝐧 𝐦𝐞" 𝐢𝐧 𝐭𝐡𝐞 "𝐡𝐮𝐦𝐚𝐧 𝐟𝐨𝐫𝐦 𝐭𝐡𝐚𝐭 𝐈 𝐡𝐚𝐯𝐞 𝐚𝐬𝐬𝐮𝐦𝐞𝐝" (𝐁𝐡𝐚𝐠𝐚𝐯𝐚𝐝-𝐠𝐢𝐭𝐚 𝟗:𝟏𝟏).
𝐈𝐧 𝐡𝐢𝐬 𝐟𝐨𝐫𝐜𝐞𝐟𝐮𝐥 𝐫𝐞𝐬𝐩𝐨𝐧𝐬𝐞 𝐭𝐨 𝐭𝐡𝐞 𝐥𝐢𝐛𝐞𝐫𝐚𝐥 𝐂𝐡𝐫𝐢𝐬𝐭𝐢𝐚𝐧𝐬 𝐨𝐟 𝐓𝐡𝐞 𝐌𝐲𝐭𝐡 𝐨𝐟 𝐆𝐨𝐝 𝐈𝐧𝐜𝐚𝐫𝐧𝐚𝐭𝐞, 𝐞𝐯𝐚𝐧𝐠𝐞𝐥𝐢𝐜𝐚𝐥 𝐌𝐢𝐜𝐡𝐚𝐞𝐥 𝐆𝐫𝐞𝐞𝐧 𝐮𝐧𝐰𝐢𝐭𝐭𝐢𝐧𝐠𝐥𝐲 𝐜𝐨𝐧𝐟𝐢𝐫𝐦𝐬 𝐭𝐡𝐞 𝐥𝐨𝐠𝐢𝐜 𝐨𝐟 𝐭𝐡𝐞 𝐇𝐞𝐛𝐫𝐚𝐢𝐜 𝐩𝐫𝐢𝐧𝐜𝐢𝐩𝐥𝐞. 𝐈𝐧 𝐚𝐫𝐠𝐮𝐢𝐧𝐠 𝐭𝐡𝐚𝐭 𝐍𝐞𝐰 𝐓𝐞𝐬𝐭𝐚𝐦𝐞𝐧𝐭 𝐰𝐫𝐢𝐭𝐞𝐫𝐬 𝐛𝐞𝐥𝐢𝐞𝐯𝐞𝐝 𝐭𝐡𝐚𝐭 𝐉𝐞𝐬𝐮𝐬 𝐰𝐚𝐬 𝐆𝐨𝐝,
𝐛𝐮𝐭 𝐭𝐡𝐚𝐭 𝐧𝐨 𝐉𝐞𝐰 𝐞𝐱𝐜𝐞𝐩𝐭 𝐚𝐧 𝐢𝐧𝐬𝐚𝐧𝐞 𝐨𝐧𝐞 𝐰𝐨𝐮𝐥𝐝 𝐦𝐚𝐤𝐞 𝐬𝐮𝐜𝐡 𝐚 𝐜𝐥𝐚𝐢𝐦, 𝐆𝐫𝐞𝐞𝐧 𝐜𝐢𝐭𝐞𝐬 𝐎𝐥𝐝 𝐓𝐞𝐬𝐭𝐚𝐦𝐞𝐧𝐭 𝐩𝐚𝐬𝐬𝐚𝐠𝐞𝐬 𝐭𝐡𝐚𝐭 𝐜𝐥𝐞𝐚𝐫𝐥𝐲 𝐢𝐧𝐝𝐢𝐜𝐚𝐭𝐞 𝐭𝐡𝐚𝐭 𝐭𝐡𝐞 𝐭𝐞𝐫𝐦𝐬 "𝐫𝐞𝐝𝐞𝐞𝐦𝐞𝐫" 𝐚𝐧𝐝 "𝐣𝐮𝐝𝐠𝐞" 𝐫𝐞𝐟𝐞𝐫𝐫𝐞𝐝 𝐞𝐱𝐜𝐥𝐮𝐬𝐢𝐯𝐞𝐥𝐲 𝐭𝐨 𝐘𝐚𝐡𝐰𝐞𝐡.(𝟐) 𝐆𝐫𝐞𝐞𝐧 𝐢𝐬 𝐨𝐛𝐯𝐢𝐨𝐮𝐬𝐥𝐲 𝐜𝐨𝐫𝐫𝐞𝐜𝐭: 𝐭𝐡𝐞 𝐇𝐞𝐛𝐫𝐚𝐢𝐜 𝐩𝐫𝐢𝐧𝐜𝐢𝐩𝐥𝐞 𝐬𝐞𝐩𝐚𝐫𝐚𝐭𝐞𝐬 𝐜𝐥𝐞𝐚𝐧𝐥𝐲 𝐭𝐡𝐞 𝐟𝐮𝐧𝐜𝐭𝐢𝐨𝐧𝐬 𝐚𝐧𝐝 𝐚𝐭𝐭𝐫𝐢𝐛𝐮𝐭𝐞𝐬 𝐨𝐟 𝐆𝐨𝐝 𝐟𝐫𝐨𝐦 𝐭𝐡𝐨𝐬𝐞 𝐨𝐟 𝐜𝐫𝐞𝐚𝐭𝐮𝐫𝐞𝐬. 𝐈𝐧 𝐬𝐡𝐨𝐫𝐭, 𝐭𝐡𝐞 𝐩𝐫𝐢𝐧𝐜𝐢𝐩𝐥𝐞 𝐫𝐢𝐠𝐨𝐫𝐨𝐮𝐬𝐥𝐲 𝐫𝐞𝐪𝐮𝐢𝐫𝐞𝐬 𝐭𝐡𝐚𝐭 𝐆𝐨𝐝 𝐛𝐞 𝐆𝐨𝐝 𝐚𝐧𝐝 𝐡𝐮𝐦𝐚𝐧𝐬 𝐛𝐞 𝐡𝐮𝐦𝐚𝐧.
𝐉𝐨𝐡𝐧 𝐂𝐚𝐥𝐯𝐢𝐧 𝐞𝐱𝐩𝐫𝐞𝐬𝐬𝐞𝐝 𝐭𝐡𝐞 𝐇𝐞𝐛𝐫𝐚𝐢𝐜 𝐩𝐫𝐢𝐧𝐜𝐢𝐩𝐥𝐞 𝐢𝐧 𝐡𝐢𝐬 𝐟𝐚𝐦𝐨𝐮𝐬 𝐦𝐨𝐭𝐭𝐨 𝐟𝐢𝐧𝐢𝐭𝐮𝐦 𝐧𝐨𝐧 𝐜𝐚𝐩𝐚𝐱 𝐢𝐧𝐟𝐢𝐧𝐢𝐭𝐢, 𝐛𝐮𝐭 𝐡𝐞 𝐝𝐢𝐝 𝐧𝐨𝐭 𝐚𝐜𝐤𝐧𝐨𝐰𝐥𝐞𝐝𝐠𝐞, 𝐚𝐬 𝐟𝐚𝐫 𝐚𝐬 𝐈 𝐚𝐦 𝐚𝐰𝐚𝐫𝐞, 𝐭𝐡𝐞 𝐢𝐦𝐩𝐥𝐢𝐜𝐚𝐭𝐢𝐨𝐧𝐬 𝐭𝐡𝐚𝐭 𝐭𝐡𝐢𝐬 𝐡𝐚𝐝 𝐟𝐨𝐫 𝐭𝐡𝐞 𝐚𝐥𝐥𝐞𝐠𝐞𝐝 𝐦𝐚𝐧-𝐆𝐨𝐝 𝐉𝐞𝐬𝐮𝐬. 𝐈𝐧 𝐜𝐨𝐧𝐭𝐫𝐚𝐬𝐭, 𝐒ø𝐫𝐞𝐧 𝐊𝐢𝐞𝐫𝐤𝐞𝐠𝐚𝐚𝐫𝐝 𝐫𝐞𝐟𝐨𝐫𝐦𝐮𝐥𝐚𝐭𝐞𝐝 𝐂𝐚𝐥𝐯𝐢𝐧'𝐬 𝐦𝐚𝐱𝐢𝐦 𝐚𝐬 𝐚𝐧 𝐢𝐧𝐟𝐢𝐧𝐢𝐭𝐞 𝐪𝐮𝐚𝐥𝐢𝐭𝐚𝐭𝐢𝐯𝐞 𝐝𝐢𝐟𝐟𝐞𝐫𝐞𝐧𝐜𝐞 𝐛𝐞𝐭𝐰𝐞𝐞𝐧 𝐡𝐮𝐦𝐚𝐧𝐬 𝐚𝐧𝐝 𝐆𝐨𝐝 𝐚𝐧𝐝 𝐝𝐞𝐜𝐥𝐚𝐫𝐞𝐝 𝐭𝐡𝐚𝐭 𝐭𝐡𝐞 𝐈𝐧𝐜𝐚𝐫𝐧𝐚𝐭𝐢𝐨𝐧 𝐰𝐚𝐬 𝐢𝐧𝐝𝐞𝐞𝐝 𝐚𝐧 𝐚𝐛𝐬𝐮𝐫𝐝𝐢𝐭𝐲.
𝐎𝐟 𝐚𝐥𝐥 𝐭𝐡𝐞 𝐩𝐫𝐨𝐠𝐫𝐞𝐬𝐬𝐢𝐯𝐞 𝐭𝐡𝐞𝐨𝐥𝐨𝐠𝐢𝐚𝐧𝐬 𝐮𝐫𝐠𝐢𝐧𝐠 𝐚 𝐫𝐞𝐟𝐨𝐫𝐦𝐮𝐥𝐚𝐭𝐢𝐨𝐧 𝐨𝐟 𝐭𝐡𝐢𝐬 𝐝𝐨𝐜𝐭𝐫𝐢𝐧𝐞, 𝐢𝐭 𝐢𝐬 𝐃𝐨𝐧 𝐂𝐮𝐩𝐢𝐭𝐭 𝐰𝐡𝐨 𝐬𝐞𝐞𝐬 𝐭𝐡𝐞 𝐩𝐫𝐨𝐛𝐥𝐞𝐦 𝐦𝐨𝐬𝐭 𝐜𝐥𝐞𝐚𝐫𝐥𝐲 𝐢𝐧 𝐭𝐞𝐫𝐦𝐬 𝐨𝐟 𝐭𝐡𝐞 𝐇𝐞𝐛𝐫𝐚𝐢𝐜 𝐩𝐫𝐢𝐧𝐜𝐢𝐩𝐥𝐞. 𝐂𝐮𝐩𝐢𝐭𝐭 𝐬𝐡𝐨𝐰𝐬 𝐭𝐡𝐚𝐭 𝐉𝐞𝐬𝐮𝐬 𝐡𝐚𝐝 𝐬𝐮𝐜𝐡 𝐚𝐧 𝐮𝐧𝐞𝐪𝐮𝐢𝐯𝐨𝐜𝐚𝐥 𝐮𝐧𝐝𝐞𝐫𝐬𝐭𝐚𝐧𝐝𝐢𝐧𝐠 𝐨𝐟 𝐭𝐡𝐢𝐬 𝐚𝐱𝐢𝐨𝐦 𝐭𝐡𝐚𝐭 𝐢𝐭 𝐰𝐨𝐮𝐥𝐝 𝐡𝐚𝐯𝐞 𝐛𝐞𝐞𝐧 𝐢𝐧𝐜𝐨𝐧𝐜𝐞𝐢𝐯𝐚𝐛𝐥𝐞 𝐟𝐨𝐫 𝐡𝐢𝐦 𝐭𝐨 𝐝𝐞𝐜𝐥𝐚𝐫𝐞 𝐡𝐢𝐦𝐬𝐞𝐥𝐟 𝐆𝐨𝐝.
𝐂𝐮𝐩𝐢𝐭𝐭 𝐬𝐭𝐚𝐭𝐞𝐬:
"𝐂𝐡𝐫𝐢𝐬𝐭𝐢𝐚𝐧𝐢𝐭𝐲'𝐬 𝐩𝐫𝐨𝐩𝐞𝐫 𝐬𝐮𝐛𝐭𝐥𝐞𝐭𝐲 𝐚𝐧𝐝 𝐟𝐫𝐞𝐞𝐝𝐨𝐦 𝐝𝐞𝐩𝐞𝐧𝐝𝐞𝐝 𝐮𝐩𝐨𝐧 𝐉𝐞𝐬𝐮𝐬' 𝐢𝐫𝐨𝐧𝐢𝐜𝐚𝐥 𝐩𝐞𝐫𝐜𝐞𝐩𝐭𝐢𝐨𝐧 𝐨𝐟 𝐝𝐢𝐬𝐣𝐮𝐧𝐜𝐭𝐢𝐨𝐧 𝐛𝐞𝐭𝐰𝐞𝐞𝐧 𝐭𝐡𝐞 𝐭𝐡𝐢𝐧𝐠𝐬 𝐨𝐟 𝐆𝐨𝐝 𝐚𝐧𝐝 𝐭𝐡𝐞 𝐭𝐡𝐢𝐧𝐠𝐬 𝐨𝐟 𝐦𝐞𝐧, 𝐚 𝐝𝐢𝐬𝐣𝐮𝐧𝐜𝐭𝐢𝐨𝐧 𝐩𝐚𝐫𝐭𝐢𝐜𝐮𝐥𝐚𝐫𝐥𝐲 𝐞𝐧𝐟𝐨𝐫𝐜𝐞𝐝 𝐢𝐧 𝐭𝐡𝐞 𝐩𝐚𝐫𝐚𝐛𝐥𝐞𝐬….
𝐖𝐡𝐚𝐭 𝐦𝐚𝐭𝐭𝐞𝐫𝐬 𝐢𝐧 𝐉𝐞𝐬𝐮𝐬' 𝐦𝐞𝐬𝐬𝐚𝐠𝐞 𝐢𝐬 𝐡𝐢𝐬 𝐬𝐞𝐧𝐬𝐞 𝐨𝐟 𝐭𝐡𝐞 𝐚𝐛𝐫𝐮𝐩𝐭 𝐣𝐮𝐱𝐭𝐚𝐩𝐨𝐬𝐢𝐭𝐢𝐨𝐧 𝐨𝐟 𝐭𝐰𝐨 𝐨𝐩𝐩𝐨𝐬𝐞𝐝 𝐨𝐫𝐝𝐞𝐫𝐬 𝐨𝐟 𝐭𝐡𝐢𝐧𝐠𝐬….𝐓𝐡𝐞 𝐞𝐬𝐬𝐞𝐧𝐭𝐢𝐚𝐥 𝐭𝐡𝐢𝐧𝐠 𝐢𝐬 𝐭𝐡𝐚𝐭 𝐭𝐡𝐞 𝐭𝐰𝐨 𝐜𝐨𝐧𝐭𝐫𝐚𝐬𝐭𝐢𝐧𝐠 𝐨𝐫𝐝𝐞𝐫𝐬 𝐦𝐮𝐬𝐭 𝐜𝐨𝐥𝐥𝐢𝐝𝐞. 𝐁𝐮𝐭 𝐭𝐡𝐞 𝐝𝐨𝐜𝐭𝐫𝐢𝐧𝐞 𝐨𝐟 𝐭𝐡𝐞 𝐈𝐧𝐜𝐚𝐫𝐧𝐚𝐭𝐢𝐨𝐧 𝐮𝐧𝐢𝐟𝐢𝐞𝐝 𝐭𝐡𝐢𝐧𝐠𝐬 𝐰𝐡𝐢𝐜𝐡 𝐉𝐞𝐬𝐮𝐬 𝐡𝐚𝐝 𝐤𝐞𝐩𝐭 𝐢𝐧 𝐢𝐫𝐨𝐧𝐢𝐜 𝐜𝐨𝐧𝐭𝐫𝐚𝐬𝐭 𝐰𝐢𝐭𝐡 𝐞𝐚𝐜𝐡 𝐨𝐭𝐡𝐞𝐫…."(𝟑)
𝐈𝐟 𝐢𝐭 𝐢𝐬 𝐭𝐫𝐮𝐞 𝐭𝐡𝐚𝐭 𝐭𝐡𝐞 𝐩𝐫𝐢𝐞𝐬𝐭𝐥𝐲 𝐰𝐫𝐢𝐭𝐞𝐫𝐬 𝐨𝐟 𝐭𝐡𝐞 𝐎𝐥𝐝 𝐓𝐞𝐬𝐭𝐚𝐦𝐞𝐧𝐭 𝐝𝐞𝐦𝐲𝐭𝐡𝐨𝐥𝐨𝐠𝐢𝐳𝐞𝐝 𝐍𝐞𝐚𝐫 𝐄𝐚𝐬𝐭𝐞𝐫𝐧 𝐜𝐫𝐞𝐚𝐭𝐢𝐨𝐧 𝐦𝐲𝐭𝐡𝐬 𝐭𝐡𝐚𝐭 𝐜𝐨𝐧𝐬𝐢𝐬𝐭𝐞𝐧𝐭𝐥𝐲 𝐜𝐨𝐧𝐟𝐮𝐬𝐞𝐝 𝐭𝐡𝐞 𝐝𝐢𝐯𝐢𝐧𝐞 𝐚𝐧𝐝 𝐭𝐡𝐞 𝐧𝐨𝐧𝐝𝐢𝐯𝐢𝐧𝐞, 𝐭𝐡𝐞𝐧 𝐨𝐧𝐞 𝐜𝐚𝐧 𝐥𝐞𝐠𝐢𝐭𝐢𝐦𝐚𝐭𝐞𝐥𝐲 𝐜𝐨𝐧𝐭𝐞𝐧𝐝 𝐭𝐡𝐚𝐭 𝐭𝐡𝐞 𝐂𝐡𝐫𝐢𝐬𝐭𝐢𝐚𝐧 𝐢𝐧𝐜𝐚𝐫𝐧𝐚𝐭𝐢𝐨𝐧𝐢𝐬𝐭𝐬 𝐡𝐚𝐯𝐞 𝐫𝐞𝐢𝐧𝐭𝐫𝐨𝐝𝐮𝐜𝐞𝐝 𝐦𝐲𝐭𝐡𝐨𝐥𝐨𝐠𝐲 𝐭𝐨 𝐭𝐡𝐞𝐢𝐫 𝐨𝐰𝐧 𝐫𝐞𝐥𝐢𝐠𝐢𝐨𝐮𝐬 𝐭𝐫𝐚𝐝𝐢𝐭𝐢𝐨𝐧.
𝐓𝐡𝐞 𝐚𝐮𝐭𝐡𝐨𝐫𝐬 𝐨𝐟 𝐓𝐡𝐞 𝐓𝐫𝐮𝐭𝐡 𝐨𝐟 𝐆𝐨𝐝 𝐈𝐧𝐜𝐚𝐫𝐧𝐚𝐭𝐞 𝐬𝐜𝐨𝐫𝐞 𝐬𝐨𝐦𝐞 𝐝𝐞𝐛𝐚𝐭𝐢𝐧𝐠 𝐩𝐨𝐢𝐧𝐭𝐬 𝐨𝐧 𝐭𝐡𝐞 𝐥𝐨𝐨𝐬𝐞 𝐮𝐬𝐞 𝐨𝐟 𝐭𝐡𝐞 𝐭𝐞𝐫𝐦 "𝐦𝐲𝐭𝐡" 𝐛𝐲 𝐉𝐨𝐡𝐧 𝐇𝐢𝐜𝐤 𝐚𝐧𝐝 𝐡𝐢𝐬 𝐜𝐨𝐥𝐥𝐞𝐚𝐠𝐮𝐞𝐬, 𝐛𝐮𝐭 𝐭𝐡𝐞𝐫𝐞 𝐜𝐚𝐧 𝐛𝐞 𝐧𝐨 𝐝𝐞𝐧𝐢𝐚𝐥 𝐨𝐟 𝐭𝐡𝐞 𝐟𝐚𝐜𝐭 𝐭𝐡𝐚𝐭 𝐬𝐨𝐦𝐞 𝐭𝐲𝐩𝐞 𝐨𝐟 𝐦𝐲𝐭𝐡𝐨𝐥𝐨𝐠𝐲 𝐢𝐬 𝐢𝐧𝐯𝐨𝐥𝐯𝐞𝐝 𝐢𝐧 𝐚 𝐥𝐢𝐭𝐞𝐫𝐚𝐥 𝐢𝐧𝐜𝐚𝐫𝐧𝐚𝐭𝐢𝐨𝐧. 𝐉𝐞𝐬𝐮𝐬' 𝐝𝐢𝐬𝐜𝐢𝐩𝐥𝐞𝐬 𝐚𝐧𝐝 𝐭𝐡𝐞 𝐞𝐚𝐫𝐥𝐲 𝐜𝐡𝐮𝐫𝐜𝐡 𝐯𝐢𝐨𝐥𝐚𝐭𝐞𝐝 𝐭𝐡𝐞 𝐇𝐞𝐛𝐫𝐚𝐢𝐜 𝐩𝐫𝐢𝐧𝐜𝐢𝐩𝐥𝐞 𝐛𝐲 𝐭𝐚𝐤𝐢𝐧𝐠 𝐭𝐡𝐞 𝐩𝐞𝐫𝐬𝐨𝐧 𝐨𝐟 𝐉𝐞𝐬𝐮𝐬 𝐚𝐬 𝐭𝐡𝐞 𝐦𝐞𝐬𝐬𝐚𝐠𝐞, 𝐭𝐡𝐞𝐫𝐞𝐛𝐲 𝐝𝐢𝐬𝐩𝐥𝐚𝐜𝐢𝐧𝐠 𝐭𝐡𝐞 𝐭𝐫𝐚𝐧𝐬𝐜𝐞𝐧𝐝𝐞𝐧𝐭 𝐘𝐚𝐡𝐰𝐞𝐡 𝐢𝐧 𝐟𝐚𝐯𝐨𝐫 𝐨𝐟 𝐚 𝐦𝐲𝐭𝐡𝐢𝐜𝐚𝐥 𝐦𝐚𝐧-𝐆𝐨𝐝 𝐫𝐞𝐝𝐞𝐞𝐦𝐞𝐫.
𝐃𝐨𝐧𝐚𝐥𝐝 𝐁𝐥𝐨𝐞𝐬𝐜𝐡 𝐜𝐚𝐫𝐞𝐟𝐮𝐥𝐥𝐲 𝐞𝐱𝐩𝐥𝐚𝐢𝐧𝐬 𝐭𝐡𝐚𝐭 𝐭𝐡𝐞 𝐝𝐞𝐢𝐭𝐲 𝐨𝐟 𝐂𝐡𝐫𝐢𝐬𝐭 𝐢𝐬 𝐧𝐨𝐭 𝐭𝐨 𝐛𝐞 𝐜𝐨𝐧𝐬𝐭𝐫𝐮𝐞𝐝 𝐚𝐬 𝐚 𝐭𝐡𝐞𝐨𝐩𝐡𝐚𝐧𝐲, "𝐭𝐡𝐞 𝐯𝐢𝐬𝐢𝐛𝐥𝐞 𝐚𝐩𝐩𝐞𝐚𝐫𝐚𝐧𝐜𝐞 𝐨𝐟 𝐆𝐨𝐝 𝐢𝐧 𝐡𝐮𝐦𝐚𝐧 𝐟𝐨𝐫𝐦," 𝐛𝐮𝐭 𝐚𝐬 𝐚 "𝐝𝐞𝐢𝐭𝐲…𝐡𝐢𝐝𝐝𝐞𝐧 𝐢𝐧 𝐡𝐢𝐬 𝐡𝐮𝐦𝐚𝐧𝐢𝐭𝐲."(𝟒) 𝐈𝐧 𝐭𝐡𝐞 𝐬𝐚𝐦𝐞 𝐩𝐚𝐫𝐚𝐠𝐫𝐚𝐩𝐡 𝐁𝐥𝐨𝐞𝐬𝐜𝐡 𝐜𝐥𝐞𝐚𝐫𝐥𝐲 𝐬𝐞𝐞𝐬 𝐭𝐡𝐞 𝐝𝐚𝐧𝐠𝐞𝐫𝐬 𝐨𝐟 𝐦𝐲𝐭𝐡𝐨𝐥𝐨𝐠𝐲:
"𝐈𝐟 𝐭𝐡𝐞𝐫𝐞 𝐜𝐨𝐮𝐥𝐝 𝐛𝐞 𝐚 𝐝𝐢𝐫𝐞𝐜𝐭 𝐫𝐞𝐜𝐨𝐠𝐧𝐢𝐭𝐢𝐨𝐧 𝐨𝐟 𝐉𝐞𝐬𝐮𝐬 𝐚𝐬 𝐆𝐨𝐝, 𝐭𝐡𝐢𝐬 𝐰𝐨𝐮𝐥𝐝 𝐭𝐡𝐞𝐧 𝐦𝐚𝐤𝐞 𝐉𝐞𝐬𝐮𝐬 𝐚 𝐦𝐲𝐭𝐡𝐨𝐥𝐨𝐠𝐢𝐜𝐚𝐥 𝐛𝐞𝐢𝐧𝐠…." 𝐁𝐮𝐭 𝐂𝐚𝐫𝐥 𝐇𝐞𝐧𝐫𝐲 𝐫𝐞𝐚𝐟𝐟𝐢𝐫𝐦𝐬 𝐭𝐡𝐞 𝐢𝐝𝐞𝐚 𝐨𝐟 𝐝𝐢𝐫𝐞𝐜𝐭 𝐫𝐞𝐯𝐞𝐥𝐚𝐭𝐢𝐨𝐧, 𝐦𝐞𝐝𝐢𝐚𝐭𝐞𝐝 𝐛𝐲 𝐂𝐡𝐫𝐢𝐬𝐭 𝐭𝐡𝐞 𝐋𝐨𝐠𝐨𝐬, 𝐞𝐯𝐞𝐧 𝐭𝐡𝐨𝐮𝐠𝐡 𝐡𝐞 𝐡𝐚𝐬 𝐣𝐮𝐬𝐭 𝐚𝐜𝐤𝐧𝐨𝐰𝐥𝐞𝐝𝐠𝐞𝐝 𝐏𝐚𝐧𝐧𝐞𝐧𝐛𝐞𝐫𝐠'𝐬 𝐜𝐡𝐚𝐫𝐠𝐞 𝐭𝐡𝐚𝐭 𝐢𝐭 𝐰𝐨𝐮𝐥𝐝 𝐛𝐞 "𝐆𝐧𝐨𝐬𝐭𝐢𝐜" 𝐭𝐨 𝐝𝐨 𝐬𝐨.(𝟓)
𝐉𝐨𝐡𝐧 𝐇𝐢𝐜𝐤 𝐩𝐫𝐨𝐩𝐨𝐬𝐞𝐬 𝐚𝐧𝐨𝐭𝐡𝐞𝐫 𝐫𝐞𝐚𝐬𝐨𝐧 𝐰𝐡𝐲 𝐆𝐨𝐝 𝐰𝐨𝐮𝐥𝐝 𝐜𝐨𝐧𝐭𝐢𝐧𝐮𝐞 𝐰𝐢𝐭𝐡 𝐭𝐡𝐞 𝐢𝐧𝐝𝐢𝐫𝐞𝐜𝐭 𝐫𝐞𝐯𝐞𝐥𝐚𝐭𝐢𝐨𝐧 𝐨𝐟 𝐭𝐡𝐞 𝐎𝐥𝐝 𝐓𝐞𝐬𝐭𝐚𝐦𝐞𝐧𝐭 𝐚𝐧𝐝 𝐧𝐨𝐭 𝐬𝐰𝐢𝐭𝐜𝐡 𝐭𝐨 𝐚 𝐝𝐢𝐯𝐢𝐧𝐞 𝐦𝐚𝐧: 𝐭𝐡𝐞 𝐩𝐫𝐨𝐭𝐞𝐜𝐭𝐢𝐨𝐧 𝐨𝐟 𝐡𝐮𝐦𝐚𝐧 𝐟𝐫𝐞𝐞𝐝𝐨𝐦. 𝐀𝐬 𝐇𝐢𝐜𝐤 𝐬𝐭𝐚𝐭𝐞𝐬: "𝐓𝐡𝐞 𝐬𝐞𝐥𝐟-𝐝𝐢𝐬𝐜𝐥𝐨𝐬𝐮𝐫𝐞 𝐨𝐟 𝐆𝐨𝐝 𝐢𝐧 𝐉𝐞𝐬𝐮𝐬 𝐂𝐡𝐫𝐢𝐬𝐭…𝐢𝐬 𝐚 𝐯𝐞𝐢𝐥𝐞𝐝 𝐫𝐞𝐯𝐞𝐥𝐚𝐭𝐢𝐨𝐧 𝐰𝐡𝐢𝐜𝐡 𝐚𝐜𝐡𝐢𝐞𝐯𝐞𝐬 𝐢𝐭𝐬 𝐩𝐮𝐫𝐩𝐨𝐬𝐞 𝐨𝐧𝐥𝐲 𝐰𝐡𝐞𝐧 𝐦𝐞𝐧 𝐩𝐞𝐧𝐞𝐭𝐫𝐚𝐭𝐞 𝐭𝐡𝐞 𝐝𝐢𝐯𝐢𝐧𝐞 𝐢𝐧𝐜𝐨𝐠𝐧𝐢𝐭𝐨 𝐛𝐲 𝐚𝐧 𝐮𝐧𝐜𝐨𝐦𝐩𝐞𝐥𝐥𝐞𝐝 𝐫𝐞𝐬𝐩𝐨𝐧𝐬𝐞 𝐨𝐟 𝐬𝐞𝐥𝐟-𝐜𝐨𝐦𝐦𝐢𝐭𝐦𝐞𝐧𝐭 𝐚𝐧𝐝 𝐭𝐫𝐮𝐬𝐭…."(𝟔)
𝐌𝐲 𝐬𝐲𝐦𝐩𝐚𝐭𝐡𝐢𝐞𝐬 𝐨𝐟 𝐜𝐨𝐮𝐫𝐬𝐞 𝐥𝐢𝐞 𝐰𝐢𝐭𝐡 𝐂𝐮𝐩𝐢𝐭𝐭 𝐚𝐧𝐝 𝐇𝐢𝐜𝐤: 𝐭𝐡𝐞 𝐛𝐞𝐬𝐭 𝐰𝐚𝐲 𝐭𝐨 𝐚𝐯𝐨𝐢𝐝 𝐭𝐡𝐞 𝐝𝐚𝐧𝐠𝐞𝐫𝐬 𝐨𝐟 𝐦𝐲𝐭𝐡𝐨𝐥𝐨𝐠𝐲 𝐢𝐬 𝐭𝐨 𝐫𝐞𝐣𝐞𝐜𝐭 𝐭𝐡𝐞 𝐈𝐧𝐜𝐚𝐫𝐧𝐚𝐭𝐢𝐨𝐧 𝐚𝐥𝐭𝐨𝐠𝐞𝐭𝐡𝐞𝐫. 𝐓𝐡𝐞 𝐝𝐨𝐜𝐭𝐫𝐢𝐧𝐞 𝐢𝐬 𝐚𝐧 𝐮𝐧𝐧𝐞𝐜𝐞𝐬𝐬𝐚𝐫𝐲 𝐬𝐭𝐮𝐦𝐛𝐥𝐢𝐧𝐠 𝐛𝐥𝐨𝐜𝐤; 𝐢𝐭 𝐝𝐨𝐞𝐬 𝐧𝐨𝐭 𝐡𝐚𝐯𝐞 𝐚𝐧𝐲 𝐬𝐮𝐩𝐩𝐨𝐫𝐭 𝐢𝐧 𝐭𝐡𝐞 𝐎𝐥𝐝 𝐓𝐞𝐬𝐭𝐚𝐦𝐞𝐧𝐭 𝐚𝐧𝐝 𝐡𝐚𝐬 𝐬𝐡𝐚𝐤𝐲 𝐍𝐞𝐰 𝐓𝐞𝐬𝐭𝐚𝐦𝐞𝐧𝐭 𝐟𝐨𝐮𝐧𝐝𝐚𝐭𝐢𝐨𝐧𝐬;
𝐭𝐡𝐞 𝐝𝐨𝐜𝐭𝐫𝐢𝐧𝐞 𝐯𝐢𝐨𝐥𝐚𝐭𝐞𝐬 𝐭𝐡𝐞 𝐇𝐞𝐛𝐫𝐚𝐢𝐜 𝐩𝐫𝐢𝐧𝐜𝐢𝐩𝐥𝐞, 𝐭𝐡𝐞 𝐬𝐞𝐦𝐢𝐧𝐚𝐥 𝐝𝐢𝐬𝐜𝐨𝐯𝐞𝐫𝐲 𝐨𝐟 𝐇𝐞𝐛𝐫𝐞𝐰 𝐭𝐡𝐞𝐨𝐥𝐨𝐠𝐲; 𝐚𝐧𝐝, 𝐚𝐬 𝐚 𝐫𝐞𝐬𝐮𝐥𝐭, 𝐭𝐡𝐞 𝐮𝐧𝐚𝐯𝐨𝐢𝐝𝐚𝐛𝐥𝐞 𝐜𝐨𝐧𝐜𝐥𝐮𝐬𝐢𝐨𝐧 𝐢𝐬 𝐭𝐡𝐚𝐭 𝐨𝐫𝐭𝐡𝐨𝐝𝐨𝐱 𝐂𝐡𝐫𝐢𝐬𝐭𝐢𝐚𝐧𝐢𝐭𝐲 𝐢𝐬 𝐣𝐮𝐬𝐭 𝐚𝐧𝐨𝐭𝐡𝐞𝐫 𝐫𝐞𝐥𝐢𝐠𝐢𝐨𝐧 𝐭𝐡𝐚𝐭 𝐩𝐞𝐫𝐩𝐞𝐭𝐮𝐚𝐭𝐞𝐬 𝐭𝐡𝐞 𝐩𝐚𝐠𝐚𝐧 𝐜𝐨𝐧𝐟𝐮𝐬𝐢𝐨𝐧 𝐛𝐞𝐭𝐰𝐞𝐞𝐧 𝐭𝐡𝐞 𝐝𝐢𝐯𝐢𝐧𝐞 𝐚𝐧𝐝 𝐭𝐡𝐞 𝐜𝐫𝐞𝐚𝐭𝐮𝐫𝐞𝐥𝐲.
𝐁. 𝐋𝐨𝐠𝐢𝐜 𝐚𝐧𝐝 𝐭𝐡𝐞 𝐈𝐧𝐜𝐚𝐫𝐧𝐚𝐭𝐢𝐨𝐧
𝐀𝐭 𝐭𝐡𝐢𝐬 𝐩𝐨𝐢𝐧𝐭, 𝐬𝐨𝐦𝐞 𝐦𝐚𝐲 𝐬𝐚𝐲 𝐭𝐡𝐚𝐭 𝐈 𝐡𝐚𝐯𝐞 𝐚𝐥𝐫𝐞𝐚𝐝𝐲 𝐠𝐫𝐚𝐧𝐭𝐞𝐝 𝐭𝐨𝐨 𝐦𝐮𝐜𝐡. 𝐐𝐮𝐢𝐭𝐞 𝐚𝐩𝐚𝐫𝐭 𝐟𝐫𝐨𝐦 𝐭𝐡𝐞𝐨𝐥𝐨𝐠𝐢𝐜𝐚𝐥 𝐩𝐫𝐢𝐧𝐜𝐢𝐩𝐥𝐞𝐬 𝐚𝐧𝐝 𝐰𝐡𝐚𝐭 𝐭𝐡𝐞 𝐁𝐢𝐛𝐥𝐞 𝐦𝐢𝐠𝐡𝐭 𝐬𝐚𝐲, 𝐭𝐡𝐞𝐫𝐞 𝐢𝐬 𝐬𝐭𝐢𝐥𝐥 𝐭𝐡𝐢𝐬 𝐛𝐚𝐬𝐢𝐜 𝐨𝐛𝐣𝐞𝐜𝐭𝐢𝐨𝐧: 𝐭𝐡𝐞 𝐢𝐝𝐞𝐚 𝐨𝐟 𝐚 𝐦𝐚𝐧-𝐆𝐨𝐝 𝐢𝐬 𝐚 𝐬𝐭𝐫𝐚𝐢𝐠𝐡𝐭𝐟𝐨𝐫𝐰𝐚𝐫𝐝 𝐥𝐨𝐠𝐢𝐜𝐚𝐥 𝐜𝐨𝐧𝐭𝐫𝐚𝐝𝐢𝐜𝐭𝐢𝐨𝐧. 𝐓𝐡𝐞 𝐩𝐚𝐫𝐭𝐢𝐜𝐢𝐩𝐚𝐧𝐭𝐬 𝐨𝐧 𝐛𝐨𝐭𝐡 𝐬𝐢𝐝𝐞𝐬 𝐢𝐧 𝐭𝐡𝐞 𝐜𝐨𝐧𝐭𝐞𝐦𝐩𝐨𝐫𝐚𝐫𝐲 𝐝𝐞𝐛𝐚𝐭𝐞 𝐚𝐠𝐫𝐞𝐞 𝐭𝐡𝐚𝐭 𝐭𝐡𝐢𝐬 𝐢𝐬 𝐭𝐡𝐞 𝐪𝐮𝐞𝐬𝐭𝐢𝐨𝐧 𝐭𝐡𝐚𝐭 𝐦𝐮𝐬𝐭 𝐛𝐞 𝐟𝐢𝐫𝐬𝐭 𝐚𝐝𝐝𝐫𝐞𝐬𝐬𝐞𝐝.
𝐀𝐬 𝐌𝐚𝐮𝐫𝐢𝐜𝐞 𝐖𝐢𝐥𝐞𝐬 𝐬𝐭𝐚𝐭𝐞𝐬: "𝐈𝐟 𝐢𝐭 𝐜𝐨𝐮𝐥𝐝 𝐛𝐞 𝐬𝐡𝐨𝐰𝐧 𝐭𝐡𝐚𝐭 𝐭𝐡𝐞 𝐝𝐨𝐜𝐭𝐫𝐢𝐧𝐞 𝐰𝐚𝐬 𝐬𝐭𝐫𝐢𝐜𝐭𝐥𝐲 𝐧𝐨𝐧𝐬𝐞𝐧𝐬𝐢𝐜𝐚𝐥, 𝐭𝐡𝐞 𝐛𝐚𝐬𝐢𝐜 𝐢𝐬𝐬𝐮𝐞 𝐢𝐧 𝐭𝐡𝐞 𝐝𝐞𝐛𝐚𝐭𝐞 𝐰𝐨𝐮𝐥𝐝 𝐡𝐚𝐯𝐞 𝐛𝐞𝐞𝐧 𝐬𝐞𝐭𝐭𝐥𝐞𝐝 𝐚𝐭 𝐚 𝐬𝐭𝐫𝐨𝐤𝐞–𝐚𝐧𝐝 𝐰𝐞 𝐜𝐨𝐮𝐥𝐝 𝐞𝐢𝐭𝐡𝐞𝐫 𝐩𝐚𝐜𝐤 𝐮𝐩 𝐚𝐧𝐝 𝐠𝐨 𝐡𝐨𝐦𝐞 𝐨𝐫 𝐦𝐨𝐯𝐞 𝐨𝐧 𝐭𝐨 𝐭𝐡𝐞 𝐰𝐨𝐫𝐤 𝐨𝐟 𝐫𝐞𝐜𝐨𝐧𝐬𝐭𝐫𝐮𝐜𝐭𝐢𝐨𝐧."(𝟕)
𝐎𝐧𝐞 𝐞𝐯𝐚𝐧𝐠𝐞𝐥𝐢𝐜𝐚𝐥 𝐚𝐝𝐦𝐢𝐭𝐬 𝐭𝐡𝐚𝐭 𝐭𝐡𝐞 𝐝𝐨𝐜𝐭𝐫𝐢𝐧𝐞 𝐢𝐬 𝐚 𝐩𝐚𝐫𝐚𝐝𝐨𝐱, 𝐛𝐮𝐭 𝐡𝐞 𝐚𝐝𝐦𝐨𝐧𝐢𝐬𝐡𝐞𝐬 𝐚𝐧𝐲 𝐭𝐡𝐢𝐧𝐤𝐞𝐫 𝐰𝐡𝐨 𝐝𝐚𝐫𝐞𝐬 𝐭𝐨 𝐜𝐨𝐧𝐜𝐥𝐮𝐝𝐞 𝐭𝐡𝐚𝐭 𝐢𝐭 𝐢𝐬 𝐭𝐡𝐞𝐫𝐞𝐛𝐲 𝐧𝐨𝐧𝐬𝐞𝐧𝐬𝐞. 𝐓𝐰𝐨 𝐥𝐢𝐛𝐞𝐫𝐚𝐥𝐬, 𝐌𝐚𝐮𝐫𝐢𝐜𝐞 𝐖𝐢𝐥𝐞𝐬 𝐚𝐧𝐝 𝐌𝐢𝐜𝐡𝐚𝐞𝐥 𝐆𝐨𝐮𝐥𝐝𝐞𝐫, 𝐫𝐞𝐣𝐞𝐜𝐭 𝐬𝐮𝐜𝐡 𝐠𝐥𝐢𝐛 𝐬𝐨𝐥𝐮𝐭𝐢𝐨𝐧𝐬 (𝐆𝐨𝐮𝐥𝐝𝐞𝐫 𝐜𝐚𝐥𝐥𝐬 𝐢𝐭 "𝐦𝐲𝐬𝐭𝐢𝐟𝐢𝐜𝐚𝐭𝐢𝐨𝐧") 𝐚𝐧𝐝 𝐜𝐡𝐚𝐥𝐥𝐞𝐧𝐠𝐞 𝐭𝐡𝐞𝐢𝐫 𝐜𝐫𝐢𝐭𝐢𝐜𝐬 𝐭𝐨 𝐜𝐥𝐞𝐚𝐫𝐥𝐲 𝐜𝐨𝐧𝐟𝐫𝐨𝐧𝐭 𝐭𝐡𝐞 𝐥𝐨𝐠𝐢𝐜𝐚𝐥 𝐜𝐨𝐡𝐞𝐫𝐞𝐧𝐜𝐞 𝐩𝐫𝐨𝐛𝐥𝐞𝐦.
𝐍𝐞𝐯𝐞𝐫𝐭𝐡𝐞𝐥𝐞𝐬𝐬, 𝐆𝐨𝐮𝐥𝐝𝐞𝐫 𝐩𝐫𝐨𝐩𝐨𝐬𝐞𝐬 𝐭𝐡𝐚𝐭 𝐭𝐡𝐞 𝐈𝐧𝐜𝐚𝐫𝐧𝐚𝐭𝐢𝐨𝐧 𝐢𝐬 "𝐧𝐨𝐭 𝐚𝐧 𝐚𝐩𝐩𝐚𝐫𝐞𝐧𝐭 𝐜𝐨𝐧𝐭𝐫𝐚𝐝𝐢𝐜𝐭𝐢𝐨𝐧 𝐛𝐮𝐭 𝐚𝐩𝐩𝐚𝐫𝐞𝐧𝐭 𝐧𝐨𝐧𝐬𝐞𝐧𝐬𝐞 𝐚𝐬 𝐨𝐩𝐩𝐨𝐬𝐞𝐝 𝐭𝐨 𝐭𝐫𝐚𝐧𝐬𝐩𝐚𝐫𝐞𝐧𝐭 𝐧𝐨𝐧𝐬𝐞𝐧𝐬𝐞."(𝟖) 𝐈𝐧 𝐭𝐡𝐞 𝐬𝐚𝐦𝐞 𝐯𝐞𝐢𝐧, 𝐖𝐢𝐥𝐞𝐬 𝐰𝐚𝐫𝐧𝐬 𝐮𝐬 𝐭𝐡𝐚𝐭 "𝐢𝐭 𝐢𝐬 𝐦𝐮𝐜𝐡 𝐡𝐚𝐫𝐝𝐞𝐫 𝐭𝐨 𝐩𝐥𝐨𝐭 𝐭𝐡𝐞 𝐛𝐨𝐫𝐝𝐞𝐫-𝐥𝐢𝐧𝐞 𝐛𝐞𝐭𝐰𝐞𝐞𝐧 𝐬𝐞𝐧𝐬𝐞 𝐚𝐧𝐝 𝐧𝐨𝐧𝐬𝐞𝐧𝐬𝐞 𝐢𝐧 𝐭𝐚𝐥𝐤𝐢𝐧𝐠 𝐚𝐛𝐨𝐮𝐭 𝐭𝐡𝐞 𝐦𝐲𝐬𝐭𝐞𝐫𝐲 𝐨𝐟 𝐆𝐨𝐝."(𝟗)
𝐈 𝐡𝐚𝐯𝐞 𝐚𝐥𝐫𝐞𝐚𝐝𝐲 𝐦𝐞𝐧𝐭𝐢𝐨𝐧𝐞𝐝 𝐭𝐡𝐞 𝐥𝐢𝐦𝐢𝐭𝐬 𝐰𝐡𝐢𝐜𝐡 𝐩𝐡𝐢𝐥𝐨𝐬𝐨𝐩𝐡𝐢𝐜𝐚𝐥 𝐭𝐡𝐞𝐨𝐥𝐨𝐠𝐢𝐚𝐧𝐬 𝐩𝐥𝐚𝐜𝐞 𝐨𝐧 𝐭𝐡𝐞𝐦𝐬𝐞𝐥𝐯𝐞𝐬; 𝐚𝐧𝐝 𝐈 𝐡𝐚𝐯𝐞 𝐝𝐮𝐥𝐲 𝐫𝐞𝐩𝐞𝐚𝐭𝐞𝐝 𝐦𝐲 𝐫𝐞𝐬𝐩𝐞𝐜𝐭 𝐟𝐨𝐫 𝐦𝐲𝐬𝐭𝐞𝐫𝐢𝐞𝐬 𝐰𝐡𝐢𝐜𝐡 𝐫𝐞𝐚𝐬𝐨𝐧 𝐜𝐚𝐧𝐧𝐨𝐭 𝐟𝐚𝐭𝐡𝐨𝐦. 𝐓𝐡𝐞𝐬𝐞 𝐜𝐨𝐧𝐜𝐞𝐬𝐬𝐢𝐨𝐧𝐬 𝐧𝐨𝐭𝐰𝐢𝐭𝐡𝐬𝐭𝐚𝐧𝐝𝐢𝐧𝐠, 𝐈 𝐟𝐢𝐧𝐝 𝐆𝐨𝐮𝐥𝐝𝐞𝐫 𝐚𝐧𝐝 𝐖𝐢𝐥𝐞𝐬' 𝐩𝐨𝐬𝐢𝐭𝐢𝐨𝐧 𝐣𝐮𝐬𝐭 𝐚𝐬 𝐜𝐨𝐧𝐟𝐮𝐬𝐢𝐧𝐠 𝐚𝐬 𝐭𝐡𝐞 𝐞𝐯𝐚𝐧𝐠𝐞𝐥𝐢𝐜𝐚𝐥𝐬'.
𝐈 𝐚𝐠𝐫𝐞𝐞 𝐰𝐢𝐭𝐡 𝐉𝐨𝐡𝐧 𝐇𝐢𝐜𝐤 𝐭𝐡𝐚𝐭 𝐭𝐡𝐞 𝐜𝐨𝐧𝐜𝐞𝐩𝐭 𝐨𝐟 𝐚 𝐦𝐚𝐧-𝐆𝐨𝐝 𝐢𝐬 𝐥𝐨𝐠𝐢𝐜𝐚𝐥𝐥𝐲 𝐩𝐚𝐫𝐚𝐥𝐥𝐞𝐥 𝐭𝐨 𝐚 𝐬𝐪𝐮𝐚𝐫𝐞 𝐜𝐢𝐫𝐜𝐥𝐞, 𝐚𝐧𝐝 𝐈 𝐬𝐮𝐛𝐦𝐢𝐭 𝐭𝐡𝐚𝐭 𝐭𝐡𝐞 𝐛𝐮𝐫𝐝𝐞𝐧 𝐨𝐟 𝐩𝐫𝐨𝐨𝐟 𝐢𝐬 𝐨𝐧 𝐭𝐡𝐞 𝐢𝐧𝐜𝐚𝐫𝐧𝐚𝐭𝐢𝐨𝐧𝐢𝐬𝐭𝐬 𝐭𝐨 𝐝𝐞𝐦𝐨𝐧𝐬𝐭𝐫𝐚𝐭𝐞 𝐰𝐡𝐲 𝐭𝐡𝐞 𝐭𝐰𝐨 𝐜𝐨𝐧𝐜𝐞𝐩𝐭𝐬 𝐚𝐫𝐞 𝐧𝐨𝐭 𝐥𝐨𝐠𝐢𝐜𝐚𝐥𝐥𝐲 𝐚𝐧𝐚𝐥𝐨𝐠𝐨𝐮𝐬. 𝐋𝐢𝐛𝐞𝐫𝐚𝐥𝐬 𝐥𝐢𝐤𝐞 𝐆𝐨𝐮𝐥𝐝 𝐚𝐧𝐝 𝐖𝐢𝐥𝐞𝐬 𝐚𝐧𝐝 𝐭𝐡𝐞 𝐞𝐯𝐚𝐧𝐠𝐞𝐥𝐢𝐜𝐚𝐥𝐬 𝐚𝐫𝐞 𝐛𝐞𝐢𝐧𝐠 𝐮𝐧𝐧𝐞𝐜𝐞𝐬𝐬𝐚𝐫𝐢𝐥𝐲 𝐚𝐠𝐧𝐨𝐬𝐭𝐢𝐜 𝐚𝐛𝐨𝐮𝐭 𝐭𝐡𝐞 𝐜𝐨𝐧𝐜𝐞𝐩𝐭𝐮𝐚𝐥 𝐝𝐚𝐭𝐚 𝐭𝐡𝐚𝐭 𝐰𝐞 𝐡𝐚𝐯𝐞 𝐭𝐨 𝐚𝐝𝐝𝐫𝐞𝐬𝐬 𝐭𝐡𝐢𝐬 𝐩𝐫𝐨𝐛𝐥𝐞𝐦.
𝐋𝐞𝐭 𝐮𝐬 𝐚𝐬𝐬𝐮𝐦𝐞 𝐭𝐡𝐚𝐭 𝐭𝐡𝐞 𝐦𝐞𝐝𝐢𝐞𝐯𝐚𝐥 𝐭𝐡𝐞𝐨𝐥𝐨𝐠𝐢𝐚𝐧𝐬 𝐰𝐞𝐫𝐞 𝐜𝐨𝐫𝐫𝐞𝐜𝐭 𝐭𝐡𝐚𝐭 𝐆𝐨𝐝 𝐬𝐡𝐚𝐫𝐞𝐬, 𝐢𝐧 𝐚𝐧 𝐞𝐦𝐢𝐧𝐞𝐧𝐭 𝐰𝐚𝐲, 𝐚𝐭 𝐥𝐞𝐚𝐬𝐭 𝐭𝐡𝐫𝐞𝐞 𝐚𝐭𝐭𝐫𝐢𝐛𝐮𝐭𝐞𝐬 𝐰𝐢𝐭𝐡 𝐟𝐢𝐧𝐢𝐭𝐞 𝐛𝐞𝐢𝐧𝐠𝐬: 𝐆𝐨𝐝 𝐢𝐬 𝐚 𝐬𝐮𝐩𝐫𝐞𝐦𝐞 𝐮𝐧𝐢𝐭𝐲; 𝐆𝐨𝐝 𝐢𝐬 𝐚 𝐬𝐮𝐩𝐫𝐞𝐦𝐞 𝐭𝐫𝐮𝐭𝐡; 𝐚𝐧𝐝 𝐆𝐨𝐝 𝐡𝐚𝐬 𝐬𝐮𝐩𝐫𝐞𝐦𝐞 𝐯𝐚𝐥𝐮𝐞.
𝐀𝐠𝐚𝐢𝐧 𝐟𝐨𝐥𝐥𝐨𝐰𝐢𝐧𝐠 𝐭𝐫𝐚𝐝𝐢𝐭𝐢𝐨𝐧𝐚𝐥 𝐦𝐞𝐭𝐡𝐨𝐝𝐬, 𝐰𝐞 𝐜𝐚𝐧 𝐚𝐥𝐬𝐨 𝐞𝐬𝐭𝐚𝐛𝐥𝐢𝐬𝐡 𝐚 𝐦𝐨𝐝𝐞𝐬𝐭 𝐥𝐢𝐬𝐭 𝐨𝐟 𝐝𝐢𝐯𝐢𝐧𝐞 𝐚𝐭𝐭𝐫𝐢𝐛𝐮𝐭𝐞𝐬 𝐰𝐡𝐢𝐜𝐡 𝐜𝐨𝐧𝐭𝐫𝐚𝐬𝐭 𝐰𝐢𝐭𝐡 𝐭𝐡𝐨𝐬𝐞 𝐨𝐟 𝐟𝐢𝐧𝐢𝐭𝐞 𝐛𝐞𝐢𝐧𝐠𝐬. 𝐅𝐨𝐥𝐥𝐨𝐰𝐢𝐧𝐠 𝐃𝐮𝐧 𝐒𝐜𝐨𝐭𝐮𝐬' 𝐋𝐚𝐰 𝐨𝐟 𝐃𝐢𝐬𝐣𝐮𝐧𝐜𝐭𝐢𝐨𝐧, 𝐰𝐞 𝐜𝐚𝐧 𝐬𝐚𝐲 𝐭𝐡𝐚𝐭 𝐆𝐨𝐝 𝐢𝐬 𝐢𝐧𝐟𝐢𝐧𝐢𝐭𝐞 𝐛𝐮𝐭 𝐰𝐞 𝐚𝐫𝐞 𝐟𝐢𝐧𝐢𝐭𝐞; 𝐭𝐡𝐚𝐭 𝐆𝐨𝐝 𝐢𝐬 𝐧𝐞𝐜𝐞𝐬𝐬𝐚𝐫𝐲 𝐛𝐮𝐭 𝐰𝐞 𝐚𝐫𝐞 𝐜𝐨𝐧𝐭𝐢𝐧𝐠𝐞𝐧𝐭; 𝐭𝐡𝐚𝐭 𝐆𝐨𝐝 𝐢𝐬 𝐮𝐧𝐜𝐚𝐮𝐬𝐞𝐝 𝐚𝐧𝐝 𝐰𝐞 𝐚𝐫𝐞 𝐜𝐚𝐮𝐬𝐞𝐝; 𝐚𝐧𝐝 𝐭𝐡𝐚𝐭 𝐆𝐨𝐝 𝐢𝐬 𝐢𝐦𝐦𝐨𝐫𝐭𝐚𝐥 𝐛𝐮𝐭 𝐰𝐞 𝐚𝐫𝐞 𝐦𝐨𝐫𝐭𝐚𝐥.
𝐔𝐬𝐢𝐧𝐠 𝐭𝐡𝐞 𝐥𝐚𝐬𝐭 𝐩𝐚𝐢𝐫 𝐨𝐟 𝐚𝐭𝐭𝐫𝐢𝐛𝐮𝐭𝐞𝐬, 𝐈 𝐨𝐟𝐟𝐞𝐫 𝐭𝐡𝐞 𝐟𝐨𝐥𝐥𝐨𝐰𝐢𝐧𝐠 𝐬𝐲𝐥𝐥𝐨𝐠𝐢𝐬𝐦𝐬:
𝐀𝐥𝐥 𝐡𝐮𝐦𝐚𝐧𝐬 𝐚𝐫𝐞 𝐦𝐨𝐫𝐭𝐚𝐥.
𝐉𝐞𝐬𝐮𝐬 𝐰𝐚𝐬 𝐡𝐮𝐦𝐚𝐧 (𝐀𝐜𝐜𝐨𝐫𝐝𝐢𝐧𝐠 𝐭𝐨 𝐂𝐡𝐫𝐢𝐬𝐭𝐢𝐚𝐧 𝐝𝐨𝐜𝐭𝐫𝐢𝐧𝐞).
𝐇𝐞𝐧𝐜𝐞, 𝐉𝐞𝐬𝐮𝐬 𝐰𝐚𝐬 𝐦𝐨𝐫𝐭𝐚𝐥.
𝐆𝐨𝐝 𝐢𝐬 𝐧𝐨𝐭 𝐦𝐨𝐫𝐭𝐚𝐥.
𝐉𝐞𝐬𝐮𝐬 𝐰𝐚𝐬 𝐦𝐨𝐫𝐭𝐚𝐥 (𝐀𝐜𝐜𝐨𝐫𝐝𝐢𝐧𝐠 𝐭𝐨 𝐭𝐡𝐞 𝐬𝐲𝐥𝐥𝐨𝐠𝐢𝐬𝐦 𝐚𝐛𝐨𝐯𝐞).
𝐇𝐞𝐧𝐜𝐞, 𝐉𝐞𝐬𝐮𝐬 𝐰𝐚𝐬 𝐧𝐨𝐭 𝐆𝐨𝐝.
𝐓𝐡𝐞𝐬𝐞 𝐬𝐢𝐦𝐩𝐥𝐞 𝐥𝐨𝐠𝐢𝐜𝐚𝐥 𝐞𝐱𝐞𝐫𝐜𝐢𝐬𝐞𝐬 𝐬𝐡𝐨𝐰 𝐭𝐡𝐚𝐭 𝐭𝐡𝐞𝐫𝐞 𝐢𝐬 𝐚𝐧 𝐢𝐫𝐫𝐞𝐬𝐨𝐥𝐯𝐚𝐛𝐥𝐞 𝐥𝐨𝐠𝐢𝐜𝐚𝐥 𝐜𝐨𝐧𝐭𝐫𝐚𝐝𝐢𝐜𝐭𝐢𝐨𝐧 𝐢𝐧 𝐭𝐡𝐞 𝐂𝐡𝐫𝐢𝐬𝐭𝐢𝐚𝐧 𝐝𝐨𝐜𝐭𝐫𝐢𝐧𝐞 𝐨𝐟 𝐭𝐡𝐞 𝐈𝐧𝐜𝐚𝐫𝐧𝐚𝐭𝐢𝐨𝐧. 𝐄𝐯𝐚𝐧𝐠𝐞𝐥𝐢𝐜𝐚𝐥 𝐑𝐨𝐧𝐚𝐥𝐝 𝐍𝐚𝐬𝐡 𝐠𝐢𝐯𝐞𝐬 𝐚 𝐫𝐨𝐮𝐬𝐢𝐧𝐠 𝐝𝐞𝐟𝐞𝐧𝐬𝐞 𝐟𝐨𝐫 𝐭𝐡𝐞 𝐥𝐚𝐰 𝐨𝐟 𝐜𝐨𝐧𝐭𝐫𝐚𝐝𝐢𝐜𝐭𝐢𝐨𝐧 𝐚𝐧𝐝 𝐜𝐢𝐭𝐞𝐬 𝐭𝐡𝐞 𝐟𝐨𝐥𝐥𝐨𝐰𝐢𝐧𝐠 𝐞𝐱𝐚𝐦𝐩𝐥𝐞:
"𝐈𝐭 𝐢𝐬 𝐢𝐦𝐩𝐨𝐬𝐬𝐢𝐛𝐥𝐞…𝐭𝐡𝐚𝐭 𝐒𝐨𝐜𝐫𝐚𝐭𝐞𝐬 𝐜𝐨𝐮𝐥𝐝 𝐛𝐞 𝐛𝐨𝐭𝐡 𝐦𝐚𝐧 𝐚𝐧𝐝 𝐧𝐨𝐧-𝐦𝐚𝐧."(𝟏𝟎) 𝐈 𝐜𝐡𝐚𝐥𝐥𝐞𝐧𝐠𝐞 𝐍𝐚𝐬𝐡 𝐭𝐨 𝐬𝐡𝐨𝐰 𝐰𝐡𝐲 𝐡𝐢𝐬 𝐞𝐱𝐚𝐦𝐩𝐥𝐞 𝐢𝐬 𝐧𝐨𝐭 𝐞𝐱𝐚𝐜𝐭𝐥𝐲 𝐩𝐚𝐫𝐚𝐥𝐥𝐞𝐥 𝐭𝐨 "𝐈𝐭 𝐢𝐬 𝐢𝐦𝐩𝐨𝐬𝐬𝐢𝐛𝐥𝐞 𝐭𝐡𝐚𝐭 𝐉𝐞𝐬𝐮𝐬 𝐜𝐨𝐮𝐥𝐝 𝐛𝐞 𝐛𝐨𝐭𝐡 𝐡𝐮𝐦𝐚𝐧 𝐚𝐧𝐝 𝐧𝐨𝐧𝐡𝐮𝐦𝐚𝐧."
𝐖𝐢𝐭𝐡 𝐫𝐞𝐠𝐚𝐫𝐝 𝐭𝐨 𝐭𝐡𝐞 𝐬𝐲𝐥𝐥𝐨𝐠𝐢𝐬𝐦𝐬 𝐚𝐛𝐨𝐯𝐞, 𝐬𝐨𝐦𝐞 𝐜𝐫𝐢𝐭𝐢𝐜𝐬 𝐦𝐢𝐠𝐡𝐭 𝐨𝐛𝐣𝐞𝐜𝐭 𝐭𝐨 𝐭𝐡𝐞 𝐭𝐫𝐮𝐭𝐡 𝐨𝐟 𝐭𝐡𝐞 𝐩𝐫𝐞𝐦𝐢𝐬𝐞 "𝐚𝐥𝐥 𝐡𝐮𝐦𝐚𝐧𝐬 𝐚𝐫𝐞 𝐦𝐨𝐫𝐭𝐚𝐥." 𝐓𝐡𝐞𝐫𝐞 𝐢𝐬 𝐚 𝐜𝐨𝐦𝐦𝐨𝐧 𝐮𝐧𝐝𝐞𝐫𝐬𝐭𝐚𝐧𝐝𝐢𝐧𝐠, 𝐛𝐚𝐬𝐞𝐝 𝐢𝐧 𝐩𝐚𝐫𝐭 𝐨𝐧 𝐩𝐡𝐫𝐚𝐬𝐞𝐬 𝐟𝐫𝐨𝐦 𝐬𝐨𝐦𝐞 𝐨𝐟 𝐭𝐡𝐞 𝐂𝐡𝐫𝐢𝐬𝐭𝐢𝐚𝐧 𝐜𝐫𝐞𝐞𝐝𝐬, 𝐭𝐡𝐚𝐭 𝐡𝐮𝐦𝐚𝐧 𝐛𝐞𝐢𝐧𝐠𝐬 𝐡𝐚𝐯𝐞 𝐬𝐨𝐦𝐞 𝐬𝐨𝐫𝐭 𝐨𝐟 𝐧𝐚𝐭𝐮𝐫𝐚𝐥 𝐨𝐫 𝐞𝐬𝐬𝐞𝐧𝐭𝐢𝐚𝐥 𝐢𝐦𝐦𝐨𝐫𝐭𝐚𝐥𝐢𝐭𝐲.
𝐈 𝐜𝐨𝐧𝐭𝐞𝐧𝐝 𝐭𝐡𝐚𝐭 𝐂𝐡𝐫𝐢𝐬𝐭𝐢𝐚𝐧 𝐭𝐡𝐞𝐨𝐥𝐨𝐠𝐲 𝐬𝐡𝐨𝐮𝐥𝐝 𝐧𝐨𝐭, 𝐚𝐧𝐝 𝐛𝐢𝐛𝐥𝐢𝐜𝐚𝐥 𝐬𝐜𝐡𝐨𝐥𝐚𝐫𝐬𝐡𝐢𝐩 𝐜𝐚𝐧𝐧𝐨𝐭, 𝐬𝐮𝐩𝐩𝐨𝐫𝐭 𝐬𝐮𝐜𝐡 𝐚 𝐯𝐢𝐞𝐰. 𝐀 𝐜𝐥𝐨𝐬𝐞 𝐬𝐭𝐮𝐝𝐲 𝐨𝐟 𝐭𝐡𝐞 𝐛𝐢𝐛𝐥𝐢𝐜𝐚𝐥 𝐰𝐨𝐫𝐝𝐬 𝐟𝐨𝐫 "𝐬𝐨𝐮𝐥" (𝐧𝐞𝐩𝐡𝐞𝐬𝐡 𝐚𝐧𝐝 𝐩𝐬𝐲𝐜𝐡𝐞) 𝐰𝐢𝐥𝐥 𝐫𝐞𝐯𝐞𝐚𝐥 𝐚 𝐬𝐨𝐮𝐥 𝐰𝐡𝐢𝐜𝐡 𝐢𝐬 𝐭𝐡𝐨𝐫𝐨𝐮𝐠𝐡𝐥𝐲 𝐦𝐨𝐫𝐭𝐚𝐥 𝐚𝐧𝐝 𝐜𝐨𝐫𝐫𝐮𝐩𝐭𝐢𝐛𝐥𝐞.
𝐅𝐮𝐫𝐭𝐡𝐞𝐫𝐦𝐨𝐫𝐞, 𝐚𝐧𝐢𝐦𝐚𝐥𝐬 𝐚𝐥𝐬𝐨 𝐡𝐚𝐯𝐞 𝐧𝐞𝐩𝐡𝐞𝐬𝐡 𝐚𝐧𝐝 𝐩𝐬𝐲𝐜𝐡𝐞: 𝐢𝐧 𝐭𝐡𝐞 𝐎𝐥𝐝 𝐓𝐞𝐬𝐭𝐚𝐦𝐞𝐧𝐭 𝐚𝐧𝐢𝐦𝐚𝐥𝐬 𝐰𝐞𝐫𝐞 𝐜𝐫𝐞𝐚𝐭𝐞𝐝 𝐰𝐢𝐭𝐡 𝐭𝐡𝐞 𝐬𝐚𝐦𝐞 𝐢𝐧𝐟𝐮𝐬𝐢𝐨𝐧 𝐨𝐟 𝐆𝐨𝐝'𝐬 𝐛𝐫𝐞𝐚𝐭𝐡 𝐚𝐬 𝐡𝐮𝐦𝐚𝐧 𝐛𝐞𝐢𝐧𝐠𝐬 . 𝐓𝐡𝐞𝐫𝐞𝐟𝐨𝐫𝐞, 𝐛𝐞𝐢𝐧𝐠 "𝐞𝐧𝐬𝐨𝐮𝐥𝐞𝐝" 𝐢𝐬 𝐧𝐨𝐭 𝐮𝐧𝐢𝐪𝐮𝐞 𝐭𝐨 𝐡𝐮𝐦𝐚𝐧 𝐛𝐞𝐢𝐧𝐠𝐬 𝐢𝐧 𝐭𝐡𝐞 𝐛𝐢𝐛𝐥𝐢𝐜𝐚𝐥 𝐯𝐢𝐞𝐰.
𝐖𝐡𝐚𝐭 𝐦𝐚𝐤𝐞𝐬 𝐡𝐮𝐦𝐚𝐧𝐬 𝐬𝐩𝐞𝐜𝐢𝐚𝐥 𝐢𝐬 𝐭𝐡𝐞𝐢𝐫 𝐜𝐫𝐞𝐚𝐭𝐢𝐨𝐧 𝐢𝐧 𝐭𝐡𝐞 𝐢𝐦𝐚𝐠𝐞 𝐨𝐟 𝐆𝐨𝐝, 𝐚𝐧𝐝 𝐚𝐬 𝐈 𝐮𝐧𝐝𝐞𝐫𝐬𝐭𝐚𝐧𝐝 𝐂𝐡𝐫𝐢𝐬𝐭𝐢𝐚𝐧 𝐝𝐨𝐜𝐭𝐫𝐢𝐧𝐞, 𝐢𝐭 𝐭𝐚𝐤𝐞𝐬 𝐚 𝐬𝐩𝐞𝐜𝐢𝐚𝐥 𝐚𝐜𝐭 𝐨𝐟 𝐆𝐨𝐝 𝐭𝐨 𝐫𝐞𝐬𝐭𝐨𝐫𝐞 𝐭𝐡𝐚𝐭 𝐭𝐚𝐫𝐧𝐢𝐬𝐡𝐞𝐝 𝐢𝐦𝐚𝐠𝐞 𝐚𝐧𝐝 𝐭𝐫𝐚𝐧𝐬𝐟𝐨𝐫𝐦 𝐭𝐡𝐞 𝐦𝐨𝐫𝐭𝐚𝐥 𝐬𝐨𝐮𝐥 𝐢𝐧𝐭𝐨 𝐬𝐨𝐦𝐞𝐭𝐡𝐢𝐧𝐠 𝐟𝐢𝐭 𝐟𝐨𝐫 𝐭𝐡𝐞 𝐝𝐢𝐯𝐢𝐧𝐞 𝐩𝐫𝐞𝐬𝐞𝐧𝐜𝐞. 𝐓𝐡𝐞 𝐁𝐢𝐛𝐥𝐞 𝐭𝐞𝐚𝐜𝐡𝐞𝐬 𝐚 "𝐛𝐞𝐬𝐭𝐨𝐰𝐞𝐝" 𝐢𝐦𝐦𝐨𝐫𝐭𝐚𝐥𝐢𝐭𝐲 𝐧𝐨𝐭 𝐚 𝐧𝐚𝐭𝐮𝐫𝐚𝐥 𝐢𝐦𝐦𝐨𝐫𝐭𝐚𝐥𝐢𝐭𝐲. 𝐓𝐡𝐞 𝐜𝐨𝐧𝐜𝐞𝐩𝐭 𝐨𝐟 𝐚 𝐝𝐢𝐬𝐞𝐦𝐛𝐨𝐝𝐢𝐞𝐝, 𝐢𝐦𝐦𝐚𝐭𝐞𝐫𝐢𝐚𝐥, 𝐚𝐧𝐝 𝐧𝐚𝐭𝐮𝐫𝐚𝐥𝐥𝐲 𝐢𝐦𝐦𝐨𝐫𝐭𝐚𝐥 𝐬𝐨𝐮𝐥 𝐢𝐬 𝐨𝐟 𝐆𝐫𝐞𝐞𝐤 𝐚𝐧𝐝/𝐨𝐫 𝐈𝐧𝐝𝐢𝐚𝐧 𝐝𝐞𝐫𝐢𝐯𝐚𝐭𝐢𝐨𝐧; 𝐢𝐭 𝐢𝐬 𝐝𝐞𝐟𝐢𝐧𝐢𝐭𝐞𝐥𝐲 𝐧𝐨𝐭 𝐚 𝐇𝐞𝐛𝐫𝐞𝐰 𝐢𝐝𝐞𝐚.
𝐎𝐭𝐡𝐞𝐫𝐬 𝐦𝐢𝐠𝐡𝐭 𝐨𝐛𝐣𝐞𝐜𝐭 𝐭𝐨 𝐭𝐡𝐞 𝐟𝐢𝐫𝐬𝐭 𝐩𝐫𝐞𝐦𝐢𝐬𝐞 𝐨𝐧 𝐨𝐭𝐡𝐞𝐫 𝐠𝐫𝐨𝐮𝐧𝐝𝐬. 𝐓𝐡𝐞𝐬𝐞 𝐜𝐫𝐢𝐭𝐢𝐜𝐬 𝐦𝐢𝐠𝐡𝐭 𝐢𝐧𝐭𝐫𝐨𝐝𝐮𝐜𝐞 𝐭𝐡𝐞 𝐩𝐨𝐬𝐬𝐢𝐛𝐢𝐥𝐢𝐭𝐲 𝐭𝐡𝐚𝐭 𝐦𝐨𝐝𝐞𝐫𝐧 𝐦𝐞𝐝𝐢𝐜𝐚𝐥 𝐬𝐜𝐢𝐞𝐧𝐜𝐞–𝐛𝐲, 𝐟𝐨𝐫 𝐞𝐱𝐚𝐦𝐩𝐥𝐞, 𝐮𝐧𝐥𝐨𝐜𝐤𝐢𝐧𝐠 𝐭𝐡𝐞 𝐬𝐞𝐜𝐫𝐞𝐭 𝐨𝐟 𝐭𝐡𝐞 𝐚𝐠𝐢𝐧𝐠 𝐩𝐫𝐨𝐜𝐞𝐬𝐬–𝐜𝐨𝐮𝐥𝐝 𝐩𝐫𝐨𝐥𝐨𝐧𝐠 𝐡𝐮𝐦𝐚𝐧 𝐥𝐢𝐟𝐞 𝐢𝐧𝐝𝐞𝐟𝐢𝐧𝐢𝐭𝐞𝐥𝐲. 𝐁𝐮𝐭 𝐬𝐮𝐜𝐡 𝐚 𝐟𝐞𝐚𝐭 𝐰𝐨𝐮𝐥𝐝 𝐧𝐨𝐭 𝐜𝐡𝐚𝐧𝐠𝐞 𝐛𝐚𝐬𝐢𝐜 𝐡𝐮𝐦𝐚𝐧 𝐦𝐨𝐫𝐭𝐚𝐥𝐢𝐭𝐲. 𝐀𝐬 𝐨𝐧𝐞 𝐨𝐟 𝐦𝐲 𝐛𝐫𝐢𝐠𝐡𝐭 𝐟𝐫𝐞𝐬𝐡𝐦𝐚𝐧 𝐬𝐭𝐮𝐝𝐞𝐧𝐭𝐬 𝐨𝐧𝐜𝐞 𝐬𝐚𝐢𝐝: "𝐓𝐡𝐞 𝐠𝐮𝐲 𝐜𝐨𝐮𝐥𝐝 𝐬𝐭𝐢𝐥𝐥 𝐛𝐞 𝐫𝐮𝐧 𝐨𝐯𝐞𝐫 𝐛𝐲 𝐚 𝐭𝐫𝐮𝐜𝐤!"
𝐓𝐡𝐞 𝐬𝐭𝐮𝐝𝐞𝐧𝐭'𝐬 𝐩𝐨𝐢𝐧𝐭 𝐢𝐬 𝐚 𝐠𝐨𝐨𝐝 𝐨𝐧𝐞: 𝐣𝐮𝐬𝐭 𝐛𝐞𝐜𝐚𝐮𝐬𝐞 𝐰𝐞 𝐡𝐚𝐯𝐞 𝐞𝐱𝐭𝐞𝐧𝐝𝐞𝐝 𝐡𝐮𝐦𝐚𝐧 𝐥𝐢𝐟𝐞 𝐢𝐧𝐝𝐞𝐟𝐢𝐧𝐢𝐭𝐞𝐥𝐲 𝐝𝐨𝐞𝐬 𝐧𝐨𝐭 𝐦𝐞𝐚𝐧 𝐭𝐡𝐚𝐭 𝐰𝐞 𝐡𝐚𝐯𝐞 𝐦𝐚𝐝𝐞 𝐢𝐭 𝐢𝐧𝐝𝐞𝐬𝐭𝐫𝐮𝐜𝐭𝐢𝐛𝐥𝐞 𝐨𝐫 𝐢𝐧𝐜𝐨𝐫𝐫𝐮𝐩𝐭𝐢𝐛𝐥𝐞. 𝐒𝐭𝐮𝐧𝐧𝐢𝐧𝐠 𝐛𝐢𝐨𝐥𝐨𝐠𝐢𝐜𝐚𝐥 𝐚𝐝𝐯𝐚𝐧𝐜𝐞𝐦𝐞𝐧𝐭𝐬 𝐦𝐢𝐠𝐡𝐭 𝐦𝐚𝐤𝐞 𝐢𝐭 𝐩𝐨𝐬𝐬𝐢𝐛𝐥𝐞 𝐟𝐨𝐫 𝐡𝐮𝐦𝐚𝐧𝐬 𝐭𝐨 𝐡𝐚𝐯𝐞 𝐞𝐯𝐞𝐫𝐥𝐚𝐬𝐭𝐢𝐧𝐠 𝐥𝐢𝐟𝐞, 𝐛𝐮𝐭 𝐚𝐥𝐥 𝐭𝐡𝐞 𝐨𝐭𝐡𝐞𝐫 𝐥𝐢𝐦𝐢𝐭𝐚𝐭𝐢𝐨𝐧𝐬 𝐨𝐟 𝐨𝐮𝐫 𝐟𝐢𝐧𝐢𝐭𝐮𝐝𝐞 𝐰𝐨𝐮𝐥𝐝 𝐫𝐞𝐦𝐚𝐢𝐧, 𝐢𝐧𝐜𝐥𝐮𝐝𝐢𝐧𝐠 𝐬𝐢𝐧𝐧𝐢𝐧𝐠 𝐛𝐨𝐥𝐝𝐥𝐲 𝐞𝐯𝐞𝐫𝐲 𝐝𝐚𝐲 𝐨𝐟 𝐬𝐮𝐜𝐡 𝐚 𝐥𝐢𝐟𝐞.
𝐓𝐡𝐞 𝐩𝐫𝐞𝐝𝐢𝐜𝐚𝐭𝐞 𝐢𝐦𝐦𝐨𝐫𝐭𝐚𝐥𝐢𝐭𝐲 𝐦𝐞𝐚𝐧𝐬 𝐛𝐢𝐫𝐭𝐡𝐥𝐞𝐬𝐬𝐧𝐞𝐬𝐬, 𝐝𝐞𝐚𝐭𝐡𝐥𝐞𝐬𝐬𝐧𝐞𝐬𝐬, 𝐚𝐧𝐝 𝐢𝐧𝐜𝐨𝐫𝐫𝐮𝐩𝐭𝐢𝐛𝐢𝐥𝐢𝐭𝐲, 𝐚𝐧𝐝 𝐬𝐮𝐜𝐡 𝐚 𝐩𝐫𝐞𝐝𝐢𝐜𝐚𝐭𝐞 𝐢𝐬 𝐧𝐨𝐭 𝐚𝐭𝐭𝐫𝐢𝐛𝐮𝐭𝐚𝐛𝐥𝐞 𝐭𝐨 𝐡𝐮𝐦𝐚𝐧 𝐛𝐞𝐢𝐧𝐠𝐬 𝐞𝐱𝐜𝐞𝐩𝐭 𝐛𝐲 𝐝𝐢𝐯𝐢𝐧𝐞 𝐟𝐢𝐚𝐭, 𝐚𝐧𝐝 𝐨𝐧𝐥𝐲 𝐭𝐡𝐞𝐧 𝐚𝐭 𝐭𝐡𝐞 𝐜𝐨𝐬𝐭 𝐨𝐟 𝐭𝐡𝐞𝐢𝐫 𝐛𝐚𝐬𝐢𝐜 𝐡𝐮𝐦𝐚𝐧𝐢𝐭𝐲. 𝐉𝐨𝐡𝐧 𝐇𝐢𝐜𝐤 𝐩𝐮𝐭𝐬 𝐭𝐡𝐞 𝐩𝐨𝐢𝐧𝐭 𝐰𝐞𝐥𝐥:
"𝐖𝐡𝐞𝐧 𝐰𝐞 𝐭𝐫𝐲 𝐭𝐨 𝐜𝐨𝐧𝐭𝐞𝐦𝐩𝐥𝐚𝐭𝐞 𝐭𝐡𝐞 𝐜𝐨𝐧𝐭𝐫𝐚𝐝𝐢𝐜𝐭𝐨𝐫𝐲 𝐧𝐨𝐭𝐢𝐨𝐧 𝐨𝐟 𝐢𝐦𝐦𝐨𝐫𝐭𝐚𝐥𝐢𝐳𝐞𝐝 𝐦𝐨𝐫𝐭𝐚𝐥𝐬, 𝐨𝐮𝐫 𝐭𝐡𝐨𝐮𝐠𝐡𝐭𝐬 𝐭𝐮𝐫𝐧 𝐚𝐰𝐚𝐲 𝐟𝐫𝐨𝐦 𝐰𝐡𝐚𝐭 𝐰𝐞 𝐤𝐧𝐨𝐰 𝐚𝐬 𝐡𝐮𝐦𝐚𝐧 𝐞𝐱𝐢𝐬𝐭𝐞𝐧𝐜𝐞 𝐭𝐨 𝐬𝐨𝐦𝐞𝐭𝐡𝐢𝐧𝐠 𝐟𝐨𝐫 𝐰𝐡𝐢𝐜𝐡 𝐰𝐞 𝐚𝐫𝐞 𝐦𝐨𝐫𝐞 𝐢𝐧𝐜𝐥𝐢𝐧𝐞𝐝 𝐭𝐨 𝐢𝐧𝐯𝐨𝐤𝐞 𝐭𝐡𝐞 𝐧𝐨𝐭𝐢𝐨𝐧 𝐨𝐟 𝐚𝐧𝐠𝐞𝐥𝐬."(𝟏𝟏) 𝐇𝐢𝐜𝐤'𝐬 𝐥𝐚𝐬𝐭 𝐩𝐨𝐢𝐧𝐭 𝐰𝐚𝐬 𝐜𝐨𝐧𝐟𝐢𝐫𝐦𝐞𝐝 𝐥𝐨𝐧𝐠 𝐚𝐠𝐨 𝐛𝐲 𝐉𝐞𝐬𝐮𝐬 𝐡𝐢𝐦𝐬𝐞𝐥𝐟:
"𝐅𝐨𝐫 𝐰𝐡𝐞𝐧 𝐭𝐡𝐞𝐲 𝐫𝐢𝐬𝐞 𝐟𝐫𝐨𝐦 𝐭𝐡𝐞 𝐝𝐞𝐚𝐝, 𝐭𝐡𝐞𝐲 𝐧𝐞𝐢𝐭𝐡𝐞𝐫 𝐦𝐚𝐫𝐫𝐲 𝐧𝐨𝐫 𝐚𝐫𝐞 𝐠𝐢𝐯𝐞𝐧 𝐢𝐧 𝐦𝐚𝐫𝐫𝐢𝐚𝐠𝐞, 𝐛𝐮𝐭 𝐚𝐫𝐞 𝐥𝐢𝐤𝐞 𝐚𝐧𝐠𝐞𝐥𝐬 𝐢𝐧 𝐡𝐞𝐚𝐯𝐞𝐧" (𝐌𝐤. 𝟏𝟐:𝟐𝟓). 𝐄𝐯𝐞𝐧 𝐉𝐞𝐬𝐮𝐬 𝐫𝐞𝐚𝐥𝐢𝐳𝐞𝐝 𝐭𝐡𝐚𝐭 𝐢𝐦𝐦𝐨𝐫𝐭𝐚𝐥𝐢𝐭𝐲 𝐰𝐚𝐬 𝐧𝐨𝐭 𝐚 𝐡𝐮𝐦𝐚𝐧 𝐩𝐫𝐞𝐝𝐢𝐜𝐚𝐭𝐞. 𝐆𝐨𝐝 𝐜𝐚𝐧𝐧𝐨𝐭 𝐢𝐦𝐦𝐨𝐫𝐭𝐚𝐥𝐢𝐳𝐞 𝐚 𝐡𝐮𝐦𝐚𝐧 𝐛𝐞𝐢𝐧𝐠 𝐰𝐢𝐭𝐡𝐨𝐮𝐭 𝐜𝐡𝐚𝐧𝐠𝐢𝐧𝐠 𝐭𝐡𝐚𝐭 𝐛𝐞𝐢𝐧𝐠 𝐢𝐧𝐭𝐨 𝐬𝐨𝐦𝐞𝐭𝐡𝐢𝐧𝐠 𝐨𝐧𝐭𝐨𝐥𝐨𝐠𝐢𝐜𝐚𝐥𝐥𝐲 𝐝𝐢𝐟𝐟𝐞𝐫𝐞𝐧𝐭. 𝐏𝐚𝐮𝐥'𝐬 "𝐧𝐞𝐰 𝐛𝐞𝐢𝐧𝐠𝐬 𝐢𝐧 𝐂𝐡𝐫𝐢𝐬𝐭" 𝐰𝐨𝐮𝐥𝐝 𝐧𝐨𝐭 𝐛𝐞 𝐡𝐮𝐦𝐚𝐧 𝐛𝐞𝐢𝐧𝐠𝐬 𝐚𝐬 𝐰𝐞 𝐧𝐨𝐰 𝐤𝐧𝐨𝐰 𝐭𝐡𝐞𝐦.
𝐈𝐧 𝐡𝐢𝐬 𝐫𝐞𝐬𝐩𝐨𝐧𝐬𝐞 𝐭𝐨 𝐓𝐡𝐞 𝐌𝐲𝐭𝐡 𝐨𝐟 𝐆𝐨𝐝 𝐈𝐧𝐜𝐚𝐫𝐧𝐚𝐭𝐞, 𝐌𝐢𝐜𝐡𝐚𝐞𝐥 𝐆𝐫𝐞𝐞𝐧 𝐠𝐢𝐯𝐞𝐬 𝐭𝐡𝐞 𝐢𝐦𝐩𝐫𝐞𝐬𝐬𝐢𝐨𝐧 𝐭𝐡𝐚𝐭 𝐭𝐡𝐞 𝐝𝐨𝐜𝐭𝐫𝐢𝐧𝐞𝐬 𝐨𝐟 𝐑𝐞𝐬𝐮𝐫𝐫𝐞𝐜𝐭𝐢𝐨𝐧 𝐚𝐧𝐝 𝐈𝐧𝐜𝐚𝐫𝐧𝐚𝐭𝐢𝐨𝐧 𝐚𝐫𝐞 𝐜𝐨𝐧𝐜𝐞𝐩𝐭𝐮𝐚𝐥𝐥𝐲 𝐬𝐢𝐦𝐢𝐥𝐚𝐫: "𝐖𝐡𝐨 𝐚𝐫𝐞 𝐰𝐞 𝐭𝐨 𝐝𝐞𝐭𝐞𝐫𝐦𝐢𝐧𝐞 𝐭𝐡𝐞 𝐢𝐦𝐩𝐨𝐬𝐬𝐢𝐛𝐢𝐥𝐢𝐭𝐲 𝐨𝐟 𝐆𝐨𝐝 𝐛𝐞𝐜𝐨𝐦𝐢𝐧𝐠 𝐨𝐧𝐞 𝐨𝐟 𝐮𝐬, 𝐨𝐫 𝐨𝐟 𝐫𝐢𝐬𝐢𝐧𝐠 𝐟𝐫𝐨𝐦 𝐭𝐡𝐞 𝐝𝐞𝐚𝐝?…𝐓𝐡𝐞𝐫𝐞 𝐢𝐬 𝐧𝐨 𝐚 𝐩𝐫𝐢𝐨𝐫𝐢 𝐫𝐞𝐚𝐬𝐨𝐧 𝐰𝐡𝐲 𝐰𝐞 𝐬𝐡𝐨𝐮𝐥𝐝 𝐜𝐨𝐧𝐜𝐥𝐮𝐝𝐞 𝐭𝐡𝐚𝐭 𝐢𝐭 𝐢𝐬 𝐢𝐦𝐩𝐨𝐬𝐬𝐢𝐛𝐥𝐞 𝐚𝐧𝐝 𝐭𝐡𝐞𝐫𝐞𝐟𝐨𝐫𝐞 𝐝𝐢𝐝 𝐧𝐨𝐭 𝐡𝐚𝐩𝐩𝐞𝐧."(𝟏𝟐)
𝐄𝐯𝐚𝐧𝐠𝐞𝐥𝐢𝐜𝐚𝐥 𝐒𝐭𝐞𝐩𝐡𝐞𝐧 𝐓. 𝐃𝐚𝐯𝐢𝐬 𝐢𝐧𝐯𝐢𝐭𝐞𝐬 𝐚 𝐬𝐢𝐦𝐢𝐥𝐚𝐫 𝐜𝐨𝐦𝐩𝐚𝐫𝐢𝐬𝐨𝐧 𝐚𝐥𝐨𝐧𝐠 𝐝𝐢𝐟𝐟𝐞𝐫𝐞𝐧𝐭 𝐥𝐢𝐧𝐞𝐬. 𝐇𝐞 𝐚𝐝𝐦𝐢𝐭𝐬 𝐭𝐡𝐚𝐭 𝐬𝐨𝐦𝐞 𝐩𝐞𝐨𝐩𝐥𝐞 𝐦𝐢𝐠𝐡𝐭 𝐟𝐢𝐧𝐝 𝐡𝐢𝐬 𝐛𝐞𝐥𝐢𝐞𝐟 𝐢𝐧 𝐚 𝐥𝐢𝐭𝐞𝐫𝐚𝐥 𝐈𝐧𝐜𝐚𝐫𝐧𝐚𝐭𝐢𝐨𝐧 𝐣𝐮𝐬𝐭 𝐚𝐬 𝐩𝐫𝐞𝐩𝐨𝐬𝐭𝐞𝐫𝐨𝐮𝐬 𝐚𝐬 𝐭𝐡𝐞 𝐧𝐨𝐭𝐢𝐨𝐧 𝐭𝐡𝐚𝐭 𝐡𝐮𝐠𝐞 𝐚𝐩𝐞-𝐥𝐢𝐤𝐞 𝐜𝐫𝐞𝐚𝐭𝐮𝐫𝐞𝐬 𝐢𝐧𝐡𝐚𝐛𝐢𝐭 𝐰𝐢𝐥𝐝𝐞𝐫𝐧𝐞𝐬𝐬 𝐚𝐫𝐞𝐚𝐬 𝐨𝐟 𝐭𝐡𝐞 𝐀𝐦𝐞𝐫𝐢𝐜𝐚𝐧 𝐍𝐨𝐫𝐭𝐡𝐰𝐞𝐬𝐭.(𝟏𝟑) 𝐒𝐮𝐜𝐡 𝐜𝐫𝐞𝐚𝐭𝐮𝐫𝐞𝐬 𝐚𝐫𝐞 𝐚𝐭 𝐥𝐞𝐚𝐬𝐭 𝐩𝐡𝐲𝐬𝐢𝐜𝐚𝐥𝐥𝐲 𝐩𝐨𝐬𝐬𝐢𝐛𝐥𝐞, 𝐰𝐡𝐞𝐫𝐞𝐚𝐬 𝐭𝐡𝐞 𝐦𝐚𝐧-𝐆𝐨𝐝 𝐢𝐬 𝐧𝐨𝐭 𝐞𝐯𝐞𝐧 𝐥𝐨𝐠𝐢𝐜𝐚𝐥𝐥𝐲 𝐩𝐨𝐬𝐬𝐢𝐛𝐥𝐞.
𝐆𝐫𝐞𝐞𝐧 𝐢𝐬 𝐜𝐨𝐫𝐫𝐞𝐜𝐭 𝐚𝐛𝐨𝐮𝐭 𝐭𝐡𝐞 𝐑𝐞𝐬𝐮𝐫𝐫𝐞𝐜𝐭𝐢𝐨𝐧, 𝐛𝐮𝐭 𝐰𝐫𝐨𝐧𝐠 𝐚𝐛𝐨𝐮𝐭 𝐭𝐡𝐞 𝐈𝐧𝐜𝐚𝐫𝐧𝐚𝐭𝐢𝐨𝐧. 𝐓𝐡𝐞 𝐬𝐤𝐞𝐩𝐭𝐢𝐜'𝐬 𝐩𝐫𝐨𝐛𝐥𝐞𝐦 𝐰𝐢𝐭𝐡 𝐭𝐡𝐞 𝐑𝐞𝐬𝐮𝐫𝐫𝐞𝐜𝐭𝐢𝐨𝐧 𝐢𝐬 𝐭𝐡𝐚𝐭 𝐢𝐭 𝐢𝐬 𝐩𝐡𝐲𝐬𝐢𝐜𝐚𝐥𝐥𝐲 𝐢𝐦𝐩𝐨𝐬𝐬𝐢𝐛𝐥𝐞, 𝐢.𝐞., 𝐢𝐭 𝐠𝐨𝐞𝐬 𝐚𝐠𝐚𝐢𝐧𝐬𝐭 𝐤𝐧𝐨𝐰𝐧 𝐥𝐚𝐰𝐬 𝐨𝐟 𝐧𝐚𝐭𝐮𝐫𝐞. 𝐓𝐡𝐞𝐫𝐞 𝐢𝐬, 𝐡𝐨𝐰𝐞𝐯𝐞𝐫, 𝐧𝐨 𝐥𝐨𝐠𝐢𝐜𝐚𝐥 𝐜𝐨𝐧𝐬𝐭𝐫𝐚𝐢𝐧𝐭 𝐚𝐠𝐚𝐢𝐧𝐬𝐭 𝐢𝐭. 𝐈𝐟 𝐆𝐨𝐝 𝐢𝐬 𝐨𝐦𝐧𝐢𝐩𝐨𝐭𝐞𝐧𝐭 𝐚𝐧𝐝 𝐭𝐡𝐞 𝐬𝐭𝐫𝐮𝐜𝐭𝐮𝐫𝐞 𝐨𝐟 𝐭𝐡𝐞 𝐮𝐧𝐢𝐯𝐞𝐫𝐬𝐞 𝐚𝐥𝐥𝐨𝐰𝐬 𝐢𝐭, 𝐆𝐨𝐝 𝐜𝐨𝐮𝐥𝐝 𝐢𝐧𝐭𝐞𝐫𝐯𝐞𝐧𝐞 𝐚𝐧𝐝 𝐬𝐮𝐬𝐩𝐞𝐧𝐝 𝐭𝐡𝐞 𝐥𝐚𝐰𝐬 𝐨𝐟 𝐧𝐚𝐭𝐮𝐫𝐞.
𝐀𝐥𝐭𝐞𝐫𝐧𝐚𝐭𝐢𝐯𝐞𝐥𝐲, 𝐢𝐭 𝐢𝐬 𝐥𝐨𝐠𝐢𝐜𝐚𝐥𝐥𝐲 𝐩𝐨𝐬𝐬𝐢𝐛𝐥𝐞 𝐭𝐡𝐚𝐭 𝐚𝐧𝐨𝐭𝐡𝐞𝐫 𝐮𝐧𝐢𝐯𝐞𝐫𝐬𝐞 𝐰𝐨𝐮𝐥𝐝 𝐡𝐚𝐯𝐞 𝐝𝐢𝐟𝐟𝐞𝐫𝐞𝐧𝐭 𝐩𝐡𝐲𝐬𝐢𝐜𝐚𝐥 𝐥𝐚𝐰𝐬 𝐬𝐮𝐜𝐡 𝐭𝐡𝐚𝐭 𝐛𝐨𝐝𝐢𝐥𝐲 𝐫𝐞𝐬𝐮𝐫𝐫𝐞𝐜𝐭𝐢𝐨𝐧 𝐰𝐨𝐮𝐥𝐝 𝐛𝐞 𝐚 𝐧𝐚𝐭𝐮𝐫𝐚𝐥 𝐨𝐜𝐜𝐮𝐫𝐫𝐞𝐧𝐜𝐞. 𝐁𝐲 𝐜𝐨𝐧𝐭𝐫𝐚𝐬𝐭 𝐭𝐡𝐞 𝐈𝐧𝐜𝐚𝐫𝐧𝐚𝐭𝐢𝐨𝐧, 𝐚𝐬𝐬𝐮𝐦𝐢𝐧𝐠 𝐭𝐡𝐚𝐭 𝐭𝐡𝐞 𝐇𝐞𝐛𝐫𝐚𝐢𝐜 𝐩𝐫𝐢𝐧𝐜𝐢𝐩𝐥𝐞 𝐢𝐬 𝐭𝐫𝐮𝐞, 𝐢𝐧𝐯𝐨𝐥𝐯𝐞𝐬 𝐚 𝐥𝐨𝐠𝐢𝐜𝐚𝐥 𝐢𝐦𝐩𝐨𝐬𝐬𝐢𝐛𝐢𝐥𝐢𝐭𝐲, 𝐧𝐨𝐭 𝐚 𝐩𝐡𝐲𝐬𝐢𝐜𝐚𝐥 𝐢𝐦𝐩𝐨𝐬𝐬𝐢𝐛𝐢𝐥𝐢𝐭𝐲. 𝐎𝐮𝐫 𝐩𝐡𝐲𝐬𝐢𝐜𝐚𝐥 𝐥𝐚𝐰𝐬 𝐰𝐨𝐮𝐥𝐝 𝐧𝐨𝐭 𝐚𝐩𝐩𝐥𝐲 𝐭𝐨 𝐞𝐯𝐞𝐫𝐲 𝐩𝐨𝐬𝐬𝐢𝐛𝐥𝐞 𝐮𝐧𝐢𝐯𝐞𝐫𝐬𝐞, 𝐛𝐮𝐭 𝐞𝐯𝐞𝐫𝐲 𝐩𝐨𝐬𝐬𝐢𝐛𝐥𝐞 𝐮𝐧𝐢𝐯𝐞𝐫𝐬𝐞 𝐦𝐮𝐬𝐭 𝐟𝐨𝐥𝐥𝐨𝐰 𝐭𝐡𝐞 𝐥𝐚𝐰𝐬 𝐨𝐟 𝐥𝐨𝐠𝐢𝐜.
𝐄𝐯𝐚𝐧𝐠𝐞𝐥𝐢𝐜𝐚𝐥 𝐏𝐚𝐮𝐥 𝐇𝐞𝐥𝐦 𝐡𝐚𝐬 𝐜𝐨𝐦𝐩𝐨𝐬𝐞𝐝 𝐚 𝐩𝐚𝐢𝐫 𝐨𝐟 𝐬𝐲𝐥𝐥𝐨𝐠𝐢𝐬𝐦𝐬 𝐭𝐡𝐚𝐭 𝐚𝐫𝐞 𝐪𝐮𝐢𝐭𝐞 𝐬𝐢𝐦𝐢𝐥𝐚𝐫 𝐭𝐨 𝐭𝐡𝐨𝐬𝐞 𝐚𝐛𝐨𝐯𝐞. 𝐓𝐡𝐞𝐲 𝐚𝐫𝐞 𝐚𝐬 𝐟𝐨𝐥𝐥𝐨𝐰𝐬:
𝐉𝐞𝐬𝐮𝐬 𝐰𝐚𝐬 𝐚 𝐦𝐚𝐧.
𝐍𝐨 𝐦𝐚𝐧 𝐢𝐬 𝐢𝐝𝐞𝐧𝐭𝐢𝐜𝐚𝐥 𝐰𝐢𝐭𝐡 𝐆𝐨𝐝.
𝐓𝐡𝐞𝐫𝐞𝐟𝐨𝐫𝐞, 𝐉𝐞𝐬𝐮𝐬 𝐢𝐬 𝐧𝐨𝐭 𝐢𝐝𝐞𝐧𝐭𝐢𝐜𝐚𝐥 𝐰𝐢𝐭𝐡 𝐆𝐨𝐝?
𝐉𝐞𝐬𝐮𝐬 𝐢𝐬 𝐆𝐨𝐝.
𝐍𝐨 𝐦𝐚𝐧 𝐢𝐬 𝐢𝐝𝐞𝐧𝐭𝐢𝐜𝐚𝐥 𝐰𝐢𝐭𝐡 𝐆𝐨𝐝.
𝐓𝐡𝐞𝐫𝐞𝐟𝐨𝐫𝐞, 𝐉𝐞𝐬𝐮𝐬 𝐢𝐬 𝐧𝐨𝐭 𝐚 𝐦𝐚𝐧?
𝐇𝐞𝐥𝐦 𝐮𝐬𝐞𝐬 𝐪𝐮𝐞𝐬𝐭𝐢𝐨𝐧 𝐦𝐚𝐫𝐤𝐬 𝐛𝐞𝐜𝐚𝐮𝐬𝐞 𝐡𝐞 𝐛𝐞𝐥𝐢𝐞𝐯𝐞𝐬 𝐭𝐡𝐚𝐭 𝐭𝐡𝐞𝐫𝐞 𝐢𝐬 𝐬𝐨𝐦𝐞𝐭𝐡𝐢𝐧𝐠 𝐰𝐫𝐨𝐧𝐠 𝐰𝐢𝐭𝐡 𝐭𝐡𝐞𝐬𝐞 𝐚𝐫𝐠𝐮𝐦𝐞𝐧𝐭𝐬. 𝐇𝐞 𝐝𝐨𝐞𝐬 𝐧𝐨𝐭 𝐚𝐫𝐭𝐢𝐜𝐮𝐥𝐚𝐭𝐞 𝐡𝐢𝐬 𝐫𝐞𝐚𝐬𝐨𝐧𝐬 𝐟𝐨𝐫 𝐡𝐞𝐬𝐢𝐭𝐚𝐭𝐢𝐧𝐠, 𝐚𝐧𝐝 𝐨𝐧𝐥𝐲 𝐨𝐛𝐬𝐞𝐫𝐯𝐞𝐬 𝐭𝐡𝐚𝐭 𝐭𝐡𝐞 𝐛𝐢𝐬𝐡𝐨𝐩𝐬 𝐚𝐭 𝐂𝐡𝐚𝐥𝐜𝐞𝐝𝐨𝐧 𝐰𝐚𝐧𝐭𝐞𝐝 𝐭𝐨 𝐬𝐚𝐟𝐞𝐠𝐮𝐚𝐫𝐝 "𝐭𝐡𝐞 𝐦𝐲𝐬𝐭𝐞𝐫𝐲 𝐨𝐟 𝐭𝐡𝐞 𝐈𝐧𝐜𝐚𝐫𝐧𝐚𝐭𝐢𝐨𝐧 𝐟𝐫𝐨𝐦 𝐩𝐚𝐥𝐩𝐚𝐛𝐥𝐞 𝐬𝐞𝐥𝐟-𝐜𝐨𝐧𝐭𝐫𝐚𝐝𝐢𝐜𝐭𝐢𝐨𝐧" 𝐚𝐧𝐝 𝐰𝐢𝐬𝐡𝐞𝐝 "𝐭𝐨 𝐩𝐫𝐞𝐬𝐞𝐫𝐯𝐞 𝐛𝐨𝐭𝐡 𝐥𝐢𝐧𝐞𝐬 𝐨𝐟 𝐛𝐢𝐛𝐥𝐢𝐜𝐚𝐥 𝐞𝐯𝐢𝐝𝐞𝐧𝐜𝐞 𝐢𝐧 𝐡𝐢𝐬 𝐬𝐲𝐥𝐥𝐨𝐠𝐢𝐬𝐦𝐬 𝐟𝐫𝐨𝐦 𝐭𝐨𝐨 𝐡𝐚𝐬𝐭𝐲 𝐥𝐨𝐠𝐢𝐜𝐚𝐥 𝐭𝐫𝐞𝐚𝐭𝐦𝐞𝐧𝐭."(𝟏𝟒)
𝐈𝐧 𝐫𝐞𝐬𝐩𝐨𝐧𝐬𝐞 𝐞𝐯𝐚𝐧𝐠𝐞𝐥𝐢𝐜𝐚𝐥 𝐌𝐚𝐫𝐤 𝐌. 𝐇𝐚𝐧𝐧𝐚 𝐛𝐞𝐥𝐢𝐞𝐯𝐞𝐬 𝐭𝐡𝐚𝐭 𝐭𝐡𝐞 𝐦𝐚𝐢𝐧 𝐩𝐫𝐨𝐛𝐥𝐞𝐦 𝐰𝐢𝐭𝐡 𝐇𝐞𝐥𝐦'𝐬 𝐟𝐨𝐫𝐦𝐮𝐥𝐚𝐭𝐢𝐨𝐧𝐬 𝐢𝐬 𝐚 𝐛𝐚𝐬𝐢𝐜 𝐚𝐦𝐛𝐢𝐠𝐮𝐢𝐭𝐲 𝐚𝐛𝐨𝐮𝐭 𝐉𝐞𝐬𝐮𝐬' 𝐡𝐮𝐦𝐚𝐧𝐢𝐭𝐲. 𝐇𝐚𝐧𝐧𝐚 𝐜𝐨𝐧𝐭𝐞𝐧𝐝𝐬 𝐭𝐡𝐚𝐭 𝐭𝐡𝐞 𝐩𝐫𝐞𝐦𝐢𝐬𝐞 𝐨𝐟 𝐭𝐡𝐞 𝐟𝐢𝐫𝐬𝐭 𝐬𝐲𝐥𝐥𝐨𝐠𝐢𝐬𝐦 𝐢𝐬 𝐭𝐫𝐮𝐞 𝐨𝐧𝐥𝐲 𝐢𝐟 𝐰𝐞 𝐮𝐧𝐝𝐞𝐫𝐬𝐭𝐚𝐧𝐝 𝐭𝐡𝐚𝐭 𝐉𝐞𝐬𝐮𝐬 𝐢𝐬 𝐧𝐨𝐭 "𝐢𝐧 𝐭𝐡𝐞 𝐜𝐚𝐭𝐞𝐠𝐨𝐫𝐲 𝐨𝐟 '𝐦𝐚𝐧 𝐭𝐡𝐞 𝐜𝐫𝐞𝐚𝐭𝐮𝐫𝐞.'"(𝟏𝟓)
𝐆𝐨𝐫𝐝𝐨𝐧 𝐂𝐥𝐚𝐫𝐤 𝐦𝐚𝐤𝐞𝐬 𝐇𝐚𝐧𝐧𝐚'𝐬 𝐩𝐨𝐢𝐧𝐭 𝐦𝐨𝐫𝐞 𝐞𝐱𝐩𝐥𝐢𝐜𝐢𝐭𝐥𝐲: "…𝐂𝐡𝐫𝐢𝐬𝐭 𝐰𝐚𝐬 𝐧𝐨𝐭 𝐚 𝐡𝐮𝐦𝐚𝐧 𝐩𝐞𝐫𝐬𝐨𝐧. 𝐇𝐞 𝐰𝐚𝐬 𝐚 𝐝𝐢𝐯𝐢𝐧𝐞 𝐩𝐞𝐫𝐬𝐨𝐧 𝐰𝐡𝐨 𝐭𝐨𝐨𝐤 𝐮𝐩𝐨𝐧 𝐡𝐢𝐦𝐬𝐞𝐥𝐟 𝐚 𝐡𝐮𝐦𝐚𝐧 𝐧𝐚𝐭𝐮𝐫𝐞."(𝟏𝟔). 𝐓𝐡𝐢𝐬 𝐨𝐟 𝐜𝐨𝐮𝐫𝐬𝐞 𝐬𝐨𝐥𝐯𝐞𝐬 𝐧𝐨𝐧𝐞 𝐨𝐟 𝐭𝐡𝐞 𝐩𝐫𝐨𝐛𝐥𝐞𝐦𝐬, 𝐛𝐞𝐜𝐚𝐮𝐬𝐞 𝐂𝐥𝐚𝐫𝐤 𝐝𝐨𝐞𝐬 𝐧𝐨𝐭 𝐭𝐞𝐥𝐥 𝐮𝐬 𝐡𝐨𝐰 𝐭𝐡𝐢𝐬 𝐢𝐬 𝐩𝐨𝐬𝐬𝐢𝐛𝐥𝐞.
𝐅𝐮𝐫𝐭𝐡𝐞𝐫𝐦𝐨𝐫𝐞, 𝐂𝐥𝐚𝐫𝐤 𝐩𝐫𝐨𝐯𝐞𝐬 𝐭𝐡𝐚𝐭 𝐧𝐞𝐢𝐭𝐡𝐞𝐫 𝐡𝐞 𝐧𝐨𝐫 𝐇𝐚𝐧𝐧𝐚 𝐜𝐚𝐧 𝐬𝐩𝐞𝐚𝐤 𝐮𝐧𝐚𝐦𝐛𝐢𝐠𝐮𝐨𝐮𝐬𝐥𝐲 𝐨𝐟 𝐉𝐞𝐬𝐮𝐬' 𝐡𝐮𝐦𝐚𝐧𝐢𝐭𝐲. 𝐈𝐟 𝐉𝐞𝐬𝐮𝐬 𝐰𝐚𝐬 𝐧𝐨𝐭 𝐨𝐧𝐥𝐲 𝐭𝐞𝐦𝐩𝐭𝐞𝐝, 𝐛𝐮𝐭 𝐜𝐨𝐮𝐥𝐝 𝐡𝐚𝐯𝐞 𝐟𝐚𝐥𝐥𝐞𝐧 𝐢𝐧𝐭𝐨 𝐭𝐞𝐦𝐩𝐭𝐚𝐭𝐢𝐨𝐧, 𝐚𝐬 𝐈 𝐮𝐧𝐝𝐞𝐫𝐬𝐭𝐚𝐧𝐝 𝐂𝐡𝐫𝐢𝐬𝐭𝐢𝐚𝐧 𝐭𝐫𝐚𝐝𝐢𝐭𝐢𝐨𝐧, 𝐭𝐡𝐞𝐧 𝐡𝐞 𝐦𝐮𝐬𝐭 𝐡𝐚𝐯𝐞 𝐛𝐞𝐞𝐧 𝐭𝐫𝐮𝐥𝐲 𝐡𝐮𝐦𝐚𝐧, 𝐯𝐢𝐳., 𝐚 𝐦𝐞𝐦𝐛𝐞𝐫 𝐨𝐟 𝐭𝐡𝐞 𝐜𝐚𝐭𝐞𝐠𝐨𝐫𝐲 𝐨𝐟 "𝐦𝐚𝐧 𝐭𝐡𝐞 𝐜𝐫𝐞𝐚𝐭𝐮𝐫𝐞."
𝐁𝐮𝐭 𝐢𝐟 𝐉𝐞𝐬𝐮𝐬 𝐢𝐬 𝐢𝐧 𝐚 𝐝𝐢𝐟𝐟𝐞𝐫𝐞𝐧𝐭 𝐜𝐚𝐭𝐞𝐠𝐨𝐫𝐲, 𝐥𝐞𝐭 𝐮𝐬 𝐬𝐚𝐲 𝐨𝐟 "𝐝𝐢𝐯𝐢𝐧𝐞 𝐨𝐫 𝐮𝐧𝐜𝐫𝐞𝐚𝐭𝐮𝐫𝐞𝐥𝐲 𝐦𝐞𝐧," 𝐭𝐡𝐞𝐧 𝐭𝐡𝐞 𝐂𝐡𝐚𝐥𝐜𝐞𝐝𝐨𝐧𝐢𝐚𝐧 𝐚𝐱𝐢𝐨𝐦 "𝐜𝐨𝐦𝐩𝐥𝐞𝐭𝐞 𝐢𝐧 𝐦𝐚𝐧𝐡𝐨𝐨𝐝" 𝐚𝐧𝐝 "𝐭𝐫𝐮𝐥𝐲 𝐦𝐚𝐧" 𝐰𝐨𝐮𝐥𝐝 𝐧𝐨𝐭 𝐛𝐞 𝐟𝐮𝐥𝐟𝐢𝐥𝐥𝐞𝐝. 𝐈 𝐛𝐞𝐥𝐢𝐞𝐯𝐞 𝐭𝐡𝐚𝐭 𝐢𝐭 𝐢𝐬 𝐬𝐚𝐟𝐞 𝐭𝐨 𝐬𝐚𝐲 𝐭𝐡𝐚𝐭 𝐦𝐨𝐬𝐭 𝐚𝐭𝐭𝐞𝐦𝐩𝐭𝐬 𝐭𝐨 𝐫𝐞𝐜𝐨𝐧𝐜𝐢𝐥𝐞 𝐭𝐡𝐞 𝐥𝐨𝐠𝐢𝐜𝐚𝐥 𝐩𝐫𝐨𝐛𝐥𝐞𝐦𝐬 𝐨𝐟 𝐭𝐡𝐞 𝐈𝐧𝐜𝐚𝐫𝐧𝐚𝐭𝐢𝐨𝐧 𝐞𝐧𝐝 𝐮𝐩 𝐚𝐥𝐢𝐞𝐧𝐚𝐭𝐢𝐧𝐠 𝐉𝐞𝐬𝐮𝐬 𝐟𝐫𝐨𝐦 𝐡𝐢𝐬 𝐡𝐮𝐦𝐚𝐧𝐢𝐭𝐲.
𝐈𝐟 𝐨𝐧𝐞 𝐭𝐚𝐤𝐞𝐬 𝐭𝐡𝐞 "𝐢𝐬" 𝐢𝐧 "𝐉𝐞𝐬𝐮𝐬 𝐢𝐬 𝐆𝐨𝐝" 𝐚𝐬 𝐭𝐡𝐞 "𝐢𝐬 𝐨𝐟 𝐢𝐝𝐞𝐧𝐭𝐢𝐭𝐲" (𝐭𝐡𝐢𝐬 𝐢𝐬 𝐜𝐞𝐫𝐭𝐚𝐢𝐧𝐥𝐲 𝐜𝐥𝐞𝐚𝐫 𝐢𝐧 𝐇𝐞𝐥𝐦'𝐬 𝐬𝐲𝐥𝐥𝐨𝐠𝐢𝐬𝐦𝐬), 𝐭𝐡𝐞𝐧 𝐃𝐨𝐧 𝐂𝐮𝐩𝐢𝐭𝐭 𝐡𝐚𝐬 𝐬𝐡𝐨𝐰𝐧 𝐭𝐡𝐚𝐭 𝐚𝐥𝐥 𝐬𝐨𝐫𝐭𝐬 𝐨𝐟 𝐚𝐛𝐬𝐮𝐫𝐝𝐢𝐭𝐢𝐞𝐬 𝐜𝐚𝐧 𝐛𝐞 𝐢𝐦𝐩𝐮𝐭𝐞𝐝 𝐭𝐨 𝐭𝐡𝐞 𝐝𝐨𝐜𝐭𝐫𝐢𝐧𝐞 𝐨𝐟 𝐭𝐡𝐞 𝐈𝐧𝐜𝐚𝐫𝐧𝐚𝐭𝐢𝐨𝐧. 𝐖𝐢𝐭𝐡 𝐚𝐧 𝐞𝐱𝐚𝐦𝐩𝐥𝐞 𝐥𝐢𝐤𝐞 "𝐕𝐞𝐧𝐮𝐬 𝐢𝐬 𝐭𝐡𝐞 𝐦𝐨𝐫𝐧𝐢𝐧𝐠 𝐬𝐭𝐚𝐫," 𝐨𝐧𝐞 𝐜𝐚𝐧 𝐬𝐞𝐞 𝐭𝐡𝐚𝐭 𝐭𝐡𝐞 "𝐢𝐬 𝐨𝐟 𝐢𝐝𝐞𝐧𝐭𝐢𝐭𝐲" 𝐢𝐧𝐝𝐢𝐜𝐚𝐭𝐞𝐬 𝐭𝐡𝐚𝐭 𝐭𝐡𝐞 𝐬𝐮𝐛𝐣𝐞𝐜𝐭 𝐚𝐧𝐝 𝐩𝐫𝐞𝐝𝐢𝐜𝐚𝐭𝐞 𝐚𝐫𝐞 𝐭𝐰𝐨 𝐰𝐚𝐲𝐬 𝐨𝐟 𝐝𝐞𝐬𝐢𝐠𝐧𝐚𝐭𝐢𝐧𝐠 𝐭𝐡𝐞 𝐬𝐚𝐦𝐞 𝐢𝐧𝐝𝐢𝐯𝐢𝐝𝐮𝐚𝐥.
𝐓𝐡𝐢𝐬 𝐦𝐞𝐚𝐧𝐬 𝐭𝐡𝐚𝐭 𝐢𝐟 𝐉𝐞𝐬𝐮𝐬 𝐰𝐚𝐬 𝐚 𝐉𝐞𝐰, 𝐭𝐡𝐞𝐧 𝐆𝐨𝐝 𝐰𝐚𝐬 𝐚 𝐉𝐞𝐰; 𝐢𝐭 𝐦𝐞𝐚𝐧𝐬 𝐭𝐡𝐚𝐭 𝐢𝐟 𝐉𝐞𝐬𝐮𝐬 𝐡𝐚𝐝 𝐩𝐚𝐫𝐞𝐧𝐭𝐬, 𝐭𝐡𝐞𝐧 𝐆𝐨𝐝 𝐦𝐮𝐬𝐭 𝐡𝐚𝐯𝐞 𝐩𝐚𝐫𝐞𝐧𝐭𝐬; 𝐚𝐧𝐝 𝐢𝐭 𝐦𝐮𝐬𝐭 𝐚𝐥𝐬𝐨 𝐢𝐦𝐩𝐥𝐲 𝐭𝐡𝐚𝐭 𝐢𝐟 𝐉𝐞𝐬𝐮𝐬 𝐩𝐫𝐚𝐲𝐞𝐝 𝐭𝐨 𝐆𝐨𝐝, 𝐭𝐡𝐞𝐧 𝐆𝐨𝐝 𝐩𝐫𝐚𝐲𝐞𝐝 𝐭𝐨 𝐡𝐢𝐦𝐬𝐞𝐥𝐟. 𝐓𝐡𝐢𝐬 𝐨𝐟 𝐜𝐨𝐮𝐫𝐬𝐞 𝐢𝐬 𝐚 𝐛𝐞𝐚𝐮𝐭𝐢𝐟𝐮𝐥 𝐫𝐞𝐝𝐮𝐜𝐭𝐢𝐨 𝐚𝐝 𝐚𝐛𝐬𝐮𝐫𝐝𝐮𝐦 𝐚𝐫𝐠𝐮𝐦𝐞𝐧𝐭 𝐚𝐠𝐚𝐢𝐧𝐬𝐭 𝐭𝐡𝐢𝐬 𝐩𝐚𝐫𝐭𝐢𝐜𝐮𝐥𝐚𝐫 𝐟𝐨𝐫𝐦𝐮𝐥𝐚𝐭𝐢𝐨𝐧 𝐨𝐟 𝐭𝐡𝐞 𝐈𝐧𝐜𝐚𝐫𝐧𝐚𝐭𝐢𝐨𝐧.
𝐂𝐮𝐩𝐢𝐭𝐭 𝐛𝐚𝐜𝐤𝐬 𝐨𝐟𝐟 𝐟𝐫𝐨𝐦 𝐭𝐡𝐢𝐬 𝐚𝐫𝐠𝐮𝐦𝐞𝐧𝐭 𝐛𝐞𝐜𝐚𝐮𝐬𝐞 𝐡𝐞 𝐛𝐞𝐥𝐢𝐞𝐯𝐞𝐬 𝐭𝐡𝐚𝐭 𝐂𝐡𝐫𝐢𝐬𝐭𝐢𝐚𝐧 𝐭𝐡𝐢𝐧𝐤𝐞𝐫𝐬 𝐜𝐨𝐮𝐥𝐝 𝐧𝐨𝐭 𝐩𝐨𝐬𝐬𝐢𝐛𝐥𝐲 𝐡𝐚𝐯𝐞 𝐦𝐞𝐚𝐧𝐭 𝐭𝐨 𝐮𝐬𝐞 𝐭𝐡𝐞 "𝐢𝐬 𝐨𝐟 𝐢𝐝𝐞𝐧𝐭𝐢𝐭𝐲."(𝟏𝟕) 𝐂𝐮𝐩𝐢𝐭𝐭 𝐢𝐬 𝐧𝐨𝐭 𝐜𝐨𝐫𝐫𝐞𝐜𝐭 𝐨𝐧 𝐭𝐡𝐢𝐬 𝐩𝐨𝐢𝐧𝐭, 𝐛𝐞𝐜𝐚𝐮𝐬𝐞 𝐞𝐚𝐫𝐥𝐲 𝐂𝐚𝐭𝐡𝐨𝐥𝐢𝐜 𝐭𝐡𝐞𝐨𝐥𝐨𝐠𝐢𝐚𝐧𝐬 𝐜𝐨𝐦𝐦𝐢𝐭𝐭𝐞𝐝 𝐭𝐡𝐞𝐦𝐬𝐞𝐥𝐯𝐞𝐬 𝐭𝐨 𝐭𝐡𝐞 𝐜𝐨𝐦𝐦𝐮𝐧𝐢𝐜𝐚𝐭𝐢𝐨 𝐢𝐝𝐢𝐨𝐦𝐚𝐭𝐮𝐦, 𝐰𝐡𝐢𝐜𝐡 𝐦𝐞𝐚𝐧𝐬 𝐭𝐡𝐚𝐭 "𝐰𝐞 𝐜𝐚𝐧 𝐩𝐫𝐞𝐝𝐢𝐜𝐚𝐭𝐞 𝐨𝐟 𝐭𝐡𝐞 𝐨𝐧𝐞 𝐩𝐞𝐫𝐬𝐨𝐧 𝐰𝐡𝐚𝐭 𝐢𝐬 𝐫𝐨𝐨𝐭𝐞𝐝 𝐢𝐧 𝐞𝐢𝐭𝐡𝐞𝐫 𝐧𝐚𝐭𝐮𝐫𝐞." 𝐈𝐭 𝐚𝐩𝐩𝐞𝐚𝐫𝐬 𝐭𝐡𝐚𝐭 𝐭𝐡𝐞 𝐜𝐨𝐦𝐦𝐮𝐧𝐢𝐜𝐚𝐭𝐢𝐨 𝐢𝐝𝐢𝐨𝐦𝐚𝐭𝐮𝐦 𝐢𝐬 𝐚𝐥𝐬𝐨 𝐛𝐞𝐡𝐢𝐧𝐝 𝐭𝐡𝐞 𝐝𝐨𝐜𝐭𝐫𝐢𝐧𝐞 𝐨𝐟 𝐭𝐡𝐞𝐨𝐭𝐨𝐤𝐨𝐬, 𝐭𝐡𝐚𝐭 𝐌𝐚𝐫𝐲 𝐰𝐚𝐬 𝐥𝐢𝐭𝐞𝐫𝐚𝐥𝐥𝐲 𝐭𝐡𝐞 𝐌𝐨𝐭𝐡𝐞𝐫 𝐨𝐟 𝐆𝐨𝐝.(𝟏𝟖).
𝐁𝐮𝐭 𝐞𝐯𝐞𝐧 𝐭𝐡𝐞𝐬𝐞 𝐭𝐡𝐞𝐨𝐥𝐨𝐠𝐢𝐚𝐧𝐬 𝐫𝐞𝐚𝐥𝐢𝐳𝐞𝐝 𝐭𝐡𝐚𝐭 𝐚𝐩𝐩𝐚𝐫𝐞𝐧𝐭 𝐚𝐛𝐬𝐮𝐫𝐝𝐢𝐭𝐢𝐞𝐬, 𝐬𝐮𝐜𝐡 𝐚𝐬 𝐃𝐞𝐮𝐬 𝐜𝐫𝐞𝐚𝐭𝐮𝐫𝐚 𝐞𝐬𝐭 𝐚𝐧𝐝 𝐡𝐨𝐦𝐨 𝐞𝐭𝐞𝐫𝐧𝐮𝐬 𝐞𝐬𝐭, 𝐟𝐨𝐥𝐥𝐨𝐰 𝐟𝐫𝐨𝐦 𝐭𝐡𝐢𝐬 𝐝𝐨𝐜𝐭𝐫𝐢𝐧𝐞. 𝐓𝐡𝐞 𝐥𝐚𝐧𝐠𝐮𝐚𝐠𝐞 𝐨𝐟 𝐢𝐝𝐞𝐧𝐭𝐢𝐭𝐲 𝐚𝐥𝐬𝐨 𝐜𝐫𝐞𝐚𝐭𝐞𝐬 𝐭𝐞𝐧𝐬𝐢𝐨𝐧 𝐛𝐞𝐭𝐰𝐞𝐞𝐧 𝐭𝐡𝐞 𝐈𝐧𝐜𝐚𝐫𝐧𝐚𝐭𝐢𝐨𝐧 𝐚𝐧𝐝 𝐭𝐡𝐞 𝐓𝐫𝐢𝐧𝐢𝐭𝐲. 𝐓𝐡𝐞 𝐭𝐡𝐫𝐞𝐞 𝐩𝐞𝐫𝐬𝐨𝐧𝐬 𝐨𝐟 𝐭𝐡𝐞 𝐆𝐨𝐝𝐡𝐞𝐚𝐝 𝐜𝐚𝐧𝐧𝐨𝐭 𝐛𝐞 𝐚𝐛𝐬𝐨𝐥𝐮𝐭𝐞𝐥𝐲 𝐢𝐝𝐞𝐧𝐭𝐢𝐜𝐚𝐥 𝐛𝐞𝐜𝐚𝐮𝐬𝐞 𝐭𝐫𝐢𝐧𝐢𝐭𝐚𝐫𝐢𝐚𝐧 𝐬𝐨𝐜𝐢𝐚𝐥 𝐫𝐞𝐥𝐚𝐭𝐢𝐨𝐧𝐬 𝐰𝐨𝐮𝐥𝐝 𝐧𝐨𝐭 𝐛𝐞 𝐢𝐧𝐭𝐞𝐥𝐥𝐢𝐠𝐢𝐛𝐥𝐞.
𝐈𝐧 𝐡𝐢𝐬 𝐫𝐞𝐬𝐩𝐨𝐧𝐬𝐞 𝐭𝐨 𝐭𝐡𝐞 𝐂𝐡𝐫𝐢𝐬𝐭𝐢𝐚𝐧 𝐥𝐢𝐛𝐞𝐫𝐚𝐥𝐬, 𝐌𝐢𝐜𝐡𝐚𝐞𝐥 𝐆𝐫𝐞𝐞𝐧 𝐞𝐧𝐝𝐬 𝐮𝐩 𝐞𝐪𝐮𝐢𝐯𝐨𝐜𝐚𝐭𝐢𝐧𝐠 𝐚𝐛𝐨𝐮𝐭 𝐭𝐡𝐞 𝐨𝐧𝐭𝐨𝐥𝐨𝐠𝐲 𝐨𝐟 𝐭𝐡𝐞 𝐈𝐧𝐜𝐚𝐫𝐧𝐚𝐭𝐢𝐨𝐧. 𝐇𝐞 𝐝𝐞𝐜𝐥𝐚𝐫𝐞𝐬 𝐭𝐡𝐚𝐭 "𝐢𝐭 𝐰𝐨𝐮𝐥𝐝 𝐛𝐞 𝐫𝐢𝐝𝐢𝐜𝐮𝐥𝐨𝐮𝐬 𝐭𝐨 𝐢𝐦𝐚𝐠𝐢𝐧𝐞 𝐭𝐡𝐚𝐭 𝐉𝐞𝐬𝐮𝐬 𝐢𝐬 𝐆𝐨𝐝 𝐭𝐨𝐮𝐭 𝐬𝐢𝐦𝐩𝐥𝐞," 𝐛𝐮𝐭 𝐡𝐞 𝐧𝐞𝐯𝐞𝐫𝐭𝐡𝐞𝐥𝐞𝐬𝐬 𝐚𝐫𝐠𝐮𝐞𝐬 𝐞𝐥𝐬𝐞𝐰𝐡𝐞𝐫𝐞 𝐭𝐡𝐚𝐭 𝐉𝐞𝐬𝐮𝐬 𝐢𝐬 𝐟𝐮𝐥𝐥𝐲 𝐢𝐝𝐞𝐧𝐭𝐢𝐜𝐚𝐥 𝐰𝐢𝐭𝐡 𝐭𝐡𝐞 𝐎𝐥𝐝 𝐓𝐞𝐬𝐭𝐚𝐦𝐞𝐧𝐭 𝐆𝐨𝐝. 𝐆𝐫𝐞𝐞𝐧 𝐬𝐚𝐲𝐬 𝐭𝐡𝐚𝐭 𝐉𝐞𝐬𝐮𝐬 "𝐢𝐬 𝐢𝐝𝐞𝐧𝐭𝐢𝐟𝐢𝐞𝐝 𝐰𝐢𝐭𝐡 𝐆𝐨𝐝 𝐀𝐥𝐦𝐢𝐠𝐡𝐭𝐲"; 𝐭𝐡𝐚𝐭 𝐉𝐞𝐬𝐮𝐬 𝐚𝐧𝐝 𝐘𝐚𝐡𝐰𝐞𝐡 𝐡𝐚𝐯𝐞 𝐭𝐡𝐞 𝐬𝐚𝐦𝐞 𝐧𝐚𝐦𝐞𝐬; 𝐚𝐧𝐝 𝐭𝐡𝐚𝐭 𝐉𝐞𝐬𝐮𝐬 𝐢𝐬 𝐦𝐞𝐭𝐚𝐩𝐡𝐲𝐬𝐢𝐜𝐚𝐥𝐥𝐲 𝐨𝐧𝐞 𝐰𝐢𝐭𝐡 𝐆𝐨𝐝.(𝟏𝟗)
𝐀𝐥𝐦𝐨𝐬𝐭 𝐢𝐧 𝐭𝐡𝐞 𝐬𝐚𝐦𝐞 𝐛𝐫𝐞𝐚𝐭𝐡, 𝐡𝐨𝐰𝐞𝐯𝐞𝐫, 𝐆𝐫𝐞𝐞𝐧 𝐬𝐮𝐛𝐭𝐥𝐲 𝐬𝐰𝐢𝐭𝐜𝐡𝐞𝐬 𝐭𝐨 𝐭𝐡𝐞 "𝐢𝐬 𝐨𝐟 𝐩𝐫𝐞𝐝𝐢𝐜𝐚𝐭𝐢𝐨𝐧" 𝐛𝐲 𝐚𝐟𝐟𝐢𝐫𝐦𝐢𝐧𝐠 𝐚 𝐠𝐫𝐨𝐰𝐢𝐧𝐠 𝐜𝐨𝐧𝐬𝐞𝐧𝐬𝐮𝐬 𝐚𝐛𝐨𝐮𝐭 𝐭𝐡𝐞 𝐂𝐡𝐫𝐢𝐬𝐭𝐨𝐥𝐨𝐠𝐲 𝐨𝐟 𝐭𝐡𝐞 𝐁𝐨𝐨𝐤 𝐨𝐟 𝐉𝐨𝐡𝐧. 𝐆𝐫𝐞𝐞𝐧 𝐛𝐞𝐥𝐢𝐞𝐯𝐞𝐬 𝐭𝐡𝐚𝐭 𝐢𝐭 𝐢𝐬 𝐬𝐢𝐠𝐧𝐢𝐟𝐢𝐜𝐚𝐧𝐭 𝐭𝐡𝐚𝐭 𝐉𝐨𝐡𝐧 𝐝𝐨𝐞𝐬 𝐧𝐨𝐭 𝐮𝐬𝐞 𝐭𝐡𝐞 𝐝𝐞𝐟𝐢𝐧𝐢𝐭𝐞 𝐚𝐫𝐭𝐢𝐜𝐥𝐞 𝐡𝐨 𝐛𝐞𝐟𝐨𝐫𝐞 𝐭𝐡𝐞𝐨𝐬 𝐢𝐧 𝐭𝐡𝐞 𝐟𝐢𝐫𝐬𝐭 𝐯𝐞𝐫𝐬𝐞. 𝐆𝐫𝐞𝐞𝐧 𝐛𝐞𝐥𝐢𝐞𝐯𝐞𝐬 𝐭𝐡𝐚𝐭 𝐭𝐡𝐢𝐬 𝐢𝐧𝐝𝐢𝐜𝐚𝐭𝐞𝐬 "𝐭𝐡𝐚𝐭 𝐉𝐞𝐬𝐮𝐬 𝐬𝐡𝐚𝐫𝐞𝐝 𝐭𝐡𝐞 𝐯𝐞𝐫𝐲 𝐧𝐚𝐭𝐮𝐫𝐞 𝐨𝐟 𝐆𝐨𝐝, 𝐛𝐮𝐭 𝐝𝐢𝐝 𝐧𝐨𝐭 𝐞𝐱𝐡𝐚𝐮𝐬𝐭𝐢𝐯𝐞𝐥𝐲 𝐞𝐦𝐛𝐨𝐝𝐲 𝐡𝐢𝐦."(𝟐𝟎)
𝐁𝐲 𝐩𝐫𝐨𝐩𝐨𝐬𝐢𝐧𝐠 𝐭𝐡𝐚𝐭 𝐉𝐞𝐬𝐮𝐬 𝐰𝐚𝐬 𝐝𝐢𝐯𝐢𝐧𝐞 𝐛𝐮𝐭 𝐧𝐨𝐭 𝐟𝐮𝐥𝐥𝐲 𝐢𝐝𝐞𝐧𝐭𝐢𝐜𝐚𝐥 𝐰𝐢𝐭𝐡 𝐆𝐨𝐝, 𝐆𝐫𝐞𝐞𝐧 𝐬𝐞𝐞𝐦𝐬 𝐭𝐨 𝐬𝐭𝐫𝐚𝐲 𝐟𝐫𝐨𝐦 𝐭𝐡𝐞 𝐨𝐫𝐭𝐡𝐨𝐝𝐨𝐱 𝐟𝐨𝐫𝐦𝐮𝐥𝐚 𝐭𝐡𝐚𝐭 𝐉𝐞𝐬𝐮𝐬 𝐰𝐚𝐬 𝐟𝐮𝐥𝐥𝐲 𝐆𝐨𝐝 𝐚𝐧𝐝 𝐟𝐮𝐥𝐥𝐲 𝐡𝐮𝐦𝐚𝐧. 𝐀𝐠𝐚𝐢𝐧 𝐢𝐭 𝐥𝐨𝐨𝐤𝐬 𝐚𝐬 𝐢𝐟 𝐨𝐧𝐥𝐲 𝐭𝐡𝐞 "𝐢𝐬 𝐨𝐟 𝐢𝐝𝐞𝐧𝐭𝐢𝐭𝐲" (𝐰𝐢𝐭𝐡 𝐢𝐭𝐬 𝐚𝐛𝐬𝐮𝐫𝐝 𝐢𝐦𝐩𝐥𝐢𝐜𝐚𝐭𝐢𝐨𝐧𝐬) 𝐜𝐚𝐧 𝐞𝐱𝐩𝐫𝐞𝐬𝐬 𝐭𝐡𝐢𝐬 𝐨𝐫𝐭𝐡𝐨𝐝𝐨𝐱 𝐜𝐫𝐞𝐞𝐝, 𝐰𝐡𝐢𝐥𝐞 𝐭𝐡𝐞 "𝐢𝐬 𝐨𝐟 𝐩𝐫𝐞𝐝𝐢𝐜𝐚𝐭𝐢𝐨𝐧" 𝐰𝐢𝐥𝐥 𝐥𝐞𝐚𝐝 𝐂𝐡𝐫𝐢𝐬𝐭𝐢𝐚𝐧𝐬 𝐢𝐧𝐭𝐨 𝐭𝐡𝐞 𝐡𝐞𝐫𝐞𝐬𝐲 𝐨𝐟 𝐬𝐮𝐛𝐨𝐫𝐝𝐢𝐧𝐚𝐭𝐢𝐨𝐧𝐢𝐬𝐦.
𝐅𝐮𝐫𝐭𝐡𝐞𝐫𝐦𝐨𝐫𝐞, 𝐦𝐚𝐧𝐲 𝐬𝐮𝐛𝐨𝐫𝐝𝐢𝐧𝐚𝐭𝐢𝐨𝐧𝐢𝐬𝐭 𝐟𝐨𝐫𝐦𝐮𝐥𝐚𝐭𝐢𝐨𝐧𝐬 𝐬𝐭𝐢𝐥𝐥 𝐜𝐨𝐧𝐟𝐮𝐬𝐞 𝐡𝐮𝐦𝐚𝐧 𝐚𝐧𝐝 𝐝𝐢𝐯𝐢𝐧𝐞 𝐩𝐫𝐞𝐝𝐢𝐜𝐚𝐭𝐞𝐬. 𝐓𝐡𝐞 𝐨𝐧𝐥𝐲 𝐯𝐢𝐞𝐰 𝐟𝐫𝐞𝐞 𝐟𝐫𝐨𝐦 𝐥𝐨𝐠𝐢𝐜𝐚𝐥 𝐩𝐫𝐨𝐛𝐥𝐞𝐦𝐬 𝐢𝐬 "𝐚𝐝𝐨𝐩𝐭𝐢𝐨𝐧𝐢𝐬𝐦," 𝐭𝐡𝐞 𝐯𝐢𝐞𝐰 𝐡𝐞𝐥𝐝 𝐛𝐲 𝐦𝐚𝐧𝐲 𝐞𝐚𝐫𝐥𝐲 𝐂𝐡𝐫𝐢𝐬𝐭𝐢𝐚𝐧𝐬 𝐭𝐡𝐚𝐭 𝐉𝐞𝐬𝐮𝐬 𝐰𝐚𝐬 𝐚 𝐦𝐚𝐧 𝐜𝐡𝐨𝐬𝐞𝐧 𝐛𝐲 𝐆𝐨𝐝 𝐭𝐨 𝐛𝐞 𝐚 𝐮𝐧𝐢𝐪𝐮𝐞 𝐒𝐨𝐧 𝐨𝐟 𝐆𝐨𝐝, 𝐚𝐧 𝐨𝐛𝐞𝐝𝐢𝐞𝐧𝐭 𝐬𝐞𝐫𝐯𝐚𝐧𝐭 "𝐞𝐯𝐞𝐧 𝐮𝐧𝐭𝐨 𝐝𝐞𝐚𝐭𝐡."
𝐂. 𝐒𝐭𝐞𝐩𝐡𝐞𝐧 𝐓. 𝐃𝐚𝐯𝐢𝐬 𝐚𝐧𝐝 𝐭𝐡𝐞 𝐈𝐧𝐜𝐚𝐫𝐧𝐚𝐭𝐢𝐨𝐧
𝐈 𝐡𝐚𝐯𝐞 𝐡𝐞𝐚𝐫𝐝 𝐢𝐭 𝐬𝐚𝐢𝐝 𝐭𝐡𝐚𝐭 𝐭𝐡𝐞 𝐂𝐡𝐫𝐢𝐬𝐭𝐢𝐚𝐧 𝐦𝐚𝐧-𝐆𝐨𝐝 𝐜𝐨𝐮𝐥𝐝 𝐛𝐞 𝐜𝐨𝐧𝐜𝐞𝐢𝐯𝐞𝐝 𝐚𝐬 𝐬𝐢𝐦𝐢𝐥𝐚𝐫 𝐭𝐨 𝐚 𝐜𝐮𝐛𝐞-𝐬𝐩𝐡𝐞𝐫𝐞, 𝐢.𝐞., 𝐚 𝐟𝐢𝐠𝐮𝐫𝐞 𝐰𝐢𝐭𝐡 𝐚 𝐬𝐩𝐡𝐞𝐫𝐢𝐜𝐚𝐥 𝐭𝐨𝐩 𝐚𝐧𝐝 𝐚 𝐜𝐮𝐛𝐞 𝐛𝐨𝐭𝐭𝐨𝐦. 𝐓𝐡𝐞𝐫𝐞 𝐚𝐫𝐞 𝐢𝐦𝐦𝐞𝐝𝐢𝐚𝐭𝐞 𝐩𝐫𝐨𝐛𝐥𝐞𝐦𝐬 𝐰𝐢𝐭𝐡 𝐭𝐡𝐢𝐬 𝐚𝐬 𝐚𝐧 𝐚𝐩𝐩𝐫𝐨𝐩𝐫𝐢𝐚𝐭𝐞 𝐚𝐧𝐚𝐥𝐨𝐠𝐲.
𝐀𝐬 𝐢𝐭 𝐢𝐬 𝐧𝐞𝐢𝐭𝐡𝐞𝐫 𝐜𝐮𝐛𝐞 𝐧𝐨𝐫 𝐬𝐩𝐡𝐞𝐫𝐞, 𝐛𝐮𝐭 𝐨𝐧𝐥𝐲 𝐩𝐚𝐫𝐭𝐥𝐲 𝐜𝐮𝐛𝐞 𝐚𝐧𝐝 𝐩𝐚𝐫𝐭𝐥𝐲 𝐬𝐩𝐡𝐞𝐫𝐞, 𝐭𝐡𝐞 𝐟𝐢𝐠𝐮𝐫𝐞 𝐢𝐬 𝐧𝐨𝐭 𝐚𝐧𝐚𝐥𝐨𝐠𝐨𝐮𝐬 𝐭𝐨 𝐉𝐞𝐬𝐮𝐬 𝐂𝐡𝐫𝐢𝐬𝐭 𝐚𝐬 "𝐜𝐨𝐦𝐩𝐥𝐞𝐭𝐞 𝐢𝐧 𝐆𝐨𝐝𝐡𝐞𝐚𝐝 𝐚𝐧𝐝 𝐜𝐨𝐦𝐩𝐥𝐞𝐭𝐞 𝐢𝐧 𝐦𝐚𝐧𝐡𝐨𝐨𝐝." 𝐖𝐡𝐢𝐥𝐞 𝐭𝐡𝐞 𝐜𝐫𝐞𝐞𝐝𝐬 𝐡𝐚𝐯𝐞 𝐭𝐡𝐞 𝐢𝐧𝐜𝐚𝐫𝐧𝐚𝐭𝐞 𝐋𝐨𝐠𝐨𝐬 𝐚𝐬 "𝐠𝐞𝐧𝐮𝐢𝐧𝐞𝐥𝐲 𝐚𝐧𝐝 𝐮𝐧𝐚𝐦𝐛𝐢𝐠𝐮𝐨𝐮𝐬𝐥𝐲 𝐚 𝐦𝐚𝐧 𝐚𝐧𝐝 𝐠𝐞𝐧𝐮𝐢𝐧𝐞𝐥𝐲 𝐚𝐧𝐝 𝐮𝐧𝐚𝐦𝐛𝐢𝐠𝐮𝐨𝐮𝐬𝐥𝐲 𝐆𝐨𝐝,"(𝟐𝟏) 𝐭𝐡𝐢𝐬 𝐡𝐲𝐛𝐫𝐢𝐝 𝐟𝐨𝐫𝐦 𝐢𝐬 𝐞𝐬𝐬𝐞𝐧𝐭𝐢𝐚𝐥𝐥𝐲 𝐚𝐦𝐛𝐢𝐠𝐮𝐨𝐮𝐬.
𝐓𝐡𝐞 𝐛𝐢𝐬𝐡𝐨𝐩𝐬 𝐚𝐭 𝐂𝐡𝐚𝐥𝐜𝐞𝐝𝐨𝐧 𝐝𝐞𝐜𝐥𝐚𝐫𝐞𝐝 𝐭𝐡𝐚𝐭 𝐭𝐡𝐞 𝐭𝐰𝐨 𝐧𝐚𝐭𝐮𝐫𝐞𝐬 𝐞𝐱𝐢𝐬𝐭 𝐢𝐧 𝐂𝐡𝐫𝐢𝐬𝐭 "𝐰𝐢𝐭𝐡𝐨𝐮𝐭 𝐜𝐨𝐧𝐟𝐮𝐬𝐢𝐨𝐧…𝐰𝐢𝐭𝐡𝐨𝐮𝐭 𝐝𝐢𝐯𝐢𝐬𝐢𝐨𝐧, 𝐰𝐢𝐭𝐡𝐨𝐮𝐭 𝐬𝐞𝐩𝐚𝐫𝐚𝐭𝐢𝐨𝐧." 𝐈𝐧 𝐜𝐨𝐧𝐭𝐫𝐚𝐬𝐭 𝐭𝐡𝐞 𝐪𝐮𝐚𝐥𝐢𝐭𝐢𝐞𝐬 𝐨𝐟 𝐭𝐡𝐞 𝐜𝐮𝐛𝐞-𝐬𝐩𝐡𝐞𝐫𝐞 𝐚𝐫𝐞 𝐝𝐢𝐯𝐢𝐝𝐞𝐝 𝐚𝐧𝐝 𝐬𝐞𝐩𝐚𝐫𝐚𝐭𝐞𝐝. 𝐓𝐡𝐞𝐫𝐞 𝐢𝐬 𝐲𝐞𝐭 𝐚 𝐟𝐮𝐫𝐭𝐡𝐞𝐫 𝐩𝐫𝐨𝐛𝐥𝐞𝐦 𝐰𝐢𝐭𝐡 𝐭𝐡𝐢𝐬 𝐬𝐨𝐥𝐮𝐭𝐢𝐨𝐧. 𝐖𝐡𝐞𝐫𝐞𝐚𝐬 𝐰𝐞 𝐡𝐚𝐯𝐞 𝐧𝐨 𝐩𝐫𝐨𝐛𝐥𝐞𝐦 𝐚𝐝𝐝𝐢𝐧𝐠 𝐜𝐮𝐛𝐞-𝐥𝐢𝐤𝐞 𝐜𝐡𝐚𝐫𝐚𝐜𝐭𝐞𝐫𝐢𝐬𝐭𝐢𝐜𝐬 𝐭𝐨 𝐭𝐡𝐞 𝐛𝐨𝐭𝐭𝐨𝐦 𝐨𝐟 𝐭𝐡𝐞 𝐬𝐩𝐡𝐞𝐫𝐞,
𝐢𝐭 𝐢𝐬 𝐢𝐦𝐩𝐨𝐬𝐬𝐢𝐛𝐥𝐞 𝐭𝐨 𝐜𝐨𝐧𝐜𝐞𝐢𝐯𝐞 𝐨𝐟 𝐚𝐝𝐝𝐢𝐧𝐠 𝐜𝐫𝐞𝐚𝐭𝐮𝐫𝐞𝐥𝐲 𝐩𝐫𝐨𝐩𝐞𝐫𝐭𝐢𝐞𝐬 𝐭𝐨 𝐚 𝐛𝐞𝐢𝐧𝐠 𝐰𝐡𝐢𝐜𝐡 𝐢𝐬 𝐚𝐥𝐫𝐞𝐚𝐝𝐲 𝐚𝐧𝐝 𝐜𝐨𝐧𝐭𝐢𝐧𝐮𝐞𝐬 𝐭𝐨 𝐛𝐞 𝐨𝐦𝐧𝐢𝐩𝐨𝐭𝐞𝐧𝐭, 𝐨𝐦𝐧𝐢𝐬𝐜𝐢𝐞𝐧𝐜𝐞, 𝐧𝐞𝐜𝐞𝐬𝐬𝐚𝐫𝐲, 𝐞𝐭𝐜. 𝐄𝐢𝐭𝐡𝐞𝐫 𝐭𝐡𝐞 𝐛𝐞𝐢𝐧𝐠 𝐡𝐚𝐬 𝐭𝐡𝐞𝐬𝐞 𝐝𝐢𝐯𝐢𝐧𝐞 𝐚𝐭𝐭𝐫𝐢𝐛𝐮𝐭𝐞𝐬 𝐨𝐫 𝐢𝐭 𝐡𝐚𝐬 𝐭𝐡𝐞 𝐟𝐢𝐧𝐢𝐭𝐞 𝐩𝐫𝐨𝐩𝐞𝐫𝐭𝐢𝐞𝐬 𝐨𝐟 𝐡𝐮𝐦𝐚𝐧𝐬.
𝐈𝐧 𝐡𝐢𝐬 𝐫𝐞𝐜𝐞𝐧𝐭 𝐛𝐨𝐨𝐤 𝐋𝐨𝐠𝐢𝐜 𝐚𝐧𝐝 𝐭𝐡𝐞 𝐍𝐚𝐭𝐮𝐫𝐞 𝐨𝐟 𝐆𝐨𝐝, 𝐒𝐭𝐞𝐩𝐡𝐞𝐧 𝐓. 𝐃𝐚𝐯𝐢𝐬 𝐡𝐚𝐬 𝐜𝐡𝐚𝐩𝐭𝐞𝐫𝐬 𝐨𝐧 𝐭𝐡𝐞 𝐈𝐧𝐜𝐚𝐫𝐧𝐚𝐭𝐢𝐨𝐧 𝐚𝐧𝐝 𝐭𝐡𝐞 𝐓𝐫𝐢𝐧𝐢𝐭𝐲. 𝐔𝐬𝐢𝐧𝐠 𝐭𝐡𝐞 𝐭𝐞𝐜𝐡𝐧𝐢𝐪𝐮𝐞𝐬 𝐨𝐟 𝐚𝐧𝐚𝐥𝐲𝐭𝐢𝐜 𝐩𝐡𝐢𝐥𝐨𝐬𝐨𝐩𝐡𝐲, 𝐃𝐚𝐯𝐢𝐬 𝐩𝐞𝐫𝐟𝐨𝐫𝐦𝐬 𝐬𝐨𝐦𝐞 𝐜𝐚𝐫𝐞𝐟𝐮𝐥 𝐡𝐨𝐮𝐬𝐞𝐜𝐥𝐞𝐚𝐧𝐢𝐧𝐠 𝐛𝐞𝐟𝐨𝐫𝐞 𝐨𝐟𝐟𝐞𝐫𝐢𝐧𝐠 𝐡𝐢𝐬 𝐬𝐨𝐥𝐮𝐭𝐢𝐨𝐧 𝐭𝐨 𝐭𝐡𝐞 𝐩𝐫𝐨𝐛𝐥𝐞𝐦.
𝐈 𝐚𝐦 𝐚𝐟𝐫𝐚𝐢𝐝, 𝐡𝐨𝐰𝐞𝐯𝐞𝐫, 𝐭𝐡𝐚𝐭 𝐡𝐞 𝐥𝐚𝐭𝐞𝐫 𝐮𝐬𝐞𝐬 𝐭𝐡𝐞 𝐬𝐚𝐦𝐞 𝐩𝐡𝐢𝐥𝐨𝐬𝐨𝐩𝐡𝐢𝐜𝐚𝐥 𝐭𝐨𝐨𝐥𝐬 𝐭𝐨 𝐮𝐧𝐝𝐞𝐫𝐦𝐢𝐧𝐞 𝐭𝐡𝐞 𝐜𝐨𝐧𝐜𝐞𝐩𝐭 𝐨𝐟 𝐆𝐨𝐝. 𝐅𝐢𝐫𝐬𝐭, 𝐃𝐚𝐯𝐢𝐬 𝐩𝐫𝐨𝐩𝐨𝐬𝐞𝐬 𝐭𝐡𝐚𝐭 𝐭𝐡𝐞 𝐈𝐧𝐜𝐚𝐫𝐧𝐚𝐭𝐢𝐨𝐧 𝐜𝐨𝐮𝐥𝐝 𝐦𝐞𝐚𝐧 𝐭𝐡𝐚𝐭 𝐂𝐡𝐫𝐢𝐬𝐭 𝐡𝐚𝐝 𝐚𝐥𝐥 𝐭𝐡𝐞 𝐞𝐬𝐬𝐞𝐧𝐭𝐢𝐚𝐥 𝐩𝐫𝐨𝐩𝐞𝐫𝐭𝐢𝐞𝐬 𝐨𝐟 𝐆𝐨𝐝 𝐚𝐧𝐝 𝐚𝐥𝐥 𝐭𝐡𝐞 𝐞𝐬𝐬𝐞𝐧𝐭𝐢𝐚𝐥 𝐩𝐫𝐨𝐩𝐞𝐫𝐭𝐢𝐞𝐬 𝐨𝐟 𝐚 𝐡𝐮𝐦𝐚𝐧 𝐛𝐞𝐢𝐧𝐠. 𝐃𝐚𝐯𝐢𝐬' 𝐢𝐧𝐢𝐭𝐢𝐚𝐥 𝐥𝐚𝐧𝐠𝐮𝐚𝐠𝐞 𝐦𝐚𝐲 𝐡𝐞𝐥𝐩 𝐮𝐬 𝐫𝐞𝐩𝐡𝐫𝐚𝐬𝐞 𝐭𝐡𝐞 𝐈𝐧𝐜𝐚𝐫𝐧𝐚𝐭𝐢𝐨𝐧 𝐬𝐨 𝐭𝐡𝐚𝐭 𝐰𝐞 𝐜𝐚𝐧 𝐮𝐬𝐞 𝐭𝐡𝐞 "𝐢𝐬 𝐨𝐟 𝐩𝐫𝐞𝐝𝐢𝐜𝐚𝐭𝐢𝐨𝐧" 𝐰𝐢𝐭𝐡𝐨𝐮𝐭 𝐟𝐚𝐥𝐥𝐢𝐧𝐠 𝐢𝐧𝐭𝐨 𝐬𝐮𝐛𝐨𝐫𝐝𝐢𝐧𝐚𝐭𝐢𝐨𝐧𝐢𝐬𝐦.
𝐉𝐞𝐬𝐮𝐬 𝐢𝐬 𝐆𝐨𝐝 𝐛𝐞𝐜𝐚𝐮𝐬𝐞 𝐡𝐞 𝐡𝐚𝐬 𝐚𝐥𝐥 𝐭𝐡𝐞 𝐞𝐬𝐬𝐞𝐧𝐭𝐢𝐚𝐥 𝐚𝐭𝐭𝐫𝐢𝐛𝐮𝐭𝐞𝐬 𝐨𝐟 𝐆𝐨𝐝, 𝐛𝐮𝐭 𝐢𝐬 𝐧𝐨𝐭 𝐢𝐝𝐞𝐧𝐭𝐢𝐜𝐚𝐥 𝐰𝐢𝐭𝐡 𝐆𝐨𝐝 𝐛𝐞𝐜𝐚𝐮𝐬𝐞 𝐡𝐞 𝐚𝐥𝐬𝐨 𝐡𝐚𝐬 𝐚𝐥𝐥 𝐞𝐬𝐬𝐞𝐧𝐭𝐢𝐚𝐥 𝐡𝐮𝐦𝐚𝐧 𝐪𝐮𝐚𝐥𝐢𝐭𝐢𝐞𝐬. 𝐒𝐞𝐜𝐨𝐧𝐝, 𝐃𝐚𝐯𝐢𝐬 𝐥𝐢𝐬𝐭𝐬 𝐭𝐰𝐨 𝐬𝐞𝐭𝐬 𝐨𝐟 𝐟𝐨𝐮𝐫 𝐚𝐭𝐭𝐫𝐢𝐛𝐮𝐭𝐞𝐬 𝐰𝐡𝐢𝐜𝐡 𝐡𝐚𝐯𝐞 𝐜𝐨𝐦𝐦𝐨𝐧𝐥𝐲 𝐛𝐞𝐞𝐧 𝐡𝐞𝐥𝐝 𝐭𝐨 𝐛𝐞 𝐞𝐬𝐬𝐞𝐧𝐭𝐢𝐚𝐥 𝐚𝐭𝐭𝐫𝐢𝐛𝐮𝐭𝐞𝐬 𝐨𝐟 𝐆𝐨𝐝 𝐚𝐧𝐝 𝐨𝐟 𝐡𝐮𝐦𝐚𝐧 𝐛𝐞𝐢𝐧𝐠𝐬: 𝐯𝐢𝐳., 𝐨𝐦𝐧𝐢𝐬𝐜𝐢𝐞𝐧𝐜𝐞, 𝐨𝐦𝐧𝐢𝐩𝐨𝐭𝐞𝐧𝐜𝐞, 𝐧𝐞𝐜𝐞𝐬𝐬𝐢𝐭𝐲, 𝐚𝐧𝐝 𝐜𝐫𝐞𝐚𝐭𝐨𝐫 𝐟𝐨𝐫 𝐆𝐨𝐝; 𝐚𝐧𝐝 𝐧𝐨𝐧𝐨𝐦𝐧𝐢𝐬𝐜𝐢𝐞𝐧𝐜𝐞, 𝐧𝐨𝐧𝐨𝐦𝐧𝐢𝐩𝐨𝐭𝐞𝐧𝐜𝐞, 𝐜𝐨𝐧𝐭𝐢𝐧𝐠𝐞𝐧𝐜𝐲, 𝐚𝐧𝐝 𝐧𝐨𝐧𝐜𝐫𝐞𝐚𝐭𝐨𝐫 𝐟𝐨𝐫 𝐡𝐮𝐦𝐚𝐧𝐬.
𝐓𝐡𝐢𝐫𝐝, 𝐃𝐚𝐯𝐢𝐬 𝐜𝐨𝐧𝐜𝐞𝐝𝐞𝐬 𝐭𝐡𝐚𝐭 𝐢𝐟 𝐭𝐡𝐞𝐬𝐞 𝐜𝐨𝐫𝐫𝐞𝐬𝐩𝐨𝐧𝐝𝐢𝐧𝐠 𝐥𝐢𝐬𝐭𝐬 𝐚𝐫𝐞 𝐜𝐨𝐫𝐫𝐞𝐜𝐭, 𝐭𝐡𝐞𝐧 𝐇𝐢𝐜𝐤 𝐢𝐬 𝐫𝐢𝐠𝐡𝐭 𝐢𝐧 𝐡𝐢𝐬 𝐜𝐥𝐚𝐢𝐦 𝐭𝐡𝐚𝐭 𝐭𝐡𝐞 𝐦𝐚𝐧-𝐆𝐨𝐝 𝐢𝐬 𝐥𝐨𝐠𝐢𝐜𝐚𝐥𝐥𝐲 𝐚𝐧𝐚𝐥𝐨𝐠𝐨𝐮𝐬 𝐭𝐨 𝐚 𝐬𝐪𝐮𝐚𝐫𝐞 𝐜𝐢𝐫𝐜𝐥𝐞. 𝐈𝐭 𝐢𝐬 𝐢𝐦𝐩𝐨𝐬𝐬𝐢𝐛𝐥𝐞 𝐟𝐨𝐫 𝐂𝐡𝐫𝐢𝐬𝐭 𝐭𝐨 𝐡𝐚𝐯𝐞 𝐬𝐢𝐦𝐮𝐥𝐭𝐚𝐧𝐞𝐨𝐮𝐬𝐥𝐲 𝐚𝐥𝐥 𝐭𝐡𝐞 𝐞𝐬𝐬𝐞𝐧𝐭𝐢𝐚𝐥 𝐩𝐫𝐨𝐩𝐞𝐫𝐭𝐢𝐞𝐬 𝐨𝐟 𝐛𝐨𝐭𝐡 𝐆𝐨𝐝 𝐚𝐧𝐝 𝐡𝐮𝐦𝐚𝐧 𝐛𝐞𝐢𝐧𝐠𝐬.
𝐎𝐧𝐞'𝐬 𝐢𝐧𝐢𝐭𝐢𝐚𝐥 𝐢𝐦𝐩𝐫𝐞𝐬𝐬𝐢𝐨𝐧 𝐢𝐬 𝐭𝐡𝐚𝐭 𝐇𝐢𝐜𝐤 𝐚𝐧𝐝 𝐡𝐢𝐬 𝐥𝐢𝐛𝐞𝐫𝐚𝐥 𝐜𝐨𝐥𝐥𝐞𝐚𝐠𝐮𝐞𝐬 𝐡𝐚𝐯𝐞 𝐰𝐨𝐧 𝐚𝐧𝐨𝐭𝐡𝐞𝐫 𝐯𝐢𝐜𝐭𝐨𝐫𝐲. 𝐇𝐨𝐰𝐞𝐯𝐞𝐫, 𝐃𝐚𝐯𝐢𝐬 𝐢𝐬 𝐧𝐨𝐭 𝐟𝐢𝐧𝐢𝐬𝐡𝐞𝐝 𝐛𝐮𝐭 𝐈 𝐚𝐦 𝐚𝐟𝐫𝐚𝐢𝐝 𝐡𝐢𝐬 𝐬𝐨𝐥𝐮𝐭𝐢𝐨𝐧 𝐢𝐬 𝐟𝐚𝐫 𝐟𝐫𝐨𝐦 𝐨𝐫𝐭𝐡𝐨𝐝𝐨𝐱. 𝐇𝐢𝐬 𝐩𝐫𝐨𝐩𝐨𝐬𝐚𝐥 𝐢𝐬 𝐞𝐬𝐬𝐞𝐧𝐭𝐢𝐚𝐥𝐥𝐲 𝐭𝐡𝐢𝐬:
𝐚𝐥𝐭𝐡𝐨𝐮𝐠𝐡 𝐞𝐭𝐞𝐫𝐧𝐚𝐥𝐥𝐲 𝐜𝐨𝐞𝐱𝐢𝐬𝐭𝐞𝐧𝐭 𝐰𝐢𝐭𝐡 𝐆𝐨𝐝 𝐭𝐡𝐞 𝐅𝐚𝐭𝐡𝐞𝐫, 𝐭𝐡𝐞 𝐒𝐞𝐜𝐨𝐧𝐝 𝐏𝐞𝐫𝐬𝐨𝐧 𝐨𝐟 𝐭𝐡𝐞 𝐓𝐫𝐢𝐧𝐢𝐭𝐲 𝐯𝐨𝐥𝐮𝐧𝐭𝐚𝐫𝐢𝐥𝐲 𝐚𝐧𝐝 𝐭𝐞𝐦𝐩𝐨𝐫𝐚𝐫𝐢𝐥𝐲 𝐥𝐚𝐲𝐬 𝐚𝐬𝐢𝐝𝐞 𝐭𝐡𝐨𝐬𝐞 𝐝𝐢𝐯𝐢𝐧𝐞 𝐚𝐭𝐭𝐫𝐢𝐛𝐮𝐭𝐞𝐬 𝐥𝐨𝐠𝐢𝐜𝐚𝐥𝐥𝐲 𝐢𝐧𝐜𝐨𝐧𝐬𝐢𝐬𝐭𝐞𝐧𝐭 𝐰𝐢𝐭𝐡 𝐡𝐮𝐦𝐚𝐧 𝐚𝐭𝐭𝐫𝐢𝐛𝐮𝐭𝐞𝐬 𝐚𝐧𝐝 𝐛𝐞𝐜𝐨𝐦𝐞𝐬 𝐭𝐡𝐞 𝐞𝐚𝐫𝐭𝐡𝐥𝐲 𝐩𝐞𝐫𝐬𝐨𝐧 𝐉𝐞𝐬𝐮𝐬 𝐨𝐟 𝐍𝐚𝐳𝐚𝐫𝐞𝐭𝐡.
𝐈𝐧 𝐭𝐡𝐞 𝐀𝐬𝐜𝐞𝐧𝐬𝐢𝐨𝐧 𝐭𝐡𝐞 𝐒𝐞𝐜𝐨𝐧𝐝 𝐏𝐞𝐫𝐬𝐨𝐧 𝐭𝐚𝐤𝐞𝐬 𝐛𝐚𝐜𝐤 𝐭𝐡𝐨𝐬𝐞 𝐝𝐢𝐯𝐢𝐧𝐞 𝐚𝐭𝐭𝐫𝐢𝐛𝐮𝐭𝐞𝐬 𝐧𝐨𝐭 𝐩𝐫𝐞𝐬𝐞𝐧𝐭 𝐝𝐮𝐫𝐢𝐧𝐠 𝐉𝐞𝐬𝐮𝐬' 𝐞𝐚𝐫𝐭𝐡𝐥𝐲 𝐦𝐢𝐧𝐢𝐬𝐭𝐫𝐲. 𝐃𝐚𝐯𝐢𝐬' 𝐟𝐢𝐧𝐚𝐥 𝐝𝐞𝐟𝐢𝐧𝐢𝐭𝐢𝐨𝐧 𝐨𝐟 𝐭𝐡𝐞 𝐈𝐧𝐜𝐚𝐫𝐧𝐚𝐭𝐢𝐨𝐧 𝐢𝐬 𝐭𝐡𝐞 𝐟𝐨𝐥𝐥𝐨𝐰𝐢𝐧𝐠: "𝐉𝐞𝐬𝐮𝐬 𝐂𝐡𝐫𝐢𝐬𝐭 𝐡𝐚𝐬 𝐜𝐞𝐫𝐭𝐚𝐢𝐧 𝐞𝐬𝐬𝐞𝐧𝐭𝐢𝐚𝐥 𝐩𝐫𝐨𝐩𝐞𝐫𝐭𝐢𝐞𝐬 𝐨𝐟 𝐆𝐨𝐝 𝐚𝐧𝐝 𝐜𝐞𝐫𝐭𝐚𝐢𝐧 𝐞𝐬𝐬𝐞𝐧𝐭𝐢𝐚𝐥 𝐩𝐫𝐨𝐩𝐞𝐫𝐭𝐢𝐞𝐬 𝐨𝐟 𝐦𝐚𝐧; 𝐡𝐢𝐬 𝐝𝐢𝐯𝐢𝐧𝐞 𝐩𝐫𝐨𝐩𝐞𝐫𝐭𝐢𝐞𝐬 𝐚𝐧𝐝 𝐡𝐢𝐬 𝐡𝐮𝐦𝐚𝐧 𝐩𝐫𝐨𝐩𝐞𝐫𝐭𝐢𝐞𝐬 𝐚𝐫𝐞 𝐜𝐨𝐧𝐬𝐢𝐬𝐭𝐞𝐧𝐭; 𝐭𝐡𝐞 𝐝𝐢𝐯𝐢𝐧𝐞 𝐩𝐫𝐨𝐩𝐞𝐫𝐭𝐢𝐞𝐬 𝐚𝐫𝐞 𝐬𝐮𝐟𝐟𝐢𝐜𝐢𝐞𝐧𝐭 𝐭𝐨 𝐦𝐚𝐤𝐞 𝐡𝐢𝐦 𝐭𝐫𝐮𝐥𝐲 𝐆𝐨𝐝 𝐚𝐧𝐝 𝐭𝐡𝐞 𝐡𝐮𝐦𝐚𝐧 𝐩𝐫𝐨𝐩𝐞𝐫𝐭𝐢𝐞𝐬 𝐚𝐫𝐞 𝐬𝐮𝐟𝐟𝐢𝐜𝐢𝐞𝐧𝐭 𝐭𝐨 𝐦𝐚𝐤𝐞 𝐡𝐢𝐦 𝐭𝐫𝐮𝐥𝐲 𝐦𝐚𝐧."(𝟐𝟐)
𝐈𝐧 𝐚𝐝𝐝𝐢𝐭𝐢𝐨𝐧 𝐭𝐨 𝐜𝐥𝐚𝐢𝐦𝐢𝐧𝐠 𝐭𝐡𝐚𝐭 𝐡𝐢𝐬 𝐝𝐞𝐟𝐢𝐧𝐢𝐭𝐢𝐨𝐧 𝐨𝐟 𝐭𝐡𝐞 𝐈𝐧𝐜𝐚𝐫𝐧𝐚𝐭𝐢𝐨𝐧 𝐢𝐬 𝐥𝐨𝐠𝐢𝐜𝐚𝐥𝐥𝐲 𝐩𝐨𝐬𝐬𝐢𝐛𝐥𝐞, 𝐃𝐚𝐯𝐢𝐬 𝐚𝐥𝐬𝐨 𝐦𝐚𝐢𝐧𝐭𝐚𝐢𝐧𝐬 𝐭𝐡𝐚𝐭 𝐢𝐭 𝐢𝐬 𝐭𝐡𝐞𝐨𝐥𝐨𝐠𝐢𝐜𝐚𝐥𝐥𝐲 𝐨𝐫𝐭𝐡𝐨𝐝𝐨𝐱. 𝐃𝐚𝐯𝐢𝐬 𝐦𝐚𝐤𝐞𝐬 𝐦𝐮𝐜𝐡 𝐨𝐟 𝐭𝐡𝐞 𝐩𝐡𝐫𝐚𝐬𝐞 "𝐭𝐫𝐮𝐥𝐲 𝐆𝐨𝐝 𝐚𝐧𝐝 𝐭𝐫𝐮𝐥𝐲 𝐦𝐚𝐧" 𝐢𝐧 𝐭𝐡𝐞 𝐂𝐡𝐚𝐥𝐜𝐞𝐝𝐨𝐧𝐢𝐚𝐧 𝐜𝐫𝐞𝐞𝐝; 𝐚𝐧𝐝 𝐚𝐥𝐭𝐡𝐨𝐮𝐠𝐡 𝐡𝐞 𝐪𝐮𝐨𝐭𝐞𝐬 𝐢𝐭, 𝐡𝐞 𝐧𝐞𝐠𝐥𝐞𝐜𝐭𝐬 𝐭𝐨 𝐚𝐜𝐤𝐧𝐨𝐰𝐥𝐞𝐝𝐠𝐞 𝐭𝐡𝐞 𝐩𝐡𝐫𝐚𝐬𝐞 "𝐜𝐨𝐦𝐩𝐥𝐞𝐭𝐞 𝐢𝐧 𝐆𝐨𝐝𝐡𝐞𝐚𝐝 𝐚𝐧𝐝 𝐜𝐨𝐦𝐩𝐥𝐞𝐭𝐞 𝐢𝐧 𝐦𝐚𝐧𝐡𝐨𝐨𝐝."
𝐓𝐡𝐢𝐬 𝐢𝐬 𝐭𝐡𝐞 𝐦𝐚𝐢𝐧 𝐩𝐚𝐫𝐭 𝐨𝐟 𝐭𝐡𝐞 𝐬𝐞𝐧𝐭𝐞𝐧𝐜𝐞 𝐭𝐨 𝐰𝐡𝐢𝐜𝐡 "𝐭𝐫𝐮𝐥𝐲 𝐆𝐨𝐝 𝐚𝐧𝐝 𝐭𝐫𝐮𝐥𝐲 𝐦𝐚𝐧" 𝐬𝐭𝐚𝐧𝐝𝐬 𝐢𝐧 𝐚𝐩𝐩𝐨𝐬𝐢𝐭𝐢𝐨𝐧. 𝐃𝐚𝐯𝐢𝐬 𝐚𝐭𝐭𝐞𝐦𝐩𝐭𝐬 𝐭𝐨 𝐚𝐫𝐠𝐮𝐞 𝐭𝐡𝐚𝐭 𝐆𝐨𝐝 𝐜𝐚𝐧 𝐥𝐚𝐜𝐤 𝐜𝐞𝐫𝐭𝐚𝐢𝐧 𝐝𝐢𝐯𝐢𝐧𝐞 𝐩𝐫𝐨𝐩𝐞𝐫𝐭𝐢𝐞𝐬 𝐚𝐧𝐝 𝐬𝐭𝐢𝐥𝐥 𝐛𝐞 𝐭𝐫𝐮𝐥𝐲 𝐆𝐨𝐝. 𝐁𝐮𝐭 𝐭𝐡𝐢𝐬 𝐞𝐬𝐬𝐞𝐧𝐭𝐢𝐚𝐥 𝐬𝐞𝐧𝐭𝐞𝐧𝐜𝐞 𝐟𝐫𝐨𝐦 𝐭𝐡𝐞 𝐜𝐫𝐞𝐞𝐝 𝐦𝐚𝐤𝐞𝐬 𝐢𝐭 𝐜𝐥𝐞𝐚𝐫 𝐭𝐡𝐚𝐭 "𝐜𝐨𝐦𝐩𝐥𝐞𝐭𝐞 𝐢𝐧 𝐆𝐨𝐝𝐡𝐞𝐚𝐝" 𝐢𝐬 𝐭𝐡𝐞 𝐦𝐞𝐚𝐧𝐢𝐧𝐠 𝐨𝐟 "𝐭𝐫𝐮𝐥𝐲 𝐆𝐨𝐝."
𝐓𝐡𝐞𝐫𝐞𝐟𝐨𝐫𝐞, 𝐭𝐡𝐞 𝐜𝐨𝐫𝐫𝐞𝐜𝐭 𝐢𝐧𝐭𝐞𝐫𝐩𝐫𝐞𝐭𝐚𝐭𝐢𝐨𝐧 𝐨𝐟 𝐂𝐡𝐚𝐥𝐜𝐞𝐝𝐨𝐧 𝐦𝐮𝐬𝐭 𝐛𝐞 𝐃𝐚𝐯𝐢𝐬' 𝐟𝐢𝐫𝐬𝐭 𝐟𝐨𝐫𝐦𝐮𝐥𝐚𝐭𝐢𝐨𝐧: "𝐉𝐞𝐬𝐮𝐬 𝐂𝐡𝐫𝐢𝐬𝐭 𝐡𝐚𝐬 𝐚𝐥𝐥 𝐭𝐡𝐞 𝐞𝐬𝐬𝐞𝐧𝐭𝐢𝐚𝐥 𝐩𝐫𝐨𝐩𝐞𝐫𝐭𝐢𝐞𝐬 𝐨𝐟 𝐆𝐨𝐝 𝐚𝐧𝐝 𝐚𝐥𝐥 𝐭𝐡𝐞 𝐞𝐬𝐬𝐞𝐧𝐭𝐢𝐚𝐥 𝐩𝐫𝐨𝐩𝐞𝐫𝐭𝐢𝐞𝐬 𝐨𝐟 𝐦𝐚𝐧." (𝐌𝐲 𝐞𝐦𝐩𝐡𝐚𝐬𝐢𝐬 𝐚𝐝𝐝𝐞𝐝.)
𝐘𝐨𝐮 𝐰𝐢𝐥𝐥 𝐫𝐞𝐜𝐚𝐥𝐥 𝐭𝐡𝐚𝐭 𝐃𝐚𝐯𝐢𝐬 𝐚𝐝𝐦𝐢𝐭𝐬 𝐭𝐡𝐚𝐭 𝐭𝐡𝐢𝐬 𝐨𝐫𝐭𝐡𝐨𝐝𝐨𝐱 𝐞𝐱𝐩𝐫𝐞𝐬𝐬𝐢𝐨𝐧 𝐨𝐟 𝐭𝐡𝐞 𝐈𝐧𝐜𝐚𝐫𝐧𝐚𝐭𝐢𝐨𝐧 𝐢𝐬 𝐬𝐞𝐥𝐟-𝐜𝐨𝐧𝐭𝐫𝐚𝐝𝐢𝐜𝐭𝐨𝐫𝐲. 𝐈 𝐜𝐚𝐧 𝐬𝐞𝐞 𝐧𝐨 𝐰𝐚𝐲 𝐢𝐧 𝐰𝐡𝐢𝐜𝐡 𝐰𝐞 𝐜𝐚𝐧 𝐠𝐫𝐚𝐧𝐭 𝐭𝐡𝐚𝐭 𝐃𝐚𝐯𝐢𝐬' 𝐂𝐡𝐫𝐢𝐬𝐭𝐨𝐥𝐨𝐠𝐲 "𝐟𝐚𝐥𝐥𝐬 𝐰𝐢𝐭𝐡𝐢𝐧 𝐭𝐡𝐞 𝐛𝐨𝐮𝐧𝐝𝐚𝐫𝐢𝐞𝐬 𝐦𝐚𝐫𝐤𝐞𝐝 𝐨𝐮𝐭 𝐛𝐲 𝐂𝐡𝐚𝐥𝐜𝐞𝐝𝐨𝐧…."(𝟐𝟑) 𝐃𝐚𝐯𝐢𝐬' 𝐩𝐡𝐢𝐥𝐨𝐬𝐨𝐩𝐡𝐢𝐜𝐚𝐥 𝐚𝐫𝐠𝐮𝐦𝐞𝐧𝐭𝐬 𝐟𝐨𝐜𝐮𝐬 𝐨𝐧 𝐨𝐦𝐧𝐢𝐬𝐜𝐢𝐞𝐧𝐜𝐞, 𝐚𝐧𝐝 𝐡𝐞 𝐜𝐥𝐚𝐢𝐦𝐬 𝐭𝐡𝐚𝐭 𝐭𝐡𝐞 𝐂𝐡𝐫𝐢𝐬𝐭𝐢𝐚𝐧 𝐆𝐨𝐝'𝐬 𝐤𝐧𝐨𝐰𝐥𝐞𝐝𝐠𝐞 𝐦𝐮𝐬𝐭 𝐛𝐞 𝐚 𝐜𝐨𝐧𝐭𝐢𝐧𝐠𝐞𝐧𝐭 𝐫𝐚𝐭𝐡𝐞𝐫 𝐭𝐡𝐚𝐧 𝐚 𝐧𝐞𝐜𝐞𝐬𝐬𝐚𝐫𝐲 𝐩𝐫𝐨𝐩𝐞𝐫𝐭𝐲.
𝐓𝐡𝐞 𝐜𝐥𝐚𝐬𝐬𝐢𝐜𝐚𝐥 𝐂𝐡𝐫𝐢𝐬𝐭𝐢𝐚𝐧 𝐭𝐡𝐞𝐨𝐥𝐨𝐠𝐢𝐚𝐧𝐬 𝐰𝐨𝐮𝐥𝐝 𝐜𝐞𝐫𝐭𝐚𝐢𝐧𝐥𝐲 𝐡𝐚𝐯𝐞 𝐛𝐞𝐞𝐧 𝐬𝐡𝐨𝐜𝐤𝐞𝐝 𝐚𝐭 𝐬𝐮𝐜𝐡 𝐚 𝐬𝐮𝐠𝐠𝐞𝐬𝐭𝐢𝐨𝐧. 𝐓𝐡𝐞 𝐭𝐫𝐚𝐝𝐢𝐭𝐢𝐨𝐧𝐚𝐥 𝐯𝐢𝐞𝐰 𝐡𝐚𝐬 𝐚𝐥𝐰𝐚𝐲𝐬 𝐛𝐞𝐞𝐧 𝐭𝐡𝐚𝐭 𝐚𝐥𝐥 𝐨𝐟 𝐆𝐨𝐝'𝐬 𝐩𝐫𝐨𝐩𝐞𝐫𝐭𝐢𝐞𝐬 𝐚𝐫𝐞 𝐧𝐞𝐜𝐞𝐬𝐬𝐚𝐫𝐲 𝐩𝐫𝐨𝐩𝐞𝐫𝐭𝐢𝐞𝐬. 𝐓𝐡𝐢𝐬 𝐢𝐬 𝐭𝐡𝐞 𝐛𝐚𝐬𝐢𝐜 𝐢𝐧𝐬𝐢𝐠𝐡𝐭 𝐨𝐧 𝐰𝐡𝐢𝐜𝐡 𝐓𝐡𝐨𝐦𝐚𝐬 𝐀𝐪𝐮𝐢𝐧𝐚𝐬 𝐝𝐞𝐜𝐥𝐚𝐫𝐞𝐝 𝐭𝐡𝐚𝐭 𝐆𝐨𝐝'𝐬 𝐞𝐱𝐢𝐬𝐭𝐞𝐧𝐜𝐞 𝐰𝐚𝐬 𝐢𝐝𝐞𝐧𝐭𝐢𝐜𝐚𝐥 𝐰𝐢𝐭𝐡 𝐭𝐡𝐞 𝐝𝐢𝐯𝐢𝐧𝐞 𝐞𝐬𝐬𝐞𝐧𝐜𝐞.
𝐂𝐮𝐩𝐢𝐭𝐭 𝐬𝐮𝐦𝐦𝐚𝐫𝐢𝐳𝐞𝐬 𝐭𝐡𝐞 𝐦𝐞𝐝𝐢𝐞𝐯𝐚𝐥 𝐩𝐨𝐬𝐢𝐭𝐢𝐨𝐧 𝐚𝐩𝐭𝐥𝐲: "𝐒𝐢𝐧𝐜𝐞 𝐭𝐡𝐞 𝐝𝐢𝐯𝐢𝐧𝐞 𝐚𝐭𝐭𝐫𝐢𝐛𝐮𝐭𝐞𝐬 𝐛𝐞𝐥𝐨𝐧𝐠 𝐭𝐨 𝐆𝐨𝐝 𝐧𝐨𝐭 𝐜𝐨𝐧𝐭𝐢𝐧𝐠𝐞𝐧𝐭𝐥𝐲 𝐛𝐮𝐭 𝐚𝐧𝐚𝐥𝐲𝐭𝐢𝐜𝐚𝐥𝐥𝐲 𝐧𝐞𝐜𝐞𝐬𝐬𝐬𝐚𝐫𝐢𝐥𝐲, 𝐢𝐭 𝐢𝐬 𝐥𝐨𝐠𝐢𝐜𝐚𝐥𝐥𝐲 𝐢𝐦𝐩𝐨𝐬𝐬𝐢𝐛𝐥𝐞 𝐟𝐨𝐫 𝐭𝐡𝐞 𝐝𝐞𝐢𝐭𝐲 𝐭𝐨 𝐝𝐨𝐟𝐟 𝐨𝐧𝐞 𝐥𝐢𝐤𝐞 𝐚 𝐬𝐮𝐩𝐞𝐫𝐟𝐥𝐮𝐨𝐮𝐬 𝐩𝐢𝐞𝐜𝐞 𝐨𝐟 𝐜𝐥𝐨𝐭𝐡𝐢𝐧𝐠."(𝟐𝟒)
𝐅𝐮𝐫𝐭𝐡𝐞𝐫𝐦𝐨𝐫𝐞, 𝐀𝐧𝐬𝐞𝐥𝐦 𝐨𝐟 𝐂𝐚𝐧𝐭𝐞𝐫𝐛𝐮𝐫𝐲 𝐜𝐨𝐮𝐥𝐝 𝐧𝐨𝐭 𝐡𝐚𝐯𝐞 𝐚𝐜𝐜𝐞𝐩𝐭𝐞𝐝 𝐬𝐮𝐜𝐡 𝐚 𝐛𝐞𝐢𝐧𝐠 𝐚𝐬 𝐆𝐨𝐝, 𝐟𝐨𝐫 𝐨𝐧𝐞 𝐜𝐨𝐮𝐥𝐝 𝐜𝐨𝐧𝐜𝐞𝐢𝐯𝐞 𝐨𝐟 𝐚 𝐠𝐫𝐞𝐚𝐭𝐞𝐫 𝐛𝐞𝐢𝐧𝐠, 𝐯𝐢𝐳., 𝐨𝐧𝐞 𝐰𝐡𝐨𝐬𝐞 𝐤𝐧𝐨𝐰𝐥𝐞𝐝𝐠𝐞 𝐰𝐚𝐬 𝐩𝐞𝐫𝐟𝐞𝐜𝐭 𝐚𝐧𝐝 𝐧𝐞𝐜𝐞𝐬𝐬𝐚𝐫𝐲 𝐭𝐨 𝐢𝐭𝐬 𝐛𝐞𝐢𝐧𝐠. 𝐃𝐚𝐯𝐢𝐬 𝐜𝐡𝐚𝐥𝐥𝐞𝐧𝐠𝐞𝐬 𝐭𝐡𝐞 𝐢𝐦𝐩𝐥𝐢𝐜𝐚𝐭𝐢𝐨𝐧 𝐚𝐛𝐨𝐯𝐞 𝐭𝐡𝐚𝐭 𝐞𝐬𝐬𝐞𝐧𝐭𝐢𝐚𝐥 𝐩𝐫𝐞𝐝𝐢𝐜𝐚𝐭𝐢𝐨𝐧 𝐡𝐚𝐬 𝐚𝐥𝐰𝐚𝐲𝐬 𝐛𝐞𝐞𝐧 𝐧𝐨𝐫𝐦𝐚𝐭𝐢𝐯𝐞 𝐟𝐨𝐫 𝐨𝐫𝐭𝐡𝐨𝐝𝐨𝐱 𝐭𝐡𝐞𝐨𝐥𝐨𝐠𝐲.
𝐇𝐞 𝐚𝐝𝐦𝐢𝐭𝐬 𝐭𝐡𝐚𝐭 𝐀𝐪𝐮𝐢𝐧𝐚𝐬 𝐚𝐧𝐝 𝐨𝐭𝐡𝐞𝐫𝐬 𝐡𝐞𝐥𝐝 𝐭𝐡𝐚𝐭 𝐚𝐥𝐥 𝐨𝐟 𝐆𝐨𝐝'𝐬 𝐩𝐫𝐨𝐩𝐞𝐫𝐭𝐢𝐞𝐬 𝐚𝐫𝐞 𝐧𝐞𝐜𝐞𝐬𝐬𝐚𝐫𝐲, 𝐛𝐮𝐭 𝐡𝐞 𝐝𝐨𝐮𝐛𝐭𝐬 𝐢𝐟 𝐀𝐮𝐠𝐮𝐬𝐭𝐢𝐧𝐞, 𝐋𝐮𝐭𝐡𝐞𝐫, 𝐂𝐚𝐥𝐯𝐢𝐧, 𝐨𝐫 𝐁𝐚𝐫𝐭𝐡 𝐚𝐠𝐫𝐞𝐞𝐝 𝐰𝐢𝐭𝐡 𝐬𝐮𝐜𝐡 𝐚 𝐝𝐨𝐜𝐭𝐫𝐢𝐧𝐞. 𝐈 𝐡𝐚𝐯𝐞 𝐧𝐨 𝐠𝐫𝐞𝐚𝐭 𝐞𝐱𝐩𝐞𝐫𝐭𝐢𝐬𝐞 𝐢𝐧 𝐡𝐢𝐬𝐭𝐨𝐫𝐢𝐜𝐚𝐥 𝐭𝐡𝐞𝐨𝐥𝐨𝐠𝐲, 𝐛𝐮𝐭 𝐂𝐚𝐥𝐯𝐢𝐧 𝐜𝐞𝐫𝐭𝐚𝐢𝐧𝐥𝐲 𝐚𝐩𝐩𝐞𝐚𝐫𝐬 𝐭𝐨 𝐛𝐞 𝐬𝐮𝐩𝐩𝐨𝐫𝐭𝐢𝐧𝐠 𝐞𝐬𝐬𝐞𝐧𝐭𝐢𝐚𝐥 𝐩𝐫𝐞𝐝𝐢𝐜𝐚𝐭𝐢𝐨𝐧 𝐢𝐧 𝐭𝐡𝐞 𝐟𝐨𝐥𝐥𝐨𝐰𝐢𝐧𝐠 𝐜𝐨𝐦𝐦𝐞𝐧𝐭 𝐨𝐧 𝐑𝐨𝐦𝐚𝐧𝐬 𝟏:𝟐𝟎:
"𝐓𝐡𝐞 𝐝𝐢𝐯𝐢𝐧𝐢𝐭𝐲 𝐜𝐚𝐧𝐧𝐨𝐭 𝐞𝐱𝐢𝐬𝐭 𝐞𝐱𝐜𝐞𝐩𝐭 𝐚𝐜𝐜𝐨𝐦𝐩𝐚𝐧𝐢𝐞𝐝 𝐰𝐢𝐭𝐡 𝐚𝐥𝐥 𝐭𝐡𝐞 𝐚𝐭𝐭𝐫𝐢𝐛𝐮𝐭𝐞𝐬 𝐨𝐟 𝐆𝐨𝐝, 𝐬𝐢𝐧𝐜𝐞 𝐭𝐡𝐞𝐲 𝐚𝐫𝐞 𝐚𝐥𝐥 𝐢𝐧𝐜𝐥𝐮𝐝𝐞𝐝 𝐮𝐧𝐝𝐞𝐫 𝐭𝐡𝐞 𝐢𝐝𝐞𝐚."(𝟐𝟓) 𝐁𝐫𝐮𝐜𝐞 𝐃𝐞𝐦𝐚𝐫𝐞𝐬𝐭 𝐜𝐥𝐚𝐢𝐦𝐬 𝐭𝐡𝐚𝐭 𝐂𝐚𝐥𝐯𝐢𝐧, 𝐥𝐢𝐤𝐞 𝐀𝐪𝐮𝐢𝐧𝐚𝐬, 𝐛𝐞𝐥𝐢𝐞𝐯𝐞𝐝 𝐢𝐧 𝐭𝐡𝐞 "𝐢𝐧𝐝𝐢𝐯𝐢𝐬𝐢𝐛𝐢𝐥𝐢𝐭𝐲 𝐨𝐟 𝐭𝐡𝐞 𝐝𝐢𝐯𝐢𝐧𝐞 𝐞𝐱𝐢𝐬𝐭𝐞𝐧𝐜𝐞 𝐚𝐧𝐝 𝐞𝐬𝐬𝐞𝐧𝐜𝐞." 𝐏𝐚𝐮𝐥 𝐓𝐢𝐥𝐥𝐢𝐜𝐡 𝐚𝐥𝐬𝐨 𝐬𝐮𝐩𝐩𝐨𝐫𝐭𝐬 𝐞𝐬𝐬𝐞𝐧𝐭𝐢𝐚𝐥 𝐩𝐫𝐞𝐝𝐢𝐜𝐭𝐢𝐨𝐧.(𝟐𝟔)
𝐃𝐚𝐯𝐢𝐬 𝐚𝐫𝐠𝐮𝐞𝐬 𝐭𝐡𝐚𝐭 𝐭𝐡𝐞 𝐝𝐨𝐜𝐭𝐫𝐢𝐧𝐞 𝐨𝐟 𝐞𝐬𝐬𝐞𝐧𝐭𝐢𝐚𝐥 𝐩𝐫𝐞𝐝𝐢𝐜𝐚𝐭𝐢𝐨𝐧 𝐡𝐚𝐬 𝐬𝐞𝐫𝐢𝐨𝐮𝐬 𝐩𝐫𝐨𝐛𝐥𝐞𝐦𝐬. 𝐔𝐬𝐢𝐧𝐠 𝐡𝐢𝐬 𝐨𝐰𝐧 𝐞𝐱𝐚𝐦𝐩𝐥𝐞, 𝐀𝐪𝐮𝐢𝐧𝐚𝐬' 𝐆𝐨𝐝 𝐰𝐨𝐮𝐥𝐝 𝐡𝐚𝐯𝐞 𝐭𝐡𝐞 𝐩𝐫𝐨𝐩𝐞𝐫𝐭𝐲 𝐨𝐟 𝐤𝐧𝐨𝐰𝐢𝐧𝐠 𝐃𝐚𝐯𝐢𝐬' 𝐲𝐨𝐮𝐧𝐠𝐞𝐬𝐭 𝐬𝐢𝐬𝐭𝐞𝐫'𝐬 𝐦𝐢𝐝𝐝𝐥𝐞 𝐧𝐚𝐦𝐞. 𝐈𝐟 𝐚𝐥𝐥 𝐨𝐟 𝐆𝐨𝐝'𝐬 𝐩𝐫𝐨𝐩𝐞𝐫𝐭𝐢𝐞𝐬 𝐚𝐫𝐞 𝐞𝐬𝐬𝐞𝐧𝐭𝐢𝐚𝐥,
𝐭𝐡𝐞𝐧 𝐭𝐡𝐚𝐭 𝐦𝐞𝐚𝐧𝐬 𝐭𝐡𝐚𝐭 𝐃𝐚𝐯𝐢𝐬' 𝐲𝐨𝐮𝐧𝐠𝐞𝐬𝐭 𝐬𝐢𝐬𝐭𝐞𝐫 𝐢𝐬 𝐚 𝐧𝐞𝐜𝐞𝐬𝐬𝐚𝐫𝐲 𝐛𝐞𝐢𝐧𝐠, 𝐰𝐡𝐢𝐜𝐡 𝐨𝐟 𝐜𝐨𝐮𝐫𝐬𝐞 𝐢𝐬 𝐚𝐛𝐬𝐮𝐫𝐝. 𝐈𝐟 𝐃𝐚𝐯𝐢𝐬 𝐢𝐬 𝐜𝐨𝐫𝐫𝐞𝐜𝐭 𝐢𝐧 𝐭𝐡𝐢𝐬 𝐚𝐫𝐠𝐮𝐦𝐞𝐧𝐭 (𝐈 𝐛𝐞𝐥𝐢𝐞𝐯𝐞 𝐭𝐡𝐚𝐭 𝐡𝐞 𝐢𝐬), 𝐭𝐡𝐞𝐧 𝐢𝐭 𝐬𝐞𝐞𝐦𝐬 𝐭𝐡𝐚𝐭 𝐭𝐡𝐞 𝐛𝐞𝐬𝐭 𝐚𝐥𝐭𝐞𝐫𝐧𝐚𝐭𝐢𝐯𝐞 𝐢𝐬 𝐭𝐡𝐞 𝐩𝐫𝐨𝐜𝐞𝐬𝐬 𝐯𝐢𝐞𝐰 𝐭𝐡𝐚𝐭 𝐆𝐨𝐝 𝐜𝐨𝐦𝐞𝐬 𝐭𝐨 𝐤𝐧𝐨𝐰 𝐟𝐮𝐭𝐮𝐫𝐞 𝐜𝐨𝐧𝐭𝐢𝐧𝐠𝐞𝐧𝐭𝐬 𝐚𝐬 𝐭𝐡𝐞𝐲 𝐚𝐫𝐞 𝐚𝐜𝐭𝐮𝐚𝐥𝐢𝐳𝐞𝐝 𝐚𝐧𝐝 𝐧𝐨𝐭 𝐟𝐫𝐨𝐦 𝐞𝐭𝐞𝐫𝐧𝐢𝐭𝐲.
𝐒𝐢𝐦𝐢𝐥𝐚𝐫𝐥𝐲, 𝐢𝐟 𝐆𝐨𝐝'𝐬 𝐟𝐫𝐞𝐞𝐝𝐨𝐦 𝐭𝐨 𝐜𝐫𝐞𝐚𝐭𝐞 𝐢𝐬 𝐭𝐨 𝐛𝐞 𝐩𝐫𝐞𝐬𝐞𝐫𝐯𝐞𝐝 𝐢𝐧 𝐭𝐡𝐞 𝐭𝐫𝐚𝐝𝐢𝐭𝐢𝐨𝐧𝐚𝐥 𝐯𝐢𝐞𝐰, 𝐭𝐡𝐞𝐧 𝐭𝐡𝐞 𝐝𝐢𝐯𝐢𝐧𝐞 𝐩𝐫𝐨𝐩𝐞𝐫𝐭𝐲 𝐨𝐟 𝐜𝐫𝐞𝐚𝐭𝐨𝐫 𝐦𝐮𝐬𝐭 𝐚𝐥𝐬𝐨 𝐛𝐞 𝐚𝐜𝐜𝐢𝐝𝐞𝐧𝐭𝐚𝐥 𝐚𝐬 𝐰𝐞𝐥𝐥. 𝐅𝐮𝐫𝐭𝐡𝐞𝐫𝐦𝐨𝐫𝐞, 𝐭𝐡𝐞 𝐚𝐭𝐭𝐫𝐢𝐛𝐮𝐭𝐞 𝐨𝐟 𝐫𝐞𝐝𝐞𝐞𝐦𝐞𝐫 𝐦𝐮𝐬𝐭 𝐛𝐞 𝐜𝐨𝐧𝐭𝐢𝐧𝐠𝐞𝐧𝐭 𝐢𝐟 𝐂𝐡𝐫𝐢𝐬𝐭𝐢𝐚𝐧𝐬 𝐚𝐫𝐞 𝐭𝐨 𝐫𝐞𝐦𝐚𝐢𝐧 𝐨𝐫𝐭𝐡𝐨𝐝𝐨𝐱 𝐢𝐧 𝐛𝐞𝐥𝐢𝐞𝐯𝐢𝐧𝐠 𝐭𝐡𝐚𝐭 𝐀𝐝𝐚𝐦 𝐟𝐫𝐞𝐞𝐥𝐲 𝐜𝐡𝐨𝐬𝐞 𝐭𝐨 𝐬𝐢𝐧. 𝐀𝐬 𝐁𝐚𝐫𝐭𝐡 𝐬𝐨 𝐛𝐫𝐢𝐥𝐥𝐢𝐚𝐧𝐭𝐥𝐲 𝐩𝐨𝐢𝐧𝐭𝐞𝐝 𝐨𝐮𝐭, 𝐢𝐟 𝐭𝐡𝐞 𝐒𝐞𝐜𝐨𝐧𝐝 𝐏𝐞𝐫𝐬𝐨𝐧 𝐨𝐟 𝐭𝐡𝐞 𝐓𝐫𝐢𝐧𝐢𝐭𝐲 𝐢𝐬 𝐞𝐭𝐞𝐫𝐧𝐚𝐥𝐥𝐲 𝐚 𝐫𝐞𝐝𝐞𝐞𝐦𝐞𝐫 𝐭𝐡𝐞𝐧 𝐭𝐡𝐚𝐭 𝐦𝐮𝐬𝐭 𝐦𝐞𝐚𝐧 𝐭𝐡𝐚𝐭 𝐀𝐝𝐚𝐦 𝐡𝐚𝐝 𝐧𝐨 𝐜𝐡𝐨𝐢𝐜𝐞 𝐛𝐮𝐭 𝐭𝐨 𝐟𝐚𝐥𝐥.
𝐓𝐡𝐞 𝐟𝐨𝐫𝐞𝐠𝐨𝐢𝐧𝐠 𝐜𝐨𝐧𝐬𝐢𝐝𝐞𝐫𝐚𝐭𝐢𝐨𝐧𝐬 𝐜𝐨𝐦𝐩𝐞𝐥 𝐦𝐞 𝐭𝐨 𝐫𝐞𝐚𝐟𝐟𝐢𝐫𝐦 𝐦𝐲 𝐩𝐫𝐞𝐟𝐞𝐫𝐞𝐧𝐜𝐞 𝐟𝐨𝐫 𝐚 𝐠𝐞𝐧𝐞𝐫𝐚𝐥 𝐩𝐫𝐨𝐜𝐞𝐬𝐬 𝐯𝐢𝐞𝐰 𝐨𝐟 𝐆𝐨𝐝. 𝐁𝐨𝐭𝐡 𝐖𝐡𝐢𝐭𝐞𝐡𝐞𝐚𝐝 𝐚𝐧𝐝 𝐇𝐚𝐫𝐭𝐬𝐡𝐨𝐫𝐧𝐞 𝐡𝐚𝐯𝐞 𝐚𝐫𝐠𝐮𝐞𝐝 𝐭𝐡𝐚𝐭, 𝐢𝐧 𝐨𝐫𝐝𝐞𝐫 𝐟𝐨𝐫 𝐆𝐨𝐝 𝐭𝐨 𝐫𝐞𝐥𝐚𝐭𝐞 𝐭𝐨 𝐚𝐧𝐝 𝐤𝐧𝐨𝐰 𝐭𝐡𝐞 𝐰𝐨𝐫𝐥𝐝, 𝐜𝐨𝐧𝐭𝐢𝐧𝐠𝐞𝐧𝐜𝐢𝐞𝐬 𝐦𝐮𝐬𝐭 𝐛𝐞 𝐚𝐝𝐝𝐞𝐝 𝐭𝐨 𝐭𝐡𝐞 𝐝𝐢𝐯𝐢𝐧𝐞 𝐧𝐚𝐭𝐮𝐫𝐞. 𝐅𝐨𝐫 𝐇𝐚𝐫𝐭𝐬𝐡𝐨𝐫𝐧𝐞 𝐭𝐡𝐢𝐬 𝐦𝐞𝐚𝐧𝐬 𝐭𝐡𝐚𝐭 𝐭𝐡𝐞 𝐝𝐢𝐯𝐢𝐧𝐞 𝐧𝐚𝐭𝐮𝐫𝐞 𝐢𝐬 𝐝𝐢𝐩𝐨𝐥𝐚𝐫: 𝐆𝐨𝐝 𝐡𝐚𝐬 𝐚 𝐫𝐞𝐥𝐚𝐭𝐢𝐯𝐞 𝐚𝐬 𝐰𝐞𝐥𝐥 𝐚𝐬 𝐚𝐧 𝐚𝐛𝐬𝐨𝐥𝐮𝐭𝐞 𝐧𝐚𝐭𝐮𝐫𝐞.
𝐅𝐮𝐫𝐭𝐡𝐞𝐫𝐦𝐨𝐫𝐞, 𝐇𝐚𝐫𝐭𝐬𝐡𝐨𝐫𝐧𝐞 𝐢𝐬 𝐜𝐨𝐧𝐟𝐢𝐝𝐞𝐧𝐭 𝐭𝐡𝐚𝐭 𝐡𝐞 𝐡𝐚𝐬 𝐚𝐧𝐬𝐰𝐞𝐫𝐞𝐝 𝐭𝐡𝐞 𝐀𝐧𝐬𝐞𝐥𝐦𝐢𝐚𝐧 𝐨𝐛𝐣𝐞𝐜𝐭𝐢𝐨𝐧 𝐭𝐡𝐚𝐭 𝐭𝐡𝐞 𝐩𝐫𝐨𝐜𝐞𝐬𝐬 𝐝𝐞𝐢𝐭𝐲 𝐜𝐨𝐮𝐥𝐝 𝐧𝐨𝐭 𝐩𝐨𝐬𝐬𝐢𝐛𝐥𝐲 𝐛𝐞 𝐆𝐨𝐝. 𝐒𝐢𝐧𝐜𝐞 𝐡𝐢𝐬 𝐆𝐨𝐝 𝐢𝐧𝐜𝐥𝐮𝐝𝐞𝐬 𝐭𝐡𝐞 𝐯𝐚𝐥𝐮𝐞𝐬 𝐨𝐟 𝐭𝐡𝐞 𝐰𝐨𝐫𝐥𝐝 𝐚𝐬 𝐰𝐞𝐥𝐥 𝐚𝐬 𝐝𝐢𝐯𝐢𝐧𝐞 𝐯𝐚𝐥𝐮𝐞𝐬, 𝐇𝐚𝐫𝐭𝐬𝐡𝐨𝐫𝐧𝐞 𝐝𝐞𝐜𝐥𝐚𝐫𝐞𝐬 𝐭𝐡𝐚𝐭 𝐭𝐡𝐞 𝐩𝐫𝐨𝐜𝐞𝐬𝐬 𝐆𝐨𝐝 𝐢𝐬 𝐢𝐧𝐝𝐞𝐞𝐝 𝐭𝐡𝐞 𝐠𝐫𝐞𝐚𝐭𝐞𝐬𝐭 𝐛𝐞𝐢𝐧𝐠 𝐭𝐡𝐚𝐭 𝐜𝐚𝐧 𝐛𝐞 𝐜𝐨𝐧𝐜𝐞𝐢𝐯𝐞𝐝.
𝐍𝐨𝐭 𝐚𝐥𝐥 𝐩𝐡𝐢𝐥𝐨𝐬𝐨𝐩𝐡𝐞𝐫𝐬 𝐚𝐧𝐝 𝐭𝐡𝐞𝐨𝐥𝐨𝐠𝐢𝐚𝐧𝐬 𝐡𝐚𝐯𝐞 𝐛𝐞𝐞𝐧 𝐩𝐞𝐫𝐬𝐮𝐚𝐝𝐞𝐝 𝐛𝐲 𝐭𝐡𝐢𝐬 𝐚𝐫𝐠𝐮𝐦𝐞𝐧𝐭, 𝐚𝐧𝐝 𝐩𝐫𝐨𝐜𝐞𝐬𝐬 𝐭𝐡𝐞𝐨𝐥𝐨𝐠𝐲 𝐢𝐬 𝐬𝐭𝐢𝐥𝐥 𝐜𝐫𝐢𝐭𝐢𝐜𝐢𝐳𝐞𝐝 𝐟𝐨𝐫 𝐝𝐞𝐦𝐨𝐭𝐢𝐧𝐠 𝐆𝐨𝐝 𝐭𝐨 𝐬𝐨𝐦𝐞𝐭𝐡𝐢𝐧𝐠 𝐥𝐞𝐬𝐬 𝐭𝐡𝐚𝐧 𝐭𝐡𝐞 𝐟𝐮𝐥𝐥𝐧𝐞𝐬𝐬 𝐨𝐟 𝐭𝐡𝐞 𝐝𝐢𝐯𝐢𝐧𝐞. 𝐓𝐡𝐞 𝐬𝐚𝐦𝐞 𝐜𝐫𝐢𝐭𝐢𝐜𝐢𝐬𝐦 𝐦𝐮𝐬𝐭 𝐛𝐞 𝐥𝐞𝐯𝐞𝐥𝐞𝐝 𝐚𝐭 𝐃𝐚𝐯𝐢𝐬, 𝐛𝐮𝐭 𝐰𝐢𝐭𝐡 𝐚𝐧 𝐢𝐦𝐩𝐨𝐫𝐭𝐚𝐧𝐭 𝐝𝐢𝐟𝐟𝐞𝐫𝐞𝐧𝐜𝐞.
𝐖𝐡𝐢𝐭𝐞𝐡𝐞𝐚𝐝 𝐚𝐧𝐝 𝐇𝐚𝐫𝐭𝐬𝐡𝐨𝐫𝐧𝐞 𝐫𝐞𝐣𝐞𝐜𝐭 𝐝𝐢𝐯𝐢𝐧𝐞 𝐢𝐦𝐦𝐮𝐭𝐚𝐛𝐢𝐥𝐢𝐭𝐲 𝐨𝐧 𝐩𝐡𝐢𝐥𝐨𝐬𝐨𝐩𝐡𝐢𝐜𝐚𝐥 𝐚𝐧𝐝 𝐥𝐨𝐠𝐢𝐜𝐚𝐥 𝐠𝐫𝐨𝐮𝐧𝐝𝐬, 𝐞𝐯𝐞𝐧 𝐭𝐡𝐨𝐮𝐠𝐡 𝐩𝐫𝐨𝐜𝐞𝐬𝐬 𝐂𝐡𝐫𝐢𝐬𝐭𝐢𝐚𝐧𝐬 𝐡𝐚𝐯𝐞 𝐥𝐚𝐭𝐞𝐫 𝐞𝐱𝐩𝐥𝐨𝐢𝐭𝐞𝐝 𝐭𝐡𝐢𝐬 𝐟𝐨𝐫 𝐭𝐡𝐞𝐨𝐥𝐨𝐠𝐢𝐜𝐚𝐥 𝐫𝐞𝐚𝐬𝐨𝐧𝐬. 𝐌𝐨𝐫𝐞 𝐢𝐦𝐩𝐨𝐫𝐭𝐚𝐧𝐭 𝐟𝐨𝐫 𝐨𝐮𝐫 𝐩𝐮𝐫𝐩𝐨𝐬𝐞𝐬, 𝐖𝐡𝐢𝐭𝐞𝐡𝐞𝐚𝐝 𝐚𝐧𝐝 𝐇𝐚𝐫𝐭𝐬𝐡𝐨𝐫𝐧𝐞 𝐩𝐫𝐞𝐬𝐞𝐫𝐯𝐞 𝐆𝐨𝐝'𝐬 𝐨𝐦𝐧𝐢𝐬𝐜𝐢𝐞𝐧𝐜𝐞. 𝐒𝐨𝐦𝐞 𝐜𝐨𝐧𝐭𝐞𝐧𝐝, 𝐚𝐧𝐝 𝐈 𝐚𝐠𝐫𝐞𝐞 𝐰𝐢𝐭𝐡 𝐭𝐡𝐞𝐦, 𝐭𝐡𝐚𝐭 𝐭𝐡𝐞𝐢𝐫 𝐚𝐫𝐠𝐮𝐦𝐞𝐧𝐭𝐬 𝐚𝐠𝐚𝐢𝐧𝐬𝐭 𝐝𝐢𝐯𝐢𝐧𝐞 𝐟𝐨𝐫𝐞𝐤𝐧𝐨𝐰𝐥𝐞𝐝𝐠𝐞 𝐡𝐚𝐯𝐞 𝐦𝐚𝐝𝐞 𝐨𝐦𝐧𝐢𝐬𝐜𝐢𝐞𝐧𝐜𝐞 𝐚 𝐜𝐨𝐡𝐞𝐫𝐞𝐧𝐭 𝐜𝐨𝐧𝐜𝐞𝐩𝐭 𝐟𝐨𝐫 𝐭𝐡𝐞 𝐟𝐢𝐫𝐬𝐭 𝐭𝐢𝐦𝐞 𝐢𝐧 𝐭𝐡𝐞𝐨𝐥𝐨𝐠𝐢𝐜𝐚𝐥 𝐡𝐢𝐬𝐭𝐨𝐫𝐲.
𝐈𝐟 𝐭𝐡𝐞 𝐜𝐫𝐢𝐭𝐢𝐜𝐬 𝐚𝐫𝐞 𝐫𝐢𝐠𝐡𝐭 𝐭𝐡𝐚𝐭 𝐭𝐡𝐞 𝐩𝐫𝐨𝐜𝐞𝐬𝐬 𝐝𝐞𝐢𝐭𝐲 𝐢𝐬 𝐧𝐨𝐭 𝐆𝐨𝐝, 𝐭𝐡𝐞𝐧 𝐃𝐚𝐯𝐢𝐬' 𝐜𝐨𝐧𝐭𝐢𝐧𝐠𝐞𝐧𝐭𝐥𝐲 𝐨𝐦𝐧𝐢𝐬𝐜𝐢𝐞𝐧𝐭 𝐛𝐞𝐢𝐧𝐠 𝐢𝐬 𝐞𝐯𝐞𝐧 𝐥𝐞𝐬𝐬 𝐬𝐨. 𝐈𝐧 𝐡𝐢𝐬 "𝐈𝐧𝐭𝐫𝐨𝐝𝐮𝐜𝐭𝐢𝐨𝐧" 𝐃𝐚𝐯𝐢𝐬 𝐜𝐨𝐦𝐩𝐥𝐚𝐢𝐧𝐬 𝐚𝐛𝐨𝐮𝐭 "𝐭𝐨𝐨 𝐦𝐮𝐜𝐡 𝐬𝐮𝐫𝐠𝐞𝐫𝐲 𝐨𝐧 𝐭𝐡𝐞 𝐂𝐡𝐫𝐢𝐬𝐭𝐢𝐚𝐧 𝐯𝐢𝐞𝐰 𝐨𝐟 𝐆𝐨𝐝," 𝐛𝐮𝐭 𝐡𝐢𝐬 𝐫𝐞𝐯𝐢𝐬𝐢𝐨𝐧𝐬 𝐬𝐞𝐞𝐦 𝐭𝐨 𝐛𝐞 𝐚 𝐟𝐥𝐚𝐠𝐫𝐚𝐧𝐭 𝐞𝐱𝐚𝐦𝐩𝐥𝐞 𝐨𝐟 𝐭𝐡𝐢𝐬. 𝐃𝐚𝐯𝐢𝐬 𝐢𝐬 𝐫𝐢𝐠𝐡𝐭 𝐭𝐡𝐚𝐭 𝐦𝐨𝐬𝐭 𝐂𝐡𝐫𝐢𝐬𝐭𝐢𝐚𝐧 𝐭𝐡𝐞𝐨𝐥𝐨𝐠𝐢𝐚𝐧𝐬 𝐚𝐧𝐝 𝐥𝐚𝐲𝐩𝐞𝐫𝐬𝐨𝐧𝐬 𝐝𝐨 𝐧𝐨𝐭 𝐬𝐩𝐞𝐚𝐤 𝐢𝐧 𝐭𝐞𝐫𝐦𝐬 𝐨𝐟 𝐧𝐞𝐜𝐞𝐬𝐬𝐚𝐫𝐲 𝐚𝐧𝐝 𝐚𝐜𝐜𝐢𝐝𝐞𝐧𝐭𝐚𝐥 𝐝𝐢𝐯𝐢𝐧𝐞 𝐩𝐫𝐨𝐩𝐞𝐫𝐭𝐢𝐞𝐬.
𝐁𝐮𝐭 𝐰𝐢𝐭𝐡 𝐫𝐞𝐠𝐚𝐫𝐝 𝐭𝐨 𝐆𝐨𝐝'𝐬 𝐤𝐧𝐨𝐰𝐥𝐞𝐝𝐠𝐞, 𝐈 𝐛𝐞𝐥𝐢𝐞𝐯𝐞 𝐭𝐡𝐚𝐭 𝐚𝐥𝐥 𝐨𝐟 𝐭𝐡𝐞𝐦 𝐰𝐨𝐮𝐥𝐝 𝐚𝐠𝐫𝐞𝐞 𝐭𝐡𝐚𝐭 𝐆𝐨𝐝 𝐦𝐮𝐬𝐭 𝐤𝐧𝐨𝐰 𝐚𝐥𝐥 𝐭𝐡𝐞𝐫𝐞 𝐢𝐬 𝐭𝐨 𝐤𝐧𝐨𝐰. 𝐓𝐡𝐢𝐬 𝐢𝐬 "𝐧𝐞𝐜𝐞𝐬𝐬𝐚𝐫𝐲" 𝐨𝐦𝐧𝐢𝐬𝐜𝐢𝐞𝐧𝐜𝐞 𝐰𝐢𝐭𝐡𝐨𝐮𝐭 𝐭𝐡𝐞 𝐚𝐛𝐬𝐮𝐫𝐝𝐢𝐭𝐢𝐞𝐬 𝐨𝐟 𝐞𝐬𝐬𝐞𝐧𝐭𝐢𝐚𝐥 𝐩𝐫𝐞𝐝𝐢𝐜𝐚𝐭𝐢𝐨𝐧. 𝐈𝐧 𝐢𝐧𝐬𝐢𝐬𝐭𝐢𝐧𝐠 𝐭𝐡𝐚𝐭 𝐆𝐨𝐝'𝐬 𝐢𝐠𝐧𝐨𝐫𝐚𝐧𝐜𝐞 𝐨𝐟 𝐟𝐮𝐭𝐮𝐫𝐞 𝐜𝐨𝐧𝐭𝐢𝐧𝐠𝐞𝐧𝐭𝐬 𝐝𝐨𝐞𝐬 𝐧𝐨𝐭 𝐜𝐨𝐦𝐩𝐫𝐨𝐦𝐢𝐬𝐞 𝐝𝐢𝐯𝐢𝐧𝐞 𝐨𝐦𝐧𝐢𝐬𝐜𝐢𝐞𝐧𝐜𝐞,
𝐭𝐡𝐞 𝐩𝐫𝐨𝐜𝐞𝐬𝐬 𝐭𝐡𝐞𝐨𝐥𝐨𝐠𝐢𝐚𝐧𝐬 𝐜𝐚𝐧 𝐬𝐭𝐢𝐥𝐥 𝐜𝐥𝐚𝐢𝐦 𝐭𝐡𝐚𝐭 𝐆𝐨𝐝 𝐤𝐧𝐨𝐰𝐬 𝐚𝐥𝐥 𝐭𝐡𝐚𝐭 𝐭𝐡𝐞𝐫𝐞 𝐢𝐬 𝐭𝐨 𝐤𝐧𝐨𝐰. 𝐃𝐚𝐯𝐢𝐬' 𝐩𝐨𝐬𝐢𝐭𝐢𝐨𝐧 𝐢𝐬 𝐦𝐨𝐫𝐞 𝐫𝐚𝐝𝐢𝐜𝐚𝐥 𝐚𝐧𝐝 𝐮𝐧𝐨𝐫𝐭𝐡𝐨𝐝𝐨𝐱: 𝐉𝐞𝐬𝐮𝐬 𝐰𝐚𝐬 "𝐩𝐥𝐚𝐢𝐧𝐥𝐲" 𝐧𝐨𝐭 𝐨𝐦𝐧𝐢𝐬𝐜𝐢𝐞𝐧𝐭 𝐛𝐮𝐭 𝐜𝐚𝐧 𝐬𝐭𝐢𝐥𝐥 𝐬𝐨𝐦𝐞𝐡𝐨𝐰 𝐜𝐥𝐚𝐢𝐦 𝐭𝐡𝐞 𝐭𝐢𝐭𝐥𝐞 "𝐆𝐨𝐝."
𝐃𝐚𝐯𝐢𝐬' 𝐫𝐞𝐚𝐬𝐨𝐧𝐬 𝐟𝐨𝐫 𝐫𝐞𝐣𝐞𝐜𝐭𝐢𝐧𝐠 𝐧𝐞𝐜𝐞𝐬𝐬𝐚𝐫𝐲 𝐨𝐦𝐧𝐢𝐬𝐜𝐢𝐞𝐧𝐜𝐞 𝐚𝐫𝐞 𝐪𝐮𝐢𝐭𝐞 𝐝𝐢𝐟𝐟𝐞𝐫𝐞𝐧𝐭 𝐟𝐫𝐨𝐦 𝐭𝐡𝐞 𝐩𝐫𝐨𝐜𝐞𝐬𝐬 𝐭𝐡𝐞𝐨𝐥𝐨𝐠𝐢𝐚𝐧𝐬' 𝐚𝐫𝐠𝐮𝐦𝐞𝐧𝐭𝐬 𝐚𝐠𝐚𝐢𝐧𝐬𝐭 𝐭𝐡𝐞 𝐜𝐥𝐚𝐬𝐬𝐢𝐜𝐚𝐥 𝐚𝐭𝐭𝐫𝐢𝐛𝐮𝐭𝐞𝐬. 𝐈𝐟 𝐃𝐚𝐯𝐢𝐬 𝐡𝐚𝐝, 𝐛𝐲 𝐚 𝐩𝐫𝐞𝐭𝐡𝐞𝐨𝐥𝐨𝐠𝐢𝐜𝐚𝐥 𝐚𝐧𝐝 𝐬𝐭𝐫𝐢𝐜𝐭𝐥𝐲 𝐩𝐡𝐢𝐥𝐨𝐬𝐨𝐩𝐡𝐢𝐜𝐚𝐥 𝐚𝐧𝐚𝐥𝐲𝐬𝐢𝐬 𝐨𝐟 𝐆𝐨𝐝, 𝐚𝐫𝐫𝐢𝐯𝐞𝐝 𝐚𝐭 𝐬𝐮𝐟𝐟𝐢𝐜𝐢𝐞𝐧𝐭 𝐫𝐞𝐚𝐬𝐨𝐧𝐬 𝐭𝐨 𝐜𝐡𝐚𝐥𝐥𝐞𝐧𝐠𝐞 𝐨𝐦𝐧𝐢𝐬𝐜𝐢𝐞𝐧𝐜𝐞 𝐚𝐬 𝐚 𝐧𝐞𝐜𝐞𝐬𝐬𝐚𝐫𝐲 𝐚𝐭𝐭𝐫𝐢𝐛𝐮𝐭𝐞, 𝐭𝐡𝐞𝐧 𝐰𝐞 𝐰𝐨𝐮𝐥𝐝 𝐡𝐚𝐯𝐞 𝐛𝐞𝐞𝐧 𝐨𝐛𝐥𝐢𝐠𝐞𝐝 𝐭𝐨 𝐜𝐨𝐧𝐬𝐢𝐝𝐞𝐫 𝐡𝐢𝐬 𝐩𝐫𝐨𝐩𝐨𝐬𝐚𝐥 𝐨𝐧 𝐢𝐭𝐬 𝐩𝐡𝐢𝐥𝐨𝐬𝐨𝐩𝐡𝐢𝐜𝐚𝐥 𝐦𝐞𝐫𝐢𝐭𝐬.
𝐃𝐚𝐯𝐢𝐬, 𝐡𝐨𝐰𝐞𝐯𝐞𝐫, 𝐨𝐛𝐯𝐢𝐨𝐮𝐬𝐥𝐲 𝐝𝐨𝐞𝐬 𝐧𝐨𝐭 𝐛𝐞𝐠𝐢𝐧 𝐢𝐧 𝐬𝐮𝐜𝐡 𝐚 𝐩𝐫𝐞𝐭𝐡𝐞𝐨𝐥𝐨𝐠𝐢𝐜𝐚𝐥 𝐟𝐫𝐚𝐦𝐞𝐰𝐨𝐫𝐤. 𝐑𝐚𝐭𝐡𝐞𝐫, 𝐡𝐢𝐬 𝐭𝐡𝐞𝐨𝐥𝐨𝐠𝐢𝐜𝐚𝐥 𝐩𝐫𝐞𝐬𝐮𝐩𝐩𝐨𝐬𝐭𝐢𝐨𝐧𝐬 𝐚𝐫𝐞 𝐜𝐥𝐞𝐚𝐫: 𝐡𝐞 𝐩𝐞𝐫𝐬𝐨𝐧𝐚𝐥𝐥𝐲 𝐛𝐞𝐥𝐢𝐞𝐯𝐞𝐬 𝐭𝐡𝐚𝐭 𝐉𝐞𝐬𝐮𝐬 𝐰𝐚𝐬 𝐆𝐨𝐝 𝐚𝐧𝐝 𝐡𝐢𝐬 𝐫𝐞𝐚𝐝𝐢𝐧𝐠 𝐨𝐟 𝐭𝐡𝐞 𝐍𝐞𝐰 𝐓𝐞𝐬𝐭𝐚𝐦𝐞𝐧𝐭 𝐡𝐚𝐬 𝐜𝐨𝐧𝐯𝐢𝐧𝐜𝐞𝐝 𝐡𝐢𝐦 𝐭𝐡𝐚𝐭 𝐉𝐞𝐬𝐮𝐬 𝐰𝐚𝐬 𝐧𝐨𝐭 𝐨𝐦𝐧𝐢𝐬𝐜𝐢𝐞𝐧𝐭. 𝐈𝐫𝐨𝐧𝐢𝐜𝐚𝐥𝐥𝐲, 𝐭𝐡𝐞𝐬𝐞 𝐩𝐚𝐬𝐬𝐚𝐠𝐞𝐬 (𝐌𝐤. 𝟓:𝟑𝟎; 𝟏𝟑:𝟑𝟐) 𝐚𝐫𝐞 𝐭𝐡𝐨𝐬𝐞 𝐭𝐲𝐩𝐢𝐜𝐚𝐥𝐥𝐲 𝐜𝐡𝐨𝐬𝐞𝐧 𝐛𝐲 𝐞𝐢𝐭𝐡𝐞𝐫 𝐬𝐤𝐞𝐩𝐭𝐢𝐜𝐬 𝐨𝐫 𝐥𝐢𝐛𝐞𝐫𝐚𝐥 𝐂𝐡𝐫𝐢𝐬𝐭𝐢𝐚𝐧𝐬 𝐟𝐨𝐫 𝐭𝐡𝐞𝐢𝐫 𝐚𝐫𝐠𝐮𝐦𝐞𝐧𝐭𝐬 𝐭𝐡𝐚𝐭 𝐭𝐡𝐞 𝐞𝐚𝐫𝐥𝐲 𝐂𝐡𝐮𝐫𝐜𝐡 𝐡𝐚𝐝 𝐬𝐢𝐦𝐩𝐥𝐲 𝐝𝐞𝐢𝐟𝐢𝐞𝐝 𝐚 𝐛𝐫𝐢𝐥𝐥𝐢𝐚𝐧𝐭 𝐉𝐞𝐰𝐢𝐬𝐡 𝐩𝐫𝐨𝐩𝐡𝐞𝐭.
𝐓𝐡𝐞 𝐩𝐫𝐢𝐦𝐚 𝐟𝐚𝐜𝐢𝐞 𝐢𝐦𝐩𝐨𝐫𝐭 𝐨𝐟 𝐭𝐡𝐞𝐬𝐞 𝐩𝐚𝐬𝐬𝐚𝐠𝐞𝐬 𝐢𝐬 𝐭𝐡𝐚𝐭 𝐉𝐞𝐬𝐮𝐬 𝐰𝐚𝐬 𝐟𝐮𝐥𝐥𝐲 𝐡𝐮𝐦𝐚𝐧, 𝐧𝐨𝐭 𝐭𝐡𝐚𝐭 𝐡𝐞 𝐰𝐚𝐬 𝐚 𝐝𝐢𝐯𝐢𝐧𝐞 𝐛𝐞𝐢𝐧𝐠 𝐰𝐡𝐨 𝐡𝐚𝐝 𝐦𝐨𝐦𝐞𝐧𝐭𝐚𝐫𝐢𝐥𝐲 𝐩𝐮𝐭 𝐚𝐬𝐢𝐝𝐞 𝐨𝐦𝐧𝐢𝐬𝐜𝐢𝐞𝐧𝐜𝐞. 𝐅𝐮𝐫𝐭𝐡𝐞𝐫𝐦𝐨𝐫𝐞, 𝐜𝐨𝐧𝐬𝐞𝐫𝐯𝐚𝐭𝐢𝐯𝐞 𝐂𝐡𝐫𝐢𝐬𝐭𝐢𝐚𝐧𝐬 𝐜𝐚𝐧 𝐩𝐨𝐢𝐧𝐭 𝐭𝐨 𝐦𝐚𝐧𝐲 𝐨𝐭𝐡𝐞𝐫 𝐩𝐚𝐬𝐬𝐚𝐠𝐞𝐬 𝐰𝐡𝐢𝐜𝐡 𝐢𝐧𝐝𝐢𝐜𝐚𝐭𝐞 𝐭𝐡𝐚𝐭 𝐉𝐞𝐬𝐮𝐬 𝐰𝐚𝐬 𝐨𝐦𝐧𝐢𝐬𝐜𝐢𝐞𝐧𝐭. 𝐓𝐡𝐞𝐲 𝐰𝐨𝐮𝐥𝐝 𝐚𝐥𝐬𝐨 𝐜𝐥𝐚𝐢𝐦 𝐭𝐡𝐚𝐭 𝐡𝐢𝐬 𝐟𝐨𝐫𝐞𝐤𝐧𝐨𝐰𝐥𝐞𝐝𝐠𝐞 𝐰𝐚𝐬 𝐬𝐨𝐦𝐞𝐭𝐡𝐢𝐧𝐠 𝐨𝐭𝐡𝐞𝐫 𝐭𝐡𝐚𝐧 𝐭𝐡𝐞 𝐢𝐧𝐬𝐩𝐢𝐫𝐞𝐝 𝐩𝐫𝐨𝐩𝐡𝐞𝐜𝐲 𝐃𝐚𝐯𝐢𝐬 𝐬𝐮𝐠𝐠𝐞𝐬𝐭𝐬 𝐢𝐭 𝐰𝐚𝐬.
𝐖𝐡𝐚𝐭 𝐈 𝐚𝐦 𝐜𝐥𝐚𝐢𝐦𝐢𝐧𝐠 𝐢𝐬 𝐭𝐡𝐚𝐭 𝐃𝐚𝐯𝐢𝐬' 𝐦𝐞𝐭𝐡𝐨𝐝 𝐢𝐬 𝐟𝐮𝐧𝐝𝐚𝐦𝐞𝐧𝐭𝐚𝐥𝐥𝐲 𝐬𝐮𝐬𝐩𝐞𝐜𝐭. 𝐃𝐚𝐯𝐢𝐬' 𝐚𝐫𝐠𝐮𝐦𝐞𝐧𝐭 𝐜𝐚𝐧 𝐛𝐞 𝐬𝐮𝐦𝐦𝐚𝐫𝐢𝐳𝐞𝐝 𝐢𝐧 𝐭𝐡𝐞 𝐟𝐨𝐥𝐥𝐨𝐰𝐢𝐧𝐠 𝐬𝐲𝐥𝐥𝐨𝐠𝐢𝐬𝐦:
𝐀𝐜𝐜𝐨𝐫𝐝𝐢𝐧𝐠 𝐭𝐨 𝐬𝐨𝐦𝐞 𝐍𝐞𝐰 𝐓𝐞𝐬𝐭𝐚𝐦𝐞𝐧𝐭 𝐩𝐚𝐬𝐬𝐚𝐠𝐞𝐬 𝐉𝐞𝐬𝐮𝐬 𝐰𝐚𝐬 𝐧𝐨𝐭 𝐨𝐦𝐧𝐢𝐬𝐜𝐢𝐞𝐧𝐭.
𝐉𝐞𝐬𝐮𝐬 𝐰𝐚𝐬 𝐆𝐨𝐝.
𝐓𝐡𝐞𝐫𝐞𝐟𝐨𝐫𝐞, 𝐆𝐨𝐝 (𝐚𝐬 𝐉𝐞𝐬𝐮𝐬) 𝐰𝐚𝐬 𝐧𝐨𝐭 𝐨𝐦𝐧𝐢𝐬𝐜𝐢𝐞𝐧𝐭.
𝐓𝐡𝐢𝐬 𝐢𝐬 𝐩𝐞𝐫𝐡𝐚𝐩𝐬 𝐚𝐧 𝐚𝐜𝐜𝐞𝐩𝐭𝐚𝐛𝐥𝐞 𝐦𝐞𝐭𝐡𝐨𝐝 𝐟𝐨𝐫 𝐝𝐨𝐢𝐧𝐠 𝐞𝐦𝐩𝐢𝐫𝐢𝐜𝐚𝐥 𝐛𝐢𝐛𝐥𝐢𝐜𝐚𝐥 𝐭𝐡𝐞𝐨𝐥𝐨𝐠𝐲 (𝐰𝐡𝐢𝐜𝐡, 𝐈 𝐛𝐞𝐥𝐢𝐞𝐯𝐞, 𝐢𝐬 𝐝𝐨𝐨𝐦𝐞𝐝 𝐭𝐨 𝐟𝐚𝐢𝐥𝐮𝐫𝐞 𝐛𝐞𝐜𝐚𝐮𝐬𝐞 𝐨𝐟 𝐭𝐞𝐱𝐭𝐮𝐚𝐥 𝐢𝐧𝐜𝐨𝐧𝐬𝐢𝐬𝐭𝐞𝐧𝐜𝐢𝐞𝐬), 𝐛𝐮𝐭 𝐢𝐭 𝐢𝐬 𝐝𝐞𝐟𝐢𝐧𝐢𝐭𝐞𝐥𝐲 𝐧𝐨𝐭 𝐚 𝐦𝐞𝐭𝐡𝐨𝐝 𝐬𝐮𝐢𝐭𝐚𝐛𝐥𝐞 𝐟𝐨𝐫 𝐭𝐡𝐞 "𝐚𝐧𝐚𝐥𝐲𝐭𝐢𝐜 𝐩𝐡𝐢𝐥𝐨𝐬𝐨𝐩𝐡𝐲 𝐨𝐟 𝐫𝐞𝐥𝐢𝐠𝐢𝐨𝐧" 𝐃𝐚𝐯𝐢𝐬 𝐜𝐥𝐚𝐢𝐦𝐬 𝐭𝐨 𝐛𝐞 𝐝𝐨𝐢𝐧𝐠. 𝐈𝐭 𝐝𝐨𝐞𝐬 𝐧𝐨𝐭 𝐬𝐞𝐞𝐦 𝐭𝐨 𝐛𝐞 𝐚 𝐩𝐫𝐨𝐩𝐞𝐫 𝐚𝐩𝐩𝐫𝐨𝐚𝐜𝐡 𝐟𝐨𝐫 𝐂𝐡𝐫𝐢𝐬𝐭𝐢𝐚𝐧 𝐝𝐨𝐠𝐦𝐚𝐭𝐢𝐜𝐬 𝐞𝐢𝐭𝐡𝐞𝐫.
𝐅𝐫𝐨𝐦 𝐭𝐡𝐞 𝐬𝐭𝐚𝐫𝐭, 𝐃𝐚𝐯𝐢𝐬 𝐫𝐞𝐝𝐞𝐟𝐢𝐧𝐞𝐬 𝐚 𝐛𝐚𝐬𝐢𝐜 𝐚𝐫𝐭𝐢𝐜𝐥𝐞 𝐨𝐟 𝐟𝐚𝐢𝐭𝐡 𝐟𝐫𝐨𝐦 𝐭𝐡𝐞 𝐬𝐭𝐚𝐧𝐝𝐩𝐨𝐢𝐧𝐭 𝐨𝐟 𝐥𝐨𝐠𝐢𝐜𝐚𝐥 𝐜𝐨𝐡𝐞𝐫𝐞𝐧𝐜𝐞, 𝐧𝐨𝐭 𝐭𝐡𝐞 𝐂𝐡𝐫𝐢𝐬𝐭𝐢𝐚𝐧 𝐟𝐚𝐢𝐭𝐡 𝐢𝐭𝐬𝐞𝐥𝐟. 𝐃𝐚𝐯𝐢𝐬 𝐡𝐚𝐬 𝐫𝐞𝐚𝐬𝐨𝐧-𝐥𝐞𝐚𝐝𝐢𝐧𝐠 𝐟𝐚𝐢𝐭𝐡 𝐫𝐚𝐭𝐡𝐞𝐫 𝐭𝐡𝐚𝐧 𝐟𝐚𝐢𝐭𝐡-𝐥𝐞𝐚𝐝𝐢𝐧𝐠 𝐫𝐞𝐚𝐬𝐨𝐧. 𝐓𝐡𝐞 𝐫𝐞𝐬𝐮𝐥𝐭 𝐢𝐬 𝐭𝐡𝐚𝐭 𝐃𝐚𝐯𝐢𝐬 𝐢𝐬 𝐬𝐨 𝐜𝐨𝐦𝐦𝐢𝐭𝐭𝐞𝐝 𝐭𝐨 𝐭𝐡𝐞 𝐢𝐧𝐭𝐞𝐥𝐥𝐢𝐠𝐢𝐛𝐢𝐥𝐢𝐭𝐲 𝐨𝐟 𝐭𝐡𝐞 𝐈𝐧𝐜𝐚𝐫𝐧𝐚𝐭𝐢𝐨𝐧 𝐭𝐡𝐚𝐭 𝐡𝐞 𝐫𝐞𝐬𝐨𝐫𝐭𝐬 𝐭𝐨 𝐦𝐚𝐣𝐨𝐫 𝐚𝐝 𝐡𝐨𝐜 𝐭𝐚𝐦𝐩𝐞𝐫𝐢𝐧𝐠 𝐰𝐢𝐭𝐡 𝐭𝐡𝐞 𝐜𝐨𝐧𝐜𝐞𝐩𝐭 𝐨𝐟 𝐆𝐨𝐝.
𝐈𝐬 𝐭𝐡𝐞 𝐝𝐨𝐜𝐭𝐫𝐢𝐧𝐞 𝐨𝐟 𝐈𝐧𝐜𝐚𝐫𝐧𝐚𝐭𝐢𝐨𝐧 𝐬𝐨 𝐢𝐦𝐩𝐨𝐫𝐭𝐚𝐧𝐭 𝐟𝐨𝐫 𝐂𝐡𝐫𝐢𝐬𝐭𝐢𝐚𝐧𝐬 𝐭𝐡𝐚𝐭 𝐭𝐡𝐞𝐲 𝐬𝐡𝐨𝐮𝐥𝐝 𝐠𝐢𝐯𝐞 𝐮𝐩 𝐭𝐡𝐞 𝐭𝐫𝐚𝐝𝐢𝐭𝐢𝐨𝐧𝐚𝐥 𝐝𝐨𝐜𝐭𝐫𝐢𝐧𝐞 𝐨𝐟 𝐆𝐨𝐝 𝐟𝐨𝐫 𝐢𝐭? 𝐈 𝐬𝐡𝐨𝐮𝐥𝐝 𝐭𝐡𝐢𝐧𝐤 𝐧𝐨𝐭. 𝐒𝐚𝐜𝐫𝐢𝐟𝐢𝐜𝐢𝐧𝐠 𝐧𝐞𝐜𝐞𝐬𝐬𝐚𝐫𝐲 𝐚𝐭𝐭𝐫𝐢𝐛𝐮𝐭𝐞𝐬 𝐢𝐬 𝐟𝐚𝐫 𝐭𝐨𝐨 𝐡𝐢𝐠𝐡 𝐚 𝐩𝐫𝐢𝐜𝐞 𝐭𝐨 𝐩𝐚𝐲 𝐢𝐧 𝐨𝐫𝐝𝐞𝐫 𝐭𝐡𝐚𝐭 𝐚 𝐝𝐢𝐯𝐢𝐧𝐞-𝐡𝐮𝐦𝐚𝐧 𝐥𝐢𝐟𝐞 𝐨𝐧 𝐞𝐚𝐫𝐭𝐡 𝐜𝐚𝐧 𝐛𝐞 𝐦𝐚𝐝𝐞 𝐢𝐧𝐭𝐞𝐥𝐥𝐢𝐠𝐢𝐛𝐥𝐞.
𝐎𝐧𝐞 𝐢𝐬 𝐧𝐨𝐭 𝐢𝐧𝐢𝐭𝐢𝐚𝐥𝐥𝐲 𝐚𝐰𝐚𝐫𝐞 𝐨𝐟 𝐭𝐡𝐞 𝐫𝐚𝐝𝐢𝐜𝐚𝐥 𝐞𝐱𝐭𝐞𝐧𝐭 𝐭𝐨 𝐰𝐡𝐢𝐜𝐡 𝐃𝐚𝐯𝐢𝐬 𝐚𝐜𝐭𝐮𝐚𝐥𝐥𝐲 𝐰𝐚𝐧𝐭𝐬 𝐭𝐨 𝐫𝐞𝐯𝐢𝐬𝐞 𝐭𝐡𝐞 𝐜𝐨𝐧𝐜𝐞𝐩𝐭 𝐨𝐟 𝐆𝐨𝐝. 𝐑𝐞𝐜𝐚𝐥𝐥 𝐭𝐡𝐚𝐭 𝐢𝐧 𝐭𝐡𝐞 𝐈𝐧𝐜𝐚𝐫𝐧𝐚𝐭𝐢𝐨𝐧 𝐉𝐞𝐬𝐮𝐬 𝐰𝐢𝐥𝐥 𝐡𝐚𝐯𝐞 𝐨𝐧𝐥𝐲 𝐭𝐡𝐨𝐬𝐞 𝐝𝐢𝐯𝐢𝐧𝐞 𝐚𝐧𝐝 𝐡𝐮𝐦𝐚𝐧 𝐚𝐭𝐭𝐫𝐢𝐛𝐮𝐭𝐞𝐬 𝐰𝐡𝐢𝐜𝐡 𝐚𝐫𝐞 𝐜𝐨𝐧𝐬𝐢𝐬𝐭𝐞𝐧𝐭.
𝐓𝐡𝐢𝐬 𝐦𝐞𝐚𝐧𝐬 𝐭𝐡𝐚𝐭 𝐛𝐞𝐬𝐢𝐝𝐞𝐬 𝐨𝐦𝐧𝐢𝐬𝐜𝐢𝐞𝐧𝐜𝐞, 𝐚𝐭 𝐥𝐞𝐚𝐬𝐭 𝐭𝐡𝐞 𝐨𝐭𝐡𝐞𝐫 𝐭𝐡𝐫𝐞𝐞 𝐝𝐢𝐯𝐢𝐧𝐞 𝐚𝐭𝐭𝐫𝐢𝐛𝐮𝐭𝐞𝐬 𝐃𝐚𝐯𝐢𝐬 𝐦𝐞𝐧𝐭𝐢𝐨𝐧𝐬–𝐨𝐦𝐧𝐢𝐩𝐨𝐭𝐞𝐧𝐜𝐞, 𝐧𝐞𝐜𝐞𝐬𝐬𝐢𝐭𝐲, 𝐚𝐧𝐝 𝐛𝐞𝐢𝐧𝐠 𝐚 𝐜𝐫𝐞𝐚𝐭𝐨𝐫–𝐰𝐢𝐥𝐥 𝐚𝐥𝐬𝐨 𝐛𝐞 𝐝𝐞𝐜𝐥𝐚𝐫𝐞𝐝 𝐚𝐜𝐜𝐢𝐝𝐞𝐧𝐭𝐚𝐥 𝐚𝐧𝐝 𝐭𝐡𝐞𝐫𝐞𝐟𝐨𝐫𝐞 𝐚𝐛𝐬𝐞𝐧𝐭 𝐝𝐮𝐫𝐢𝐧𝐠 𝐭𝐡𝐞 𝐒𝐞𝐜𝐨𝐧𝐝 𝐏𝐞𝐫𝐬𝐨𝐧'𝐬 𝐭𝐢𝐦𝐞 𝐨𝐧 𝐞𝐚𝐫𝐭𝐡. 𝐉𝐞𝐬𝐮𝐬 𝐨𝐟 𝐜𝐨𝐮𝐫𝐬𝐞 𝐢𝐬 𝐦𝐨𝐫𝐭𝐚𝐥 𝐬𝐨 𝐭𝐡𝐞 𝐝𝐢𝐯𝐢𝐧𝐞 𝐚𝐭𝐭𝐫𝐢𝐛𝐮𝐭𝐞 𝐨𝐟 𝐢𝐦𝐦𝐨𝐫𝐭𝐚𝐥𝐢𝐭𝐲 𝐰𝐢𝐥𝐥 𝐚𝐥𝐬𝐨 𝐡𝐚𝐯𝐞 𝐭𝐨 𝐛𝐞 𝐯𝐨𝐥𝐮𝐧𝐭𝐚𝐫𝐢𝐥𝐲 𝐬𝐞𝐭 𝐚𝐬𝐢𝐝𝐞.
𝐖𝐡𝐚𝐭 𝐢𝐬 𝐥𝐞𝐟𝐭 𝐨𝐟 𝐆𝐨𝐝'𝐬 𝐧𝐚𝐭𝐮𝐫𝐞 𝐭𝐡𝐚𝐭 𝐢𝐬 𝐧𝐨𝐭 𝐢𝐧𝐜𝐨𝐧𝐬𝐢𝐬𝐭𝐞𝐧𝐭 𝐰𝐢𝐭𝐡 𝐭𝐡𝐞 𝐡𝐮𝐦𝐚𝐧𝐢𝐭𝐲 𝐨𝐟 𝐂𝐡𝐫𝐢𝐬𝐭? 𝐎𝐧𝐞 𝐢𝐦𝐦𝐞𝐝𝐢𝐚𝐭𝐞𝐥𝐲 𝐭𝐡𝐢𝐧𝐤𝐬 𝐨𝐟 𝐭𝐡𝐞 𝐝𝐢𝐯𝐢𝐧𝐞 𝐚𝐭𝐭𝐫𝐢𝐛𝐮𝐭𝐞𝐬 𝐰𝐞 𝐬𝐡𝐚𝐫𝐞 𝐰𝐢𝐭𝐡 𝐆𝐨𝐝 𝐛𝐲 𝐯𝐢𝐫𝐭𝐮𝐞 𝐨𝐟 𝐛𝐞𝐢𝐧𝐠 𝐜𝐫𝐞𝐚𝐭𝐞𝐝 𝐢𝐧 𝐭𝐡𝐞 𝐝𝐢𝐯𝐢𝐧𝐞 𝐢𝐦𝐚𝐠𝐞; 𝐛𝐮𝐭 𝐫𝐚𝐭𝐢𝐨𝐧𝐚𝐥𝐢𝐭𝐲 𝐚𝐧𝐝 𝐜𝐨𝐧𝐬𝐜𝐢𝐞𝐧𝐜𝐞, 𝐭𝐡𝐞 𝐭𝐫𝐚𝐝𝐢𝐭𝐢𝐨𝐧𝐚𝐥 𝐜𝐨𝐧𝐭𝐞𝐧𝐭𝐬 𝐨𝐟 𝐭𝐡𝐞 𝐢𝐦𝐚𝐠𝐨 𝐝𝐞𝐢, 𝐚𝐫𝐞 𝐟𝐨𝐮𝐧𝐝 𝐢𝐧 𝐚𝐥𝐥 𝐡𝐮𝐦𝐚𝐧 𝐛𝐞𝐢𝐧𝐠𝐬.
𝐒𝐢𝐧𝐥𝐞𝐬𝐬𝐧𝐞𝐬𝐬 𝐢𝐬 𝐚 𝐩𝐫𝐨𝐩𝐞𝐫𝐭𝐲 𝐚𝐥𝐥𝐞𝐠𝐞𝐝𝐥𝐲 𝐬𝐡𝐚𝐫𝐞𝐝 𝐛𝐲 𝐧𝐨𝐧𝐟𝐚𝐥𝐥𝐞𝐧 𝐚𝐧𝐠𝐞𝐥𝐬, 𝐀𝐝𝐚𝐦 𝐚𝐧𝐝 𝐄𝐯𝐞 𝐛𝐞𝐟𝐨𝐫𝐞 𝐭𝐡𝐞 𝐅𝐚𝐥𝐥, 𝐉𝐞𝐬𝐮𝐬, 𝐚𝐧𝐝 𝐆𝐨𝐝. 𝐃𝐚𝐯𝐢𝐬 𝐝𝐨𝐞𝐬 𝐜𝐥𝐚𝐢𝐦 𝐉𝐞𝐬𝐮𝐬 𝐚𝐬 𝐆𝐨𝐝 𝐜𝐨𝐮𝐥𝐝 𝐟𝐨𝐫𝐠𝐢𝐯𝐞 𝐬𝐢𝐧𝐬, 𝐚𝐧𝐝 𝐭𝐡𝐢𝐬 𝐚𝐠𝐚𝐢𝐧 𝐬𝐞𝐞𝐦𝐬 𝐭𝐨 𝐛𝐞 𝐢𝐧𝐜𝐨𝐧𝐬𝐢𝐬𝐭𝐞𝐧𝐭 𝐰𝐢𝐭𝐡 𝐉𝐞𝐬𝐮𝐬 𝐚𝐬 𝐡𝐮𝐦𝐚𝐧. 𝐓𝐡𝐞 𝐬𝐜𝐫𝐢𝐛𝐞𝐬 𝐰𝐡𝐨 𝐜𝐫𝐢𝐭𝐢𝐜𝐢𝐳𝐞𝐝 𝐉𝐞𝐬𝐮𝐬' 𝐡𝐞𝐚𝐥𝐢𝐧𝐠 𝐨𝐟 𝐭𝐡𝐞 𝐩𝐚𝐫𝐚𝐥𝐲𝐭𝐢𝐜 𝐢𝐧 𝐌𝐚𝐫𝐤 𝟐 𝐰𝐞𝐫𝐞 𝐚𝐬𝐬𝐮𝐦𝐢𝐧𝐠 𝐭𝐡𝐞 𝐇𝐞𝐛𝐫𝐚𝐢𝐜 𝐩𝐫𝐢𝐧𝐜𝐢𝐩𝐥𝐞 𝐰𝐡𝐞𝐧 𝐭𝐡𝐞𝐲 𝐝𝐞𝐜𝐥𝐚𝐫𝐞𝐝 𝐭𝐡𝐚𝐭 𝐨𝐧𝐥𝐲 𝐆𝐨𝐝 𝐜𝐚𝐧 𝐟𝐨𝐫𝐠𝐢𝐯𝐞 𝐬𝐢𝐧𝐬.
𝐃𝐚𝐯𝐢𝐬 𝐡𝐚𝐬 𝐩𝐚𝐢𝐝 𝐚 𝐡𝐢𝐠𝐡 𝐩𝐫𝐢𝐜𝐞 𝐭𝐨 𝐠𝐞𝐭 𝐆𝐨𝐝 𝐚𝐧𝐝 𝐉𝐞𝐬𝐮𝐬 𝐭𝐨𝐠𝐞𝐭𝐡𝐞𝐫 𝐰𝐢𝐭𝐡𝐨𝐮𝐭 𝐜𝐨𝐧𝐭𝐫𝐚𝐝𝐢𝐜𝐭𝐢𝐨𝐧, 𝐛𝐮𝐭 𝐭𝐡𝐢𝐬 𝐬𝐚𝐜𝐫𝐢𝐟𝐢𝐜𝐞 𝐢𝐬 𝐚𝐥𝐥 𝐢𝐧 𝐯𝐚𝐢𝐧: 𝐭𝐡𝐞𝐫𝐞 𝐢𝐬 𝐯𝐢𝐫𝐭𝐮𝐚𝐥𝐥𝐲 𝐧𝐨𝐭𝐡𝐢𝐧𝐠 𝐥𝐞𝐟𝐭 𝐨𝐟 𝐭𝐡𝐞 𝐝𝐞𝐢𝐭𝐲 𝐨𝐟 𝐂𝐡𝐫𝐢𝐬𝐭. 𝐃𝐚𝐯𝐢𝐬 𝐜𝐞𝐫𝐭𝐚𝐢𝐧𝐥𝐲 𝐜𝐨𝐦𝐩𝐥𝐢𝐞𝐬 𝐰𝐢𝐭𝐡 𝐁𝐥𝐨𝐞𝐬𝐜𝐡'𝐬 𝐢𝐧𝐬𝐢𝐬𝐭𝐞𝐧𝐜𝐞 𝐭𝐡𝐚𝐭 𝐭𝐡𝐞 𝐈𝐧𝐜𝐚𝐫𝐧𝐚𝐭𝐢𝐨𝐧 𝐧𝐨𝐭 𝐛𝐞 𝐯𝐢𝐞𝐰𝐞𝐝 𝐚𝐬 𝐚 𝐭𝐡𝐞𝐨𝐩𝐡𝐚𝐧𝐲,
𝐛𝐮𝐭 𝐢𝐧 𝐃𝐚𝐯𝐢𝐬' 𝐉𝐞𝐬𝐮𝐬 𝐭𝐡𝐞𝐫𝐞 𝐢𝐬 𝐯𝐞𝐫𝐲 𝐥𝐢𝐭𝐭𝐥𝐞 "𝐝𝐞𝐢𝐭𝐲…𝐡𝐢𝐝𝐝𝐞𝐧 𝐢𝐧 𝐡𝐢𝐬 𝐡𝐮𝐦𝐚𝐧𝐢𝐭𝐲." 𝐖𝐡𝐞𝐧 𝐝𝐞𝐚𝐥𝐢𝐧𝐠 𝐰𝐢𝐭𝐡 𝐭𝐡𝐞 𝐈𝐧𝐜𝐚𝐫𝐧𝐚𝐭𝐢𝐨𝐧 𝐜𝐥𝐚𝐬𝐬𝐢𝐜𝐚𝐥 𝐭𝐡𝐞𝐨𝐥𝐨𝐠𝐢𝐚𝐧𝐬 𝐡𝐚𝐯𝐞 𝐠𝐞𝐧𝐞𝐫𝐚𝐥𝐥𝐲 𝐞𝐫𝐫𝐞𝐝 𝐨𝐧 𝐭𝐡𝐞 𝐬𝐢𝐝𝐞 𝐨𝐟 𝐉𝐞𝐬𝐮𝐬' 𝐡𝐮𝐦𝐚𝐧𝐢𝐭𝐲, 𝐛𝐮𝐭 𝐃𝐚𝐯𝐢𝐬 𝐣𝐨𝐢𝐧𝐬 𝐫𝐚𝐝𝐢𝐜𝐚𝐥 𝐤𝐞𝐧𝐨𝐭𝐢𝐜 𝐭𝐡𝐞𝐨𝐥𝐨𝐠𝐢𝐚𝐧𝐬 𝐢𝐧 𝐞𝐫𝐫𝐢𝐧𝐠 𝐨𝐧 𝐭𝐡𝐞 𝐬𝐢𝐝𝐞 𝐨𝐟 𝐉𝐞𝐬𝐮𝐬' 𝐝𝐢𝐯𝐢𝐧𝐢𝐭𝐲.
𝐀𝐮𝐠𝐮𝐬𝐭𝐢𝐧𝐞 𝐡𝐚𝐬 𝐉𝐞𝐬𝐮𝐬 "𝐡𝐨𝐥𝐝𝐢𝐧𝐠 𝐟𝐚𝐬𝐭 𝐭𝐨 𝐡𝐢𝐬 𝐨𝐰𝐧 𝐝𝐢𝐯𝐢𝐧𝐢𝐭𝐲,"(𝟐𝟕) 𝐚𝐬 𝐭𝐡𝐞 𝐜𝐫𝐞𝐞𝐝𝐬 𝐝𝐞𝐦𝐚𝐧𝐝, 𝐛𝐮𝐭 𝐃𝐚𝐯𝐢𝐬 𝐡𝐚𝐬 𝐭𝐡𝐞 𝐒𝐞𝐜𝐨𝐧𝐝 𝐏𝐞𝐫𝐬𝐨𝐧 𝐭𝐡𝐫𝐨𝐰𝐢𝐧𝐠 𝐨𝐟𝐟 𝐝𝐢𝐯𝐢𝐧𝐢𝐭𝐲 𝐢𝐧 𝐨𝐫𝐝𝐞𝐫 𝐭𝐨 𝐜𝐨𝐧𝐟𝐨𝐫𝐦 𝐭𝐨 𝐭𝐡𝐞 𝐥𝐚𝐰 𝐨𝐟 𝐜𝐨𝐧𝐭𝐫𝐚𝐝𝐢𝐜𝐭𝐢𝐨𝐧. 𝐓𝐚𝐤𝐢𝐧𝐠 𝐭𝐡𝐞 𝐈𝐧𝐜𝐚𝐫𝐧𝐚𝐭𝐢𝐨𝐧 𝐥𝐢𝐭𝐞𝐫𝐚𝐥𝐥𝐲, 𝐚𝐧𝐝 𝐞𝐬𝐩𝐞𝐜𝐢𝐚𝐥𝐥𝐲 𝐭𝐫𝐲𝐢𝐧𝐠 𝐭𝐨 𝐦𝐚𝐤𝐞 𝐢𝐭 𝐥𝐨𝐠𝐢𝐜𝐚𝐥𝐥𝐲 𝐜𝐨𝐡𝐞𝐫𝐞𝐧𝐭, 𝐡𝐚𝐬 𝐥𝐞𝐝 𝐭𝐨 𝐚 𝐯𝐞𝐫𝐢𝐭𝐚𝐛𝐥𝐞 𝐭𝐡𝐞𝐨𝐥𝐨𝐠𝐢𝐜𝐚𝐥 𝐝𝐢𝐬𝐚𝐬𝐭𝐞𝐫. 𝐃𝐚𝐯𝐢𝐬 𝐢𝐬 𝐧𝐨𝐭 𝐚 𝐜𝐫𝐞𝐚𝐭𝐢𝐨𝐧𝐢𝐬𝐭 𝐧𝐨𝐫 𝐚 𝐝𝐞𝐭𝐚𝐢𝐥𝐞𝐝 𝐢𝐧𝐞𝐫𝐫𝐚𝐧𝐭𝐢𝐬𝐭, 𝐛𝐮𝐭 𝐡𝐞 𝐢𝐬 𝐚𝐧 𝐞𝐯𝐚𝐧𝐠𝐞𝐥𝐢𝐜𝐚𝐥 𝐫𝐚𝐭𝐢𝐨𝐧𝐚𝐥𝐢𝐬𝐭 𝐰𝐡𝐞𝐧 𝐢𝐭 𝐜𝐨𝐦𝐞𝐬 𝐭𝐨 𝐭𝐡𝐞 𝐟𝐚𝐢𝐭𝐡-𝐫𝐞𝐚𝐬𝐨𝐧 𝐪𝐮𝐞𝐬𝐭𝐢𝐨𝐧 𝐚𝐧𝐝 𝐭𝐡𝐞 𝐜𝐨𝐡𝐞𝐫𝐞𝐧𝐜𝐞 𝐨𝐟 𝐭𝐡𝐞 𝐈𝐧𝐜𝐚𝐫𝐧𝐚𝐭𝐢𝐨𝐧.
𝐃. 𝐈𝐧𝐜𝐚𝐫𝐧𝐚𝐭𝐢𝐨𝐧 𝐚𝐧𝐝 𝐊𝐞𝐧𝐨𝐬𝐢𝐬
𝐃𝐚𝐯𝐢𝐬' 𝐜𝐥𝐚𝐢𝐦 𝐭𝐡𝐚𝐭 𝐡𝐢𝐬 𝐝𝐞𝐟𝐞𝐧𝐬𝐞 𝐨𝐟 𝐭𝐡𝐞 𝐈𝐧𝐜𝐚𝐫𝐧𝐚𝐭𝐢𝐨𝐧 𝐫𝐞𝐦𝐚𝐢𝐧𝐬 𝐰𝐢𝐭𝐡𝐢𝐧 𝐭𝐡𝐞 𝐟𝐫𝐚𝐦𝐞𝐰𝐨𝐫𝐤 𝐨𝐟 𝐂𝐡𝐚𝐥𝐜𝐞𝐝𝐨𝐧 𝐢𝐬 𝐩𝐮𝐳𝐳𝐥𝐢𝐧𝐠 𝐢𝐧 𝐥𝐢𝐠𝐡𝐭 𝐨𝐟 𝐭𝐡𝐞 𝐟𝐚𝐜𝐭 𝐭𝐡𝐚𝐭 𝐞𝐚𝐫𝐥𝐢𝐞𝐫 𝐢𝐧 𝐡𝐢𝐬 𝐝𝐢𝐬𝐜𝐮𝐬𝐬𝐢𝐨𝐧 𝐡𝐞 𝐚𝐝𝐦𝐢𝐭𝐬 𝐭𝐡𝐚𝐭 𝐡𝐢𝐬 𝐟𝐨𝐫𝐦𝐮𝐥𝐚𝐭𝐢𝐨𝐧 𝐢𝐬 𝐧𝐨𝐭 "𝐜𝐥𝐚𝐬𝐬𝐢𝐜𝐚𝐥" 𝐛𝐮𝐭 "𝐤𝐞𝐧𝐨𝐭𝐢𝐜." 𝐊𝐞𝐧𝐨𝐭𝐢𝐜 𝐂𝐡𝐫𝐢𝐬𝐭𝐨𝐥𝐨𝐠𝐢𝐞𝐬 𝐡𝐚𝐯𝐞 𝐚𝐥𝐰𝐚𝐲𝐬 𝐛𝐞𝐞𝐧 𝐝𝐞𝐜𝐥𝐚𝐫𝐞𝐝 𝐡𝐞𝐫𝐞𝐭𝐢𝐜𝐚𝐥, 𝐚𝐧𝐝 𝐢𝐭 𝐰𝐚𝐬 𝐭𝐡𝐞 𝟏𝟗𝐭𝐡 𝐂𝐞𝐧𝐭𝐮𝐫𝐲 𝐛𝐞𝐟𝐨𝐫𝐞 𝐬𝐨𝐦𝐞 𝐦𝐢𝐧𝐨𝐫 𝐭𝐡𝐞𝐨𝐥𝐨𝐠𝐢𝐚𝐧𝐬 𝐟𝐞𝐥𝐭 𝐭𝐡𝐞𝐲 𝐜𝐨𝐮𝐥𝐝 𝐟𝐫𝐞𝐞𝐥𝐲 𝐝𝐢𝐬𝐜𝐮𝐬𝐬 𝐭𝐡𝐞 𝐩𝐨𝐬𝐬𝐢𝐛𝐢𝐥𝐢𝐭𝐲 𝐭𝐡𝐚𝐭 𝐆𝐨𝐝 𝐠𝐚𝐯𝐞 𝐮𝐩 𝐬𝐨𝐦𝐞 𝐝𝐢𝐯𝐢𝐧𝐞 𝐚𝐭𝐭𝐫𝐢𝐛𝐮𝐭𝐞𝐬 𝐢𝐧 𝐭𝐡𝐞 𝐈𝐧𝐜𝐚𝐫𝐧𝐚𝐭𝐢𝐨𝐧.
𝐓𝐡𝐞 𝐰𝐨𝐫𝐝 "𝐤𝐞𝐧𝐨𝐭𝐢𝐜" 𝐜𝐨𝐦𝐞𝐬 𝐟𝐫𝐨𝐦 𝐭𝐡𝐞 𝐆𝐫𝐞𝐞𝐤 𝐤𝐞𝐧𝐨𝐬𝐢𝐬 𝐚𝐧𝐝 𝐭𝐡𝐞 𝐟𝐨𝐥𝐥𝐨𝐰𝐢𝐧𝐠 𝐡𝐲𝐦𝐧 𝐟𝐫𝐨𝐦 𝐏𝐡𝐢𝐥𝐥𝐢𝐩𝐢𝐚𝐧𝐬 𝐢𝐬 𝐭𝐡𝐞 𝐭𝐞𝐱𝐭𝐮𝐚𝐥 𝐛𝐚𝐬𝐢𝐬 𝐟𝐨𝐫 𝐭𝐡𝐢𝐬 𝐬𝐮𝐛𝐨𝐫𝐝𝐢𝐧𝐚𝐭𝐢𝐨𝐧𝐢𝐬𝐭 𝐂𝐡𝐫𝐢𝐬𝐭𝐨𝐥𝐨𝐠𝐲: "𝐂𝐡𝐫𝐢𝐬𝐭 𝐉𝐞𝐬𝐮𝐬, 𝐰𝐡𝐨, 𝐭𝐡𝐨𝐮𝐠𝐡 𝐡𝐞 𝐰𝐚𝐬 𝐢𝐧 𝐭𝐡𝐞 𝐟𝐨𝐫𝐦 𝐨𝐟 𝐆𝐨𝐝, 𝐝𝐢𝐝 𝐧𝐨𝐭 𝐜𝐨𝐮𝐧𝐭 𝐞𝐪𝐮𝐚𝐥𝐢𝐭𝐲 𝐰𝐢𝐭𝐡 𝐆𝐨𝐝 𝐚 𝐭𝐡𝐢𝐧𝐠 𝐭𝐨 𝐛𝐞 𝐠𝐫𝐚𝐬𝐩𝐞𝐝, 𝐛𝐮𝐭 𝐞𝐦𝐩𝐭𝐢𝐞𝐝 (𝐞𝐜𝐡𝐞𝐧𝐬𝐞) 𝐡𝐢𝐦𝐬𝐞𝐥𝐟, 𝐭𝐚𝐤𝐢𝐧𝐠 𝐭𝐡𝐞 𝐟𝐨𝐫𝐦 𝐨𝐟 𝐚 𝐬𝐞𝐫𝐯𝐚𝐧𝐭, 𝐛𝐞𝐢𝐧𝐠 𝐛𝐨𝐫𝐧 𝐢𝐧 𝐭𝐡𝐞 𝐥𝐢𝐤𝐞𝐧𝐞𝐬𝐬 𝐨𝐟 𝐦𝐞𝐧" (𝟐:𝟕).
𝐃𝐨𝐧𝐚𝐥𝐝 𝐁𝐥𝐨𝐞𝐬𝐜𝐡 𝐜𝐥𝐚𝐢𝐦𝐬 𝐭𝐡𝐚𝐭 𝐚𝐧 𝐚𝐜𝐜𝐞𝐩𝐭𝐚𝐛𝐥𝐞 𝐢𝐧𝐭𝐞𝐫𝐩𝐫𝐞𝐭𝐚𝐭𝐢𝐨𝐧 𝐨𝐟 𝐤𝐞𝐧𝐨𝐬𝐢𝐬 𝐦𝐮𝐬𝐭 𝐛𝐞 𝐟𝐨𝐮𝐧𝐝 𝐛𝐞𝐜𝐚𝐮𝐬𝐞 𝐢𝐭 𝐢𝐬 "𝐬𝐨𝐥𝐢𝐝𝐥𝐲 𝐛𝐢𝐛𝐥𝐢𝐜𝐚𝐥," 𝐛𝐮𝐭 𝐡𝐞 𝐰𝐚𝐫𝐧𝐬 𝐚𝐠𝐚𝐢𝐧𝐬𝐭 𝐭𝐰𝐨 𝐡𝐞𝐫𝐞𝐬𝐢𝐞𝐬 𝐰𝐡𝐢𝐜𝐡 𝐰𝐞 𝐡𝐚𝐯𝐞 𝐣𝐮𝐬𝐭 𝐢𝐝𝐞𝐧𝐭𝐢𝐟𝐢𝐞𝐝: "𝐈𝐟 𝐭𝐡𝐞 𝐝𝐢𝐯𝐢𝐧𝐞 𝐚𝐭𝐭𝐫𝐢𝐛𝐮𝐭𝐞𝐬 𝐰𝐞𝐫𝐞 𝐫𝐞𝐧𝐨𝐮𝐧𝐜𝐞𝐝 𝐛𝐲 𝐂𝐡𝐫𝐢𝐬𝐭 𝐰𝐡𝐞𝐧 𝐡𝐞 𝐛𝐞𝐜𝐚𝐦𝐞 𝐦𝐚𝐧,…𝐢𝐭 𝐢𝐬 𝐝𝐢𝐟𝐟𝐢𝐜𝐮𝐥𝐭 𝐭𝐨 𝐬𝐞𝐞 𝐡𝐨𝐰 𝐡𝐞 𝐜𝐚𝐧 𝐬𝐭𝐢𝐥𝐥 𝐛𝐞 𝐫𝐞𝐠𝐚𝐫𝐝𝐞𝐝 𝐚𝐬 𝐆𝐨𝐝 [𝐦𝐲 𝐜𝐫𝐢𝐭𝐢𝐪𝐮𝐞 𝐨𝐟 𝐃𝐚𝐯𝐢𝐬]. 𝐈𝐟 𝐭𝐡𝐞 𝐡𝐮𝐦𝐢𝐥𝐢𝐚𝐭𝐞𝐝 𝐎𝐧𝐞 𝐢𝐬 𝐧𝐨𝐭 𝐭𝐡𝐞 𝐯𝐞𝐫𝐲 𝐬𝐚𝐦𝐞 𝐚𝐬 𝐭𝐡𝐞 𝐄𝐱𝐚𝐥𝐭𝐞𝐝 𝐎𝐧𝐞, 𝐭𝐡𝐞𝐧 𝐉𝐞𝐬𝐮𝐬 𝐛𝐞𝐜𝐨𝐦𝐞𝐬 𝐥𝐢𝐭𝐭𝐥𝐞 𝐦𝐨𝐫𝐞 𝐭𝐡𝐚𝐧 𝐚 𝐝𝐞𝐦𝐢𝐠𝐨𝐝 𝐰𝐡𝐨 𝐥𝐢𝐯𝐞𝐬 𝐨𝐧 𝐞𝐚𝐫𝐭𝐡."(𝟐𝟖)
𝐌𝐢𝐜𝐡𝐚𝐞𝐥 𝐆𝐫𝐞𝐞𝐧 𝐚𝐥𝐬𝐨 𝐭𝐮𝐫𝐧𝐬 𝐭𝐨 𝐚 𝐤𝐞𝐧𝐨𝐭𝐢𝐜 𝐂𝐡𝐫𝐢𝐬𝐭𝐨𝐥𝐨𝐠𝐲 𝐬𝐢𝐦𝐢𝐥𝐚𝐫 𝐭𝐨 𝐃𝐚𝐯𝐢𝐬' 𝐚𝐬 𝐭𝐡𝐢𝐬 𝐜𝐢𝐭𝐚𝐭𝐢𝐨𝐧 𝐢𝐧𝐝𝐢𝐜𝐚𝐭𝐞𝐬: "𝐈𝐭 𝐦𝐞𝐚𝐧𝐬 𝐭𝐡𝐚𝐭 𝐉𝐞𝐬𝐮𝐬 𝐡𝐚𝐝 𝐚𝐥𝐰𝐚𝐲𝐬 𝐛𝐞𝐞𝐧 𝐨𝐧𝐞 𝐰𝐢𝐭𝐡 𝐆𝐨𝐝; 𝐭𝐡𝐚𝐭 𝐡𝐞 𝐯𝐨𝐥𝐮𝐧𝐭𝐚𝐫𝐢𝐥𝐲 𝐥𝐚𝐢𝐝 𝐚𝐬𝐢𝐝𝐞 𝐭𝐡𝐨𝐬𝐞 𝐚𝐬𝐩𝐞𝐜𝐭𝐬 𝐨𝐟 𝐡𝐢𝐬 𝐝𝐞𝐢𝐭𝐲 𝐭𝐡𝐚𝐭 𝐰𝐨𝐮𝐥𝐝 𝐡𝐚𝐯𝐞 𝐛𝐞𝐞𝐧 𝐢𝐦𝐩𝐨𝐬𝐬𝐢𝐛𝐥𝐞 𝐭𝐨 𝐜𝐨𝐦𝐛𝐢𝐧𝐞 𝐰𝐢𝐭𝐡 𝐬𝐡𝐚𝐫𝐢𝐧𝐠 𝐨𝐮𝐫 𝐡𝐮𝐦𝐚𝐧 𝐜𝐨𝐧𝐝𝐢𝐭𝐢𝐨𝐧𝐬…."(𝟐𝟗) 𝐆𝐫𝐞𝐞𝐧 𝐜𝐨𝐧𝐜𝐥𝐮𝐝𝐞𝐬 𝐭𝐡𝐢𝐬 𝐩𝐚𝐫𝐭𝐢𝐜𝐮𝐥𝐚𝐫 𝐝𝐢𝐬𝐜𝐮𝐬𝐬𝐢𝐨𝐧 𝐰𝐢𝐭𝐡 𝐚 𝐰𝐚𝐫𝐧𝐢𝐧𝐠 𝐭𝐨 𝐥𝐢𝐛𝐞𝐫𝐚𝐥 𝐬𝐜𝐡𝐨𝐥𝐚𝐫𝐬 𝐰𝐡𝐨 𝐜𝐥𝐚𝐢𝐦 𝐭𝐡𝐚𝐭 𝐭𝐡𝐞 𝐞𝐚𝐫𝐥𝐢𝐞𝐬𝐭 𝐬𝐭𝐫𝐚𝐭𝐚 𝐨𝐟 𝐭𝐡𝐞 𝐍𝐞𝐰 𝐓𝐞𝐬𝐭𝐚𝐦𝐞𝐧𝐭 𝐝𝐨 𝐧𝐨𝐭 𝐬𝐮𝐩𝐩𝐨𝐫𝐭 𝐭𝐡𝐞 𝐟𝐮𝐥𝐥 𝐝𝐞𝐢𝐭𝐲 𝐨𝐟 𝐉𝐞𝐬𝐮𝐬.
𝐓𝐡𝐢𝐬 𝐜𝐨𝐦𝐦𝐞𝐧𝐭 𝐢𝐬 𝐚𝐛𝐬𝐨𝐥𝐮𝐭𝐞𝐥𝐲 𝐛𝐚𝐟𝐟𝐥𝐢𝐧𝐠 𝐢𝐧 𝐥𝐢𝐠𝐡𝐭 𝐨𝐟 𝐭𝐡𝐞 𝐜𝐨𝐧𝐜𝐞𝐬𝐬𝐢𝐨𝐧 𝐆𝐫𝐞𝐞𝐧 𝐡𝐚𝐬 𝐦𝐚𝐝𝐞 𝐢𝐧 𝐭𝐡𝐞 𝐩𝐚𝐬𝐬𝐚𝐠𝐞 𝐣𝐮𝐬𝐭 𝐪𝐮𝐨𝐭𝐞𝐝. 𝐆𝐫𝐞𝐞𝐧'𝐬 𝐚𝐝 𝐡𝐨𝐜 𝐭𝐚𝐦𝐩𝐞𝐫𝐢𝐧𝐠 𝐰𝐢𝐭𝐡 𝐭𝐡𝐞 𝐝𝐨𝐜𝐭𝐫𝐢𝐧𝐞 𝐨𝐟 𝐭𝐡𝐞 𝐈𝐧𝐜𝐚𝐫𝐧𝐚𝐭𝐢𝐨𝐧–𝐭𝐡𝐚𝐭 𝐉𝐞𝐬𝐮𝐬 "𝐯𝐨𝐥𝐮𝐧𝐭𝐚𝐫𝐢𝐥𝐲 𝐥𝐚𝐢𝐝 𝐚𝐬𝐢𝐝𝐞" 𝐜𝐞𝐫𝐭𝐚𝐢𝐧 𝐚𝐬𝐩𝐞𝐜𝐭𝐬 𝐨𝐟 𝐡𝐢𝐬 𝐝𝐞𝐢𝐭𝐲–𝐫𝐞𝐯𝐞𝐚𝐥𝐬 𝐭𝐡𝐚𝐭 𝐆𝐫𝐞𝐞𝐧 𝐝𝐨𝐞𝐬 𝐧𝐨𝐭 𝐡𝐚𝐯𝐞 𝐚 𝐜𝐥𝐞𝐚𝐫 𝐮𝐧𝐝𝐞𝐫𝐬𝐭𝐚𝐧𝐝𝐢𝐧𝐠 𝐨𝐟 𝐭𝐡𝐞 𝐝𝐢𝐯𝐢𝐧𝐞 𝐧𝐚𝐭𝐮𝐫𝐞.
𝐋𝐢𝐤𝐞 𝐃𝐚𝐯𝐢𝐬, 𝐆𝐫𝐞𝐞𝐧 𝐬𝐨𝐦𝐞𝐡𝐨𝐰 𝐚𝐬𝐬𝐮𝐦𝐞𝐬 𝐭𝐡𝐚𝐭 𝐭𝐡𝐞 𝐝𝐢𝐯𝐢𝐧𝐞 𝐚𝐭𝐭𝐫𝐢𝐛𝐮𝐭𝐞𝐬 𝐚𝐫𝐞 𝐚𝐜𝐜𝐢𝐝𝐞𝐧𝐭𝐚𝐥 𝐚𝐧𝐝 𝐜𝐚𝐧 𝐛𝐞 𝐣𝐞𝐭𝐭𝐢𝐬𝐨𝐧𝐞𝐝 𝐬𝐨 𝐭𝐡𝐚𝐭 𝐆𝐨𝐝 𝐜𝐨𝐮𝐥𝐝 𝐛𝐞𝐜𝐨𝐦𝐞 𝐚 𝐡𝐮𝐦𝐚𝐧 𝐛𝐞𝐢𝐧𝐠.
𝐈𝐧 𝐫𝐞𝐜𝐞𝐧𝐭 𝐲𝐞𝐚𝐫𝐬 𝐭𝐡𝐞 𝐦𝐨𝐬𝐭 𝐫𝐚𝐝𝐢𝐜𝐚𝐥 𝐤𝐞𝐧𝐨𝐭𝐢𝐜 𝐂𝐡𝐫𝐢𝐬𝐭𝐨𝐥𝐨𝐠𝐲 𝐡𝐚𝐬 𝐛𝐞𝐞𝐧 𝐭𝐡𝐞 "𝐝𝐞𝐚𝐭𝐡-𝐨𝐟-𝐆𝐨𝐝" 𝐭𝐡𝐞𝐨𝐥𝐨𝐠𝐲 𝐨𝐟 𝐓𝐡𝐨𝐦𝐚𝐬 𝐀𝐥𝐭𝐢𝐳𝐞𝐫. 𝐀𝐥𝐭𝐢𝐳𝐞𝐫 𝐚𝐫𝐠𝐮𝐞𝐬, 𝐧𝐨𝐭 𝐯𝐞𝐫𝐲 𝐬𝐮𝐜𝐜𝐞𝐬𝐬𝐟𝐮𝐥𝐥𝐲 𝐈 𝐦𝐮𝐬𝐭 𝐬𝐭𝐫𝐞𝐬𝐬, 𝐭𝐡𝐚𝐭 𝐭𝐡𝐞 𝐫𝐞𝐚𝐥 𝐦𝐞𝐚𝐧𝐢𝐧𝐠 𝐨𝐟 𝐂𝐡𝐫𝐢𝐬𝐭𝐢𝐚𝐧𝐢𝐭𝐲 𝐢𝐬 𝐟𝐨𝐮𝐧𝐝 𝐢𝐧 𝐭𝐡𝐞 𝐭𝐨𝐭𝐚𝐥 𝐬𝐞𝐥𝐟-𝐞𝐦𝐩𝐭𝐲𝐢𝐧𝐠 𝐨𝐟 𝐆𝐨𝐝 𝐢𝐧 𝐭𝐡𝐞 𝐈𝐧𝐜𝐚𝐫𝐧𝐚𝐭𝐢𝐨𝐧.
𝐀𝐜𝐜𝐨𝐫𝐝𝐢𝐧𝐠 𝐭𝐨 𝐀𝐥𝐭𝐢𝐳𝐞𝐫, 𝐭𝐡𝐞 𝐭𝐫𝐚𝐧𝐬𝐜𝐞𝐧𝐝𝐞𝐧𝐭 𝐆𝐨𝐝 𝐨𝐟 𝐭𝐡𝐞 𝐇𝐞𝐛𝐫𝐞𝐰 𝐁𝐢𝐛𝐥𝐞 𝐩𝐨𝐮𝐫𝐬 𝐨𝐮𝐭 𝐡𝐢𝐬 𝐝𝐢𝐯𝐢𝐧𝐢𝐭𝐲 𝐢𝐧𝐭𝐨 𝐭𝐡𝐞 𝐰𝐨𝐫𝐥𝐝 𝐬𝐨 𝐭𝐡𝐚𝐭 𝐧𝐨𝐭 𝐨𝐧𝐥𝐲 𝐢𝐬 𝐉𝐞𝐬𝐮𝐬 𝐝𝐢𝐯𝐢𝐧𝐞 𝐛𝐮𝐭 "𝐞𝐯𝐞𝐫𝐲 𝐡𝐮𝐦𝐚𝐧 𝐡𝐚𝐧𝐝 𝐚𝐧𝐝 𝐟𝐚𝐜𝐞" 𝐢𝐬 𝐚𝐬 𝐰𝐞𝐥𝐥. 𝐀𝐥𝐭𝐢𝐳𝐞𝐫 𝐟𝐮𝐥𝐥𝐲 𝐞𝐦𝐛𝐫𝐚𝐜𝐞𝐬 𝐚𝐧 𝐇𝐞𝐠𝐞𝐥𝐢𝐚𝐧 𝐝𝐢𝐚𝐥𝐞𝐜𝐭𝐢𝐜𝐚𝐥 𝐦𝐞𝐭𝐡𝐨𝐝,
𝐬𝐨 𝐢𝐭 𝐢𝐬 𝐝𝐢𝐟𝐟𝐢𝐜𝐮𝐥𝐭 𝐭𝐨 𝐭𝐞𝐥𝐥 𝐰𝐡𝐞𝐭𝐡𝐞𝐫 𝐭𝐡𝐞 𝐈𝐧𝐜𝐚𝐫𝐧𝐚𝐭𝐢𝐨𝐧 𝐢𝐧𝐯𝐨𝐥𝐯𝐞𝐬 𝐭𝐡𝐞 𝐜𝐨𝐦𝐩𝐥𝐞𝐭𝐞 𝐡𝐮𝐦𝐚𝐧𝐢𝐳𝐚𝐭𝐢𝐨𝐧 𝐨𝐟 𝐆𝐨𝐝 𝐨𝐫 𝐭𝐡𝐞 𝐜𝐨𝐦𝐩𝐥𝐞𝐭𝐞 𝐝𝐢𝐯𝐢𝐧𝐢𝐳𝐚𝐭𝐢𝐨𝐧 𝐨𝐟 𝐭𝐡𝐞 𝐰𝐨𝐫𝐥𝐝. 𝐀𝐥𝐭𝐡𝐨𝐮𝐠𝐡 𝐈 𝐛𝐞𝐥𝐢𝐞𝐯𝐞 𝐭𝐡𝐚𝐭 𝐀𝐥𝐭𝐢𝐳𝐞𝐫 𝐰𝐨𝐮𝐥𝐝 𝐨𝐩𝐭 𝐟𝐨𝐫 𝐭𝐡𝐞 𝐥𝐚𝐭𝐭𝐞𝐫, 𝐈 𝐰𝐨𝐮𝐥𝐝 𝐚𝐫𝐠𝐮𝐞 𝐭𝐡𝐚𝐭 𝐡𝐞 𝐢𝐬 𝐚𝐜𝐭𝐮𝐚𝐥𝐥𝐲 𝐝𝐨𝐢𝐧𝐠 𝐭𝐡𝐞 𝐟𝐨𝐫𝐦𝐞𝐫.
𝐈𝐧 𝐚𝐧𝐲 𝐞𝐯𝐞𝐧𝐭, 𝐀𝐥𝐭𝐢𝐳𝐞𝐫 𝐛𝐞𝐥𝐢𝐞𝐯𝐞𝐬 𝐭𝐡𝐚𝐭 𝐭𝐡𝐞 𝐈𝐧𝐜𝐚𝐫𝐧𝐚𝐭𝐢𝐨𝐧 𝐢𝐬 𝐬𝐨 𝐢𝐦𝐩𝐨𝐫𝐭𝐚𝐧𝐭 𝐭𝐡𝐚𝐭 𝐢𝐭 𝐢𝐬 𝐢𝐧𝐝𝐞𝐞𝐝 𝐰𝐨𝐫𝐭𝐡 𝐬𝐚𝐜𝐫𝐢𝐟𝐢𝐜𝐢𝐧𝐠 𝐭𝐡𝐞 𝐭𝐫𝐚𝐝𝐢𝐭𝐢𝐨𝐧𝐚𝐥 𝐜𝐨𝐧𝐜𝐞𝐩𝐭 𝐨𝐟 𝐆𝐨𝐝 𝐟𝐨𝐫 𝐢𝐭. 𝐊𝐞𝐧𝐨𝐭𝐢𝐜 𝐂𝐡𝐫𝐢𝐬𝐭𝐨𝐥𝐨𝐠𝐢𝐞𝐬 𝐝𝐨 𝐧𝐨𝐭 𝐡𝐚𝐯𝐞 𝐭𝐨 𝐛𝐞 𝐚𝐬 𝐫𝐚𝐝𝐢𝐜𝐚𝐥 𝐚𝐬 𝐀𝐥𝐭𝐢𝐳𝐞𝐫'𝐬 𝐢𝐧 𝐨𝐫𝐝𝐞𝐫 𝐭𝐨 𝐬𝐤𝐞𝐰 𝐭𝐡𝐞 𝐨𝐫𝐢𝐠𝐢𝐧𝐚𝐥 𝐢𝐧𝐭𝐞𝐧𝐭𝐢𝐨𝐧𝐬 𝐨𝐟 𝐭𝐡𝐞 𝐞𝐚𝐫𝐥𝐲 𝐟𝐚𝐭𝐡𝐞𝐫𝐬. 𝐀𝐥𝐭𝐢𝐳𝐞𝐫'𝐬 𝐯𝐢𝐞𝐰, 𝐭𝐨 𝐦𝐲 𝐤𝐧𝐨𝐰𝐥𝐞𝐝𝐠𝐞, 𝐢𝐬 𝐭𝐡𝐞 𝐨𝐧𝐥𝐲 𝐨𝐧𝐞 𝐰𝐡𝐢𝐜𝐡 𝐞𝐥𝐢𝐦𝐢𝐧𝐚𝐭𝐞𝐬 𝐭𝐡𝐞 𝐭𝐫𝐚𝐧𝐬𝐜𝐞𝐧𝐝𝐞𝐧𝐭 𝐝𝐢𝐯𝐢𝐧𝐞, 𝐚𝐥𝐭𝐡𝐨𝐮𝐠𝐡 𝐰𝐞 𝐡𝐚𝐯𝐞 𝐬𝐞𝐞𝐧 𝐭𝐡𝐚𝐭 𝐃𝐚𝐯𝐢𝐬 𝐜𝐨𝐦𝐞𝐬 𝐯𝐞𝐫𝐲 𝐜𝐥𝐨𝐬𝐞 𝐭𝐨 𝐭𝐡𝐢𝐬 𝐟𝐨𝐫 𝐉𝐞𝐬𝐮𝐬' 𝐥𝐢𝐟𝐞 𝐨𝐧 𝐞𝐚𝐫𝐭𝐡.
𝐎𝐭𝐡𝐞𝐫 𝐤𝐞𝐧𝐨𝐭𝐢𝐜 𝐂𝐡𝐫𝐢𝐬𝐭𝐨𝐥𝐨𝐠𝐢𝐞𝐬 𝐬𝐩𝐞𝐚𝐤 𝐨𝐟 𝐭𝐡𝐞 𝐜𝐨𝐢𝐧𝐜𝐢𝐝𝐞𝐧𝐜𝐞 𝐨𝐟 𝐚 𝐆𝐨𝐝 𝐨𝐟 𝐠𝐥𝐨𝐫𝐲 𝐚𝐧𝐝 𝐚 𝐆𝐨𝐝 𝐨𝐟 𝐡𝐮𝐦𝐛𝐥𝐞 𝐬𝐮𝐛𝐬𝐞𝐫𝐯𝐢𝐞𝐧𝐜𝐞; 𝐨𝐫 𝐭𝐡𝐞𝐲 𝐚𝐥𝐭𝐞𝐫𝐧𝐚𝐭𝐢𝐯𝐞𝐥𝐲 𝐩𝐫𝐨𝐩𝐨𝐬𝐞 𝐚𝐧 𝐨𝐦𝐧𝐢𝐬𝐜𝐢𝐞𝐧𝐭 𝐉𝐞𝐬𝐮𝐬 𝐭𝐨𝐠𝐞𝐭𝐡𝐞𝐫 𝐰𝐢𝐭𝐡 𝐚𝐧 𝐢𝐠𝐧𝐨𝐫𝐚𝐧𝐭 𝐉𝐞𝐬𝐮𝐬 𝐮𝐧𝐬𝐮𝐫𝐞 𝐨𝐟 𝐡𝐢𝐬 𝐝𝐞𝐬𝐭𝐢𝐧𝐲. 𝐀𝐥𝐥 𝐬𝐨𝐫𝐭𝐬 𝐨𝐟 𝐩𝐫𝐨𝐛𝐥𝐞𝐦𝐬 𝐢𝐦𝐦𝐞𝐝𝐢𝐚𝐭𝐞𝐥𝐲 𝐚𝐩𝐩𝐞𝐚𝐫. 𝐅𝐢𝐫𝐬𝐭, 𝐭𝐡𝐞𝐫𝐞 𝐢𝐬 𝐚 𝐜𝐨𝐧𝐟𝐮𝐬𝐢𝐨𝐧 𝐨𝐟 𝐩𝐫𝐞𝐝𝐢𝐜𝐚𝐭𝐞𝐬 𝐣𝐮𝐬𝐭 𝐚𝐬 𝐬𝐞𝐯𝐞𝐫𝐞 𝐚𝐬 𝐢𝐧 𝐭𝐡𝐞 𝐨𝐫𝐭𝐡𝐨𝐝𝐨𝐱 𝐟𝐨𝐫𝐦𝐮𝐥𝐚𝐭𝐢𝐨𝐧𝐬.
𝐎𝐧𝐥𝐲 𝐃𝐚𝐯𝐢𝐬, 𝐰𝐡𝐨 𝐝𝐞𝐧𝐢𝐞𝐬 𝐭𝐨 𝐉𝐞𝐬𝐮𝐬 𝐚𝐥𝐥 𝐝𝐢𝐯𝐢𝐧𝐞 𝐩𝐫𝐞𝐝𝐢𝐜𝐚𝐭𝐞𝐬 𝐢𝐧𝐜𝐨𝐧𝐬𝐢𝐬𝐭𝐞𝐧𝐭 𝐰𝐢𝐭𝐡 𝐡𝐮𝐦𝐚𝐧 𝐨𝐧𝐞𝐬, 𝐞𝐬𝐜𝐚𝐩𝐞𝐬 𝐭𝐡𝐢𝐬 𝐜𝐡𝐚𝐫𝐠𝐞. 𝐒𝐞𝐜𝐨𝐧𝐝, 𝐭𝐡𝐞 𝐮𝐧𝐢𝐭𝐲 𝐨𝐟 𝐭𝐡𝐞 𝐧𝐚𝐭𝐮𝐫𝐞 𝐨𝐟 𝐭𝐡𝐞 𝐒𝐞𝐜𝐨𝐧𝐝 𝐏𝐞𝐫𝐬𝐨𝐧 𝐬𝐞𝐞𝐦𝐬 𝐭𝐨 𝐛𝐞 𝐝𝐢𝐫𝐞𝐜𝐭𝐥𝐲 𝐜𝐨𝐦𝐩𝐫𝐨𝐦𝐢𝐬𝐞𝐝: 𝐚𝐫𝐞 𝐭𝐡𝐞𝐫𝐞 𝐭𝐰𝐨 𝐜𝐨𝐧𝐬𝐜𝐢𝐨𝐮𝐬𝐧𝐞𝐬𝐬𝐞𝐬 𝐢𝐧 𝐉𝐞𝐬𝐮𝐬 𝐂𝐡𝐫𝐢𝐬𝐭 𝐚𝐧𝐝 𝐩𝐞𝐫𝐡𝐚𝐩𝐬 𝐞𝐯𝐞𝐧 𝐭𝐰𝐨 𝐰𝐢𝐥𝐥𝐬? 𝐓𝐡𝐞 𝐥𝐚𝐭𝐭𝐞𝐫 𝐰𝐚𝐬 𝐝𝐞𝐜𝐥𝐚𝐫𝐞𝐝 𝐡𝐞𝐫𝐞𝐭𝐢𝐜𝐚𝐥 𝐜𝐞𝐧𝐭𝐮𝐫𝐢𝐞𝐬 𝐚𝐠𝐨.
𝐓𝐡𝐞 𝐚𝐫𝐠𝐮𝐦𝐞𝐧𝐭𝐬 𝐨𝐟 𝐭𝐡𝐢𝐬 𝐜𝐡𝐚𝐩𝐭𝐞𝐫 𝐡𝐚𝐯𝐞 𝐚𝐭𝐭𝐞𝐦𝐩𝐭𝐞𝐝 𝐭𝐨 𝐬𝐡𝐨𝐰 𝐭𝐡𝐚𝐭 𝐭𝐡𝐞𝐫𝐞 𝐚𝐫𝐞 𝐝𝐞𝐜𝐢𝐝𝐞𝐝 𝐚𝐝𝐯𝐚𝐧𝐭𝐚𝐠𝐞𝐬 𝐭𝐨 𝐚 𝐫𝐞𝐥𝐢𝐠𝐢𝐨𝐧 𝐰𝐢𝐭𝐡𝐨𝐮𝐭 𝐚 𝐥𝐢𝐭𝐞𝐫𝐚𝐥 𝐝𝐢𝐯𝐢𝐧𝐞 𝐢𝐧𝐜𝐚𝐫𝐧𝐚𝐭𝐢𝐨𝐧. 𝐅𝐢𝐫𝐬𝐭, 𝐨𝐧𝐞 𝐚𝐯𝐨𝐢𝐝𝐬 𝐭𝐡𝐞 𝐛𝐚𝐬𝐢𝐜 𝐥𝐨𝐠𝐢𝐜𝐚𝐥 𝐩𝐫𝐨𝐛𝐥𝐞𝐦𝐬 𝐢𝐧𝐯𝐨𝐥𝐯𝐞𝐝 𝐢𝐧 𝐭𝐡𝐞 𝐜𝐨𝐧𝐜𝐞𝐩𝐭 𝐨𝐟 𝐚 𝐦𝐚𝐧-𝐆𝐨𝐝. 𝐖𝐡𝐲 𝐬𝐡𝐨𝐮𝐥𝐝 𝐨𝐧𝐞 𝐚𝐝𝐝 𝐮𝐧𝐧𝐞𝐜𝐞𝐬𝐬𝐚𝐫𝐲 𝐥𝐨𝐠𝐢𝐜𝐚𝐥 𝐩𝐫𝐨𝐛𝐥𝐞𝐦𝐬 𝐭𝐨 𝐚 𝐰𝐨𝐫𝐥𝐝𝐯𝐢𝐞𝐰 𝐰𝐡𝐢𝐜𝐡 𝐚𝐭𝐡𝐞𝐢𝐬𝐭𝐬 𝐚𝐥𝐫𝐞𝐚𝐝𝐲 𝐟𝐢𝐧𝐝 𝐛𝐮𝐫𝐝𝐞𝐧𝐞𝐝 𝐰𝐢𝐭𝐡 𝐥𝐨𝐠𝐢𝐜𝐚𝐥 𝐝𝐢𝐟𝐟𝐢𝐜𝐮𝐥𝐭𝐢𝐞𝐬?
𝐈𝐧 𝐨𝐭𝐡𝐞𝐫 𝐰𝐨𝐫𝐝𝐬, 𝐭𝐡𝐞 𝐜𝐚𝐮𝐬𝐞 𝐨𝐟 𝐭𝐡𝐞𝐢𝐬𝐦 𝐢𝐬 𝐞𝐧𝐡𝐚𝐧𝐜𝐞𝐝 𝐬𝐢𝐠𝐧𝐢𝐟𝐢𝐜𝐚𝐧𝐭𝐥𝐲 𝐰𝐢𝐭𝐡𝐨𝐮𝐭 𝐭𝐡𝐞 𝐦𝐲𝐭𝐡 𝐨𝐟 𝐆𝐨𝐝 𝐢𝐧𝐜𝐚𝐫𝐧𝐚𝐭𝐞. 𝐒𝐞𝐜𝐨𝐧𝐝, 𝐨𝐧𝐞 𝐩𝐫𝐞𝐬𝐞𝐫𝐯𝐞𝐬 𝐭𝐡𝐞 𝐬𝐞𝐦𝐢𝐧𝐚𝐥 𝐝𝐢𝐬𝐜𝐨𝐯𝐞𝐫𝐲 𝐨𝐟 𝐭𝐡𝐞 𝐚𝐧𝐜𝐢𝐞𝐧𝐭 𝐇𝐞𝐛𝐫𝐞𝐰𝐬: 𝐭𝐡𝐚𝐭 𝐆𝐨𝐝 𝐢𝐬 𝐆𝐨𝐝 𝐚𝐧𝐝 𝐭𝐡𝐚𝐭 𝐜𝐫𝐞𝐚𝐭𝐮𝐫𝐞𝐬 𝐚𝐫𝐞 𝐜𝐫𝐞𝐚𝐭𝐮𝐫𝐞𝐬; 𝐚𝐧𝐝 𝐭𝐡𝐚𝐭 𝐨𝐧𝐞 𝐬𝐡𝐨𝐮𝐥𝐝 𝐧𝐨𝐭 𝐦𝐢𝐱 𝐭𝐡𝐞 𝐧𝐚𝐭𝐮𝐫𝐞 𝐚𝐧𝐝 𝐚𝐭𝐭𝐫𝐢𝐛𝐮𝐭𝐞𝐬 𝐨𝐟 𝐨𝐧𝐞 𝐰𝐢𝐭𝐡 𝐭𝐡𝐞 𝐨𝐭𝐡𝐞𝐫. 𝐓𝐡𝐢𝐫𝐝, 𝐨𝐧𝐞 𝐚𝐯𝐨𝐢𝐝𝐬 𝐭𝐡𝐞 𝐦𝐲𝐭𝐡𝐨𝐥𝐨𝐠𝐢𝐳𝐢𝐧𝐠 𝐭𝐡𝐚𝐭 𝐢𝐬 𝐢𝐧𝐞𝐯𝐢𝐭𝐚𝐛𝐥𝐞 𝐰𝐡𝐞𝐧 𝐨𝐧𝐞 𝐰𝐚𝐧𝐭𝐬 𝐭𝐨 𝐬𝐩𝐞𝐚𝐤 𝐬𝐞𝐫𝐢𝐨𝐮𝐬𝐥𝐲 𝐨𝐟 𝐚 𝐥𝐢𝐭𝐞𝐫𝐚𝐥 𝐆𝐨𝐝-𝐦𝐚𝐝𝐞 𝐟𝐥𝐞𝐬𝐡.
𝐓𝐡𝐞 𝐚𝐧𝐜𝐢𝐞𝐧𝐭 𝐇𝐞𝐛𝐫𝐞𝐰𝐬 𝐰𝐞𝐫𝐞 𝐜𝐨𝐫𝐫𝐞𝐜𝐭: 𝐏𝐡𝐢𝐥𝐨 𝐨𝐟 𝐀𝐥𝐞𝐱𝐚𝐧𝐝𝐫𝐢𝐚 𝐬𝐚𝐢𝐝 𝐭𝐡𝐚𝐭 "𝐧𝐞𝐢𝐭𝐡𝐞𝐫 𝐢𝐬 𝐆𝐨𝐝 𝐢𝐧 𝐡𝐮𝐦𝐚𝐧 𝐟𝐨𝐫𝐦, 𝐧𝐨𝐫 𝐢𝐬 𝐭𝐡𝐞 𝐡𝐮𝐦𝐚𝐧 𝐛𝐨𝐝𝐲 𝐆𝐨𝐝-𝐥𝐢𝐤𝐞";(𝟑𝟎) 𝐚𝐧𝐝 𝐘𝐚𝐡𝐰𝐞𝐡 𝐡𝐢𝐦𝐬𝐞𝐥𝐟 𝐚𝐥𝐥𝐞𝐠𝐞𝐝𝐥𝐲 𝐝𝐞𝐜𝐥𝐚𝐫𝐞𝐝 "𝐈 𝐚𝐦 𝐆𝐨𝐝 𝐚𝐧𝐝 𝐧𝐨𝐭 𝐦𝐚𝐧" (𝐇𝐨𝐬. 𝟏𝟏:𝟗). 𝐖𝐢𝐭𝐡 𝐫𝐞𝐠𝐚𝐫𝐝 𝐭𝐨 𝐭𝐡𝐞 𝐈𝐧𝐜𝐚𝐫𝐧𝐚𝐭𝐢𝐨𝐧 𝐭𝐡𝐞 𝐞𝐯𝐚𝐧𝐠𝐞𝐥𝐢𝐜𝐚𝐥 𝐫𝐚𝐭𝐢𝐨𝐧𝐚𝐥𝐢𝐬𝐭𝐬 𝐰𝐨𝐮𝐥𝐝 𝐥𝐢𝐤𝐞 𝐭𝐨 𝐡𝐚𝐯𝐞 𝐦𝐨𝐫𝐞 𝐥𝐨𝐠𝐢𝐜 𝐚𝐧𝐝 𝐥𝐞𝐬𝐬 𝐦𝐲𝐬𝐭𝐞𝐫𝐲, 𝐛𝐮𝐭 𝐈 𝐛𝐞𝐥𝐢𝐞𝐯𝐞 𝐭𝐡𝐚𝐭 𝐜𝐨𝐧𝐬𝐞𝐫𝐯𝐚𝐭𝐢𝐯𝐞 𝐂𝐡𝐫𝐢𝐬𝐭𝐢𝐚𝐧𝐬 𝐠𝐞𝐧𝐞𝐫𝐚𝐥𝐥𝐲 𝐨𝐮𝐠𝐡𝐭 𝐭𝐨 𝐛𝐞 𝐜𝐨𝐧𝐭𝐞𝐧𝐭 𝐰𝐢𝐭𝐡 𝐥𝐞𝐬𝐬 𝐫𝐞𝐚𝐬𝐨𝐧, 𝐰𝐞𝐚𝐤𝐞𝐫 𝐛𝐞𝐥𝐢𝐞𝐟𝐬, 𝐚𝐧𝐝 𝐦𝐨𝐫𝐞 𝐟𝐚𝐢𝐭𝐡.
𝐌𝐲 𝐫𝐞𝐚𝐥 𝐬𝐲𝐦𝐩𝐚𝐭𝐡𝐢𝐞𝐬, 𝐡𝐨𝐰𝐞𝐯𝐞𝐫, 𝐥𝐢𝐞 𝐰𝐢𝐭𝐡 𝐭𝐡𝐞 𝐂𝐡𝐫𝐢𝐬𝐭𝐢𝐚𝐧 𝐩𝐫𝐨𝐠𝐫𝐞𝐬𝐬𝐢𝐯𝐞𝐬, 𝐩𝐫𝐢𝐦𝐚𝐫𝐢𝐥𝐲 𝐭𝐡𝐞 𝐚𝐮𝐭𝐡𝐨𝐫𝐬 𝐨𝐟 𝐓𝐡𝐞 𝐌𝐲𝐭𝐡 𝐨𝐟 𝐆𝐨𝐝 𝐈𝐧𝐜𝐚𝐫𝐧𝐚𝐭𝐞, 𝐰𝐡𝐨 𝐩𝐚𝐫𝐭𝐢𝐚𝐥𝐥𝐲 𝐣𝐮𝐬𝐭𝐢𝐟𝐲 𝐭𝐡𝐞𝐢𝐫 𝐚𝐜𝐭𝐢𝐨𝐧𝐬 𝐰𝐢𝐭𝐡 𝐚 𝐥𝐢𝐭𝐭𝐥𝐞 𝐡𝐢𝐬𝐭𝐨𝐫𝐲 𝐥𝐞𝐬𝐬𝐨𝐧: 𝐢𝐧 𝐭𝐡𝐞 𝟏𝟕𝐭𝐡 𝐂𝐞𝐧𝐭𝐮𝐫𝐲 𝐭𝐡𝐞 𝐜𝐡𝐮𝐫𝐜𝐡 𝐬𝐮𝐫𝐯𝐢𝐯𝐞𝐝 𝐰𝐡𝐞𝐧 𝐢𝐭 𝐰𝐚𝐬 𝐟𝐨𝐫𝐜𝐞𝐝 𝐭𝐨 𝐠𝐢𝐯𝐞 𝐮𝐩 𝐚 𝐭𝐡𝐫𝐞𝐞-𝐬𝐭𝐨𝐫𝐲, 𝐠𝐞𝐨𝐜𝐞𝐧𝐭𝐫𝐢𝐜 𝐮𝐧𝐢𝐯𝐞𝐫𝐬𝐞; 𝐰𝐢𝐭𝐡 𝐭𝐡𝐞 𝐫𝐢𝐬𝐞 𝐨𝐟 𝐭𝐞𝐱𝐭𝐮𝐚𝐥 𝐜𝐫𝐢𝐭𝐢𝐜𝐢𝐬𝐦 𝐂𝐡𝐫𝐢𝐬𝐭𝐢𝐚𝐧𝐢𝐭𝐲 𝐡𝐚𝐬 𝐧𝐨𝐭 𝐨𝐧𝐥𝐲 𝐬𝐮𝐫𝐯𝐢𝐯𝐞𝐝 𝐛𝐮𝐭 𝐛𝐞𝐧𝐞𝐟𝐢𝐭𝐞𝐝 𝐞𝐧𝐨𝐫𝐦𝐨𝐮𝐬𝐥𝐲;
𝐚𝐧𝐝 𝐦𝐨𝐬𝐭 𝐂𝐡𝐫𝐢𝐬𝐭𝐢𝐚𝐧𝐬, 𝐞𝐯𝐞𝐧 𝐬𝐨𝐦𝐞 𝐜𝐨𝐧𝐬𝐞𝐫𝐯𝐚𝐭𝐢𝐯𝐞 𝐞𝐯𝐚𝐧𝐠𝐞𝐥𝐢𝐜𝐚𝐥𝐬, 𝐡𝐚𝐯𝐞 𝐚𝐥𝐬𝐨 𝐦𝐚𝐧𝐚𝐠𝐞𝐝 𝐭𝐨 𝐜𝐨𝐦𝐞 𝐭𝐨 𝐭𝐞𝐫𝐦𝐬 𝐰𝐢𝐭𝐡 𝐦𝐨𝐝𝐞𝐫𝐧 𝐞𝐯𝐨𝐥𝐮𝐭𝐢𝐨𝐧𝐚𝐫𝐲 𝐭𝐡𝐞𝐨𝐫𝐲. 𝐖𝐢𝐭𝐡 𝐭𝐡𝐞𝐬𝐞 𝐦𝐚𝐣𝐨𝐫 𝐡𝐢𝐬𝐭𝐨𝐫𝐢𝐜𝐚𝐥 𝐚𝐝𝐣𝐮𝐬𝐭𝐦𝐞𝐧𝐭𝐬 𝐢𝐧 𝐦𝐢𝐧𝐝, 𝐭𝐡𝐞 𝐂𝐡𝐫𝐢𝐬𝐭𝐢𝐚𝐧 𝐥𝐢𝐛𝐞𝐫𝐚𝐥𝐬 𝐬𝐞𝐞 𝐧𝐨 𝐫𝐞𝐚𝐬𝐨𝐧 𝐰𝐡𝐲 𝐂𝐡𝐫𝐢𝐬𝐭𝐢𝐚𝐧𝐢𝐭𝐲 𝐜𝐚𝐧𝐧𝐨𝐭 𝐠𝐢𝐯𝐞 𝐮𝐩 𝐭𝐡𝐞 𝐦𝐲𝐭𝐡 𝐨𝐟 𝐆𝐨𝐝 𝐢𝐧𝐜𝐚𝐫𝐧𝐚𝐭𝐞.
𝐋𝐢𝐬𝐭 𝐨𝐟 𝐨𝐭𝐡𝐞𝐫 𝟏𝟔 𝐆𝐨𝐝𝐬 𝐟𝐫𝐨𝐦 𝐝𝐢𝐟𝐟𝐞𝐫𝐞𝐧𝐭 𝐫𝐞𝐥𝐢𝐠𝐢𝐨𝐧𝐬 𝐛𝐞𝐟𝐨𝐫𝐞 𝐂𝐡𝐫𝐢𝐬𝐭𝐢𝐚𝐧𝐢𝐭𝐲 𝐰𝐡𝐨 𝐚𝐫𝐞 𝐚𝐥𝐬𝐨 𝐦𝐚𝐧𝐢𝐟𝐞𝐬𝐭𝐞𝐝 𝐢𝐧 𝐌𝐞𝐧 & 𝐝𝐢𝐞𝐝 𝐟𝐨𝐫 𝐭𝐡𝐞𝐢𝐫 𝐬𝐢𝐧𝐬.
((𝟏)) 𝐓𝐡𝐮𝐥𝐢𝐬 𝐨𝐟 𝐄𝐠𝐲𝐩𝐭, 𝟏𝟕𝟎𝟎 𝐁. 𝐂.
((𝟐)) 𝐊𝐫𝐢𝐬𝐡𝐧𝐚 𝐨𝐟 𝐈𝐧𝐝𝐢𝐚, 𝟏𝟐𝟎𝟎 𝐁.𝐂.
((𝟑)) 𝐂𝐫𝐢𝐭𝐞 𝐨𝐟 𝐂𝐡𝐚𝐥𝐝𝐞𝐚, 𝟏𝟐𝟎𝟎 𝐁.𝐂.
((𝟒)) 𝐀𝐭𝐲𝐬 𝐨𝐟 𝐏𝐡𝐫𝐲𝐠𝐢𝐚, 𝟏𝟏𝟕𝟎 𝐁.𝐂.
((𝟓)) 𝐓𝐡𝐚𝐦𝐦𝐮𝐳 𝐨𝐫 𝐓𝐚𝐦𝐦𝐮𝐳 𝐨𝐟 𝐒𝐲𝐫𝐢𝐚, 𝟏𝟏𝟔𝟎 𝐁.𝐂.
((𝟔)) 𝐇𝐞𝐬𝐮𝐬 𝐨𝐫 𝐄𝐫𝐨𝐬 𝟖𝟑𝟒 𝐁.𝐂.
((𝟕)) 𝐁𝐚𝐥𝐢 𝐨𝐟 𝐎𝐫𝐢𝐬𝐬𝐚, 𝟕𝟐𝟓 𝐁.𝐂.
((𝟖)) 𝐈𝐧𝐝𝐫𝐚 𝐨𝐟 𝐓𝐡𝐢𝐛𝐞𝐭 (𝐓𝐢𝐛𝐞𝐭), 𝟕𝟐𝟓 𝐁.𝐂.
((𝟗)) 𝐈𝐚𝐨 𝐨𝐟 𝐍𝐞𝐩𝐚𝐮𝐥 (𝐍𝐞𝐩𝐚𝐥), 𝟔𝟐𝟐 𝐁.𝐂.
((𝟏𝟎)) 𝐁𝐮𝐝𝐝𝐡𝐚 𝐒𝐚𝐤𝐢𝐚 (𝐌𝐮𝐧𝐢) 𝐨𝐟 𝐈𝐧𝐝𝐢𝐚, 𝟔𝟎𝟎 𝐁.𝐂.
((𝟏𝟏)) 𝐌𝐢𝐭𝐫𝐚 (𝐌𝐢𝐭𝐡𝐫𝐚) 𝐨𝐟 𝐏𝐞𝐫𝐬𝐢𝐚, 𝟔𝟎𝟎 𝐁.𝐂.
((𝟏𝟐)) 𝐀𝐥𝐜𝐞𝐬𝐭𝐨𝐬 𝐨𝐟 𝐄𝐮𝐫𝐢𝐩𝐢𝐝𝐞𝐬, 𝟔𝟎𝟎 𝐁.𝐂.
((𝟏𝟑)) 𝐐𝐮𝐞𝐳𝐚𝐥𝐜𝐨𝐚𝐭𝐥 𝐨𝐟 𝐌𝐞𝐱𝐢𝐜𝐨, 𝟓𝟖𝟕 𝐁.𝐂.
((𝟏𝟒)) 𝐖𝐢𝐭𝐭𝐨𝐛𝐚 𝐨𝐟 𝐭𝐡𝐞 𝐁𝐢𝐥𝐢𝐧𝐠𝐨𝐧𝐞𝐬𝐞, 𝟓𝟓𝟐 𝐁.𝐂.[𝟏𝟐]
((𝟏𝟓)) 𝐏𝐫𝐨𝐦𝐞𝐭𝐡𝐞𝐮𝐬 𝐨𝐫 Æ𝐬𝐜𝐡𝐲𝐥𝐮𝐬 𝐨𝐟 𝐂𝐚𝐮𝐜𝐚𝐬𝐮𝐬, 𝟓𝟒𝟕 𝐁.𝐂.
((𝟏𝟔)) 𝐐𝐮𝐢𝐫𝐢𝐧𝐮𝐬 𝐨𝐟 𝐑𝐨𝐦𝐞, 𝟓𝟎𝟔 𝐁.𝐂.
𝐀𝐥𝐥𝐚𝐡 𝐊𝐧𝐨𝐰𝐬 𝐁𝐞𝐬𝐭.
𝐑𝐞𝐟𝐞𝐫𝐞𝐧𝐜𝐞𝐬:
Answering those who say that Allah is incarnate among His creation – Imam Ibn Baz
God's Incarnation in Ancient Pagan Religions
God is not a son of man- Reincarnation as a blasphemous belief
Paul the False Apostle of Satan
Did Allah embody himself to Prophet Moses in fire or tree as Christians claim to try to prove their doctrine of Incarnation?
Christians attempt to twist the meaning of many Quranic verses to justify their own corrupt faith of manifestation of God in the form of Jesus.
Is it possible to see Allah in this world?
𝐄𝐧𝐝𝐧𝐨𝐭𝐞𝐬
𝟏. 𝐃𝐨𝐧𝐚𝐥𝐝 𝐂. 𝐁𝐥𝐨𝐞𝐬𝐜𝐡, 𝐓𝐡𝐞 𝐄𝐬𝐬𝐞𝐧𝐭𝐢𝐚𝐥𝐬 𝐨𝐟 𝐄𝐯𝐚𝐧𝐠𝐞𝐥𝐢𝐜𝐚𝐥 𝐓𝐡𝐞𝐨𝐥𝐨𝐠𝐲, 𝐯𝐨𝐥. 𝟏, 𝐩𝐩. 𝟏𝟐𝟖, 𝟏𝟑𝟗, 𝟏𝟒𝟏.
𝟐. 𝐌𝐢𝐜𝐡𝐚𝐞𝐥 𝐆𝐫𝐞𝐞𝐧, 𝐓𝐡𝐞 𝐓𝐫𝐮𝐭𝐡 𝐨𝐟 𝐆𝐨𝐝 𝐈𝐧𝐜𝐚𝐫𝐧𝐚𝐭𝐞 (𝐆𝐫𝐚𝐧𝐝 𝐑𝐚𝐩𝐢𝐝𝐬: 𝐄𝐞𝐫𝐝𝐦𝐚𝐧𝐬, 𝟏𝟗𝟕𝟕), 𝐩𝐩. 𝟑𝟑, 𝟑𝟓.
𝟑. 𝐃𝐨𝐧𝐚𝐥𝐝 𝐂𝐮𝐩𝐢𝐭𝐭, "𝐓𝐡𝐞 𝐂𝐡𝐫𝐢𝐬𝐭 𝐨𝐟 𝐂𝐡𝐫𝐢𝐬𝐭𝐞𝐧𝐝𝐨𝐦" 𝐢𝐧 𝐓𝐡𝐞 𝐌𝐲𝐭𝐡 𝐨𝐟 𝐆𝐨𝐝 𝐈𝐧𝐜𝐚𝐫𝐧𝐚𝐭𝐞, 𝐞𝐝. 𝐉𝐨𝐡𝐧 𝐇𝐢𝐜𝐤 (𝐏𝐡𝐢𝐥𝐚𝐝𝐞𝐥𝐩𝐡𝐢𝐚: 𝐓𝐡𝐞 𝐖𝐞𝐬𝐭𝐦𝐢𝐧𝐬𝐭𝐞𝐫 𝐏𝐫𝐞𝐬𝐬, 𝟏𝟗𝟕𝟕), 𝐩. 𝟏𝟒𝟎.
𝟒. 𝐁𝐥𝐨𝐞𝐬𝐜𝐡, 𝐨𝐩. 𝐜𝐢𝐭., 𝐯𝐨𝐥. 𝟏, 𝐩. 𝟏𝟒𝟎.
𝟓. 𝐇𝐞𝐧𝐫𝐲, 𝐆𝐨𝐝, 𝐑𝐞𝐚𝐬𝐨𝐧, 𝐚𝐧𝐝 𝐀𝐮𝐭𝐡𝐨𝐫𝐢𝐭𝐲, 𝐯𝐨𝐥. 𝟐, 𝐩. 𝟑𝟎𝟐.
𝟔. 𝐇𝐢𝐜𝐤, 𝐅𝐚𝐢𝐭𝐡 𝐚𝐧𝐝 𝐊𝐧𝐨𝐰𝐥𝐞𝐝𝐠𝐞, 𝐩. 𝟏𝟒𝟎.
𝟕. 𝐌𝐚𝐮𝐫𝐢𝐜𝐞 𝐖𝐢𝐥𝐞𝐬, "𝐀 𝐒𝐮𝐫𝐯𝐞𝐲 𝐨𝐟 𝐈𝐬𝐬𝐮𝐞𝐬 𝐢𝐧 𝐭𝐡𝐞 𝐌𝐲𝐭𝐡 𝐃𝐞𝐛𝐚𝐭𝐞" 𝐢𝐧 𝐈𝐧𝐜𝐚𝐫𝐧𝐚𝐭𝐢𝐨𝐧 𝐚𝐧𝐝 𝐌𝐲𝐭𝐡, 𝐞𝐝. 𝐌𝐢𝐜𝐡𝐚𝐞𝐥 𝐆𝐨𝐮𝐥𝐝𝐞𝐫 (𝐆𝐫𝐚𝐧𝐝 𝐑𝐚𝐩𝐢𝐝𝐬: 𝐄𝐞𝐫𝐝𝐦𝐚𝐧𝐬, 𝟏𝟗𝟕𝟗), 𝐩. 𝟓.
𝟖. 𝐌𝐢𝐜𝐡𝐚𝐞𝐥 𝐆𝐨𝐮𝐥𝐝𝐞𝐫, "𝐏𝐚𝐫𝐚𝐝𝐨𝐱 𝐚𝐧𝐝 𝐌𝐲𝐬𝐭𝐢𝐟𝐢𝐜𝐚𝐭𝐢𝐨𝐧" 𝐢𝐧 𝐈𝐧𝐜𝐚𝐫𝐧𝐚𝐭𝐢𝐨𝐧 𝐚𝐧𝐝 𝐌𝐲𝐭𝐡, 𝐩. 𝟓𝟒.
𝟗. 𝐖𝐢𝐥𝐞𝐬, 𝐨𝐩. 𝐜𝐢𝐭., 𝐩. 𝟔.
𝟏𝟎. 𝐍𝐚𝐬𝐡, 𝐓𝐡𝐞 𝐖𝐨𝐫𝐝 𝐨𝐟 𝐆𝐨𝐝 𝐚𝐧𝐝 𝐭𝐡𝐞 𝐌𝐢𝐧𝐝 𝐨𝐟 𝐌𝐚𝐧, 𝐩. 𝟏𝟎𝟓.
𝟏𝟏. 𝐉𝐨𝐡𝐧 𝐇. 𝐇𝐢𝐜𝐤, 𝐃𝐞𝐚𝐭𝐡 𝐚𝐧𝐝 𝐄𝐭𝐞𝐫𝐧𝐚𝐥 𝐋𝐢𝐟𝐞 (𝐍𝐞𝐰 𝐘𝐨𝐫𝐤: 𝐇𝐚𝐫𝐩𝐞𝐫 𝐚𝐧𝐝 𝐑𝐨𝐰, 𝟏𝟗𝟕𝟔), 𝐩. 𝟒𝟏𝟎.
𝟏𝟐. 𝐆𝐫𝐞𝐞𝐧, 𝐨𝐩. 𝐜𝐢𝐭., 𝐩. 𝟏𝟏𝟒.
𝟏𝟑. 𝐒𝐞𝐞 𝐃𝐚𝐯𝐢𝐬, 𝐋𝐨𝐠𝐢𝐜 𝐚𝐧𝐝 𝐭𝐡𝐞 𝐍𝐚𝐭𝐮𝐫𝐞 𝐨𝐟 𝐆𝐨𝐝 (𝐆𝐫𝐚𝐧𝐝 𝐑𝐚𝐩𝐢𝐝𝐬: 𝐄𝐞𝐫𝐝𝐦𝐚𝐧𝐬, 𝟏𝟗𝟖𝟑), 𝐩𝐩. 𝟓-𝟔.
𝟏𝟒. 𝐏𝐚𝐮𝐥 𝐇𝐞𝐥𝐦, "𝐓𝐡𝐞 𝐑𝐨𝐥𝐞 𝐨𝐟 𝐋𝐨𝐠𝐢𝐜 𝐢𝐧 𝐁𝐢𝐛𝐥𝐢𝐜𝐚𝐥 𝐈𝐧𝐭𝐞𝐫𝐩𝐫𝐞𝐭𝐚𝐭𝐢𝐨𝐧" 𝐢𝐧 𝐇𝐞𝐫𝐦𝐞𝐧𝐞𝐧𝐭𝐢𝐜𝐬, 𝐈𝐧𝐞𝐫𝐫𝐚𝐧𝐜𝐲, 𝐚𝐧𝐝 𝐭𝐡𝐞 𝐁𝐢𝐛𝐥𝐞, 𝐞𝐝𝐬. 𝐄.𝐃. 𝐑𝐚𝐝𝐦𝐚𝐜𝐡𝐞𝐫 𝐚𝐧𝐝 𝐑.𝐃. 𝐏𝐫𝐞𝐮𝐬 (𝐆𝐫𝐚𝐧𝐝 𝐑𝐚𝐩𝐢𝐝𝐬: 𝐙𝐨𝐧𝐝𝐞𝐫𝐯𝐚𝐧, 𝟏𝟗𝟖𝟒), 𝐩. 𝟖𝟒𝟕.
𝟏𝟓. 𝐌𝐚𝐫𝐤 𝐌. 𝐇𝐚𝐧𝐧𝐚, "𝐀 𝐑𝐞𝐬𝐩𝐨𝐧𝐬𝐞 𝐭𝐨 𝐓𝐡𝐞 𝐑𝐨𝐥𝐞 𝐨𝐟 𝐋𝐨𝐠𝐢𝐜 𝐢𝐧 𝐁𝐢𝐛𝐥𝐢𝐜𝐚𝐥 𝐈𝐧𝐭𝐞𝐫𝐩𝐫𝐞𝐭𝐚𝐭𝐢𝐨𝐧" 𝐢𝐧 𝐇𝐞𝐫𝐦𝐞𝐧𝐞𝐧𝐭𝐢𝐜𝐬, 𝐈𝐧𝐞𝐫𝐫𝐚𝐧𝐜𝐲, 𝐚𝐧𝐝 𝐭𝐡𝐞 𝐁𝐢𝐛𝐥𝐞, 𝐩. 𝟖𝟔𝟖.
𝟏𝟔. 𝐆𝐨𝐫𝐝𝐨𝐧 𝐂𝐥𝐚𝐫𝐤, 𝐈𝐧 𝐃𝐞𝐟𝐞𝐧𝐬𝐞 𝐨𝐟 𝐓𝐡𝐞𝐨𝐥𝐨𝐠𝐲 (𝐌𝐢𝐥𝐟𝐨𝐫𝐝, 𝐌𝐢𝐜𝐡.: 𝐌𝐨𝐭𝐭 𝐌𝐞𝐝𝐢𝐚, 𝟏𝟗𝟖𝟒), 𝐩. 𝟏𝟎𝟒.
𝟏𝟕. 𝐂𝐮𝐩𝐢𝐭𝐭, "𝐉𝐞𝐬𝐮𝐬 𝐚𝐧𝐝 𝐭𝐡𝐞 𝐌𝐞𝐚𝐧𝐢𝐧𝐠 𝐨𝐟 𝐆𝐨𝐝" 𝐢𝐧 𝐈𝐧𝐜𝐚𝐫𝐧𝐚𝐭𝐢𝐨𝐧 𝐚𝐧𝐝 𝐌𝐲𝐭𝐡, 𝐩. 𝟑𝟔.
𝟏𝟖. 𝐑𝐢𝐜𝐡𝐚𝐫𝐝 𝐏. 𝐌𝐜𝐁𝐫𝐢𝐞𝐧, 𝐂𝐚𝐭𝐡𝐨𝐥𝐢𝐜𝐢𝐬𝐦 (𝐌𝐢𝐧𝐧𝐞𝐚𝐩𝐨𝐥𝐢𝐬: 𝐖𝐢𝐧𝐬𝐭𝐨𝐧 𝐏𝐫𝐞𝐬𝐬, 𝟏𝟗𝟖𝟎), 𝐯𝐨𝐥. 𝟏, 𝐩. 𝟒𝟒𝟓.
𝟏𝟗. 𝐆𝐫𝐞𝐞𝐧, 𝐨𝐩. 𝐜𝐢𝐭., 𝐩𝐩. 𝟐𝟑, 𝟐𝟖, 𝟒𝟏.
𝟐𝟎. 𝐈𝐛𝐢𝐝., 𝐩. 𝟐𝟔.
𝟐𝟏. 𝐉𝐨𝐡𝐧 𝐇𝐢𝐜𝐤, "𝐄𝐯𝐢𝐥 𝐚𝐧𝐝 𝐭𝐡𝐞 𝐈𝐧𝐜𝐚𝐫𝐧𝐚𝐭𝐢𝐨𝐧" 𝐢𝐧 𝐈𝐧𝐜𝐚𝐫𝐧𝐚𝐭𝐢𝐨𝐧 𝐚𝐧𝐝 𝐌𝐲𝐭𝐡, 𝐩. 𝟏𝟕𝟖.
𝟐𝟐. 𝐃𝐚𝐯𝐢𝐬, 𝐋𝐨𝐠𝐢𝐜 𝐚𝐧𝐝 𝐭𝐡𝐞 𝐍𝐚𝐭𝐮𝐫𝐞 𝐨𝐟 𝐆𝐨𝐝 (𝐆𝐫𝐚𝐧𝐝 𝐑𝐚𝐩𝐢𝐝𝐬: 𝐄𝐞𝐫𝐝𝐦𝐚𝐧𝐬, 𝟏𝟗𝟖𝟑), 𝐩. 𝟏𝟐𝟑.
𝟐𝟑. 𝐈𝐛𝐢𝐝., 𝐩. 𝟏𝟑𝟏.
𝟐𝟒. 𝐂𝐮𝐩𝐢𝐭𝐭, "𝐓𝐡𝐞 𝐂𝐡𝐫𝐢𝐬𝐭 𝐨𝐟 𝐂𝐡𝐫𝐢𝐬𝐭𝐞𝐧𝐝𝐨𝐦" 𝐢𝐧 𝐓𝐡𝐞 𝐌𝐲𝐭𝐡 𝐨𝐟 𝐆𝐨𝐝 𝐈𝐧𝐜𝐚𝐫𝐧𝐚𝐭𝐞, 𝐩. 𝟏𝟑𝟕.
𝟐𝟓. 𝐐𝐮𝐨𝐭𝐞𝐝 𝐢𝐧 𝐁𝐫𝐮𝐜𝐞 𝐀. 𝐃𝐞𝐦𝐚𝐫𝐞𝐬𝐭, 𝐆𝐞𝐧𝐞𝐫𝐚𝐥 𝐑𝐞𝐯𝐞𝐥𝐚𝐭𝐢𝐨𝐧 (𝐆𝐫𝐚𝐧𝐝 𝐑𝐚𝐩𝐢𝐝𝐬: 𝐙𝐨𝐧𝐝𝐞𝐫𝐯𝐚𝐧, 𝟏𝟗𝟖𝟐), 𝐩. 𝟓𝟑.
𝟐𝟔. 𝐒𝐞𝐞 𝐒𝐲𝐬𝐭𝐞𝐦𝐚𝐭𝐢𝐜 𝐓𝐡𝐞𝐨𝐥𝐨𝐠𝐲, 𝐯𝐨𝐥. 𝟏, 𝐩. 𝟐𝟑𝟔.
𝟐𝟕. 𝐀𝐮𝐠𝐮𝐬𝐭𝐢𝐧𝐞, 𝐓𝐡𝐞 𝐂𝐢𝐭𝐲 𝐨𝐟 𝐆𝐨𝐝, 𝐛𝐤. 𝟐𝟏. 𝟏𝟓. 𝐈 𝐚𝐥𝐬𝐨 𝐟𝐨𝐮𝐧𝐝 𝐚 𝐠𝐨𝐨𝐝 𝐫𝐞𝐬𝐩𝐨𝐧𝐬𝐞 𝐟𝐫𝐨𝐦 𝐀𝐮𝐠𝐮𝐬𝐭𝐢𝐧𝐞 𝐭𝐨 𝐃𝐚𝐯𝐢𝐬' 𝐜𝐨𝐧𝐭𝐢𝐧𝐠𝐞𝐧𝐭 𝐨𝐦𝐧𝐢𝐬𝐜𝐢𝐞𝐧𝐜𝐞: "…𝐖𝐡𝐚𝐭 𝐚𝐫𝐞 𝐰𝐞 𝐦𝐞𝐚𝐧 𝐰𝐫𝐞𝐭𝐜𝐡𝐞𝐬 𝐭𝐡𝐚𝐭 𝐝𝐚𝐫𝐞 𝐩𝐫𝐞𝐬𝐮𝐦𝐞 𝐭𝐨 𝐥𝐢𝐦𝐢𝐭 𝐇𝐢𝐬 𝐤𝐧𝐨𝐰𝐥𝐞𝐝𝐠𝐞?" (𝐢𝐛𝐢𝐝., 𝐛𝐤. 𝟏𝟐. 𝟏𝟖).
𝟐𝟖. 𝐁𝐥𝐨𝐞𝐬𝐜𝐡, 𝐄𝐬𝐬𝐞𝐧𝐭𝐢𝐚𝐥𝐬…, 𝐯𝐨𝐥. 𝟏, 𝐩. 𝟏𝟑𝟕.
𝟐𝟗. 𝐆𝐫𝐞𝐞𝐧, 𝐨𝐩. 𝐜𝐢𝐭., 𝐩. 𝟐𝟒.
𝟑𝟎. 𝐏𝐡𝐢𝐥𝐨 𝐨𝐟 𝐀𝐥𝐞𝐱𝐚𝐧𝐝𝐫𝐢𝐚, 𝐎𝐧 𝐭𝐡𝐞 𝐀𝐜𝐜𝐨𝐮𝐧𝐭 𝐨𝐟 𝐭𝐡𝐞 𝐖𝐨𝐫𝐥𝐝'𝐬 𝐂𝐫𝐞𝐚𝐭𝐢𝐨𝐧, 𝐩. 𝟐𝟏𝟑.