𝐃𝐨𝐞𝐬 𝐭𝐡𝐞 𝐐𝐮𝐫𝐚𝐧 𝐨𝐫𝐝𝐞𝐫 𝐭𝐡𝐞 𝐤𝐢𝐥𝐥𝐢𝐧𝐠 𝐨𝐟 𝐜𝐡𝐢𝐥𝐝𝐫𝐞𝐧 – 𝐐𝐮𝐫𝐚𝐧 (𝟏𝟖:𝟕𝟒)?

Mohamad Mostafa Nassar
Twitter:@NassarMohamadMR
𝐓𝐡𝐞 𝐀𝐧𝐭𝐢-𝐈𝐬𝐥𝐚𝐦𝐢𝐜 𝐀𝐥𝐥𝐞𝐠𝐚𝐭𝐢𝐨𝐧:
𝐓𝐡𝐞 𝐞𝐧𝐞𝐦𝐢𝐞𝐬 𝐨𝐟 𝐈𝐬𝐥𝐚𝐦 𝐩𝐞𝐫𝐬𝐢𝐬𝐭 𝐢𝐧 𝐦𝐚𝐤𝐢𝐧𝐠 𝐟𝐚𝐥𝐬𝐞 𝐚𝐜𝐜𝐮𝐬𝐚𝐭𝐢𝐨𝐧𝐬 𝐚𝐠𝐚𝐢𝐧𝐬𝐭 𝐈𝐬𝐥𝐚𝐦 𝐚𝐧𝐝 𝐢𝐧 𝐭𝐚𝐤𝐢𝐧𝐠 𝐈𝐬𝐥𝐚𝐦𝐢𝐜 𝐭𝐞𝐱𝐭𝐬 𝐨𝐮𝐭 𝐨𝐟 𝐜𝐨𝐧𝐭𝐞𝐱𝐭 𝐭𝐨 𝐩𝐨𝐫𝐭𝐫𝐚𝐲 𝐈𝐬𝐥𝐚𝐦 𝐢𝐧 𝐚 𝐧𝐞𝐠𝐚𝐭𝐢𝐯𝐞 𝐥𝐢𝐠𝐡𝐭. 𝐎𝐧𝐞 𝐨𝐟 𝐭𝐡𝐞 𝐞𝐱𝐚𝐦𝐩𝐥𝐞𝐬 𝐨𝐟 𝐭𝐡𝐞𝐢𝐫 𝐟𝐚𝐥𝐬𝐞 𝐜𝐥𝐚𝐢𝐦𝐬 𝐢𝐬 𝐭𝐡𝐚𝐭 𝐭𝐡𝐞𝐲 𝐚𝐥𝐥𝐞𝐠𝐞 𝐭𝐡𝐚𝐭 𝐭𝐡𝐞 𝐍𝐨𝐛𝐥𝐞 𝐐𝐮𝐫𝐚𝐧 𝐞𝐧𝐜𝐨𝐮𝐫𝐚𝐠𝐞𝐬 𝐭𝐡𝐞 𝐤𝐢𝐥𝐥𝐢𝐧𝐠 𝐨𝐟 𝐢𝐧𝐧𝐨𝐜𝐞𝐧𝐭 𝐜𝐡𝐢𝐥𝐝𝐫𝐞𝐧 𝐰𝐢𝐭𝐡𝐨𝐮𝐭 𝐚𝐧𝐲 𝐰𝐫𝐨𝐧𝐠𝐝𝐨𝐢𝐧𝐠, 𝐬𝐩𝐞𝐜𝐢𝐟𝐢𝐜𝐚𝐥𝐥𝐲 𝐢𝐧 𝐭𝐡𝐞 𝐬𝐭𝐨𝐫𝐲 𝐨𝐟 𝐭𝐡𝐞 𝐫𝐢𝐠𝐡𝐭𝐞𝐨𝐮𝐬 𝐬𝐞𝐫𝐯𝐚𝐧𝐭 𝐀𝐥-𝐊𝐡𝐢𝐝𝐫 𝐰𝐡𝐞𝐧 𝐡𝐞 𝐚𝐜𝐜𝐨𝐦𝐩𝐚𝐧𝐢𝐞𝐝 𝐭𝐡𝐞 𝐏𝐫𝐨𝐩𝐡𝐞𝐭 𝐌𝐨𝐬𝐞𝐬 (𝐩𝐞𝐚𝐜𝐞 𝐛𝐞 𝐮𝐩𝐨𝐧 𝐡𝐢𝐦), 𝐭𝐡𝐞 𝐬𝐨𝐧 𝐨𝐟 𝐈𝐦𝐫𝐚𝐧, 𝐰𝐡𝐨𝐦 𝐀𝐥𝐥𝐚𝐡 𝐬𝐞𝐧𝐭 𝐭𝐨 𝐥𝐞𝐚𝐫𝐧 𝐰𝐢𝐬𝐝𝐨𝐦 𝐚𝐧𝐝 𝐦𝐞𝐫𝐜𝐲 𝐟𝐫𝐨𝐦 𝐡𝐢𝐦. 𝐓𝐡𝐢𝐬 𝐢𝐬 𝐚𝐬 𝐦𝐞𝐧𝐭𝐢𝐨𝐧𝐞𝐝 𝐢𝐧 𝐒𝐮𝐫𝐚𝐡 𝐀𝐥-𝐊𝐚𝐡𝐟, 𝐐𝐮𝐫𝐚𝐧 (𝟏𝟖:𝟕𝟒).
𝐓𝐡𝐞 𝐌𝐮𝐬𝐥𝐢𝐦 𝐑𝐞𝐬𝐩𝐨𝐧𝐬𝐞:
𝐈𝐧𝐭𝐫𝐨𝐝𝐮𝐜𝐭𝐢𝐨𝐧:
𝐅𝐢𝐫𝐬𝐭 𝐚𝐧𝐝 𝐟𝐨𝐫𝐞𝐦𝐨𝐬𝐭, 𝐧𝐨𝐭 𝐮𝐧𝐝𝐞𝐫𝐬𝐭𝐚𝐧𝐝𝐢𝐧𝐠 𝐭𝐡𝐞 𝐰𝐢𝐬𝐝𝐨𝐦 𝐛𝐞𝐡𝐢𝐧𝐝 𝐬𝐨𝐦𝐞𝐭𝐡𝐢𝐧𝐠 𝐨𝐫𝐝𝐚𝐢𝐧𝐞𝐝 𝐛𝐲 𝐀𝐥𝐥𝐚𝐡 𝐀𝐥𝐦𝐢𝐠𝐡𝐭𝐲 𝐝𝐨𝐞𝐬 𝐧𝐨𝐭 𝐢𝐦𝐩𝐥𝐲 𝐭𝐡𝐚𝐭 𝐭𝐡𝐞𝐫𝐞 𝐢𝐬 𝐧𝐨 𝐝𝐢𝐯𝐢𝐧𝐞 𝐰𝐢𝐬𝐝𝐨𝐦 𝐢𝐧 𝐭𝐡𝐚𝐭 𝐝𝐞𝐜𝐫𝐞𝐞, 𝐨𝐫 𝐭𝐡𝐚𝐭 𝐚 𝐩𝐞𝐫𝐬𝐨𝐧 𝐰𝐡𝐨 𝐩𝐞𝐫𝐟𝐨𝐫𝐦𝐞𝐝 𝐬𝐮𝐜𝐡 𝐚𝐧 𝐚𝐜𝐭𝐢𝐨𝐧 𝐥𝐚𝐜𝐤𝐬 𝐰𝐢𝐬𝐝𝐨𝐦. 𝐈𝐭 𝐬𝐢𝐦𝐩𝐥𝐲 𝐦𝐞𝐚𝐧𝐬 𝐭𝐡𝐚𝐭 𝐲𝐨𝐮 𝐦𝐚𝐲 𝐛𝐞 𝐥𝐢𝐦𝐢𝐭𝐞𝐝 𝐢𝐧 𝐜𝐨𝐦𝐩𝐫𝐞𝐡𝐞𝐧𝐝𝐢𝐧𝐠 𝐭𝐡𝐞 𝐰𝐢𝐬𝐝𝐨𝐦. 𝐓𝐡𝐞𝐫𝐞𝐟𝐨𝐫𝐞, 𝐲𝐨𝐮 𝐬𝐡𝐨𝐮𝐥𝐝 𝐬𝐞𝐞𝐤 𝐠𝐮𝐢𝐝𝐚𝐧𝐜𝐞 𝐟𝐫𝐨𝐦 𝐤𝐧𝐨𝐰𝐥𝐞𝐝𝐠𝐞𝐚𝐛𝐥𝐞 𝐌𝐮𝐬𝐥𝐢𝐦 𝐞𝐱𝐩𝐞𝐫𝐭𝐬 𝐢𝐧 𝐈𝐬𝐥𝐚𝐦.
𝐓𝐡𝐞 𝐞𝐯𝐢𝐝𝐞𝐧𝐜𝐞 𝐭𝐡𝐚𝐭 𝐈𝐬𝐥𝐚𝐦 𝐢𝐬 𝐭𝐡𝐞 𝐭𝐫𝐮𝐞 𝐫𝐞𝐥𝐢𝐠𝐢𝐨𝐧 𝐢𝐬 𝐜𝐨𝐮𝐧𝐭𝐥𝐞𝐬𝐬 𝐚𝐧𝐝 𝐢𝐧𝐜𝐥𝐮𝐝𝐞𝐬 𝐛𝐨𝐭𝐡 𝐫𝐚𝐭𝐢𝐨𝐧𝐚𝐥 𝐚𝐫𝐠𝐮𝐦𝐞𝐧𝐭𝐬 𝐟𝐨𝐫 𝐭𝐡𝐞 𝐞𝐱𝐢𝐬𝐭𝐞𝐧𝐜𝐞 𝐨𝐟 𝐭𝐡𝐞 𝐎𝐧𝐞 𝐆𝐨𝐝, 𝐰𝐡𝐨 𝐢𝐬 𝐔𝐧𝐢𝐪𝐮𝐞 𝐚𝐧𝐝 𝐄𝐭𝐞𝐫𝐧𝐚𝐥, 𝐡𝐚𝐯𝐢𝐧𝐠 𝐧𝐨 𝐩𝐚𝐫𝐭𝐧𝐞𝐫𝐬 𝐢𝐧 𝐜𝐫𝐞𝐚𝐭𝐢𝐨𝐧, 𝐬𝐨𝐯𝐞𝐫𝐞𝐢𝐠𝐧𝐭𝐲, 𝐚𝐧𝐝 𝐜𝐨𝐦𝐦𝐚𝐧𝐝, 𝐚𝐬 𝐰𝐞𝐥𝐥 𝐚𝐬 𝐬𝐜𝐢𝐞𝐧𝐭𝐢𝐟𝐢𝐜, 𝐥𝐞𝐠𝐢𝐬𝐥𝐚𝐭𝐢𝐯𝐞, 𝐚𝐧𝐝 𝐡𝐢𝐬𝐭𝐨𝐫𝐢𝐜𝐚𝐥 𝐞𝐯𝐢𝐝𝐞𝐧𝐜𝐞. 𝐈𝐧 𝐭𝐡𝐢𝐬 𝐚𝐫𝐭𝐢𝐜𝐥𝐞'𝐬 𝐜𝐨𝐧𝐜𝐥𝐮𝐬𝐢𝐨𝐧, 𝐰𝐞 𝐡𝐚𝐯𝐞 𝐩𝐫𝐨𝐯𝐢𝐝𝐞𝐝 𝐦𝐚𝐧𝐲 𝐥𝐢𝐧𝐤𝐬 𝐟𝐨𝐫 𝐭𝐡𝐨𝐬𝐞 𝐰𝐡𝐨 𝐰𝐢𝐬𝐡 𝐭𝐨 𝐫𝐞𝐚𝐝 𝐦𝐨𝐫𝐞.
𝐖𝐡𝐨 𝐢𝐬 𝐀𝐥-𝐊𝐡𝐢𝐝𝐫?
𝐅𝐫𝐨𝐦 𝐭𝐡𝐞 𝐠𝐞𝐧𝐞𝐫𝐚𝐥 𝐦𝐞𝐚𝐧𝐢𝐧𝐠 𝐨𝐟 𝐭𝐡𝐞 𝐐𝐮𝐫𝐚𝐧𝐢𝐜 𝐯𝐞𝐫𝐬𝐞𝐬 "𝐓𝐡𝐞𝐧 𝐭𝐡𝐞𝐲 𝐟𝐨𝐮𝐧𝐝 𝐨𝐧𝐞 𝐨𝐟 𝐎𝐮𝐫 𝐬𝐥𝐚𝐯𝐞𝐬, 𝐨𝐧 𝐰𝐡𝐨𝐦 𝐖𝐞 𝐡𝐚𝐝 𝐛𝐞𝐬𝐭𝐨𝐰𝐞𝐝 𝐦𝐞𝐫𝐜𝐲 𝐟𝐫𝐨𝐦 𝐔𝐬, 𝐚𝐧𝐝 𝐰𝐡𝐨𝐦 𝐖𝐞 𝐡𝐚𝐝 𝐭𝐚𝐮𝐠𝐡𝐭 𝐤𝐧𝐨𝐰𝐥𝐞𝐝𝐠𝐞 𝐟𝐫𝐨𝐦 𝐔𝐬" [𝐚𝐥-𝐊𝐚𝐡𝐟 𝟏𝟖:𝟔𝟓], 𝐢𝐭 𝐚𝐩𝐩𝐞𝐚𝐫𝐬 𝐭𝐡𝐚𝐭 𝐀𝐥-𝐊𝐡𝐢𝐝𝐫 𝐰𝐚𝐬 𝐚 𝐡𝐮𝐦𝐚𝐧 𝐏𝐫𝐨𝐩𝐡𝐞𝐭. 𝐅𝐨𝐫 𝐦𝐨𝐫𝐞 𝐝𝐞𝐭𝐚𝐢𝐥𝐬 𝐫𝐞𝐚𝐝 𝐡𝐞𝐫𝐞.
𝐈𝐧 𝐯𝐢𝐞𝐰 𝐨𝐟 𝐭𝐡𝐞 𝐞𝐱𝐩𝐥𝐚𝐧𝐚𝐭𝐢𝐨𝐧𝐬 𝐭𝐡𝐚𝐭 𝐞𝐦𝐞𝐫𝐠𝐞 𝐟𝐫𝐨𝐦 𝐐𝐮𝐫𝐚𝐧𝐢𝐜 𝐜𝐨𝐦𝐦𝐞𝐧𝐭𝐚𝐫𝐢𝐞𝐬, 𝐭𝐫𝐚𝐝𝐢𝐭𝐢𝐨𝐧𝐬, 𝐚𝐧𝐝 𝐭𝐡𝐞 𝐜𝐨𝐧𝐭𝐞𝐱𝐭 𝐨𝐟 𝐭𝐡𝐞 𝐯𝐞𝐫𝐬𝐞𝐬, 𝐭𝐡𝐞 𝐢𝐧𝐜𝐢𝐝𝐞𝐧𝐭 𝐨𝐟 𝐤𝐢𝐥𝐥𝐢𝐧𝐠 𝐭𝐡𝐚𝐭 𝐭𝐞𝐞𝐧𝐚𝐠𝐞 𝐛𝐨𝐲 (𝐆𝐡𝐮𝐥𝐚𝐦) 𝐰𝐚𝐬 𝐧𝐨𝐭 𝐚 𝐜𝐡𝐚𝐧𝐜𝐞 𝐞𝐯𝐞𝐧𝐭 𝐨𝐫 𝐚𝐬 𝐚 𝐫𝐞𝐬𝐮𝐥𝐭 𝐨𝐟 𝐚 𝐜𝐨𝐧𝐟𝐥𝐢𝐜𝐭; 𝐫𝐚𝐭𝐡𝐞𝐫, 𝐀𝐥-𝐊𝐡𝐢𝐝𝐫 𝐩𝐫𝐨𝐜𝐞𝐞𝐝𝐞𝐝 𝐭𝐨 𝐤𝐢𝐥𝐥 𝐡𝐢𝐦 𝐰𝐢𝐭𝐡𝐨𝐮𝐭 𝐚𝐧𝐲 𝐩𝐫𝐞𝐥𝐢𝐦𝐢𝐧𝐚𝐫𝐲 𝐞𝐱𝐜𝐡𝐚𝐧𝐠𝐞 𝐨𝐟 𝐰𝐨𝐫𝐝𝐬.
𝐒𝐨 𝐭𝐡𝐞𝐫𝐞 𝐢𝐬 𝐧𝐨 𝐩𝐨𝐬𝐬𝐢𝐛𝐢𝐥𝐢𝐭𝐲 𝐨𝐟 𝐭𝐡𝐞𝐫𝐞 𝐛𝐞𝐢𝐧𝐠 𝐚𝐧𝐲 𝐦𝐞𝐧𝐭𝐚𝐥 𝐢𝐧𝐜𝐥𝐢𝐧𝐚𝐭𝐢𝐨𝐧 𝐨𝐫 𝐚𝐧𝐠𝐞𝐫 𝐢𝐧𝐯𝐨𝐥𝐯𝐞𝐝 𝐢𝐧 𝐭𝐡𝐢𝐬 𝐞𝐯𝐞𝐧𝐭, 𝐚𝐧𝐝 𝐭𝐡𝐞 𝐪𝐮𝐞𝐬𝐭𝐢𝐨𝐧𝐞𝐫'𝐬 𝐦𝐢𝐧𝐝 𝐜𝐨𝐦𝐞𝐬 𝐭𝐨 𝐚𝐜𝐜𝐞𝐩𝐭 𝐭𝐡𝐞 𝐟𝐚𝐜𝐭 𝐭𝐡𝐚𝐭 𝐭𝐡𝐨𝐮𝐠𝐡 𝐭𝐡𝐞𝐫𝐞 𝐰𝐞𝐫𝐞 𝐧𝐨 𝐩𝐫𝐨𝐯𝐨𝐤𝐢𝐧𝐠 𝐨𝐫 𝐢𝐧𝐜𝐢𝐭𝐢𝐧𝐠 𝐟𝐚𝐜𝐭𝐨𝐫𝐬 𝐢𝐧𝐯𝐨𝐥𝐯𝐞𝐝, 𝐰𝐢𝐭𝐡𝐨𝐮𝐭 𝐝𝐨𝐮𝐛𝐭 𝐭𝐡𝐞 𝐤𝐢𝐥𝐥𝐢𝐧𝐠 𝐡𝐚𝐝 𝐰𝐢𝐬𝐝𝐨𝐦 𝐚𝐧𝐝 𝐬𝐩𝐞𝐜𝐢𝐚𝐥 𝐫𝐞𝐚𝐬𝐨𝐧 𝐛𝐞𝐡𝐢𝐧𝐝 𝐢𝐭. 𝐈𝐭 𝐝𝐢𝐝 𝐧𝐨𝐭 𝐟𝐨𝐥𝐥𝐨𝐰 𝐟𝐫𝐨𝐦 𝐛𝐚𝐬𝐞 𝐝𝐞𝐬𝐢𝐫𝐞𝐬. 𝐓𝐡𝐞 𝐚𝐜𝐭𝐢𝐨𝐧 𝐰𝐚𝐬 𝐮𝐧𝐝𝐞𝐫𝐭𝐚𝐤𝐞𝐧 𝐛𝐲 𝐬𝐨𝐦𝐞𝐨𝐧𝐞 𝐚𝐛𝐨𝐮𝐭 𝐰𝐡𝐨𝐦 𝐭𝐡𝐞 𝐐𝐮𝐫𝐚𝐧 𝐬𝐚𝐲𝐬:
𝐂𝐫𝐢𝐭𝐢𝐜𝐚𝐥 𝐍𝐨𝐭𝐞:
𝐅𝐢𝐫𝐬𝐭𝐥𝐲:
𝐓𝐡𝐞 𝐬𝐭𝐨𝐫𝐲 𝐨𝐟 𝐀𝐥-𝐊𝐡𝐢𝐝𝐫 𝐰𝐢𝐭𝐡 𝐭𝐡𝐞 𝐏𝐫𝐨𝐩𝐡𝐞𝐭 𝐌𝐨𝐬𝐞𝐬 (𝐩𝐞𝐚𝐜𝐞 𝐛𝐞 𝐮𝐩𝐨𝐧 𝐡𝐢𝐦) 𝐝𝐨𝐞𝐬 𝐧𝐨𝐭 𝐢𝐧𝐯𝐨𝐥𝐯𝐞 𝐚𝐧𝐲 𝐜𝐡𝐢𝐥𝐝𝐫𝐞𝐧. 𝐓𝐡𝐞 𝐐𝐮𝐫𝐚𝐧𝐢𝐜 𝐭𝐞𝐱𝐭 𝐢𝐬 𝐩𝐫𝐞𝐜𝐢𝐬𝐞, 𝐮𝐬𝐢𝐧𝐠 𝐭𝐡𝐞 𝐰𝐨𝐫𝐝 "𝐆𝐡𝐮𝐥𝐚𝐦," 𝐚𝐧𝐝 𝐚 "𝐆𝐡𝐮𝐥𝐚𝐦" 𝐢𝐬 𝐧𝐨𝐭 𝐧𝐞𝐜𝐞𝐬𝐬𝐚𝐫𝐢𝐥𝐲 𝐚 𝐯𝐞𝐫𝐲 𝐲𝐨𝐮𝐧𝐠 𝐜𝐡𝐢𝐥𝐝, 𝐚𝐬 𝐞𝐱𝐩𝐥𝐚𝐢𝐧𝐞𝐝 𝐛𝐞𝐥𝐨𝐰 𝐰𝐢𝐭𝐡 𝐝𝐞𝐭𝐚𝐢𝐥𝐞𝐝 𝐞𝐥𝐚𝐛𝐨𝐫𝐚𝐭𝐢𝐨𝐧 𝐚𝐧𝐝 𝐞𝐯𝐢𝐝𝐞𝐧𝐜𝐞 𝐟𝐫𝐨𝐦 𝐭𝐡𝐞 𝐀𝐫𝐚𝐛𝐢𝐜 𝐥𝐚𝐧𝐠𝐮𝐚𝐠𝐞 𝐝𝐢𝐜𝐭𝐢𝐨𝐧𝐚𝐫𝐲.
𝐓𝐡𝐞 𝐆𝐥𝐨𝐫𝐢𝐨𝐮𝐬 𝐇𝐨𝐥 𝐐𝐮𝐫𝐚𝐧 𝐰𝐚𝐬 𝐫𝐞𝐯𝐞𝐚𝐥𝐞𝐝 𝐟𝐫𝐨𝐦 𝐀𝐥𝐥𝐚𝐡 𝐄𝐱𝐚𝐥𝐭𝐞𝐝 𝐇𝐞 𝐭𝐨 𝐏𝐫𝐨𝐩𝐡𝐞𝐭 𝐌𝐮𝐡𝐚𝐦𝐦𝐞𝐝 𝐩𝐞𝐚𝐜𝐞 𝐛𝐞 𝐮𝐩𝐨𝐧 𝐡𝐢𝐦 𝐢𝐧 𝐞𝐥𝐨𝐪𝐮𝐞𝐧𝐭 𝐀𝐫𝐚𝐛𝐢𝐜, 𝐜𝐡𝐚𝐥𝐥𝐞𝐧𝐠𝐢𝐧𝐠 𝐭𝐡𝐞 𝐬𝐤𝐢𝐥𝐥𝐞𝐝 𝐀𝐫𝐚𝐛𝐢𝐜 𝐬𝐩𝐞𝐚𝐤𝐞𝐫𝐬 𝐨𝐟 𝐭𝐡𝐞 𝐭𝐢𝐦𝐞, 𝐰𝐡𝐨 𝐰𝐞𝐫𝐞 𝐚𝐝𝐞𝐩𝐭 𝐚𝐭 𝐩𝐨𝐞𝐭𝐫𝐲, 𝐜𝐨𝐦𝐩𝐨𝐬𝐢𝐭𝐢𝐨𝐧𝐬, 𝐚𝐧𝐝 𝐩𝐨𝐞𝐭𝐢𝐜 𝐯𝐞𝐫𝐬𝐞𝐬 𝐭𝐡𝐚𝐭 𝐬𝐨𝐦𝐞𝐭𝐢𝐦𝐞𝐬 𝐜𝐨𝐧𝐬𝐢𝐬𝐭𝐞𝐝 𝐨𝐟 𝐡𝐮𝐧𝐝𝐫𝐞𝐝𝐬 𝐨𝐫 𝐞𝐯𝐞𝐧 𝐭𝐡𝐨𝐮𝐬𝐚𝐧𝐝𝐬 𝐨𝐟 𝐥𝐢𝐧𝐞𝐬 𝐨𝐟 𝐩𝐨𝐞𝐭𝐫𝐲, 𝐨𝐟𝐭𝐞𝐧 𝐜𝐨𝐦𝐩𝐨𝐬𝐞𝐝 𝐬𝐩𝐨𝐧𝐭𝐚𝐧𝐞𝐨𝐮𝐬𝐥𝐲. 𝐓𝐡𝐞𝐫𝐞𝐟𝐨𝐫𝐞, 𝐰𝐞 𝐬𝐡𝐨𝐮𝐥𝐝 𝐮𝐬𝐞 𝐀𝐫𝐚𝐛𝐢𝐜 𝐥𝐚𝐧𝐠𝐮𝐚𝐠𝐞 𝐝𝐢𝐜𝐭𝐢𝐨𝐧𝐚𝐫𝐢𝐞𝐬 𝐭𝐨 𝐮𝐧𝐝𝐞𝐫𝐬𝐭𝐚𝐧𝐝 𝐭𝐡𝐞 𝐦𝐞𝐚𝐧𝐢𝐧𝐠𝐬 𝐚𝐧𝐝 𝐯𝐨𝐜𝐚𝐛𝐮𝐥𝐚𝐫𝐲 𝐨𝐟 𝐭𝐡𝐞 𝐆𝐥𝐨𝐫𝐢𝐨𝐮𝐬 𝐇𝐨𝐥𝐲 𝐐𝐮𝐫𝐚𝐧.
𝐖𝐡𝐚𝐭 𝐝𝐨𝐞𝐬 "غلام" (𝐆𝐡𝐮𝐥𝐚𝐦) 𝐦𝐞𝐚𝐧 𝐢𝐧 𝐭𝐡𝐞 𝐀𝐫𝐚𝐛𝐢𝐜 𝐥𝐚𝐧𝐠𝐮𝐚𝐠𝐞?
𝐈𝐧 𝐀𝐫𝐚𝐛𝐢𝐜, "غلام" (𝐆𝐡𝐮𝐥𝐚𝐦) 𝐜𝐚𝐧 𝐫𝐞𝐟𝐞𝐫 𝐭𝐨 𝐚 𝐩𝐞𝐫𝐬𝐨𝐧 𝐟𝐫𝐨𝐦 𝐛𝐢𝐫𝐭𝐡 𝐮𝐧𝐭𝐢𝐥 𝐭𝐡𝐞𝐲 𝐛𝐞𝐜𝐨𝐦𝐞 𝐚𝐧 𝐨𝐥𝐝 𝐦𝐚𝐧 𝐰𝐢𝐭𝐡 𝐠𝐫𝐚𝐲 𝐡𝐚𝐢𝐫.

𝐀𝐫𝐚𝐛𝐬 𝐮𝐬𝐞𝐝 𝐭𝐨 𝐫𝐞𝐟𝐞𝐫 𝐭𝐨 𝐦𝐢𝐝𝐝𝐥𝐞-𝐚𝐠𝐞𝐝 𝐢𝐧𝐝𝐢𝐯𝐢𝐝𝐮𝐚𝐥𝐬 𝐚𝐬 "غلام" (𝐆𝐡𝐮𝐥𝐚𝐦). 𝐓𝐡𝐞 𝐨𝐫𝐢𝐠𝐢𝐧 𝐨𝐟 𝐭𝐡𝐞 𝐰𝐨𝐫𝐝 "غلام" (𝐆𝐡𝐮𝐥𝐚𝐦) 𝐜𝐨𝐦𝐞𝐬 𝐟𝐫𝐨𝐦 "غلومة" 𝐨𝐫 "الغلومية" (𝐝𝐞𝐬𝐢𝐫𝐞 𝐨𝐫 𝐥𝐮𝐬𝐭). 𝐓𝐡𝐢𝐬 𝐢𝐬 𝐭𝐡𝐞 𝐥𝐢𝐧𝐠𝐮𝐢𝐬𝐭𝐢𝐜 𝐦𝐞𝐚𝐧𝐢𝐧𝐠 𝐨𝐟 𝐭𝐡𝐞 𝐰𝐨𝐫𝐝 "غلام" (𝐆𝐡𝐮𝐥𝐚𝐦) 𝐚𝐬 𝐦𝐞𝐧𝐭𝐢𝐨𝐧𝐞𝐝 𝐢𝐧 𝐭𝐡𝐞 𝐐𝐮𝐫𝐚𝐧𝐢𝐜 𝐯𝐞𝐫𝐬𝐞 𝐟𝐫𝐨𝐦 𝐒𝐮𝐫𝐚𝐡 𝐀𝐥-𝐊𝐚𝐡𝐟, 𝐯𝐞𝐫𝐬𝐞 𝟕𝟒. 𝐘𝐨𝐮 𝐜𝐚𝐧 𝐚𝐥𝐬𝐨 𝐫𝐞𝐟𝐞𝐫 𝐭𝐨 "𝐋𝐢𝐬𝐚𝐧 𝐚𝐥-𝐀𝐫𝐚𝐛" 𝐛𝐲 𝐈𝐛𝐧 𝐌𝐚𝐧𝐳𝐮𝐫, 𝐨𝐧𝐞 𝐨𝐟 𝐭𝐡𝐞 𝐦𝐨𝐬𝐭 𝐟𝐚𝐦𝐨𝐮𝐬 𝐀𝐫𝐚𝐛𝐢𝐜 𝐥𝐚𝐧𝐠𝐮𝐚𝐠𝐞 𝐝𝐢𝐜𝐭𝐢𝐨𝐧𝐚𝐫𝐢𝐞𝐬 𝐭𝐡𝐫𝐨𝐮𝐠𝐡𝐨𝐮𝐭 𝐈𝐬𝐥𝐚𝐦𝐢𝐜 𝐡𝐢𝐬𝐭𝐨𝐫𝐲, 𝐚𝐬 𝐰𝐞𝐥𝐥 𝐚𝐬 "𝐀𝐥-𝐐𝐚𝐦𝐮𝐬 𝐚𝐥-𝐌𝐮𝐡𝐢𝐭."
𝐓𝐡𝐞𝐫𝐞𝐟𝐨𝐫𝐞, 𝐢𝐭 𝐢𝐬 𝐠𝐞𝐧𝐞𝐫𝐚𝐥𝐥𝐲 𝐮𝐧𝐝𝐞𝐫𝐬𝐭𝐨𝐨𝐝 𝐭𝐡𝐚𝐭 𝐭𝐡𝐞 𝐩𝐫𝐞𝐯𝐚𝐥𝐞𝐧𝐭 𝐮𝐬𝐚𝐠𝐞 𝐨𝐟 𝐭𝐡𝐞 𝐰𝐨𝐫𝐝 "غلام" (𝐆𝐡𝐮𝐥𝐚𝐦) 𝐢𝐬 𝐟𝐨𝐫 𝐬𝐨𝐦𝐞𝐨𝐧𝐞 𝐰𝐡𝐨 𝐡𝐚𝐬 𝐫𝐞𝐚𝐜𝐡𝐞𝐝 𝐭𝐡𝐞 𝐚𝐠𝐞 𝐨𝐟 𝐩𝐮𝐛𝐞𝐫𝐭𝐲 𝐚𝐧𝐝 𝐡𝐚𝐬 𝐬𝐞𝐱𝐮𝐚𝐥 𝐝𝐞𝐬𝐢𝐫𝐞. 𝐎𝐟 𝐜𝐨𝐮𝐫𝐬𝐞, 𝐰𝐞 𝐜𝐚𝐧𝐧𝐨𝐭 𝐝𝐞𝐟𝐢𝐧𝐢𝐭𝐢𝐯𝐞𝐥𝐲 𝐜𝐨𝐧𝐜𝐥𝐮𝐝𝐞 𝐭𝐡𝐚𝐭 𝐭𝐡𝐞 𝐰𝐨𝐫𝐝 "غلام" (𝐆𝐡𝐮𝐥𝐚𝐦) 𝐦𝐞𝐧𝐭𝐢𝐨𝐧𝐞𝐝 𝐢𝐧 𝐭𝐡𝐞 𝐐𝐮𝐫𝐚𝐧𝐢𝐜 𝐯𝐞𝐫𝐬𝐞 𝐬𝐩𝐞𝐜𝐢𝐟𝐢𝐜𝐚𝐥𝐥𝐲 𝐦𝐞𝐚𝐧𝐬 𝐚 𝐜𝐡𝐢𝐥𝐝. 𝐈𝐭 𝐢𝐬 𝐩𝐨𝐬𝐬𝐢𝐛𝐥𝐞 𝐭𝐡𝐚𝐭 𝐢𝐭 𝐫𝐞𝐟𝐞𝐫𝐬 𝐭𝐨 𝐚 𝐲𝐨𝐮𝐧𝐠 𝐦𝐚𝐧 𝐨𝐫 𝐬𝐨𝐦𝐞𝐨𝐧𝐞 𝐰𝐡𝐨 𝐡𝐚𝐬 𝐫𝐞𝐚𝐜𝐡𝐞𝐝 𝐭𝐡𝐞 𝐚𝐠𝐞 𝐨𝐟 𝐩𝐮𝐛𝐞𝐫𝐭𝐲.
𝐈𝐭'𝐬 𝐰𝐨𝐫𝐭𝐡 𝐧𝐨𝐭𝐢𝐧𝐠 𝐭𝐡𝐚𝐭 𝐐𝐮𝐫𝐚𝐧𝐢𝐜 𝐢𝐧𝐭𝐞𝐫𝐩𝐫𝐞𝐭𝐚𝐭𝐢𝐨𝐧𝐬 𝐦𝐚𝐲 𝐯𝐚𝐫𝐲, 𝐚𝐧𝐝 𝐭𝐡𝐞𝐫𝐞 𝐢𝐬 𝐧𝐨 𝐮𝐧𝐚𝐧𝐢𝐦𝐨𝐮𝐬 𝐜𝐨𝐧𝐬𝐞𝐧𝐬𝐮𝐬 𝐚𝐦𝐨𝐧𝐠 𝐬𝐜𝐡𝐨𝐥𝐚𝐫𝐬 𝐭𝐡𝐚𝐭 𝐭𝐡𝐞 𝐰𝐨𝐫𝐝 "غلام" (𝐆𝐡𝐮𝐥𝐚𝐦) 𝐢𝐧 𝐭𝐡𝐞 𝐦𝐞𝐧𝐭𝐢𝐨𝐧𝐞𝐝 𝐯𝐞𝐫𝐬𝐞 𝐦𝐞𝐚𝐧𝐬 𝐚 𝐜𝐡𝐢𝐥𝐝.
𝐅𝐨𝐫 𝐞𝐱𝐚𝐦𝐩𝐥𝐞, 𝐰𝐡𝐞𝐧 𝐰𝐞 𝐫𝐞𝐟𝐞𝐫 𝐭𝐨 𝐭𝐡𝐞 𝐢𝐧𝐭𝐞𝐫𝐩𝐫𝐞𝐭𝐚𝐭𝐢𝐨𝐧 𝐨𝐟 𝐈𝐦𝐚𝐦 𝐀𝐥-𝐐𝐮𝐫𝐭𝐮𝐛𝐢, 𝐰𝐞 𝐟𝐢𝐧𝐝 𝐭𝐡𝐚𝐭 𝐡𝐞 𝐥𝐞𝐚𝐧𝐬 𝐭𝐨𝐰𝐚𝐫𝐝𝐬 𝐭𝐡𝐞 𝐨𝐩𝐢𝐧𝐢𝐨𝐧 𝐭𝐡𝐚𝐭 𝐭𝐡𝐞 𝐭𝐞𝐫𝐦 "غلام" (𝐆𝐡𝐮𝐥𝐚𝐦) 𝐢𝐧 𝐭𝐡𝐢𝐬 𝐐𝐮𝐫𝐚𝐧𝐢𝐜 𝐯𝐞𝐫𝐬𝐞 𝐟𝐫𝐨𝐦 𝐒𝐮𝐫𝐚𝐡 𝐀𝐥-𝐊𝐚𝐡𝐟, 𝐯𝐞𝐫𝐬𝐞 𝟕𝟒, 𝐫𝐞𝐟𝐞𝐫𝐬 𝐭𝐨 𝐚 𝐦𝐚𝐭𝐮𝐫𝐞 𝐢𝐧𝐝𝐢𝐯𝐢𝐝𝐮𝐚𝐥. 𝐇𝐞 𝐬𝐮𝐩𝐩𝐨𝐫𝐭𝐬 𝐭𝐡𝐢𝐬 𝐯𝐢𝐞𝐰 𝐛𝐲 𝐡𝐢𝐠𝐡𝐥𝐢𝐠𝐡𝐭𝐢𝐧𝐠 𝐭𝐡𝐚𝐭 𝐭𝐡𝐞 𝐯𝐞𝐫𝐬𝐞 𝐦𝐞𝐧𝐭𝐢𝐨𝐧𝐬 𝐭𝐡𝐞 𝐟𝐞𝐚𝐫 𝐨𝐟 𝐭𝐲𝐫𝐚𝐧𝐧𝐲 𝐚𝐧𝐝 𝐝𝐢𝐬𝐛𝐞𝐥𝐢𝐞𝐟.
𝐃𝐢𝐬𝐛𝐞𝐥𝐢𝐞𝐟, 𝐚𝐜𝐜𝐨𝐫𝐝𝐢𝐧𝐠 𝐭𝐨 𝐈𝐬𝐥𝐚𝐦𝐢𝐜 𝐣𝐮𝐫𝐢𝐬𝐩𝐫𝐮𝐝𝐞𝐧𝐜𝐞, 𝐢𝐬 𝐨𝐧𝐥𝐲 𝐚𝐭𝐭𝐫𝐢𝐛𝐮𝐭𝐞𝐝 𝐭𝐨 𝐭𝐡𝐨𝐬𝐞 𝐰𝐡𝐨 𝐡𝐚𝐯𝐞 𝐫𝐞𝐚𝐜𝐡𝐞𝐝 𝐭𝐡𝐞 𝐚𝐠𝐞 𝐨𝐟 𝐥𝐞𝐠𝐚𝐥 𝐫𝐞𝐬𝐩𝐨𝐧𝐬𝐢𝐛𝐢𝐥𝐢𝐭𝐲 (𝐩𝐮𝐛𝐞𝐫𝐭𝐲). 𝐈𝐭 𝐢𝐬 𝐢𝐧𝐜𝐨𝐧𝐜𝐞𝐢𝐯𝐚𝐛𝐥𝐞 𝐭𝐨 𝐚𝐩𝐩𝐥𝐲 𝐭𝐡𝐞 𝐭𝐞𝐫𝐦 "𝐝𝐢𝐬𝐛𝐞𝐥𝐢𝐞𝐟" 𝐭𝐨 𝐚 𝐲𝐨𝐮𝐧𝐠 𝐜𝐡𝐢𝐥𝐝 𝐰𝐡𝐨 𝐢𝐬 𝐧𝐨𝐭 𝐥𝐞𝐠𝐚𝐥𝐥𝐲 𝐫𝐞𝐬𝐩𝐨𝐧𝐬𝐢𝐛𝐥𝐞.
𝐀𝐧𝐨𝐭𝐡𝐞𝐫 𝐩𝐢𝐞𝐜𝐞 𝐨𝐟 𝐞𝐯𝐢𝐝𝐞𝐧𝐜𝐞 𝐡𝐞 𝐜𝐢𝐭𝐞𝐬 𝐢𝐬 𝐰𝐡𝐞𝐧 𝐭𝐡𝐞 𝐏𝐫𝐨𝐩𝐡𝐞𝐭 𝐌𝐨𝐬𝐞𝐬 (𝐩𝐞𝐚𝐜𝐞 𝐛𝐞 𝐮𝐩𝐨𝐧 𝐡𝐢𝐦) 𝐨𝐛𝐣𝐞𝐜𝐭𝐞𝐝 𝐭𝐨 𝐭𝐡𝐞 𝐚𝐜𝐭𝐢𝐨𝐧𝐬 𝐨𝐟 𝐀𝐥-𝐊𝐡𝐢𝐝𝐫, 𝐩𝐚𝐫𝐭𝐢𝐜𝐮𝐥𝐚𝐫𝐥𝐲 𝐡𝐢𝐬 𝐤𝐢𝐥𝐥𝐢𝐧𝐠 𝐨𝐟 𝐭𝐡𝐞 "غلام" (𝐆𝐡𝐮𝐥𝐚𝐦). 𝐌𝐨𝐬𝐞𝐬 𝐚𝐬𝐤𝐞𝐝 𝐀𝐥-𝐊𝐡𝐢𝐝𝐫, "𝐇𝐚𝐯𝐞 𝐲𝐨𝐮 𝐤𝐢𝐥𝐥𝐞𝐝 𝐚 𝐩𝐮𝐫𝐞 𝐬𝐨𝐮𝐥 𝐟𝐨𝐫 𝐨𝐭𝐡𝐞𝐫 𝐭𝐡𝐚𝐧 [𝐡𝐚𝐯𝐢𝐧𝐠 𝐤𝐢𝐥𝐥𝐞𝐝] 𝐚 𝐬𝐨𝐮𝐥?" (𝐐𝐮𝐫𝐚𝐧, 𝟏𝟖:𝟕𝟒).
𝐁𝐚𝐬𝐞𝐝 𝐨𝐧 𝐭𝐡𝐢𝐬, 𝐌𝐨𝐬𝐞𝐬' 𝐨𝐛𝐣𝐞𝐜𝐭𝐢𝐨𝐧 𝐰𝐚𝐬 𝐬𝐨𝐥𝐞𝐥𝐲 𝐫𝐞𝐥𝐚𝐭𝐞𝐝 𝐭𝐨 𝐭𝐡𝐞 𝐚𝐜𝐭 𝐨𝐟 𝐤𝐢𝐥𝐥𝐢𝐧𝐠 𝐭𝐡𝐞 "غلام" (𝐆𝐡𝐮𝐥𝐚𝐦). 𝐈𝐟 𝐭𝐡𝐞 "غلام" (𝐆𝐡𝐮𝐥𝐚𝐦) 𝐡𝐚𝐝 𝐤𝐢𝐥𝐥𝐞𝐝 𝐬𝐨𝐦𝐞𝐨𝐧𝐞, 𝐌𝐨𝐬𝐞𝐬 𝐰𝐨𝐮𝐥𝐝 𝐧𝐨𝐭 𝐡𝐚𝐯𝐞 𝐨𝐛𝐣𝐞𝐜𝐭𝐞𝐝, 𝐚𝐬 𝐢𝐭 𝐰𝐨𝐮𝐥𝐝 𝐢𝐧𝐝𝐢𝐜𝐚𝐭𝐞 𝐭𝐡𝐚𝐭 𝐭𝐡𝐞 "غلام" (𝐆𝐡𝐮𝐥𝐚𝐦) 𝐡𝐚𝐝 𝐫𝐞𝐚𝐜𝐡𝐞𝐝 𝐭𝐡𝐞 𝐚𝐠𝐞 𝐨𝐟 𝐥𝐞𝐠𝐚𝐥 𝐫𝐞𝐬𝐩𝐨𝐧𝐬𝐢𝐛𝐢𝐥𝐢𝐭𝐲.
𝐓𝐡𝐢𝐬 𝐯𝐢𝐞𝐰𝐩𝐨𝐢𝐧𝐭 𝐢𝐬 𝐚𝐥𝐬𝐨 𝐬𝐡𝐚𝐫𝐞𝐝 𝐛𝐲 𝐬𝐨𝐦𝐞 𝐨𝐭𝐡𝐞𝐫 𝐢𝐧𝐭𝐞𝐫𝐩𝐫𝐞𝐭𝐞𝐫𝐬, 𝐰𝐡𝐨 𝐬𝐮𝐠𝐠𝐞𝐬𝐭 𝐭𝐡𝐚𝐭 𝐭𝐡𝐢𝐬 "غلام" (𝐆𝐡𝐮𝐥𝐚𝐦) 𝐰𝐚𝐬 𝐚𝐧 𝐚𝐝𝐮𝐥𝐭 𝐚𝐧𝐝 𝐚 𝐡𝐢𝐠𝐡𝐰𝐚𝐲 𝐫𝐨𝐛𝐛𝐞𝐫, 𝐦𝐞𝐚𝐧𝐢𝐧𝐠 𝐡𝐞 𝐰𝐨𝐮𝐥𝐝 𝐬𝐭𝐨𝐩 𝐭𝐫𝐚𝐯𝐞𝐥𝐞𝐫𝐬 𝐛𝐲 𝐟𝐨𝐫𝐜𝐞 𝐚𝐧𝐝 𝐮𝐧𝐝𝐞𝐫 𝐭𝐡𝐞 𝐭𝐡𝐫𝐞𝐚𝐭 𝐨𝐟 𝐰𝐞𝐚𝐩𝐨𝐧𝐬 𝐚𝐧𝐝 𝐫𝐨𝐛 𝐭𝐡𝐞𝐦.
𝐈𝐧 𝐭𝐡𝐞 𝐢𝐧𝐭𝐞𝐫𝐞𝐬𝐭 𝐨𝐟 𝐬𝐜𝐡𝐨𝐥𝐚𝐫𝐥𝐲 𝐚𝐜𝐜𝐮𝐫𝐚𝐜𝐲, 𝐢𝐭'𝐬 𝐢𝐦𝐩𝐨𝐫𝐭𝐚𝐧𝐭 𝐭𝐨 𝐧𝐨𝐭𝐞 𝐭𝐡𝐚𝐭 𝐭𝐡𝐞𝐫𝐞 𝐢𝐬𝐧'𝐭 𝐚 𝐮𝐧𝐚𝐧𝐢𝐦𝐨𝐮𝐬 𝐜𝐨𝐧𝐬𝐞𝐧𝐬𝐮𝐬 𝐫𝐞𝐠𝐚𝐫𝐝𝐢𝐧𝐠 𝐭𝐡𝐞 𝐚𝐠𝐞 𝐨𝐫 𝐬𝐭𝐚𝐭𝐮𝐬 𝐨𝐟 𝐭𝐡𝐞 "غلام" (𝐆𝐡𝐮𝐥𝐚𝐦) 𝐢𝐧 𝐭𝐡𝐢𝐬 𝐐𝐮𝐫𝐚𝐧𝐢𝐜 𝐯𝐞𝐫𝐬𝐞. 𝐓𝐡𝐞𝐫𝐞𝐟𝐨𝐫𝐞, 𝐢𝐭 𝐰𝐨𝐮𝐥𝐝 𝐛𝐞 𝐮𝐧𝐣𝐮𝐬𝐭 𝐚𝐧𝐝 𝐦𝐢𝐬𝐥𝐞𝐚𝐝𝐢𝐧𝐠 𝐭𝐨 𝐜𝐥𝐚𝐢𝐦, 𝐚𝐬 𝐬𝐨𝐦𝐞 𝐂𝐡𝐫𝐢𝐬𝐭𝐢𝐚𝐧𝐬 𝐝𝐨, 𝐭𝐡𝐚𝐭 𝐭𝐡𝐞 "غلام" (𝐆𝐡𝐮𝐥𝐚𝐦) 𝐢𝐧 𝐭𝐡𝐢𝐬 𝐯𝐞𝐫𝐬𝐞 𝐫𝐞𝐟𝐞𝐫𝐬 𝐝𝐞𝐟𝐢𝐧𝐢𝐭𝐢𝐯𝐞𝐥𝐲 𝐭𝐨 𝐚 𝐜𝐡𝐢𝐥𝐝 𝐚𝐧𝐝 𝐭𝐨 𝐝𝐫𝐚𝐰 𝐩𝐚𝐫𝐚𝐥𝐥𝐞𝐥𝐬 𝐰𝐢𝐭𝐡 𝐞𝐱𝐩𝐥𝐢𝐜𝐢𝐭 𝐩𝐚𝐬𝐬𝐚𝐠𝐞𝐬 𝐢𝐧 𝐭𝐡𝐞 𝐁𝐢𝐛𝐥𝐞 𝐭𝐡𝐚𝐭 𝐞𝐧𝐜𝐨𝐮𝐫𝐚𝐠𝐞 𝐭𝐡𝐞 𝐤𝐢𝐥𝐥𝐢𝐧𝐠 𝐨𝐟 𝐜𝐡𝐢𝐥𝐝𝐫𝐞𝐧, 𝐢𝐧𝐜𝐥𝐮𝐝𝐢𝐧𝐠 𝐢𝐧𝐟𝐚𝐧𝐭𝐬 (𝐔𝐧𝐝𝐞𝐫 𝐒𝐞𝐜𝐨𝐧𝐝𝐥𝐲 𝐬𝐞𝐜𝐭𝐢𝐨𝐧 𝐛𝐞𝐥𝐨𝐰).
𝐖𝐡𝐞𝐧 𝐭𝐡𝐞 𝐆𝐥𝐨𝐫𝐢𝐨𝐮𝐬 𝐇𝐨𝐥𝐲 𝐐𝐮𝐫𝐚𝐧 𝐦𝐞𝐧𝐭𝐢𝐨𝐧𝐬 𝐭𝐡𝐚𝐭 𝐀𝐥-𝐊𝐡𝐢𝐝𝐫 𝐤𝐢𝐥𝐥𝐞𝐝 𝐭𝐡𝐞 𝐲𝐨𝐮𝐧𝐠 𝐦𝐚𝐧, 𝐢𝐭 𝐩𝐫𝐨𝐯𝐢𝐝𝐞𝐬 𝐭𝐡𝐞 𝐫𝐞𝐚𝐬𝐨𝐧 𝐰𝐡𝐲 𝐭𝐡𝐢𝐬 𝐲𝐨𝐮𝐧𝐠 𝐦𝐚𝐧 𝐝𝐞𝐬𝐞𝐫𝐯𝐞𝐝 𝐭𝐨 𝐛𝐞 𝐤𝐢𝐥𝐥𝐞𝐝. 𝐓𝐡𝐞 𝐫𝐞𝐚𝐬𝐨𝐧, 𝐚𝐬 𝐞𝐱𝐩𝐥𝐚𝐢𝐧𝐞𝐝 𝐛𝐲 𝐬𝐜𝐡𝐨𝐥𝐚𝐫𝐬 𝐥𝐢𝐤𝐞 𝐈𝐦𝐚𝐦 𝐀𝐥-𝐐𝐮𝐫𝐭𝐮𝐛𝐢 𝐚𝐧𝐝 𝐨𝐭𝐡𝐞𝐫𝐬, 𝐢𝐬 𝐭𝐡𝐚𝐭 𝐭𝐡𝐢𝐬 𝐲𝐨𝐮𝐧𝐠 𝐦𝐚𝐧 𝐰𝐚𝐬 𝐚 𝐡𝐢𝐠𝐡𝐰𝐚𝐲 𝐫𝐨𝐛𝐛𝐞𝐫 𝐰𝐡𝐨 𝐮𝐬𝐞𝐝 𝐭𝐨 𝐭𝐞𝐫𝐫𝐨𝐫𝐢𝐳𝐞 𝐩𝐞𝐨𝐩𝐥𝐞 𝐚𝐧𝐝 𝐬𝐭𝐞𝐚𝐥 𝐟𝐫𝐨𝐦 𝐭𝐡𝐞𝐦 𝐚𝐭 𝐬𝐡𝐚𝐫𝐩-𝐨𝐛𝐣𝐞𝐜𝐭 𝐩𝐨𝐢𝐧𝐭. 𝐇𝐞 𝐩𝐨𝐬𝐞𝐝 𝐚 𝐭𝐡𝐫𝐞𝐚𝐭 𝐭𝐨 𝐭𝐡𝐞 𝐩𝐞𝐨𝐩𝐥𝐞 𝐚𝐧𝐝 𝐰𝐚𝐬 𝐥𝐞𝐚𝐝𝐢𝐧𝐠 𝐡𝐢𝐬 𝐩𝐚𝐫𝐞𝐧𝐭𝐬 𝐚𝐬𝐭𝐫𝐚𝐲 𝐟𝐫𝐨𝐦 𝐭𝐡𝐞𝐢𝐫 𝐟𝐚𝐢𝐭𝐡 𝐛𝐞𝐜𝐚𝐮𝐬𝐞 𝐨𝐟 𝐭𝐡𝐞𝐢𝐫 𝐞𝐦𝐨𝐭𝐢𝐨𝐧𝐚𝐥 𝐚𝐭𝐭𝐚𝐜𝐡𝐦𝐞𝐧𝐭 𝐭𝐨 𝐡𝐢𝐦 𝐚𝐬 𝐭𝐡𝐞𝐢𝐫 𝐬𝐨𝐧.
𝐆𝐡𝐮𝐥𝐚𝐦 𝐦𝐞𝐚𝐧𝐢𝐧𝐠 𝐢𝐧 𝐭𝐡𝐞 𝐀𝐫𝐚𝐛𝐢𝐜 𝐋𝐚𝐧𝐠𝐮𝐚𝐠𝐞:
𝐈𝐧 𝐭𝐡𝐞 𝐧𝐨𝐛𝐥𝐞 𝐯𝐞𝐫𝐬𝐞 𝐨𝐟 𝐒𝐮𝐫𝐚𝐡 𝐀𝐥-𝐊𝐚𝐡𝐟, 𝐧𝐮𝐦𝐛𝐞𝐫 𝟕𝟒, 𝐭𝐡𝐞 𝐐𝐮𝐫𝐚𝐧𝐢𝐜 𝐭𝐞𝐱𝐭 𝐝𝐨𝐞𝐬 𝐧𝐨𝐭 𝐬𝐩𝐞𝐜𝐢𝐟𝐲 𝐭𝐡𝐚𝐭 𝐭𝐡𝐞 𝐢𝐧𝐝𝐢𝐯𝐢𝐝𝐮𝐚𝐥 𝐰𝐡𝐨𝐦 𝐀𝐥-𝐊𝐡𝐢𝐝𝐫 𝐤𝐢𝐥𝐥𝐞𝐝 𝐰𝐚𝐬 𝐚 𝐜𝐡𝐢𝐥𝐝; 𝐫𝐚𝐭𝐡𝐞𝐫, 𝐢𝐭 𝐦𝐞𝐧𝐭𝐢𝐨𝐧𝐬 𝐭𝐡𝐚𝐭 𝐡𝐞 𝐰𝐚𝐬 𝐚 "𝐠𝐡𝐮𝐥𝐚𝐦." 𝐓𝐡𝐞 𝐦𝐞𝐚𝐧𝐢𝐧𝐠 𝐚𝐧𝐝 𝐝𝐞𝐟𝐢𝐧𝐢𝐭𝐢𝐨𝐧 𝐨𝐟 "𝐠𝐡𝐮𝐥𝐚𝐦" 𝐢𝐧 𝐭𝐡𝐞 𝐀𝐫𝐚𝐛𝐢𝐜 𝐥𝐚𝐧𝐠𝐮𝐚𝐠𝐞, 𝐚𝐜𝐜𝐨𝐫𝐝𝐢𝐧𝐠 𝐭𝐨 𝐚 𝐝𝐢𝐜𝐭𝐢𝐨𝐧𝐚𝐫𝐲 𝐨𝐟 𝐦𝐞𝐚𝐧𝐢𝐧𝐠𝐬, 𝐚𝐫𝐞 𝐚𝐬 𝐟𝐨𝐥𝐥𝐨𝐰𝐬:
𝐆𝐡𝐮𝐥𝐚𝐦 (غلام): 𝐈𝐧 𝐭𝐡𝐞 𝐀𝐫𝐚𝐛𝐢𝐜 𝐥𝐚𝐧𝐠𝐮𝐚𝐠𝐞, 𝐭𝐡𝐞 𝐭𝐞𝐫𝐦 "𝐠𝐡𝐮𝐥𝐚𝐦" 𝐫𝐞𝐟𝐞𝐫𝐬 𝐭𝐨 𝐚 𝐲𝐨𝐮𝐧𝐠 𝐩𝐞𝐫𝐬𝐨𝐧, 𝐭𝐲𝐩𝐢𝐜𝐚𝐥𝐥𝐲 𝐚 𝐛𝐨𝐲 𝐨𝐫 𝐚 𝐲𝐨𝐮𝐭𝐡. 𝐈𝐭 𝐝𝐨𝐞𝐬 𝐧𝐨𝐭 𝐧𝐞𝐜𝐞𝐬𝐬𝐚𝐫𝐢𝐥𝐲 𝐢𝐧𝐝𝐢𝐜𝐚𝐭𝐞 𝐚 𝐯𝐞𝐫𝐲 𝐲𝐨𝐮𝐧𝐠 𝐜𝐡𝐢𝐥𝐝, 𝐚𝐧𝐝 𝐭𝐡𝐞 𝐞𝐱𝐚𝐜𝐭 𝐚𝐠𝐞 𝐜𝐚𝐧 𝐯𝐚𝐫𝐲 𝐝𝐞𝐩𝐞𝐧𝐝𝐢𝐧𝐠 𝐨𝐧 𝐭𝐡𝐞 𝐜𝐨𝐧𝐭𝐞𝐱𝐭.
𝐓𝐡𝐞𝐫𝐞𝐟𝐨𝐫𝐞, 𝐭𝐡𝐞 𝐐𝐮𝐫𝐚𝐧𝐢𝐜 𝐯𝐞𝐫𝐬𝐞 𝐮𝐬𝐞𝐬 𝐭𝐡𝐞 𝐭𝐞𝐫𝐦 "𝐠𝐡𝐮𝐥𝐚𝐦," 𝐰𝐡𝐢𝐜𝐡 𝐠𝐞𝐧𝐞𝐫𝐚𝐥𝐥𝐲 𝐬𝐢𝐠𝐧𝐢𝐟𝐢𝐞𝐬 𝐚 𝐲𝐨𝐮𝐧𝐠 𝐩𝐞𝐫𝐬𝐨𝐧, 𝐰𝐢𝐭𝐡𝐨𝐮𝐭 𝐬𝐩𝐞𝐜𝐢𝐟𝐲𝐢𝐧𝐠 𝐚 𝐩𝐫𝐞𝐜𝐢𝐬𝐞 𝐚𝐠𝐞. 𝐂𝐥𝐢𝐜𝐤 𝐭𝐨 𝐯𝐢𝐞𝐰 𝐭𝐡𝐞 𝐦𝐞𝐚𝐧𝐢𝐧𝐠 𝐢𝐧 𝐭𝐡𝐞 𝐀𝐫𝐚𝐛𝐢𝐜 𝐃𝐢𝐜𝐭𝐢𝐨𝐧𝐚𝐫𝐲
𝐁𝐞𝐥𝐨𝐰 𝐚𝐫𝐞 𝐦𝐨𝐫𝐞 𝐝𝐞𝐭𝐚𝐢𝐥𝐬:
𝐓𝐡𝐞 𝐜𝐡𝐢𝐥𝐝, 𝐭𝐡𝐞 𝐛𝐨𝐲, 𝐚𝐧𝐝 𝐭𝐡𝐞 𝐲𝐨𝐮𝐭𝐡" 𝐚𝐫𝐞 𝐧𝐚𝐦𝐞𝐬 𝐟𝐨𝐫 𝐬𝐮𝐜𝐜𝐞𝐬𝐬𝐢𝐯𝐞 𝐬𝐭𝐚𝐠𝐞𝐬 𝐨𝐟 𝐥𝐢𝐟𝐞 𝐦𝐞𝐧𝐭𝐢𝐨𝐧𝐞𝐝 𝐢𝐧 𝐭𝐡𝐞 𝐐𝐮𝐫𝐚𝐧:
𝐓𝐡𝐞 𝐂𝐡𝐢𝐥𝐝 (𝐀𝐥-𝐓𝐢𝐟𝐥) الطفل: 𝐓𝐡𝐢𝐬 𝐬𝐭𝐚𝐠𝐞 𝐫𝐚𝐧𝐠𝐞𝐬 𝐟𝐫𝐨𝐦 𝐛𝐢𝐫𝐭𝐡 𝐭𝐨 𝐬𝐞𝐱𝐮𝐚𝐥 𝐦𝐚𝐭𝐮𝐫𝐢𝐭𝐲, 𝐚𝐩𝐩𝐫𝐨𝐱𝐢𝐦𝐚𝐭𝐞𝐥𝐲 𝐟𝐫𝐨𝐦 𝐢𝐧𝐟𝐚𝐧𝐜𝐲 𝐭𝐨 𝐚𝐫𝐨𝐮𝐧𝐝 𝟏𝟑 𝐲𝐞𝐚𝐫𝐬 𝐨𝐟 𝐚𝐠𝐞. 𝐓𝐡𝐞 𝐭𝐞𝐫𝐦 "𝐛𝐨𝐲" 𝐫𝐞𝐟𝐞𝐫𝐬 𝐭𝐨 𝐚 𝐦𝐚𝐥𝐞 𝐜𝐡𝐢𝐥𝐝 𝐝𝐮𝐫𝐢𝐧𝐠 𝐭𝐡𝐢𝐬 𝐬𝐭𝐚𝐠𝐞.
𝐓𝐡𝐞 𝐁𝐨𝐲 (𝐀𝐥-𝐆𝐡𝐮𝐥𝐚𝐦) الغلام: 𝐓𝐡𝐢𝐬 𝐬𝐭𝐚𝐠𝐞 𝐬𝐢𝐠𝐧𝐢𝐟𝐢𝐞𝐬 𝐚𝐧 𝐢𝐧𝐜𝐫𝐞𝐚𝐬𝐞 𝐢𝐧 𝐬𝐞𝐱𝐮𝐚𝐥 𝐝𝐞𝐬𝐢𝐫𝐞 𝐚𝐧𝐝 𝐜𝐨𝐫𝐫𝐞𝐬𝐩𝐨𝐧𝐝𝐬 𝐭𝐨 𝐰𝐡𝐚𝐭 𝐰𝐞 𝐧𝐨𝐰 𝐜𝐚𝐥𝐥 𝐚𝐝𝐨𝐥𝐞𝐬𝐜𝐞𝐧𝐜𝐞. 𝐈𝐭 𝐭𝐲𝐩𝐢𝐜𝐚𝐥𝐥𝐲 𝐬𝐩𝐚𝐧𝐬 𝐟𝐫𝐨𝐦 𝐚𝐫𝐨𝐮𝐧𝐝 𝟏𝟑 𝐨𝐫 𝟏𝟒 𝐲𝐞𝐚𝐫𝐬 𝐨𝐟 𝐚𝐠𝐞 𝐭𝐨 𝐚𝐛𝐨𝐮𝐭 𝟏𝟕. 𝐓𝐡𝐢𝐬 𝐢𝐬 𝐰𝐡𝐞𝐧 𝐭𝐡𝐞 𝐬𝐭𝐚𝐠𝐞 𝐨𝐟 𝐦𝐨𝐫𝐚𝐥 𝐫𝐞𝐬𝐩𝐨𝐧𝐬𝐢𝐛𝐢𝐥𝐢𝐭𝐲 𝐛𝐞𝐠𝐢𝐧𝐬, 𝐰𝐡𝐞𝐫𝐞 𝐚 𝐩𝐞𝐫𝐬𝐨𝐧 𝐛𝐞𝐜𝐨𝐦𝐞𝐬 𝐜𝐚𝐩𝐚𝐛𝐥𝐞 𝐨𝐟 𝐝𝐢𝐬𝐭𝐢𝐧𝐠𝐮𝐢𝐬𝐡𝐢𝐧𝐠 𝐛𝐞𝐭𝐰𝐞𝐞𝐧 𝐫𝐢𝐠𝐡𝐭 𝐚𝐧𝐝 𝐰𝐫𝐨𝐧𝐠 𝐚𝐜𝐭𝐢𝐨𝐧𝐬.
𝐓𝐡𝐞 𝐘𝐨𝐮𝐭𝐡 (𝐀𝐥-𝐅𝐚𝐭𝐚) الفتى: 𝐓𝐡𝐢𝐬 𝐬𝐭𝐚𝐠𝐞 𝐫𝐞𝐩𝐫𝐞𝐬𝐞𝐧𝐭𝐬 𝐟𝐮𝐥𝐥 𝐠𝐫𝐨𝐰𝐭𝐡, 𝐜𝐡𝐚𝐫𝐚𝐜𝐭𝐞𝐫𝐢𝐳𝐞𝐝 𝐛𝐲 𝐩𝐡𝐲𝐬𝐢𝐜𝐚𝐥 𝐬𝐭𝐫𝐞𝐧𝐠𝐭𝐡 𝐚𝐧𝐝 𝐯𝐢𝐭𝐚𝐥𝐢𝐭𝐲. 𝐈𝐭 𝐢𝐬 𝐫𝐨𝐮𝐠𝐡𝐥𝐲 𝐟𝐫𝐨𝐦 𝟏𝟖 𝐨𝐫 𝟏𝟗 𝐲𝐞𝐚𝐫𝐬 𝐨𝐟 𝐚𝐠𝐞 𝐭𝐨 𝐭𝐡𝐞 𝐥𝐚𝐭𝐞 𝐭𝐰𝐞𝐧𝐭𝐢𝐞𝐬. 𝐓𝐡𝐢𝐬 𝐬𝐭𝐚𝐠𝐞 𝐢𝐬 𝐟𝐨𝐥𝐥𝐨𝐰𝐞𝐝 𝐛𝐲 𝐚𝐝𝐮𝐥𝐭𝐡𝐨𝐨𝐝 𝐚𝐧𝐝 𝐭𝐡𝐞𝐧 𝐨𝐥𝐝 𝐚𝐠𝐞.
𝐈𝐧 𝐬𝐮𝐦𝐦𝐚𝐫𝐲:
𝐓𝐡𝐞 "𝐛𝐨𝐲 (𝐀𝐥-𝐆𝐡𝐮𝐥𝐚𝐦) الغلام" 𝐰𝐡𝐨 𝐰𝐚𝐬 𝐤𝐢𝐥𝐥𝐞𝐝 𝐛𝐲 𝐭𝐡𝐞 𝐫𝐢𝐠𝐡𝐭𝐞𝐨𝐮𝐬 𝐬𝐞𝐫𝐯𝐚𝐧𝐭: 𝐀𝐥 𝐊𝐡𝐢𝐝𝐫 𝐰𝐚𝐬 𝐚𝐧 𝐢𝐧𝐝𝐢𝐯𝐢𝐝𝐮𝐚𝐥 𝐰𝐡𝐨 𝐡𝐚𝐝 𝐫𝐞𝐚𝐜𝐡𝐞𝐝 𝐬𝐞𝐱𝐮𝐚𝐥 𝐦𝐚𝐭𝐮𝐫𝐢𝐭𝐲, 𝐰𝐚𝐬 𝐦𝐞𝐧𝐭𝐚𝐥𝐥𝐲 𝐚𝐜𝐜𝐨𝐮𝐧𝐭𝐚𝐛𝐥𝐞, 𝐤𝐧𝐞𝐰 𝐭𝐡𝐞 𝐝𝐢𝐟𝐟𝐞𝐫𝐞𝐧𝐜𝐞 𝐛𝐞𝐭𝐰𝐞𝐞𝐧 𝐫𝐢𝐠𝐡𝐭 𝐚𝐧𝐝 𝐰𝐫𝐨𝐧𝐠, 𝐚𝐧𝐝 𝐜𝐡𝐨𝐬𝐞 𝐭𝐨 𝐞𝐧𝐠𝐚𝐠𝐞 𝐢𝐧 𝐚𝐜𝐭𝐬 𝐨𝐟 𝐝𝐢𝐬𝐛𝐞𝐥𝐢𝐞𝐟 𝐚𝐧𝐝 𝐭𝐲𝐫𝐚𝐧𝐧𝐲 𝐟𝐫𝐨𝐦 𝐰𝐡𝐢𝐜𝐡 𝐭𝐡𝐞𝐫𝐞 𝐰𝐚𝐬 𝐧𝐨 𝐫𝐞𝐩𝐞𝐧𝐭𝐚𝐧𝐜𝐞.
𝐇𝐢𝐬 𝐚𝐜𝐭𝐢𝐨𝐧𝐬 𝐜𝐚𝐮𝐬𝐞𝐝 𝐡𝐚𝐫𝐦 𝐚𝐧𝐝 𝐦𝐢𝐬𝐞𝐫𝐲 𝐭𝐨 𝐡𝐢𝐬 𝐩𝐞𝐨𝐩𝐥𝐞, 𝐩𝐮𝐬𝐡𝐢𝐧𝐠 𝐭𝐡𝐞𝐦 𝐭𝐨 𝐭𝐡𝐞 𝐛𝐫𝐢𝐧𝐤 𝐨𝐟 𝐞𝐱𝐡𝐚𝐮𝐬𝐭𝐢𝐨𝐧. 𝐓𝐡𝐞𝐫𝐞𝐟𝐨𝐫𝐞, 𝐡𝐞 𝐢𝐧𝐜𝐮𝐫𝐫𝐞𝐝 𝐚 𝐰𝐨𝐫𝐥𝐝𝐥𝐲 𝐩𝐮𝐧𝐢𝐬𝐡𝐦𝐞𝐧𝐭 𝐟𝐫𝐨𝐦 𝐚 𝐩𝐞𝐫𝐬𝐨𝐧 𝐰𝐡𝐨 𝐡𝐚𝐝 𝐝𝐢𝐯𝐢𝐧𝐞 𝐚𝐮𝐭𝐡𝐨𝐫𝐢𝐭𝐲 𝐚𝐧𝐝 𝐤𝐧𝐨𝐰𝐥𝐞𝐝𝐠𝐞 𝐚𝐛𝐨𝐮𝐭 𝐡𝐢𝐬 𝐝𝐞𝐞𝐝𝐬, 𝐤𝐧𝐨𝐰𝐥𝐞𝐝𝐠𝐞 𝐭𝐡𝐚𝐭 𝐰𝐚𝐬 𝐧𝐨𝐭 𝐠𝐫𝐚𝐧𝐭𝐞𝐝 𝐞𝐯𝐞𝐧 𝐭𝐨 𝐚 𝐩𝐫𝐨𝐩𝐡𝐞𝐭 𝐚𝐧𝐝 𝐦𝐞𝐬𝐬𝐞𝐧𝐠𝐞𝐫 𝐥𝐢𝐤𝐞 𝐌𝐨𝐬𝐞𝐬.
𝐒𝐞𝐜𝐨𝐧𝐝𝐥𝐲:
𝐓𝐡𝐞 𝐐𝐮𝐫𝐚𝐧𝐢𝐜 𝐯𝐞𝐫𝐬𝐞 𝐝𝐨𝐞𝐬 𝐧𝐨𝐭 𝐜𝐨𝐦𝐦𝐚𝐧𝐝 𝐌𝐮𝐬𝐥𝐢𝐦𝐬 𝐨𝐫 𝐚𝐧𝐲𝐨𝐧𝐞 𝐭𝐨 𝐤𝐢𝐥𝐥 𝐚𝐧𝐲 𝐡𝐮𝐦𝐚𝐧 𝐨𝐫 𝐚𝐧𝐲 𝐜𝐫𝐞𝐚𝐭𝐮𝐫𝐞 𝐰𝐡𝐚𝐭𝐬𝐨𝐞𝐯𝐞𝐫. 𝐈𝐧𝐬𝐭𝐞𝐚𝐝, 𝐢𝐭 𝐢𝐬 𝐚 𝐬𝐭𝐨𝐫𝐲 𝐟𝐫𝐨𝐦 𝐭𝐡𝐞 𝐐𝐮𝐫𝐚𝐧 𝐭𝐡𝐚𝐭 𝐧𝐚𝐫𝐫𝐚𝐭𝐞𝐬 𝐚𝐧 𝐢𝐧𝐜𝐢𝐝𝐞𝐧𝐭 𝐟𝐫𝐨𝐦 𝐭𝐡𝐞 𝐭𝐢𝐦𝐞 𝐨𝐟 𝐭𝐡𝐞 𝐏𝐫𝐨𝐩𝐡𝐞𝐭 𝐌𝐨𝐬𝐞𝐬 𝐝𝐮𝐫𝐢𝐧𝐠 𝐭𝐡𝐞 𝐞𝐫𝐚 𝐨𝐟 𝐭𝐡𝐞 𝐓𝐨𝐫𝐚𝐡 𝐚𝐧𝐝 𝐭𝐡𝐞 𝐌𝐨𝐬𝐚𝐢𝐜 𝐥𝐚𝐰.
𝐓𝐡𝐞 𝐐𝐮𝐫𝐚𝐧𝐢𝐜 𝐬𝐭𝐨𝐫𝐲 𝐢𝐥𝐥𝐮𝐬𝐭𝐫𝐚𝐭𝐞𝐬 𝐰𝐡𝐚𝐭 𝐀𝐥𝐥𝐚𝐡 𝐀𝐥𝐦𝐢𝐠𝐡𝐭𝐲 𝐜𝐨𝐦𝐦𝐚𝐧𝐝𝐞𝐝 𝐀𝐥-𝐊𝐡𝐢𝐝𝐫 𝐭𝐨 𝐝𝐨, 𝐰𝐡𝐢𝐜𝐡 𝐰𝐚𝐬 𝐭𝐨 𝐤𝐢𝐥𝐥 𝐭𝐡𝐢𝐬 𝐚𝐫𝐫𝐨𝐠𝐚𝐧𝐭, 𝐰𝐢𝐜𝐤𝐞𝐝, 𝐝𝐢𝐬𝐛𝐞𝐥𝐢𝐞𝐯𝐢𝐧𝐠 "𝐆𝐡𝐮𝐥𝐚𝐦." 𝐈𝐟 𝐭𝐡𝐢𝐬 "𝐆𝐡𝐮𝐥𝐚𝐦" 𝐡𝐚𝐝 𝐫𝐞𝐦𝐚𝐢𝐧𝐞𝐝 𝐚𝐥𝐢𝐯𝐞, 𝐡𝐞 𝐰𝐨𝐮𝐥𝐝 𝐡𝐚𝐯𝐞 𝐛𝐞𝐞𝐧 𝐚 𝐜𝐚𝐮𝐬𝐞 𝐟𝐨𝐫 𝐟𝐮𝐫𝐭𝐡𝐞𝐫 𝐦𝐢𝐬𝐞𝐫𝐲 𝐟𝐨𝐫 𝐡𝐢𝐬 𝐩𝐚𝐫𝐞𝐧𝐭𝐬 𝐚𝐧𝐝 𝐰𝐨𝐮𝐥𝐝 𝐡𝐚𝐯𝐞 𝐥𝐞𝐝 𝐭𝐡𝐞𝐦 𝐚𝐬𝐭𝐫𝐚𝐲 𝐟𝐫𝐨𝐦 𝐭𝐡𝐞𝐢𝐫 𝐫𝐞𝐥𝐢𝐠𝐢𝐨𝐧.
𝐈𝐭 𝐬𝐡𝐨𝐮𝐥𝐝 𝐛𝐞 𝐞𝐦𝐩𝐡𝐚𝐬𝐢𝐳𝐞𝐝 𝐭𝐡𝐚𝐭 𝐬𝐨𝐦𝐞 𝐈𝐬𝐥𝐚𝐦𝐢𝐜 𝐣𝐮𝐫𝐢𝐬𝐭𝐬 𝐜𝐨𝐧𝐬𝐢𝐝𝐞𝐫𝐞𝐝 𝐭𝐡𝐞 𝐛𝐨𝐲 𝐭𝐨 𝐛𝐞 𝐚𝐧 𝐚𝐝𝐮𝐥𝐭 𝐚𝐧𝐝 𝐚𝐧 𝐚𝐩𝐨𝐬𝐭𝐚𝐭𝐞 𝐟𝐫𝐨𝐦 𝐭𝐡𝐞 𝐫𝐞𝐥𝐢𝐠𝐢𝐨𝐧 𝐨𝐟 𝐀𝐥𝐥𝐚𝐡. 𝐀𝐬 𝐚 𝐫𝐞𝐬𝐮𝐥𝐭, 𝐭𝐡𝐞𝐲 𝐛𝐞𝐥𝐢𝐞𝐯𝐞𝐝 𝐡𝐞 𝐝𝐞𝐬𝐞𝐫𝐯𝐞𝐝 𝐭𝐡𝐞 𝐩𝐮𝐧𝐢𝐬𝐡𝐦𝐞𝐧𝐭 𝐨𝐟 𝐚𝐩𝐨𝐬𝐭𝐚𝐬𝐲. 𝐀𝐝𝐝𝐢𝐭𝐢𝐨𝐧𝐚𝐥𝐥𝐲, 𝐭𝐡𝐢𝐬 𝐰𝐚𝐬 𝐛𝐞𝐜𝐚𝐮𝐬𝐞 𝐡𝐞 𝐰𝐚𝐬 𝐚𝐧 𝐨𝐩𝐩𝐫𝐞𝐬𝐬𝐨𝐫, 𝐜𝐮𝐭𝐭𝐢𝐧𝐠 𝐭𝐡𝐞 𝐫𝐨𝐚𝐝𝐬, 𝐚𝐧 𝐚𝐫𝐦𝐞𝐝 𝐫𝐨𝐛𝐛𝐞𝐫 𝐚𝐧𝐝 𝐢𝐧𝐜𝐫𝐞𝐚𝐬𝐢𝐧𝐠 𝐭𝐡𝐞 𝐭𝐲𝐫𝐚𝐧𝐧𝐲 𝐚𝐧𝐝 𝐝𝐢𝐬𝐛𝐞𝐥𝐢𝐞𝐟 𝐨𝐟 𝐡𝐢𝐬 𝐩𝐚𝐫𝐞𝐧𝐭𝐬.
𝐈𝐭 𝐢𝐬 𝐭𝐫𝐮𝐞 𝐭𝐡𝐚𝐭 𝐭𝐡𝐞 𝐫𝐮𝐥𝐢𝐧𝐠 𝐟𝐨𝐫 𝐚𝐩𝐨𝐬𝐭𝐚𝐬𝐲 𝐢𝐧 𝐈𝐬𝐥𝐚𝐦 𝐢𝐬 𝐧𝐨𝐭 𝐢𝐦𝐦𝐞𝐝𝐢𝐚𝐭𝐞 𝐞𝐱𝐞𝐜𝐮𝐭𝐢𝐨𝐧, 𝐚𝐧𝐝 𝐭𝐡𝐢𝐬 𝐫𝐞𝐟𝐥𝐞𝐜𝐭𝐬 𝐈𝐬𝐥𝐚𝐦'𝐬 𝐥𝐞𝐧𝐢𝐞𝐧𝐜𝐲 𝐛𝐲 𝐠𝐢𝐯𝐢𝐧𝐠 𝐭𝐡𝐞 𝐰𝐫𝐨𝐧𝐠𝐝𝐨𝐞𝐫 𝐚 𝐜𝐡𝐚𝐧𝐜𝐞, 𝐚𝐥𝐥𝐨𝐰𝐢𝐧𝐠 𝐭𝐡𝐞𝐦 𝐚 𝐩𝐞𝐫𝐢𝐨𝐝 𝐟𝐨𝐫 𝐫𝐞𝐩𝐞𝐧𝐭𝐚𝐧𝐜𝐞. 𝐓𝐡𝐞 𝐝𝐮𝐫𝐚𝐭𝐢𝐨𝐧 𝐨𝐟 𝐭𝐡𝐢𝐬 𝐩𝐞𝐫𝐢𝐨𝐝 𝐯𝐚𝐫𝐢𝐞𝐬 𝐚𝐜𝐜𝐨𝐫𝐝𝐢𝐧𝐠 𝐭𝐨 𝐭𝐡𝐞 𝐨𝐩𝐢𝐧𝐢𝐨𝐧𝐬 𝐨𝐟 𝐌𝐮𝐬𝐥𝐢𝐦 𝐬𝐜𝐡𝐨𝐥𝐚𝐫𝐬, 𝐚𝐧𝐝 𝐢𝐭 𝐨𝐜𝐜𝐮𝐫𝐬 𝐛𝐞𝐟𝐨𝐫𝐞 𝐚 𝐯𝐞𝐫𝐝𝐢𝐜𝐭 𝐨𝐟 𝐞𝐱𝐞𝐜𝐮𝐭𝐢𝐨𝐧, 𝐮𝐧𝐥𝐢𝐤𝐞 𝐭𝐡𝐞 𝐢𝐦𝐦𝐞𝐝𝐢𝐚𝐭𝐞 𝐞𝐱𝐞𝐜𝐮𝐭𝐢𝐨𝐧 𝐬𝐮𝐠𝐠𝐞𝐬𝐭𝐞𝐝 𝐢𝐧 𝐭𝐡𝐨𝐬𝐞 𝐎𝐥𝐝 𝐓𝐞𝐬𝐭𝐚𝐦𝐞𝐧𝐭 𝐩𝐚𝐬𝐬𝐚𝐠𝐞𝐬.
𝐀𝐬 𝐮𝐬𝐮𝐚𝐥, 𝐂𝐡𝐫𝐢𝐬𝐭𝐢𝐚𝐧𝐬 𝐦𝐢𝐠𝐡𝐭 𝐚𝐫𝐠𝐮𝐞 𝐭𝐡𝐚𝐭 𝐭𝐡𝐞𝐬𝐞 𝐩𝐚𝐬𝐬𝐚𝐠𝐞𝐬 𝐰𝐞𝐫𝐞 𝐚𝐛𝐫𝐨𝐠𝐚𝐭𝐞𝐝 𝐢𝐧 𝐭𝐡𝐞 𝐍𝐞𝐰 𝐓𝐞𝐬𝐭𝐚𝐦𝐞𝐧𝐭. 𝐋𝐞𝐭'𝐬 𝐫𝐞𝐚𝐝 𝐭𝐡𝐨𝐬𝐞 𝐯𝐞𝐫𝐬𝐞𝐬 𝐟𝐫𝐨𝐦 𝐭𝐡𝐞 𝐁𝐢𝐛𝐥𝐞 𝐭𝐡𝐚𝐭 𝐞𝐧𝐜𝐨𝐮𝐫𝐚𝐠𝐞 𝐭𝐡𝐞 𝐤𝐢𝐥𝐥𝐢𝐧𝐠 𝐨𝐟 𝐚𝐩𝐨𝐬𝐭𝐚𝐭𝐞𝐬 𝐚𝐧𝐝 𝐬𝐨𝐫𝐜𝐞𝐫𝐞𝐫𝐬.
𝐀𝐧𝐝 𝐈𝐬𝐚𝐢𝐚𝐡 𝟏𝟒:𝟐𝟏
𝐓𝐡𝐞 𝐧𝐨𝐭𝐨𝐫𝐢𝐨𝐮𝐬 𝐂𝐡𝐫𝐢𝐬𝐭𝐢𝐚𝐧 𝐚𝐩𝐨𝐥𝐨𝐠𝐢𝐬𝐭, 𝐒𝐚𝐦 𝐒𝐡𝐚𝐦𝐨𝐮𝐧, 𝐚𝐝𝐯𝐨𝐜𝐚𝐭𝐞𝐬 𝐟𝐨𝐫 𝐭𝐡𝐞 𝐟𝐨𝐫 𝐭𝐡𝐞 𝐚𝐩𝐩𝐥𝐢𝐜𝐚𝐭𝐢𝐨𝐧 𝐨𝐟 𝐃𝐞𝐚𝐭𝐡 𝐩𝐞𝐧𝐚𝐥𝐭𝐲 𝐨𝐧 𝐭𝐡𝐨𝐬𝐞 𝐰𝐡𝐨 𝐥𝐞𝐚𝐯𝐞 𝐂𝐡𝐫𝐢𝐬𝐭𝐢𝐚𝐧𝐢𝐭𝐲:
𝐓𝐨 𝐫𝐞𝐬𝐩𝐨𝐧𝐝 𝐭𝐨 𝐚𝐥𝐥 𝐂𝐡𝐫𝐢𝐬𝐭𝐢𝐚𝐧𝐬 𝐚𝐧𝐝 𝐉𝐞𝐰𝐬 𝐰𝐡𝐨 𝐜𝐥𝐚𝐢𝐦 𝐭𝐡𝐚𝐭 𝐭𝐡𝐞 𝐭𝐞𝐱𝐭𝐬 𝐚𝐛𝐨𝐮𝐭 𝐤𝐢𝐥𝐥𝐢𝐧𝐠 𝐚𝐩𝐨𝐬𝐭𝐚𝐭𝐞𝐬 𝐟𝐫𝐨𝐦 𝐂𝐡𝐫𝐢𝐬𝐭𝐢𝐚𝐧𝐢𝐭𝐲 𝐨𝐫 𝐉𝐮𝐝𝐚𝐢𝐬𝐦 𝐚𝐫𝐞 𝐚 𝐭𝐡𝐢𝐧𝐠 𝐨𝐟 𝐭𝐡𝐞 𝐝𝐢𝐬𝐭𝐚𝐧𝐭 𝐩𝐚𝐬𝐭, 𝐡𝐞𝐫𝐞, 𝐢𝐧 𝐭𝐡𝐢𝐬 𝐧𝐞𝐱𝐭 𝐯𝐢𝐝𝐞𝐨, 𝐢𝐬 𝐬𝐨𝐥𝐢𝐝 𝐞𝐯𝐢𝐝𝐞𝐧𝐜𝐞 𝐟𝐫𝐨𝐦 𝐨𝐮𝐫 𝐩𝐫𝐞𝐬𝐞𝐧𝐭 𝐭𝐢𝐦𝐞. 𝐓𝐡𝐞 𝐧𝐨𝐭𝐨𝐫𝐢𝐨𝐮𝐬 𝐂𝐡𝐫𝐢𝐬𝐭𝐢𝐚𝐧 𝐚𝐩𝐨𝐥𝐨𝐠𝐢𝐬𝐭, 𝐒𝐚𝐦 𝐒𝐡𝐚𝐦𝐨𝐮𝐧, 𝐚𝐝𝐯𝐨𝐜𝐚𝐭𝐞𝐬 𝐟𝐨𝐫 𝐭𝐡𝐞 𝐚𝐩𝐩𝐥𝐢𝐜𝐚𝐭𝐢𝐨𝐧 𝐨𝐟 𝐚𝐩𝐨𝐬𝐭𝐚𝐬𝐲 𝐩𝐮𝐧𝐢𝐬𝐡𝐦𝐞𝐧𝐭, 𝐰𝐡𝐢𝐜𝐡 𝐢𝐬 𝐝𝐞𝐚𝐭𝐡 𝐟𝐨𝐫 𝐭𝐡𝐨𝐬𝐞 𝐰𝐡𝐨 𝐚𝐛𝐚𝐧𝐝𝐨𝐧 𝐂𝐡𝐫𝐢𝐬𝐭𝐢𝐚𝐧𝐢𝐭𝐲.
𝐊𝐢𝐥𝐥𝐢𝐧𝐠 𝐭𝐡𝐞 𝐑𝐞𝐛𝐞𝐥𝐥𝐢𝐨𝐮𝐬 𝐒𝐨𝐧𝐬 𝐢𝐧 𝐭𝐡𝐞 𝐁𝐢𝐛𝐥𝐞:
𝐀𝐬 𝐟𝐨𝐫 𝐭𝐡𝐞 𝐁𝐢𝐛𝐥𝐞 𝐭𝐡𝐚𝐭 𝐢𝐬 𝐢𝐧 𝐭𝐡𝐞 𝐡𝐚𝐧𝐝𝐬 𝐨𝐟 𝐉𝐞𝐰𝐬 𝐚𝐧𝐝 𝐂𝐡𝐫𝐢𝐬𝐭𝐢𝐚𝐧𝐬 𝐭𝐨𝐝𝐚𝐲, 𝐰𝐞 𝐟𝐢𝐧𝐝 𝐢𝐧 𝐢𝐭 𝐨𝐫𝐝𝐞𝐫𝐬 𝐭𝐨 𝐤𝐢𝐥𝐥 𝐭𝐡𝐞 𝐝𝐢𝐬𝐨𝐛𝐞𝐝𝐢𝐞𝐧𝐭 𝐭𝐨 𝐭𝐡𝐞𝐢𝐫 𝐩𝐚𝐫𝐞𝐧𝐭𝐬, 𝐚𝐬 𝐰𝐞 𝐬𝐞𝐞 𝐢𝐧 𝐭𝐡𝐞 𝐟𝐨𝐥𝐥𝐨𝐰𝐢𝐧𝐠 𝐯𝐞𝐫𝐬𝐞𝐬 𝐟𝐫𝐨𝐦 𝐭𝐡𝐞 𝐁𝐢𝐛𝐥𝐞.
𝐈𝐭 𝐢𝐬 𝐭𝐫𝐮𝐞 𝐭𝐡𝐚𝐭 𝐉𝐞𝐰𝐬 𝐚𝐧𝐝 𝐂𝐡𝐫𝐢𝐬𝐭𝐢𝐚𝐧𝐬 𝐦𝐚𝐲 𝐜𝐥𝐚𝐢𝐦 𝐭𝐡𝐚𝐭 𝐭𝐡𝐞𝐲 𝐝𝐨 𝐧𝐨𝐭 𝐞𝐱𝐞𝐜𝐮𝐭𝐞 𝐭𝐡𝐞𝐬𝐞 𝐯𝐞𝐫𝐬𝐞𝐬 𝐟𝐫𝐨𝐦 𝐭𝐡𝐞 𝐁𝐢𝐛𝐥𝐞. 𝐇𝐨𝐰𝐞𝐯𝐞𝐫, 𝐭𝐡𝐞𝐬𝐞 𝐚𝐫𝐞 𝐬𝐚𝐜𝐫𝐞𝐝 𝐭𝐞𝐱𝐭𝐬 𝐢𝐧 𝐭𝐡𝐞𝐢𝐫 𝐡𝐨𝐥𝐲 𝐛𝐨𝐨𝐤, 𝐚𝐧𝐝 𝐧𝐨𝐭 𝐢𝐦𝐩𝐥𝐞𝐦𝐞𝐧𝐭𝐢𝐧𝐠 𝐭𝐡𝐞𝐦 𝐝𝐨𝐞𝐬 𝐧𝐨𝐭 𝐦𝐞𝐚𝐧 𝐭𝐡𝐚𝐭 𝐭𝐡𝐞𝐲 𝐚𝐫𝐞 𝐧𝐨𝐭 𝐬𝐚𝐜𝐫𝐞𝐝 𝐢𝐧 𝐚 𝐛𝐨𝐨𝐤 𝐭𝐡𝐞𝐲 𝐡𝐨𝐥𝐝 𝐬𝐚𝐜𝐫𝐞𝐝, 𝐫𝐞𝐠𝐚𝐫𝐝𝐥𝐞𝐬𝐬 𝐨𝐟 𝐰𝐡𝐞𝐭𝐡𝐞𝐫 𝐭𝐡𝐞𝐲 𝐞𝐱𝐞𝐜𝐮𝐭𝐞 𝐭𝐡𝐞𝐬𝐞 𝐨𝐫𝐝𝐞𝐫𝐬 𝐨𝐫 𝐧𝐨𝐭.
𝐃𝐞𝐮𝐭𝐞𝐫𝐨𝐧𝐨𝐦𝐲 𝟐𝟏:𝟏𝟖-𝟐𝟏, 𝐋𝐞𝐯𝐢𝐭𝐢𝐜𝐮𝐬 𝟐𝟎:𝟗, 𝐚𝐧𝐝 𝐄𝐱𝐨𝐝𝐮𝐬 𝟐𝟏:𝟏𝟕.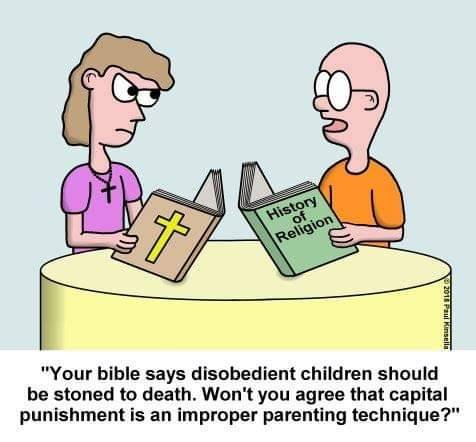 𝐀𝐬 𝐦𝐞𝐧𝐭𝐢𝐨𝐧𝐞𝐝 𝐢𝐧 𝐭𝐡𝐞 𝐫𝐞𝐥𝐢𝐚𝐛𝐥𝐞 𝐜𝐥𝐚𝐫𝐢𝐟𝐢𝐜𝐚𝐭𝐢𝐨𝐧𝐬 𝐨𝐟 𝐭𝐡𝐞 𝐆𝐥𝐨𝐫𝐢𝐨𝐮𝐬 𝐇𝐨𝐥𝐲 𝐐𝐮𝐫𝐚𝐧 , 𝐭𝐡𝐞 𝐏𝐫𝐨𝐩𝐡𝐞𝐭 𝐌𝐨𝐬𝐞𝐬 𝐰𝐚𝐬 𝐭𝐚𝐤𝐞𝐧 𝐚𝐛𝐚𝐜𝐤 𝐰𝐡𝐞𝐧 𝐡𝐞 𝐬𝐚𝐰 𝐀𝐥-𝐊𝐡𝐢𝐝𝐫 𝐤𝐢𝐥𝐥𝐢𝐧𝐠 𝐭𝐡𝐞 𝐲𝐨𝐮𝐧𝐠 𝐦𝐚𝐧 𝐚𝐧𝐝 𝐪𝐮𝐞𝐬𝐭𝐢𝐨𝐧𝐞𝐝 𝐡𝐢𝐦 𝐚𝐛𝐨𝐮𝐭 𝐰𝐡𝐲 𝐡𝐞 𝐰𝐨𝐮𝐥𝐝 𝐤𝐢𝐥𝐥 𝐬𝐨𝐦𝐞𝐨𝐧𝐞 𝐰𝐢𝐭𝐡𝐨𝐮𝐭 𝐬𝐢𝐧.
𝐍𝐨𝐭𝐞:
𝐏𝐥𝐞𝐚𝐬𝐞 𝐧𝐨𝐭𝐞 𝐭𝐡𝐚𝐭 𝐏𝐫𝐨𝐩𝐡𝐞𝐭 𝐌𝐨𝐬𝐞𝐬 𝐝𝐢𝐝 𝐧𝐨𝐭 𝐚𝐬𝐤 𝐀𝐥-𝐊𝐡𝐢𝐝𝐫, "𝐖𝐡𝐲 𝐝𝐢𝐝 𝐲𝐨𝐮 𝐤𝐢𝐥𝐥 𝐚 𝐜𝐡𝐢𝐥𝐝 𝐰𝐡𝐨 𝐡𝐚𝐬 𝐧𝐨𝐭 𝐲𝐞𝐭 𝐫𝐞𝐚𝐜𝐡𝐞𝐝 𝐭𝐡𝐞 𝐚𝐠𝐞 𝐨𝐟 𝐥𝐞𝐠𝐚𝐥 𝐫𝐞𝐬𝐩𝐨𝐧𝐬𝐢𝐛𝐢𝐥𝐢𝐭𝐲?" 𝐨𝐫, "𝐖𝐡𝐲 𝐝𝐢𝐝 𝐲𝐨𝐮 𝐤𝐢𝐥𝐥 𝐚 𝐜𝐡𝐢𝐥𝐝 𝐰𝐡𝐨 𝐡𝐚𝐬 𝐧𝐨𝐭 𝐲𝐞𝐭 𝐫𝐞𝐚𝐜𝐡𝐞𝐝 𝐭𝐡𝐞 𝐚𝐠𝐞 𝐨𝐟 𝐝𝐢𝐬𝐜𝐞𝐫𝐧𝐦𝐞𝐧𝐭?" 𝐓𝐡𝐢𝐬 𝐬𝐢𝐠𝐧𝐢𝐟𝐢𝐞𝐬 𝐭𝐡𝐚𝐭 𝐭𝐡𝐞 𝐲𝐨𝐮𝐧𝐠 𝐦𝐚𝐧 𝐰𝐡𝐨𝐦 𝐀𝐥-𝐊𝐡𝐢𝐝𝐫 𝐤𝐢𝐥𝐥𝐞𝐝 𝐰𝐚𝐬 𝐧𝐨𝐭 𝐚 𝐜𝐡𝐢𝐥𝐝.
𝐓𝐡𝐞𝐫𝐞𝐟𝐨𝐫𝐞, 𝐀𝐥-𝐊𝐡𝐢𝐝𝐫 𝐫𝐞𝐬𝐩𝐨𝐧𝐝𝐞𝐝 𝐭𝐨 𝐏𝐫𝐨𝐩𝐡𝐞𝐭 𝐌𝐨𝐬𝐞𝐬 𝐛𝐲 𝐞𝐱𝐩𝐥𝐚𝐢𝐧𝐢𝐧𝐠 𝐭𝐡𝐚𝐭 𝐰𝐡𝐚𝐭 𝐡𝐞 𝐝𝐢𝐝 𝐰𝐚𝐬 𝐧𝐨𝐭 𝐨𝐟 𝐡𝐢𝐬 𝐨𝐰𝐧 𝐚𝐜𝐜𝐨𝐫𝐝 𝐛𝐮𝐭 𝐫𝐚𝐭𝐡𝐞𝐫 𝐚 𝐝𝐢𝐯𝐢𝐧𝐞 𝐫𝐞𝐯𝐞𝐥𝐚𝐭𝐢𝐨𝐧 𝐚𝐧𝐝 𝐜𝐨𝐦𝐦𝐚𝐧𝐝 𝐟𝐫𝐨𝐦 𝐀𝐥𝐥𝐚𝐡, 𝐭𝐡𝐞 𝐄𝐱𝐚𝐥𝐭𝐞𝐝. 𝐀𝐬 𝐦𝐞𝐧𝐭𝐢𝐨𝐧𝐞𝐝 𝐢𝐧 𝐭𝐡𝐞 𝐆𝐥𝐨𝐫𝐢𝐨𝐮𝐬 𝐇𝐨𝐥𝐲 𝐐𝐮𝐫𝐚𝐧 (𝟏𝟖:𝟖𝟐)
𝐖𝐡𝐚𝐭 𝐢𝐟 𝐭𝐡𝐞 (𝐆𝐡𝐮𝐥𝐚𝐦) 𝐛𝐨𝐲 𝐰𝐡𝐨𝐦 𝐀𝐥-𝐊𝐡𝐢𝐝𝐫 𝐤𝐢𝐥𝐥𝐞𝐝 𝐛𝐲 𝐀𝐥𝐥𝐚𝐡'𝐬 𝐜𝐨𝐦𝐦𝐚𝐧𝐝 𝐡𝐚𝐝 𝐧𝐨𝐭 𝐲𝐞𝐭 𝐫𝐞𝐚𝐜𝐡𝐞𝐝 𝐭𝐡𝐞 𝐚𝐠𝐞 𝐨𝐟 𝐩𝐮𝐛𝐞𝐫𝐭𝐲?
𝐅𝐫𝐨𝐦 𝐭𝐡𝐞 𝐞𝐯𝐢𝐝𝐞𝐧𝐜𝐞 𝐰𝐞 𝐡𝐚𝐯𝐞 𝐩𝐫𝐞𝐬𝐞𝐧𝐭𝐞𝐝 𝐚𝐛𝐨𝐯𝐞, 𝐢𝐭 𝐛𝐞𝐜𝐨𝐦𝐞𝐬 𝐚𝐬 𝐜𝐥𝐞𝐚𝐫 𝐚𝐬 𝐝𝐚𝐲𝐥𝐢𝐠𝐡𝐭 𝐭𝐡𝐚𝐭 𝐭𝐡𝐞 "𝐆𝐡𝐮𝐥𝐚𝐦" (الغلام) 𝐰𝐚𝐬 𝐧𝐨𝐭 𝐚 𝐟𝐞𝐭𝐮𝐬 𝐢𝐧 𝐡𝐢𝐬 𝐦𝐨𝐭𝐡𝐞𝐫'𝐬 𝐰𝐨𝐦𝐛, 𝐧𝐨𝐫 𝐰𝐚𝐬 𝐡𝐞 𝐚𝐧 𝐢𝐧𝐟𝐚𝐧𝐭 𝐛𝐞𝐢𝐧𝐠 𝐛𝐫𝐞𝐚𝐬𝐭𝐟𝐞𝐝. 𝐑𝐚𝐭𝐡𝐞𝐫, 𝐡𝐞 𝐰𝐚𝐬 𝐨𝐥𝐝𝐞𝐫 𝐭𝐡𝐚𝐧 𝐭𝐡𝐚𝐭, 𝐜𝐨𝐧𝐬𝐜𝐢𝐨𝐮𝐬 𝐚𝐧𝐝 𝐚𝐰𝐚𝐫𝐞.
𝐌𝐚𝐧𝐲 𝐌𝐮𝐬𝐥𝐢𝐦 𝐬𝐜𝐡𝐨𝐥𝐚𝐫𝐬 𝐚𝐧𝐝 𝐐𝐮𝐫𝐚𝐧𝐢𝐜 𝐜𝐨𝐦𝐦𝐞𝐧𝐭𝐚𝐭𝐨𝐫𝐬, 𝐚𝐭 𝐭𝐡𝐢𝐬 𝐩𝐨𝐢𝐧𝐭, 𝐡𝐚𝐯𝐞 𝐢𝐧𝐝𝐢𝐜𝐚𝐭𝐞𝐝 𝐭𝐡𝐚𝐭. 𝐒𝐨, 𝐥𝐞𝐭'𝐬 𝐬𝐮𝐩𝐩𝐨𝐬𝐞, 𝐟𝐨𝐫 𝐭𝐡𝐞 𝐬𝐚𝐤𝐞 𝐨𝐟 𝐚𝐫𝐠𝐮𝐦𝐞𝐧𝐭, 𝐰𝐡𝐚𝐭 𝐢𝐟 𝐭𝐡𝐞 "𝐆𝐡𝐮𝐥𝐚𝐦" (الغلام) 𝐡𝐚𝐝 𝐧𝐨𝐭 𝐫𝐞𝐚𝐜𝐡𝐞𝐝 𝐭𝐡𝐞 𝐚𝐠𝐞 𝐨𝐟 𝐦𝐚𝐭𝐮𝐫𝐢𝐭𝐲?
𝐃𝐨𝐞𝐬 𝐭𝐡𝐢𝐬 𝐦𝐞𝐚𝐧 𝐭𝐡𝐚𝐭 𝐡𝐞 𝐝𝐞𝐬𝐞𝐫𝐯𝐞𝐝 𝐭𝐨 𝐛𝐞 𝐩𝐮𝐧𝐢𝐬𝐡𝐞𝐝 𝐛𝐲 𝐛𝐞𝐢𝐧𝐠 𝐤𝐢𝐥𝐥𝐞𝐝 𝐚𝐧𝐝 𝐟𝐨𝐫 𝐜𝐮𝐭𝐭𝐢𝐧𝐠 𝐭𝐡𝐞 𝐫𝐨𝐚𝐝, 𝐛𝐞𝐢𝐧𝐠 𝐚𝐫𝐦𝐞𝐝 𝐫𝐨𝐛𝐛𝐞𝐫, 𝐚𝐧𝐝 𝐭𝐮𝐫𝐧𝐢𝐧𝐠 𝐚𝐰𝐚𝐲 𝐟𝐫𝐨𝐦 𝐭𝐡𝐞 𝐟𝐚𝐢𝐭𝐡, 𝐞𝐬𝐩𝐞𝐜𝐢𝐚𝐥𝐥𝐲 𝐰𝐡𝐞𝐧 𝐢𝐭 𝐰𝐨𝐮𝐥𝐝 𝐡𝐚𝐯𝐞 𝐥𝐞𝐝 𝐭𝐨 𝐟𝐮𝐫𝐭𝐡𝐞𝐫 𝐭𝐫𝐚𝐧𝐬𝐠𝐫𝐞𝐬𝐬𝐢𝐨𝐧 𝐚𝐧𝐝 𝐡𝐚𝐫𝐝𝐬𝐡𝐢𝐩 𝐟𝐨𝐫 𝐡𝐢𝐬 𝐩𝐚𝐫𝐞𝐧𝐭𝐬?
𝐅𝐢𝐫𝐬𝐭 𝐚𝐧𝐝 𝐟𝐨𝐫𝐞𝐦𝐨𝐬𝐭, 𝐫𝐞𝐚𝐝𝐞𝐫𝐬 𝐬𝐡𝐨𝐮𝐥𝐝 𝐛𝐞 𝐚𝐰𝐚𝐫𝐞 𝐭𝐡𝐚𝐭 𝐜𝐨𝐧𝐭𝐞𝐦𝐩𝐨𝐫𝐚𝐫𝐲 𝐥𝐚𝐰𝐬 𝐢𝐧 𝐦𝐚𝐧𝐲 𝐜𝐨𝐮𝐧𝐭𝐫𝐢𝐞𝐬 𝐰𝐨𝐫𝐥𝐝𝐰𝐢𝐝𝐞 (𝐢𝐧𝐜𝐥𝐮𝐝𝐢𝐧𝐠 𝐖𝐞𝐬𝐭𝐞𝐫𝐧 𝐂𝐨𝐮𝐧𝐭𝐫𝐢𝐞𝐬) 𝐝𝐨 𝐡𝐨𝐥𝐝 𝐢𝐧𝐝𝐢𝐯𝐢𝐝𝐮𝐚𝐥𝐬 𝐚𝐜𝐜𝐨𝐮𝐧𝐭𝐚𝐛𝐥𝐞, 𝐞𝐯𝐞𝐧 𝐢𝐟 𝐭𝐡𝐞𝐲 𝐡𝐚𝐯𝐞 𝐧𝐨𝐭 𝐫𝐞𝐚𝐜𝐡𝐞𝐝 𝐭𝐡𝐞 𝐚𝐠𝐞 𝐨𝐟 𝐩𝐮𝐛𝐞𝐫𝐭𝐲 𝐨𝐫 𝐢𝐟 𝐭𝐡𝐞𝐲 𝐡𝐚𝐯𝐞 𝐧𝐨𝐭 𝐲𝐞𝐭 𝐞𝐱𝐡𝐢𝐛𝐢𝐭𝐞𝐝 𝐭𝐡𝐞 𝐬𝐢𝐠𝐧𝐬 𝐨𝐟 𝐩𝐮𝐛𝐞𝐫𝐭𝐲.
𝐒𝐮𝐜𝐡 𝐢𝐧𝐝𝐢𝐯𝐢𝐝𝐮𝐚𝐥𝐬 𝐚𝐫𝐞 𝐮𝐬𝐮𝐚𝐥𝐥𝐲 𝐫𝐞𝐟𝐞𝐫𝐫𝐞𝐝 𝐭𝐨 𝐚𝐬 "𝐉𝐮𝐯𝐞𝐧𝐢𝐥𝐞."
𝐓𝐡𝐞𝐫𝐞 𝐢𝐬 𝐚 𝐜𝐨𝐧𝐜𝐞𝐩𝐭 𝐤𝐧𝐨𝐰𝐧 𝐚𝐬 𝐭𝐡𝐞 "𝐚𝐠𝐞 𝐨𝐟 𝐜𝐫𝐢𝐦𝐢𝐧𝐚𝐥 𝐫𝐞𝐬𝐩𝐨𝐧𝐬𝐢𝐛𝐢𝐥𝐢𝐭𝐲," 𝐚𝐧𝐝 𝐢𝐭 𝐢𝐬 𝐞𝐧𝐭𝐢𝐫𝐞𝐥𝐲 𝐬𝐞𝐩𝐚𝐫𝐚𝐭𝐞 𝐟𝐫𝐨𝐦 𝐭𝐡𝐞 𝐚𝐠𝐞 𝐨𝐟 𝐦𝐚𝐣𝐨𝐫𝐢𝐭𝐲.
𝐈𝐧 𝐟𝐚𝐜𝐭, 𝐭𝐡𝐞 𝐚𝐠𝐞 𝐨𝐟 𝐜𝐫𝐢𝐦𝐢𝐧𝐚𝐥 𝐫𝐞𝐬𝐩𝐨𝐧𝐬𝐢𝐛𝐢𝐥𝐢𝐭𝐲 𝐢𝐬 𝐭𝐲𝐩𝐢𝐜𝐚𝐥𝐥𝐲 𝐥𝐨𝐰𝐞𝐫 𝐭𝐡𝐚𝐧 𝐭𝐡𝐞 𝐚𝐠𝐞 𝐨𝐟 𝐩𝐮𝐛𝐞𝐫𝐭𝐲. 𝐈𝐧 𝐨𝐭𝐡𝐞𝐫 𝐰𝐨𝐫𝐝𝐬, 𝐲𝐨𝐮 𝐝𝐨 𝐧𝐨𝐭 𝐡𝐚𝐯𝐞 𝐭𝐨 𝐫𝐞𝐚𝐜𝐡 𝐩𝐮𝐛𝐞𝐫𝐭𝐲 𝐭𝐨 𝐛𝐞 𝐜𝐫𝐢𝐦𝐢𝐧𝐚𝐥𝐥𝐲 𝐜𝐡𝐚𝐫𝐠𝐞𝐝 𝐟𝐨𝐫 𝐚𝐧𝐲 𝐜𝐫𝐢𝐦𝐞𝐬 𝐲𝐨𝐮 𝐡𝐚𝐯𝐞 𝐜𝐨𝐦𝐦𝐢𝐭𝐭𝐞𝐝.

𝐈𝐧 𝐭𝐡𝐞 𝐟𝐨𝐥𝐥𝐨𝐰𝐢𝐧𝐠 𝐝𝐢𝐬𝐜𝐮𝐬𝐬𝐢𝐨𝐧, 𝐰𝐞 𝐰𝐢𝐥𝐥 𝐞𝐱𝐩𝐥𝐨𝐫𝐞 𝐭𝐡𝐞 𝐚𝐠𝐞 𝐨𝐟 𝐜𝐫𝐢𝐦𝐢𝐧𝐚𝐥 𝐫𝐞𝐬𝐩𝐨𝐧𝐬𝐢𝐛𝐢𝐥𝐢𝐭𝐲 𝐢𝐧 𝐬𝐞𝐯𝐞𝐫𝐚𝐥 𝐜𝐨𝐮𝐧𝐭𝐫𝐢𝐞𝐬 𝐚𝐧𝐝 𝐭𝐡𝐞 𝐜𝐨𝐫𝐫𝐞𝐬𝐩𝐨𝐧𝐝𝐢𝐧𝐠 𝐥𝐚𝐰𝐬.
𝐌𝐢𝐧𝐢𝐦𝐮𝐦 𝐂𝐫𝐢𝐦𝐢𝐧𝐚𝐥 𝐀𝐠𝐞 𝐨𝐟 𝐑𝐞𝐬𝐩𝐨𝐧𝐬𝐢𝐛𝐢𝐥𝐢𝐭𝐲: –
𝐓𝐡𝐞 𝐚𝐠𝐞 𝐨𝐟 𝐜𝐫𝐢𝐦𝐢𝐧𝐚𝐥 𝐥𝐢𝐚𝐛𝐢𝐥𝐢𝐭𝐲 𝐢𝐬 𝐭𝐡𝐞 𝐚𝐠𝐞 𝐚𝐭 𝐰𝐡𝐢𝐜𝐡 𝐚 𝐩𝐞𝐫𝐬𝐨𝐧 𝐜𝐚𝐧 𝐛𝐞 𝐚𝐫𝐫𝐞𝐬𝐭𝐞𝐝, 𝐜𝐡𝐚𝐫𝐠𝐞𝐝, 𝐚𝐧𝐝 𝐟𝐨𝐮𝐧𝐝 𝐠𝐮𝐢𝐥𝐭𝐲 𝐨𝐟 𝐚 𝐜𝐫𝐢𝐦𝐢𝐧𝐚𝐥 𝐨𝐟𝐟𝐞𝐧𝐬𝐞. 𝐓𝐡𝐞 𝐚𝐠𝐞 𝐨𝐟 𝐜𝐫𝐢𝐦𝐢𝐧𝐚𝐥 𝐥𝐢𝐚𝐛𝐢𝐥𝐢𝐭𝐲 𝐢𝐧 𝐕𝐢𝐜𝐭𝐨𝐫𝐢𝐚 𝐢𝐬 𝟏𝟎 𝐲𝐞𝐚𝐫𝐬 𝐨𝐟 𝐚𝐠𝐞. 𝐓𝐡𝐢𝐬 𝐢𝐬 𝐭𝐡𝐞 𝐬𝐚𝐦𝐞 𝐚𝐬 𝐭𝐡𝐞 𝐦𝐢𝐧𝐢𝐦𝐮𝐦 𝐚𝐠𝐞 𝐨𝐟 𝐜𝐫𝐢𝐦𝐢𝐧𝐚𝐥 𝐥𝐢𝐚𝐛𝐢𝐥𝐢𝐭𝐲 𝐮𝐧𝐝𝐞𝐫 𝐟𝐞𝐝𝐞𝐫𝐚𝐥 𝐥𝐚𝐰 𝐚𝐧𝐝 𝐢𝐧 𝐚𝐥𝐥 𝐭𝐡𝐞 𝐨𝐭𝐡𝐞𝐫 𝐀𝐮𝐬𝐭𝐫𝐚𝐥𝐢𝐚𝐧 𝐬𝐭𝐚𝐭𝐞𝐬 𝐚𝐧𝐝 𝐭𝐞𝐫𝐫𝐢𝐭𝐨𝐫𝐢𝐞𝐬.
𝐍𝐨𝐰 𝐛𝐲 𝐮𝐧𝐝𝐞𝐫𝐬𝐭𝐚𝐧𝐝𝐢𝐧𝐠 𝐭𝐡𝐢𝐬 𝐥𝐞𝐠𝐚𝐥 𝐟𝐚𝐜𝐭, 𝐢𝐭 𝐰𝐨𝐮𝐥𝐝 𝐛𝐞 𝐦𝐮𝐜𝐡 𝐞𝐚𝐬𝐢𝐞𝐫 𝐭𝐨 𝐮𝐧𝐝𝐞𝐫𝐬𝐭𝐚𝐧𝐝 𝐭𝐡𝐚𝐭 𝟏𝟎 𝐲𝐞𝐚𝐫𝐬 𝐨𝐟 𝐚𝐠𝐞 𝐢𝐬 𝐧𝐨𝐭 𝐚 𝐟𝐞𝐭𝐮𝐬 𝐚𝐧𝐝 𝐚𝐭 𝐭𝐡𝐞 𝐬𝐚𝐦𝐞 𝐭𝐢𝐦𝐞 𝐰𝐞 𝐚𝐫𝐞 𝐧𝐨𝐭 𝐩𝐫𝐨𝐦𝐨𝐭𝐢𝐧𝐠 𝐦𝐚𝐫𝐫𝐢𝐚𝐠𝐞𝐬 𝐚𝐭 𝐬𝐮𝐜𝐡 𝐚𝐧 𝐚𝐠𝐞.
𝐖𝐞 𝐛𝐫𝐨𝐮𝐠𝐡𝐭 𝐭𝐡𝐢𝐬 𝐞𝐱𝐚𝐦𝐩𝐥𝐞 𝐟𝐨𝐫 𝐲𝐨𝐮 𝐭𝐨 𝐮𝐧𝐝𝐞𝐫𝐬𝐭𝐚𝐧𝐝 𝐭𝐡𝐚𝐭 𝐢𝐧 𝐭𝐡𝐢𝐬 𝐭𝐢𝐦𝐞 𝐰𝐡𝐞𝐧 𝐰𝐞 𝐬𝐚𝐲 𝐭𝐡𝐚𝐭 𝐬𝐨𝐦𝐞𝐨𝐧𝐞 𝐚𝐭 𝐭𝐡𝐞 𝐚𝐠𝐞 𝐨𝐟 𝟏𝟎 𝐭𝐰𝐨 𝐨𝐫 𝐭𝐡𝐫𝐞𝐞 𝐨𝐫 𝐞𝐯𝐞𝐧 𝐭𝐞𝐧 𝐜𝐞𝐧𝐭𝐮𝐫𝐢𝐞𝐬 𝐚𝐠𝐨 𝐰𝐞𝐫𝐞 𝐭𝐨 𝐛𝐞 𝐜𝐨𝐧𝐬𝐢𝐝𝐞𝐫𝐞𝐝 𝐦𝐚𝐭𝐮𝐫𝐞, 𝐲𝐨𝐮 𝐜𝐚𝐧 𝐮𝐧𝐝𝐞𝐫𝐬𝐭𝐚𝐧𝐝 𝐰𝐡𝐚𝐭 𝐰𝐞 𝐚𝐫𝐞 𝐭𝐚𝐥𝐤𝐢𝐧𝐠 𝐚𝐛𝐨𝐮𝐭.
𝐀𝐠𝐞 𝐨𝐟 𝐜𝐨𝐧𝐬𝐞𝐧𝐭 𝐥𝐚𝐰𝐬 𝐢𝐧 𝐀𝐮𝐬𝐭𝐫𝐚𝐥𝐢𝐚
𝐀𝐠𝐞 𝐨𝐟 𝐂𝐫𝐢𝐦𝐢𝐧𝐚𝐥 𝐑𝐞𝐬𝐩𝐨𝐧𝐬𝐢𝐛𝐢𝐥𝐢𝐭𝐲
𝐌𝐈𝐍𝐈𝐌𝐔𝐌 𝐀𝐆𝐄𝐒 𝐎𝐅 𝐂𝐑𝐈𝐌𝐈𝐍𝐀𝐋 𝐑𝐄𝐒𝐏𝐎𝐍𝐒𝐈𝐁𝐈𝐋𝐈𝐓𝐘 𝐈𝐍 𝐓𝐇𝐄 𝐀𝐌𝐄𝐑𝐈𝐂𝐀𝐒
𝐌𝐈𝐍𝐈𝐌𝐔𝐌 𝐀𝐆𝐄𝐒 𝐎𝐅 𝐂𝐑𝐈𝐌𝐈𝐍𝐀𝐋 𝐑𝐄𝐒𝐏𝐎𝐍𝐒𝐈𝐁𝐈𝐋𝐈𝐓𝐘 𝐀𝐑𝐎𝐔𝐍𝐃 𝐓𝐇𝐄 𝐖𝐎𝐑𝐋𝐃
𝐀𝐟𝐭𝐞𝐫 𝐝𝐢𝐬𝐜𝐮𝐬𝐬𝐢𝐧𝐠 𝐭𝐡𝐚𝐭 𝐭𝐡𝐞 𝐚𝐠𝐞 𝐨𝐟 𝐜𝐫𝐢𝐦𝐢𝐧𝐚𝐥 𝐫𝐞𝐬𝐩𝐨𝐧𝐬𝐢𝐛𝐢𝐥𝐢𝐭𝐲 𝐚𝐧𝐝 𝐚𝐜𝐜𝐨𝐮𝐧𝐭𝐚𝐛𝐢𝐥𝐢𝐭𝐲 𝐢𝐬 𝐭𝐲𝐩𝐢𝐜𝐚𝐥𝐥𝐲 𝐥𝐨𝐰𝐞𝐫 𝐭𝐡𝐚𝐧 𝐭𝐡𝐞 𝐚𝐠𝐞 𝐨𝐟 𝐩𝐮𝐛𝐞𝐫𝐭𝐲 𝐞𝐯𝐞𝐧 𝐢𝐧 𝐜𝐨𝐧𝐭𝐞𝐦𝐩𝐨𝐫𝐚𝐫𝐲 𝐥𝐚𝐰𝐬, 𝐰𝐡𝐲 𝐬𝐡𝐨𝐮𝐥𝐝 𝐢𝐭 𝐛𝐞 𝐬𝐮𝐫𝐩𝐫𝐢𝐬𝐢𝐧𝐠 𝐭𝐡𝐚𝐭 𝐀𝐥𝐥𝐚𝐡, 𝐭𝐡𝐞 𝐀𝐥𝐦𝐢𝐠𝐡𝐭𝐲, 𝐜𝐨𝐦𝐦𝐚𝐧𝐝𝐞𝐝 𝐀𝐥-𝐊𝐡𝐢𝐝𝐫 𝐭𝐨 𝐞𝐱𝐞𝐜𝐮𝐭𝐞 𝐭𝐡𝐞 𝐩𝐮𝐧𝐢𝐬𝐡𝐦𝐞𝐧𝐭 𝐟𝐨𝐫 𝐭𝐡𝐢𝐬 "𝐆𝐡𝐮𝐥𝐚𝐦" (الغلام), 𝐞𝐯𝐞𝐧 𝐚𝐬𝐬𝐮𝐦𝐢𝐧𝐠 𝐡𝐞 𝐡𝐚𝐝 𝐧𝐨𝐭 𝐫𝐞𝐚𝐜𝐡𝐞𝐝 𝐭𝐡𝐞 𝐚𝐠𝐞 𝐨𝐟 𝐩𝐮𝐛𝐞𝐫𝐭𝐲?
𝐈𝐭'𝐬 𝐢𝐦𝐩𝐨𝐫𝐭𝐚𝐧𝐭 𝐭𝐨 𝐧𝐨𝐭𝐞 𝐭𝐡𝐚𝐭 𝐀𝐥-𝐊𝐡𝐢𝐝𝐫'𝐬 𝐫𝐞𝐥𝐢𝐠𝐢𝐨𝐮𝐬 𝐥𝐚𝐰𝐬, 𝐭𝐡𝐞 𝐝𝐢𝐯𝐢𝐧𝐞 𝐥𝐞𝐠𝐢𝐬𝐥𝐚𝐭𝐢𝐨𝐧 𝐨𝐫𝐝𝐚𝐢𝐧𝐞𝐝 𝐛𝐲 𝐀𝐥𝐥𝐚𝐡 𝐟𝐨𝐫 𝐡𝐢𝐦 𝐚𝐧𝐝 𝐡𝐢𝐬 𝐜𝐨𝐦𝐦𝐮𝐧𝐢𝐭𝐲, 𝐝𝐢𝐟𝐟𝐞𝐫 𝐟𝐫𝐨𝐦 𝐭𝐡𝐞 𝐥𝐚𝐰𝐬 𝐨𝐟 𝐏𝐫𝐨𝐩𝐡𝐞𝐭 𝐌𝐨𝐬𝐞𝐬 𝐚𝐧𝐝 𝐟𝐫𝐨𝐦 𝐈𝐬𝐥𝐚𝐦𝐢𝐜 𝐥𝐚𝐰.
𝐓𝐡𝐢𝐬 𝐢𝐬 𝐛𝐞𝐜𝐚𝐮𝐬𝐞 𝐞𝐚𝐜𝐡 𝐜𝐨𝐦𝐦𝐮𝐧𝐢𝐭𝐲 𝐡𝐚𝐬 𝐢𝐭𝐬 𝐨𝐰𝐧 𝐮𝐧𝐢𝐪𝐮𝐞 𝐬𝐨𝐜𝐢𝐚𝐥, 𝐩𝐨𝐥𝐢𝐭𝐢𝐜𝐚𝐥, 𝐫𝐞𝐥𝐢𝐠𝐢𝐨𝐮𝐬, 𝐚𝐧𝐝 𝐥𝐞𝐠𝐢𝐬𝐥𝐚𝐭𝐢𝐯𝐞 𝐜𝐢𝐫𝐜𝐮𝐦𝐬𝐭𝐚𝐧𝐜𝐞𝐬. 𝐀𝐥𝐥𝐚𝐡 𝐨𝐫𝐝𝐚𝐢𝐧𝐬 𝐥𝐞𝐠𝐢𝐬𝐥𝐚𝐭𝐢𝐨𝐧 𝐭𝐡𝐚𝐭 𝐬𝐮𝐢𝐭𝐬 𝐭𝐡𝐞 𝐬𝐩𝐞𝐜𝐢𝐟𝐢𝐜 𝐜𝐨𝐧𝐝𝐢𝐭𝐢𝐨𝐧𝐬 𝐚𝐧𝐝 𝐭𝐢𝐦𝐞𝐬 𝐨𝐟 𝐞𝐚𝐜𝐡 𝐬𝐨𝐜𝐢𝐞𝐭𝐲.
𝐓𝐡𝐞 𝐰𝐢𝐬𝐝𝐨𝐦 𝐛𝐞𝐡𝐢𝐧𝐝 𝐀𝐥𝐥𝐚𝐡'𝐬 𝐜𝐨𝐦𝐦𝐚𝐧𝐝 𝐭𝐨 𝐀𝐥-𝐊𝐡𝐢𝐝𝐫 𝐭𝐨 𝐤𝐢𝐥𝐥 𝐭𝐡𝐞 "𝐆𝐡𝐮𝐥𝐚𝐦" 𝐛𝐨𝐲?
𝐓𝐡𝐞 𝐍𝐨𝐛𝐥𝐞 𝐐𝐮𝐫𝐚𝐧 𝐝𝐨𝐞𝐬𝐧'𝐭 𝐥𝐞𝐚𝐯𝐞 𝐮𝐬 𝐭𝐨 𝐬𝐩𝐞𝐜𝐮𝐥𝐚𝐭𝐞 𝐚𝐛𝐨𝐮𝐭 𝐭𝐡𝐞 𝐫𝐞𝐚𝐬𝐨𝐧𝐬 𝐛𝐞𝐡𝐢𝐧𝐝 𝐀𝐥𝐥𝐚𝐡'𝐬 𝐜𝐨𝐦𝐦𝐚𝐧𝐝 𝐭𝐨 𝐀𝐥-𝐊𝐡𝐢𝐝𝐫 𝐜𝐨𝐧𝐜𝐞𝐫𝐧𝐢𝐧𝐠 𝐭𝐡𝐞 𝐲𝐨𝐮𝐧𝐠 𝐛𝐨𝐲. 𝐈𝐧𝐬𝐭𝐞𝐚𝐝, 𝐢𝐭 𝐜𝐥𝐚𝐫𝐢𝐟𝐢𝐞𝐬 𝐦𝐮𝐥𝐭𝐢𝐩𝐥𝐞 𝐫𝐞𝐚𝐬𝐨𝐧𝐬, 𝐢𝐧𝐜𝐥𝐮𝐝𝐢𝐧𝐠 𝐭𝐡𝐚𝐭 𝐭𝐡𝐞 𝐲𝐨𝐮𝐧𝐠 𝐛𝐨𝐲 𝐰𝐚𝐬 𝐚 𝐝𝐢𝐬𝐛𝐞𝐥𝐢𝐞𝐯𝐞𝐫 𝐚𝐧𝐝 𝐭𝐫𝐚𝐧𝐬𝐠𝐫𝐞𝐬𝐬𝐨𝐫 𝐰𝐡𝐨 𝐰𝐨𝐮𝐥𝐝 𝐡𝐚𝐯𝐞 𝐠𝐫𝐨𝐰𝐧 𝐮𝐩 𝐭𝐨 𝐛𝐞 𝐚 𝐬𝐨𝐮𝐫𝐜𝐞 𝐨𝐟 𝐠𝐫𝐞𝐚𝐭 𝐝𝐢𝐬𝐭𝐫𝐞𝐬𝐬 𝐭𝐨 𝐡𝐢𝐬 𝐫𝐢𝐠𝐡𝐭𝐞𝐨𝐮𝐬 𝐩𝐚𝐫𝐞𝐧𝐭𝐬 𝐝𝐮𝐞 𝐭𝐨 𝐭𝐡𝐞𝐢𝐫 𝐚𝐭𝐭𝐚𝐜𝐡𝐦𝐞𝐧𝐭 𝐭𝐨 𝐡𝐢𝐦, 𝐝𝐞𝐬𝐩𝐢𝐭𝐞 𝐡𝐢𝐬 𝐝𝐢𝐬𝐛𝐞𝐥𝐢𝐞𝐟 𝐚𝐧𝐝 𝐭𝐫𝐚𝐧𝐬𝐠𝐫𝐞𝐬𝐬𝐢𝐨𝐧. 𝐓𝐡𝐢𝐬 𝐢𝐬 𝐞𝐥𝐮𝐜𝐢𝐝𝐚𝐭𝐞𝐝 𝐢𝐧 𝐭𝐡𝐞 𝐐𝐮𝐫𝐚𝐧𝐢𝐜 𝐯𝐞𝐫𝐬𝐞𝐬, 𝐬𝐩𝐞𝐜𝐢𝐟𝐢𝐜𝐚𝐥𝐥𝐲 𝐢𝐧 𝐐𝐮𝐫𝐚𝐧 (𝟏𝟖:𝟖𝟎-𝟖𝟏).
𝐖𝐡𝐚𝐭 𝐢𝐟 𝐭𝐡𝐞 "𝐆𝐡𝐮𝐥𝐚𝐦" 𝐛𝐨𝐲 𝐰𝐚𝐬 𝐣𝐮𝐬𝐭 𝐚 𝐜𝐡𝐢𝐥𝐝 𝐚𝐧𝐝 𝐡𝐚𝐝𝐧'𝐭 𝐝𝐨𝐧𝐞 𝐚𝐧𝐲𝐭𝐡𝐢𝐧𝐠, 𝐲𝐞𝐭 𝐀𝐥𝐥𝐚𝐡 𝐝𝐞𝐜𝐫𝐞𝐞𝐝 𝐡𝐢𝐬 𝐝𝐞𝐚𝐭𝐡 𝐢𝐧 𝐚𝐧𝐲 𝐰𝐚𝐲?
𝐀𝐬 𝐰𝐞 𝐦𝐞𝐧𝐭𝐢𝐨𝐧𝐞𝐝 𝐚𝐭 𝐭𝐡𝐞 𝐛𝐞𝐠𝐢𝐧𝐧𝐢𝐧𝐠 𝐨𝐟 𝐭𝐡𝐢𝐬 𝐚𝐫𝐭𝐢𝐜𝐥𝐞, 𝐭𝐡𝐞𝐫𝐞 𝐢𝐬 𝐞𝐧𝐝𝐥𝐞𝐬𝐬 𝐞𝐯𝐢𝐝𝐞𝐧𝐜𝐞 𝐟𝐨𝐫 𝐭𝐡𝐞 𝐚𝐮𝐭𝐡𝐞𝐧𝐭𝐢𝐜𝐢𝐭𝐲 𝐨𝐟 𝐈𝐬𝐥𝐚𝐦 𝐚𝐧𝐝 𝐭𝐡𝐞 𝐆𝐥𝐨𝐫𝐢𝐨𝐮𝐬 𝐇𝐨𝐥𝐲 𝐐𝐮𝐫𝐚𝐧 𝐐𝐮𝐫𝐚𝐧. 𝐖𝐞'𝐯𝐞 𝐚𝐥𝐬𝐨 𝐜𝐢𝐭𝐞𝐝 𝐧𝐮𝐦𝐞𝐫𝐨𝐮𝐬 𝐩𝐢𝐞𝐜𝐞𝐬 𝐨𝐟 𝐞𝐯𝐢𝐝𝐞𝐧𝐜𝐞 𝐟𝐫𝐨𝐦 𝐭𝐡𝐞 𝐐𝐮𝐫𝐚𝐧 𝐚𝐧𝐝 𝐭𝐡𝐞 𝐚𝐮𝐭𝐡𝐞𝐧𝐭𝐢𝐜 𝐏𝐫𝐨𝐩𝐡𝐞𝐭𝐢𝐜 𝐭𝐫𝐚𝐝𝐢𝐭𝐢𝐨𝐧 𝐭𝐡𝐚𝐭 𝐬𝐡𝐨𝐰 𝐀𝐥𝐥𝐚𝐡, 𝐭𝐡𝐞 𝐀𝐥𝐦𝐢𝐠𝐡𝐭𝐲, 𝐨𝐫𝐝𝐞𝐫𝐬 𝐮𝐬 𝐭𝐨 𝐝𝐨 𝐠𝐨𝐨𝐝, 𝐟𝐨𝐫𝐛𝐢𝐝𝐬 𝐞𝐯𝐢𝐥, 𝐜𝐨𝐦𝐦𝐚𝐧𝐝𝐬 𝐯𝐢𝐫𝐭𝐮𝐞𝐬, 𝐚𝐧𝐝 𝐩𝐫𝐨𝐡𝐢𝐛𝐢𝐭𝐬 𝐯𝐢𝐜𝐞𝐬. 𝐄𝐯𝐞𝐫𝐲 𝐩𝐫𝐨𝐡𝐢𝐛𝐢𝐭𝐢𝐨𝐧 𝐜𝐚𝐫𝐫𝐢𝐞𝐬 𝐰𝐢𝐬𝐝𝐨𝐦, 𝐰𝐡𝐞𝐭𝐡𝐞𝐫 𝐰𝐞 𝐮𝐧𝐝𝐞𝐫𝐬𝐭𝐚𝐧𝐝 𝐢𝐭 𝐨𝐫 𝐧𝐨𝐭.
𝐓𝐡𝐞𝐫𝐞𝐟𝐨𝐫𝐞, 𝐢𝐭 𝐢𝐬 𝐢𝐧𝐜𝐮𝐦𝐛𝐞𝐧𝐭 𝐮𝐩𝐨𝐧 𝐮𝐬 𝐭𝐨 𝐨𝐛𝐞𝐲 𝐀𝐥𝐥𝐚𝐡, 𝐭𝐡𝐞 𝐀𝐥𝐦𝐢𝐠𝐡𝐭𝐲, 𝐢𝐧 𝐚𝐥𝐥 𝐦𝐚𝐭𝐭𝐞𝐫𝐬. 𝐇𝐞 𝐢𝐬 𝐨𝐮𝐫 𝐂𝐫𝐞𝐚𝐭𝐨𝐫, 𝐒𝐮𝐬𝐭𝐚𝐢𝐧𝐞𝐫, 𝐭𝐡𝐞 𝐎𝐧𝐞 𝐰𝐡𝐨 𝐠𝐫𝐚𝐧𝐭𝐞𝐝 𝐮𝐬 𝐥𝐢𝐟𝐞 𝐚𝐧𝐝 𝐛𝐫𝐨𝐮𝐠𝐡𝐭 𝐮𝐬 𝐢𝐧𝐭𝐨 𝐞𝐱𝐢𝐬𝐭𝐞𝐧𝐜𝐞 𝐟𝐫𝐨𝐦 𝐧𝐨𝐭𝐡𝐢𝐧𝐠𝐧𝐞𝐬𝐬.
𝐀𝐬 𝐥𝐨𝐧𝐠 𝐚𝐬 𝐀𝐥𝐥𝐚𝐡, 𝐭𝐡𝐞 𝐀𝐥𝐦𝐢𝐠𝐡𝐭𝐲, 𝐢𝐬 𝐭𝐡𝐞 𝐎𝐧𝐞 𝐰𝐡𝐨 𝐠𝐫𝐚𝐧𝐭𝐞𝐝 𝐮𝐬 𝐥𝐢𝐟𝐞, 𝐇𝐞 𝐚𝐥𝐨𝐧𝐞 𝐝𝐞𝐜𝐢𝐝𝐞𝐬 𝐰𝐡𝐞𝐧 𝐰𝐞 𝐚𝐫𝐞 𝐛𝐨𝐫𝐧, 𝐰𝐡𝐞𝐧 𝐰𝐞 𝐝𝐢𝐞, 𝐚𝐧𝐝 𝐭𝐡𝐞 𝐦𝐚𝐧𝐧𝐞𝐫 𝐨𝐟 𝐨𝐮𝐫 𝐝𝐞𝐚𝐭𝐡. 𝐇𝐞 𝐢𝐬 𝐭𝐡𝐞 𝐎𝐧𝐞 𝐰𝐡𝐨 𝐠𝐢𝐯𝐞𝐬 𝐥𝐢𝐟𝐞 𝐚𝐧𝐝 𝐜𝐚𝐮𝐬𝐞𝐬 𝐝𝐞𝐚𝐭𝐡, 𝐚𝐧𝐝 𝐭𝐡𝐞𝐫𝐞 𝐢𝐬 𝐧𝐨 𝐩𝐚𝐫𝐭𝐧𝐞𝐫 𝐢𝐧 𝐇𝐢𝐬 𝐚𝐮𝐭𝐡𝐨𝐫𝐢𝐭𝐲 𝐚𝐧𝐝 𝐝𝐞𝐜𝐫𝐞𝐞.
𝐀𝐥𝐥𝐚𝐡, 𝐭𝐡𝐞 𝐀𝐥𝐦𝐢𝐠𝐡𝐭𝐲, 𝐜𝐨𝐦𝐦𝐚𝐧𝐝𝐬 𝐇𝐢𝐬 𝐚𝐧𝐠𝐞𝐥𝐬 𝐨𝐟 𝐝𝐞𝐚𝐭𝐡 𝐭𝐨 𝐭𝐚𝐤𝐞 𝐭𝐡𝐞 𝐬𝐨𝐮𝐥𝐬 𝐨𝐟 𝐬𝐨𝐦𝐞 𝐡𝐮𝐦𝐚𝐧𝐬 𝐞𝐯𝐞𝐫𝐲 𝐬𝐞𝐜𝐨𝐧𝐝. 𝐏𝐞𝐨𝐩𝐥𝐞 𝐝𝐢𝐞 𝐢𝐧 𝐯𝐚𝐫𝐢𝐨𝐮𝐬 𝐰𝐚𝐲𝐬 – 𝐬𝐨𝐦𝐞 𝐢𝐧 𝐭𝐡𝐞 𝐰𝐨𝐦𝐛 𝐨𝐟 𝐭𝐡𝐞𝐢𝐫 𝐦𝐨𝐭𝐡𝐞𝐫𝐬, 𝐬𝐨𝐦𝐞 𝐢𝐧 𝐚𝐜𝐜𝐢𝐝𝐞𝐧𝐭𝐬, 𝐝𝐮𝐫𝐢𝐧𝐠 𝐭𝐡𝐞 𝐜𝐨𝐥𝐥𝐚𝐩𝐬𝐞 𝐨𝐟 𝐫𝐞𝐬𝐢𝐝𝐞𝐧𝐭𝐢𝐚𝐥 𝐛𝐮𝐢𝐥𝐝𝐢𝐧𝐠𝐬, 𝐢𝐧 𝐭𝐡𝐞𝐢𝐫 𝐬𝐥𝐞𝐞𝐩, 𝐰𝐡𝐢𝐥𝐞 𝐝𝐫𝐢𝐧𝐤𝐢𝐧𝐠 𝐚 𝐬𝐢𝐩 𝐨𝐟 𝐰𝐚𝐭𝐞𝐫, 𝐝𝐮𝐞 𝐭𝐨 𝐰𝐚𝐫𝐬, 𝐢𝐥𝐥𝐧𝐞𝐬𝐬𝐞𝐬, 𝐨𝐫 𝐞𝐚𝐫𝐭𝐡𝐪𝐮𝐚𝐤𝐞𝐬.
𝐓𝐡𝐞 𝐜𝐚𝐮𝐬𝐞𝐬 𝐨𝐟 𝐝𝐞𝐚𝐭𝐡 𝐚𝐫𝐞 𝐝𝐢𝐯𝐞𝐫𝐬𝐞, 𝐚𝐧𝐝 𝐝𝐞𝐚𝐭𝐡 𝐢𝐬 𝐭𝐡𝐞 𝐢𝐧𝐞𝐯𝐢𝐭𝐚𝐛𝐥𝐞 𝐞𝐧𝐝 𝐟𝐨𝐫 𝐚𝐥𝐥 𝐥𝐢𝐯𝐢𝐧𝐠 𝐜𝐫𝐞𝐚𝐭𝐮𝐫𝐞𝐬. 𝐀𝐥𝐥𝐚𝐡, 𝐭𝐡𝐞 𝐀𝐥𝐦𝐢𝐠𝐡𝐭𝐲, 𝐝𝐨𝐞𝐬 𝐧𝐨𝐭 𝐚𝐬𝐤 𝐟𝐨𝐫 𝐩𝐞𝐫𝐦𝐢𝐬𝐬𝐢𝐨𝐧 𝐢𝐧 𝐰𝐡𝐚𝐭 𝐇𝐞 𝐝𝐨𝐞𝐬, 𝐚𝐧𝐝 𝐝𝐞𝐚𝐭𝐡 𝐝𝐨𝐞𝐬 𝐧𝐨𝐭 𝐰𝐚𝐢𝐭 𝐟𝐨𝐫 𝐬𝐨𝐦𝐞𝐨𝐧𝐞 𝐭𝐨 𝐫𝐞𝐩𝐞𝐧𝐭 𝐭𝐨 𝐀𝐥𝐥𝐚𝐡 𝐨𝐫 𝐧𝐨𝐭.
𝐓𝐡𝐞𝐫𝐞 𝐚𝐫𝐞 𝐧𝐮𝐦𝐞𝐫𝐨𝐮𝐬 𝐩𝐢𝐞𝐜𝐞𝐬 𝐨𝐟 𝐞𝐯𝐢𝐝𝐞𝐧𝐜𝐞 𝐢𝐧 𝐭𝐡𝐞 𝐇𝐨𝐥𝐲 𝐐𝐮𝐫𝐚𝐧 𝐭𝐡𝐚𝐭 𝐀𝐥𝐥𝐚𝐡, 𝐭𝐡𝐞 𝐀𝐥𝐦𝐢𝐠𝐡𝐭𝐲, 𝐢𝐬 𝐭𝐡𝐞 𝐂𝐫𝐞𝐚𝐭𝐨𝐫, 𝐭𝐡𝐞 𝐎𝐧𝐞 𝐰𝐡𝐨 𝐢𝐬𝐬𝐮𝐞𝐬 𝐜𝐨𝐦𝐦𝐚𝐧𝐝𝐬 𝐚𝐧𝐝 𝐩𝐫𝐨𝐡𝐢𝐛𝐢𝐭𝐢𝐨𝐧𝐬, 𝐭𝐡𝐞 𝐆𝐢𝐯𝐞𝐫 𝐨𝐟 𝐥𝐢𝐟𝐞 𝐚𝐧𝐝 𝐝𝐞𝐚𝐭𝐡, 𝐚𝐧𝐝 𝐭𝐡𝐞 𝐏𝐫𝐨𝐯𝐢𝐝𝐞𝐫. 𝐑𝐞𝐚𝐝𝐞𝐫𝐬 𝐜𝐚𝐧 𝐜𝐨𝐧𝐝𝐮𝐜𝐭 𝐚 𝐬𝐢𝐦𝐩𝐥𝐞 𝐆𝐨𝐨𝐠𝐥𝐞 𝐬𝐞𝐚𝐫𝐜𝐡 𝐭𝐨 𝐟𝐢𝐧𝐝 𝐭𝐡𝐞𝐬𝐞 𝐩𝐢𝐞𝐜𝐞𝐬 𝐨𝐟 𝐞𝐯𝐢𝐝𝐞𝐧𝐜𝐞 𝐟𝐫𝐨𝐦 𝐭𝐡𝐞 𝐇𝐨𝐥𝐲 𝐐𝐮𝐫𝐚𝐧 𝐨𝐧 𝐭𝐡𝐢𝐬 𝐦𝐚𝐭𝐭𝐞𝐫.
𝐖𝐡𝐞𝐧 𝐀𝐥𝐥𝐚𝐡 𝐨𝐫𝐝𝐞𝐫𝐞𝐝 𝐀𝐥-𝐊𝐡𝐢𝐝𝐫 𝐭𝐨 𝐤𝐢𝐥𝐥 𝐭𝐡𝐞 "𝐆𝐡𝐮𝐥𝐚𝐦" 𝐛𝐨𝐲, 𝐰𝐡𝐞𝐭𝐡𝐞𝐫 𝐡𝐞 𝐡𝐚𝐝 𝐜𝐨𝐦𝐦𝐢𝐭𝐭𝐞𝐝 𝐚 𝐬𝐢𝐧 𝐨𝐫 𝐧𝐨𝐭, 𝐢𝐭 𝐦𝐞𝐚𝐧𝐭 𝐭𝐡𝐚𝐭 𝐭𝐡𝐞 𝐛𝐨𝐲'𝐬 𝐥𝐢𝐟𝐞 𝐡𝐚𝐝 𝐜𝐨𝐦𝐞 𝐭𝐨 𝐚𝐧 𝐞𝐧𝐝. 𝐖𝐡𝐞𝐭𝐡𝐞𝐫 𝐀𝐥𝐥𝐚𝐡 𝐬𝐞𝐧𝐭 𝐇𝐢𝐬 𝐚𝐧𝐠𝐞𝐥𝐬 𝐨𝐟 𝐝𝐞𝐚𝐭𝐡 𝐭𝐨 𝐭𝐚𝐤𝐞 𝐭𝐡𝐞 "𝐆𝐡𝐮𝐥𝐚𝐦" 𝐛𝐨𝐲'𝐬 𝐬𝐨𝐮𝐥 𝐨𝐫 𝐬𝐞𝐧𝐭 𝐀𝐥-𝐊𝐡𝐢𝐝𝐫, 𝐰𝐡𝐨 𝐢𝐬 𝐚 𝐦𝐞𝐬𝐬𝐞𝐧𝐠𝐞𝐫 𝐨𝐟 𝐀𝐥𝐥𝐚𝐡 𝐚𝐧𝐝 𝐝𝐨𝐞𝐬 𝐧𝐨𝐭𝐡𝐢𝐧𝐠 𝐞𝐱𝐜𝐞𝐩𝐭 𝐛𝐲 𝐀𝐥𝐥𝐚𝐡'𝐬 𝐜𝐨𝐦𝐦𝐚𝐧𝐝. 𝐖𝐞 𝐦𝐮𝐬𝐭 𝐬𝐚𝐲, "𝐖𝐞 𝐡𝐞𝐚𝐫 𝐚𝐧𝐝 𝐰𝐞 𝐨𝐛𝐞𝐲."
𝐃𝐞𝐬𝐩𝐢𝐭𝐞 𝐭𝐡𝐢𝐬, 𝐀𝐥𝐥𝐚𝐡, 𝐭𝐡𝐞 𝐀𝐥𝐦𝐢𝐠𝐡𝐭𝐲, 𝐡𝐨𝐧𝐨𝐫𝐞𝐝 𝐮𝐬 𝐛𝐲 𝐬𝐡𝐨𝐰𝐢𝐧𝐠 𝐭𝐡𝐞 𝐫𝐞𝐚𝐬𝐨𝐧𝐬 𝐚𝐧𝐝 𝐰𝐢𝐬𝐝𝐨𝐦 𝐛𝐞𝐡𝐢𝐧𝐝 𝐀𝐥𝐥𝐚𝐡'𝐬 𝐨𝐫𝐝𝐞𝐫 𝐭𝐨 𝐀𝐥-𝐊𝐡𝐢𝐝𝐫 𝐭𝐨 𝐤𝐢𝐥𝐥 𝐭𝐡𝐞 "𝐆𝐡𝐮𝐥𝐚𝐦" 𝐛𝐨𝐲. 𝐓𝐡𝐞𝐬𝐞 𝐫𝐞𝐚𝐬𝐨𝐧𝐬, 𝐚𝐬 𝐞𝐱𝐩𝐥𝐚𝐢𝐧𝐞𝐝 𝐢𝐧 𝐭𝐡𝐢𝐬 𝐚𝐫𝐭𝐢𝐜𝐥𝐞, 𝐚𝐫𝐞 𝐢𝐧 𝐜𝐨𝐧𝐭𝐫𝐚𝐬𝐭 𝐭𝐨 𝐭𝐡𝐞 𝐝𝐢𝐬𝐭𝐨𝐫𝐭𝐞𝐝 𝐁𝐢𝐛𝐥𝐞, 𝐰𝐡𝐢𝐜𝐡 𝐨𝐫𝐝𝐞𝐫𝐬 𝐤𝐢𝐥𝐥𝐢𝐧𝐠, 𝐦𝐚𝐬𝐬𝐚𝐜𝐫𝐞𝐬, 𝐚𝐧𝐝 𝐦𝐚𝐬𝐬 𝐤𝐢𝐥𝐥𝐢𝐧𝐠𝐬 𝐰𝐢𝐭𝐡𝐨𝐮𝐭 𝐞𝐯𝐞𝐧 𝐦𝐞𝐧𝐭𝐢𝐨𝐧𝐢𝐧𝐠 𝐫𝐞𝐚𝐬𝐨𝐧𝐬.
𝐄𝐱𝐚𝐦𝐩𝐥𝐞:
𝐋𝐞𝐭'𝐬 𝐭𝐚𝐤𝐞 𝐚𝐧 𝐞𝐱𝐚𝐦𝐩𝐥𝐞 𝐨𝐧 𝐚 𝐡𝐮𝐦𝐚𝐧 𝐥𝐞𝐯𝐞𝐥. 𝐈𝐟 𝐲𝐨𝐮 𝐜𝐫𝐞𝐚𝐭𝐞 𝐬𝐨𝐦𝐞𝐭𝐡𝐢𝐧𝐠 𝐨𝐫 𝐛𝐮𝐢𝐥𝐝 𝐚 𝐬𝐭𝐫𝐮𝐜𝐭𝐮𝐫𝐞 𝐭𝐡𝐚𝐭 𝐛𝐞𝐥𝐨𝐧𝐠𝐬 𝐭𝐨 𝐲𝐨𝐮, 𝐚𝐧𝐝 𝐲𝐨𝐮 𝐡𝐚𝐯𝐞 𝐩𝐫𝐨𝐯𝐢𝐝𝐞𝐝 𝟏𝟎𝟎% 𝐨𝐟 𝐭𝐡𝐞 𝐜𝐨𝐦𝐩𝐨𝐧𝐞𝐧𝐭𝐬 𝐚𝐧𝐝 𝐦𝐚𝐭𝐞𝐫𝐢𝐚𝐥𝐬 𝐮𝐬𝐞𝐝 𝐢𝐧 𝐜𝐫𝐞𝐚𝐭𝐢𝐧𝐠 𝐭𝐡𝐢𝐬 𝐭𝐡𝐢𝐧𝐠 𝐨𝐫 𝐛𝐮𝐢𝐥𝐝𝐢𝐧𝐠 𝐭𝐡𝐢𝐬 𝐬𝐭𝐫𝐮𝐜𝐭𝐮𝐫𝐞, 𝐲𝐨𝐮 𝐚𝐫𝐞 𝐧𝐨𝐭 𝐢𝐧𝐝𝐞𝐛𝐭𝐞𝐝 𝐭𝐨 𝐚𝐧𝐲 𝐜𝐫𝐞𝐚𝐭𝐮𝐫𝐞 𝐫𝐞𝐠𝐚𝐫𝐝𝐢𝐧𝐠 𝐭𝐡𝐢𝐬 𝐜𝐫𝐞𝐚𝐭𝐢𝐨𝐧.
𝐂𝐨𝐧𝐬𝐞𝐪𝐮𝐞𝐧𝐭𝐥𝐲, 𝐲𝐨𝐮 𝐡𝐚𝐯𝐞 𝐞𝐯𝐞𝐫𝐲 𝐫𝐢𝐠𝐡𝐭 𝐭𝐨 𝐝𝐞𝐬𝐭𝐫𝐨𝐲 𝐰𝐡𝐚𝐭 𝐲𝐨𝐮 𝐡𝐚𝐯𝐞 𝐦𝐚𝐝𝐞 𝐨𝐫 𝐝𝐞𝐦𝐨𝐥𝐢𝐬𝐡 𝐭𝐡𝐞 𝐛𝐮𝐢𝐥𝐝𝐢𝐧𝐠 𝐲𝐨𝐮 𝐡𝐚𝐯𝐞 𝐜𝐨𝐧𝐬𝐭𝐫𝐮𝐜𝐭𝐞𝐝 𝐰𝐢𝐭𝐡𝐨𝐮𝐭 𝐚𝐰𝐚𝐢𝐭𝐢𝐧𝐠 𝐩𝐞𝐫𝐦𝐢𝐬𝐬𝐢𝐨𝐧 𝐟𝐫𝐨𝐦 𝐚𝐧𝐲 𝐜𝐫𝐞𝐚𝐭𝐮𝐫𝐞. 𝐌𝐨𝐫𝐞𝐨𝐯𝐞𝐫, 𝐲𝐨𝐮 𝐜𝐚𝐧 𝐝𝐨 𝐭𝐡𝐢𝐬 𝐝𝐢𝐫𝐞𝐜𝐭𝐥𝐲 𝐲𝐨𝐮𝐫𝐬𝐞𝐥𝐟, 𝐝𝐞𝐥𝐞𝐠𝐚𝐭𝐞 𝐚𝐧𝐨𝐭𝐡𝐞𝐫 𝐩𝐞𝐫𝐬𝐨𝐧 𝐭𝐨 𝐝𝐨 𝐢𝐭 𝐨𝐧 𝐲𝐨𝐮𝐫 𝐛𝐞𝐡𝐚𝐥𝐟, 𝐨𝐫 𝐞𝐯𝐞𝐧 𝐚𝐮𝐭𝐡𝐨𝐫𝐢𝐳𝐞 𝐚 𝐦𝐚𝐜𝐡𝐢𝐧𝐞 𝐭𝐨 𝐝𝐨 𝐢𝐭 𝐨𝐧 𝐲𝐨𝐮𝐫 𝐛𝐞𝐡𝐚𝐥𝐟, 𝐚𝐧𝐝 𝐧𝐨 𝐨𝐧𝐞 𝐰𝐢𝐥𝐥 𝐛𝐥𝐚𝐦𝐞 𝐲𝐨𝐮.
𝐈𝐟 𝐭𝐡𝐢𝐬 𝐞𝐱𝐚𝐦𝐩𝐥𝐞 𝐦𝐚𝐤𝐞𝐬 𝐩𝐞𝐫𝐟𝐞𝐜𝐭 𝐬𝐞𝐧𝐬𝐞 𝐨𝐧 𝐚 𝐡𝐮𝐦𝐚𝐧 𝐥𝐞𝐯𝐞𝐥, 𝐰𝐡𝐲 𝐬𝐡𝐨𝐮𝐥𝐝 𝐢𝐭 𝐛𝐞 𝐬𝐮𝐫𝐩𝐫𝐢𝐬𝐢𝐧𝐠 𝐭𝐡𝐚𝐭 𝐀𝐥𝐥𝐚𝐡, 𝐭𝐡𝐞 𝐀𝐥𝐦𝐢𝐠𝐡𝐭𝐲, 𝐰𝐡𝐨 𝐜𝐫𝐞𝐚𝐭𝐞𝐝 𝐮𝐬, 𝐡𝐚𝐬 𝐭𝐡𝐞 𝐟𝐮𝐥𝐥 𝐫𝐢𝐠𝐡𝐭 𝐭𝐨 𝐝𝐨 𝐚𝐬 𝐇𝐞 𝐩𝐥𝐞𝐚𝐬𝐞𝐬? 𝐇𝐞 𝐜𝐚𝐧 𝐠𝐢𝐯𝐞 𝐥𝐢𝐟𝐞 𝐚𝐧𝐝 𝐜𝐚𝐮𝐬𝐞 𝐝𝐞𝐚𝐭𝐡 𝐭𝐨 𝐰𝐡𝐨𝐦𝐞𝐯𝐞𝐫 𝐇𝐞 𝐜𝐡𝐨𝐨𝐬𝐞𝐬, 𝐚𝐭 𝐚𝐧𝐲 𝐭𝐢𝐦𝐞 𝐇𝐞 𝐝𝐞𝐬𝐢𝐫𝐞𝐬.
𝐃𝐞𝐬𝐩𝐢𝐭𝐞 𝐚𝐥𝐥 𝐨𝐟 𝐭𝐡𝐢𝐬, 𝐀𝐥𝐥𝐚𝐡, 𝐨𝐮𝐭 𝐨𝐟 𝐇𝐢𝐬 𝐦𝐞𝐫𝐜𝐲 𝐟𝐨𝐫 𝐮𝐬, 𝐡𝐚𝐬 𝐢𝐧𝐟𝐨𝐫𝐦𝐞𝐝 𝐮𝐬 𝐚𝐛𝐨𝐮𝐭 𝐭𝐡𝐞 𝐫𝐞𝐚𝐬𝐨𝐧𝐬 𝐚𝐧𝐝 𝐰𝐢𝐬𝐝𝐨𝐦 𝐛𝐞𝐡𝐢𝐧𝐝 𝐇𝐢𝐬 𝐜𝐨𝐦𝐦𝐚𝐧𝐝 𝐭𝐨 𝐀𝐥-𝐊𝐡𝐢𝐝𝐫 𝐭𝐨 𝐤𝐢𝐥𝐥 𝐭𝐡𝐞 "𝐆𝐡𝐮𝐥𝐚𝐦" 𝐛𝐨𝐲.
𝐄𝐯𝐞𝐧 𝐛𝐞𝐟𝐨𝐫𝐞 𝐭𝐡𝐞 𝐝𝐞𝐚𝐭𝐡 𝐨𝐟 𝐦𝐨𝐬𝐭 𝐩𝐞𝐨𝐩𝐥𝐞, 𝐭𝐡𝐞𝐫𝐞 𝐚𝐫𝐞 𝐨𝐟𝐭𝐞𝐧 𝐩𝐫𝐞𝐜𝐞𝐝𝐞𝐧𝐭𝐬 𝐬𝐮𝐜𝐡 𝐚𝐬 𝐢𝐥𝐥𝐧𝐞𝐬𝐬𝐞𝐬 𝐨𝐫 𝐬𝐢𝐦𝐢𝐥𝐚𝐫 𝐜𝐢𝐫𝐜𝐮𝐦𝐬𝐭𝐚𝐧𝐜𝐞𝐬 𝐬𝐨 𝐭𝐡𝐚𝐭 𝐭𝐡𝐞 𝐢𝐦𝐩𝐚𝐜𝐭 𝐨𝐟 𝐝𝐞𝐚𝐭𝐡 𝐮𝐩𝐨𝐧 𝐮𝐬 𝐢𝐬 𝐦𝐢𝐧𝐢𝐦𝐢𝐳𝐞𝐝.
𝐑𝐞𝐬𝐩𝐨𝐧𝐬𝐞 𝐭𝐨 𝐀𝐭𝐡𝐞𝐢𝐬𝐭𝐬 𝐚𝐧𝐝 𝐓𝐡𝐨𝐬𝐞 𝐖𝐡𝐨 𝐃𝐨𝐧'𝐭 𝐁𝐞𝐥𝐢𝐞𝐯𝐞 𝐢𝐧 𝐭𝐡𝐞 𝐄𝐱𝐢𝐬𝐭𝐞𝐧𝐜𝐞 𝐨𝐟 𝐆𝐨𝐝:
𝐅𝐢𝐫𝐬𝐭𝐥𝐲, 𝐰𝐞 𝐰𝐨𝐮𝐥𝐝 𝐥𝐢𝐤𝐞 𝐭𝐨 𝐜𝐥𝐚𝐫𝐢𝐟𝐲 𝐭𝐡𝐚𝐭 𝐚𝐭𝐡𝐞𝐢𝐬𝐭𝐬 𝐚𝐥𝐬𝐨 𝐢𝐧𝐜𝐥𝐮𝐝𝐞 𝐁𝐮𝐝𝐝𝐡𝐢𝐬𝐭𝐬; 𝐭𝐡𝐞𝐲 𝐝𝐨 𝐧𝐨𝐭 𝐚𝐜𝐤𝐧𝐨𝐰𝐥𝐞𝐝𝐠𝐞 𝐭𝐡𝐞 𝐞𝐱𝐢𝐬𝐭𝐞𝐧𝐜𝐞 𝐨𝐟 𝐆𝐨𝐝. 𝐓𝐡𝐞𝐫𝐞𝐟𝐨𝐫𝐞, 𝐭𝐡𝐞𝐢𝐫 𝐞𝐭𝐡𝐢𝐜𝐬 𝐚𝐫𝐞 𝐧𝐨𝐭 𝐟𝐢𝐱𝐞𝐝 𝐛𝐞𝐜𝐚𝐮𝐬𝐞 𝐭𝐡𝐞𝐲 𝐝𝐨 𝐧𝐨𝐭 𝐜𝐨𝐦𝐞 𝐟𝐫𝐨𝐦 𝐆𝐨𝐝. 𝐓𝐡𝐞 𝐞𝐭𝐡𝐢𝐜𝐬 𝐭𝐡𝐚𝐭 𝐆𝐨𝐝 𝐡𝐚𝐬 𝐭𝐚𝐮𝐠𝐡𝐭 𝐮𝐬, 𝐬𝐮𝐜𝐡 𝐚𝐬 𝐧𝐨𝐭 𝐬𝐭𝐞𝐚𝐥𝐢𝐧𝐠, 𝐧𝐨𝐭 𝐝𝐫𝐢𝐧𝐤𝐢𝐧𝐠 𝐚𝐥𝐜𝐨𝐡𝐨𝐥, 𝐧𝐨𝐭 𝐜𝐨𝐦𝐦𝐢𝐭𝐭𝐢𝐧𝐠 𝐚𝐝𝐮𝐥𝐭𝐞𝐫𝐲, 𝐧𝐨𝐭 𝐞𝐧𝐠𝐚𝐠𝐢𝐧𝐠 𝐢𝐧 𝐬𝐞𝐱𝐮𝐚𝐥 𝐝𝐞𝐯𝐢𝐚𝐭𝐢𝐨𝐧, 𝐧𝐨𝐭 𝐛𝐥𝐨𝐜𝐤𝐢𝐧𝐠 𝐭𝐡𝐞 𝐩𝐚𝐭𝐡, 𝐧𝐨𝐭 𝐝𝐢𝐬𝐫𝐞𝐬𝐩𝐞𝐜𝐭𝐢𝐧𝐠 𝐲𝐨𝐮𝐫 𝐩𝐚𝐫𝐞𝐧𝐭𝐬, 𝐚𝐧𝐝 𝐬𝐢𝐦𝐢𝐥𝐚𝐫 𝐦𝐚𝐭𝐭𝐞𝐫𝐬 𝐟𝐨𝐮𝐧𝐝 𝐢𝐧 𝐈𝐬𝐥𝐚𝐦 𝐚𝐧𝐝 𝐞𝐯𝐞𝐧 𝐢𝐧 𝐭𝐡𝐞 𝐓𝐞𝐧 𝐂𝐨𝐦𝐦𝐚𝐧𝐝𝐦𝐞𝐧𝐭𝐬 𝐢𝐧 𝐭𝐡𝐞 𝐁𝐢𝐛𝐥𝐞, 𝐫𝐞𝐦𝐚𝐢𝐧 𝐜𝐨𝐧𝐬𝐭𝐚𝐧𝐭. 𝐂𝐨𝐧𝐬𝐞𝐪𝐮𝐞𝐧𝐭𝐥𝐲, 𝐭𝐡𝐞 𝐞𝐭𝐡𝐢𝐜𝐬 𝐨𝐟 𝐚𝐭𝐡𝐞𝐢𝐬𝐭𝐬 𝐚𝐧𝐝 𝐭𝐡𝐨𝐬𝐞 𝐰𝐡𝐨 𝐝𝐞𝐧𝐲 𝐆𝐨𝐝 𝐚𝐫𝐞 𝐝𝐞𝐫𝐢𝐯𝐞𝐝 𝐟𝐫𝐨𝐦 𝐡𝐮𝐦𝐚𝐧-𝐦𝐚𝐝𝐞 𝐬𝐞𝐜𝐮𝐥𝐚𝐫 𝐥𝐚𝐰𝐬 𝐭𝐡𝐚𝐭 𝐜𝐡𝐚𝐧𝐠𝐞 𝐰𝐢𝐭𝐡 𝐭𝐢𝐦𝐞, 𝐩𝐥𝐚𝐜𝐞, 𝐚𝐧𝐝 𝐜𝐢𝐫𝐜𝐮𝐦𝐬𝐭𝐚𝐧𝐜𝐞𝐬.
𝐓𝐡𝐞𝐫𝐞𝐟𝐨𝐫𝐞, 𝐰𝐞 𝐟𝐢𝐧𝐝 𝐭𝐡𝐚𝐭 𝐦𝐚𝐧𝐲 𝐧𝐨𝐧-𝐈𝐬𝐥𝐚𝐦𝐢𝐜 𝐜𝐨𝐮𝐧𝐭𝐫𝐢𝐞𝐬 𝐟𝐨𝐥𝐥𝐨𝐰𝐢𝐧𝐠 𝐬𝐞𝐜𝐮𝐥𝐚𝐫 𝐥𝐚𝐰𝐬 𝐡𝐚𝐯𝐞 𝐞𝐬𝐭𝐚𝐛𝐥𝐢𝐬𝐡𝐞𝐝 𝐭𝐡𝐚𝐭 𝐭𝐡𝐞𝐬𝐞 𝐥𝐚𝐰𝐬 𝐚𝐫𝐞 𝐜𝐡𝐚𝐧𝐠𝐞𝐚𝐛𝐥𝐞, 𝐚𝐧𝐝 𝐚𝐥𝐨𝐧𝐠 𝐰𝐢𝐭𝐡 𝐭𝐡𝐞𝐦, 𝐬𝐢𝐭𝐮𝐚𝐭𝐢𝐨𝐧𝐚𝐥 𝐞𝐭𝐡𝐢𝐜𝐚𝐥 𝐬𝐭𝐚𝐧𝐝𝐚𝐫𝐝𝐬 𝐟𝐨𝐫 𝐦𝐚𝐧𝐲 𝐚𝐭𝐡𝐞𝐢𝐬𝐭𝐬 𝐜𝐡𝐚𝐧𝐠𝐞. 𝐅𝐨𝐫 𝐞𝐱𝐚𝐦𝐩𝐥𝐞, 𝐢𝐧 𝐬𝐨𝐦𝐞 𝐨𝐟 𝐭𝐡𝐞𝐬𝐞 𝐜𝐨𝐮𝐧𝐭𝐫𝐢𝐞𝐬 𝐰𝐡𝐞𝐫𝐞 𝐚𝐭𝐡𝐞𝐢𝐬𝐦 𝐚𝐧𝐝 𝐜𝐨𝐦𝐦𝐮𝐧𝐢𝐬𝐦 𝐚𝐫𝐞 𝐝𝐞𝐞𝐩𝐥𝐲 𝐫𝐨𝐨𝐭𝐞𝐝, 𝐲𝐨𝐮 𝐟𝐢𝐧𝐝 𝐭𝐡𝐚𝐭 𝐭𝐡𝐞𝐫𝐞 𝐚𝐫𝐞 𝐧𝐨 𝐥𝐚𝐰𝐬 𝐭𝐡𝐚𝐭 𝐩𝐫𝐨𝐡𝐢𝐛𝐢𝐭 𝐚𝐧𝐝 𝐩𝐫𝐞𝐯𝐞𝐧𝐭 𝐢𝐧𝐜𝐞𝐬𝐭𝐮𝐨𝐮𝐬 𝐫𝐞𝐥𝐚𝐭𝐢𝐨𝐧𝐬𝐡𝐢𝐩𝐬.
𝐇𝐲𝐩𝐨𝐜𝐫𝐢𝐬𝐲 𝐚𝐧𝐝 𝐃𝐨𝐮𝐛𝐥𝐞 𝐒𝐭𝐚𝐧𝐝𝐚𝐫𝐝𝐬 𝐨𝐟 𝐚 𝐋𝐨𝐭 𝐨𝐟 𝐀𝐭𝐡𝐞𝐢𝐬𝐭𝐬 𝐰𝐡𝐞𝐧 𝐢𝐭 𝐜𝐨𝐦𝐞𝐬 𝐭𝐨 𝐀𝐛𝐨𝐫𝐭𝐢𝐨𝐧:
𝐖𝐞 𝐟𝐢𝐧𝐝 𝐭𝐡𝐚𝐭 𝐦𝐚𝐧𝐲 𝐨𝐟 𝐭𝐡𝐞𝐬𝐞 𝐚𝐭𝐡𝐞𝐢𝐬𝐭𝐬 𝐰𝐡𝐨 𝐨𝐛𝐣𝐞𝐜𝐭 𝐭𝐨 𝐆𝐨𝐝'𝐬 𝐜𝐨𝐦𝐦𝐚𝐧𝐝 𝐟𝐨𝐫 𝐊𝐡𝐢𝐝𝐫 𝐭𝐨 𝐤𝐢𝐥𝐥 𝐭𝐡𝐞 "𝐆𝐡𝐮𝐥𝐚𝐦" 𝐛𝐨𝐲, 𝐚𝐬 𝐰𝐞'𝐯𝐞 𝐢𝐧𝐝𝐢𝐜𝐚𝐭𝐞𝐝 𝐢𝐧 𝐫𝐞𝐚𝐬𝐨𝐧𝐬 𝐚𝐧𝐝 𝐰𝐢𝐬𝐝𝐨𝐦 𝐟𝐨𝐫 𝐭𝐡𝐚𝐭 𝐜𝐨𝐦𝐦𝐚𝐧𝐝 𝐢𝐧 𝐭𝐡𝐢𝐬 𝐚𝐫𝐭𝐢𝐜𝐥𝐞, 𝐨𝐟𝐭𝐞𝐧 𝐞𝐱𝐡𝐢𝐛𝐢𝐭 𝐞𝐱𝐭𝐫𝐞𝐦𝐞 𝐡𝐲𝐩𝐨𝐜𝐫𝐢𝐬𝐲 𝐚𝐧𝐝 𝐝𝐨𝐮𝐛𝐥𝐞 𝐬𝐭𝐚𝐧𝐝𝐚𝐫𝐝𝐬.
𝐓𝐡𝐞𝐲 𝐭𝐡𝐞𝐦𝐬𝐞𝐥𝐯𝐞𝐬 𝐚𝐜𝐜𝐞𝐩𝐭 𝐭𝐡𝐞 𝐤𝐢𝐥𝐥𝐢𝐧𝐠 𝐨𝐟 𝐟𝐞𝐭𝐮𝐬𝐞𝐬 𝐢𝐧 𝐭𝐡𝐞𝐢𝐫 𝐦𝐨𝐭𝐡𝐞𝐫𝐬' 𝐰𝐨𝐦𝐛𝐬 𝐟𝐨𝐫 𝐭𝐡𝐞 𝐬𝐥𝐢𝐠𝐡𝐭𝐞𝐬𝐭 𝐫𝐞𝐚𝐬𝐨𝐧𝐬, 𝐤𝐧𝐨𝐰𝐧 𝐚𝐬 𝐚𝐛𝐨𝐫𝐭𝐢𝐨𝐧. 𝐈𝐟 𝐨𝐧𝐞 𝐨𝐟 𝐭𝐡𝐞𝐢𝐫 𝐠𝐢𝐫𝐥𝐟𝐫𝐢𝐞𝐧𝐝𝐬/𝐰𝐢𝐯𝐞𝐬 𝐛𝐞𝐜𝐨𝐦𝐞𝐬 𝐩𝐫𝐞𝐠𝐧𝐚𝐧𝐭 𝐮𝐧𝐢𝐧𝐭𝐞𝐧𝐭𝐢𝐨𝐧𝐚𝐥𝐥𝐲, 𝐭𝐡𝐞𝐲 𝐝𝐨𝐧'𝐭 𝐡𝐞𝐬𝐢𝐭𝐚𝐭𝐞 𝐭𝐨 𝐚𝐬𝐤 𝐭𝐡𝐞𝐢𝐫 𝐠𝐢𝐫𝐥𝐟𝐫𝐢𝐞𝐧𝐝𝐬/𝐰𝐢𝐯𝐞𝐬 𝐭𝐨 𝐚𝐛𝐨𝐫𝐭 𝐭𝐡𝐞 𝐟𝐞𝐭𝐮𝐬, 𝐞𝐯𝐞𝐧 𝐢𝐟 𝐢𝐭'𝐬 𝐢𝐧 𝐭𝐡𝐞 𝐚𝐝𝐯𝐚𝐧𝐜𝐞𝐝 𝐬𝐭𝐚𝐠𝐞𝐬 𝐨𝐟 𝐝𝐞𝐯𝐞𝐥𝐨𝐩𝐦𝐞𝐧𝐭.
𝐈𝐧 𝐬𝐨𝐦𝐞 𝐜𝐚𝐬𝐞𝐬, 𝐭𝐡𝐞𝐲 𝐫𝐞𝐬𝐨𝐫𝐭 𝐭𝐨 𝐟𝐨𝐫𝐜𝐞 𝐚𝐧𝐝 𝐭𝐡𝐫𝐞𝐚𝐭𝐬 𝐭𝐨 𝐩𝐞𝐫𝐬𝐮𝐚𝐝𝐞 𝐭𝐡𝐞𝐢𝐫 𝐠𝐢𝐫𝐥𝐟𝐫𝐢𝐞𝐧𝐝𝐬/𝐰𝐢𝐯𝐞𝐬 𝐭𝐨 𝐠𝐞𝐭 𝐫𝐢𝐝 𝐨𝐟 𝐰𝐡𝐚𝐭 𝐭𝐡𝐞𝐲 𝐬𝐞𝐞 𝐚𝐬 𝐚𝐧 𝐮𝐧𝐰𝐚𝐧𝐭𝐞𝐝 𝐩𝐫𝐞𝐠𝐧𝐚𝐧𝐜𝐲. 𝐓𝐡𝐢𝐬 𝐢𝐬 𝐩𝐮𝐫𝐞 𝐡𝐲𝐩𝐨𝐜𝐫𝐢𝐬𝐲 𝐚𝐧𝐝 𝐝𝐨𝐮𝐛𝐥𝐞 𝐬𝐭𝐚𝐧𝐝𝐚𝐫𝐝𝐬.
𝐇𝐞𝐫𝐞 𝐢𝐬 𝐓𝐡𝐞 𝐖𝐨𝐫𝐥𝐝'𝐬 𝐋𝐚𝐰𝐬 𝐀𝐛𝐨𝐫𝐭𝐢𝐨𝐧
𝐓𝐡𝐞 𝐮𝐬𝐞 𝐨𝐟 𝐭𝐡𝐞 𝐁𝐢𝐛𝐥𝐞 𝐭𝐨 𝐣𝐮𝐬𝐭𝐢𝐟𝐲 𝐦𝐚𝐬𝐬𝐚𝐜𝐫𝐞𝐬 𝐚𝐧𝐝 𝐬𝐥𝐚𝐮𝐠𝐡𝐭𝐞𝐫𝐬 𝐚𝐠𝐚𝐢𝐧𝐬𝐭 𝐡𝐮𝐦𝐚𝐧𝐬 𝐚𝐟𝐭𝐞𝐫 𝐜𝐨𝐧𝐬𝐢𝐝𝐞𝐫𝐢𝐧𝐠 𝐭𝐡𝐞𝐦 𝐧𝐨𝐭 𝐭𝐨 𝐛𝐞 𝐡𝐮𝐦𝐚𝐧:
𝐓𝐫𝐮𝐭𝐡 𝐬𝐞𝐞𝐤𝐞𝐫𝐬, 𝐭𝐡𝐨𝐬𝐞 𝐡𝐨𝐧𝐞𝐬𝐭 𝐰𝐢𝐭𝐡 𝐭𝐡𝐞𝐦𝐬𝐞𝐥𝐯𝐞𝐬, 𝐚𝐧𝐝 𝐭𝐡𝐨𝐬𝐞 𝐰𝐡𝐨 𝐚𝐫𝐞 𝐟𝐚𝐢𝐫 𝐭𝐨 𝐭𝐡𝐞 𝐭𝐫𝐮𝐭𝐡 𝐤𝐧𝐨𝐰 𝐚𝐧𝐝 𝐚𝐜𝐤𝐧𝐨𝐰𝐥𝐞𝐝𝐠𝐞 𝐭𝐡𝐚𝐭 𝐭𝐡𝐞 𝐝𝐢𝐬𝐭𝐨𝐫𝐭𝐞𝐝 𝐁𝐢𝐛𝐥𝐞, 𝐰𝐢𝐭𝐡 𝐢𝐭𝐬 𝐯𝐞𝐫𝐬𝐞𝐬 𝐭𝐡𝐚𝐭 𝐜𝐚𝐥𝐥 𝐟𝐨𝐫 𝐭𝐡𝐞 𝐠𝐞𝐧𝐨𝐜𝐢𝐝𝐚𝐥 𝐞𝐱𝐭𝐞𝐫𝐦𝐢𝐧𝐚𝐭𝐢𝐨𝐧 𝐨𝐟 𝐧𝐨𝐧-𝐂𝐡𝐫𝐢𝐬𝐭𝐢𝐚𝐧𝐬 𝐚𝐧𝐝 𝐉𝐞𝐰𝐬, 𝐡𝐚𝐬 𝐛𝐞𝐞𝐧 𝐮𝐬𝐞𝐝 𝐭𝐨 𝐣𝐮𝐬𝐭𝐢𝐟𝐲 𝐭𝐡𝐞 𝐤𝐢𝐥𝐥𝐢𝐧𝐠 𝐚𝐧𝐝 𝐦𝐚𝐬𝐬 𝐦𝐚𝐬𝐬𝐚𝐜𝐫𝐞𝐬 𝐨𝐟 𝐧𝐨𝐧-𝐉𝐞𝐰𝐬 𝐚𝐧𝐝 𝐧𝐨𝐧-𝐂𝐡𝐫𝐢𝐬𝐭𝐢𝐚𝐧𝐬.
𝐀𝐥𝐬𝐨, 𝐢𝐭 𝐡𝐚𝐬 𝐛𝐞𝐞𝐧 𝐜𝐨𝐧𝐬𝐢𝐝𝐞𝐫𝐞𝐝 𝐭𝐡𝐚𝐭 𝐧𝐨𝐧-𝐉𝐞𝐰𝐬 𝐚𝐧𝐝 𝐧𝐨𝐧-𝐂𝐡𝐫𝐢𝐬𝐭𝐢𝐚𝐧𝐬 𝐚𝐫𝐞 𝐧𝐨𝐭 𝐡𝐮𝐦𝐚𝐧 𝐮𝐧𝐥𝐞𝐬𝐬 𝐭𝐡𝐞𝐲 𝐚𝐫𝐞 𝐠𝐫𝐚𝐧𝐭𝐞𝐝 𝐚 𝐜𝐞𝐫𝐭𝐢𝐟𝐢𝐜𝐚𝐭𝐞 𝐝𝐞𝐜𝐥𝐚𝐫𝐢𝐧𝐠 𝐭𝐡𝐞𝐦 𝐚𝐬 𝐬𝐮𝐜𝐡. 𝐓𝐡𝐢𝐬 𝐢𝐬 𝐰𝐡𝐚𝐭 𝐭𝐡𝐞 𝐂𝐡𝐫𝐢𝐬𝐭𝐢𝐚𝐧𝐬 𝐚𝐧𝐝 𝐂𝐚𝐭𝐡𝐨𝐥𝐢𝐜𝐬 𝐝𝐢𝐝.
𝐒𝐨𝐦𝐞 𝐞𝐱𝐚𝐦𝐩𝐥𝐞𝐬 𝐨𝐟 𝐂𝐡𝐫𝐢𝐬𝐭𝐢𝐚𝐧𝐬 𝐚𝐧𝐝 𝐉𝐞𝐰𝐬 𝐮𝐬𝐢𝐧𝐠 𝐫𝐞𝐥𝐢𝐠𝐢𝐨𝐧 𝐭𝐨 𝐣𝐮𝐬𝐭𝐢𝐟𝐲 𝐜𝐨𝐥𝐨𝐧𝐢𝐚𝐥𝐢𝐬𝐦 𝐚𝐧𝐝 𝐭𝐨 𝐝𝐞𝐡𝐮𝐦𝐚𝐧𝐢𝐳𝐞 𝐧𝐨𝐧-𝐂𝐡𝐫𝐢𝐬𝐭𝐢𝐚𝐧 𝐚𝐧𝐝 𝐧𝐨𝐧-𝐉𝐞𝐰𝐢𝐬𝐡 𝐩𝐞𝐨𝐩𝐥𝐞𝐬. 𝐅𝐨𝐫 𝐞𝐱𝐚𝐦𝐩𝐥𝐞, 𝐭𝐡𝐞 𝐂𝐡𝐫𝐢𝐬𝐭𝐢𝐚𝐧 𝐝𝐨𝐜𝐭𝐫𝐢𝐧𝐞 𝐨𝐟 𝐭𝐡𝐞 "𝐬𝐨𝐜𝐢𝐚𝐥 𝐁𝐢𝐛𝐥𝐞" 𝐰𝐚𝐬 𝐮𝐬𝐞𝐝 𝐭𝐨 𝐣𝐮𝐬𝐭𝐢𝐟𝐲 𝐭𝐡𝐞 𝐜𝐨𝐥𝐨𝐧𝐢𝐳𝐚𝐭𝐢𝐨𝐧 𝐨𝐟 𝐀𝐟𝐫𝐢𝐜𝐚 𝐚𝐧𝐝 𝐀𝐬𝐢𝐚 𝐚𝐬 𝐚 𝐰𝐚𝐲 𝐭𝐨 𝐛𝐫𝐢𝐧𝐠 𝐂𝐡𝐫𝐢𝐬𝐭𝐢𝐚𝐧𝐢𝐭𝐲 𝐭𝐨 𝐭𝐡𝐞𝐬𝐞 𝐫𝐞𝐠𝐢𝐨𝐧𝐬.
𝐒𝐢𝐦𝐢𝐥𝐚𝐫𝐥𝐲, 𝐭𝐡𝐞 𝐉𝐞𝐰𝐢𝐬𝐡 𝐝𝐨𝐜𝐭𝐫𝐢𝐧𝐞 𝐨𝐟 "𝐜𝐡𝐨𝐬𝐞𝐧𝐧𝐞𝐬𝐬" 𝐰𝐚𝐬 𝐮𝐬𝐞𝐝 𝐭𝐨 𝐣𝐮𝐬𝐭𝐢𝐟𝐲 𝐭𝐡𝐞 𝐜𝐨𝐥𝐨𝐧𝐢𝐳𝐚𝐭𝐢𝐨𝐧 𝐨𝐟 𝐏𝐚𝐥𝐞𝐬𝐭𝐢𝐧𝐞 𝐚𝐬 𝐚 𝐰𝐚𝐲 𝐭𝐨 𝐞𝐬𝐭𝐚𝐛𝐥𝐢𝐬𝐡 𝐚 𝐉𝐞𝐰𝐢𝐬𝐡 𝐡𝐨𝐦𝐞𝐥𝐚𝐧𝐝. 𝐏𝐥𝐞𝐚𝐬𝐞 𝐜𝐡𝐞𝐜𝐤 𝐭𝐡𝐞 𝐟𝐨𝐨𝐭𝐧𝐨𝐭𝐞𝐬 𝐚𝐭 𝐭𝐡𝐞 𝐞𝐧𝐝 𝐨𝐟 𝐭𝐡𝐢𝐬 𝐚𝐫𝐭𝐢𝐜𝐥𝐞 𝐟𝐨𝐫 𝐫𝐞𝐟𝐞𝐫𝐞𝐧𝐜𝐞𝐬 𝐚𝐛𝐨𝐮𝐭 𝐭𝐡𝐢𝐬 𝐦𝐚𝐭𝐭𝐞𝐫.
𝐖𝐡𝐞𝐧 𝐰𝐞 𝐞𝐱𝐚𝐦𝐢𝐧𝐞 𝐭𝐡𝐞 𝐩𝐚𝐫𝐚𝐠𝐫𝐚𝐩𝐡𝐬 𝐦𝐞𝐧𝐭𝐢𝐨𝐧𝐞𝐝 𝐢𝐧 𝐭𝐡𝐢𝐬 𝐚𝐫𝐭𝐢𝐜𝐥𝐞 𝐟𝐫𝐨𝐦 𝐭𝐡𝐞 𝐁𝐢𝐛𝐥𝐞 𝐚𝐛𝐨𝐯𝐞 𝐚𝐧𝐝 𝐛𝐞𝐥𝐨𝐰, 𝐭𝐡𝐞 𝐁𝐢𝐛𝐥𝐞 𝐭𝐞𝐱𝐭𝐬 𝐝𝐨 𝐧𝐨𝐭 𝐜𝐥𝐚𝐫𝐢𝐟𝐲 𝐢𝐧 𝐚𝐧𝐲 𝐰𝐚𝐲 𝐭𝐡𝐞 𝐫𝐞𝐚𝐬𝐨𝐧𝐬 𝐟𝐨𝐫 𝐭𝐡𝐞 𝐦𝐚𝐬𝐬𝐚𝐜𝐫𝐞𝐬 𝐚𝐧𝐝 𝐦𝐚𝐬𝐬 𝐤𝐢𝐥𝐥𝐢𝐧𝐠𝐬 𝐨𝐟 𝐢𝐧𝐧𝐨𝐜𝐞𝐧𝐭, 𝐝𝐞𝐟𝐞𝐧𝐬𝐞𝐥𝐞𝐬𝐬 𝐢𝐧𝐟𝐚𝐧𝐭𝐬, 𝐜𝐡𝐢𝐥𝐝𝐫𝐞𝐧, 𝐞𝐥𝐝𝐞𝐫𝐥𝐲, 𝐚𝐧𝐝 𝐰𝐨𝐦𝐞𝐧.
𝐓𝐡𝐞 𝐡𝐢𝐬𝐭𝐨𝐫𝐲 𝐨𝐟 𝐩𝐚𝐬𝐭 𝐜𝐞𝐧𝐭𝐮𝐫𝐢𝐞𝐬, 𝐫𝐞𝐩𝐫𝐞𝐬𝐞𝐧𝐭𝐞𝐝 𝐛𝐲 𝐭𝐡𝐞 𝐂𝐫𝐮𝐬𝐚𝐝𝐞𝐬 𝐚𝐠𝐚𝐢𝐧𝐬𝐭 𝐈𝐬𝐥𝐚𝐦 𝐚𝐧𝐝 𝐌𝐮𝐬𝐥𝐢𝐦𝐬, 𝐰𝐡𝐢𝐜𝐡 𝐰𝐞𝐫𝐞 𝐥𝐚𝐮𝐧𝐜𝐡𝐞𝐝 𝐛𝐲 𝐄𝐮𝐫𝐨𝐩𝐞𝐚𝐧 𝐂𝐡𝐫𝐢𝐬𝐭𝐢𝐚𝐧 𝐜𝐨𝐮𝐧𝐭𝐫𝐢𝐞𝐬, 𝐢𝐬 𝐢𝐧𝐝𝐞𝐞𝐝 𝐜𝐨𝐦𝐩𝐞𝐥𝐥𝐢𝐧𝐠 𝐞𝐯𝐢𝐝𝐞𝐧𝐜𝐞 𝐨𝐟 𝐭𝐡𝐞 𝐦𝐚𝐬𝐬 𝐤𝐢𝐥𝐥𝐢𝐧𝐠𝐬 𝐚𝐧𝐝 𝐦𝐚𝐬𝐬𝐚𝐜𝐫𝐞𝐬 𝐜𝐨𝐦𝐦𝐢𝐭𝐭𝐞𝐝 𝐛𝐲 𝐭𝐡𝐞𝐬𝐞 𝐂𝐡𝐫𝐢𝐬𝐭𝐢𝐚𝐧𝐬.
𝐓𝐡𝐞𝐲 𝐜𝐥𝐚𝐢𝐦 𝐭𝐨 𝐥𝐨𝐯𝐞 𝐭𝐡𝐞𝐢𝐫 𝐞𝐧𝐞𝐦𝐢𝐞𝐬 𝐰𝐡𝐢𝐥𝐞 𝐮𝐬𝐢𝐧𝐠 𝐭𝐡𝐞𝐬𝐞 𝐝𝐢𝐬𝐭𝐨𝐫𝐭𝐞𝐝 𝐁𝐢𝐛𝐥𝐞 𝐭𝐞𝐱𝐭𝐬 𝐰𝐫𝐢𝐭𝐭𝐞𝐧 𝐛𝐲 𝐡𝐮𝐦𝐚𝐧𝐬 𝐚𝐧𝐝 𝐧𝐨𝐭 𝐨𝐫𝐝𝐚𝐢𝐧𝐞𝐝 𝐛𝐲 𝐆𝐨𝐝 𝐀𝐥𝐦𝐢𝐠𝐡𝐭𝐲. 𝐌𝐨𝐫𝐞𝐨𝐯𝐞𝐫, 𝐭𝐡𝐞 𝐥𝐚𝐬𝐭 𝐟𝐨𝐮𝐫 𝐜𝐞𝐧𝐭𝐮𝐫𝐢𝐞𝐬 𝐡𝐚𝐯𝐞 𝐚𝐥𝐬𝐨 𝐰𝐢𝐭𝐧𝐞𝐬𝐬𝐞𝐝 𝐭𝐡𝐚𝐭 𝐉𝐮𝐝𝐞𝐨-𝐂𝐡𝐫𝐢𝐬𝐭𝐢𝐚𝐧 𝐄𝐮𝐫𝐨𝐩𝐞𝐚𝐧 𝐜𝐨𝐮𝐧𝐭𝐫𝐢𝐞𝐬, 𝐬𝐮𝐜𝐡 𝐚𝐬 𝐄𝐧𝐠𝐥𝐚𝐧𝐝, 𝐅𝐫𝐚𝐧𝐜𝐞, 𝐆𝐞𝐫𝐦𝐚𝐧𝐲, 𝐒𝐩𝐚𝐢𝐧, 𝐁𝐞𝐥𝐠𝐢𝐮𝐦, 𝐚𝐧𝐝 𝐏𝐨𝐫𝐭𝐮𝐠𝐚𝐥, 𝐡𝐚𝐯𝐞 𝐜𝐨𝐥𝐨𝐧𝐢𝐳𝐞𝐝 𝐜𝐨𝐮𝐧𝐭𝐫𝐢𝐞𝐬 𝐚𝐧𝐝 𝐜𝐨𝐧𝐭𝐢𝐧𝐞𝐧𝐭𝐬 𝐚𝐧𝐝 𝐞𝐱𝐭𝐞𝐫𝐦𝐢𝐧𝐚𝐭𝐞𝐝 𝐭𝐡𝐞 𝐢𝐧𝐝𝐢𝐠𝐞𝐧𝐨𝐮𝐬 𝐩𝐨𝐩𝐮𝐥𝐚𝐭𝐢𝐨𝐧𝐬 𝐢𝐧 𝐭𝐡𝐨𝐬𝐞 𝐜𝐨𝐮𝐧𝐭𝐫𝐢𝐞𝐬, 𝐥𝐢𝐤𝐞 𝐀𝐮𝐬𝐭𝐫𝐚𝐥𝐢𝐚, 𝐍𝐞𝐰 𝐙𝐞𝐚𝐥𝐚𝐧𝐝, 𝐩𝐫𝐞-𝐞𝐬𝐭𝐚𝐛𝐥𝐢𝐬𝐡𝐦𝐞𝐧𝐭 𝐨𝐟 𝐭𝐡𝐞 𝐔𝐧𝐢𝐭𝐞𝐝 𝐒𝐭𝐚𝐭𝐞𝐬, 𝐂𝐚𝐧𝐚𝐝𝐚, 𝐦𝐚𝐧𝐲 𝐜𝐨𝐮𝐧𝐭𝐫𝐢𝐞𝐬 𝐢𝐧 𝐀𝐟𝐫𝐢𝐜𝐚 𝐚𝐧𝐝 𝐈𝐧𝐝𝐢𝐚, 𝐚𝐬 𝐰𝐞𝐥𝐥 𝐚𝐬 𝐦𝐚𝐧𝐲 𝐀𝐫𝐚𝐛 𝐚𝐧𝐝 𝐈𝐬𝐥𝐚𝐦𝐢𝐜 𝐜𝐨𝐮𝐧𝐭𝐫𝐢𝐞𝐬.
𝐓𝐡𝐞𝐲 𝐤𝐢𝐥𝐥𝐞𝐝 𝐦𝐚𝐧𝐲 𝐨𝐟 𝐭𝐡𝐞𝐢𝐫 𝐢𝐧𝐝𝐢𝐠𝐞𝐧𝐨𝐮𝐬 𝐩𝐞𝐨𝐩𝐥𝐞𝐬 𝐚𝐧𝐝 𝐥𝐨𝐨𝐭𝐞𝐝 𝐭𝐫𝐞𝐦𝐞𝐧𝐝𝐨𝐮𝐬 𝐰𝐞𝐚𝐥𝐭𝐡. 𝐓𝐨 𝐭𝐡𝐢𝐬 𝐝𝐚𝐲, 𝐭𝐡𝐞𝐬𝐞 𝐬𝐚𝐦𝐞 𝐜𝐨𝐮𝐧𝐭𝐫𝐢𝐞𝐬 𝐜𝐨𝐧𝐭𝐢𝐧𝐮𝐞 𝐭𝐨 𝐬𝐮𝐩𝐩𝐨𝐫𝐭 𝐭𝐡𝐞 𝐙𝐢𝐨𝐧𝐢𝐬𝐭 𝐫𝐞𝐠𝐢𝐦𝐞, 𝐝𝐞𝐬𝐭𝐫𝐨𝐲𝐞𝐝 𝐈𝐫𝐚𝐪, 𝐒𝐲𝐫𝐢𝐚, 𝐘𝐞𝐦𝐞𝐧, 𝐀𝐟𝐠𝐡𝐚𝐧𝐢𝐬𝐭𝐚𝐧, 𝐒𝐨𝐦𝐚𝐥𝐢𝐚, 𝐚𝐧𝐝 𝐦𝐚𝐧𝐲 𝐨𝐭𝐡𝐞𝐫𝐬.
𝐀𝐟𝐭𝐞𝐫 𝐚𝐥𝐥 𝐭𝐡𝐞𝐬𝐞 𝐦𝐚𝐬𝐬 𝐜𝐫𝐢𝐦𝐞𝐬 𝐚𝐧𝐝 𝐡𝐮𝐦𝐚𝐧𝐢𝐭𝐚𝐫𝐢𝐚𝐧 𝐦𝐚𝐬𝐬𝐚𝐜𝐫𝐞𝐬 𝐝𝐮𝐞 𝐭𝐨 𝐭𝐡𝐢𝐬 𝐝𝐢𝐬𝐭𝐨𝐫𝐭𝐞𝐝 𝐁𝐢𝐛𝐥𝐞 𝐚𝐧𝐝 𝐭𝐡𝐞𝐢𝐫 𝐚𝐭𝐡𝐞𝐢𝐬𝐦, 𝐭𝐡𝐞𝐲 𝐬𝐭𝐢𝐥𝐥 𝐡𝐚𝐯𝐞 𝐭𝐡𝐞 𝐚𝐮𝐝𝐚𝐜𝐢𝐭𝐲 𝐭𝐨 𝐩𝐫𝐨𝐜𝐥𝐚𝐢𝐦 𝐭𝐡𝐞𝐢𝐫 𝐫𝐞𝐬𝐩𝐞𝐜𝐭 𝐟𝐨𝐫 𝐡𝐮𝐦𝐚𝐧 𝐫𝐢𝐠𝐡𝐭𝐬, 𝐟𝐫𝐞𝐞𝐝𝐨𝐦 𝐨𝐟 𝐞𝐱𝐩𝐫𝐞𝐬𝐬𝐢𝐨𝐧, 𝐚𝐧𝐝 𝐝𝐞𝐦𝐨𝐜𝐫𝐚𝐜𝐲.
𝐀𝐥𝐥 𝐭𝐡𝐢𝐬 𝐡𝐲𝐩𝐨𝐜𝐫𝐢𝐬𝐲 𝐰𝐡𝐢𝐥𝐞 𝐭𝐡𝐞𝐲 𝐦𝐞𝐚𝐬𝐮𝐫𝐞 𝐰𝐢𝐭𝐡 𝐝𝐢𝐟𝐟𝐞𝐫𝐞𝐧𝐭 𝐬𝐭𝐚𝐧𝐝𝐚𝐫𝐝𝐬. 𝐓𝐡𝐞𝐲 𝐞𝐱𝐩𝐥𝐨𝐢𝐭 𝐭𝐡𝐞 𝐔𝐧𝐢𝐭𝐞𝐝 𝐍𝐚𝐭𝐢𝐨𝐧𝐬 𝐚𝐧𝐝 𝐭𝐡𝐞 𝐒𝐞𝐜𝐮𝐫𝐢𝐭𝐲 𝐂𝐨𝐮𝐧𝐜𝐢𝐥 𝐭𝐨 𝐚𝐧 𝐞𝐱𝐭𝐞𝐧𝐭 𝐭𝐡𝐚𝐭 𝐞𝐯𝐞𝐧 𝐨𝐭𝐡𝐞𝐫 𝐦𝐚𝐣𝐨𝐫 𝐩𝐨𝐰𝐞𝐫𝐬 𝐥𝐢𝐤𝐞 𝐑𝐮𝐬𝐬𝐢𝐚 𝐚𝐧𝐝 𝐂𝐡𝐢𝐧𝐚 𝐡𝐚𝐯𝐞 𝐛𝐞𝐜𝐨𝐦𝐞 𝐟𝐫𝐮𝐬𝐭𝐫𝐚𝐭𝐞𝐝 𝐰𝐢𝐭𝐡 𝐭𝐡𝐢𝐬 𝐖𝐞𝐬𝐭𝐞𝐫𝐧 𝐂𝐡𝐫𝐢𝐬𝐭𝐢𝐚𝐧-𝐉𝐞𝐰𝐢𝐬𝐡 𝐡𝐲𝐩𝐨𝐜𝐫𝐢𝐬𝐲.
𝐌𝐚𝐬𝐬𝐚𝐜𝐫𝐞𝐬 𝐨𝐟 𝐭𝐡𝐞 𝐈𝐧𝐧𝐨𝐜𝐞𝐧𝐭𝐬 𝐢𝐧 𝐭𝐡𝐞 𝐁𝐢𝐛𝐥𝐞:
𝐇𝐞𝐫𝐞 𝐰𝐞 𝐜𝐨𝐦𝐞 𝐭𝐨 𝐭𝐡𝐞 𝐚𝐜𝐭𝐮𝐚𝐥 𝐦𝐚𝐬𝐬𝐚𝐜𝐫𝐞𝐬 𝐰𝐡𝐞𝐫𝐞 𝐭𝐡𝐞 𝐁𝐢𝐛𝐥𝐞 𝐢𝐧𝐜𝐢𝐭𝐞𝐬 𝐧𝐨𝐭 𝐨𝐧𝐥𝐲 𝐭𝐡𝐞 𝐤𝐢𝐥𝐥𝐢𝐧𝐠 𝐨𝐟 𝐢𝐧𝐧𝐨𝐜𝐞𝐧𝐭 𝐜𝐡𝐢𝐥𝐝𝐫𝐞𝐧 𝐛𝐮𝐭 𝐚𝐥𝐬𝐨 𝐢𝐧𝐟𝐚𝐧𝐭𝐬, 𝐭𝐡𝐞 𝐞𝐥𝐝𝐞𝐫𝐥𝐲, 𝐢𝐧𝐧𝐨𝐜𝐞𝐧𝐭 𝐰𝐨𝐦𝐞𝐧, 𝐚𝐧𝐝 𝐞𝐯𝐞𝐧 𝐚𝐧𝐢𝐦𝐚𝐥𝐬. 𝐖𝐞 𝐜𝐚𝐧 𝐬𝐞𝐞 𝐭𝐡𝐢𝐬 𝐢𝐧 𝟏 𝐒𝐚𝐦𝐮𝐞𝐥 𝟏𝟓:𝟑:
𝐀𝐧𝐝 𝐄𝐳𝐞𝐤𝐢𝐞𝐥 𝟗:𝟔

𝐀𝐧𝐝 𝐄𝐱𝐨𝐝𝐮𝐬 𝟑𝟐:𝟐𝟕
𝐓𝐡𝐨𝐬𝐞 𝐦𝐚𝐬𝐬 𝐤𝐢𝐥𝐥𝐢𝐧𝐠𝐬 𝐰𝐞𝐫𝐞 𝐁𝐄𝐅𝐎𝐑𝐄 𝐚𝐧𝐲 𝐨𝐟 𝐭𝐡𝐞𝐬𝐞 𝐢𝐧𝐧𝐨𝐜𝐞𝐧𝐭𝐬 𝐜𝐨𝐦𝐦𝐢𝐭𝐭𝐞𝐝 𝐚𝐧𝐲 𝐜𝐫𝐢𝐦𝐞, 𝐚𝐧𝐝 𝐰𝐢𝐭𝐡𝐨𝐮𝐭 𝐭𝐡𝐞 𝐝𝐢𝐬𝐭𝐨𝐫𝐭𝐞𝐝 𝐁𝐢𝐛𝐥𝐞 𝐞𝐱𝐩𝐥𝐚𝐢𝐧𝐢𝐧𝐠 𝐭𝐨 𝐮𝐬 𝐭𝐡𝐞 𝐫𝐞𝐚𝐬𝐨𝐧𝐬 𝐟𝐨𝐫 𝐭𝐡𝐞𝐬𝐞 𝐤𝐢𝐥𝐥𝐢𝐧𝐠𝐬 𝐚𝐧𝐝 𝐦𝐚𝐬𝐬 𝐬𝐥𝐚𝐮𝐠𝐡𝐭𝐞𝐫𝐬 𝐨𝐟 𝐢𝐧𝐧𝐨𝐜𝐞𝐧𝐭 𝐢𝐧𝐟𝐚𝐧𝐭𝐬, 𝐜𝐡𝐢𝐥𝐝𝐫𝐞𝐧, 𝐭𝐡𝐞 𝐞𝐥𝐝𝐞𝐫𝐥𝐲, 𝐚𝐧𝐝 𝐰𝐨𝐦𝐞𝐧.
𝐓𝐡𝐢𝐬 𝐬𝐞𝐫𝐯𝐞𝐬 𝐚𝐬 𝐚 𝐫𝐞𝐬𝐩𝐨𝐧𝐬𝐞 𝐭𝐨 𝐭𝐡𝐞 𝐚𝐜𝐜𝐮𝐬𝐚𝐭𝐢𝐨𝐧 𝐚𝐠𝐚𝐢𝐧𝐬𝐭 𝐀𝐥𝐥𝐚𝐡, 𝐭𝐡𝐞 𝐀𝐥𝐦𝐢𝐠𝐡𝐭𝐲, 𝐢𝐧 𝐈𝐬𝐥𝐚𝐦, 𝐜𝐥𝐚𝐢𝐦𝐢𝐧𝐠 𝐭𝐡𝐚𝐭 𝐇𝐞 𝐢𝐬 𝐮𝐧𝐣𝐮𝐬𝐭 𝐟𝐨𝐫 𝐨𝐫𝐝𝐞𝐫𝐢𝐧𝐠 𝐀𝐥-𝐊𝐡𝐢𝐝𝐫 𝐭𝐨 𝐤𝐢𝐥𝐥 𝐭𝐡𝐞 𝐭𝐲𝐫𝐚𝐧𝐧𝐢𝐜𝐚𝐥 (𝐆𝐡𝐮𝐥𝐚𝐦) 𝐛𝐨𝐲 𝐰𝐡𝐨 𝐰𝐚𝐬 𝐜𝐮𝐭𝐭𝐢𝐧𝐠 𝐭𝐡𝐞 𝐫𝐨𝐚𝐝 𝐚𝐬 𝐚𝐧 𝐚𝐫𝐦𝐞𝐝 𝐫𝐨𝐛𝐛𝐞𝐫 𝐭𝐨𝐨 𝐚𝐧𝐝 𝐰𝐨𝐮𝐥𝐝 𝐡𝐚𝐯𝐞 𝐜𝐚𝐮𝐬𝐞𝐝 𝐭𝐲𝐫𝐚𝐧𝐧𝐲 𝐚𝐧𝐝 𝐝𝐢𝐬𝐛𝐞𝐥𝐢𝐞𝐟 𝐟𝐨𝐫 𝐡𝐢𝐬 𝐩𝐚𝐫𝐞𝐧𝐭𝐬.
𝐈𝐭 𝐢𝐬 𝐚 𝐠𝐫𝐞𝐚𝐭 𝐝𝐢𝐬𝐦𝐚𝐲, 𝐭𝐡𝐚𝐭 𝐰𝐞 𝐟𝐢𝐧𝐝 𝐭𝐡𝐚𝐭 𝐭𝐡𝐞 𝐁𝐢𝐛𝐥𝐞, 𝐚𝐬 𝐰𝐞 𝐡𝐚𝐯𝐞 𝐫𝐞𝐚𝐝 𝐚𝐛𝐨𝐯𝐞 𝐢𝐧 𝟏 𝐒𝐚𝐦𝐮𝐞𝐥 𝟏𝟓:𝟑, 𝐞𝐧𝐜𝐨𝐮𝐫𝐚𝐠𝐞𝐬 𝐦𝐚𝐬𝐬 𝐤𝐢𝐥𝐥𝐢𝐧𝐠𝐬 𝐨𝐟 𝐢𝐧𝐟𝐚𝐧𝐭𝐬, 𝐜𝐡𝐢𝐥𝐝𝐫𝐞𝐧, 𝐭𝐡𝐞 𝐞𝐥𝐝𝐞𝐫𝐥𝐲, 𝐚𝐧𝐝 𝐢𝐧𝐧𝐨𝐜𝐞𝐧𝐭 𝐰𝐨𝐦𝐞𝐧 𝐰𝐢𝐭𝐡𝐨𝐮𝐭 𝐦𝐞𝐧𝐭𝐢𝐨𝐧𝐢𝐧𝐠 𝐚𝐧𝐲 𝐫𝐞𝐚𝐬𝐨𝐧𝐬. 𝐎𝐟𝐭𝐞𝐧, 𝐉𝐞𝐰𝐬 𝐚𝐧𝐝 𝐂𝐡𝐫𝐢𝐬𝐭𝐢𝐚𝐧𝐬 𝐚𝐫𝐠𝐮𝐞 𝐭𝐡𝐚𝐭 𝐭𝐡𝐞𝐬𝐞 𝐦𝐚𝐬𝐬𝐚𝐜𝐫𝐞𝐬 𝐚𝐧𝐝 𝐬𝐥𝐚𝐮𝐠𝐡𝐭𝐞𝐫𝐬 𝐨𝐟 𝐭𝐡𝐞 𝐢𝐧𝐧𝐨𝐜𝐞𝐧𝐭 𝐰𝐞𝐫𝐞 𝐢𝐧 𝐭𝐡𝐞 𝐎𝐥𝐝 𝐓𝐞𝐬𝐭𝐚𝐦𝐞𝐧𝐭. 𝐓𝐡𝐞 𝐪𝐮𝐞𝐬𝐭𝐢𝐨𝐧 𝐢𝐬, 𝐝𝐨𝐧'𝐭 𝐲𝐨𝐮 𝐛𝐞𝐥𝐢𝐞𝐯𝐞 𝐭𝐡𝐚𝐭 𝐭𝐡𝐞 𝐆𝐨𝐝 𝐨𝐟 𝐭𝐡𝐞 𝐎𝐥𝐝 𝐓𝐞𝐬𝐭𝐚𝐦𝐞𝐧𝐭 𝐢𝐬 𝐭𝐡𝐞 𝐬𝐚𝐦𝐞 𝐆𝐨𝐝 𝐨𝐟 𝐭𝐡𝐞 𝐍𝐞𝐰 𝐓𝐞𝐬𝐭𝐚𝐦𝐞𝐧𝐭?
𝐔𝐧𝐟𝐨𝐫𝐭𝐮𝐧𝐚𝐭𝐞𝐥𝐲, 𝐲𝐨𝐮 𝐟𝐚𝐥𝐬𝐞𝐥𝐲 𝐚𝐭𝐭𝐫𝐢𝐛𝐮𝐭𝐞 𝐭𝐨 𝐭𝐡𝐢𝐬 𝐆𝐨𝐝, 𝐮𝐧𝐣𝐮𝐬𝐭𝐥𝐲 𝐚𝐧𝐝 𝐟𝐚𝐥𝐬𝐞𝐥𝐲, 𝐭𝐡𝐚𝐭 𝐇𝐞 𝐨𝐫𝐝𝐞𝐫𝐞𝐝 𝐚𝐥𝐥 𝐨𝐟 𝐭𝐡𝐞𝐬𝐞 𝐦𝐚𝐬𝐬𝐚𝐜𝐫𝐞𝐬 𝐚𝐧𝐝 𝐬𝐥𝐚𝐮𝐠𝐡𝐭𝐞𝐫𝐬 𝐨𝐟 𝐭𝐡𝐞 𝐢𝐧𝐧𝐨𝐜𝐞𝐧𝐭. 𝐓𝐡𝐢𝐬 𝐢𝐬 𝐚 𝐜𝐥𝐞𝐚𝐫 𝐥𝐢𝐞 𝐚𝐧𝐝 𝐟𝐚𝐛𝐫𝐢𝐜𝐚𝐭𝐢𝐨𝐧 𝐚𝐠𝐚𝐢𝐧𝐬𝐭 𝐆𝐨𝐝, 𝐣𝐮𝐬𝐭 𝐥𝐢𝐤𝐞 𝐲𝐨𝐮𝐫 𝐟𝐚𝐥𝐬𝐞 𝐜𝐥𝐚𝐢𝐦 𝐚𝐛𝐨𝐮𝐭 𝐭𝐡𝐞 𝐐𝐮𝐫𝐚𝐧, 𝐚𝐧𝐝 𝐲𝐨𝐮𝐫 𝐚𝐭𝐭𝐞𝐦𝐩𝐭 𝐭𝐨 𝐟𝐚𝐥𝐬𝐞𝐥𝐲 𝐚𝐜𝐜𝐮𝐬𝐞 𝐊𝐡𝐢𝐝𝐫 𝐨𝐟 𝐤𝐢𝐥𝐥𝐢𝐧𝐠 𝐚𝐧 𝐢𝐧𝐧𝐨𝐜𝐞𝐧𝐭 𝐜𝐡𝐢𝐥𝐝.
𝐓𝐡𝐢𝐬 𝐢𝐬 𝐚 𝐜𝐨𝐦𝐩𝐥𝐞𝐭𝐞 𝐝𝐢𝐬𝐭𝐨𝐫𝐭𝐢𝐨𝐧, 𝐚𝐢𝐦𝐢𝐧𝐠 𝐭𝐨 𝐜𝐨𝐯𝐞𝐫 𝐮𝐩 𝐭𝐡𝐞 𝐜𝐨𝐫𝐫𝐮𝐩𝐭𝐢𝐨𝐧 𝐚𝐧𝐝 𝐭𝐚𝐦𝐩𝐞𝐫𝐢𝐧𝐠 𝐢𝐧 𝐲𝐨𝐮𝐫 𝐚𝐥𝐭𝐞𝐫𝐞𝐝 𝐁𝐢𝐛𝐥𝐞, 𝐰𝐡𝐢𝐜𝐡 𝐟𝐚𝐥𝐬𝐞𝐥𝐲 𝐚𝐭𝐭𝐫𝐢𝐛𝐮𝐭𝐞𝐬 𝐭𝐨 𝐆𝐨𝐝'𝐬 𝐨𝐫𝐝𝐞𝐫𝐬 𝐟𝐨𝐫 𝐦𝐚𝐬𝐬 𝐤𝐢𝐥𝐥𝐢𝐧𝐠𝐬 𝐚𝐧𝐝 𝐦𝐚𝐬𝐬𝐚𝐜𝐫𝐞𝐬 𝐨𝐟 𝐢𝐧𝐟𝐚𝐧𝐭𝐬, 𝐜𝐡𝐢𝐥𝐝𝐫𝐞𝐧, 𝐭𝐡𝐞 𝐞𝐥𝐝𝐞𝐫𝐥𝐲, 𝐚𝐧𝐝 𝐰𝐨𝐦𝐞𝐧.
𝐓𝐡𝐞 𝐂𝐨𝐫𝐫𝐮𝐩𝐭𝐞𝐝 𝐁𝐢𝐛𝐥𝐞 𝐟𝐨𝐫𝐠𝐞𝐭𝐬 𝐭𝐨 𝐦𝐞𝐧𝐭𝐢𝐨𝐧 𝐭𝐡𝐞 𝐫𝐞𝐚𝐬𝐨𝐧𝐬 𝐛𝐞𝐡𝐢𝐧𝐝 𝐢𝐭𝐬 𝐢𝐧𝐬𝐭𝐫𝐮𝐜𝐭𝐢𝐨𝐧𝐬 𝐟𝐨𝐫 𝐭𝐡𝐞 𝐦𝐚𝐬𝐬 𝐤𝐢𝐥𝐥𝐢𝐧𝐠𝐬 𝐚𝐧𝐝 𝐬𝐥𝐚𝐮𝐠𝐡𝐭𝐞𝐫𝐬 𝐨𝐟 𝐢𝐧𝐧𝐨𝐜𝐞𝐧𝐭 𝐢𝐧𝐟𝐚𝐧𝐭𝐬, 𝐜𝐡𝐢𝐥𝐝𝐫𝐞𝐧, 𝐞𝐥𝐝𝐞𝐫𝐬, 𝐚𝐧𝐝 𝐰𝐨𝐦𝐞𝐧:
𝐈𝐭'𝐬 𝐭𝐫𝐮𝐥𝐲 𝐚𝐬𝐭𝐨𝐧𝐢𝐬𝐡𝐢𝐧𝐠 𝐭𝐡𝐚𝐭 𝐭𝐡𝐞 𝐝𝐢𝐬𝐭𝐨𝐫𝐭𝐞𝐝 𝐁𝐢𝐛𝐥𝐞 𝐦𝐞𝐧𝐭𝐢𝐨𝐧𝐬, 𝐢𝐧 𝐭𝐡𝐞 𝐰𝐨𝐫𝐝𝐬 𝐨𝐟 𝐏𝐚𝐮𝐥, 𝐬𝐞𝐧𝐝𝐢𝐧𝐠 𝐡𝐢𝐬 𝐠𝐫𝐞𝐞𝐭𝐢𝐧𝐠𝐬 𝐚𝐧𝐝 𝐫𝐞𝐠𝐚𝐫𝐝𝐬 𝐢𝐧 𝐡𝐢𝐬 𝐥𝐞𝐭𝐭𝐞𝐫𝐬 𝐭𝐨 𝐦𝐚𝐧𝐲 𝐨𝐟 𝐡𝐢𝐬 𝐟𝐨𝐥𝐥𝐨𝐰𝐞𝐫𝐬, 𝐥𝐢𝐤𝐞 𝐏𝐫𝐢𝐬𝐜𝐢𝐥𝐥𝐚, 𝐌𝐚𝐫𝐲, 𝐚𝐧𝐝 𝐨𝐭𝐡𝐞𝐫𝐬.
𝐀𝐝𝐝𝐢𝐭𝐢𝐨𝐧𝐚𝐥𝐥𝐲, 𝐭𝐡𝐢𝐬 𝐝𝐢𝐬𝐭𝐨𝐫𝐭𝐞𝐝 𝐁𝐢𝐛𝐥𝐞 𝐝𝐞𝐭𝐚𝐢𝐥𝐬 𝐭𝐡𝐞 𝐧𝐮𝐦𝐛𝐞𝐫 𝐨𝐟 𝐒𝐨𝐥𝐨𝐦𝐨𝐧'𝐬 𝐰𝐢𝐯𝐞𝐬, 𝐡𝐢𝐬 𝐦𝐞𝐚𝐥𝐬, 𝐚𝐧𝐝 𝐡𝐨𝐰 𝐦𝐚𝐧𝐲 𝐡𝐨𝐮𝐬𝐞𝐬 𝐡𝐞 𝐡𝐚𝐝. 𝐘𝐞𝐭, 𝐚𝐭 𝐭𝐡𝐞 𝐬𝐚𝐦𝐞 𝐭𝐢𝐦𝐞, 𝐭𝐡𝐢𝐬 𝐝𝐢𝐬𝐭𝐨𝐫𝐭𝐞𝐝 𝐁𝐢𝐛𝐥𝐞 𝐝𝐞𝐥𝐢𝐛𝐞𝐫𝐚𝐭𝐞𝐥𝐲 𝐨𝐦𝐢𝐭𝐬 𝐚𝐧𝐲 𝐦𝐞𝐧𝐭𝐢𝐨𝐧 𝐨𝐟 𝐭𝐡𝐞 𝐫𝐞𝐚𝐬𝐨𝐧𝐬 𝐛𝐞𝐡𝐢𝐧𝐝 𝐆𝐨𝐝'𝐬 𝐨𝐫𝐝𝐞𝐫𝐬 𝐭𝐨 𝐜𝐨𝐦𝐦𝐢𝐭 𝐦𝐚𝐬𝐬 𝐤𝐢𝐥𝐥𝐢𝐧𝐠𝐬 𝐚𝐧𝐝 𝐬𝐥𝐚𝐮𝐠𝐡𝐭𝐞𝐫𝐬 𝐨𝐟 𝐢𝐧𝐧𝐨𝐜𝐞𝐧𝐭 𝐢𝐧𝐟𝐚𝐧𝐭𝐬, 𝐜𝐡𝐢𝐥𝐝𝐫𝐞𝐧, 𝐞𝐥𝐝𝐞𝐫𝐬, 𝐚𝐧𝐝 𝐰𝐨𝐦𝐞𝐧.
𝐓𝐡𝐢𝐬, 𝐭𝐨𝐨, 𝐞𝐦𝐩𝐡𝐚𝐬𝐢𝐳𝐞𝐬 𝐭𝐡𝐚𝐭 𝐭𝐡𝐢𝐬 𝐝𝐢𝐬𝐭𝐨𝐫𝐭𝐞𝐝 𝐁𝐢𝐛𝐥𝐞 𝐢𝐬 𝐧𝐨𝐭 𝐟𝐫𝐨𝐦 𝐭𝐡𝐞 𝐭𝐫𝐮𝐞 𝐆𝐨𝐝, 𝐛𝐮𝐭 𝐡𝐚𝐬 𝐛𝐞𝐞𝐧 𝐬𝐮𝐛𝐣𝐞𝐜𝐭 𝐭𝐨 𝐦𝐚𝐧𝐢𝐩𝐮𝐥𝐚𝐭𝐢𝐨𝐧 𝐭𝐨 𝐞𝐱𝐩𝐥𝐨𝐢𝐭 𝐭𝐡𝐞𝐬𝐞 𝐚𝐥𝐭𝐞𝐫𝐞𝐝 𝐭𝐞𝐱𝐭𝐬 𝐢𝐧 𝐭𝐡𝐞 𝐤𝐢𝐥𝐥𝐢𝐧𝐠 𝐚𝐧𝐝 𝐞𝐧𝐬𝐥𝐚𝐯𝐞𝐦𝐞𝐧𝐭 𝐨𝐟 𝐧𝐨𝐧-𝐂𝐡𝐫𝐢𝐬𝐭𝐢𝐚𝐧𝐬 𝐚𝐧𝐝 𝐧𝐨𝐧-𝐉𝐞𝐰𝐬.
𝐌𝐮𝐬𝐥𝐢𝐦𝐬 𝐦𝐮𝐬𝐭 𝐫𝐞𝐟𝐫𝐚𝐢𝐧 𝐟𝐫𝐨𝐦 𝐤𝐢𝐥𝐥𝐢𝐧𝐠 𝐢𝐧𝐧𝐨𝐜𝐞𝐧𝐭 𝐩𝐞𝐨𝐩𝐥𝐞 𝐞𝐯𝐞𝐧 𝐝𝐮𝐫𝐢𝐧𝐠 𝐭𝐢𝐦𝐞𝐬 𝐨𝐟 𝐰𝐚𝐫:
𝐂𝐨𝐧𝐭𝐫𝐚𝐫𝐲 𝐭𝐨 𝐭𝐡𝐞 𝐝𝐢𝐬𝐭𝐨𝐫𝐭𝐞𝐝 𝐁𝐢𝐛𝐥𝐞, 𝐰𝐡𝐢𝐜𝐡 𝐨𝐫𝐝𝐞𝐫𝐞𝐝 𝐭𝐡𝐞 𝐤𝐢𝐥𝐥𝐢𝐧𝐠 𝐚𝐧𝐝 𝐦𝐚𝐬𝐬 𝐬𝐥𝐚𝐮𝐠𝐡𝐭𝐞𝐫𝐬 𝐨𝐟 𝐢𝐧𝐧𝐨𝐜𝐞𝐧𝐭𝐬 𝐰𝐢𝐭𝐡𝐨𝐮𝐭 𝐩𝐫𝐢𝐨𝐫 𝐰𝐚𝐫𝐧𝐢𝐧𝐠 𝐨𝐫 𝐞𝐯𝐞𝐧 𝐞𝐱𝐩𝐥𝐚𝐢𝐧𝐢𝐧𝐠 𝐭𝐡𝐞 𝐫𝐞𝐚𝐬𝐨𝐧𝐬 𝐟𝐨𝐫 𝐭𝐡𝐞𝐬𝐞 𝐦𝐚𝐬𝐬𝐚𝐜𝐫𝐞𝐬, 𝐈𝐬𝐥𝐚𝐦 𝐬𝐭𝐫𝐢𝐜𝐭𝐥𝐲 𝐟𝐨𝐫𝐛𝐢𝐝𝐬 𝐭𝐡𝐞 𝐤𝐢𝐥𝐥𝐢𝐧𝐠 𝐨𝐟 𝐢𝐧𝐧𝐨𝐜𝐞𝐧𝐭, 𝐩𝐞𝐚𝐜𝐞𝐟𝐮𝐥, 𝐧𝐨𝐧-𝐌𝐮𝐬𝐥𝐢𝐦 𝐜𝐢𝐯𝐢𝐥𝐢𝐚𝐧𝐬, 𝐞𝐯𝐞𝐧 𝐢𝐟 𝐭𝐡𝐞𝐢𝐫 𝐜𝐨𝐮𝐧𝐭𝐫𝐲'𝐬 𝐚𝐫𝐦𝐲 𝐢𝐬 𝐚𝐭 𝐰𝐚𝐫 𝐰𝐢𝐭𝐡 𝐌𝐮𝐬𝐥𝐢𝐦𝐬.
𝐈𝐧 𝐜𝐨𝐧𝐭𝐫𝐚𝐬𝐭 𝐭𝐨 𝐭𝐡𝐞 𝐜𝐨𝐫𝐫𝐮𝐩𝐭𝐞𝐝 𝐁𝐢𝐛𝐥𝐞, 𝐰𝐡𝐢𝐜𝐡 𝐟𝐚𝐥𝐬𝐞𝐥𝐲 𝐚𝐭𝐭𝐫𝐢𝐛𝐮𝐭𝐞𝐬 𝐨𝐫𝐝𝐞𝐫𝐬 𝐟𝐨𝐫 𝐤𝐢𝐥𝐥𝐢𝐧𝐠 𝐚𝐧𝐝 𝐦𝐚𝐬𝐬 𝐦𝐚𝐬𝐬𝐚𝐜𝐫𝐞𝐬 𝐨𝐟 𝐢𝐧𝐧𝐨𝐜𝐞𝐧𝐭 𝐢𝐧𝐟𝐚𝐧𝐭𝐬, 𝐜𝐡𝐢𝐥𝐝𝐫𝐞𝐧, 𝐦𝐞𝐧, 𝐭𝐡𝐞 𝐞𝐥𝐝𝐞𝐫𝐥𝐲, 𝐚𝐧𝐝 𝐰𝐨𝐦𝐞𝐧 𝐭𝐨 𝐆𝐨𝐝 𝐀𝐥𝐦𝐢𝐠𝐡𝐭𝐲, 𝐈𝐬𝐥𝐚𝐦 𝐟𝐨𝐫𝐛𝐢𝐝𝐬 𝐚𝐥𝐥 𝐨𝐟 𝐭𝐡𝐞𝐬𝐞 𝐚𝐜𝐭𝐢𝐨𝐧𝐬, 𝐞𝐯𝐞𝐧 𝐝𝐮𝐫𝐢𝐧𝐠 𝐭𝐢𝐦𝐞𝐬 𝐨𝐟 𝐰𝐚𝐫. 𝐘𝐨𝐮 𝐜𝐚𝐧 𝐫𝐞𝐚𝐝 𝐦𝐨𝐫𝐞 𝐚𝐛𝐨𝐮𝐭 𝐭𝐡𝐞 𝐫𝐮𝐥𝐞𝐬 𝐨𝐟 𝐰𝐚𝐫𝐟𝐚𝐫𝐞 𝐢𝐧 𝐈𝐬𝐥𝐚𝐦 𝐡𝐞𝐫𝐞.
𝐈𝐬𝐥𝐚𝐦 𝐡𝐚𝐬 𝐮𝐧𝐞𝐪𝐮𝐢𝐯𝐨𝐜𝐚𝐥𝐥𝐲 𝐩𝐫𝐨𝐡𝐢𝐛𝐢𝐭𝐞𝐝 𝐚𝐧𝐝 𝐜𝐨𝐧𝐝𝐞𝐦𝐧𝐞𝐝 𝐭𝐡𝐞 𝐮𝐧𝐣𝐮𝐬𝐭 𝐤𝐢𝐥𝐥𝐢𝐧𝐠 𝐨𝐟 𝐚𝐧𝐲 𝐢𝐧𝐧𝐨𝐜𝐞𝐧𝐭 𝐩𝐞𝐫𝐬𝐨𝐧, 𝐢𝐧𝐜𝐥𝐮𝐝𝐢𝐧𝐠 𝐜𝐡𝐢𝐥𝐝𝐫𝐞𝐧. 𝐈𝐧 𝐩𝐚𝐫𝐭𝐢𝐜𝐮𝐥𝐚𝐫, 𝐢𝐭 𝐡𝐚𝐬 𝐬𝐭𝐞𝐫𝐧𝐥𝐲 𝐜𝐨𝐧𝐝𝐞𝐦𝐧𝐞𝐝 𝐭𝐡𝐞 𝐩𝐫𝐚𝐜𝐭𝐢𝐜𝐞 𝐨𝐟 𝐛𝐮𝐫𝐲𝐢𝐧𝐠 𝐢𝐧𝐟𝐚𝐧𝐭 𝐠𝐢𝐫𝐥𝐬 𝐚𝐥𝐢𝐯𝐞, 𝐚𝐬 𝐰𝐚𝐬 𝐝𝐨𝐧𝐞 𝐛𝐲 𝐭𝐡𝐞 𝐩𝐫𝐞-𝐈𝐬𝐥𝐚𝐦𝐢𝐜 𝐀𝐫𝐚𝐛𝐬 𝐢𝐧 𝐌𝐞𝐜𝐜𝐚 𝐝𝐮𝐞 𝐭𝐨 𝐭𝐡𝐞𝐢𝐫 𝐚𝐯𝐞𝐫𝐬𝐢𝐨𝐧 𝐭𝐨 𝐟𝐞𝐦𝐚𝐥𝐞 𝐨𝐟𝐟𝐬𝐩𝐫𝐢𝐧𝐠 𝐚𝐧𝐝 𝐭𝐡𝐞𝐢𝐫 𝐩𝐫𝐞𝐟𝐞𝐫𝐞𝐧𝐜𝐞 𝐟𝐨𝐫 𝐦𝐚𝐥𝐞𝐬. 𝐈𝐬𝐥𝐚𝐦 𝐟𝐨𝐫𝐛𝐢𝐝𝐬 𝐭𝐡𝐢𝐬 𝐩𝐫𝐚𝐜𝐭𝐢𝐜𝐞 𝐚𝐧𝐝 𝐬𝐭𝐫𝐨𝐧𝐠𝐥𝐲 𝐜𝐨𝐧𝐝𝐞𝐦𝐧𝐬 𝐢𝐭. 𝐘𝐨𝐮 𝐜𝐚𝐧 𝐫𝐞𝐚𝐝 𝐦𝐨𝐫𝐞 𝐚𝐛𝐨𝐮𝐭 𝐈𝐬𝐥𝐚𝐦'𝐬 𝐬𝐭𝐚𝐧𝐜𝐞 𝐚𝐠𝐚𝐢𝐧𝐬𝐭 𝐭𝐡𝐞 𝐤𝐢𝐥𝐥𝐢𝐧𝐠 𝐚𝐧𝐝 𝐛𝐮𝐫𝐢𝐚𝐥 𝐨𝐟 𝐢𝐧𝐟𝐚𝐧𝐭 𝐠𝐢𝐫𝐥𝐬 𝐚𝐥𝐢𝐯𝐞 𝐛𝐞𝐟𝐨𝐫𝐞 𝐭𝐡𝐞 𝐚𝐝𝐯𝐞𝐧𝐭 𝐨𝐟 𝐈𝐬𝐥𝐚𝐦 𝐚𝐭 𝐭𝐡𝐢𝐬 𝐥𝐢𝐧𝐤. (𝐈𝐬𝐥𝐚𝐦 𝐚𝐧𝐝 𝐭𝐡𝐞 𝐟𝐢𝐠𝐡𝐭 𝐚𝐠𝐚𝐢𝐧𝐬𝐭 𝐅𝐞𝐦𝐚𝐥𝐞 𝐈𝐧𝐟𝐚𝐧𝐭𝐢𝐜𝐢𝐝𝐞)
𝐓𝐡𝐞 𝐆𝐥𝐨𝐫𝐢𝐨𝐮𝐬 𝐇𝐨𝐥𝐲 𝐐𝐮𝐫𝐚𝐧 𝐬𝐭𝐫𝐢𝐜𝐭𝐥𝐲 𝐩𝐫𝐨𝐡𝐢𝐛𝐢𝐭𝐬 𝐭𝐡𝐞 𝐤𝐢𝐥𝐥𝐢𝐧𝐠 𝐨𝐟 𝐜𝐡𝐢𝐥𝐝𝐫𝐞𝐧 𝐚𝐧𝐝 𝐚𝐧𝐲 𝐢𝐧𝐧𝐨𝐜𝐞𝐧𝐭 𝐢𝐧𝐝𝐢𝐯𝐢𝐝𝐮𝐚𝐥𝐬, 𝐞𝐯𝐞𝐧 𝐢𝐟 𝐭𝐡𝐞𝐲 𝐚𝐫𝐞 𝐧𝐨𝐭 𝐌𝐮𝐬𝐥𝐢𝐦𝐬:
𝐇𝐞𝐫𝐞, 𝐰𝐞 𝐰𝐢𝐥𝐥 𝐩𝐫𝐞𝐬𝐞𝐧𝐭 𝐬𝐨𝐦𝐞 𝐜𝐥𝐞𝐚𝐫 𝐞𝐯𝐢𝐝𝐞𝐧𝐜𝐞, 𝐚𝐬 𝐜𝐥𝐞𝐚𝐫 𝐚𝐬 𝐭𝐡𝐞 𝐬𝐮𝐧, 𝐫𝐞𝐩𝐫𝐞𝐬𝐞𝐧𝐭𝐞𝐝 𝐛𝐲 𝐜𝐞𝐫𝐭𝐚𝐢𝐧 𝐐𝐮𝐫𝐚𝐧𝐢𝐜 𝐯𝐞𝐫𝐬𝐞𝐬 𝐭𝐡𝐚𝐭 𝐞𝐱𝐩𝐥𝐢𝐜𝐢𝐭𝐥𝐲 𝐟𝐨𝐫𝐛𝐢𝐝 𝐚𝐧𝐝 𝐜𝐫𝐢𝐦𝐢𝐧𝐚𝐥𝐢𝐳𝐞, 𝐢𝐧 𝐭𝐡𝐞 𝐬𝐭𝐫𝐨𝐧𝐠𝐞𝐬𝐭 𝐭𝐞𝐫𝐦𝐬, 𝐭𝐡𝐞 𝐤𝐢𝐥𝐥𝐢𝐧𝐠 𝐨𝐟 𝐚𝐧𝐲 𝐜𝐡𝐢𝐥𝐝𝐫𝐞𝐧, 𝐰𝐨𝐦𝐞𝐧, 𝐞𝐥𝐝𝐞𝐫𝐥𝐲, 𝐨𝐫 𝐚𝐧𝐲 𝐢𝐧𝐧𝐨𝐜𝐞𝐧𝐭 𝐢𝐧𝐝𝐢𝐯𝐢𝐝𝐮𝐚𝐥𝐬, 𝐞𝐯𝐞𝐧 𝐢𝐟 𝐭𝐡𝐞𝐲 𝐚𝐫𝐞 𝐧𝐨𝐭 𝐌𝐮𝐬𝐥𝐢𝐦𝐬. 𝐓𝐡𝐞 𝐩𝐫𝐨𝐡𝐢𝐛𝐢𝐭𝐢𝐨𝐧 𝐨𝐟 𝐮𝐧𝐣𝐮𝐬𝐭𝐢𝐟𝐢𝐞𝐝 𝐤𝐢𝐥𝐥𝐢𝐧𝐠 𝐢𝐬 𝐚 𝐮𝐧𝐢𝐯𝐞𝐫𝐬𝐚𝐥 𝐝𝐢𝐯𝐢𝐧𝐞 𝐜𝐨𝐦𝐦𝐚𝐧𝐝. 𝐓𝐡𝐞 𝐟𝐨𝐥𝐥𝐨𝐰𝐢𝐧𝐠 𝐐𝐮𝐫𝐚𝐧𝐢𝐜 𝐞𝐯𝐢𝐝𝐞𝐧𝐜𝐞 𝐰𝐢𝐥𝐥 𝐢𝐥𝐥𝐮𝐬𝐭𝐫𝐚𝐭𝐞 𝐭𝐡𝐢𝐬:
𝐀𝐧𝐝 𝐐𝐮𝐫𝐚𝐧 (𝟔:𝟏𝟒𝟎)
𝐀𝐧𝐝 𝐐𝐮𝐫𝐚𝐧 (𝟏𝟕:𝟑𝟑)
𝐀𝐧𝐝 𝐐𝐮𝐫𝐚𝐧 (𝟔:𝟏𝟓𝟏)
𝐀𝐧𝐝 𝐐𝐮𝐫𝐚𝐧 (𝟐𝟓:𝟔𝟖-𝟔𝟗)
𝐀𝐧𝐝 𝐐𝐮𝐫𝐚𝐧 (𝟏𝟔:𝟗𝟎)
𝐁𝐞𝐧𝐞𝐟𝐢𝐭𝐬 𝐟𝐫𝐨𝐦 𝐭𝐡𝐞 𝐬𝐭𝐨𝐫𝐲 𝐨𝐟 𝐀𝐥-𝐊𝐡𝐢𝐝𝐫 𝐰𝐢𝐭𝐡 𝐌𝐨𝐬𝐞𝐬, 𝐩𝐞𝐚𝐜𝐞 𝐛𝐞 𝐮𝐩𝐨𝐧 𝐭𝐡𝐞𝐦:
𝐈𝐧 𝐭𝐡𝐢𝐬 𝐫𝐞𝐦𝐚𝐫𝐤𝐚𝐛𝐥𝐞 𝐚𝐧𝐝 𝐧𝐨𝐛𝐥𝐞 𝐬𝐭𝐨𝐫𝐲, 𝐭𝐡𝐞𝐫𝐞 𝐚𝐫𝐞 𝐦𝐚𝐧𝐲 𝐛𝐞𝐧𝐞𝐟𝐢𝐭𝐬, 𝐫𝐮𝐥𝐢𝐧𝐠𝐬, 𝐚𝐧𝐝 𝐩𝐫𝐢𝐧𝐜𝐢𝐩𝐥𝐞𝐬 𝐭𝐡𝐚𝐭 𝐰𝐞 𝐜𝐚𝐧 𝐡𝐢𝐠𝐡𝐥𝐢𝐠𝐡𝐭 𝐰𝐢𝐭𝐡 𝐭𝐡𝐞 𝐡𝐞𝐥𝐩 𝐨𝐟 𝐀𝐥𝐥𝐚𝐡:
𝟏) 𝐓𝐰𝐨 𝐓𝐲𝐩𝐞𝐬 𝐨𝐟 𝐊𝐧𝐨𝐰𝐥𝐞𝐝𝐠𝐞: 𝐀𝐥𝐥𝐚𝐡 𝐢𝐦𝐩𝐚𝐫𝐭𝐬 𝐤𝐧𝐨𝐰𝐥𝐞𝐝𝐠𝐞 𝐭𝐨 𝐇𝐢𝐬 𝐬𝐞𝐫𝐯𝐚𝐧𝐭𝐬 𝐢𝐧 𝐭𝐰𝐨 𝐰𝐚𝐲𝐬: 𝐚𝐜𝐪𝐮𝐢𝐫𝐞𝐝 𝐤𝐧𝐨𝐰𝐥𝐞𝐝𝐠𝐞 𝐭𝐡𝐚𝐭 𝐚 𝐩𝐞𝐫𝐬𝐨𝐧 𝐠𝐚𝐢𝐧𝐬 𝐭𝐡𝐫𝐨𝐮𝐠𝐡 𝐭𝐡𝐞𝐢𝐫 𝐨𝐰𝐧 𝐞𝐟𝐟𝐨𝐫𝐭𝐬 𝐚𝐧𝐝 𝐝𝐢𝐥𝐢𝐠𝐞𝐧𝐜𝐞, 𝐚𝐧𝐝 𝐝𝐢𝐯𝐢𝐧𝐞 𝐤𝐧𝐨𝐰𝐥𝐞𝐝𝐠𝐞 𝐭𝐡𝐚𝐭 𝐀𝐥𝐥𝐚𝐡 𝐛𝐞𝐬𝐭𝐨𝐰𝐬 𝐮𝐩𝐨𝐧 𝐰𝐡𝐨𝐦 𝐇𝐞 𝐰𝐢𝐥𝐥𝐬, 𝐚𝐬 𝐦𝐞𝐧𝐭𝐢𝐨𝐧𝐞𝐝 𝐢𝐧 𝐭𝐡𝐞 𝐯𝐞𝐫𝐬𝐞, "𝐀𝐧𝐝 𝐖𝐞 𝐭𝐚𝐮𝐠𝐡𝐭 𝐡𝐢𝐦 𝐤𝐧𝐨𝐰𝐥𝐞𝐝𝐠𝐞 𝐟𝐫𝐨𝐦 𝐎𝐮𝐫 𝐨𝐰𝐧 𝐩𝐫𝐞𝐬𝐞𝐧𝐜𝐞" (𝐐𝐮𝐫𝐚𝐧, 𝟏𝟖:𝟔𝟓).
𝟐) 𝐑𝐞𝐬𝐩𝐞𝐜𝐭 𝐟𝐨𝐫 𝐓𝐞𝐚𝐜𝐡𝐞𝐫𝐬: 𝐓𝐡𝐞 𝐬𝐭𝐨𝐫𝐲 𝐞𝐦𝐩𝐡𝐚𝐬𝐢𝐳𝐞𝐬 𝐭𝐡𝐞 𝐢𝐦𝐩𝐨𝐫𝐭𝐚𝐧𝐜𝐞 𝐨𝐟 𝐬𝐡𝐨𝐰𝐢𝐧𝐠 𝐫𝐞𝐬𝐩𝐞𝐜𝐭 𝐭𝐨 𝐨𝐧𝐞'𝐬 𝐭𝐞𝐚𝐜𝐡𝐞𝐫 𝐚𝐧𝐝 𝐚𝐝𝐝𝐫𝐞𝐬𝐬𝐢𝐧𝐠 𝐭𝐡𝐞 𝐥𝐞𝐚𝐫𝐧𝐞𝐫 𝐰𝐢𝐭𝐡 𝐠𝐞𝐧𝐭𝐥𝐞𝐧𝐞𝐬𝐬. 𝐌𝐨𝐬𝐞𝐬, 𝐩𝐞𝐚𝐜𝐞 𝐛𝐞 𝐮𝐩𝐨𝐧 𝐡𝐢𝐦, 𝐚𝐬𝐤𝐞𝐝 𝐀𝐥-𝐊𝐡𝐢𝐝𝐫 𝐢𝐧 𝐚 𝐩𝐨𝐥𝐢𝐭𝐞 𝐚𝐧𝐝 𝐜𝐨𝐧𝐬𝐢𝐝𝐞𝐫𝐚𝐭𝐞 𝐦𝐚𝐧𝐧𝐞𝐫, 𝐬𝐚𝐲𝐢𝐧𝐠, "𝐌𝐚𝐲 𝐈 𝐟𝐨𝐥𝐥𝐨𝐰 𝐲𝐨𝐮 𝐬𝐨 𝐭𝐡𝐚𝐭 𝐲𝐨𝐮 𝐦𝐚𝐲 𝐭𝐞𝐚𝐜𝐡 𝐦𝐞 𝐬𝐨𝐦𝐞 𝐨𝐟 𝐭𝐡𝐞 𝐫𝐢𝐠𝐡𝐭 𝐠𝐮𝐢𝐝𝐚𝐧𝐜𝐞?"
𝐓𝐡𝐢𝐬 𝐝𝐞𝐦𝐨𝐧𝐬𝐭𝐫𝐚𝐭𝐞𝐬 𝐭𝐡𝐞 𝐢𝐦𝐩𝐨𝐫𝐭𝐚𝐧𝐜𝐞 𝐨𝐟 𝐡𝐮𝐦𝐢𝐥𝐢𝐭𝐲 𝐚𝐧𝐝 𝐚𝐜𝐤𝐧𝐨𝐰𝐥𝐞𝐝𝐠𝐢𝐧𝐠 𝐭𝐡𝐚𝐭 𝐨𝐧𝐞 𝐢𝐬 𝐥𝐞𝐚𝐫𝐧𝐢𝐧𝐠 𝐟𝐫𝐨𝐦 𝐭𝐡𝐞 𝐭𝐞𝐚𝐜𝐡𝐞𝐫. 𝐓𝐡𝐢𝐬 𝐢𝐬 𝐢𝐧 𝐜𝐨𝐧𝐭𝐫𝐚𝐬𝐭 𝐭𝐨 𝐭𝐡𝐨𝐬𝐞 𝐰𝐡𝐨 𝐬𝐡𝐨𝐰 𝐚𝐫𝐫𝐨𝐠𝐚𝐧𝐜𝐞 𝐚𝐧𝐝 𝐝𝐨 𝐧𝐨𝐭 𝐫𝐞𝐜𝐨𝐠𝐧𝐢𝐳𝐞 𝐭𝐡𝐞𝐢𝐫 𝐧𝐞𝐞𝐝 𝐟𝐨𝐫 𝐭𝐡𝐞𝐢𝐫 𝐭𝐞𝐚𝐜𝐡𝐞𝐫'𝐬 𝐤𝐧𝐨𝐰𝐥𝐞𝐝𝐠𝐞.
𝟑) 𝐇𝐮𝐦𝐢𝐥𝐢𝐭𝐲 𝐢𝐧 𝐋𝐞𝐚𝐫𝐧𝐢𝐧𝐠: 𝐈𝐭 𝐢𝐬 𝐢𝐦𝐩𝐨𝐫𝐭𝐚𝐧𝐭 𝐟𝐨𝐫 𝐚 𝐩𝐞𝐫𝐬𝐨𝐧 𝐨𝐟 𝐯𝐢𝐫𝐭𝐮𝐞 𝐭𝐨 𝐡𝐮𝐦𝐛𝐥𝐞 𝐭𝐡𝐞𝐦𝐬𝐞𝐥𝐯𝐞𝐬 𝐢𝐧 𝐭𝐡𝐞𝐢𝐫 𝐩𝐮𝐫𝐬𝐮𝐢𝐭 𝐨𝐟 𝐤𝐧𝐨𝐰𝐥𝐞𝐝𝐠𝐞 𝐟𝐫𝐨𝐦 𝐨𝐭𝐡𝐞𝐫𝐬 𝐰𝐡𝐨 𝐦𝐚𝐲 𝐛𝐞 𝐥𝐞𝐬𝐬 𝐤𝐧𝐨𝐰𝐥𝐞𝐝𝐠𝐞𝐚𝐛𝐥𝐞 𝐢𝐧 𝐜𝐞𝐫𝐭𝐚𝐢𝐧 𝐚𝐫𝐞𝐚𝐬. 𝐌𝐨𝐬𝐞𝐬, 𝐩𝐞𝐚𝐜𝐞 𝐛𝐞 𝐮𝐩𝐨𝐧 𝐡𝐢𝐦, 𝐰𝐚𝐬 𝐮𝐧𝐝𝐨𝐮𝐛𝐭𝐞𝐝𝐥𝐲 𝐚 𝐠𝐫𝐞𝐚𝐭 𝐩𝐫𝐨𝐩𝐡𝐞𝐭, 𝐛𝐮𝐭 𝐡𝐞 𝐫𝐞𝐜𝐨𝐠𝐧𝐢𝐳𝐞𝐝 𝐭𝐡𝐚𝐭 𝐀𝐥-𝐊𝐡𝐢𝐝𝐫 𝐩𝐨𝐬𝐬𝐞𝐬𝐬𝐞𝐝 𝐤𝐧𝐨𝐰𝐥𝐞𝐝𝐠𝐞 𝐭𝐡𝐚𝐭 𝐡𝐞 𝐝𝐢𝐝 𝐧𝐨𝐭. 𝐓𝐡𝐢𝐬 𝐬𝐭𝐨𝐫𝐲 𝐢𝐥𝐥𝐮𝐬𝐭𝐫𝐚𝐭𝐞𝐬 𝐭𝐡𝐞 𝐢𝐦𝐩𝐨𝐫𝐭𝐚𝐧𝐜𝐞 𝐨𝐟 𝐡𝐮𝐦𝐢𝐥𝐢𝐭𝐲 𝐢𝐧 𝐭𝐡𝐞 𝐪𝐮𝐞𝐬𝐭 𝐟𝐨𝐫 𝐤𝐧𝐨𝐰𝐥𝐞𝐝𝐠𝐞.
𝟒) 𝐋𝐞𝐚𝐫𝐧𝐢𝐧𝐠 𝐖𝐡𝐚𝐭 𝐎𝐧𝐞 𝐃𝐨𝐞𝐬 𝐍𝐨𝐭 𝐊𝐧𝐨𝐰: 𝐀 𝐯𝐢𝐫𝐭𝐮𝐨𝐮𝐬 𝐬𝐜𝐡𝐨𝐥𝐚𝐫 𝐬𝐡𝐨𝐮𝐥𝐝 𝐬𝐞𝐞𝐤 𝐤𝐧𝐨𝐰𝐥𝐞𝐝𝐠𝐞, 𝐞𝐯𝐞𝐧 𝐢𝐧 𝐚𝐫𝐞𝐚𝐬 𝐰𝐡𝐞𝐫𝐞 𝐭𝐡𝐞𝐲 𝐚𝐫𝐞 𝐥𝐞𝐬𝐬 𝐤𝐧𝐨𝐰𝐥𝐞𝐝𝐠𝐞𝐚𝐛𝐥𝐞 𝐜𝐨𝐦𝐩𝐚𝐫𝐞𝐝 𝐭𝐨 𝐨𝐭𝐡𝐞𝐫𝐬. 𝐌𝐨𝐬𝐞𝐬, 𝐩𝐞𝐚𝐜𝐞 𝐛𝐞 𝐮𝐩𝐨𝐧 𝐡𝐢𝐦, 𝐰𝐚𝐬 𝐚𝐦𝐨𝐧𝐠 𝐭𝐡𝐞 𝐦𝐨𝐬𝐭 𝐫𝐞𝐬𝐨𝐥𝐮𝐭𝐞 𝐨𝐟 𝐭𝐡𝐞 𝐦𝐞𝐬𝐬𝐞𝐧𝐠𝐞𝐫𝐬, 𝐠𝐫𝐚𝐧𝐭𝐞𝐝 𝐤𝐧𝐨𝐰𝐥𝐞𝐝𝐠𝐞 𝐛𝐲 𝐀𝐥𝐥𝐚𝐡 𝐭𝐡𝐚𝐭 𝐨𝐭𝐡𝐞𝐫𝐬 𝐰𝐞𝐫𝐞 𝐧𝐨𝐭 𝐠𝐢𝐯𝐞𝐧. 𝐘𝐞𝐭, 𝐡𝐞 𝐫𝐞𝐜𝐨𝐠𝐧𝐢𝐳𝐞𝐝 𝐭𝐡𝐚𝐭 𝐀𝐥-𝐊𝐡𝐢𝐝𝐫 𝐩𝐨𝐬𝐬𝐞𝐬𝐬𝐞𝐝 𝐮𝐧𝐢𝐪𝐮𝐞 𝐤𝐧𝐨𝐰𝐥𝐞𝐝𝐠𝐞 𝐭𝐡𝐚𝐭 𝐡𝐞 𝐝𝐢𝐝 𝐧𝐨𝐭 𝐡𝐚𝐯𝐞, 𝐩𝐫𝐨𝐦𝐩𝐭𝐢𝐧𝐠 𝐡𝐢𝐦 𝐭𝐨 𝐬𝐞𝐞𝐤 𝐥𝐞𝐚𝐫𝐧𝐢𝐧𝐠 𝐟𝐫𝐨𝐦 𝐡𝐢𝐦.
𝟓) 𝐀𝐜𝐤𝐧𝐨𝐰𝐥𝐞𝐝𝐠𝐢𝐧𝐠 𝐊𝐧𝐨𝐰𝐥𝐞𝐝𝐠𝐞 𝐚𝐬 𝐚 𝐃𝐢𝐯𝐢𝐧𝐞 𝐆𝐢𝐟𝐭: 𝐓𝐡𝐞 𝐬𝐭𝐨𝐫𝐲 𝐡𝐢𝐠𝐡𝐥𝐢𝐠𝐡𝐭𝐬 𝐭𝐡𝐞 𝐜𝐨𝐧𝐜𝐞𝐩𝐭 𝐨𝐟 𝐚𝐜𝐤𝐧𝐨𝐰𝐥𝐞𝐝𝐠𝐢𝐧𝐠 𝐤𝐧𝐨𝐰𝐥𝐞𝐝𝐠𝐞, 𝐚𝐧𝐝 𝐚𝐥𝐥 𝐯𝐢𝐫𝐭𝐮𝐞𝐬, 𝐚𝐬 𝐠𝐢𝐟𝐭𝐬 𝐟𝐫𝐨𝐦 𝐀𝐥𝐥𝐚𝐡 𝐚𝐧𝐝 𝐞𝐱𝐩𝐫𝐞𝐬𝐬𝐢𝐧𝐠 𝐠𝐫𝐚𝐭𝐢𝐭𝐮𝐝𝐞 𝐟𝐨𝐫 𝐭𝐡𝐞𝐦. 𝐌𝐨𝐬𝐞𝐬, 𝐩𝐞𝐚𝐜𝐞 𝐛𝐞 𝐮𝐩𝐨𝐧 𝐡𝐢𝐦, 𝐬𝐚𝐢𝐝, "𝐓𝐞𝐚𝐜𝐡 𝐦𝐞 𝐰𝐡𝐚𝐭 𝐘𝐨𝐮 𝐡𝐚𝐯𝐞 𝐛𝐞𝐞𝐧 𝐭𝐚𝐮𝐠𝐡𝐭," 𝐫𝐞𝐜𝐨𝐠𝐧𝐢𝐳𝐢𝐧𝐠 𝐭𝐡𝐚𝐭 𝐤𝐧𝐨𝐰𝐥𝐞𝐝𝐠𝐞 𝐢𝐬 𝐚 𝐝𝐢𝐯𝐢𝐧𝐞 𝐠𝐢𝐟𝐭.
𝟔) 𝐁𝐞𝐧𝐞𝐟𝐢𝐜𝐢𝐚𝐥 𝐊𝐧𝐨𝐰𝐥𝐞𝐝𝐠𝐞: 𝐓𝐡𝐞 𝐬𝐭𝐨𝐫𝐲 𝐮𝐧𝐝𝐞𝐫𝐬𝐜𝐨𝐫𝐞𝐬 𝐭𝐡𝐚𝐭 𝐛𝐞𝐧𝐞𝐟𝐢𝐜𝐢𝐚𝐥 𝐤𝐧𝐨𝐰𝐥𝐞𝐝𝐠𝐞 𝐢𝐬 𝐭𝐡𝐚𝐭 𝐰𝐡𝐢𝐜𝐡 𝐠𝐮𝐢𝐝𝐞𝐬 𝐭𝐨 𝐠𝐨𝐨𝐝𝐧𝐞𝐬𝐬, 𝐰𝐡𝐞𝐭𝐡𝐞𝐫 𝐛𝐲 𝐩𝐫𝐨𝐯𝐢𝐝𝐢𝐧𝐠 𝐠𝐮𝐢𝐝𝐚𝐧𝐜𝐞, 𝐰𝐚𝐫𝐧𝐢𝐧𝐠 𝐚𝐠𝐚𝐢𝐧𝐬𝐭 𝐞𝐯𝐢𝐥, 𝐨𝐫 𝐬𝐞𝐫𝐯𝐢𝐧𝐠 𝐚𝐬 𝐚 𝐦𝐞𝐚𝐧𝐬 𝐭𝐨 𝐚𝐭𝐭𝐚𝐢𝐧 𝐠𝐨𝐨𝐝. 𝐀𝐥𝐥 𝐨𝐭𝐡𝐞𝐫 𝐤𝐧𝐨𝐰𝐥𝐞𝐝𝐠𝐞 𝐢𝐬 𝐞𝐢𝐭𝐡𝐞𝐫 𝐡𝐚𝐫𝐦𝐟𝐮𝐥 𝐨𝐫 𝐝𝐞𝐯𝐨𝐢𝐝 𝐨𝐟 𝐛𝐞𝐧𝐞𝐟𝐢𝐭, 𝐚𝐬 𝐢𝐧𝐝𝐢𝐜𝐚𝐭𝐞𝐝 𝐛𝐲 𝐭𝐡𝐞 𝐩𝐡𝐫𝐚𝐬𝐞, "𝐬𝐨 𝐭𝐡𝐚𝐭 𝐲𝐨𝐮 𝐦𝐚𝐲 𝐭𝐞𝐚𝐜𝐡 𝐦𝐞 𝐬𝐨𝐦𝐞 𝐨𝐟 𝐭𝐡𝐞 𝐫𝐢𝐠𝐡𝐭 𝐠𝐮𝐢𝐝𝐚𝐧𝐜𝐞."
𝟕) 𝐓𝐡𝐞 𝐈𝐦𝐩𝐨𝐫𝐭𝐚𝐧𝐜𝐞 𝐨𝐟 𝐏𝐚𝐭𝐢𝐞𝐧𝐜𝐞 𝐚𝐧𝐝 𝐏𝐞𝐫𝐬𝐞𝐯𝐞𝐫𝐚𝐧𝐜𝐞: 𝐓𝐡𝐨𝐬𝐞 𝐰𝐡𝐨 𝐥𝐚𝐜𝐤 𝐩𝐚𝐭𝐢𝐞𝐧𝐜𝐞 𝐚𝐧𝐝 𝐭𝐡𝐞 𝐚𝐛𝐢𝐥𝐢𝐭𝐲 𝐭𝐨 𝐩𝐞𝐫𝐬𝐞𝐯𝐞𝐫𝐞 𝐢𝐧 𝐚𝐜𝐪𝐮𝐢𝐫𝐢𝐧𝐠 𝐤𝐧𝐨𝐰𝐥𝐞𝐝𝐠𝐞 𝐚𝐫𝐞 𝐧𝐨𝐭 𝐬𝐮𝐢𝐭𝐞𝐝 𝐭𝐨 𝐫𝐞𝐜𝐞𝐢𝐯𝐞 𝐢𝐭. 𝐌𝐨𝐬𝐞𝐬, 𝐩𝐞𝐚𝐜𝐞 𝐛𝐞 𝐮𝐩𝐨𝐧 𝐡𝐢𝐦, 𝐝𝐞𝐦𝐨𝐧𝐬𝐭𝐫𝐚𝐭𝐞𝐝 𝐩𝐚𝐭𝐢𝐞𝐧𝐜𝐞 𝐰𝐡𝐞𝐧 𝐡𝐞 𝐬𝐚𝐢𝐝, "𝐘𝐨𝐮 𝐰𝐢𝐥𝐥 𝐟𝐢𝐧𝐝 𝐦𝐞 𝐩𝐚𝐭𝐢𝐞𝐧𝐭, 𝐚𝐧𝐝 𝐈 𝐰𝐢𝐥𝐥 𝐧𝐨𝐭 𝐝𝐢𝐬𝐨𝐛𝐞𝐲 𝐲𝐨𝐮." 𝐇𝐞 𝐩𝐚𝐭𝐢𝐞𝐧𝐭𝐥𝐲 𝐞𝐧𝐝𝐮𝐫𝐞𝐝 𝐭𝐡𝐞 𝐭𝐫𝐢𝐚𝐥𝐬 𝐬𝐞𝐭 𝐛𝐲 𝐀𝐥-𝐊𝐡𝐢𝐝𝐫.
𝟖) 𝐀𝐰𝐚𝐫𝐞𝐧𝐞𝐬𝐬 𝐨𝐟 𝐖𝐡𝐚𝐭 𝐎𝐧𝐞 𝐂𝐚𝐧 𝐁𝐞𝐚𝐫: 𝐌𝐨𝐬𝐞𝐬, 𝐩𝐞𝐚𝐜𝐞 𝐛𝐞 𝐮𝐩𝐨𝐧 𝐡𝐢𝐦, 𝐚𝐜𝐤𝐧𝐨𝐰𝐥𝐞𝐝𝐠𝐞𝐝 𝐡𝐢𝐬 𝐢𝐧𝐚𝐛𝐢𝐥𝐢𝐭𝐲 𝐭𝐨 𝐞𝐧𝐝𝐮𝐫𝐞 𝐭𝐡𝐞 𝐜𝐨𝐦𝐩𝐚𝐧𝐲 𝐨𝐟 𝐀𝐥-𝐊𝐡𝐢𝐝𝐫, 𝐚𝐬 𝐢𝐭 𝐰𝐚𝐬 𝐛𝐞𝐲𝐨𝐧𝐝 𝐡𝐢𝐬 𝐜𝐚𝐩𝐚𝐜𝐢𝐭𝐲. 𝐑𝐞𝐜𝐨𝐠𝐧𝐢𝐳𝐢𝐧𝐠 𝐨𝐧𝐞'𝐬 𝐥𝐢𝐦𝐢𝐭𝐚𝐭𝐢𝐨𝐧𝐬 𝐢𝐬 𝐜𝐫𝐮𝐜𝐢𝐚𝐥 𝐟𝐨𝐫 𝐥𝐞𝐚𝐫𝐧𝐢𝐧𝐠 𝐚𝐧𝐝 𝐠𝐫𝐨𝐰𝐭𝐡.
𝟗) 𝐏𝐥𝐚𝐧𝐧𝐢𝐧𝐠 𝐚𝐧𝐝 𝐓𝐚𝐤𝐢𝐧𝐠 𝐏𝐫𝐞𝐜𝐚𝐮𝐭𝐢𝐨𝐧𝐬: 𝐓𝐡𝐞 𝐬𝐭𝐨𝐫𝐲 𝐞𝐦𝐩𝐡𝐚𝐬𝐢𝐳𝐞𝐬 𝐭𝐡𝐞 𝐢𝐦𝐩𝐨𝐫𝐭𝐚𝐧𝐜𝐞 𝐨𝐟 𝐧𝐨𝐭 𝐦𝐚𝐤𝐢𝐧𝐠 𝐝𝐞𝐟𝐢𝐧𝐢𝐭𝐢𝐯𝐞 𝐩𝐥𝐚𝐧𝐬 𝐚𝐛𝐨𝐮𝐭 𝐟𝐮𝐭𝐮𝐫𝐞 𝐚𝐜𝐭𝐢𝐨𝐧𝐬, 𝐞𝐬𝐩𝐞𝐜𝐢𝐚𝐥𝐥𝐲 𝐰𝐢𝐭𝐡𝐨𝐮𝐭 𝐬𝐚𝐲𝐢𝐧𝐠, "𝐈𝐟 𝐀𝐥𝐥𝐚𝐡 𝐰𝐢𝐥𝐥𝐬" (𝐢𝐧𝐬𝐡𝐚'𝐀𝐥𝐥𝐚𝐡). 𝐏𝐥𝐚𝐧𝐧𝐢𝐧𝐠 𝐬𝐡𝐨𝐮𝐥𝐝 𝐛𝐞 𝐭𝐞𝐧𝐭𝐚𝐭𝐢𝐯𝐞 𝐚𝐧𝐝 𝐬𝐮𝐛𝐣𝐞𝐜𝐭 𝐭𝐨 𝐀𝐥𝐥𝐚𝐡'𝐬 𝐝𝐞𝐜𝐫𝐞𝐞.
𝟏𝟎) 𝐃𝐞𝐭𝐞𝐫𝐦𝐢𝐧𝐢𝐧𝐠 𝐏𝐫𝐢𝐨𝐫𝐢𝐭𝐢𝐞𝐬 𝐢𝐧 𝐐𝐮𝐞𝐬𝐭𝐢𝐨𝐧𝐬: 𝐀 𝐭𝐞𝐚𝐜𝐡𝐞𝐫 𝐬𝐡𝐨𝐮𝐥𝐝 𝐠𝐮𝐢𝐝𝐞 𝐭𝐡𝐞 𝐬𝐭𝐮𝐝𝐞𝐧𝐭 𝐢𝐧 𝐚𝐬𝐤𝐢𝐧𝐠 𝐪𝐮𝐞𝐬𝐭𝐢𝐨𝐧𝐬, 𝐞𝐬𝐩𝐞𝐜𝐢𝐚𝐥𝐥𝐲 𝐰𝐡𝐞𝐧 𝐭𝐡𝐞 𝐬𝐭𝐮𝐝𝐞𝐧𝐭'𝐬 𝐮𝐧𝐝𝐞𝐫𝐬𝐭𝐚𝐧𝐝𝐢𝐧𝐠 𝐢𝐬 𝐥𝐢𝐦𝐢𝐭𝐞𝐝 𝐨𝐫 𝐰𝐡𝐞𝐧 𝐭𝐡𝐞 𝐪𝐮𝐞𝐬𝐭𝐢𝐨𝐧 𝐦𝐚𝐲 𝐧𝐨𝐭 𝐫𝐞𝐥𝐚𝐭𝐞 𝐝𝐢𝐫𝐞𝐜𝐭𝐥𝐲 𝐭𝐨 𝐭𝐡𝐞 𝐭𝐨𝐩𝐢𝐜 𝐨𝐟 𝐬𝐭𝐮𝐝𝐲.
𝟏𝟏) 𝐓𝐡𝐞𝐬𝐞 𝐛𝐞𝐧𝐞𝐟𝐢𝐭𝐬 𝐚𝐧𝐝 𝐥𝐞𝐬𝐬𝐨𝐧𝐬 𝐟𝐫𝐨𝐦 𝐭𝐡𝐞 𝐬𝐭𝐨𝐫𝐲 𝐨𝐟 𝐀𝐥-𝐊𝐡𝐢𝐝𝐫 𝐚𝐧𝐝 𝐌𝐨𝐬𝐞𝐬 𝐬𝐞𝐫𝐯𝐞 𝐚𝐬 𝐯𝐚𝐥𝐮𝐚𝐛𝐥𝐞 𝐢𝐧𝐬𝐢𝐠𝐡𝐭𝐬 𝐢𝐧𝐭𝐨 𝐭𝐡𝐞 𝐩𝐮𝐫𝐬𝐮𝐢𝐭 𝐨𝐟 𝐤𝐧𝐨𝐰𝐥𝐞𝐝𝐠𝐞, 𝐡𝐮𝐦𝐢𝐥𝐢𝐭𝐲 𝐢𝐧 𝐥𝐞𝐚𝐫𝐧𝐢𝐧𝐠, 𝐚𝐧𝐝 𝐚𝐜𝐤𝐧𝐨𝐰𝐥𝐞𝐝𝐠𝐢𝐧𝐠 𝐭𝐡𝐚𝐭 𝐚𝐥𝐥 𝐤𝐧𝐨𝐰𝐥𝐞𝐝𝐠𝐞 𝐮𝐥𝐭𝐢𝐦𝐚𝐭𝐞𝐥𝐲 𝐜𝐨𝐦𝐞𝐬 𝐟𝐫𝐨𝐦 𝐀𝐥𝐥𝐚𝐡, 𝐭𝐡𝐞 𝐌𝐨𝐬𝐭 𝐖𝐢𝐬𝐞.
𝟏𝟐) 𝐑𝐞𝐠𝐚𝐫𝐝𝐢𝐧𝐠 𝐅𝐨𝐫𝐠𝐞𝐭𝐟𝐮𝐥𝐧𝐞𝐬𝐬: 𝐀 𝐩𝐞𝐫𝐬𝐨𝐧 𝐢𝐬 𝐧𝐨𝐭 𝐡𝐞𝐥𝐝 𝐚𝐜𝐜𝐨𝐮𝐧𝐭𝐚𝐛𝐥𝐞 𝐟𝐨𝐫 𝐭𝐡𝐞𝐢𝐫 𝐟𝐨𝐫𝐠𝐞𝐭𝐟𝐮𝐥𝐧𝐞𝐬𝐬, 𝐧𝐞𝐢𝐭𝐡𝐞𝐫 𝐢𝐧 𝐭𝐡𝐞 𝐞𝐲𝐞𝐬 𝐨𝐟 𝐀𝐥𝐥𝐚𝐡 𝐧𝐨𝐫 𝐢𝐧 𝐦𝐚𝐭𝐭𝐞𝐫𝐬 𝐢𝐧𝐯𝐨𝐥𝐯𝐢𝐧𝐠 𝐨𝐭𝐡𝐞𝐫 𝐩𝐞𝐨𝐩𝐥𝐞. 𝐓𝐡𝐢𝐬 𝐢𝐬 𝐞𝐯𝐢𝐝𝐞𝐧𝐜𝐞𝐝 𝐛𝐲 𝐭𝐡𝐞 𝐬𝐭𝐚𝐭𝐞𝐦𝐞𝐧𝐭, "𝐃𝐨 𝐧𝐨𝐭 𝐡𝐨𝐥𝐝 𝐦𝐞 𝐫𝐞𝐬𝐩𝐨𝐧𝐬𝐢𝐛𝐥𝐞 𝐟𝐨𝐫 𝐰𝐡𝐚𝐭 𝐈 𝐟𝐨𝐫𝐠𝐨𝐭."
𝟏𝟑) 𝐋𝐞𝐚𝐫𝐧𝐢𝐧𝐠 𝐟𝐫𝐨𝐦 𝐎𝐭𝐡𝐞𝐫𝐬: 𝐈𝐭 𝐢𝐬 𝐚𝐝𝐯𝐢𝐬𝐚𝐛𝐥𝐞 𝐟𝐨𝐫 𝐚 𝐩𝐞𝐫𝐬𝐨𝐧 𝐭𝐨 𝐚𝐝𝐨𝐩𝐭 𝐟𝐫𝐨𝐦 𝐭𝐡𝐞 𝐦𝐚𝐧𝐧𝐞𝐫𝐬 𝐚𝐧𝐝 𝐝𝐞𝐚𝐥𝐢𝐧𝐠𝐬 𝐨𝐟 𝐨𝐭𝐡𝐞𝐫𝐬 𝐭𝐡𝐞 𝐪𝐮𝐚𝐥𝐢𝐭𝐲 𝐨𝐟 𝐟𝐨𝐫𝐠𝐢𝐯𝐞𝐧𝐞𝐬𝐬. 𝐀 𝐩𝐞𝐫𝐬𝐨𝐧 𝐬𝐡𝐨𝐮𝐥𝐝 𝐧𝐨𝐭 𝐢𝐦𝐩𝐨𝐬𝐞 𝐨𝐧 𝐨𝐭𝐡𝐞𝐫𝐬 𝐰𝐡𝐚𝐭 𝐭𝐡𝐞𝐲 𝐜𝐚𝐧𝐧𝐨𝐭 𝐛𝐞𝐚𝐫 𝐨𝐫 𝐰𝐡𝐚𝐭 𝐦𝐚𝐲 𝐛𝐞 𝐛𝐮𝐫𝐝𝐞𝐧𝐬𝐨𝐦𝐞 𝐟𝐨𝐫 𝐭𝐡𝐞𝐦. 𝐓𝐡𝐢𝐬 𝐜𝐚𝐧 𝐥𝐞𝐚𝐝 𝐭𝐨 𝐚𝐯𝐞𝐫𝐬𝐢𝐨𝐧 𝐚𝐧𝐝 𝐛𝐥𝐚𝐦𝐞. 𝐈𝐧𝐬𝐭𝐞𝐚𝐝, 𝐨𝐧𝐞 𝐬𝐡𝐨𝐮𝐥𝐝 𝐜𝐡𝐨𝐨𝐬𝐞 𝐰𝐡𝐚𝐭 𝐢𝐬 𝐞𝐚𝐬𝐲 𝐭𝐨 𝐦𝐚𝐤𝐞 𝐭𝐡𝐢𝐧𝐠𝐬 𝐞𝐚𝐬𝐢𝐞𝐫.
𝟏𝟒) 𝐑𝐮𝐥𝐢𝐧𝐠 𝐨𝐧 𝐀𝐜𝐭𝐢𝐨𝐧𝐬: 𝐌𝐚𝐭𝐭𝐞𝐫𝐬 𝐚𝐫𝐞 𝐣𝐮𝐝𝐠𝐞𝐝 𝐛𝐚𝐬𝐞𝐝 𝐨𝐧 𝐭𝐡𝐞𝐢𝐫 𝐚𝐩𝐩𝐚𝐫𝐞𝐧𝐭 𝐧𝐚𝐭𝐮𝐫𝐞, 𝐚𝐧𝐝 𝐰𝐨𝐫𝐥𝐝𝐥𝐲 𝐣𝐮𝐝𝐠𝐦𝐞𝐧𝐭𝐬 𝐜𝐨𝐧𝐜𝐞𝐫𝐧𝐢𝐧𝐠 𝐰𝐞𝐚𝐥𝐭𝐡, 𝐥𝐢𝐯𝐞𝐬, 𝐚𝐧𝐝 𝐨𝐭𝐡𝐞𝐫 𝐢𝐬𝐬𝐮𝐞𝐬 𝐚𝐫𝐞 𝐜𝐨𝐧𝐧𝐞𝐜𝐭𝐞𝐝 𝐭𝐨 𝐭𝐡𝐞𝐢𝐫 𝐨𝐮𝐭𝐰𝐚𝐫𝐝 𝐚𝐬𝐩𝐞𝐜𝐭𝐬. 𝐈𝐧 𝐭𝐡𝐞 𝐬𝐭𝐨𝐫𝐲, 𝐌𝐨𝐬𝐞𝐬, 𝐩𝐞𝐚𝐜𝐞 𝐛𝐞 𝐮𝐩𝐨𝐧 𝐡𝐢𝐦, 𝐨𝐛𝐣𝐞𝐜𝐭𝐞𝐝 𝐭𝐨 𝐀𝐥-𝐊𝐡𝐢𝐝𝐫 𝐟𝐨𝐫 𝐬𝐜𝐮𝐭𝐭𝐥𝐢𝐧𝐠 𝐭𝐡𝐞 𝐬𝐡𝐢𝐩 𝐚𝐧𝐝 𝐤𝐢𝐥𝐥𝐢𝐧𝐠 𝐭𝐡𝐞 𝐛𝐨𝐲, 𝐚𝐬 𝐭𝐡𝐞𝐬𝐞 𝐚𝐜𝐭𝐢𝐨𝐧𝐬 𝐬𝐞𝐞𝐦𝐞𝐝 𝐨𝐮𝐭𝐰𝐚𝐫𝐝𝐥𝐲 𝐰𝐫𝐨𝐧𝐠.
𝐌𝐨𝐬𝐞𝐬, 𝐩𝐞𝐚𝐜𝐞 𝐛𝐞 𝐮𝐩𝐨𝐧 𝐡𝐢𝐦, 𝐜𝐨𝐮𝐥𝐝 𝐧𝐨𝐭 𝐫𝐞𝐦𝐚𝐢𝐧 𝐬𝐢𝐥𝐞𝐧𝐭 𝐢𝐧 𝐚 𝐬𝐢𝐭𝐮𝐚𝐭𝐢𝐨𝐧 𝐰𝐡𝐞𝐫𝐞 𝐀𝐥-𝐊𝐡𝐢𝐝𝐫 𝐡𝐚𝐝 𝐧𝐨𝐭 𝐩𝐫𝐞𝐯𝐢𝐨𝐮𝐬𝐥𝐲 𝐢𝐧𝐟𝐨𝐫𝐦𝐞𝐝 𝐡𝐢𝐦 𝐨𝐟 𝐭𝐡𝐞 𝐫𝐞𝐚𝐬𝐨𝐧𝐬 𝐛𝐞𝐡𝐢𝐧𝐝 𝐡𝐢𝐬 𝐚𝐜𝐭𝐢𝐨𝐧𝐬. 𝐓𝐡𝐢𝐬 𝐢𝐬 𝐚𝐧 𝐞𝐱𝐜𝐞𝐩𝐭𝐢𝐨𝐧𝐚𝐥 𝐜𝐚𝐬𝐞 𝐰𝐡𝐞𝐫𝐞 𝐬𝐩𝐞𝐚𝐤𝐢𝐧𝐠 𝐨𝐮𝐭 𝐢𝐬 𝐣𝐮𝐬𝐭𝐢𝐟𝐢𝐞𝐝, 𝐚𝐧𝐝 𝐧𝐨𝐫𝐦𝐚𝐥𝐥𝐲, 𝐨𝐧𝐞 𝐬𝐡𝐨𝐮𝐥𝐝 𝐞𝐱𝐞𝐫𝐜𝐢𝐬𝐞 𝐩𝐚𝐭𝐢𝐞𝐧𝐜𝐞 𝐚𝐧𝐝 𝐫𝐞𝐟𝐫𝐚𝐢𝐧 𝐟𝐫𝐨𝐦 𝐫𝐮𝐬𝐡𝐢𝐧𝐠 𝐭𝐨 𝐣𝐮𝐝𝐠𝐦𝐞𝐧𝐭.
𝟏𝟓) 𝐓𝐡𝐞 𝐏𝐫𝐢𝐧𝐜𝐢𝐩𝐥𝐞 𝐨𝐟 𝐋𝐞𝐬𝐬𝐞𝐫 𝐄𝐯𝐢𝐥: 𝐓𝐡𝐢𝐬 𝐩𝐫𝐢𝐧𝐜𝐢𝐩𝐥𝐞 𝐚𝐬𝐬𝐞𝐫𝐭𝐬 𝐭𝐡𝐚𝐭 𝐚 𝐠𝐫𝐞𝐚𝐭𝐞𝐫 𝐞𝐯𝐢𝐥 𝐜𝐚𝐧 𝐛𝐞 𝐩𝐫𝐞𝐯𝐞𝐧𝐭𝐞𝐝 𝐛𝐲 𝐜𝐨𝐦𝐦𝐢𝐭𝐭𝐢𝐧𝐠 𝐚 𝐥𝐞𝐬𝐬𝐞𝐫 𝐞𝐯𝐢𝐥. 𝐈𝐭 𝐢𝐬 𝐠𝐮𝐢𝐝𝐞𝐝 𝐛𝐲 𝐜𝐨𝐧𝐬𝐢𝐝𝐞𝐫𝐢𝐧𝐠 𝐭𝐡𝐞 𝐠𝐫𝐞𝐚𝐭𝐞𝐫 𝐛𝐞𝐧𝐞𝐟𝐢𝐭 𝐰𝐡𝐞𝐧 𝐚𝐥𝐥𝐨𝐰𝐢𝐧𝐠 𝐚 𝐥𝐞𝐬𝐬𝐞𝐫 𝐡𝐚𝐫𝐦. 𝐅𝐨𝐫 𝐢𝐧𝐬𝐭𝐚𝐧𝐜𝐞, 𝐭𝐡𝐞 𝐤𝐢𝐥𝐥𝐢𝐧𝐠 𝐨𝐟 𝐭𝐡𝐞 𝐛𝐨𝐲 𝐢𝐬 𝐢𝐧𝐝𝐞𝐞𝐝 𝐚𝐧 𝐞𝐯𝐢𝐥 𝐚𝐜𝐭, 𝐛𝐮𝐭 𝐚𝐥𝐥𝐨𝐰𝐢𝐧𝐠 𝐡𝐢𝐦 𝐭𝐨 𝐥𝐢𝐯𝐞 𝐜𝐨𝐮𝐥𝐝 𝐥𝐞𝐚𝐝 𝐡𝐢𝐬 𝐩𝐚𝐫𝐞𝐧𝐭𝐬 𝐚𝐰𝐚𝐲 𝐟𝐫𝐨𝐦 𝐭𝐡𝐞𝐢𝐫 𝐫𝐞𝐥𝐢𝐠𝐢𝐨𝐧, 𝐰𝐡𝐢𝐜𝐡 𝐢𝐬 𝐚 𝐠𝐫𝐞𝐚𝐭𝐞𝐫 𝐞𝐯𝐢𝐥. 𝐓𝐡𝐮𝐬, 𝐤𝐞𝐞𝐩𝐢𝐧𝐠 𝐭𝐡𝐞 𝐛𝐨𝐲 𝐚𝐥𝐢𝐯𝐞, 𝐝𝐞𝐬𝐩𝐢𝐭𝐞 𝐡𝐢𝐬 𝐩𝐨𝐭𝐞𝐧𝐭𝐢𝐚𝐥 𝐠𝐨𝐨𝐝𝐧𝐞𝐬𝐬, 𝐢𝐬 𝐨𝐮𝐭𝐰𝐞𝐢𝐠𝐡𝐞𝐝 𝐛𝐲 𝐭𝐡𝐞 𝐠𝐫𝐞𝐚𝐭𝐞𝐫 𝐛𝐞𝐧𝐞𝐟𝐢𝐭 𝐨𝐟 𝐩𝐫𝐞𝐬𝐞𝐫𝐯𝐢𝐧𝐠 𝐡𝐢𝐬 𝐩𝐚𝐫𝐞𝐧𝐭𝐬' 𝐟𝐚𝐢𝐭𝐡.
𝟏𝟔) 𝐓𝐚𝐤𝐢𝐧𝐠 𝐀𝐜𝐭𝐢𝐨𝐧 𝐟𝐨𝐫 𝐆𝐫𝐞𝐚𝐭𝐞𝐫 𝐆𝐨𝐨𝐝: 𝐓𝐡𝐢𝐬 𝐩𝐫𝐢𝐧𝐜𝐢𝐩𝐥𝐞 𝐞𝐦𝐩𝐡𝐚𝐬𝐢𝐳𝐞𝐬 𝐭𝐡𝐞 𝐢𝐦𝐩𝐨𝐫𝐭𝐚𝐧𝐜𝐞 𝐨𝐟 𝐚𝐜𝐭𝐢𝐨𝐧𝐬 𝐚𝐢𝐦𝐞𝐝 𝐚𝐭 𝐚𝐜𝐡𝐢𝐞𝐯𝐢𝐧𝐠 𝐚 𝐠𝐫𝐞𝐚𝐭𝐞𝐫 𝐠𝐨𝐨𝐝, 𝐞𝐯𝐞𝐧 𝐢𝐟 𝐭𝐡𝐞𝐲 𝐦𝐚𝐲 𝐢𝐧𝐢𝐭𝐢𝐚𝐥𝐥𝐲 𝐚𝐩𝐩𝐞𝐚𝐫 𝐭𝐨 𝐛𝐞 𝐰𝐫𝐨𝐧𝐠. 𝐈𝐧 𝐭𝐡𝐞 𝐬𝐭𝐨𝐫𝐲, 𝐀𝐥-𝐊𝐡𝐢𝐝𝐫'𝐬 𝐚𝐜𝐭𝐢𝐨𝐧𝐬, 𝐬𝐮𝐜𝐡 𝐚𝐬 𝐬𝐜𝐮𝐭𝐭𝐥𝐢𝐧𝐠 𝐭𝐡𝐞 𝐬𝐡𝐢𝐩, 𝐰𝐞𝐫𝐞 𝐢𝐧𝐭𝐞𝐧𝐝𝐞𝐝 𝐭𝐨 𝐩𝐫𝐨𝐭𝐞𝐜𝐭 𝐭𝐡𝐞 𝐩𝐞𝐨𝐩𝐥𝐞 𝐟𝐫𝐨𝐦 𝐚 𝐭𝐲𝐫𝐚𝐧𝐧𝐢𝐜𝐚𝐥 𝐤𝐢𝐧𝐠, 𝐞𝐯𝐞𝐧 𝐭𝐡𝐨𝐮𝐠𝐡 𝐭𝐡𝐞𝐲 𝐦𝐢𝐠𝐡𝐭 𝐬𝐞𝐞𝐦 𝐡𝐚𝐫𝐦𝐟𝐮𝐥 𝐚𝐭 𝐟𝐢𝐫𝐬𝐭 𝐠𝐥𝐚𝐧𝐜𝐞.
𝟏𝟕) 𝐌𝐚𝐧𝐚𝐠𝐢𝐧𝐠 𝐎𝐭𝐡𝐞𝐫𝐬' 𝐖𝐞𝐚𝐥𝐭𝐡: 𝐀 𝐩𝐞𝐫𝐬𝐨𝐧 𝐢𝐬 𝐚𝐥𝐥𝐨𝐰𝐞𝐝, 𝐢𝐧 𝐜𝐞𝐫𝐭𝐚𝐢𝐧 𝐜𝐢𝐫𝐜𝐮𝐦𝐬𝐭𝐚𝐧𝐜𝐞𝐬, 𝐭𝐨 𝐭𝐚𝐤𝐞 𝐚𝐜𝐭𝐢𝐨𝐧 𝐜𝐨𝐧𝐜𝐞𝐫𝐧𝐢𝐧𝐠 𝐚𝐧𝐨𝐭𝐡𝐞𝐫 𝐩𝐞𝐫𝐬𝐨𝐧'𝐬 𝐩𝐫𝐨𝐩𝐞𝐫𝐭𝐲 𝐰𝐡𝐞𝐧 𝐢𝐭 𝐢𝐬 𝐢𝐧 𝐭𝐡𝐞 𝐠𝐫𝐞𝐚𝐭𝐞𝐫 𝐢𝐧𝐭𝐞𝐫𝐞𝐬𝐭 𝐚𝐧𝐝 𝐭𝐨 𝐩𝐫𝐞𝐯𝐞𝐧𝐭 𝐡𝐚𝐫𝐦, 𝐞𝐯𝐞𝐧 𝐢𝐟 𝐢𝐭 𝐫𝐞𝐬𝐮𝐥𝐭𝐬 𝐢𝐧 𝐬𝐨𝐦𝐞 𝐥𝐨𝐬𝐬 𝐭𝐨 𝐭𝐡𝐞 𝐨𝐰𝐧𝐞𝐫. 𝐓𝐡𝐢𝐬 𝐢𝐬 𝐬𝐢𝐦𝐢𝐥𝐚𝐫 𝐭𝐨 𝐰𝐡𝐚𝐭 𝐀𝐥-𝐊𝐡𝐢𝐝𝐫 𝐝𝐢𝐝 𝐛𝐲 𝐬𝐜𝐮𝐭𝐭𝐥𝐢𝐧𝐠 𝐭𝐡𝐞 𝐬𝐡𝐢𝐩 𝐭𝐨 𝐩𝐫𝐨𝐭𝐞𝐜𝐭 𝐢𝐭 𝐟𝐫𝐨𝐦 𝐜𝐨𝐧𝐟𝐢𝐬𝐜𝐚𝐭𝐢𝐨𝐧 𝐛𝐲 𝐭𝐡𝐞 𝐨𝐩𝐩𝐫𝐞𝐬𝐬𝐢𝐯𝐞 𝐤𝐢𝐧𝐠. 𝐒𝐢𝐦𝐢𝐥𝐚𝐫𝐥𝐲, 𝐢𝐟 𝐚 𝐬𝐢𝐭𝐮𝐚𝐭𝐢𝐨𝐧 𝐚𝐫𝐢𝐬𝐞𝐬 𝐰𝐡𝐞𝐫𝐞 𝐭𝐡𝐞 𝐠𝐫𝐞𝐚𝐭𝐞𝐫 𝐠𝐨𝐨𝐝 𝐢𝐧𝐯𝐨𝐥𝐯𝐞𝐬 𝐢𝐧𝐭𝐞𝐫𝐟𝐞𝐫𝐢𝐧𝐠 𝐰𝐢𝐭𝐡 𝐚𝐧𝐨𝐭𝐡𝐞𝐫 𝐩𝐞𝐫𝐬𝐨𝐧'𝐬 𝐩𝐫𝐨𝐩𝐞𝐫𝐭𝐲, 𝐢𝐭 𝐦𝐚𝐲 𝐛𝐞 𝐩𝐞𝐫𝐦𝐢𝐬𝐬𝐢𝐛𝐥𝐞, 𝐞𝐯𝐞𝐧 𝐰𝐢𝐭𝐡𝐨𝐮𝐭 𝐭𝐡𝐞𝐢𝐫 𝐩𝐞𝐫𝐦𝐢𝐬𝐬𝐢𝐨𝐧.
𝟏𝟖) 𝐑𝐞𝐠𝐚𝐫𝐝𝐢𝐧𝐠 𝐇𝐨𝐦𝐢𝐜𝐢𝐝𝐞: 𝐇𝐨𝐦𝐢𝐜𝐢𝐝𝐞 𝐚𝐬 𝐚 𝐟𝐨𝐫𝐦 𝐨𝐟 𝐫𝐞𝐭𝐫𝐢𝐛𝐮𝐭𝐢𝐨𝐧 𝐢𝐬 𝐧𝐨𝐭 𝐜𝐨𝐧𝐬𝐢𝐝𝐞𝐫𝐞𝐝 𝐫𝐞𝐩𝐫𝐞𝐡𝐞𝐧𝐬𝐢𝐛𝐥𝐞, 𝐚𝐬 𝐢𝐧𝐝𝐢𝐜𝐚𝐭𝐞𝐝 𝐛𝐲 𝐭𝐡𝐞 𝐬𝐭𝐚𝐭𝐞𝐦𝐞𝐧𝐭, "𝐞𝐱𝐜𝐞𝐩𝐭 𝐟𝐨𝐫 𝐚 𝐬𝐨𝐮𝐥."
𝟏𝟗) 𝐏𝐫𝐨𝐭𝐞𝐜𝐭𝐢𝐨𝐧 𝐨𝐟 𝐭𝐡𝐞 𝐑𝐢𝐠𝐡𝐭𝐞𝐨𝐮𝐬 𝐒𝐞𝐫𝐯𝐚𝐧𝐭: 𝐀𝐥𝐥𝐚𝐡 𝐩𝐫𝐞𝐬𝐞𝐫𝐯𝐞𝐬 𝐭𝐡𝐞 𝐫𝐢𝐠𝐡𝐭𝐞𝐨𝐮𝐬 𝐬𝐞𝐫𝐯𝐚𝐧𝐭 𝐢𝐧 𝐭𝐡𝐞𝐢𝐫 𝐨𝐰𝐧 𝐬𝐞𝐥𝐟 𝐚𝐧𝐝 𝐢𝐧 𝐭𝐡𝐞𝐢𝐫 𝐝𝐞𝐬𝐜𝐞𝐧𝐝𝐚𝐧𝐭𝐬.
𝟐𝟎) 𝐒𝐞𝐫𝐯𝐢𝐧𝐠 𝐭𝐡𝐞 𝐑𝐢𝐠𝐡𝐭𝐞𝐨𝐮𝐬: 𝐒𝐞𝐫𝐯𝐢𝐧𝐠 𝐨𝐫 𝐚𝐬𝐬𝐨𝐜𝐢𝐚𝐭𝐢𝐧𝐠 𝐰𝐢𝐭𝐡 𝐭𝐡𝐞 𝐫𝐢𝐠𝐡𝐭𝐞𝐨𝐮𝐬 𝐢𝐬 𝐬𝐮𝐩𝐞𝐫𝐢𝐨𝐫 𝐭𝐨 𝐨𝐭𝐡𝐞𝐫 𝐚𝐬𝐬𝐨𝐜𝐢𝐚𝐭𝐢𝐨𝐧𝐬. 𝐓𝐡𝐢𝐬 𝐢𝐬 𝐛𝐞𝐜𝐚𝐮𝐬𝐞 𝐢𝐭 𝐩𝐫𝐨𝐯𝐢𝐝𝐞𝐬 𝐫𝐞𝐚𝐬𝐨𝐧𝐬 𝐟𝐨𝐫 𝐞𝐱𝐭𝐫𝐚𝐜𝐭𝐢𝐧𝐠 𝐭𝐡𝐞𝐢𝐫 𝐭𝐫𝐞𝐚𝐬𝐮𝐫𝐞𝐬 𝐚𝐧𝐝 𝐞𝐬𝐭𝐚𝐛𝐥𝐢𝐬𝐡𝐢𝐧𝐠 𝐭𝐡𝐞𝐢𝐫 𝐦𝐞𝐫𝐢𝐭𝐬, 𝐬𝐮𝐜𝐡 𝐚𝐬 𝐰𝐡𝐞𝐧 𝐭𝐡𝐞𝐢𝐫 𝐟𝐚𝐭𝐡𝐞𝐫 𝐰𝐚𝐬 𝐫𝐢𝐠𝐡𝐭𝐞𝐨𝐮𝐬.
𝟐𝟏) 𝐔𝐬𝐢𝐧𝐠 𝐏𝐫𝐨𝐩𝐞𝐫 𝐋𝐚𝐧𝐠𝐮𝐚𝐠𝐞 𝐰𝐢𝐭𝐡 𝐀𝐥𝐥𝐚𝐡: 𝐔𝐬𝐢𝐧𝐠 𝐩𝐫𝐨𝐩𝐞𝐫 𝐞𝐭𝐢𝐪𝐮𝐞𝐭𝐭𝐞 𝐰𝐢𝐭𝐡 𝐀𝐥𝐥𝐚𝐡 𝐢𝐧 𝐬𝐩𝐞𝐞𝐜𝐡 𝐢𝐬 𝐬𝐢𝐠𝐧𝐢𝐟𝐢𝐜𝐚𝐧𝐭. 𝐀𝐥-𝐊𝐡𝐢𝐝𝐫, 𝐟𝐨𝐫 𝐞𝐱𝐚𝐦𝐩𝐥𝐞, 𝐚𝐭𝐭𝐫𝐢𝐛𝐮𝐭𝐞𝐝 𝐭𝐡𝐞 𝐟𝐥𝐚𝐰 𝐨𝐟 𝐭𝐡𝐞 𝐬𝐡𝐢𝐩 𝐭𝐨 𝐡𝐢𝐦𝐬𝐞𝐥𝐟 𝐛𝐲 𝐬𝐚𝐲𝐢𝐧𝐠, "𝐒𝐨 𝐈 𝐢𝐧𝐭𝐞𝐧𝐝𝐞𝐝 𝐭𝐨 𝐝𝐚𝐦𝐚𝐠𝐞 𝐢𝐭." 𝐇𝐨𝐰𝐞𝐯𝐞𝐫, 𝐡𝐞 𝐚𝐭𝐭𝐫𝐢𝐛𝐮𝐭𝐞𝐝 𝐭𝐡𝐞 𝐠𝐨𝐨𝐝 𝐨𝐮𝐭𝐜𝐨𝐦𝐞𝐬 𝐭𝐨 𝐀𝐥𝐥𝐚𝐡 𝐛𝐲 𝐬𝐚𝐲𝐢𝐧𝐠, "𝐒𝐨 𝐲𝐨𝐮𝐫 𝐋𝐨𝐫𝐝 𝐢𝐧𝐭𝐞𝐧𝐝𝐞𝐝 𝐭𝐡𝐚𝐭 𝐭𝐡𝐞𝐲 𝐫𝐞𝐚𝐜𝐡 𝐭𝐡𝐞𝐢𝐫 𝐦𝐚𝐭𝐮𝐫𝐢𝐭𝐲 𝐚𝐧𝐝 𝐞𝐱𝐭𝐫𝐚𝐜𝐭 𝐭𝐡𝐞𝐢𝐫 𝐭𝐫𝐞𝐚𝐬𝐮𝐫𝐞 𝐚𝐬 𝐚 𝐦𝐞𝐫𝐜𝐲 𝐟𝐫𝐨𝐦 𝐲𝐨𝐮𝐫 𝐋𝐨𝐫𝐝."
𝐒𝐢𝐦𝐢𝐥𝐚𝐫𝐥𝐲, 𝐈𝐛𝐫𝐚𝐡𝐢𝐦, 𝐩𝐞𝐚𝐜𝐞 𝐛𝐞 𝐮𝐩𝐨𝐧 𝐡𝐢𝐦, 𝐬𝐚𝐢𝐝, "𝐀𝐧𝐝 𝐰𝐡𝐞𝐧 𝐈 𝐚𝐦 𝐢𝐥𝐥, 𝐢𝐭 𝐢𝐬 𝐇𝐞 𝐰𝐡𝐨 𝐜𝐮𝐫𝐞𝐬 𝐦𝐞." 𝐓𝐡𝐞 𝐣𝐢𝐧𝐧 𝐚𝐥𝐬𝐨 𝐬𝐚𝐢𝐝, "𝐀𝐧𝐝 𝐰𝐞 𝐡𝐚𝐝 𝐭𝐡𝐨𝐮𝐠𝐡𝐭 𝐭𝐡𝐚𝐭 𝐦𝐚𝐧𝐤𝐢𝐧𝐝 𝐚𝐧𝐝 𝐭𝐡𝐞 𝐣𝐢𝐧𝐧 𝐰𝐨𝐮𝐥𝐝 𝐧𝐞𝐯𝐞𝐫 𝐬𝐩𝐞𝐚𝐤 𝐚𝐛𝐨𝐮𝐭 𝐀𝐥𝐥𝐚𝐡 𝐚 𝐥𝐢𝐞. 𝐀𝐧𝐝 𝐭𝐡𝐞𝐫𝐞 𝐚𝐫𝐞 𝐦𝐞𝐧 𝐟𝐫𝐨𝐦 𝐚𝐦𝐨𝐧𝐠 𝐦𝐚𝐧𝐤𝐢𝐧𝐝 𝐰𝐡𝐨 𝐭𝐚𝐤𝐞 𝐬𝐡𝐞𝐥𝐭𝐞𝐫 𝐰𝐢𝐭𝐡 𝐦𝐞𝐧 𝐟𝐫𝐨𝐦 𝐚𝐦𝐨𝐧𝐠 𝐭𝐡𝐞 𝐣𝐢𝐧𝐧, 𝐬𝐨 𝐭𝐡𝐞𝐲 𝐢𝐧𝐜𝐫𝐞𝐚𝐬𝐞 𝐭𝐡𝐞𝐦 𝐢𝐧 𝐰𝐫𝐨𝐧𝐠𝐝𝐨𝐢𝐧𝐠." 𝐓𝐡𝐢𝐬 𝐢𝐬 𝐝𝐞𝐬𝐩𝐢𝐭𝐞 𝐞𝐯𝐞𝐫𝐲𝐭𝐡𝐢𝐧𝐠 𝐛𝐞𝐢𝐧𝐠 𝐮𝐧𝐝𝐞𝐫 𝐀𝐥𝐥𝐚𝐡'𝐬 𝐝𝐞𝐜𝐫𝐞𝐞 𝐚𝐧𝐝 𝐝𝐢𝐯𝐢𝐧𝐞 𝐩𝐥𝐚𝐧.
𝟐𝟐) 𝐍𝐨𝐭 𝐏𝐚𝐫𝐭𝐢𝐧𝐠 𝐖𝐚𝐲𝐬: 𝐀 𝐜𝐨𝐦𝐩𝐚𝐧𝐢𝐨𝐧 𝐬𝐡𝐨𝐮𝐥𝐝 𝐧𝐨𝐭 𝐥𝐞𝐚𝐯𝐞 𝐭𝐡𝐞𝐢𝐫 𝐜𝐨𝐦𝐩𝐚𝐧𝐢𝐨𝐧 𝐢𝐧 𝐜𝐞𝐫𝐭𝐚𝐢𝐧 𝐜𝐢𝐫𝐜𝐮𝐦𝐬𝐭𝐚𝐧𝐜𝐞𝐬 𝐛𝐮𝐭 𝐬𝐡𝐨𝐮𝐥𝐝 𝐟𝐨𝐥𝐥𝐨𝐰 𝐚𝐧𝐝 𝐛𝐞 𝐩𝐚𝐭𝐢𝐞𝐧𝐭 𝐰𝐢𝐭𝐡 𝐭𝐡𝐞𝐦. 𝐓𝐡𝐢𝐬 𝐢𝐬 𝐰𝐡𝐚𝐭 𝐀𝐥-𝐊𝐡𝐢𝐝𝐫 𝐝𝐢𝐝 𝐰𝐢𝐭𝐡 𝐌𝐨𝐬𝐞𝐬.
𝟐𝟑) 𝐀𝐠𝐫𝐞𝐞𝐢𝐧𝐠 𝐰𝐢𝐭𝐡 𝐚 𝐂𝐨𝐦𝐩𝐚𝐧𝐢𝐨𝐧: 𝐀𝐠𝐫𝐞𝐞𝐢𝐧𝐠 𝐰𝐢𝐭𝐡 𝐨𝐧𝐞'𝐬 𝐜𝐨𝐦𝐩𝐚𝐧𝐢𝐨𝐧 𝐢𝐧 𝐦𝐚𝐭𝐭𝐞𝐫𝐬 𝐭𝐡𝐚𝐭 𝐚𝐫𝐞 𝐧𝐨𝐭 𝐩𝐫𝐨𝐡𝐢𝐛𝐢𝐭𝐞𝐝 𝐢𝐬 𝐚 𝐫𝐞𝐚𝐬𝐨𝐧 𝐟𝐨𝐫 𝐭𝐡𝐞 𝐜𝐨𝐧𝐭𝐢𝐧𝐮𝐢𝐭𝐲 𝐚𝐧𝐝 𝐚𝐬𝐬𝐮𝐫𝐚𝐧𝐜𝐞 𝐨𝐟 𝐜𝐨𝐦𝐩𝐚𝐧𝐢𝐨𝐧𝐬𝐡𝐢𝐩. 𝐂𝐨𝐧𝐯𝐞𝐫𝐬𝐞𝐥𝐲, 𝐝𝐢𝐬𝐚𝐠𝐫𝐞𝐞𝐦𝐞𝐧𝐭 𝐢𝐬 𝐚 𝐫𝐞𝐚𝐬𝐨𝐧 𝐟𝐨𝐫 𝐭𝐡𝐞 𝐜𝐞𝐬𝐬𝐚𝐭𝐢𝐨𝐧 𝐨𝐟 𝐜𝐨𝐦𝐩𝐚𝐧𝐢𝐨𝐧𝐬𝐡𝐢𝐩.
𝐂𝐨𝐧𝐜𝐥𝐮𝐬𝐢𝐨𝐧:
𝐈𝐧 𝐜𝐨𝐧𝐜𝐥𝐮𝐬𝐢𝐨𝐧 𝐭𝐨 𝐭𝐡𝐢𝐬 𝐚𝐫𝐭𝐢𝐜𝐥𝐞, 𝐰𝐞 𝐜𝐚𝐧 𝐨𝐧𝐥𝐲 𝐦𝐞𝐧𝐭𝐢𝐨𝐧 𝐭𝐡𝐞 𝐰𝐨𝐫𝐝𝐬 𝐨𝐟 𝐀𝐥𝐥𝐚𝐡 𝐄𝐱𝐚𝐥𝐭𝐞𝐝 𝐇𝐞, 𝐭𝐡𝐞 𝐎𝐧𝐞, 𝐭𝐡𝐞 𝐔𝐧𝐢𝐪𝐮𝐞, 𝐭𝐡𝐞 𝐄𝐭𝐞𝐫𝐧𝐚𝐥, 𝐰𝐡𝐨 𝐛𝐞𝐠𝐞𝐭𝐬 𝐧𝐨𝐭, 𝐧𝐨𝐫 𝐰𝐚𝐬 𝐇𝐞 𝐛𝐞𝐠𝐨𝐭𝐭𝐞𝐧, 𝐚𝐧𝐝 𝐭𝐡𝐞𝐫𝐞 𝐢𝐬 𝐧𝐨𝐧𝐞 𝐜𝐨𝐦𝐩𝐚𝐫𝐚𝐛𝐥𝐞 𝐭𝐨 𝐇𝐢𝐦. 𝐇𝐞 𝐢𝐬 𝐭𝐡𝐞 𝐭𝐫𝐮𝐞, 𝐭𝐡𝐞 𝐨𝐧𝐥𝐲 𝐆𝐨𝐝 𝐰𝐨𝐫𝐭𝐡𝐲 𝐨𝐟 𝐰𝐨𝐫𝐬𝐡𝐢𝐩.
𝐇𝐞 𝐢𝐬 𝐨𝐮𝐫 𝐂𝐫𝐞𝐚𝐭𝐨𝐫 𝐚𝐧𝐝 𝐒𝐮𝐬𝐭𝐚𝐢𝐧𝐞𝐫, 𝐝𝐨𝐢𝐧𝐠 𝐚𝐬 𝐇𝐞 𝐩𝐥𝐞𝐚𝐬𝐞𝐬 𝐢𝐧 𝐇𝐢𝐬 𝐜𝐫𝐞𝐚𝐭𝐢𝐨𝐧, 𝐡𝐨𝐥𝐝𝐢𝐧𝐠 𝐚𝐮𝐭𝐡𝐨𝐫𝐢𝐭𝐲 𝐨𝐯𝐞𝐫 𝐚𝐥𝐥 𝐦𝐚𝐭𝐭𝐞𝐫𝐬. 𝐇𝐞 𝐢𝐬 𝐧𝐨𝐭 𝐪𝐮𝐞𝐬𝐭𝐢𝐨𝐧𝐞𝐝 𝐚𝐛𝐨𝐮𝐭 𝐰𝐡𝐚𝐭 𝐇𝐞 𝐝𝐨𝐞𝐬, 𝐰𝐡𝐢𝐥𝐞 𝐇𝐢𝐬 𝐚𝐜𝐜𝐨𝐮𝐧𝐭𝐚𝐛𝐥𝐞 𝐜𝐫𝐞𝐚𝐭𝐢𝐨𝐧 (𝐣𝐢𝐧𝐧 𝐚𝐧𝐝 𝐡𝐮𝐦𝐚𝐧𝐬) 𝐰𝐢𝐥𝐥 𝐛𝐞 𝐪𝐮𝐞𝐬𝐭𝐢𝐨𝐧𝐞𝐝. 𝐓𝐡𝐢𝐬 𝐜𝐨𝐧𝐟𝐢𝐫𝐦𝐬 𝐰𝐡𝐚𝐭 𝐀𝐥𝐥𝐚𝐡, 𝐭𝐡𝐞 𝐁𝐥𝐞𝐬𝐬𝐞𝐝 𝐚𝐧𝐝 𝐄𝐱𝐚𝐥𝐭𝐞𝐝, 𝐬𝐚𝐲𝐬:
𝐐𝐮𝐫𝐚𝐧 (𝟐𝟏:𝟐𝟐-𝟐𝟑)
𝐀𝐥𝐥𝐚𝐡 𝐊𝐧𝐨𝐰𝐬 𝐁𝐞𝐬𝐭.
𝐅𝐨𝐨𝐭𝐧𝐨𝐭𝐞𝐬:
𝐒𝐨𝐦𝐞 𝐫𝐞𝐟𝐞𝐫𝐞𝐧𝐜𝐞𝐬 𝐚𝐛𝐨𝐮𝐭 𝐂𝐚𝐭𝐡𝐨𝐥𝐢𝐜𝐬 𝐢𝐬𝐬𝐮𝐢𝐧𝐠 𝐡𝐮𝐦𝐚𝐧 𝐜𝐞𝐫𝐭𝐢𝐟𝐢𝐜𝐚𝐭𝐞𝐬 𝐭𝐨 𝐀𝐛𝐨𝐫𝐢𝐠𝐢𝐧𝐚𝐥𝐬 𝐢𝐧 𝐀𝐮𝐬𝐭𝐫𝐚𝐥𝐢𝐚:
𝐀𝐛𝐨𝐫𝐢𝐠𝐢𝐧𝐚𝐥 𝐇𝐮𝐦𝐚𝐧 𝐂𝐞𝐫𝐭𝐢𝐟𝐢𝐜𝐚𝐭𝐞𝐬" 𝐛𝐲 𝐍𝐨𝐞𝐥 𝐋𝐨𝐨𝐬, 𝐢𝐧 𝐓𝐡𝐞 𝐄𝐧𝐜𝐲𝐜𝐥𝐨𝐩𝐞𝐝𝐢𝐚 𝐨𝐟 𝐀𝐛𝐨𝐫𝐢𝐠𝐢𝐧𝐚𝐥 𝐀𝐮𝐬𝐭𝐫𝐚𝐥𝐢𝐚, 𝐞𝐝𝐢𝐭𝐞𝐝 𝐛𝐲 𝐀𝐭𝐡𝐨𝐥 𝐂𝐡𝐚𝐬𝐞 𝐚𝐧𝐝 𝐏𝐞𝐭𝐞𝐫 𝐒𝐮𝐭𝐭𝐨𝐧 (𝐂𝐚𝐧𝐛𝐞𝐫𝐫𝐚: 𝐀𝐛𝐨𝐫𝐢𝐠𝐢𝐧𝐚𝐥 𝐒𝐭𝐮𝐝𝐢𝐞𝐬 𝐏𝐫𝐞𝐬𝐬, 𝟐𝟎𝟎𝟓).

𝐇𝐮𝐦𝐚𝐧 𝐂𝐞𝐫𝐭𝐢𝐟𝐢𝐜𝐚𝐭𝐞𝐬" 𝐛𝐲 𝐉𝐨𝐡𝐧 𝐇𝐢𝐫𝐬𝐭, 𝐢𝐧 𝐀 𝐇𝐢𝐬𝐭𝐨𝐫𝐲 𝐨𝐟 𝐀𝐮𝐬𝐭𝐫𝐚𝐥𝐢𝐚, 𝐞𝐝𝐢𝐭𝐞𝐝 𝐛𝐲 𝐃𝐚𝐯𝐢𝐝 𝐃𝐚𝐲 (𝐂𝐚𝐦𝐛𝐫𝐢𝐝𝐠𝐞: 𝐂𝐚𝐦𝐛𝐫𝐢𝐝𝐠𝐞 𝐔𝐧𝐢𝐯𝐞𝐫𝐬𝐢𝐭𝐲 𝐏𝐫𝐞𝐬𝐬, 𝟐𝟎𝟎𝟏).

𝐇𝐮𝐦𝐚𝐧 𝐂𝐞𝐫𝐭𝐢𝐟𝐢𝐜𝐚𝐭𝐞𝐬 𝐟𝐨𝐫 𝐀𝐛𝐨𝐫𝐢𝐠𝐢𝐧𝐞𝐬: 𝐀 𝐒𝐡𝐚𝐦𝐞𝐟𝐮𝐥 𝐂𝐡𝐚𝐩𝐭𝐞𝐫 𝐢𝐧 𝐀𝐮𝐬𝐭𝐫𝐚𝐥𝐢𝐚𝐧 𝐇𝐢𝐬𝐭𝐨𝐫𝐲" 𝐛𝐲 𝐉𝐨𝐡𝐧 𝐍𝐨𝐛𝐥𝐞 𝐖𝐢𝐥𝐤𝐢𝐞, 𝐢𝐧 𝐀𝐛𝐨𝐫𝐢𝐠𝐢𝐧𝐚𝐥 𝐇𝐢𝐬𝐭𝐨𝐫𝐲, 𝐯𝐨𝐥. 𝟏𝟔, 𝐧𝐨. 𝟏 (𝟏𝟗𝟗𝟐), 𝐩𝐩. 𝟏-𝟏𝟔.

𝐓𝐡𝐞 𝐖𝐡𝐢𝐭𝐞 𝐌𝐚𝐧'𝐬 𝐁𝐮𝐫𝐝𝐞𝐧: 𝐇𝐮𝐦𝐚𝐧 𝐂𝐞𝐫𝐭𝐢𝐟𝐢𝐜𝐚𝐭𝐞𝐬 𝐚𝐧𝐝 𝐭𝐡𝐞 𝐏𝐨𝐥𝐢𝐭𝐢𝐜𝐬 𝐨𝐟 𝐑𝐚𝐜𝐞 𝐢𝐧 𝐂𝐨𝐥𝐨𝐧𝐢𝐚𝐥 𝐀𝐮𝐬𝐭𝐫𝐚𝐥𝐢𝐚" 𝐛𝐲 𝐑𝐨𝐛𝐞𝐫𝐭 𝐌𝐚𝐧𝐧𝐞, 𝐢𝐧 𝐌𝐞𝐚𝐧𝐣𝐢𝐧 𝐏𝐚𝐩𝐞𝐫𝐬, 𝐯𝐨𝐥. 𝟓𝟐, 𝐧𝐨. 𝟒 (𝟏𝟗𝟗𝟑), 𝐩𝐩. 𝟓𝟒𝟓-𝟓𝟓𝟕.
𝐓𝐡𝐞 𝐒𝐨𝐜𝐢𝐚𝐥 𝐁𝐢𝐛𝐥𝐞 𝐚𝐧𝐝 𝐭𝐡𝐞 𝐎𝐫𝐢𝐠𝐢𝐧𝐬 𝐨𝐟 𝐀𝐦𝐞𝐫𝐢𝐜𝐚𝐧 𝐈𝐦𝐩𝐞𝐫𝐢𝐚𝐥𝐢𝐬𝐦, 𝟏𝟖𝟔𝟓-𝟏𝟗𝟎𝟎" 𝐛𝐲 𝐑𝐨𝐛𝐞𝐫𝐭 𝐖𝐢𝐞𝐛𝐞 (𝐂𝐡𝐢𝐜𝐚𝐠𝐨: 𝐔𝐧𝐢𝐯𝐞𝐫𝐬𝐢𝐭𝐲 𝐨𝐟 𝐂𝐡𝐢𝐜𝐚𝐠𝐨 𝐏𝐫𝐞𝐬𝐬, 𝟏𝟗𝟔𝟗).
𝐓𝐡𝐞 𝐖𝐡𝐢𝐭𝐞 𝐌𝐚𝐧'𝐬 𝐁𝐮𝐫𝐝𝐞𝐧: 𝐀 𝐇𝐢𝐬𝐭𝐨𝐫𝐲 𝐨𝐟 𝐭𝐡𝐞 𝐖𝐡𝐢𝐭𝐞 𝐑𝐚𝐜𝐞𝐬 𝐚𝐧𝐝 𝐓𝐡𝐞𝐢𝐫 𝐈𝐦𝐩𝐞𝐫𝐢𝐚𝐥 𝐌𝐢𝐬𝐬𝐢𝐨𝐧" 𝐛𝐲 𝐑𝐮𝐝𝐲𝐚𝐫𝐝 𝐊𝐢𝐩𝐥𝐢𝐧𝐠 (𝐋𝐨𝐧𝐝𝐨𝐧: 𝐇𝐞𝐢𝐧𝐞𝐦𝐚𝐧𝐧, 𝟏𝟖𝟗𝟗).
"𝐓𝐡𝐞 𝐈𝐧𝐯𝐞𝐧𝐭𝐢𝐨𝐧 𝐨𝐟 𝐭𝐡𝐞 𝐉𝐞𝐰" 𝐛𝐲 𝐒𝐡𝐥𝐨𝐦𝐨 𝐒𝐚𝐧𝐝 (𝐍𝐞𝐰 𝐘𝐨𝐫𝐤: 𝐕𝐞𝐫𝐬𝐨, 𝟐𝟎𝟎𝟗).
𝐑𝐞𝐟𝐞𝐫𝐞𝐧𝐜𝐞𝐬:
Islam does not tolerate the killing of innocents
Does Islam Tolerate The Killing Of Innocents?
Protection of civilian non-combatants in Islam
Muslims not punished for killing non-Muslims?
Dar al-Harb: Islam at war with the world?
Equal protection of law for Muslims and non-Muslims
Islam and the fight against Female Infanticide
Is al-Kihdr living on the face of the earth?
The story of Moosa (peace be upon him) with al-Khadr
Fulfilled Prophecies Of Prophet Muhammad In Canonical Hadiths
𝐃𝐫𝐨𝐮𝐠𝐡𝐭 𝐢𝐧 𝐄𝐮𝐩𝐡𝐫𝐚𝐭𝐞𝐬 𝐑𝐢𝐯𝐞𝐫 𝐑𝐞𝐯𝐞𝐚𝐥𝐬 𝐈𝐫𝐚𝐪𝐢 𝐀𝐫𝐜𝐡𝐚𝐞𝐨𝐥𝐨𝐠𝐢𝐜𝐚𝐥 𝐓𝐫𝐞𝐚𝐬𝐮𝐫𝐞𝐬 𝐚𝐬 𝐏𝐞𝐫 𝐏𝐫𝐨𝐩𝐡𝐞𝐭 𝐌𝐮𝐡𝐚𝐦𝐦𝐞𝐝 𝐏𝐫𝐨𝐩𝐡𝐞𝐜𝐲 [𝐒̣𝐚𝐡̣𝐢̄𝐡̣ 𝐚𝐥-𝐁𝐮𝐤𝐡𝐚̄𝐫𝐢̄ 𝐒𝐚𝐡𝐢𝐡: 𝟕𝟏𝟏𝟗, 𝐑𝐢𝐲𝐚𝐝 𝐚𝐬-𝐒𝐚𝐥𝐢𝐡𝐢𝐧: 𝟏𝟖𝟐𝟐 𝐚𝐧𝐝 𝐒̣𝐚𝐡̣𝐢̄𝐡̣ 𝐌𝐮𝐬𝐥𝐢𝐦: 𝟐𝟖𝟗𝟒𝐚]
𝐅𝐚𝐥𝐥𝐢𝐧𝐠 𝐰𝐚𝐭𝐞𝐫𝐬 𝐨𝐟 𝐄𝐮𝐩𝐡𝐫𝐚𝐭𝐞𝐬, 𝐓𝐢𝐠𝐫𝐢𝐬 𝐫𝐢𝐯𝐞𝐫𝐬 𝐫𝐞𝐯𝐞𝐚𝐥 𝐬𝐮𝐛𝐦𝐞𝐫𝐠𝐞𝐝 𝐚𝐫𝐜𝐡𝐚𝐞𝐨𝐥𝐨𝐠𝐢𝐜𝐚𝐥 𝐬𝐢𝐭𝐞𝐬
𝐄𝐮𝐩𝐡𝐫𝐚𝐭𝐞𝐬 𝐑𝐢𝐯𝐞𝐫 𝐚𝐧𝐝 𝐌𝐨𝐮𝐧𝐭𝐚𝐢𝐧 𝐨𝐟 𝐆𝐨𝐥𝐝
Evidence of Muhammad's Prophethood The Prophet's knowledge of the Past and Future Prophecies
Accurate Predictions: A Sign of True Prophethood
Prophecies and Predictions of the Holy Quran
Astonishing Series of Who Told Prophet Muhammed?
The Scientific Miracles of the Qur'an
𝟏𝟏 𝐋𝐨𝐠𝐢𝐜𝐚𝐥 𝐏𝐫𝐨𝐨𝐟𝐬 𝐨𝐟 𝐌𝐮𝐡𝐚𝐦𝐦𝐚𝐝'𝐬 𝐏𝐫𝐨𝐩𝐡𝐞𝐭𝐡𝐨𝐨𝐝
Capital Punishment In Judaism- The Jewish Encyclopaedia
Rape and Sex Slaves in the Bible
Yes, the Bible Does Say to Kill Infidels
Paul the False Apostle of Satan
Christian multiple standards on Biblical Violence
Paul the False Apostle of Satan
Countries Where Incest Is Legal 2023
𝐌𝐮𝐥𝐭𝐢𝐩𝐥𝐞 𝐇𝐚𝐝𝐢𝐭𝐡𝐬 𝐚𝐛𝐨𝐮𝐭 𝐓𝐡𝐞 𝐆𝐡𝐮𝐥𝐚𝐦 𝐚𝐧𝐝 𝐭𝐡𝐞 𝐊𝐡𝐢𝐝𝐫