𝐈𝐬𝐥𝐚𝐦 𝐝𝐨𝐞𝐬 𝐧𝐨𝐭 𝐭𝐨𝐥𝐞𝐫𝐚𝐭𝐞 𝐭𝐡𝐞 𝐤𝐢𝐥𝐥𝐢𝐧𝐠 𝐨𝐟 𝐢𝐧𝐧𝐨𝐜𝐞𝐧𝐭𝐬


Mohamad Mostafa Nassar
Twitter:@NassarMohamadMR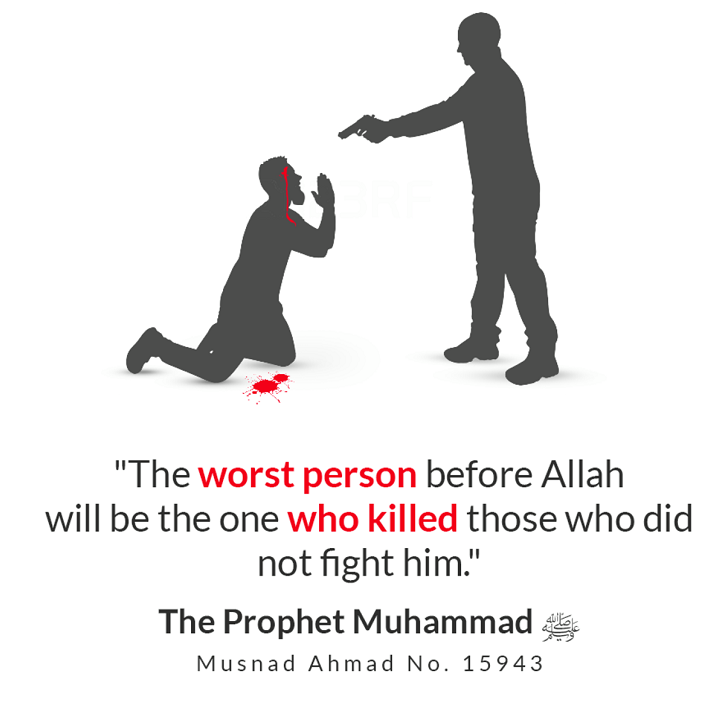 𝐈𝐬𝐥𝐚𝐦 𝐢𝐬 𝐩𝐨𝐫𝐭𝐫𝐚𝐲𝐞𝐝 𝐚𝐬 𝐚 𝐫𝐞𝐥𝐢𝐠𝐢𝐨𝐧 𝐨𝐟 "𝐭𝐞𝐫𝐫𝐨𝐫" 𝐚𝐧𝐝 "𝐤𝐢𝐥𝐥𝐢𝐧𝐠", 𝐲𝐞𝐭 𝐭𝐡𝐢𝐬 𝐢𝐬 𝐣𝐮𝐬𝐭 𝐨𝐧𝐞 𝐨𝐟 𝐭𝐡𝐞 𝐦𝐨𝐬𝐭 𝐰𝐢𝐝𝐞𝐥𝐲 𝐡𝐞𝐥𝐝 𝐦𝐢𝐬𝐜𝐨𝐧𝐜𝐞𝐩𝐭𝐢𝐨𝐧𝐬 𝐚𝐛𝐨𝐮𝐭 𝐈𝐬𝐥𝐚𝐦. 𝐀𝐥𝐥𝐚𝐡 𝐀𝐥𝐦𝐢𝐠𝐡𝐭𝐲 𝐬𝐭𝐚𝐭𝐞𝐬 𝐮𝐧𝐚𝐦𝐛𝐢𝐠𝐮𝐨𝐮𝐬𝐥𝐲 𝐢𝐧 𝐭𝐡𝐞 𝐐𝐮𝐫𝐚𝐧 (𝐰𝐡𝐚𝐭 𝐦𝐞𝐚𝐧𝐬): "𝐍𝐨𝐫 𝐭𝐚𝐤𝐞 𝐥𝐢𝐟𝐞 — 𝐰𝐡𝐢𝐜𝐡 𝐀𝐥𝐥𝐚𝐡 𝐡𝐚𝐬 𝐦𝐚𝐝𝐞 𝐬𝐚𝐜𝐫𝐞𝐝 — 𝐞𝐱𝐜𝐞𝐩𝐭 𝐟𝐨𝐫 𝐣𝐮𝐬𝐭 𝐜𝐚𝐮𝐬𝐞. 𝐀𝐧𝐝 𝐢𝐟 𝐚𝐧𝐲𝐨𝐧𝐞 𝐢𝐬 𝐬𝐥𝐚𝐢𝐧 𝐰𝐫𝐨𝐧𝐠𝐟𝐮𝐥𝐥𝐲, 𝐰𝐞 𝐡𝐚𝐯𝐞 𝐠𝐢𝐯𝐞𝐧 𝐡𝐢𝐬 𝐡𝐞𝐢𝐫 𝐚𝐮𝐭𝐡𝐨𝐫𝐢𝐭𝐲 (𝐭𝐨 𝐝𝐞𝐦𝐚𝐧𝐝 𝐫𝐞𝐭𝐚𝐥𝐢𝐚𝐭𝐢𝐨𝐧 𝐨𝐫 𝐭𝐨 𝐟𝐨𝐫𝐠𝐢𝐯𝐞): 𝐛𝐮𝐭 𝐥𝐞𝐭 𝐡𝐢𝐦 𝐧𝐨𝐭 𝐞𝐱𝐜𝐞𝐞𝐝 𝐛𝐨𝐮𝐧𝐝𝐬 𝐢𝐧 𝐭𝐡𝐞 𝐦𝐚𝐭𝐭𝐞𝐫 𝐨𝐟 𝐭𝐚𝐤𝐢𝐧𝐠 𝐥𝐢𝐟𝐞, 𝐟𝐨𝐫 𝐡𝐞 𝐢𝐬 𝐡𝐞𝐥𝐩𝐞𝐝 (𝐛𝐲 𝐭𝐡𝐞 𝐋𝐚𝐰)." [𝐐𝐮𝐫𝐚𝐧 𝟏𝟕:𝟑𝟑]
𝐁𝐚𝐬𝐞𝐝 𝐨𝐧 𝐭𝐡𝐢𝐬 𝐯𝐞𝐫𝐬𝐞, 𝐢𝐭 𝐢𝐬 𝐈𝐬𝐥𝐚𝐦𝐢𝐜𝐚𝐥𝐥𝐲 𝐮𝐧𝐥𝐚𝐰𝐟𝐮𝐥 𝐭𝐨 𝐦𝐮𝐫𝐝𝐞𝐫 𝐚𝐧𝐲𝐨𝐧𝐞 𝐰𝐡𝐨 𝐢𝐬 𝐢𝐧𝐧𝐨𝐜𝐞𝐧𝐭 𝐨𝐟 𝐚𝐧𝐲 𝐜𝐫𝐢𝐦𝐞. 𝐀𝐭 𝐭𝐡𝐢𝐬 𝐩𝐨𝐢𝐧𝐭, 𝐰𝐞 𝐰𝐨𝐮𝐥𝐝 𝐝𝐨 𝐰𝐞𝐥𝐥 𝐭𝐨 𝐫𝐞𝐦𝐞𝐦𝐛𝐞𝐫 𝐭𝐡𝐞 𝐝𝐢𝐬𝐭𝐢𝐧𝐜𝐭𝐢𝐨𝐧 𝐛𝐞𝐭𝐰𝐞𝐞𝐧 𝐭𝐡𝐞 𝐐𝐮𝐫𝐚𝐧 𝐚𝐧𝐝 𝐒𝐮𝐧𝐧𝐚𝐡, 𝐚𝐧𝐝 𝐭𝐡𝐞 𝐌𝐮𝐬𝐥𝐢𝐦𝐬. 𝐎𝐧𝐥𝐲 𝐭𝐡𝐞 𝐐𝐮𝐫𝐚𝐧 𝐚𝐧𝐝 𝐒𝐮𝐧𝐧𝐚𝐡 𝐚𝐫𝐞 𝐠𝐮𝐚𝐫𝐚𝐧𝐭𝐞𝐞𝐝 𝐭𝐨 𝐛𝐞 𝐢𝐧 𝐚𝐜𝐜𝐨𝐫𝐝𝐚𝐧𝐜𝐞 𝐰𝐢𝐭𝐡 𝐰𝐡𝐚𝐭 𝐭𝐡𝐞 𝐂𝐫𝐞𝐚𝐭𝐨𝐫 𝐝𝐞𝐬𝐢𝐫𝐞𝐬, 𝐰𝐡𝐞𝐫𝐞𝐚𝐬 𝐭𝐡𝐞 𝐌𝐮𝐬𝐥𝐢𝐦𝐬 𝐦𝐚𝐲 𝐩𝐨𝐬𝐬𝐢𝐛𝐥𝐲 𝐝𝐞𝐯𝐢𝐚𝐭𝐞.
𝐇𝐞𝐧𝐜𝐞, 𝐢𝐟 𝐚𝐧𝐲 𝐌𝐮𝐬𝐥𝐢𝐦 𝐤𝐢𝐥𝐥𝐬 𝐚𝐧 𝐢𝐧𝐧𝐨𝐜𝐞𝐧𝐭 𝐩𝐞𝐫𝐬𝐨𝐧, 𝐭𝐡𝐚𝐭 𝐌𝐮𝐬𝐥𝐢𝐦 𝐡𝐚𝐬 𝐜𝐨𝐦𝐦𝐢𝐭𝐭𝐞𝐝 𝐚 𝐠𝐫𝐚𝐯𝐞 𝐬𝐢𝐧, 𝐚𝐧𝐝 𝐭𝐡𝐞 𝐚𝐜𝐭𝐢𝐨𝐧 𝐜𝐚𝐧𝐧𝐨𝐭 𝐛𝐞 𝐜𝐥𝐚𝐢𝐦𝐞𝐝 𝐭𝐨 𝐡𝐚𝐯𝐞 𝐛𝐞𝐞𝐧 𝐜𝐨𝐦𝐦𝐢𝐭𝐭𝐞𝐝 "𝐢𝐧 𝐭𝐡𝐞 𝐧𝐚𝐦𝐞 𝐨𝐟 𝐈𝐬𝐥𝐚𝐦."
𝐈𝐭 𝐬𝐡𝐨𝐮𝐥𝐝 𝐛𝐞 𝐜𝐥𝐞𝐚𝐫, 𝐭𝐡𝐞𝐧, 𝐭𝐡𝐚𝐭 𝐭𝐡𝐞 𝐨𝐟𝐭-𝐮𝐬𝐞𝐝 𝐭𝐞𝐫𝐦 "𝐌𝐮𝐬𝐥𝐢𝐦 𝐭𝐞𝐫𝐫𝐨𝐫𝐢𝐬𝐭" 𝐢𝐬 𝐚𝐥𝐦𝐨𝐬𝐭 𝐚𝐧 𝐨𝐱𝐲𝐦𝐨𝐫𝐨𝐧: 𝐛𝐲 𝐤𝐢𝐥𝐥𝐢𝐧𝐠 𝐢𝐧𝐧𝐨𝐜𝐞𝐧𝐭 𝐩𝐞𝐨𝐩𝐥𝐞, 𝐚 𝐌𝐮𝐬𝐥𝐢𝐦 𝐢𝐬 𝐜𝐨𝐦𝐦𝐢𝐭𝐭𝐢𝐧𝐠 𝐚 𝐠𝐫𝐚𝐯𝐞 𝐬𝐢𝐧, 𝐚𝐧𝐝 𝐀𝐥𝐥𝐚𝐡 𝐢𝐬 𝐉𝐮𝐬𝐭. 𝐓𝐡𝐢𝐬 𝐩𝐡𝐫𝐚𝐬𝐞 𝐢𝐬 𝐨𝐟𝐟𝐞𝐧𝐬𝐢𝐯𝐞 𝐚𝐧𝐝 𝐝𝐞𝐦𝐞𝐚𝐧𝐢𝐧𝐠 𝐨𝐟 𝐈𝐬𝐥𝐚𝐦, 𝐚𝐧𝐝 𝐢𝐭 𝐬𝐡𝐨𝐮𝐥𝐝 𝐛𝐞 𝐚𝐯𝐨𝐢𝐝𝐞𝐝. 𝐈𝐭 𝐢𝐬 𝐡𝐨𝐩𝐞𝐝 𝐭𝐡𝐚𝐭 𝐚𝐬 𝐭𝐡𝐞 𝐠𝐞𝐧𝐞𝐫𝐚𝐥 𝐥𝐞𝐯𝐞𝐥 𝐨𝐟 𝐩𝐮𝐛𝐥𝐢𝐜 𝐚𝐰𝐚𝐫𝐞𝐧𝐞𝐬𝐬 𝐚𝐧𝐝 𝐮𝐧𝐝𝐞𝐫𝐬𝐭𝐚𝐧𝐝𝐢𝐧𝐠 𝐨𝐟 𝐈𝐬𝐥𝐚𝐦 𝐢𝐧𝐜𝐫𝐞𝐚𝐬𝐞𝐬, 𝐩𝐞𝐨𝐩𝐥𝐞 𝐰𝐢𝐥𝐥 𝐤𝐞𝐞𝐩 "𝐭𝐞𝐫𝐫𝐨𝐫𝐢𝐬𝐦" 𝐚𝐧𝐝 "𝐈𝐬𝐥𝐚𝐦" 𝐬𝐞𝐩𝐚𝐫𝐚𝐭𝐞 𝐟𝐫𝐨𝐦 𝐞𝐚𝐜𝐡 𝐨𝐭𝐡𝐞𝐫, 𝐚𝐧𝐝 𝐧𝐨𝐭 𝐮𝐬𝐞 𝐭𝐡𝐞𝐦 𝐢𝐧 𝐭𝐡𝐞 𝐬𝐚𝐦𝐞 𝐩𝐡𝐫𝐚𝐬𝐞.
𝐉𝐢𝐡𝐚𝐚𝐝 𝐨𝐫 𝐇𝐨𝐥𝐲 𝐖𝐚𝐫?
𝐀𝐧𝐨𝐭𝐡𝐞𝐫 𝐦𝐢𝐬𝐮𝐧𝐝𝐞𝐫𝐬𝐭𝐨𝐨𝐝 𝐈𝐬𝐥𝐚𝐦𝐢𝐜 𝐜𝐨𝐧𝐜𝐞𝐩𝐭 𝐢𝐬 𝐭𝐡𝐚𝐭 𝐭𝐡𝐞 𝐂𝐫𝐞𝐚𝐭𝐨𝐫 𝐡𝐚𝐬 𝐢𝐦𝐩𝐨𝐬𝐞𝐝 𝐉𝐢𝐡𝐚𝐚𝐝' 𝐨𝐧 𝐮𝐬. 𝐓𝐡𝐞 𝐭𝐞𝐫𝐦 "𝐡𝐨𝐥𝐲 𝐰𝐚𝐫" 𝐡𝐚𝐬 𝐜𝐨𝐦𝐞 𝐟𝐫𝐨𝐦 𝐭𝐡𝐞 𝐭𝐢𝐦𝐞 𝐨𝐟 𝐭𝐡𝐞 𝐂𝐫𝐮𝐬𝐚𝐝𝐞𝐬, 𝐚𝐧𝐝 𝐨𝐫𝐢𝐠𝐢𝐧𝐚𝐭𝐞𝐝 𝐢𝐧 𝐄𝐮𝐫𝐨𝐩𝐞 𝐚𝐬 𝐚 𝐫𝐚𝐥𝐥𝐲𝐢𝐧𝐠 𝐜𝐫𝐲 𝐚𝐠𝐚𝐢𝐧𝐬𝐭 𝐭𝐡𝐞 𝐌𝐮𝐬𝐥𝐢𝐦𝐬 𝐢𝐧 𝐉𝐞𝐫𝐮𝐬𝐚𝐥𝐞𝐦. 𝐉𝐢𝐡𝐚𝐚𝐝 𝐢𝐬 𝐚𝐧 𝐀𝐫𝐚𝐛𝐢𝐜 𝐰𝐨𝐫𝐝, 𝐦𝐞𝐚𝐧𝐢𝐧𝐠 𝐬𝐭𝐫𝐮𝐠𝐠𝐥𝐞, 𝐛𝐮𝐭 𝐢𝐧 𝐭𝐡𝐞 𝐜𝐨𝐧𝐭𝐞𝐱𝐭 𝐨𝐟 𝐦𝐚𝐧𝐲 𝐯𝐞𝐫𝐬𝐞𝐬 𝐢𝐧 𝐭𝐡𝐞 𝐐𝐮𝐫𝐚𝐧, 𝐢𝐭 𝐜𝐚𝐫𝐫𝐢𝐞𝐬 𝐭𝐡𝐞 𝐦𝐞𝐚𝐧𝐢𝐧𝐠 𝐨𝐟 𝐦𝐢𝐥𝐢𝐭𝐚𝐫𝐲 𝐬𝐭𝐫𝐮𝐠𝐠𝐥𝐞 𝐨𝐫 𝐰𝐚𝐫.
𝐀𝐥𝐥𝐚𝐡 𝐠𝐫𝐚𝐝𝐮𝐚𝐥𝐥𝐲 𝐢𝐧𝐭𝐫𝐨𝐝𝐮𝐜𝐞𝐝 𝐭𝐡𝐞 𝐨𝐛𝐥𝐢𝐠𝐚𝐭𝐢𝐨𝐧 𝐨𝐟 𝐦𝐢𝐥𝐢𝐭𝐚𝐫𝐲 𝐬𝐭𝐫𝐮𝐠𝐠𝐥𝐞 𝐭𝐨 𝐭𝐡𝐞 𝐌𝐮𝐬𝐥𝐢𝐦 𝐜𝐨𝐦𝐦𝐮𝐧𝐢𝐭𝐲 𝐚𝐭 𝐭𝐡𝐞 𝐭𝐢𝐦𝐞 𝐨𝐟 𝐭𝐡𝐞 𝐌𝐞𝐬𝐬𝐞𝐧𝐠𝐞𝐫 𝐬𝐚𝐥𝐥𝐚𝐥𝐥𝐚𝐚𝐡𝐮𝐚𝐥𝐚𝐲𝐡𝐢 𝐰𝐚 𝐬𝐚𝐥𝐥𝐚𝐦 ( 𝐦𝐚𝐲 𝐀𝐥𝐥𝐚𝐡 𝐞𝐱𝐚𝐥𝐭 𝐡𝐢𝐬 𝐦𝐞𝐧𝐭𝐢𝐨𝐧 ). 𝐓𝐡𝐞 𝐟𝐢𝐫𝐬𝐭 𝐯𝐞𝐫𝐬𝐞 𝐞𝐯𝐞𝐫 𝐫𝐞𝐯𝐞𝐚𝐥𝐞𝐝 𝐢𝐧 𝐭𝐡𝐚𝐭 𝐜𝐨𝐧𝐧𝐞𝐜𝐭𝐢𝐨𝐧 𝐢𝐬 𝐚𝐬 𝐟𝐨𝐥𝐥𝐨𝐰𝐬, (𝐰𝐡𝐢𝐜𝐡 𝐦𝐞𝐚𝐧𝐬): "𝐏𝐞𝐫𝐦𝐢𝐬𝐬𝐢𝐨𝐧 (𝐭𝐨 𝐟𝐢𝐠𝐡𝐭) 𝐢𝐬 𝐠𝐢𝐯𝐞𝐧 𝐭𝐨 𝐭𝐡𝐨𝐬𝐞 𝐮𝐩𝐨𝐧 𝐰𝐡𝐨𝐦 𝐰𝐚𝐫 𝐢𝐬 𝐦𝐚𝐝𝐞 𝐛𝐞𝐜𝐚𝐮𝐬𝐞 𝐭𝐡𝐞𝐲 𝐚𝐫𝐞 𝐨𝐩𝐩𝐫𝐞𝐬𝐬𝐞𝐝, 𝐚𝐧𝐝 𝐦𝐨𝐬𝐭 𝐬𝐮𝐫𝐞𝐥𝐲 𝐀𝐥𝐥𝐚𝐡 𝐢𝐬 𝐰𝐞𝐥𝐥 𝐚𝐛𝐥𝐞 𝐭𝐨 𝐚𝐬𝐬𝐢𝐬𝐭 𝐭𝐡𝐞𝐦." [𝐐𝐮𝐫𝐚𝐧 𝟐𝟐: 𝟑𝟗]
𝐓𝐡𝐢𝐬 𝐯𝐞𝐫𝐬𝐞 𝐥𝐚𝐲𝐬 𝐝𝐨𝐰𝐧 𝐭𝐡𝐞 𝐩𝐫𝐞𝐜𝐨𝐧𝐝𝐢𝐭𝐢𝐨𝐧 𝐟𝐨𝐫 𝐚𝐥𝐥 𝐰𝐚𝐫𝐬 𝐢𝐧 𝐈𝐬𝐥𝐚𝐦: 𝐭𝐡𝐞𝐫𝐞 𝐦𝐮𝐬𝐭 𝐞𝐱𝐢𝐬𝐭 𝐜𝐞𝐫𝐭𝐚𝐢𝐧 𝐨𝐩𝐩𝐫𝐞𝐬𝐬𝐢𝐯𝐞 𝐜𝐨𝐧𝐝𝐢𝐭𝐢𝐨𝐧𝐬 𝐨𝐧 𝐭𝐡𝐞 𝐩𝐞𝐨𝐩𝐥𝐞. 𝐓𝐡𝐞 𝐂𝐫𝐞𝐚𝐭𝐨𝐫 𝐮𝐧𝐞𝐪𝐮𝐢𝐯𝐨𝐜𝐚𝐥𝐥𝐲 𝐨𝐫𝐝𝐞𝐫𝐬 𝐮𝐬 𝐭𝐨 𝐟𝐢𝐠𝐡𝐭 𝐨𝐩𝐩𝐫𝐞𝐬𝐬𝐢𝐨𝐧 𝐚𝐧𝐝 𝐩𝐞𝐫𝐬𝐞𝐜𝐮𝐭𝐢𝐨𝐧, 𝐞𝐯𝐞𝐧 𝐚𝐭 𝐭𝐡𝐞 𝐞𝐱𝐩𝐞𝐧𝐬𝐞 𝐨𝐟 𝐛𝐥𝐨𝐨𝐝𝐬𝐡𝐞𝐝 𝐚𝐬 𝐭𝐡𝐞 𝐟𝐨𝐥𝐥𝐨𝐰𝐢𝐧𝐠 𝐯𝐞𝐫𝐬𝐞 𝐬𝐡𝐨𝐰𝐬 𝐢𝐧 𝐰𝐡𝐢𝐜𝐡 𝐀𝐥𝐥𝐚𝐡 𝐒𝐚𝐲𝐬 (𝐰𝐡𝐚𝐭 𝐦𝐞𝐚𝐧𝐬):
"𝐀𝐧𝐝 𝐟𝐢𝐠𝐡𝐭 𝐢𝐧 𝐭𝐡𝐞 𝐜𝐚𝐮𝐬𝐞 𝐨𝐟 𝐀𝐥𝐥𝐚𝐡 𝐰𝐢𝐭𝐡 𝐭𝐡𝐨𝐬𝐞 𝐰𝐡𝐨 𝐟𝐢𝐠𝐡𝐭 𝐰𝐢𝐭𝐡 𝐲𝐨𝐮, 𝐚𝐧𝐝 𝐝𝐨 𝐧𝐨𝐭 𝐞𝐱𝐜𝐞𝐞𝐝 𝐭𝐡𝐞 𝐥𝐢𝐦𝐢𝐭𝐬, 𝐬𝐮𝐫𝐞𝐥𝐲 𝐀𝐥𝐥𝐚𝐡 𝐝𝐨𝐞𝐬 𝐧𝐨𝐭 𝐥𝐨𝐯𝐞 𝐭𝐡𝐨𝐬𝐞 𝐰𝐡𝐨 𝐞𝐱𝐜𝐞𝐞𝐝 𝐭𝐡𝐞 𝐥𝐢𝐦𝐢𝐭𝐬. 𝐀𝐧𝐝 𝐤𝐢𝐥𝐥 𝐭𝐡𝐞𝐦 𝐰𝐡𝐞𝐫𝐞𝐯𝐞𝐫 𝐲𝐨𝐮 𝐟𝐢𝐧𝐝 𝐭𝐡𝐞𝐦, 𝐚𝐧𝐝 𝐝𝐫𝐢𝐯𝐞 𝐭𝐡𝐞𝐦 𝐨𝐮𝐭 𝐟𝐫𝐨𝐦 𝐰𝐡𝐞𝐫𝐞 𝐭𝐡𝐞𝐲 𝐝𝐫𝐨𝐯𝐞 𝐲𝐨𝐮 𝐨𝐮𝐭, 𝐚𝐧𝐝 𝐩𝐞𝐫𝐬𝐞𝐜𝐮𝐭𝐢𝐨𝐧 𝐢𝐬 𝐬𝐞𝐯𝐞𝐫𝐞𝐫 𝐭𝐡𝐚𝐧 𝐬𝐥𝐚𝐮𝐠𝐡𝐭𝐞𝐫, 𝐚𝐧𝐝 𝐝𝐨 𝐧𝐨𝐭 𝐟𝐢𝐠𝐡𝐭 𝐰𝐢𝐭𝐡 𝐭𝐡𝐞𝐦 𝐚𝐭 𝐭𝐡𝐞 𝐒𝐚𝐜𝐫𝐞𝐝 𝐌𝐨𝐬𝐪𝐮𝐞 (𝐢𝐧 𝐌𝐚𝐤𝐤𝐚𝐡) 𝐮𝐧𝐭𝐢𝐥 𝐭𝐡𝐞𝐲 𝐟𝐢𝐠𝐡𝐭 𝐰𝐢𝐭𝐡 𝐲𝐨𝐮 𝐢𝐧 𝐢𝐭, 𝐛𝐮𝐭 𝐢𝐟 𝐭𝐡𝐞𝐲 𝐝𝐨 𝐟𝐢𝐠𝐡𝐭 𝐲𝐨𝐮, 𝐭𝐡𝐞𝐧 𝐬𝐥𝐚𝐲 𝐭𝐡𝐞𝐦; 𝐬𝐮𝐜𝐡 𝐢𝐬 𝐭𝐡𝐞 𝐫𝐞𝐰𝐚𝐫𝐝 𝐨𝐟 𝐭𝐡𝐞 𝐮𝐧𝐛𝐞𝐥𝐢𝐞𝐯𝐞𝐫𝐬. 𝐁𝐮𝐭 𝐢𝐟 𝐭𝐡𝐞𝐲 𝐝𝐞𝐬𝐢𝐬𝐭, 𝐭𝐡𝐞𝐧 𝐬𝐮𝐫𝐞𝐥𝐲 𝐀𝐥𝐥𝐚𝐡 𝐢𝐬 𝐅𝐨𝐫𝐠𝐢𝐯𝐢𝐧𝐠, 𝐌𝐞𝐫𝐜𝐢𝐟𝐮𝐥. 𝐀𝐧𝐝 𝐟𝐢𝐠𝐡𝐭 𝐰𝐢𝐭𝐡 𝐭𝐡𝐞𝐦 𝐮𝐧𝐭𝐢𝐥 𝐭𝐡𝐞𝐫𝐞 𝐢𝐬 𝐧𝐨 𝐩𝐞𝐫𝐬𝐞𝐜𝐮𝐭𝐢𝐨𝐧, 𝐚𝐧𝐝 𝐫𝐞𝐥𝐢𝐠𝐢𝐨𝐧 𝐬𝐡𝐨𝐮𝐥𝐝 𝐛𝐞 𝐨𝐧𝐥𝐲 𝐟𝐨𝐫 𝐀𝐥𝐥𝐚𝐡, 𝐛𝐮𝐭 𝐢𝐟 𝐭𝐡𝐞𝐲 𝐝𝐞𝐬𝐢𝐬𝐭, 𝐭𝐡𝐞𝐧 𝐭𝐡𝐞𝐫𝐞 𝐬𝐡𝐨𝐮𝐥𝐝 𝐛𝐞 𝐧𝐨 𝐡𝐨𝐬𝐭𝐢𝐥𝐢𝐭𝐲 𝐞𝐱𝐜𝐞𝐩𝐭 𝐚𝐠𝐚𝐢𝐧𝐬𝐭 𝐭𝐡𝐞 𝐨𝐩𝐩𝐫𝐞𝐬𝐬𝐨𝐫𝐬." [𝐐𝐮𝐫𝐚𝐧 𝟐:𝟏𝟗𝟎-𝟏𝟗𝟐]
𝐀𝐬 𝐨𝐧𝐞 𝐦𝐢𝐠𝐡𝐭 𝐢𝐦𝐚𝐠𝐢𝐧𝐞, 𝐭𝐡𝐞 𝐦𝐞𝐭𝐡𝐨𝐝 𝐨𝐟 𝐦𝐢𝐥𝐢𝐭𝐚𝐫𝐲 𝐬𝐭𝐫𝐮𝐠𝐠𝐥𝐞 𝐡𝐚𝐬 𝐛𝐞𝐞𝐧 𝐜𝐥𝐞𝐚𝐫𝐥𝐲 𝐚𝐧𝐝 𝐞𝐱𝐭𝐞𝐧𝐬𝐢𝐯𝐞𝐥𝐲 𝐝𝐞𝐟𝐢𝐧𝐞𝐝 𝐢𝐧 𝐭𝐡𝐞 𝐐𝐮𝐫𝐚𝐧 𝐚𝐧𝐝 𝐒𝐮𝐧𝐧𝐚𝐡. 𝐒𝐢𝐧𝐜𝐞 𝐭𝐡𝐢𝐬 𝐢𝐬 𝐚 𝐯𝐚𝐬𝐭 𝐬𝐮𝐛𝐣𝐞𝐜𝐭, 𝐰𝐞 𝐜𝐚𝐧 𝐬𝐢𝐦𝐩𝐥𝐲 𝐬𝐮𝐦𝐦𝐚𝐫𝐢𝐳𝐞 𝐩𝐚𝐫𝐭 𝐨𝐟 𝐢𝐭 𝐛𝐲 𝐧𝐨𝐭𝐢𝐧𝐠 𝐭𝐡𝐚𝐭 𝐢𝐭 𝐢𝐬 𝐮𝐧𝐥𝐚𝐰𝐟𝐮𝐥 𝐭𝐨 𝐤𝐢𝐥𝐥 𝐰𝐨𝐦𝐞𝐧, 𝐜𝐡𝐢𝐥𝐝𝐫𝐞𝐧, 𝐭𝐡𝐞 𝐬𝐢𝐜𝐤, 𝐭𝐡𝐞 𝐨𝐥𝐝 𝐚𝐧𝐝 𝐭𝐡𝐞 𝐢𝐧𝐧𝐨𝐜𝐞𝐧𝐭. 𝐅𝐫𝐨𝐦 𝐭𝐡𝐞 𝐒𝐮𝐧𝐧𝐚𝐡, 𝐰𝐞 𝐟𝐢𝐧𝐝:
𝐍𝐚𝐫𝐫𝐚𝐭𝐞𝐝 '𝐀𝐛𝐝𝐮𝐥𝐥𝐚𝐚𝐡, 𝐦𝐚𝐲 𝐀𝐥𝐥𝐚𝐡 𝐛𝐞 𝐩𝐥𝐞𝐚𝐬𝐞𝐝 𝐰𝐢𝐭𝐡 𝐡𝐢𝐦: "𝐃𝐮𝐫𝐢𝐧𝐠 𝐬𝐨𝐦𝐞 𝐨𝐟 𝐭𝐡𝐞 𝐛𝐚𝐭𝐭𝐥𝐞𝐬 𝐨𝐟 𝐭𝐡𝐞 𝐏𝐫𝐨𝐩𝐡𝐞𝐭 𝐬𝐚𝐥𝐥𝐚𝐥𝐥𝐚𝐚𝐡𝐮 `𝐚𝐥𝐚𝐲𝐡𝐢 𝐰𝐚 𝐬𝐚𝐥𝐥𝐚𝐦 ( 𝐦𝐚𝐲 𝐀𝐥𝐥𝐚𝐡 𝐞𝐱𝐚𝐥𝐭 𝐡𝐢𝐬 𝐦𝐞𝐧𝐭𝐢𝐨𝐧 ) 𝐚 𝐰𝐨𝐦𝐚𝐧 𝐰𝐚𝐬 𝐟𝐨𝐮𝐧𝐝 𝐤𝐢𝐥𝐥𝐞𝐝. 𝐀𝐥𝐥𝐚𝐡'𝐬 𝐀𝐩𝐨𝐬𝐭𝐥𝐞 𝐝𝐢𝐬𝐚𝐩𝐩𝐫𝐨𝐯𝐞𝐝 𝐭𝐡𝐞 𝐤𝐢𝐥𝐥𝐢𝐧𝐠 𝐨𝐟 𝐰𝐨𝐦𝐞𝐧 𝐚𝐧𝐝 𝐜𝐡𝐢𝐥𝐝𝐫𝐞𝐧." [𝐀𝐥-𝐁𝐮𝐤𝐡𝐚𝐫𝐢]
𝐀 𝐫𝐞𝐥𝐚𝐭𝐞𝐝 𝐦𝐢𝐬𝐜𝐨𝐧𝐜𝐞𝐩𝐭𝐢𝐨𝐧 𝐚𝐛𝐨𝐮𝐭 𝐉𝐢𝐡𝐚𝐚𝐝 𝐢𝐬 𝐨𝐟𝐭𝐞𝐧 𝐩𝐫𝐨𝐩𝐚𝐠𝐚𝐭𝐞𝐝 𝐛𝐲 𝐌𝐮𝐬𝐥𝐢𝐦𝐬 𝐰𝐡𝐨 𝐬𝐚𝐲 𝐭𝐡𝐚𝐭: "𝐉𝐢𝐡𝐚𝐚𝐝 𝐢𝐬 𝐨𝐧𝐥𝐲 𝐟𝐨𝐫 𝐬𝐞𝐥𝐟-𝐝𝐞𝐟𝐞𝐧𝐬𝐞 𝐨𝐟 𝐩𝐡𝐲𝐬𝐢𝐜𝐚𝐥 𝐛𝐨𝐫𝐝𝐞𝐫𝐬." 𝐓𝐡𝐞 𝐐𝐮𝐫𝐚𝐧 𝐚𝐧𝐝 𝐒𝐮𝐧𝐧𝐚𝐡 𝐫𝐞𝐟𝐮𝐭𝐞 𝐭𝐡𝐢𝐬 𝐧𝐨𝐭𝐢𝐨𝐧 𝐜𝐚𝐭𝐞𝐠𝐨𝐫𝐢𝐜𝐚𝐥𝐥𝐲. 𝐀𝐬 𝐭𝐡𝐞 𝐯𝐞𝐫𝐬𝐞𝐬 𝐜𝐢𝐭𝐞𝐝 𝐚𝐛𝐨𝐯𝐞 𝐬𝐡𝐨𝐰, 𝐉𝐢𝐡𝐚𝐚𝐝 𝐢𝐬 𝐨𝐛𝐥𝐢𝐠𝐚𝐭𝐨𝐫𝐲 𝐰𝐡𝐞𝐫𝐞𝐯𝐞𝐫 𝐭𝐡𝐞𝐫𝐞 𝐢𝐬 𝐢𝐧𝐣𝐮𝐬𝐭𝐢𝐜𝐞, 𝐚𝐧𝐝 𝐌𝐮𝐬𝐥𝐢𝐦𝐬 𝐧𝐞𝐞𝐝 𝐧𝐨𝐭 𝐚𝐜𝐤𝐧𝐨𝐰𝐥𝐞𝐝𝐠𝐞 𝐢𝐦𝐚𝐠𝐢𝐧𝐚𝐫𝐲 𝐥𝐢𝐧𝐞𝐬 𝐚𝐫𝐨𝐮𝐧𝐝 𝐭𝐡𝐞 𝐞𝐚𝐫𝐭𝐡 𝐰𝐡𝐞𝐧 𝐢𝐭 𝐜𝐨𝐦𝐞𝐬 𝐭𝐨 𝐮𝐩𝐡𝐨𝐥𝐝𝐢𝐧𝐠 𝐭𝐡𝐢𝐬 𝐨𝐛𝐥𝐢𝐠𝐚𝐭𝐢𝐨𝐧.
𝐓𝐡𝐞 𝐌𝐞𝐬𝐬𝐞𝐧𝐠𝐞𝐫 𝐨𝐟 𝐀𝐥𝐥𝐚𝐡 𝐬𝐚𝐥𝐥𝐚𝐥𝐥𝐚𝐚𝐡𝐮 𝐚𝐥𝐚𝐲𝐡𝐢 𝐰𝐚 𝐬𝐚𝐥𝐥𝐚𝐦 ( 𝐦𝐚𝐲 𝐀𝐥𝐥𝐚𝐡 𝐞𝐱𝐚𝐥𝐭 𝐡𝐢𝐬 𝐦𝐞𝐧𝐭𝐢𝐨𝐧 ) 𝐡𝐚𝐬 𝐚𝐥𝐬𝐨 𝐜𝐨𝐦𝐦𝐞𝐧𝐭𝐞𝐝 𝐨𝐧 𝐭𝐡𝐢𝐬 𝐞𝐱𝐭𝐞𝐧𝐬𝐢𝐯𝐞𝐥𝐲 𝐢𝐧 𝐭𝐡𝐞 𝐒𝐮𝐧𝐧𝐚𝐡. 𝐅𝐫𝐨𝐦 𝐭𝐡𝐞 𝐬𝐭𝐮𝐝𝐲 𝐨𝐟 𝐭𝐡𝐞 𝐒𝐮𝐧𝐧𝐚𝐡, 𝐰𝐞 𝐟𝐢𝐧𝐝: 𝐍𝐚𝐫𝐫𝐚𝐭𝐞𝐝 𝐀𝐛𝐮 𝐌𝐨𝐨𝐬𝐚𝐚, 𝐦𝐚𝐲 𝐀𝐥𝐥𝐚𝐡 𝐛𝐞 𝐩𝐥𝐞𝐚𝐬𝐞𝐝 𝐰𝐢𝐭𝐡 𝐡𝐢𝐦: "𝐀 𝐦𝐚𝐧 𝐜𝐚𝐦𝐞 𝐭𝐨 𝐭𝐡𝐞 𝐏𝐫𝐨𝐩𝐡𝐞𝐭 𝐬𝐚𝐥𝐥𝐚𝐥𝐥𝐚𝐚𝐡𝐮𝐚𝐥𝐚𝐲𝐡𝐢 𝐰𝐚 𝐬𝐚𝐥𝐥𝐚𝐦 ( 𝐦𝐚𝐲 𝐀𝐥𝐥𝐚𝐡 𝐞𝐱𝐚𝐥𝐭 𝐡𝐢𝐬 𝐦𝐞𝐧𝐭𝐢𝐨𝐧 ) 𝐚𝐧𝐝 𝐚𝐬𝐤𝐞𝐝:
'𝐀 𝐦𝐚𝐧 𝐟𝐢𝐠𝐡𝐭𝐬 𝐟𝐨𝐫 𝐰𝐚𝐫 𝐛𝐨𝐨𝐭𝐲; 𝐚𝐧𝐨𝐭𝐡𝐞𝐫 𝐟𝐢𝐠𝐡𝐭𝐬 𝐟𝐨𝐫 𝐟𝐚𝐦𝐞 𝐚𝐧𝐝 𝐚 𝐭𝐡𝐢𝐫𝐝 𝐟𝐢𝐠𝐡𝐭𝐬 𝐟𝐨𝐫 𝐬𝐡𝐨𝐰𝐢𝐧𝐠 𝐨𝐟𝐟; 𝐰𝐡𝐢𝐜𝐡 𝐨𝐟 𝐭𝐡𝐞𝐦 𝐟𝐢𝐠𝐡𝐭𝐬 𝐢𝐧 𝐀𝐥𝐥𝐚𝐡'𝐬 𝐂𝐚𝐮𝐬𝐞?' 𝐓𝐡𝐞 𝐏𝐫𝐨𝐩𝐡𝐞𝐭 𝐬𝐚𝐥𝐥𝐚𝐥𝐥𝐚𝐚𝐡𝐮 `𝐚𝐥𝐚𝐲𝐡𝐢 𝐰𝐚 𝐬𝐚𝐥𝐥𝐚𝐦 ( 𝐦𝐚𝐲 𝐀𝐥𝐥𝐚𝐡 𝐞𝐱𝐚𝐥𝐭 𝐡𝐢𝐬 𝐦𝐞𝐧𝐭𝐢𝐨𝐧 ) 𝐬𝐚𝐢𝐝: "𝐇𝐞 𝐰𝐡𝐨 𝐟𝐢𝐠𝐡𝐭𝐬 𝐭𝐡𝐚𝐭 𝐀𝐥𝐥𝐚𝐡'𝐬 𝐖𝐨𝐫𝐝 (𝐢.𝐞. 𝐈𝐬𝐥𝐚𝐦) 𝐬𝐡𝐨𝐮𝐥𝐝 𝐛𝐞 𝐬𝐮𝐩𝐞𝐫𝐢𝐨𝐫, 𝐟𝐢𝐠𝐡𝐭𝐬 𝐢𝐧 𝐀𝐥𝐥𝐚𝐡'𝐬 𝐂𝐚𝐮𝐬𝐞." [𝐀𝐥-𝐁𝐮𝐤𝐡𝐚𝐫𝐢]
𝐇𝐞𝐧𝐜𝐞, 𝐭𝐡𝐞 𝐂𝐫𝐞𝐚𝐭𝐨𝐫 𝐨𝐛𝐥𝐢𝐠𝐚𝐭𝐞𝐬 𝐮𝐬 𝐭𝐨 𝐟𝐢𝐠𝐡𝐭 𝐰𝐡𝐞𝐫𝐞𝐯𝐞𝐫 𝐩𝐞𝐨𝐩𝐥𝐞 𝐚𝐫𝐞 𝐛𝐞𝐢𝐧𝐠 𝐝𝐞𝐩𝐫𝐢𝐯𝐞𝐝 𝐨𝐟 𝐟𝐫𝐞𝐞𝐥𝐲 𝐡𝐞𝐚𝐫𝐢𝐧𝐠 𝐨𝐫 𝐩𝐫𝐚𝐜𝐭𝐢𝐜𝐢𝐧𝐠 𝐭𝐡𝐞 𝐌𝐞𝐬𝐬𝐚𝐠𝐞 𝐨𝐟 𝐀𝐥𝐥𝐚𝐡, 𝐚𝐬 𝐜𝐨𝐧𝐭𝐚𝐢𝐧𝐞𝐝 𝐢𝐧 𝐭𝐡𝐞 𝐐𝐮𝐫𝐚𝐧 𝐚𝐧𝐝 𝐒𝐮𝐧𝐧𝐚𝐡. 𝐒𝐚𝐲𝐲𝐢𝐝 𝐐𝐮𝐭𝐛, 𝐚 𝐟𝐚𝐦𝐨𝐮𝐬 𝐌𝐮𝐬𝐥𝐢𝐦 𝐬𝐜𝐡𝐨𝐥𝐚𝐫 𝐞𝐥𝐨𝐪𝐮𝐞𝐧𝐭𝐥𝐲 𝐝𝐢𝐬𝐜𝐮𝐬𝐬𝐞𝐬 𝐭𝐡𝐞 𝐧𝐨𝐭𝐢𝐨𝐧 𝐨𝐟 𝐉𝐢𝐡𝐚𝐚𝐝 𝐚𝐧𝐝 𝐬𝐞𝐥𝐟-𝐝𝐞𝐟𝐞𝐧𝐬𝐞 𝐢𝐧 𝐡𝐢𝐬 𝐛𝐨𝐨𝐤 𝐌𝐢𝐥𝐞𝐬𝐭𝐨𝐧𝐞𝐬:
"𝐈𝐟 𝐰𝐞 𝐢𝐧𝐬𝐢𝐬𝐭 𝐨𝐧 𝐜𝐚𝐥𝐥𝐢𝐧𝐠 𝐈𝐬𝐥𝐚𝐦𝐢𝐜 𝐉𝐢𝐡𝐚𝐚𝐝 𝐚 𝐝𝐞𝐟𝐞𝐧𝐬𝐢𝐯𝐞 𝐦𝐨𝐯𝐞𝐦𝐞𝐧𝐭, 𝐭𝐡𝐞𝐧 𝐰𝐞 𝐦𝐮𝐬𝐭 𝐜𝐡𝐚𝐧𝐠𝐞 𝐭𝐡𝐞 𝐦𝐞𝐚𝐧𝐢𝐧𝐠 𝐨𝐟 𝐭𝐡𝐞 𝐰𝐨𝐫𝐝 𝐝𝐞𝐟𝐞𝐧𝐬𝐞' 𝐚𝐧𝐝 𝐦𝐞𝐚𝐧 𝐛𝐲 𝐢𝐭𝐝𝐞𝐟𝐞𝐧𝐬𝐞 𝐨𝐟 𝐦𝐚𝐧' 𝐚𝐠𝐚𝐢𝐧𝐬𝐭 𝐚𝐥𝐥 𝐭𝐡𝐨𝐬𝐞 𝐞𝐥𝐞𝐦𝐞𝐧𝐭𝐬 𝐰𝐡𝐢𝐜𝐡 𝐥𝐢𝐦𝐢𝐭 𝐡𝐢𝐬 𝐟𝐫𝐞𝐞𝐝𝐨𝐦. 𝐓𝐡𝐞𝐬𝐞 𝐞𝐥𝐞𝐦𝐞𝐧𝐭𝐬 𝐭𝐚𝐤𝐞 𝐭𝐡𝐞 𝐟𝐨𝐫𝐦 𝐨𝐟 𝐛𝐞𝐥𝐢𝐞𝐟𝐬 𝐚𝐧𝐝 𝐜𝐨𝐧𝐜𝐞𝐩𝐭𝐬, 𝐚𝐬 𝐰𝐞𝐥𝐥 𝐚𝐬 𝐨𝐟 𝐩𝐨𝐥𝐢𝐭𝐢𝐜𝐚𝐥 𝐬𝐲𝐬𝐭𝐞𝐦𝐬, 𝐛𝐚𝐬𝐞𝐝 𝐨𝐧 𝐞𝐜𝐨𝐧𝐨𝐦𝐢𝐜, 𝐫𝐚𝐜𝐢𝐚𝐥 𝐨𝐫 𝐜𝐥𝐚𝐬𝐬 𝐝𝐢𝐬𝐭𝐢𝐧𝐜𝐭𝐢𝐨𝐧."
𝐉𝐮𝐝𝐢𝐜𝐢𝐚𝐥 𝐒𝐲𝐬𝐭𝐞𝐦 𝐨𝐟 𝐈𝐬𝐥𝐚𝐦:
𝐀 𝐭𝐡𝐢𝐫𝐝 𝐦𝐚𝐣𝐨𝐫 𝐚𝐫𝐞𝐚 𝐨𝐟 𝐦𝐢𝐬𝐜𝐨𝐧𝐜𝐞𝐩𝐭𝐢𝐨𝐧𝐬 𝐚𝐛𝐨𝐮𝐭 𝐈𝐬𝐥𝐚𝐦 𝐢𝐬 𝐭𝐡𝐚𝐭 𝐨𝐟 𝐭𝐡𝐞 𝐈𝐬𝐥𝐚𝐦𝐢𝐜 𝐣𝐮𝐝𝐢𝐜𝐢𝐚𝐥 𝐬𝐲𝐬𝐭𝐞𝐦, 𝐰𝐡𝐢𝐜𝐡 𝐢𝐬 𝐜𝐨𝐧𝐬𝐢𝐝𝐞𝐫𝐞𝐝 𝐮𝐧𝐧𝐞𝐜𝐞𝐬𝐬𝐚𝐫𝐢𝐥𝐲 𝐡𝐚𝐫𝐬𝐡. 𝐓𝐡𝐢𝐬 𝐚𝐬𝐬𝐮𝐦𝐩𝐭𝐢𝐨𝐧 𝐢𝐬 𝐰𝐞𝐚𝐤 𝐢𝐧 𝐭𝐰𝐨 𝐫𝐞𝐬𝐩𝐞𝐜𝐭𝐬. 𝐅𝐢𝐫𝐬𝐭, 𝐢𝐭 𝐩𝐫𝐞𝐬𝐮𝐩𝐩𝐨𝐬𝐞𝐬 𝐭𝐡𝐚𝐭 𝐡𝐮𝐦𝐚𝐧 𝐛𝐞𝐢𝐧𝐠𝐬 𝐚𝐫𝐞 𝐦𝐨𝐫𝐞 𝐣𝐮𝐬𝐭 𝐚𝐧𝐝 𝐦𝐨𝐫𝐞 𝐦𝐞𝐫𝐜𝐢𝐟𝐮𝐥 𝐭𝐡𝐚𝐧 𝐭𝐡𝐞 𝐂𝐫𝐞𝐚𝐭𝐨𝐫, 𝐚𝐧𝐝 𝐭𝐡𝐞𝐫𝐞𝐟𝐨𝐫𝐞 𝐰𝐞 𝐜𝐚𝐧 𝐜𝐡𝐚𝐧𝐠𝐞 𝐭𝐡𝐞 𝐥𝐚𝐰. 𝐒𝐞𝐜𝐨𝐧𝐝, 𝐢𝐭 𝐢𝐬 𝐨𝐟𝐭𝐞𝐧 𝐛𝐚𝐬𝐞𝐝 𝐨𝐧 𝐠𝐫𝐨𝐬𝐬 𝐨𝐯𝐞𝐫𝐬𝐢𝐦𝐩𝐥𝐢𝐟𝐢𝐜𝐚𝐭𝐢𝐨𝐧𝐬 𝐨𝐟 𝐈𝐬𝐥𝐚𝐦𝐢𝐜 𝐥𝐚𝐰, 𝐬𝐮𝐜𝐡 𝐚𝐬 𝐬𝐚𝐲𝐢𝐧𝐠: "𝐚𝐥𝐥 𝐭𝐡𝐢𝐞𝐯𝐞𝐬 𝐠𝐞𝐭 𝐭𝐡𝐞𝐢𝐫 𝐡𝐚𝐧𝐝𝐬 𝐜𝐮𝐭 𝐨𝐟𝐟!"
𝐓𝐡𝐞 𝐐𝐮𝐫𝐚𝐧 𝐚𝐧𝐝 𝐒𝐮𝐧𝐧𝐚𝐡 𝐦𝐚𝐤𝐞 𝐢𝐭 𝐜𝐥𝐞𝐚𝐫 𝐭𝐡𝐚𝐭 𝐭𝐡𝐞 𝐥𝐚𝐰 𝐨𝐟 𝐫𝐞𝐭𝐚𝐥𝐢𝐚𝐭𝐢𝐨𝐧 (𝐨𝐫 𝐞𝐪𝐮𝐚𝐥𝐢𝐭𝐲) 𝐠𝐨𝐯𝐞𝐫𝐧𝐬 𝐮𝐬 𝐟𝐨𝐫 𝐦𝐮𝐫𝐝𝐞𝐫 𝐚𝐧𝐝 𝐩𝐡𝐲𝐬𝐢𝐜𝐚𝐥 𝐢𝐧𝐣𝐮𝐫𝐲, 𝐛𝐮𝐭 𝐟𝐨𝐫𝐠𝐢𝐯𝐞𝐧𝐞𝐬𝐬 𝐢𝐬 𝐛𝐞𝐭𝐭𝐞𝐫 𝐚𝐬 𝐭𝐡𝐞 𝐟𝐨𝐥𝐥𝐨𝐰𝐢𝐧𝐠 𝐯𝐞𝐫𝐬𝐞𝐬 𝐟𝐫𝐨𝐦 𝐭𝐡𝐞 𝐐𝐮𝐫𝐚𝐧 𝐬𝐡𝐨𝐰; 𝐀𝐥𝐥𝐚𝐡 𝐒𝐚𝐲𝐬 (𝐰𝐡𝐚𝐭 𝐦𝐞𝐚𝐧𝐬):
"𝐓𝐡𝐞 𝐫𝐞𝐜𝐨𝐦𝐩𝐞𝐧𝐬𝐞 𝐟𝐨𝐫 𝐚𝐧 𝐢𝐧𝐣𝐮𝐫𝐲 𝐢𝐬 𝐚𝐧 𝐢𝐧𝐣𝐮𝐫𝐲 𝐞𝐪𝐮𝐚𝐥 𝐭𝐡𝐞𝐫𝐞𝐭𝐨 (𝐢𝐧 𝐝𝐞𝐠𝐫𝐞𝐞): 𝐛𝐮𝐭 𝐢𝐟 𝐚 𝐩𝐞𝐫𝐬𝐨𝐧 𝐟𝐨𝐫𝐠𝐢𝐯𝐞𝐬 𝐚𝐧𝐝 𝐦𝐚𝐤𝐞𝐬 𝐫𝐞𝐜𝐨𝐧𝐜𝐢𝐥𝐢𝐚𝐭𝐢𝐨𝐧, 𝐡𝐢𝐬 𝐫𝐞𝐰𝐚𝐫𝐝 𝐢𝐬 𝐝𝐮𝐞 𝐟𝐫𝐨𝐦 𝐀𝐥𝐥𝐚𝐡: 𝐟𝐨𝐫 (𝐀𝐥𝐥𝐚𝐡) 𝐥𝐨𝐯𝐞𝐬 𝐧𝐨𝐭 𝐭𝐡𝐨𝐬𝐞 𝐰𝐡𝐨 𝐝𝐨 𝐰𝐫𝐨𝐧𝐠. 𝐁𝐮𝐭 𝐢𝐧𝐝𝐞𝐞𝐝 𝐢𝐟 𝐚𝐧𝐲 𝐝𝐨 𝐡𝐞𝐥𝐩 𝐚𝐧𝐝 𝐝𝐞𝐟𝐞𝐧𝐝 𝐭𝐡𝐞𝐦𝐬𝐞𝐥𝐯𝐞𝐬 𝐚𝐟𝐭𝐞𝐫 𝐚 𝐰𝐫𝐨𝐧𝐠 (𝐝𝐨𝐧𝐞) 𝐭𝐨 𝐭𝐡𝐞𝐦, 𝐚𝐠𝐚𝐢𝐧𝐬𝐭 𝐬𝐮𝐜𝐡 𝐭𝐡𝐞𝐫𝐞 𝐢𝐬 𝐧𝐨 𝐜𝐚𝐮𝐬𝐞 𝐨𝐟 𝐛𝐥𝐚𝐦𝐞. 𝐓𝐡𝐞 𝐛𝐥𝐚𝐦𝐞 𝐢𝐬 𝐨𝐧𝐥𝐲 𝐚𝐠𝐚𝐢𝐧𝐬𝐭 𝐭𝐡𝐨𝐬𝐞 𝐰𝐡𝐨 𝐨𝐩𝐩𝐫𝐞𝐬𝐬 𝐦𝐞𝐧 𝐚𝐧𝐝 𝐢𝐧𝐬𝐨𝐥𝐞𝐧𝐭𝐥𝐲 𝐭𝐫𝐚𝐧𝐬𝐠𝐫𝐞𝐬𝐬 𝐛𝐞𝐲𝐨𝐧𝐝 𝐛𝐨𝐮𝐧𝐝𝐬 𝐭𝐡𝐫𝐨𝐮𝐠𝐡 𝐭𝐡𝐞 𝐥𝐚𝐧𝐝, 𝐝𝐞𝐟𝐲𝐢𝐧𝐠 𝐫𝐢𝐠𝐡𝐭 𝐚𝐧𝐝 𝐣𝐮𝐬𝐭𝐢𝐜𝐞: 𝐟𝐨𝐫 𝐬𝐮𝐜𝐡 𝐭𝐡𝐞𝐫𝐞 𝐰𝐢𝐥𝐥 𝐛𝐞 𝐚 𝐠𝐫𝐢𝐞𝐯𝐨𝐮𝐬 𝐩𝐞𝐧𝐚𝐥𝐭𝐲. 𝐀𝐧𝐝 𝐰𝐡𝐨𝐞𝐯𝐞𝐫 𝐢𝐬 𝐩𝐚𝐭𝐢𝐞𝐧𝐭 𝐚𝐧𝐝 𝐟𝐨𝐫𝐠𝐢𝐯𝐢𝐧𝐠, 𝐭𝐡𝐞𝐬𝐞 𝐦𝐨𝐬𝐭 𝐬𝐮𝐫𝐞𝐥𝐲 𝐚𝐫𝐞 𝐚𝐜𝐭𝐢𝐨𝐧𝐬 𝐝𝐮𝐞 𝐭𝐨 𝐜𝐨𝐮𝐫𝐚𝐠𝐞." [𝐐𝐮𝐫𝐚𝐧 𝟒𝟐:𝟒𝟎-𝟒𝟑]
𝐓𝐡𝐞 𝐂𝐫𝐞𝐚𝐭𝐨𝐫 𝐨𝐫𝐝𝐚𝐢𝐧𝐞𝐝 𝐭𝐡𝐞 𝐥𝐚𝐰 𝐨𝐟 𝐫𝐞𝐭𝐚𝐥𝐢𝐚𝐭𝐢𝐨𝐧 𝐟𝐨𝐫 𝐮𝐬, 𝐤𝐧𝐨𝐰𝐢𝐧𝐠 𝐟𝐮𝐥𝐥 𝐰𝐞𝐥𝐥 𝐭𝐡𝐚𝐭 𝐰𝐞 𝐦𝐢𝐠𝐡𝐭 𝐪𝐮𝐞𝐬𝐭𝐢𝐨𝐧 𝐢𝐭. 𝐈𝐧 𝐦𝐚𝐧𝐲 𝐧𝐨𝐧-𝐌𝐮𝐬𝐥𝐢𝐦 𝐬𝐨𝐜𝐢𝐞𝐭𝐢𝐞𝐬 𝐭𝐨𝐝𝐚𝐲, 𝐭𝐡𝐞𝐫𝐞 𝐚𝐫𝐞 𝐨𝐧𝐠𝐨𝐢𝐧𝐠 𝐝𝐞𝐛𝐚𝐭𝐞𝐬 𝐚𝐛𝐨𝐮𝐭 𝐭𝐡𝐞 𝐝𝐞𝐚𝐭𝐡 𝐩𝐞𝐧𝐚𝐥𝐭𝐲. 𝐈𝐧 𝐈𝐬𝐥𝐚𝐦, 𝐭𝐡𝐢𝐬 𝐝𝐢𝐬𝐜𝐮𝐬𝐬𝐢𝐨𝐧 𝐢𝐬 𝐦𝐨𝐨𝐭: 𝐓𝐡𝐞 𝐂𝐫𝐞𝐚𝐭𝐨𝐫 𝐡𝐚𝐬 𝐝𝐞𝐜𝐢𝐝𝐞𝐝 𝐭𝐡𝐞 𝐦𝐚𝐭𝐭𝐞𝐫 𝐟𝐨𝐫 𝐮𝐬. 𝐇𝐞 𝐡𝐚𝐬 𝐡𝐨𝐰𝐞𝐯𝐞𝐫 𝐠𝐢𝐯𝐞𝐧 𝐮𝐬 𝐚𝐧 𝐢𝐧𝐭𝐞𝐫𝐞𝐬𝐭𝐢𝐧𝐠 𝐯𝐞𝐫𝐬𝐞 𝐢𝐧 𝐭𝐡𝐞 𝐐𝐮𝐫𝐚𝐧, 𝐰𝐡𝐢𝐜𝐡 𝐚𝐝𝐯𝐢𝐬𝐞𝐬 𝐭𝐨 𝐜𝐨𝐧𝐬𝐢𝐝𝐞𝐫 𝐭𝐡𝐞 𝐦𝐚𝐭𝐭𝐞𝐫 𝐜𝐚𝐫𝐞𝐟𝐮𝐥𝐥𝐲 𝐢𝐟 𝐰𝐞 𝐰𝐚𝐧𝐭 𝐭𝐨 𝐮𝐧𝐝𝐞𝐫𝐬𝐭𝐚𝐧𝐝 𝐢𝐭; 𝐭𝐡𝐞 𝐯𝐞𝐫𝐬𝐞 𝐬𝐚𝐲𝐬 (𝐰𝐡𝐢𝐜𝐡 𝐦𝐞𝐚𝐧𝐬):
"𝐀𝐧𝐝 𝐭𝐡𝐞𝐫𝐞 𝐢𝐬 𝐥𝐢𝐟𝐞 𝐟𝐨𝐫 𝐲𝐨𝐮 𝐢𝐧 (𝐭𝐡𝐞 𝐥𝐚𝐰 𝐨𝐟) 𝐫𝐞𝐭𝐚𝐥𝐢𝐚𝐭𝐢𝐨𝐧, 𝐎 𝐩𝐞𝐨𝐩𝐥𝐞 𝐨𝐟 𝐮𝐧𝐝𝐞𝐫𝐬𝐭𝐚𝐧𝐝𝐢𝐧𝐠, 𝐭𝐡𝐚𝐭 𝐲𝐨𝐮 𝐦𝐚𝐲 𝐠𝐮𝐚𝐫𝐝 𝐲𝐨𝐮𝐫𝐬𝐞𝐥𝐯𝐞𝐬." [𝐐𝐮𝐫𝐚𝐧 𝟐:𝟏𝟕𝟗]
𝐌𝐨𝐬𝐭 𝐩𝐞𝐨𝐩𝐥𝐞 𝐚𝐫𝐞 𝐚𝐥𝐬𝐨 𝐮𝐧𝐚𝐰𝐚𝐫𝐞 𝐨𝐟 𝐭𝐡𝐞 𝐬𝐭𝐫𝐢𝐧𝐠𝐞𝐧𝐭 𝐜𝐨𝐧𝐝𝐢𝐭𝐢𝐨𝐧𝐬, 𝐰𝐡𝐢𝐜𝐡 𝐦𝐮𝐬𝐭 𝐛𝐞 𝐦𝐞𝐭 𝐟𝐨𝐫 𝐭𝐡𝐞 𝐥𝐚𝐰 𝐨𝐟 𝐫𝐞𝐭𝐚𝐥𝐢𝐚𝐭𝐢𝐨𝐧 𝐭𝐨 𝐛𝐞 𝐚𝐩𝐩𝐥𝐢𝐜𝐚𝐛𝐥𝐞. 𝐓𝐡𝐞 𝐒𝐮𝐧𝐧𝐚𝐡 𝐢𝐬 𝐟𝐮𝐥𝐥 𝐨𝐟 𝐞𝐱𝐚𝐦𝐩𝐥𝐞𝐬 𝐨𝐟 𝐭𝐡𝐞 𝐌𝐞𝐬𝐬𝐞𝐧𝐠𝐞𝐫 𝐨𝐟 𝐀𝐥𝐥𝐚𝐡 𝐬𝐚𝐥𝐥𝐚𝐥𝐥𝐚𝐚𝐡𝐮 `𝐚𝐥𝐚𝐲𝐡𝐢 𝐰𝐚 𝐬𝐚𝐥𝐥𝐚𝐦 ( 𝐦𝐚𝐲 𝐀𝐥𝐥𝐚𝐡 𝐞𝐱𝐚𝐥𝐭 𝐡𝐢𝐬 𝐦𝐞𝐧𝐭𝐢𝐨𝐧 ) 𝐬𝐡𝐨𝐰𝐢𝐧𝐠 𝐮𝐬 𝐰𝐡𝐞𝐧 𝐭𝐡𝐞 𝐥𝐚𝐰'𝐬 𝐩𝐫𝐞𝐜𝐨𝐧𝐝𝐢𝐭𝐢𝐨𝐧𝐬 𝐰𝐞𝐫𝐞 𝐟𝐮𝐥𝐟𝐢𝐥𝐥𝐞𝐝. 𝐅𝐨𝐫 𝐞𝐱𝐚𝐦𝐩𝐥𝐞, 𝐚 𝐭𝐡𝐢𝐞𝐟 𝐢𝐬 𝐨𝐧𝐥𝐲 𝐥𝐢𝐚𝐛𝐥𝐞 𝐭𝐨 𝐥𝐨𝐬𝐞 𝐡𝐢𝐬 𝐨𝐫 𝐡𝐞𝐫 𝐡𝐚𝐧𝐝 𝐢𝐟 𝐭𝐡𝐞 𝐬𝐭𝐨𝐥𝐞𝐧 𝐢𝐭𝐞𝐦 𝐞𝐱𝐜𝐞𝐞𝐝𝐬 𝐚 𝐜𝐞𝐫𝐭𝐚𝐢𝐧 𝐯𝐚𝐥𝐮𝐞, 𝐚𝐧𝐝 𝐢𝐟 𝐢𝐭 𝐢𝐬 𝐩𝐫𝐨𝐯𝐞𝐧 𝐭𝐡𝐚𝐭 𝐭𝐡𝐞 𝐢𝐭𝐞𝐦 𝐰𝐚𝐬 𝐭𝐚𝐤𝐞𝐧 𝐟𝐫𝐨𝐦 𝐢𝐭𝐬 𝐧𝐨𝐫𝐦𝐚𝐥 𝐫𝐞𝐬𝐭𝐢𝐧𝐠 𝐩𝐥𝐚𝐜𝐞.
𝐒𝐭𝐞𝐚𝐥𝐢𝐧𝐠 𝐟𝐨𝐨𝐝 𝐢𝐬 𝐧𝐨𝐭 𝐩𝐮𝐧𝐢𝐬𝐡𝐚𝐛𝐥𝐞 𝐛𝐲 𝐭𝐡𝐞 𝐥𝐨𝐬𝐬 𝐨𝐟 𝐨𝐧𝐞'𝐬 𝐡𝐚𝐧𝐝, 𝐚𝐧𝐝 𝐨𝐭𝐡𝐞𝐫 𝐢𝐭𝐞𝐦𝐬 𝐚𝐫𝐞 𝐞𝐱𝐞𝐦𝐩𝐭 𝐚𝐬 𝐰𝐞𝐥𝐥. 𝐓𝐡𝐢𝐬 𝐢𝐬 𝐣𝐮𝐬𝐭 𝐚𝐧 𝐞𝐱𝐚𝐦𝐩𝐥𝐞 𝐨𝐟 𝐡𝐨𝐰 𝐜𝐚𝐫𝐞𝐟𝐮𝐥𝐥𝐲 𝐭𝐡𝐞 𝐥𝐚𝐰 𝐢𝐬 𝐚𝐩𝐩𝐥𝐢𝐞𝐝 𝐢𝐧 𝐈𝐬𝐥𝐚𝐦. 𝐌𝐨𝐫𝐞𝐨𝐯𝐞𝐫, 𝐢𝐭 𝐦𝐮𝐬𝐭 𝐛𝐞 𝐜𝐥𝐚𝐫𝐢𝐟𝐢𝐞𝐝 𝐭𝐡𝐚𝐭 𝐩𝐞𝐧𝐚𝐥𝐭𝐢𝐞𝐬 𝐢𝐧 𝐈𝐬𝐥𝐚𝐦 𝐚𝐫𝐞 𝐦𝐞𝐚𝐧𝐭 𝐭𝐨 𝐞𝐬𝐭𝐚𝐛𝐥𝐢𝐬𝐡 𝐩𝐞𝐚𝐜𝐞 𝐚𝐧𝐝 𝐬𝐞𝐜𝐮𝐫𝐢𝐭𝐲 𝐟𝐨𝐫 𝐭𝐡𝐞 𝐬𝐨𝐜𝐢𝐞𝐭𝐲.
𝐓𝐡𝐞 𝐒𝐰𝐨𝐫𝐝 𝐨𝐟 𝐈𝐬𝐥𝐚𝐦:
𝐅𝐢𝐧𝐚𝐥𝐥𝐲, 𝐚𝐧𝐨𝐭𝐡𝐞𝐫 𝐫𝐞𝐚𝐬𝐨𝐧 𝐚𝐝𝐯𝐚𝐧𝐜𝐞𝐝 𝐟𝐨𝐫 𝐭𝐡𝐢𝐬 𝐩𝐫𝐞𝐯𝐚𝐥𝐞𝐧𝐭 𝐦𝐢𝐬𝐜𝐨𝐧𝐜𝐞𝐩𝐭𝐢𝐨𝐧 𝐢𝐬 𝐭𝐡𝐚𝐭 𝐈𝐬𝐥𝐚𝐦 `𝐬𝐩𝐫𝐞𝐚𝐝 𝐛𝐲 𝐭𝐡𝐞 𝐬𝐰𝐨𝐫𝐝'. 𝐈𝐭 𝐬𝐡𝐨𝐮𝐥𝐝 𝐛𝐞 𝐜𝐥𝐞𝐚𝐫 𝐛𝐲 𝐧𝐨𝐰 𝐭𝐡𝐚𝐭 𝐰𝐞 𝐦𝐮𝐬𝐭 𝐚𝐥𝐰𝐚𝐲𝐬 𝐝𝐢𝐬𝐭𝐢𝐧𝐠𝐮𝐢𝐬𝐡 𝐛𝐞𝐭𝐰𝐞𝐞𝐧 𝐭𝐡𝐞 𝐐𝐮𝐫𝐚𝐧 𝐚𝐧𝐝 𝐒𝐮𝐧𝐧𝐚𝐡 𝐚𝐧𝐝 𝐭𝐡𝐞 𝐌𝐮𝐬𝐥𝐢𝐦𝐬, 𝐰𝐡𝐞𝐧 𝐢𝐭 𝐜𝐨𝐦𝐞𝐬 𝐭𝐨 𝐝𝐞𝐭𝐞𝐫𝐦𝐢𝐧𝐢𝐧𝐠 𝐰𝐡𝐚𝐭 𝐭𝐡𝐞 𝐂𝐫𝐞𝐚𝐭𝐨𝐫 𝐡𝐚𝐬 𝐚𝐬𝐤𝐞𝐝 𝐨𝐟 𝐮𝐬. 𝐀𝐥𝐥𝐚𝐡 𝐡𝐚𝐬 𝐬𝐭𝐚𝐭𝐞𝐝 𝐜𝐥𝐞𝐚𝐫𝐥𝐲 𝐢𝐧 𝐭𝐡𝐞 𝐐𝐮𝐫𝐚𝐧 (𝐰𝐡𝐢𝐜𝐡 𝐦𝐞𝐚𝐧𝐬):
"𝐓𝐡𝐞𝐫𝐞 𝐢𝐬 𝐧𝐨 𝐜𝐨𝐦𝐩𝐮𝐥𝐬𝐢𝐨𝐧 𝐢𝐧 𝐫𝐞𝐥𝐢𝐠𝐢𝐨𝐧; 𝐭𝐫𝐮𝐥𝐲 𝐭𝐡𝐞 𝐫𝐢𝐠𝐡𝐭 𝐰𝐚𝐲 𝐡𝐚𝐬 𝐛𝐞𝐜𝐨𝐦𝐞 𝐜𝐥𝐞𝐚𝐫𝐥𝐲 𝐝𝐢𝐬𝐭𝐢𝐧𝐜𝐭 𝐟𝐫𝐨𝐦 𝐞𝐫𝐫𝐨𝐫; 𝐭𝐡𝐞𝐫𝐞𝐟𝐨𝐫𝐞, 𝐰𝐡𝐨𝐞𝐯𝐞𝐫 𝐫𝐞𝐣𝐞𝐜𝐭𝐬 𝐒𝐚𝐭𝐚𝐧 (𝐚𝐧𝐝 𝐰𝐡𝐚𝐭 𝐡𝐞 𝐜𝐚𝐥𝐥𝐬 𝐭𝐨) 𝐚𝐧𝐝 𝐛𝐞𝐥𝐢𝐞𝐯𝐞𝐬 𝐢𝐧 𝐀𝐥𝐥𝐚𝐡, 𝐡𝐞 𝐢𝐧𝐝𝐞𝐞𝐝 𝐡𝐚𝐬 𝐥𝐚𝐢𝐝 𝐡𝐨𝐥𝐝 𝐨𝐧 𝐭𝐡𝐞 𝐟𝐢𝐫𝐦𝐞𝐬𝐭 𝐡𝐚𝐧𝐝𝐡𝐨𝐥𝐝, 𝐰𝐡𝐢𝐜𝐡 𝐬𝐡𝐚𝐥𝐥 𝐧𝐨𝐭 𝐛𝐫𝐞𝐚𝐤 𝐨𝐟𝐟, 𝐚𝐧𝐝 𝐀𝐥𝐥𝐚𝐡 𝐢𝐬 𝐇𝐞𝐚𝐫𝐢𝐧𝐠, 𝐊𝐧𝐨𝐰𝐢𝐧𝐠." [𝐐𝐮𝐫𝐚𝐧 𝟐:𝟐𝟓𝟔]
𝐇𝐞𝐧𝐜𝐞, 𝐢𝐭 𝐢𝐬 𝐢𝐦𝐩𝐨𝐬𝐬𝐢𝐛𝐥𝐞 𝐭𝐨 𝐚𝐜𝐜𝐞𝐩𝐭 𝐈𝐬𝐥𝐚𝐦 𝐮𝐧𝐝𝐞𝐫 𝐝𝐮𝐫𝐞𝐬𝐬. 𝐄𝐯𝐞𝐧 𝐢𝐟 𝐦𝐢𝐬𝐠𝐮𝐢𝐝𝐞𝐝 𝐌𝐮𝐬𝐥𝐢𝐦𝐬 𝐰𝐞𝐫𝐞 𝐭𝐨 𝐭𝐫𝐲 𝐭𝐨 𝐟𝐨𝐫𝐜𝐞' 𝐈𝐬𝐥𝐚𝐦 𝐬𝐨𝐦𝐞𝐡𝐨𝐰 𝐨𝐧 𝐨𝐭𝐡𝐞𝐫𝐬, 𝐛𝐚𝐬𝐞𝐝 𝐨𝐧 𝐭𝐡𝐞 𝐩𝐫𝐞𝐯𝐢𝐨𝐮𝐬 𝐯𝐞𝐫𝐬𝐞, 𝐢𝐭 𝐰𝐨𝐮𝐥𝐝 𝐧𝐨𝐭 𝐛𝐞 𝐚𝐜𝐜𝐞𝐩𝐭𝐞𝐝 𝐛𝐲 𝐭𝐡𝐞 𝐂𝐫𝐞𝐚𝐭𝐨𝐫.
𝐇𝐢𝐬𝐭𝐨𝐫𝐢𝐜𝐚𝐥 𝐚𝐫𝐠𝐮𝐦𝐞𝐧𝐭𝐬 𝐭𝐡𝐚𝐭 𝐭𝐫𝐲 𝐭𝐨 𝐝𝐞𝐦𝐨𝐧𝐬𝐭𝐫𝐚𝐭𝐞 𝐭𝐡𝐚𝐭 𝐌𝐮𝐬𝐥𝐢𝐦𝐬 𝐝𝐢𝐝 𝐧𝐨𝐭𝐜𝐨𝐧𝐯𝐞𝐫𝐭 𝐨𝐭𝐡𝐞𝐫𝐬 𝐛𝐲 𝐟𝐨𝐫𝐜𝐞' 𝐚𝐫𝐞 𝐚𝐜𝐭𝐮𝐚𝐥𝐥𝐲 𝐬𝐞𝐜𝐨𝐧𝐝𝐚𝐫𝐲 𝐭𝐨 𝐭𝐡𝐞 𝐚𝐫𝐠𝐮𝐦𝐞𝐧𝐭 𝐠𝐢𝐯𝐞𝐧 𝐚𝐛𝐨𝐯𝐞. 𝐇𝐨𝐰𝐞𝐯𝐞𝐫, 𝐢𝐭 𝐢𝐬 𝐰𝐨𝐫𝐭𝐡 𝐧𝐨𝐭𝐢𝐧𝐠 𝐭𝐡𝐚𝐭 𝐡𝐢𝐬𝐭𝐨𝐫𝐢𝐜𝐚𝐥𝐥𝐲, 𝐈𝐬𝐥𝐚𝐦 𝐝𝐢𝐝 𝐬𝐩𝐫𝐞𝐚𝐝 𝐛𝐲 𝐩𝐞𝐚𝐜𝐞𝐟𝐮𝐥 𝐦𝐞𝐚𝐧𝐬.
𝐓𝐡𝐞 𝐌𝐞𝐬𝐬𝐚𝐠𝐞 𝐨𝐟 𝐭𝐡𝐞 𝐂𝐫𝐞𝐚𝐭𝐨𝐫 𝐰𝐚𝐬 𝐢𝐧𝐭𝐫𝐨𝐝𝐮𝐜𝐞𝐝 𝐢𝐧 𝐀𝐟𝐫𝐢𝐜𝐚 𝐚𝐧𝐝 𝐬𝐨𝐮𝐭𝐡𝐞𝐚𝐬𝐭 𝐀𝐬𝐢𝐚 𝐛𝐲 𝐭𝐫𝐚𝐝𝐢𝐧𝐠 𝐌𝐮𝐬𝐥𝐢𝐦𝐬. 𝐏𝐞𝐨𝐩𝐥𝐞 𝐬𝐭𝐚𝐫𝐭𝐞𝐝 𝐜𝐨𝐧𝐯𝐞𝐫𝐭𝐢𝐧𝐠 𝐭𝐨 𝐈𝐬𝐥𝐚𝐦 𝐢𝐧 𝐛𝐢𝐠 𝐧𝐮𝐦𝐛𝐞𝐫𝐬 𝐰𝐡𝐞𝐧 𝐭𝐡𝐞 𝐌𝐮𝐬𝐥𝐢𝐦𝐬 𝐥𝐢𝐛𝐞𝐫𝐚𝐭𝐞𝐝 𝐭𝐡𝐞𝐦 𝐟𝐫𝐨𝐦 𝐭𝐡𝐞 𝐜𝐥𝐮𝐭𝐜𝐡𝐞𝐬 𝐨𝐟 𝐭𝐡𝐞 𝐜𝐫𝐮𝐞𝐥 𝐫𝐮𝐥𝐞𝐫𝐬, 𝐰𝐡𝐨 𝐮𝐬𝐞𝐝 𝐭𝐨 𝐭𝐚𝐱 𝐭𝐡𝐞𝐧 𝐡𝐞𝐚𝐯𝐢𝐥𝐲 𝐚𝐧𝐝 𝐥𝐨𝐨𝐭 𝐩𝐫𝐞𝐜𝐢𝐨𝐮𝐬 𝐛𝐞𝐥𝐨𝐧𝐠𝐢𝐧𝐠𝐬 𝐟𝐫𝐨𝐦 𝐭𝐡𝐞𝐦 𝐰𝐡𝐞𝐧𝐞𝐯𝐞𝐫 𝐭𝐡𝐞𝐲 𝐰𝐢𝐬𝐡𝐞𝐝.
𝐓𝐨𝐝𝐚𝐲 𝐭𝐡𝐞 𝐥𝐚𝐫𝐠𝐞𝐬𝐭 𝐌𝐮𝐬𝐥𝐢𝐦 𝐜𝐨𝐮𝐧𝐭𝐫𝐲 𝐢𝐧 𝐭𝐡𝐞 𝐰𝐨𝐫𝐥𝐝 𝐢𝐬 𝐈𝐧𝐝𝐨𝐧𝐞𝐬𝐢𝐚. 𝐓𝐡𝐞 𝐦𝐢𝐥𝐢𝐭𝐚𝐫𝐲 𝐞𝐱𝐩𝐞𝐝𝐢𝐭𝐢𝐨𝐧𝐬 𝐭𝐡𝐚𝐭 𝐥𝐞𝐝 𝐭𝐨 𝐭𝐡𝐞 𝐜𝐨𝐧𝐪𝐮𝐞𝐬𝐭 𝐨𝐟 𝐥𝐚𝐫𝐠𝐞 𝐬𝐰𝐚𝐭𝐡𝐞𝐬 𝐨𝐟 𝐭𝐞𝐫𝐫𝐢𝐭𝐨𝐫𝐲 𝐢𝐧 𝐄𝐮𝐫𝐨𝐩𝐞 𝐚𝐧𝐝 𝐜𝐞𝐧𝐭𝐫𝐚𝐥 𝐀𝐬𝐢𝐚 𝐰𝐞𝐫𝐞 𝐚𝐥𝐥 𝐦𝐚𝐫𝐤𝐞𝐝 𝐛𝐲 𝐭𝐨𝐥𝐞𝐫𝐚𝐧𝐜𝐞 𝐨𝐟 𝐨𝐭𝐡𝐞𝐫 𝐜𝐫𝐞𝐞𝐝𝐬 𝐚𝐧𝐝 𝐟𝐚𝐢𝐭𝐡.
𝐁𝐲 𝐐𝐚𝐢𝐬 𝐛𝐢𝐧 𝐙𝐚𝐲𝐞𝐝
𝐑𝐞𝐟𝐞𝐫𝐞𝐧𝐜𝐞𝐬:
Does Islam Tolerate The Killing Of Innocents?
Protection of civilian non-combatants in Islam
Muslims not punished for killing non-Muslims?
Dar al-Harb: Islam at war with the world?
Equal protection of law for Muslims and non-Muslims
Rape and Sex Slaves in the Bible
Yes, the Bible Does Say to Kill Infidels
Paul the False Apostle of Satan
Christian multiple standards on Biblical Violence