𝐄𝐮𝐩𝐡𝐫𝐚𝐭𝐞𝐬 𝐑𝐢𝐯𝐞𝐫 𝐚𝐧𝐝 𝐌𝐨𝐮𝐧𝐭𝐚𝐢𝐧 𝐨𝐟 𝐆𝐨𝐥𝐝

Mohamad Mostafa Nassar
Twitter:@NassarMohamadMR
𝐁𝐲 𝐌𝐮𝐟𝐭𝐢 𝐅𝐚𝐡𝐚𝐝 𝐀𝐡𝐦𝐞𝐝 𝐐𝐮𝐫𝐞𝐬𝐡𝐢
𝐄𝐮𝐩𝐡𝐫𝐚𝐭𝐞𝐬 𝐰𝐚𝐬 𝐭𝐡𝐞 𝐥𝐨𝐧𝐠𝐞𝐬𝐭 𝐫𝐢𝐯𝐞𝐫 𝐨𝐟 𝐖𝐞𝐬𝐭𝐞𝐫𝐧 𝐀𝐬𝐢𝐚 𝐛𝐮𝐭 𝐧𝐨𝐰 𝐚 𝐥𝐚𝐫𝐠𝐞 𝐩𝐨𝐫𝐭𝐢𝐨𝐧 𝐨𝐟 𝐭𝐡𝐞 𝐌𝐢𝐝𝐝𝐥𝐞 𝐄𝐚𝐬𝐭 𝐥𝐨𝐬𝐭 𝐟𝐫𝐞𝐬𝐡𝐰𝐚𝐭𝐞𝐫 𝐫𝐞𝐬𝐞𝐫𝐯𝐞𝐬 𝐫𝐚𝐩𝐢𝐝𝐥𝐲 𝐝𝐮𝐫𝐢𝐧𝐠 𝐭𝐡𝐞 𝐩𝐚𝐬𝐭 𝐝𝐞𝐜𝐚𝐝𝐞. 𝐍𝐞𝐰 𝐝𝐚𝐭𝐚 𝐫𝐞𝐯𝐞𝐚𝐥𝐞𝐝 𝐚𝐥𝐫𝐞𝐚𝐝𝐲 𝐚𝐧 𝐚𝐫𝐢𝐝 𝐫𝐞𝐠𝐢𝐨𝐧 𝐨𝐟 𝐓𝐢𝐠𝐫𝐢𝐬-𝐄𝐮𝐩𝐡𝐫𝐚𝐭𝐞𝐬 𝐁𝐚𝐬𝐢𝐧, 𝐰𝐡𝐢𝐜𝐡 𝐠𝐫𝐨𝐰𝐬 𝐞𝐯𝐞𝐧 𝐝𝐫𝐢𝐞𝐫 𝐝𝐮𝐞 𝐭𝐨 𝐡𝐮𝐦𝐚𝐧 𝐜𝐨𝐧𝐬𝐮𝐦𝐩𝐭𝐢𝐨𝐧 𝐨𝐟 𝐰𝐚𝐭𝐞𝐫 𝐟𝐨𝐫 𝐝𝐫𝐢𝐧𝐤𝐢𝐧𝐠 𝐚𝐧𝐝 𝐚𝐠𝐫𝐢𝐜𝐮𝐥𝐭𝐮𝐫𝐞.
𝐓𝐡𝐞 𝐫𝐞𝐬𝐞𝐚𝐫𝐜𝐡 𝐭𝐞𝐚𝐦 𝐨𝐛𝐬𝐞𝐫𝐯𝐞𝐝 𝐭𝐡𝐞 𝐓𝐢𝐠𝐫𝐢𝐬 𝐚𝐧𝐝 𝐄𝐮𝐩𝐡𝐫𝐚𝐭𝐞𝐬 𝐫𝐢𝐯𝐞𝐫 𝐛𝐚𝐬𝐢𝐧𝐬 – 𝐢𝐧𝐜𝐥𝐮𝐝𝐢𝐧𝐠 𝐩𝐚𝐫𝐭𝐬 𝐨𝐟 𝐓𝐮𝐫𝐤𝐞𝐲, 𝐒𝐲𝐫𝐢𝐚, 𝐈𝐫𝐚𝐪 𝐚𝐧𝐝 𝐈𝐫𝐚𝐧, 𝐚𝐧𝐝 𝐟𝐨𝐮𝐧𝐝 𝐭𝐡𝐚𝐭 𝟏𝟒𝟒 𝐜𝐮𝐛𝐢𝐜 𝐤𝐢𝐥𝐨𝐦𝐞𝐭𝐞𝐫𝐬 (𝟏𝟏𝟕 𝐦𝐢𝐥𝐥𝐢𝐨𝐧 𝐚𝐜𝐫𝐞 𝐟𝐞𝐞𝐭) 𝐨𝐟 𝐟𝐫𝐞𝐬𝐡 𝐰𝐚𝐭𝐞𝐫 𝐰𝐚𝐬 𝐥𝐨𝐬𝐭 𝐟𝐫𝐨𝐦 𝟐𝟎𝟎𝟑 𝐭𝐨 𝟐𝟎𝟎𝟗 – 𝐭𝐡𝐞 𝐫𝐨𝐮𝐠𝐡𝐥𝐲 𝐞𝐪𝐮𝐢𝐯𝐚𝐥𝐞𝐧𝐭 𝐭𝐨 𝐭𝐡𝐞 𝐯𝐨𝐥𝐮𝐦𝐞 𝐨𝐟 𝐭𝐡𝐞 𝐃𝐞𝐚𝐝 𝐒𝐞𝐚. 𝐀𝐛𝐨𝐮𝐭 𝟔𝟎% 𝐨𝐟 𝐭𝐡𝐞 𝐥𝐨𝐬𝐬 𝐰𝐚𝐬 𝐚𝐭𝐭𝐫𝐢𝐛𝐮𝐭𝐞𝐝 𝐭𝐨 𝐭𝐡𝐞 𝐩𝐮𝐦𝐩𝐢𝐧𝐠 𝐨𝐟 𝐠𝐫𝐨𝐮𝐧𝐝𝐰𝐚𝐭𝐞𝐫 𝐟𝐫𝐨𝐦 𝐮𝐧𝐝𝐞𝐫𝐠𝐫𝐨𝐮𝐧𝐝 𝐫𝐞𝐬𝐞𝐫𝐯𝐨𝐢𝐫𝐬. 𝐖𝐡𝐞𝐧 𝐚 𝐝𝐫𝐨𝐮𝐠𝐡𝐭 𝐬𝐡𝐫𝐢𝐧𝐤𝐬 𝐭𝐡𝐞 𝐚𝐯𝐚𝐢𝐥𝐚𝐛𝐥𝐞 𝐬𝐮𝐫𝐟𝐚𝐜𝐞 𝐰𝐚𝐭𝐞𝐫 𝐬𝐮𝐩𝐩𝐥𝐲, 𝐢𝐫𝐫𝐢𝐠𝐚𝐭𝐨𝐫𝐬 𝐚𝐧𝐝 𝐨𝐭𝐡𝐞𝐫𝐬 𝐭𝐮𝐫𝐧 𝐭𝐨 𝐠𝐫𝐨𝐮𝐧𝐝𝐰𝐚𝐭𝐞𝐫.
𝐀𝐜𝐜𝐨𝐫𝐝𝐢𝐧𝐠 𝐭𝐨 𝐉𝐚𝐲 𝐅𝐚𝐦𝐢𝐠𝐥𝐢𝐞𝐭𝐭𝐢, 𝐆𝐑𝐀𝐂𝐄 𝐝𝐚𝐭𝐚 𝐬𝐡𝐨𝐰 𝐚𝐧 𝐚𝐥𝐚𝐫𝐦𝐢𝐧𝐠 𝐫𝐚𝐭𝐞 𝐨𝐟 𝐝𝐞𝐜𝐫𝐞𝐚𝐬𝐞 𝐢𝐧 𝐭𝐨𝐭𝐚𝐥 𝐰𝐚𝐭𝐞𝐫 𝐬𝐭𝐨𝐫𝐚𝐠𝐞 𝐢𝐧 𝐭𝐡𝐞 𝐓𝐢𝐠𝐫𝐢𝐬 𝐚𝐧𝐝 𝐄𝐮𝐩𝐡𝐫𝐚𝐭𝐞𝐬 𝐫𝐢𝐯𝐞𝐫 𝐛𝐚𝐬𝐢𝐧𝐬, 𝐰𝐡𝐢𝐜𝐡 𝐜𝐮𝐫𝐫𝐞𝐧𝐭𝐥𝐲 𝐡𝐚𝐯𝐞 𝐭𝐡𝐞 𝐬𝐞𝐜𝐨𝐧𝐝 𝐟𝐚𝐬𝐭𝐞𝐬𝐭 𝐫𝐚𝐭𝐞 𝐨𝐟 𝐠𝐫𝐨𝐮𝐧𝐝𝐰𝐚𝐭𝐞𝐫 𝐬𝐭𝐨𝐫𝐚𝐠𝐞 𝐥𝐨𝐬𝐬 𝐨𝐧 𝐄𝐚𝐫𝐭𝐡, 𝐚𝐟𝐭𝐞𝐫 𝐈𝐧𝐝𝐢𝐚. 𝐓𝐡𝐞 𝐫𝐚𝐭𝐞 𝐰𝐚𝐬 𝐞𝐬𝐩𝐞𝐜𝐢𝐚𝐥𝐥𝐲 𝐬𝐭𝐫𝐢𝐤𝐢𝐧𝐠 𝐚𝐟𝐭𝐞𝐫 𝐭𝐡𝐞 𝟐𝟎𝟎𝟕 𝐝𝐫𝐨𝐮𝐠𝐡𝐭. 𝐌𝐞𝐚𝐧𝐰𝐡𝐢𝐥𝐞, 𝐝𝐞𝐦𝐚𝐧𝐝 𝐟𝐨𝐫 𝐟𝐫𝐞𝐬𝐡𝐰𝐚𝐭𝐞𝐫 𝐜𝐨𝐧𝐭𝐢𝐧𝐮𝐞𝐬 𝐭𝐨 𝐫𝐢𝐬𝐞, 𝐚𝐧𝐝 𝐭𝐡𝐞 𝐫𝐞𝐠𝐢𝐨𝐧 𝐝𝐨𝐞𝐬 𝐧𝐨𝐭 𝐜𝐨𝐨𝐫𝐝𝐢𝐧𝐚𝐭𝐞 𝐢𝐭𝐬 𝐰𝐚𝐭𝐞𝐫 𝐦𝐚𝐧𝐚𝐠𝐞𝐦𝐞𝐧𝐭 𝐛𝐞𝐜𝐚𝐮𝐬𝐞 𝐨𝐟 𝐝𝐢𝐟𝐟𝐞𝐫𝐞𝐧𝐭 𝐢𝐧𝐭𝐞𝐫𝐩𝐫𝐞𝐭𝐚𝐭𝐢𝐨𝐧𝐬 𝐨𝐟 𝐢𝐧𝐭𝐞𝐫𝐧𝐚𝐭𝐢𝐨𝐧𝐚𝐥 𝐥𝐚𝐰𝐬.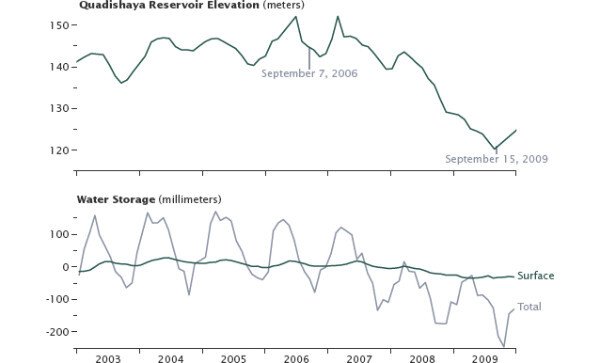 𝐓𝐡𝐞 𝐟𝐢𝐫𝐬𝐭 𝐠𝐫𝐚𝐩𝐡 𝐬𝐡𝐨𝐰𝐬 𝐭𝐡𝐞 𝐞𝐥𝐞𝐯𝐚𝐭𝐢𝐨𝐧 𝐨𝐟 𝐭𝐡𝐞 𝐰𝐚𝐭𝐞𝐫 𝐢𝐧 𝐭𝐡𝐚𝐭 𝐫𝐞𝐬𝐞𝐫𝐯𝐨𝐢𝐫 𝐛𝐞𝐭𝐰𝐞𝐞𝐧 𝐉𝐚𝐧𝐮𝐚𝐫𝐲 𝟐𝟎𝟎𝟑 𝐚𝐧𝐝 𝐃𝐞𝐜𝐞𝐦𝐛𝐞𝐫 𝟐𝟎𝟎𝟗. 𝐓𝐡𝐞 𝐞𝐥𝐞𝐯𝐚𝐭𝐢𝐨𝐧 𝐢𝐬 𝐚 𝐩𝐫𝐨𝐱𝐲 𝐦𝐞𝐚𝐬𝐮𝐫𝐞𝐦𝐞𝐧𝐭 𝐟𝐨𝐫 𝐭𝐡𝐞 𝐭𝐨𝐭𝐚𝐥 𝐯𝐨𝐥𝐮𝐦𝐞 𝐨𝐟 𝐰𝐚𝐭𝐞𝐫 𝐬𝐭𝐨𝐫𝐞𝐝 𝐭𝐡𝐞𝐫𝐞; 𝐥𝐚𝐛𝐞𝐥𝐬 𝐬𝐡𝐨𝐰 𝐭𝐡𝐞 𝐰𝐚𝐭𝐞𝐫 𝐞𝐥𝐞𝐯𝐚𝐭𝐢𝐨𝐧 𝐚𝐭 𝐭𝐡𝐞 𝐭𝐢𝐦𝐞 𝐨𝐟 𝐭𝐡𝐞 𝐬𝐚𝐭𝐞𝐥𝐥𝐢𝐭𝐞 𝐢𝐦𝐚𝐠𝐞𝐬. 𝐓𝐡𝐞 𝐬𝐞𝐜𝐨𝐧𝐝 𝐠𝐫𝐚𝐩𝐡 𝐬𝐡𝐨𝐰𝐬 𝐭𝐡𝐞 𝐰𝐚𝐭𝐞𝐫 𝐬𝐭𝐨𝐫𝐚𝐠𝐞 𝐟𝐨𝐫 𝐭𝐡𝐞 𝐞𝐧𝐭𝐢𝐫𝐞 𝐬𝐭𝐮𝐝𝐲 𝐚𝐫𝐞𝐚 𝐚𝐬 𝐦𝐞𝐚𝐬𝐮𝐫𝐞𝐝 𝐛𝐲 𝐆𝐑𝐀𝐂𝐄 𝐢𝐧 𝐭𝐡𝐞 𝐬𝐚𝐦𝐞 𝐩𝐞𝐫𝐢𝐨𝐝.
𝐓𝐡𝐞 𝐠𝐫𝐚𝐲 𝐥𝐢𝐧𝐞 𝐝𝐞𝐩𝐢𝐜𝐭𝐬 𝐭𝐨𝐭𝐚𝐥 𝐰𝐚𝐭𝐞𝐫 𝐬𝐭𝐨𝐫𝐚𝐠𝐞 𝐢𝐧 𝐭𝐡𝐞 𝐫𝐞𝐠𝐢𝐨𝐧—𝐠𝐫𝐨𝐮𝐧𝐝𝐰𝐚𝐭𝐞𝐫, 𝐬𝐮𝐫𝐟𝐚𝐜𝐞 𝐰𝐚𝐭𝐞𝐫 𝐛𝐨𝐝𝐢𝐞𝐬, 𝐚𝐧𝐝 𝐬𝐨𝐢𝐥 𝐦𝐨𝐢𝐬𝐭𝐮𝐫𝐞—𝐰𝐡𝐢𝐥𝐞 𝐭𝐡𝐞 𝐠𝐫𝐞𝐞𝐧 𝐥𝐢𝐧𝐞 𝐝𝐞𝐩𝐢𝐜𝐭𝐬 𝐜𝐡𝐚𝐧𝐠𝐞𝐬 𝐢𝐧 𝐬𝐮𝐫𝐟𝐚𝐜𝐞 𝐰𝐚𝐭𝐞𝐫. 𝐓𝐡𝐞 𝐝𝐢𝐟𝐟𝐞𝐫𝐞𝐧𝐜𝐞 𝐛𝐞𝐭𝐰𝐞𝐞𝐧 𝐭𝐡𝐨𝐬𝐞 𝐭𝐰𝐨 𝐥𝐢𝐧𝐞𝐬 𝐫𝐞𝐟𝐥𝐞𝐜𝐭𝐬 𝐭𝐡𝐞 𝐜𝐡𝐚𝐧𝐠𝐞 𝐢𝐧 𝐰𝐚𝐭𝐞𝐫 𝐬𝐭𝐨𝐫𝐞𝐝 𝐢𝐧 𝐮𝐧𝐝𝐞𝐫𝐠𝐫𝐨𝐮𝐧𝐝 𝐚𝐪𝐮𝐢𝐟𝐞𝐫𝐬 (𝐠𝐫𝐨𝐮𝐧𝐝 𝐰𝐚𝐭𝐞𝐫).
( 𝐆𝐫𝐚𝐩𝐡𝐬 𝐛𝐚𝐬𝐞𝐝 𝐨𝐧 𝐝𝐚𝐭𝐚 𝐟𝐫𝐨𝐦 𝐭𝐡𝐞 𝐔𝐂 𝐂𝐞𝐧𝐭𝐞𝐫 𝐟𝐨𝐫 𝐇𝐲𝐝𝐫𝐨𝐥𝐨𝐠𝐢𝐜 𝐌𝐨𝐝𝐞𝐥𝐢𝐧𝐠. 𝐂𝐚𝐩𝐭𝐢𝐨𝐧 𝐛𝐲 𝐌𝐢𝐤𝐞 𝐂𝐚𝐫𝐥𝐨𝐰𝐢𝐜𝐳 𝐛𝐚𝐬𝐞𝐝 𝐨𝐧 𝐭𝐞𝐱𝐭𝐬 𝐟𝐫𝐨𝐦 𝐭𝐡𝐞 𝐉𝐞𝐭 𝐏𝐫𝐨𝐩𝐮𝐥𝐬𝐢𝐨𝐧 𝐋𝐚𝐛𝐨𝐫𝐚𝐭𝐨𝐫𝐲, 𝐀𝐦𝐞𝐫𝐢𝐜𝐚𝐧 𝐆𝐞𝐨𝐩𝐡𝐲𝐬𝐢𝐜𝐚𝐥 𝐔𝐧𝐢𝐨𝐧, 𝐚𝐧𝐝 𝐭𝐡𝐞 𝐔𝐧𝐢𝐯𝐞𝐫𝐬𝐢𝐭𝐲 𝐨𝐟 𝐂𝐚𝐥𝐢𝐟𝐨𝐫𝐧𝐢𝐚–𝐈𝐫𝐯𝐢𝐧𝐞.)
𝐎𝐧 𝐌𝐚𝐫𝐜𝐡 𝟐𝟎𝐭𝐡, 𝟐𝟎𝟎𝟗, 𝐚 𝐧𝐞𝐰𝐬 𝐩𝐮𝐛𝐥𝐢𝐬𝐡𝐞𝐝 𝐨𝐧 𝐧.𝐩.𝐫 (𝐍𝐚𝐭𝐢𝐨𝐧𝐚𝐥 𝐏𝐮𝐛𝐥𝐢𝐜 𝐑𝐚𝐝𝐢𝐨) 𝐚𝐭 𝟎𝟑:𝟎𝟓 𝐏𝐌 𝐄𝐓 𝐰𝐢𝐭𝐡 𝐭𝐡𝐞 𝐭𝐢𝐭𝐥𝐞 " 𝐃𝐫𝐨𝐮𝐠𝐡𝐭 𝐑𝐞𝐯𝐞𝐚𝐥𝐬 𝐈𝐫𝐚𝐪𝐢 𝐀𝐫𝐜𝐡𝐚𝐞𝐨𝐥𝐨𝐠𝐢𝐜𝐚𝐥 𝐓𝐫𝐞𝐚𝐬𝐮𝐫𝐞𝐬: 𝐓𝐡𝐞 𝐝𝐫𝐲𝐢𝐧𝐠 𝐮𝐩 𝐨𝐟 𝐭𝐡𝐞 𝐄𝐮𝐩𝐡𝐫𝐚𝐭𝐞𝐬 𝐑𝐢𝐯𝐞𝐫 𝐡𝐚𝐯𝐞 𝐫𝐞𝐯𝐞𝐚𝐥𝐞𝐝 𝐚𝐧𝐜𝐢𝐞𝐧𝐭 𝐚𝐫𝐜𝐡𝐚𝐞𝐨𝐥𝐨𝐠𝐢𝐜𝐚𝐥 𝐬𝐢𝐭𝐞𝐬, 𝐬𝐨𝐦𝐞 𝐨𝐟 𝐰𝐡𝐢𝐜𝐡 𝐰𝐞𝐫𝐞 𝐮𝐧𝐤𝐧𝐨𝐰𝐧 𝐮𝐧𝐭𝐢𝐥 𝐧𝐨𝐰" 𝐚𝐭𝐭𝐫𝐚𝐜𝐭𝐬 𝐦𝐲 𝐚𝐭𝐭𝐞𝐧𝐭𝐢𝐨𝐧 𝐚𝐧𝐝 𝐦𝐚𝐤𝐞 𝐦𝐞 𝐭𝐡𝐢𝐧𝐤 𝐚𝐛𝐨𝐮𝐭 𝐭𝐡𝐞𝐬𝐞 𝐇𝐚𝐝𝐢𝐭𝐡:
"𝐒𝐨𝐨𝐧 𝐭𝐡𝐞 𝐫𝐢𝐯𝐞𝐫 𝐄𝐮𝐩𝐡𝐫𝐚𝐭𝐞𝐬 𝐰𝐢𝐥𝐥 𝐝𝐢𝐬𝐜𝐥𝐨𝐬𝐞 𝐭𝐡𝐞 𝐭𝐫𝐞𝐚𝐬𝐮𝐫𝐞 [𝐭𝐡𝐞 𝐦𝐨𝐮𝐧𝐭𝐚𝐢𝐧] 𝐨𝐟 𝐠𝐨𝐥𝐝. 𝐒𝐨, 𝐰𝐡𝐨 𝐰𝐢𝐥𝐥 𝐛𝐞 𝐩𝐫𝐞𝐬𝐞𝐧𝐭 𝐚𝐭 𝐭𝐡𝐚𝐭 𝐭𝐢𝐦𝐞 𝐬𝐡𝐨𝐮𝐥𝐝 𝐧𝐨𝐭 𝐭𝐚𝐤𝐞 𝐚𝐧𝐲𝐭𝐡𝐢𝐧𝐠 𝐟𝐫𝐨𝐦 𝐡𝐢𝐦." – (𝐒𝐚𝐡𝐢𝐡 𝐁𝐮𝐤𝐡𝐚𝐫𝐢).

𝐓𝐡𝐞 𝐏𝐫𝐨𝐩𝐡𝐞𝐭 𝐌𝐮𝐡𝐚𝐦𝐦𝐚𝐝 𝐬𝐚𝐢𝐝: "𝐓𝐡𝐞 𝐇𝐨𝐮𝐫 𝐰𝐢𝐥𝐥 𝐧𝐨𝐭 𝐜𝐨𝐦𝐞 𝐭𝐨 𝐩𝐚𝐬𝐬 𝐛𝐞𝐟𝐨𝐫𝐞 𝐭𝐡𝐞 𝐫𝐢𝐯𝐞𝐫 𝐄𝐮𝐩𝐡𝐫𝐚𝐭𝐞𝐬 𝐝𝐫𝐢𝐞𝐬 𝐮𝐩 𝐭𝐨 𝐮𝐧𝐯𝐞𝐢𝐥 𝐭𝐡𝐞 𝐦𝐨𝐮𝐧𝐭𝐚𝐢𝐧 𝐨𝐟 𝐠𝐨𝐥𝐝, 𝐟𝐨𝐫 𝐰𝐡𝐢𝐜𝐡 𝐩𝐞𝐨𝐩𝐥𝐞 𝐰𝐢𝐥𝐥 𝐟𝐢𝐠𝐡𝐭 𝐍𝐢𝐧𝐞𝐭𝐲-𝐧𝐢𝐧𝐞 𝐨𝐟 𝐞𝐯𝐞𝐫𝐲 𝐡𝐮𝐧𝐝𝐫𝐞𝐝 𝐰𝐢𝐥𝐥 𝐝𝐢𝐞 [𝐢𝐧 𝐭𝐡𝐞 𝐟𝐢𝐠𝐡𝐭𝐢𝐧𝐠], . 𝐚𝐧𝐝 𝐞𝐯𝐞𝐫𝐲 𝐦𝐚𝐧 𝐚𝐦𝐨𝐧𝐠 𝐭𝐡𝐞𝐦 𝐰𝐢𝐥𝐥 𝐬𝐚𝐲, '𝐌𝐚𝐲𝐛𝐞 𝐈'𝐦 𝐭𝐡𝐞 𝐨𝐧𝐥𝐲 𝐨𝐧𝐞 𝐭𝐨 𝐫𝐞𝐦𝐚𝐢𝐧 𝐚𝐥𝐢𝐯𝐞'. "- (𝐒𝐚𝐡𝐢𝐡 𝐁𝐮𝐤𝐡𝐚𝐫𝐢, 𝐒𝐚𝐡𝐢𝐡 𝐌𝐮𝐬𝐥𝐢𝐦).

𝐓𝐡𝐞 𝐏𝐫𝐨𝐩𝐡𝐞𝐭 𝐌𝐮𝐡𝐚𝐦𝐦𝐚𝐝 𝐬𝐚𝐢𝐝: "𝐓𝐡𝐞 𝐄𝐮𝐩𝐡𝐫𝐚𝐭𝐞𝐬 𝐫𝐞𝐯𝐞𝐚𝐥𝐬 𝐭𝐡𝐞 𝐭𝐫𝐞𝐚𝐬𝐮𝐫𝐞𝐬 𝐰𝐢𝐭𝐡𝐢𝐧 𝐢𝐭𝐬𝐞𝐥𝐟 𝐖𝐡𝐨𝐞𝐯𝐞𝐫 𝐬𝐞𝐞𝐬 𝐢𝐭 𝐬𝐡𝐨𝐮𝐥𝐝 𝐧𝐨𝐭 𝐭𝐚𝐤𝐞 𝐚𝐧𝐲𝐭𝐡𝐢𝐧𝐠 𝐟𝐫𝐨𝐦 𝐡𝐢𝐦.".

"𝐈𝐭 [𝐭𝐡𝐞 𝐄𝐮𝐩𝐡𝐫𝐚𝐭𝐞𝐬] 𝐰𝐢𝐥𝐥 𝐮𝐧𝐜𝐨𝐯𝐞𝐫 𝐚 𝐦𝐨𝐮𝐧𝐭𝐚𝐢𝐧 𝐨𝐟 𝐠𝐨𝐥𝐝 [𝐢𝐧 𝐢𝐭]." – (𝐒𝐮𝐧𝐚𝐧 𝐀𝐛𝐢 𝐃𝐚'𝐮𝐝).
𝐌𝐚𝐧𝐲 𝐨𝐟 𝐭𝐡𝐞 𝐩𝐫𝐨𝐩𝐡𝐞𝐜𝐢𝐞𝐬 𝐞𝐬𝐩𝐞𝐜𝐢𝐚𝐥𝐥𝐲 𝐫𝐞𝐥𝐚𝐭𝐞𝐝 𝐭𝐨 𝐬𝐢𝐠𝐧𝐬 𝐨𝐟 𝐭𝐡𝐞 𝐣𝐮𝐝𝐠𝐦𝐞𝐧𝐭 𝐝𝐚𝐲 𝐭𝐡𝐚𝐭 𝐨𝐮𝐫 𝐛𝐞𝐥𝐨𝐯𝐞𝐝 𝐏𝐫𝐨𝐩𝐡𝐞𝐭 𝐌𝐮𝐡𝐚𝐦𝐦𝐚𝐝 𝐒𝐖𝐓 𝐬𝐭𝐚𝐭𝐞𝐝 𝟏𝟒𝟎𝟎 𝐲𝐞𝐚𝐫𝐬 𝐚𝐠𝐨, 𝐡𝐚𝐯𝐞 𝐜𝐨𝐦𝐞 𝐭𝐫𝐮𝐞. 𝐀 𝐩𝐫𝐨𝐩𝐡𝐞𝐜𝐲 𝐭𝐡𝐚𝐭 𝐭𝐡𝐞 𝐝𝐫𝐲𝐢𝐧𝐠 𝐨𝐟 𝐭𝐡𝐞 𝐄𝐮𝐩𝐡𝐫𝐚𝐭𝐞𝐬 𝐑𝐢𝐯𝐞𝐫 (دریا فراط) 𝐢𝐬 𝐜𝐨𝐧𝐜𝐞𝐫𝐧𝐞𝐝, 𝐠𝐨𝐥𝐝 𝐝𝐢𝐠𝐠𝐢𝐧𝐠 𝐡𝐚𝐬 𝐲𝐞𝐭 𝐭𝐨 𝐜𝐨𝐦𝐞 𝐭𝐫𝐮𝐞. 𝐓𝐡𝐢𝐬 𝐩𝐫𝐨𝐩𝐡𝐞𝐜𝐲 𝐢𝐬 𝐚 𝐩𝐫𝐨𝐩𝐡𝐞𝐜𝐲 𝐜𝐫𝐢𝐭𝐢𝐜𝐚𝐥, 𝐚𝐬 𝐞𝐱𝐩𝐞𝐜𝐭𝐞𝐝 𝐰𝐚𝐫 𝐢𝐬 𝐜𝐥𝐨𝐬𝐞𝐥𝐲 𝐥𝐢𝐧𝐤𝐞𝐝 𝐭𝐨 𝐭𝐡𝐞 𝐜𝐨𝐦𝐢𝐧𝐠 𝐨𝐟 𝐭𝐡𝐞 𝐌𝐚𝐡𝐝𝐢.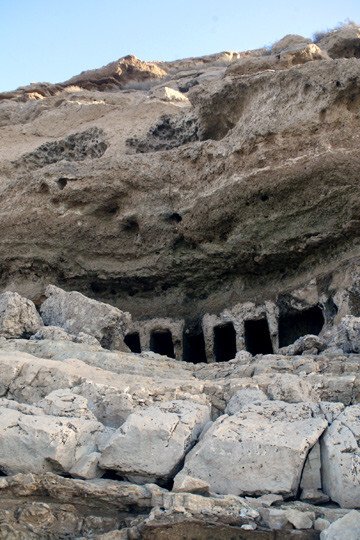 "𝐂𝐥𝐢𝐟𝐟𝐬 𝐭𝐡𝐚𝐭 𝐰𝐞𝐫𝐞 𝐬𝐮𝐛𝐦𝐞𝐫𝐠𝐞𝐝 𝐧𝐨𝐰 𝐫𝐞𝐯𝐞𝐚𝐥 𝐩𝐫𝐞-𝐂𝐡𝐫𝐢𝐬𝐭𝐢𝐚𝐧 𝐭𝐨𝐦𝐛𝐬 𝐛𝐮𝐢𝐥𝐭 𝐢𝐧𝐭𝐨 𝐫𝐨𝐜𝐤 𝐟𝐚𝐜𝐞"
"𝐖𝐡𝐚𝐭 𝐨𝐧𝐜𝐞 𝐰𝐚𝐬 𝐚𝐧 𝐞𝐧𝐨𝐫𝐦𝐨𝐮𝐬 𝐫𝐞𝐬𝐞𝐫𝐯𝐨𝐢𝐫 𝐭𝐡𝐚𝐭 𝐬𝐭𝐫𝐞𝐭𝐜𝐡𝐞𝐝 𝐚𝐬 𝐟𝐚𝐫 𝐚𝐬 𝐭𝐡𝐞 𝐞𝐲𝐞 𝐜𝐨𝐮𝐥𝐝 𝐬𝐞𝐞 𝐡𝐚𝐬 𝐬𝐡𝐫𝐮𝐧𝐤 𝐚𝐧 𝐚𝐬𝐭𝐨𝐧𝐢𝐬𝐡𝐢𝐧𝐠 𝟗𝟎 𝐩𝐞𝐫𝐜𝐞𝐧𝐭 𝐬𝐢𝐧𝐜𝐞 𝐬𝐮𝐦𝐦𝐞𝐫", 𝐨𝐟𝐟𝐢𝐜𝐢𝐚𝐥𝐬 𝐬𝐚𝐲.
"𝐁𝐮𝐭 𝐛𝐞𝐜𝐚𝐮𝐬𝐞 𝐨𝐟 𝐭𝐡𝐞 𝐫𝐞𝐜𝐞𝐝𝐢𝐧𝐠 𝐰𝐚𝐭𝐞𝐫𝐬, 𝐑𝐚𝐭𝐢𝐛 𝐡𝐚𝐬 𝐛𝐞𝐞𝐧 𝐚𝐛𝐥𝐞 𝐭𝐨 𝐚𝐜𝐜𝐞𝐬𝐬 𝐬𝐨𝐦𝐞 𝐬𝐢𝐭𝐞𝐬 𝐟𝐨𝐫 𝐭𝐡𝐞 𝐟𝐢𝐫𝐬𝐭 𝐭𝐢𝐦𝐞 — 𝐢𝐧𝐜𝐥𝐮𝐝𝐢𝐧𝐠, 𝐟𝐨𝐫 𝐢𝐧𝐬𝐭𝐚𝐧𝐜𝐞, 𝐚 𝐜𝐥𝐢𝐟𝐟 𝐰𝐢𝐭𝐡 𝐚 𝐬𝐞𝐫𝐢𝐞𝐬 𝐨𝐟 𝐩𝐫𝐞-𝐂𝐡𝐫𝐢𝐬𝐭𝐢𝐚𝐧 𝐭𝐨𝐦𝐛𝐬 𝐜𝐚𝐫𝐯𝐞𝐝 𝐢𝐧𝐭𝐨 𝐢𝐭𝐬 𝐟𝐚𝐜𝐞."
"𝐓𝐡𝐞 𝐫𝐢𝐯𝐞𝐫 𝐥𝐞𝐯𝐞𝐥 𝐢𝐬 𝐯𝐞𝐫𝐲 𝐥𝐨𝐰, 𝐢𝐭'𝐬 𝐭𝐡𝐞 𝐥𝐨𝐰𝐞𝐬𝐭 𝐢𝐭 𝐡𝐚𝐬 𝐞𝐯𝐞𝐫 𝐛𝐞𝐞𝐧 𝐭𝐡𝐚𝐭 𝐰𝐞 𝐜𝐚𝐧 𝐫𝐞𝐦𝐞𝐦𝐛𝐞𝐫," 𝐬𝐚𝐲𝐬 𝐟𝐢𝐬𝐡𝐞𝐫𝐦𝐚𝐧 𝐒𝐚'𝐚𝐝 𝐍𝐚𝐣𝐢."
"𝐖𝐞 𝐛𝐞𝐠𝐚𝐧 𝐥𝐨𝐨𝐤𝐢𝐧𝐠 𝐚𝐫𝐨𝐮𝐧𝐝 𝐭𝐡𝐞 𝐚𝐫𝐞𝐚, 𝐚𝐧𝐝 𝐰𝐞 𝐟𝐨𝐮𝐧𝐝 𝐜𝐥𝐚𝐲 𝐣𝐚𝐫𝐬 𝐚𝐧𝐝 𝐨𝐥𝐝 𝐛𝐨𝐧𝐞𝐬, 𝐜𝐨𝐢𝐧𝐬 𝐚𝐧𝐝 𝐞𝐯𝐞𝐧 𝐬𝐨𝐦𝐞 𝐠𝐨𝐥𝐝 𝐣𝐞𝐰𝐞𝐥𝐫𝐲"
𝐇𝐞 𝐬𝐚𝐲𝐬:
"𝐈𝐟 𝐈𝐫𝐚𝐪 𝐟𝐢𝐧𝐝𝐬 𝐦𝐚𝐣𝐨𝐫 𝐠𝐨𝐥𝐝 𝐫𝐞𝐬𝐞𝐫𝐯𝐞𝐬, 𝐭𝐡𝐢𝐬 𝐜𝐨𝐮𝐥𝐝 𝐛𝐞 𝐚 𝐬𝐢𝐠𝐧𝐚𝐥 𝐟𝐨𝐫 𝐫𝐞𝐧𝐞𝐰𝐞𝐝 𝐜𝐢𝐯𝐢𝐥 𝐬𝐭𝐫𝐢𝐟𝐞 𝐛𝐞𝐭𝐰𝐞𝐞𝐧 𝐭𝐡𝐞 𝐯𝐚𝐫𝐢𝐨𝐮𝐬 𝐭𝐫𝐢𝐛𝐞𝐬 𝐭𝐡𝐞𝐫𝐞 𝐚𝐬 𝐰𝐞𝐥𝐥 𝐚𝐬 𝐩𝐞𝐫𝐞𝐧𝐧𝐢𝐚𝐥𝐥𝐲 𝐢𝐧𝐭𝐞𝐫𝐟𝐞𝐫𝐢𝐧𝐠 𝐨𝐮𝐭𝐬𝐢𝐝𝐞 𝐩𝐨𝐰𝐞𝐫𝐬".
𝐀𝐥𝐥 𝐭𝐡𝐞 𝐩𝐞𝐨𝐩𝐥𝐞 𝐞𝐬𝐩𝐞𝐜𝐢𝐚𝐥𝐥𝐲 𝐌𝐮𝐬𝐥𝐢𝐦𝐬 𝐫𝐞𝐚𝐝𝐢𝐧𝐠 𝐭𝐡𝐢𝐬 𝐚𝐫𝐞 𝐫𝐞𝐦𝐢𝐧𝐝𝐞𝐝 𝐧𝐨𝐭 𝐭𝐨 𝐩𝐮𝐫𝐬𝐮𝐞 𝐭𝐡𝐢𝐬 𝐠𝐨𝐥𝐝, 𝐚𝐬 𝐰𝐚𝐬 𝐢𝐧𝐬𝐭𝐫𝐮𝐜𝐭𝐞𝐝 𝐛𝐲 𝐭𝐡𝐞 𝐏𝐫𝐨𝐩𝐡𝐞𝐭.
𝐀𝐥𝐥𝐚𝐡 𝐊𝐧𝐨𝐰𝐬 𝐁𝐞𝐬𝐭.
𝐑𝐞𝐟𝐞𝐫𝐞𝐧𝐜𝐞𝐬:
Were Men Sixty Cubits Tall? A Prophecy for Prophet Muhammed coming true
𝐅𝐮𝐥𝐟𝐢𝐥𝐥𝐞𝐝 𝐏𝐫𝐨𝐩𝐡𝐞𝐜𝐢𝐞𝐬 𝐎𝐟 𝐏𝐫𝐨𝐩𝐡𝐞𝐭 𝐌𝐮𝐡𝐚𝐦𝐦𝐚𝐝 𝐈𝐧 𝐂𝐚𝐧𝐨𝐧𝐢𝐜𝐚𝐥 𝐇𝐚𝐝𝐢𝐭𝐡𝐬
𝐃𝐫𝐨𝐮𝐠𝐡𝐭 𝐢𝐧 𝐄𝐮𝐩𝐡𝐫𝐚𝐭𝐞𝐬 𝐑𝐢𝐯𝐞𝐫 𝐑𝐞𝐯𝐞𝐚𝐥𝐬 𝐈𝐫𝐚𝐪𝐢 𝐀𝐫𝐜𝐡𝐚𝐞𝐨𝐥𝐨𝐠𝐢𝐜𝐚𝐥 𝐓𝐫𝐞𝐚𝐬𝐮𝐫𝐞𝐬 𝐚𝐬 𝐏𝐞𝐫 𝐏𝐫𝐨𝐩𝐡𝐞𝐭 𝐌𝐮𝐡𝐚𝐦𝐦𝐞𝐝 𝐏𝐫𝐨𝐩𝐡𝐞𝐜𝐲 [𝐒̣𝐚𝐡̣𝐢̄𝐡̣ 𝐚𝐥-𝐁𝐮𝐤𝐡𝐚̄𝐫𝐢̄ 𝐒𝐚𝐡𝐢𝐡: 𝟕𝟏𝟏𝟗, 𝐑𝐢𝐲𝐚𝐝 𝐚𝐬-𝐒𝐚𝐥𝐢𝐡𝐢𝐧: 𝟏𝟖𝟐𝟐 𝐚𝐧𝐝 𝐒̣𝐚𝐡̣𝐢̄𝐡̣ 𝐌𝐮𝐬𝐥𝐢𝐦: 𝟐𝟖𝟗𝟒𝐚]
𝐅𝐚𝐥𝐥𝐢𝐧𝐠 𝐰𝐚𝐭𝐞𝐫𝐬 𝐨𝐟 𝐄𝐮𝐩𝐡𝐫𝐚𝐭𝐞𝐬, 𝐓𝐢𝐠𝐫𝐢𝐬 𝐫𝐢𝐯𝐞𝐫𝐬 𝐫𝐞𝐯𝐞𝐚𝐥 𝐬𝐮𝐛𝐦𝐞𝐫𝐠𝐞𝐝 𝐚𝐫𝐜𝐡𝐚𝐞𝐨𝐥𝐨𝐠𝐢𝐜𝐚𝐥 𝐬𝐢𝐭𝐞𝐬
Paul the False Apostle of Satan
Evidence of Muhammad's Prophethood The Prophet's knowledge of the Past and Future Prophecies
Accurate Predictions: A Sign of True Prophethood
Prophecies and Predictions of the Holy Quran
Astonishing Series of Who Told Prophet Muhammed?
𝟏𝟏 𝐋𝐨𝐠𝐢𝐜𝐚𝐥 𝐏𝐫𝐨𝐨𝐟𝐬 𝐨𝐟 𝐌𝐮𝐡𝐚𝐦𝐦𝐚𝐝'𝐬 𝐏𝐫𝐨𝐩𝐡𝐞𝐭𝐡𝐨𝐨𝐝