𝐃𝐨𝐞𝐬 𝐭𝐡𝐞 𝐍𝐨𝐛𝐥𝐞 𝐐𝐮𝐫𝐚𝐧 𝐒𝐚𝐲 𝐭𝐡𝐞 𝐒𝐮𝐧 𝐒𝐞𝐭𝐬 𝐢𝐧 𝐚 𝐌𝐮𝐝𝐝𝐲 𝐒𝐩𝐫𝐢𝐧𝐠?
Mohamad Mostafa Nassar
Twitter:@NassarMohamadMR
𝐓𝐡𝐞 𝐒𝐮𝐧 𝐬𝐞𝐭𝐬 as far as 𝐭𝐡𝐞 𝐌𝐞𝐝𝐢𝐭𝐞𝐫𝐫𝐚𝐧𝐞𝐚𝐧 𝐒𝐞𝐚 𝐢𝐧 𝐭𝐡𝐞 𝐔𝐧𝐡𝐨𝐥𝐲 𝐩𝐚𝐫𝐭𝐢𝐚𝐥𝐥𝐲 𝐂𝐨𝐫𝐫𝐮𝐩𝐭𝐞𝐝 𝐁𝐢𝐛𝐥𝐞 𝐉𝐨𝐬𝐡𝐮𝐚 𝟏:𝟐-𝟒 𝐈𝐒𝐕
𝐃𝐞𝐬𝐩𝐢𝐭𝐞 𝐭𝐡𝐞 𝐆𝐥𝐨𝐫𝐢𝐨𝐮𝐬 𝐇𝐨𝐥𝐲 𝐐𝐮𝐫𝐚𝐧 𝐢𝐧 𝐂𝐡𝐚𝐩𝐭𝐞𝐫 𝐭𝐡𝐞 𝐂𝐚𝐯𝐞 (𝟏𝟖:𝟖𝟔) 𝐭𝐞𝐥𝐥𝐬 𝐮𝐬 𝐢𝐧 𝐚 𝐜𝐫𝐲𝐬𝐭𝐚𝐥-𝐜𝐥𝐞𝐚𝐫 𝐰𝐨𝐫𝐝 𝐭𝐡𝐚𝐭 𝐭𝐡𝐞 𝐒𝐮𝐧 𝐰𝐚𝐬 𝐏𝐄𝐑𝐂𝐄𝐈𝐕𝐄𝐃 𝐛𝐲 𝐡𝐢𝐦 𝐭𝐨 𝐛𝐞 𝐬𝐞𝐭𝐭𝐢𝐧𝐠 𝐢𝐧 𝐚 𝐬𝐩𝐫𝐢𝐧𝐠 𝐨𝐟 𝐦𝐮𝐫𝐤𝐲 𝐰𝐚𝐭𝐞𝐫.
𝐒𝐢𝐦𝐢𝐥𝐚𝐫𝐥𝐲, 𝐢𝐟 𝐲𝐨𝐮 𝐚𝐫𝐞 𝐢𝐧 𝐚 𝐝𝐞𝐬𝐞𝐫𝐭 𝐲𝐨𝐮 𝐰𝐢𝐥𝐥 𝐏𝐄𝐑𝐂𝐄𝐈𝐕𝐄 𝐭𝐡𝐚𝐭 𝐚𝐬 𝐢𝐟 𝐭𝐡𝐞𝐫𝐞 𝐢𝐬 𝐰𝐚𝐭𝐞𝐫 𝐢𝐧 𝐚 𝐟𝐚𝐫 𝐰𝐚𝐲 𝐝𝐢𝐬𝐭𝐚𝐧𝐜𝐞 𝐢𝐧 𝐭𝐡𝐞 𝐡𝐨𝐫𝐢𝐳𝐨𝐧- 𝐓𝐡𝐚𝐭 𝐩𝐡𝐞𝐧𝐨𝐦𝐞𝐧𝐨𝐧 𝐜𝐚𝐥𝐥𝐞𝐝 𝐌𝐢𝐫𝐚𝐠𝐞.
𝐁𝐮𝐭 𝐓𝐡𝐞 𝐁𝐢𝐛𝐥𝐞 𝐰𝐡𝐢𝐜𝐡 𝐡𝐚𝐝 𝐛𝐞𝐞𝐧 𝐩𝐚𝐫𝐭𝐢𝐚𝐥𝐥𝐲 𝐜𝐨𝐫𝐫𝐮𝐩𝐭𝐞𝐝 𝐢𝐧 𝐉𝐨𝐬𝐡𝐮𝐚 𝟏:𝟐-𝟒 𝐈𝐒𝐕, 𝐢𝐭 𝐭𝐞𝐥𝐥𝐬 𝐮𝐬 𝐭𝐡𝐚𝐭 𝐭𝐡𝐞 𝐬𝐮𝐧 𝐬𝐞𝐭𝐬 𝐚𝐬 𝐟𝐚𝐫 𝐚𝐬 𝐭𝐡𝐞 𝐌𝐞𝐝𝐢𝐭𝐞𝐫𝐫𝐚𝐧𝐞𝐚𝐧 𝐒𝐞𝐚.
𝐓𝐡𝐞 𝐰𝐨𝐫𝐝 𝐮𝐬𝐞𝐝 𝐛𝐲 𝐭𝐡𝐞 𝐐𝐮𝐫'𝐚𝐧:
𝐈 𝐡𝐚𝐯𝐞 𝐠𝐢𝐯𝐞𝐧 𝐭𝐡𝐞 𝐭𝐫𝐚𝐧𝐬𝐥𝐚𝐭𝐢𝐨𝐧 𝐨𝐟 𝐀𝐛𝐝𝐮𝐥𝐥𝐚𝐡 𝐘𝐮𝐬𝐮𝐟 𝐀𝐥𝐢 𝐚𝐛𝐨𝐯𝐞. 𝐓𝐡𝐞 𝐰𝐨𝐫𝐝 𝐡𝐞 𝐭𝐫𝐚𝐧𝐬𝐥𝐚𝐭𝐞𝐝 𝐚𝐬 "𝐟𝐨𝐮𝐧𝐝" 𝐢𝐬 وجد 𝐢.𝐞. '𝐰𝐚𝐣𝐚𝐝𝐚.' 𝐓𝐡𝐢𝐬 𝐰𝐨𝐫𝐝 𝐢𝐬 𝐮𝐬𝐞𝐝 𝐭𝐨 𝐝𝐞𝐬𝐜𝐫𝐢𝐛𝐞 𝐭𝐡𝐞 𝐩𝐞𝐫𝐜𝐞𝐩𝐭𝐢𝐨𝐧. 𝐒𝐞𝐞 𝐭𝐡𝐞 𝐩𝐫𝐨𝐨𝐟 𝐟𝐫𝐨𝐦 𝐄𝐝𝐰𝐚𝐫𝐝 𝐖𝐢𝐥𝐥𝐢𝐚𝐦 𝐋𝐚𝐧𝐞'𝐬 𝐋𝐞𝐱𝐢𝐜𝐨𝐧.
𝐄𝐝𝐰𝐚𝐫𝐝 𝐖𝐢𝐥𝐥𝐢𝐚𝐦 𝐋𝐚𝐧𝐞'𝐬 𝐀𝐫𝐚𝐛𝐢𝐜-𝐄𝐧𝐠𝐥𝐢𝐬𝐡 𝐋𝐞𝐱𝐢𝐜𝐨𝐧 𝐩. 𝟐𝟗𝟐𝟒
𝐀𝐧𝐝 𝐟𝐮𝐫𝐭𝐡𝐞𝐫, 𝐡𝐞 𝐰𝐫𝐢𝐭𝐞𝐬;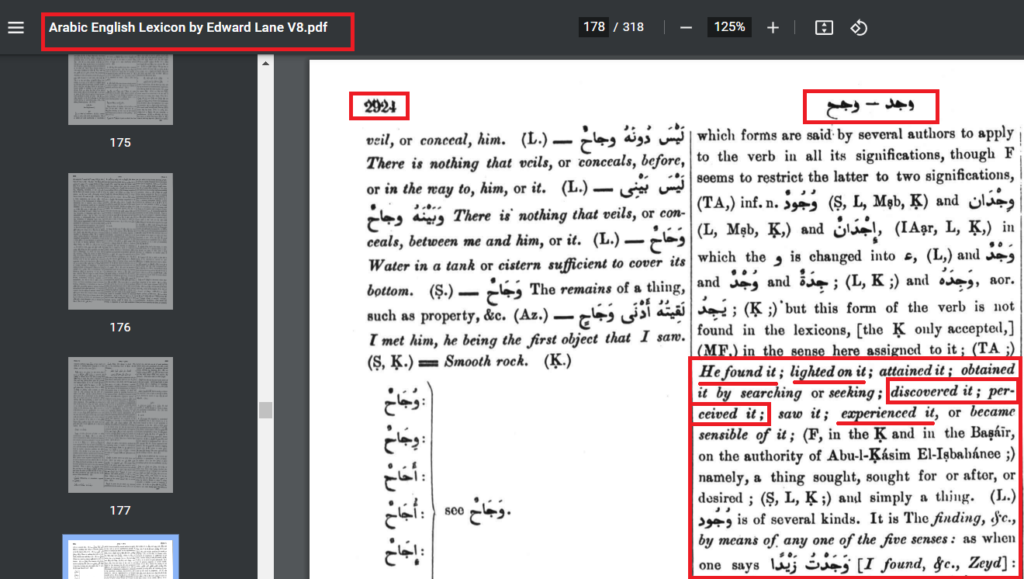 𝐒𝐨 𝐭𝐡𝐞 𝐰𝐨𝐫𝐝 '𝐰𝐚𝐣𝐚𝐝𝐚' 𝐫𝐞𝐟𝐞𝐫𝐬 𝐭𝐨 𝐩𝐞𝐫𝐜𝐞𝐩𝐭𝐢𝐨𝐧 𝐭𝐡𝐫𝐨𝐮𝐠𝐡 𝐚𝐧𝐲 𝐨𝐧𝐞 𝐨𝐟 𝐭𝐡𝐞 𝐟𝐢𝐯𝐞 𝐬𝐞𝐧𝐬𝐞𝐬.
𝟐- 𝐓𝐡𝐞 𝐐𝐮𝐫'𝐚𝐧 𝐮𝐬𝐞𝐬 𝐭𝐡𝐞 𝐰𝐨𝐫𝐝𝐢𝐧𝐠 𝐟𝐫𝐨𝐦 𝐙𝐮𝐥𝐪𝐚𝐫𝐧𝐚𝐢𝐧'𝐬 𝐩𝐞𝐫𝐬𝐩𝐞𝐜𝐭𝐢𝐯𝐞:
𝐖𝐡𝐚𝐭 𝐰𝐞 𝐟𝐢𝐧𝐝 𝐢𝐬 𝐭𝐡𝐚𝐭 𝐭𝐡𝐞 𝐐𝐮𝐫'𝐚𝐧 𝐡𝐚𝐬 𝐮𝐬𝐞𝐝 𝐭𝐡𝐞 𝐰𝐨𝐫𝐝 𝐟𝐫𝐨𝐦 𝐭𝐡𝐞 𝐩𝐞𝐫𝐬𝐩𝐞𝐜𝐭𝐢𝐯𝐞 𝐨𝐟 𝐙𝐮𝐥𝐪𝐚𝐫𝐧𝐚𝐢𝐧 𝐚𝐧𝐝 𝐦𝐞𝐫𝐞𝐥𝐲 𝐝𝐞𝐬𝐜𝐫𝐢𝐛𝐞𝐬 𝐡𝐢𝐬 𝐩𝐞𝐫𝐜𝐞𝐩𝐭𝐢𝐨𝐧 𝐚𝐧𝐝 𝐡𝐨𝐰 𝐢𝐭 𝐚𝐩𝐩𝐞𝐚𝐫𝐞𝐝 𝐢𝐧 𝐡𝐢𝐬 𝐬𝐢𝐠𝐡𝐭. 𝐓𝐡𝐞 𝐝𝐞𝐬𝐜𝐫𝐢𝐩𝐭𝐢𝐨𝐧 𝐢𝐬 𝐯𝐞𝐫𝐲 𝐦𝐮𝐜𝐡 𝐯𝐚𝐥𝐢𝐝 𝐟𝐨𝐫 𝐨𝐧 𝐚 𝐬𝐡𝐨𝐫𝐞 𝐭𝐡𝐚𝐭 𝐢𝐬 𝐡𝐨𝐰 𝐬𝐮𝐧𝐬𝐞𝐭 𝐚𝐜𝐭𝐮𝐚𝐥𝐥𝐲 𝐬𝐞𝐞𝐦𝐬. 𝐌𝐚𝐲𝐛𝐞 𝐭𝐡𝐞 𝐟𝐨𝐥𝐥𝐨𝐰𝐢𝐧𝐠 𝐢𝐦𝐚𝐠𝐞 𝐡𝐞𝐥𝐩𝐬 𝐚 𝐛𝐢𝐭.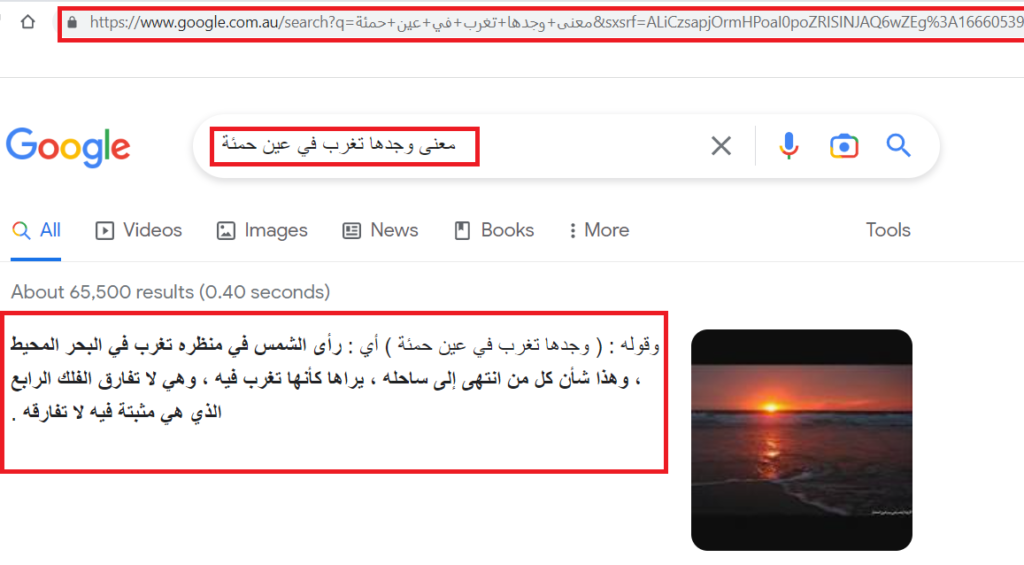 𝐃𝐨𝐞𝐬 𝐭𝐡𝐞 𝐒𝐮𝐧𝐬𝐞𝐭 𝐢𝐧 𝐦𝐮𝐫𝐤𝐲 𝐰𝐚𝐭𝐞𝐫? 𝐝𝐞𝐜𝐞𝐩𝐭𝐢𝐨𝐧 𝐛𝐲 𝐃𝐚𝐯𝐢𝐝 𝐖𝐨𝐨𝐝-𝐖𝐚𝐭𝐜𝐡 𝐭𝐡𝐢𝐬 𝟓-𝐦𝐢𝐧𝐮𝐭𝐞 𝐯𝐢𝐝𝐞𝐨
𝐏𝐞𝐫𝐡𝐚𝐩𝐬 𝐰𝐡𝐚𝐭 𝐭𝐚𝐤𝐞𝐬 𝐭𝐡𝐞 𝐛𝐢𝐬𝐜𝐮𝐢𝐭 𝐟𝐨𝐫 𝐭𝐡𝐞 𝐦𝐨𝐬𝐭 𝐚𝐛𝐬𝐮𝐫𝐝 𝐢𝐧𝐭𝐞𝐫𝐩𝐫𝐞𝐭𝐚𝐭𝐢𝐨𝐧 𝐨𝐟 𝐭𝐡𝐞 𝐐𝐮𝐫𝐚𝐧 𝐫𝐞𝐠𝐚𝐫𝐝𝐢𝐧𝐠 𝐭𝐡𝐞 𝐠𝐞𝐨𝐜𝐞𝐧𝐭𝐫𝐢𝐬𝐦 𝐝𝐞𝐛𝐚𝐭𝐞, 𝐬𝐮𝐫𝐫𝐨𝐮𝐧𝐝𝐬 𝐭𝐡𝐞 𝐩𝐞𝐫𝐬𝐨𝐧 𝐨𝐟 𝐃𝐡𝐮𝐥 𝐐𝐚𝐫𝐧𝐚𝐲𝐧. 𝐓𝐡𝐢𝐬 𝐚𝐥𝐥𝐞𝐠𝐚𝐭𝐢𝐨𝐧 𝐟𝐨𝐜𝐮𝐬𝐞𝐬 𝐨𝐧 𝐯𝐞𝐫𝐬𝐞𝐬 𝟖𝟒-𝟗𝟐 𝐨𝐟 𝐜𝐡𝐚𝐩𝐭𝐞𝐫 𝟏𝟖 𝐨𝐟 𝐭𝐡𝐞 𝐐𝐮𝐫𝐚𝐧.
𝐈𝐧 𝐭𝐡𝐞𝐬𝐞 𝐯𝐞𝐫𝐬𝐞𝐬, 𝐚𝐧 𝐢𝐧𝐝𝐢𝐯𝐢𝐝𝐮𝐚𝐥 𝐛𝐲 𝐭𝐡𝐞 𝐭𝐢𝐭𝐥𝐞 𝐨𝐟 𝐃𝐡𝐮𝐥 𝐐𝐚𝐫𝐧𝐚𝐢𝐧 𝐭𝐫𝐚𝐯𝐞𝐥𝐬 𝐢𝐧 𝐭𝐡𝐞 𝐝𝐢𝐫𝐞𝐜𝐭𝐢𝐨𝐧 𝐨𝐟 𝐭𝐡𝐞 𝐬𝐞𝐭𝐭𝐢𝐧𝐠 𝐬𝐮𝐧 – 𝐭𝐨𝐰𝐚𝐫𝐝𝐬 𝐭𝐡𝐞 𝐖𝐞𝐬𝐭 – 𝐚𝐧𝐝 𝐭𝐡𝐞𝐫𝐞 𝐡𝐞 𝐟𝐢𝐧𝐝𝐬 𝐭𝐡𝐞 𝐬𝐮𝐧 𝐬𝐞𝐭𝐭𝐢𝐧𝐠 𝐢𝐧 𝐚 𝐦𝐮𝐝𝐝𝐲 𝐬𝐩𝐫𝐢𝐧𝐠 𝐨𝐟 𝐰𝐚𝐭𝐞𝐫, 𝐰𝐢𝐭𝐡 𝐩𝐞𝐨𝐩𝐥𝐞 𝐬𝐢𝐭𝐭𝐢𝐧𝐠 𝐧𝐞𝐚𝐫𝐛𝐲.
𝐇𝐞 𝐢𝐬 𝐠𝐫𝐚𝐧𝐭𝐞𝐝 𝐚𝐮𝐭𝐡𝐨𝐫𝐢𝐭𝐲 𝐛𝐲 𝐆𝐨𝐝 𝐭𝐨 𝐞𝐢𝐭𝐡𝐞𝐫 𝐭𝐫𝐞𝐚𝐭 𝐭𝐡𝐞𝐦 𝐰𝐢𝐭𝐡 𝐤𝐢𝐧𝐝𝐧𝐞𝐬𝐬 𝐨𝐫 𝐩𝐮𝐧𝐢𝐬𝐡 𝐭𝐡𝐞𝐦, 𝐚𝐧𝐝 𝐡𝐞 𝐫𝐞𝐩𝐥𝐢𝐞𝐬, 𝐬𝐚𝐲𝐢𝐧𝐠 𝐭𝐡𝐚𝐭 𝐡𝐞 𝐰𝐢𝐥𝐥 𝐩𝐮𝐧𝐢𝐬𝐡 𝐭𝐡𝐨𝐬𝐞 𝐰𝐡𝐨 𝐝𝐨 𝐰𝐫𝐨𝐧𝐠, 𝐛𝐮𝐭 𝐭𝐫𝐞𝐚𝐭 𝐤𝐢𝐧𝐝𝐥𝐲 𝐭𝐡𝐨𝐬𝐞 𝐰𝐡𝐨 𝐛𝐞𝐥𝐢𝐞𝐯𝐞 𝐢𝐧 𝐆𝐨𝐝 𝐚𝐧𝐝 𝐝𝐨 𝐠𝐨𝐨𝐝 𝐝𝐞𝐞𝐝𝐬. 𝐇𝐞 𝐭𝐡𝐞𝐧 𝐩𝐫𝐨𝐜𝐞𝐞𝐝𝐬 𝐭𝐨 𝐭𝐫𝐚𝐯𝐞𝐥 𝐭𝐨 𝐭𝐡𝐞 𝐄𝐚𝐬𝐭 𝐚𝐧𝐝 𝐟𝐢𝐧𝐝𝐬 𝐭𝐡𝐞 𝐬𝐮𝐧 𝐫𝐢𝐬𝐢𝐧𝐠 𝐨𝐧 𝐩𝐞𝐨𝐩𝐥𝐞 𝐰𝐡𝐨 𝐡𝐚𝐯𝐞 𝐧𝐨 𝐬𝐡𝐞𝐥𝐭𝐞𝐫 𝐚𝐠𝐚𝐢𝐧𝐬𝐭 𝐭𝐡𝐞 𝐡𝐚𝐫𝐬𝐡 𝐬𝐮𝐧. 𝐇𝐞𝐫𝐞 𝐚𝐫𝐞 𝐭𝐡𝐞 𝐫𝐞𝐥𝐞𝐯𝐚𝐧𝐭 𝐯𝐞𝐫𝐬𝐞𝐬 𝐨𝐟 𝐭𝐡𝐞 𝐐𝐮𝐫𝐚𝐧:
"𝐀𝐧𝐝 𝐭𝐡𝐞𝐲 𝐚𝐬𝐤 𝐭𝐡𝐞𝐞 𝐚𝐛𝐨𝐮𝐭 𝐃𝐡𝐮'𝐥 𝐐𝐚𝐫𝐧𝐚𝐲𝐧. 𝐒𝐚𝐲, '𝐈 𝐰𝐢𝐥𝐥 𝐜𝐞𝐫𝐭𝐚𝐢𝐧𝐥𝐲 𝐫𝐞𝐜𝐢𝐭𝐞 𝐭𝐨 𝐲𝐨𝐮 𝐬𝐨𝐦𝐞𝐭𝐡𝐢𝐧𝐠 𝐨𝐟 𝐡𝐢𝐬 𝐬𝐭𝐨𝐫𝐲.' 𝐖𝐞 𝐞𝐬𝐭𝐚𝐛𝐥𝐢𝐬𝐡𝐞𝐝 𝐡𝐢𝐦 𝐢𝐧 𝐭𝐡𝐞 𝐞𝐚𝐫𝐭𝐡 𝐚𝐧𝐝 𝐠𝐚𝐯𝐞 𝐡𝐢𝐦 𝐭𝐡𝐞 𝐦𝐞𝐚𝐧𝐬 𝐭𝐨 𝐚𝐜𝐜𝐨𝐦𝐩𝐥𝐢𝐬𝐡 𝐞𝐯𝐞𝐫𝐲𝐭𝐡𝐢𝐧𝐠. 𝐓𝐡𝐞𝐧 𝐡𝐞 𝐟𝐨𝐥𝐥𝐨𝐰𝐞𝐝 𝐚 𝐜𝐞𝐫𝐭𝐚𝐢𝐧 𝐰𝐚𝐲 𝐔𝐧𝐭𝐢𝐥, 𝐰𝐡𝐞𝐧 𝐡𝐞 𝐫𝐞𝐚𝐜𝐡𝐞𝐝 𝐭𝐡𝐞 𝐬𝐞𝐭𝐭𝐢𝐧𝐠 𝐨𝐟 𝐭𝐡𝐞 𝐬𝐮𝐧, 𝐡𝐞 𝐟𝐨𝐮𝐧𝐝 𝐢𝐭 𝐬𝐞𝐭𝐭𝐢𝐧𝐠 𝐢𝐧 𝐚 𝐦𝐮𝐝𝐝𝐲 𝐬𝐩𝐫𝐢𝐧𝐠 𝐚𝐧𝐝 𝐧𝐞𝐚𝐫 𝐢𝐭, 𝐡𝐞 𝐟𝐨𝐮𝐧𝐝 𝐚 𝐩𝐞𝐨𝐩𝐥𝐞.
𝐖𝐞 𝐬𝐚𝐢𝐝, '𝐎 𝐃𝐡𝐮'𝐥 𝐐𝐚𝐫𝐧𝐚𝐲𝐧, 𝐞𝐢𝐭𝐡𝐞𝐫 𝐩𝐮𝐧𝐢𝐬𝐡 𝐭𝐡𝐞𝐦 𝐨𝐫 𝐭𝐫𝐞𝐚𝐭 𝐭𝐡𝐞𝐦 𝐰𝐢𝐭𝐡 𝐤𝐢𝐧𝐝𝐧𝐞𝐬𝐬.' 𝐇𝐞 𝐬𝐚𝐢𝐝, '𝐀𝐬 𝐟𝐨𝐫 𝐡𝐢𝐦 𝐰𝐡𝐨 𝐝𝐨𝐞𝐬 𝐰𝐫𝐨𝐧𝐠, 𝐰𝐞 𝐬𝐡𝐚𝐥𝐥 𝐜𝐞𝐫𝐭𝐚𝐢𝐧𝐥𝐲 𝐩𝐮𝐧𝐢𝐬𝐡 𝐡𝐢𝐦; 𝐭𝐡𝐞𝐧 𝐬𝐡𝐚𝐥𝐥 𝐡𝐞 𝐛𝐞 𝐛𝐫𝐨𝐮𝐠𝐡𝐭 𝐛𝐚𝐜𝐤 𝐭𝐨 𝐡𝐢𝐬 𝐋𝐨𝐫𝐝, 𝐰𝐡𝐨 𝐰𝐢𝐥𝐥 𝐩𝐮𝐧𝐢𝐬𝐡 𝐡𝐢𝐦 𝐰𝐢𝐭𝐡 𝐚 𝐝𝐫𝐞𝐚𝐝𝐟𝐮𝐥 𝐩𝐮𝐧𝐢𝐬𝐡𝐦𝐞𝐧𝐭.'
𝐁𝐮𝐭 𝐚𝐬 𝐟𝐨𝐫 𝐡𝐢𝐦 𝐰𝐡𝐨 𝐛𝐞𝐥𝐢𝐞𝐯𝐞𝐬 𝐚𝐧𝐝 𝐚𝐜𝐭𝐬 𝐫𝐢𝐠𝐡𝐭𝐞𝐨𝐮𝐬𝐥𝐲, 𝐡𝐞 𝐰𝐢𝐥𝐥 𝐡𝐚𝐯𝐞 𝐚 𝐠𝐨𝐨𝐝 𝐫𝐞𝐰𝐚𝐫𝐝, 𝐚𝐧𝐝 𝐖𝐞 𝐬𝐡𝐚𝐥𝐥 𝐬𝐩𝐞𝐚𝐤 𝐭𝐨 𝐡𝐢𝐦 𝐞𝐚𝐬𝐲 𝐰𝐨𝐫𝐝𝐬 𝐨𝐟 𝐎𝐮𝐫 𝐜𝐨𝐦𝐦𝐚𝐧𝐝. 𝐓𝐡𝐞𝐧 𝐢𝐧𝐝𝐞𝐞𝐝 𝐡𝐞 𝐟𝐨𝐥𝐥𝐨𝐰𝐞𝐝 𝐚𝐧𝐨𝐭𝐡𝐞𝐫 𝐰𝐚𝐲. 𝐔𝐧𝐭𝐢𝐥, 𝐰𝐡𝐞𝐧 𝐡𝐞 𝐫𝐞𝐚𝐜𝐡𝐞𝐝 𝐭𝐡𝐞 𝐫𝐢𝐬𝐢𝐧𝐠 𝐨𝐟 𝐭𝐡𝐞 𝐬𝐮𝐧, 𝐡𝐞 𝐟𝐨𝐮𝐧𝐝 𝐢𝐭 𝐫𝐢𝐬𝐢𝐧𝐠 𝐨𝐧 𝐚 𝐩𝐞𝐨𝐩𝐥𝐞 𝐟𝐨𝐫 𝐰𝐡𝐨𝐦 𝐖𝐞 𝐡𝐚𝐝 𝐦𝐚𝐝𝐞 𝐧𝐨 𝐬𝐡𝐞𝐥𝐭𝐞𝐫 𝐚𝐠𝐚𝐢𝐧𝐬𝐭 𝐢𝐭. 𝐓𝐡𝐮𝐬, 𝐢𝐧𝐝𝐞𝐞𝐝 𝐢𝐭 𝐰𝐚𝐬. 𝐕𝐞𝐫𝐢𝐥𝐲, 𝐰𝐞 𝐞𝐧𝐜𝐨𝐦𝐩𝐚𝐬𝐬𝐞𝐝 𝐰𝐢𝐭𝐡 𝐎𝐮𝐫 𝐤𝐧𝐨𝐰𝐥𝐞𝐝𝐠𝐞 𝐚𝐥𝐥 𝐭𝐡𝐚𝐭 𝐰𝐚𝐬 𝐰𝐢𝐭𝐡 𝐡𝐢𝐦." (𝟏𝟖:𝟖𝟒-𝟗𝟐)
𝐁𝐮𝐭 𝐰𝐡𝐨 𝐢𝐬 𝐃𝐡𝐮𝐥 𝐐𝐚𝐫𝐧𝐚𝐲𝐧, 𝐚𝐧𝐝 𝐰𝐡𝐲 𝐝𝐨𝐞𝐬 𝐭𝐡𝐞 𝐐𝐮𝐫𝐚𝐧 𝐭𝐚𝐥𝐤 𝐚𝐛𝐨𝐮𝐭 𝐡𝐢𝐦 𝐬𝐞𝐞𝐢𝐧𝐠 𝐭𝐡𝐞 𝐬𝐮𝐧 𝐬𝐞𝐭 𝐢𝐧 𝐚 𝐦𝐮𝐝𝐝𝐲 𝐬𝐩𝐫𝐢𝐧𝐠 𝐚𝐧𝐝 𝐫𝐢𝐬𝐢𝐧𝐠 𝐨𝐮𝐭 𝐨𝐟 𝐭𝐡𝐞 𝐄𝐚𝐫𝐭𝐡? 𝐈𝐬 𝐭𝐡𝐢𝐬 𝐰𝐡𝐚𝐭 𝐭𝐡𝐞 𝐐𝐮𝐫𝐚𝐧 𝐭𝐚𝐮𝐠𝐡𝐭 𝐌𝐮𝐬𝐥𝐢𝐦𝐬 𝐭𝐨 𝐛𝐞𝐥𝐢𝐞𝐯𝐞 𝐚𝐛𝐨𝐮𝐭 𝐭𝐡𝐞 𝐩𝐫𝐨𝐜𝐞𝐬𝐬𝐞𝐬 𝐨𝐟 𝐬𝐮𝐧𝐫𝐢𝐬𝐞 𝐚𝐧𝐝 𝐬𝐮𝐧𝐬𝐞𝐭?
𝐓𝐡𝐞 𝐀𝐥𝐥𝐞𝐠𝐚𝐭𝐢𝐨𝐧:
𝐀𝐜𝐜𝐨𝐫𝐝𝐢𝐧𝐠 𝐭𝐨 𝐖𝐢𝐤𝐢𝐈𝐬𝐥𝐚𝐦, 𝐰𝐡𝐨 𝐡𝐚𝐬 𝐝𝐞𝐯𝐨𝐭𝐞𝐝 𝐭𝐰𝐨 𝐞𝐧𝐨𝐫𝐦𝐨𝐮𝐬 𝐩𝐚𝐠𝐞𝐬 𝐨𝐟 𝐝𝐫𝐢𝐯𝐞𝐥 𝐭𝐨 𝐭𝐡𝐞 𝐬𝐮𝐛𝐣𝐞𝐜𝐭, 𝐲𝐞𝐬. 𝐀𝐜𝐜𝐨𝐫𝐝𝐢𝐧𝐠 𝐭𝐨 𝐭𝐡𝐞𝐢𝐫 𝐮𝐧𝐝𝐞𝐫𝐬𝐭𝐚𝐧𝐝𝐢𝐧𝐠, 𝐭𝐡𝐞 𝐐𝐮𝐫𝐚𝐧 𝐰𝐨𝐮𝐥𝐝 𝐥𝐢𝐭𝐞𝐫𝐚𝐥𝐥𝐲 𝐡𝐚𝐯𝐞 𝐲𝐨𝐮 𝐛𝐞𝐥𝐢𝐞𝐯𝐞 𝐭𝐡𝐚𝐭 𝐭𝐡𝐞 𝐬𝐮𝐧 𝐫𝐢𝐬𝐞𝐬 𝐨𝐮𝐭 𝐨𝐟 𝐭𝐡𝐞 𝐞𝐚𝐫𝐭𝐡 (𝐩𝐡𝐲𝐬𝐢𝐜𝐚𝐥𝐥𝐲) 𝐚𝐧𝐝 𝐭𝐡𝐚𝐭 𝐃𝐡𝐮𝐥 𝐐𝐚𝐫𝐧𝐚𝐲𝐧 (𝐰𝐡𝐨𝐞𝐯𝐞𝐫 𝐭𝐡𝐚𝐭 𝐦𝐚𝐲 𝐛𝐞), 𝐰𝐞𝐧𝐭 𝐭𝐡𝐞𝐫𝐞 𝐭𝐨 𝐭𝐡𝐞 𝐯𝐞𝐫𝐲 𝐬𝐩𝐨𝐭, 𝐚𝐬 𝐰𝐞𝐥𝐥 𝐚𝐬 𝐠𝐨𝐢𝐧𝐠 𝐭𝐨 𝐭𝐡𝐞 𝐟𝐚𝐫𝐭𝐡𝐞𝐬𝐭 𝐩𝐨𝐢𝐧𝐭 𝐢𝐧 𝐭𝐡𝐞 𝐖𝐞𝐬𝐭, 𝐭𝐨 𝐬𝐞𝐞 𝐭𝐡𝐞 𝐬𝐮𝐧𝐬𝐞𝐭 𝐢𝐧 𝐚 𝐬𝐩𝐫𝐢𝐧𝐠 𝐨𝐟 𝐦𝐮𝐝𝐝𝐲 𝐰𝐚𝐭𝐞𝐫.
𝐓𝐡𝐞𝐢𝐫 𝐩𝐚𝐫𝐭𝐢𝐜𝐮𝐥𝐚𝐫 𝐟𝐚𝐬𝐜𝐢𝐧𝐚𝐭𝐢𝐨𝐧 𝐫𝐞𝐯𝐨𝐥𝐯𝐞𝐬 𝐚𝐫𝐨𝐮𝐧𝐝 𝐭𝐰𝐨 𝐰𝐨𝐫𝐝𝐬:
مَطۡلِعَ الشَّمۡسِ 𝐌𝐚𝐭𝐥𝐢𝐀𝐚, 𝐦𝐞𝐚𝐧𝐢𝐧𝐠 "𝐭𝐨 𝐫𝐢𝐬𝐞" 𝐨𝐫 "𝐠𝐞𝐭 𝐮𝐩". 𝐓𝐡𝐢𝐬 𝐰𝐨𝐫𝐝 𝐢𝐬 𝐮𝐬𝐞𝐝 𝐢𝐧 𝐭𝐡𝐞 𝐩𝐡𝐫𝐚𝐬𝐞 𝐚𝐛𝐨𝐯𝐞: "…𝐰𝐡𝐞𝐧 𝐡𝐞 𝐫𝐞𝐚𝐜𝐡𝐞𝐝 𝐭𝐡𝐞 𝐫𝐢𝐬𝐢𝐧𝐠 𝐨𝐟 𝐭𝐡𝐞 𝐬𝐮𝐧…"
تَغۡرُبُ 𝐓𝐚𝐠𝐫𝐮𝐛𝐮, 𝐦𝐞𝐚𝐧𝐢𝐧𝐠 "𝐭𝐨 𝐬𝐞𝐭". 𝐓𝐡𝐢𝐬 𝐢𝐬 𝐮𝐬𝐞𝐝 𝐢𝐧 𝐭𝐡𝐞 𝐩𝐡𝐫𝐚𝐬𝐞 "𝐟𝐨𝐮𝐧𝐝 𝐢𝐭 𝐬𝐞𝐭𝐭𝐢𝐧𝐠 𝐢𝐧 𝐚 𝐬𝐩𝐫𝐢𝐧𝐠 𝐨𝐟 𝐦𝐮𝐫𝐤𝐲 𝐰𝐚𝐭𝐞𝐫".
𝐓𝐡𝐞 𝐚𝐮𝐭𝐡𝐨𝐫𝐬 𝐚𝐫𝐠𝐮𝐞 𝐭𝐡𝐚𝐭 𝐭𝐡𝐞 𝐐𝐮𝐫𝐚𝐧 𝐢𝐬 𝐬𝐩𝐞𝐚𝐤𝐢𝐧𝐠 𝐚𝐛𝐬𝐨𝐥𝐮𝐭𝐞𝐥𝐲 𝐥𝐢𝐭𝐞𝐫𝐚𝐥𝐥𝐲 𝐡𝐞𝐫𝐞 𝐚𝐧𝐝 𝐭𝐡𝐚𝐭 𝐭𝐡𝐞 𝐐𝐮𝐫𝐚𝐧 𝐬𝐡𝐨𝐮𝐥𝐝 𝐛𝐞 𝐮𝐧𝐝𝐞𝐫𝐬𝐭𝐨𝐨𝐝 𝐚𝐬 𝐥𝐢𝐭𝐞𝐫𝐚𝐥𝐥𝐲 𝐚𝐬𝐤𝐢𝐧𝐠 𝐫𝐞𝐚𝐝𝐞𝐫𝐬 𝐭𝐨 𝐛𝐞𝐥𝐢𝐞𝐯𝐞 𝐭𝐡𝐚𝐭 𝐃𝐡𝐮𝐥 𝐐𝐚𝐫𝐧𝐚𝐲𝐧 𝐭𝐫𝐚𝐯𝐞𝐥𝐞𝐝 𝐭𝐨 𝐚 𝐩𝐥𝐚𝐜𝐞 𝐰𝐡𝐞𝐫𝐞 𝐭𝐡𝐞 𝐬𝐮𝐧 𝐰𝐚𝐬 𝐫𝐢𝐬𝐢𝐧𝐠 𝐨𝐮𝐭 𝐨𝐟 𝐭𝐡𝐞 𝐞𝐚𝐫𝐭𝐡 𝐚𝐧𝐝 𝐭𝐫𝐚𝐯𝐞𝐥𝐞𝐝 𝐚𝐥𝐬𝐨 𝐭𝐨 𝐚 𝐩𝐥𝐚𝐜𝐞 𝐰𝐡𝐞𝐫𝐞 𝐢𝐭 𝐰𝐚𝐬 𝐥𝐢𝐭𝐞𝐫𝐚𝐥𝐥𝐲 𝐬𝐞𝐭𝐭𝐢𝐧𝐠 𝐢𝐧𝐭𝐨 𝐚 𝐦𝐮𝐝𝐝𝐲 𝐬𝐩𝐫𝐢𝐧𝐠.
𝐌𝐨𝐬𝐭 𝐜𝐥𝐚𝐬𝐬𝐢𝐜𝐚𝐥 𝐌𝐮𝐬𝐥𝐢𝐦 𝐜𝐨𝐦𝐦𝐞𝐧𝐭𝐚𝐭𝐨𝐫𝐬 𝐡𝐚𝐯𝐞 𝐚𝐫𝐠𝐮𝐞𝐝 𝐭𝐡𝐚𝐭 𝐭𝐡𝐞𝐬𝐞 𝐩𝐡𝐫𝐚𝐬𝐞𝐬 𝐬𝐢𝐦𝐩𝐥𝐲 𝐫𝐞𝐟𝐞𝐫 𝐭𝐨 𝐭𝐡𝐞 𝐄𝐚𝐬𝐭𝐞𝐫𝐧𝐦𝐨𝐬𝐭 𝐚𝐧𝐝 𝐖𝐞𝐬𝐭𝐞𝐫𝐧𝐦𝐨𝐬𝐭 𝐣𝐨𝐮𝐫𝐧𝐞𝐲𝐬 𝐨𝐟 𝐃𝐡𝐮𝐥 𝐐𝐚𝐫𝐧𝐚𝐲𝐧 𝐚𝐧𝐝 𝐭𝐡𝐚𝐭 𝐭𝐡𝐞𝐬𝐞 𝐭𝐞𝐫𝐦𝐬 𝐚𝐫𝐞 𝐮𝐬𝐞𝐝 𝐦𝐞𝐫𝐞𝐥𝐲 𝐚𝐬 𝐟𝐢𝐠𝐮𝐫𝐞𝐬 𝐨𝐟 𝐬𝐩𝐞𝐞𝐜𝐡, 𝐚𝐬 𝐚 𝐩𝐚𝐫𝐚𝐛𝐥𝐞 𝐭𝐨 𝐬𝐢𝐠𝐧𝐢𝐟𝐲 𝐚𝐧 𝐢𝐦𝐩𝐨𝐫𝐭𝐚𝐧𝐭 𝐥𝐞𝐬𝐬𝐨𝐧, (𝐞𝐱𝐩𝐥𝐚𝐢𝐧𝐞𝐝 𝐥𝐚𝐭𝐞𝐫).
𝐓𝐡𝐞 𝐜𝐨𝐮𝐧𝐭𝐞𝐫𝐚𝐫𝐠𝐮𝐦𝐞𝐧𝐭 𝐨𝐟 𝐭𝐡𝐞 𝐖𝐢𝐤𝐢𝐈𝐬𝐥𝐚𝐦 𝐚𝐮𝐭𝐡𝐨𝐫𝐬 𝐢𝐬 𝐭𝐡𝐚𝐭 𝐭𝐡𝐞 𝐰𝐨𝐫𝐝 "𝐌𝐚𝐭𝐥𝐢𝐀𝐚" 𝐦𝐞𝐚𝐧𝐢𝐧𝐠 𝐭𝐨 "𝐫𝐢𝐬𝐞 𝐮𝐩" 𝐜𝐚𝐧𝐧𝐨𝐭 𝐬𝐢𝐦𝐩𝐥𝐲 𝐦𝐞𝐚𝐧 "𝐭𝐡𝐞 𝐄𝐚𝐬𝐭" 𝐛𝐞𝐜𝐚𝐮𝐬𝐞 𝐭𝐡𝐚𝐭 𝐩𝐡𝐫𝐚𝐬𝐞 𝐡𝐚𝐬 𝐧𝐨𝐭 𝐛𝐞𝐞𝐧 𝐮𝐬𝐞𝐝 𝐢𝐧 𝐭𝐡𝐚𝐭 𝐰𝐚𝐲 𝐞𝐥𝐬𝐞𝐰𝐡𝐞𝐫𝐞 𝐢𝐧 𝐭𝐡𝐞 𝐐𝐮𝐫𝐚𝐧 𝐨𝐫 𝐢𝐧 𝐀𝐫𝐚𝐛𝐢𝐜 𝐥𝐢𝐭𝐞𝐫𝐚𝐭𝐮𝐫𝐞. 𝐓𝐡𝐞𝐲 𝐚𝐫𝐠𝐮𝐞 𝐭𝐡𝐚𝐭 𝐛𝐞𝐜𝐚𝐮𝐬𝐞 𝐢𝐭 𝐥𝐢𝐭𝐞𝐫𝐚𝐥𝐥𝐲 𝐦𝐞𝐚𝐧𝐬 "𝐭𝐨 𝐫𝐢𝐬𝐞 𝐮𝐩" 𝐚𝐧𝐝 𝐛𝐞𝐜𝐚𝐮𝐬𝐞 𝐭𝐡𝐞 𝐐𝐮𝐫𝐚𝐧 𝐰𝐨𝐮𝐥𝐝 𝐮𝐬𝐮𝐚𝐥𝐥𝐲 𝐮𝐬𝐞 𝐭𝐡𝐞 𝐰𝐨𝐫𝐝 "𝐌𝐚𝐬𝐡𝐫𝐢𝐪" 𝐟𝐨𝐫 "𝐄𝐚𝐬𝐭" 𝐚𝐬 𝐢𝐭 𝐡𝐚𝐬 𝐝𝐨𝐧𝐞 𝐢𝐧 𝐨𝐭𝐡𝐞𝐫 𝐩𝐥𝐚𝐜𝐞𝐬, 𝐭𝐡𝐞𝐧 𝐰𝐡𝐚𝐭 𝐭𝐡𝐞 𝐐𝐮𝐫𝐚𝐧 𝐢𝐬 𝐚𝐜𝐭𝐮𝐚𝐥𝐥𝐲 𝐠𝐞𝐭𝐭𝐢𝐧𝐠 𝐚𝐭 𝐡𝐞𝐫𝐞, 𝐢𝐬 𝐭𝐡𝐞 𝐥𝐢𝐭𝐞𝐫𝐚𝐥 𝐦𝐞𝐚𝐧𝐢𝐧𝐠 𝐨𝐟 𝐭𝐡𝐞 𝐬𝐮𝐧 𝐫𝐢𝐬𝐢𝐧𝐠 𝐨𝐮𝐭 𝐨𝐟 𝐭𝐡𝐞 𝐄𝐚𝐫𝐭𝐡.
𝐀𝐫𝐞 𝐭𝐡𝐞𝐲 𝐫𝐢𝐠𝐡𝐭?
𝐇𝐨𝐰 𝐀𝐫𝐚𝐛𝐬 𝐔𝐬𝐞𝐝 𝐓𝐡𝐞 𝐖𝐨𝐫𝐝 "𝐌𝐚𝐭𝐥𝐢𝐀𝐚"
𝐀𝐬 𝐲𝐨𝐮 𝐦𝐚𝐲 𝐢𝐦𝐚𝐠𝐢𝐧𝐞, 𝐧𝐨. 𝐓𝐡𝐞 𝐚𝐮𝐭𝐡𝐨𝐫𝐬 𝐨𝐟 𝐭𝐡𝐞 𝐚𝐫𝐭𝐢𝐜𝐥𝐞 𝐚𝐫𝐞 𝐬𝐢𝐦𝐩𝐥𝐲 𝐰𝐫𝐨𝐧𝐠. 𝐓𝐡𝐞 𝐀𝐫𝐚𝐛𝐬 𝐫𝐞𝐠𝐮𝐥𝐚𝐫𝐥𝐲 𝐮𝐬𝐞𝐝 𝐬𝐮𝐜𝐡 𝐰𝐨𝐫𝐝𝐬 𝐚𝐬 "𝐌𝐚𝐭𝐥𝐢𝐀𝐚" 𝐭𝐨 𝐫𝐞𝐟𝐞𝐫 𝐭𝐨 𝐭𝐡𝐞 𝐄𝐚𝐬𝐭, 𝐢𝐧 𝐭𝐡𝐞 𝐬𝐚𝐦𝐞 𝐰𝐚𝐲 𝐩𝐞𝐨𝐩𝐥𝐞 𝐝𝐨 𝐢𝐧 𝐞𝐯𝐞𝐫𝐲 𝐥𝐚𝐧𝐠𝐮𝐚𝐠𝐞. 𝐈𝐟 𝐈 𝐬𝐚𝐢𝐝, "𝐆𝐨 𝐟𝐢𝐧𝐝 𝐦𝐲 𝐟𝐫𝐢𝐞𝐧𝐝 𝐢𝐧 𝐭𝐡𝐞 𝐝𝐢𝐫𝐞𝐜𝐭𝐢𝐨𝐧 𝐨𝐟 𝐬𝐮𝐧𝐫𝐢𝐬𝐞," 𝐰𝐨𝐮𝐥𝐝 𝐚𝐧𝐲𝐛𝐨𝐝𝐲 𝐝𝐨𝐮𝐛𝐭 𝐭𝐡𝐚𝐭 𝐈 𝐰𝐚𝐬 𝐫𝐞𝐟𝐞𝐫𝐫𝐢𝐧𝐠 𝐭𝐨 𝐭𝐡𝐞 𝐄𝐚𝐬𝐭?
𝐀 𝐠𝐫𝐞𝐚𝐭 𝐞𝐱𝐚𝐦𝐩𝐥𝐞– 𝐜𝐚𝐧 𝐛𝐞 𝐟𝐨𝐮𝐧𝐝 𝐰𝐡𝐞𝐧 𝐭𝐡𝐞 𝐩𝐫𝐨𝐩𝐡𝐞𝐭 𝐨𝐟 𝐈𝐬𝐥𝐚𝐦 𝐦𝐢𝐠𝐫𝐚𝐭𝐞𝐝 𝐟𝐫𝐨𝐦 𝐌𝐞𝐜𝐜𝐚 𝐭𝐨 𝐌𝐞𝐝𝐢𝐧𝐚, 𝐭𝐡𝐞 𝐌𝐞𝐝𝐢𝐧𝐢𝐭𝐞𝐬 𝐬𝐭𝐨𝐨𝐝 𝐨𝐮𝐭𝐬𝐢𝐝𝐞 𝐭𝐡𝐞𝐢𝐫 𝐜𝐢𝐭𝐲, 𝐛𝐞𝐚𝐭 𝐚 𝐝𝐫𝐮𝐦, 𝐚𝐧𝐝 𝐬𝐚𝐧𝐠 𝐚 𝐬𝐨𝐧𝐠 𝐭𝐨 𝐰𝐞𝐥𝐜𝐨𝐦𝐞 𝐡𝐢𝐦. 𝐓𝐡𝐞 𝐥𝐲𝐫𝐢𝐜𝐬 𝐨𝐟 𝐭𝐡𝐚𝐭 𝐛𝐞𝐚𝐮𝐭𝐢𝐟𝐮𝐥 𝐦𝐞𝐥𝐨𝐝𝐲 𝐡𝐚𝐯𝐞 𝐛𝐞𝐞𝐧 𝐩𝐫𝐞𝐬𝐞𝐫𝐯𝐞𝐝 𝐝𝐨𝐰𝐧 𝐭𝐡𝐫𝐨𝐮𝐠𝐡 𝐭𝐡𝐞 𝐚𝐠𝐞𝐬. 𝐈𝐧 𝐟𝐚𝐜𝐭, 𝐡𝐞𝐫𝐞'𝐬 𝐭𝐡𝐞 𝐂𝐚𝐧𝐚𝐝𝐢𝐚𝐧 𝐜𝐡𝐢𝐥𝐝𝐫𝐞𝐧'𝐬 𝐜𝐡𝐨𝐢𝐫 𝐰𝐞𝐥𝐜𝐨𝐦𝐢𝐧𝐠 𝐒𝐲𝐫𝐢𝐚𝐧 𝐫𝐞𝐟𝐮𝐠𝐞𝐞𝐬 𝐰𝐢𝐭𝐡 𝐭𝐡𝐞 𝐯𝐞𝐫𝐲 𝐬𝐚𝐦𝐞 𝐬𝐨𝐧𝐠:
𝐓𝐡𝐞 𝐥𝐲𝐫𝐢𝐜𝐬 𝐨𝐟 𝐭𝐡𝐢𝐬 𝐚𝐧𝐜𝐢𝐞𝐧𝐭 𝐬𝐨𝐧𝐠, 𝐩𝐫𝐞𝐬𝐞𝐫𝐯𝐞𝐝 𝐢𝐧 𝐭𝐡𝐞 𝐦𝐞𝐦𝐨𝐫𝐢𝐞𝐬 𝐨𝐟 𝐝𝐞𝐯𝐨𝐭𝐞𝐝 𝐌𝐮𝐬𝐥𝐢𝐦𝐬, 𝐚𝐧𝐝 𝐬𝐮𝐧𝐠 𝐛𝐲 𝐠𝐞𝐧𝐞𝐫𝐚𝐭𝐢𝐨𝐧𝐬 𝐨𝐟 𝐌𝐮𝐬𝐥𝐢𝐦 𝐜𝐡𝐢𝐥𝐝𝐫𝐞𝐧 𝐟𝐨𝐫 𝟏𝟒𝟎𝟎 𝐲𝐞𝐚𝐫𝐬, 𝐫𝐮𝐧 𝐚𝐬 𝐟𝐨𝐥𝐥𝐨𝐰𝐬:
| | | |
| --- | --- | --- |
| Arabic | Pronunciation | Translation |
| ﻃﻠﻊ ﺍﻟﺒﺪﺭ ﻋﻠﻴﻨﺎ | ṭala'a 'l-badru 'alaynā | The full moon rose over us |
| ﻣﻦ ﺛﻨﻴﺎﺕ ﺍﻟﻮﺩﺍﻉ | min thaniyyāti 'l-wadā' | From the valley of Wada' |
| وجب الشكر علينا | wajaba 'l-shukru 'alaynā | And it is incumbent upon us to show gratitude |
| ﻣﺎ ﺩﻋﺎ ﻟﻠﻪ ﺩﺍﻉ | mā da'ā li-l-lāhi dā'a | For as long as anyone in existence calls out to Allah |
| ﺃﻳﻬﺎ ﺍﻟﻤﺒﻌﻮﺙ ﻓﻴﻨﺎ | 'ayyuha 'l-mab'ūthu fīnā | Oh our Messenger amongst us |
| ﺟﺌﺖ ﺑﺎﻟﺄﻣﺮ ﺍﻟﻤﻄﺎﻉ | ji'ta bi-l-'amri 'l-muṭā' | Who comes with the exhortations to be heeded |
| ﺟﺌﺖ ﺷﺮﻓﺖ ﺍﻟﻤﺪﻳﻨﺔ | ji'ta sharrafta 'l-madīnah | You have brought to this city nobility |
| ﻣﺮﺣﺒﺎ ﻳﺎ ﺧﻴﺮ ﺩﺍﻉ | marḥaban yā khayra dā' | Welcome you who call us to a good way |
𝐀 𝐬𝐨𝐧𝐠 𝐬𝐮𝐧𝐠 𝐛𝐲 𝐞𝐚𝐫𝐥𝐲 𝐌𝐮𝐬𝐥𝐢𝐦𝐬 𝐝𝐞𝐬𝐜𝐫𝐢𝐛𝐞𝐬 𝐭𝐡𝐞 𝐦𝐨𝐨𝐧 𝐦𝐞𝐭𝐚𝐩𝐡𝐨𝐫𝐢𝐜𝐚𝐥𝐥𝐲 𝐫𝐢𝐬𝐢𝐧𝐠 𝐟𝐫𝐨𝐦 𝐚 𝐯𝐚𝐥𝐥𝐞𝐲 𝐒𝐨𝐮𝐫𝐜𝐞: 𝐀𝐫𝐚𝐛𝐢𝐜 𝐍𝐚𝐬𝐡𝐞𝐞𝐝 𝐋𝐲𝐫𝐢𝐜𝐬
𝐍𝐨𝐭𝐞 𝐭𝐡𝐞 𝐟𝐢𝐫𝐬𝐭 𝐭𝐰𝐨 𝐥𝐢𝐧𝐞𝐬 𝐨𝐟 𝐭𝐡𝐞 𝐬𝐨𝐧𝐠: "𝐓𝐡𝐞 𝐟𝐮𝐥𝐥 𝐦𝐨𝐨𝐧 𝐫𝐨𝐬𝐞 𝐨𝐯𝐞𝐫 𝐮𝐬, 𝐟𝐫𝐨𝐦 𝐭𝐡𝐞 𝐯𝐚𝐥𝐥𝐞𝐲 𝐨𝐟 𝐖𝐚𝐝𝐚". 𝐍𝐨𝐰 𝐭𝐡𝐞 𝐟𝐮𝐥𝐥 𝐦𝐨𝐨𝐧 𝐭𝐡𝐞𝐲 𝐚𝐫𝐞 𝐫𝐞𝐟𝐞𝐫𝐫𝐢𝐧𝐠 𝐭𝐨 𝐭𝐡𝐞𝐫𝐞, 𝐢𝐬 𝐭𝐡𝐞 𝐏𝐫𝐨𝐩𝐡𝐞𝐭 𝐨𝐟 𝐈𝐬𝐥𝐚𝐦, 𝐰𝐡𝐞𝐧 𝐡𝐞 𝐦𝐢𝐠𝐫𝐚𝐭𝐞𝐝 𝐭𝐨 𝐭𝐡𝐞𝐢𝐫 𝐜𝐢𝐭𝐲. 𝐀𝐧𝐝 𝐭𝐡𝐞 𝐯𝐚𝐥𝐥𝐞𝐲 𝐨𝐟 𝐖𝐚𝐝𝐚 𝐰𝐚𝐬 𝐚 𝐯𝐚𝐥𝐥𝐞𝐲 𝐢𝐧 𝐰𝐡𝐢𝐜𝐡 𝐭𝐡𝐞 𝐩𝐞𝐨𝐩𝐥𝐞 𝐨𝐟 𝐌𝐞𝐝𝐢𝐧𝐚 𝐰𝐨𝐮𝐥𝐝 𝐰𝐚𝐥𝐤 𝐭𝐨 𝐬𝐚𝐲 𝐠𝐨𝐨𝐝𝐛𝐲𝐞 𝐭𝐨 𝐭𝐡𝐞𝐢𝐫 𝐥𝐨𝐯𝐞𝐝 𝐨𝐧𝐞𝐬 𝐚𝐬 𝐭𝐡𝐞𝐲 𝐥𝐞𝐟𝐭 𝐭𝐡𝐞 𝐜𝐢𝐭𝐲.
𝐃𝐢𝐝 𝐚𝐧𝐲 𝐌𝐞𝐜𝐜𝐚𝐧𝐬 𝐛𝐞𝐥𝐢𝐞𝐯𝐞 𝐭𝐡𝐚𝐭 𝐭𝐡𝐞 𝐦𝐨𝐨𝐧 𝐥𝐢𝐭𝐞𝐫𝐚𝐥𝐥𝐲 𝐫𝐨𝐬𝐞 𝐟𝐫𝐨𝐦 𝐭𝐡𝐞 𝐯𝐚𝐥𝐥𝐞𝐲 𝐨𝐟 𝐖𝐚𝐝𝐚? 𝐍𝐨. 𝐓𝐡𝐞 𝐯𝐚𝐥𝐥𝐞𝐲 𝐨𝐟 𝐖𝐚𝐝𝐚 𝐰𝐚𝐬 𝐚 𝐬𝐭𝐨𝐧𝐞'𝐬 𝐭𝐡𝐫𝐨𝐰 𝐚𝐰𝐚𝐲 𝐍𝐨𝐫𝐭𝐡 𝐨𝐟 𝐌𝐞𝐝𝐢𝐧𝐚, 𝐚𝐧𝐝 𝐩𝐞𝐨𝐩𝐥𝐞 𝐟𝐫𝐞𝐪𝐮𝐞𝐧𝐭𝐞𝐝 𝐢𝐭 𝐫𝐞𝐠𝐮𝐥𝐚𝐫𝐥𝐲. 𝐍𝐨𝐛𝐨𝐝𝐲 𝐢𝐦𝐚𝐠𝐢𝐧𝐞𝐝 𝐭𝐡𝐚𝐭 𝐭𝐡𝐞 𝐦𝐨𝐨𝐧 𝐥𝐢𝐭𝐞𝐫𝐚𝐥𝐥𝐲 𝐫𝐨𝐬𝐞 𝐟𝐫𝐨𝐦 𝐖𝐚𝐝𝐚.
'𝐁𝐮𝐭 𝐭𝐡𝐚𝐭'𝐬 𝐰𝐡𝐚𝐭 𝐭𝐡𝐞 𝐰𝐨𝐫𝐝𝐬 𝐬𝐚𝐲!' 𝐜𝐫𝐲 𝐭𝐡𝐞 𝐚𝐮𝐭𝐡𝐨𝐫𝐬 𝐨𝐟 𝐖𝐢𝐤𝐢𝐈𝐬𝐥𝐚𝐦. '𝐈𝐭 𝐬𝐚𝐲𝐬 𝐭𝐡𝐞 𝐦𝐨𝐨𝐧 𝐫𝐨𝐬𝐞 𝐟𝐫𝐨𝐦 𝐭𝐡𝐞 𝐯𝐚𝐥𝐥𝐞𝐲 𝐨𝐟 𝐖𝐚𝐝𝐚!' 𝐢𝐬 𝐭𝐡𝐞 𝐫𝐞𝐩𝐥𝐲 𝐲𝐨𝐮 𝐜𝐚𝐧 𝐞𝐱𝐩𝐞𝐜𝐭 𝐟𝐫𝐨𝐦 𝐭𝐡𝐞𝐦. '𝐓𝐡𝐞 𝐰𝐨𝐫𝐝 طلع 𝐥𝐢𝐭𝐞𝐫𝐚𝐥𝐥𝐲 𝐦𝐞𝐚𝐧𝐬 𝐭𝐨 𝐫𝐢𝐬𝐞 𝐮𝐩!' 𝐭𝐡𝐞𝐲 𝐰𝐢𝐥𝐥 𝐩𝐨𝐢𝐧𝐭 𝐨𝐮𝐭. 𝐀𝐧𝐝 𝐭𝐡𝐞𝐲 𝐰𝐨𝐮𝐥𝐝 𝐛𝐞 𝐫𝐢𝐠𝐡𝐭. 𝐈𝐭 𝐝𝐨𝐞𝐬 𝐥𝐢𝐭𝐞𝐫𝐚𝐥𝐥𝐲 𝐦𝐞𝐚𝐧 𝐭𝐨 "𝐫𝐢𝐬𝐞 𝐮𝐩". 𝐈𝐧 𝐟𝐚𝐜𝐭, 𝐢𝐭 𝐢𝐬 𝐭𝐡𝐞 𝐬𝐚𝐦𝐞 𝐰𝐨𝐫𝐝 𝐚𝐬 "𝐌𝐚𝐭𝐥𝐢𝐀𝐚" 𝐮𝐬𝐞𝐝 𝐢𝐧 𝐭𝐡𝐞 𝐐𝐮𝐫𝐚𝐧. 𝐁𝐮𝐭 𝐭𝐡𝐞 𝐰𝐨𝐫𝐝 𝐢𝐬 𝐮𝐬𝐞𝐝 𝐦𝐞𝐭𝐚𝐩𝐡𝐨𝐫𝐢𝐜𝐚𝐥𝐥𝐲 𝐛𝐨𝐭𝐡 𝐢𝐧 𝐭𝐡𝐢𝐬 𝐟𝐚𝐦𝐨𝐮𝐬 𝐬𝐨𝐧𝐠, 𝐚𝐧𝐝 𝐢𝐭 𝐢𝐬 𝐚𝐥𝐬𝐨 𝐮𝐬𝐞𝐝 𝐭𝐡𝐚𝐭 𝐰𝐚𝐲 𝐢𝐧 𝐭𝐡𝐞 𝐐𝐮𝐫𝐚𝐧!
𝐁𝐮𝐭 𝐩𝐞𝐫𝐡𝐚𝐩𝐬 𝐭𝐡𝐞 𝐚𝐮𝐭𝐡𝐨𝐫𝐬 𝐨𝐟 𝐖𝐢𝐤𝐢𝐈𝐬𝐥𝐚𝐦 𝐮𝐧𝐝𝐞𝐫𝐬𝐭𝐚𝐧𝐝 𝟕𝐭𝐡-𝐜𝐞𝐧𝐭𝐮𝐫𝐲 𝐜𝐥𝐚𝐬𝐬𝐢𝐜𝐚𝐥 𝐀𝐫𝐚𝐛𝐢𝐜 𝐛𝐞𝐭𝐭𝐞𝐫 𝐭𝐡𝐚𝐧… 𝟕𝐭𝐡-𝐜𝐞𝐧𝐭𝐮𝐫𝐲 𝐜𝐥𝐚𝐬𝐬𝐢𝐜𝐚𝐥 𝐀𝐫𝐚𝐛𝐬? 𝐖𝐡𝐨 𝐤𝐧𝐨𝐰𝐬? 𝐓𝐡𝐞𝐲 𝐩𝐮𝐭 "𝐖𝐢𝐤𝐢" 𝐢𝐧 𝐟𝐫𝐨𝐧𝐭 𝐨𝐟 "𝐈𝐬𝐥𝐚𝐦" 𝐭𝐨 𝐦𝐚𝐤𝐞 𝐩𝐞𝐨𝐩𝐥𝐞 𝐭𝐡𝐢𝐧𝐤 𝐭𝐡𝐞𝐲 𝐝𝐨 𝐧𝐨𝐭 𝐡𝐚𝐯𝐞 𝐚𝐧 𝐚𝐠𝐞𝐧𝐝𝐚. 𝐓𝐡𝐞𝐲 𝐦𝐮𝐬𝐭 𝐛𝐞 𝐬𝐦𝐚𝐫𝐭!
𝐓𝐡𝐞 𝐃𝐨𝐮𝐛𝐥𝐞 𝐒𝐭𝐚𝐧𝐝𝐚𝐫𝐝𝐬 𝐨𝐟 𝐖𝐢𝐤𝐢𝐈𝐬𝐥𝐚𝐦 𝐀𝐮𝐭𝐡𝐨𝐫𝐬
𝐈𝐧 𝐄𝐧𝐠𝐥𝐢𝐬𝐡, 𝐭𝐡𝐞 𝐰𝐨𝐫𝐝 "𝐄𝐚𝐬𝐭" 𝐢𝐬 𝐝𝐞𝐫𝐢𝐯𝐞𝐝 𝐟𝐫𝐨𝐦 𝐭𝐡𝐞 𝐆𝐫𝐞𝐞𝐤 𝐰𝐨𝐫𝐝 𝐚𝐮𝐨̄𝐬 𝐰𝐡𝐢𝐜𝐡 𝐥𝐢𝐭𝐞𝐫𝐚𝐥𝐥𝐲 𝐦𝐞𝐚𝐧𝐬 "𝐃𝐚𝐰𝐧". 𝐖𝐞 𝐫𝐞𝐟𝐞𝐫 𝐭𝐨 𝐬𝐮𝐧𝐫𝐢𝐬𝐞 𝐚𝐬 "𝐬𝐮𝐧-𝐫𝐢𝐬𝐞". 𝐓𝐡𝐚𝐭 𝐠𝐨𝐞𝐬 𝐞𝐯𝐞𝐧 𝐟𝐨𝐫 𝐒𝐭𝐚𝐧𝐟𝐨𝐫𝐝 𝐒𝐜𝐢𝐞𝐧𝐭𝐢𝐬𝐭𝐬 𝐚𝐭 𝐭𝐡𝐞 𝐒𝐨𝐥𝐚𝐫 𝐂𝐞𝐧𝐭𝐫𝐞. 𝐍𝐨𝐰 𝐲𝐨𝐮 𝐰𝐨𝐮𝐥𝐝 𝐭𝐡𝐢𝐧𝐤 𝐭𝐡𝐞𝐲 𝐰𝐨𝐮𝐥𝐝 𝐛𝐞 𝐭𝐡𝐞 𝐟𝐢𝐫𝐬𝐭 𝐨𝐧𝐞𝐬 𝐭𝐨 𝐤𝐧𝐨𝐰 𝐭𝐡𝐚𝐭 𝐭𝐡𝐞 𝐬𝐮𝐧 𝐝𝐨𝐞𝐬 𝐧𝐨𝐭 𝐥𝐢𝐭𝐞𝐫𝐚𝐥𝐥𝐲 𝐫𝐢𝐬𝐞 𝐨𝐫 𝐥𝐢𝐭𝐞𝐫𝐚𝐥𝐥𝐲 𝐬𝐞𝐭 𝐢𝐧𝐭𝐨 𝐭𝐡𝐞 𝐄𝐚𝐫𝐭𝐡, 𝐛𝐮𝐭 𝐭𝐡𝐨𝐬𝐞 𝐩𝐞𝐬𝐤𝐲 𝐂𝐚𝐥𝐢𝐟𝐨𝐫𝐧𝐢𝐚𝐧𝐬 𝐣𝐮𝐬𝐭 𝐡𝐚𝐯𝐞 𝐧𝐨𝐭 𝐠𝐨𝐭 𝐭𝐡𝐞 𝐦𝐞𝐬𝐬𝐚𝐠𝐞 𝐲𝐞𝐭! 𝐈𝐧 𝐟𝐚𝐜𝐭, 𝐧𝐨𝐭 𝐨𝐧𝐥𝐲 𝐝𝐨 𝐭𝐡𝐞𝐲 𝐭𝐚𝐥𝐤 𝐚𝐛𝐨𝐮𝐭 𝐬𝐮𝐧𝐫𝐢𝐬𝐞 𝐚𝐧𝐝 𝐬𝐮𝐧𝐬𝐞𝐭, 𝐛𝐮𝐭 𝐭𝐡𝐞𝐲 𝐚𝐥𝐬𝐨 𝐭𝐚𝐥𝐤 𝐚𝐛𝐨𝐮𝐭 𝐭𝐡𝐞 𝐬𝐭𝐚𝐫𝐬 "𝐫𝐢𝐬𝐢𝐧𝐠". 𝐏𝐮𝐫𝐞 𝐡𝐞𝐫𝐞𝐬𝐲!
𝐈𝐧 𝐟𝐚𝐜𝐭, 𝐢𝐭 𝐝𝐨𝐞𝐬 𝐧𝐨𝐭 𝐞𝐯𝐞𝐧 𝐞𝐧𝐝 𝐭𝐡𝐞𝐫𝐞. 𝐉𝐨𝐮𝐫𝐧𝐚𝐥𝐢𝐬𝐭𝐬 𝐚𝐭 𝐭𝐡𝐞 𝐍𝐞𝐰 𝐘𝐨𝐫𝐤 𝐓𝐢𝐦𝐞𝐬 𝐚𝐫𝐞 𝐞𝐯𝐞𝐧 𝐢𝐧 𝐨𝐧 𝐭𝐡𝐞 𝐜𝐨𝐧𝐬𝐩𝐢𝐫𝐚𝐜𝐲. 𝐇𝐨𝐰 𝐞𝐥𝐬𝐞 𝐜𝐚𝐧 𝐨𝐧𝐞 𝐞𝐱𝐩𝐥𝐚𝐢𝐧 𝐭𝐡𝐞 𝐟𝐨𝐥𝐥𝐨𝐰𝐢𝐧𝐠 𝐥𝐢𝐧𝐞: "𝐓𝐡𝐞 𝐒𝐮𝐧 𝐫𝐨𝐬𝐞 𝐨𝐮𝐭 𝐨𝐟 𝐭𝐡𝐞 𝐨𝐜𝐞𝐚𝐧 𝐭𝐡𝐢𝐬 𝐦𝐨𝐫𝐧𝐢𝐧𝐠 𝐰𝐢𝐭𝐡 𝐕𝐞𝐧𝐮𝐬 𝐜𝐥𝐢𝐧𝐠𝐢𝐧𝐠 𝐭𝐨 𝐢𝐭 𝐥𝐢𝐤𝐞 𝐚 𝐛𝐚𝐫𝐧𝐚𝐜𝐥𝐞." 𝐎𝐮𝐭𝐫𝐚𝐠𝐞𝐨𝐮𝐬!
𝐖𝐢𝐤𝐢𝐈𝐬𝐥𝐚𝐦 𝐚𝐮𝐭𝐡𝐨𝐫𝐬, 𝐧𝐨 𝐝𝐨𝐮𝐛𝐭, 𝐡𝐚𝐯𝐞 𝐧𝐨 𝐭𝐫𝐨𝐮𝐛𝐥𝐞 𝐚𝐜𝐜𝐞𝐩𝐭𝐢𝐧𝐠 𝐭𝐡𝐞 𝐥𝐚𝐧𝐠𝐮𝐚𝐠𝐞 𝐨𝐟 "𝐬𝐮𝐧𝐫𝐢𝐬𝐞" 𝐨𝐫 "𝐬𝐮𝐧𝐬𝐞𝐭" 𝐰𝐡𝐞𝐧 𝐢𝐭 𝐜𝐨𝐦𝐞𝐬 𝐭𝐨 𝐄𝐧𝐠𝐥𝐢𝐬𝐡, 𝐰𝐢𝐭𝐡𝐨𝐮𝐭 𝐢𝐦𝐚𝐠𝐢𝐧𝐢𝐧𝐠 𝐭𝐡𝐚𝐭 𝐢𝐭 𝐥𝐢𝐭𝐞𝐫𝐚𝐥𝐥𝐲 𝐦𝐞𝐚𝐧𝐬 𝐭𝐡𝐚𝐭 𝐭𝐡𝐞 𝐬𝐮𝐧 𝐫𝐢𝐬𝐞𝐬 𝐨𝐮𝐭 𝐨𝐟 𝐭𝐡𝐞 𝐄𝐚𝐫𝐭𝐡 𝐨𝐫 𝐬𝐞𝐭𝐬 𝐢𝐧𝐭𝐨 𝐢𝐭, 𝐛𝐮𝐭 𝐭𝐡𝐞𝐢𝐫 𝐛𝐢𝐚𝐬 𝐚𝐠𝐚𝐢𝐧𝐬𝐭 𝐈𝐬𝐥𝐚𝐦 𝐢𝐬 𝐬𝐨 𝐬𝐭𝐫𝐨𝐧𝐠 𝐭𝐡𝐚𝐭 𝐰𝐡𝐞𝐧 𝐭𝐡𝐞 𝐐𝐮𝐫𝐚𝐧 𝐮𝐬𝐞𝐬 𝐬𝐢𝐦𝐢𝐥𝐚𝐫 𝐥𝐚𝐧𝐠𝐮𝐚𝐠𝐞, 𝐭𝐡𝐞𝐲 𝐚𝐥𝐥𝐞𝐠𝐞 𝐭𝐡𝐚𝐭 𝐭𝐡𝐞 𝐐𝐮𝐫𝐚𝐧 𝐢𝐬 𝐬𝐜𝐢𝐞𝐧𝐭𝐢𝐟𝐢𝐜𝐚𝐥𝐥𝐲 𝐢𝐧𝐚𝐜𝐜𝐮𝐫𝐚𝐭𝐞.
𝐓𝐡𝐞 𝐌𝐮𝐝𝐝𝐲 𝐒𝐩𝐫𝐢𝐧𝐠 – 𝐀 𝐐𝐮𝐫𝐚𝐧𝐢𝐜 𝐈𝐧𝐬𝐢𝐠𝐡𝐭
𝐈𝐧 𝐟𝐚𝐜𝐭, 𝐟𝐚𝐫 𝐟𝐫𝐨𝐦 𝐛𝐞𝐢𝐧𝐠 𝐢𝐧𝐚𝐜𝐜𝐮𝐫𝐚𝐭𝐞, 𝐭𝐡𝐞 𝐐𝐮𝐫𝐚𝐧 𝐡𝐚𝐬 𝐠𝐢𝐯𝐞𝐧 𝐚𝐧 𝐞𝐱𝐭𝐫𝐚𝐨𝐫𝐝𝐢𝐧𝐚𝐫𝐲 𝐢𝐧𝐬𝐢𝐠𝐡𝐭 𝐢𝐧𝐭𝐨 𝐬𝐨𝐦𝐞𝐭𝐡𝐢𝐧𝐠 𝐭𝐡𝐞 𝐏𝐫𝐨𝐩𝐡𝐞𝐭 𝐨𝐟 𝐈𝐬𝐥𝐚𝐦 𝐜𝐨𝐮𝐥𝐝 𝐧𝐨𝐭 𝐩𝐨𝐬𝐬𝐢𝐛𝐥𝐲 𝐡𝐚𝐯𝐞 𝐤𝐧𝐨𝐰𝐧 𝐚𝐛𝐨𝐮𝐭.
𝐓𝐡𝐞 "𝐦𝐮𝐝𝐝𝐲 𝐬𝐩𝐫𝐢𝐧𝐠" 𝐝𝐞𝐬𝐜𝐫𝐢𝐛𝐞𝐝 𝐢𝐬 𝐚𝐜𝐭𝐮𝐚𝐥𝐥𝐲 𝐭𝐡𝐞 𝐁𝐥𝐚𝐜𝐤 𝐒𝐞𝐚 𝐚𝐭 𝐭𝐡𝐞 𝐭𝐢𝐦𝐞 𝐨𝐟 𝐂𝐲𝐫𝐮𝐬 𝐭𝐡𝐞 𝐆𝐫𝐞𝐚𝐭, 𝐰𝐡𝐢𝐜𝐡 𝐥𝐚𝐲 𝐨𝐧 𝐭𝐡𝐞 𝐖𝐞𝐬𝐭𝐞𝐫𝐧𝐦𝐨𝐬𝐭 𝐛𝐨𝐫𝐝𝐞𝐫 𝐨𝐟 𝐡𝐢𝐬 𝐞𝐦𝐩𝐢𝐫𝐞, 𝐡𝐞𝐧𝐜𝐞 𝐰𝐡𝐲 𝐭𝐡𝐞 𝐐𝐮𝐫𝐚𝐧 𝐬𝐩𝐞𝐚𝐤𝐬 𝐨𝐟 𝐃𝐡𝐮𝐥 𝐐𝐚𝐫𝐧𝐚𝐲𝐧 (𝐂𝐲𝐫𝐮𝐬) 𝐬𝐞𝐞𝐢𝐧𝐠 𝐭𝐡𝐞 𝐬𝐮𝐧 𝐬𝐞𝐭 𝐢𝐧𝐭𝐨 𝐭𝐡𝐞 𝐛𝐨𝐝𝐲 𝐨𝐟 𝐰𝐚𝐭𝐞𝐫.
𝐇𝐞 𝐢𝐬 𝐭𝐡𝐞 𝐟𝐢𝐠𝐮𝐫𝐞 𝐨𝐟 𝐃𝐡𝐮𝐥 𝐐𝐚𝐫𝐧𝐚𝐲𝐧, 𝐚𝐧𝐝 𝐧𝐨𝐭 𝐀𝐥𝐞𝐱𝐚𝐧𝐝𝐞𝐫 𝐭𝐡𝐞 𝐆𝐫𝐞𝐚𝐭, 𝐟𝐨𝐫 𝐰𝐡𝐨𝐦 𝐭𝐡𝐞 𝐁𝐥𝐚𝐜𝐤 𝐒𝐞𝐚 𝐰𝐚𝐬 𝐚𝐜𝐭𝐮𝐚𝐥𝐥𝐲 𝐄𝐚𝐬𝐭 𝐨𝐟 𝐌𝐚𝐜𝐞𝐝𝐨𝐧𝐢𝐚 (𝐝𝐢𝐬𝐜𝐮𝐬𝐬𝐞𝐝 𝐚𝐭 𝐥𝐞𝐧𝐠𝐭𝐡 𝐢𝐧 𝐭𝐡𝐢𝐬 𝐛𝐫𝐢𝐥𝐥𝐢𝐚𝐧𝐭 𝐜𝐨𝐦𝐦𝐞𝐧𝐭𝐚𝐫𝐲). 𝐓𝐡𝐞 𝐩𝐫𝐨𝐩𝐡𝐞𝐭 𝐨𝐟 𝐈𝐬𝐥𝐚𝐦 𝐡𝐚𝐝 𝐧𝐞𝐯𝐞𝐫 𝐛𝐞𝐞𝐧 𝐭𝐨 𝐭𝐡𝐞 𝐁𝐥𝐚𝐜𝐤 𝐒𝐞𝐚 𝐚𝐧𝐝 𝐡𝐚𝐝 𝐧𝐨 𝐜𝐨𝐧𝐜𝐞𝐩𝐭 𝐨𝐟 𝐢𝐭𝐬 𝐜𝐨𝐧𝐬𝐭𝐢𝐭𝐮𝐞𝐧𝐜𝐲 𝐨𝐫 𝐢𝐭𝐬 𝐧𝐚𝐭𝐮𝐫𝐞. 𝐘𝐞𝐭 𝐭𝐡𝐞 𝐐𝐮𝐫𝐚𝐧 𝐝𝐞𝐬𝐜𝐫𝐢𝐛𝐞𝐬 𝐢𝐭 𝐩𝐞𝐫𝐟𝐞𝐜𝐭𝐥𝐲.
𝐓𝐡𝐞 𝐰𝐨𝐫𝐝 𝐮𝐬𝐞𝐝 𝐢𝐧 𝐭𝐡𝐞 𝐐𝐮𝐫𝐚𝐧 𝐟𝐨𝐫 "𝐦𝐮𝐝𝐝𝐲" 𝐢𝐬 حَمِئَۃٍ 𝐚𝐧𝐝 𝐭𝐡𝐞 𝐰𝐨𝐫𝐝 𝐮𝐬𝐞𝐝 𝐟𝐨𝐫 "𝐬𝐩𝐫𝐢𝐧𝐠" 𝐢𝐬 عَیۡنٍ 𝐦𝐞𝐚𝐧𝐢𝐧𝐠 "𝐰𝐚𝐭𝐞𝐫 𝐰𝐡𝐢𝐜𝐡 𝐩𝐞𝐫𝐟𝐨𝐫𝐚𝐭𝐞𝐬 𝐭𝐡𝐞 𝐠𝐫𝐨𝐮𝐧𝐝 𝐚𝐧𝐝 𝐞𝐦𝐞𝐫𝐠𝐞𝐬 𝐮𝐩" 𝐚𝐜𝐜𝐨𝐫𝐝𝐢𝐧𝐠 𝐭𝐨 𝐋𝐚𝐧𝐞'𝐬 𝐀𝐫𝐚𝐛𝐢𝐜 𝐥𝐞𝐱𝐢𝐜𝐨𝐧, 𝐨𝐫 𝐢𝐧 𝐜𝐨𝐦𝐦𝐨𝐧 𝐩𝐚𝐫𝐥𝐚𝐧𝐜𝐞, 𝐚 𝐯𝐨𝐥𝐜𝐚𝐧𝐢𝐜 𝐬𝐩𝐫𝐢𝐧𝐠. 𝐎𝐧𝐥𝐲 𝐭𝐡𝐞 𝐐𝐮𝐫𝐚𝐧 𝐪𝐮𝐚𝐥𝐢𝐟𝐢𝐞𝐬 𝐢𝐭 𝐰𝐢𝐭𝐡 𝐭𝐡𝐞 𝐭𝐞𝐫𝐦 "𝐦𝐮𝐝𝐝𝐲", 𝐦𝐚𝐤𝐢𝐧𝐠 𝐢𝐭 𝐚 𝐯𝐨𝐥𝐜𝐚𝐧𝐢𝐜, 𝐦𝐮𝐝𝐝𝐲 𝐬𝐩𝐫𝐢𝐧𝐠.
𝐀𝐧𝐝 𝐭𝐡𝐚𝐭, 𝐟𝐮𝐧𝐧𝐢𝐥𝐲 𝐞𝐧𝐨𝐮𝐠𝐡, 𝐢𝐬 𝐞𝐱𝐚𝐜𝐭𝐥𝐲 𝐰𝐡𝐚𝐭 𝐭𝐡𝐞 𝐁𝐥𝐚𝐜𝐤 𝐒𝐞𝐚 𝐜𝐨𝐧𝐭𝐚𝐢𝐧𝐬. 𝐈𝐧𝐝𝐞𝐞𝐝, 𝐭𝐡𝐚𝐭 𝐢𝐬 𝐨𝐧𝐞 𝐫𝐞𝐚𝐬𝐨𝐧 𝐠𝐢𝐯𝐞𝐧 𝐟𝐨𝐫 𝐭𝐡𝐞 𝐧𝐚𝐦𝐢𝐧𝐠 𝐨𝐟 𝐭𝐡𝐞 𝐁𝐥𝐚𝐜𝐤 𝐒𝐞𝐚, 𝐚𝐜𝐜𝐨𝐫𝐝𝐢𝐧𝐠 𝐭𝐨 𝐌𝐚𝐫𝐢𝐧𝐞 𝐈𝐧𝐬𝐢𝐠𝐡𝐭 𝐰𝐡𝐨 𝐰𝐫𝐨𝐭𝐞 𝐭𝐡𝐚𝐭: "𝐀𝐧𝐨𝐭𝐡𝐞𝐫 𝐭𝐡𝐞𝐨𝐫𝐲 𝐬𝐮𝐠𝐠𝐞𝐬𝐭𝐞𝐝 𝐭𝐡𝐚𝐭 𝐭𝐡𝐞 𝐨𝐛𝐣𝐞𝐜𝐭𝐬 𝐭𝐡𝐚𝐭 𝐝𝐫𝐨𝐰𝐧 𝐢𝐧 𝐭𝐡𝐞 𝐰𝐚𝐭𝐞𝐫 𝐠𝐞𝐭 𝐛𝐥𝐚𝐜𝐤 𝐬𝐥𝐮𝐝𝐠𝐞 𝐜𝐨𝐯𝐞𝐫𝐢𝐧𝐠 𝐚𝐟𝐭𝐞𝐫 𝐚 𝐩𝐞𝐫𝐢𝐨𝐝 𝐨𝐟 𝐭𝐢𝐦𝐞."
𝐀𝐜𝐜𝐨𝐫𝐝𝐢𝐧𝐠 𝐭𝐨 𝐭𝐡𝐞 𝐄𝐧𝐜𝐲𝐜𝐥𝐨𝐩𝐞𝐝𝐢𝐚 𝐨𝐟 𝐔𝐤𝐫𝐚𝐢𝐧𝐞, "𝐁𝐞𝐜𝐚𝐮𝐬𝐞 𝐨𝐟 𝐢𝐭𝐬 𝐜𝐥𝐢𝐦𝐚𝐭𝐞, 𝐬𝐚𝐧𝐝𝐲 𝐛𝐞𝐚𝐜𝐡𝐞𝐬, 𝐩𝐢𝐜𝐭𝐮𝐫𝐞𝐬𝐪𝐮𝐞 𝐬𝐜𝐞𝐧𝐞𝐫𝐲, 𝐚𝐧𝐝 𝐜𝐮𝐫𝐚𝐭𝐢𝐯𝐞 𝐦𝐮𝐝𝐬 𝐭𝐡𝐞 𝐁𝐥𝐚𝐜𝐤 𝐒𝐞𝐚 𝐜𝐨𝐚𝐬𝐭 𝐢𝐬 𝐭𝐡𝐞 𝐩𝐫𝐢𝐧𝐜𝐢𝐩𝐚𝐥 𝐡𝐞𝐚𝐥𝐭𝐡 𝐫𝐞𝐬𝐨𝐫𝐭 𝐚𝐧𝐝 𝐭𝐨𝐮𝐫𝐢𝐬𝐭 𝐚𝐫𝐞𝐚 𝐨𝐟 𝐔𝐤𝐫𝐚𝐢𝐧𝐞 𝐚𝐧𝐝 𝐭𝐡𝐞 𝐰𝐡𝐨𝐥𝐞 𝐟𝐨𝐫𝐦𝐞𝐫 𝐔𝐒𝐒𝐑. 𝐓𝐞𝐧 𝐭𝐨 𝐭𝐰𝐞𝐥𝐯𝐞 𝐦𝐢𝐥𝐥𝐢𝐨𝐧 𝐩𝐞𝐨𝐩𝐥𝐞 𝐯𝐢𝐬𝐢𝐭 𝐭𝐡𝐢𝐬 𝐚𝐫𝐞𝐚 𝐞𝐚𝐜𝐡 𝐲𝐞𝐚𝐫."
𝐁𝐮𝐭 𝐰𝐡𝐞𝐫𝐞 𝐝𝐨𝐞𝐬 𝐭𝐡𝐢𝐬 𝐛𝐥𝐚𝐜𝐤 𝐦𝐮𝐝 𝐜𝐨𝐦𝐞 𝐟𝐫𝐨𝐦? 𝐓𝐡𝐞 𝐛𝐥𝐚𝐜𝐤 𝐬𝐞𝐚 𝐚𝐜𝐭𝐮𝐚𝐥𝐥𝐲 𝐜𝐨𝐧𝐭𝐚𝐢𝐧𝐬 𝐧𝐮𝐦𝐞𝐫𝐨𝐮𝐬 "𝐦𝐮𝐝 𝐬𝐩𝐫𝐢𝐧𝐠𝐬" – 𝐞𝐱𝐚𝐜𝐭𝐥𝐲 𝐚𝐬 𝐭𝐡𝐞 𝐐𝐮𝐫𝐚𝐧 𝐝𝐞𝐬𝐜𝐫𝐢𝐛𝐞𝐬. 𝐓𝐡𝐞𝐲 𝐚𝐫𝐞 𝐯𝐨𝐥𝐜𝐚𝐧𝐢𝐜 𝐠𝐞𝐨𝐭𝐡𝐞𝐫𝐦𝐚𝐥 𝐯𝐞𝐧𝐭𝐬 𝐟𝐫𝐨𝐦 𝐰𝐡𝐢𝐜𝐡 𝐛𝐥𝐚𝐜𝐤𝐢𝐬𝐡 𝐦𝐮𝐝 𝐞𝐦𝐞𝐫𝐠𝐞𝐬.
𝐓𝐡𝐞𝐬𝐞 𝐬𝐩𝐫𝐢𝐧𝐠𝐬 𝐫𝐞𝐥𝐞𝐚𝐬𝐞 𝐦𝐮𝐝 𝐚𝐬 𝐰𝐞𝐥𝐥 𝐚𝐬 𝐡𝐲𝐝𝐫𝐨𝐜𝐚𝐫𝐛𝐨𝐧𝐬, 𝐚𝐧𝐝 𝐚𝐬 𝐨𝐟 𝟏𝟗𝟕𝟒 𝐰𝐡𝐞𝐧 𝐭𝐡𝐞𝐲 𝐰𝐞𝐫𝐞 𝐟𝐢𝐫𝐬𝐭 𝐧𝐨𝐭𝐢𝐜𝐞𝐝 𝐛𝐲 𝐭𝐰𝐨 𝐬𝐜𝐢𝐞𝐧𝐭𝐢𝐬𝐭𝐬 𝐧𝐚𝐦𝐞𝐝 𝐄𝐟𝐫𝐞𝐦𝐨𝐯 𝐚𝐧𝐝 𝐙𝐡𝐢𝐳𝐡𝐜𝐡𝐞𝐧𝐤𝐨, 𝐭𝐡𝐞𝐲 𝐚𝐫𝐞 𝐚𝐧 𝐚𝐫𝐞𝐚 𝐨𝐟 𝐚𝐜𝐭𝐢𝐯𝐞 𝐬𝐭𝐮𝐝𝐲 𝐟𝐨𝐫 𝐭𝐡𝐞 𝐔𝐤𝐫𝐚𝐢𝐧𝐢𝐚𝐧 𝐠𝐨𝐯𝐞𝐫𝐧𝐦𝐞𝐧𝐭, 𝐚𝐬 𝐚 𝐦𝐞𝐚𝐧𝐬 𝐭𝐨 𝐭𝐚𝐩 𝐧𝐚𝐭𝐮𝐫𝐚𝐥 𝐠𝐚𝐬.
𝐓𝐡𝐞 𝐌𝐞𝐚𝐧𝐢𝐧𝐠 𝐨𝐟 𝐓𝐡𝐞 𝐃𝐡𝐮𝐥 𝐐𝐚𝐫𝐧𝐚𝐢𝐧 𝐏𝐚𝐫𝐚𝐛𝐥𝐞:
𝐓𝐡𝐞 𝐩𝐚𝐫𝐚𝐛𝐥𝐞 𝐨𝐟 𝐃𝐡𝐮𝐥 𝐐𝐚𝐫𝐧𝐚𝐢𝐧 𝐡𝐚𝐬 𝐜𝐥𝐚𝐬𝐬𝐢𝐜𝐚𝐥𝐥𝐲 𝐛𝐞𝐞𝐧 𝐮𝐧𝐝𝐞𝐫𝐬𝐭𝐨𝐨𝐝 𝐛𝐲 𝐌𝐮𝐬𝐥𝐢𝐦𝐬 𝐭𝐨 𝐫𝐞𝐟𝐞𝐫 𝐭𝐨 𝐀𝐥𝐞𝐱𝐚𝐧𝐝𝐞𝐫 𝐭𝐡𝐞 𝐆𝐫𝐞𝐚𝐭 𝐛𝐮𝐭 𝐭𝐡𝐢𝐬 𝐢𝐬 𝐢𝐧𝐜𝐨𝐫𝐫𝐞𝐜𝐭. 𝐓𝐡𝐞 𝐛𝐞𝐬𝐭 𝐞𝐯𝐢𝐝𝐞𝐧𝐜𝐞 𝐜𝐚𝐧 𝐛𝐞 𝐫𝐞𝐚𝐝 𝐡𝐞𝐫𝐞 𝐭𝐡𝐚𝐭, 𝐢𝐧 𝐟𝐚𝐜𝐭, 𝐢𝐭 𝐫𝐞𝐟𝐞𝐫𝐬 𝐭𝐨 𝐂𝐲𝐫𝐮𝐬 𝐭𝐡𝐞 𝐆𝐫𝐞𝐚𝐭, 𝐭𝐡𝐞 𝐠𝐫𝐞𝐚𝐭 𝐏𝐞𝐫𝐬𝐢𝐚𝐧 𝐤𝐢𝐧𝐠 𝐚𝐧𝐝 𝐙𝐨𝐫𝐨𝐚𝐬𝐭𝐫𝐢𝐚𝐧 𝐏𝐫𝐨𝐩𝐡𝐞𝐭. 𝐀 𝐬𝐢𝐦𝐩𝐥𝐞 𝐢𝐧𝐝𝐢𝐜𝐚𝐭𝐢𝐨𝐧 𝐨𝐟 𝐭𝐡𝐢𝐬 𝐢𝐬 𝐭𝐡𝐚𝐭 𝐭𝐡𝐞 𝐐𝐮𝐫𝐚𝐧 𝐢𝐧 𝐭𝐡𝐢𝐬 𝐩𝐚𝐬𝐬𝐚𝐠𝐞 𝐫𝐞𝐟𝐞𝐫𝐬 𝐭𝐨 𝐃𝐡𝐮𝐥 𝐐𝐚𝐫𝐧𝐚𝐢𝐧'𝐬 𝐜𝐨𝐧𝐪𝐮𝐞𝐬𝐭𝐬 𝐟𝐢𝐫𝐬𝐭 𝐭𝐨 𝐭𝐡𝐞 𝐖𝐞𝐬𝐭 (𝐞𝐧𝐜𝐨𝐮𝐧𝐭𝐞𝐫𝐢𝐧𝐠 𝐭𝐡𝐞 𝐦𝐮𝐝𝐝𝐲 𝐩𝐨𝐨𝐥) 𝐚𝐧𝐝 𝐭𝐡𝐞𝐧 𝐭𝐨 𝐭𝐡𝐞 𝐄𝐚𝐬𝐭.
𝐓𝐡𝐢𝐬 𝐰𝐚𝐬 𝐞𝐱𝐚𝐜𝐭𝐥𝐲 𝐡𝐨𝐰 𝐂𝐲𝐫𝐮𝐬' 𝐞𝐦𝐩𝐢𝐫𝐞 𝐞𝐱𝐩𝐚𝐧𝐝𝐞𝐝. 𝐀𝐥𝐞𝐱𝐚𝐧𝐝𝐞𝐫'𝐬 𝐞𝐦𝐩𝐢𝐫𝐞, 𝐡𝐨𝐰𝐞𝐯𝐞𝐫, 𝐧𝐞𝐯𝐞𝐫 𝐞𝐱𝐩𝐚𝐧𝐝𝐞𝐝 𝐖𝐞𝐬𝐭𝐰𝐚𝐫𝐝𝐬. 𝐅𝐫𝐨𝐦 𝐌𝐚𝐜𝐞𝐝𝐨𝐧𝐢𝐚, 𝐰𝐡𝐞𝐫𝐞 𝐡𝐞 𝐬𝐭𝐚𝐫𝐭𝐞𝐝 𝐡𝐢𝐬 𝐞𝐱𝐩𝐚𝐧𝐬𝐢𝐨𝐧, 𝐡𝐞 𝐦𝐨𝐯𝐞𝐝 𝐄𝐚𝐬𝐭𝐰𝐚𝐫𝐝𝐬 𝐜𝐨𝐧𝐭𝐢𝐧𝐮𝐨𝐮𝐬𝐥𝐲. 𝐈𝐧𝐝𝐞𝐞𝐝, 𝐭𝐡𝐞𝐫𝐞 𝐢𝐬 𝐧𝐨 "𝐦𝐮𝐝𝐝𝐲 𝐩𝐨𝐨𝐥" 𝐭𝐨 𝐭𝐡𝐞 𝐖𝐞𝐬𝐭 𝐨𝐟 𝐌𝐚𝐜𝐞𝐝𝐨𝐧𝐢𝐚 𝐚𝐧𝐲𝐰𝐚𝐲; 𝐭𝐡𝐞 𝐁𝐥𝐚𝐜𝐤 𝐒𝐞𝐚 𝐥𝐢𝐞𝐬 𝐭𝐨 𝐢𝐭𝐬 𝐄𝐚𝐬𝐭.
"𝐏𝐥𝐞𝐚𝐬𝐞 𝐬𝐞𝐞 𝐀 𝐦𝐚𝐩 𝐬𝐡𝐨𝐰𝐢𝐧𝐠 𝐭𝐡𝐞 𝐥𝐨𝐜𝐚𝐭𝐢𝐨𝐧 𝐨𝐟 𝐭𝐡𝐞 𝐁𝐥𝐚𝐜𝐤 𝐒𝐞𝐚 𝐢𝐧 𝐄𝐮𝐫𝐨𝐩𝐞 𝐚𝐭𝐭𝐚𝐜𝐡𝐞𝐝 𝐭𝐨 𝐭𝐡𝐢𝐬 𝐚𝐫𝐭𝐢𝐜𝐥𝐞"
𝐓𝐡𝐞 𝐐𝐮𝐫𝐚𝐧 𝐮𝐬𝐞𝐬 𝐭𝐡𝐢𝐬 𝐡𝐢𝐬𝐭𝐨𝐫𝐢𝐜𝐚𝐥 𝐝𝐢𝐬𝐜𝐮𝐬𝐬𝐢𝐨𝐧 𝐨𝐟 𝐃𝐡𝐮𝐥 𝐐𝐚𝐫𝐧𝐚𝐢𝐧 𝐛𝐮𝐭 𝐠𝐢𝐯𝐞𝐬 𝐭𝐡𝐞 𝐧𝐚𝐫𝐫𝐚𝐭𝐢𝐯𝐞 𝐢𝐧 𝐬𝐮𝐜𝐡 𝐚 𝐰𝐚𝐲 𝐭𝐡𝐚𝐭 𝐢𝐭 𝐚𝐥𝐬𝐨 𝐬𝐞𝐫𝐯𝐞𝐬 𝐚𝐬 𝐚 𝐩𝐫𝐨𝐩𝐡𝐞𝐜𝐲 𝐨𝐟 𝐭𝐡𝐞 𝐟𝐮𝐭𝐮𝐫𝐞 𝐨𝐟 𝐈𝐬𝐥𝐚𝐦, 𝐞𝐬𝐩𝐞𝐜𝐢𝐚𝐥𝐥𝐲 𝐚𝐬 𝐜𝐡𝐚𝐩𝐭𝐞𝐫 𝟏𝟖 𝐨𝐟 𝐭𝐡𝐞 𝐍𝐨𝐛𝐥𝐞 𝐐𝐮𝐫𝐚𝐧 – 𝐀𝐥 𝐊𝐚𝐡𝐟=𝐓𝐡𝐞 𝐂𝐚𝐯𝐞 – 𝐢𝐬 𝐞𝐧𝐭𝐢𝐫𝐞𝐥𝐲 𝐚𝐛𝐨𝐮𝐭 𝐭𝐡𝐞 𝐛𝐞𝐠𝐢𝐧𝐧𝐢𝐧𝐠𝐬 𝐨𝐟 𝐂𝐡𝐫𝐢𝐬𝐭𝐢𝐚𝐧𝐢𝐭𝐲.
𝐀𝐧𝐝 𝐢𝐭𝐬 𝐩𝐫𝐨𝐩𝐡𝐞𝐬𝐢𝐞𝐝 𝐞𝐱𝐩𝐚𝐧𝐬𝐢𝐨𝐧 𝐢𝐧 𝐭𝐡𝐞 𝐥𝐚𝐭𝐭𝐞𝐫 𝐝𝐚𝐲𝐬 (𝐭𝐡𝐞 𝐚𝐠𝐞 𝐰𝐞 𝐚𝐫𝐞 𝐠𝐨𝐢𝐧𝐠 𝐭𝐡𝐫𝐨𝐮𝐠𝐡 𝐧𝐨𝐰). 𝐓𝐡𝐢𝐬 𝐢𝐬 𝐛𝐞𝐬𝐭 𝐮𝐧𝐝𝐞𝐫𝐬𝐭𝐨𝐨𝐝 𝐰𝐡𝐞𝐧 𝐰𝐞 𝐜𝐨𝐧𝐬𝐢𝐝𝐞𝐫 𝐭𝐡𝐚𝐭 𝐭𝐡𝐞 "𝐬𝐮𝐧" 𝐢𝐧 𝐭𝐡𝐞 𝐐𝐮𝐫𝐚𝐧 𝐝𝐨𝐞𝐬 𝐧𝐨𝐭 𝐨𝐧𝐥𝐲 𝐫𝐞𝐟𝐞𝐫 𝐭𝐨 𝐭𝐡𝐞 𝐩𝐡𝐲𝐬𝐢𝐜𝐚𝐥 𝐬𝐨𝐥𝐚𝐫 𝐛𝐨𝐝𝐲. 𝐈𝐭 𝐚𝐥𝐬𝐨 𝐫𝐞𝐟𝐞𝐫𝐬 𝐦𝐞𝐭𝐚𝐩𝐡𝐨𝐫𝐢𝐜𝐚𝐥𝐥𝐲, 𝐭𝐨 𝐭𝐡𝐞 𝐏𝐫𝐨𝐩𝐡𝐞𝐭 𝐨𝐟 𝐈𝐬𝐥𝐚𝐦, 𝐰𝐡𝐨 𝐢𝐬 𝐝𝐞𝐬𝐜𝐫𝐢𝐛𝐞𝐝 𝐢𝐧 𝐭𝐡𝐞 𝐐𝐮𝐫𝐚𝐧 𝐚𝐬 "𝐭𝐡𝐞 𝐫𝐚𝐝𝐢𝐚𝐧𝐭 𝐬𝐮𝐧".
𝐎𝐧 𝐭𝐡𝐢𝐬 𝐬𝐩𝐢𝐫𝐢𝐭𝐮𝐚𝐥 𝐦𝐞𝐚𝐧𝐢𝐧𝐠 𝐚𝐧𝐝 𝐭𝐡𝐞 𝐫𝐞𝐚𝐬𝐨𝐧 𝐰𝐡𝐲 𝐭𝐡𝐞 𝐐𝐮𝐫𝐚𝐧 𝐬𝐩𝐞𝐜𝐢𝐟𝐢𝐜𝐚𝐥𝐥𝐲 𝐝𝐞𝐬𝐜𝐫𝐢𝐛𝐞𝐬 𝐭𝐡𝐞 𝐦𝐨𝐯𝐞𝐦𝐞𝐧𝐭 𝐨𝐟 𝐭𝐡𝐞 𝐬𝐮𝐧 𝐫𝐢𝐬𝐢𝐧𝐠 𝐟𝐫𝐨𝐦 𝐭𝐡𝐞 𝐄𝐚𝐫𝐭𝐡 𝐚𝐧𝐝 𝐬𝐞𝐭𝐭𝐢𝐧𝐠 𝐢𝐧 𝐚 𝐦𝐮𝐝𝐝𝐲 𝐬𝐩𝐫𝐢𝐧𝐠, 𝐫𝐞𝐚𝐝 𝐭𝐡𝐞 𝐫𝐞𝐥𝐞𝐯𝐚𝐧𝐭 𝐜𝐡𝐚𝐩𝐭𝐞𝐫 𝐭𝐢𝐭𝐥𝐞𝐝 "𝐃𝐡𝐮𝐥 𝐐𝐚𝐫𝐧𝐚𝐢𝐧", 𝐡𝐞𝐫𝐞. 𝐓𝐡𝐞 𝐐𝐮𝐫𝐚𝐧 𝐜𝐨𝐮𝐥𝐝 𝐪𝐮𝐢𝐭𝐞 𝐞𝐚𝐬𝐢𝐥𝐲 𝐡𝐚𝐯𝐞 𝐝𝐞𝐬𝐜𝐫𝐢𝐛𝐞𝐝 𝐭𝐡𝐞 𝐄𝐚𝐬𝐭 𝐚𝐧𝐝 𝐖𝐞𝐬𝐭 𝐚𝐬 "𝐌𝐚𝐬𝐡𝐫𝐢𝐪" 𝐚𝐧𝐝 "𝐌𝐚𝐠𝐡𝐫𝐢𝐛". 𝐁𝐮𝐭 𝐆𝐨𝐝 𝐜𝐡𝐨𝐬𝐞 𝐧𝐨𝐭 𝐭𝐨, 𝐬𝐨 𝐚𝐬 𝐭𝐨 𝐜𝐨𝐧𝐯𝐞𝐲 𝐚 𝐩𝐫𝐨𝐟𝐨𝐮𝐧𝐝 𝐩𝐫𝐨𝐩𝐡𝐞𝐜𝐲 𝐚𝐛𝐨𝐮𝐭 𝐭𝐡𝐞 𝐥𝐚𝐭𝐭𝐞𝐫-𝐝𝐚𝐲 𝐜𝐨𝐧𝐝𝐢𝐭𝐢𝐨𝐧 𝐨𝐟 𝐈𝐬𝐥𝐚𝐦 𝐢𝐧 𝐛𝐨𝐭𝐡 𝐭𝐡𝐞 𝐄𝐚𝐬𝐭 𝐚𝐧𝐝 𝐭𝐡𝐞 𝐖𝐞𝐬𝐭.
𝐂𝐨𝐧𝐜𝐥𝐮𝐬𝐢𝐨𝐧:
𝐓𝐡𝐞 𝐚𝐮𝐭𝐡𝐨𝐫𝐬 𝐨𝐟 𝐖𝐢𝐤𝐢𝐈𝐬𝐥𝐚𝐦 (𝐚𝐧𝐝 𝐨𝐭𝐡𝐞𝐫𝐬 𝐰𝐡𝐨 𝐫𝐚𝐢𝐬𝐞 𝐭𝐡𝐢𝐬 𝐚𝐥𝐥𝐞𝐠𝐚𝐭𝐢𝐨𝐧) 𝐡𝐚𝐯𝐞 𝐚 𝐟𝐚𝐜𝐚𝐝𝐞 𝐨𝐟 𝐚𝐜𝐚𝐝𝐞𝐦𝐢𝐚 𝐚𝐧𝐝 𝐨𝐛𝐣𝐞𝐜𝐭𝐢𝐯𝐢𝐭𝐲. 𝐍𝐨𝐭𝐡𝐢𝐧𝐠 𝐜𝐨𝐮𝐥𝐝 𝐛𝐞 𝐟𝐮𝐫𝐭𝐡𝐞𝐫 𝐟𝐫𝐨𝐦 𝐭𝐡𝐞 𝐭𝐫𝐮𝐭𝐡. 𝐓𝐡𝐞𝐢𝐫 𝐛𝐢𝐚𝐬 𝐡𝐚𝐬 𝐛𝐥𝐢𝐧𝐝𝐞𝐝 𝐭𝐡𝐞𝐦 𝐭𝐨 𝐚 𝐟𝐚𝐢𝐫, 𝐢𝐦𝐩𝐚𝐫𝐭𝐢𝐚𝐥 𝐚𝐬𝐬𝐞𝐬𝐬𝐦𝐞𝐧𝐭 𝐨𝐟 𝐭𝐡𝐞 𝐐𝐮𝐫𝐚𝐧, 𝐭𝐨 𝐬𝐮𝐜𝐡 𝐚𝐧 𝐞𝐱𝐭𝐞𝐧𝐭 𝐭𝐡𝐚𝐭 𝐭𝐡𝐞𝐲 𝐡𝐚𝐯𝐞 𝐛𝐞𝐠𝐮𝐧 𝐭𝐨 𝐭𝐚𝐤𝐞 𝐨𝐛𝐣𝐞𝐜𝐭𝐢𝐨𝐧 𝐭𝐨 𝐭𝐡𝐞 𝐧𝐨𝐫𝐦𝐚𝐥 𝐮𝐬𝐞 𝐨𝐟 𝐥𝐚𝐧𝐠𝐮𝐚𝐠𝐞, 𝐮𝐬𝐞𝐝 𝐛𝐲 𝐬𝐜𝐢𝐞𝐧𝐭𝐢𝐬𝐭𝐬 𝐚𝐧𝐝 𝐥𝐚𝐲 𝐩𝐞𝐨𝐩𝐥𝐞 𝐚𝐥𝐢𝐤𝐞.
𝐅𝐮𝐫𝐭𝐡𝐞𝐫, 𝐭𝐡𝐞 𝐩𝐫𝐨𝐩𝐡𝐞𝐜𝐲 𝐜𝐨𝐧𝐭𝐚𝐢𝐧𝐞𝐝 𝐢𝐧 𝐭𝐡𝐢𝐬 𝐦𝐚𝐠𝐧𝐢𝐟𝐢𝐜𝐞𝐧𝐭 𝐩𝐚𝐫𝐚𝐛𝐥𝐞 𝐢𝐬 𝐝𝐞𝐬𝐩𝐞𝐫𝐚𝐭𝐞𝐥𝐲 𝐥𝐨𝐬𝐭 𝐨𝐧 𝐭𝐡𝐨𝐬𝐞 𝐰𝐡𝐨 𝐝𝐞𝐥𝐢𝐛𝐞𝐫𝐚𝐭𝐞𝐥𝐲 𝐬𝐞𝐞𝐤 𝐞𝐫𝐫𝐨𝐫 𝐢𝐧 𝐭𝐡𝐞 𝐐𝐮𝐫𝐚𝐧. 𝐓𝐡𝐞 𝐬𝐚𝐲𝐢𝐧𝐠 𝐨𝐟 𝐉𝐞𝐬𝐮𝐬, 𝐩𝐞𝐚𝐜𝐞 𝐛𝐞 𝐨𝐧 𝐡𝐢𝐦, 𝐜𝐨𝐦𝐞𝐬 𝐭𝐨 𝐦𝐢𝐧𝐝:
"𝐀𝐧𝐝 𝐰𝐡𝐲 𝐛𝐞𝐡𝐨𝐥𝐝𝐞𝐬𝐭 𝐭𝐡𝐨𝐮 𝐭𝐡𝐞 𝐦𝐨𝐭𝐞 𝐭𝐡𝐚𝐭 𝐢𝐬 𝐢𝐧 𝐭𝐡𝐲 𝐛𝐫𝐨𝐭𝐡𝐞𝐫'𝐬 𝐞𝐲𝐞, 𝐛𝐮𝐭 𝐜𝐨𝐧𝐬𝐢𝐝𝐞𝐫𝐬 𝐧𝐨𝐭 𝐭𝐡𝐞 𝐛𝐞𝐚𝐦 𝐭𝐡𝐚𝐭 𝐢𝐬 𝐢𝐧 𝐭𝐡𝐢𝐧𝐞 𝐨𝐰𝐧 𝐞𝐲𝐞? 𝐎𝐫 𝐡𝐨𝐰 𝐰𝐢𝐥𝐭 𝐭𝐡𝐨𝐮 𝐬𝐚𝐲 𝐭𝐨 𝐭𝐡𝐲 𝐛𝐫𝐨𝐭𝐡𝐞𝐫, 𝐥𝐞𝐭 𝐦𝐞 𝐩𝐮𝐥𝐥 𝐨𝐮𝐭 𝐭𝐡𝐞 𝐦𝐨𝐭𝐞 𝐨𝐮𝐭 𝐨𝐟 𝐭𝐡𝐢𝐧𝐞 𝐞𝐲𝐞; 𝐚𝐧𝐝 𝐛𝐞𝐡𝐨𝐥𝐝, 𝐚 𝐛𝐞𝐚𝐦 𝐢𝐬 𝐢𝐧 𝐭𝐡𝐢𝐧𝐞 𝐨𝐰𝐧 𝐞𝐲𝐞?
𝐓𝐡𝐨𝐮 𝐡𝐲𝐩𝐨𝐜𝐫𝐢𝐭𝐞 𝐟𝐢𝐫𝐬𝐭 𝐜𝐚𝐬𝐭 𝐨𝐮𝐭 𝐭𝐡𝐞 𝐛𝐞𝐚𝐦 𝐨𝐮𝐭 𝐨𝐟 𝐭𝐡𝐢𝐧𝐞 𝐨𝐰𝐧 𝐞𝐲𝐞, 𝐚𝐧𝐝 𝐭𝐡𝐞𝐧 𝐬𝐡𝐚𝐥𝐭 𝐭𝐡𝐨𝐮 𝐬𝐞𝐞 𝐜𝐥𝐞𝐚𝐫𝐥𝐲 𝐭𝐨 𝐜𝐚𝐬𝐭 𝐨𝐮𝐭 𝐭𝐡𝐞 𝐦𝐨𝐭𝐞 𝐨𝐮𝐭 𝐨𝐟 𝐭𝐡𝐲 𝐛𝐫𝐨𝐭𝐡𝐞𝐫'𝐬 𝐞𝐲𝐞." (𝐌𝐚𝐭𝐭𝐡𝐞𝐰 𝟕:𝟑-𝟓)
𝐓𝐡𝐞 𝐏𝐬𝐚𝐥𝐦𝐢𝐬𝐭 𝐎𝐧 𝐍𝐨𝐭𝐡𝐢𝐧𝐠 𝐄𝐬𝐜𝐚𝐩𝐢𝐧𝐠 𝐓𝐡𝐞 𝐒𝐮𝐧'𝐬 𝐇𝐞𝐚𝐭
𝐓𝐡𝐞 𝐁𝐢𝐛𝐥𝐞 𝐬𝐚𝐲𝐬 𝐭𝐡𝐚𝐭 𝐧𝐨𝐭𝐡𝐢𝐧𝐠 𝐜𝐚𝐧 𝐞𝐬𝐜𝐚𝐩𝐞 𝐭𝐡𝐞 𝐬𝐮𝐧'𝐬 𝐡𝐞𝐚𝐭…
𝐏𝐬𝐚𝐥𝐦 𝟏𝟗:𝟒-𝟔
𝐓𝐡𝐞𝐢𝐫 𝐯𝐨𝐢𝐜𝐞 𝐠𝐨𝐞𝐬 𝐨𝐮𝐭 𝐢𝐧𝐭𝐨 𝐚𝐥𝐥 𝐭𝐡𝐞 𝐞𝐚𝐫𝐭𝐡, 𝐭𝐡𝐞𝐢𝐫 𝐰𝐨𝐫𝐝𝐬 𝐭𝐨 𝐭𝐡𝐞 𝐞𝐧𝐝𝐬 𝐨𝐟 𝐭𝐡𝐞 𝐰𝐨𝐫𝐥𝐝. 𝐈𝐧 𝐭𝐡𝐞 𝐡𝐞𝐚𝐯𝐞𝐧𝐬 𝐡𝐞 𝐡𝐚𝐬 𝐩𝐢𝐭𝐜𝐡𝐞𝐝 𝐚 𝐭𝐞𝐧𝐭 𝐟𝐨𝐫 𝐭𝐡𝐞 𝐬𝐮𝐧, 𝐰𝐡𝐢𝐜𝐡 𝐢𝐬 𝐥𝐢𝐤𝐞 𝐚 𝐛𝐫𝐢𝐝𝐞𝐠𝐫𝐨𝐨𝐦 𝐜𝐨𝐦𝐢𝐧𝐠 𝐟𝐨𝐫𝐭𝐡 𝐟𝐫𝐨𝐦 𝐡𝐢𝐬 𝐩𝐚𝐯𝐢𝐥𝐢𝐨𝐧, 𝐥𝐢𝐤𝐞 𝐚 𝐜𝐡𝐚𝐦𝐩𝐢𝐨𝐧 𝐫𝐞𝐣𝐨𝐢𝐜𝐢𝐧𝐠 𝐭𝐨 𝐫𝐮𝐧 𝐡𝐢𝐬 𝐜𝐨𝐮𝐫𝐬𝐞. 𝐈𝐭 𝐫𝐢𝐬𝐞𝐬 𝐚𝐭 𝐨𝐧𝐞 𝐞𝐧𝐝 𝐨𝐟 𝐭𝐡𝐞 𝐡𝐞𝐚𝐯𝐞𝐧𝐬 𝐚𝐧𝐝 𝐦𝐚𝐤𝐞𝐬 𝐢𝐭𝐬 𝐜𝐢𝐫𝐜𝐮𝐢𝐭 𝐭𝐨 𝐭𝐡𝐞 𝐨𝐭𝐡𝐞𝐫; 𝐧𝐨𝐭𝐡𝐢𝐧𝐠 𝐢𝐬 𝐡𝐢𝐝𝐝𝐞𝐧 𝐟𝐫𝐨𝐦 𝐢𝐭𝐬 𝐡𝐞𝐚𝐭.
𝐂𝐥𝐞𝐚𝐫𝐥𝐲 𝐭𝐡𝐞 𝐏𝐬𝐚𝐥𝐦𝐢𝐬𝐭 𝐝𝐢𝐝𝐧'𝐭 𝐮𝐧𝐝𝐞𝐫𝐬𝐭𝐚𝐧𝐝 𝐭𝐡𝐞 𝐯𝐚𝐬𝐭𝐧𝐞𝐬𝐬 𝐨𝐟 𝐭𝐡𝐞 𝐮𝐧𝐢𝐯𝐞𝐫𝐬𝐞 𝐚𝐧𝐝 𝐡𝐨𝐰 𝐭𝐡𝐞𝐫𝐞 𝐚𝐫𝐞 𝐦𝐚𝐧𝐲 𝐭𝐡𝐢𝐧𝐠𝐬 𝐢𝐧 𝐭𝐡𝐞 𝐮𝐧𝐢𝐯𝐞𝐫𝐬𝐞 𝐭𝐡𝐚𝐭 𝐚𝐫𝐞 𝐧𝐨𝐭 𝐚𝐟𝐟𝐞𝐜𝐭𝐞𝐝 𝐚𝐭 𝐚𝐥𝐥 𝐛𝐲 𝐭𝐡𝐞 𝐒𝐮𝐧'𝐬 𝐡𝐞𝐚𝐭.
𝐒𝐨𝐦𝐞 𝐂𝐡𝐫𝐢𝐬𝐭𝐢𝐚𝐧𝐬 𝐦𝐚𝐲 𝐭𝐫𝐲 𝐭𝐨 𝐚𝐫𝐠𝐮𝐞 𝐛𝐚𝐜𝐤 𝐭𝐡𝐚𝐭 𝐭𝐡𝐞 𝐏𝐬𝐚𝐥𝐦𝐢𝐬𝐭'𝐬 𝐢𝐧𝐭𝐞𝐧𝐭𝐢𝐨𝐧 𝐰𝐚𝐬 𝐭𝐨 𝐫𝐞𝐟𝐞𝐫 𝐭𝐨 𝐚𝐥𝐥 𝐭𝐡𝐢𝐧𝐠𝐬 𝐨𝐧 𝐞𝐚𝐫𝐭𝐡. 𝐇𝐨𝐰𝐞𝐯𝐞𝐫, 𝐭𝐡𝐢𝐬 𝐚𝐧𝐬𝐰𝐞𝐫 𝐬𝐭𝐢𝐥𝐥 𝐰𝐨𝐧'𝐭 𝐡𝐞𝐥𝐩 𝐭𝐡𝐞𝐢𝐫 𝐚𝐫𝐠𝐮𝐦𝐞𝐧𝐭 𝐟𝐨𝐫 𝐲𝐨𝐮 𝐡𝐚𝐯𝐞 𝐛𝐚𝐭𝐬 𝐭𝐡𝐚𝐭 𝐥𝐢𝐯𝐞 𝐢𝐧 𝐜𝐚𝐯𝐞𝐬 𝐭𝐡𝐚𝐭 𝐝𝐨𝐧'𝐭 𝐢𝐧𝐭𝐞𝐫𝐚𝐜𝐭 𝐰𝐢𝐭𝐡 𝐬𝐮𝐧𝐥𝐢𝐠𝐡𝐭 𝐚𝐧𝐝 𝐨𝐧𝐥𝐲 𝐠𝐨 𝐨𝐮𝐭 𝐚𝐭 𝐧𝐢𝐠𝐡𝐭 𝐭𝐨 𝐡𝐚𝐫𝐯𝐞𝐬𝐭 𝐨𝐧 𝐟𝐫𝐮𝐢𝐭𝐬, 𝐢𝐧𝐬𝐞𝐜𝐭𝐬, 𝐩𝐨𝐥𝐥𝐞𝐧, 𝐞𝐭𝐜.
𝐘𝐨𝐮 𝐚𝐥𝐬𝐨 𝐡𝐚𝐯𝐞 𝐬𝐞𝐚 𝐜𝐫𝐞𝐚𝐭𝐮𝐫𝐞𝐬 𝐬𝐮𝐜𝐡 𝐚𝐬 𝐭𝐡𝐞 𝐩𝐞𝐥𝐚𝐠𝐢𝐜 𝐟𝐚𝐧𝐠𝐭𝐨𝐨𝐭𝐡𝐬 𝐭𝐡𝐚𝐭 𝐥𝐢𝐯𝐞 𝐦𝐨𝐫𝐞 𝐭𝐡𝐚𝐧 𝟏𝟔,𝟎𝟎𝟎 𝐟𝐞𝐞𝐭 𝐝𝐞𝐞𝐩 𝐢𝐧𝐭𝐨 𝐭𝐡𝐞 𝐨𝐜𝐞𝐚𝐧 𝐰𝐚𝐭𝐞𝐫𝐬 𝐰𝐡𝐞𝐫𝐞 𝐭𝐡𝐞𝐫𝐞 𝐢𝐬 𝐚𝐛𝐬𝐨𝐥𝐮𝐭𝐞𝐥𝐲 𝐧𝐨 𝐬𝐮𝐧𝐥𝐢𝐠𝐡𝐭 𝐩𝐞𝐧𝐞𝐭𝐫𝐚𝐭𝐢𝐧𝐠 𝐭𝐡𝐫𝐨𝐮𝐠𝐡.
𝐀𝐥𝐬𝐨 𝐲𝐨𝐮 𝐡𝐚𝐯𝐞 𝐈𝐬𝐫𝐚𝐞𝐥𝐢 𝐫𝐞𝐬𝐞𝐚𝐫𝐜𝐡𝐞𝐫𝐬 𝐝𝐢𝐬𝐜𝐨𝐯𝐞𝐫𝐢𝐧𝐠 𝐚𝐧 𝐞𝐜𝐨𝐬𝐲𝐬𝐭𝐞𝐦 𝐢𝐧 𝐚 𝐜𝐚𝐯𝐞 𝐚𝐫𝐨𝐮𝐧𝐝 𝟏𝟎𝟎 𝐦𝐞𝐭𝐞𝐫𝐬 𝐝𝐞𝐞𝐩 𝐢𝐧𝐭𝐨 𝐭𝐡𝐞 𝐠𝐫𝐨𝐮𝐧𝐝 𝐰𝐢𝐭𝐡𝐨𝐮𝐭 𝐛𝐞𝐢𝐧𝐠 𝐞𝐱𝐩𝐨𝐬𝐞𝐝 𝐭𝐨 𝐬𝐮𝐧𝐥𝐢𝐠𝐡𝐭. ("𝐈𝐬𝐫𝐚𝐞𝐥𝐢 𝐫𝐞𝐬𝐞𝐚𝐫𝐜𝐡𝐞𝐫𝐬 𝐝𝐢𝐬𝐜𝐨𝐯𝐞𝐫 𝐞𝐢𝐠𝐡𝐭 𝐧𝐞𝐰 𝐬𝐩𝐞𝐜𝐢𝐞𝐬 𝐢𝐧 𝐚𝐧𝐜𝐢𝐞𝐧𝐭 𝐞𝐜𝐨𝐬𝐲𝐬𝐭𝐞𝐦", 𝐉𝐮𝐧𝐞 𝟕, 𝟐𝟎𝟎𝟔, 𝐈𝐒𝐑𝐀𝐄𝐋𝟐𝟏𝐜,
𝐀𝐯𝐚𝐢𝐥𝐚𝐛𝐥𝐞:
𝐡𝐭𝐭𝐩://𝐰𝐰𝐰.𝐢𝐬𝐫𝐚𝐞𝐥𝟐𝟏𝐜.𝐨𝐫𝐠/𝐛𝐢𝐧𝐞𝐧.𝐣𝐬𝐩𝐞𝐧𝐃𝐢𝐬𝐩𝐖𝐡𝐨=𝐀𝐫𝐭𝐢𝐜𝐥𝐞𝐬%𝟓𝐄𝐥𝟏𝟑𝟐𝟒&𝐞𝐧𝐏𝐚𝐠𝐞=
𝐁𝐥𝐚𝐧𝐤𝐏𝐚𝐠𝐞&𝐞𝐧𝐃𝐢𝐬𝐩𝐥𝐚𝐲=𝐯𝐢𝐞𝐰&𝐞𝐧𝐃𝐢𝐬𝐩𝐖𝐡𝐚𝐭=𝐨𝐛𝐣𝐞𝐜𝐭&𝐞𝐧𝐕𝐞𝐫𝐬𝐢𝐨𝐧=𝟎&𝐞𝐧𝐙𝐨𝐧𝐞=𝐂𝐮𝐥𝐭𝐮𝐫𝐞)
𝐓𝐡𝐞 𝐐𝐮𝐫'𝐚𝐧 𝐬𝐭𝐚𝐭𝐞𝐬 𝐢𝐧 𝐂𝐡𝐚𝐩𝐭𝐞𝐫 𝟐𝟒, 𝐕𝐞𝐫𝐬𝐞 𝟒𝟎…
𝐎𝐫 𝐚𝐬 𝐝𝐚𝐫𝐤𝐧𝐞𝐬𝐬 𝐨𝐧 𝐚 𝐯𝐚𝐬𝐭, 𝐚𝐛𝐲𝐬𝐦𝐚𝐥 𝐬𝐞𝐚. 𝐓𝐡𝐞𝐫𝐞 𝐜𝐨𝐯𝐞𝐫𝐞𝐭𝐡 𝐡𝐢𝐦 𝐚 𝐰𝐚𝐯𝐞, 𝐚𝐛𝐨𝐯𝐞 𝐰𝐡𝐢𝐜𝐡 𝐢𝐬 𝐚 𝐰𝐚𝐯𝐞, 𝐚𝐛𝐨𝐯𝐞 𝐰𝐡𝐢𝐜𝐡 𝐢𝐬 𝐚 𝐜𝐥𝐨𝐮𝐝. 𝐋𝐚𝐲𝐞𝐫 𝐮𝐩𝐨𝐧 𝐥𝐚𝐲𝐞𝐫 𝐨𝐟 𝐝𝐚𝐫𝐤𝐧𝐞𝐬𝐬. 𝐖𝐡𝐞𝐧 𝐡𝐞 𝐡𝐨𝐥𝐝𝐞𝐭𝐡 𝐨𝐮𝐭 𝐡𝐢𝐬 𝐡𝐚𝐧𝐝 𝐡𝐞 𝐬𝐜𝐚𝐫𝐜𝐞 𝐜𝐚𝐧 𝐬𝐞𝐞 𝐢𝐭. 𝐀𝐧𝐝 𝐡𝐞 𝐟𝐨𝐫 𝐰𝐡𝐨𝐦 𝐀𝐥𝐥𝐚𝐡 𝐡𝐚𝐭𝐡 𝐧𝐨𝐭 𝐚𝐩𝐩𝐨𝐢𝐧𝐭𝐞𝐝 𝐥𝐢𝐠𝐡𝐭, 𝐟𝐨𝐫 𝐡𝐢𝐦 𝐭𝐡𝐞𝐫𝐞 𝐢𝐬 𝐧𝐨 𝐥𝐢𝐠𝐡𝐭.
𝐒𝐨 𝐰𝐞 𝐬𝐞𝐞 𝐭𝐡𝐚𝐭 𝐭𝐡𝐞 𝐐𝐮𝐫'𝐚𝐧 𝐢𝐧𝐝𝐢𝐫𝐞𝐜𝐭𝐥𝐲 𝐠𝐨𝐞𝐬 𝐚𝐠𝐚𝐢𝐧𝐬𝐭 𝐭𝐡𝐢𝐬 𝐛𝐲 𝐬𝐩𝐞𝐚𝐤𝐢𝐧𝐠 𝐚𝐛𝐨𝐮𝐭 𝐭𝐡𝐞 𝐝𝐚𝐫𝐤𝐧𝐞𝐬𝐬 𝐟𝐨𝐮𝐧𝐝 𝐢𝐧 𝐭𝐡𝐞 𝐝𝐞𝐩𝐭𝐡 𝐨𝐟 𝐭𝐡𝐞 𝐬𝐞𝐚𝐬. 𝐓𝐡𝐮𝐬, 𝐭𝐡𝐞 𝐐𝐮𝐫'𝐚𝐧 𝐬𝐩𝐞𝐚𝐤𝐬 𝐚𝐛𝐨𝐮𝐭 𝐬𝐨𝐦𝐞 𝐩𝐥𝐚𝐜𝐞 𝐢𝐧 𝐰𝐡𝐢𝐜𝐡 𝐭𝐡𝐞𝐫𝐞 𝐢𝐬 𝐧𝐨 𝐥𝐢𝐠𝐡𝐭.
𝐓𝐡𝐮𝐬, 𝐰𝐞 𝐜𝐚𝐧 𝐜𝐨𝐧𝐜𝐥𝐮𝐝𝐞 𝐭𝐡𝐚𝐭 𝐭𝐡𝐞 𝐁𝐢𝐛𝐥𝐞 𝐜𝐨𝐧𝐭𝐚𝐢𝐧𝐬 𝐚 𝐬𝐜𝐢𝐞𝐧𝐭𝐢𝐟𝐢𝐜 𝐞𝐫𝐫𝐨𝐫 𝐭𝐡𝐚𝐭 𝐭𝐡𝐞 𝐐𝐮𝐫'𝐚𝐧 𝐢𝐧𝐝𝐢𝐫𝐞𝐜𝐭𝐥𝐲, 𝐲𝐞𝐭 𝐜𝐥𝐞𝐚𝐫𝐥𝐲 𝐚𝐯𝐨𝐢𝐝𝐬. 𝐓𝐡𝐢𝐬 𝐚𝐠𝐚𝐢𝐧 𝐢𝐬 𝐚𝐧𝐨𝐭𝐡𝐞𝐫 𝐩𝐫𝐨𝐨𝐟 𝐟𝐫𝐨𝐦 𝐦𝐚𝐧𝐲 𝐨𝐭𝐡𝐞𝐫 𝐩𝐫𝐨𝐨𝐟𝐬 𝐭𝐡𝐚𝐭 𝐭𝐡𝐞 𝐏𝐫𝐨𝐩𝐡𝐞𝐭 (𝐩𝐞𝐚𝐜𝐞 𝐛𝐞 𝐮𝐩𝐨𝐧 𝐡𝐢𝐦) 𝐜𝐨𝐮𝐥𝐝 𝐧𝐨𝐭 𝐡𝐚𝐯𝐞 𝐩𝐥𝐚𝐠𝐢𝐚𝐫𝐢𝐳𝐞𝐝 𝐟𝐫𝐨𝐦 𝐭𝐡𝐞 𝐁𝐢𝐛𝐥𝐞; 𝐟𝐨𝐫 𝐢𝐟 𝐡𝐞 𝐝𝐢𝐝 𝐭𝐡𝐞𝐧 𝐡𝐞 𝐰𝐨𝐮𝐥𝐝 𝐡𝐚𝐯𝐞 𝐚𝐥𝐬𝐨 𝐜𝐨𝐩𝐢𝐞𝐝 𝐢𝐭𝐬 𝐞𝐫𝐫𝐨𝐫𝐬 𝐚𝐬 𝐰𝐞𝐥𝐥.
𝐀𝐥𝐥𝐚𝐡 𝐊𝐧𝐨𝐰𝐬 𝐁𝐞𝐬𝐭
The correct way to describe the sun is that it "prostrates beneath the Throne" and not that it "sets in a spring of warm water"
Answering the allegation that the Holy Quran claimed the that earth is flat
Difference between the Quran and Bible Teaching about the shape of the Earth
Which one was the origin of the Universe/ cosmos as per the Noble Qur'an, water, or smoke?