𝐖𝐡𝐚𝐭 𝐈𝐬 𝐭𝐡𝐞 𝐃𝐢𝐟𝐟𝐞𝐫𝐞𝐧𝐜𝐞 𝐁𝐞𝐭𝐰𝐞𝐞𝐧 𝐚𝐥-𝐀𝐪𝐬𝐚 𝐚𝐧𝐝 𝐭𝐡𝐞 𝐃𝐨𝐦𝐞 𝐨𝐟 𝐭𝐡𝐞 𝐑𝐨𝐜𝐤?

Mohamad Mostafa Nassar
Twitter:@NassarMohamadMR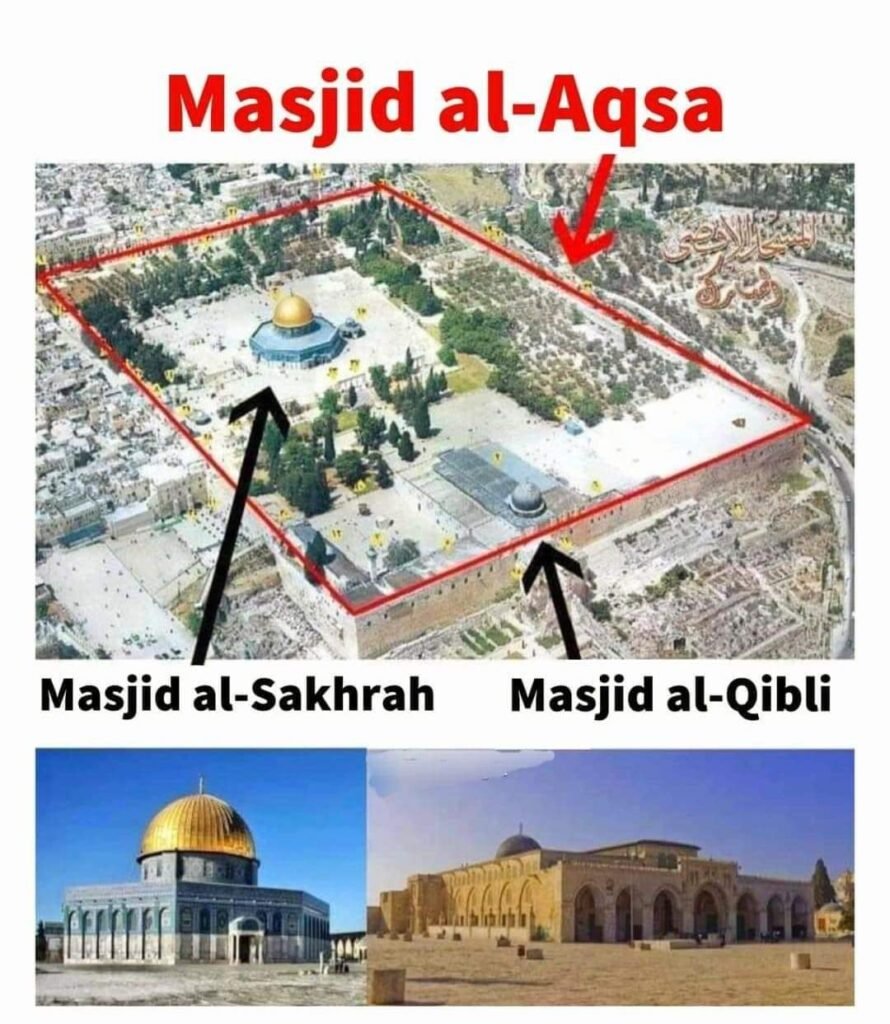 𝐐𝐮𝐞𝐬𝐭𝐢𝐨𝐧:
𝐈 𝐡𝐚𝐯𝐞 𝐫𝐞𝐜𝐞𝐧𝐭𝐥𝐲 𝐫𝐞𝐜𝐞𝐢𝐯𝐞𝐝 𝐚𝐧 𝐄𝐦𝐚𝐢𝐥 𝐚𝐝𝐯𝐢𝐬𝐢𝐧𝐠 𝐦𝐞 𝐨𝐟 𝐭𝐡𝐞 𝐬𝐭𝐚𝐭𝐮𝐬 𝐨𝐟 𝐚𝐥-𝐌𝐚𝐬𝐣𝐢𝐝 𝐚𝐥𝐀𝐪𝐬𝐚 𝐚𝐧𝐝 𝐝𝐢𝐟𝐟𝐞𝐫𝐞𝐧𝐭𝐢𝐚𝐭𝐢𝐧𝐠 𝐢𝐭 𝐟𝐫𝐨𝐦 𝐭𝐡𝐞 𝐃𝐨𝐦𝐞 𝐨𝐟 𝐭𝐡𝐞 𝐑𝐨𝐜𝐤.
𝐂𝐚𝐧 𝐲𝐨𝐮 𝐩𝐥𝐞𝐚𝐬𝐞 𝐜𝐥𝐚𝐫𝐢𝐟𝐲 𝐭𝐡𝐞 𝐬𝐢𝐭𝐮𝐚𝐭𝐢𝐨𝐧 𝐚𝐧𝐝 𝐚𝐝𝐯𝐢𝐬𝐞, 𝐢𝐟 𝐚𝐥-𝐌𝐚𝐬𝐣𝐢𝐝 𝐚𝐥-𝐀𝐪𝐬𝐚 𝐢𝐬 𝐝𝐢𝐟𝐟𝐞𝐫𝐞𝐧𝐭 𝐟𝐫𝐨𝐦 𝐭𝐡𝐞 𝐃𝐨𝐦𝐞 𝐨𝐟 𝐭𝐡𝐞 𝐑𝐨𝐜𝐤, 𝐰𝐡𝐲 𝐝𝐨 𝐰𝐞 𝐬𝐞𝐞 𝐢𝐭𝐬 𝐩𝐢𝐜𝐭𝐮𝐫𝐞 𝐫𝐞𝐩𝐫𝐞𝐬𝐞𝐧𝐭𝐢𝐧𝐠 𝐚𝐥-𝐌𝐚𝐬𝐣𝐢𝐝 𝐚𝐥-𝐀𝐪𝐬𝐚 𝐚𝐭 𝐚𝐥𝐥 𝐈𝐬𝐥𝐚𝐦𝐢𝐜 𝐩𝐥𝐚𝐜𝐞𝐬, 𝐚𝐧𝐝 𝐈 (𝐚𝐧𝐝 𝐦𝐚𝐧𝐲 𝐨𝐭𝐡𝐞𝐫 𝐌𝐮𝐬𝐥𝐢𝐦𝐬) 𝐰𝐞𝐫𝐞 𝐜𝐨𝐦𝐩𝐥𝐞𝐭𝐞𝐥𝐲 𝐮𝐧𝐚𝐰𝐚𝐫𝐞 𝐨𝐟 𝐭𝐡𝐞 𝐝𝐢𝐟𝐟𝐞𝐫𝐞𝐧𝐜𝐞?
𝐀𝐧𝐬𝐰𝐞𝐫:
𝐏𝐫𝐚𝐢𝐬𝐞 𝐛𝐞 𝐭𝐨 𝐀𝐥𝐥𝐚𝐡.

𝐖𝐡𝐚𝐭 𝐢𝐬 𝐀𝐥-𝐌𝐚𝐬𝐣𝐢𝐝 𝐚𝐥-𝐀𝐪𝐬𝐚?

𝐀𝐥-𝐌𝐚𝐬𝐣𝐢𝐝 𝐚𝐥-𝐀𝐪𝐬𝐚 (𝐢𝐧 𝐉𝐞𝐫𝐮𝐬𝐚𝐥𝐞𝐦) 𝐰𝐚𝐬 𝐭𝐡𝐞 𝐟𝐢𝐫𝐬𝐭 𝐨𝐟 𝐭𝐡𝐞 𝐭𝐰𝐨 𝐪𝐢𝐛𝐥𝐚𝐡𝐬 (𝐩𝐫𝐚𝐲𝐞𝐫 𝐝𝐢𝐫𝐞𝐜𝐭𝐢𝐨𝐧), 𝐚𝐧𝐝 𝐢𝐬 𝐨𝐧𝐞 𝐨𝐟 𝐭𝐡𝐞 𝐭𝐡𝐫𝐞𝐞 𝐦𝐨𝐬𝐪𝐮𝐞𝐬 𝐭𝐨 𝐰𝐡𝐢𝐜𝐡 𝐩𝐞𝐨𝐩𝐥𝐞 𝐦𝐚𝐲 𝐭𝐫𝐚𝐯𝐞𝐥 𝐟𝐨𝐫 𝐭𝐡𝐞 𝐩𝐮𝐫𝐩𝐨𝐬𝐞 𝐨𝐟 𝐰𝐨𝐫𝐬𝐡𝐢𝐩.

𝐖𝐡𝐨 𝐛𝐮𝐢𝐥𝐭 𝐚𝐥-𝐌𝐚𝐬𝐣𝐢𝐝 𝐚𝐥-𝐀𝐪𝐬𝐚?

𝐀𝐧𝐝 𝐢𝐭 𝐰𝐚𝐬 𝐬𝐚𝐢𝐝 𝐭𝐡𝐚𝐭 𝐀𝐥-𝐀𝐪𝐬𝐚 𝐌𝐨𝐬𝐪𝐮𝐞 𝐰𝐚𝐬 𝐛𝐮𝐢𝐥𝐭 𝐛𝐲 𝐒𝐮𝐥𝐚𝐲𝐦𝐚𝐧 (𝐩𝐞𝐚𝐜𝐞 𝐛𝐞 𝐮𝐩𝐨𝐧 𝐡𝐢𝐦), 𝐚𝐬 𝐬𝐭𝐚𝐭𝐞𝐝 𝐢𝐧 𝐒𝐮𝐧𝐚𝐧 𝐚𝐥-𝐍𝐚𝐬𝐚𝐢 (𝟔𝟗𝟑) 𝐚𝐧𝐝 𝐜𝐥𝐚𝐬𝐬𝐞𝐝 𝐚𝐬 𝐬𝐚𝐡𝐢𝐡 𝐛𝐲 𝐚𝐥-𝐀𝐥𝐛𝐚𝐧𝐢 𝐢𝐧 𝐒𝐚𝐡𝐢𝐡 𝐚𝐥-𝐍𝐚𝐬𝐚𝐢.

𝐈𝐭 𝐰𝐚𝐬 𝐬𝐚𝐢𝐝 𝐭𝐡𝐚𝐭 𝐀𝐥-𝐀𝐪𝐬𝐚 𝐌𝐨𝐬𝐪𝐮𝐞 𝐞𝐱𝐢𝐬𝐭𝐞𝐝 𝐛𝐞𝐟𝐨𝐫𝐞 𝐒𝐮𝐥𝐚𝐲𝐦𝐚𝐧 (𝐩𝐞𝐚𝐜𝐞 𝐛𝐞 𝐮𝐩𝐨𝐧 𝐡𝐢𝐦) 𝐚𝐧𝐝 𝐭𝐡𝐚𝐭 𝐒𝐮𝐥𝐚𝐲𝐦𝐚𝐧 𝐫𝐞𝐛𝐮𝐢𝐥𝐭 𝐢𝐭; 𝐭𝐡𝐢𝐬 𝐢𝐬 𝐛𝐚𝐬𝐞𝐝 𝐨𝐧 𝐭𝐡𝐞 𝐞𝐯𝐢𝐝𝐞𝐧𝐜𝐞 𝐧𝐚𝐫𝐫𝐚𝐭𝐞𝐝 𝐢𝐧 𝐚𝐥-𝐒𝐚𝐡𝐢𝐡𝐚𝐲𝐧 𝐟𝐫𝐨𝐦 𝐀𝐛𝐮 𝐃𝐡𝐚𝐫𝐫 (𝐦𝐚𝐲 𝐀𝐥𝐥𝐚𝐡 𝐛𝐞 𝐩𝐥𝐞𝐚𝐬𝐞𝐝 𝐰𝐢𝐭𝐡 𝐡𝐢𝐦) 𝐰𝐡𝐨 𝐬𝐚𝐢𝐝: "𝐈 𝐬𝐚𝐢𝐝, '𝐎 𝐌𝐞𝐬𝐬𝐞𝐧𝐠𝐞𝐫 𝐨𝐟 𝐀𝐥𝐥𝐚𝐡, 𝐰𝐡𝐢𝐜𝐡 𝐦𝐨𝐬𝐪𝐮𝐞 𝐰𝐚𝐬 𝐛𝐮𝐢𝐥𝐭 𝐨𝐧 𝐞𝐚𝐫𝐭𝐡 𝐟𝐢𝐫𝐬𝐭?'
𝐇𝐞 𝐬𝐚𝐢𝐝, '𝐀𝐥-𝐌𝐚𝐬𝐣𝐢𝐝 𝐚𝐥-𝐇𝐚𝐫𝐚𝐦 [𝐢𝐧 𝐌𝐚𝐤𝐤𝐚𝐡].' 𝐈 𝐬𝐚𝐢𝐝, '𝐓𝐡𝐞𝐧 𝐰𝐡𝐢𝐜𝐡?' 𝐇𝐞 𝐬𝐚𝐢𝐝, '𝐀𝐥-𝐌𝐚𝐬𝐣𝐢𝐝 𝐚𝐥-𝐀𝐪𝐬𝐚.' 𝐈 𝐬𝐚𝐢𝐝, '𝐇𝐨𝐰 𝐦𝐮𝐜𝐡 𝐭𝐢𝐦𝐞 𝐰𝐚𝐬 𝐭𝐡𝐞𝐫𝐞 𝐛𝐞𝐭𝐰𝐞𝐞𝐧 𝐭𝐡𝐞𝐦?' 𝐇𝐞 𝐬𝐚𝐢𝐝, '𝐅𝐨𝐫𝐭𝐲 𝐲𝐞𝐚𝐫𝐬. 𝐒𝐨 𝐰𝐡𝐞𝐫𝐞𝐯𝐞𝐫 𝐲𝐨𝐮 𝐚𝐫𝐞 𝐰𝐡𝐞𝐧 𝐭𝐡𝐞 𝐭𝐢𝐦𝐞 𝐟𝐨𝐫 𝐩𝐫𝐚𝐲𝐞𝐫 𝐜𝐨𝐦𝐞𝐬, 𝐩𝐫𝐚𝐲, 𝐟𝐨𝐫 𝐭𝐡𝐚𝐭 𝐢𝐬 𝐭𝐡𝐞 𝐛𝐞𝐬𝐭 𝐭𝐡𝐢𝐧𝐠 𝐭𝐨 𝐝𝐨.'" (𝐍𝐚𝐫𝐫𝐚𝐭𝐞𝐝 𝐛𝐲 𝐚𝐥-𝐁𝐮𝐤𝐡𝐚𝐫𝐢, 𝟑𝟑𝟔𝟔; 𝐌𝐮𝐬𝐥𝐢𝐦, 𝟓𝟐𝟎)

𝐓𝐡𝐞 𝐏𝐫𝐨𝐩𝐡𝐞𝐭 (𝐩𝐞𝐚𝐜𝐞 𝐚𝐧𝐝 𝐛𝐥𝐞𝐬𝐬𝐢𝐧𝐠𝐬 𝐨𝐟 𝐀𝐥𝐥𝐚𝐡 𝐛𝐞 𝐮𝐩𝐨𝐧 𝐡𝐢𝐦) 𝐰𝐚𝐬 𝐭𝐚𝐤𝐞𝐧 𝐨𝐧 𝐭𝐡𝐞 𝐍𝐢𝐠𝐡𝐭 𝐉𝐨𝐮𝐫𝐧𝐞𝐲 (𝐈𝐬𝐫𝐚) 𝐭𝐨 𝐁𝐚𝐲𝐭 𝐚𝐥-𝐌𝐚𝐪𝐝𝐢𝐬 (𝐉𝐞𝐫𝐮𝐬𝐚𝐥𝐞𝐦), 𝐰𝐡𝐞𝐫𝐞 𝐡𝐞 𝐥𝐞𝐝 𝐭𝐡𝐞 𝐏𝐫𝐨𝐩𝐡𝐞𝐭𝐬 𝐢𝐧 𝐩𝐫𝐚𝐲𝐞𝐫 𝐢𝐧 𝐭𝐡𝐢𝐬 𝐛𝐥𝐞𝐬𝐬𝐞𝐝 𝐦𝐨𝐬𝐪𝐮𝐞.
𝐀𝐥𝐥𝐚𝐡 𝐬𝐚𝐲𝐬 (𝐢𝐧𝐭𝐞𝐫𝐩𝐫𝐞𝐭𝐚𝐭𝐢𝐨𝐧 𝐨𝐟 𝐭𝐡𝐞 𝐦𝐞𝐚𝐧𝐢𝐧𝐠):

"𝐆𝐥𝐨𝐫𝐢𝐟𝐢𝐞𝐝 (𝐚𝐧𝐝 𝐄𝐱𝐚𝐥𝐭𝐞𝐝) 𝐛𝐞 𝐇𝐞 (𝐀𝐥𝐥𝐚𝐡) [𝐚𝐛𝐨𝐯𝐞 𝐚𝐥𝐥 𝐭𝐡𝐚𝐭 (𝐞𝐯𝐢𝐥) 𝐭𝐡𝐞𝐲 𝐚𝐬𝐬𝐨𝐜𝐢𝐚𝐭𝐞 𝐰𝐢𝐭𝐡 𝐇𝐢𝐦]
𝐖𝐡𝐨 𝐭𝐨𝐨𝐤 𝐇𝐢𝐬 𝐬𝐥𝐚𝐯𝐞 (𝐌𝐮𝐡𝐚𝐦𝐦𝐚𝐝) 𝐟𝐨𝐫 𝐚 𝐣𝐨𝐮𝐫𝐧𝐞𝐲 𝐛𝐲 𝐧𝐢𝐠𝐡𝐭 𝐟𝐫𝐨𝐦 𝐀𝐥-𝐌𝐚𝐬𝐣𝐢𝐝 𝐀𝐥-𝐇𝐚𝐫𝐚𝐦 (𝐚𝐭 𝐌𝐚𝐤𝐤𝐚𝐡) 𝐭𝐨 𝐀𝐥-𝐌𝐚𝐬𝐣𝐢𝐝 𝐀𝐥-𝐀𝐪𝐬𝐚 (𝐢𝐧 𝐉𝐞𝐫𝐮𝐬𝐚𝐥𝐞𝐦), 𝐭𝐡𝐞 𝐧𝐞𝐢𝐠𝐡𝐛𝐨𝐮𝐫𝐡𝐨𝐨𝐝 𝐰𝐡𝐞𝐫𝐞𝐨𝐟 𝐖𝐞 𝐡𝐚𝐯𝐞 𝐛𝐥𝐞𝐬𝐬𝐞𝐝, 𝐢𝐧 𝐨𝐫𝐝𝐞𝐫 𝐭𝐡𝐚𝐭 𝐖𝐞 𝐦𝐢𝐠𝐡𝐭 𝐬𝐡𝐨𝐰 𝐡𝐢𝐦 (𝐌𝐮𝐡𝐚𝐦𝐦𝐚𝐝) 𝐨𝐟 𝐎𝐮𝐫 𝐀𝐲𝐚𝐭 (𝐩𝐫𝐨𝐨𝐟𝐬, 𝐞𝐯𝐢𝐝𝐞𝐧𝐜𝐞𝐬, 𝐥𝐞𝐬𝐬𝐨𝐧𝐬, 𝐬𝐢𝐠𝐧𝐬, 𝐞𝐭𝐜.). 𝐕𝐞𝐫𝐢𝐥𝐲, 𝐇𝐞 𝐢𝐬 𝐭𝐡𝐞 𝐀𝐥𝐥-𝐇𝐞𝐚𝐫𝐞𝐫, 𝐭𝐡𝐞 𝐀𝐥𝐥-𝐒𝐞𝐞𝐫." [𝐚𝐥-𝐈𝐬𝐫𝐚 𝟏𝟕:𝟏]

𝐖𝐡𝐨 𝐛𝐮𝐢𝐥𝐭 𝐭𝐡𝐞 𝐃𝐨𝐦𝐞 𝐨𝐟 𝐭𝐡𝐞 𝐑𝐨𝐜𝐤?

𝐓𝐡𝐞 𝐃𝐨𝐦𝐞 𝐨𝐟 𝐭𝐡𝐞 𝐑𝐨𝐜𝐤 𝐰𝐚𝐬 𝐛𝐮𝐢𝐥𝐭 𝐛𝐲 𝐭𝐡𝐞 𝐜𝐚𝐥𝐢𝐩𝐡 '𝐀𝐛𝐝 𝐚𝐥-𝐌𝐚𝐥𝐢𝐤 𝐢𝐛𝐧 𝐌𝐚𝐫𝐰𝐚𝐧 𝐢𝐧 𝟕𝟐 𝐀𝐇.
𝐈𝐭 𝐬𝐚𝐲𝐬 𝐢𝐧 𝐚𝐥-𝐌𝐚𝐰𝐬𝐮'𝐚𝐡 𝐚𝐥-𝐅𝐢𝐥𝐚𝐬𝐭𝐢𝐧𝐢𝐲𝐲𝐚𝐡 (𝟒/𝟐𝟎𝟑):

"𝐓𝐡𝐞 𝐧𝐚𝐦𝐞 𝐚𝐥-𝐌𝐚𝐬𝐣𝐢𝐝 𝐚𝐥-𝐀𝐪𝐬𝐚 𝐰𝐚𝐬 𝐡𝐢𝐬𝐭𝐨𝐫𝐢𝐜𝐚𝐥𝐥𝐲 𝐚𝐩𝐩𝐥𝐢𝐞𝐝 𝐭𝐨 𝐭𝐡𝐞 𝐞𝐧𝐭𝐢𝐫𝐞 𝐬𝐚𝐧𝐜𝐭𝐮𝐚𝐫𝐲 (𝐚𝐥-𝐇𝐚𝐫𝐚𝐦 𝐚𝐥-𝐒𝐡𝐚𝐫𝐢𝐟) 𝐚𝐧𝐝 𝐭𝐡𝐞 𝐛𝐮𝐢𝐥𝐝𝐢𝐧𝐠𝐬 𝐢𝐧 𝐢𝐭, 𝐭𝐡𝐞 𝐦𝐨𝐬𝐭 𝐢𝐦𝐩𝐨𝐫𝐭𝐚𝐧𝐭 𝐨𝐟 𝐰𝐡𝐢𝐜𝐡 𝐢𝐬 𝐭𝐡𝐞 𝐃𝐨𝐦𝐞 𝐨𝐟 𝐭𝐡𝐞 𝐑𝐨𝐜𝐤 𝐰𝐡𝐢𝐜𝐡 𝐰𝐚𝐬 𝐛𝐮𝐢𝐥𝐭 𝐛𝐲 '𝐀𝐛𝐝 𝐚𝐥-𝐌𝐚𝐥𝐢𝐤 𝐢𝐛𝐧 𝐌𝐚𝐫𝐰𝐚𝐧 𝐢𝐧 𝟕𝟐 𝐀𝐇/𝟔𝟗𝟏 𝐂𝐄, 𝐰𝐡𝐢𝐜𝐡 𝐢𝐬 𝐫𝐞𝐠𝐚𝐫𝐝𝐞𝐝 𝐚𝐬 𝐨𝐧𝐞 𝐨𝐟 𝐭𝐡𝐞 𝐠𝐫𝐞𝐚𝐭𝐞𝐬𝐭 𝐈𝐬𝐥𝐚𝐦𝐢𝐜 𝐡𝐢𝐬𝐭𝐨𝐫𝐢𝐜𝐚𝐥 𝐛𝐮𝐢𝐥𝐝𝐢𝐧𝐠𝐬. 𝐁𝐮𝐭 𝐭𝐨𝐝𝐚𝐲 𝐭𝐡𝐞 𝐧𝐚𝐦𝐞 𝐢𝐬 𝐚𝐩𝐩𝐥𝐢𝐞𝐝 𝐭𝐨 𝐭𝐡𝐞 𝐠𝐫𝐞𝐚𝐭 𝐦𝐨𝐬𝐪𝐮𝐞 𝐰𝐡𝐢𝐜𝐡 𝐢𝐬 𝐬𝐢𝐭𝐮𝐚𝐭𝐞𝐝 𝐢𝐧 𝐭𝐡𝐞 𝐬𝐨𝐮𝐭𝐡𝐞𝐫𝐧 𝐩𝐚𝐫𝐭 𝐨𝐟 𝐭𝐡𝐞 𝐬𝐚𝐧𝐜𝐭𝐮𝐚𝐫𝐲 𝐩𝐥𝐚𝐭𝐞𝐚𝐮."

𝐈𝐭 𝐚𝐥𝐬𝐨 𝐬𝐚𝐲𝐬 𝐢𝐧 𝐚𝐥-𝐌𝐚𝐰𝐬𝐮'𝐚𝐡 (𝟑/𝟐𝟑):
"𝐓𝐡𝐞 𝐃𝐨𝐦𝐞 𝐨𝐟 𝐭𝐡𝐞 𝐑𝐨𝐜𝐤 𝐢𝐬 𝐬𝐢𝐭𝐮𝐚𝐭𝐞𝐝 𝐢𝐧 𝐭𝐡𝐞 𝐦𝐢𝐝𝐝𝐥𝐞 𝐨𝐟 𝐭𝐡𝐞 𝐩𝐥𝐚𝐭𝐞𝐚𝐮 𝐨𝐟 𝐚𝐥-𝐌𝐚𝐬𝐣𝐢𝐝 𝐚𝐥-𝐀𝐪𝐬𝐚, 𝐰𝐡𝐢𝐜𝐡 𝐢𝐬 𝐢𝐧 𝐭𝐡𝐞 𝐬𝐨𝐮𝐭𝐡𝐞𝐚𝐬𝐭𝐞𝐫𝐧 𝐩𝐚𝐫𝐭 𝐨𝐟 𝐭𝐡𝐞 𝐜𝐢𝐭𝐲 𝐨𝐟 𝐚𝐥-𝐐𝐮𝐝𝐬 (𝐉𝐞𝐫𝐮𝐬𝐚𝐥𝐞𝐦). 𝐈𝐭 𝐢𝐬 𝐚 𝐬𝐩𝐚𝐜𝐢𝐨𝐮𝐬 𝐫𝐞𝐜𝐭𝐚𝐧𝐠𝐮𝐥𝐚𝐫 𝐩𝐥𝐚𝐭𝐞𝐚𝐮 𝐰𝐡𝐢𝐜𝐡 𝐦𝐞𝐚𝐬𝐮𝐫𝐞𝐬 𝟒𝟖𝟎 𝐦𝐞𝐭𝐞𝐫𝐬 𝐟𝐫𝐨𝐦 𝐧𝐨𝐫𝐭𝐡 𝐭𝐨 𝐬𝐨𝐮𝐭𝐡, 𝐚𝐧𝐝 𝟑𝟎𝟎 𝐦𝐞𝐭𝐞𝐫𝐬 𝐟𝐫𝐨𝐦 𝐞𝐚𝐬𝐭 𝐭𝐨 𝐰𝐞𝐬𝐭. 𝐓𝐡𝐢𝐬 𝐩𝐥𝐚𝐭𝐞𝐚𝐮 𝐨𝐜𝐜𝐮𝐩𝐢𝐞𝐬 𝐚𝐩𝐩𝐫𝐨𝐱𝐢𝐦𝐚𝐭𝐞𝐥𝐲 𝐨𝐧𝐞-𝐟𝐢𝐟𝐭𝐡 𝐨𝐟 𝐭𝐡𝐞 𝐚𝐫𝐞𝐚 𝐨𝐟 𝐭𝐡𝐞 𝐎𝐥𝐝 𝐂𝐢𝐭𝐲 𝐨𝐟 𝐉𝐞𝐫𝐮𝐬𝐚𝐥𝐞𝐦."

𝐃𝐢𝐟𝐟𝐞𝐫𝐞𝐧𝐜𝐞 𝐛𝐞𝐭𝐰𝐞𝐞𝐧 𝐚𝐥-𝐀𝐪𝐬𝐚 𝐚𝐧𝐝 𝐭𝐡𝐞 𝐃𝐨𝐦𝐞 𝐨𝐟 𝐭𝐡𝐞 𝐑𝐨𝐜𝐤

𝐓𝐡𝐞 𝐦𝐨𝐬𝐪𝐮𝐞 𝐰𝐡𝐢𝐜𝐡 𝐢𝐬 𝐭𝐡𝐞 𝐩𝐥𝐚𝐜𝐞 𝐨𝐟 𝐩𝐫𝐚𝐲𝐞𝐫 𝐢𝐬 𝐧𝐨𝐭 𝐭𝐡𝐞 𝐃𝐨𝐦𝐞 𝐨𝐟 𝐭𝐡𝐞 𝐑𝐨𝐜𝐤, 𝐛𝐮𝐭 𝐛𝐞𝐜𝐚𝐮𝐬𝐞 𝐩𝐢𝐜𝐭𝐮𝐫𝐞𝐬 𝐨𝐟 𝐭𝐡𝐞 𝐃𝐨𝐦𝐞 𝐚𝐫𝐞 𝐬𝐨 𝐰𝐢𝐝𝐞𝐬𝐩𝐫𝐞𝐚𝐝, 𝐦𝐚𝐧𝐲 𝐌𝐮𝐬𝐥𝐢𝐦𝐬 𝐭𝐡𝐢𝐧𝐤 𝐰𝐡𝐞𝐧 𝐭𝐡𝐞𝐲 𝐬𝐞𝐞 𝐢𝐭 𝐭𝐡𝐚𝐭 𝐭𝐡𝐢𝐬 𝐢𝐬 𝐭𝐡𝐞 𝐦𝐨𝐬𝐪𝐮𝐞. 𝐓𝐡𝐢𝐬 𝐢𝐬 𝐧𝐨𝐭 𝐢𝐧 𝐟𝐚𝐜𝐭 𝐭𝐡𝐞 𝐜𝐚𝐬𝐞. 𝐓𝐡𝐞 𝐌𝐨𝐬𝐪𝐮𝐞 𝐢𝐬 𝐬𝐢𝐭𝐮𝐚𝐭𝐞𝐝 𝐢𝐧 𝐭𝐡𝐞 𝐬𝐨𝐮𝐭𝐡𝐞𝐫𝐧 𝐩𝐨𝐫𝐭𝐢𝐨𝐧 𝐨𝐟 𝐭𝐡𝐞 𝐩𝐥𝐚𝐭𝐞𝐚𝐮, 𝐚𝐧𝐝 𝐭𝐡𝐞 𝐃𝐨𝐦𝐞 𝐢𝐬 𝐛𝐮𝐢𝐥𝐭 𝐨𝐧 𝐭𝐡𝐞 𝐫𝐚𝐢𝐬𝐞𝐝 𝐫𝐨𝐜𝐤 𝐭𝐡𝐚𝐭 𝐢𝐬 𝐬𝐢𝐭𝐮𝐚𝐭𝐞𝐝 𝐢𝐧 𝐭𝐡𝐞 𝐦𝐢𝐝𝐝𝐥𝐞 𝐨𝐟 𝐭𝐡𝐞 𝐩𝐥𝐚𝐭𝐞𝐚𝐮.

𝐖𝐞 𝐡𝐚𝐯𝐞 𝐚𝐥𝐫𝐞𝐚𝐝𝐲 𝐬𝐞𝐞𝐧 𝐚𝐛𝐨𝐯𝐞 𝐭𝐡𝐚𝐭 𝐭𝐡𝐞 𝐧𝐚𝐦𝐞 𝐨𝐟 𝐭𝐡𝐞 𝐦𝐨𝐬𝐪𝐮𝐞 𝐰𝐚𝐬 𝐡𝐢𝐬𝐭𝐨𝐫𝐢𝐜𝐚𝐥𝐥𝐲 𝐚𝐩𝐩𝐥𝐢𝐞𝐝 𝐭𝐨 𝐭𝐡𝐞 𝐰𝐡𝐨𝐥𝐞 𝐩𝐥𝐚𝐭𝐞𝐚𝐮.

𝐓𝐡𝐢𝐬 𝐢𝐬 𝐬𝐮𝐩𝐩𝐨𝐫𝐭𝐞𝐝 𝐛𝐲 𝐭𝐡𝐞 𝐰𝐨𝐫𝐝𝐬 𝐨𝐟 𝐒𝐡𝐚𝐲𝐤𝐡 𝐚𝐥-𝐈𝐬𝐥𝐚𝐦 𝐈𝐛𝐧 𝐓𝐚𝐲𝐦𝐢𝐲𝐚𝐡 (𝐦𝐚𝐲 𝐀𝐥𝐥𝐚𝐡 𝐡𝐚𝐯𝐞 𝐦𝐞𝐫𝐜𝐲 𝐨𝐧 𝐡𝐢𝐦) 𝐢𝐧 𝐌𝐚𝐣𝐦𝐮'𝐚𝐭 𝐚𝐥-𝐑𝐚𝐬𝐚𝐢𝐥 𝐚𝐥-𝐊𝐮𝐛𝐫𝐚, 𝟐/𝟔𝟏:

"𝐀𝐥-𝐌𝐚𝐬𝐣𝐢𝐝 𝐚𝐥-𝐀𝐪𝐬𝐚 𝐢𝐬 𝐭𝐡𝐞 𝐧𝐚𝐦𝐞 𝐟𝐨𝐫 𝐭𝐡𝐞 𝐰𝐡𝐨𝐥𝐞 𝐨𝐟 𝐭𝐡𝐞 𝐩𝐥𝐚𝐜𝐞 𝐨𝐟 𝐰𝐨𝐫𝐬𝐡𝐢𝐩 𝐛𝐮𝐢𝐥𝐭 𝐛𝐲 𝐒𝐮𝐥𝐚𝐲𝐦𝐚𝐧 (𝐩𝐞𝐚𝐜𝐞 𝐛𝐞 𝐮𝐩𝐨𝐧 𝐡𝐢𝐦). 𝐒𝐨𝐦𝐞 𝐩𝐞𝐨𝐩𝐥𝐞 𝐬𝐭𝐚𝐫𝐭𝐞𝐝 𝐭𝐨 𝐠𝐢𝐯𝐞 𝐭𝐡𝐞 𝐧𝐚𝐦𝐞 𝐨𝐟 𝐚𝐥-𝐀𝐪𝐬𝐚 𝐭𝐨 𝐭𝐡𝐞 𝐩𝐫𝐚𝐲𝐞𝐫-𝐩𝐥𝐚𝐜𝐞 𝐰𝐡𝐢𝐜𝐡 𝐰𝐚𝐬 𝐛𝐮𝐢𝐥𝐭 𝐛𝐲 '𝐔𝐦𝐚𝐫 𝐢𝐛𝐧 𝐚𝐥-𝐊𝐡𝐚𝐭𝐭𝐚𝐛 𝐢𝐧 𝐟𝐫𝐨𝐧𝐭 𝐨𝐟 𝐢𝐭.
𝐏𝐫𝐚𝐲𝐢𝐧𝐠 𝐢𝐧 𝐭𝐡𝐢𝐬 𝐩𝐫𝐚𝐲𝐞𝐫-𝐩𝐥𝐚𝐜𝐞 𝐰𝐡𝐢𝐜𝐡 '𝐔𝐦𝐚𝐫 𝐛𝐮𝐢𝐥𝐭 𝐟𝐨𝐫 𝐭𝐡𝐞 𝐌𝐮𝐬𝐥𝐢𝐦𝐬 𝐢𝐬 𝐛𝐞𝐭𝐭𝐞𝐫 𝐭𝐡𝐚𝐧 𝐩𝐫𝐚𝐲𝐢𝐧𝐠 𝐢𝐧 𝐭𝐡𝐞 𝐫𝐞𝐬𝐭 𝐨𝐟 𝐭𝐡𝐞 𝐦𝐨𝐬𝐪𝐮𝐞, 𝐛𝐞𝐜𝐚𝐮𝐬𝐞 𝐰𝐡𝐞𝐧 '𝐔𝐦𝐚𝐫 𝐜𝐨𝐧𝐪𝐮𝐞𝐫𝐞𝐝 𝐉𝐞𝐫𝐮𝐬𝐚𝐥𝐞𝐦 𝐭𝐡𝐞𝐫𝐞 𝐰𝐚𝐬 𝐚 𝐡𝐮𝐠𝐞 𝐠𝐚𝐫𝐛𝐚𝐠𝐞 𝐝𝐮𝐦𝐩 𝐨𝐧 𝐭𝐡𝐞 𝐫𝐨𝐜𝐤, 𝐬𝐢𝐧𝐜𝐞 𝐭𝐡𝐞 𝐂𝐡𝐫𝐢𝐬𝐭𝐢𝐚𝐧𝐬 𝐰𝐚𝐧𝐭𝐞𝐝 𝐭𝐨 𝐬𝐡𝐨𝐰 𝐭𝐡𝐞𝐢𝐫 𝐬𝐜𝐨𝐫𝐧 𝐟𝐨𝐫 𝐭𝐡𝐞 𝐩𝐥𝐚𝐜𝐞 𝐭𝐨𝐰𝐚𝐫𝐝𝐬 𝐰𝐡𝐢𝐜𝐡 𝐭𝐡𝐞 𝐉𝐞𝐰𝐬 𝐮𝐬𝐞𝐝 𝐭𝐨 𝐩𝐫𝐚𝐲.
𝐒𝐨 '𝐔𝐦𝐚𝐫 𝐢𝐬𝐬𝐮𝐞𝐝 𝐨𝐫𝐝𝐞𝐫𝐬 𝐭𝐡𝐚𝐭 𝐭𝐡𝐞 𝐟𝐢𝐥𝐭𝐡 𝐛𝐞 𝐫𝐞𝐦𝐨𝐯𝐞𝐝 𝐚𝐧𝐝 𝐡𝐞 𝐬𝐚𝐢𝐝 𝐭𝐨 𝐊𝐚'𝐛: '𝐖𝐡𝐞𝐫𝐞 𝐝𝐨 𝐲𝐨𝐮 𝐭𝐡𝐢𝐧𝐤 𝐰𝐞 𝐬𝐡𝐨𝐮𝐥𝐝 𝐛𝐮𝐢𝐥𝐝 𝐚 𝐩𝐥𝐚𝐜𝐞 𝐨𝐟 𝐩𝐫𝐚𝐲𝐞𝐫 𝐟𝐨𝐫 𝐭𝐡𝐞 𝐌𝐮𝐬𝐥𝐢𝐦𝐬?' 𝐇𝐞 𝐬𝐚𝐢𝐝, '𝐁𝐞𝐡𝐢𝐧𝐝 𝐭𝐡𝐞 𝐫𝐨𝐜𝐤.' 𝐇𝐞 𝐬𝐚𝐢𝐝, '𝐎 𝐲𝐨𝐮 𝐬𝐨𝐧 𝐨𝐟 𝐚 𝐉𝐞𝐰𝐢𝐬𝐡 𝐰𝐨𝐦𝐚𝐧! 𝐀𝐫𝐞 𝐲𝐨𝐮 𝐢𝐧𝐟𝐥𝐮𝐞𝐧𝐜𝐞𝐝 𝐛𝐲 𝐲𝐨𝐮𝐫 𝐉𝐞𝐰𝐢𝐬𝐡 𝐢𝐝𝐞𝐚𝐬! 𝐑𝐚𝐭𝐡𝐞𝐫 𝐈 𝐰𝐢𝐥𝐥 𝐛𝐮𝐢𝐥𝐝 𝐢𝐭 𝐢𝐧 𝐟𝐫𝐨𝐧𝐭 𝐨𝐟 𝐢𝐭.'

𝐇𝐞𝐧𝐜𝐞 𝐰𝐡𝐞𝐧 𝐭𝐡𝐞 𝐢𝐦𝐚𝐦𝐬 𝐨𝐟 𝐭𝐡𝐢𝐬 𝐮𝐦𝐦𝐚𝐡 𝐞𝐧𝐭𝐞𝐫𝐞𝐝 𝐭𝐡𝐞 𝐦𝐨𝐬𝐪𝐮𝐞, 𝐭𝐡𝐞𝐲 𝐰𝐨𝐮𝐥𝐝 𝐠𝐨 𝐚𝐧𝐝 𝐩𝐫𝐚𝐲 𝐢𝐧 𝐭𝐡𝐞 𝐩𝐫𝐚𝐲𝐞𝐫-𝐩𝐥𝐚𝐜𝐞 𝐭𝐡𝐚𝐭 𝐰𝐚𝐬 𝐛𝐮𝐢𝐥𝐭 𝐛𝐲 '𝐔𝐦𝐚𝐫. 𝐖𝐢𝐭𝐡 𝐫𝐞𝐠𝐚𝐫𝐝 𝐭𝐨 𝐭𝐡𝐞 𝐑𝐨𝐜𝐤, 𝐧𝐞𝐢𝐭𝐡𝐞𝐫 '𝐔𝐦𝐚𝐫 𝐧𝐨𝐫 𝐚𝐧𝐲 𝐨𝐟 𝐭𝐡𝐞 𝐒𝐚𝐡𝐚𝐛𝐚𝐡 𝐩𝐫𝐚𝐲𝐞𝐝 𝐭𝐡𝐞𝐫𝐞, 𝐚𝐧𝐝 𝐭𝐡𝐞𝐫𝐞 𝐰𝐚𝐬 𝐧𝐨 𝐝𝐨𝐦𝐞 𝐨𝐯𝐞𝐫 𝐢𝐭 𝐝𝐮𝐫𝐢𝐧𝐠 𝐭𝐡𝐞 𝐭𝐢𝐦𝐞 𝐨𝐟 𝐭𝐡𝐞 𝐑𝐢𝐠𝐡𝐭𝐥𝐲-𝐆𝐮𝐢𝐝𝐞𝐝 𝐂𝐚𝐥𝐢𝐩𝐡𝐬.
𝐈𝐭 𝐰𝐚𝐬 𝐨𝐩𝐞𝐧 𝐭𝐨 𝐭𝐡𝐞 𝐬𝐤𝐲 𝐝𝐮𝐫𝐢𝐧𝐠 𝐭𝐡𝐞 𝐜𝐚𝐥𝐢𝐩𝐡𝐚𝐭𝐞 𝐨𝐟 '𝐔𝐦𝐚𝐫, '𝐔𝐭𝐡𝐦𝐚𝐧, '𝐀𝐥𝐢, 𝐌𝐮'𝐚𝐰𝐢𝐲𝐚𝐡, 𝐘𝐚𝐳𝐢𝐝 𝐚𝐧𝐝 𝐌𝐚𝐫𝐰𝐚𝐧… 𝐓𝐡𝐞 𝐬𝐜𝐡𝐨𝐥𝐚𝐫𝐬 𝐚𝐦𝐨𝐧𝐠 𝐭𝐡𝐞 𝐒𝐚𝐡𝐚𝐛𝐚𝐡 𝐚𝐧𝐝 𝐭𝐡𝐨𝐬𝐞 𝐰𝐡𝐨 𝐟𝐨𝐥𝐥𝐨𝐰𝐞𝐝 𝐭𝐡𝐞𝐦 𝐢𝐧 𝐭𝐫𝐮𝐭𝐡 𝐝𝐢𝐝 𝐧𝐨𝐭 𝐯𝐞𝐧𝐞𝐫𝐚𝐭𝐞 𝐭𝐡𝐞 𝐫𝐨𝐜𝐤 𝐛𝐞𝐜𝐚𝐮𝐬𝐞 𝐢𝐭 𝐰𝐚𝐬 𝐚𝐧 𝐚𝐛𝐫𝐨𝐠𝐚𝐭𝐞𝐝 𝐪𝐢𝐛𝐥𝐚𝐡… 𝐫𝐚𝐭𝐡𝐞𝐫 𝐢𝐭 𝐰𝐚𝐬 𝐯𝐞𝐧𝐞𝐫𝐚𝐭𝐞𝐝 𝐛𝐲 𝐭𝐡𝐞 𝐉𝐞𝐰𝐬 𝐚𝐧𝐝 𝐬𝐨𝐦𝐞 𝐨𝐟 𝐭𝐡𝐞 𝐂𝐡𝐫𝐢𝐬𝐭𝐢𝐚𝐧𝐬."

'𝐔𝐦𝐚𝐫 𝐝𝐞𝐧𝐨𝐮𝐧𝐜𝐞𝐝 𝐊𝐚'𝐛 𝐚𝐥-𝐀𝐡𝐛𝐚𝐫 𝐚𝐧𝐝 𝐜𝐚𝐥𝐥𝐞𝐝 𝐡𝐢𝐦 𝐭𝐡𝐞 𝐬𝐨𝐧 𝐨𝐟 𝐚 𝐉𝐞𝐰𝐢𝐬𝐡 𝐰𝐨𝐦𝐚𝐧 𝐛𝐞𝐜𝐚𝐮𝐬𝐞 𝐊𝐚'𝐛 𝐡𝐚𝐝 𝐛𝐞𝐞𝐧 𝐚 𝐉𝐞𝐰𝐢𝐬𝐡 𝐬𝐜𝐡𝐨𝐥𝐚𝐫 𝐚𝐧𝐝 𝐫𝐚𝐛𝐛𝐢, 𝐬𝐨 𝐰𝐡𝐞𝐧 𝐡𝐞 𝐬𝐮𝐠𝐠𝐞𝐬𝐭𝐞𝐝 𝐭𝐨 '𝐔𝐦𝐚𝐫 𝐭𝐡𝐚𝐭 𝐡𝐞 𝐬𝐡𝐨𝐮𝐥𝐝 𝐛𝐮𝐢𝐥𝐝 𝐭𝐡𝐞 𝐦𝐨𝐬𝐪𝐮𝐞 𝐛𝐞𝐡𝐢𝐧𝐝 𝐭𝐡𝐞 𝐫𝐨𝐜𝐤, 𝐭𝐡𝐚𝐭 𝐰𝐚𝐬 𝐨𝐮𝐭 𝐨𝐟 𝐫𝐞𝐬𝐩𝐞𝐜𝐭 𝐟𝐨𝐫 𝐭𝐡𝐞 𝐫𝐨𝐜𝐤 𝐬𝐨 𝐭𝐡𝐚𝐭 𝐭𝐡𝐞 𝐌𝐮𝐬𝐥𝐢𝐦𝐬 𝐰𝐨𝐮𝐥𝐝 𝐟𝐚𝐜𝐞 𝐢𝐭 𝐰𝐡𝐞𝐧 𝐩𝐫𝐚𝐲𝐢𝐧𝐠, 𝐚𝐧𝐝 𝐯𝐞𝐧𝐞𝐫𝐚𝐭𝐢𝐨𝐧 𝐨𝐟 𝐭𝐡𝐞 𝐫𝐨𝐜𝐤 𝐰𝐚𝐬 𝐩𝐚𝐫𝐭 𝐨𝐟 𝐭𝐡𝐞 𝐫𝐞𝐥𝐢𝐠𝐢𝐨𝐧 𝐨𝐟 𝐭𝐡𝐞 𝐉𝐞𝐰𝐬, 𝐧𝐨𝐭 𝐭𝐡𝐞 𝐫𝐞𝐥𝐢𝐠𝐢𝐨𝐧 𝐨𝐟 𝐭𝐡𝐞 𝐌𝐮𝐬𝐥𝐢𝐦𝐬.

𝐓𝐡𝐞 𝐌𝐮𝐬𝐥𝐢𝐦𝐬' 𝐟𝐨𝐧𝐝𝐧𝐞𝐬𝐬 𝐟𝐨𝐫 𝐭𝐡𝐞 𝐩𝐢𝐜𝐭𝐮𝐫𝐞 𝐨𝐟 𝐭𝐡𝐞 𝐃𝐨𝐦𝐞 𝐦𝐚𝐲 𝐛𝐞 𝐛𝐞𝐜𝐚𝐮𝐬𝐞 𝐨𝐟 𝐭𝐡𝐞 𝐛𝐞𝐚𝐮𝐭𝐲 𝐨𝐟 𝐭𝐡𝐢𝐬 𝐛𝐮𝐢𝐥𝐝𝐢𝐧𝐠, 𝐛𝐮𝐭 𝐭𝐡𝐢𝐬 𝐝𝐨𝐞𝐬 𝐧𝐨𝐭 𝐞𝐱𝐜𝐮𝐬𝐞 𝐭𝐡𝐞𝐦 𝐟𝐫𝐨𝐦 𝐭𝐡𝐞 𝐫𝐞𝐬𝐮𝐥𝐭𝐢𝐧𝐠 𝐦𝐢𝐬𝐭𝐚𝐤𝐞 𝐨𝐟 𝐧𝐨𝐭 𝐝𝐢𝐬𝐭𝐢𝐧𝐠𝐮𝐢𝐬𝐡𝐢𝐧𝐠 𝐛𝐞𝐭𝐰𝐞𝐞𝐧 𝐭𝐡𝐞 𝐌𝐨𝐬𝐪𝐮𝐞 𝐚𝐧𝐝 𝐭𝐡𝐞 𝐛𝐮𝐢𝐥𝐝𝐢𝐧𝐠𝐬 𝐭𝐡𝐚𝐭 𝐬𝐮𝐫𝐫𝐨𝐮𝐧𝐝 𝐢𝐭.

𝐓𝐡𝐢𝐬 𝐦𝐚𝐲 𝐛𝐞 𝐨𝐧𝐞 𝐨𝐟 𝐭𝐡𝐞 𝐩𝐥𝐨𝐭𝐬 𝐚𝐧𝐝 𝐭𝐫𝐢𝐜𝐤𝐬 𝐨𝐟 𝐭𝐡𝐞 𝐉𝐞𝐰𝐬, 𝐛𝐞𝐜𝐚𝐮𝐬𝐞 𝐨𝐟 𝐭𝐡𝐞𝐢𝐫 𝐯𝐞𝐧𝐞𝐫𝐚𝐭𝐢𝐨𝐧 𝐟𝐨𝐫 𝐭𝐡𝐞 𝐫𝐨𝐜𝐤 𝐚𝐧𝐝 𝐭𝐡𝐞𝐢𝐫 𝐟𝐚𝐜𝐢𝐧𝐠 𝐢𝐭 𝐢𝐧 𝐩𝐫𝐚𝐲𝐞𝐫. 𝐎𝐫 𝐢𝐭 𝐦𝐚𝐲 𝐛𝐞 𝐢𝐧 𝐨𝐫𝐝𝐞𝐫 𝐭𝐨 𝐠𝐢𝐯𝐞 𝐢𝐦𝐩𝐨𝐫𝐭𝐚𝐧𝐜𝐞 𝐭𝐨 𝐭𝐡𝐞 𝐑𝐨𝐜𝐤 𝐬𝐨 𝐭𝐡𝐚𝐭 𝐭𝐡𝐞𝐲 𝐜𝐚𝐧 𝐟𝐮𝐥𝐟𝐢𝐥 𝐭𝐡𝐞𝐢𝐫 𝐝𝐞𝐬𝐢𝐫𝐞 𝐭𝐨 𝐛𝐮𝐢𝐥𝐝 𝐭𝐡𝐞 𝐬𝐨-𝐜𝐚𝐥𝐥𝐞𝐝 𝐓𝐞𝐦𝐩𝐥𝐞 𝐨𝐟 𝐒𝐨𝐥𝐨𝐦𝐨𝐧 𝐨𝐧 𝐭𝐡𝐞 𝐫𝐮𝐢𝐧𝐬 𝐨𝐟 𝐚𝐥-𝐌𝐚𝐬𝐣𝐢𝐝 𝐚𝐥-𝐀𝐪𝐬𝐚.
𝐓𝐡𝐢𝐬 𝐢𝐬 𝐛𝐲 𝐦𝐚𝐤𝐢𝐧𝐠 𝐭𝐡𝐞 𝐌𝐮𝐬𝐥𝐢𝐦𝐬 𝐭𝐡𝐢𝐧𝐤 𝐭𝐡𝐚𝐭 𝐚𝐥-𝐌𝐚𝐬𝐣𝐢𝐝 𝐚𝐥-𝐀𝐪𝐬𝐚 𝐢𝐬 𝐭𝐡𝐞 𝐃𝐨𝐦𝐞 𝐨𝐟 𝐭𝐡𝐞 𝐑𝐨𝐜𝐤, 𝐬𝐨 𝐭𝐡𝐚𝐭 𝐢𝐟 𝐭𝐡𝐞 𝐉𝐞𝐰𝐬 𝐬𝐭𝐚𝐫𝐭 𝐭𝐨 𝐝𝐞𝐬𝐭𝐫𝐨𝐲 𝐚𝐥-𝐌𝐚𝐬𝐣𝐢𝐝 𝐚𝐥-𝐀𝐪𝐬𝐚 𝐚𝐧𝐝 𝐭𝐡𝐞 𝐌𝐮𝐬𝐥𝐢𝐦𝐬 𝐝𝐞𝐧𝐨𝐮𝐧𝐜𝐞 𝐭𝐡𝐞𝐦 𝐟𝐨𝐫 𝐭𝐡𝐚𝐭, 𝐭𝐡𝐞𝐲 𝐰𝐢𝐥𝐥 𝐭𝐞𝐥𝐥 𝐭𝐡𝐞𝐦, "𝐀𝐥-𝐌𝐚𝐬𝐣𝐢𝐝 𝐚𝐥-𝐀𝐪𝐬𝐚 𝐢𝐬 𝐟𝐢𝐧𝐞," 𝐚𝐧𝐝 𝐰𝐢𝐥𝐥 𝐬𝐡𝐨𝐰 𝐭𝐡𝐞𝐦 𝐚 𝐩𝐢𝐜𝐭𝐮𝐫𝐞 𝐨𝐟 𝐭𝐡𝐞 𝐃𝐨𝐦𝐞 𝐨𝐟 𝐭𝐡𝐞 𝐑𝐨𝐜𝐤. 𝐓𝐡𝐮𝐬 𝐭𝐡𝐞𝐲 𝐰𝐢𝐥𝐥 𝐚𝐜𝐡𝐢𝐞𝐯𝐞 𝐭𝐡𝐞𝐢𝐫 𝐚𝐢𝐦𝐬 𝐚𝐧𝐝 𝐛𝐞 𝐬𝐚𝐟𝐞 𝐟𝐫𝐨𝐦 𝐭𝐡𝐞 𝐌𝐮𝐬𝐥𝐢𝐦𝐬' 𝐜𝐫𝐢𝐭𝐢𝐜𝐢𝐬𝐦.

𝐖𝐞 𝐚𝐬𝐤 𝐀𝐥𝐥𝐚𝐡 𝐭𝐨 𝐫𝐞𝐬𝐭𝐨𝐫𝐞 𝐭𝐡𝐞 𝐌𝐮𝐬𝐥𝐢𝐦𝐬' 𝐩𝐨𝐰𝐞𝐫 𝐚𝐧𝐝 𝐠𝐥𝐨𝐫𝐲, 𝐚𝐧𝐝 𝐭𝐨 𝐜𝐥𝐞𝐚𝐧𝐬𝐞 𝐚𝐥-𝐌𝐚𝐬𝐣𝐢𝐝 𝐚𝐥-𝐀𝐪𝐬𝐚 𝐨𝐟 𝐭𝐡𝐞 𝐜𝐫𝐢𝐦𝐢𝐧𝐚𝐥𝐬, "𝐟𝐨𝐫 𝐀𝐥𝐥𝐚𝐡 𝐡𝐚𝐬 𝐟𝐮𝐥𝐥 𝐩𝐨𝐰𝐞𝐫 𝐚𝐧𝐝 𝐜𝐨𝐧𝐭𝐫𝐨𝐥 𝐨𝐯𝐞𝐫 𝐇𝐢𝐬 𝐀𝐟𝐟𝐚𝐢𝐫𝐬, 𝐛𝐮𝐭 𝐦𝐨𝐬𝐭 𝐨𝐟 𝐦𝐞𝐧 𝐤𝐧𝐨𝐰 𝐧𝐨𝐭." (𝐒𝐮𝐫𝐚𝐡 𝐘𝐮𝐬𝐮𝐟 𝟏𝟐:𝟐𝟏)
𝐓𝐨𝐝𝐚𝐲, 𝐰𝐢𝐭𝐡 𝐭𝐡𝐞 𝐩𝐞𝐫𝐦𝐢𝐬𝐬𝐢𝐨𝐧 𝐨𝐟 𝐀𝐥𝐥𝐚𝐡 𝐀𝐥𝐦𝐢𝐠𝐡𝐭𝐲, 𝐈 𝐰𝐚𝐧𝐭𝐞𝐝 𝐭𝐨 𝐬𝐡𝐚𝐫𝐞 𝐰𝐢𝐭𝐡 𝐲𝐨𝐮 𝐚 𝐜𝐨𝐦𝐩𝐫𝐞𝐡𝐞𝐧𝐬𝐢𝐯𝐞 𝐩𝐨𝐬𝐭 𝐜𝐨𝐯𝐞𝐫𝐢𝐧𝐠 𝐭𝐡𝐞 𝐭𝐨𝐩𝐢𝐜 𝐨𝐟 𝐭𝐡𝐞 𝐛𝐨𝐮𝐧𝐝𝐚𝐫𝐢𝐞𝐬 𝐨𝐟 𝐭𝐡𝐞 𝐛𝐥𝐞𝐬𝐬𝐞𝐝 𝐀𝐥-𝐀𝐪𝐬𝐚 𝐌𝐨𝐬𝐪𝐮𝐞.
𝐈𝐧 𝐭𝐡𝐢𝐬 𝐢𝐦𝐚𝐠𝐞, 𝐚𝐧𝐲 𝐦𝐨𝐬𝐪𝐮𝐞 𝐰𝐢𝐭𝐡𝐢𝐧 𝐭𝐡𝐢𝐬 𝐩𝐞𝐫𝐢𝐦𝐞𝐭𝐞𝐫, 𝐢𝐧 𝐚𝐝𝐝𝐢𝐭𝐢𝐨𝐧 𝐭𝐨 𝐭𝐡𝐞 𝐥𝐚𝐧𝐝 𝐢𝐭𝐬𝐞𝐥𝐟, 𝐢𝐬 𝐜𝐨𝐥𝐥𝐞𝐜𝐭𝐢𝐯𝐞𝐥𝐲 𝐫𝐞𝐟𝐞𝐫𝐫𝐞𝐝 𝐭𝐨 𝐚𝐬 𝐭𝐡𝐞 𝐛𝐥𝐞𝐬𝐬𝐞𝐝 𝐀𝐥-𝐀𝐪𝐬𝐚 𝐌𝐨𝐬𝐪𝐮𝐞.
𝐓𝐨 𝐜𝐥𝐚𝐫𝐢𝐟𝐲, 𝐚𝐥𝐥 𝐭𝐡𝐞 𝐥𝐚𝐧𝐝 𝐬𝐮𝐫𝐫𝐨𝐮𝐧𝐝𝐞𝐝 𝐛𝐲 𝐭𝐡𝐢𝐬 𝐨𝐮𝐭𝐞𝐫 𝐰𝐚𝐥𝐥 𝐚𝐧𝐝 𝐚𝐥𝐥 𝐭𝐡𝐞 𝐦𝐨𝐬𝐪𝐮𝐞𝐬 𝐰𝐢𝐭𝐡𝐢𝐧 𝐭𝐡𝐢𝐬 𝐰𝐚𝐥𝐥 𝐚𝐫𝐞 𝐜𝐚𝐥𝐥𝐞𝐝 𝐭𝐡𝐞 𝐛𝐥𝐞𝐬𝐬𝐞𝐝 𝐀𝐥-𝐀𝐪𝐬𝐚 𝐌𝐨𝐬𝐪𝐮𝐞. 𝐒𝐨𝐦𝐞 𝐨𝐩𝐩𝐨𝐧𝐞𝐧𝐭𝐬 𝐨𝐟 𝐈𝐬𝐥𝐚𝐦 𝐪𝐮𝐞𝐬𝐭𝐢𝐨𝐧 𝐡𝐨𝐰 𝐌𝐮𝐬𝐥𝐢𝐦𝐬 𝐜𝐥𝐚𝐢𝐦 𝐨𝐰𝐧𝐞𝐫𝐬𝐡𝐢𝐩 𝐨𝐟 𝐀𝐥-𝐀𝐪𝐬𝐚 𝐌𝐨𝐬𝐪𝐮𝐞 (𝐁𝐚𝐢𝐭𝐮𝐥 𝐀𝐥- 𝐌𝐮𝐪𝐚𝐝𝐝𝐚𝐬), 𝐰𝐡𝐢𝐜𝐡 𝐢𝐧𝐜𝐥𝐮𝐝𝐞𝐬 𝐚𝐥𝐥 𝐭𝐡𝐞𝐬𝐞 𝐦𝐨𝐬𝐪𝐮𝐞𝐬 𝐢𝐧𝐬𝐢𝐝𝐞 𝐢𝐭, 𝐚𝐬 𝐦𝐞𝐧𝐭𝐢𝐨𝐧𝐞𝐝 𝐢𝐧 𝐭𝐡𝐞 𝐆𝐥𝐨𝐫𝐢𝐨𝐮𝐬 𝐇𝐨𝐥𝐲 𝐐𝐮𝐫𝐚𝐧.
𝐓𝐡𝐞𝐲 𝐚𝐫𝐠𝐮𝐞 𝐭𝐡𝐚𝐭 𝐬𝐨𝐦𝐞 𝐨𝐟 𝐭𝐡𝐞𝐬𝐞 𝐦𝐨𝐬𝐪𝐮𝐞 𝐬𝐭𝐫𝐮𝐜𝐭𝐮𝐫𝐞𝐬 𝐰𝐞𝐫𝐞 𝐛𝐮𝐢𝐥𝐭 𝐝𝐮𝐫𝐢𝐧𝐠 𝐭𝐡𝐞 𝐭𝐢𝐦𝐞 𝐨𝐟 𝐭𝐡𝐞 𝐫𝐢𝐠𝐡𝐭𝐥𝐲 𝐠𝐮𝐢𝐝𝐞𝐝 𝐂𝐚𝐥𝐢𝐩𝐡 𝐔𝐦𝐚𝐫 𝐢𝐛𝐧 𝐚𝐥-𝐊𝐡𝐚𝐭𝐭𝐚𝐛 𝐚𝐧𝐝 𝐰𝐞𝐫𝐞 𝐧𝐨𝐭 𝐩𝐫𝐞𝐬𝐞𝐧𝐭 𝐝𝐮𝐫𝐢𝐧𝐠 𝐭𝐡𝐞 𝐭𝐢𝐦𝐞 𝐨𝐟 𝐭𝐡𝐞 𝐏𝐫𝐨𝐩𝐡𝐞𝐭.
𝐓𝐡𝐞 𝐬𝐢𝐦𝐩𝐥𝐞 𝐚𝐧𝐬𝐰𝐞𝐫 𝐭𝐨 𝐭𝐡𝐢𝐬 𝐥𝐢𝐞𝐬 𝐢𝐧 𝐮𝐧𝐝𝐞𝐫𝐬𝐭𝐚𝐧𝐝𝐢𝐧𝐠 𝐭𝐡𝐚𝐭 𝐭𝐡𝐞 𝐭𝐞𝐫𝐦 '𝐦𝐨𝐬𝐪𝐮𝐞' 𝐢𝐧 𝐭𝐡𝐞 𝐭𝐞𝐫𝐦𝐢𝐧𝐨𝐥𝐨𝐠𝐲 𝐨𝐟 𝐭𝐡𝐞 𝐐𝐮𝐫𝐚𝐧 𝐫𝐞𝐟𝐞𝐫𝐬 𝐭𝐨 𝐭𝐡𝐞 𝐥𝐚𝐧𝐝 𝐢𝐭𝐬𝐞𝐥𝐟, 𝐧𝐨𝐭 𝐣𝐮𝐬𝐭 𝐭𝐡𝐞 𝐬𝐭𝐫𝐮𝐜𝐭𝐮𝐫𝐞𝐬.
𝐇𝐞𝐧𝐜𝐞, 𝐭𝐡𝐞 𝐏𝐫𝐨𝐩𝐡𝐞𝐭, 𝐩𝐞𝐚𝐜𝐞 𝐛𝐞 𝐮𝐩𝐨𝐧 𝐡𝐢𝐦, 𝐬𝐚𝐢𝐝, '𝐓𝐡𝐞 𝐞𝐚𝐫𝐭𝐡 𝐡𝐚𝐬 𝐛𝐞𝐞𝐧 𝐦𝐚𝐝𝐞 𝐟𝐨𝐫 𝐦𝐞 𝐚 𝐩𝐥𝐚𝐜𝐞 𝐨𝐟 𝐰𝐨𝐫𝐬𝐡𝐢𝐩 𝐚𝐧𝐝 𝐩𝐮𝐫𝐢𝐟𝐢𝐜𝐚𝐭𝐢𝐨𝐧.' 𝐓𝐡𝐢𝐬 𝐚𝐥𝐬𝐨 𝐢𝐧𝐝𝐢𝐜𝐚𝐭𝐞𝐬 𝐭𝐡𝐚𝐭 𝐭𝐡𝐞 𝐥𝐚𝐧𝐝 𝐢𝐭𝐬𝐞𝐥𝐟, 𝐰𝐢𝐭𝐡𝐨𝐮𝐭 𝐬𝐭𝐫𝐮𝐜𝐭𝐮𝐫𝐞𝐬, 𝐜𝐚𝐧 𝐛𝐞 𝐜𝐚𝐥𝐥𝐞𝐝 𝐚 𝐦𝐨𝐬𝐪𝐮𝐞.
𝐓𝐡𝐞𝐫𝐞𝐟𝐨𝐫𝐞, 𝐭𝐡𝐞 𝐐𝐮𝐫𝐚𝐧 𝐝𝐢𝐝 𝐧𝐨𝐭 𝐦𝐚𝐤𝐞 𝐚 𝐦𝐢𝐬𝐭𝐚𝐤𝐞, 𝐚𝐧𝐝 𝐭𝐡𝐞 𝐦𝐢𝐬𝐮𝐧𝐝𝐞𝐫𝐬𝐭𝐚𝐧𝐝𝐢𝐧𝐠 𝐥𝐢𝐞𝐬 𝐰𝐢𝐭𝐡 𝐭𝐡𝐞 𝐞𝐧𝐞𝐦𝐢𝐞𝐬 𝐨𝐟 𝐈𝐬𝐥𝐚𝐦. 𝐌𝐚𝐲 𝐀𝐥𝐥𝐚𝐡 𝐠𝐮𝐢𝐝𝐞 𝐮𝐬 𝐚𝐧𝐝 𝐭𝐡𝐞𝐦 𝐭𝐨 𝐰𝐡𝐚𝐭 𝐇𝐞 𝐥𝐨𝐯𝐞𝐬 𝐚𝐧𝐝 𝐢𝐬 𝐩𝐥𝐞𝐚𝐬𝐞𝐝 𝐰𝐢𝐭𝐡.
𝐃𝐨𝐧'𝐭 𝐟𝐨𝐫𝐠𝐞𝐭 𝐭𝐨 𝐬𝐡𝐚𝐫𝐞 𝐭𝐡𝐢𝐬 𝐩𝐨𝐬𝐭 𝐰𝐢𝐭𝐡 𝐠𝐫𝐞𝐚𝐭 𝐬𝐭𝐫𝐞𝐧𝐠𝐭𝐡."
𝐀𝐧𝐝 𝐀𝐥𝐥𝐚𝐡 𝐤𝐧𝐨𝐰𝐬 𝐛𝐞𝐬𝐭.
𝐑𝐞𝐟𝐞𝐫𝐞𝐧𝐜𝐞𝐬:
Did Masjid al-Aqsa exist in Quds when the Prophet (pbuh) lived?
The Miraculous Night Journey and the Divine Reduction of the Number of Daily Prayers in Islam
Did Islam Copy From Zoroastrianism?
Al-Isra, The Night Journey" With PROOF From Christian Sources
Prophet Muhammad's Night Journey To Al-Masjid Al-Aqsa – The Farthest Mosque in Jerusalem – Existence Of Masjid Al-aqsa During Isra' Wal Miraj
Why is Jerusalem (Quds) important for Jews and Christians?
Refutation of those who claim that Prophet Muhammed's story of the Isra= Journey of the night from Mecca to Jerusalem and Miraj= Ascending to the sky is a myth.
Refuting the Claim that Miraj was Plagiarized from the Zoroastrian Book- Arda Viraz or ARDĀ WĪRĀZ
Paul the False Apostle of Satan
𝐒𝐨𝐮𝐫𝐜𝐞: 𝐈𝐬𝐥𝐚𝐦𝐐𝐀