𝐌𝐚𝐫𝐲 𝐢𝐧 𝐈𝐬𝐥𝐚𝐦

Mohamad Mostafa Nassar
Twitter:@NassarMohamadMR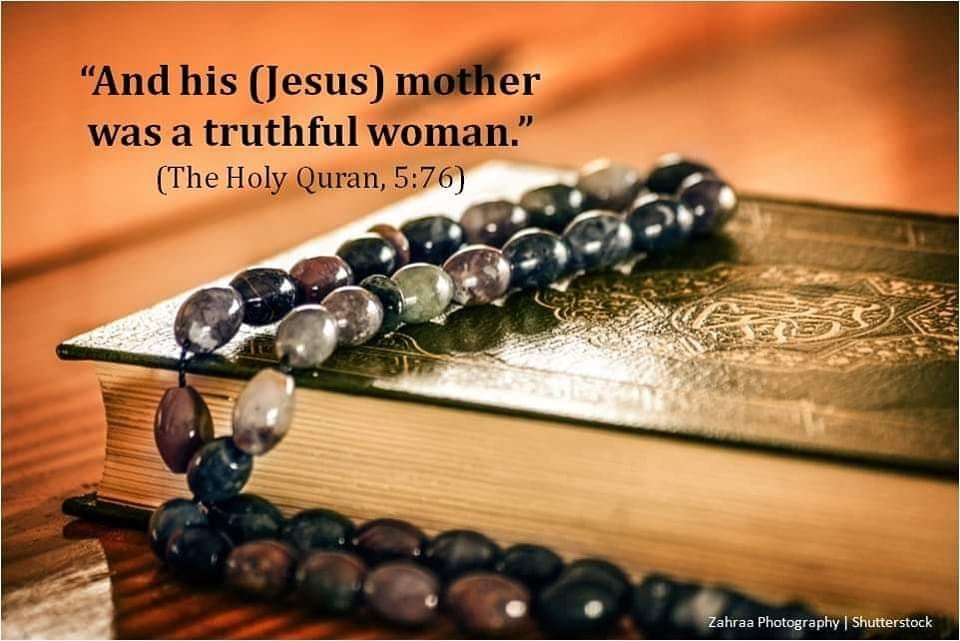 𝐌𝐚𝐫𝐲 𝐢𝐧 𝐈𝐬𝐥𝐚𝐦 (مريم "𝐌𝐚𝐫𝐲𝐚𝐦" 𝐢𝐧 𝐀𝐫𝐚𝐛𝐢𝐜), 𝐭𝐡𝐞 𝐦𝐨𝐭𝐡𝐞𝐫 𝐨𝐟 𝐉𝐞𝐬𝐮𝐬, 𝐢𝐬 𝐜𝐨𝐧𝐬𝐢𝐝𝐞𝐫𝐞𝐝 𝐭𝐡𝐞 𝐦𝐨𝐬𝐭 𝐫𝐢𝐠𝐡𝐭𝐞𝐨𝐮𝐬 𝐰𝐨𝐦𝐚𝐧 𝐢𝐧 𝐈𝐬𝐥𝐚𝐦. 𝐒𝐡𝐞 𝐢𝐬 𝐭𝐡𝐞 𝐨𝐧𝐥𝐲 𝐰𝐨𝐦𝐚𝐧 𝐦𝐞𝐧𝐭𝐢𝐨𝐧𝐞𝐝 𝐛𝐲 𝐧𝐚𝐦𝐞 𝐢𝐧 𝐭𝐡𝐞 𝐐𝐮𝐫'𝐚𝐧 – 𝐡𝐞𝐫 𝐧𝐚𝐦𝐞 𝐢𝐬 𝐦𝐞𝐧𝐭𝐢𝐨𝐧𝐞𝐝 𝐦𝐨𝐫𝐞 𝐭𝐡𝐚𝐧 𝐢𝐭 𝐢𝐬 𝐢𝐧 𝐭𝐡𝐞 𝐍𝐞𝐰 𝐓𝐞𝐬𝐭𝐚𝐦𝐞𝐧𝐭.[𝟏]
𝐓𝐡𝐞 𝐐𝐮𝐫'𝐚𝐧 𝐬𝐩𝐞𝐚𝐤𝐬 𝐨𝐟 𝐌𝐚𝐫𝐲 𝐜𝐚𝐥𝐥𝐞𝐝 𝐌𝐢𝐫𝐢𝐚𝐦 𝐢𝐧 𝐀𝐫𝐚𝐛𝐢𝐜) 𝐧𝐨𝐭 𝐨𝐧𝐥𝐲 𝐚𝐬 𝐭𝐡𝐞 𝐦𝐨𝐭𝐡𝐞𝐫 𝐨𝐟 𝐉𝐞𝐬𝐮𝐬, 𝐛𝐮𝐭 𝐚𝐬 𝐭𝐡𝐞 𝐦𝐨𝐬𝐭 𝐫𝐢𝐠𝐡𝐭𝐞𝐨𝐮𝐬 𝐰𝐨𝐦𝐚𝐧 𝐞𝐯𝐞𝐫. 𝐓𝐡𝐞𝐫𝐞 𝐢𝐬 𝐞𝐯𝐞𝐧 𝐚 𝐜𝐡𝐚𝐩𝐭𝐞𝐫 𝐨𝐟 𝐭𝐡𝐞 𝐐𝐮𝐫'𝐚𝐧 𝐧𝐚𝐦𝐞𝐝 𝐟𝐨𝐫 𝐡𝐞𝐫 (𝐭𝐡𝐞 𝟏𝟗𝐭𝐡 𝐜𝐡𝐚𝐩𝐭𝐞𝐫 𝐨𝐟 𝐭𝐡𝐞 𝐐𝐮𝐫'𝐚𝐧).
𝐀𝐜𝐜𝐨𝐫𝐝𝐢𝐧𝐠 𝐭𝐨 𝐭𝐡𝐞 𝐐𝐮𝐫'𝐚𝐧, 𝐉𝐞𝐬𝐮𝐬 𝐰𝐚𝐬 𝐛𝐨𝐫𝐧 𝐦𝐢𝐫𝐚𝐜𝐮𝐥𝐨𝐮𝐬𝐥𝐲 𝐛𝐲 𝐭𝐡𝐞 𝐰𝐢𝐥𝐥 𝐨𝐟 𝐆𝐨𝐝 𝐰𝐢𝐭𝐡𝐨𝐮𝐭 𝐚 𝐟𝐚𝐭𝐡𝐞𝐫. 𝐇𝐢𝐬 𝐦𝐨𝐭𝐡𝐞𝐫 𝐢𝐬 𝐫𝐞𝐠𝐚𝐫𝐝𝐞𝐝 𝐚𝐬 𝐚 𝐜𝐡𝐚𝐬𝐭𝐞 𝐚𝐧𝐝 𝐯𝐢𝐫𝐭𝐮𝐨𝐮𝐬 𝐰𝐨𝐦𝐚𝐧 𝐚𝐧𝐝 𝐢𝐬 𝐚 𝐡𝐢𝐠𝐡𝐥𝐲 𝐫𝐞𝐬𝐩𝐞𝐜𝐭𝐞𝐝 𝐟𝐢𝐠𝐮𝐫𝐞 𝐢𝐧 𝐈𝐬𝐥𝐚𝐦. 𝐓𝐡𝐞 𝐐𝐮𝐫'𝐚𝐧 𝐬𝐭𝐚𝐭𝐞𝐬 𝐭𝐡𝐚𝐭 𝐉𝐞𝐬𝐮𝐬 𝐰𝐚𝐬 𝐭𝐡𝐞 𝐫𝐞𝐬𝐮𝐥𝐭 𝐨𝐟 𝐚 𝐯𝐢𝐫𝐠𝐢𝐧 𝐛𝐢𝐫𝐭𝐡, 𝐛𝐮𝐭 𝐭𝐡𝐚𝐭 𝐧𝐞𝐢𝐭𝐡𝐞𝐫 𝐌𝐚𝐫𝐲 𝐧𝐨𝐫 𝐡𝐞𝐫 𝐬𝐨𝐧 𝐰𝐚𝐬 𝐝𝐢𝐯𝐢𝐧𝐞.
𝐈𝐧 𝐭𝐡𝐞 𝐐𝐮𝐫'𝐚𝐧, 𝐧𝐨 𝐨𝐭𝐡𝐞𝐫 𝐰𝐨𝐦𝐚𝐧 𝐢𝐬 𝐠𝐢𝐯𝐞𝐧 𝐦𝐨𝐫𝐞 𝐚𝐭𝐭𝐞𝐧𝐭𝐢𝐨𝐧 𝐭𝐡𝐚𝐧 𝐌𝐚𝐫𝐲. 𝐓𝐡𝐞 𝐧𝐢𝐧𝐞𝐭𝐞𝐞𝐧𝐭𝐡 𝐜𝐡𝐚𝐩𝐭𝐞𝐫 𝐨𝐟 𝐭𝐡𝐞 𝐐𝐮𝐫'𝐚𝐧 𝐢𝐬 𝐧𝐚𝐦𝐞𝐝 𝐚𝐟𝐭𝐞𝐫 𝐡𝐞𝐫 𝐚𝐧𝐝 𝐢𝐬, 𝐭𝐨 𝐬𝐨𝐦𝐞 𝐞𝐱𝐭𝐞𝐧𝐭, 𝐚𝐛𝐨𝐮𝐭 𝐡𝐞𝐫 𝐥𝐢𝐟𝐞.
𝐎𝐟 𝐭𝐡𝐞 𝐐𝐮𝐫'𝐚𝐧'𝐬 𝟏𝟏𝟒 𝐜𝐡𝐚𝐩𝐭𝐞𝐫𝐬, 𝐬𝐡𝐞 𝐢𝐬 𝐚𝐦𝐨𝐧𝐠 𝐨𝐧𝐥𝐲 𝐞𝐢𝐠𝐡𝐭 𝐩𝐞𝐨𝐩𝐥𝐞 𝐰𝐡𝐨 𝐡𝐚𝐯𝐞 𝐚 𝐜𝐡𝐚𝐩𝐭𝐞𝐫 𝐧𝐚𝐦𝐞𝐝 𝐚𝐟𝐭𝐞𝐫 𝐭𝐡𝐞𝐦. 𝐈𝐧 𝐈𝐬𝐥𝐚𝐦, 𝐬𝐡𝐞 𝐢𝐬 𝐠𝐞𝐧𝐞𝐫𝐚𝐥𝐥𝐲 𝐫𝐞𝐟𝐞𝐫𝐫𝐞𝐝 𝐭𝐨 𝐚𝐬 𝐌𝐚𝐫𝐲𝐚𝐦, 𝐔𝐦𝐦 𝐈𝐬𝐚 (𝐌𝐚𝐫𝐲, 𝐭𝐡𝐞 𝐦𝐨𝐭𝐡𝐞𝐫 𝐨𝐟 𝐉𝐞𝐬𝐮𝐬).
𝐅𝐨𝐫 𝐌𝐮𝐬𝐥𝐢𝐦𝐬 𝐬𝐡𝐞 𝐢𝐬 𝐚 𝐬𝐲𝐦𝐛𝐨𝐥 𝐨𝐟 𝐬𝐮𝐛𝐦𝐢𝐬𝐬𝐢𝐨𝐧 𝐭𝐨 𝐆𝐨𝐝 𝐚𝐧𝐝 𝐩𝐢𝐞𝐭𝐲. 𝐌𝐚𝐫𝐲 𝐢𝐬 𝐨𝐧𝐞 𝐨𝐟 𝐭𝐡𝐞 𝐦𝐨𝐬𝐭 𝐡𝐢𝐠𝐡𝐥𝐲 𝐫𝐞𝐠𝐚𝐫𝐝𝐞𝐝 𝐰𝐨𝐦𝐞𝐧 𝐢𝐧 𝐈𝐬𝐥𝐚𝐦; 𝐭𝐡𝐞𝐫𝐞 𝐚𝐫𝐞 𝐬𝐞𝐯𝐞𝐫𝐚𝐥 𝐯𝐞𝐫𝐬𝐞𝐬 𝐢𝐧 𝐭𝐡𝐞 𝐐𝐮𝐫'𝐚𝐧 𝐩𝐫𝐚𝐢𝐬𝐢𝐧𝐠 𝐡𝐞𝐫 𝐚𝐧𝐝 𝐜𝐨𝐧𝐟𝐢𝐫𝐦𝐢𝐧𝐠 𝐭𝐡𝐚𝐭 𝐬𝐡𝐞 𝐰𝐚𝐬 𝐚𝐧 𝐞𝐱𝐭𝐫𝐞𝐦𝐞𝐥𝐲 𝐜𝐡𝐚𝐬𝐭𝐞 𝐚𝐧𝐝 𝐩𝐢𝐨𝐮𝐬 𝐰𝐨𝐦𝐚𝐧.
𝐇𝐞𝐫𝐞 𝐚𝐫𝐞 𝐬𝐨𝐦𝐞 𝐝𝐢𝐫𝐞𝐜𝐭 𝐪𝐮𝐨𝐭𝐚𝐭𝐢𝐨𝐧𝐬 𝐟𝐫𝐨𝐦 𝐭𝐡𝐞 𝐐𝐮𝐫'𝐚𝐧 𝐫𝐞𝐠𝐚𝐫𝐝𝐢𝐧𝐠 𝐌𝐚𝐫𝐲
"𝐑𝐞𝐥𝐚𝐭𝐞 𝐢𝐧 𝐭𝐡𝐞 𝐁𝐨𝐨𝐤 (𝐭𝐡𝐞 𝐬𝐭𝐨𝐫𝐲 𝐨𝐟) 𝐌𝐚𝐫𝐲, 𝐰𝐡𝐞𝐧 𝐬𝐡𝐞 𝐰𝐢𝐭𝐡𝐝𝐫𝐞𝐰 𝐟𝐫𝐨𝐦 𝐡𝐞𝐫 𝐟𝐚𝐦𝐢𝐥𝐲 𝐭𝐨 𝐚 𝐩𝐥𝐚𝐜𝐞 𝐢𝐧 𝐭𝐡𝐞 𝐄𝐚𝐬𝐭. 𝐒𝐡𝐞 𝐩𝐥𝐚𝐜𝐞𝐝 𝐚 𝐬𝐜𝐫𝐞𝐞𝐧 (𝐭𝐨 𝐬𝐜𝐫𝐞𝐞𝐧 𝐡𝐞𝐫𝐬𝐞𝐥𝐟) 𝐟𝐫𝐨𝐦 𝐭𝐡𝐞𝐦. 𝐓𝐡𝐞𝐧 𝐖𝐞 𝐬𝐞𝐧𝐭 𝐡𝐞𝐫 𝐨𝐮𝐫 𝐚𝐧𝐠𝐞𝐥, 𝐚𝐧𝐝 𝐡𝐞 𝐚𝐩𝐩𝐞𝐚𝐫𝐞𝐝 𝐛𝐞𝐟𝐨𝐫𝐞 𝐡𝐞𝐫 𝐚𝐬 𝐚 𝐦𝐚𝐧 𝐢𝐧 𝐚𝐥𝐥 𝐫𝐞𝐬𝐩𝐞𝐜𝐭𝐬. 𝐒𝐡𝐞 𝐬𝐚𝐢𝐝, '𝐈 𝐬𝐞𝐞𝐤 𝐫𝐞𝐟𝐮𝐠𝐞 𝐟𝐫𝐨𝐦 𝐲𝐨𝐮 𝐭𝐨 𝐆𝐨𝐝 𝐌𝐨𝐬𝐭 𝐆𝐫𝐚𝐜𝐢𝐨𝐮𝐬! 𝐃𝐨 𝐧𝐨𝐭 𝐜𝐨𝐦𝐞 𝐧𝐞𝐚𝐫 𝐦𝐞, 𝐢𝐟 𝐲𝐨𝐮 𝐟𝐞𝐚𝐫 𝐆𝐨𝐝!' 𝐇𝐞 𝐬𝐚𝐢𝐝, '𝐍𝐨, 𝐈 𝐚𝐦 𝐨𝐧𝐥𝐲 𝐚 𝐦𝐞𝐬𝐬𝐞𝐧𝐠𝐞𝐫 𝐟𝐫𝐨𝐦 𝐲𝐨𝐮𝐫 𝐋𝐨𝐫𝐝, (𝐭𝐨 𝐚𝐧𝐧𝐨𝐮𝐧𝐜𝐞) 𝐭𝐨 𝐲𝐨𝐮 𝐭𝐡𝐞 𝐠𝐢𝐟𝐭 𝐨𝐟 𝐚 𝐡𝐨𝐥𝐲 𝐬𝐨𝐧.' 𝐒𝐡𝐞 𝐬𝐚𝐢𝐝, '𝐇𝐨𝐰 𝐬𝐡𝐚𝐥𝐥 𝐈 𝐡𝐚𝐯𝐞 𝐚 𝐬𝐨𝐧, 𝐬𝐞𝐞𝐢𝐧𝐠 𝐭𝐡𝐚𝐭 𝐧𝐨 𝐦𝐚𝐧 𝐡𝐚𝐬 𝐭𝐨𝐮𝐜𝐡𝐞𝐝 𝐦𝐞, 𝐚𝐧𝐝 𝐈 𝐚𝐦 𝐧𝐨𝐭 𝐮𝐧𝐜𝐡𝐚𝐬𝐭𝐞?' 𝐇𝐞 𝐬𝐚𝐢𝐝, '𝐒𝐨 (𝐢𝐭 𝐰𝐢𝐥𝐥 𝐛𝐞). 𝐘𝐨𝐮𝐫 𝐋𝐨𝐫𝐝 𝐬𝐚𝐲𝐬, '𝐓𝐡𝐚𝐭 𝐢𝐬 𝐞𝐚𝐬𝐲 𝐟𝐨𝐫 𝐌𝐞, 𝐚𝐧𝐝 (𝐖𝐞 𝐰𝐢𝐬𝐡) 𝐭𝐨 𝐚𝐩𝐩𝐨𝐢𝐧𝐭 𝐡𝐢𝐦 𝐚𝐬 𝐚 𝐒𝐢𝐠𝐧 𝐮𝐧𝐭𝐨 𝐦𝐞𝐧, 𝐚𝐧𝐝 𝐚 𝐌𝐞𝐫𝐜𝐲 𝐟𝐫𝐨𝐦 𝐔𝐬. 𝐈𝐭 𝐢𝐬 𝐚 𝐦𝐚𝐭𝐭𝐞𝐫 (𝐬𝐨) 𝐝𝐞𝐜𝐫𝐞𝐞𝐝'" (𝟏𝟗:𝟏𝟔-𝟐𝟏, 𝐭𝐡𝐞 𝐂𝐡𝐚𝐩𝐭𝐞𝐫 𝐨𝐟 𝐌𝐚𝐫𝐲).
"𝐁𝐞𝐡𝐨𝐥𝐝! 𝐓𝐡𝐞 𝐚𝐧𝐠𝐞𝐥𝐬 𝐬𝐚𝐢𝐝, '𝐎𝐡 𝐌𝐚𝐫𝐲! 𝐆𝐨𝐝 𝐡𝐚𝐬 𝐜𝐡𝐨𝐬𝐞𝐧 𝐲𝐨𝐮 𝐚𝐧𝐝 𝐩𝐮𝐫𝐢𝐟𝐢𝐞𝐝 𝐲𝐨𝐮, 𝐜𝐡𝐨𝐬𝐞𝐧 𝐲𝐨𝐮 𝐚𝐛𝐨𝐯𝐞 𝐭𝐡𝐞 𝐰𝐨𝐦𝐞𝐧 𝐨𝐟 𝐚𝐥𝐥 𝐧𝐚𝐭𝐢𝐨𝐧𝐬. 𝐎𝐡 𝐌𝐚𝐫𝐲! 𝐖𝐨𝐫𝐬𝐡𝐢𝐩 𝐲𝐨𝐮𝐫 𝐋𝐨𝐫𝐝 𝐝𝐞𝐯𝐨𝐮𝐭𝐥𝐲. 𝐏𝐫𝐨𝐬𝐭𝐫𝐚𝐭𝐞 𝐲𝐨𝐮𝐫𝐬𝐞𝐥𝐟 𝐚𝐧𝐝 𝐛𝐨𝐰 𝐝𝐨𝐰𝐧 (𝐢𝐧 𝐩𝐫𝐚𝐲𝐞𝐫) 𝐰𝐢𝐭𝐡 𝐭𝐡𝐨𝐬𝐞 𝐰𝐡𝐨 𝐛𝐨𝐰 𝐝𝐨𝐰𝐧'" (𝟑:𝟒𝟐-𝟒𝟑).
"𝐀𝐧𝐝 (𝐫𝐞𝐦𝐞𝐦𝐛𝐞𝐫) 𝐬𝐡𝐞 𝐰𝐡𝐨 𝐠𝐮𝐚𝐫𝐝𝐞𝐝 𝐡𝐞𝐫 𝐜𝐡𝐚𝐬𝐭𝐢𝐭𝐲. 𝐖𝐞 𝐛𝐫𝐞𝐚𝐭𝐡𝐞𝐝 𝐢𝐧𝐭𝐨 𝐡𝐞𝐫 𝐨𝐟 𝐎𝐮𝐫 𝐬𝐩𝐢𝐫𝐢𝐭, 𝐚𝐧𝐝 𝐖𝐞 𝐦𝐚𝐝𝐞 𝐡𝐞𝐫 𝐚𝐧𝐝 𝐡𝐞𝐫 𝐬𝐨𝐧 𝐚 𝐬𝐢𝐠𝐧 𝐟𝐨𝐫 𝐚𝐥𝐥 𝐩𝐞𝐨𝐩𝐥𝐞𝐬 (𝟐𝟏:𝟗𝟏).
[𝐖𝐡𝐢𝐥𝐞 𝐝𝐞𝐬𝐜𝐫𝐢𝐛𝐢𝐧𝐠 𝐩𝐞𝐨𝐩𝐥𝐞 𝐰𝐡𝐨 𝐰𝐞𝐫𝐞 𝐠𝐨𝐨𝐝 𝐞𝐱𝐚𝐦𝐩𝐥𝐞𝐬 𝐟𝐨𝐫 𝐨𝐭𝐡𝐞𝐫𝐬] "…𝐀𝐧𝐝 𝐌𝐚𝐫𝐲, 𝐭𝐡𝐞 𝐝𝐚𝐮𝐠𝐡𝐭𝐞𝐫 𝐨𝐟 '𝐈𝐦𝐫𝐚𝐧, 𝐰𝐡𝐨 𝐠𝐮𝐚𝐫𝐝𝐞𝐝 𝐡𝐞𝐫 𝐜𝐡𝐚𝐬𝐭𝐢𝐭𝐲. 𝐀𝐧𝐝 𝐖𝐞 𝐛𝐫𝐞𝐚𝐭𝐡𝐞𝐝 𝐢𝐧𝐭𝐨 (𝐡𝐞𝐫 𝐛𝐨𝐝𝐲) 𝐨𝐟 𝐎𝐮𝐫 𝐬𝐩𝐢𝐫𝐢𝐭. 𝐒𝐡𝐞 𝐭𝐞𝐬𝐭𝐢𝐟𝐢𝐞𝐝 𝐭𝐨 𝐭𝐡𝐞 𝐭𝐫𝐮𝐭𝐡 𝐨𝐟 𝐭𝐡𝐞 𝐰𝐨𝐫𝐝𝐬 𝐨𝐟 𝐡𝐞𝐫 𝐋𝐨𝐫𝐝 𝐚𝐧𝐝 𝐨𝐟 𝐇𝐢𝐬 𝐑𝐞𝐯𝐞𝐥𝐚𝐭𝐢𝐨𝐧𝐬 𝐚𝐧𝐝 𝐰𝐚𝐬 𝐨𝐧𝐞 𝐨𝐟 𝐭𝐡𝐞 𝐝𝐞𝐯𝐨𝐮𝐭 (𝐬𝐞𝐫𝐯𝐚𝐧𝐭𝐬)" (𝟔𝟔:𝟏𝟐).
"𝐂𝐡𝐫𝐢𝐬𝐭, 𝐭𝐡𝐞 𝐬𝐨𝐧 𝐨𝐟 𝐌𝐚𝐫𝐲, 𝐰𝐚𝐬 𝐧𝐨 𝐦𝐨𝐫𝐞 𝐭𝐡𝐚𝐧 𝐚 𝐦𝐞𝐬𝐬𝐞𝐧𝐠𝐞𝐫; 𝐦𝐚𝐧𝐲 𝐰𝐞𝐫𝐞 𝐭𝐡𝐞 𝐦𝐞𝐬𝐬𝐞𝐧𝐠𝐞𝐫𝐬 𝐭𝐡𝐚𝐭 𝐩𝐚𝐬𝐬𝐞𝐝 𝐚𝐰𝐚𝐲 𝐛𝐞𝐟𝐨𝐫𝐞 𝐡𝐢𝐦. 𝐇𝐢𝐬 𝐦𝐨𝐭𝐡𝐞𝐫 𝐰𝐚𝐬 𝐚 𝐰𝐨𝐦𝐚𝐧 𝐨𝐟 𝐭𝐫𝐮𝐭𝐡. 𝐓𝐡𝐞𝐲 𝐡𝐚𝐝 𝐛𝐨𝐭𝐡 𝐭𝐨 𝐞𝐚𝐭 𝐭𝐡𝐞𝐢𝐫 (𝐝𝐚𝐢𝐥𝐲) 𝐟𝐨𝐨𝐝. 𝐒𝐞𝐞 𝐡𝐨𝐰 𝐆𝐨𝐝 𝐦𝐚𝐤𝐞𝐬 𝐇𝐢𝐬 𝐬𝐢𝐠𝐧𝐬 𝐜𝐥𝐞𝐚𝐫 𝐭𝐨 𝐭𝐡𝐞𝐦; 𝐲𝐞𝐭 𝐬𝐞𝐞 𝐢𝐧 𝐰𝐡𝐚𝐭 𝐰𝐚𝐲𝐬 𝐭𝐡𝐞𝐲 𝐚𝐫𝐞
𝐀𝐥𝐥𝐚𝐡 𝐤𝐧𝐨𝐰𝐬 𝐁𝐞𝐬𝐭.
Source: Br. Ismail Jacobs
Six Facts about the Virgin Mary Found in The Quran
Responding to Christian Missionaries Tactics – Christian Missionaries Sweeping the Islamic World
Trinity: Mary Worshipped as A God?
Ten Ways the Bible Disproves the Trinity
Biblical Verses that disprove the divinity of Jesus
Evidence That Islam Teaches That There Was Textual Corruption of The Christian and Jewish Scriptures
A List of Biblical Contradictions
Mankind's corruption of the Bible
The Problem of the Bible: Inaccuracies, contradictions, fallacies, scientific issues and more.
Qur'anic Accuracy Vs. Biblical Error: The Kings and Pharaohs Of Egypt
The Resurrection Hoax, a Big Scam