𝐉𝐞𝐬𝐮𝐬 𝐚 𝐧𝐚𝐫𝐜𝐢𝐬𝐬𝐢𝐬𝐭𝐢𝐜 𝐚𝐬 𝐩𝐞𝐫 𝐂𝐨𝐫𝐫𝐮𝐩𝐭𝐞𝐝 𝐁𝐢𝐛𝐥𝐞
Mohamad Mostafa Nassar
Twitter@NassarMohamadMR
𝐏𝐫𝐢𝐧𝐜𝐞 𝐨𝐟 𝐏𝐞𝐚𝐜𝐞 𝐢𝐧 𝐀𝐜𝐭𝐢𝐨𝐧
𝐎𝐧𝐜𝐞 𝐚𝐠𝐚𝐢𝐧, 𝐰𝐞 𝐬𝐞𝐞 𝐭𝐡𝐞 𝐝𝐢𝐬𝐭𝐨𝐫𝐭𝐞𝐝 𝐆𝐨𝐬𝐩𝐞𝐥 𝐦𝐚𝐥𝐢𝐠𝐧𝐢𝐧𝐠 𝐭𝐡𝐞 𝐌𝐞𝐬𝐬𝐞𝐧𝐠𝐞𝐫 𝐨𝐟 𝐀𝐥𝐥𝐚𝐡, 𝐉𝐞𝐬𝐮𝐬, 𝐭𝐡𝐞 𝐬𝐨𝐧 𝐨𝐟 𝐌𝐚𝐫𝐲, 𝐚𝐜𝐜𝐮𝐬𝐢𝐧𝐠 𝐡𝐢𝐦 𝐨𝐟 𝐰𝐚𝐧𝐭𝐢𝐧𝐠 𝐭𝐨 𝐬𝐞𝐭 𝐭𝐡𝐞 𝐰𝐨𝐫𝐥𝐝 𝐨𝐧 𝐟𝐢𝐫𝐞 𝐚𝐧𝐝 𝐫𝐞𝐠𝐫𝐞𝐭𝐭𝐢𝐧𝐠 𝐭𝐡𝐚𝐭 𝐡𝐞 𝐝𝐢𝐝𝐧'𝐭 𝐬𝐞𝐞 𝐢𝐭 𝐛𝐮𝐫𝐧 (𝐋𝐮𝐤𝐞 𝟏𝟐:𝟒𝟗).
𝐀𝐬 𝐢𝐬 𝐰𝐞𝐥𝐥-𝐤𝐧𝐨𝐰𝐧, 𝐂𝐡𝐫𝐢𝐬𝐭𝐢𝐚𝐧𝐬 𝐜𝐨𝐧𝐭𝐢𝐧𝐮𝐚𝐥𝐥𝐲 𝐩𝐫𝐨𝐜𝐥𝐚𝐢𝐦 𝐝𝐚𝐲 𝐚𝐧𝐝 𝐧𝐢𝐠𝐡𝐭 𝐭𝐡𝐚𝐭 𝐭𝐡𝐞 𝐉𝐞𝐬𝐮𝐬 𝐦𝐞𝐧𝐭𝐢𝐨𝐧𝐞𝐝 𝐢𝐧 𝐭𝐡𝐞 𝐝𝐢𝐬𝐭𝐨𝐫𝐭𝐞𝐝 𝐆𝐨𝐬𝐩𝐞𝐥 𝐢𝐬 𝐭𝐡𝐞 𝐏𝐫𝐢𝐧𝐜𝐞 𝐨𝐟 𝐏𝐞𝐚𝐜𝐞 𝐚𝐧𝐝 𝐰𝐢𝐭𝐡𝐨𝐮𝐭 𝐬𝐢𝐧. 𝐖𝐞 𝐡𝐨𝐩𝐞 𝐭𝐡𝐞𝐲 𝐰𝐨𝐮𝐥𝐝 𝐫𝐞𝐚𝐝 𝐭𝐡𝐞𝐢𝐫 𝐜𝐨𝐫𝐫𝐮𝐩𝐭𝐞𝐝 𝐛𝐨𝐨𝐤.
𝐍𝐚𝐫𝐜𝐢𝐬𝐬𝐢𝐬𝐭𝐢𝐜:
𝐀 𝐩𝐞𝐫𝐯𝐚𝐬𝐢𝐯𝐞 𝐩𝐚𝐭𝐭𝐞𝐫𝐧 𝐨𝐟 𝐠𝐫𝐚𝐧𝐝𝐢𝐨𝐬𝐢𝐭𝐲 (𝐢𝐧 𝐟𝐚𝐧𝐭𝐚𝐬𝐲 𝐨𝐫 𝐛𝐞𝐡𝐚𝐯𝐢𝐨𝐫), 𝐧𝐞𝐞𝐝 𝐟𝐨𝐫 𝐚𝐝𝐦𝐢𝐫𝐚𝐭𝐢𝐨𝐧, 𝐚𝐧𝐝 𝐥𝐚𝐜𝐤 𝐨𝐟 𝐞𝐦𝐩𝐚𝐭𝐡𝐲, 𝐛𝐞𝐠𝐢𝐧𝐧𝐢𝐧𝐠 𝐛𝐲 𝐞𝐚𝐫𝐥𝐲 𝐚𝐝𝐮𝐥𝐭𝐡𝐨𝐨𝐝 𝐚𝐧𝐝 𝐩𝐫𝐞𝐬𝐞𝐧𝐭 𝐢𝐧 𝐚 𝐯𝐚𝐫𝐢𝐞𝐭𝐲 𝐨𝐟 𝐜𝐨𝐧𝐭𝐞𝐱𝐭𝐬, 𝐚𝐬 𝐢𝐧𝐝𝐢𝐜𝐚𝐭𝐞𝐝 𝐛𝐲 𝐟𝐢𝐯𝐞 (𝐨𝐫 𝐦𝐨𝐫𝐞) 𝐨𝐟 𝐭𝐡𝐞 𝐟𝐨𝐥𝐥𝐨𝐰𝐢𝐧𝐠:
𝟏. 𝐇𝐚𝐬 𝐚 𝐠𝐫𝐚𝐧𝐝𝐢𝐨𝐬𝐞 𝐬𝐞𝐧𝐬𝐞 𝐨𝐟 𝐬𝐞𝐥𝐟-𝐢𝐦𝐩𝐨𝐫𝐭𝐚𝐧𝐜𝐞 (𝐞.𝐠., 𝐞𝐱𝐚𝐠𝐠𝐞𝐫𝐚𝐭𝐞𝐬 𝐚𝐜𝐡𝐢𝐞𝐯𝐞𝐦𝐞𝐧𝐭𝐬 𝐚𝐧𝐝 𝐭𝐚𝐥𝐞𝐧𝐭𝐬, 𝐞𝐱𝐩𝐞𝐜𝐭𝐬 𝐭𝐨 𝐛𝐞 𝐫𝐞𝐜𝐨𝐠𝐧𝐢𝐳𝐞𝐝 𝐚𝐬 𝐬𝐮𝐩𝐞𝐫𝐢𝐨𝐫 𝐰𝐢𝐭𝐡𝐨𝐮𝐭 𝐜𝐨𝐦𝐦𝐞𝐧𝐬𝐮𝐫𝐚𝐭𝐞 𝐚𝐜𝐡𝐢𝐞𝐯𝐞𝐦𝐞𝐧𝐭𝐬)
𝟐. 𝐈𝐬 𝐩𝐫𝐞𝐨𝐜𝐜𝐮𝐩𝐢𝐞𝐝 𝐰𝐢𝐭𝐡 𝐟𝐚𝐧𝐭𝐚𝐬𝐢𝐞𝐬 𝐨𝐟 𝐮𝐧𝐥𝐢𝐦𝐢𝐭𝐞𝐝 𝐬𝐮𝐜𝐜𝐞𝐬𝐬, 𝐩𝐨𝐰𝐞𝐫, 𝐛𝐫𝐢𝐥𝐥𝐢𝐚𝐧𝐜𝐞, 𝐛𝐞𝐚𝐮𝐭𝐲, 𝐨𝐫 𝐢𝐝𝐞𝐚𝐥 𝐥𝐨𝐯𝐞
𝟑. 𝐁𝐞𝐥𝐢𝐞𝐯𝐞𝐬 𝐭𝐡𝐚𝐭 𝐡𝐞 𝐨𝐫 𝐬𝐡𝐞 𝐢𝐬 "𝐬𝐩𝐞𝐜𝐢𝐚𝐥" 𝐚𝐧𝐝 𝐮𝐧𝐢𝐪𝐮𝐞 𝐚𝐧𝐝 𝐜𝐚𝐧 𝐨𝐧𝐥𝐲 𝐛𝐞 𝐮𝐧𝐝𝐞𝐫𝐬𝐭𝐨𝐨𝐝 𝐛𝐲, 𝐨𝐫 𝐬𝐡𝐨𝐮𝐥𝐝 𝐚𝐬𝐬𝐨𝐜𝐢𝐚𝐭𝐞 𝐰𝐢𝐭𝐡, 𝐨𝐭𝐡𝐞𝐫 𝐬𝐩𝐞𝐜𝐢𝐚𝐥 𝐨𝐫 𝐡𝐢𝐠𝐡-𝐬𝐭𝐚𝐭𝐮𝐬 𝐩𝐞𝐨𝐩𝐥𝐞 (𝐨𝐫 𝐢𝐧𝐬𝐭𝐢𝐭𝐮𝐭𝐢𝐨𝐧𝐬)
𝟒. 𝐑𝐞𝐪𝐮𝐢𝐫𝐞𝐬 𝐞𝐱𝐜𝐞𝐬𝐬𝐢𝐯𝐞 𝐚𝐝𝐦𝐢𝐫𝐚𝐭𝐢𝐨𝐧
𝟓. 𝐇𝐚𝐬 𝐚 𝐬𝐞𝐧𝐬𝐞 𝐨𝐟 𝐞𝐧𝐭𝐢𝐭𝐥𝐞𝐦𝐞𝐧𝐭, 𝐢.𝐞., 𝐮𝐧𝐫𝐞𝐚𝐬𝐨𝐧𝐚𝐛𝐥𝐞 𝐞𝐱𝐩𝐞𝐜𝐭𝐚𝐭𝐢𝐨𝐧𝐬 𝐨𝐟 𝐞𝐬𝐩𝐞𝐜𝐢𝐚𝐥𝐥𝐲 𝐟𝐚𝐯𝐨𝐫𝐚𝐛𝐥𝐞 𝐭𝐫𝐞𝐚𝐭𝐦𝐞𝐧𝐭 𝐨𝐫 𝐚𝐮𝐭𝐨𝐦𝐚𝐭𝐢𝐜 𝐜𝐨𝐦𝐩𝐥𝐢𝐚𝐧𝐜𝐞 𝐰𝐢𝐭𝐡 𝐡𝐢𝐬 𝐨𝐫 𝐡𝐞𝐫 𝐞𝐱𝐩𝐞𝐜𝐭𝐚𝐭𝐢𝐨𝐧𝐬
𝟔. 𝐈𝐬 𝐢𝐧𝐭𝐞𝐫𝐩𝐞𝐫𝐬𝐨𝐧𝐚𝐥𝐥𝐲 𝐞𝐱𝐩𝐥𝐨𝐢𝐭𝐚𝐭𝐢𝐯𝐞, 𝐢.𝐞., 𝐭𝐚𝐤𝐞𝐬 𝐚𝐝𝐯𝐚𝐧𝐭𝐚𝐠𝐞 𝐨𝐟 𝐨𝐭𝐡𝐞𝐫𝐬 𝐭𝐨 𝐚𝐜𝐡𝐢𝐞𝐯𝐞 𝐡𝐢𝐬 𝐨𝐫 𝐡𝐞𝐫 𝐨𝐰𝐧 𝐞𝐧𝐝𝐬
𝟕. 𝐋𝐚𝐜𝐤𝐬 𝐞𝐦𝐩𝐚𝐭𝐡𝐲: 𝐢𝐬 𝐮𝐧𝐰𝐢𝐥𝐥𝐢𝐧𝐠 𝐭𝐨 𝐫𝐞𝐜𝐨𝐠𝐧𝐢𝐳𝐞 𝐨𝐫 𝐢𝐝𝐞𝐧𝐭𝐢𝐟𝐲 𝐰𝐢𝐭𝐡 𝐭𝐡𝐞 𝐟𝐞𝐞𝐥𝐢𝐧𝐠𝐬 𝐚𝐧𝐝 𝐧𝐞𝐞𝐝𝐬 𝐨𝐟 𝐨𝐭𝐡𝐞𝐫𝐬
𝟖. 𝐈𝐬 𝐨𝐟𝐭𝐞𝐧 𝐞𝐧𝐯𝐢𝐨𝐮𝐬 𝐨𝐟 𝐨𝐭𝐡𝐞𝐫𝐬 𝐨𝐫 𝐛𝐞𝐥𝐢𝐞𝐯𝐞𝐬 𝐨𝐭𝐡𝐞𝐫𝐬 𝐚𝐫𝐞 𝐞𝐧𝐯𝐢𝐨𝐮𝐬 𝐨𝐟 𝐡𝐢𝐦 𝐨𝐫 𝐡𝐞𝐫
𝟗. 𝐒𝐡𝐨𝐰𝐬 𝐚𝐫𝐫𝐨𝐠𝐚𝐧𝐭, 𝐡𝐚𝐮𝐠𝐡𝐭𝐲 𝐛𝐞𝐡𝐚𝐯𝐢𝐨𝐫𝐬 𝐨𝐫 𝐚𝐭𝐭𝐢𝐭𝐮𝐝𝐞𝐬
𝐀 𝐍𝐚𝐫𝐜𝐢𝐬𝐬𝐢𝐬𝐭𝐢𝐜 𝐢𝐬 𝐮𝐬𝐮𝐚𝐥𝐥𝐲 𝐚 𝐩𝐞𝐫𝐬𝐨𝐧 𝐰𝐡𝐨 𝐢𝐬 𝐢𝐧 𝐥𝐨𝐯𝐞 𝐰𝐢𝐭𝐡 𝐡𝐢𝐦𝐬𝐞𝐥𝐟 𝐨𝐫 𝐡𝐚𝐬 𝐜𝐡𝐚𝐫𝐚𝐜𝐭𝐞𝐫𝐢𝐬𝐭𝐢𝐜𝐬 𝐨𝐟 𝐭𝐡𝐨𝐬𝐞 𝐡𝐚𝐯𝐢𝐧𝐠 𝐚𝐧 𝐢𝐧𝐟𝐥𝐚𝐭𝐞𝐝 𝐢𝐝𝐞𝐚 𝐨𝐟 𝐭𝐡𝐞𝐢𝐫 𝐨𝐰𝐧 𝐢𝐦𝐩𝐨𝐫𝐭𝐚𝐧𝐜𝐞.
𝐉𝐞𝐬𝐮𝐬 𝐰𝐚𝐬 𝐜𝐞𝐫𝐭𝐚𝐢𝐧𝐥𝐲 𝐚 𝐧𝐚𝐫𝐜𝐢𝐬𝐬𝐢𝐬𝐭 𝐡𝐞 𝐰𝐚𝐬 𝐬𝐨 𝐢𝐧 𝐥𝐨𝐯𝐞 𝐰𝐢𝐭𝐡 𝐡𝐢𝐦𝐬𝐞𝐥𝐟 𝐭𝐡𝐚𝐭 𝐡𝐞 𝐬𝐚𝐢𝐝 𝐭𝐡𝐚𝐭 𝐧𝐨 𝐨𝐧𝐞 𝐰𝐢𝐥𝐥 𝐟𝐞𝐞𝐥 𝐭𝐡𝐢𝐫𝐬𝐭 𝐨𝐫 𝐡𝐮𝐧𝐠𝐞𝐫 𝐢𝐟 𝐡𝐞 𝐛𝐞𝐥𝐢𝐞𝐯𝐞𝐬 𝐢𝐧 𝐡𝐢𝐦. 𝐀𝐭𝐡𝐞𝐢𝐬𝐭𝐬 𝐝𝐨𝐧'𝐭 𝐛𝐞𝐥𝐢𝐞𝐯𝐞 𝐢𝐧 𝐉𝐞𝐬𝐮𝐬 𝐡𝐚𝐯𝐞 𝐭𝐡𝐞𝐲 𝐝𝐢𝐞𝐝 𝐨𝐮𝐭 𝐨𝐟 𝐡𝐮𝐧𝐠𝐞𝐫 𝐨𝐫 𝐭𝐡𝐢𝐫𝐬𝐭?
"𝐅𝐨𝐫 𝐭𝐡𝐞 𝐛𝐫𝐞𝐚𝐝 𝐨𝐟 𝐆𝐨𝐝 𝐢𝐬 𝐡𝐞 𝐰𝐡𝐢𝐜𝐡 𝐜𝐨𝐦𝐞𝐭𝐡 𝐝𝐨𝐰𝐧 𝐟𝐫𝐨𝐦 𝐡𝐞𝐚𝐯𝐞𝐧, 𝐚𝐧𝐝 𝐠𝐢𝐯𝐞𝐭𝐡 𝐥𝐢𝐟𝐞 𝐮𝐧𝐭𝐨 𝐭𝐡𝐞 𝐰𝐨𝐫𝐥𝐝. 𝐓𝐡𝐞𝐧 𝐬𝐚𝐢𝐝 𝐭𝐡𝐞𝐲 𝐮𝐧𝐭𝐨 𝐡𝐢𝐦, 𝐋𝐨𝐫𝐝, 𝐞𝐯𝐞𝐫𝐦𝐨𝐫𝐞 𝐠𝐢𝐯𝐞 𝐮𝐬 𝐭𝐡𝐢𝐬 𝐛𝐫𝐞𝐚𝐝. 𝐀𝐧𝐝 𝐉𝐞𝐬𝐮𝐬 𝐬𝐚𝐢𝐝 𝐮𝐧𝐭𝐨 𝐭𝐡𝐞𝐦, 𝐈 𝐚𝐦 𝐭𝐡𝐞 𝐛𝐫𝐞𝐚𝐝 𝐨𝐟 𝐥𝐢𝐟𝐞: 𝐡𝐞 𝐭𝐡𝐚𝐭 𝐜𝐨𝐦𝐞𝐭𝐡 𝐭𝐨 𝐦𝐞 𝐬𝐡𝐚𝐥𝐥 𝐧𝐞𝐯𝐞𝐫 𝐡𝐮𝐧𝐠𝐞𝐫, 𝐚𝐧𝐝 𝐡𝐞 𝐭𝐡𝐚𝐭 𝐛𝐞𝐥𝐢𝐞𝐯𝐞𝐭𝐡 𝐨𝐧 𝐦𝐞 𝐬𝐡𝐚𝐥𝐥 𝐧𝐞𝐯𝐞𝐫 𝐭𝐡𝐢𝐫𝐬𝐭." (𝐉𝐨𝐡𝐧 𝟔:𝟑𝟑-𝟑𝟓)
𝐍𝐚𝐫𝐜𝐢𝐬𝐬𝐢𝐬𝐭𝐢𝐜 𝐚𝐫𝐞 𝐩𝐞𝐨𝐩𝐥𝐞 𝐰𝐡𝐨 𝐥𝐨𝐯𝐞 𝐭𝐨 𝐡𝐚𝐯𝐞 𝐬𝐞𝐥𝐟-𝐢𝐦𝐩𝐨𝐫𝐭𝐚𝐧𝐜𝐞 𝐰𝐢𝐭𝐡𝐢𝐧 𝐭𝐡𝐞𝐦𝐬𝐞𝐥𝐟 𝐚𝐧𝐝 𝐞𝐱𝐚𝐠𝐠𝐞𝐫𝐚𝐭𝐞 𝐭𝐡𝐞𝐢𝐫 𝐨𝐰𝐧 𝐢𝐦𝐩𝐨𝐫𝐭𝐚𝐧𝐜𝐞, 𝐚𝐜𝐡𝐢𝐞𝐯𝐞𝐦𝐞𝐧𝐭𝐬, 𝐚𝐧𝐝 𝐭𝐚𝐥𝐞𝐧𝐭𝐬.
𝐉𝐞𝐬𝐮𝐬 𝐢𝐧 𝐭𝐡𝐢𝐬 𝐫𝐞𝐠𝐚𝐫𝐝 𝐬𝐚𝐲𝐬:
"𝐈 𝐚𝐦 𝐭𝐡𝐞 𝐀𝐥𝐩𝐡𝐚 𝐚𝐧𝐝 𝐭𝐡𝐞 𝐎𝐦𝐞𝐠𝐚, 𝐭𝐡𝐞 𝐅𝐢𝐫𝐬𝐭 𝐚𝐧𝐝 𝐭𝐡𝐞 𝐋𝐚𝐬𝐭, 𝐭𝐡𝐞 𝐁𝐞𝐠𝐢𝐧𝐧𝐢𝐧𝐠 𝐚𝐧𝐝 𝐭𝐡𝐞 𝐄𝐧𝐝." (𝐑𝐞𝐯𝐞𝐥𝐚𝐭𝐢𝐨𝐧 𝟐𝟐:𝟏𝟑)
𝐄𝐯𝐞𝐧 𝐭𝐡𝐞 𝐩𝐞𝐨𝐩𝐥𝐞 𝐚𝐫𝐨𝐮𝐧𝐝 𝐉𝐞𝐬𝐮𝐬 𝐰𝐞𝐫𝐞 𝐚𝐬𝐭𝐨𝐧𝐢𝐬𝐡𝐞𝐝 𝐛𝐞𝐜𝐚𝐮𝐬𝐞 𝐨𝐟 𝐡𝐢𝐬 𝐧𝐚𝐫𝐜𝐢𝐬𝐬𝐢𝐬𝐭𝐢𝐜 𝐚𝐭𝐭𝐢𝐭𝐮𝐝𝐞 𝐰𝐡𝐞𝐧 𝐡𝐞 𝐭𝐚𝐮𝐠𝐡𝐭 𝐡𝐢𝐦 𝐭𝐡𝐚𝐭 𝐡𝐞 𝐢𝐬 𝐭𝐡𝐞 𝐨𝐧𝐞 𝐰𝐢𝐭𝐡 𝐚𝐮𝐭𝐡𝐨𝐫𝐢𝐭𝐲
"𝐓𝐡𝐞 𝐩𝐞𝐨𝐩𝐥𝐞 𝐰𝐞𝐫𝐞 𝐚𝐬𝐭𝐨𝐧𝐢𝐬𝐡𝐞𝐝 𝐚𝐭 𝐡𝐢𝐬 𝐝𝐨𝐜𝐭𝐫𝐢𝐧𝐞: 𝐅𝐨𝐫 𝐡𝐞 𝐭𝐚𝐮𝐠𝐡𝐭 𝐭𝐡𝐞𝐦 𝐚𝐬 𝐨𝐧𝐞 𝐡𝐚𝐯𝐢𝐧𝐠 𝐚𝐮𝐭𝐡𝐨𝐫𝐢𝐭𝐲, 𝐚𝐧𝐝 𝐧𝐨𝐭 𝐚𝐬 𝐭𝐡𝐞 𝐬𝐜𝐫𝐢𝐛𝐞𝐬." (𝐌𝐚𝐭𝐭𝐡𝐞𝐰 𝟕:𝟐𝟖-𝟐𝟗)
𝐉𝐞𝐬𝐮𝐬 𝐚𝐥𝐬𝐨 𝐝𝐞𝐧𝐢𝐞𝐝 𝐭𝐡𝐚𝐭 𝐧𝐨 𝐨𝐧𝐞 𝐢𝐧𝐜𝐥𝐮𝐝𝐢𝐧𝐠 𝐭𝐡𝐞 𝐝𝐢𝐬𝐜𝐢𝐩𝐥𝐞𝐬 𝐢𝐬 𝐚𝐛𝐨𝐯𝐞 𝐡𝐢𝐦
𝐑𝐞𝐟𝐞𝐫𝐫𝐢𝐧𝐠 𝐭𝐨 𝐡𝐢𝐬 𝟏𝟐 𝐝𝐢𝐬𝐜𝐢𝐩𝐥𝐞𝐬, 𝐉𝐞𝐬𝐮𝐬 𝐦𝐚𝐝𝐞 𝐜𝐥𝐞𝐚𝐫 𝐭𝐡𝐚𝐭: "𝐓𝐡𝐞 𝐝𝐢𝐬𝐜𝐢𝐩𝐥𝐞 𝐢𝐬 𝐧𝐨𝐭 𝐚𝐛𝐨𝐯𝐞 𝐡𝐢𝐬 𝐦𝐚𝐬𝐭𝐞𝐫, 𝐧𝐨𝐫 𝐭𝐡𝐞 𝐬𝐞𝐫𝐯𝐚𝐧𝐭 𝐚𝐛𝐨𝐯𝐞 𝐡𝐢𝐬 𝐥𝐨𝐫𝐝." (𝐌𝐚𝐭𝐭𝐡𝐞𝐰 𝟏𝟎:𝟐𝟒)
𝐉𝐞𝐬𝐮𝐬 𝐞𝐯𝐞𝐧 𝐭𝐮𝐫𝐧 𝐯𝐢𝐨𝐥𝐞𝐧𝐭 𝐚𝐧𝐝 𝐭𝐡𝐫𝐨𝐰 𝐚𝐰𝐚𝐲 𝐭𝐚𝐛𝐥𝐞𝐬 𝐢𝐧 𝐭𝐡𝐞 𝐭𝐞𝐦𝐩𝐥𝐞𝐬 𝐬𝐚𝐲𝐢𝐧𝐠 𝐭𝐡𝐚𝐭 "𝐡𝐢𝐬" 𝐡𝐨𝐮𝐬𝐞 𝐰𝐢𝐥𝐥 𝐛𝐞 𝐜𝐚𝐥𝐥𝐞𝐝 𝐚 𝐡𝐨𝐮𝐬𝐞 𝐨𝐟 𝐩𝐫𝐚𝐲𝐞𝐫
"𝐀𝐧𝐝 𝐉𝐞𝐬𝐮𝐬 𝐰𝐞𝐧𝐭 𝐢𝐧𝐭𝐨 𝐭𝐡𝐞 𝐭𝐞𝐦𝐩𝐥𝐞 𝐨𝐟 𝐆𝐨𝐝, 𝐚𝐧𝐝 𝐜𝐚𝐬𝐭 𝐨𝐮𝐭 𝐚𝐥𝐥 𝐭𝐡𝐞𝐦 𝐭𝐡𝐚𝐭 𝐬𝐨𝐥𝐝 𝐚𝐧𝐝 𝐛𝐨𝐮𝐠𝐡𝐭 𝐢𝐧 𝐭𝐡𝐞 𝐭𝐞𝐦𝐩𝐥𝐞, 𝐚𝐧𝐝 𝐨𝐯𝐞𝐫𝐭𝐡𝐫𝐞𝐰 𝐭𝐡𝐞 𝐭𝐚𝐛𝐥𝐞𝐬 𝐨𝐟 𝐭𝐡𝐞 𝐦𝐨𝐧𝐞𝐲𝐜𝐡𝐚𝐧𝐠𝐞𝐫𝐬, 𝐚𝐧𝐝 𝐭𝐡𝐞 𝐬𝐞𝐚𝐭𝐬 𝐨𝐟 𝐭𝐡𝐞𝐦 𝐭𝐡𝐚𝐭 𝐬𝐨𝐥𝐝 𝐝𝐨𝐯𝐞𝐬, 𝐀𝐧𝐝 𝐬𝐚𝐢𝐝 𝐮𝐧𝐭𝐨 𝐭𝐡𝐞𝐦, 𝐈𝐭 𝐢𝐬 𝐰𝐫𝐢𝐭𝐭𝐞𝐧, 𝐌𝐘 𝐡𝐨𝐮𝐬𝐞 𝐬𝐡𝐚𝐥𝐥 𝐛𝐞 𝐜𝐚𝐥𝐥𝐞𝐝 𝐭𝐡𝐞 𝐡𝐨𝐮𝐬𝐞 𝐨𝐟 𝐩𝐫𝐚𝐲𝐞𝐫, 𝐛𝐮𝐭 𝐲𝐞 𝐡𝐚𝐯𝐞 𝐦𝐚𝐝𝐞 𝐢𝐭 𝐚 𝐝𝐞𝐧 𝐨𝐟 𝐭𝐡𝐢𝐞𝐯𝐞𝐬." (𝐌𝐚𝐭𝐭𝐡𝐞𝐰 𝟐𝟏:𝟏𝟐-𝟏𝟑)
𝐉𝐞𝐬𝐮𝐬 𝐰𝐚𝐧𝐭𝐞𝐝 𝐩𝐞𝐨𝐩𝐥𝐞 𝐭𝐨 𝐚𝐝𝐦𝐢𝐫𝐞 𝐡𝐢𝐦 𝐢𝐧 𝐭𝐡𝐢𝐬 𝐫𝐞𝐠𝐚𝐫𝐝 𝐡𝐞 𝐬𝐚𝐲𝐬 𝐭𝐡𝐚𝐭 𝐭𝐡𝐞 𝐨𝐧𝐞 𝐰𝐡𝐨 𝐢𝐬 𝐧𝐨𝐭 𝐰𝐢𝐭𝐡 𝐡𝐢𝐦 𝐢𝐬 𝐚𝐠𝐚𝐢𝐧𝐬𝐭 𝐡𝐢𝐦. 𝐍𝐚𝐫𝐜𝐢𝐬𝐬𝐢𝐬𝐭 𝐢𝐬 𝐚 𝐩𝐞𝐫𝐬𝐨𝐧 𝐰𝐢𝐥𝐥𝐢𝐧𝐠 𝐞𝐱𝐜𝐞𝐬𝐬𝐢𝐯𝐞 𝐚𝐝𝐦𝐢𝐫𝐚𝐭𝐢𝐨𝐧
"𝐇𝐞 𝐭𝐡𝐚𝐭 𝐢𝐬 𝐧𝐨𝐭 𝐰𝐢𝐭𝐡 𝐦𝐞 𝐢𝐬 𝐚𝐠𝐚𝐢𝐧𝐬𝐭 𝐦𝐞" (𝐌𝐚𝐭𝐭𝐡𝐞𝐰 𝟏𝟐:𝟑𝟎)
𝐍𝐚𝐫𝐜𝐢𝐬𝐬𝐢𝐬𝐭𝐬 𝐚𝐫𝐞 𝐝𝐢𝐬𝐫𝐮𝐩𝐭𝐢𝐯𝐞, 𝐜𝐨𝐮𝐧𝐭𝐞𝐫-𝐝𝐞𝐩𝐞𝐧𝐝𝐞𝐧𝐭, 𝐜𝐨𝐦𝐛𝐚𝐭𝐢𝐯𝐞, 𝐚𝐧𝐝 𝐫𝐞𝐬𝐞𝐧𝐭 𝐚𝐮𝐭𝐡𝐨𝐫𝐢𝐭𝐲 (𝐫𝐞𝐛𝐞𝐥𝐥𝐢𝐨𝐮𝐬 𝐚𝐧𝐝 𝐜𝐨𝐧𝐭𝐮𝐦𝐚𝐜𝐢𝐨𝐮𝐬). 𝐓𝐡𝐞𝐲 𝐟𝐞𝐞𝐥 𝐭𝐡𝐚𝐭 𝐭𝐡𝐞𝐲 𝐚𝐫𝐞 𝐚𝐛𝐨𝐯𝐞 𝐭𝐡𝐞 𝐥𝐚𝐰, 𝐨𝐫, 𝐫𝐚𝐭𝐡𝐞𝐫, 𝐭𝐡𝐚𝐭 𝐭𝐡𝐞𝐲 𝐚𝐫𝐞 𝐚 𝐥𝐚𝐰 𝐮𝐧𝐭𝐨 𝐭𝐡𝐞𝐦𝐬𝐞𝐥𝐯𝐞𝐬.
𝐓𝐡𝐞𝐲 𝐡𝐨𝐥𝐝 𝐭𝐡𝐞𝐦𝐬𝐞𝐥𝐯𝐞𝐬 𝐭𝐨 𝐛𝐞 𝐢𝐦𝐦𝐮𝐧𝐞 𝐭𝐨 𝐭𝐡𝐞 𝐜𝐨𝐧𝐬𝐞𝐪𝐮𝐞𝐧𝐜𝐞𝐬 𝐨𝐟 𝐭𝐡𝐞𝐢𝐫 𝐚𝐜𝐭𝐢𝐨𝐧𝐬:
"𝐓𝐡𝐢𝐧𝐤 𝐧𝐨𝐭 𝐭𝐡𝐚𝐭 𝐈 𝐚𝐦 𝐜𝐨𝐦𝐞 𝐭𝐨 𝐬𝐞𝐧𝐝 𝐩𝐞𝐚𝐜𝐞 𝐨𝐧 𝐞𝐚𝐫𝐭𝐡: 𝐈 𝐜𝐚𝐦𝐞 𝐧𝐨𝐭 𝐭𝐨 𝐬𝐞𝐧𝐝 𝐩𝐞𝐚𝐜𝐞, 𝐛𝐮𝐭 𝐚 𝐬𝐰𝐨𝐫𝐝." (𝐌𝐚𝐭𝐭𝐡𝐞𝐰 𝟏𝟎:𝟑𝟒)
𝐄𝐯𝐞𝐧 𝐁𝐢𝐛𝐥𝐞 𝐦𝐚𝐤𝐞𝐬 𝐢𝐭 𝐜𝐥𝐞𝐚𝐫 𝐭𝐡𝐚𝐭 𝐉𝐞𝐬𝐮𝐬 𝐰𝐚𝐬 𝐚 𝐧𝐚𝐫𝐜𝐢𝐬𝐬𝐢𝐬𝐭 𝐡𝐞 𝐰𝐚𝐧𝐭𝐞𝐝 𝐩𝐞𝐨𝐩𝐥𝐞 𝐭𝐨 𝐟𝐨𝐥𝐥𝐨𝐰 𝐡𝐢𝐦 𝐰𝐡𝐞𝐭𝐡𝐞𝐫 𝐡𝐞 𝐥𝐢𝐞 𝐨𝐫 𝐦𝐢𝐬𝐥𝐞𝐚𝐝 𝐭𝐡𝐞𝐦, 𝐰𝐡𝐞𝐭𝐡𝐞𝐫 𝐩𝐞𝐨𝐩𝐥𝐞 𝐰𝐚𝐧𝐭 𝐨𝐫 𝐧𝐨𝐭.
𝐀 𝐩𝐞𝐫𝐬𝐨𝐧 𝐰𝐢𝐥𝐥 𝐛𝐞𝐜𝐨𝐦𝐞 𝐚𝐧𝐭𝐢-𝐜𝐡𝐫𝐢𝐬𝐭 𝐢𝐟 𝐡𝐞 𝐝𝐞𝐧𝐢𝐞𝐬 𝐉𝐞𝐬𝐮𝐬 𝐚𝐬 𝐂𝐡𝐫𝐢𝐬𝐭. 𝐁𝐢𝐛𝐥𝐞 𝐬𝐭𝐚𝐭𝐞𝐬 𝐢𝐧 𝟏 𝐉𝐨𝐡𝐧 𝟐:𝟐𝟐
"𝐖𝐡𝐨𝐞𝐯𝐞𝐫 𝐝𝐞𝐧𝐢𝐞𝐬 "𝐭𝐡𝐚𝐭 𝐉𝐞𝐬𝐮𝐬 𝐢𝐬 𝐭𝐡𝐞 𝐂𝐡𝐫𝐢𝐬𝐭" 𝐢𝐬 𝐚 𝐥𝐢𝐚𝐫 𝐚𝐧𝐝 𝐚𝐧 𝐚𝐧𝐭𝐢-𝐂𝐡𝐫𝐢𝐬𝐭."
𝐓𝐡𝐞 𝐡𝐞𝐢𝐠𝐡𝐭 𝐨𝐟 𝐧𝐚𝐫𝐜𝐢𝐬𝐬𝐢𝐬𝐦 𝐢𝐧 𝐉𝐞𝐬𝐮𝐬 𝐰𝐚𝐬 𝐬𝐨 𝐦𝐮𝐜𝐡 𝐭𝐡𝐚𝐭 𝐁𝐢𝐛𝐥𝐞 𝐬𝐭𝐚𝐭𝐞𝐝 𝐭𝐡𝐚𝐭 𝐰𝐞 𝐡𝐚𝐯𝐞 𝐭𝐨 𝐰𝐨𝐫𝐬𝐡𝐢𝐩 𝐉𝐞𝐬𝐮𝐬 𝐰𝐡𝐞𝐭𝐡𝐞𝐫 𝐰𝐞 𝐰𝐚𝐧𝐭 𝐨𝐫 𝐧𝐨𝐭! 𝐄𝐯𝐞𝐫𝐲𝐨𝐧𝐞 𝐬𝐡𝐨𝐮𝐥𝐝 𝐡𝐚𝐯𝐞 𝐭𝐨 𝐰𝐨𝐫𝐬𝐡𝐢𝐩 𝐉𝐞𝐬𝐮𝐬 𝐰𝐡𝐞𝐭𝐡𝐞𝐫 𝐭𝐡𝐞𝐲 𝐰𝐚𝐧𝐭 𝐭𝐨 𝐨𝐫 𝐧𝐨𝐭.
"𝐓𝐡𝐚𝐭 𝐚𝐭 𝐭𝐡𝐞 𝐧𝐚𝐦𝐞 𝐨𝐟 𝐉𝐞𝐬𝐮𝐬 𝐞𝐯𝐞𝐫𝐲 𝐤𝐧𝐞𝐞 𝐬𝐡𝐨𝐮𝐥𝐝 𝐛𝐨𝐰, 𝐨𝐟 𝐭𝐡𝐢𝐧𝐠𝐬 𝐢𝐧 𝐡𝐞𝐚𝐯𝐞𝐧, 𝐚𝐧𝐝 𝐭𝐡𝐢𝐧𝐠𝐬 𝐢𝐧 𝐞𝐚𝐫𝐭𝐡, 𝐚𝐧𝐝 𝐭𝐡𝐢𝐧𝐠𝐬 𝐮𝐧𝐝𝐞𝐫 𝐭𝐡𝐞 𝐞𝐚𝐫𝐭𝐡" 𝐏𝐡𝐢𝐥𝐢𝐩𝐩𝐢𝐚𝐧𝐬 𝟐:𝟏𝟎
𝐉𝐞𝐬𝐮𝐬 𝐫𝐞𝐦𝐢𝐧𝐝𝐬 𝐮𝐬 𝐭𝐡𝐚𝐭 𝐧𝐨 𝐨𝐧𝐞 𝐜𝐚𝐧 𝐬𝐞𝐞 𝐡𝐢𝐦 𝐭𝐢𝐥𝐥 𝐡𝐞 𝐩𝐫𝐚𝐢𝐬𝐞𝐬 𝐡𝐢𝐦.
"𝐅𝐨𝐫 𝐈 𝐬𝐚𝐲 𝐮𝐧𝐭𝐨 𝐲𝐨𝐮, 𝐘𝐞 𝐬𝐡𝐚𝐥𝐥 𝐧𝐨𝐭 𝐬𝐞𝐞 𝐦𝐞 𝐡𝐞𝐧𝐜𝐞𝐟𝐨𝐫𝐭𝐡, 𝐭𝐢𝐥𝐥 𝐲𝐞 𝐬𝐡𝐚𝐥𝐥 𝐬𝐚𝐲, 𝐁𝐥𝐞𝐬𝐬𝐞𝐝 𝐢𝐬 𝐡𝐞 𝐭𝐡𝐚𝐭 𝐜𝐨𝐦𝐞𝐭𝐡 𝐢𝐧 𝐭𝐡𝐞 𝐧𝐚𝐦𝐞 𝐨𝐟 𝐭𝐡𝐞 𝐋𝐨𝐫𝐝." (𝐌𝐚𝐭𝐭𝐡𝐞𝐰 𝟐𝟑:𝟑𝟗)
𝐌𝐨𝐫𝐞𝐨𝐯𝐞𝐫, 𝐚 𝐍𝐨𝐧-𝐂𝐡𝐫𝐢𝐬𝐭𝐢𝐚𝐧 𝐢𝐬 𝐚 𝐝𝐞𝐜𝐞𝐢𝐯𝐞𝐫 𝐚𝐧𝐝 𝐚𝐧 𝐚𝐧𝐭𝐢𝐜𝐡𝐫𝐢𝐬𝐭. 𝐖𝐞 𝐬𝐡𝐨𝐮𝐥𝐝 𝐡𝐚𝐯𝐞 𝐭𝐨 𝐛𝐞𝐥𝐢𝐞𝐯𝐞 𝐢𝐧 𝐉𝐞𝐬𝐮𝐬 𝐚𝐬 𝐂𝐡𝐫𝐢𝐬𝐭 𝐰𝐡𝐞𝐭𝐡𝐞𝐫 𝐰𝐞 𝐰𝐚𝐧𝐭 𝐨𝐫 𝐧𝐨𝐭.
𝟐 𝐉𝐨𝐡𝐧 𝟏:𝟕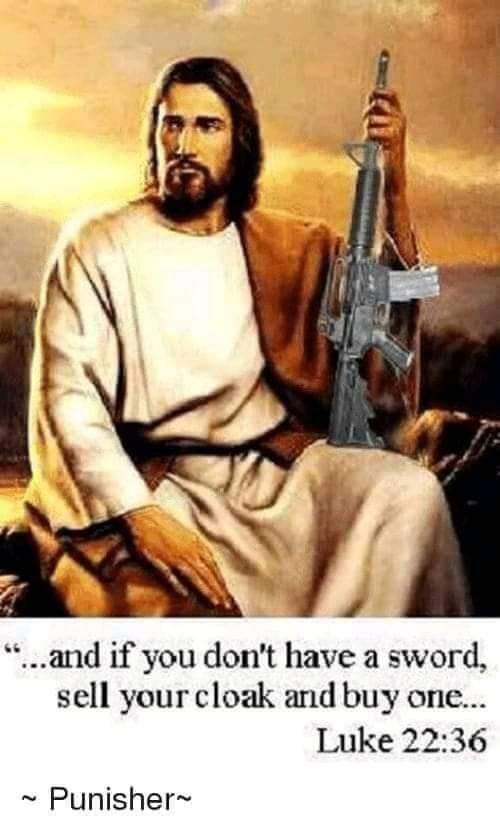 "𝐓𝐡𝐞 𝐧𝐨𝐧-𝐂𝐡𝐫𝐢𝐬𝐭𝐢𝐚𝐧 𝐢𝐬 "𝐚 𝐝𝐞𝐜𝐞𝐢𝐯𝐞𝐫 𝐚𝐧𝐝 𝐚𝐧 𝐚𝐧𝐭𝐢-𝐂𝐡𝐫𝐢𝐬𝐭".
𝐍𝐚𝐫𝐜𝐢𝐬𝐬𝐢𝐬𝐭𝐬 𝐥𝐚𝐜𝐤 𝐞𝐦𝐩𝐚𝐭𝐡𝐲: 𝐚𝐧𝐝 𝐚𝐫𝐞 𝐮𝐧𝐰𝐢𝐥𝐥𝐢𝐧𝐠 𝐭𝐨 𝐫𝐞𝐜𝐨𝐠𝐧𝐢𝐳𝐞 𝐨𝐫 𝐢𝐝𝐞𝐧𝐭𝐢𝐟𝐲 𝐰𝐢𝐭𝐡 𝐭𝐡𝐞 𝐟𝐞𝐞𝐥𝐢𝐧𝐠𝐬 𝐚𝐧𝐝 𝐧𝐞𝐞𝐝𝐬 𝐨𝐟 𝐨𝐭𝐡𝐞𝐫𝐬. 𝐇𝐞 𝐞𝐯𝐞𝐧 𝐬𝐚𝐢𝐝 𝐭𝐨 𝐡𝐢𝐬 𝐦𝐨𝐭𝐡𝐞𝐫.
"𝐇𝐞 𝐬𝐚𝐢𝐝 𝐭𝐨 𝐌𝐚𝐫𝐲, "𝐖𝐨𝐦𝐚𝐧, 𝐰𝐡𝐚𝐭 𝐡𝐚𝐯𝐞 𝐈 𝐭𝐨 𝐝𝐨 𝐰𝐢𝐭𝐡 𝐲𝐨𝐮". 𝐉𝐨𝐡𝐧 𝟐:𝟒
𝐄𝐯𝐞𝐧 𝐭𝐡𝐞 𝐝𝐢𝐬𝐜𝐢𝐩𝐥𝐞𝐬 𝐨𝐟 𝐉𝐞𝐬𝐮𝐬 𝐟𝐨𝐫𝐬𝐚𝐤𝐞 𝐡𝐢𝐦 𝐚𝐧𝐝 𝐟𝐥𝐞𝐝 𝐛𝐞𝐜𝐮𝐚𝐬𝐞 𝐨𝐟 𝐡𝐢𝐬 𝐧𝐚𝐫𝐜𝐢𝐬𝐬𝐢𝐬𝐦
"𝐓𝐡𝐞𝐧 𝐚𝐥𝐥 𝐭𝐡𝐞 𝐝𝐢𝐬𝐜𝐢𝐩𝐥𝐞𝐬 𝐟𝐨𝐫𝐬𝐨𝐨𝐤 𝐡𝐢𝐦, 𝐚𝐧𝐝 𝐟𝐥𝐞𝐝." (𝐌𝐚𝐭𝐭𝐡𝐞𝐰 𝟐𝟔:𝟓𝟔)
𝐇𝐞𝐫𝐞 𝐢𝐬 𝐡𝐨𝐰 𝐉𝐞𝐬𝐮𝐬, 𝐭𝐡𝐞 𝐥𝐨𝐰𝐥𝐲, 𝐮𝐧𝐦𝐚𝐫𝐫𝐢𝐞𝐝, 𝐚𝐧𝐝 𝐢𝐭𝐢𝐧𝐞𝐫𝐚𝐧𝐭 𝐬𝐨𝐧 𝐨𝐟 𝐚 𝐜𝐚𝐫𝐩𝐞𝐧𝐭𝐞𝐫 – 𝐚𝐧 𝐚𝐛𝐲𝐬𝐦𝐚𝐥 𝐟𝐚𝐢𝐥𝐮𝐫𝐞 𝐛𝐲 𝐭𝐡𝐞 𝐬𝐭𝐚𝐧𝐝𝐚𝐫𝐝𝐬 𝐨𝐟 𝐡𝐢𝐬 𝐬𝐨𝐜𝐢𝐞𝐭𝐲 – 𝐯𝐢𝐞𝐰𝐞𝐝 𝐡𝐢𝐦𝐬𝐞𝐥𝐟:
"𝐖𝐡𝐞𝐧 𝐭𝐡𝐞 𝐒𝐨𝐧 𝐨𝐟 𝐦𝐚𝐧 𝐬𝐡𝐚𝐥𝐥 𝐜𝐨𝐦𝐞 𝐢𝐧 𝐡𝐢𝐬 𝐠𝐥𝐨𝐫𝐲, 𝐚𝐧𝐝 𝐚𝐥𝐥 𝐭𝐡𝐞 𝐡𝐨𝐥𝐲 𝐚𝐧𝐠𝐞𝐥𝐬 𝐰𝐢𝐭𝐡 𝐡𝐢𝐦, 𝐭𝐡𝐞𝐧 𝐬𝐡𝐚𝐥𝐥 𝐡𝐞 𝐬𝐢𝐭 𝐮𝐩𝐨𝐧 𝐭𝐡𝐞 𝐭𝐡𝐫𝐨𝐧𝐞 𝐨𝐟 𝐡𝐢𝐬 𝐠𝐥𝐨𝐫𝐲: 𝐀𝐧𝐝 𝐛𝐞𝐟𝐨𝐫𝐞 𝐡𝐢𝐦 𝐬𝐡𝐚𝐥𝐥 𝐛𝐞 𝐠𝐚𝐭𝐡𝐞𝐫𝐞𝐝 𝐚𝐥𝐥 𝐧𝐚𝐭𝐢𝐨𝐧𝐬: 𝐚𝐧𝐝 𝐡𝐞 𝐬𝐡𝐚𝐥𝐥 𝐬𝐞𝐩𝐚𝐫𝐚𝐭𝐞 𝐭𝐡𝐞𝐦 𝐨𝐧𝐞 𝐟𝐫𝐨𝐦 𝐚𝐧𝐨𝐭𝐡𝐞𝐫, 𝐚𝐬 𝐚 𝐬𝐡𝐞𝐩𝐡𝐞𝐫𝐝 𝐝𝐢𝐯𝐢𝐝𝐞𝐭𝐡 𝐡𝐢𝐬 𝐬𝐡𝐞𝐞𝐩 𝐟𝐫𝐨𝐦 𝐭𝐡𝐞 𝐠𝐨𝐚𝐭𝐬 … 𝐀𝐧𝐝 𝐭𝐡𝐞𝐬𝐞 𝐬𝐡𝐚𝐥𝐥 𝐠𝐨 𝐚𝐰𝐚𝐲 𝐢𝐧𝐭𝐨 𝐞𝐯𝐞𝐫𝐥𝐚𝐬𝐭𝐢𝐧𝐠 𝐩𝐮𝐧𝐢𝐬𝐡𝐦𝐞𝐧𝐭: 𝐛𝐮𝐭 𝐭𝐡𝐞 𝐫𝐢𝐠𝐡𝐭𝐞𝐨𝐮𝐬 𝐢𝐧𝐭𝐨 𝐥𝐢𝐟𝐞 𝐞𝐭𝐞𝐫𝐧𝐚𝐥." (𝐌𝐚𝐭𝐭𝐡𝐞𝐰 𝟐𝟓:𝟑𝟏-𝟑𝟐 𝐚𝐧𝐝 𝟐𝟓:𝟒𝟔)
𝐍𝐨𝐰 𝐥𝐞𝐭 𝐮𝐬 𝐚𝐧𝐚𝐥𝐲𝐬𝐞 𝐉𝐞𝐬𝐮𝐬 𝐢𝐧 𝐭𝐡𝐞 𝐚𝐛𝐨𝐯𝐞 𝐝𝐞𝐟𝐢𝐧𝐢𝐭𝐢𝐨𝐧𝐬 𝐨𝐟 𝐍𝐚𝐫𝐜𝐢𝐬𝐬𝐢𝐬𝐭𝐢𝐜.
𝐍𝐚𝐫𝐜𝐢𝐬𝐬𝐢𝐬𝐭𝐢𝐜:
𝐀 𝐩𝐞𝐫𝐯𝐚𝐬𝐢𝐯𝐞 𝐩𝐚𝐭𝐭𝐞𝐫𝐧 𝐨𝐟 𝐠𝐫𝐚𝐧𝐝𝐢𝐨𝐬𝐢𝐭𝐲 (𝐢𝐧 𝐟𝐚𝐧𝐭𝐚𝐬𝐲 𝐨𝐫 𝐛𝐞𝐡𝐚𝐯𝐢𝐨𝐫), 𝐧𝐞𝐞𝐝 𝐟𝐨𝐫 𝐚𝐝𝐦𝐢𝐫𝐚𝐭𝐢𝐨𝐧, 𝐚𝐧𝐝 𝐥𝐚𝐜𝐤 𝐨𝐟 𝐞𝐦𝐩𝐚𝐭𝐡𝐲, 𝐛𝐞𝐠𝐢𝐧𝐧𝐢𝐧𝐠 𝐛𝐲 𝐞𝐚𝐫𝐥𝐲 𝐚𝐝𝐮𝐥𝐭𝐡𝐨𝐨𝐝 𝐚𝐧𝐝 𝐩𝐫𝐞𝐬𝐞𝐧𝐭 𝐢𝐧 𝐚 𝐯𝐚𝐫𝐢𝐞𝐭𝐲 𝐨𝐟 𝐜𝐨𝐧𝐭𝐞𝐱𝐭𝐬, 𝐚𝐬 𝐢𝐧𝐝𝐢𝐜𝐚𝐭𝐞𝐝 𝐛𝐲 𝐟𝐢𝐯𝐞 (𝐨𝐫 𝐦𝐨𝐫𝐞) 𝐨𝐟 𝐭𝐡𝐞 𝐟𝐨𝐥𝐥𝐨𝐰𝐢𝐧𝐠:
𝟏. 𝐇𝐚𝐬 𝐚 𝐠𝐫𝐚𝐧𝐝𝐢𝐨𝐬𝐞 𝐬𝐞𝐧𝐬𝐞 𝐨𝐟 𝐬𝐞𝐥𝐟-𝐢𝐦𝐩𝐨𝐫𝐭𝐚𝐧𝐜𝐞 (𝐞.𝐠., 𝐞𝐱𝐚𝐠𝐠𝐞𝐫𝐚𝐭𝐞𝐬 𝐚𝐜𝐡𝐢𝐞𝐯𝐞𝐦𝐞𝐧𝐭𝐬 𝐚𝐧𝐝 𝐭𝐚𝐥𝐞𝐧𝐭𝐬, 𝐞𝐱𝐩𝐞𝐜𝐭𝐬 𝐭𝐨 𝐛𝐞 𝐫𝐞𝐜𝐨𝐠𝐧𝐢𝐳𝐞𝐝 𝐚𝐬 𝐬𝐮𝐩𝐞𝐫𝐢𝐨𝐫 𝐰𝐢𝐭𝐡𝐨𝐮𝐭 𝐜𝐨𝐦𝐦𝐞𝐧𝐬𝐮𝐫𝐚𝐭𝐞 𝐚𝐜𝐡𝐢𝐞𝐯𝐞𝐦𝐞𝐧𝐭𝐬) (𝐌𝐚𝐭𝐭𝐡𝐞𝐰 𝟐𝟑:𝟑𝟗)( 𝐑𝐞𝐯𝐞𝐥𝐚𝐭𝐢𝐨𝐧 𝟐𝟐:𝟏𝟑)
𝟐. 𝐈𝐬 𝐩𝐫𝐞𝐨𝐜𝐜𝐮𝐩𝐢𝐞𝐝 𝐰𝐢𝐭𝐡 𝐟𝐚𝐧𝐭𝐚𝐬𝐢𝐞𝐬 𝐨𝐟 𝐮𝐧𝐥𝐢𝐦𝐢𝐭𝐞𝐝 𝐬𝐮𝐜𝐜𝐞𝐬𝐬, 𝐩𝐨𝐰𝐞𝐫, 𝐛𝐫𝐢𝐥𝐥𝐢𝐚𝐧𝐜𝐞, 𝐛𝐞𝐚𝐮𝐭𝐲, 𝐨𝐫 𝐢𝐝𝐞𝐚𝐥 𝐥𝐨𝐯𝐞 (𝐉𝐨𝐡𝐧 𝟔:𝟑𝟑-𝟑𝟓)
𝟑. 𝐁𝐞𝐥𝐢𝐞𝐯𝐞𝐬 𝐭𝐡𝐚𝐭 𝐡𝐞 𝐨𝐫 𝐬𝐡𝐞 𝐢𝐬 "𝐬𝐩𝐞𝐜𝐢𝐚𝐥" 𝐚𝐧𝐝 𝐮𝐧𝐢𝐪𝐮𝐞 𝐚𝐧𝐝 𝐜𝐚𝐧 𝐨𝐧𝐥𝐲 𝐛𝐞 𝐮𝐧𝐝𝐞𝐫𝐬𝐭𝐨𝐨𝐝 𝐛𝐲, 𝐨𝐫 𝐬𝐡𝐨𝐮𝐥𝐝 𝐚𝐬𝐬𝐨𝐜𝐢𝐚𝐭𝐞 𝐰𝐢𝐭𝐡, 𝐨𝐭𝐡𝐞𝐫 𝐬𝐩𝐞𝐜𝐢𝐚𝐥 𝐨𝐫 𝐡𝐢𝐠𝐡-𝐬𝐭𝐚𝐭𝐮𝐬 𝐩𝐞𝐨𝐩𝐥𝐞 (𝐨𝐫 𝐢𝐧𝐬𝐭𝐢𝐭𝐮𝐭𝐢𝐨𝐧𝐬) (𝐌𝐚𝐭𝐭𝐡𝐞𝐰 𝟐𝟏:𝟏𝟐-𝟏𝟑)
𝟒. 𝐑𝐞𝐪𝐮𝐢𝐫𝐞𝐬 𝐞𝐱𝐜𝐞𝐬𝐬𝐢𝐯𝐞 𝐚𝐝𝐦𝐢𝐫𝐚𝐭𝐢𝐨𝐧 (𝐌𝐚𝐭𝐭𝐡𝐞𝐰 𝟏𝟐:𝟑𝟎)
𝟓. 𝐇𝐚𝐬 𝐚 𝐬𝐞𝐧𝐬𝐞 𝐨𝐟 𝐞𝐧𝐭𝐢𝐭𝐥𝐞𝐦𝐞𝐧𝐭, 𝐢.𝐞., 𝐮𝐧𝐫𝐞𝐚𝐬𝐨𝐧𝐚𝐛𝐥𝐞 𝐞𝐱𝐩𝐞𝐜𝐭𝐚𝐭𝐢𝐨𝐧𝐬 𝐨𝐟 𝐞𝐬𝐩𝐞𝐜𝐢𝐚𝐥𝐥𝐲 𝐟𝐚𝐯𝐨𝐫𝐚𝐛𝐥𝐞 𝐭𝐫𝐞𝐚𝐭𝐦𝐞𝐧𝐭 𝐨𝐫 𝐚𝐮𝐭𝐨𝐦𝐚𝐭𝐢𝐜 𝐜𝐨𝐦𝐩𝐥𝐢𝐚𝐧𝐜𝐞 𝐰𝐢𝐭𝐡 𝐡𝐢𝐬 𝐨𝐫 𝐡𝐞𝐫 𝐞𝐱𝐩𝐞𝐜𝐭𝐚𝐭𝐢𝐨𝐧𝐬 (𝐌𝐚𝐭𝐭𝐡𝐞𝐰 𝟐𝟓:𝟑𝟏-𝟑𝟐 𝐚𝐧𝐝 𝟐𝟓:𝟒𝟔)
𝟔. 𝐈𝐬 𝐢𝐧𝐭𝐞𝐫𝐩𝐞𝐫𝐬𝐨𝐧𝐚𝐥𝐥𝐲 𝐞𝐱𝐩𝐥𝐨𝐢𝐭𝐚𝐭𝐢𝐯𝐞, 𝐢.𝐞., 𝐭𝐚𝐤𝐞𝐬 𝐚𝐝𝐯𝐚𝐧𝐭𝐚𝐠𝐞 𝐨𝐟 𝐨𝐭𝐡𝐞𝐫𝐬 𝐭𝐨 𝐚𝐜𝐡𝐢𝐞𝐯𝐞 𝐡𝐢𝐬 𝐨𝐫 𝐡𝐞𝐫 𝐨𝐰𝐧 𝐞𝐧𝐝𝐬
𝟕. 𝐋𝐚𝐜𝐤𝐬 𝐞𝐦𝐩𝐚𝐭𝐡𝐲: 𝐢𝐬 𝐮𝐧𝐰𝐢𝐥𝐥𝐢𝐧𝐠 𝐭𝐨 𝐫𝐞𝐜𝐨𝐠𝐧𝐢𝐳𝐞 𝐨𝐫 𝐢𝐝𝐞𝐧𝐭𝐢𝐟𝐲 𝐰𝐢𝐭𝐡 𝐭𝐡𝐞 𝐟𝐞𝐞𝐥𝐢𝐧𝐠𝐬 𝐚𝐧𝐝 𝐧𝐞𝐞𝐝𝐬 𝐨𝐟 𝐨𝐭𝐡𝐞𝐫𝐬 (𝐉𝐨𝐡𝐧 𝟐:𝟒)
𝟖. 𝐈𝐬 𝐨𝐟𝐭𝐞𝐧 𝐞𝐧𝐯𝐢𝐨𝐮𝐬 𝐨𝐟 𝐨𝐭𝐡𝐞𝐫𝐬 𝐨𝐫 𝐛𝐞𝐥𝐢𝐞𝐯𝐞𝐬 𝐨𝐭𝐡𝐞𝐫𝐬 𝐚𝐫𝐞 𝐞𝐧𝐯𝐢𝐨𝐮𝐬 𝐨𝐟 𝐡𝐢𝐦 𝐨𝐫 𝐡𝐞𝐫 (𝟐 𝐉𝐨𝐡𝐧 𝟏:𝟕, 𝐏𝐡𝐢𝐥𝐢𝐩𝐩𝐢𝐚𝐧𝐬 𝟐:𝟏𝟎)
𝟗. 𝐒𝐡𝐨𝐰𝐬 𝐚𝐫𝐫𝐨𝐠𝐚𝐧𝐭, 𝐡𝐚𝐮𝐠𝐡𝐭𝐲 𝐛𝐞𝐡𝐚𝐯𝐢𝐨𝐫𝐬 𝐨𝐫 𝐚𝐭𝐭𝐢𝐭𝐮𝐝𝐞𝐬 (𝐉𝐨𝐡𝐧 𝟐:𝟒)
𝐀𝐥𝐥𝐚𝐡 𝐊𝐧𝐨𝐰𝐬 𝐁𝐞𝐬𝐭.
𝐑𝐞𝐟𝐞𝐫𝐞𝐧𝐜𝐞𝐬:
Do the teachings of the Prophets differ with regard to the prescription of fighting? Comparison between Prophet Muhammed and Prophet Jesus.
Did Prophet Muhammed (peace and blessings of Allah be upon him) commit sin?
Is Jesus Sinless According to the Quran?
Was Prophet Muhammed violent while Prophet Jesus was peaceful?
Did Jesus Deceive His Brothers – Taqiyya?
Did Jesus ever commit sin according to Bible
Love your enemies, a Biblical myth REFUTED
Was Jesus Sinless according to the Bible?
Why Jesus did not save John the Baptist who baptised him and made him God or son of God from horrible death by beheading and why did not he bring him back to life?
Do Muslims Believe Jesus Was Sinless?
Part -Corrupt Bible says Jesus and his Biblical habit of Elders Disrespect by insults that contradicts with the Sinless Jesus story that Christians are promoting
Paul the False Apostle of Satan