Jesus a narcissistic as per Corrupted Bible
Mohamad Mostafa Nassar
Narcissistic:

A pervasive pattern of grandiosity (in fantasy or behavior), need for admiration, and lack of empathy, beginning by early adulthood and present in a variety of contexts, as indicated by five (or more) of the following:

1.Has a grandiose sense of self-importance (e.g., exaggerates achievements and talents, expects to be recognized as superior without commensurate achievements)

2.Is preoccupied with fantasies of unlimited success, power, brilliance, beauty, or ideal love

3.Believes that he or she is "special" and unique and can only be understood by, or should associate with, other special or high-status people (or institutions)

4.Requires excessive admiration

5.Has a sense of entitlement, i.e., unreasonable expectations of especially favorable treatment or automatic compliance with his or her expectations

6.Is interpersonally exploitative, i.e., takes advantage of others to achieve his or her own ends

7.Lacks empathy: is unwilling to recognize or identify with the feelings and needs of others

8.Is often envious of others or believes others are envious of him or her

9.Shows arrogant, haughty behaviors or attitudes
Narcissistic is usually a person who is in love with himself or having characteristic of those having an inflated idea of their own importance.
Jesus was certainly a narcissistic he was so in love with himself that he said that no one will feel thrist or hunger if he believes in him. Atheist don't believe in Jesus have they die out of hunger ir thrist?
"For the bread of God is he which cometh down from heaven, and giveth life unto the world. Then said they unto him, Lord, evermore give us this bread. And Jesus said unto them, I am the bread of life: he that cometh to me shall never hunger; and he that believeth on me shall never thirst." (John 6:33-35)
Narcissistic are people who love to have self-importance with in themself and exaggerating their own importance, achievements, and talents.
Jesus in this regard says:

"I am the Alpha and the Omega, the First and the Last, the Beginning and the End." (Revelation 22:13)
Even the people around Jesus was astonished because of his narcissist attitude when he taught him that he is the one with authority

"The people were astonished at his doctrine: For he taught them as one having authority, and not as the scribes." (Matthew 7:28-29)
Jesus also denied that no one including the disciples is above him

Referring to his 12 disciples, Jesus made clear that: "The disciple is not above his master, nor the servant above his lord." (Matthew 10:24)
Jesus even turn violent and throw away tables in the temples saying that "his" house will be called house of prayer

"And Jesus went into the temple of God, and cast out all them that sold and bought in the temple, and overthrew the tables of the moneychangers, and the seats of them that sold doves, And said unto them, It is written, MY house shall be called the house of prayer; but ye have made it a den of thieves." (Matthew 21:12-13)
Jesus wanted people to admire him in this regard he says that the one who is not with him is against him. Narcissist is a person willing excessive admiration

"He that is not with me is against me" (Matthew 12:30)
Narcissist are disruptive, counter-dependent, combative, and resent authority (rebellious and contumacious). They feel that they are above the law, or, rather, that they are a law unto themselves.
They hold themselves to be immune to the consequences of their actions:

"Think not that I am come to send peace on earth: I came not to send peace, but a sword." (Matthew 10:34)
Even Bible makes it clear that Jesus was a narcissists he wanted people to follow him whether he lie or mislead them , whether people want or not. A person will becomoe anti-christ if he denies Jesus as Christ. Bible states in 1 John 2:22

"Whoever denies "that Jesus is the Christ" is a liar and an anti-Christ."
The height of narcissism in Jesus was so much that Bible stated that we have to worship Jesus wether we want or not!. Everyone should have to worship Jesus whether they want to or not.
"That at the name of Jesus every knee should bow, of things in heaven, and things in earth, and things under the earth" Philippians 2:10
Jesus reminds us that no one can see him till he praise him.
"For I say unto you, Ye shall not see me henceforth, till ye shall say, Blessed is he that cometh in the name of the Lord." (Matthew 23:39)
Moreover, a Non-Christian is a deciever and an anti-christ. We should have to believe in Jesus as Christ whether we want or not.
2 John 1:7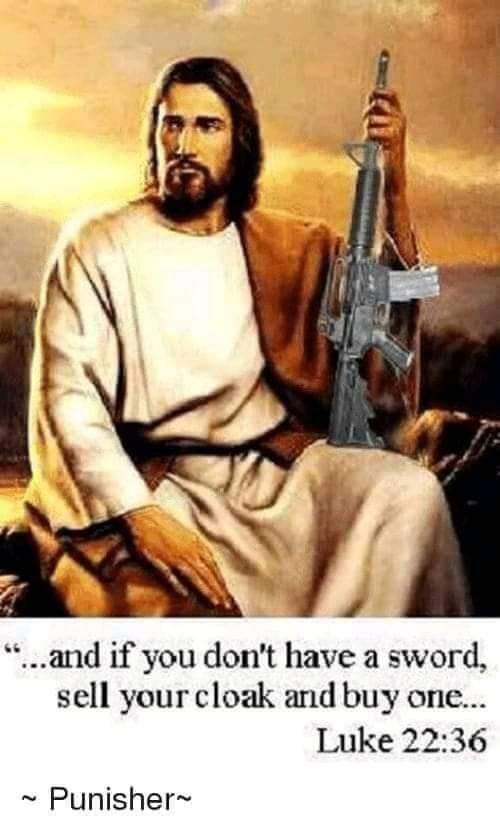 "The non-Christian is "a deceiver and an anti-Christ".
Narcissist lacks empathy: is unwilling to recognize or identify with the feelings and needs of others. He even said to his mother.
"He said to Mary, "Woman, what have I to do with you". John 2:4
Even the disciples of Jesus forsake him and fled becuase of his narcissism
"Then all the disciples forsook him, and fled." (Matthew 26:56)
Here is how Jesus, the lowly, unmarried, and itinerant son of a carpenter – an abysmal failure by the standards of his society – viewed himself:

"When the Son of man shall come in his glory, and all the holy angels with him, then shall he sit upon the throne of his glory: And before him shall be gathered all nations: and he shall separate them one from another, as a shepherd divideth his sheep from the goats … And these shall go away into everlasting punishment: but the righteous into life eternal." (Matthew 25:31-32 and 25:46)
Now let us analyse Jesus in the above definations of Narcissistic.
Narcissistic:

A pervasive pattern of grandiosity (in fantasy or behavior), need for admiration, and lack of empathy, beginning by early adulthood and present in a variety of contexts, as indicated by five (or more) of the following:
1.Has a grandiose sense of self-importance (e.g., exaggerates achievements and talents, expects to be recognized as superior without commensurate achievements) (Matthew 23:39)( Revelation 22:13)

2.Is preoccupied with fantasies of unlimited success, power, brilliance, beauty, or ideal love (John 6:33-35)

3.Believes that he or she is "special" and unique and can only be understood by, or should associate with, other special or high-status people (or institutions) (Matthew 21:12-13)

4.Requires excessive admiration (Matthew 12:30)

5.Has a sense of entitlement, i.e., unreasonable expectations of especially favorable treatment or automatic compliance with his or her expectations (Matthew 25:31-32 and 25:46)

6.Is interpersonally exploitative, i.e., takes advantage of others to achieve his or her own ends

7.Lacks empathy: is unwilling to recognize or identify with the feelings and needs of others (John 2:4)

8.Is often envious of others or believes others are envious of him or her (2 John 1:7, Philippians 2:10)

9.Shows arrogant, haughty behaviors or attitudes (John 2:4)