𝐁𝐢𝐛𝐥𝐞: 𝐃𝐨𝐞𝐬 𝐍𝐮𝐦𝐛𝐞𝐫𝐬 𝟑𝟏:𝟏𝟖 𝐒𝐚𝐧𝐜𝐭𝐢𝐨𝐧 𝐏𝐫𝐞-𝐏𝐮𝐛𝐞𝐬𝐜𝐞𝐧𝐭 𝐌𝐚𝐫𝐫𝐢𝐚𝐠𝐞𝐬 (𝐂𝐡𝐢𝐥𝐝 𝐌𝐚𝐫𝐫𝐢𝐚𝐠𝐞)?
Mohamad Mostafa Nassar
Twitter@NassarMohamadMR
𝐓𝐡𝐞 𝐚𝐧𝐬𝐰𝐞𝐫 𝐭𝐨 𝐭𝐡𝐞 𝐚𝐛𝐨𝐯𝐞 𝐪𝐮𝐞𝐬𝐭𝐢𝐨𝐧 𝐢𝐬 𝐲𝐞𝐬! 𝐍𝐮𝐦𝐛𝐞𝐫𝐬 𝟑𝟏:𝟏𝟖 𝐝𝐨𝐞𝐬 𝐬𝐚𝐧𝐜𝐭𝐢𝐨𝐧 𝐜𝐡𝐢𝐥𝐝 𝐦𝐚𝐫𝐫𝐢𝐚𝐠𝐞. 𝐋𝐞𝐭'𝐬 𝐧𝐨𝐰 𝐞𝐱𝐚𝐦𝐢𝐧𝐞 𝐭𝐡𝐞 𝐯𝐞𝐫𝐬𝐞: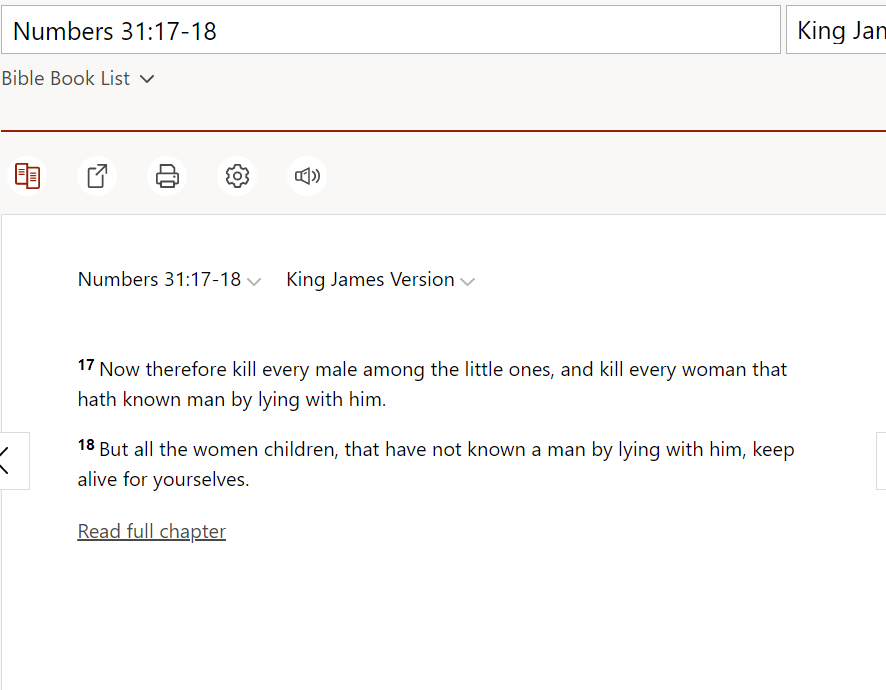 𝐓𝐡𝐞 𝐁𝐢𝐛𝐥𝐞 𝐟𝐚𝐢𝐥𝐮𝐫𝐞 𝐭𝐨 𝐏𝐫𝐨𝐡𝐢𝐛𝐢𝐭 𝐨𝐫 𝐂𝐨𝐧𝐝𝐞𝐦𝐧 𝐏𝐞𝐝𝐨𝐩𝐡𝐢𝐥𝐢𝐚 𝐝𝐞𝐬𝐩𝐢𝐭𝐞 𝐨𝐭𝐡𝐞𝐫 𝐬𝐞𝐱𝐮𝐚𝐥 𝐩𝐫𝐨𝐡𝐢𝐛𝐢𝐭𝐢𝐨𝐧𝐬
𝐖𝐞𝐛𝐬𝐭𝐞𝐫'𝐬 𝐁𝐢𝐛𝐥𝐞 𝐓𝐫𝐚𝐧𝐬𝐥𝐚𝐭𝐢𝐨𝐧 𝐍𝐮𝐦𝐛𝐞𝐫𝐬 𝟑𝟏:𝟏𝟕-𝟏𝟖
𝐍𝐨𝐰, 𝐭𝐡𝐞𝐫𝐞𝐟𝐨𝐫𝐞, 𝐤𝐢𝐥𝐥 𝐞𝐯𝐞𝐫𝐲 𝐦𝐚𝐥𝐞 𝐚𝐦𝐨𝐧𝐠 𝐭𝐡𝐞 𝐥𝐢𝐭𝐭𝐥𝐞 𝐨𝐧𝐞𝐬 (𝐭𝐚𝐩𝐡), 𝐚𝐧𝐝 𝐤𝐢𝐥𝐥 𝐞𝐯𝐞𝐫𝐲 𝐰𝐨𝐦𝐚𝐧 𝐭𝐡𝐚𝐭 𝐡𝐚𝐭𝐡 𝐤𝐧𝐨𝐰𝐧 𝐦𝐚𝐧 𝐛𝐲 𝐥𝐲𝐢𝐧𝐠 𝐰𝐢𝐭𝐡 𝐡𝐢𝐦. 𝐁𝐮𝐭 𝐚𝐥𝐥 𝐭𝐡𝐞 𝐟𝐞𝐦𝐚𝐥𝐞 𝐜𝐡𝐢𝐥𝐝𝐫𝐞𝐧 (𝐭𝐚𝐩𝐡), 𝐭𝐡𝐚𝐭 𝐡𝐚𝐯𝐞 𝐧𝐨𝐭 𝐤𝐧𝐨𝐰𝐧 𝐚 𝐦𝐚𝐧 𝐛𝐲 𝐥𝐲𝐢𝐧𝐠 𝐰𝐢𝐭𝐡 𝐡𝐢𝐦, 𝐤𝐞𝐞𝐩 𝐚𝐥𝐢𝐯𝐞 𝐟𝐨𝐫 𝐲𝐨𝐮𝐫𝐬𝐞𝐥𝐯𝐞𝐬.
𝐈𝐧 𝐨𝐫𝐝𝐞𝐫 𝐟𝐨𝐫 𝐦𝐞 𝐭𝐨 𝐠𝐨 𝐟𝐮𝐫𝐭𝐡𝐞𝐫 𝐥𝐞𝐭'𝐬 𝐟𝐢𝐫𝐬𝐭 𝐬𝐡𝐨𝐰 𝐭𝐡𝐞 𝐩𝐚𝐫𝐭 𝐰𝐡𝐞𝐫𝐞 𝐭𝐡𝐞 𝐇𝐞𝐛𝐫𝐞𝐰 𝐰𝐨𝐫𝐝 '𝐭𝐚𝐩𝐡' 𝐮𝐬𝐞𝐝 𝐚𝐧𝐝 𝐰𝐡𝐚𝐭 𝐢𝐭 𝐦𝐞𝐚𝐧𝐬 𝐢𝐧 𝐭𝐡𝐞 𝐯𝐞𝐫𝐬𝐞. 𝐁𝐞𝐥𝐨𝐰 𝐢𝐬 𝐭𝐡𝐞 𝐭𝐞𝐱𝐭-𝐢𝐦𝐚𝐠𝐞 𝐟𝐨𝐫 𝐭𝐡𝐞 𝐩𝐚𝐬𝐬𝐚𝐠𝐞 𝐮𝐧𝐝𝐞𝐫 𝐝𝐢𝐬𝐜𝐮𝐬𝐬𝐢𝐨𝐧
W
𝐀𝐧 𝐄𝐧𝐠𝐥𝐢𝐬𝐡 𝐚𝐧𝐝 𝐇𝐞𝐛𝐫𝐞𝐰 𝐋𝐞𝐱𝐢𝐜𝐨𝐧 – 𝐏𝐫𝐨𝐟𝐞𝐬𝐬𝐨𝐫 𝐒𝐞𝐥𝐢𝐠 𝐍𝐞𝐰𝐦𝐚𝐧:
𝐂𝐡𝐢𝐥𝐝 , 𝐚𝐧 𝐢𝐧𝐟𝐚𝐧𝐭 … טַף… 𝐚𝐧 𝐨𝐟𝐟𝐬𝐩𝐫𝐢𝐧𝐠,… 𝐠𝐞𝐭 𝐰𝐢𝐭𝐡-……[𝟏]
𝐀 𝐜𝐨𝐦𝐩𝐥𝐞𝐭𝐞 𝐇𝐞𝐛𝐫𝐞𝐰-𝐄𝐧𝐠𝐥𝐢𝐬𝐡 𝐩𝐨𝐜𝐤𝐞𝐭-𝐝𝐢𝐜𝐭𝐢𝐨𝐧𝐚𝐫𝐲 𝐭𝐨 𝐭𝐡𝐞 𝐎𝐥𝐝 𝐓𝐞𝐬𝐭𝐚𝐦𝐞𝐧𝐭 (𝟏𝟗𝟎𝟓) – 𝐊𝐚𝐫𝐥 𝐅𝐞𝐲𝐞𝐫𝐚𝐛𝐞𝐧𝐝:
טַף (𝐭𝐚𝐟) ., 𝐢.𝐩. .., 𝐰.𝐬…. 𝐜𝐨𝐥𝐥. 𝐂𝐡𝐢𝐥𝐝𝐫𝐞𝐧, 𝐥𝐢𝐭𝐭𝐥𝐞 𝐨𝐧𝐞𝐬. [𝟐]
𝐀 𝐂𝐨𝐦𝐩𝐞𝐧𝐝𝐢𝐨𝐮𝐬 𝐇𝐞𝐛𝐫𝐞𝐰-𝐋𝐞𝐱𝐢𝐜𝐨𝐧 – 𝐒𝐚𝐦𝐮𝐞𝐥 𝐏𝐢𝐤𝐞
טַף 𝐥𝐢𝐭𝐭𝐥𝐞 𝐨𝐧𝐞𝐬 𝐨𝐫 𝐜𝐡𝐢𝐥𝐝𝐫𝐞𝐧… 𝐦𝐢𝐧𝐜𝐢𝐧𝐠 𝐢𝐧 𝐚 𝐜𝐡𝐢𝐥𝐝𝐢𝐬𝐡 𝐦𝐚𝐧𝐧𝐞𝐫, 𝐈𝐬𝐚𝐢. 𝐈𝐢𝐢. 𝟏𝟔. –… 𝐭𝐨 𝐝𝐫𝐨𝐩, 𝐨𝐫 𝐝𝐢𝐬𝐭𝐢𝐥… 𝐭𝐨 𝐩𝐫𝐨𝐩𝐡𝐞𝐜𝐲, 𝐨𝐫 𝐝𝐢𝐬𝐭𝐢𝐥 𝐢𝐧𝐬𝐭𝐫𝐮𝐜𝐭𝐢𝐨𝐧, 𝐌𝐢𝐜𝐚𝐡 𝐢𝐢. 𝟔, 𝟏𝟏 [𝟑]
𝐓𝐡𝐞 𝐚𝐛𝐨𝐯𝐞 𝐋𝐞𝐱𝐢𝐜𝐨𝐧𝐬 𝐜𝐨𝐦𝐦𝐞𝐧𝐭𝐢𝐧𝐠 𝐨𝐧 𝐭𝐡𝐞 𝐇𝐞𝐛𝐫𝐞𝐰 𝐰𝐨𝐫𝐝 '𝐭𝐚𝐩𝐡', 𝐭𝐡𝐞𝐲 𝐪𝐮𝐢𝐭𝐞 𝐜𝐥𝐞𝐚𝐫𝐥𝐲 𝐬𝐡𝐨𝐰 𝐭𝐡𝐚𝐭 𝐭𝐡𝐞 𝐰𝐨𝐫𝐝 𝐨𝐧𝐥𝐲 𝐫𝐞𝐟𝐞𝐫𝐬 𝐭𝐨 𝐜𝐡𝐢𝐥𝐝𝐫𝐞𝐧 𝐨𝐫 𝐢𝐧𝐟𝐚𝐧𝐭𝐬. 𝐋𝐞𝐭'𝐬 𝐧𝐨𝐰 𝐫𝐞𝐚𝐝 𝐭𝐡𝐞 𝐯𝐞𝐫𝐬𝐞 𝐚𝐠𝐚𝐢𝐧 𝐭𝐨 𝐠𝐞𝐭 𝐚 𝐛𝐞𝐭𝐭𝐞𝐫 𝐮𝐧𝐝𝐞𝐫𝐬𝐭𝐚𝐧𝐝𝐢𝐧𝐠:
𝐖𝐞𝐛𝐬𝐭𝐞𝐫'𝐬 𝐁𝐢𝐛𝐥𝐞 𝐓𝐫𝐚𝐧𝐬𝐥𝐚𝐭𝐢𝐨𝐧 𝐍𝐮𝐦𝐛𝐞𝐫𝐬 𝟑𝟏:𝟏𝟕-𝟏𝟖
𝐍𝐨𝐰 𝐭𝐡𝐞𝐫𝐞𝐟𝐨𝐫𝐞 𝐤𝐢𝐥𝐥 𝐞𝐯𝐞𝐫𝐲 𝐦𝐚𝐥𝐞 𝐚𝐦𝐨𝐧𝐠 𝐭𝐡𝐞 𝐥𝐢𝐭𝐭𝐥𝐞 𝐨𝐧𝐞𝐬 (𝐭𝐚𝐩𝐡), 𝐚𝐧𝐝 𝐤𝐢𝐥𝐥 𝐞𝐯𝐞𝐫𝐲 𝐰𝐨𝐦𝐚𝐧 𝐭𝐡𝐚𝐭 𝐡𝐚𝐭𝐡 𝐤𝐧𝐨𝐰𝐧 𝐦𝐚𝐧 𝐛𝐲 𝐥𝐲𝐢𝐧𝐠 𝐰𝐢𝐭𝐡 𝐡𝐢𝐦. 𝐁𝐮𝐭 𝐚𝐥𝐥 𝐭𝐡𝐞 𝐟𝐞𝐦𝐚𝐥𝐞 𝐜𝐡𝐢𝐥𝐝𝐫𝐞𝐧 (𝐭𝐚𝐩𝐡), 𝐭𝐡𝐚𝐭 𝐡𝐚𝐯𝐞 𝐧𝐨𝐭 𝐤𝐧𝐨𝐰𝐧 𝐚 𝐦𝐚𝐧 𝐛𝐲 𝐥𝐲𝐢𝐧𝐠 𝐰𝐢𝐭𝐡 𝐡𝐢𝐦, 𝐤𝐞𝐞𝐩 𝐚𝐥𝐢𝐯𝐞 𝐟𝐨𝐫 𝐲𝐨𝐮𝐫𝐬𝐞𝐥𝐯𝐞𝐬.
𝐀𝐬 𝐰𝐞 𝐬𝐭𝐚𝐫𝐭 𝐫𝐞𝐚𝐝𝐢𝐧𝐠 𝐟𝐫𝐨𝐦 𝐯𝐞𝐫𝐬𝐞 𝟏𝟕, 𝐢𝐭 𝐛𝐞𝐠𝐢𝐧𝐬 𝐛𝐲 𝐌𝐨𝐬𝐞𝐬 𝐜𝐨𝐦𝐦𝐚𝐧𝐝𝐢𝐧𝐠 𝐡𝐢𝐬 𝐬𝐨𝐥𝐝𝐢𝐞𝐫𝐬 𝐭𝐨 𝐞𝐱𝐞𝐜𝐮𝐭𝐞 𝐚𝐥𝐥 𝐭𝐡𝐞 𝐦𝐚𝐥𝐞 𝐜𝐡𝐢𝐥𝐝𝐫𝐞𝐧 (𝐢𝐧𝐟𝐚𝐧𝐭𝐬), 𝐚𝐧𝐝 𝐚𝐥𝐥 𝐭𝐡𝐞 𝐰𝐨𝐦𝐞𝐧 𝐰𝐡𝐨 𝐡𝐚𝐯𝐞 𝐬𝐥𝐞𝐩𝐭 𝐰𝐢𝐭𝐡 𝐚 𝐦𝐚𝐧, 𝐢𝐧 𝐨𝐭𝐡𝐞𝐫 𝐰𝐨𝐫𝐝𝐬 𝐰𝐨𝐦𝐞𝐧 𝐰𝐡𝐨 𝐚𝐫𝐞 𝐧𝐨𝐭 𝐯𝐢𝐫𝐠𝐢𝐧. 𝐖𝐡𝐞𝐧 𝐰𝐞 𝐠𝐞𝐭 𝐭𝐨 𝐭𝐡𝐞 𝐧𝐞𝐱𝐭 𝐯𝐞𝐫𝐬𝐞 (𝐯. 𝟏𝟖), 𝐌𝐨𝐬𝐞𝐬 𝐭𝐞𝐥𝐥𝐬 𝐡𝐢𝐬 𝐬𝐨𝐥𝐝𝐢𝐞𝐫𝐬 𝐭𝐡𝐚𝐭 𝐭𝐡𝐞𝐲 𝐜𝐚𝐧 𝐭𝐚𝐤𝐞 𝐟𝐨𝐫 𝐭𝐡𝐞𝐦𝐬𝐞𝐥𝐯𝐞𝐬 𝐚𝐥𝐥 𝐭𝐡𝐞 𝐟𝐞𝐦𝐚𝐥𝐞 𝐜𝐡𝐢𝐥𝐝𝐫𝐞𝐧.
𝐍𝐨𝐰 𝐭𝐡𝐞 𝐪𝐮𝐞𝐬𝐭𝐢𝐨𝐧 𝐚𝐫𝐢𝐬𝐞𝐬, 𝐰𝐡𝐲 𝐚𝐫𝐞 𝐭𝐡𝐞 𝐦𝐚𝐥𝐞 𝐜𝐡𝐢𝐥𝐝𝐫𝐞𝐧 𝐧𝐨𝐭 𝐬𝐡𝐨𝐰𝐧 𝐚𝐧𝐲 𝐦𝐞𝐫𝐜𝐲, 𝐠𝐞𝐭 𝐞𝐱𝐞𝐜𝐮𝐭𝐞𝐝, 𝐛𝐮𝐭 𝐭𝐡𝐞 𝐟𝐞𝐦𝐚𝐥𝐞 𝐜𝐡𝐢𝐥𝐝𝐫𝐞𝐧 𝐥𝐞𝐟𝐭 𝐚𝐥𝐢𝐯𝐞? 𝐈𝐭 𝐢𝐬 𝐨𝐛𝐯𝐢𝐨𝐮𝐬 𝐟𝐫𝐨𝐦 𝐭𝐡𝐞 𝐰𝐨𝐫𝐝𝐬, "𝐟𝐨𝐫 𝐲𝐨𝐮𝐫𝐬𝐞𝐥𝐯𝐞𝐬", 𝐌𝐨𝐬𝐞𝐬 𝐦𝐞𝐚𝐧𝐭 𝐭𝐡𝐚𝐭 𝐭𝐡𝐞𝐲 𝐜𝐚𝐧 𝐡𝐚𝐯𝐞 𝐭𝐡𝐞 𝐟𝐞𝐦𝐚𝐥𝐞 𝐜𝐡𝐢𝐥𝐝𝐫𝐞𝐧 𝐟𝐨𝐫 𝐭𝐡𝐞𝐢𝐫 𝐨𝐰𝐧 𝐩𝐥𝐞𝐚𝐬𝐮𝐫𝐞, 𝐭𝐨 𝐜𝐨𝐡𝐚𝐛𝐢𝐭 𝐰𝐢𝐭𝐡.
𝐖𝐡𝐞𝐧 𝐈 𝐬𝐭𝐚𝐫𝐭𝐞𝐝 𝐞𝐱𝐚𝐦𝐢𝐧𝐢𝐧𝐠 𝐍𝐮𝐦𝐛𝐞𝐫𝐬 𝟑𝟏:𝟏𝟕-𝟏𝟖, 𝐫𝐞𝐚𝐝𝐢𝐧𝐠 𝐭𝐡𝐞 𝐇𝐞𝐛𝐫𝐞𝐰 𝐰𝐨𝐫𝐝𝐬 𝐟𝐨𝐫 𝐯𝐞𝐫𝐬𝐞 𝟏𝟖 𝐚𝐭 𝐭𝐡𝐞 𝐞𝐧𝐝, 𝐨𝐧𝐞 𝐰𝐨𝐫𝐝 𝐰𝐚𝐬 𝐥𝐞𝐟𝐭 𝐮𝐧𝐞𝐱𝐩𝐥𝐚𝐢𝐧𝐞𝐝. 𝐓𝐡𝐢𝐬 𝐢𝐬 𝐧𝐨𝐭 𝐭𝐡𝐞 𝐜𝐚𝐬𝐞 𝐨𝐟 𝐣𝐮𝐬𝐭 𝐨𝐧𝐞 𝐄𝐧𝐠𝐥𝐢𝐬𝐡 𝐁𝐢𝐛𝐥𝐞 𝐭𝐫𝐚𝐧𝐬𝐥𝐚𝐭𝐢𝐨𝐧, 𝐚𝐥𝐥 𝐭𝐡𝐞 𝐦𝐨𝐝𝐞𝐫𝐧 𝐁𝐢𝐛𝐥𝐞 𝐭𝐫𝐚𝐧𝐬𝐥𝐚𝐭𝐢𝐨𝐧𝐬 𝐡𝐚𝐯𝐞 𝐛𝐥𝐚𝐭𝐚𝐧𝐭𝐥𝐲 𝐜𝐫𝐨𝐬𝐬𝐞𝐝 𝐨𝐮𝐭 𝐭𝐡𝐞 𝐰𝐨𝐫𝐝.
𝐓𝐡𝐞 𝐰𝐨𝐫𝐝 𝐈 𝐚𝐦 𝐫𝐞𝐟𝐞𝐫𝐫𝐢𝐧𝐠 𝐭𝐨𝐨 𝐢𝐬 '𝐥𝐚𝐤𝐡𝐞𝐦' (𝐨𝐫 𝐥𝐚𝐜𝐡𝐚𝐦). 𝐓𝐡𝐢𝐬 𝐰𝐨𝐫𝐝 𝐢𝐬 𝐥𝐞𝐟𝐭 𝐮𝐧𝐞𝐱𝐩𝐥𝐚𝐢𝐧𝐞𝐝. 𝐓𝐡𝐢𝐬 𝐬𝐚𝐦𝐞 𝐰𝐨𝐫𝐝 (𝐥𝐚𝐜𝐡𝐚𝐦) 𝐢𝐬 𝐮𝐬𝐞𝐝 𝐢𝐧 𝐦𝐚𝐧𝐲 𝐨𝐭𝐡𝐞𝐫 𝐩𝐚𝐬𝐬𝐚𝐠𝐞𝐬 𝐬𝐮𝐜𝐡 𝐚𝐬: 𝐄𝐱𝐝 𝟏:𝟏𝟎, 𝐃𝐞𝐮 𝟏:𝟒𝟏, 𝐉𝐨𝐬 𝟏𝟎:𝟓, 𝐉𝐝𝐠 𝟏:𝟖, 𝟏𝐒𝐚 𝟑𝟏:𝟏, 𝟏𝐊𝐢 𝟏𝟐:𝟐𝟒, 𝐈𝐬𝐚 𝟏𝟗:𝟐, 𝐢𝐧 𝐚𝐥𝐥 𝐭𝐡𝐞𝐬𝐞 𝐯𝐞𝐫𝐬𝐞𝐬 𝐦𝐞𝐧𝐭𝐢𝐨𝐧𝐞𝐝, 𝐰𝐡𝐞𝐧 𝐭𝐡𝐞 𝐇𝐞𝐛𝐫𝐞𝐰 𝐰𝐨𝐫𝐝 '𝐥𝐚𝐜𝐡𝐚𝐦' 𝐢𝐬 𝐮𝐬𝐞𝐝 , 𝐢𝐭 𝐦𝐞𝐚𝐧𝐬:- '𝐟𝐢𝐠𝐡𝐭', '𝐟𝐨𝐮𝐠𝐡𝐭', 𝐨𝐫 '𝐰𝐚𝐫𝐫𝐞𝐝'. 𝐇𝐞𝐫𝐞 𝐢𝐬 𝐇𝐞𝐛𝐫𝐞𝐰 𝐭𝐞𝐱𝐭-𝐢𝐦𝐚𝐠𝐞 𝐟𝐨𝐫 𝐭𝐡𝐞 𝐦𝐞𝐧𝐭𝐢𝐨𝐧𝐞𝐝 𝐩𝐚𝐬𝐬𝐚𝐠𝐞:
𝐘𝐨𝐮 𝐜𝐚𝐧 𝐬𝐞𝐞 𝐈 𝐡𝐚𝐯𝐞 𝐜𝐢𝐫𝐜𝐥𝐞𝐝 𝐢𝐧 𝐫𝐞𝐝 𝐰𝐡𝐞𝐫𝐞 𝐭𝐡𝐞 𝐰𝐨𝐫𝐝 '𝐥𝐚𝐜𝐡𝐚𝐦' 𝐢𝐬 𝐮𝐬𝐞𝐝 𝐢𝐧 𝐭𝐡𝐞𝐦 𝐯𝐞𝐫𝐬𝐞𝐬. 𝐈𝐟 𝐲𝐨𝐮 𝐠𝐨 𝐭𝐨 𝐚𝐧𝐲 𝐉𝐮𝐝𝐚𝐢𝐜-𝐂𝐡𝐫𝐢𝐬𝐭𝐢𝐚𝐧 𝐰𝐞𝐛𝐬𝐢𝐭𝐞, 𝐰𝐡𝐞𝐫𝐞 𝐭𝐡𝐞𝐲 𝐠𝐢𝐯𝐞 𝐝𝐞𝐟𝐢𝐧𝐢𝐭𝐢𝐨𝐧𝐬 𝐟𝐨𝐫 𝐚𝐧𝐲 𝐰𝐨𝐫𝐝 𝐟𝐫𝐨𝐦 𝐭𝐡𝐞 𝐁𝐢𝐛𝐥𝐞, 𝐭𝐡𝐞𝐲 𝐡𝐚𝐯𝐞 𝐚𝐥𝐰𝐚𝐲𝐬 𝐥𝐞𝐟𝐭 𝐭𝐡𝐞 𝐰𝐨𝐫𝐝 '𝐥𝐚𝐜𝐡𝐚𝐦' 𝐮𝐧𝐞𝐱𝐩𝐥𝐚𝐢𝐧𝐞𝐝 𝐟𝐨𝐫 𝐭𝐡𝐞 𝐩𝐚𝐬𝐬𝐚𝐠𝐞.
𝐔𝐬𝐮𝐚𝐥𝐥𝐲, 𝐰𝐡𝐞𝐧 𝐈 𝐝𝐨 𝐫𝐞𝐬𝐞𝐚𝐫𝐜𝐡 𝐨𝐧 𝐜𝐞𝐫𝐭𝐚𝐢𝐧 𝐰𝐨𝐫𝐝𝐬 𝐭𝐡𝐚𝐭 𝐚𝐫𝐞 𝐝𝐢𝐬𝐩𝐮𝐭𝐞𝐝 𝐟𝐫𝐨𝐦 𝐁𝐢𝐛𝐥𝐢𝐜𝐚𝐥 𝐯𝐞𝐫𝐬𝐞𝐬, 𝐈 𝐯𝐢𝐬𝐢𝐭 𝐭𝐡𝐞𝐬𝐞 𝐬𝐢𝐭𝐞𝐬, 𝐁𝐥𝐮𝐞𝐥𝐞𝐭𝐭𝐞𝐫𝐛𝐢𝐛𝐥𝐞.𝐨𝐫𝐠 𝐨𝐫 𝐛𝐢𝐛𝐥𝐞𝐬𝐭𝐮𝐝𝐲𝐭𝐨𝐨𝐥𝐬.𝐜𝐨𝐦, 𝐚𝐧𝐝 𝐭𝐡𝐞𝐲 𝐡𝐚𝐯𝐞 𝐚𝐥𝐰𝐚𝐲𝐬 𝐠𝐢𝐯𝐞𝐧 𝐚𝐧 𝐞𝐱𝐩𝐥𝐚𝐧𝐚𝐭𝐢𝐨𝐧 𝐢𝐧 𝐝𝐞𝐭𝐚𝐢𝐥, 𝐰𝐡𝐚𝐭 𝐚 𝐇𝐞𝐛𝐫𝐞𝐰 𝐰𝐨𝐫𝐝 𝐦𝐞𝐚𝐧𝐬.
𝐁𝐮𝐭 𝐰𝐡𝐞𝐧 𝐈 𝐬𝐭𝐚𝐫𝐭𝐞𝐝 𝐞𝐱𝐚𝐦𝐢𝐧𝐢𝐧𝐠 𝐍𝐮𝐦𝐛𝐞𝐫𝐬 𝟑𝟏:𝟏𝟖, 𝐰𝐡𝐚𝐭 𝐜𝐚𝐮𝐠𝐡𝐭 𝐦𝐲 𝐞𝐲𝐞 𝐰𝐚𝐬 𝐭𝐡𝐞 𝐰𝐨𝐫𝐝 '𝐥𝐚𝐜𝐡𝐚𝐦', 𝐢𝐭 𝐰𝐚𝐬 𝐥𝐞𝐟𝐭 𝐛𝐥𝐚𝐧𝐤. 𝐖𝐡𝐚𝐭 𝐦𝐚𝐝𝐞 𝐢𝐭 𝐞𝐯𝐞𝐧 𝐬𝐭𝐫𝐚𝐧𝐠𝐞 𝐢𝐬, 𝐈 𝐰𝐚𝐬 𝐧𝐨𝐭 𝐚𝐥𝐥𝐨𝐰𝐞𝐝 (𝐚𝐛𝐥𝐞) 𝐭𝐨 𝐜𝐥𝐢𝐜𝐤 𝐨𝐧 𝐭𝐡𝐞 𝐰𝐨𝐫𝐝, 𝐭𝐨 𝐬𝐞𝐞 𝐰𝐡𝐚𝐭 𝐭𝐡𝐞 𝐦𝐞𝐚𝐧𝐢𝐧𝐠 𝐨𝐟 𝐭𝐡𝐞 𝐰𝐨𝐫𝐝 𝐢𝐬.
𝐓𝐡𝐢𝐬 𝐩𝐫𝐨𝐦𝐩𝐭𝐞𝐝 𝐦𝐞 𝐭𝐨 𝐝𝐨 𝐦𝐨𝐫𝐞 𝐫𝐞𝐬𝐞𝐚𝐫𝐜𝐡 𝐨𝐧 𝐭𝐡𝐞 𝐰𝐨𝐫𝐝 𝐚𝐧𝐝 𝐟𝐢𝐧𝐝 𝐨𝐮𝐭 𝐰𝐡𝐚𝐭 𝐭𝐡𝐞 𝐦𝐞𝐚𝐧𝐢𝐧𝐠 𝐨𝐟 𝐢𝐭 𝐢𝐬. 𝐒𝐡𝐚𝐲𝐞 𝐉. 𝐃. 𝐂𝐨𝐡𝐞𝐧 𝐰𝐡𝐨 𝐢𝐬 𝐚 𝐫𝐞𝐧𝐨𝐰𝐧𝐞𝐝 𝐏𝐫𝐨𝐟𝐞𝐬𝐬𝐨𝐫 𝐰𝐫𝐢𝐭𝐞𝐬 𝐭𝐡𝐚𝐭 𝐭𝐡𝐞 𝐰𝐨𝐫𝐝 𝐥𝐚𝐜𝐡𝐞𝐦 𝐮𝐬𝐞𝐝 𝐢𝐧 𝐭𝐡𝐞 𝐯𝐞𝐫𝐬𝐞 𝐢𝐬 𝐦𝐞𝐚𝐧𝐭 𝐬𝐞𝐱𝐮𝐚𝐥𝐥𝐲:
"𝐌𝐨𝐬𝐞𝐬 𝐞𝐧𝐣𝐨𝐢𝐧𝐬 𝐮𝐩𝐨𝐧 𝐭𝐡𝐞 𝐫𝐞𝐭𝐮𝐫𝐧𝐢𝐧𝐠 𝐰𝐚𝐫𝐫𝐢𝐨𝐫𝐬 𝐭𝐨 𝐤𝐢𝐥𝐥 𝐭𝐡𝐞𝐢𝐫 𝐌𝐢𝐝𝐢𝐚𝐧𝐢𝐭𝐞 𝐟𝐞𝐦𝐚𝐥𝐞 𝐜𝐚𝐩𝐭𝐢𝐯𝐞𝐬 𝐰𝐡𝐨 𝐡𝐚𝐯𝐞 𝐥𝐚𝐢𝐧 𝐰𝐢𝐭𝐡 𝐚 𝐦𝐚𝐧, 𝐛𝐮𝐭 '𝐬𝐩𝐚𝐫𝐞 𝐟𝐨𝐫 𝐲𝐨𝐮𝐫𝐬𝐞𝐥𝐯𝐞𝐬 𝐞𝐯𝐞𝐫𝐲 𝐲𝐨𝐮𝐧𝐠 𝐰𝐨𝐦𝐚𝐧 𝐰𝐡𝐨 𝐡𝐚𝐬 𝐧𝐨𝐭 𝐡𝐚𝐝 𝐜𝐚𝐫𝐧𝐚𝐥 𝐫𝐞𝐥𝐚𝐭𝐢𝐨𝐧𝐬 𝐰𝐢𝐭𝐡 𝐚 𝐦𝐚𝐧';
𝐖𝐄 𝐌𝐀𝐘 𝐁𝐄 𝐒𝐔𝐑𝐄 𝐓𝐇𝐀𝐓 '𝐅𝐎𝐑 𝐘𝐎𝐔𝐑𝐒𝐄𝐋𝐕𝐄𝐒' 𝐌𝐄𝐀𝐍𝐒 𝐓𝐇𝐀𝐓 𝐓𝐇𝐄 𝐖𝐀𝐑𝐑𝐈𝐎𝐑𝐒 𝐌𝐀𝐘 '𝐔𝐒𝐄' 𝐓𝐇𝐄𝐈𝐑 𝐕𝐈𝐑𝐆𝐈𝐍 𝐂𝐀𝐏𝐓𝐈𝐕𝐄𝐒 𝐒𝐄𝐗𝐔𝐀𝐋𝐋𝐘.𝟓𝟐 𝐓𝐡𝐞 𝐥𝐚𝐰 𝐢𝐧 𝐧𝐮𝐦𝐛𝐞𝐫𝐬 𝐝𝐢𝐟𝐟𝐞𝐫𝐬 𝐟𝐫𝐨𝐦 𝐭𝐡𝐞 𝐥𝐚𝐰 𝐢𝐧 𝐃𝐞𝐮𝐭𝐞𝐫𝐨𝐧𝐨𝐦𝐲- 𝐩𝐞𝐫𝐡𝐚𝐩𝐬 𝐭𝐡𝐞 𝐦𝐨𝐬𝐭 𝐬𝐢𝐠𝐧𝐢𝐟𝐢𝐜𝐚𝐧𝐭 𝐝𝐢𝐬𝐭𝐢𝐧𝐜𝐭𝐢𝐨𝐧 𝐢𝐬 𝐭𝐡𝐚𝐭 𝐭𝐡𝐞 𝐥𝐚𝐰 𝐢𝐧 𝐃𝐞𝐮𝐭𝐞𝐫𝐨𝐧𝐨𝐦𝐲 𝐝𝐨𝐞𝐬 𝐧𝐨𝐭 𝐜𝐚𝐫𝐞 𝐰𝐡𝐞𝐭𝐡𝐞𝐫 𝐭𝐡𝐞 𝐜𝐚𝐩𝐭𝐢𝐯𝐞 𝐢𝐬 𝐚 𝐯𝐢𝐫𝐠𝐢𝐧 𝐨𝐫 𝐧𝐨𝐭- 𝐛𝐮𝐭 𝐢𝐭 𝐭𝐨𝐨 𝐩𝐞𝐫𝐦𝐢𝐭𝐬 𝐈𝐬𝐫𝐚𝐞𝐥𝐢𝐭𝐞 𝐰𝐚𝐫𝐫𝐢𝐨𝐫 𝐭𝐨 𝐦𝐚𝐫𝐫𝐲 (𝐨𝐫 '𝐦𝐚𝐫𝐫𝐲) 𝐚 𝐟𝐨𝐫𝐞𝐢𝐠𝐧 𝐰𝐨𝐦𝐚𝐧."
𝐈𝐧 𝐭𝐡𝐞 𝐬𝐚𝐦𝐞 𝐩𝐚𝐠𝐞, 𝐢𝐧 𝐟𝐨𝐨𝐭𝐧𝐨𝐭𝐞 𝟓𝟐, 𝐏𝐫𝐨𝐟𝐞𝐬𝐬𝐨𝐫 𝐒𝐡𝐚𝐲𝐞 𝐉.𝐃. 𝐂𝐨𝐡𝐞𝐧 𝐠𝐨𝐞𝐬 𝐟𝐮𝐫𝐭𝐡𝐞𝐫 𝐨𝐧 𝐭𝐡𝐞 𝐯𝐞𝐫𝐬𝐞, 𝐡𝐞 𝐰𝐫𝐢𝐭𝐞𝐬:
"𝐈 𝐝𝐨 𝐧𝐨𝐭 𝐤𝐧𝐨𝐰 𝐰𝐡𝐲 𝐭𝐡𝐞 𝐧𝐞𝐰 𝐉𝐞𝐰𝐢𝐬𝐡 𝐯𝐞𝐫𝐬𝐢𝐨𝐧 𝐨𝐦𝐢𝐭𝐬 '𝐟𝐨𝐫 𝐲𝐨𝐮𝐫𝐬𝐞𝐥𝐯𝐞𝐬'; 𝐭𝐡𝐞 𝐇𝐞𝐛𝐫𝐞𝐰 𝐥𝐚𝐤𝐡𝐞𝐦 𝐢𝐬 𝐮𝐧𝐚𝐦𝐛𝐢𝐠𝐮𝐨𝐮𝐬. 𝐓𝐡𝐚𝐭 𝐭𝐡𝐞 𝐢𝐧𝐭𝐞𝐧𝐭 𝐨𝐟 '𝐅𝐎𝐑 𝐘𝐎𝐔𝐑𝐒𝐄𝐋𝐕𝐄𝐒' 𝐈𝐒 𝐒𝐄𝐗𝐔𝐀𝐋 𝐎𝐑 𝐌𝐀𝐓𝐑𝐈𝐌𝐎𝐍𝐈𝐀𝐋 𝐈𝐒 𝐎𝐁𝐕𝐈𝐎𝐔𝐒; 𝐭𝐡𝐞 𝐩𝐚𝐬𝐬𝐚𝐠𝐞 𝐢𝐬 𝐜𝐨𝐫𝐫𝐞𝐜𝐭𝐥𝐲 𝐮𝐧𝐝𝐞𝐫𝐬𝐭𝐨𝐨𝐝 𝐛𝐲 𝐑𝐚𝐛𝐛𝐢 𝐒𝐢𝐦𝐞𝐨𝐧 𝐘𝐨𝐡𝐚𝐢 𝐢𝐧 𝐭𝐡𝐞 𝐒𝐢𝐟𝐫𝐞𝐢 𝐚𝐝 𝐥𝐨𝐜 (𝟏𝟕𝟕 𝟐𝟏𝟐𝐇)." [𝟒]
𝐍𝐨𝐰 𝐢𝐭 𝐦𝐚𝐤𝐞𝐬 𝐬𝐞𝐧𝐬𝐞 𝐰𝐡𝐲 𝐦𝐢𝐬𝐬𝐢𝐨𝐧𝐚𝐫𝐢𝐞𝐬 𝐭𝐫𝐲 𝐡𝐚𝐫𝐝 𝐧𝐨𝐭 𝐭𝐨 𝐠𝐢𝐯𝐞 𝐭𝐡𝐞 𝐭𝐫𝐮𝐞 𝐦𝐞𝐚𝐧𝐢𝐧𝐠 𝐟𝐨𝐫 𝐭𝐡𝐞 𝐰𝐨𝐫𝐝. 𝐖𝐞 𝐜𝐚𝐧 𝐬𝐞𝐞 𝐭𝐡𝐞 𝐝𝐞𝐜𝐞𝐢𝐭 𝐨𝐟 𝐄𝐯𝐚𝐧𝐠𝐞𝐥𝐢𝐜𝐚𝐥𝐬 𝐭𝐫𝐲𝐢𝐧𝐠 𝐡𝐚𝐫𝐝 𝐭𝐨 𝐜𝐨𝐯𝐞𝐫 𝐮𝐩 𝐭𝐡𝐞 𝐰𝐨𝐫𝐝. 𝐓𝐡𝐚𝐧𝐤𝐟𝐮𝐥𝐥𝐲 𝐰𝐞 𝐡𝐚𝐯𝐞 𝐚 𝐬𝐢𝐧𝐜𝐞𝐫𝐞 𝐒𝐜𝐡𝐨𝐥𝐚𝐫 𝐚𝐬 𝐒𝐡𝐚𝐲𝐞 𝐉.𝐃. 𝐂𝐨𝐡𝐞𝐧 𝐰𝐡𝐨 𝐦𝐚𝐤𝐞𝐬 𝐢𝐭 𝐜𝐥𝐞𝐚𝐫 𝐭𝐡𝐚𝐭 𝐭𝐡𝐞 𝐰𝐨𝐫𝐝 𝐜𝐚𝐧 𝐨𝐧𝐥𝐲 𝐛𝐞 𝐦𝐞𝐚𝐧𝐭 '𝐬𝐞𝐱𝐮𝐚𝐥𝐥𝐲'.
𝐖𝐢𝐥 𝐆𝐚𝐟𝐧𝐞𝐲, 𝐏𝐡.𝐃. 𝐢𝐬 𝐀𝐬𝐬𝐨𝐜𝐢𝐚𝐭𝐞 𝐏𝐫𝐨𝐟𝐞𝐬𝐬𝐨𝐫 𝐨𝐟 𝐇𝐞𝐛𝐫𝐞𝐰 𝐚𝐧𝐝 𝐎𝐥𝐝 𝐓𝐞𝐬𝐭𝐚𝐦𝐞𝐧𝐭 𝐚𝐭 𝐓𝐡𝐞 𝐋𝐮𝐭𝐡𝐞𝐫𝐚𝐧 𝐓𝐡𝐞𝐨𝐥𝐨𝐠𝐢𝐜𝐚𝐥 𝐒𝐞𝐦𝐢𝐧𝐚𝐫𝐲 𝐚𝐭 𝐏𝐡𝐢𝐥𝐚𝐝𝐞𝐥𝐩𝐡𝐢𝐚 𝐢𝐧 𝐏𝐞𝐧𝐧𝐬𝐲𝐥𝐯𝐚𝐧𝐢𝐚 𝐚𝐧𝐝 𝐢𝐬 𝐚𝐧 𝐄𝐩𝐢𝐬𝐜𝐨𝐩𝐚𝐥 𝐏𝐫𝐢𝐞𝐬𝐭 𝐜𝐚𝐧𝐨𝐧𝐢𝐜𝐚𝐥𝐥𝐲 𝐫𝐞𝐬𝐢𝐝𝐞𝐧𝐭 𝐢𝐧 𝐭𝐡𝐞 𝐃𝐢𝐨𝐜𝐞𝐬𝐞 𝐨𝐟 𝐏𝐞𝐧𝐧𝐬𝐲𝐥𝐯𝐚𝐧𝐢𝐚. 𝐒𝐡𝐞 𝐢𝐬 𝐚𝐧𝐨𝐭𝐡𝐞𝐫 𝐥𝐢𝐧𝐞 𝐨𝐟 𝐒𝐜𝐡𝐨𝐥𝐚𝐫𝐬 𝐰𝐡𝐨 𝐜𝐨𝐦𝐦𝐞𝐧𝐭𝐬 𝐨𝐧 𝐍𝐮𝐦𝐛𝐞𝐫𝐬 𝟑𝟏:𝟏𝟖, 𝐬𝐡𝐞 𝐰𝐫𝐢𝐭𝐞𝐬,
"𝐓𝐡𝐞 '𝐨𝐧𝐞 𝐰𝐨𝐦𝐚𝐧, 𝐨𝐧𝐞 𝐦𝐚𝐧' 𝐫𝐞𝐥𝐚𝐭𝐢𝐨𝐧𝐬𝐡𝐢𝐩 𝐨𝐟 𝐄𝐯𝐞 𝐚𝐧𝐝 𝐀𝐝𝐚𝐦 𝐛𝐞𝐜𝐨𝐦𝐞𝐬 𝐨𝐧𝐞 𝐦𝐚𝐧 𝐚𝐧𝐝 𝐭𝐰𝐨 𝐰𝐨𝐦𝐞𝐧 𝐢𝐧 𝐆𝐞𝐧𝐞𝐬𝐢𝐬 𝟒:𝟏𝟗, 𝐎𝐍𝐄 𝐌𝐀𝐍 𝐀𝐍𝐃 𝐀𝐍 𝐔𝐍𝐓𝐎𝐋𝐃 𝐍𝐔𝐌𝐁𝐄𝐑 𝐎𝐅 𝐏𝐑𝐄𝐏𝐔𝐁𝐄𝐒𝐂𝐄𝐍𝐓 𝐆𝐈𝐑𝐋 𝐂𝐀𝐏𝐓𝐈𝐕𝐄𝐒 𝐈𝐍 𝐍𝐔𝐌𝐁𝐄𝐑 𝟑𝟏:𝟏𝟖 𝐚𝐧𝐝 𝐢𝐧 𝐬𝐞𝐯𝐞𝐫𝐚𝐥 𝐨𝐭𝐡𝐞𝐫 𝐭𝐞𝐱𝐭𝐬. 𝐈𝐓 𝐀𝐏𝐏𝐄𝐀𝐑𝐒 𝐓𝐇𝐀𝐓 𝐆𝐎𝐃 𝐇𝐀𝐒 𝐋𝐄𝐅𝐓 𝐈𝐓 𝐓𝐎 𝐇𝐔𝐌𝐀𝐍𝐈𝐓𝐘 𝐓𝐎 𝐃𝐄𝐂𝐈𝐃𝐄 𝐖𝐇𝐎 𝐀𝐑𝐄 𝐀𝐏𝐏𝐑𝐎𝐏𝐑𝐈𝐀𝐓𝐄 𝐈𝐍𝐓𝐈𝐌𝐀𝐓𝐄 𝐏𝐀𝐑𝐓𝐍𝐄𝐑𝐒 𝐀𝐍𝐃 𝐔𝐍𝐃𝐄𝐑 𝐖𝐇𝐀𝐓 𝐂𝐈𝐑𝐂𝐔𝐌𝐒𝐓𝐀𝐍𝐂𝐄𝐒.
𝐓𝐡𝐞 𝐞𝐯𝐨𝐥𝐮𝐭𝐢𝐨𝐧 𝐨𝐟 𝐩𝐨𝐥𝐲𝐠𝐚𝐦𝐲, 𝐛𝐨𝐭𝐡 𝐂𝐎𝐍𝐒𝐄𝐍𝐒𝐔𝐀𝐋 𝐀𝐍𝐃 𝐅𝐎𝐑𝐂𝐄𝐃, 𝐚𝐬 𝐚 𝐡𝐮𝐦𝐚𝐧-𝐢𝐧𝐢𝐭𝐢𝐚𝐭𝐞𝐝 𝐜𝐮𝐥𝐭𝐮𝐫𝐚𝐥 𝐩𝐫𝐚𝐜𝐭𝐢𝐜𝐞 𝐢𝐧 𝐭𝐡𝐞 𝐬𝐜𝐫𝐢𝐩𝐭𝐮𝐫𝐞𝐬 𝐢𝐬 𝐩𝐚𝐫𝐭𝐢𝐜𝐮𝐥𝐚𝐫𝐥𝐲 𝐬𝐭𝐫𝐢𝐤𝐢𝐧𝐠 𝐛𝐞𝐜𝐚𝐮𝐬𝐞 𝐨𝐟 𝐆𝐨𝐝'𝐬 𝐥𝐚𝐜𝐤 𝐨𝐟 𝐜𝐨𝐧𝐝𝐞𝐦𝐧𝐚𝐭𝐢𝐨𝐧 𝐨𝐟 𝐢𝐭 (𝐧𝐨𝐭 𝐭𝐨 𝐦𝐞𝐧𝐭𝐢𝐨𝐧, 𝐚𝐜𝐜𝐨𝐫𝐝𝐢𝐧𝐠 𝐭𝐨 𝐃𝐞𝐮𝐭𝐞𝐫𝐨𝐧𝐨𝐦𝐲, 𝐆𝐨𝐝'𝐬 𝐬𝐚𝐧𝐜𝐭𝐢𝐨𝐧 𝐨𝐟 𝐚𝐛𝐝𝐮𝐜𝐭𝐢𝐨𝐧 𝐨𝐫 𝐫𝐚𝐩𝐞-𝐦𝐚𝐫𝐫𝐢𝐚𝐠𝐞 𝐝𝐮𝐫𝐢𝐧𝐠 𝐚𝐫𝐦𝐞𝐝 𝐜𝐨𝐧𝐟𝐥𝐢𝐜𝐭𝐬).
𝐖𝐡𝐞𝐧 𝐢𝐧𝐯𝐢𝐭𝐢𝐧𝐠 𝐢𝐧𝐝𝐢𝐯𝐢𝐝𝐮𝐚𝐥𝐬 𝐚𝐧𝐝 𝐭𝐡𝐞𝐢𝐫 𝐝𝐞𝐬𝐜𝐞𝐧𝐝𝐚𝐧𝐭𝐬 𝐢𝐧𝐭𝐨 𝐞𝐭𝐞𝐫𝐧𝐚𝐥 𝐜𝐨𝐯𝐞𝐧𝐚𝐧𝐭 𝐫𝐞𝐥𝐚𝐭𝐢𝐨𝐧𝐬𝐡𝐢𝐩𝐬 𝐰𝐢𝐭𝐡 𝐆𝐨𝐝, 𝐆𝐨𝐝 𝐧𝐞𝐯𝐞𝐫 𝐫𝐞𝐪𝐮𝐢𝐫𝐞𝐝 𝐭𝐡𝐚𝐭 𝐭𝐡𝐞 𝐦𝐚𝐭𝐫𝐢𝐚𝐫𝐜𝐡𝐬 𝐚𝐧𝐝 𝐩𝐚𝐭𝐫𝐢𝐚𝐫𝐜𝐡𝐬 𝐫𝐞𝐯𝐞𝐫𝐭 𝐭𝐨 𝐚𝐧 𝐄𝐯𝐞-𝐀𝐝𝐚𝐦, 𝐦𝐨𝐧𝐨𝐠𝐚𝐦𝐨𝐮𝐬 𝐩𝐚𝐢𝐫𝐢𝐧𝐠." [𝟓]
𝐍𝐨𝐭𝐢𝐜𝐞, 𝐭𝐡𝐚𝐭 𝐏𝐫𝐨𝐟𝐞𝐬𝐬𝐨𝐫 𝐖𝐢𝐥 𝐛𝐫𝐢𝐧𝐠𝐬 𝐮𝐩 𝐍𝐮𝐦𝐛𝐞𝐫𝐬 𝟑𝟏:𝟏𝟖 𝐚𝐧𝐝 𝐚𝐭 𝐭𝐡𝐞 𝐬𝐚𝐦𝐞 𝐭𝐢𝐦𝐞 𝐬𝐡𝐞 𝐰𝐫𝐢𝐭𝐞𝐬, "𝐆𝐨𝐝 𝐡𝐚𝐬 𝐥𝐞𝐟𝐭 𝐢𝐭 𝐭𝐨 𝐡𝐮𝐦𝐚𝐧𝐢𝐭𝐲 𝐭𝐨 𝐝𝐞𝐜𝐢𝐝𝐞 𝐰𝐡𝐨 𝐚𝐫𝐞 𝐚𝐩𝐩𝐫𝐨𝐩𝐫𝐢𝐚𝐭𝐞 𝐢𝐧𝐭𝐢𝐦𝐚𝐭𝐞 𝐩𝐚𝐫𝐭𝐧𝐞𝐫𝐬 𝐚𝐧𝐝 𝐮𝐧𝐝𝐞𝐫 𝐰𝐡𝐚𝐭 𝐜𝐢𝐫𝐜𝐮𝐦𝐬𝐭𝐚𝐧𝐜𝐞𝐬." 𝐒𝐡𝐞 𝐢𝐬 𝐫𝐞𝐟𝐞𝐫𝐫𝐢𝐧𝐠 𝐭𝐨 𝐭𝐡𝐞 𝐩𝐫𝐞𝐩𝐮𝐛𝐞𝐬𝐜𝐞𝐧𝐭 𝐠𝐢𝐫𝐥𝐬. 𝐈𝐧 𝐨𝐭𝐡𝐞𝐫 𝐰𝐨𝐫𝐝𝐬, 𝐬𝐡𝐞 𝐢𝐬 𝐬𝐚𝐲𝐢𝐧𝐠 𝐆𝐨𝐝 𝐥𝐞𝐟𝐭 𝐢𝐭 𝐭𝐨 𝐡𝐮𝐦𝐚𝐧𝐢𝐭𝐲 𝐭𝐨 𝐝𝐞𝐜𝐢𝐝𝐞 𝐰𝐡𝐞𝐭𝐡𝐞𝐫 𝐢𝐭 𝐢𝐬 '𝐨𝐤' 𝐭𝐨 𝐜𝐨𝐡𝐚𝐛𝐢𝐭 𝐰𝐢𝐭𝐡 𝐩𝐫𝐞-𝐩𝐮𝐛𝐞𝐬𝐜𝐞𝐧𝐭 𝐠𝐢𝐫𝐥𝐬 𝐨𝐫 𝐧𝐨𝐭.
𝐀𝐧𝐨𝐭𝐡𝐞𝐫 𝐏𝐫𝐨𝐟𝐞𝐬𝐬𝐨𝐫 𝐛𝐲 𝐭𝐡𝐞 𝐧𝐚𝐦𝐞 𝐌𝐢𝐠𝐮𝐞𝐥 𝐀. 𝐃𝐞 𝐋𝐚 𝐓𝐨𝐫𝐫𝐞 𝐦𝐞𝐧𝐭𝐢𝐨𝐧𝐬 𝐭𝐡𝐚𝐭 𝐍𝐮𝐦𝐛𝐞𝐫𝐬 𝟑𝟏:𝟏𝟖 𝐟𝐨𝐮𝐧𝐝 𝐁𝐢𝐛𝐥𝐢𝐜𝐚𝐥 𝐣𝐮𝐬𝐭𝐢𝐟𝐢𝐜𝐚𝐭𝐢𝐨𝐧 𝐨𝐟 𝐫𝐚𝐩𝐢𝐧𝐠 𝐟𝐞𝐦𝐚𝐥𝐞 𝐬𝐥𝐚𝐯𝐞𝐬 𝐚𝐧𝐝 𝐭𝐡𝐚𝐭 𝐢𝐭 𝐰𝐚𝐬 𝐜𝐨𝐧𝐬𝐢𝐝𝐞𝐫𝐞𝐝 𝐨𝐫𝐝𝐚𝐢𝐧𝐞𝐝 𝐛𝐲 𝐆𝐨𝐝, 𝐛𝐲 𝐂𝐡𝐫𝐢𝐬𝐭𝐢𝐚𝐧 𝐬𝐥𝐚𝐯𝐞 𝐨𝐰𝐧𝐞𝐫𝐬 𝐨𝐟 𝐭𝐡𝐞 𝐩𝐚𝐬𝐭. 𝐇𝐞 𝐰𝐫𝐢𝐭𝐞𝐬,
"𝐓𝐡𝐞 𝐁𝐢𝐛𝐥𝐞 𝐰𝐚𝐬 𝐦𝐚𝐬𝐭𝐞𝐫𝐟𝐮𝐥𝐥𝐲 𝐮𝐬𝐞𝐝 𝐛𝐲 𝐭𝐡𝐨𝐬𝐞 𝐢𝐧 𝐩𝐨𝐰𝐞𝐫 𝐭𝐨 𝐣𝐮𝐬𝐭𝐢𝐟𝐲 𝐭𝐡𝐞 𝐨𝐰𝐧𝐢𝐧𝐠 𝐨𝐟 𝐛𝐥𝐚𝐜𝐤 𝐛𝐨𝐝𝐢𝐞𝐬. 𝐓𝐡𝐢𝐬 𝐰𝐚𝐬 𝐚𝐧 𝐞𝐚𝐬𝐲 𝐟𝐞𝐚𝐭; 𝐧𝐨𝐰𝐡𝐞𝐫𝐞 𝐢𝐧 𝐞𝐢𝐭𝐡𝐞𝐫 𝐭𝐡𝐞 𝐇𝐞𝐛𝐫𝐞𝐰 𝐁𝐢𝐛𝐥𝐞 𝐨𝐫 𝐭𝐡𝐞 𝐍𝐞𝐰 𝐓𝐞𝐬𝐭𝐚𝐦𝐞𝐧𝐭 𝐢𝐬 𝐬𝐥𝐚𝐯𝐞𝐫𝐲 𝐜𝐚𝐭𝐞𝐠𝐨𝐫𝐢𝐜𝐚𝐥𝐥𝐲 𝐜𝐨𝐧𝐝𝐞𝐦𝐧𝐞𝐝. 𝐓𝐡𝐞 𝐬𝐮𝐩𝐩𝐨𝐫𝐭𝐞𝐫𝐬 𝐨𝐟 𝐬𝐥𝐚𝐯𝐞𝐫𝐲 𝐢𝐧 𝐭𝐡𝐞 𝐚𝐧𝐭𝐞𝐛𝐞𝐥𝐥𝐮𝐦 𝐬𝐨𝐮𝐭𝐡 𝐰𝐞𝐫𝐞 𝐭𝐡𝐞 𝐨𝐧𝐞𝐬 𝐰𝐡𝐨 𝐡𝐚𝐝 𝐭𝐡𝐞 𝐛𝐢𝐛𝐥𝐢𝐜𝐚𝐥 𝐜𝐡𝐚𝐩𝐭𝐞𝐫𝐬 𝐚𝐧𝐝 𝐯𝐞𝐫𝐬𝐞𝐬 𝐭𝐨 𝐪𝐮𝐨𝐭𝐞 𝐭𝐨 𝐣𝐮𝐬𝐭𝐢𝐟𝐲 𝐭𝐡𝐞𝐢𝐫 𝐰𝐚𝐲 𝐨𝐟 𝐥𝐢𝐟𝐞.
𝐓𝐡𝐞 𝐚𝐛𝐨𝐥𝐢𝐭𝐢𝐨𝐧𝐢𝐬𝐭𝐬 𝐰𝐞𝐫𝐞 𝐡𝐚𝐫𝐝-𝐩𝐫𝐞𝐬𝐬𝐞𝐝 𝐭𝐨 𝐟𝐢𝐧𝐝 𝐚𝐧𝐲 𝐛𝐢𝐛𝐥𝐢𝐜𝐚𝐥 𝐩𝐚𝐬𝐬𝐚𝐠𝐞 𝐭𝐡𝐚𝐭 𝐨𝐮𝐭𝐫𝐢𝐠𝐡𝐭 𝐜𝐨𝐧𝐝𝐞𝐦𝐧𝐞𝐝 𝐭𝐡𝐞 𝐢𝐧𝐬𝐭𝐢𝐭𝐮𝐭𝐢𝐨𝐧 𝐨𝐟 𝐬𝐥𝐚𝐯𝐞𝐫𝐲. 𝐄𝐕𝐄𝐍 𝐓𝐇𝐄 𝐑𝐀𝐏𝐄 𝐎𝐅 𝐅𝐄𝐌𝐀𝐋𝐄 𝐒𝐋𝐀𝐕𝐄𝐒 𝐅𝐎𝐔𝐍𝐃 𝐁𝐈𝐁𝐋𝐈𝐂𝐀𝐋 𝐉𝐔𝐒𝐓𝐈𝐅𝐈𝐂𝐀𝐓𝐈𝐎𝐍 𝐀𝐍𝐃 𝐖𝐀𝐒 𝐂𝐎𝐍𝐒𝐈𝐃𝐄𝐑𝐄𝐃 𝐓𝐎 𝐁𝐄 𝐎𝐑𝐃𝐀𝐈𝐍𝐄𝐃 𝐁𝐘 𝐆𝐎𝐃.
𝐒𝐏𝐄𝐂𝐈𝐅𝐈𝐂𝐀𝐋𝐋𝐘, 𝐍𝐔𝐌𝐁𝐄𝐑 𝟑𝟏:𝟏𝟖 𝐈𝐍𝐒𝐓𝐑𝐔𝐂𝐓𝐒 𝐂𝐎𝐍𝐐𝐔𝐄𝐑𝐎𝐑𝐒 𝐀𝐒 𝐅𝐎𝐋𝐋𝐎𝐖𝐒: '𝐘𝐎𝐔 𝐒𝐇𝐀𝐋𝐋 𝐊𝐄𝐄𝐏 𝐀𝐋𝐈𝐕𝐄 𝐀𝐋𝐋 𝐘𝐎𝐔𝐍𝐆 𝐅𝐄𝐌𝐀𝐋𝐄𝐒 𝐖𝐇𝐎 𝐇𝐀𝐕𝐄 𝐍𝐎𝐓 𝐇𝐀𝐃 𝐒𝐄𝐗 𝐖𝐈𝐓𝐇 𝐀 𝐌𝐀𝐋𝐄 𝐅𝐎𝐑 𝐘𝐎𝐔𝐑𝐒𝐄𝐋𝐕𝐄𝐒. …" [𝟔]
𝐓𝐡𝐞 𝐏𝐨𝐩𝐮𝐥𝐚𝐫 𝐂𝐨𝐦𝐦𝐞𝐧𝐭𝐚𝐫𝐲 𝐛𝐲 𝐏𝐚𝐮𝐥 𝐄. 𝐊𝐫𝐞𝐭𝐳𝐦𝐚𝐧𝐧
"𝐯. 𝟏𝟖. 𝐁𝐮𝐭 𝐚𝐥𝐥 𝐭𝐡𝐞 𝐰𝐨𝐦𝐞𝐧 𝐜𝐡𝐢𝐥𝐝𝐫𝐞𝐧 𝐭𝐡𝐚𝐭 𝐡𝐚𝐯𝐞 𝐧𝐨𝐭 𝐤𝐧𝐨𝐰𝐧 𝐚 𝐦𝐚𝐧 𝐛𝐲 𝐥𝐲𝐢𝐧𝐠 𝐰𝐢𝐭𝐡 𝐡𝐢𝐦 𝐤𝐞𝐞𝐩 𝐚𝐥𝐢𝐯𝐞 𝐟𝐨𝐫 𝐲𝐨𝐮𝐫𝐬𝐞𝐥𝐯𝐞𝐬, 𝐚𝐬 𝐬𝐥𝐚𝐯𝐞𝐬 𝐨𝐫 𝐡𝐚𝐧𝐝𝐦𝐚𝐢𝐝𝐬, 𝐅𝐎𝐑 𝐌𝐀𝐑𝐑𝐈𝐀𝐆𝐄 𝐖𝐈𝐓𝐇 𝐒𝐔𝐂𝐇 𝐖𝐀𝐒 𝐍𝐎𝐓 𝐅𝐎𝐑𝐁𝐈𝐃𝐃𝐄𝐍. 𝐓𝐡𝐞 𝐠𝐫𝐞𝐚𝐭 𝐆𝐨𝐝 𝐢𝐬 𝐭𝐞𝐫𝐫𝐢𝐛𝐥𝐞 𝐢𝐧 𝐇𝐢𝐬 𝐣𝐮𝐝𝐠𝐦𝐞𝐧𝐭𝐬, 𝐚 𝐟𝐚𝐜𝐭 𝐰𝐡𝐢𝐜𝐡 𝐬𝐡𝐨𝐮𝐥𝐝 𝐭𝐞𝐚𝐜𝐡 𝐮𝐬 𝐭𝐨 𝐟𝐞𝐚𝐫 𝐇𝐢𝐬 𝐰𝐫𝐚𝐭𝐡 𝐚𝐧𝐝 𝐧𝐨𝐭 𝐚𝐜𝐭 𝐜𝐨𝐧𝐭𝐫𝐚𝐫𝐲 𝐭𝐨 𝐇𝐢𝐬 𝐜𝐨𝐦𝐦𝐚𝐧𝐝𝐦𝐞𝐧𝐭𝐬." [𝟕]
𝐇𝐞𝐫𝐞, 𝐞𝐯𝐞𝐧 𝐭𝐡𝐞 𝐁𝐢𝐛𝐥𝐞 𝐜𝐨𝐦𝐦𝐞𝐧𝐭𝐚𝐭𝐨𝐫 𝐏𝐚𝐮𝐥 𝐄. 𝐊𝐫𝐞𝐭𝐳𝐦𝐚𝐧𝐧, 𝐦𝐚𝐤𝐞𝐬 𝐢𝐭 𝐜𝐥𝐞𝐚𝐫, 𝐜𝐨𝐦𝐦𝐞𝐧𝐭𝐢𝐧𝐠 𝐨𝐧 𝐭𝐡𝐞 𝐯𝐞𝐫𝐬𝐞 𝐭𝐡𝐚𝐭 𝐦𝐚𝐫𝐫𝐢𝐚𝐠𝐞 𝐰𝐢𝐭𝐡 𝐭𝐡𝐞 𝐩𝐫𝐞𝐩𝐮𝐛𝐞𝐬𝐜𝐞𝐧𝐭 𝐟𝐞𝐦𝐚𝐥𝐞𝐬 '𝐰𝐚𝐬 𝐧𝐨𝐭 𝐟𝐨𝐫𝐛𝐢𝐝𝐝𝐞𝐧'.
𝐃𝐫 𝐉𝐮𝐝𝐢𝐭𝐡 𝐄. 𝐌𝐜𝐊𝐢𝐧𝐥𝐚𝐲 𝐚𝐥𝐬𝐨 𝐦𝐞𝐧𝐭𝐢𝐨𝐧𝐬 𝐭𝐡𝐚𝐭 𝐭𝐡𝐞 𝐁𝐢𝐛𝐥𝐞 '𝐬𝐞𝐞𝐦𝐬' 𝐚𝐭 𝐭𝐢𝐦𝐞𝐬 𝐭𝐨 𝐭𝐮𝐫𝐧 𝐚 𝐛𝐥𝐢𝐧𝐝 𝐞𝐲𝐞 𝐚𝐧𝐝 𝐚𝐥𝐥𝐨𝐰 '𝐟𝐫𝐞𝐞 𝐫𝐨𝐦𝐚𝐧𝐜𝐞' 𝐜𝐨𝐦𝐦𝐞𝐧𝐭𝐢𝐧𝐠 𝐨𝐧 𝐍𝐮𝐦𝐛𝐞𝐫𝐬 𝟑𝟏:𝟏𝟖,
"𝐖𝐡𝐞𝐫𝐞 𝐭𝐡𝐞 𝐭𝐞𝐱𝐭𝐬 𝐡𝐚𝐯𝐞 𝐚 𝐜𝐨𝐧𝐜𝐞𝐫𝐧 𝐟𝐨𝐫 𝐭𝐡𝐞 𝐜𝐢𝐫𝐜𝐮𝐦𝐜𝐢𝐬𝐞𝐝 𝐬𝐭𝐚𝐭𝐮𝐬, 𝐭𝐡𝐢𝐬 𝐜𝐥𝐞𝐚𝐫𝐥𝐲 𝐝𝐨𝐞𝐬 𝐧𝐨𝐭 𝐚𝐩𝐩𝐥𝐲 𝐭𝐨 𝐰𝐨𝐦𝐞𝐧! 𝐀𝐧𝐝 𝐰𝐡𝐞𝐫𝐞 𝐭𝐡𝐞𝐫𝐞 𝐢𝐬 𝐚 𝐜𝐨𝐧𝐜𝐞𝐫𝐧 𝐟𝐨𝐫 𝐥𝐢𝐧𝐞𝐚𝐠𝐞 𝐭𝐡𝐞 𝐢𝐦𝐩𝐨𝐫𝐭𝐚𝐧𝐜𝐞 𝐨𝐟 𝐩𝐚𝐭𝐫𝐢𝐥𝐢𝐧𝐞𝐚𝐥 𝐝𝐞𝐬𝐜𝐞𝐧𝐭 𝐦𝐞𝐚𝐧𝐭 𝐚 𝐥𝐞𝐬𝐬𝐞𝐫 𝐜𝐨𝐧𝐜𝐞𝐫𝐧 𝐫𝐞𝐠𝐚𝐫𝐝𝐢𝐧𝐠 𝐭𝐡𝐞 𝐩𝐨𝐭𝐞𝐧𝐭𝐢𝐚𝐥 𝐦𝐨𝐭𝐡𝐞𝐫𝐬. 𝐒𝐨, 𝐢𝐧 𝐭𝐡𝐞 𝐰𝐚𝐫 𝐚𝐠𝐚𝐢𝐧𝐬𝐭 𝐌𝐢𝐝𝐢𝐚𝐧, 𝐌𝐨𝐬𝐞𝐬 𝐬𝐚𝐲𝐬 𝐭𝐨 𝐭𝐡𝐞 𝐩𝐞𝐨𝐩𝐥𝐞 𝐢𝐧 𝐍𝐮𝐦 𝟑𝟏.𝟏𝟖 𝐭𝐡𝐚𝐭 𝐨𝐟 𝐭𝐡𝐞 𝐜𝐚𝐩𝐭𝐮𝐫𝐞𝐝 𝐌𝐢𝐝𝐢𝐚𝐧 𝐰𝐨𝐦𝐞𝐧, '𝐚𝐥𝐥 𝐭𝐡𝐞 𝐲𝐨𝐮𝐧𝐠 𝐰𝐨𝐦𝐞𝐧 𝐰𝐡𝐨 𝐡𝐚𝐯𝐞 𝐧𝐨𝐭 𝐤𝐧𝐨𝐰𝐧 𝐚 𝐦𝐚𝐧 𝐛𝐲 𝐬𝐥𝐞𝐞𝐩𝐢𝐧𝐠 𝐰𝐢𝐭𝐡 𝐡𝐢𝐦, 𝐤𝐞𝐞𝐩 𝐚𝐥𝐢𝐯𝐞 𝐟𝐨𝐫 𝐲𝐨𝐮𝐫𝐬𝐞𝐥𝐯𝐞𝐬'.
𝐀𝐓 𝐓𝐈𝐌𝐄𝐒 𝐈𝐓 𝐒𝐄𝐄𝐌𝐒 𝐀𝐒 𝐈𝐅 𝐓𝐇𝐄 𝐁𝐈𝐁𝐋𝐄 𝐖𝐀𝐍𝐓𝐒 𝐓𝐎 𝐓𝐔𝐑𝐍 𝐀 𝐁𝐋𝐈𝐍𝐃 𝐄𝐘𝐄 𝐓𝐎 𝐓𝐇𝐄 𝐌𝐀𝐓𝐓𝐄𝐑 𝐀𝐋𝐓𝐎𝐆𝐄𝐓𝐇𝐄𝐑 𝐀𝐍𝐃 𝐀𝐋𝐋𝐎𝐖 𝐅𝐑𝐄𝐄 𝐑𝐎𝐌𝐀𝐍𝐂𝐄 𝐀 𝐅𝐑𝐄𝐄 𝐇𝐀𝐍𝐃." [𝟖]
𝐓𝐡𝐞 𝐞𝐯𝐢𝐝𝐞𝐧𝐜𝐞 𝐩𝐫𝐞𝐬𝐞𝐧𝐭𝐞𝐝 𝐟𝐨𝐫 𝐍𝐮𝐦𝐛𝐞𝐫𝐬 𝟑𝟏:𝟏𝟖 𝐢𝐬 𝐜𝐥𝐞𝐚𝐫 𝐭𝐡𝐚𝐭 𝐩𝐫𝐞-𝐩𝐮𝐛𝐞𝐬𝐜𝐞𝐧𝐭 𝐦𝐚𝐫𝐫𝐢𝐚𝐠𝐞𝐬 𝐚𝐫𝐞 𝐞𝐧𝐜𝐨𝐮𝐫𝐚𝐠𝐞𝐝 𝐢𝐧 𝐭𝐡𝐞 𝐁𝐢𝐛𝐥𝐞 (𝐎𝐥𝐝 𝐓𝐞𝐬𝐭𝐚𝐦𝐞𝐧𝐭).
𝐓𝐡𝐞𝐫𝐞 𝐢𝐬 𝐧𝐨 𝐦𝐞𝐧𝐭𝐢𝐨𝐧 𝐢𝐧 𝐭𝐡𝐞 𝐁𝐢𝐛𝐥𝐞 𝐭𝐡𝐚𝐭, "𝐭𝐡𝐞𝐫𝐞 𝐡𝐚𝐬 𝐭𝐨 𝐛𝐞 𝐚 𝐰𝐚𝐢𝐭𝐢𝐧𝐠 𝐩𝐞𝐫𝐢𝐨𝐝 𝐟𝐨𝐫 𝐭𝐡𝐞 𝐠𝐢𝐫𝐥𝐬 𝐰𝐡𝐨 𝐚𝐫𝐞 𝐩𝐫𝐞-𝐩𝐮𝐛𝐞𝐬𝐜𝐞𝐧𝐭." 𝐓𝐡𝐞 𝐜𝐨𝐦𝐦𝐚𝐧𝐝 𝐝𝐨𝐞𝐬 𝐧𝐨𝐭 𝐞𝐱𝐢𝐬𝐭. 𝐓𝐡𝐞𝐫𝐞 𝐢𝐬 𝐧𝐨 𝐜𝐨𝐦𝐦𝐚𝐧𝐝 𝐢𝐧 𝐭𝐡𝐞 𝐯𝐞𝐫𝐬𝐞 𝐰𝐡𝐞𝐫𝐞 𝐭𝐡𝐞𝐫𝐞 𝐡𝐚𝐬 𝐭𝐨 𝐛𝐞 𝐚 𝐰𝐚𝐢𝐭𝐢𝐧𝐠 𝐩𝐞𝐫𝐢𝐨𝐝 𝐟𝐨𝐫 𝐚 𝐟𝐞𝐦𝐚𝐥𝐞 𝐭𝐨 𝐠𝐫𝐨𝐰 𝐮𝐩, 𝐛𝐞𝐟𝐨𝐫𝐞 𝐚 𝐬𝐨𝐥𝐝𝐢𝐞𝐫 𝐜𝐚𝐧 𝐜𝐨𝐡𝐚𝐛𝐢𝐭 𝐰𝐢𝐭𝐡 𝐡𝐞𝐫.
𝐓𝐡𝐞 𝐰𝐨𝐫𝐝𝐬 𝐢𝐧 𝐍𝐮𝐦𝐛𝐞𝐫𝐬 𝟑𝟏:𝟏𝟖 𝐚𝐫𝐞 𝐯𝐞𝐫𝐲 𝐜𝐥𝐞𝐚𝐫: "𝐤𝐞𝐞𝐩 𝐚𝐥𝐢𝐯𝐞 𝐟𝐨𝐫 𝐘𝐎𝐔𝐑𝐒𝐄𝐋𝐕𝐄𝐒", 𝐦𝐞𝐚𝐧𝐬 𝐭𝐡𝐚𝐭 𝐭𝐡𝐞 𝐬𝐨𝐥𝐝𝐢𝐞𝐫 𝐜𝐚𝐧 𝐜𝐨𝐡𝐚𝐛𝐢𝐭 𝐰𝐢𝐭𝐡 𝐭𝐡𝐞 𝐟𝐞𝐦𝐚𝐥𝐞 𝐩𝐫𝐞-𝐩𝐮𝐛𝐞𝐬𝐜𝐞𝐧𝐭 𝐜𝐚𝐩𝐭𝐢𝐯𝐞 𝐬𝐭𝐫𝐚𝐢𝐠𝐡𝐭 𝐚𝐰𝐚𝐲.
𝐓𝐡𝐞 𝐜𝐨𝐦𝐦𝐚𝐧𝐝 𝐢𝐧 𝐍𝐮𝐦𝐛𝐞𝐫𝐬 𝟑𝟏:𝟏𝟖 𝐢𝐬 𝐬𝐭𝐫𝐚𝐢𝐠𝐡𝐭𝐟𝐨𝐫𝐰𝐚𝐫𝐝, 𝐭𝐡𝐞 𝐬𝐨𝐥𝐝𝐢𝐞𝐫𝐬 𝐜𝐚𝐧 𝐛𝐞 𝐰𝐢𝐭𝐡 𝐭𝐡𝐞 𝐟𝐞𝐦𝐚𝐥𝐞 𝐩𝐫𝐞𝐩𝐮𝐛𝐞𝐬𝐜𝐞𝐧𝐭 𝐢𝐦𝐦𝐞𝐝𝐢𝐚𝐭𝐞𝐥𝐲, 𝐬𝐞𝐱𝐮𝐚𝐥𝐥𝐲.
𝐌𝐢𝐬𝐬𝐢𝐨𝐧𝐚𝐫𝐲 𝐨𝐛𝐣𝐞𝐜𝐭𝐢𝐨𝐧 𝐚𝐠𝐚𝐢𝐧𝐬𝐭 𝐍𝐮𝐦𝐛𝐞𝐫𝐬 𝟑𝟏:𝟏𝟖
𝐎𝐧𝐞 𝐨𝐟 𝐭𝐡𝐞 𝐛𝐚𝐬𝐞𝐥𝐞𝐬𝐬 𝐚𝐫𝐠𝐮𝐦𝐞𝐧𝐭𝐬 𝐫𝐚𝐢𝐬𝐞𝐝 𝐚𝐠𝐚𝐢𝐧𝐬𝐭 𝐍𝐮𝐦𝐛𝐞𝐫𝐬 𝟑𝟏:𝟏𝟖 𝐛𝐲 𝐄𝐯𝐚𝐧𝐠𝐞𝐥𝐢𝐬𝐭𝐬 𝐢𝐬 𝐭𝐡𝐚𝐭 𝐭𝐡𝐞𝐲 𝐬𝐚𝐲 '𝐢𝐭 𝐝𝐨𝐞𝐬 𝐧𝐨𝐭 𝐬𝐚𝐧𝐜𝐭𝐢𝐨𝐧 𝐂𝐡𝐢𝐥𝐝 𝐦𝐚𝐫𝐫𝐢𝐚𝐠𝐞' 𝐭𝐡𝐞𝐲 𝐜𝐢𝐭𝐞 𝐭𝐡𝐢𝐬 𝐩𝐚𝐬𝐬𝐚𝐠𝐞:
𝐄𝐳𝐞𝐤𝐢𝐞𝐥 𝟏𝟔 𝐍𝐞𝐰 𝐈𝐧𝐭𝐞𝐫𝐧𝐚𝐭𝐢𝐨𝐧𝐚𝐥 𝐕𝐞𝐫𝐬𝐢𝐨𝐧 (𝐍𝐈𝐕)
𝐉𝐞𝐫𝐮𝐬𝐚𝐥𝐞𝐦 𝐚𝐬 𝐚𝐧 𝐀𝐝𝐮𝐥𝐭𝐞𝐫𝐨𝐮𝐬 𝐖𝐢𝐟𝐞
𝟏 𝐓𝐡𝐞 𝐰𝐨𝐫𝐝 𝐨𝐟 𝐭𝐡𝐞 𝐋𝐎𝐑𝐃 𝐜𝐚𝐦𝐞 𝐭𝐨 𝐦𝐞:
𝟐 "𝐒𝐨𝐧 𝐨𝐟 𝐦𝐚𝐧, 𝐜𝐨𝐧𝐟𝐫𝐨𝐧𝐭 𝐉𝐞𝐫𝐮𝐬𝐚𝐥𝐞𝐦 𝐰𝐢𝐭𝐡 𝐡𝐞𝐫 𝐝𝐞𝐭𝐞𝐬𝐭𝐚𝐛𝐥𝐞 𝐩𝐫𝐚𝐜𝐭𝐢𝐜𝐞𝐬
𝟑 𝐚𝐧𝐝 𝐬𝐚𝐲, '𝐓𝐡𝐢𝐬 𝐢𝐬 𝐰𝐡𝐚𝐭 𝐭𝐡𝐞 𝐒𝐨𝐯𝐞𝐫𝐞𝐢𝐠𝐧 𝐋𝐎𝐑𝐃 𝐬𝐚𝐲𝐬 𝐭𝐨 𝐉𝐞𝐫𝐮𝐬𝐚𝐥𝐞𝐦: 𝐘𝐨𝐮𝐫 𝐚𝐧𝐜𝐞𝐬𝐭𝐫𝐲 𝐚𝐧𝐝 𝐛𝐢𝐫𝐭𝐡 𝐰𝐞𝐫𝐞 𝐢𝐧 𝐭𝐡𝐞 𝐥𝐚𝐧𝐝 𝐨𝐟 𝐭𝐡𝐞 𝐂𝐚𝐧𝐚𝐚𝐧𝐢𝐭𝐞𝐬; 𝐲𝐨𝐮𝐫 𝐟𝐚𝐭𝐡𝐞𝐫 𝐰𝐚𝐬 𝐚𝐧 𝐀𝐦𝐨𝐫𝐢𝐭𝐞 𝐚𝐧𝐝 𝐲𝐨𝐮𝐫 𝐦𝐨𝐭𝐡𝐞𝐫 𝐚 𝐇𝐢𝐭𝐭𝐢𝐭𝐞.
𝟒 𝐎𝐧 𝐭𝐡𝐞 𝐝𝐚𝐲 𝐲𝐨𝐮 𝐰𝐞𝐫𝐞 𝐛𝐨𝐫𝐧 𝐲𝐨𝐮𝐫 𝐜𝐨𝐫𝐝 𝐰𝐚𝐬 𝐧𝐨𝐭 𝐜𝐮𝐭, 𝐧𝐨𝐫 𝐰𝐞𝐫𝐞 𝐲𝐨𝐮 𝐰𝐚𝐬𝐡𝐞𝐝 𝐰𝐢𝐭𝐡 𝐰𝐚𝐭𝐞𝐫 𝐭𝐨 𝐦𝐚𝐤𝐞 𝐲𝐨𝐮 𝐜𝐥𝐞𝐚𝐧, 𝐧𝐨𝐫 𝐰𝐞𝐫𝐞 𝐲𝐨𝐮 𝐫𝐮𝐛𝐛𝐞𝐝 𝐰𝐢𝐭𝐡 𝐬𝐚𝐥𝐭 𝐨𝐫 𝐰𝐫𝐚𝐩𝐩𝐞𝐝 𝐢𝐧 𝐜𝐥𝐨𝐭𝐡𝐬.
𝟓 𝐍𝐨 𝐨𝐧𝐞 𝐥𝐨𝐨𝐤𝐞𝐝 𝐨𝐧 𝐲𝐨𝐮 𝐰𝐢𝐭𝐡 𝐩𝐢𝐭𝐲 𝐨𝐫 𝐡𝐚𝐝 𝐜𝐨𝐦𝐩𝐚𝐬𝐬𝐢𝐨𝐧 𝐞𝐧𝐨𝐮𝐠𝐡 𝐭𝐨 𝐝𝐨 𝐚𝐧𝐲 𝐨𝐟 𝐭𝐡𝐞𝐬𝐞 𝐭𝐡𝐢𝐧𝐠𝐬 𝐟𝐨𝐫 𝐲𝐨𝐮.
𝐑𝐚𝐭𝐡𝐞𝐫, 𝐲𝐨𝐮 𝐰𝐞𝐫𝐞 𝐭𝐡𝐫𝐨𝐰𝐧 𝐨𝐮𝐭 𝐢𝐧𝐭𝐨 𝐭𝐡𝐞 𝐨𝐩𝐞𝐧 𝐟𝐢𝐞𝐥𝐝, 𝐟𝐨𝐫 𝐨𝐧 𝐭𝐡𝐞 𝐝𝐚𝐲 𝐲𝐨𝐮 𝐰𝐞𝐫𝐞 𝐛𝐨𝐫𝐧 𝐲𝐨𝐮 𝐰𝐞𝐫𝐞 𝐝𝐞𝐬𝐩𝐢𝐬𝐞𝐝.
𝟔 "'𝐓𝐡𝐞𝐧 𝐈 𝐩𝐚𝐬𝐬𝐞𝐝 𝐛𝐲 𝐚𝐧𝐝 𝐬𝐚𝐰 𝐲𝐨𝐮 𝐤𝐢𝐜𝐤𝐢𝐧𝐠 𝐚𝐛𝐨𝐮𝐭 𝐢𝐧 𝐲𝐨𝐮𝐫 𝐛𝐥𝐨𝐨𝐝, 𝐚𝐧𝐝 𝐚𝐬 𝐲𝐨𝐮 𝐥𝐚𝐲 𝐭𝐡𝐞𝐫𝐞 𝐢𝐧 𝐲𝐨𝐮𝐫 𝐛𝐥𝐨𝐨𝐝 𝐈 𝐬𝐚𝐢𝐝 𝐭𝐨 𝐲𝐨𝐮, "𝐋𝐢𝐯𝐞!" 𝟕 𝐈 𝐦𝐚𝐝𝐞 𝐲𝐨𝐮 𝐠𝐫𝐨𝐰 𝐥𝐢𝐤𝐞 𝐚 𝐩𝐥𝐚𝐧𝐭 𝐨𝐟 𝐭𝐡𝐞 𝐟𝐢𝐞𝐥𝐝. 𝐘𝐨𝐮 𝐠𝐫𝐞𝐰 𝐚𝐧𝐝 𝐝𝐞𝐯𝐞𝐥𝐨𝐩𝐞𝐝 𝐚𝐧𝐝 𝐞𝐧𝐭𝐞𝐫𝐞𝐝 𝐩𝐮𝐛𝐞𝐫𝐭𝐲. 𝐘𝐨𝐮𝐫 𝐛𝐫𝐞𝐚𝐬𝐭𝐬 𝐡𝐚𝐝 𝐟𝐨𝐫𝐦𝐞𝐝 𝐚𝐧𝐝 𝐲𝐨𝐮𝐫 𝐡𝐚𝐢𝐫 𝐡𝐚𝐝 𝐠𝐫𝐨𝐰𝐧, 𝐲𝐞𝐭 𝐲𝐨𝐮 𝐰𝐞𝐫𝐞 𝐬𝐭𝐚𝐫𝐤 𝐧𝐚𝐤𝐞𝐝.
𝟖 "'𝐋𝐚𝐭𝐞𝐫 𝐈 𝐩𝐚𝐬𝐬𝐞𝐝 𝐛𝐲, 𝐚𝐧𝐝 𝐰𝐡𝐞𝐧 𝐈 𝐥𝐨𝐨𝐤𝐞𝐝 𝐚𝐭 𝐲𝐨𝐮 𝐚𝐧𝐝 𝐬𝐚𝐰 𝐭𝐡𝐚𝐭 𝐲𝐨𝐮 𝐰𝐞𝐫𝐞 𝐨𝐥𝐝 𝐞𝐧𝐨𝐮𝐠𝐡 𝐟𝐨𝐫 𝐥𝐨𝐯𝐞, 𝐈 𝐬𝐩𝐫𝐞𝐚𝐝 𝐭𝐡𝐞 𝐜𝐨𝐫𝐧𝐞𝐫 𝐨𝐟 𝐦𝐲 𝐠𝐚𝐫𝐦𝐞𝐧𝐭 𝐨𝐯𝐞𝐫 𝐲𝐨𝐮 𝐚𝐧𝐝 𝐜𝐨𝐯𝐞𝐫𝐞𝐝 𝐲𝐨𝐮𝐫 𝐧𝐚𝐤𝐞𝐝 𝐛𝐨𝐝𝐲. 𝐈 𝐠𝐚𝐯𝐞 𝐲𝐨𝐮 𝐦𝐲 𝐬𝐨𝐥𝐞𝐦𝐧 𝐨𝐚𝐭𝐡 𝐚𝐧𝐝 𝐞𝐧𝐭𝐞𝐫𝐞𝐝 𝐢𝐧𝐭𝐨 𝐚 𝐜𝐨𝐯𝐞𝐧𝐚𝐧𝐭 𝐰𝐢𝐭𝐡 𝐲𝐨𝐮, 𝐝𝐞𝐜𝐥𝐚𝐫𝐞𝐬 𝐭𝐡𝐞 𝐒𝐨𝐯𝐞𝐫𝐞𝐢𝐠𝐧 𝐋𝐎𝐑𝐃, 𝐚𝐧𝐝 𝐲𝐨𝐮 𝐛𝐞𝐜𝐚𝐦𝐞 𝐦𝐢𝐧𝐞.
𝐀𝐜𝐜𝐨𝐫𝐝𝐢𝐧𝐠 𝐭𝐨 𝐭𝐡𝐞 𝐚𝐛𝐨𝐯𝐞 𝐩𝐚𝐬𝐬𝐚𝐠𝐞 𝐜𝐢𝐭𝐞𝐝 𝐛𝐲 𝐦𝐢𝐬𝐬𝐢𝐨𝐧𝐚𝐫𝐢𝐞𝐬, 𝐭𝐡𝐞𝐲 𝐬𝐚𝐲 𝐭𝐡𝐞 𝐁𝐢𝐛𝐥𝐞 '𝐟𝐨𝐫𝐛𝐢𝐝𝐬 𝐩𝐫𝐞-𝐩𝐮𝐛𝐞𝐬𝐜𝐞𝐧𝐭 𝐦𝐚𝐫𝐫𝐢𝐚𝐠𝐞𝐬'.
𝐐𝐮𝐞𝐬𝐭𝐢𝐨𝐧𝐬 𝐟𝐨𝐫 𝐦𝐢𝐬𝐬𝐢𝐨𝐧𝐚𝐫𝐢𝐞𝐬:
𝟏. 𝐍𝐨𝐰𝐡𝐞𝐫𝐞 𝐢𝐧 𝐭𝐡𝐞 𝐚𝐛𝐨𝐯𝐞 𝐯𝐞𝐫𝐬𝐞 𝐝𝐨𝐞𝐬 𝐢𝐭 𝐬𝐚𝐲 '𝐭𝐡𝐚𝐭 𝐲𝐨𝐮 𝐚𝐫𝐞 𝐟𝐨𝐫𝐛𝐢𝐝𝐝𝐞𝐧 𝐟𝐫𝐨𝐦 𝐦𝐚𝐫𝐫𝐲𝐢𝐧𝐠 𝐩𝐫𝐞-𝐩𝐮𝐛𝐞𝐬𝐜𝐞𝐧𝐭 𝐟𝐞𝐦𝐚𝐥𝐞𝐬', 𝐰𝐡𝐞𝐫𝐞 𝐝𝐨𝐞𝐬 𝐢𝐭 𝐬𝐚𝐲 𝐭𝐡𝐚𝐭 "𝐲𝐨𝐮 𝐚𝐫𝐞 𝐟𝐨𝐫𝐛𝐢𝐝𝐝𝐞𝐧 𝐟𝐫𝐨𝐦 𝐦𝐚𝐫𝐫𝐲𝐢𝐧𝐠 𝐩𝐫𝐞-𝐩𝐮𝐛𝐞𝐬𝐜𝐞𝐧𝐭 𝐠𝐢𝐫𝐥𝐬" 𝐟𝐫𝐨𝐦 𝐭𝐡𝐞 𝐁𝐢𝐛𝐥𝐞? 𝐖𝐡𝐞𝐫𝐞 𝐚𝐫𝐞 𝐭𝐡𝐞 𝐯𝐞𝐫𝐬𝐞𝐬 𝐭𝐡𝐚𝐭 𝐚𝐛𝐫𝐨𝐠𝐚𝐭𝐞 𝐍𝐮𝐦𝐛𝐞𝐫𝐬 𝟑𝟏:𝟏𝟖 𝐞𝐱𝐩𝐥𝐢𝐜𝐢𝐭𝐥𝐲?
𝟐. 𝐇𝐨𝐰 𝐢𝐬 𝐄𝐳𝐞𝐤𝐢𝐞𝐥 𝟏𝟔:𝟏-𝟖, 𝐀 𝐏𝐀𝐑𝐀𝐁𝐋𝐄 (𝐧𝐨𝐭 𝐚 𝐜𝐨𝐦𝐦𝐚𝐧𝐝) 𝐨𝐯𝐞𝐫𝐫𝐢𝐝𝐞 (𝐚𝐛𝐫𝐨𝐠𝐚𝐭𝐞) 𝐍𝐮𝐦𝐛𝐞𝐫𝐬 𝟑𝟏:𝟏𝟖? 𝐖𝐡𝐞𝐧 𝐢𝐧 𝐍𝐮𝐦𝐛𝐞𝐫𝐬 𝟑𝟏: 𝟏𝟖, 𝐢𝐭 𝐞𝐱𝐩𝐥𝐢𝐜𝐢𝐭𝐥𝐲 𝐬𝐭𝐚𝐭𝐞𝐬 𝐭𝐡𝐚𝐭 𝐲𝐨𝐮 𝐜𝐚𝐧 '𝐭𝐚𝐤𝐞 𝐟𝐨𝐫 𝐘𝐎𝐔𝐑𝐒𝐄𝐋𝐕𝐄𝐒', 𝐦𝐚𝐫𝐫𝐲 𝐟𝐞𝐦𝐚𝐥𝐞 𝐜𝐚𝐩𝐭𝐢𝐯𝐞𝐬 𝐛𝐲 𝐟𝐨𝐫𝐜𝐞.
𝟑. 𝐇𝐨𝐰 𝐢𝐬 𝐄𝐳𝐞𝐤𝐢𝐞𝐥 𝐢𝐧 𝐚𝐧𝐲𝐰𝐚𝐲 𝐫𝐞𝐥𝐞𝐯𝐚𝐧𝐭 𝐭𝐨 𝐌𝐨𝐬𝐞𝐬 𝐚𝐧𝐝 𝐡𝐢𝐬 𝐬𝐨𝐥𝐝𝐢𝐞𝐫𝐬, 𝐰𝐡𝐞𝐧 𝐄𝐳𝐞𝐤𝐢𝐞𝐥 𝐰𝐚𝐬 𝐛𝐨𝐫𝐧 𝐧𝐞𝐚𝐫𝐥𝐲 𝟕𝟎𝟎 𝐲𝐞𝐚𝐫𝐬 𝐚𝐟𝐭𝐞𝐫 𝐌𝐨𝐬𝐞𝐬? 𝐄𝐳𝐞𝐤𝐢𝐞𝐥 𝐝𝐢𝐝 𝐧𝐨𝐭 𝐞𝐯𝐞𝐧 𝐞𝐱𝐢𝐬𝐭 𝐰𝐡𝐞𝐧 𝐌𝐨𝐬𝐞𝐬 𝐚𝐧𝐝 𝐡𝐢𝐬 𝐬𝐨𝐥𝐝𝐢𝐞𝐫𝐬 𝐰𝐞𝐫𝐞 𝐫𝐚𝐩𝐢𝐧𝐠, 𝐦𝐚𝐫𝐫𝐲𝐢𝐧𝐠 𝐩𝐫𝐞-𝐩𝐮𝐛𝐞𝐬𝐜𝐞𝐧𝐭 𝐟𝐞𝐦𝐚𝐥𝐞𝐬.
𝐌𝐨𝐫𝐞 𝐒𝐜𝐡𝐨𝐥𝐚𝐫𝐥𝐲 𝐞𝐯𝐢𝐝𝐞𝐧𝐜𝐞 𝐨𝐧 𝐩𝐫𝐞𝐩𝐮𝐛𝐞𝐬𝐜𝐞𝐧𝐭 𝐦𝐚𝐫𝐫𝐢𝐚𝐠𝐞𝐬
. 𝐉𝐚𝐜𝐨𝐛 𝐍𝐞𝐮𝐬𝐧𝐞𝐫 𝐢𝐬 𝐚𝐧 𝐀𝐦𝐞𝐫𝐢𝐜𝐚𝐧 𝐚𝐜𝐚𝐝𝐞𝐦𝐢𝐜 𝐬𝐜𝐡𝐨𝐥𝐚𝐫 𝐨𝐟 𝐉𝐮𝐝𝐚𝐢𝐬𝐦. 𝐈𝐧 𝐭𝐡𝐞 𝐁𝐨𝐨𝐤: '𝐓𝐡𝐞 𝐂𝐨𝐦𝐩𝐚𝐫𝐚𝐭𝐢𝐯𝐞 𝐇𝐞𝐫𝐦𝐞𝐧𝐞𝐮𝐭𝐢𝐜𝐬 𝐨𝐟 𝐑𝐚𝐛𝐛𝐢𝐧𝐢𝐜 𝐉𝐮𝐝𝐚𝐢𝐬𝐦: 𝐒𝐞𝐝𝐞𝐫 𝐓𝐨𝐡𝐨𝐫𝐨𝐭. 𝐓𝐨𝐡𝐨𝐫𝐨𝐭 𝐭𝐡𝐫𝐨𝐮𝐠𝐡 𝐔𝐪𝐬𝐢𝐧.' 𝐓𝐡𝐞 𝐉𝐞𝐰𝐢𝐬𝐡 𝐨𝐫𝐚𝐥 𝐓𝐨𝐫𝐚𝐡"𝐢.𝐞. 𝐌𝐢𝐬𝐡𝐧𝐚𝐡 𝐬𝐚𝐲𝐬:
𝐌. 𝟓:𝟒 𝐀 𝐠𝐢𝐫𝐥 𝐭𝐡𝐫𝐞𝐞 𝐲𝐞𝐚𝐫𝐬 𝐚𝐧𝐝 𝐨𝐧𝐞 𝐝𝐚𝐲 𝐨𝐥𝐝 𝐢𝐬 𝐛𝐞𝐭𝐫𝐨𝐭𝐡𝐞𝐝 𝐛𝐲 𝐢𝐧𝐭𝐞𝐫𝐜𝐨𝐮𝐫𝐬𝐞. 𝐀𝐧𝐝 𝐢𝐟 𝐚 𝐋𝐞𝐯𝐢𝐫 𝐡𝐚𝐬 𝐡𝐚𝐝 𝐢𝐧𝐭𝐞𝐫𝐜𝐨𝐮𝐫𝐬𝐞 𝐰𝐢𝐭𝐡 𝐡𝐞𝐫, 𝐡𝐞 𝐡𝐚𝐬 𝐚𝐜𝐪𝐮𝐢𝐫𝐞𝐝 𝐡𝐞𝐫. 𝐀𝐧𝐝 𝐭𝐡𝐞𝐲 𝐚𝐫𝐞 𝐥𝐢𝐚𝐛𝐥𝐞 𝐨𝐧 𝐡𝐞𝐫 𝐚𝐜𝐜𝐨𝐮𝐧𝐭 𝐛𝐞𝐜𝐚𝐮𝐬𝐞 𝐨𝐟 𝐭𝐡𝐞 𝐥𝐚𝐰 [𝐏𝐫𝐨𝐡𝐢𝐛𝐢𝐭𝐢𝐧𝐠 𝐢𝐧𝐭𝐞𝐫𝐜𝐨𝐮𝐫𝐬𝐞 𝐰𝐢𝐭𝐡] 𝐚 𝐦𝐚𝐫𝐫𝐢𝐞𝐝 𝐰𝐨𝐦𝐚𝐧. 𝐀𝐧𝐝 𝐬𝐡𝐞 𝐢𝐦𝐩𝐚𝐫𝐭𝐬 𝐮𝐧𝐜𝐥𝐞𝐚𝐧𝐧𝐞𝐬𝐬 𝐭𝐨 𝐡𝐢𝐦 𝐰𝐡𝐨 𝐡𝐚𝐬 𝐢𝐧𝐭𝐞𝐫𝐜𝐨𝐮𝐫𝐬𝐞 𝐰𝐢𝐭𝐡 𝐡𝐞𝐫 [𝐰𝐡𝐞𝐧 𝐬𝐡𝐞 𝐢𝐬 𝐦𝐞𝐧𝐬𝐭𝐫𝐮𝐚𝐭𝐢𝐧𝐠] 𝐭𝐨 𝐜𝐨𝐧𝐯𝐞𝐲 𝐮𝐧𝐜𝐥𝐞𝐚𝐧𝐧𝐞𝐬𝐬 𝐭𝐨 𝐭𝐡𝐞 𝐥𝐨𝐰𝐞𝐫 𝐚𝐬 𝐭𝐨 𝐭𝐡𝐞 𝐮𝐩𝐩𝐞𝐫 𝐥𝐚𝐲𝐞𝐫. [𝐈𝐟] 𝐬𝐡𝐞 𝐰𝐚𝐬 𝐦𝐚𝐫𝐫𝐢𝐞𝐝 𝐭𝐨 𝐚 𝐩𝐫𝐢𝐞𝐬𝐭, 𝐬𝐡𝐞 𝐞𝐚𝐭𝐬 𝐡𝐞𝐚𝐯𝐲 𝐨𝐟𝐟𝐞𝐫𝐢𝐧𝐠.
[𝐈𝐟] 𝐨𝐧𝐞 𝐨𝐟 𝐭𝐡𝐨𝐬𝐞 𝐰𝐡𝐨 𝐚𝐫𝐞 𝐮𝐧𝐟𝐢𝐭 [𝐟𝐨𝐫 𝐦𝐚𝐫𝐫𝐢𝐚𝐠𝐞] 𝐡𝐚𝐬 𝐢𝐧𝐭𝐞𝐫𝐜𝐨𝐮𝐫𝐬𝐞 𝐰𝐢𝐭𝐡 𝐡𝐞𝐫, 𝐡𝐞 𝐡𝐚𝐬 𝐫𝐞𝐧𝐝𝐞𝐫𝐞𝐝 𝐡𝐞𝐫 𝐮𝐧𝐟𝐢𝐭 𝐭𝐨 𝐦𝐚𝐫𝐫𝐲 𝐢𝐧𝐭𝐨 𝐭𝐡𝐞 𝐩𝐫𝐢𝐞𝐬𝐭𝐡𝐨𝐨𝐝. [𝐈𝐟] 𝐨𝐧𝐞 𝐨𝐟 𝐚𝐥𝐥 𝐭𝐡𝐨𝐬𝐞 𝐰𝐡𝐨 𝐚𝐫𝐞 𝐟𝐨𝐫𝐛𝐢𝐝𝐝𝐞𝐧 𝐢𝐧 𝐭𝐡𝐞 𝐓𝐨𝐫𝐚𝐡 𝐭𝐨 𝐡𝐚𝐯𝐞 𝐢𝐧𝐭𝐞𝐫𝐜𝐨𝐮𝐫𝐬𝐞 𝐰𝐢𝐭𝐡 𝐡𝐞𝐫, 𝐡𝐞 𝐢𝐬 𝐩𝐮𝐭 𝐭𝐨 𝐝𝐞𝐚𝐭𝐡 𝐨𝐧 𝐡𝐞𝐫 𝐚𝐜𝐜𝐨𝐮𝐧𝐭, 𝐛𝐮𝐭 𝐬𝐡𝐞 𝐢𝐬 𝐟𝐫𝐞𝐞 𝐨𝐟 𝐫𝐞𝐬𝐩𝐨𝐧𝐬𝐢𝐛𝐢𝐥𝐢𝐭𝐲."
𝐀 𝐂𝐨𝐦𝐦𝐞𝐧𝐭𝐚𝐫𝐲 𝐨𝐧 𝐭𝐡𝐞 𝐚𝐛𝐨𝐯𝐞 𝐯𝐞𝐫𝐬𝐞, 𝐢𝐧 𝐭𝐡𝐞 𝐁𝐨𝐨𝐤: '𝐀 𝐇𝐢𝐬𝐭𝐨𝐫𝐲 𝐨𝐟 𝐭𝐡𝐞 𝐌𝐢𝐬𝐡𝐧𝐚𝐢𝐜 𝐋𝐚𝐰 𝐨𝐟 𝐏𝐮𝐫𝐢𝐭𝐢𝐞𝐬. 𝟏𝟓. 𝐍𝐢𝐝𝐝𝐚𝐡, 𝐛𝐲 𝐉𝐚𝐜𝐨𝐛 𝐍𝐞𝐮𝐬𝐧𝐞𝐫, 𝐢𝐭 𝐬𝐚𝐲𝐬:
𝐌. 𝟓:𝟒-𝟓 𝐛𝐫𝐢𝐧𝐠 𝐮𝐬 𝐭𝐨 𝐭𝐡𝐞 𝐧𝐞𝐱𝐭 𝐬𝐭𝐚𝐠𝐞 𝐢𝐧 𝐭𝐡𝐞 𝐦𝐚𝐭𝐭𝐞𝐫 𝐨𝐟 𝐭𝐡𝐞 𝐥𝐞𝐠𝐚𝐥 𝐬𝐭𝐚𝐭𝐮𝐬 𝐨𝐟 𝐜𝐡𝐢𝐥𝐝𝐫𝐞𝐧, 𝐟𝐞𝐦𝐚𝐥𝐞 𝐚𝐧𝐝 𝐦𝐚𝐥𝐞. 𝐓𝐡𝐞 𝐠𝐢𝐫𝐥 𝐭𝐡𝐫𝐞𝐞 𝐲𝐞𝐚𝐫𝐬 𝐚𝐧𝐝 𝐨𝐧𝐞 𝐝𝐚𝐲 𝐨𝐥𝐝 𝐢𝐬 𝐝𝐞𝐞𝐦𝐞𝐝 𝐜𝐚𝐩𝐚𝐛𝐥𝐞 𝐨𝐟 𝐬𝐞𝐱𝐮𝐚𝐥 𝐫𝐞𝐥𝐚𝐭𝐢𝐨𝐧𝐬, 𝐰𝐡𝐢𝐜𝐡 𝐚𝐜𝐜𝐨𝐮𝐧𝐭𝐬 𝐟𝐨𝐫 𝐀, 𝐁, 𝐚𝐧𝐝 𝐂. 𝐃. 𝐏𝐫𝐞𝐬𝐮𝐦𝐚𝐛𝐥𝐲 𝐬𝐡𝐨𝐮𝐥𝐝 𝐧𝐨𝐭 𝐛𝐞 𝐚𝐩𝐩𝐥𝐢𝐞𝐝 𝐭𝐨 𝐌. 𝟓:𝟑-𝐚; 𝐢𝐟 𝐭𝐡𝐞 𝐠𝐢𝐫𝐥 𝐢𝐬 𝐮𝐧𝐜𝐥𝐞𝐚𝐧 𝐚𝐬 𝐚 𝐦𝐞𝐧𝐬𝐭𝐫𝐮𝐚𝐧𝐭 𝐛𝐮𝐭 𝐢𝐬 𝐢𝐧𝐜𝐚𝐩𝐚𝐛𝐥𝐞 𝐨𝐟 𝐬𝐞𝐱𝐮𝐚𝐥 𝐫𝐞𝐥𝐚𝐭𝐢𝐨𝐧𝐬, 𝐨𝐧𝐞 𝐰𝐡𝐨 𝐡𝐚𝐬 (𝐨𝐫 𝐚𝐭𝐭𝐞𝐦𝐩𝐭𝐬) 𝐫𝐞𝐥𝐚𝐭𝐢𝐨𝐧𝐬 𝐰𝐢𝐭𝐡 𝐡𝐞𝐫 𝐢𝐬 𝐧𝐨𝐭 𝐦𝐚𝐝𝐞 𝐮𝐧𝐜𝐥𝐞𝐚𝐧 𝐚𝐬 𝐢𝐬 𝐨𝐧𝐞 𝐰𝐡𝐨 𝐡𝐚𝐬 𝐡𝐚𝐝 𝐬𝐞𝐱𝐮𝐚𝐥 𝐫𝐞𝐥𝐚𝐭𝐢𝐨𝐧𝐬 𝐰𝐢𝐭𝐡 𝐚 𝐦𝐞𝐧𝐬𝐭𝐫𝐮𝐚𝐧𝐭.
𝐄 𝐬𝐢𝐦𝐩𝐥𝐲 𝐠𝐨𝐞𝐬 𝐨𝐯𝐞𝐫 𝐟𝐚𝐦𝐢𝐥𝐢𝐚𝐫 𝐠𝐫𝐨𝐮𝐧𝐝; 𝐬𝐢𝐧𝐜𝐞 𝐭𝐡𝐞 𝐠𝐢𝐫𝐥 𝐜𝐚𝐧 𝐛𝐞 𝐚𝐜𝐪𝐮𝐢𝐫𝐞𝐝 𝐚𝐬 𝐚 𝐰𝐢𝐟𝐞, 𝐬𝐡𝐞 𝐚𝐥𝐬𝐨 𝐦𝐚𝐲 𝐞𝐚𝐭 𝐡𝐞𝐚𝐯𝐞-𝐨𝐟𝐟𝐞𝐫𝐢𝐧𝐠. 𝐅. 𝐅𝐨𝐥𝐥𝐨𝐰𝐬, 𝐚𝐧𝐝 𝐆. 𝐑𝐞𝐩𝐞𝐚𝐭𝐬 𝐰𝐡𝐚𝐭 𝐢𝐬 𝐚𝐥𝐫𝐞𝐚𝐝𝐲 𝐨𝐛𝐯𝐢𝐨𝐮𝐬.
𝐁𝐮𝐭 𝐇 𝐥𝐢𝐦𝐢𝐭𝐬 𝐭𝐡𝐞 𝐦𝐚𝐭𝐭𝐞𝐫. 𝐓𝐡𝐞 𝐠𝐢𝐫𝐥 𝐢𝐬 𝐧𝐨𝐭 𝐡𝐞𝐥𝐝 𝐫𝐞𝐬𝐩𝐨𝐧𝐬𝐢𝐛𝐥𝐞 𝐢𝐧 𝐚 𝐦𝐚𝐭𝐭𝐞𝐫 𝐨𝐟 𝐟𝐨𝐫𝐛𝐢𝐝𝐝𝐞𝐧 𝐬𝐞𝐱𝐮𝐚𝐥 𝐫𝐞𝐥𝐚𝐭𝐢𝐨𝐧𝐬. 𝐈 𝐢𝐬 𝐚 𝐦𝐢𝐧𝐨𝐫 𝐠𝐥𝐨𝐬𝐬. 𝐈𝐟 𝐭𝐡𝐞 𝐠𝐢𝐫𝐥 𝐢𝐬 𝐥𝐞𝐬𝐬 𝐭𝐡𝐚𝐧 𝐭𝐡𝐫𝐞𝐞 𝐲𝐞𝐚𝐫𝐬 𝐚𝐧𝐝 𝐨𝐧𝐞 𝐝𝐚𝐲 𝐨𝐥𝐝, 𝐰𝐞 𝐝𝐨 𝐧𝐨𝐭 𝐫𝐞𝐠𝐚𝐫𝐝 𝐭𝐡𝐞 𝐬𝐞𝐱𝐮𝐚𝐥 𝐫𝐞𝐥𝐚𝐭𝐢𝐨𝐧𝐬𝐡𝐢𝐩 𝐚𝐬 𝐨𝐟 𝐥𝐞𝐠𝐚𝐥 𝐜𝐨𝐧𝐬𝐞𝐪𝐮𝐞𝐧𝐜𝐞. 𝐓𝐡𝐞 𝐭𝐡𝐞𝐨𝐫𝐲 𝐢𝐬 𝐭𝐡𝐚𝐭 𝐭𝐡𝐞 𝐭𝐨𝐤𝐞𝐧𝐬 𝐨𝐟 𝐕𝐢𝐫𝐠𝐢𝐧𝐢𝐭𝐲 𝐚𝐫𝐞 𝐫𝐞𝐬𝐭𝐨𝐫𝐞𝐝 𝐛𝐞𝐟𝐨𝐫𝐞 𝐭𝐡𝐚𝐭 𝐭𝐢𝐦𝐞 𝐛𝐮𝐭 𝐧𝐨𝐭 𝐚𝐟𝐭𝐞𝐫𝐰𝐨𝐫𝐝.
𝐏𝐚𝐲 𝐜𝐥𝐨𝐬𝐞 𝐚𝐭𝐭𝐞𝐧𝐭𝐢𝐨𝐧 𝐭𝐨 𝐭𝐡𝐞 𝐚𝐛𝐨𝐯𝐞 𝐬𝐭𝐚𝐭𝐞𝐦𝐞𝐧𝐭𝐬, 𝐡𝐨𝐰 𝐒𝐜𝐡𝐨𝐥𝐚𝐫 𝐉𝐚𝐜𝐨𝐛 𝐍𝐞𝐮𝐬𝐧𝐞𝐫 𝐬𝐚𝐲𝐬 𝐭𝐡𝐚𝐭 𝐚 𝐟𝐞𝐦𝐚𝐥𝐞 𝐨𝐟 𝐭𝐡𝐫𝐞𝐞 𝐲𝐞𝐚𝐫 𝐨𝐥𝐝 '𝐜𝐨𝐮𝐥𝐝 𝐛𝐞 𝐝𝐞𝐞𝐦𝐞𝐝 𝐜𝐚𝐩𝐚𝐛𝐥𝐞 𝐨𝐟 𝐬𝐞𝐱𝐮𝐚𝐥 𝐫𝐞𝐥𝐚𝐭𝐢𝐨𝐧𝐬.' 𝐀𝐧𝐝 𝐢𝐧 𝐭𝐡𝐞 𝐟𝐢𝐫𝐬𝐭 𝐪𝐮𝐨𝐭𝐚𝐭𝐢𝐨𝐧 𝐡𝐞 𝐬𝐚𝐲𝐬 𝐭𝐡𝐚𝐭 𝐭𝐡𝐞 𝐌𝐢𝐬𝐡𝐧𝐚𝐡 𝐚𝐩𝐩𝐫𝐨𝐯𝐞𝐬 𝐭𝐡𝐚𝐭 𝐚 𝐦𝐚𝐧 𝐜𝐨𝐮𝐥𝐝 𝐡𝐚𝐯𝐞 𝐬𝐞𝐱𝐮𝐚𝐥 𝐫𝐞𝐥𝐚𝐭𝐢𝐨𝐧𝐬 𝐰𝐢𝐭𝐡 𝐚 𝐛𝐞𝐭𝐫𝐨𝐭𝐡𝐞𝐝 𝐠𝐢𝐫𝐥 𝐰𝐡𝐞𝐧 𝐬𝐡𝐞 𝐢𝐬 𝐨𝐧𝐥𝐲 𝐣𝐮𝐬𝐭 𝐭𝐡𝐫𝐞𝐞 𝐲𝐞𝐚𝐫𝐬 𝐨𝐥𝐝.
𝐏𝐫𝐨𝐟𝐞𝐬𝐬𝐨𝐫 𝐨𝐟 𝐒𝐨𝐜𝐢𝐨𝐥𝐨𝐠𝐲 𝐌𝐚𝐫𝐲 𝐃𝐞 𝐘𝐨𝐮𝐧𝐠 𝐰𝐫𝐢𝐭𝐞𝐬:
"𝐓𝐡𝐞 𝐩𝐨𝐬𝐬𝐞𝐬𝐬𝐢𝐨𝐧 𝐨𝐟 𝐂𝐡𝐢𝐥𝐝𝐫𝐞𝐧 𝐛𝐲 𝐭𝐡𝐞𝐢𝐫 𝐩𝐚𝐫𝐞𝐧𝐭𝐬 𝐰𝐚𝐬 𝐚𝐥𝐬𝐨 𝐠𝐢𝐯𝐞𝐧 𝐫𝐞𝐥𝐢𝐠𝐢𝐨𝐮𝐬 𝐬𝐚𝐧𝐜𝐭𝐢𝐨𝐧 𝐢𝐧 𝐭𝐡𝐞 𝐭𝐞𝐚𝐜𝐡𝐢𝐧𝐠𝐬 𝐨𝐟 𝐛𝐨𝐭𝐡 𝐭𝐡𝐞 𝐓𝐚𝐥𝐦𝐮𝐝 𝐚𝐧𝐝 𝐭𝐡𝐞 𝐁𝐢𝐛𝐥𝐞. 𝐑𝐮𝐬𝐡 (𝟏𝟖𝟖𝟎) 𝐬𝐭𝐚𝐭𝐞𝐬 𝐭𝐡𝐚𝐭 𝐭𝐡𝐞 𝐓𝐚𝐥𝐦𝐮𝐝 𝐭𝐞𝐚𝐜𝐡𝐞𝐬 𝐭𝐡𝐚𝐭 𝐚 𝐠𝐢𝐫𝐥 𝐨𝐟 '𝐭𝐡𝐫𝐞𝐞 𝐲𝐞𝐚𝐫𝐬 𝐚𝐧𝐝 𝐨𝐧𝐞 𝐝𝐚𝐲' 𝐜𝐨𝐮𝐥𝐝 𝐛𝐞 𝐛𝐞𝐭𝐫𝐨𝐭𝐡𝐞𝐝 𝐭𝐡𝐫𝐨𝐮𝐠𝐡 𝐚𝐧 𝐚𝐜𝐭 𝐨𝐟 𝐬𝐞𝐱𝐮𝐚𝐥 𝐢𝐧𝐭𝐞𝐫𝐜𝐨𝐮𝐫𝐬𝐞."
𝐄𝐯𝐞𝐧 𝐏𝐫𝐨𝐟𝐞𝐬𝐬𝐨𝐫 𝐆𝐞𝐳𝐚 𝐕𝐞𝐫𝐦𝐞𝐬 𝐰𝐡𝐨 𝐢𝐬 𝐚 𝐰𝐞𝐥𝐥-𝐤𝐧𝐨𝐰𝐧 𝐚𝐧𝐝 𝐡𝐢𝐠𝐡𝐥𝐲 𝐫𝐞𝐬𝐩𝐞𝐜𝐭𝐞𝐝 𝐬𝐜𝐡𝐨𝐥𝐚𝐫 𝐜𝐨𝐦𝐦𝐞𝐧𝐭𝐬 𝐭𝐡𝐚𝐭 𝐏𝐫𝐞-𝐩𝐮𝐛𝐞𝐬𝐜𝐞𝐧𝐭 𝐦𝐚𝐫𝐫𝐢𝐚𝐠𝐞𝐬 𝐰𝐞𝐫𝐞 𝐚𝐥𝐥𝐨𝐰𝐞𝐝:
"…𝐭𝐡𝐞 𝐆𝐫𝐞𝐞𝐤 𝐩𝐚𝐫𝐭𝐡𝐞𝐧𝐨𝐬 𝐜𝐨𝐮𝐥𝐝 𝐚𝐥𝐬𝐨 𝐦𝐞𝐚𝐧 𝐭𝐡𝐚𝐭 𝐭𝐡𝐞 𝐠𝐢𝐫𝐥 𝐰𝐚𝐬 𝐲𝐨𝐮𝐧𝐠 𝐚𝐧𝐝/𝐨𝐫 𝐮𝐧𝐦𝐚𝐫𝐫𝐢𝐞𝐝. 𝐈𝐧 𝐟𝐚𝐜𝐭, 𝐢𝐧 𝐭𝐡𝐞 𝐒𝐞𝐩𝐭𝐮𝐚𝐠𝐢𝐧𝐭 𝐭𝐫𝐚𝐧𝐬𝐥𝐚𝐭𝐢𝐨𝐧 𝐨𝐟 𝐭𝐡𝐞 𝐎𝐥𝐝 𝐓𝐞𝐬𝐭𝐚𝐦𝐞𝐧𝐭 𝐩𝐚𝐫𝐭𝐡𝐞𝐧𝐨𝐬 𝐰𝐚𝐬 𝐮𝐬𝐞𝐝 𝐭𝐨 𝐫𝐞𝐧𝐝𝐞𝐫 𝐭𝐡𝐫𝐞𝐞 𝐝𝐢𝐬𝐭𝐢𝐧𝐜𝐭 𝐇𝐞𝐛𝐫𝐞𝐰 𝐰𝐨𝐫𝐝𝐬, '𝐕𝐢𝐫𝐠𝐢𝐧', '𝐠𝐢𝐫𝐥' 𝐚𝐧𝐝 '𝐲𝐨𝐮𝐧𝐠 𝐰𝐨𝐦𝐚𝐧'. 𝐀𝐥𝐫𝐞𝐚𝐝𝐲 𝐑𝐚𝐛𝐛𝐢𝐬 𝐢𝐧 𝐭𝐡𝐞 𝐓𝐚𝐧𝐧𝐚𝐢𝐭𝐢𝐜 𝐞𝐫𝐚 (𝐟𝐢𝐫𝐬𝐭 𝐭𝐨 𝐬𝐞𝐜𝐨𝐧𝐝 𝐜𝐞𝐧𝐭𝐮𝐫𝐲 𝐚𝐝) 𝐬𝐮𝐛𝐬𝐜𝐫𝐢𝐛𝐞𝐝 𝐭𝐨 𝐟𝐮𝐫𝐭𝐡𝐞𝐫 𝐧𝐮𝐚𝐧𝐜𝐞𝐬, 𝐚𝐧𝐝 𝐭𝐡𝐞𝐫𝐞 𝐢𝐬 𝐧𝐨 𝐫𝐞𝐚𝐬𝐨𝐧 𝐭𝐨 𝐭𝐡𝐢𝐧𝐤 𝐭𝐡𝐚𝐭 𝐚𝐥𝐥 𝐭𝐡𝐞𝐬𝐞 𝐰𝐞𝐫𝐞 𝐢𝐧𝐯𝐞𝐧𝐭𝐞𝐝 𝐛𝐲 𝐭𝐡𝐞𝐦.
𝐄𝐯𝐞𝐧 𝐭𝐡𝐞 𝐰𝐨𝐫𝐝 𝐛𝐞𝐭𝐮𝐥𝐚𝐡, 𝐰𝐡𝐢𝐜𝐡 𝐧𝐨𝐫𝐦𝐚𝐥𝐥𝐲 𝐦𝐞𝐚𝐧𝐬 𝐯𝐢𝐫𝐠𝐨 𝐢𝐧𝐭𝐚𝐜𝐭, 𝐰𝐡𝐞𝐧 𝐮𝐬𝐞𝐝 𝐛𝐲 𝐭𝐡𝐞𝐦 𝐜𝐨𝐮𝐥𝐝 𝐜𝐚𝐫𝐫𝐲 𝐭𝐡𝐞 𝐥𝐚𝐭𝐞𝐫𝐧𝐚𝐥 𝐬𝐞𝐧𝐬𝐞 𝐨𝐟 𝐛𝐨𝐝𝐢𝐥𝐲 𝐢𝐦𝐦𝐚𝐭𝐮𝐫𝐢𝐭𝐲 𝐰𝐢𝐭𝐡 𝐭𝐡𝐞 𝐜𝐨𝐧𝐬𝐞𝐪𝐮𝐞𝐧𝐭𝐢𝐚𝐥 𝐢𝐧𝐚𝐛𝐢𝐥𝐢𝐭𝐲 𝐭𝐨 𝐜𝐨𝐧𝐜𝐞𝐢𝐯𝐞. 𝐈𝐧 𝐑𝐚𝐛𝐛𝐢𝐧𝐢𝐜 𝐭𝐞𝐫𝐦𝐢𝐧𝐨𝐥𝐨𝐠𝐲 𝐭𝐡𝐢𝐬 𝐭𝐲𝐩𝐞 𝐨𝐟 𝐯𝐢𝐫𝐠𝐢𝐧𝐢𝐭𝐲 𝐢𝐧 𝐚 𝐰𝐨𝐦𝐚𝐧 𝐜𝐞𝐚𝐬𝐞𝐝 𝐰𝐢𝐭𝐡 𝐭𝐡𝐞 𝐩𝐡𝐲𝐬𝐢𝐜𝐚𝐥 𝐨𝐧𝐬𝐞𝐭 𝐨𝐟 𝐩𝐮𝐛𝐞𝐫𝐭𝐲.
𝐓𝐡𝐞 𝐌𝐢𝐬𝐡𝐧𝐚𝐡, 𝐭𝐡𝐞 𝐨𝐥𝐝𝐞𝐬𝐭 𝐨𝐟 𝐭𝐡𝐞 𝐫𝐚𝐛𝐛𝐢𝐧𝐢𝐜 𝐜𝐨𝐝𝐞𝐬, 𝐝𝐞𝐟𝐢𝐧𝐞𝐬 𝐚 𝐯𝐢𝐫𝐠𝐢𝐧 𝐚𝐬 𝐚 𝐟𝐞𝐦𝐚𝐥𝐞 𝐰𝐡𝐨 '𝐡𝐚𝐬 𝐧𝐞𝐯𝐞𝐫 𝐬𝐞𝐞𝐧 𝐛𝐥𝐨𝐨𝐝 𝐞𝐯𝐞𝐧 𝐭𝐡𝐨𝐮𝐠𝐡 𝐬𝐡𝐞 𝐢𝐬 𝐦𝐚𝐫𝐫𝐢𝐞𝐝' (𝐦𝐍𝐢𝐝𝐝𝐚𝐡 𝟏:𝟒). 𝐓𝐡𝐞 𝐓𝐨𝐬𝐞𝐟𝐭𝐚, 𝐚𝐧𝐨𝐭𝐡𝐞𝐫 𝐞𝐚𝐫𝐥𝐲 𝐉𝐞𝐰𝐢𝐬𝐡 𝐜𝐨𝐝𝐞 𝐨𝐟 𝐥𝐚𝐰, 𝐜𝐥𝐚𝐢𝐦𝐬 𝐢𝐧 𝐭𝐡𝐞 𝐧𝐚𝐦𝐞 𝐨𝐟 𝐑𝐚𝐛𝐛𝐢 𝐄𝐥𝐢𝐞𝐳𝐞𝐫 𝐛𝐞𝐧 𝐇𝐲𝐫𝐜𝐚𝐧𝐮𝐬 (𝐥𝐚𝐭𝐞 𝐟𝐢𝐫𝐬𝐭 𝐜𝐞𝐧𝐭𝐮𝐫𝐲 𝐚𝐝) 𝐭𝐡𝐚𝐭 𝐬𝐮𝐜𝐡 𝐚 𝐰𝐨𝐦𝐚𝐧 𝐰𝐨𝐮𝐥𝐝 𝐜𝐨𝐧𝐭𝐢𝐧𝐮𝐞 𝐭𝐨 𝐜𝐨𝐮𝐧𝐭 𝐚𝐬 𝐚 𝐯𝐢𝐫𝐠𝐢𝐧 𝐞𝐯𝐞𝐧 𝐚𝐟𝐭𝐞𝐫 𝐬𝐡𝐞 𝐡𝐚𝐝 𝐜𝐨𝐧𝐜𝐞𝐢𝐯𝐞𝐝 𝐚𝐧𝐝 𝐛𝐨𝐫𝐧𝐞 𝐜𝐡𝐢𝐥𝐝𝐫𝐞𝐧 𝐰𝐢𝐭𝐡𝐨𝐮𝐭 𝐩𝐫𝐢𝐨𝐫 𝐦𝐞𝐧𝐬𝐭𝐫𝐮𝐚𝐭𝐢𝐨𝐧 (𝐭𝐍𝐢𝐝𝐝𝐚𝐡 𝟏:𝟔)!
𝐓𝐨 𝐮𝐧𝐝𝐞𝐫𝐬𝐭𝐚𝐧𝐝 𝐭𝐡𝐞𝐬𝐞 𝐬𝐭𝐚𝐭𝐞𝐦𝐞𝐧𝐭𝐬, 𝐰𝐞 𝐦𝐮𝐬𝐭 𝐫𝐞𝐦𝐞𝐦𝐛𝐞𝐫 𝐭𝐡𝐚𝐭 𝐢𝐧 𝐭𝐡𝐞 𝐈𝐧𝐭𝐞𝐫𝐓𝐞𝐬𝐭𝐚𝐦𝐞𝐧𝐭𝐚𝐥 𝐚𝐧𝐝 𝐞𝐚𝐫𝐥𝐲 𝐫𝐚𝐛𝐛𝐢𝐧𝐢𝐜 𝐚𝐠𝐞, 𝐩𝐫𝐞-𝐩𝐮𝐛𝐞𝐫𝐭𝐲 𝐦𝐚𝐫𝐫𝐢𝐚𝐠𝐞 𝐰𝐚𝐬 𝐠𝐞𝐧𝐞𝐫𝐚𝐥𝐥𝐲 𝐩𝐞𝐫𝐦𝐢𝐭𝐭𝐞𝐝. 𝐈𝐧 𝐟𝐚𝐜𝐭 𝐫𝐚𝐛𝐛𝐢𝐬 𝐬𝐞𝐫𝐢𝐨𝐮𝐬𝐥𝐲 𝐝𝐞𝐛𝐚𝐭𝐞𝐝 𝐰𝐡𝐞𝐭𝐡𝐞𝐫 𝐛𝐥𝐨𝐨𝐝𝐬𝐭𝐚𝐢𝐧𝐬 𝐟𝐨𝐮𝐧𝐝 𝐚𝐟𝐭𝐞𝐫 𝐭𝐡𝐞 𝐰𝐞𝐝𝐝𝐢𝐧𝐠 𝐧𝐢𝐠𝐡𝐭 𝐢𝐧 𝐧𝐮𝐩𝐭𝐢𝐚𝐥 𝐛𝐞𝐝 𝐨𝐟 𝐚 𝐦𝐢𝐧𝐨𝐫, 𝐢.𝐞. 𝐚 '𝐯𝐢𝐫𝐠𝐢𝐧 𝐢𝐧 𝐫𝐞𝐬𝐩𝐞𝐜𝐭 𝐨𝐟 𝐦𝐞𝐧𝐬𝐭𝐫𝐮𝐚𝐭𝐢𝐨𝐧', 𝐦𝐚𝐫𝐤𝐞𝐝 𝐡𝐞𝐫 𝐟𝐢𝐫𝐬𝐭 𝐩𝐞𝐫𝐢𝐨𝐝 𝐨𝐫 𝐭𝐡𝐞 𝐜𝐨𝐧𝐬𝐮𝐦𝐦𝐚𝐭𝐢𝐨𝐧 𝐨𝐟 𝐭𝐡𝐞 𝐦𝐚𝐫𝐫𝐢𝐚𝐠𝐞."
𝐑𝐞𝐯𝐞𝐫𝐞𝐧𝐝 𝐊𝐚𝐭𝐡𝐫𝐲𝐧 𝐉. 𝐑𝐢𝐬𝐬 𝐰𝐡𝐨 𝐢𝐬 𝐚 𝐂𝐡𝐫𝐢𝐬𝐭𝐢𝐚𝐧 𝐚𝐥𝐬𝐨 𝐦𝐚𝐤𝐞𝐬 𝐦𝐞𝐧𝐭𝐢𝐨𝐧 𝐭𝐡𝐚𝐭 𝐢𝐧 𝐟𝐢𝐫𝐬𝐭 𝐜𝐞𝐧𝐭𝐮𝐫𝐲 𝐩𝐚𝐫𝐞𝐧𝐭𝐬 𝐦𝐚𝐫𝐫𝐢𝐞𝐝 𝐨𝐟𝐟 𝐭𝐡𝐞𝐢𝐫 𝐝𝐚𝐮𝐠𝐡𝐭𝐞𝐫𝐬 𝐰𝐡𝐨 𝐰𝐞𝐫𝐞 𝐩𝐫𝐞-𝐩𝐮𝐛𝐞𝐬𝐜𝐞𝐧𝐭 𝐭𝐨 𝐦𝐮𝐜𝐡 𝐨𝐥𝐝𝐞𝐫 𝐦𝐞𝐧. 𝐖𝐡𝐚𝐭 𝐢𝐬 𝐢𝐧𝐭𝐞𝐫𝐞𝐬𝐭𝐢𝐧𝐠 𝐢𝐬 𝐬𝐡𝐞 𝐝𝐨𝐞𝐬 𝐧𝐨𝐭 𝐦𝐞𝐧𝐭𝐢𝐨𝐧 𝐨𝐧𝐜𝐞 𝐭𝐡𝐚𝐭 𝐑𝐚𝐛𝐛𝐢𝐬 𝐨𝐫 𝐚𝐧𝐲𝐨𝐧𝐞 𝐡𝐢𝐠𝐡𝐞𝐫 𝐮𝐩 𝐢𝐧 𝐚𝐮𝐭𝐡𝐨𝐫𝐢𝐭𝐲 𝐬𝐩𝐞𝐚𝐤𝐢𝐧𝐠 𝐚𝐠𝐚𝐢𝐧𝐬𝐭 𝐬𝐮𝐜𝐡 𝐦𝐚𝐫𝐫𝐢𝐚𝐠𝐞𝐬:
"𝐓𝐡𝐞 𝐥𝐨𝐧𝐠𝐞𝐬𝐭 𝐍𝐞𝐰 𝐓𝐞𝐬𝐭𝐚𝐦𝐞𝐧𝐭 𝐩𝐚𝐬𝐬𝐚𝐠𝐞 𝐨𝐧 𝐦𝐚𝐫𝐫𝐢𝐚𝐠𝐞 𝐢𝐬 𝐟𝐨𝐮𝐧𝐝, 𝐧𝐨𝐭 𝐢𝐧 𝐄𝐩𝐡𝐞𝐬𝐢𝐚𝐧𝐬, 𝐛𝐮𝐭 𝐢𝐧 𝟏 𝐂𝐨𝐫𝐢𝐧𝐭𝐡𝐢𝐚𝐧𝐬 𝐜𝐡𝐚𝐩𝐭𝐞𝐫 𝟕. 𝐈𝐧 𝐬𝐭𝐚𝐫𝐤 𝐜𝐨𝐧𝐭𝐫𝐚𝐬𝐭 𝐭𝐨 𝐭𝐡𝐞 𝐥𝐞𝐠𝐚𝐥 𝐩𝐨𝐬𝐢𝐭𝐢𝐨𝐧𝐬 𝐚𝐧𝐝 𝐬𝐨𝐜𝐢𝐚𝐥 𝐞𝐱𝐩𝐞𝐜𝐭𝐚𝐭𝐢𝐨𝐧𝐬 𝐨𝐟 𝐭𝐡𝐞 𝐟𝐢𝐫𝐬𝐭 𝐜𝐞𝐧𝐭𝐮𝐫𝐲, 𝐡𝐞𝐫𝐞 𝐭𝐡𝐞 𝐫𝐢𝐠𝐡𝐭𝐬 𝐚𝐧𝐝 𝐫𝐞𝐬𝐩𝐨𝐧𝐬𝐢𝐛𝐢𝐥𝐢𝐭𝐢𝐞𝐬 𝐨𝐟 𝐦𝐚𝐧 𝐚𝐧𝐝 𝐰𝐨𝐦𝐚𝐧 𝐚𝐫𝐞 𝐮𝐩𝐡𝐞𝐥𝐝 𝐚𝐬 𝐞𝐪𝐮𝐚𝐥.
𝐀𝐥𝐭𝐡𝐨𝐮𝐠𝐡 𝐦𝐚𝐫𝐫𝐢𝐚𝐠𝐞𝐬 𝐰𝐞𝐫𝐞 𝐚𝐫𝐫𝐚𝐧𝐠𝐞𝐝 𝐛𝐲 𝐩𝐚𝐫𝐞𝐧𝐭𝐬, 𝐰𝐡𝐨 𝐨𝐟𝐭𝐞𝐧 𝐞𝐬𝐩𝐨𝐮𝐬𝐞𝐝 𝐭𝐡𝐞𝐢𝐫 𝐩𝐫𝐞-𝐩𝐮𝐛𝐞𝐬𝐜𝐞𝐧𝐭 𝐝𝐚𝐮𝐠𝐡𝐭𝐞𝐫𝐬 𝐭𝐨 𝐦𝐮𝐜𝐡 𝐎𝐋𝐃𝐄𝐑 𝐌𝐄𝐍."
𝐓𝐡𝐞𝐨𝐥𝐨𝐠𝐢𝐜𝐚𝐥 𝐃𝐢𝐜𝐭𝐢𝐨𝐧𝐚𝐫𝐲 𝐨𝐟 𝐭𝐡𝐞 𝐎𝐥𝐝 𝐓𝐞𝐬𝐭𝐚𝐦𝐞𝐧𝐭 – 𝐒𝐜𝐡𝐨𝐥𝐚𝐫𝐬: 𝐆. 𝐉𝐨𝐡𝐚𝐧𝐧𝐞𝐬 𝐁𝐨𝐭𝐭𝐞𝐫𝐰𝐞𝐜𝐤, 𝐇𝐞𝐥𝐦𝐞𝐫 𝐑𝐢𝐧𝐠𝐠𝐫𝐞𝐧 𝐚𝐧𝐝 𝐇𝐞𝐢𝐧𝐳-𝐉𝐨𝐬𝐞𝐟 𝐅𝐚𝐛𝐫𝐲
"𝐎𝐧𝐞 𝐦𝐢𝐠𝐡𝐭 𝐜𝐨𝐮𝐧𝐭𝐞𝐫 𝐭𝐡𝐚𝐭 𝐭𝐡𝐞 𝐞𝐱𝐩𝐫𝐞𝐬𝐬𝐢𝐨𝐧 𝐦𝐨𝐡𝐚𝐫 𝐡𝐚𝐛𝐛𝐞𝐭𝐮𝐥𝐨𝐭 (𝐄𝐱. 𝟐𝟐:𝟏𝟔[𝟏𝟕]) 𝐫𝐞𝐟𝐞𝐫𝐬 𝐫𝐚𝐭𝐡𝐞𝐫 𝐭𝐨 𝐭𝐡𝐞 𝐩𝐫𝐞𝐭𝐢𝐮𝐦 𝐯𝐢𝐫𝐠𝐢𝐧𝐢𝐭𝐚𝐭𝐢𝐬. 𝐈𝐧 𝐭𝐡𝐢𝐬 𝐜𝐚𝐬𝐞, 𝐭𝐡𝐞 𝐦𝐨𝐡𝐚𝐫 𝐰𝐨𝐮𝐥𝐝 𝐛𝐞 𝐜𝐨𝐦𝐩𝐞𝐧𝐬𝐚𝐭𝐞𝐝 𝐭𝐨 𝐭𝐡𝐞 𝐠𝐢𝐫𝐥 𝐟𝐨𝐫 𝐭𝐡𝐞 𝐥𝐨𝐬𝐬 𝐨𝐟 𝐡𝐞𝐫 𝐯𝐢𝐫𝐠𝐢𝐧𝐢𝐭𝐲. 𝐓𝐡𝐢𝐬 𝐞𝐱𝐩𝐥𝐚𝐧𝐚𝐭𝐢𝐨𝐧, 𝐡𝐨𝐰𝐞𝐯𝐞𝐫, 𝐢𝐬 𝐮𝐧𝐚𝐜𝐜𝐞𝐩𝐭𝐚𝐛𝐥𝐞, 𝐬𝐢𝐧𝐜𝐞 𝐢𝐭 𝐩𝐫𝐨𝐜𝐞𝐞𝐝𝐬 𝐨𝐧 𝐭𝐡𝐞 𝐚𝐬𝐬𝐮𝐦𝐩𝐭𝐢𝐨𝐧 𝐭𝐡𝐚𝐭 𝐭𝐡𝐞 𝐭𝐞𝐫𝐦 𝐛𝐞𝐭𝐮𝐥𝐚 𝐦𝐞𝐚𝐧𝐬 '𝐯𝐢𝐫𝐠𝐢𝐧.'
𝐓𝐡𝐢𝐬 𝐦𝐚𝐲 𝐝𝐨𝐮𝐛𝐭𝐥𝐞𝐬𝐬𝐥𝐲 𝐛𝐞 𝐭𝐡𝐞 𝐜𝐚𝐬𝐞 𝐢𝐧 𝐦𝐚𝐧𝐲 𝐩𝐚𝐬𝐬𝐚𝐠𝐞𝐬, 𝐛𝐮𝐭 𝐢𝐧 𝐣𝐨𝐞𝐥 𝟏:𝟖, 𝐛𝐞𝐭𝐮𝐥𝐚 𝐭𝐡𝐮𝐬 𝐫𝐞𝐟𝐞𝐫𝐬 𝐭𝐨 𝐚 𝐦𝐚𝐫𝐫𝐢𝐞𝐝 𝐰𝐨𝐦𝐚𝐧 𝐰𝐡𝐨 𝐡𝐚𝐝 𝐛𝐞𝐞𝐧 '𝐩𝐨𝐬𝐬𝐞𝐬𝐬𝐞𝐝' 𝐛𝐲 𝐡𝐞𝐫 𝐡𝐮𝐬𝐛𝐚𝐧𝐝 (𝐛𝐚'𝐚𝐥); 𝐛𝐞𝐭𝐮𝐥𝐚 𝐭𝐡𝐮𝐬 𝐫𝐞𝐟𝐞𝐫𝐬 𝐭𝐨 𝐚 𝐦𝐚𝐫𝐫𝐢𝐚𝐠𝐞𝐚𝐛𝐥𝐞 𝐠𝐢𝐫𝐥 𝐰𝐡𝐨 𝐰𝐚𝐬 𝐩𝐡𝐲𝐬𝐢𝐜𝐚𝐥𝐥𝐲 𝐚𝐛𝐥𝐞 𝐭𝐨 𝐜𝐨𝐩𝐞 𝐰𝐢𝐭𝐡 𝐚 𝐦𝐚𝐧, '𝐭𝐚𝐤𝐢𝐧𝐠 𝐡𝐞𝐫 𝐢𝐧𝐭𝐨 𝐡𝐢𝐬 𝐩𝐨𝐬𝐬𝐞𝐬𝐬𝐢𝐨𝐧.'
𝐇𝐞𝐫𝐞 𝐭𝐡𝐞 𝐭𝐞𝐫𝐦 𝐛𝐞𝐭𝐮𝐥𝐚 𝐬𝐚𝐲𝐬 𝐧𝐨𝐭𝐡𝐢𝐧𝐠 𝐚𝐛𝐨𝐮𝐭 𝐡𝐞𝐫 𝐯𝐢𝐫𝐠𝐢𝐧𝐢𝐭𝐲. 𝐄𝐱.𝟐𝟐:𝟏𝟔 (𝟏𝟕) (𝐤𝐞𝐬𝐞𝐩 𝐲𝐢𝐬𝐪𝐨𝐥 𝐤𝐞𝐦𝐨𝐡𝐚𝐫 𝐡𝐚𝐛 𝐛𝐞𝐭𝐮𝐥𝐨𝐭) 𝐜𝐚𝐧 𝐭𝐡𝐮𝐬 𝐛𝐞 𝐭𝐫𝐚𝐧𝐬𝐥𝐚𝐭𝐞𝐝 '𝐡𝐞 𝐬𝐡𝐚𝐥𝐥 𝐰𝐞𝐢𝐠𝐡 𝐨𝐮𝐭 𝐚𝐬 𝐦𝐮𝐜𝐡 𝐬𝐢𝐥𝐯𝐞𝐫 𝐚𝐬 𝐢𝐬 𝐫𝐞𝐪𝐮𝐢𝐫𝐞𝐝 𝐟𝐨𝐫 𝐦𝐚𝐫𝐫𝐢𝐚𝐠𝐞𝐚𝐛𝐥𝐞 𝐠𝐢𝐫𝐥𝐬.' 𝐈𝐧 𝐭𝐡𝐢𝐬 𝐜𝐨𝐧𝐭𝐞𝐱𝐭 𝐰𝐞 𝐬𝐡𝐨𝐮𝐥𝐝 𝐩𝐨𝐢𝐧𝐭 𝐨𝐮𝐭 𝐭𝐡𝐚𝐭 𝐚𝐧𝐜𝐢𝐞𝐧𝐭 𝐇𝐞𝐛𝐫𝐞𝐰 𝐜𝐮𝐬𝐭𝐨𝐦 𝐝𝐢𝐝 𝐧𝐨𝐭 𝐚𝐬𝐬𝐨𝐜𝐢𝐚𝐭𝐞 𝐦𝐚𝐫𝐫𝐢𝐚𝐠𝐞𝐚𝐛𝐢𝐥𝐢𝐭𝐲 𝐰𝐢𝐭𝐡 𝐩𝐮𝐛𝐞𝐫𝐭𝐲.
𝐈𝐧 𝐜𝐨𝐧𝐭𝐫𝐚𝐬𝐭 𝐭𝐨 𝐭𝐡𝐞 𝐦𝐚𝐫𝐫𝐢𝐚𝐠𝐞𝐚𝐛𝐥𝐞 𝐠𝐢𝐫𝐥 (𝐛𝐞𝐭𝐮𝐥𝐚), 𝐭𝐡𝐞…. 𝐀𝐥𝐦𝐚 𝐫𝐞𝐟𝐞𝐫𝐬 𝐭𝐨 𝐚 𝐠𝐢𝐫𝐥 𝐢𝐧 𝐩𝐮𝐛𝐞𝐫𝐭𝐲 𝐜𝐚𝐩𝐚𝐛𝐥𝐞 𝐨𝐟 𝐜𝐨𝐧𝐜𝐞𝐩𝐭𝐢𝐨𝐧. 𝐆𝐢𝐫𝐥𝐬 𝐜𝐨𝐮𝐥𝐝 𝐢𝐧 𝐟𝐚𝐜𝐭 𝐚𝐥𝐫𝐞𝐚𝐝𝐲 𝐛𝐞 𝐠𝐢𝐯𝐞𝐧 𝐦𝐚𝐫𝐫𝐢𝐚𝐠𝐞 𝐥𝐨𝐧𝐠 𝐛𝐞𝐟𝐨𝐫𝐞 𝐚𝐜𝐭𝐮𝐚𝐥 𝐩𝐡𝐲𝐬𝐢𝐜𝐚𝐥 𝐦𝐚𝐭𝐮𝐫𝐢𝐭𝐲, 𝐩𝐞𝐫𝐡𝐚𝐩𝐬 𝐞𝐯𝐞𝐧 𝐚𝐬 𝐲𝐨𝐮𝐧𝐠 𝐚𝐬 𝐟𝐢𝐯𝐞 𝐲𝐞𝐚𝐫𝐬 𝐨𝐥𝐝 (𝐜𝐟. 𝐋𝐞𝐯. 𝟐𝟕:𝟓), 𝐚𝐧𝐝 𝐢𝐭 𝐝𝐢𝐝 𝐡𝐚𝐩𝐩𝐞𝐧 𝐭𝐡𝐚𝐭 𝐦𝐚𝐫𝐫𝐢𝐚𝐠𝐞𝐬 𝐰𝐞𝐫𝐞 𝐚𝐥𝐫𝐞𝐚𝐝𝐲 𝐜𝐨𝐧𝐬𝐮𝐦𝐦𝐚𝐭𝐞𝐝 𝐰𝐢𝐭𝐡 𝐩𝐫𝐞𝐩𝐮𝐛𝐞𝐬𝐜𝐞𝐧𝐭 𝐠𝐢𝐫𝐥𝐬."
𝐖𝐞 𝐜𝐚𝐧 𝐜𝐨𝐧𝐜𝐥𝐮𝐝𝐞 𝐭𝐡𝐚𝐭 𝐭𝐡𝐞 𝐁𝐢𝐛𝐥𝐞 𝐞𝐧𝐜𝐨𝐮𝐫𝐚𝐠𝐞𝐬/𝐬𝐚𝐧𝐜𝐭𝐢𝐨𝐧𝐬 𝐩𝐫𝐞-𝐩𝐮𝐛𝐞𝐬𝐜𝐞𝐧𝐭 𝐦𝐚𝐫𝐫𝐢𝐚𝐠𝐞𝐬. 𝐈 𝐜𝐢𝐭𝐞𝐝 𝐒𝐜𝐡𝐨𝐥𝐚𝐫𝐥𝐲 𝐫𝐞𝐟𝐞𝐫𝐞𝐧𝐜𝐞𝐬 𝐭𝐡𝐚𝐭 𝐚𝐠𝐫𝐞𝐞𝐝 𝐭𝐡𝐚𝐭 𝐍𝐮𝐦𝐛𝐞𝐫𝐬 𝟑𝟏:𝟏𝟖 𝐢𝐬 𝐚𝐛𝐨𝐮𝐭 𝐦𝐚𝐫𝐫𝐢𝐚𝐠𝐞 𝐰𝐢𝐭𝐡 𝐩𝐫𝐞-𝐩𝐮𝐛𝐞𝐬𝐜𝐞𝐧𝐭 𝐠𝐢𝐫𝐥𝐬. 𝐓𝐡𝐞𝐲 𝐚𝐥𝐬𝐨 𝐚𝐠𝐫𝐞𝐞𝐝 𝐭𝐡𝐚𝐭 𝐭𝐡𝐞 𝐩𝐚𝐬𝐬𝐚𝐠𝐞 𝐢𝐬 𝐫𝐞𝐟𝐞𝐫𝐫𝐞𝐝 𝐭𝐨𝐨 𝐬𝐞𝐱𝐮𝐚𝐥𝐥𝐲. 𝐖𝐡𝐚𝐭 𝐈 𝐦𝐞𝐚𝐧 𝐢𝐬, 𝐰𝐡𝐞𝐧 𝐭𝐡𝐞 𝐰𝐨𝐫𝐝𝐬 𝐢𝐧 𝐍𝐮𝐦𝐛𝐞𝐫𝐬 𝟑𝟏:𝟏𝟖 𝐚𝐫𝐞 𝐮𝐬𝐞𝐝 𝐚𝐬 '𝐤𝐞𝐞𝐩 𝐚𝐥𝐢𝐯𝐞 𝐟𝐨𝐫 𝐘𝐎𝐔𝐑𝐒𝐄𝐋𝐕𝐄𝐒', 𝐭𝐡𝐢𝐬 𝐦𝐞𝐚𝐧𝐭 𝐭𝐡𝐚𝐭 𝐬𝐨𝐥𝐝𝐢𝐞𝐫𝐬 𝐜𝐚𝐧 𝐤𝐞𝐞𝐩 𝐚𝐥𝐢𝐯𝐞 𝐭𝐡𝐞 𝐟𝐞𝐦𝐚𝐥𝐞 𝐩𝐫𝐞-𝐩𝐮𝐛𝐞𝐬𝐜𝐞𝐧𝐭 𝐟𝐨𝐫 𝐭𝐡𝐞𝐢𝐫 𝐨𝐰𝐧 𝐩𝐥𝐞𝐚𝐬𝐮𝐫𝐞.
𝐅𝐮𝐫𝐭𝐡𝐞𝐫𝐦𝐨𝐫𝐞, 𝐈 𝐰𝐞𝐧𝐭 𝐨𝐯𝐞𝐫 𝐨𝐧𝐞 𝐨𝐛𝐣𝐞𝐜𝐭𝐢𝐨𝐧 𝐫𝐚𝐢𝐬𝐞𝐝 𝐛𝐲 𝐭𝐡𝐞 𝐄𝐯𝐚𝐧𝐠𝐞𝐥𝐢𝐬𝐭𝐬, 𝐢𝐭 𝐰𝐚𝐬 𝐨𝐟 𝐧𝐨 𝐯𝐚𝐥𝐮𝐞 𝐰𝐡𝐚𝐭𝐬𝐨𝐞𝐯𝐞𝐫. 𝐓𝐡𝐞 𝐩𝐚𝐬𝐬𝐚𝐠𝐞 𝐜𝐢𝐭𝐞𝐝 𝐧𝐨𝐰𝐡𝐞𝐫𝐞 𝐜𝐨𝐧𝐝𝐞𝐦𝐧𝐞𝐝 𝐩𝐫𝐞-𝐩𝐮𝐛𝐞𝐬𝐜𝐞𝐧𝐭 𝐦𝐚𝐫𝐫𝐢𝐚𝐠𝐞𝐬. 𝐖𝐡𝐲 𝐈 𝐬𝐚𝐲 𝐢𝐭 𝐰𝐚𝐬 𝐨𝐟 '𝐧𝐨 𝐯𝐚𝐥𝐮𝐞', 𝐛𝐞𝐜𝐚𝐮𝐬𝐞 𝐄𝐳𝐞𝐤𝐢𝐞𝐥 𝐰𝐚𝐬 𝐛𝐨𝐫𝐧 𝟕𝟎𝟎 𝐲𝐞𝐚𝐫𝐬 𝐚𝐟𝐭𝐞𝐫 𝐌𝐨𝐬𝐞𝐬. 𝐋𝐚𝐬𝐭 𝐛𝐮𝐭 𝐧𝐨𝐭 𝐥𝐞𝐚𝐬𝐭, 𝐈 𝐜𝐢𝐭𝐞𝐝 𝐦𝐚𝐧𝐲 𝐚𝐜𝐚𝐝𝐞𝐦𝐢𝐜𝐬 𝐚𝐭𝐭𝐞𝐬𝐭𝐢𝐧𝐠 𝐭𝐡𝐚𝐭 𝐩𝐫𝐞-𝐩𝐮𝐛𝐞𝐬𝐜𝐞𝐧𝐭 𝐦𝐚𝐫𝐫𝐢𝐚𝐠𝐞𝐬 𝐰𝐚𝐬 𝐬𝐚𝐧𝐜𝐭𝐢𝐨𝐧𝐞𝐝 𝐚𝐧𝐝 𝐰𝐚𝐬 𝐩𝐫𝐚𝐜𝐭𝐢𝐬𝐞𝐝 𝐚𝐦𝐨𝐧𝐠 𝐉𝐞𝐰𝐬 𝐚𝐧𝐝 𝐂𝐡𝐫𝐢𝐬𝐭𝐢𝐚𝐧𝐬.
𝐍𝐨𝐭𝐞:
𝐓𝐡𝐞 𝐡𝐲𝐩𝐨𝐜𝐫𝐢𝐭𝐢𝐜𝐚𝐥 𝐚𝐛𝐡𝐨𝐫𝐫𝐞𝐧𝐭 𝐬𝐭𝐚𝐧𝐜𝐞 𝐨𝐟 𝐚𝐧𝐭𝐢-𝐈𝐬𝐥𝐚𝐦 𝐢𝐬 𝐫𝐞𝐚𝐥𝐥𝐲 𝐦𝐢𝐧𝐝-𝐛𝐨𝐠𝐠𝐥𝐢𝐧𝐠 𝐟𝐨𝐫 𝐭𝐡𝐞 𝐯𝐞𝐫𝐲 𝐬𝐢𝐦𝐩𝐥𝐞 𝐟𝐚𝐜𝐭, 𝐭𝐡𝐚𝐭 𝐭𝐡𝐞𝐲 𝐚𝐫𝐞 𝐭𝐡𝐞𝐦𝐬𝐞𝐥𝐯𝐞𝐬 𝐚𝐫𝐞 𝐟𝐫𝐮𝐢𝐭𝐬 𝐨𝐟 𝐯𝐞𝐫𝐲 𝐲𝐨𝐮𝐧𝐠 𝐦𝐚𝐫𝐫𝐢𝐚𝐠𝐞𝐬, 𝐬𝐨 𝐚𝐥𝐥 𝐡𝐮𝐦𝐚𝐧𝐢𝐭𝐲 𝐚𝐫𝐞 𝐭𝐡𝐞 𝐟𝐫𝐮𝐢𝐭𝐬 𝐨𝐟 𝐯𝐞𝐫𝐲 𝐲𝐨𝐮𝐧𝐠 𝐦𝐚𝐫𝐫𝐢𝐚𝐠𝐞𝐬 𝐚𝐬 𝐰𝐞𝐥𝐥.
𝐇𝐮𝐧𝐝𝐫𝐞𝐝 𝐲𝐞𝐚𝐫𝐬 𝐚𝐠𝐨, 𝐩𝐞𝐨𝐩𝐥𝐞 𝐞𝐯𝐞𝐫𝐲𝐰𝐡𝐞𝐫𝐞 𝐚𝐫𝐨𝐮𝐧𝐝 𝐭𝐡𝐞 𝐰𝐨𝐫𝐥𝐝 𝐮𝐬𝐞𝐝 𝐭𝐨 𝐠𝐞𝐭 𝐦𝐚𝐫𝐫𝐢𝐞𝐝 𝐚𝐬 𝐬𝐨𝐨𝐧 𝐚𝐬 𝐭𝐡𝐞 𝐠𝐢𝐫𝐥 𝐫𝐞𝐚𝐜𝐡𝐞𝐬 𝐩𝐮𝐛𝐞𝐫𝐭𝐲. 𝐓𝐡𝐞𝐫𝐞 𝐢𝐬 𝐚 𝐯𝐞𝐫𝐲 𝐟𝐚𝐦𝐨𝐮𝐬 𝐜𝐨𝐧𝐟𝐢𝐫𝐦𝐞𝐝 𝐜𝐚𝐬𝐞 𝐟𝐨𝐫 𝐭𝐡𝐞 𝐲𝐨𝐮𝐧𝐠𝐞𝐬𝐭 𝐜𝐨𝐧𝐟𝐢𝐫𝐦𝐞𝐝 𝐦𝐨𝐭𝐡𝐞𝐫 𝐢𝐧 𝐡𝐢𝐬𝐭𝐨𝐫𝐲 𝐢𝐧 𝐒𝐩𝐚𝐢𝐧.
𝐓𝐡𝐞 𝐦𝐨𝐭𝐡𝐞𝐫'𝐬 𝐚𝐠𝐞 𝐰𝐚𝐬 𝐚𝐫𝐨𝐮𝐧𝐝 𝐟𝐢𝐯𝐞 𝐲𝐞𝐚𝐫𝐬 𝐨𝐥𝐝 𝐰𝐡𝐞𝐧 𝐬𝐡𝐞 𝐠𝐚𝐯𝐞 𝐛𝐢𝐫𝐭𝐡. 𝐓𝐡𝐞 𝐦𝐨𝐭𝐡𝐞𝐫'𝐬 𝐧𝐚𝐦𝐞 𝐰𝐚𝐬 𝐋𝐢𝐧𝐚 𝐌𝐞𝐝𝐢𝐧𝐚. 𝐋𝐢𝐧𝐚 𝐌𝐚𝐫𝐜𝐞𝐥𝐚 𝐌𝐞𝐝𝐢𝐧𝐚 𝐝𝐞 𝐉𝐮𝐫𝐚𝐝𝐨 (𝐒𝐩𝐚𝐧𝐢𝐬𝐡 𝐩𝐫𝐨𝐧𝐮𝐧𝐜𝐢𝐚𝐭𝐢𝐨𝐧: [ˈ𝐥𝐢𝐧𝐚 𝐦𝐞ˈð𝐢𝐧𝐚]; 𝐛𝐨𝐫𝐧 𝟐𝟑 𝐒𝐞𝐩𝐭𝐞𝐦𝐛𝐞𝐫 𝟏𝟗𝟑𝟑) 𝐢𝐬 𝐚 𝐏𝐞𝐫𝐮𝐯𝐢𝐚𝐧 𝐰𝐨𝐦𝐚𝐧 𝐰𝐡𝐨 𝐛𝐞𝐜𝐚𝐦𝐞 𝐭𝐡𝐞 𝐲𝐨𝐮𝐧𝐠𝐞𝐬𝐭 𝐜𝐨𝐧𝐟𝐢𝐫𝐦𝐞𝐝 𝐦𝐨𝐭𝐡𝐞𝐫 𝐢𝐧 𝐡𝐢𝐬𝐭𝐨𝐫𝐲 𝐰𝐡𝐞𝐧 𝐬𝐡𝐞 𝐠𝐚𝐯𝐞 𝐛𝐢𝐫𝐭𝐡 𝐚𝐠𝐞𝐝 𝐟𝐢𝐯𝐞 𝐲𝐞𝐚𝐫𝐬, 𝐬𝐞𝐯𝐞𝐧 𝐦𝐨𝐧𝐭𝐡𝐬, 𝐚𝐧𝐝 𝟐𝟏 𝐝𝐚𝐲𝐬. 𝐁𝐚𝐬𝐞𝐝 𝐨𝐧 𝐭𝐡𝐞 𝐦𝐞𝐝𝐢𝐜𝐚𝐥 𝐚𝐬𝐬𝐞𝐬𝐬𝐦𝐞𝐧𝐭𝐬 𝐨𝐟 𝐡𝐞𝐫 𝐩𝐫𝐞𝐠𝐧𝐚𝐧𝐜𝐲, 𝐬𝐡𝐞 𝐰𝐚𝐬 𝐥𝐞𝐬𝐬 𝐭𝐡𝐚𝐧 𝐟𝐢𝐯𝐞 𝐲𝐞𝐚𝐫𝐬 𝐨𝐥𝐝 𝐰𝐡𝐞𝐧 𝐬𝐡𝐞 𝐛𝐞𝐜𝐚𝐦𝐞 𝐩𝐫𝐞𝐠𝐧𝐚𝐧𝐭, 𝐰𝐡𝐢𝐜𝐡 𝐰𝐚𝐬 𝐩𝐨𝐬𝐬𝐢𝐛𝐥𝐞 𝐝𝐮𝐞 𝐭𝐨 𝐩𝐫𝐞𝐜𝐨𝐜𝐢𝐨𝐮𝐬 𝐩𝐮𝐛𝐞𝐫𝐭𝐲
𝐅𝐨𝐫 𝐦𝐨𝐫𝐞 𝐢𝐧𝐟𝐨𝐫𝐦𝐚𝐭𝐢𝐨𝐧 𝐚𝐛𝐨𝐮𝐭 𝐋𝐢𝐧𝐚 𝐌𝐞𝐝𝐢𝐧𝐚 𝐜𝐥𝐢𝐜𝐤 𝐇𝐞𝐫𝐞
𝐌𝐨𝐫𝐞 𝐭𝐡𝐚𝐧 𝟐𝟎𝟎,𝟎𝟎𝟎 𝐜𝐡𝐢𝐥𝐝𝐫𝐞𝐧 𝐦𝐚𝐫𝐫𝐢𝐞𝐝 𝐢𝐧 𝐔𝐒 𝐨𝐯𝐞𝐫 𝐭𝐡𝐞 𝐥𝐚𝐬𝐭 𝟏𝟓 𝐲𝐞𝐚𝐫𝐬 𝐫𝐞𝐚𝐝 𝐡𝐞𝐫𝐞
𝐂𝐡𝐫𝐢𝐬𝐭𝐢𝐚𝐧 𝐏𝐞𝐨𝐩𝐥𝐞 𝐨𝐫 𝐩𝐞𝐨𝐩𝐥𝐞 𝐟𝐫𝐨𝐦 𝐂𝐡𝐫𝐢𝐬𝐭𝐢𝐚𝐧 𝐛𝐚𝐜𝐤𝐠𝐫𝐨𝐮𝐧𝐝𝐬 𝐡𝐚𝐯𝐢𝐧𝐠 𝐬𝐞𝐱 𝐰𝐢𝐭𝐡 𝐡𝐨𝐮𝐬𝐞𝐬 𝐢𝐬 𝐨𝐧 𝐭𝐡𝐞 𝐫𝐢𝐬𝐞 𝐢𝐧 𝐒𝐰𝐢𝐭𝐳𝐞𝐫𝐥𝐚𝐧𝐝 𝐰𝐡𝐢𝐜𝐡 𝐢𝐬 𝐚 𝐂𝐡𝐫𝐢𝐬𝐭𝐢𝐚𝐧 𝐜𝐨𝐮𝐧𝐭𝐫𝐲 𝐰𝐢𝐭𝐡 𝐚 𝐜𝐫𝐨𝐬𝐬 𝐨𝐧 𝐢𝐭𝐬 𝐟𝐥𝐚𝐠
𝐑𝐞𝐟𝐞𝐫𝐞𝐧𝐜𝐞𝐬:
The Age of Marriage and Sex in the Bible
Is there a set age for marriage in Islam? Age of Marriage in Islam?
Marriage Age in Christian Lands in the Past.
Our Mother Aisha's statement "Your Lord hastens in fulfilling your desires" explained
Refutation of accusations against Prophet Muhammad 'peace be upon him' marriage with our mother Aisha peace be upon her.
Does Islam allow marriage with prepubescent girls?
Minimum Age For Marriage In The Quran
Quran 65:4 – The Child Marriage Claim
Bible: Child Marriage in Ancient Israelite times – Paedophilia?
Minimum Age For Marriage In The Quran
The Bible And Taqiyya=Deception
The Neurobiology and Psychology of Pedophilia – NCBI
12 year old Mary's marriage with 90 year old Joseph the Carpenter
Bible sanctions pre-pubescent marriages (child marriage)
Age of Consent in European & American History
𝐑𝐞𝐟𝐞𝐫𝐞𝐧𝐜𝐞𝐬:
𝐂𝐫𝐞𝐝𝐢𝐭 𝐝𝐢𝐬𝐜𝐨𝐯𝐞𝐫 𝐭𝐡𝐞 𝐭𝐫𝐮𝐭𝐡
[𝟏] 𝐀𝐧 𝐄𝐧𝐠𝐥𝐢𝐬𝐡 𝐚𝐧𝐝 𝐇𝐞𝐛𝐫𝐞𝐰 𝐥𝐞𝐱𝐢𝐜𝐨𝐧 𝐜𝐨𝐦𝐩𝐨𝐬𝐞𝐝 𝐚𝐟𝐭𝐞𝐫 𝐉𝐨𝐡𝐧𝐬𝐨𝐧'𝐬 𝐝𝐢𝐫𝐞𝐜𝐭𝐨𝐫𝐲, 𝐜𝐨𝐧𝐭𝐚𝐢𝐧𝐢𝐧𝐠 𝐟𝐢𝐟𝐭𝐞𝐞𝐧 𝐭𝐡𝐨𝐮𝐬𝐚𝐧𝐝 𝐄𝐧𝐠𝐥𝐢𝐬𝐡 𝐰𝐨𝐫𝐝𝐬, 𝐫𝐞𝐧𝐝𝐞𝐫𝐞𝐝 𝐢𝐧𝐭𝐨 𝐁𝐢𝐛𝐥𝐢𝐜𝐚𝐥, 𝐨𝐫 𝐫𝐚𝐛𝐛𝐢𝐧𝐢𝐜𝐚𝐥 𝐇𝐞𝐛𝐫𝐞𝐰, 𝐨𝐫 𝐢𝐧𝐭𝐨 𝐂𝐡𝐚𝐥𝐝𝐞𝐞. 𝐓𝐨 𝐰𝐡𝐢𝐜𝐡 𝐢𝐬 𝐚𝐧𝐧𝐞𝐱𝐞𝐝 𝐚 𝐥𝐢𝐬𝐭 𝐨𝐟 𝐄𝐧𝐠𝐥𝐢𝐬𝐡 𝐚𝐧𝐝 𝐇𝐞𝐛𝐫𝐞𝐰 𝐰𝐨𝐫𝐝𝐬 𝐭𝐡𝐞 𝐞𝐱𝐩𝐫𝐞𝐬𝐬𝐢𝐨𝐧𝐬 𝐚𝐧𝐝 𝐦𝐞𝐚𝐧𝐢𝐧𝐠𝐬 𝐨𝐟 𝐰𝐡𝐢𝐜𝐡 𝐚𝐩𝐩𝐞𝐚𝐫 𝐭𝐨 𝐛𝐞 𝐭𝐡𝐞 𝐬𝐚𝐦𝐞 𝐢𝐧 𝐛𝐨𝐭𝐡 𝐥𝐚𝐧𝐠𝐮𝐚𝐠𝐞𝐬 (𝟏𝟖𝟑𝟐). 𝐁𝐲 𝐏𝐫𝐨𝐟𝐞𝐬𝐬𝐨𝐫 𝐒𝐞𝐥𝐢𝐠 𝐍𝐞𝐰𝐦𝐚𝐧 𝐩𝐚𝐠𝐞 𝟔𝟏
[𝟐] 𝐀 𝐜𝐨𝐦𝐩𝐥𝐞𝐭𝐞 𝐇𝐞𝐛𝐫𝐞𝐰-𝐄𝐧𝐠𝐥𝐢𝐬𝐡 𝐩𝐨𝐜𝐤𝐞𝐭-𝐝𝐢𝐜𝐭𝐢𝐨𝐧𝐚𝐫𝐲 𝐭𝐨 𝐭𝐡𝐞 𝐎𝐥𝐝 𝐓𝐞𝐬𝐭𝐚𝐦𝐞𝐧𝐭 (𝟏𝟗𝟎𝟓]) 𝐁𝐲 𝐊𝐚𝐫𝐥 𝐅𝐞𝐲𝐞𝐫𝐚𝐛𝐞𝐧𝐝 𝐩𝐚𝐠𝐞 𝟏𝟏𝟖

[𝟑] 𝐀 𝐂𝐨𝐦𝐩𝐞𝐧𝐝𝐢𝐨𝐮𝐬 𝐇𝐞𝐛𝐫𝐞𝐰 𝐋𝐞𝐱𝐢𝐜𝐨𝐧, 𝐀𝐝𝐚𝐩𝐭𝐞𝐝 𝐭𝐨 𝐭𝐡𝐞 𝐄𝐧𝐠𝐥𝐢𝐬𝐡 𝐋𝐚𝐧𝐠𝐮𝐚𝐠𝐞, 𝐚𝐧𝐝 𝐂𝐨𝐦𝐩𝐨𝐬𝐞𝐝 𝐮𝐩𝐨𝐧 𝐀 𝐍𝐞𝐰 𝐚𝐧𝐝 𝐂𝐨𝐦𝐦𝐨𝐝𝐢𝐨𝐮𝐬 𝐏𝐥𝐚𝐧 [𝐒𝐞𝐜𝐨𝐧𝐝 𝐄𝐝𝐢𝐭𝐢𝐨𝐧 (𝟏𝟖𝟏𝟏)] 𝐛𝐲 𝐒𝐚𝐦𝐮𝐞𝐥 𝐏𝐢𝐤𝐞 𝐩𝐚𝐠𝐞 𝟓𝟗
[𝟒] 𝐓𝐡𝐞 𝐁𝐞𝐠𝐢𝐧𝐧𝐢𝐧𝐠𝐬 𝐨𝐟 𝐉𝐞𝐰𝐢𝐬𝐡𝐧𝐞𝐬𝐬: 𝐁𝐨𝐮𝐧𝐝𝐚𝐫𝐢𝐞𝐬, 𝐕𝐚𝐫𝐢𝐞𝐭𝐢𝐞𝐬, 𝐔𝐧𝐜𝐞𝐫𝐭𝐚𝐢𝐧𝐭𝐢𝐞𝐬 𝐁𝐲 𝐒𝐡𝐚𝐲𝐞 𝐉. 𝐃. 𝐂𝐨𝐡𝐞𝐧 [𝐜𝐡𝐚𝐩𝐭𝐞𝐫 𝟖] 𝐩𝐚𝐠𝐞 𝟐𝟓𝟓 – 𝟐𝟓𝟔

[𝟓] 𝐂𝐡𝐫𝐢𝐬𝐭𝐢𝐚𝐧 𝐇𝐨𝐥𝐢𝐧𝐞𝐬𝐬 𝐚𝐧𝐝 𝐇𝐮𝐦𝐚𝐧 𝐒𝐞𝐱𝐮𝐚𝐥𝐢𝐭𝐲: 𝐀 𝐒𝐭𝐮𝐝𝐲 𝐆𝐮𝐢𝐝𝐞 𝐟𝐨𝐫 𝐄𝐩𝐢𝐬𝐜𝐨𝐩𝐚𝐥𝐢𝐚𝐧𝐬 [𝐂𝐡𝐚𝐩𝐭𝐞𝐫 𝟐 𝐒𝐜𝐫𝐢𝐩𝐭𝐮𝐫𝐞: 𝐒𝐞𝐱𝐮𝐚𝐥𝐢𝐭𝐲 𝐚𝐧𝐝 𝐒𝐞𝐱𝐮𝐚𝐥 𝐎𝐫𝐢𝐞𝐧𝐭𝐚𝐭𝐢𝐨𝐧] 𝐏𝐫𝐨𝐟𝐞𝐬𝐬𝐨𝐫 𝐖𝐢𝐥 𝐆𝐚𝐟𝐧𝐞𝐲
[𝟔] 𝐀 𝐋𝐢𝐥𝐲 𝐀𝐦𝐨𝐧𝐠 𝐭𝐡𝐞 𝐓𝐡𝐨𝐫𝐧𝐬: 𝐈𝐦𝐚𝐠𝐢𝐧𝐢𝐧𝐠 𝐚 𝐍𝐞𝐰 𝐂𝐡𝐫𝐢𝐬𝐭𝐢𝐚𝐧 𝐒𝐞𝐱𝐮𝐚𝐥𝐢𝐭𝐲 [𝐂𝐨𝐩𝐲 𝐑𝐢𝐠𝐡𝐭 𝟐𝟎𝟎𝟕] 𝐁𝐲 𝐌𝐢𝐠𝐮𝐞𝐥 𝐀. 𝐃𝐞 𝐋𝐚 𝐓𝐨𝐫𝐫𝐞 𝐩𝐚𝐠𝐞 𝟒𝟓

[𝟕] 𝐓𝐡𝐞 𝐏𝐨𝐩𝐮𝐥𝐚𝐫 𝐂𝐨𝐦𝐦𝐞𝐧𝐭𝐚𝐫𝐲 𝐛𝐲 𝐏𝐚𝐮𝐥 𝐄. 𝐊𝐫𝐞𝐭𝐳𝐦𝐚𝐧𝐧 𝐡𝐭𝐭𝐩://𝐰𝐰𝐰.𝐬𝐭𝐮𝐝𝐲𝐥𝐢𝐠𝐡𝐭.𝐨𝐫𝐠/𝐜𝐨𝐦/𝐤𝐩𝐜/𝐯𝐢𝐞𝐰.𝐜𝐠𝐢?𝐛𝐤=𝟑&𝐜𝐡=𝟑𝟏 𝐡𝐭𝐭𝐩://𝐰𝐰𝐰.𝐤𝐫𝐞𝐭𝐳𝐦𝐚𝐧𝐧𝐩𝐫𝐨𝐣𝐞𝐜𝐭.𝐨𝐫𝐠/𝐏𝐄𝐍𝐓/𝐍𝐔𝐌/𝐍𝐔𝐌_𝟑𝟏.𝐡𝐭𝐦
[𝟖] 𝐑𝐞𝐟𝐫𝐚𝐦𝐢𝐧𝐠 𝐇𝐞𝐫: 𝐁𝐢𝐛𝐥𝐢𝐜𝐚𝐥 𝐖𝐨𝐦𝐞𝐧 𝐢𝐧 𝐏𝐨𝐬𝐭𝐜𝐨𝐥𝐨𝐧𝐢𝐚𝐥 𝐅𝐨𝐜𝐮𝐬 [𝐂𝐨𝐩𝐲 𝐑𝐢𝐠𝐡𝐭 𝟐𝟎𝟎𝟒] 𝐁𝐲 𝐉𝐮𝐝𝐢𝐭𝐡 𝐄. 𝐌𝐜𝐊𝐢𝐧𝐥𝐚𝐲 𝐩𝐚𝐠𝐞 𝟐𝟕