𝐀𝐥𝐥𝐚𝐡 𝐍𝐞𝐯𝐞𝐫 𝐖𝐚𝐧𝐭𝐞𝐝 𝐓𝐨 𝐇𝐚𝐯𝐞 𝐒𝐨𝐧/𝐂𝐡𝐢𝐥𝐝𝐫𝐞𝐧 𝐖𝐢𝐭𝐡 𝐎𝐫 𝐖𝐢𝐭𝐡𝐨𝐮𝐭 𝐀 𝐏𝐚𝐫𝐭𝐧𝐞𝐫



Mohamad Mostafa Nassar
Twitter:@NassarMohamadMR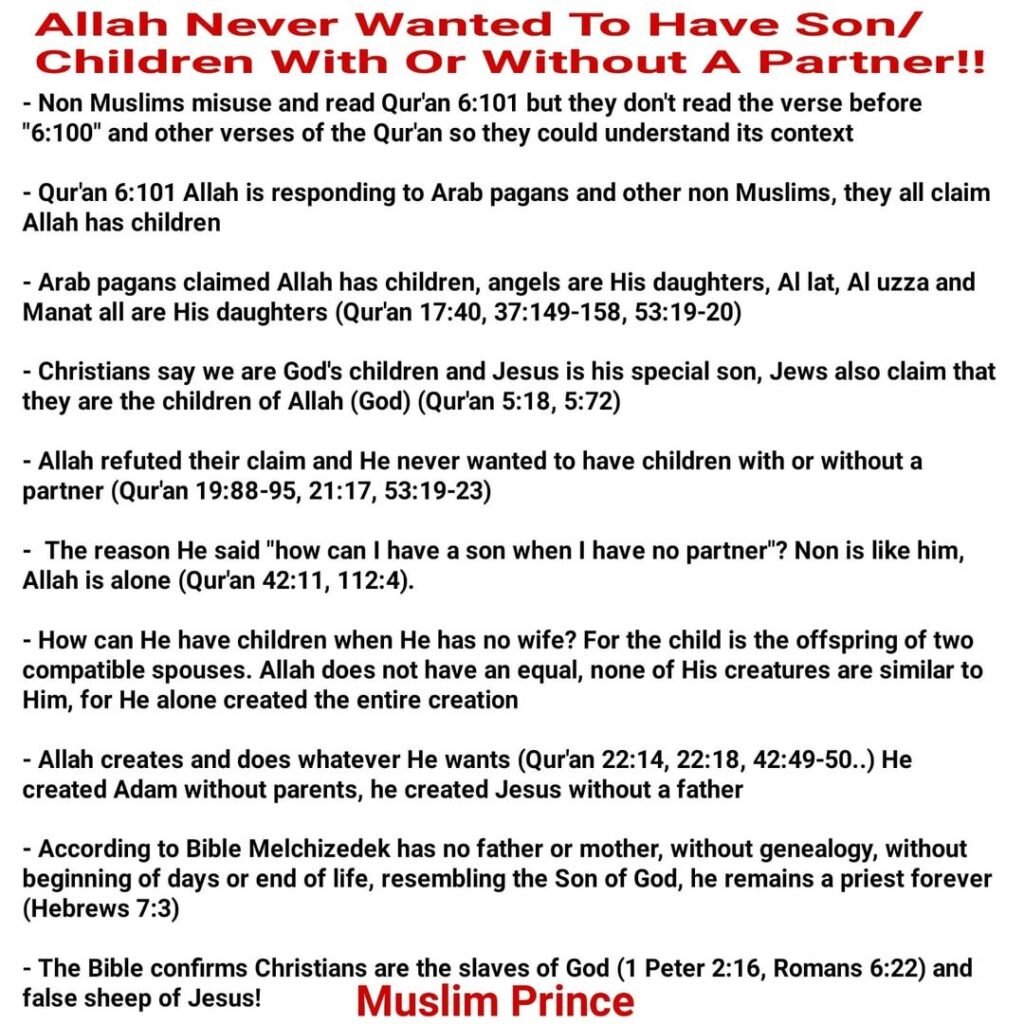 – Non Muslims misuse and read Qur'an 6:101 but they don't read the verse before "6:100" and other verses of the Qur'an so they could understand its context

– Qur'an 6:101 Allah is responding to Arab pagans and other non Muslims, they all claim Allah has children

– Arab pagans claimed Allah has children, angels are His daughters, Al lat, Al uzza and Manat all are His daughters (Qur'an 17:40, 37:149-158, 53:19-20)

– Christians say we are God's children and Jesus is his special son, Jews also claim that they are the children of Allah (God) (Qur'an 5:18, 5:72)

– Allah refuted their claim and He never wanted to have children with or without a partner (Qur'an 19:88-95, 21:17, 53:19-23)

– The reason He said "how can I have a son when I have no partner"? Non is like him, Allah is alone (Qur'an 42:11, 112:4).

– How can He have children when He has no wife? For the child is the offspring of two compatible spouses. Allah does not have an equal, none of His creatures are similar to Him, for He alone created the entire creation

– Allah creates and does whatever He wants (Qur'an 22:14, 22:18, 42:49-50..) He created Adam without parents, he created Jesus without a father

– According to Bible Melchizedek has no father or mother, without genealogy, without beginning of days or end of life, resembling the Son of God, he remains a priest forever (Hebrews 7:3)

– The Bible confirms Christians are the slaves of God (1 Peter 2:16, Romans 6:22) and false sheep of Jesus!
The truth has come (arrived) and falsehood has vanished, indeed falsehood is a vanish thing!
Why does Allah say in Quran 6:101 that he can't have a son without consort although he is able of doing everything?
Allah Never Wanted To Have Son/Children With Or Without A Partner
Paul the False Apostle of Satan