𝐀𝐥𝐥𝐚𝐡 𝐍𝐞𝐯𝐞𝐫 𝐖𝐚𝐧𝐭𝐞𝐝 𝐓𝐨 𝐇𝐚𝐯𝐞 𝐒𝐨𝐧/𝐂𝐡𝐢𝐥𝐝𝐫𝐞𝐧 𝐖𝐢𝐭𝐡 𝐎𝐫 𝐖𝐢𝐭𝐡𝐨𝐮𝐭 𝐀 𝐏𝐚𝐫𝐭𝐧𝐞𝐫



Mohamad Mostafa Nassar
Twitter:@NassarMohamadMR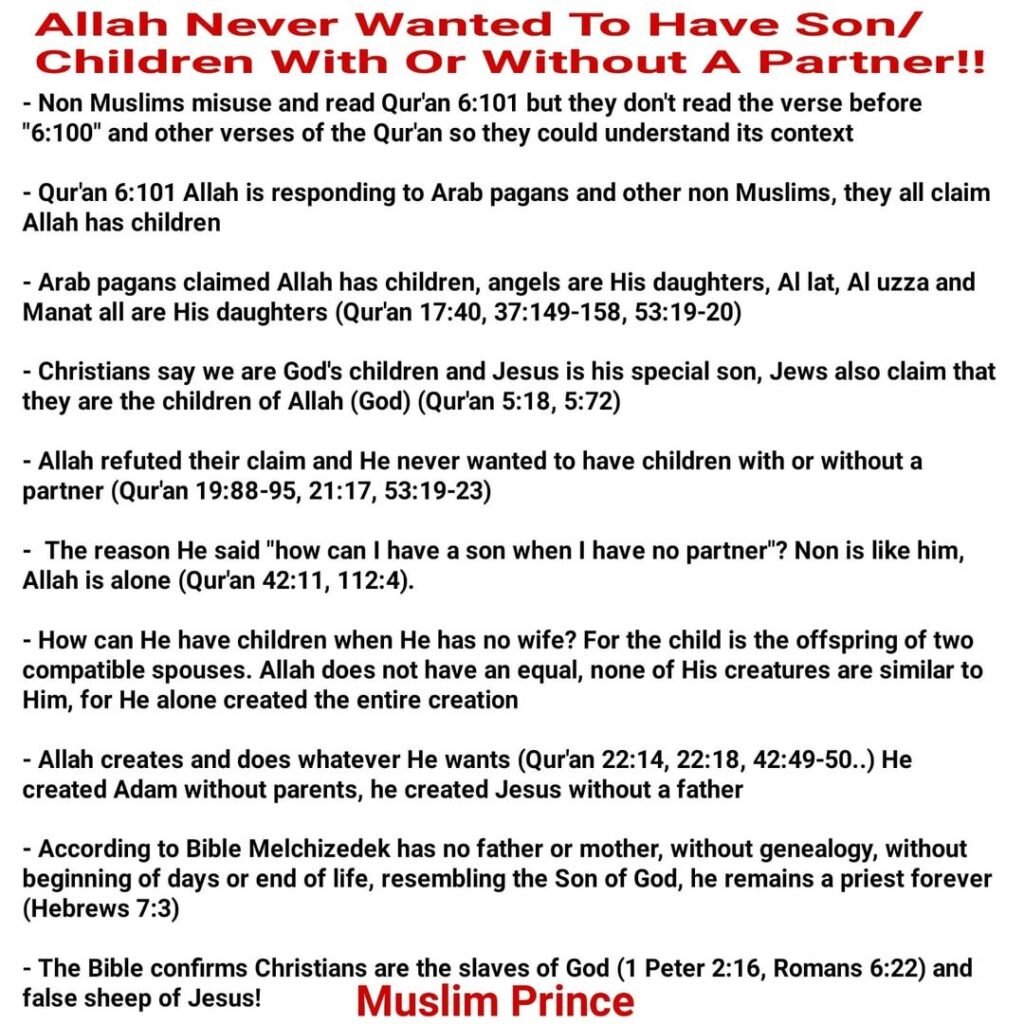 𝐍𝐨𝐧-𝐌𝐮𝐬𝐥𝐢𝐦𝐬 𝐦𝐢𝐬𝐮𝐬𝐞 𝐚𝐧𝐝 𝐫𝐞𝐚𝐝 𝐐𝐮𝐫'𝐚𝐧 𝟔:𝟏𝟎𝟏 𝐛𝐮𝐭 𝐭𝐡𝐞𝐲 𝐝𝐨𝐧'𝐭 𝐫𝐞𝐚𝐝 𝐭𝐡𝐞 𝐯𝐞𝐫𝐬𝐞 𝐛𝐞𝐟𝐨𝐫𝐞 "𝟔:𝟏𝟎𝟎" 𝐚𝐧𝐝 𝐨𝐭𝐡𝐞𝐫 𝐯𝐞𝐫𝐬𝐞𝐬 𝐨𝐟 𝐭𝐡𝐞 𝐐𝐮𝐫'𝐚𝐧 𝐬𝐨 𝐭𝐡𝐞𝐲 𝐜𝐨𝐮𝐥𝐝 𝐮𝐧𝐝𝐞𝐫𝐬𝐭𝐚𝐧𝐝 𝐢𝐭𝐬 𝐜𝐨𝐧𝐭𝐞𝐱𝐭
𝐐𝐮𝐫'𝐚𝐧 𝟔:𝟏𝟎𝟏 𝐀𝐥𝐥𝐚𝐡 𝐢𝐬 𝐫𝐞𝐬𝐩𝐨𝐧𝐝𝐢𝐧𝐠 𝐭𝐨 𝐀𝐫𝐚𝐛 𝐩𝐚𝐠𝐚𝐧𝐬 𝐚𝐧𝐝 𝐨𝐭𝐡𝐞𝐫 𝐧𝐨𝐧-𝐌𝐮𝐬𝐥𝐢𝐦𝐬, 𝐭𝐡𝐞𝐲 𝐚𝐥𝐥 𝐜𝐥𝐚𝐢𝐦 𝐀𝐥𝐥𝐚𝐡 𝐡𝐚𝐬 𝐜𝐡𝐢𝐥𝐝𝐫𝐞𝐧
𝐀𝐫𝐚𝐛 𝐩𝐚𝐠𝐚𝐧𝐬 𝐜𝐥𝐚𝐢𝐦𝐞𝐝 𝐀𝐥𝐥𝐚𝐡 𝐡𝐚𝐬 𝐜𝐡𝐢𝐥𝐝𝐫𝐞𝐧, 𝐚𝐧𝐠𝐞𝐥𝐬 𝐚𝐫𝐞 𝐇𝐢𝐬 𝐝𝐚𝐮𝐠𝐡𝐭𝐞𝐫𝐬, 𝐀𝐥 𝐥𝐚𝐭, 𝐀𝐥 𝐮𝐳𝐳𝐚 𝐚𝐧𝐝 𝐌𝐚𝐧𝐚𝐭 𝐚𝐥𝐥 𝐚𝐫𝐞 𝐇𝐢𝐬 𝐝𝐚𝐮𝐠𝐡𝐭𝐞𝐫𝐬 (𝐐𝐮𝐫'𝐚𝐧 𝟏𝟕:𝟒𝟎, 𝟑𝟕:𝟏𝟒𝟗-𝟏𝟓𝟖, 𝟓𝟑:𝟏𝟗-𝟐𝟎)
𝐂𝐡𝐫𝐢𝐬𝐭𝐢𝐚𝐧𝐬 𝐬𝐚𝐲 𝐰𝐞 𝐚𝐫𝐞 𝐆𝐨𝐝'𝐬 𝐜𝐡𝐢𝐥𝐝𝐫𝐞𝐧 𝐚𝐧𝐝 𝐉𝐞𝐬𝐮𝐬 𝐢𝐬 𝐡𝐢𝐬 𝐬𝐩𝐞𝐜𝐢𝐚𝐥 𝐬𝐨𝐧, 𝐉𝐞𝐰𝐬 𝐚𝐥𝐬𝐨 𝐜𝐥𝐚𝐢𝐦 𝐭𝐡𝐚𝐭 𝐭𝐡𝐞𝐲 𝐚𝐫𝐞 𝐭𝐡𝐞 𝐜𝐡𝐢𝐥𝐝𝐫𝐞𝐧 𝐨𝐟 𝐀𝐥𝐥𝐚𝐡 (𝐆𝐨𝐝) (𝐐𝐮𝐫'𝐚𝐧 𝟓:𝟏𝟖, 𝟓:𝟕𝟐)
𝐀𝐥𝐥𝐚𝐡 𝐫𝐞𝐟𝐮𝐭𝐞𝐝 𝐭𝐡𝐞𝐢𝐫 𝐜𝐥𝐚𝐢𝐦 𝐚𝐧𝐝 𝐇𝐞 𝐧𝐞𝐯𝐞𝐫 𝐰𝐚𝐧𝐭𝐞𝐝 𝐭𝐨 𝐡𝐚𝐯𝐞 𝐜𝐡𝐢𝐥𝐝𝐫𝐞𝐧 𝐰𝐢𝐭𝐡 𝐨𝐫 𝐰𝐢𝐭𝐡𝐨𝐮𝐭 𝐚 𝐩𝐚𝐫𝐭𝐧𝐞𝐫 (𝐐𝐮𝐫'𝐚𝐧 𝟏𝟗:𝟖𝟖-𝟗𝟓, 𝟐𝟏:𝟏𝟕, 𝟓𝟑:𝟏𝟗-𝟐𝟑)
𝐓𝐡𝐞 𝐫𝐞𝐚𝐬𝐨𝐧 𝐇𝐞 𝐬𝐚𝐢𝐝, "𝐇𝐨𝐰 𝐜𝐚𝐧 𝐈 𝐡𝐚𝐯𝐞 𝐚 𝐬𝐨𝐧 𝐰𝐡𝐞𝐧 𝐈 𝐡𝐚𝐯𝐞 𝐧𝐨 𝐩𝐚𝐫𝐭𝐧𝐞𝐫"? 𝐍𝐨𝐧 𝐢𝐬 𝐥𝐢𝐤𝐞 𝐡𝐢𝐦, 𝐀𝐥𝐥𝐚𝐡 𝐢𝐬 𝐚𝐥𝐨𝐧𝐞 (𝐐𝐮𝐫'𝐚𝐧 𝟒𝟐:𝟏𝟏, 𝟏𝟏𝟐:𝟒).
𝐇𝐨𝐰 𝐜𝐚𝐧 𝐇𝐞 𝐡𝐚𝐯𝐞 𝐜𝐡𝐢𝐥𝐝𝐫𝐞𝐧 𝐰𝐡𝐞𝐧 𝐇𝐞 𝐡𝐚𝐬 𝐧𝐨 𝐰𝐢𝐟𝐞? 𝐅𝐨𝐫 𝐭𝐡𝐞 𝐜𝐡𝐢𝐥𝐝 𝐢𝐬 𝐭𝐡𝐞 𝐨𝐟𝐟𝐬𝐩𝐫𝐢𝐧𝐠 𝐨𝐟 𝐭𝐰𝐨 𝐜𝐨𝐦𝐩𝐚𝐭𝐢𝐛𝐥𝐞 𝐬𝐩𝐨𝐮𝐬𝐞𝐬. 𝐀𝐥𝐥𝐚𝐡 𝐝𝐨𝐞𝐬 𝐧𝐨𝐭 𝐡𝐚𝐯𝐞 𝐚𝐧 𝐞𝐪𝐮𝐚𝐥, 𝐧𝐨𝐧𝐞 𝐨𝐟 𝐇𝐢𝐬 𝐜𝐫𝐞𝐚𝐭𝐮𝐫𝐞𝐬 𝐚𝐫𝐞 𝐬𝐢𝐦𝐢𝐥𝐚𝐫 𝐭𝐨 𝐇𝐢𝐦, 𝐟𝐨𝐫 𝐇𝐞 𝐚𝐥𝐨𝐧𝐞 𝐜𝐫𝐞𝐚𝐭𝐞𝐝 𝐭𝐡𝐞 𝐞𝐧𝐭𝐢𝐫𝐞 𝐜𝐫𝐞𝐚𝐭𝐢𝐨𝐧
𝐀𝐥𝐥𝐚𝐡 𝐜𝐫𝐞𝐚𝐭𝐞𝐬 𝐚𝐧𝐝 𝐝𝐨𝐞𝐬 𝐰𝐡𝐚𝐭𝐞𝐯𝐞𝐫 𝐇𝐞 𝐰𝐚𝐧𝐭𝐬 (𝐐𝐮𝐫'𝐚𝐧 𝟐𝟐:𝟏𝟒, 𝟐𝟐:𝟏𝟖, 𝟒𝟐:𝟒𝟗-𝟓𝟎..) 𝐇𝐞 𝐜𝐫𝐞𝐚𝐭𝐞𝐝 𝐀𝐝𝐚𝐦 𝐰𝐢𝐭𝐡𝐨𝐮𝐭 𝐩𝐚𝐫𝐞𝐧𝐭𝐬, 𝐡𝐞 𝐜𝐫𝐞𝐚𝐭𝐞𝐝 𝐉𝐞𝐬𝐮𝐬 𝐰𝐢𝐭𝐡𝐨𝐮𝐭 𝐚 𝐟𝐚𝐭𝐡𝐞𝐫
𝐀𝐜𝐜𝐨𝐫𝐝𝐢𝐧𝐠 𝐭𝐨 𝐁𝐢𝐛𝐥𝐞 𝐌𝐞𝐥𝐜𝐡𝐢𝐳𝐞𝐝𝐞𝐤 𝐡𝐚𝐬 𝐧𝐨 𝐟𝐚𝐭𝐡𝐞𝐫 𝐨𝐫 𝐦𝐨𝐭𝐡𝐞𝐫, 𝐰𝐢𝐭𝐡𝐨𝐮𝐭 𝐠𝐞𝐧𝐞𝐚𝐥𝐨𝐠𝐲, 𝐰𝐢𝐭𝐡𝐨𝐮𝐭 𝐛𝐞𝐠𝐢𝐧𝐧𝐢𝐧𝐠 𝐨𝐟 𝐝𝐚𝐲𝐬 𝐨𝐫 𝐞𝐧𝐝 𝐨𝐟 𝐥𝐢𝐟𝐞, 𝐫𝐞𝐬𝐞𝐦𝐛𝐥𝐢𝐧𝐠 𝐭𝐡𝐞 𝐒𝐨𝐧 𝐨𝐟 𝐆𝐨𝐝, 𝐡𝐞 𝐫𝐞𝐦𝐚𝐢𝐧𝐬 𝐚 𝐩𝐫𝐢𝐞𝐬𝐭 𝐟𝐨𝐫𝐞𝐯𝐞𝐫 (𝐇𝐞𝐛𝐫𝐞𝐰𝐬 𝟕:𝟑)
𝐓𝐡𝐞 𝐁𝐢𝐛𝐥𝐞 𝐜𝐨𝐧𝐟𝐢𝐫𝐦𝐬 𝐂𝐡𝐫𝐢𝐬𝐭𝐢𝐚𝐧𝐬 𝐚𝐫𝐞 𝐭𝐡𝐞 𝐬𝐥𝐚𝐯𝐞𝐬 𝐨𝐟 𝐆𝐨𝐝 (𝟏 𝐏𝐞𝐭𝐞𝐫 𝟐:𝟏𝟔, 𝐑𝐨𝐦𝐚𝐧𝐬 𝟔:𝟐𝟐) 𝐚𝐧𝐝 𝐟𝐚𝐥𝐬𝐞 𝐬𝐡𝐞𝐞𝐩 𝐨𝐟 𝐉𝐞𝐬𝐮𝐬!
𝐓𝐡𝐞 𝐭𝐫𝐮𝐭𝐡 𝐡𝐚𝐬 𝐜𝐨𝐦𝐞 (𝐚𝐫𝐫𝐢𝐯𝐞𝐝) 𝐚𝐧𝐝 𝐟𝐚𝐥𝐬𝐞𝐡𝐨𝐨𝐝 𝐡𝐚𝐬 𝐯𝐚𝐧𝐢𝐬𝐡𝐞𝐝, 𝐢𝐧𝐝𝐞𝐞𝐝 𝐟𝐚𝐥𝐬𝐞𝐡𝐨𝐨𝐝 𝐢𝐬 𝐚 𝐯𝐚𝐧𝐢𝐬𝐡𝐢𝐧𝐠 𝐭𝐡𝐢𝐧𝐠!
𝐀𝐥𝐥𝐚𝐡 𝐊𝐧𝐨𝐰𝐬 𝐁𝐞𝐬𝐭.
Why does Allah say in Quran 6:101 that he can't have a son without consort although he is able of doing everything?
Allah Never Wanted To Have Son/Children With Or Without A Partner
Paul the False Apostle of Satan