𝐖𝐡𝐲 𝐢𝐬 𝐭𝐡𝐞 𝐚𝐩𝐨𝐬𝐭𝐚𝐭𝐞 𝐭𝐨 𝐛𝐞 𝐞𝐱𝐞𝐜𝐮𝐭𝐞𝐝 𝐢𝐧 𝐈𝐬𝐥𝐚𝐦?
Mohamad Mostafa Nassar
Twitter@NassarMohamadMR
𝐐𝐮𝐞𝐬𝐭𝐢𝐨𝐧
𝐀𝐬 𝐚 𝐧𝐨𝐧-𝐌𝐮𝐬𝐥𝐢𝐦, 𝐈 𝐟𝐢𝐧𝐝 𝐦𝐲𝐬𝐞𝐥𝐟 𝐈𝐧𝐭𝐫𝐢𝐠𝐮𝐞𝐝 𝐚𝐧𝐝 𝐚𝐭𝐭𝐫𝐚𝐜𝐭𝐞𝐝 𝐭𝐨 𝐲𝐨𝐮𝐫 𝐟𝐚𝐢𝐭𝐡. 𝐇𝐨𝐰𝐞𝐯𝐞𝐫, 𝐈 𝐟𝐢𝐧𝐝 𝐢𝐭 𝐝𝐢𝐟𝐟𝐢𝐜𝐮𝐥𝐭 𝐭𝐨 𝐜𝐨𝐦𝐩𝐫𝐞𝐡𝐞𝐧𝐝 𝐡𝐨𝐰 𝐚 𝐦𝐚𝐧 𝐜𝐚𝐧 𝐛𝐞 𝐬𝐞𝐧𝐭𝐞𝐧𝐜𝐞𝐝 𝐭𝐨 𝐝𝐞𝐚𝐭𝐡 𝐟𝐨𝐫 𝐬𝐩𝐞𝐚𝐤𝐢𝐧𝐠 (𝐒𝐚𝐥𝐦𝐚𝐧 𝐑𝐮𝐬𝐡𝐝𝐢𝐞). 𝐈 𝐰𝐨𝐮𝐥𝐝 𝐡𝐚𝐯𝐞 𝐭𝐡𝐨𝐮𝐠𝐡𝐭 𝐭𝐡𝐚𝐭 𝐰𝐞 𝐚𝐬 𝐡𝐮𝐦𝐚𝐧𝐬 𝐝𝐨 𝐧𝐨𝐭 𝐡𝐚𝐯𝐞 𝐭𝐡𝐞 𝐫𝐢𝐠𝐡𝐭 𝐭𝐨 𝐦𝐚𝐤𝐞 𝐭𝐡𝐨𝐬𝐞 𝐝𝐞𝐜𝐢𝐬𝐢𝐨𝐧𝐬, 𝐨𝐧𝐥𝐲 𝐆𝐨𝐝 𝐜𝐚𝐧.
𝐀𝐧𝐬𝐰𝐞𝐫
𝐏𝐫𝐚𝐢𝐬𝐞 𝐛𝐞 𝐭𝐨 𝐀𝐥𝐥𝐚𝐡.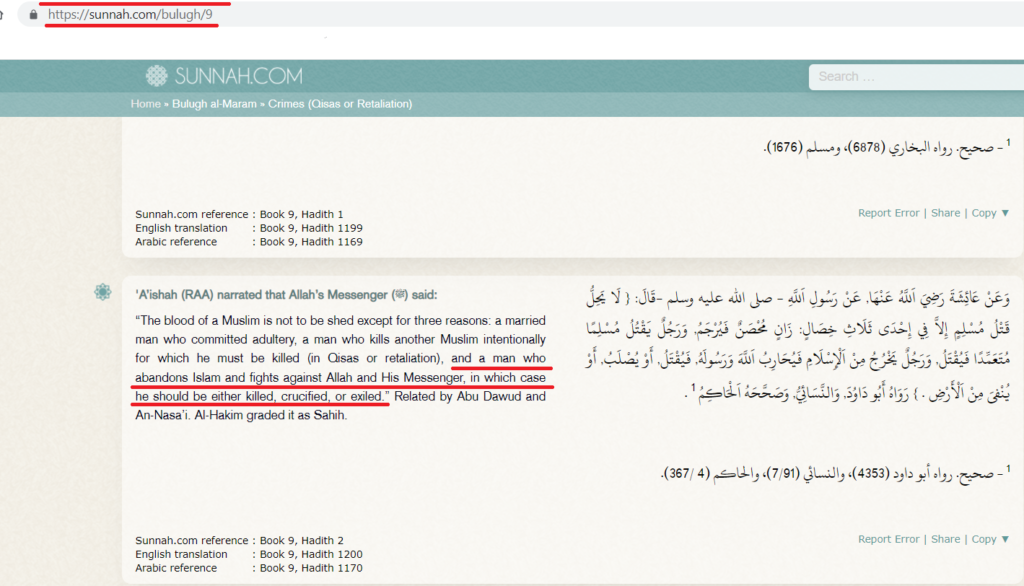 𝐖𝐞 𝐭𝐡𝐚𝐧𝐤 𝐲𝐨𝐮 𝐟𝐨𝐫 𝐲𝐨𝐮𝐫 𝐜𝐨𝐧𝐟𝐢𝐝𝐞𝐧𝐜𝐞 𝐢𝐧 𝐮𝐬 𝐚𝐧𝐝 𝐟𝐨𝐫 𝐬𝐞𝐧𝐝𝐢𝐧𝐠 𝐭𝐡𝐢𝐬 𝐪𝐮𝐞𝐬𝐭𝐢𝐨𝐧 𝐭𝐨 𝐮𝐬, 𝐚𝐧𝐝 𝐰𝐞 𝐚𝐩𝐩𝐫𝐞𝐜𝐢𝐚𝐭𝐞 𝐲𝐨𝐮𝐫 𝐛𝐞𝐢𝐧𝐠 𝐢𝐧𝐭𝐫𝐢𝐠𝐮𝐞𝐝 𝐛𝐲 𝐨𝐮𝐫 𝐛𝐞𝐥𝐢𝐞𝐟𝐬 𝐚𝐧𝐝 𝐲𝐨𝐮𝐫 𝐞𝐚𝐠𝐞𝐫𝐧𝐞𝐬𝐬 𝐭𝐨 𝐟𝐢𝐧𝐝 𝐨𝐮𝐭 𝐭𝐡𝐞 𝐚𝐧𝐬𝐰𝐞𝐫. 𝐖𝐞 𝐰𝐞𝐥𝐜𝐨𝐦𝐞 𝐲𝐨𝐮 𝐚𝐬 𝐚 𝐯𝐢𝐬𝐢𝐭𝐨𝐫 𝐚𝐧𝐝 𝐫𝐞𝐚𝐝𝐞𝐫 𝐚𝐧𝐝 𝐥𝐞𝐚𝐫𝐧𝐞𝐫.
𝐖𝐡𝐚𝐭 𝐬𝐭𝐨𝐨𝐝 𝐨𝐮𝐭 𝐟𝐫𝐨𝐦 𝐲𝐨𝐮𝐫 𝐥𝐞𝐭𝐭𝐞𝐫 𝐢𝐬 𝐭𝐡𝐚𝐭 𝐲𝐨𝐮 𝐚𝐫𝐞 𝐢𝐦𝐩𝐫𝐞𝐬𝐬𝐞𝐝 𝐰𝐢𝐭𝐡 𝐭𝐡𝐞 𝐫𝐞𝐥𝐢𝐠𝐢𝐨𝐧 𝐨𝐟 𝐈𝐬𝐥𝐚𝐦. 𝐓𝐡𝐢𝐬 𝐢𝐬 𝐚 𝐠𝐨𝐨𝐝 𝐬𝐢𝐠𝐧 𝐟𝐨𝐫 𝐮𝐬 𝐚𝐧𝐝 𝐟𝐨𝐫 𝐲𝐨𝐮. 𝐖𝐞 𝐚𝐫𝐞 𝐡𝐚𝐩𝐩𝐲 𝐟𝐨𝐫 𝐨𝐮𝐫 𝐫𝐞𝐥𝐢𝐠𝐢𝐨𝐧 𝐭𝐨 𝐫𝐞𝐚𝐜𝐡 𝐩𝐞𝐨𝐩𝐥𝐞 𝐥𝐢𝐤𝐞 𝐲𝐨𝐮 𝐰𝐡𝐨 𝐚𝐫𝐞 𝐬𝐞𝐞𝐤𝐢𝐧𝐠 𝐟𝐨𝐫 𝐭𝐡𝐞 𝐭𝐫𝐮𝐭𝐡.
𝐎𝐮𝐫 𝐏𝐫𝐨𝐩𝐡𝐞𝐭 (𝐩𝐞𝐚𝐜𝐞 𝐚𝐧𝐝 𝐛𝐥𝐞𝐬𝐬𝐢𝐧𝐠𝐬 𝐨𝐟 𝐀𝐥𝐥𝐚𝐡 𝐛𝐞 𝐮𝐩𝐨𝐧 𝐡𝐢𝐦) 𝐭𝐨𝐥𝐝 𝐮𝐬 𝐭𝐡𝐚𝐭 𝐭𝐡𝐢𝐬 𝐫𝐞𝐥𝐢𝐠𝐢𝐨𝐧 𝐰𝐨𝐮𝐥𝐝 𝐫𝐞𝐚𝐜𝐡 𝐚𝐥𝐥 𝐩𝐥𝐚𝐜𝐞𝐬 𝐨𝐧 𝐭𝐡𝐢𝐬 𝐞𝐚𝐫𝐭𝐡. 𝐈𝐭 𝐰𝐚𝐬 𝐧𝐚𝐫𝐫𝐚𝐭𝐞𝐝 𝐭𝐡𝐚𝐭 𝐓𝐚𝐦𝐞𝐞𝐦 𝐚𝐥-𝐃𝐚𝐚𝐫𝐢 𝐬𝐚𝐢𝐝: "𝐈 𝐡𝐞𝐚𝐫𝐝 𝐭𝐡𝐞 𝐌𝐞𝐬𝐬𝐞𝐧𝐠𝐞𝐫 𝐨𝐟 𝐀𝐥𝐥𝐚𝐡 (𝐩𝐞𝐚𝐜𝐞 𝐚𝐧𝐝 𝐛𝐥𝐞𝐬𝐬𝐢𝐧𝐠𝐬 𝐨𝐟 𝐀𝐥𝐥𝐚𝐡 𝐛𝐞 𝐮𝐩𝐨𝐧 𝐡𝐢𝐦) 𝐬𝐚𝐲:
'𝐓𝐡𝐢𝐬 𝐦𝐚𝐭𝐭𝐞𝐫 (𝐢.𝐞., 𝐈𝐬𝐥𝐚𝐦) 𝐰𝐢𝐥𝐥 𝐜𝐞𝐫𝐭𝐚𝐢𝐧𝐥𝐲 𝐫𝐞𝐚𝐜𝐡 𝐞𝐯𝐞𝐫𝐲𝐰𝐡𝐞𝐫𝐞 𝐭𝐡𝐚𝐭 𝐧𝐢𝐠𝐡𝐭 𝐚𝐧𝐝 𝐝𝐚𝐲 𝐫𝐞𝐚𝐜𝐡, 𝐚𝐧𝐝 𝐀𝐥𝐥𝐚𝐡 𝐰𝐢𝐥𝐥 𝐧𝐨𝐭 𝐥𝐞𝐚𝐯𝐞 𝐚𝐧𝐲 𝐡𝐨𝐮𝐬𝐞 𝐨𝐫 𝐭𝐞𝐧𝐭 [𝐢.𝐞., 𝐚𝐥𝐥 𝐝𝐰𝐞𝐥𝐥𝐢𝐧𝐠𝐬, 𝐢𝐧 𝐭𝐨𝐰𝐧𝐬 𝐚𝐧𝐝 𝐢𝐧 𝐭𝐡𝐞 𝐝𝐞𝐬𝐞𝐫𝐭], 𝐛𝐮𝐭 𝐀𝐥𝐥𝐚𝐡 𝐰𝐢𝐥𝐥 𝐜𝐚𝐮𝐬𝐞 𝐭𝐡𝐢𝐬 𝐫𝐞𝐥𝐢𝐠𝐢𝐨𝐧 𝐭𝐨 𝐞𝐧𝐭𝐞𝐫 𝐢𝐭, 𝐚𝐧𝐝 𝐬𝐨𝐦𝐞 𝐩𝐞𝐨𝐩𝐥𝐞 𝐰𝐢𝐥𝐥 𝐛𝐞 𝐡𝐨𝐧𝐨𝐮𝐫𝐞𝐝 𝐛𝐞𝐜𝐚𝐮𝐬𝐞 𝐨𝐟 𝐢𝐭 [𝐛𝐲 𝐜𝐨𝐧𝐯𝐞𝐫𝐭𝐢𝐧𝐠] 𝐚𝐧𝐝 𝐨𝐭𝐡𝐞𝐫𝐬 𝐰𝐢𝐥𝐥 𝐛𝐞 𝐡𝐮𝐦𝐢𝐥𝐢𝐚𝐭𝐞𝐝 𝐛𝐞𝐜𝐚𝐮𝐬𝐞 𝐨𝐟 𝐢𝐭 [𝐟𝐨𝐫 𝐫𝐞𝐟𝐮𝐬𝐢𝐧𝐠 𝐭𝐨 𝐞𝐦𝐛𝐫𝐚𝐜𝐞 𝐢𝐭], 𝐚𝐧𝐝 𝐭𝐡𝐞𝐲 𝐰𝐢𝐥𝐥 𝐛𝐞 𝐫𝐮𝐥𝐞𝐝 𝐛𝐲 𝐭𝐡𝐞 𝐌𝐮𝐬𝐥𝐢𝐦𝐬, 𝐚𝐧 𝐡𝐨𝐧𝐨𝐮𝐫 𝐰𝐡𝐢𝐜𝐡 𝐀𝐥𝐥𝐚𝐡 𝐰𝐢𝐥𝐥 𝐛𝐞𝐬𝐭𝐨𝐰 𝐨𝐧 𝐈𝐬𝐥𝐚𝐦 𝐚𝐧𝐝 𝐚 𝐡𝐮𝐦𝐢𝐥𝐢𝐚𝐭𝐢𝐨𝐧 𝐰𝐡𝐢𝐜𝐡 𝐇𝐞 𝐰𝐢𝐥𝐥 𝐢𝐧𝐟𝐥𝐢𝐜𝐭 𝐨𝐧 𝐤𝐮𝐟𝐫 (𝐝𝐢𝐬𝐛𝐞𝐥𝐢𝐞𝐟)."
(𝐍𝐚𝐫𝐫𝐚𝐭𝐞𝐝 𝐛𝐲 𝐀𝐡𝐦𝐚𝐝, 𝟏𝟔𝟑𝟒𝟒; 𝐜𝐥𝐚𝐬𝐬𝐞𝐝 𝐚𝐬 𝐬𝐚𝐡𝐞𝐞𝐡 𝐛𝐲 𝐚𝐥-𝐀𝐥𝐛𝐚𝐚𝐧𝐢 𝐢𝐧 𝐚𝐥-𝐒𝐢𝐥𝐬𝐢𝐥𝐚𝐡 𝐚𝐥-𝐒𝐚𝐡𝐞𝐞𝐡𝐚𝐡, 𝟑).
𝐈𝐧 𝐲𝐨𝐮𝐫 𝐜𝐚𝐬𝐞, 𝐲𝐨𝐮𝐫 𝐚𝐝𝐦𝐢𝐫𝐚𝐭𝐢𝐨𝐧 𝐟𝐨𝐫 𝐈𝐬𝐥𝐚𝐦 𝐰𝐢𝐥𝐥 𝐦𝐨𝐭𝐢𝐯𝐚𝐭𝐞 𝐲𝐨𝐮 𝐭𝐨 𝐟𝐢𝐧𝐝 𝐨𝐮𝐭 𝐰𝐡𝐚𝐭 𝐭𝐡𝐢𝐬 𝐩𝐮𝐫𝐞 𝐦𝐨𝐧𝐨𝐭𝐡𝐞𝐢𝐬𝐭𝐢𝐜 𝐫𝐞𝐥𝐢𝐠𝐢𝐨𝐧 𝐭𝐞𝐚𝐜𝐡𝐞𝐬, 𝐚𝐧𝐝 𝐡𝐨𝐰 𝐢𝐭 𝐢𝐬 𝐢𝐧 𝐚𝐜𝐜𝐨𝐫𝐝𝐚𝐧𝐜𝐞 𝐰𝐢𝐭𝐡 𝐬𝐨𝐮𝐧𝐝 𝐡𝐮𝐦𝐚𝐧 𝐧𝐚𝐭𝐮𝐫𝐞 𝐚𝐧𝐝 𝐜𝐨𝐦𝐦𝐨𝐧 𝐬𝐞𝐧𝐬𝐞.
𝐖𝐞 𝐚𝐝𝐯𝐢𝐬𝐞 𝐲𝐨𝐮 𝐭𝐨 𝐚𝐯𝐨𝐢𝐝 𝐜𝐨𝐦𝐩𝐥𝐞𝐭𝐞𝐥𝐲 𝐚𝐧𝐲 𝐩𝐫𝐞𝐜𝐨𝐧𝐜𝐞𝐩𝐭𝐢𝐨𝐧𝐬 𝐭𝐡𝐚𝐭 𝐦𝐚𝐲 𝐢𝐧𝐟𝐥𝐮𝐞𝐧𝐜𝐞 𝐲𝐨𝐮 𝐚𝐧𝐝 𝐭𝐚𝐤𝐞 𝐲𝐨𝐮𝐫 𝐭𝐢𝐦𝐞 𝐢𝐧 𝐫𝐞𝐚𝐝𝐢𝐧𝐠 𝐚𝐛𝐨𝐮𝐭 𝐭𝐡𝐞 𝐭𝐞𝐚𝐜𝐡𝐢𝐧𝐠𝐬 𝐨𝐟 𝐭𝐡𝐞 𝐈𝐬𝐥𝐚𝐦𝐢𝐜 𝐫𝐞𝐥𝐢𝐠𝐢𝐨𝐧. 𝐏𝐞𝐫𝐡𝐚𝐩𝐬 𝐲𝐨𝐮 𝐜𝐨𝐮𝐥𝐝 𝐫𝐞𝐚𝐝 𝐦𝐚𝐭𝐞𝐫𝐢𝐚𝐥 𝐨𝐧 𝐭𝐡𝐢𝐬 𝐬𝐢𝐭𝐞 𝐚𝐛𝐨𝐮𝐭 𝐈𝐬𝐥𝐚𝐦, 𝐬𝐮𝐜𝐡 𝐚𝐬 𝐪𝐮𝐞𝐬𝐭𝐢𝐨𝐧 𝐧𝐨. 𝟐𝟏𝟗, 𝟐𝟏𝟔𝟏𝟑, 𝟐𝟎𝟕𝟓𝟔, 𝟏𝟎𝟓𝟗𝟎. 
𝐑𝐞𝐠𝐚𝐫𝐝𝐢𝐧𝐠 𝐲𝐨𝐮𝐫 𝐪𝐮𝐞𝐬𝐭𝐢𝐨𝐧, "𝐇𝐨𝐰𝐞𝐯𝐞𝐫, 𝐈 𝐟𝐢𝐧𝐝 𝐢𝐭 𝐝𝐢𝐟𝐟𝐢𝐜𝐮𝐥𝐭 𝐭𝐨 𝐜𝐨𝐦𝐩𝐫𝐞𝐡𝐞𝐧𝐝 𝐡𝐨𝐰 𝐚 𝐦𝐚𝐧 𝐜𝐚𝐧 𝐛𝐞 𝐬𝐞𝐧𝐭𝐞𝐧𝐜𝐞𝐝 𝐭𝐨 𝐝𝐞𝐚𝐭𝐡 𝐟𝐨𝐫 𝐬𝐩𝐞𝐚𝐤𝐢𝐧𝐠. 𝐈 𝐰𝐨𝐮𝐥𝐝 𝐡𝐚𝐯𝐞 𝐭𝐡𝐨𝐮𝐠𝐡𝐭 𝐭𝐡𝐚𝐭 𝐰𝐞 𝐚𝐬 𝐡𝐮𝐦𝐚𝐧𝐬 𝐝𝐨 𝐧𝐨𝐭 𝐡𝐚𝐯𝐞 𝐭𝐡𝐚𝐭 𝐫𝐢𝐠𝐡𝐭 𝐭𝐨 𝐦𝐚𝐤𝐞 𝐭𝐡𝐨𝐬𝐞 𝐝𝐞𝐜𝐢𝐬𝐢𝐨𝐧𝐬, 𝐨𝐧𝐥𝐲 𝐆𝐨𝐝 𝐜𝐚𝐧" –
𝐰𝐡𝐚𝐭 𝐲𝐨𝐮 𝐬𝐚𝐲 𝐢𝐬 𝐜𝐨𝐫𝐫𝐞𝐜𝐭, 𝐛𝐞𝐜𝐚𝐮𝐬𝐞 𝐧𝐨 𝐨𝐧𝐞 𝐡𝐚𝐬 𝐭𝐡𝐞 𝐫𝐢𝐠𝐡𝐭 𝐭𝐨 𝐜𝐨𝐧𝐝𝐞𝐦𝐧 𝐚𝐧𝐨𝐭𝐡𝐞𝐫 𝐩𝐞𝐫𝐬𝐨𝐧 𝐭𝐨 𝐝𝐞𝐚𝐭𝐡 𝐰𝐢𝐭𝐡𝐨𝐮𝐭 𝐞𝐯𝐢𝐝𝐞𝐧𝐜𝐞 𝐟𝐫𝐨𝐦 𝐭𝐡𝐞 𝐁𝐨𝐨𝐤 𝐨𝐟 𝐀𝐥𝐥𝐚𝐡 𝐚𝐧𝐝 𝐭𝐡𝐞 𝐒𝐮𝐧𝐧𝐚𝐡 𝐨𝐟 𝐭𝐡𝐞 𝐌𝐞𝐬𝐬𝐞𝐧𝐠𝐞𝐫 𝐨𝐟 𝐀𝐥𝐥𝐚𝐡 (𝐩𝐞𝐚𝐜𝐞 𝐚𝐧𝐝 𝐛𝐥𝐞𝐬𝐬𝐢𝐧𝐠𝐬 𝐨𝐟 𝐀𝐥𝐥𝐚𝐡 𝐛𝐞 𝐮𝐩𝐨𝐧 𝐡𝐢𝐦).
𝐓𝐡𝐞 𝐫𝐮𝐥𝐢𝐧𝐠 𝐨𝐟 𝐞𝐱𝐞𝐜𝐮𝐭𝐢𝐨𝐧 𝐛𝐞𝐜𝐚𝐮𝐬𝐞 𝐨𝐟 𝐚 𝐰𝐨𝐫𝐝 𝐭𝐡𝐚𝐭 𝐬𝐨𝐦𝐞𝐛𝐨𝐝𝐲 𝐮𝐭𝐭𝐞𝐫𝐬 𝐢𝐬 𝐰𝐡𝐚𝐭 𝐌𝐮𝐬𝐥𝐢𝐦 𝐬𝐜𝐡𝐨𝐥𝐚𝐫𝐬 𝐜𝐚𝐥𝐥 𝐚𝐥-𝐫𝐢𝐝𝐝𝐚𝐡 (𝐚𝐩𝐨𝐬𝐭𝐚𝐬𝐲). 𝐖𝐡𝐚𝐭 𝐢𝐬 𝐚𝐩𝐨𝐬𝐭𝐚𝐬𝐲 𝐚𝐧𝐝 𝐰𝐡𝐚𝐭 𝐜𝐨𝐧𝐬𝐭𝐢𝐭𝐮𝐭𝐞𝐬 𝐚𝐩𝐨𝐬𝐭𝐚𝐬𝐲? 𝐖𝐡𝐚𝐭 𝐢𝐬 𝐭𝐡𝐞 𝐫𝐮𝐥𝐢𝐧𝐠 𝐨𝐧 𝐭𝐡𝐞 𝐚𝐩𝐨𝐬𝐭𝐚𝐭𝐞 (𝐚𝐥-𝐦𝐮𝐫𝐭𝐚𝐝)?
𝟏 – 𝐑𝐢𝐝𝐝𝐚𝐡 (𝐚𝐩𝐨𝐬𝐭𝐚𝐬𝐲) 𝐫𝐞𝐟𝐞𝐫𝐬 𝐭𝐨 𝐰𝐡𝐞𝐧 𝐚 𝐌𝐮𝐬𝐥𝐢𝐦 𝐛𝐞𝐜𝐨𝐦𝐞𝐬 𝐚 𝐝𝐢𝐬𝐛𝐞𝐥𝐢𝐞𝐯𝐞𝐫 𝐛𝐲 𝐬𝐚𝐲𝐢𝐧𝐠 𝐚 𝐜𝐥𝐞𝐚𝐫 𝐬𝐭𝐚𝐭𝐞𝐦𝐞𝐧𝐭 𝐭𝐨 𝐭𝐡𝐚𝐭 𝐞𝐟𝐟𝐞𝐜𝐭, 𝐨𝐫 𝐛𝐲 𝐮𝐭𝐭𝐞𝐫𝐢𝐧𝐠 𝐰𝐨𝐫𝐝𝐬 𝐰𝐡𝐢𝐜𝐡 𝐢𝐦𝐩𝐥𝐲 𝐭𝐡𝐚𝐭 (𝐢.𝐞., 𝐰𝐡𝐢𝐜𝐡 𝐢𝐦𝐩𝐥𝐲 𝐤𝐮𝐟𝐫 𝐨𝐫 𝐝𝐢𝐬𝐛𝐞𝐥𝐢𝐞𝐟), 𝐨𝐫 𝐡𝐞 𝐝𝐨𝐞𝐬 𝐬𝐨𝐦𝐞𝐭𝐡𝐢𝐧𝐠 𝐭𝐡𝐚𝐭 𝐢𝐦𝐩𝐥𝐢𝐞𝐬 𝐭𝐡𝐚𝐭 (𝐢.𝐞., 𝐚𝐧 𝐚𝐜𝐭𝐢𝐨𝐧 𝐰𝐡𝐢𝐜𝐡 𝐢𝐦𝐩𝐥𝐢𝐞𝐬 𝐤𝐮𝐟𝐫 𝐨𝐫 𝐝𝐢𝐬𝐛𝐞𝐥𝐢𝐞𝐟).
𝟐 – 𝐖𝐡𝐚𝐭 𝐜𝐨𝐧𝐬𝐭𝐢𝐭𝐮𝐭𝐞𝐬 𝐚𝐩𝐨𝐬𝐭𝐚𝐬𝐲
𝐓𝐡𝐞 𝐦𝐚𝐭𝐭𝐞𝐫𝐬 𝐰𝐡𝐢𝐜𝐡 𝐜𝐨𝐧𝐬𝐭𝐢𝐭𝐮𝐭𝐞 𝐚𝐩𝐨𝐬𝐭𝐚𝐬𝐲 𝐚𝐫𝐞 𝐝𝐢𝐯𝐢𝐝𝐞𝐝 𝐢𝐧𝐭𝐨 𝐟𝐨𝐮𝐫 𝐜𝐚𝐭𝐞𝐠𝐨𝐫𝐢𝐞𝐬:
(𝐚)𝐀𝐩𝐨𝐬𝐭𝐚𝐬𝐲 𝐢𝐧 𝐛𝐞𝐥𝐢𝐞𝐟𝐬, 𝐬𝐮𝐜𝐡 𝐚𝐬 𝐚𝐬𝐬𝐨𝐜𝐢𝐚𝐭𝐢𝐧𝐠 𝐨𝐭𝐡𝐞𝐫𝐬 𝐰𝐢𝐭𝐡 𝐀𝐥𝐥𝐚𝐡, 𝐝𝐞𝐧𝐲𝐢𝐧𝐠 𝐇𝐢𝐦, 𝐝𝐞𝐧𝐲𝐢𝐧𝐠 𝐚𝐧 𝐚𝐭𝐭𝐫𝐢𝐛𝐮𝐭𝐞 𝐭𝐡𝐚𝐭 𝐢𝐬 𝐩𝐫𝐨𝐯𝐞𝐧 𝐭𝐨 𝐛𝐞 𝐨𝐧𝐞 𝐨𝐟 𝐇𝐢𝐬 𝐚𝐭𝐭𝐫𝐢𝐛𝐮𝐭𝐞𝐬, 𝐨𝐫 𝐚𝐟𝐟𝐢𝐫𝐦𝐢𝐧𝐠 𝐭𝐡𝐚𝐭 𝐀𝐥𝐥𝐚𝐡 𝐡𝐚𝐬 𝐚 𝐬𝐨𝐧. 𝐖𝐡𝐨𝐞𝐯𝐞𝐫 𝐛𝐞𝐥𝐢𝐞𝐯𝐞𝐬 𝐭𝐡𝐚𝐭 𝐢𝐬 𝐚𝐧 𝐚𝐩𝐨𝐬𝐭𝐚𝐭𝐞 𝐚𝐧𝐝 𝐚 𝐝𝐢𝐬𝐛𝐞𝐥𝐢𝐞𝐯𝐞𝐫.
(𝐛)𝐀𝐩𝐨𝐬𝐭𝐚𝐬𝐲 𝐢𝐧 𝐰𝐨𝐫𝐝𝐬, 𝐬𝐮𝐜𝐡 𝐚𝐬 𝐢𝐧𝐬𝐮𝐥𝐭𝐢𝐧𝐠 𝐀𝐥𝐥𝐚𝐡 𝐨𝐫 𝐭𝐡𝐞 𝐌𝐞𝐬𝐬𝐞𝐧𝐠𝐞𝐫 (𝐩𝐞𝐚𝐜𝐞 𝐚𝐧𝐝 𝐛𝐥𝐞𝐬𝐬𝐢𝐧𝐠𝐬 𝐨𝐟 𝐀𝐥𝐥𝐚𝐡 𝐛𝐞 𝐮𝐩𝐨𝐧 𝐡𝐢𝐦).
(𝐜)𝐀𝐩𝐨𝐬𝐭𝐚𝐬𝐲 𝐢𝐧 𝐚𝐜𝐭𝐢𝐨𝐧𝐬, 𝐬𝐮𝐜𝐡 𝐚𝐬 𝐭𝐡𝐫𝐨𝐰𝐢𝐧𝐠 𝐭𝐡𝐞 𝐐𝐮𝐫'𝐚𝐧 𝐢𝐧𝐭𝐨 𝐚 𝐟𝐢𝐥𝐭𝐡𝐲 𝐩𝐥𝐚𝐜𝐞, 𝐛𝐞𝐜𝐚𝐮𝐬𝐞 𝐝𝐨𝐢𝐧𝐠 𝐭𝐡𝐚𝐭 𝐬𝐡𝐨𝐰𝐬 𝐝𝐢𝐬𝐫𝐞𝐬𝐩𝐞𝐜𝐭 𝐭𝐨𝐰𝐚𝐫𝐝𝐬 𝐭𝐡𝐞 𝐰𝐨𝐫𝐝𝐬 𝐨𝐟 𝐀𝐥𝐥𝐚𝐡, 𝐬𝐨 𝐢𝐭 𝐢𝐬 𝐚 𝐬𝐢𝐠𝐧 𝐭𝐡𝐚𝐭 𝐨𝐧𝐞 𝐝𝐨𝐞𝐬 𝐧𝐨𝐭 𝐛𝐞𝐥𝐢𝐞𝐯𝐞. 𝐎𝐭𝐡𝐞𝐫 𝐬𝐮𝐜𝐡 𝐚𝐜𝐭𝐢𝐨𝐧𝐬 𝐢𝐧𝐜𝐥𝐮𝐝𝐞 𝐩𝐫𝐨𝐬𝐭𝐫𝐚𝐭𝐢𝐧𝐠 𝐭𝐨 𝐚𝐧 𝐢𝐝𝐨𝐥 𝐨𝐫 𝐭𝐨 𝐭𝐡𝐞 𝐬𝐮𝐧 𝐨𝐫 𝐦𝐨𝐨𝐧.
(𝐝)𝐀𝐩𝐨𝐬𝐭𝐚𝐬𝐲 𝐛𝐲 𝐨𝐦𝐢𝐬𝐬𝐢𝐨𝐧, 𝐬𝐮𝐜𝐡 𝐚𝐬 𝐧𝐨𝐭 𝐝𝐨𝐢𝐧𝐠 𝐚𝐧𝐲 𝐨𝐟 𝐭𝐡𝐞 𝐫𝐢𝐭𝐮𝐚𝐥𝐬 𝐨𝐟 𝐈𝐬𝐥𝐚𝐦 𝐨𝐫 𝐭𝐮𝐫𝐧𝐢𝐧𝐠 𝐚𝐰𝐚𝐲 𝐟𝐫𝐨𝐦 𝐟𝐨𝐥𝐥𝐨𝐰𝐢𝐧𝐠 𝐢𝐭 𝐚𝐥𝐭𝐨𝐠𝐞𝐭𝐡𝐞𝐫.
𝟑 – 𝐖𝐡𝐚𝐭 𝐢𝐬 𝐭𝐡𝐞 𝐫𝐮𝐥𝐢𝐧𝐠 𝐨𝐧 𝐭𝐡𝐞 𝐚𝐩𝐨𝐬𝐭𝐚𝐭𝐞?
𝐈𝐟 𝐚 𝐌𝐮𝐬𝐥𝐢𝐦 𝐚𝐩𝐨𝐬𝐭𝐚𝐭𝐢𝐳𝐞𝐬 𝐚𝐧𝐝 𝐦𝐞𝐞𝐭𝐬 𝐭𝐡𝐞 𝐜𝐨𝐧𝐝𝐢𝐭𝐢𝐨𝐧𝐬 𝐨𝐟 𝐚𝐩𝐨𝐬𝐭𝐚𝐬𝐲 – 𝐢.𝐞., 𝐡𝐞 𝐢𝐬 𝐨𝐟 𝐬𝐨𝐮𝐧𝐝 𝐦𝐢𝐧𝐝, 𝐚𝐧 𝐚𝐝𝐮𝐥𝐭 𝐚𝐧𝐝 𝐝𝐨𝐞𝐬 𝐭𝐡𝐚𝐭 𝐨𝐟 𝐡𝐢𝐬 𝐨𝐰𝐧 𝐟𝐫𝐞𝐞 𝐰𝐢𝐥𝐥 – 𝐭𝐡𝐞𝐧 𝐡𝐢𝐬 𝐛𝐥𝐨𝐨𝐝 𝐦𝐚𝐲 𝐛𝐞 𝐬𝐡𝐞𝐝 𝐰𝐢𝐭𝐡 𝐢𝐦𝐩𝐮𝐧𝐢𝐭𝐲. 𝐇𝐞 𝐢𝐬 𝐭𝐨 𝐛𝐞 𝐞𝐱𝐞𝐜𝐮𝐭𝐞𝐝 𝐛𝐲 𝐭𝐡𝐞 𝐌𝐮𝐬𝐥𝐢𝐦 𝐫𝐮𝐥𝐞𝐫 𝐨𝐫 𝐛𝐲 𝐡𝐢𝐬 𝐝𝐞𝐩𝐮𝐭𝐲 – 𝐬𝐮𝐜𝐡 𝐚𝐬 𝐭𝐡𝐞 𝐪𝐚𝐚𝐝𝐢 𝐨𝐫 𝐣𝐮𝐝𝐠𝐞, 𝐚𝐧𝐝 𝐡𝐞 𝐢𝐬 𝐧𝐨𝐭 𝐭𝐨 𝐧𝐨𝐭 𝐛𝐞 𝐰𝐚𝐬𝐡𝐞𝐝 (𝐚𝐟𝐭𝐞𝐫 𝐝𝐞𝐚𝐭𝐡, 𝐢𝐧 𝐩𝐫𝐞𝐩𝐚𝐫𝐚𝐭𝐢𝐨𝐧 𝐟𝐨𝐫 𝐛𝐮𝐫𝐢𝐚𝐥), 𝐭𝐡𝐞 𝐟𝐮𝐧𝐞𝐫𝐚𝐥 𝐩𝐫𝐚𝐲𝐞𝐫 𝐢𝐬 𝐧𝐨𝐭 𝐭𝐨 𝐛𝐞 𝐨𝐟𝐟𝐞𝐫𝐞𝐝 𝐟𝐨𝐫 𝐡𝐢𝐦 𝐚𝐧𝐝 𝐡𝐞 𝐢𝐬 𝐧𝐨𝐭 𝐭𝐨 𝐛𝐞 𝐛𝐮𝐫𝐢𝐞𝐝 𝐰𝐢𝐭𝐡 𝐭𝐡𝐞 𝐌𝐮𝐬𝐥𝐢𝐦𝐬.
𝐓𝐡𝐞 𝐞𝐯𝐢𝐝𝐞𝐧𝐜𝐞 𝐭𝐡𝐚𝐭 𝐭𝐡𝐞 𝐚𝐩𝐨𝐬𝐭𝐚𝐭𝐞 𝐢𝐬 𝐭𝐨 𝐛𝐞 𝐞𝐱𝐞𝐜𝐮𝐭𝐞𝐝 𝐢𝐬 𝐭𝐡𝐞 𝐰𝐨𝐫𝐝𝐬 𝐨𝐟 𝐭𝐡𝐞 𝐏𝐫𝐨𝐩𝐡𝐞𝐭 (𝐩𝐞𝐚𝐜𝐞 𝐚𝐧𝐝 𝐛𝐥𝐞𝐬𝐬𝐢𝐧𝐠𝐬 𝐨𝐟 𝐀𝐥𝐥𝐚𝐡 𝐛𝐞 𝐮𝐩𝐨𝐧 𝐡𝐢𝐦): "𝐖𝐡𝐨𝐞𝐯𝐞𝐫 𝐜𝐡𝐚𝐧𝐠𝐞𝐬 𝐡𝐢𝐬 𝐫𝐞𝐥𝐢𝐠𝐢𝐨𝐧, 𝐞𝐱𝐞𝐜𝐮𝐭𝐞 𝐡𝐢𝐦." (𝐍𝐚𝐫𝐫𝐚𝐭𝐞𝐝 𝐛𝐲 𝐚𝐥-𝐁𝐮𝐤𝐡𝐚𝐚𝐫𝐢, 𝟐𝟕𝟗𝟒). 𝐖𝐡𝐚𝐭 𝐢𝐬 𝐦𝐞𝐚𝐧𝐭 𝐛𝐲 𝐫𝐞𝐥𝐢𝐠𝐢𝐨𝐧 𝐡𝐞𝐫𝐞 𝐢𝐬 𝐈𝐬𝐥𝐚𝐦 (𝐢.𝐞., 𝐰𝐡𝐨𝐞𝐯𝐞𝐫 𝐜𝐡𝐚𝐧𝐠𝐞𝐬 𝐟𝐫𝐨𝐦 𝐈𝐬𝐥𝐚𝐦 𝐭𝐨 𝐚𝐧𝐨𝐭𝐡𝐞𝐫 𝐫𝐞𝐥𝐢𝐠𝐢𝐨𝐧).
𝐓𝐡𝐞 𝐏𝐫𝐨𝐩𝐡𝐞𝐭 (𝐩𝐞𝐚𝐜𝐞 𝐚𝐧𝐝 𝐛𝐥𝐞𝐬𝐬𝐢𝐧𝐠𝐬 𝐨𝐟 𝐀𝐥𝐥𝐚𝐡 𝐛𝐞 𝐮𝐩𝐨𝐧 𝐡𝐢𝐦) 𝐬𝐚𝐢𝐝: "𝐈𝐭 𝐢𝐬 𝐧𝐨𝐭 𝐩𝐞𝐫𝐦𝐢𝐬𝐬𝐢𝐛𝐥𝐞 𝐭𝐨 𝐬𝐡𝐞𝐝 𝐭𝐡𝐞 𝐛𝐥𝐨𝐨𝐝 𝐨𝐟 𝐚 𝐌𝐮𝐬𝐥𝐢𝐦 𝐰𝐡𝐨 𝐛𝐞𝐚𝐫𝐬 𝐰𝐢𝐭𝐧𝐞𝐬𝐬 𝐭𝐡𝐚𝐭 𝐭𝐡𝐞𝐫𝐞 𝐢𝐬 𝐧𝐨 𝐠𝐨𝐝 𝐞𝐱𝐜𝐞𝐩𝐭 𝐀𝐥𝐥𝐚𝐡 𝐚𝐧𝐝 𝐭𝐡𝐚𝐭 𝐈 𝐚𝐦 𝐇𝐢𝐬 𝐌𝐞𝐬𝐬𝐞𝐧𝐠𝐞𝐫, 𝐞𝐱𝐜𝐞𝐩𝐭 𝐢𝐧 𝐨𝐧𝐞 𝐨𝐟 𝐭𝐡𝐫𝐞𝐞 𝐜𝐚𝐬𝐞𝐬: 𝐚 𝐬𝐨𝐮𝐥 𝐟𝐨𝐫 𝐚 𝐬𝐨𝐮𝐥 (𝐢.𝐞., 𝐢𝐧 𝐭𝐡𝐞 𝐜𝐚𝐬𝐞 𝐨𝐟 𝐦𝐮𝐫𝐝𝐞𝐫); 𝐚 𝐦𝐚𝐫𝐫𝐢𝐞𝐝 𝐦𝐚𝐧 𝐰𝐡𝐨 𝐜𝐨𝐦𝐦𝐢𝐭𝐬 𝐚𝐝𝐮𝐥𝐭𝐞𝐫𝐲; 𝐚𝐧𝐝 𝐨𝐧𝐞 𝐰𝐡𝐨 𝐥𝐞𝐚𝐯𝐞𝐬 𝐡𝐢𝐬 𝐫𝐞𝐥𝐢𝐠𝐢𝐨𝐧 𝐚𝐧𝐝 𝐬𝐩𝐥𝐢𝐭𝐬 𝐟𝐨𝐫𝐦 𝐭𝐡𝐞 𝐣𝐚𝐦𝐚𝐚'𝐚𝐡 (𝐦𝐚𝐢𝐧 𝐠𝐫𝐨𝐮𝐩 𝐨𝐟 𝐌𝐮𝐬𝐥𝐢𝐦𝐬)." (𝐍𝐚𝐫𝐫𝐚𝐭𝐞𝐝 𝐛𝐲 𝐚𝐥-𝐁𝐮𝐤𝐡𝐚𝐫𝐢, 𝟔𝟖𝟕𝟖; 𝐌𝐮𝐬𝐥𝐢𝐦, 𝟏𝟔𝟕𝟔)
𝐒𝐞𝐞 𝐚𝐥-𝐌𝐚𝐰𝐬𝐨𝐨'𝐚𝐡 𝐚𝐥-𝐅𝐢𝐪𝐡𝐢𝐲𝐲𝐚𝐡, 𝟐𝟐/𝟏𝟖𝟎.
𝐓𝐡𝐮𝐬, 𝐢𝐭 𝐰𝐢𝐥𝐥 𝐛𝐞 𝐜𝐥𝐞𝐚𝐫 𝐭𝐨 𝐲𝐨𝐮 𝐭𝐡𝐚𝐭 𝐞𝐱𝐞𝐜𝐮𝐭𝐢𝐨𝐧 𝐨𝐟 𝐭𝐡𝐞 𝐚𝐩𝐨𝐬𝐭𝐚𝐭𝐞 𝐢𝐬 𝐬𝐨𝐦𝐞𝐭𝐡𝐢𝐧𝐠 𝐭𝐡𝐚𝐭 𝐢𝐬 𝐜𝐨𝐦𝐦𝐚𝐧𝐝𝐞𝐝 𝐛𝐲 𝐀𝐥𝐥𝐚𝐡, 𝐰𝐡𝐞𝐧 𝐡𝐞 𝐜𝐨𝐦𝐦𝐚𝐧𝐝𝐞𝐝 𝐮𝐬 𝐭𝐨 𝐨𝐛𝐞𝐲 𝐭𝐡𝐞 𝐌𝐞𝐬𝐬𝐞𝐧𝐠𝐞𝐫 (𝐩𝐞𝐚𝐜𝐞 𝐚𝐧𝐝 𝐛𝐥𝐞𝐬𝐬𝐢𝐧𝐠𝐬 𝐨𝐟 𝐀𝐥𝐥𝐚𝐡 𝐛𝐞 𝐮𝐩𝐨𝐧 𝐡𝐢𝐦), 𝐚𝐬 𝐇𝐞 𝐬𝐚𝐲𝐬 (𝐢𝐧𝐭𝐞𝐫𝐩𝐫𝐞𝐭𝐚𝐭𝐢𝐨𝐧 𝐨𝐟 𝐭𝐡𝐞 𝐦𝐞𝐚𝐧𝐢𝐧𝐠):
"𝐎 𝐲𝐨𝐮 𝐰𝐡𝐨 𝐛𝐞𝐥𝐢𝐞𝐯𝐞! 𝐎𝐛𝐞𝐲 𝐀𝐥𝐥𝐚𝐡 𝐚𝐧𝐝 𝐨𝐛𝐞𝐲 𝐭𝐡𝐞 𝐌𝐞𝐬𝐬𝐞𝐧𝐠𝐞𝐫 (𝐌𝐮𝐡𝐚𝐦𝐦𝐚𝐝), 𝐚𝐧𝐝 𝐭𝐡𝐨𝐬𝐞 𝐨𝐟 𝐲𝐨𝐮 (𝐌𝐮𝐬𝐥𝐢𝐦𝐬) 𝐰𝐡𝐨 𝐚𝐫𝐞 𝐢𝐧 𝐚𝐮𝐭𝐡𝐨𝐫𝐢𝐭𝐲"
[𝐚𝐥-𝐍𝐢𝐬𝐚' 𝟒:𝟓𝟗]
𝐀𝐧𝐝 𝐭𝐡𝐞 𝐌𝐞𝐬𝐬𝐞𝐧𝐠𝐞𝐫 𝐨𝐟 𝐀𝐥𝐥𝐚𝐡 (𝐩𝐞𝐚𝐜𝐞 𝐚𝐧𝐝 𝐛𝐥𝐞𝐬𝐬𝐢𝐧𝐠𝐬 𝐨𝐟 𝐀𝐥𝐥𝐚𝐡 𝐛𝐞 𝐮𝐩𝐨𝐧 𝐡𝐢𝐦) 𝐡𝐚𝐬 𝐜𝐨𝐦𝐦𝐚𝐧𝐝𝐞𝐝 𝐮𝐬 𝐭𝐨 𝐞𝐱𝐞𝐜𝐮𝐭𝐞 𝐭𝐡𝐞 𝐚𝐩𝐨𝐬𝐭𝐚𝐭𝐞 𝐚𝐬 𝐢𝐧 𝐭𝐡𝐞 𝐡𝐚𝐝𝐞𝐞𝐭𝐡 𝐪𝐮𝐨𝐭𝐞𝐝 𝐚𝐛𝐨𝐯𝐞: "𝐖𝐡𝐨𝐞𝐯𝐞𝐫 𝐜𝐡𝐚𝐧𝐠𝐞𝐬 𝐡𝐢𝐬 𝐫𝐞𝐥𝐢𝐠𝐢𝐨𝐧, 𝐞𝐱𝐞𝐜𝐮𝐭𝐞 𝐡𝐢𝐦."
𝐈𝐭 𝐦𝐚𝐲 𝐧𝐞𝐞𝐝 𝐬𝐨𝐦𝐞 𝐭𝐢𝐦𝐞 𝐟𝐨𝐫 𝐲𝐨𝐮 𝐭𝐨 𝐛𝐞 𝐜𝐨𝐧𝐯𝐢𝐧𝐜𝐞𝐝 𝐚𝐛𝐨𝐮𝐭 𝐭𝐡𝐢𝐬 𝐦𝐚𝐭𝐭𝐞𝐫, 𝐚𝐧𝐝 𝐟𝐨𝐫 𝐲𝐨𝐮 𝐭𝐨 𝐭𝐡𝐢𝐧𝐤 𝐚𝐛𝐨𝐮𝐭 𝐢𝐭. 𝐏𝐞𝐫𝐡𝐚𝐩𝐬 𝐲𝐨𝐮 𝐭𝐡𝐢𝐧𝐤 𝐭𝐡𝐚𝐭 𝐢𝐟 𝐚 𝐩𝐞𝐫𝐬𝐨𝐧 𝐟𝐨𝐥𝐥𝐨𝐰𝐬 𝐭𝐡𝐞 𝐭𝐫𝐮𝐭𝐡 𝐚𝐧𝐝 𝐞𝐧𝐭𝐞𝐫𝐬 𝐢𝐧𝐭𝐨 𝐢𝐭 𝐚𝐧𝐝 𝐞𝐦𝐛𝐫𝐚𝐜𝐞𝐬 𝐭𝐡𝐞 𝐨𝐧𝐞 𝐭𝐫𝐮𝐞 𝐫𝐞𝐥𝐢𝐠𝐢𝐨𝐧 𝐰𝐡𝐢𝐜𝐡 𝐀𝐥𝐥𝐚𝐡 𝐡𝐚𝐬 𝐞𝐧𝐣𝐨𝐢𝐧𝐞𝐝, 𝐭𝐡𝐞𝐧 𝐰𝐞 𝐚𝐥𝐥𝐨𝐰 𝐡𝐢𝐦 𝐭𝐨 𝐥𝐞𝐚𝐯𝐞 𝐢𝐭 𝐪𝐮𝐢𝐭𝐞 𝐞𝐚𝐬𝐢𝐥𝐲 𝐰𝐡𝐞𝐧𝐞𝐯𝐞𝐫 𝐡𝐞 𝐰𝐚𝐧𝐭𝐬 𝐚𝐧𝐝 𝐭𝐨 𝐮𝐭𝐭𝐞𝐫 𝐭𝐡𝐞 𝐰𝐨𝐫𝐝𝐬 𝐨𝐟 𝐤𝐮𝐟𝐫 (𝐝𝐢𝐬𝐛𝐞𝐥𝐢𝐞𝐟) 𝐭𝐡𝐚𝐭 𝐩𝐮𝐭 𝐡𝐢𝐦 𝐨𝐮𝐭𝐬𝐢𝐝𝐞 𝐨𝐟 𝐈𝐬𝐥𝐚𝐦, 𝐬𝐨 𝐡𝐞 𝐜𝐚𝐧 𝐫𝐞𝐣𝐞𝐜𝐭 𝐀𝐥𝐥𝐚𝐡, 𝐇𝐢𝐬 𝐌𝐞𝐬𝐬𝐞𝐧𝐠𝐞𝐫, 𝐇𝐢𝐬 𝐁𝐨𝐨𝐤𝐬 𝐚𝐧𝐝 𝐇𝐢𝐬 𝐫𝐞𝐥𝐢𝐠𝐢𝐨𝐧, 𝐚𝐧𝐝 𝐭𝐡𝐞𝐫𝐞 𝐢𝐬 𝐧𝐨 𝐩𝐮𝐧𝐢𝐬𝐡𝐦𝐞𝐧𝐭 𝐚𝐬 𝐝𝐞𝐭𝐞𝐫𝐫𝐞𝐧𝐭, 𝐡𝐨𝐰 𝐰𝐢𝐥𝐥 𝐭𝐡𝐚𝐭 𝐚𝐟𝐟𝐞𝐜𝐭 𝐡𝐢𝐦 𝐚𝐧𝐝 𝐨𝐭𝐡𝐞𝐫𝐬 𝐰𝐡𝐨 𝐞𝐧𝐭𝐞𝐫 𝐭𝐡𝐞 𝐫𝐞𝐥𝐢𝐠𝐢𝐨𝐧?
𝐃𝐨 𝐲𝐨𝐮 𝐧𝐨𝐭 𝐬𝐞𝐞 𝐭𝐡𝐚𝐭 𝐭𝐡𝐢𝐬 𝐰𝐨𝐮𝐥𝐝 𝐦𝐚𝐤𝐞 𝐭𝐡𝐞 𝐨𝐧𝐞 𝐭𝐫𝐮𝐞 𝐫𝐞𝐥𝐢𝐠𝐢𝐨𝐧, 𝐭𝐡𝐚𝐭 𝐞𝐯𝐞𝐫𝐲𝐨𝐧𝐞 𝐬𝐡𝐨𝐮𝐥𝐝 𝐟𝐨𝐥𝐥𝐨𝐰, 𝐥𝐢𝐤𝐞 𝐚 𝐬𝐡𝐨𝐩 𝐨𝐫 𝐬𝐭𝐨𝐫𝐞 𝐰𝐡𝐢𝐜𝐡 𝐚 𝐩𝐞𝐫𝐬𝐨𝐧 𝐜𝐚𝐧 𝐞𝐧𝐭𝐞𝐫 𝐰𝐡𝐞𝐧 𝐡𝐞 𝐰𝐚𝐧𝐭𝐬 𝐚𝐧𝐝 𝐥𝐞𝐚𝐯𝐞 𝐰𝐡𝐞𝐧 𝐡𝐞 𝐰𝐚𝐧𝐭𝐬, 𝐚𝐧𝐝 𝐢𝐭 𝐦𝐚𝐲 𝐞𝐧𝐜𝐨𝐮𝐫𝐚𝐠𝐞 𝐨𝐭𝐡𝐞𝐫𝐬 𝐭𝐨 𝐟𝐨𝐫𝐬𝐚𝐤𝐞 𝐭𝐡𝐞 𝐭𝐫𝐮𝐭𝐡?
𝐌𝐨𝐫𝐞𝐨𝐯𝐞𝐫, 𝐭𝐡𝐢𝐬 𝐢𝐬 𝐧𝐨𝐭 𝐬𝐨𝐦𝐞𝐨𝐧𝐞 𝐰𝐡𝐨 𝐡𝐚𝐬 𝐧𝐞𝐯𝐞𝐫 𝐤𝐧𝐨𝐰𝐧 𝐭𝐡𝐞 𝐭𝐫𝐮𝐭𝐡 𝐚𝐧𝐝 𝐩𝐫𝐚𝐜𝐭𝐢𝐜𝐞𝐝 𝐢𝐭 𝐚𝐧𝐝 𝐰𝐨𝐫𝐬𝐡𝐢𝐩𝐩𝐞𝐝 𝐢𝐧 𝐚𝐜𝐜𝐨𝐫𝐝𝐚𝐧𝐜𝐞 𝐰𝐢𝐭𝐡 𝐢𝐭; 𝐫𝐚𝐭𝐡𝐞𝐫 𝐭𝐡𝐢𝐬 𝐢𝐬 𝐚 𝐩𝐞𝐫𝐬𝐨𝐧 𝐰𝐡𝐨 𝐡𝐚𝐬 𝐤𝐧𝐨𝐰𝐧 𝐭𝐡𝐞 𝐭𝐫𝐮𝐭𝐡 𝐚𝐧𝐝 𝐩𝐫𝐚𝐜𝐭𝐢𝐜𝐞𝐝 𝐭𝐡𝐞 𝐫𝐞𝐥𝐢𝐠𝐢𝐨𝐧 𝐚𝐧𝐝 𝐝𝐨𝐧𝐞 𝐭𝐡𝐞 𝐫𝐢𝐭𝐮𝐚𝐥𝐬 𝐨𝐟 𝐰𝐨𝐫𝐬𝐡𝐢𝐩, 𝐬𝐨 𝐭𝐡𝐞 𝐩𝐮𝐧𝐢𝐬𝐡𝐦𝐞𝐧𝐭 𝐢𝐬 𝐧𝐨 𝐠𝐫𝐞𝐚𝐭𝐞𝐫 𝐭𝐡𝐚𝐧 𝐡𝐞 𝐝𝐞𝐬𝐞𝐫𝐯𝐞𝐬.
𝐌𝐨𝐫𝐞𝐨𝐯𝐞𝐫, 𝐬𝐮𝐜𝐡 𝐬𝐭𝐫𝐨𝐧𝐠 𝐫𝐮𝐥𝐢𝐧𝐠𝐬 𝐚𝐬 𝐭𝐡𝐢𝐬 𝐚𝐫𝐞 𝐨𝐧𝐥𝐲 𝐚𝐩𝐩𝐥𝐢𝐞𝐝 𝐭𝐨 𝐬𝐮𝐜𝐡 𝐚 𝐩𝐞𝐫𝐬𝐨𝐧 𝐰𝐡𝐨𝐬𝐞 𝐥𝐢𝐟𝐞 𝐢𝐬 𝐧𝐨 𝐥𝐨𝐧𝐠𝐞𝐫 𝐜𝐨𝐧𝐬𝐢𝐝𝐞𝐫𝐞𝐝 𝐭𝐨 𝐛𝐞 𝐮𝐬𝐞𝐟𝐮𝐥, 𝐛𝐞𝐜𝐚𝐮𝐬𝐞 𝐡𝐞 𝐤𝐧𝐞𝐰 𝐭𝐡𝐞 𝐭𝐫𝐮𝐭𝐡 𝐚𝐧𝐝 𝐟𝐨𝐥𝐥𝐨𝐰𝐞𝐝 𝐭𝐡𝐞 𝐫𝐞𝐥𝐢𝐠𝐢𝐨𝐧, 𝐭𝐡𝐞𝐧 𝐡𝐞 𝐥𝐞𝐟𝐭 𝐢𝐭 𝐚𝐧𝐝 𝐟𝐨𝐫𝐬𝐨𝐨𝐤 𝐢𝐭. 𝐖𝐡𝐚𝐭 𝐬𝐨𝐮𝐥 𝐜𝐚𝐧 𝐛𝐞 𝐦𝐨𝐫𝐞 𝐞𝐯𝐢𝐥 𝐭𝐡𝐚𝐧 𝐭𝐡𝐞 𝐬𝐨𝐮𝐥 𝐨𝐟 𝐬𝐮𝐜𝐡 𝐚 𝐩𝐞𝐫𝐬𝐨𝐧?
𝐈𝐧 𝐜𝐨𝐧𝐜𝐥𝐮𝐬𝐢𝐨𝐧, 𝐭𝐡𝐞 𝐚𝐧𝐬𝐰𝐞𝐫 𝐢𝐬 𝐭𝐡𝐚𝐭 𝐀𝐥𝐥𝐚𝐡 𝐢𝐬 𝐭𝐡𝐞 𝐎𝐧𝐞 𝐖𝐡𝐨 𝐫𝐞𝐯𝐞𝐚𝐥𝐞𝐝 𝐭𝐡𝐢𝐬 𝐫𝐞𝐥𝐢𝐠𝐢𝐨𝐧 𝐚𝐧𝐝 𝐞𝐧𝐣𝐨𝐢𝐧𝐞𝐝 𝐢𝐭. 𝐇𝐞 𝐢𝐬 𝐭𝐡𝐞 𝐎𝐧𝐞 𝐖𝐡𝐨 𝐫𝐮𝐥𝐞𝐝 𝐭𝐡𝐚𝐭 𝐭𝐡𝐞 𝐨𝐧𝐞 𝐰𝐡𝐨 𝐞𝐧𝐭𝐞𝐫𝐬 𝐢𝐭 𝐚𝐧𝐝 𝐭𝐡𝐞𝐧 𝐥𝐞𝐚𝐯𝐞𝐬 𝐢𝐭 𝐢𝐬 𝐭𝐨 𝐛𝐞 𝐞𝐱𝐞𝐜𝐮𝐭𝐞𝐝. 𝐓𝐡𝐢𝐬 𝐫𝐮𝐥𝐢𝐧𝐠 𝐝𝐨𝐞𝐬 𝐧𝐨𝐭 𝐜𝐨𝐦𝐞 𝐟𝐫𝐨𝐦 𝐭𝐡𝐞 𝐌𝐮𝐬𝐥𝐢𝐦𝐬' 𝐢𝐝𝐞𝐚𝐬 𝐨𝐫 𝐬𝐮𝐠𝐠𝐞𝐬𝐭𝐢𝐨𝐧𝐬. 𝐈𝐟 𝐭𝐡𝐢𝐬 𝐢𝐬 𝐭𝐡𝐞 𝐜𝐚𝐬𝐞, 𝐭𝐡𝐞𝐧 𝐰𝐞 𝐦𝐮𝐬𝐭 𝐟𝐨𝐥𝐥𝐨𝐰 𝐭𝐡𝐞 𝐫𝐮𝐥𝐢𝐧𝐠 𝐨𝐟 𝐀𝐥𝐥𝐚𝐡 𝐬𝐨 𝐥𝐨𝐧𝐠 𝐚𝐬 𝐰𝐞 𝐚𝐫𝐞 𝐜𝐨𝐧𝐭𝐞𝐧𝐭 𝐭𝐨 𝐚𝐜𝐜𝐞𝐩𝐭 𝐇𝐢𝐦 𝐚𝐬 𝐨𝐮𝐫 𝐋𝐨𝐫𝐝 𝐚𝐧𝐝 𝐆𝐨𝐝.
𝐌𝐚𝐲 𝐀𝐥𝐥𝐚𝐡 𝐡𝐞𝐥𝐩 𝐮𝐬 𝐚𝐧𝐝 𝐲𝐨𝐮 𝐭𝐨 𝐝𝐨 𝐭𝐡𝐚𝐭 𝐰𝐡𝐢𝐜𝐡 𝐇𝐞 𝐥𝐨𝐯𝐞𝐬, 𝐚𝐧𝐝 𝐰𝐡𝐢𝐜𝐡 𝐩𝐥𝐞𝐚𝐬𝐞𝐬 𝐇𝐢𝐦. 𝐖𝐞 𝐭𝐡𝐚𝐧𝐤 𝐲𝐨𝐮 𝐨𝐧𝐜𝐞 𝐚𝐠𝐚𝐢𝐧.
𝐏𝐞𝐚𝐜𝐞 𝐛𝐞 𝐮𝐩𝐨𝐧 𝐭𝐡𝐨𝐬𝐞 𝐰𝐡𝐨 𝐟𝐨𝐥𝐥𝐨𝐰 𝐭𝐫𝐮𝐞 𝐠𝐮𝐢𝐝𝐚𝐧𝐜𝐞.
The Incident That A Jewish Old Woman Threw Garbage On The Beloved Prophet Is Fabricated Or Authentic?
Why is the apostate to be executed in Islam?
The reasons for capital punishment in Islam
A Christian student is objecting to the ruling of execution in Islam – her comments and our response to them
There is no amputation of the hand except in the case of one who steals something worth one quarter of a dinar or more