𝐖𝐡𝐚𝐭 𝐢𝐬 𝐭𝐡𝐞 𝐄𝐯𝐢𝐝𝐞𝐧𝐜𝐞 𝐢𝐧 𝐈𝐬𝐥𝐚𝐦 𝐭𝐡𝐚𝐭 𝐏𝐫𝐨𝐩𝐡𝐞𝐭 𝐌𝐮𝐡𝐚𝐦𝐦𝐞𝐝 𝐜𝐞𝐥𝐞𝐛𝐫𝐚𝐭𝐞𝐝 𝐡𝐢𝐬 𝐛𝐢𝐫𝐭𝐡𝐝𝐚𝐲 𝐨𝐫 𝐚𝐧𝐲𝐨𝐧𝐞 𝐨𝐟 𝐡𝐢𝐬 𝐜𝐨𝐦𝐩𝐚𝐧𝐢𝐨𝐧𝐬 𝐝𝐢𝐝?
Mohamad Mostafa Nassar
Twitter@NassarMohamadMR
𝐐𝐮𝐞𝐬𝐭𝐢𝐨𝐧:
𝐖𝐡𝐲 𝐢𝐬 𝐢𝐭 𝐭𝐡𝐚𝐭 𝐌𝐮𝐬𝐥𝐢𝐦𝐬 𝐜𝐥𝐚𝐢𝐦 𝐚𝐧𝐝 𝐛𝐞𝐥𝐢𝐞𝐯𝐞 𝐜𝐞𝐥𝐞𝐛𝐫𝐚𝐭𝐢𝐧𝐠 𝐭𝐡𝐞 𝐛𝐢𝐫𝐭𝐡𝐝𝐚𝐲 𝐨𝐟 𝐉𝐞𝐬𝐮𝐬 (𝐂𝐡𝐫𝐢𝐬𝐭𝐦𝐚𝐬) 𝐢𝐬 𝐢𝐝𝐨𝐥𝐚𝐭𝐫𝐲, 𝐲𝐞𝐭 𝐭𝐡𝐞𝐲 𝐜𝐞𝐥𝐞𝐛𝐫𝐚𝐭𝐞 𝐭𝐡𝐞 𝐛𝐢𝐫𝐭𝐡𝐝𝐚𝐲 𝐨𝐟 𝐩𝐫𝐨𝐩𝐡𝐞𝐭 𝐌𝐮𝐡𝐚𝐦𝐦𝐚𝐝 (𝐩𝐛𝐮𝐡)?
𝐀𝐧𝐬𝐰𝐞𝐫:
𝐂𝐞𝐥𝐞𝐛𝐫𝐚𝐭𝐢𝐧𝐠 𝐭𝐡𝐞 𝐨𝐜𝐜𝐚𝐬𝐢𝐨𝐧 𝐨𝐟 𝐭𝐡𝐞 𝐛𝐢𝐫𝐭𝐡𝐝𝐚𝐲 𝐨𝐟 𝐭𝐡𝐞 𝐏𝐫𝐨𝐩𝐡𝐞𝐭 (𝐩𝐞𝐚𝐜𝐞 𝐚𝐧𝐝 𝐛𝐥𝐞𝐬𝐬𝐢𝐧𝐠𝐬 𝐨𝐟 𝐀𝐥𝐥𝐚𝐡 𝐛𝐞 𝐮𝐩𝐨𝐧 𝐡𝐢𝐦) 𝐢𝐬 𝐟𝐨𝐫𝐛𝐢𝐝𝐝𝐞𝐧 𝐚𝐧𝐝 𝐢𝐬 𝐭𝐨 𝐛𝐞 𝐫𝐞𝐣𝐞𝐜𝐭𝐞𝐝 𝐟𝐨𝐫 𝐬𝐞𝐯𝐞𝐫𝐚𝐥 𝐫𝐞𝐚𝐬𝐨𝐧𝐬:
𝟏 – 𝐢𝐭 𝐢𝐬 𝐧𝐨𝐭 𝐩𝐚𝐫𝐭 𝐨𝐟 𝐭𝐡𝐞 𝐒𝐮𝐧𝐧𝐚𝐡 𝐨𝐟 𝐭𝐡𝐞 𝐌𝐞𝐬𝐬𝐞𝐧𝐠𝐞𝐫 (𝐩𝐞𝐚𝐜𝐞 𝐚𝐧𝐝 𝐛𝐥𝐞𝐬𝐬𝐢𝐧𝐠𝐬 𝐨𝐟 𝐀𝐥𝐥𝐚𝐡 𝐛𝐞 𝐮𝐩𝐨𝐧 𝐡𝐢𝐦) 𝐨𝐫 𝐨𝐟 𝐭𝐡𝐞 𝐤𝐡𝐚𝐥𝐢𝐟𝐚𝐡𝐬=𝐬𝐮𝐜𝐜𝐞𝐬𝐬𝐨𝐫𝐬 𝐰𝐡𝐨 𝐬𝐮𝐜𝐜𝐞𝐞𝐝𝐞𝐝 𝐡𝐢𝐦. 𝐒𝐢𝐧𝐜𝐞 𝐭𝐡𝐢𝐬 𝐢𝐬 𝐭𝐡𝐞 𝐜𝐚𝐬𝐞, 𝐭𝐡𝐞𝐧 𝐢𝐭 𝐢𝐬 𝐚 𝐟𝐨𝐫𝐛𝐢𝐝𝐝𝐞𝐧 𝐢𝐧𝐧𝐨𝐯𝐚𝐭𝐢𝐨𝐧, 𝐛𝐞𝐜𝐚𝐮𝐬𝐞
𝐓𝐡𝐞 𝐏𝐫𝐨𝐩𝐡𝐞𝐭 (𝐩𝐞𝐚𝐜𝐞 𝐚𝐧𝐝 𝐛𝐥𝐞𝐬𝐬𝐢𝐧𝐠𝐬 𝐨𝐟 𝐀𝐥𝐥𝐚𝐡 𝐛𝐞 𝐮𝐩𝐨𝐧 𝐡𝐢𝐦) 𝐬𝐚𝐢𝐝:
"𝐈 𝐮𝐫𝐠𝐞 𝐲𝐨𝐮 𝐭𝐨 𝐟𝐨𝐥𝐥𝐨𝐰 𝐦𝐲 𝐒𝐮𝐧𝐧𝐚𝐡 𝐚𝐧𝐝 𝐭𝐡𝐞 𝐰𝐚𝐲 𝐨𝐟 𝐭𝐡𝐞 𝐫𝐢𝐠𝐡𝐭𝐥𝐲-𝐠𝐮𝐢𝐝𝐞𝐝 𝐤𝐡𝐚𝐥𝐢𝐟𝐚𝐡𝐬=𝐬𝐮𝐜𝐜𝐞𝐬𝐬𝐨𝐫𝐬 𝐚𝐟𝐭𝐞𝐫 𝐦𝐞; 𝐚𝐝𝐡𝐞𝐫𝐞 𝐭𝐨 𝐢𝐭 𝐚𝐧𝐝 𝐜𝐥𝐢𝐧𝐠 𝐭𝐨 𝐢𝐭 𝐟𝐢𝐫𝐦𝐥𝐲. 𝐁𝐞𝐰𝐚𝐫𝐞 𝐨𝐟 𝐧𝐞𝐰𝐥𝐲-𝐢𝐧𝐯𝐞𝐧𝐭𝐞𝐝 𝐭𝐡𝐢𝐧𝐠𝐬, 𝐟𝐨𝐫 𝐞𝐯𝐞𝐫𝐲 𝐧𝐞𝐰𝐥𝐲-𝐢𝐧𝐯𝐞𝐧𝐭𝐞𝐝 𝐭𝐡𝐢𝐧𝐠 𝐢𝐬 𝐚𝐧 𝐢𝐧𝐧𝐨𝐯𝐚𝐭𝐢𝐨𝐧 (𝐛𝐢𝐝'𝐚𝐡) 𝐚𝐧𝐝 𝐞𝐯𝐞𝐫𝐲 𝐢𝐧𝐧𝐨𝐯𝐚𝐭𝐢𝐨𝐧 𝐢𝐬 𝐚 𝐠𝐨𝐢𝐧𝐠-𝐚𝐬𝐭𝐫𝐚𝐲." (𝐍𝐚𝐫𝐫𝐚𝐭𝐞𝐝 𝐛𝐲 𝐀𝐡𝐦𝐚𝐝, 𝟒/𝟏𝟐𝟔; 𝐚𝐥-𝐓𝐢𝐫𝐦𝐢𝐝𝐡𝐢 𝐧𝐨. 𝟐𝟔𝟕𝟔).
𝐂𝐞𝐥𝐞𝐛𝐫𝐚𝐭𝐢𝐧𝐠 𝐭𝐡𝐞 𝐌𝐚𝐰𝐥𝐢𝐝 𝐢𝐬 𝐚𝐧 𝐢𝐧𝐧𝐨𝐯𝐚𝐭𝐢𝐨𝐧 𝐢𝐧𝐭𝐫𝐨𝐝𝐮𝐜𝐞𝐝 𝐛𝐲 𝐭𝐡𝐞 𝐒𝐡𝐢'𝐚 𝐅𝐚𝐚𝐭𝐢𝐦𝐢𝐝𝐬 𝐚𝐟𝐭𝐞𝐫 𝐭𝐡𝐞 𝐭𝐡𝐫𝐞𝐞 𝐛𝐞𝐬𝐭 𝐜𝐞𝐧𝐭𝐮𝐫𝐢𝐞𝐬 𝐢𝐧 𝐨𝐫𝐝𝐞𝐫 𝐭𝐨 𝐜𝐨𝐫𝐫𝐮𝐩𝐭 𝐭𝐡𝐞 𝐫𝐞𝐥𝐢𝐠𝐢𝐨𝐧 𝐨𝐟 𝐭𝐡𝐞 𝐌𝐮𝐬𝐥𝐢𝐦𝐬. 𝐈𝐟 𝐚 𝐩𝐞𝐫𝐬𝐨𝐧 𝐝𝐨𝐞𝐬 𝐚𝐧𝐲𝐭𝐡𝐢𝐧𝐠 𝐢𝐧 𝐨𝐫𝐝𝐞𝐫 𝐭𝐨 𝐝𝐫𝐚𝐰 𝐜𝐥𝐨𝐬𝐞𝐫 𝐭𝐨 𝐀𝐥𝐥𝐚𝐡 𝐰𝐡𝐢𝐜𝐡 𝐰𝐚𝐬 𝐧𝐨𝐭 𝐝𝐨𝐧𝐞 𝐛𝐲 𝐭𝐡𝐞 𝐌𝐞𝐬𝐬𝐞𝐧𝐠𝐞𝐫 (𝐩𝐞𝐚𝐜𝐞 𝐚𝐧𝐝 𝐛𝐥𝐞𝐬𝐬𝐢𝐧𝐠𝐬 𝐨𝐟 𝐀𝐥𝐥𝐚𝐡 𝐛𝐞 𝐮𝐩𝐨𝐧 𝐡𝐢𝐦) 𝐨𝐫 𝐞𝐧𝐣𝐨𝐢𝐧𝐞𝐝 𝐛𝐲 𝐡𝐢𝐦.
𝐀𝐧𝐝 𝐰𝐚𝐬 𝐧𝐨𝐭 𝐝𝐨𝐧𝐞 𝐛𝐲 𝐭𝐡𝐞 𝐤𝐡𝐚𝐥𝐢𝐟𝐚𝐡𝐬=𝐬𝐮𝐜𝐜𝐞𝐬𝐬𝐨𝐫𝐬 𝐰𝐡𝐨 𝐬𝐮𝐜𝐜𝐞𝐞𝐝𝐞𝐝 𝐡𝐢𝐦, 𝐭𝐡𝐢𝐬 𝐚𝐜𝐭𝐢𝐨𝐧 𝐢𝐦𝐩𝐥𝐢𝐞𝐬 𝐭𝐡𝐚𝐭 𝐡𝐞 𝐢𝐬 𝐚𝐜𝐜𝐮𝐬𝐢𝐧𝐠 𝐭𝐡𝐞 𝐌𝐞𝐬𝐬𝐞𝐧𝐠𝐞𝐫 𝐨𝐟 𝐧𝐨𝐭 𝐞𝐱𝐩𝐥𝐚𝐢𝐧𝐢𝐧𝐠 𝐭𝐡𝐞 𝐫𝐞𝐥𝐢𝐠𝐢𝐨𝐧 𝐭𝐨 𝐭𝐡𝐞 𝐩𝐞𝐨𝐩𝐥𝐞, 𝐚𝐧𝐝 𝐭𝐡𝐚𝐭 𝐡𝐞 𝐝𝐢𝐬𝐛𝐞𝐥𝐢𝐞𝐯𝐞𝐬 𝐢𝐧 𝐭𝐡𝐞 𝐰𝐨𝐫𝐝𝐬 𝐨𝐟 𝐀𝐥𝐥𝐚𝐡:
"𝐓𝐡𝐢𝐬 𝐝𝐚𝐲, 𝐈 𝐡𝐚𝐯𝐞 𝐩𝐞𝐫𝐟𝐞𝐜𝐭𝐞𝐝 𝐲𝐨𝐮𝐫 𝐫𝐞𝐥𝐢𝐠𝐢𝐨𝐧 𝐟𝐨𝐫 𝐲𝐨𝐮" 𝐐𝐮𝐫'𝐚𝐧 [𝐚𝐥-𝐌𝐚'𝐢𝐝𝐚𝐡 𝟓:𝟑]
𝐛𝐞𝐜𝐚𝐮𝐬𝐞 𝐡𝐞 𝐢𝐬 𝐚𝐝𝐝𝐢𝐧𝐠 𝐬𝐨𝐦𝐞𝐭𝐡𝐢𝐧𝐠 𝐞𝐱𝐭𝐫𝐚 𝐚𝐧𝐝 𝐜𝐥𝐚𝐢𝐦𝐢𝐧𝐠 𝐭𝐡𝐚𝐭 𝐢𝐭 𝐢𝐬 𝐚 𝐩𝐚𝐫𝐭 𝐨𝐟 𝐭𝐡𝐞 𝐫𝐞𝐥𝐢𝐠𝐢𝐨𝐧, 𝐛𝐮𝐭 𝐭𝐡𝐞 𝐌𝐞𝐬𝐬𝐞𝐧𝐠𝐞𝐫 (𝐩𝐞𝐚𝐜𝐞 𝐚𝐧𝐝 𝐛𝐥𝐞𝐬𝐬𝐢𝐧𝐠𝐬 𝐨𝐟 𝐀𝐥𝐥𝐚𝐡 𝐛𝐞 𝐮𝐩𝐨𝐧 𝐡𝐢𝐦) 𝐝𝐢𝐝 𝐧𝐨𝐭 𝐛𝐫𝐢𝐧𝐠 𝐭𝐡𝐢𝐬.
𝟐 – 𝐂𝐞𝐥𝐞𝐛𝐫𝐚𝐭𝐢𝐧𝐠 𝐭𝐡𝐞 𝐛𝐢𝐫𝐭𝐡𝐝𝐚𝐲 𝐨𝐟 𝐭𝐡𝐞 𝐏𝐫𝐨𝐩𝐡𝐞𝐭 (𝐩𝐞𝐚𝐜𝐞 𝐚𝐧𝐝 𝐛𝐥𝐞𝐬𝐬𝐢𝐧𝐠𝐬 𝐨𝐟 𝐀𝐥𝐥𝐚𝐡 𝐛𝐞 𝐮𝐩𝐨𝐧 𝐡𝐢𝐦) 𝐢𝐬 𝐚𝐧 𝐢𝐦𝐢𝐭𝐚𝐭𝐢𝐨𝐧 𝐨𝐟 𝐭𝐡𝐞 𝐂𝐡𝐫𝐢𝐬𝐭𝐢𝐚𝐧𝐬 𝐛𝐞𝐜𝐚𝐮𝐬𝐞 𝐭𝐡𝐞𝐲 𝐜𝐞𝐥𝐞𝐛𝐫𝐚𝐭𝐞 𝐭𝐡𝐞 𝐛𝐢𝐫𝐭𝐡 𝐨𝐟 𝐭𝐡𝐞 𝐌𝐞𝐬𝐬𝐢𝐚𝐡 (𝐩𝐞𝐚𝐜𝐞 𝐛𝐞 𝐮𝐩𝐨𝐧 𝐡𝐢𝐦). 𝐈𝐦𝐢𝐭𝐚𝐭𝐢𝐧𝐠 𝐭𝐡𝐞𝐦 𝐢𝐬 𝐞𝐱𝐭𝐫𝐞𝐦𝐞𝐥𝐲 𝐡𝐚𝐫𝐚𝐦 (𝐟𝐨𝐫𝐛𝐢𝐝𝐝𝐞𝐧). 𝐓𝐡𝐞 𝐡𝐚𝐝𝐞𝐞𝐭𝐡 𝐭𝐞𝐥𝐥𝐬 𝐮𝐬 𝐭𝐡𝐚𝐭 𝐢𝐭 𝐢𝐬 𝐟𝐨𝐫𝐛𝐢𝐝𝐝𝐞𝐧 𝐭𝐨 𝐢𝐦𝐢𝐭𝐚𝐭𝐞 𝐭𝐡𝐞 𝐤𝐮𝐟𝐟𝐚𝐚𝐫=𝐝𝐢𝐬𝐛𝐞𝐥𝐢𝐞𝐯𝐞𝐫𝐬, 𝐚𝐧𝐝 𝐰𝐞 𝐚𝐫𝐞 𝐜𝐨𝐦𝐦𝐚𝐧𝐝𝐞𝐝 𝐭𝐨 𝐝𝐢𝐟𝐟𝐞𝐫 𝐟𝐫𝐨𝐦 𝐭𝐡𝐞𝐦.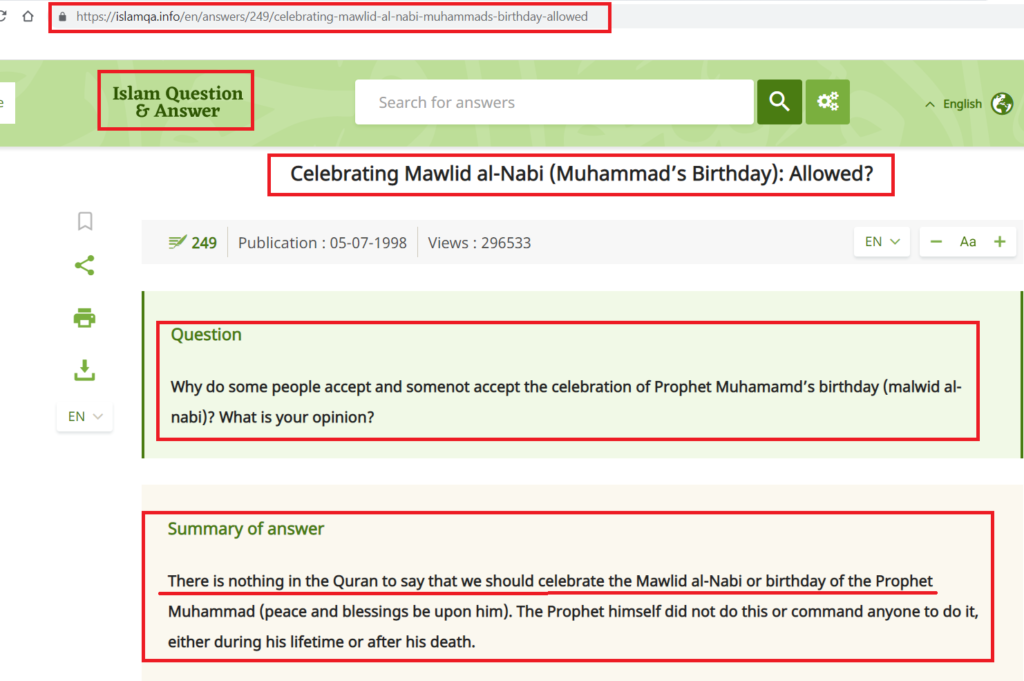 𝐓𝐡𝐞 𝐏𝐫𝐨𝐩𝐡𝐞𝐭 (𝐩𝐞𝐚𝐜𝐞 𝐚𝐧𝐝 𝐛𝐥𝐞𝐬𝐬𝐢𝐧𝐠𝐬 𝐨𝐟 𝐀𝐥𝐥𝐚𝐡 𝐛𝐞 𝐮𝐩𝐨𝐧 𝐡𝐢𝐦) 𝐬𝐚𝐢𝐝:
"𝐖𝐡𝐨𝐞𝐯𝐞𝐫 𝐢𝐦𝐢𝐭𝐚𝐭𝐞𝐬 𝐚 𝐩𝐞𝐨𝐩𝐥𝐞 𝐢𝐬 𝐨𝐧𝐞 𝐨𝐟 𝐭𝐡𝐞𝐦" (𝐧𝐚𝐫𝐫𝐚𝐭𝐞𝐝 𝐛𝐲 𝐀𝐡𝐦𝐚𝐝, 𝟐/𝟓𝟎; 𝐀𝐛𝐮 𝐃𝐚𝐰𝐨𝐨𝐝, 𝟒/𝟑𝟏𝟒).
𝐀𝐧𝐝 𝐡𝐞 𝐬𝐚𝐢𝐝, "𝐁𝐞 𝐝𝐢𝐟𝐟𝐞𝐫𝐞𝐧𝐭 𝐟𝐫𝐨𝐦 𝐭𝐡𝐞 𝐌𝐮𝐬𝐡𝐫𝐢𝐤𝐢𝐧=𝐏𝐨𝐥𝐲𝐭𝐡𝐞𝐢𝐬𝐭𝐬" (𝐧𝐚𝐫𝐫𝐚𝐭𝐞𝐝 𝐛𝐲 𝐌𝐮𝐬𝐥𝐢𝐦, 𝟏/𝟐𝟐𝟐, 𝐧𝐨. 𝟐𝟓𝟗) – 𝐞𝐬𝐩𝐞𝐜𝐢𝐚𝐥𝐥𝐲 𝐰𝐢𝐭𝐡 𝐫𝐞𝐠𝐚𝐫𝐝 𝐭𝐨 𝐭𝐡𝐢𝐧𝐠𝐬 𝐭𝐡𝐚𝐭 𝐚𝐫𝐞 𝐭𝐡𝐞 𝐬𝐲𝐦𝐛𝐨𝐥𝐬 𝐨𝐫 𝐫𝐢𝐭𝐮𝐚𝐥𝐬 𝐨𝐟 𝐭𝐡𝐞𝐢𝐫 𝐫𝐞𝐥𝐢𝐠𝐢𝐨𝐧.
𝟑 – 𝐁𝐞𝐬𝐢𝐝𝐞𝐬 𝐛𝐞𝐢𝐧𝐠 𝐛𝐢𝐝'𝐚𝐡 𝐚𝐧𝐝 𝐚𝐧 𝐢𝐦𝐢𝐭𝐚𝐭𝐢𝐨𝐧 𝐨𝐟 𝐭𝐡𝐞 𝐂𝐡𝐫𝐢𝐬𝐭𝐢𝐚𝐧𝐬, 𝐛𝐨𝐭𝐡 𝐨𝐟 𝐰𝐡𝐢𝐜𝐡 𝐚𝐫𝐞 𝐡𝐚𝐫𝐚𝐦=𝐟𝐨𝐫𝐛𝐢𝐝𝐝𝐞𝐧, 𝐜𝐞𝐥𝐞𝐛𝐫𝐚𝐭𝐢𝐧𝐠 𝐭𝐡𝐞 𝐛𝐢𝐫𝐭𝐡𝐝𝐚𝐲 𝐨𝐟 𝐭𝐡𝐞 𝐏𝐫𝐨𝐩𝐡𝐞𝐭 (𝐩𝐞𝐚𝐜𝐞 𝐚𝐧𝐝 𝐛𝐥𝐞𝐬𝐬𝐢𝐧𝐠𝐬 𝐨𝐟 𝐀𝐥𝐥𝐚𝐡 𝐛𝐞 𝐮𝐩𝐨𝐧 𝐡𝐢𝐦) 𝐢𝐬 𝐚𝐥𝐬𝐨 𝐚 𝐦𝐞𝐚𝐧𝐬 𝐭𝐡𝐚𝐭 𝐥𝐞𝐚𝐝𝐬 𝐭𝐨 𝐞𝐱𝐚𝐠𝐠𝐞𝐫𝐚𝐭𝐢𝐨𝐧 𝐚𝐧𝐝 𝐞𝐱𝐜𝐞𝐬𝐬 𝐢𝐧 𝐯𝐞𝐧𝐞𝐫𝐚𝐭𝐢𝐧𝐠 𝐡𝐢𝐦, 𝐰𝐡𝐢𝐜𝐡 𝐞𝐯𝐞𝐧 𝐠𝐨𝐞𝐬 𝐚𝐬 𝐟𝐚𝐫 𝐚𝐬 𝐜𝐚𝐥𝐥𝐢𝐧𝐠 𝐮𝐩𝐨𝐧 𝐡𝐢𝐦 (𝐦𝐚𝐤𝐢𝐧𝐠 𝐝𝐮'𝐚𝐚' 𝐭𝐨 𝐡𝐢𝐦) 𝐚𝐧𝐝 𝐬𝐞𝐞𝐤𝐢𝐧𝐠 𝐡𝐢𝐬 𝐡𝐞𝐥𝐩, 𝐢𝐧𝐬𝐭𝐞𝐚𝐝 𝐨𝐟 𝐜𝐚𝐥𝐥𝐢𝐧𝐠 𝐮𝐩𝐨𝐧 𝐀𝐥𝐥𝐚𝐡.
𝐀𝐬 𝐡𝐚𝐩𝐩𝐞𝐧𝐬 𝐧𝐨𝐰 𝐚𝐦𝐨𝐧𝐠 𝐦𝐚𝐧𝐲 𝐨𝐟 𝐭𝐡𝐨𝐬𝐞 𝐰𝐡𝐨 𝐨𝐛𝐬𝐞𝐫𝐯𝐞 𝐭𝐡𝐞 𝐛𝐢𝐝'𝐚𝐡 𝐨𝐟 𝐭𝐡𝐞 𝐌𝐚𝐰𝐥𝐢𝐝=𝐛𝐚𝐝 𝐢𝐧𝐧𝐨𝐯𝐚𝐭𝐢𝐨𝐧 𝐨𝐟 𝐜𝐞𝐥𝐞𝐛𝐫𝐚𝐭𝐢𝐧𝐠 𝐭𝐡𝐞 𝐛𝐢𝐫𝐭𝐡𝐝𝐚𝐲 𝐨𝐟 𝐭𝐡𝐞 𝐩𝐫𝐨𝐩𝐡𝐞𝐭, 𝐰𝐡𝐞𝐧 𝐭𝐡𝐞𝐲 𝐜𝐚𝐥𝐥 𝐮𝐩𝐨𝐧 𝐭𝐡𝐞 𝐌𝐞𝐬𝐬𝐞𝐧𝐠𝐞𝐫 𝐢𝐧𝐬𝐭𝐞𝐚𝐝 𝐨𝐟 𝐀𝐥𝐥𝐚𝐡, 𝐚𝐧𝐝 𝐚𝐬𝐤 𝐡𝐢𝐦 𝐟𝐨𝐫 𝐬𝐮𝐩𝐩𝐨𝐫𝐭, 𝐚𝐧𝐝 𝐬𝐢𝐧𝐠 𝐪𝐚𝐬𝐞𝐞𝐝𝐚𝐡𝐬 (𝐨𝐝𝐞𝐬) 𝐨𝐟 𝐬𝐡𝐢𝐫𝐤 𝐩𝐫𝐚𝐢𝐬𝐢𝐧𝐠 𝐡𝐢𝐦, 𝐥𝐢𝐤𝐞 𝐐𝐚𝐬𝐞𝐞𝐝𝐚𝐭 𝐚𝐥-𝐁𝐮𝐫𝐝𝐚𝐡 𝐞𝐭𝐜.
𝐓𝐡𝐞 𝐏𝐫𝐨𝐩𝐡𝐞𝐭 (𝐩𝐞𝐚𝐜𝐞 𝐚𝐧𝐝 𝐛𝐥𝐞𝐬𝐬𝐢𝐧𝐠𝐬 𝐨𝐟 𝐀𝐥𝐥𝐚𝐡 𝐛𝐞 𝐮𝐩𝐨𝐧 𝐡𝐢𝐦) 𝐟𝐨𝐫𝐛𝐚𝐝𝐞 𝐠𝐨𝐢𝐧𝐠 𝐭𝐨 𝐞𝐱𝐭𝐫𝐞𝐦𝐞𝐬 𝐢𝐧 𝐩𝐫𝐚𝐢𝐬𝐢𝐧𝐠 𝐡𝐢𝐦, 𝐚𝐬 𝐡𝐞 𝐬𝐚𝐢𝐝: "𝐃𝐨 𝐧𝐨𝐭 𝐞𝐱𝐭𝐨𝐥 𝐚𝐬 𝐭𝐡𝐞 𝐂𝐡𝐫𝐢𝐬𝐭𝐢𝐚𝐧𝐬 𝐞𝐱𝐭𝐨𝐥𝐥𝐞𝐝 𝐭𝐡𝐞 𝐬𝐨𝐧 𝐨𝐟 𝐌𝐚𝐫𝐲𝐚𝐦. 𝐅𝐨𝐫 𝐈 𝐚𝐦 𝐣𝐮𝐬𝐭 𝐇𝐢𝐬 𝐬𝐥𝐚𝐯𝐞, 𝐬𝐨 𝐬𝐚𝐲, 𝐭𝐡𝐞 𝐬𝐥𝐚𝐯𝐞 𝐨𝐟 𝐀𝐥𝐥𝐚𝐡 𝐚𝐧𝐝 𝐇𝐢𝐬 𝐌𝐞𝐬𝐬𝐞𝐧𝐠𝐞𝐫" (𝐧𝐚𝐫𝐫𝐚𝐭𝐞𝐝 𝐛𝐲 𝐚𝐥-𝐁𝐮𝐤𝐡𝐚𝐫𝐢, 𝟒/𝟏𝟒𝟐, 𝐧𝐨. 𝟑𝟒𝟒𝟓; 𝐚𝐥-𝐅𝐚𝐭𝐡, 𝟔/𝟓𝟓𝟏), 𝐢.𝐞., 𝐝𝐨 𝐧𝐨𝐭 𝐞𝐱𝐚𝐠𝐠𝐞𝐫𝐚𝐭𝐞 𝐢𝐧 𝐩𝐫𝐚𝐢𝐬𝐢𝐧𝐠 𝐦𝐞 𝐚𝐬 𝐭𝐡𝐞 𝐂𝐡𝐫𝐢𝐬𝐭𝐢𝐚𝐧𝐬 𝐞𝐱𝐚𝐠𝐠𝐞𝐫𝐚𝐭𝐞𝐝 𝐢𝐧 𝐩𝐫𝐚𝐢𝐬𝐢𝐧𝐠 𝐭𝐡𝐞 𝐌𝐞𝐬𝐬𝐢𝐚𝐡 𝐚𝐧𝐝 𝐯𝐞𝐧𝐞𝐫𝐚𝐭𝐞𝐝 𝐡𝐢𝐦 𝐮𝐧𝐭𝐢𝐥 𝐭𝐡𝐞𝐲 𝐰𝐨𝐫𝐬𝐡𝐢𝐩𝐩𝐞𝐝 𝐡𝐢𝐦 𝐢𝐧𝐬𝐭𝐞𝐚𝐝 𝐨𝐟 𝐀𝐥𝐥𝐚𝐡.
𝐀𝐥𝐥𝐚𝐡 𝐟𝐨𝐫𝐛𝐚𝐝𝐞 𝐭𝐡𝐞𝐦 𝐭𝐨 𝐝𝐨 𝐭𝐡𝐚𝐭 𝐰𝐡𝐞𝐧 𝐡𝐞 𝐬𝐚𝐢𝐝:
"𝐎 𝐩𝐞𝐨𝐩𝐥𝐞 𝐨𝐟 𝐭𝐡𝐞 𝐒𝐜𝐫𝐢𝐩𝐭𝐮𝐫𝐞 (𝐂𝐡𝐫𝐢𝐬𝐭𝐢𝐚𝐧𝐬)! 𝐃𝐨 𝐧𝐨𝐭 𝐞𝐱𝐜𝐞𝐞𝐝 𝐭𝐡𝐞 𝐥𝐢𝐦𝐢𝐭𝐬 𝐢𝐧 𝐲𝐨𝐮𝐫 𝐫𝐞𝐥𝐢𝐠𝐢𝐨𝐧, 𝐧𝐨𝐫 𝐬𝐚𝐲 𝐨𝐟 𝐀𝐥𝐥𝐚𝐡 𝐚𝐮𝐠𝐡𝐭 𝐛𝐮𝐭 𝐭𝐡𝐞 𝐭𝐫𝐮𝐭𝐡. 𝐓𝐡𝐞 𝐌𝐞𝐬𝐬𝐢𝐚𝐡 '𝐄𝐞𝐬𝐚 (𝐉𝐞𝐬𝐮𝐬), 𝐬𝐨𝐧 𝐨𝐟 𝐌𝐚𝐫𝐲𝐚𝐦 (𝐌𝐚𝐫𝐲), 𝐰𝐚𝐬 (𝐧𝐨 𝐦𝐨𝐫𝐞 𝐭𝐡𝐚𝐧) 𝐚 𝐌𝐞𝐬𝐬𝐞𝐧𝐠𝐞𝐫 𝐨𝐟 𝐀𝐥𝐥𝐚𝐡 𝐚𝐧𝐝 𝐇𝐢𝐬 𝐖𝐨𝐫𝐝, ("𝐁𝐞!" — 𝐚𝐧𝐝 𝐡𝐞 𝐰𝐚𝐬) 𝐰𝐡𝐢𝐜𝐡 𝐇𝐞 𝐛𝐞𝐬𝐭𝐨𝐰𝐞𝐝 𝐨𝐧 𝐌𝐚𝐫𝐲𝐚𝐦 (𝐌𝐚𝐫𝐲) 𝐚𝐧𝐝 𝐚 𝐬𝐩𝐢𝐫𝐢𝐭 (𝐑𝐨𝐨𝐡) 𝐜𝐫𝐞𝐚𝐭𝐞𝐝 𝐛𝐲 𝐇𝐢𝐦" 𝐐𝐮𝐫𝐚𝐧 [𝐚𝐥-𝐍𝐢𝐬𝐚𝐚' 𝟒:𝟏𝟕𝟏]
𝐎𝐮𝐫 𝐏𝐫𝐨𝐩𝐡𝐞𝐭 (𝐩𝐞𝐚𝐜𝐞 𝐚𝐧𝐝 𝐛𝐥𝐞𝐬𝐬𝐢𝐧𝐠𝐬 𝐨𝐟 𝐀𝐥𝐥𝐚𝐡 𝐛𝐞 𝐮𝐩𝐨𝐧 𝐡𝐢𝐦) 𝐟𝐨𝐫𝐛𝐚𝐝𝐞 𝐮𝐬 𝐭𝐨 𝐞𝐱𝐚𝐠𝐠𝐞𝐫𝐚𝐭𝐞 𝐜𝐨𝐧𝐜𝐞𝐫𝐧𝐢𝐧𝐠 𝐡𝐢𝐦 𝐥𝐞𝐬𝐭 𝐭𝐡𝐞 𝐬𝐚𝐦𝐞 𝐭𝐡𝐢𝐧𝐠 𝐡𝐚𝐩𝐩𝐞𝐧 𝐭𝐨 𝐮𝐬 𝐚𝐬 𝐡𝐚𝐩𝐩𝐞𝐧𝐞𝐝 𝐭𝐨 𝐭𝐡𝐞𝐦, 𝐬𝐨 𝐡𝐞 𝐬𝐚𝐢𝐝: "𝐁𝐞𝐰𝐚𝐫𝐞 𝐨𝐟 𝐞𝐱𝐚𝐠𝐠𝐞𝐫𝐚𝐭𝐢𝐨𝐧, 𝐟𝐨𝐫 𝐭𝐡𝐨𝐬𝐞 𝐰𝐡𝐨 𝐜𝐚𝐦𝐞 𝐛𝐞𝐟𝐨𝐫𝐞 𝐲𝐨𝐮 𝐰𝐞𝐫𝐞 𝐝𝐞𝐬𝐭𝐫𝐨𝐲𝐞𝐝 𝐛𝐞𝐜𝐚𝐮𝐬𝐞 𝐨𝐟 𝐞𝐱𝐚𝐠𝐠𝐞𝐫𝐚𝐭𝐢𝐨𝐧" (𝐧𝐚𝐫𝐫𝐚𝐭𝐞𝐝 𝐛𝐲 𝐚𝐥-𝐍𝐚𝐬𝐚'𝐢, 𝟓/𝟐𝟔𝟖; 𝐜𝐥𝐚𝐬𝐬𝐞𝐝 𝐚𝐬 𝐬𝐚𝐡𝐢𝐡 𝐛𝐲 𝐚𝐥-𝐀𝐥𝐛𝐚𝐧𝐢 𝐢𝐧 𝐒𝐚𝐡𝐢𝐡 𝐒𝐮𝐧𝐚𝐧 𝐚𝐥-𝐍𝐚𝐬𝐚'𝐢, 𝐧𝐨. 𝟐𝟖𝟔𝟑).
𝟒 – 𝐎𝐛𝐬𝐞𝐫𝐯𝐢𝐧𝐠 𝐭𝐡𝐞 𝐢𝐧𝐧𝐨𝐯𝐚𝐭𝐢𝐨𝐧 𝐨𝐟 𝐭𝐡𝐞 𝐏𝐫𝐨𝐩𝐡𝐞𝐭'𝐬 𝐛𝐢𝐫𝐭𝐡𝐝𝐚𝐲 𝐨𝐩𝐞𝐧𝐬 𝐭𝐡𝐞 𝐝𝐨𝐨𝐫 𝐭𝐨 𝐨𝐭𝐡𝐞𝐫 𝐤𝐢𝐧𝐝𝐬 𝐨𝐟 𝐛𝐢𝐝'𝐚𝐡 𝐚𝐧𝐝 𝐛𝐞𝐢𝐧𝐠 𝐝𝐢𝐬𝐭𝐫𝐚𝐜𝐭𝐞𝐝 𝐛𝐲 𝐭𝐡𝐞𝐦 𝐟𝐫𝐨𝐦 𝐭𝐡𝐞 𝐒𝐮𝐧𝐧𝐚𝐡. 𝐇𝐞𝐧𝐜𝐞 𝐲𝐨𝐮 𝐟𝐢𝐧𝐝 𝐭𝐡𝐚𝐭 𝐭𝐡𝐞 𝐢𝐧𝐧𝐨𝐯𝐚𝐭𝐨𝐫𝐬 𝐚𝐫𝐞 𝐯𝐞𝐫𝐲 𝐚𝐜𝐭𝐢𝐯𝐞 𝐰𝐡𝐞𝐧 𝐢𝐭 𝐜𝐨𝐦𝐞𝐬 𝐭𝐨 𝐛𝐢𝐝'𝐚𝐡 𝐚𝐧𝐝 𝐯𝐞𝐫𝐲 𝐥𝐚𝐳𝐲 𝐰𝐡𝐞𝐧 𝐢𝐭 𝐜𝐨𝐦𝐞𝐬 𝐭𝐨 𝐭𝐡𝐞 𝐒𝐮𝐧𝐧𝐚𝐡; 𝐭𝐡𝐞𝐲 𝐡𝐚𝐭𝐞 𝐢𝐭 𝐚𝐧𝐝 𝐫𝐞𝐠𝐚𝐫𝐝 𝐭𝐡𝐨𝐬𝐞 𝐰𝐡𝐨 𝐟𝐨𝐥𝐥𝐨𝐰 𝐢𝐭 𝐚𝐬 𝐞𝐧𝐞𝐦𝐢𝐞𝐬, 𝐮𝐧𝐭𝐢𝐥 𝐭𝐡𝐞𝐢𝐫 𝐞𝐧𝐭𝐢𝐫𝐞 𝐫𝐞𝐥𝐢𝐠𝐢𝐨𝐧 𝐢𝐬 𝐢𝐧𝐧𝐨𝐯𝐚𝐭𝐞𝐝 𝐚𝐧𝐧𝐢𝐯𝐞𝐫𝐬𝐚𝐫𝐢𝐞𝐬 𝐚𝐧𝐝 𝐌𝐚𝐰𝐥𝐢𝐝𝐬.
𝐓𝐡𝐞𝐲 𝐡𝐚𝐯𝐞 𝐬𝐩𝐥𝐢𝐭 𝐢𝐧𝐭𝐨 𝐯𝐚𝐫𝐢𝐨𝐮𝐬 𝐠𝐫𝐨𝐮𝐩𝐬, 𝐞𝐚𝐜𝐡 𝐨𝐟 𝐰𝐡𝐢𝐜𝐡 𝐜𝐨𝐦𝐦𝐞𝐦𝐨𝐫𝐚𝐭𝐞𝐬 𝐭𝐡𝐞 𝐚𝐧𝐧𝐢𝐯𝐞𝐫𝐬𝐚𝐫𝐲 𝐨𝐟 𝐢𝐭𝐬 𝐢𝐦𝐚𝐦'𝐬 𝐛𝐢𝐫𝐭𝐡, 𝐬𝐮𝐜𝐡 𝐚𝐬 𝐭𝐡𝐞 𝐛𝐢𝐫𝐭𝐡𝐬 𝐨𝐟 𝐚𝐥-𝐁𝐚𝐝𝐚𝐰𝐢, 𝐈𝐛𝐧 '𝐀𝐫𝐚𝐛𝐢, 𝐚𝐥-𝐃𝐚𝐬𝐨𝐨𝐪𝐢 𝐚𝐧𝐝 𝐚𝐥-𝐒𝐡𝐚𝐚𝐝𝐡𝐢𝐥𝐢. 𝐍𝐨 𝐬𝐨𝐨𝐧𝐞𝐫 𝐝𝐨 𝐭𝐡𝐞𝐲 𝐞𝐧𝐝 𝐭𝐡𝐞 𝐜𝐞𝐥𝐞𝐛𝐫𝐚𝐭𝐢𝐨𝐧 𝐨𝐟 𝐨𝐧𝐞 𝐛𝐢𝐫𝐭𝐡𝐝𝐚𝐲, 𝐛𝐮𝐭 𝐭𝐡𝐞𝐲 𝐬𝐭𝐚𝐫𝐭 𝐭𝐡𝐞 𝐜𝐞𝐥𝐞𝐛𝐫𝐚𝐭𝐢𝐨𝐧 𝐨𝐟 𝐚𝐧𝐨𝐭𝐡𝐞𝐫.
𝐓𝐡𝐢𝐬 𝐫𝐞𝐬𝐮𝐥𝐭𝐬 𝐢𝐧 𝐞𝐱𝐚𝐠𝐠𝐞𝐫𝐚𝐭𝐢𝐨𝐧 𝐜𝐨𝐧𝐜𝐞𝐫𝐧𝐢𝐧𝐠 𝐭𝐡𝐞𝐬𝐞 𝐝𝐞𝐚𝐝 𝐩𝐞𝐨𝐩𝐥𝐞 𝐚𝐧𝐝 𝐨𝐭𝐡𝐞𝐫𝐬, 𝐚𝐧𝐝 𝐢𝐧 𝐜𝐚𝐥𝐥𝐢𝐧𝐠 𝐮𝐩𝐨𝐧 𝐭𝐡𝐞𝐦 𝐢𝐧𝐬𝐭𝐞𝐚𝐝 𝐨𝐟 𝐀𝐥𝐥𝐚𝐡, 𝐛𝐞𝐥𝐢𝐞𝐯𝐢𝐧𝐠 𝐭𝐡𝐚𝐭 𝐭𝐡𝐞𝐲 𝐜𝐚𝐧 𝐛𝐫𝐢𝐧𝐠 𝐛𝐞𝐧𝐞𝐟𝐢𝐭 𝐚𝐧𝐝 𝐜𝐚𝐮𝐬𝐞 𝐡𝐚𝐫𝐦, 𝐮𝐧𝐭𝐢𝐥 𝐭𝐡𝐞𝐲 𝐝𝐞𝐯𝐢𝐚𝐭𝐞 𝐟𝐫𝐨𝐦 𝐭𝐡𝐞 𝐫𝐞𝐥𝐢𝐠𝐢𝐨𝐧 𝐨𝐟 𝐀𝐥𝐥𝐚𝐡 𝐚𝐧𝐝 𝐠𝐨 𝐛𝐚𝐜𝐤 𝐭𝐨 𝐭𝐡𝐞 𝐫𝐞𝐥𝐢𝐠𝐢𝐨𝐧 𝐨𝐟 𝐭𝐡𝐞 𝐩𝐞𝐨𝐩𝐥𝐞 𝐨𝐟 𝐭𝐡𝐞 𝐉𝐚𝐚𝐡𝐢𝐥𝐢𝐲𝐲𝐚𝐡 𝐨𝐟 𝐰𝐡𝐨𝐦 𝐀𝐥𝐥𝐚𝐡 𝐬𝐚𝐲𝐬:
"𝐀𝐧𝐝 𝐭𝐡𝐞𝐲 𝐰𝐨𝐫𝐬𝐡𝐢𝐩 𝐛𝐞𝐬𝐢𝐝𝐞𝐬 𝐀𝐥𝐥𝐚𝐡 𝐭𝐡𝐢𝐧𝐠𝐬 𝐭𝐡𝐚𝐭 𝐡𝐚𝐫𝐦 𝐭𝐡𝐞𝐦 𝐧𝐨𝐭, 𝐧𝐨𝐫 𝐩𝐫𝐨𝐟𝐢𝐭 𝐭𝐡𝐞𝐦, 𝐚𝐧𝐝 𝐭𝐡𝐞𝐲 𝐬𝐚𝐲: '𝐓𝐡𝐞𝐬𝐞 𝐚𝐫𝐞 𝐨𝐮𝐫 𝐢𝐧𝐭𝐞𝐫𝐜𝐞𝐬𝐬𝐨𝐫𝐬 𝐰𝐢𝐭𝐡 𝐀𝐥𝐥𝐚𝐡'" 𝐐𝐮𝐫'𝐚𝐧 [𝐘𝐨𝐮𝐧𝐮𝐬 𝟏𝟎:𝟏𝟖]
"𝐀𝐧𝐝 𝐭𝐡𝐨𝐬𝐞 𝐰𝐡𝐨 𝐭𝐚𝐤𝐞 𝐀𝐰𝐥𝐢𝐲𝐚𝐚' (𝐩𝐫𝐨𝐭𝐞𝐜𝐭𝐨𝐫𝐬, 𝐡𝐞𝐥𝐩𝐞𝐫𝐬, 𝐥𝐨𝐫𝐝𝐬, 𝐠𝐨𝐝𝐬) 𝐛𝐞𝐬𝐢𝐝𝐞𝐬 𝐇𝐢𝐦 (𝐬𝐚𝐲): '𝐖𝐞 𝐰𝐨𝐫𝐬𝐡𝐢𝐩 𝐭𝐡𝐞𝐦 𝐨𝐧𝐥𝐲 𝐭𝐡𝐚𝐭 𝐭𝐡𝐞𝐲 𝐦𝐚𝐲 𝐛𝐫𝐢𝐧𝐠 𝐮𝐬 𝐧𝐞𝐚𝐫 𝐭𝐨 𝐀𝐥𝐥𝐚𝐡'" 𝐐𝐮𝐫𝐚𝐧 [𝐚𝐥-𝐙𝐮𝐦𝐚𝐫 𝟑𝟗:𝟑]
𝐈𝐧 𝐜𝐨𝐧𝐜𝐥𝐮𝐬𝐢𝐨𝐧, 𝐜𝐞𝐥𝐞𝐛𝐫𝐚𝐭𝐢𝐧𝐠 𝐭𝐡𝐞 𝐛𝐢𝐫𝐭𝐡𝐝𝐚𝐲 𝐨𝐟 𝐭𝐡𝐞 𝐏𝐫𝐨𝐩𝐡𝐞𝐭 (𝐩𝐞𝐚𝐜𝐞 𝐚𝐧𝐝 𝐛𝐥𝐞𝐬𝐬𝐢𝐧𝐠𝐬 𝐨𝐟 𝐀𝐥𝐥𝐚𝐡 𝐛𝐞 𝐮𝐩𝐨𝐧 𝐡𝐢𝐦), 𝐰𝐡𝐚𝐭𝐞𝐯𝐞𝐫 𝐟𝐨𝐫𝐦 𝐢𝐭 𝐭𝐚𝐤𝐞𝐬, 𝐢𝐬 𝐚 𝐫𝐞𝐩𝐫𝐞𝐡𝐞𝐧𝐬𝐢𝐛𝐥𝐞 𝐢𝐧𝐧𝐨𝐯𝐚𝐭𝐢𝐨𝐧. 𝐓𝐡𝐞 𝐌𝐮𝐬𝐥𝐢𝐦𝐬 𝐬𝐡𝐨𝐮𝐥𝐝 𝐩𝐮𝐭 𝐚 𝐬𝐭𝐨𝐩 𝐭𝐨 𝐭𝐡𝐢𝐬 𝐚𝐧𝐝 𝐨𝐭𝐡𝐞𝐫 𝐤𝐢𝐧𝐝𝐬 𝐨𝐟 𝐛𝐢𝐝'𝐚𝐡=𝐛𝐚𝐝 𝐢𝐧𝐧𝐨𝐯𝐚𝐭𝐢𝐨𝐧𝐬 𝐚𝐧𝐝 𝐨𝐜𝐜𝐮𝐩𝐲 𝐭𝐡𝐞𝐦𝐬𝐞𝐥𝐯𝐞𝐬 𝐰𝐢𝐭𝐡 𝐫𝐞𝐯𝐢𝐯𝐢𝐧𝐠 𝐚𝐧𝐝 𝐚𝐝𝐡𝐞𝐫𝐢𝐧𝐠 𝐭𝐨 𝐭𝐡𝐞 𝐒𝐮𝐧𝐧𝐚𝐡.
𝐓𝐡𝐞𝐲 𝐬𝐡𝐨𝐮𝐥𝐝 𝐧𝐨𝐭 𝐛𝐞 𝐝𝐞𝐜𝐞𝐢𝐯𝐞𝐝 𝐛𝐲 𝐭𝐡𝐨𝐬𝐞 𝐰𝐡𝐨 𝐩𝐫𝐨𝐦𝐨𝐭𝐞 𝐚𝐧𝐝 𝐝𝐞𝐟𝐞𝐧𝐝 𝐭𝐡𝐢𝐬 𝐛𝐢𝐝'𝐚𝐡, 𝐟𝐨𝐫 𝐭𝐡𝐞𝐬𝐞 𝐭𝐲𝐩𝐞𝐬 𝐨𝐟 𝐩𝐞𝐨𝐩𝐥𝐞 𝐚𝐫𝐞 𝐦𝐨𝐫𝐞 𝐢𝐧𝐭𝐞𝐫𝐞𝐬𝐭𝐞𝐝 𝐢𝐧 𝐤𝐞𝐞𝐩𝐢𝐧𝐠 𝐢𝐧𝐧𝐨𝐯𝐚𝐭𝐢𝐨𝐧𝐬 𝐚𝐥𝐢𝐯𝐞 𝐭𝐡𝐚𝐧 𝐢𝐧 𝐫𝐞𝐯𝐢𝐯𝐢𝐧𝐠 𝐭𝐡𝐞 𝐒𝐮𝐧𝐧𝐚𝐡; 𝐭𝐡𝐞𝐲 𝐦𝐚𝐲 𝐧𝐨𝐭 𝐞𝐯𝐞𝐧 𝐜𝐚𝐫𝐞 𝐚𝐛𝐨𝐮𝐭 𝐭𝐡𝐞 𝐒𝐮𝐧𝐧𝐚𝐡 𝐚𝐭 𝐚𝐥𝐥.
𝐖𝐡𝐨𝐞𝐯𝐞𝐫 𝐢𝐬 𝐥𝐢𝐤𝐞 𝐭𝐡𝐢𝐬, 𝐢𝐭 𝐢𝐬 𝐧𝐨𝐭 𝐩𝐞𝐫𝐦𝐢𝐬𝐬𝐢𝐛𝐥𝐞 𝐭𝐨 𝐢𝐦𝐢𝐭𝐚𝐭𝐞 𝐡𝐢𝐦 𝐨𝐫 𝐟𝐨𝐥𝐥𝐨𝐰 𝐡𝐢𝐬 𝐞𝐱𝐚𝐦𝐩𝐥𝐞, 𝐞𝐯𝐞𝐧 𝐢𝐟 𝐭𝐡𝐞 𝐦𝐚𝐣𝐨𝐫𝐢𝐭𝐲 𝐨𝐟 𝐩𝐞𝐨𝐩𝐥𝐞 𝐚𝐫𝐞 𝐥𝐢𝐤𝐞 𝐭𝐡𝐢𝐬. 𝐑𝐚𝐭𝐡𝐞𝐫 𝐰𝐞 𝐬𝐡𝐨𝐮𝐥𝐝 𝐟𝐨𝐥𝐥𝐨𝐰 𝐭𝐡𝐞 𝐞𝐱𝐚𝐦𝐩𝐥𝐞 𝐨𝐟 𝐭𝐡𝐨𝐬𝐞 𝐰𝐡𝐨 𝐟𝐨𝐥𝐥𝐨𝐰 𝐭𝐡𝐞 𝐩𝐚𝐭𝐡 𝐨𝐟 𝐭𝐡𝐞 𝐒𝐮𝐧𝐧𝐚𝐡, 𝐚𝐦𝐨𝐧𝐠 𝐭𝐡𝐞 𝐫𝐢𝐠𝐡𝐭𝐞𝐨𝐮𝐬 𝐬𝐚𝐥𝐚𝐟 𝐚𝐧𝐝 𝐭𝐡𝐞𝐢𝐫 𝐟𝐨𝐥𝐥𝐨𝐰𝐞𝐫𝐬, 𝐞𝐯𝐞𝐧 𝐢𝐟 𝐭𝐡𝐞𝐲 𝐚𝐫𝐞 𝐟𝐞𝐰.
𝐓𝐫𝐮𝐭𝐡 𝐢𝐬 𝐧𝐨𝐭 𝐦𝐞𝐚𝐬𝐮𝐫𝐞𝐝 𝐛𝐲 𝐭𝐡𝐞 𝐦𝐞𝐧 𝐰𝐡𝐨 𝐬𝐩𝐞𝐚𝐤 𝐢𝐭, 𝐫𝐚𝐭𝐡𝐞𝐫 𝐦𝐞𝐧 𝐚𝐫𝐞 𝐦𝐞𝐚𝐬𝐮𝐫𝐞𝐝 𝐛𝐲 𝐭𝐡𝐞 𝐭𝐫𝐮𝐭𝐡.
𝐓𝐡𝐞 𝐏𝐫𝐨𝐩𝐡𝐞𝐭 (𝐩𝐞𝐚𝐜𝐞 𝐚𝐧𝐝 𝐛𝐥𝐞𝐬𝐬𝐢𝐧𝐠𝐬 𝐨𝐟 𝐀𝐥𝐥𝐚𝐡 𝐛𝐞 𝐮𝐩𝐨𝐧 𝐡𝐢𝐦) 𝐬𝐚𝐢𝐝:
"𝐖𝐡𝐨𝐞𝐯𝐞𝐫 𝐚𝐦𝐨𝐧𝐠 𝐲𝐨𝐮 𝐥𝐢𝐯𝐞𝐬 (𝐟𝐨𝐫 𝐚 𝐥𝐨𝐧𝐠 𝐭𝐢𝐦𝐞) 𝐰𝐢𝐥𝐥 𝐬𝐞𝐞 𝐦𝐚𝐧𝐲 𝐝𝐢𝐟𝐟𝐞𝐫𝐞𝐧𝐜𝐞𝐬. 𝐈 𝐮𝐫𝐠𝐞 𝐲𝐨𝐮 𝐭𝐨 𝐟𝐨𝐥𝐥𝐨𝐰 𝐦𝐲 𝐒𝐮𝐧𝐧𝐚𝐡 𝐚𝐧𝐝 𝐭𝐡𝐞 𝐰𝐚𝐲 𝐨𝐟 𝐭𝐡𝐞 𝐫𝐢𝐠𝐡𝐭𝐥𝐲 𝐠𝐮𝐢𝐝𝐞𝐝 𝐤𝐡𝐚𝐥𝐢𝐟𝐚𝐡𝐬=𝐬𝐮𝐜𝐜𝐞𝐬𝐬𝐨𝐫𝐬 𝐰𝐡𝐨 𝐜𝐨𝐦𝐞 𝐚𝐟𝐭𝐞𝐫 𝐦𝐞. 𝐇𝐨𝐥𝐝 𝐨𝐧 𝐭𝐨 𝐢𝐭 𝐟𝐢𝐫𝐦𝐥𝐲. 𝐁𝐞𝐰𝐚𝐫𝐞 𝐨𝐟 𝐧𝐞𝐰𝐥𝐲-𝐢𝐧𝐯𝐞𝐧𝐭𝐞𝐝 𝐦𝐚𝐭𝐭𝐞𝐫𝐬, 𝐟𝐨𝐫 𝐞𝐯𝐞𝐫𝐲 𝐢𝐧𝐧𝐨𝐯𝐚𝐭𝐢𝐨𝐧 𝐢𝐬 𝐚 𝐠𝐨𝐢𝐧𝐠 𝐚𝐬𝐭𝐫𝐚𝐲." (𝐍𝐚𝐫𝐫𝐚𝐭𝐞𝐝 𝐛𝐲 𝐀𝐡𝐦𝐚𝐝, 𝟒/𝟏𝟐𝟔; 𝐚𝐥-𝐓𝐢𝐫𝐦𝐢𝐝𝐡𝐢 𝐧𝐨. 𝟐𝟔𝟕𝟔).
𝐒𝐨, 𝐭𝐡𝐞 𝐏𝐫𝐨𝐩𝐡𝐞𝐭 (𝐩𝐞𝐚𝐜𝐞 𝐚𝐧𝐝 𝐛𝐥𝐞𝐬𝐬𝐢𝐧𝐠𝐬 𝐨𝐟 𝐀𝐥𝐥𝐚𝐡 𝐛𝐞 𝐮𝐩𝐨𝐧 𝐡𝐢𝐦) 𝐞𝐱𝐩𝐥𝐚𝐢𝐧𝐞𝐝 𝐭𝐨 𝐮𝐬 𝐢𝐧 𝐭𝐡𝐢𝐬 𝐡𝐚𝐝𝐞𝐞𝐭𝐡 𝐰𝐡𝐚𝐭 𝐰𝐞 𝐬𝐡𝐨𝐮𝐥𝐝 𝐝𝐨 𝐰𝐡𝐞𝐧 𝐭𝐡𝐞𝐫𝐞 𝐚𝐫𝐞 𝐝𝐢𝐟𝐟𝐞𝐫𝐞𝐧𝐜𝐞𝐬 𝐨𝐟 𝐨𝐩𝐢𝐧𝐢𝐨𝐧, 𝐣𝐮𝐬𝐭 𝐚𝐬 𝐡𝐞 𝐞𝐱𝐩𝐥𝐚𝐢𝐧𝐞𝐝 𝐭𝐡𝐚𝐭 𝐞𝐯𝐞𝐫𝐲𝐭𝐡𝐢𝐧𝐠 𝐭𝐡𝐚𝐭 𝐠𝐨𝐞𝐬 𝐚𝐠𝐚𝐢𝐧𝐬𝐭 𝐡𝐢𝐬 𝐒𝐮𝐧𝐧𝐚𝐡, 𝐛𝐞 𝐢𝐭 𝐰𝐨𝐫𝐝𝐬 𝐨𝐫 𝐝𝐞𝐞𝐝𝐬, 𝐢𝐬 𝐚 𝐛𝐢𝐝'𝐚𝐡, 𝐚𝐧𝐝 𝐞𝐯𝐞𝐫𝐲 𝐛𝐢𝐝'𝐚𝐡 𝐢𝐬 𝐚 𝐠𝐨𝐢𝐧𝐠 𝐚𝐬𝐭𝐫𝐚𝐲.
𝐈𝐟 𝐰𝐞 𝐬𝐞𝐞 𝐭𝐡𝐚𝐭 𝐭𝐡𝐞𝐫𝐞 𝐢𝐬 𝐧𝐨 𝐛𝐚𝐬𝐢𝐬 𝐟𝐨𝐫 𝐜𝐞𝐥𝐞𝐛𝐫𝐚𝐭𝐢𝐧𝐠 𝐭𝐡𝐞 𝐛𝐢𝐫𝐭𝐡𝐝𝐚𝐲 𝐨𝐟 𝐭𝐡𝐞 𝐏𝐫𝐨𝐩𝐡𝐞𝐭, 𝐰𝐡𝐞𝐭𝐡𝐞𝐫 𝐢𝐧 𝐭𝐡𝐞 𝐒𝐮𝐧𝐧𝐚𝐡 𝐨𝐟 𝐭𝐡𝐞 𝐌𝐞𝐬𝐬𝐞𝐧𝐠𝐞𝐫 𝐨𝐟 𝐀𝐥𝐥𝐚𝐡 (𝐩𝐞𝐚𝐜𝐞 𝐚𝐧𝐝 𝐛𝐥𝐞𝐬𝐬𝐢𝐧𝐠𝐬 𝐨𝐟 𝐀𝐥𝐥𝐚𝐡 𝐛𝐞 𝐮𝐩𝐨𝐧 𝐡𝐢𝐦) 𝐨𝐫 𝐢𝐧 𝐭𝐡𝐞 𝐰𝐚𝐲 𝐨𝐟 𝐭𝐡𝐞 𝐫𝐢𝐠𝐡𝐭𝐥𝐲 𝐠𝐮𝐢𝐝𝐞𝐝 𝐤𝐡𝐚𝐥𝐢𝐟𝐚𝐡𝐬=𝐬𝐮𝐜𝐜𝐞𝐬𝐬𝐨𝐫𝐬, 𝐭𝐡𝐞𝐧 𝐢𝐭 𝐢𝐬 𝐨𝐧𝐞 𝐨𝐟 𝐭𝐡𝐞 𝐧𝐞𝐰𝐥𝐲 𝐢𝐧𝐯𝐞𝐧𝐭𝐞𝐝 𝐦𝐚𝐭𝐭𝐞𝐫𝐬, 𝐨𝐧𝐞 𝐨𝐟 𝐭𝐡𝐞 𝐛𝐢𝐝'𝐚𝐡𝐬=𝐛𝐚𝐝 𝐢𝐧𝐧𝐨𝐯𝐚𝐭𝐢𝐨𝐧𝐬 𝐰𝐡𝐢𝐜𝐡 𝐥𝐞𝐚𝐝 𝐩𝐞𝐨𝐩𝐥𝐞 𝐚𝐬𝐭𝐫𝐚𝐲. 𝐓𝐡𝐢𝐬 𝐩𝐫𝐢𝐧𝐜𝐢𝐩𝐥𝐞 𝐢𝐬 𝐰𝐡𝐚𝐭 𝐢𝐬 𝐢𝐦𝐩𝐥𝐢𝐞𝐝 𝐛𝐲 𝐭𝐡𝐢𝐬 𝐡𝐚𝐝𝐞𝐞𝐭𝐡 𝐚𝐧𝐝 𝐢𝐬 𝐰𝐡𝐚𝐭 𝐢𝐬 𝐢𝐧𝐝𝐢𝐜𝐚𝐭𝐞𝐝 𝐛𝐲 𝐭𝐡𝐞 𝐯𝐞𝐫𝐬𝐞:
"𝐎 𝐲𝐨𝐮 𝐰𝐡𝐨 𝐛𝐞𝐥𝐢𝐞𝐯𝐞! 𝐎𝐛𝐞𝐲 𝐀𝐥𝐥𝐚𝐡 𝐚𝐧𝐝 𝐨𝐛𝐞𝐲 𝐭𝐡𝐞 𝐌𝐞𝐬𝐬𝐞𝐧𝐠𝐞𝐫 (𝐌𝐮𝐡𝐚𝐦𝐦𝐚𝐝), 𝐚𝐧𝐝 𝐭𝐡𝐨𝐬𝐞 𝐨𝐟 𝐲𝐨𝐮 (𝐌𝐮𝐬𝐥𝐢𝐦𝐬) 𝐰𝐡𝐨 𝐚𝐫𝐞 𝐢𝐧 𝐚𝐮𝐭𝐡𝐨𝐫𝐢𝐭𝐲. (𝐀𝐧𝐝) 𝐢𝐟 𝐲𝐨𝐮 𝐝𝐢𝐟𝐟𝐞𝐫 𝐢𝐧 𝐚𝐧𝐲𝐭𝐡𝐢𝐧𝐠 𝐚𝐦𝐨𝐧𝐠𝐬𝐭 𝐲𝐨𝐮𝐫𝐬𝐞𝐥𝐯𝐞𝐬, 𝐫𝐞𝐟𝐞𝐫 𝐢𝐭 𝐭𝐨 𝐀𝐥𝐥𝐚𝐡 𝐚𝐧𝐝 𝐇𝐢𝐬 𝐌𝐞𝐬𝐬𝐞𝐧𝐠𝐞𝐫, 𝐢𝐟 𝐲𝐨𝐮 𝐛𝐞𝐥𝐢𝐞𝐯𝐞 𝐢𝐧 𝐀𝐥𝐥𝐚𝐡 𝐚𝐧𝐝 𝐢𝐧 𝐭𝐡𝐞 𝐋𝐚𝐬𝐭 𝐃𝐚𝐲. 𝐓𝐡𝐚𝐭 𝐢𝐬 𝐛𝐞𝐭𝐭𝐞𝐫 𝐚𝐧𝐝 𝐦𝐨𝐫𝐞 𝐬𝐮𝐢𝐭𝐚𝐛𝐥𝐞 𝐟𝐨𝐫 𝐟𝐢𝐧𝐚𝐥 𝐝𝐞𝐭𝐞𝐫𝐦𝐢𝐧𝐚𝐭𝐢𝐨𝐧" 𝐐𝐮𝐫𝐚𝐧 [𝐚𝐥-𝐍𝐢𝐬𝐚' 𝟒:𝟓𝟗]
𝐑𝐞𝐟𝐞𝐫𝐫𝐢𝐧𝐠 𝐭𝐨 𝐀𝐥𝐥𝐚𝐡 𝐦𝐞𝐚𝐧𝐬 𝐫𝐞𝐟𝐞𝐫𝐫𝐢𝐧𝐠 𝐭𝐨 𝐇𝐢𝐬 𝐁𝐨𝐨𝐤 𝐚𝐧𝐝 𝐫𝐞𝐟𝐞𝐫𝐫𝐢𝐧𝐠 𝐭𝐨 𝐭𝐡𝐞 𝐌𝐞𝐬𝐬𝐞𝐧𝐠𝐞𝐫 (𝐩𝐞𝐚𝐜𝐞 𝐚𝐧𝐝 𝐛𝐥𝐞𝐬𝐬𝐢𝐧𝐠𝐬 𝐨𝐟 𝐀𝐥𝐥𝐚𝐡 𝐛𝐞 𝐮𝐩𝐨𝐧 𝐡𝐢𝐦) 𝐦𝐞𝐚𝐧𝐬 𝐫𝐞𝐟𝐞𝐫𝐫𝐢𝐧𝐠 𝐭𝐨 𝐡𝐢𝐬 𝐒𝐮𝐧𝐧𝐚𝐡 𝐚𝐟𝐭𝐞𝐫 𝐡𝐞 𝐡𝐚𝐬 𝐩𝐚𝐬𝐬𝐞𝐝 𝐚𝐰𝐚𝐲. 𝐓𝐡𝐞 𝐐𝐮𝐫'𝐚𝐧 𝐚𝐧𝐝 𝐒𝐮𝐧𝐧𝐚𝐡 𝐚𝐫𝐞 𝐭𝐡𝐞 𝐫𝐞𝐟𝐞𝐫𝐞𝐧𝐜𝐞 𝐩𝐨𝐢𝐧𝐭 𝐢𝐧 𝐜𝐚𝐬𝐞𝐬 𝐨𝐟 𝐝𝐢𝐬𝐩𝐮𝐭𝐞.
𝐖𝐡𝐞𝐫𝐞 𝐢𝐧 𝐭𝐡𝐞 𝐐𝐮𝐫'𝐚𝐧 𝐨𝐫 𝐒𝐮𝐧𝐧𝐚𝐡 𝐝𝐨𝐞𝐬 𝐢𝐭 𝐢𝐧𝐝𝐢𝐜𝐚𝐭𝐞 𝐭𝐡𝐚𝐭 𝐢𝐭 𝐢𝐬 𝐩𝐫𝐞𝐬𝐜𝐫𝐢𝐛𝐞𝐝 𝐢𝐧 𝐈𝐬𝐥𝐚𝐦 𝐭𝐨 𝐜𝐞𝐥𝐞𝐛𝐫𝐚𝐭𝐞 𝐭𝐡𝐞 𝐏𝐫𝐨𝐩𝐡𝐞𝐭'𝐬 𝐛𝐢𝐫𝐭𝐡𝐝𝐚𝐲? 𝐖𝐡𝐨𝐞𝐯𝐞𝐫 𝐝𝐨𝐞𝐬 𝐭𝐡𝐚𝐭 𝐨𝐫 𝐭𝐡𝐢𝐧𝐤𝐬 𝐭𝐡𝐚𝐭 𝐢𝐭 𝐢𝐬 𝐠𝐨𝐨𝐝 𝐦𝐮𝐬𝐭 𝐫𝐞𝐩𝐞𝐧𝐭 𝐭𝐨 𝐀𝐥𝐥𝐚𝐡 𝐟𝐫𝐨𝐦 𝐭𝐡𝐢𝐬 𝐚𝐧𝐝 𝐟𝐫𝐨𝐦 𝐨𝐭𝐡𝐞𝐫 𝐤𝐢𝐧𝐝𝐬 𝐨𝐟 𝐛𝐢𝐝'𝐚𝐡. 𝐓𝐡𝐢𝐬 𝐢𝐬 𝐭𝐡𝐞 𝐚𝐭𝐭𝐢𝐭𝐮𝐝𝐞 𝐨𝐟 𝐭𝐡𝐞 𝐌𝐮𝐬𝐥𝐢𝐦 𝐰𝐡𝐨 𝐢𝐬 𝐬𝐞𝐞𝐤𝐢𝐧𝐠 𝐭𝐡𝐞 𝐭𝐫𝐮𝐭𝐡.
𝐁𝐮𝐭 𝐰𝐡𝐨𝐞𝐯𝐞𝐫 𝐢𝐬 𝐭𝐨𝐨 𝐬𝐭𝐮𝐛𝐛𝐨𝐫𝐧 𝐚𝐧𝐝 𝐚𝐫𝐫𝐨𝐠𝐚𝐧𝐭 𝐚𝐟𝐭𝐞𝐫 𝐩𝐫𝐨𝐨𝐟 𝐡𝐚𝐬 𝐛𝐞𝐞𝐧 𝐞𝐬𝐭𝐚𝐛𝐥𝐢𝐬𝐡𝐞𝐝, 𝐭𝐡𝐞𝐧 𝐡𝐢𝐬 𝐫𝐞𝐜𝐤𝐨𝐧𝐢𝐧𝐠 𝐰𝐢𝐥𝐥 𝐛𝐞 𝐰𝐢𝐭𝐡 𝐡𝐢𝐬 𝐋𝐨𝐫𝐝.
𝐖𝐞 𝐚𝐬𝐤 𝐀𝐥𝐥𝐚𝐡 𝐭𝐨 𝐡𝐞𝐥𝐩 𝐮𝐬 𝐚𝐝𝐡𝐞𝐫𝐞 𝐭𝐨 𝐇𝐢𝐬 𝐁𝐨𝐨𝐤 𝐚𝐧𝐝 𝐭𝐡𝐞 𝐒𝐮𝐧𝐧𝐚𝐡 𝐨𝐟 𝐇𝐢𝐬 𝐌𝐞𝐬𝐬𝐞𝐧𝐠𝐞𝐫 𝐮𝐧𝐭𝐢𝐥 𝐭𝐡𝐞 𝐃𝐚𝐲 𝐰𝐡𝐞𝐧 𝐰𝐞 𝐰𝐢𝐥𝐥 𝐦𝐞𝐞𝐭 𝐇𝐢𝐦. 𝐌𝐚𝐲 𝐀𝐥𝐥𝐚𝐡 𝐠𝐫𝐚𝐧𝐭 𝐛𝐥𝐞𝐬𝐬𝐢𝐧𝐠𝐬 𝐚𝐧𝐝 𝐩𝐞𝐚𝐜𝐞 𝐭𝐨 𝐨𝐮𝐫 𝐏𝐫𝐨𝐩𝐡𝐞𝐭 𝐌𝐮𝐡𝐚𝐦𝐦𝐚𝐝 𝐚𝐧𝐝 𝐡𝐢𝐬 𝐟𝐚𝐦𝐢𝐥𝐲 𝐚𝐧𝐝 𝐜𝐨𝐦𝐩𝐚𝐧𝐢𝐨𝐧𝐬.
𝐀𝐥𝐥𝐚𝐡 𝐊𝐧𝐨𝐰𝐬 𝐁𝐞𝐬𝐭.
Refuted: A Lie About Prophet Muhammad's Parents- When did his father die?
The pregnancy of Prophet Muhammad's mother and the death of his father
Miracles Surrounding the Birth of the Prophet and Miracles performed by Prophet Muhammed
The Story of giving a name to Prophet Muhammed on the seventh day after his birth.
Chronology of the most important events in the prophetic biography from birth till death
Short Biography of Prophet Muhammad
Celebrating Mawlid al-Nabi (Muhammad's Birthday): Allowed?
What did Ibn Taymiyyah really say about Mawlid an-Nabee ( Celebration of the Birth of The Prophet)