In the four Gospels version of the crucifixion i.e.,  Matthew, Mark Luke and John, all four of them say that Jesus was nailed to a cross. But when we read the Acts of the Apostles it somehow says something completely different. According to Peter's saying recorded by Luke in Acts, Jesus was "hanged."
On one hand we have Luke recording Peter speech that Jesus was "hanged" on the other hand in the 'Gospel of Luke' he himself says: Jesus was "crucified" with nails going through. Do the words "Hanged" and "Crucified" have the same meanings in the Greek language? Well we have to investigate and see if "Hanged" (suspended) or crucified have the same meanings. This is the verse we will examine:
Acts 5:30 The God of our fathers raised up Jesus, whom ye slew and hanged on a tree.
Acts 5:30 ὁ θεὸς τῶν πατέρων ἡμῶν ἤγειρεν Ἰησοῦν ὃν ὑμεῖς διεχειρίσασθε κρεμάσαντες ἐπὶ ξύλου (Textus receptus).
We see from Peter's version that Jesus was hanged. The Greek word that is used for Acts 5:30 for "Hanging" is κρεμάννυμι (kremannymi). Interestingly, in none of the Gospels is the word "kremannymi" for Jesus's crucifixion used. Before going further on Acts 5:30, let's show the four Gospels accounts i.e what words they have used for the "crucifixion."
Matthew 27:35 σταυρόω stauroō
Mark 15:24 σταυρόω stauroō
Luke 23:33 σταυρόω stauroō
John 19:18 σταυρόω stauroō
In all above four Gospels accounts we see the Greek word that is used is "Stauroo" which means "Crucified" with nails through. But in Peter's account, that is recorded by Luke in Acts, the word that is used as I showed earlier is "kremannymi" which means "hanged." One thing to note, the Greek word "Stauroo," in no Lexicon does it mean "hanging". Let us take a closer look at the Greek word "kremannymi" and see what have Lexicons/Dictionaries have to say about it.
Definition(s) on the Greek word 'kremannymi' – Greek-English Lexicons

1. Bernard Alwyn Taylor – Analytical Lexicon to the Septuagint

2. James Strong – A Concise Dictionary of the words in the Greek Testament
Kremannumi Krem-an'-noo-mee: a prolonged form of a primary verb; to hang:–hang. [2]

3. Liddell and Scott's – An Intermediate Greek English Lexicon[3]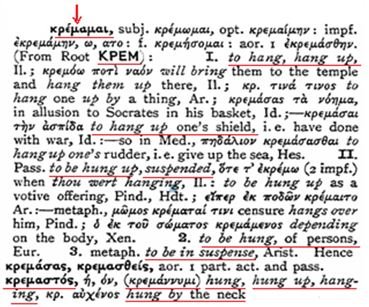 4. Abbott Smith – George A Manuel Greek Lexicon of the New Testament[4]
5. Robson, Edward, Greek and English Lexicon of the New Testament[5]
6. Alexander Souter – A Pocket Lexicon to the Greek New testament
"κρεμάσαντες (pendo), I hang, I suspend; mid. (pendeo) I am hanging, I hang" [6]

7. Samuel Bagster's. The Analytical Greek Lexicon: Consisting of An Alphabetical Arrangement of every occurring Inflexion of every word contained in the New testament Scriptures[7]
8. John Pickering – A Greek and English Lexicon[8]
9. Schrevel Cornelis – The Greek Lexicon of Schrevelius[9]
10. Charles Robson – A Greek Lexicon to the New Testament
προσπήγνυμι f. Aor. 1 pass., to hang, suspend trans,; mid… (after the form ), to hang suspended, intrans a) act,. With acc. Impl., and foll by with gen. Acts 5:30 προσπήγνυμι… : pass., foll by eis Matt 18:6 absol. Luke 23.39. b) mid Acts 28:4 [10]
11. John Jones – The Tyro's Greek and English Lexicon
KPEMA, f… I cause to hang, suspend ii.. 19. Acts 5:30 f… aor. I suspend myself, am suspended, I hang, Acts 28:4.— depend ,Mat. 22. 4. Thou hast suspended, didst hang ii… I hang over a precipice, suspend… [11]
12. Samuel C. Loveland – A Greek Lexicon: Adapted to the New Testament
κρεμάσαντες to hang, to suspend; to be contained. [12]
John J. Owen – The Acts of the Apostles, in the original Greek
κρεμάσαντες 1. Aor. Pass. to hang, suspend; mid to hang, to be suspended. [13]
W. J. Hickie Greek-English Lexicon to the New Testament. After The Latest and Best Authorities
κρεμάσαντες to hang up, to suspend, Matt. Xviii. 6. Acts, V. 30 x.39; mid., to hang Acts, xxviii. 4. Gal. Iii. 13; with to depend upon Matt. Xxii, 40. ("All the Law and the Prophets, i.e the teaching of the OT on morality, is summoned up in these precepts," Thayer.) [14]
Reading all these Greek-English Lexicons it is clear that Acts 5:30 means "hanging suspended." Notice how all of them agree that the Greek word "kremannymi" means "hanging suspended." Now if Jesus was hanged suspended and the Gospels say he was crucified with nails going through, isn't this a major contradiction? One place it says he was "hanged suspended" but on the other hand the Gospels say he was "crucified?" Let's now show a crucified portrayal of Jesus depicted by Christians for centuries:
As you see the picture it is quite clear that Acts 5:30 and the 4 Gospels account of the Crucifixion contradict each other. As I have demonstrated, the way Jesus was crucified in no way could mean "hanging suspended." The above picture shows that the person who is nailed is FIXED. For it to be Hanging it has to have some part left without any support.
How do we know that Jesus was hanged and not crucified? Well Acts 2:23 says it all, even though majority of Trinitarian Bible translations have translated the Greek word "προσπήγνυμι" (prospēgnym) as "crucified" that is misleading. If Peter wanted to say that Jesus was "Crucified" he wouldn't have used the word "prospēgnym",
instead he would have used "stauroo" which is the most frequent word used in the NT for someone who is "crucified." The Greek word "prospēgnym" the meaning of it according to Scholars of Greek language, is someone who is 'hanging suspended' without "nails." Paul N. Anderson, Felix Just and Tom Thatcher comment on Acts 2:23,
"The assumption that nailing was the primary method of crucifixion has unduly influenced the translation of several passages. Peter's speech after Pentecost references Jesus crucifixion: "This man [Jesus], delivered over by the predetermined plan and foreknowledge of Go, you fastened [προσπήγνυμι] to a cross" (Acts 2:23, emphasis added).

This is the only time the verb προσπήγνυμι ("to fasten" or "affix"; BDAG, 725) is used in the New Testament, and it is an unusual terminology. It should be translated "to affix" or "to fasten to" (Fitzmyer 1998,255), but without the implication of nails. Yet several English translations still render this verb "to nail" (see TNIV, NIV, NASB, NET, NCV)." [15] 
Notice how N. Anderson, Felix Just and Tom Thatcher make it clear that Acts 2:23 means hanging "without the implication of nails." Since that is the case, how can we take the accounts of the Bible as evidence of Jesus life when the same people who somehow were disciples according to Christians can't agree how Jesus died? According to Acts 5:30, from says that Jesus died while 'Hanging' (suspended) without any nails. While on the other hand we have Matthew, Mark, Luke and John who say that Jesus got "crucified" with 'nails' going through. Which account of Jesus crucifixion is true?
We conclude that the Bible cannot be a reliable source of Jesus life. Was Jesus killed "hanging suspended" or with nails fixed to the cross? Furthermore, we can see that the people who somehow knew Jesus in real life can't agree on how Jesus died. Crucifixion which is the major Pinnacle of Christianity, yet the people who knew Jesus, walked with him, eat with him (according to Christians) can't agree how Jesus died? If there is no crucifixion, there is no Christianity. How can we take the Bible as a source of guidance and salvation when there are major contradictions?
References:
[1] Bernard Alwyn Taylor Analytical Lexicon to the Septuagint page 340
[2] James strong. A Concise Dictionary of the words in the Greek Testament
[3] Liddell and Scot's. An Intermediate Greek English Lexicon 1882 page 449
[4] Abbott Smith, George A Manuel Greek Lexicon of the New Testament (1922) page. 257
[5] Robinson, Edward, Greek and English Lexicon of the New Testament (1836) Page 489
[6] Alexander Souter. A Pocket Lexicon to the Greek New testament (1917) Page 139
[8] Samuel Bagster's. The Analytical Greek Lexicon: Consisting of An Alphabitical Arangement of every occurring Inflexion of every word contained in the New testament Scriptures. Page 240
[7] John Pickering, A Greek AND English Lexicon page 521
[8] Schrevel Cornelis The Greek Lexicon of Schrevelius(1826) page 510
[9] Charles Robson A Greek Lexicon to the New Testament (1836) Page 249
[10] John Jones, The Tyro's Greek and English Lexicon (1825) page 426
[11] Samuel C. Loveland A Greek Lexicon:Adaptedto the New Testament (1828) Page 186
[12] John J. Owen The Acts of the Apostles, in the original Greek. Page 212
[13] W. J Hickie Greek-English Lexicon to the New testament. After The Latest and Best Authorities (1911) Page 108
[14] Paul N. Anderson, Felix Just, Tom Thatcher John, 'Jesus, and History', Volume 2, page 328