𝐖𝐚𝐬 𝐭𝐡𝐞 𝐮𝐧𝐢𝐯𝐞𝐫𝐬𝐞 𝐜𝐫𝐞𝐚𝐭𝐞𝐝 𝐛𝐲 𝐜𝐡𝐚𝐧𝐜𝐞?

Mohamad Mostafa Nassar
Twitter:@NassarMohamadMR
𝐈𝐧 𝐭𝐡𝐞 𝐧𝐚𝐦𝐞 𝐨𝐟 𝐀𝐥𝐥𝐚𝐡, 𝐭𝐡𝐞 𝐆𝐫𝐚𝐜𝐢𝐨𝐮𝐬, 𝐭𝐡𝐞 𝐌𝐞𝐫𝐜𝐢𝐟𝐮𝐥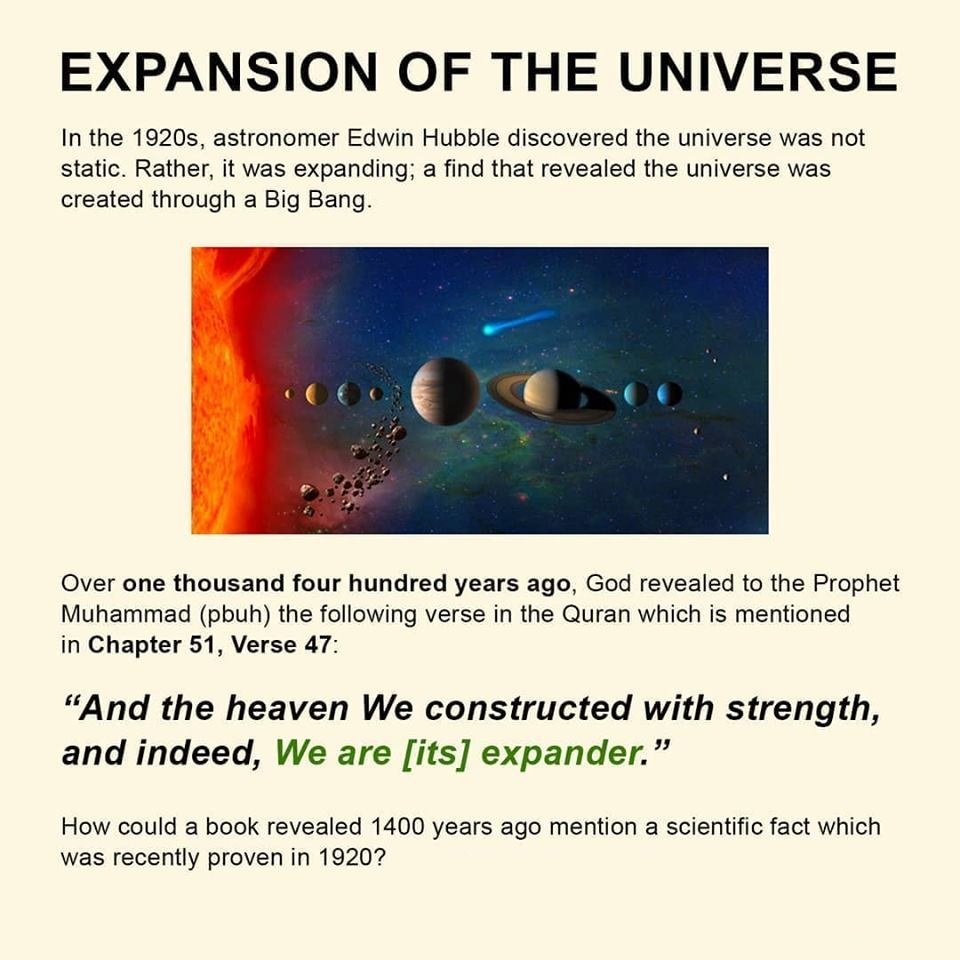 𝐏𝐞𝐫𝐡𝐚𝐩𝐬 𝐭𝐡𝐞 𝐦𝐨𝐬𝐭 𝐜𝐨𝐦𝐩𝐞𝐥𝐥𝐢𝐧𝐠 𝐩𝐫𝐨𝐨𝐟 𝐨𝐟 𝐭𝐡𝐞 𝐞𝐱𝐢𝐬𝐭𝐞𝐧𝐜𝐞 𝐨𝐟 𝐭𝐡𝐞 𝐂𝐫𝐞𝐚𝐭𝐨𝐫 𝐢𝐬 𝐭𝐡𝐞 𝐩𝐫𝐞𝐬𝐞𝐧𝐜𝐞 𝐨𝐟 𝐦𝐚𝐧𝐲 𝐦𝐚𝐧𝐢𝐟𝐞𝐬𝐭𝐚𝐭𝐢𝐨𝐧𝐬 𝐨𝐟 𝐝𝐞𝐬𝐢𝐠𝐧 𝐢𝐧 𝐜𝐫𝐞𝐚𝐭𝐢𝐨𝐧. 𝐖𝐞 𝐜𝐚𝐧 𝐥𝐨𝐨𝐤 𝐚𝐭 𝐚𝐥𝐥 𝐨𝐟 𝐭𝐡𝐞 𝐰𝐨𝐧𝐝𝐞𝐫𝐬 𝐚𝐫𝐨𝐮𝐧𝐝 𝐮𝐬 𝐚𝐧𝐝 𝐢𝐧𝐭𝐮𝐢𝐭𝐢𝐯𝐞𝐥𝐲 𝐮𝐧𝐝𝐞𝐫𝐬𝐭𝐚𝐧𝐝 𝐭𝐡𝐚𝐭 𝐭𝐡𝐞𝐲 𝐰𝐞𝐫𝐞 𝐛𝐫𝐨𝐮𝐠𝐡𝐭 𝐢𝐧𝐭𝐨 𝐛𝐞𝐢𝐧𝐠 𝐛𝐲 𝐚𝐧 𝐚𝐠𝐞𝐧𝐭 𝐟𝐨𝐫 𝐚 𝐫𝐞𝐚𝐬𝐨𝐧. 𝐓𝐡𝐢𝐬 𝐢𝐬 𝐤𝐧𝐨𝐰𝐧 𝐚𝐬 𝐭𝐡𝐞 𝐭𝐞𝐥𝐞𝐨𝐥𝐨𝐠𝐢𝐜𝐚𝐥 𝐚𝐫𝐠𝐮𝐦𝐞𝐧𝐭 𝐨𝐫 𝐚𝐫𝐠𝐮𝐦𝐞𝐧𝐭 𝐟𝐫𝐨𝐦 𝐝𝐞𝐬𝐢𝐠𝐧.
𝐀𝐥𝐥𝐚𝐡 𝐬𝐚𝐢𝐝:
إِنَّ فِي خَلْقِ السَّمَاوَاتِ وَالْأَرْضِ وَاخْتِلَافِ اللَّيْلِ وَالنَّهَارِ لَآيَاتٍ لِّأُولِي الْأَلْبَابِ الَّذِينَ يَذْكُرُونَ اللَّهَ قِيَامًا وَقُعُودًا وَعَلَىٰ جُنُوبِهِمْ وَيَتَفَكَّرُونَ فِي خَلْقِ السَّمَاوَاتِ وَالْأَرْضِ رَبَّنَا مَا خَلَقْتَ هَٰذَا بَاطِلًا سُبْحَانَكَ فَقِنَا عَذَابَ النَّارِ
𝐕𝐞𝐫𝐢𝐥𝐲, 𝐢𝐧 𝐭𝐡𝐞 𝐜𝐫𝐞𝐚𝐭𝐢𝐨𝐧 𝐨𝐟 𝐭𝐡𝐞 𝐡𝐞𝐚𝐯𝐞𝐧𝐬 𝐚𝐧𝐝 𝐞𝐚𝐫𝐭𝐡, 𝐚𝐧𝐝 𝐭𝐡𝐞 𝐜𝐡𝐚𝐧𝐠𝐢𝐧𝐠 𝐨𝐟 𝐧𝐢𝐠𝐡𝐭 𝐚𝐧𝐝 𝐝𝐚𝐲, 𝐚𝐫𝐞 𝐬𝐢𝐠𝐧𝐬 𝐟𝐨𝐫 𝐭𝐡𝐨𝐬𝐞 𝐰𝐡𝐨 𝐮𝐧𝐝𝐞𝐫𝐬𝐭𝐚𝐧𝐝, 𝐰𝐡𝐨 𝐫𝐞𝐦𝐞𝐦𝐛𝐞𝐫 𝐀𝐥𝐥𝐚𝐡 𝐰𝐡𝐢𝐥𝐞 𝐬𝐭𝐚𝐧𝐝𝐢𝐧𝐠, 𝐬𝐢𝐭𝐭𝐢𝐧𝐠, 𝐨𝐫 𝐥𝐲𝐢𝐧𝐠 𝐨𝐧 𝐭𝐡𝐞𝐢𝐫 𝐬𝐢𝐝𝐞𝐬 𝐚𝐧𝐝 𝐫𝐞𝐟𝐥𝐞𝐜𝐭 𝐮𝐩𝐨𝐧 𝐭𝐡𝐞 𝐜𝐫𝐞𝐚𝐭𝐢𝐨𝐧 𝐨𝐟 𝐭𝐡𝐞 𝐡𝐞𝐚𝐯𝐞𝐧𝐬 𝐚𝐧𝐝 𝐞𝐚𝐫𝐭𝐡, 𝐬𝐚𝐲𝐢𝐧𝐠: 𝐎𝐮𝐫 𝐋𝐨𝐫𝐝, 𝐘𝐨𝐮 𝐡𝐚𝐯𝐞 𝐧𝐨𝐭 𝐜𝐫𝐞𝐚𝐭𝐞𝐝 𝐭𝐡𝐢𝐬 𝐚𝐥𝐥 𝐰𝐢𝐭𝐡𝐨𝐮𝐭 𝐩𝐮𝐫𝐩𝐨𝐬𝐞. 𝐆𝐥𝐨𝐫𝐲 𝐛𝐞 𝐭𝐨 𝐘𝐨𝐮, 𝐬𝐨 𝐬𝐚𝐯𝐞 𝐮𝐬 𝐟𝐫𝐨𝐦 𝐭𝐡𝐞 𝐩𝐮𝐧𝐢𝐬𝐡𝐦𝐞𝐧𝐭 𝐨𝐟 𝐇𝐞𝐥𝐥𝐟𝐢𝐫𝐞.
𝐒𝐮𝐫𝐚𝐭 𝐀𝐥𝐢 '𝐈𝐦𝐫𝐚𝐧 𝟑:𝟏𝟗𝟎-𝟏𝟗𝟏
𝐓𝐡𝐞 𝐬𝐢𝐠𝐧𝐬 𝐨𝐟 𝐀𝐥𝐥𝐚𝐡 𝐢𝐧 𝐜𝐫𝐞𝐚𝐭𝐢𝐨𝐧 𝐚𝐫𝐞 𝐥𝐢𝐭𝐞𝐫𝐚𝐥𝐥𝐲 𝐞𝐧𝐝𝐥𝐞𝐬𝐬. 𝐓𝐡𝐞𝐲 𝐞𝐱𝐭𝐞𝐧𝐝 𝐟𝐫𝐨𝐦 𝐭𝐡𝐞 𝐟𝐚𝐫𝐭𝐡𝐞𝐬𝐭 𝐫𝐞𝐚𝐜𝐡𝐞𝐬 𝐨𝐟 𝐭𝐡𝐞 𝐮𝐧𝐢𝐯𝐞𝐫𝐬𝐞 – 𝐭𝐡𝐞 𝐜𝐞𝐥𝐞𝐬𝐭𝐢𝐚𝐥 𝐛𝐨𝐝𝐢𝐞𝐬, 𝐬𝐭𝐚𝐫𝐬, 𝐚𝐧𝐝 𝐠𝐚𝐥𝐚𝐱𝐢𝐞𝐬 – 𝐭𝐨 𝐭𝐡𝐞 𝐢𝐧𝐧𝐞𝐫𝐦𝐨𝐬𝐭 𝐜𝐨𝐦𝐩𝐨𝐧𝐞𝐧𝐭𝐬 𝐨𝐟 𝐨𝐮𝐫 𝐛𝐞𝐢𝐧𝐠 – 𝐨𝐮𝐫 𝐜𝐨𝐧𝐬𝐜𝐢𝐨𝐮𝐬𝐧𝐞𝐬𝐬, 𝐩𝐡𝐲𝐬𝐢𝐜𝐚𝐥 𝐛𝐨𝐝𝐢𝐞𝐬, 𝐚𝐧𝐝 𝐞𝐯𝐞𝐧 𝐨𝐮𝐫 𝐃𝐍𝐀.
𝐀𝐥𝐥𝐚𝐡 𝐬𝐚𝐢𝐝:
سَنُرِيهِمْ آيَاتِنَا فِي الْآفَاقِ وَفِي أَنفُسِهِمْ حَتَّىٰ يَتَبَيَّنَ لَهُمْ أَنَّهُ الْحَقُّ ۗ أَوَلَمْ يَكْفِ بِرَبِّكَ أَنَّهُ عَلَىٰ كُلِّ شَيْءٍ شَهِيدٌ
𝐖𝐞 𝐰𝐢𝐥𝐥 𝐬𝐡𝐨𝐰 𝐭𝐡𝐞𝐦 𝐎𝐮𝐫 𝐬𝐢𝐠𝐧𝐬 𝐢𝐧 𝐭𝐡𝐞 𝐡𝐨𝐫𝐢𝐳𝐨𝐧𝐬 𝐚𝐧𝐝 𝐰𝐢𝐭𝐡𝐢𝐧 𝐭𝐡𝐞𝐦𝐬𝐞𝐥𝐯𝐞𝐬 𝐮𝐧𝐭𝐢𝐥 𝐢𝐭 𝐢𝐬 𝐜𝐥𝐞𝐚𝐫 𝐭𝐨 𝐭𝐡𝐞𝐦 𝐭𝐡𝐚𝐭 𝐢𝐭 𝐢𝐬 𝐭𝐡𝐞 𝐓𝐫𝐮𝐭𝐡. 𝐈𝐬 𝐢𝐭 𝐧𝐨𝐭 𝐞𝐧𝐨𝐮𝐠𝐡 𝐭𝐡𝐚𝐭 𝐲𝐨𝐮𝐫 𝐋𝐨𝐫𝐝 𝐢𝐬 𝐚 𝐰𝐢𝐭𝐧𝐞𝐬𝐬 𝐨𝐯𝐞𝐫 𝐚𝐥𝐥 𝐭𝐡𝐢𝐧𝐠𝐬?
𝐒𝐮𝐫𝐚𝐭 𝐅𝐮𝐬𝐬𝐢𝐥𝐚𝐭 𝟒𝟏:𝟓𝟑
𝐓𝐡𝐞 𝐨𝐧𝐥𝐲 𝐫𝐞𝐚𝐬𝐨𝐧𝐚𝐛𝐥𝐞 𝐜𝐨𝐧𝐜𝐥𝐮𝐬𝐢𝐨𝐧 𝐭𝐨 𝐦𝐚𝐤𝐞 𝐢𝐬 𝐭𝐡𝐚𝐭 𝐭𝐡𝐞 𝐮𝐧𝐢𝐯𝐞𝐫𝐬𝐞 𝐰𝐚𝐬 𝐝𝐞𝐬𝐢𝐠𝐧𝐞𝐝 𝐛𝐲 𝐭𝐡𝐞 𝐂𝐫𝐞𝐚𝐭𝐨𝐫, 𝐰𝐡𝐨 𝐡𝐚𝐬 𝐭𝐡𝐞 𝐩𝐞𝐫𝐟𝐞𝐜𝐭 𝐚𝐭𝐭𝐫𝐢𝐛𝐮𝐭𝐞𝐬 𝐨𝐟 𝐚𝐛𝐬𝐨𝐥𝐮𝐭𝐞 𝐤𝐧𝐨𝐰𝐥𝐞𝐝𝐠𝐞, 𝐰𝐢𝐬𝐝𝐨𝐦, 𝐚𝐧𝐝 𝐩𝐨𝐰𝐞𝐫.
𝐀𝐥-𝐑𝐚𝐳𝐢 𝐰𝐫𝐢𝐭𝐞𝐬:
أَنَّ الْإِقْرَارَ بِوُجُودِ الصَّانِعِ بَدِيهِيٌّ هُوَ أَنَّ الْفِطْرَةَ شَاهِدٌ بِأَنَّ حُدُوثَ دَارٍ مَنْقُوشَةٍ بِالنُّقُوشِ الْعَجِيبَةِ مَبْنِيَّةٍ عَلَى التَّرْكِيبَاتِ اللَّطِيفَةِ الْمُوَافِقَةِ لِلْحُكْمِ وَالْمَصْلَحَةِ يَسْتَحِيلُ إِلَّا عِنْدَ وُجُودِ نَقَّاشٍ عَالِمٍ وَبَانٍ حَكِيمٍ
𝐓𝐡𝐞 𝐞𝐬𝐭𝐚𝐛𝐥𝐢𝐬𝐡𝐦𝐞𝐧𝐭 𝐨𝐟 𝐭𝐡𝐞 𝐞𝐱𝐢𝐬𝐭𝐞𝐧𝐜𝐞 𝐨𝐟 𝐭𝐡𝐞 𝐌𝐚𝐤𝐞𝐫 𝐢𝐧𝐭𝐮𝐢𝐭𝐢𝐯𝐞𝐥𝐲 𝐢𝐬 𝐭𝐡𝐚𝐭 𝐡𝐮𝐦𝐚𝐧 𝐧𝐚𝐭𝐮𝐫𝐞 𝐛𝐞𝐚𝐫𝐬 𝐰𝐢𝐭𝐧𝐞𝐬𝐬 𝐭𝐡𝐚𝐭 𝐭𝐡𝐞 𝐨𝐜𝐜𝐮𝐫𝐫𝐞𝐧𝐜𝐞 𝐨𝐟 𝐚 𝐝𝐞𝐬𝐢𝐠𝐧𝐞𝐝 𝐚𝐛𝐨𝐝𝐞 𝐰𝐢𝐭𝐡 𝐰𝐨𝐧𝐝𝐫𝐨𝐮𝐬 𝐝𝐞𝐬𝐢𝐠𝐧𝐬, 𝐛𝐮𝐢𝐥𝐭 𝐮𝐩𝐨𝐧 𝐬𝐮𝐛𝐭𝐥𝐞 𝐜𝐨𝐦𝐩𝐨𝐧𝐞𝐧𝐭𝐬 𝐢𝐧 𝐡𝐚𝐫𝐦𝐨𝐧𝐲 𝐰𝐢𝐭𝐡 𝐰𝐢𝐬𝐝𝐨𝐦 𝐚𝐧𝐝 𝐛𝐞𝐧𝐞𝐟𝐢𝐭𝐬, 𝐢𝐬 𝐢𝐦𝐩𝐨𝐬𝐬𝐢𝐛𝐥𝐞 𝐮𝐧𝐥𝐞𝐬𝐬 𝐭𝐡𝐞𝐫𝐞 𝐞𝐱𝐢𝐬𝐭𝐞𝐝 𝐎𝐧𝐞 𝐰𝐢𝐭𝐡 𝐤𝐧𝐨𝐰𝐥𝐞𝐝𝐠𝐞 𝐚𝐧𝐝 𝐨𝐛𝐯𝐢𝐨𝐮𝐬 𝐰𝐢𝐬𝐝𝐨𝐦 𝐭𝐨 𝐝𝐞𝐬𝐢𝐠𝐧 𝐢𝐭.
𝐒𝐨𝐮𝐫𝐜𝐞: 𝐓𝐚𝐟𝐬𝐢̄𝐫 𝐚𝐥-𝐑𝐚̄𝐳𝐢̄ 𝟏𝟒:𝟏𝟎
𝐇𝐢𝐠𝐡𝐥𝐢𝐠𝐡𝐭𝐢𝐧𝐠 𝐭𝐡𝐞 𝐬𝐢𝐠𝐧𝐬 𝐨𝐟 𝐭𝐡𝐞 𝐂𝐫𝐞𝐚𝐭𝐨𝐫 𝐢𝐧 𝐜𝐫𝐞𝐚𝐭𝐢𝐨𝐧 𝐢𝐬 𝐭𝐡𝐞 𝐩𝐫𝐞𝐟𝐞𝐫𝐫𝐞𝐝 𝐦𝐞𝐭𝐡𝐨𝐝 𝐨𝐟 𝐚𝐫𝐠𝐮𝐢𝐧𝐠 𝐟𝐨𝐫 𝐭𝐡𝐞 𝐢𝐧𝐝𝐢𝐬𝐩𝐮𝐭𝐚𝐛𝐥𝐞 𝐩𝐨𝐰𝐞𝐫 𝐨𝐟 𝐀𝐥𝐥𝐚𝐡 𝐛𝐞𝐜𝐚𝐮𝐬𝐞 𝐢𝐭 𝐫𝐞𝐪𝐮𝐢𝐫𝐞𝐬 𝐧𝐨 𝐬𝐩𝐞𝐜𝐢𝐚𝐥 𝐭𝐡𝐞𝐨𝐥𝐨𝐠𝐢𝐜𝐚𝐥 𝐨𝐫 𝐩𝐡𝐢𝐥𝐨𝐬𝐨𝐩𝐡𝐢𝐜𝐚𝐥 𝐭𝐫𝐚𝐢𝐧𝐢𝐧𝐠, 𝐢𝐭 𝐜𝐨𝐧𝐟𝐨𝐫𝐦𝐬 𝐢𝐧𝐭𝐮𝐢𝐭𝐢𝐯𝐞𝐥𝐲 𝐭𝐨 𝐡𝐮𝐦𝐚𝐧 𝐧𝐚𝐭𝐮𝐫𝐞, 𝐚𝐧𝐝 𝐢𝐭 𝐢𝐬 𝐚𝐜𝐜𝐞𝐬𝐬𝐢𝐛𝐥𝐞 𝐭𝐨 𝐞𝐯𝐞𝐫𝐲 𝐡𝐮𝐦𝐚𝐧 𝐛𝐞𝐢𝐧𝐠. 𝐓𝐡𝐞 𝐐𝐮𝐫𝐚𝐧 𝐟𝐨𝐜𝐮𝐬𝐞𝐬 𝐨𝐧 𝐭𝐡𝐢𝐬 𝐦𝐞𝐭𝐡𝐨𝐝 𝐨𝐯𝐞𝐫 𝐨𝐭𝐡𝐞𝐫 𝐚𝐫𝐠𝐮𝐦𝐞𝐧𝐭𝐬 𝐟𝐨𝐫 𝐭𝐡𝐞 𝐞𝐱𝐢𝐬𝐭𝐞𝐧𝐜𝐞 𝐨𝐟 𝐭𝐡𝐞 𝐂𝐫𝐞𝐚𝐭𝐨𝐫.
𝐈𝐛𝐧 𝐓𝐚𝐲𝐦𝐢𝐲𝐲𝐚𝐡 𝐰𝐫𝐢𝐭𝐞𝐬:
إثْبَاتُ الصَّانِعِ بِطَرِيقِ الْآيَاتِ هُوَ الْوَاجِبَ كَمَا نَزَلَ بِهِ الْقُرْآنُ وَفَطَرَ اللَّهُ عَلَيْهِ عِبَادَهُ وَإِنْ كَانَتْ الطَّرِيقَةُ الْقِيَاسِيَّةُ صَحِيحَةً لَكِنَّ فَائِدَتَهَا نَاقِصَةٌ … فَالْمَخْلُوقَاتُ كُلُّهَا آيَاتٌ لِلْخَالِقِ
Affirming the Creator by means of signs is an obligation, as it has been revealed in the Quran and Allah has made it instinctual to His servants. Though deductive arguments may be correct, their usefulness is lacking… For everything in creation is a sign of the Creator.
Source: Majmū' al-Fatāwá 1/48
And Ibn Kathir writes:
هَذِهِ الْأَنْهَارُ السَّارِحَةُ مِنْ قطر إلى قطر للمنافع وَمَا ذَرَأَ فِي الْأَرْضِ مِنَ الْحَيَوَانَاتِ الْمُتَنَوِّعَةِ والنبات المختلف الطعوم والأرايج وَالْأَشْكَالِ وَالْأَلْوَانِ مَعَ اتِّحَادِ طَبِيعَةِ التُّرْبَةِ وَالْمَاءِ استدل على وُجُودَ الصَّانِعِ وَقُدْرَتَهُ الْعَظِيمَةَ وَحِكْمَتَهُ وَرَحْمَتَهُ بِخَلْقِهِ وَلُطْفَهُ بِهِمْ وَإِحْسَانَهُ إِلَيْهِمْ وَبِرَّهُ بِهِمْ لَا إِلَهَ غَيْرُهُ وَلَا رَبَّ سِوَاهُ، عَلَيْهِ تَوَكَّلْتُ وَإِلَيْهِ أُنِيبُ وَالْآيَاتُ فِي الْقُرْآنِ الدَّالَّةُ عَلَى هذا المقام كثيرة جدا
𝐓𝐡𝐞 𝐫𝐮𝐧𝐧𝐢𝐧𝐠 𝐫𝐢𝐯𝐞𝐫𝐬 𝐭𝐡𝐚𝐭 𝐭𝐫𝐚𝐯𝐞𝐥 𝐟𝐫𝐨𝐦 𝐚𝐫𝐞𝐚 𝐭𝐨 𝐚𝐫𝐞𝐚 𝐰𝐢𝐭𝐡 𝐛𝐞𝐧𝐞𝐟𝐢𝐭, 𝐚𝐧𝐝 𝐰𝐡𝐚𝐭 𝐀𝐥𝐥𝐚𝐡 𝐡𝐚𝐬 𝐩𝐫𝐨𝐝𝐮𝐜𝐞𝐝 𝐟𝐫𝐨𝐦 𝐭𝐡𝐞 𝐞𝐚𝐫𝐭𝐡 𝐨𝐟 𝐯𝐚𝐫𝐢𝐨𝐮𝐬 𝐚𝐧𝐢𝐦𝐚𝐥𝐬 𝐚𝐧𝐝 𝐩𝐥𝐚𝐧𝐭𝐬 𝐨𝐟 𝐝𝐢𝐟𝐟𝐞𝐫𝐞𝐧𝐭 𝐭𝐚𝐬𝐭𝐞𝐬, 𝐬𝐜𝐞𝐧𝐭𝐬, 𝐬𝐡𝐚𝐩𝐞𝐬, 𝐚𝐧𝐝 𝐜𝐨𝐥𝐨𝐫𝐬, 𝐚𝐧𝐝 𝐭𝐡𝐞 𝐮𝐧𝐢𝐭𝐲 𝐨𝐟 𝐭𝐡𝐞 𝐬𝐨𝐢𝐥 𝐚𝐧𝐝 𝐰𝐚𝐭𝐞𝐫; 𝐚𝐥𝐥 𝐭𝐡𝐢𝐬 𝐝𝐞𝐦𝐨𝐧𝐬𝐭𝐫𝐚𝐭𝐞𝐬 𝐭𝐡𝐞 𝐞𝐱𝐢𝐬𝐭𝐞𝐧𝐜𝐞 𝐨𝐟 𝐭𝐡𝐞 𝐂𝐫𝐞𝐚𝐭𝐨𝐫 𝐚𝐧𝐝 𝐇𝐢𝐬 𝐚𝐰𝐞𝐬𝐨𝐦𝐞 𝐩𝐨𝐰𝐞𝐫,
𝐇𝐢𝐬 𝐰𝐢𝐬𝐝𝐨𝐦 𝐚𝐧𝐝 𝐦𝐞𝐫𝐜𝐲 𝐰𝐢𝐭𝐡 𝐇𝐢𝐬 𝐜𝐫𝐞𝐚𝐭𝐢𝐨𝐧, 𝐇𝐢𝐬 𝐤𝐢𝐧𝐝𝐧𝐞𝐬𝐬, 𝐠𝐨𝐨𝐝 𝐭𝐫𝐞𝐚𝐭𝐦𝐞𝐧𝐭, 𝐚𝐧𝐝 𝐛𝐞𝐧𝐞𝐯𝐨𝐥𝐞𝐧𝐜𝐞 𝐰𝐢𝐭𝐡 𝐭𝐡𝐞𝐦. 𝐓𝐡𝐞𝐫𝐞 𝐢𝐬 𝐧𝐨 𝐆𝐨𝐝 𝐛𝐞𝐬𝐢𝐝𝐞𝐬 𝐇𝐢𝐦. 𝐓𝐡𝐞𝐫𝐞 𝐢𝐬 𝐧𝐨 𝐋𝐨𝐫𝐝 𝐥𝐢𝐤𝐞 𝐇𝐢𝐦. 𝐈 𝐝𝐞𝐩𝐞𝐧𝐝 𝐮𝐩𝐨𝐧 𝐇𝐢𝐦 𝐚𝐧𝐝 𝐈 𝐭𝐮𝐫𝐧 𝐭𝐨 𝐇𝐢𝐦. 𝐓𝐡𝐞 𝐯𝐞𝐫𝐬𝐞𝐬 𝐢𝐧 𝐭𝐡𝐞 𝐐𝐮𝐫𝐚𝐧 𝐢𝐧𝐝𝐢𝐜𝐚𝐭𝐢𝐧𝐠 𝐭𝐡𝐢𝐬 𝐚𝐫𝐞 𝐯𝐞𝐫𝐲 𝐩𝐥𝐞𝐧𝐭𝐢𝐟𝐮𝐥.
𝐒𝐨𝐮𝐫𝐜𝐞: 𝐓𝐚𝐟𝐬𝐢̄𝐫 𝐈𝐛𝐧 𝐊𝐚𝐭𝐡𝐢̄𝐫 𝟐:𝟐𝟏
𝐓𝐡𝐢𝐬 𝐥𝐢𝐧𝐞 𝐨𝐟 𝐭𝐡𝐢𝐧𝐤𝐢𝐧𝐠 𝐢𝐬 𝐞𝐧𝐨𝐮𝐠𝐡 𝐟𝐨𝐫 𝐦𝐨𝐬𝐭 𝐩𝐞𝐨𝐩𝐥𝐞 𝐭𝐨 𝐚𝐫𝐫𝐢𝐯𝐞 𝐚𝐭 𝐤𝐧𝐨𝐰𝐥𝐞𝐝𝐠𝐞 𝐚𝐧𝐝 𝐫𝐞𝐜𝐨𝐠𝐧𝐢𝐭𝐢𝐨𝐧 𝐨𝐟 𝐭𝐡𝐞 𝐂𝐫𝐞𝐚𝐭𝐨𝐫, 𝐇𝐢𝐬 𝐥𝐢𝐦𝐢𝐭𝐥𝐞𝐬𝐬 𝐩𝐨𝐰𝐞𝐫, 𝐚𝐧𝐝 𝐇𝐢𝐬 𝐚𝐛𝐬𝐨𝐥𝐮𝐭𝐞 𝐫𝐢𝐠𝐡𝐭 𝐭𝐨 𝐛𝐞 𝐰𝐨𝐫𝐬𝐡𝐢𝐩𝐞𝐝 𝐚𝐥𝐨𝐧𝐞 𝐰𝐢𝐭𝐡𝐨𝐮𝐭 𝐚𝐧𝐲 𝐩𝐚𝐫𝐭𝐧𝐞𝐫.
𝐇𝐨𝐰𝐞𝐯𝐞𝐫, 𝐩𝐡𝐢𝐥𝐨𝐬𝐨𝐩𝐡𝐞𝐫𝐬 𝐚𝐧𝐝 𝐚𝐭𝐡𝐞𝐢𝐬𝐭𝐬 𝐰𝐢𝐥𝐥 𝐜𝐨𝐮𝐧𝐭𝐞𝐫 𝐭𝐡𝐞 𝐭𝐞𝐥𝐞𝐨𝐥𝐨𝐠𝐢𝐜𝐚𝐥 𝐚𝐫𝐠𝐮𝐦𝐞𝐧𝐭 𝐛𝐲 𝐩𝐫𝐨𝐩𝐨𝐬𝐢𝐧𝐠 𝐭𝐡𝐚𝐭 𝐭𝐡𝐞 𝐮𝐧𝐢𝐯𝐞𝐫𝐬𝐞 𝐜𝐚𝐦𝐞 𝐢𝐧𝐭𝐨 𝐛𝐞𝐢𝐧𝐠 𝐛𝐲 𝐚 𝐜𝐡𝐚𝐧𝐜𝐞 𝐨𝐜𝐜𝐮𝐫𝐫𝐞𝐧𝐜𝐞 𝐨𝐟 𝐛𝐥𝐢𝐧𝐝 𝐧𝐚𝐭𝐮𝐫𝐚𝐥 𝐟𝐨𝐫𝐜𝐞𝐬. 𝐎𝐧𝐞 𝐨𝐟 𝐭𝐡𝐞𝐢𝐫 𝐟𝐚𝐯𝐨𝐫𝐢𝐭𝐞 𝐞𝐱𝐚𝐦𝐩𝐥𝐞𝐬 𝐢𝐬 𝐭𝐡𝐞 𝐬𝐨-𝐜𝐚𝐥𝐥𝐞𝐝 '𝐢𝐧𝐟𝐢𝐧𝐢𝐭𝐞 𝐦𝐨𝐧𝐤𝐞𝐲 𝐭𝐡𝐞𝐨𝐫𝐞𝐦,' 𝐰𝐡𝐢𝐜𝐡 𝐢𝐬 𝐭𝐡𝐞 𝐢𝐝𝐞𝐚 𝐭𝐡𝐚𝐭 𝐢𝐟 𝐚 𝐦𝐨𝐧𝐤𝐞𝐲 𝐰𝐞𝐫𝐞 𝐭𝐨 𝐩𝐫𝐞𝐬𝐬 𝐫𝐚𝐧𝐝𝐨𝐦 𝐤𝐞𝐲𝐬 𝐨𝐧 𝐚 𝐭𝐲𝐩𝐞𝐰𝐫𝐢𝐭𝐞𝐫 𝐟𝐨𝐫 𝐚𝐧 𝐢𝐧𝐟𝐢𝐧𝐢𝐭𝐞 𝐚𝐦𝐨𝐮𝐧𝐭 𝐨𝐟 𝐭𝐢𝐦𝐞, 𝐡𝐞 𝐰𝐨𝐮𝐥𝐝 𝐞𝐯𝐞𝐧𝐭𝐮𝐚𝐥𝐥𝐲 𝐩𝐫𝐨𝐝𝐮𝐜𝐞 𝐭𝐡𝐞 𝐰𝐨𝐫𝐤𝐬 𝐨𝐟 𝐟𝐚𝐦𝐞𝐝 𝐄𝐧𝐠𝐥𝐢𝐬𝐡 𝐩𝐥𝐚𝐲𝐰𝐫𝐢𝐠𝐡𝐭 𝐖𝐢𝐥𝐥𝐢𝐚𝐦 𝐒𝐡𝐚𝐤𝐞𝐬𝐩𝐞𝐚𝐫𝐞.
𝐓𝐡𝐢𝐬 𝐭𝐡𝐞𝐨𝐫𝐞𝐦 𝐢𝐬 𝐢𝐧𝐯𝐚𝐥𝐢𝐝 𝐟𝐨𝐫 𝐭𝐰𝐨 𝐫𝐞𝐚𝐬𝐨𝐧𝐬, 𝐭𝐡𝐞𝐨𝐫𝐞𝐭𝐢𝐜𝐚𝐥 𝐚𝐧𝐝 𝐩𝐫𝐚𝐜𝐭𝐢𝐜𝐚𝐥:
𝟏), 𝐚𝐧 𝐚𝐜𝐭𝐮𝐚𝐥 𝐢𝐧𝐟𝐢𝐧𝐢𝐭𝐞 𝐜𝐚𝐧𝐧𝐨𝐭 𝐞𝐱𝐢𝐬𝐭 𝐢𝐧 𝐭𝐡𝐞 𝐜𝐨𝐧𝐭𝐢𝐧𝐠𝐞𝐧𝐭 𝐮𝐧𝐢𝐯𝐞𝐫𝐬𝐞, 𝐚𝐧𝐝
𝟐) 𝐭𝐡𝐞 𝐨𝐝𝐝𝐬 𝐨𝐟 𝐭𝐡𝐞 𝐦𝐨𝐧𝐤𝐞𝐲 𝐩𝐫𝐨𝐝𝐮𝐜𝐢𝐧𝐠 𝐞𝐯𝐞𝐧 𝐚 𝐬𝐦𝐚𝐥𝐥 𝐩𝐨𝐫𝐭𝐢𝐨𝐧 𝐨𝐟 𝐒𝐡𝐚𝐤𝐞𝐬𝐩𝐞𝐚𝐫𝐞'𝐬 𝐰𝐨𝐫𝐤 𝐢𝐬 𝐢𝐧𝐟𝐢𝐧𝐢𝐭𝐞𝐬𝐢𝐦𝐚𝐥𝐥𝐲 𝐬𝐦𝐚𝐥𝐥 𝐚𝐧𝐝 𝐭𝐡𝐞𝐫𝐞𝐟𝐨𝐫𝐞 𝐞𝐪𝐮𝐢𝐯𝐚𝐥𝐞𝐧𝐭 𝐭𝐨 𝐳𝐞𝐫𝐨.
𝐌𝐚𝐭𝐡𝐞𝐦𝐚𝐭𝐢𝐜𝐢𝐚𝐧𝐬 𝐟𝐫𝐨𝐦 𝐀𝐫𝐢𝐬𝐭𝐨𝐭𝐥𝐞 𝐮𝐧𝐭𝐢𝐥 𝐭𝐨𝐝𝐚𝐲 𝐡𝐨𝐥𝐝 𝐭𝐡𝐚𝐭 𝐚𝐧 𝐚𝐜𝐭𝐮𝐚𝐥 𝐢𝐧𝐟𝐢𝐧𝐢𝐭𝐞, 𝐰𝐡𝐢𝐜𝐡 𝐢𝐬 𝐚 𝐜𝐨𝐦𝐩𝐥𝐞𝐭𝐞𝐝 𝐬𝐞𝐫𝐢𝐞𝐬 𝐨𝐟 𝐧𝐚𝐭𝐮𝐫𝐚𝐥 𝐧𝐮𝐦𝐛𝐞𝐫𝐬, 𝐢𝐬 𝐢𝐦𝐩𝐨𝐬𝐬𝐢𝐛𝐥𝐞 𝐢𝐧 𝐭𝐡𝐞 𝐫𝐞𝐚𝐥 𝐰𝐨𝐫𝐥𝐝. 𝐀𝐧𝐲 𝐬𝐞𝐫𝐢𝐞𝐬 𝐨𝐟 𝐧𝐚𝐭𝐮𝐫𝐚𝐥 𝐧𝐮𝐦𝐛𝐞𝐫𝐬 𝐭𝐡𝐚𝐭 𝐞𝐱𝐢𝐬𝐭𝐬 𝐜𝐚𝐧 𝐚𝐥𝐰𝐚𝐲𝐬 𝐛𝐞 𝐜𝐨𝐧𝐭𝐢𝐧𝐮𝐞𝐝 𝐛𝐲 𝐚𝐝𝐝𝐢𝐧𝐠 𝐨𝐧𝐞 𝐦𝐨𝐫𝐞 𝐧𝐮𝐦𝐛𝐞𝐫, 𝐰𝐡𝐢𝐜𝐡 𝐦𝐞𝐚𝐧𝐬 𝐢𝐭 𝐰𝐢𝐥𝐥 𝐚𝐥𝐰𝐚𝐲𝐬 𝐫𝐞𝐦𝐚𝐢𝐧 𝐢𝐧𝐜𝐨𝐦𝐩𝐥𝐞𝐭𝐞,
𝐛𝐮𝐭 𝐢𝐧𝐟𝐢𝐧𝐢𝐭𝐞 𝐢𝐬 𝐛𝐲 𝐝𝐞𝐟𝐢𝐧𝐢𝐭𝐢𝐨𝐧 𝐜𝐨𝐦𝐩𝐥𝐞𝐭𝐞. 𝐈𝐧 𝐜𝐨𝐧𝐭𝐫𝐚𝐬𝐭, 𝐚𝐧 𝐢𝐧𝐜𝐨𝐦𝐩𝐥𝐞𝐭𝐞, 𝐧𝐞𝐯𝐞𝐫-𝐞𝐧𝐝𝐢𝐧𝐠 𝐬𝐞𝐫𝐢𝐞𝐬 𝐢𝐬 𝐜𝐚𝐥𝐥𝐞𝐝 𝐚 𝐭𝐡𝐞𝐨𝐫𝐞𝐭𝐢𝐜𝐚𝐥 𝐨𝐫 𝐩𝐨𝐭𝐞𝐧𝐭𝐢𝐚𝐥 𝐢𝐧𝐟𝐢𝐧𝐢𝐭𝐞, 𝐰𝐡𝐢𝐜𝐡 𝐞𝐱𝐢𝐬𝐭𝐬 𝐚𝐬 𝐚𝐧 𝐚𝐛𝐬𝐭𝐫𝐚𝐜𝐭 𝐜𝐨𝐧𝐜𝐞𝐩𝐭 𝐛𝐮𝐭 𝐡𝐚𝐬 𝐧𝐨 𝐭𝐚𝐧𝐠𝐢𝐛𝐥𝐞 𝐦𝐚𝐧𝐢𝐟𝐞𝐬𝐭𝐚𝐭𝐢𝐨𝐧.
𝐀𝐥-𝐆𝐡𝐚𝐳𝐚𝐥𝐢, 𝐢𝐧 𝐡𝐢𝐬 𝐫𝐞𝐟𝐮𝐭𝐚𝐭𝐢𝐨𝐧 𝐨𝐟 𝐭𝐡𝐞 𝐩𝐡𝐢𝐥𝐨𝐬𝐨𝐩𝐡𝐞𝐫𝐬, 𝐚𝐬𝐤𝐬 𝐮𝐬 𝐭𝐨 𝐜𝐨𝐧𝐬𝐢𝐝𝐞𝐫 𝐭𝐡𝐞 𝐫𝐞𝐯𝐨𝐥𝐮𝐭𝐢𝐨𝐧 𝐨𝐟 𝐭𝐡𝐞 𝐩𝐥𝐚𝐧𝐞𝐭𝐬 𝐚𝐫𝐨𝐮𝐧𝐝 𝐭𝐡𝐞 𝐬𝐮𝐧. 𝐀𝐭 𝐚𝐧𝐲 𝐠𝐢𝐯𝐞𝐧 𝐭𝐢𝐦𝐞, 𝐭𝐡𝐞 𝐧𝐚𝐭𝐮𝐫𝐚𝐥 𝐧𝐮𝐦𝐛𝐞𝐫 𝐨𝐟 𝐭𝐡𝐞𝐢𝐫 𝐫𝐞𝐯𝐨𝐥𝐮𝐭𝐢𝐨𝐧𝐬 𝐢𝐬 𝐞𝐢𝐭𝐡𝐞𝐫 𝐞𝐯𝐞𝐧 𝐨𝐫 𝐨𝐝𝐝. 𝐈𝐭 𝐜𝐚𝐧𝐧𝐨𝐭 𝐛𝐞 𝐧𝐞𝐢𝐭𝐡𝐞𝐫 𝐞𝐯𝐞𝐧 𝐧𝐨𝐫 𝐨𝐝𝐝, 𝐧𝐨𝐫 𝐛𝐨𝐭𝐡 𝐞𝐯𝐞𝐧 𝐚𝐧𝐝 𝐨𝐝𝐝 𝐚𝐭 𝐭𝐡𝐞 𝐬𝐚𝐦𝐞 𝐭𝐢𝐦𝐞.
𝐀𝐥-𝐆𝐡𝐚𝐳𝐚𝐥𝐢 𝐰𝐫𝐢𝐭𝐞𝐬:
أن دورات الفلك إن لم تكن متناهية فهي إما شفع وإما وتر وإما لا شفع ولا وتر وإما شفع ووتر معاً وهذه الأقسام الأربعة محال فالمفضي إليها محال إذ يستحيل عدد لا شفع ولا وتر أو شفع ووتر
𝐈𝐟 𝐭𝐡𝐞 𝐫𝐞𝐯𝐨𝐥𝐮𝐭𝐢𝐨𝐧 𝐨𝐟 𝐜𝐞𝐥𝐞𝐬𝐭𝐢𝐚𝐥 𝐛𝐨𝐝𝐢𝐞𝐬 𝐡𝐚𝐯𝐞 𝐧𝐨 𝐞𝐧𝐝, 𝐭𝐡𝐞𝐧 𝐭𝐡𝐞𝐲 𝐚𝐫𝐞 𝐧𝐮𝐦𝐛𝐞𝐫𝐞𝐝 𝐚𝐬 𝐞𝐯𝐞𝐧, 𝐨𝐝𝐝, 𝐧𝐞𝐢𝐭𝐡𝐞𝐫, 𝐨𝐫 𝐛𝐨𝐭𝐡. 𝐓𝐡𝐞𝐬𝐞 𝐟𝐨𝐮𝐫 𝐜𝐚𝐬𝐞𝐬 𝐚𝐫𝐞 𝐧𝐨𝐭 𝐩𝐨𝐬𝐬𝐢𝐛𝐥𝐞, 𝐬𝐨 𝐰𝐡𝐚𝐭 𝐭𝐡𝐞𝐲 𝐧𝐞𝐜𝐞𝐬𝐬𝐢𝐭𝐚𝐭𝐞 𝐢𝐬 𝐚𝐥𝐬𝐨 𝐧𝐨𝐭 𝐩𝐨𝐬𝐬𝐢𝐛𝐥𝐞. 𝐅𝐨𝐫 𝐢𝐭 𝐢𝐬 𝐢𝐦𝐩𝐨𝐬𝐬𝐢𝐛𝐥𝐞 𝐭𝐡𝐚𝐭 𝐚 𝐧𝐮𝐦𝐛𝐞𝐫 𝐢𝐬 𝐧𝐞𝐢𝐭𝐡𝐞𝐫 𝐞𝐯𝐞𝐧 𝐧𝐨𝐫 𝐨𝐝𝐝, 𝐨𝐫 𝐞𝐯𝐞𝐧 𝐚𝐧𝐝 𝐨𝐝𝐝 𝐬𝐢𝐦𝐮𝐥𝐭𝐚𝐧𝐞𝐨𝐮𝐬𝐥𝐲.
𝐒𝐨𝐮𝐫𝐜𝐞: 𝐚𝐥-𝐈𝐪𝐭𝐢𝐬̣𝐚̄𝐝 𝐟𝐢̄ 𝐚𝐥-𝐈'𝐭𝐢𝐪𝐚̄𝐝 𝟏:𝟐𝟖-𝟐𝟗
𝐀𝐧 𝐚𝐜𝐭𝐮𝐚𝐥 𝐢𝐧𝐟𝐢𝐧𝐢𝐭𝐞 𝐢𝐬 𝐛𝐲 𝐝𝐞𝐟𝐢𝐧𝐢𝐭𝐢𝐨𝐧 𝐧𝐞𝐢𝐭𝐡𝐞𝐫 𝐞𝐯𝐞𝐧 𝐧𝐨𝐫 𝐨𝐝𝐝, 𝐚 𝐬𝐭𝐚𝐭𝐞 𝐨𝐟 𝐛𝐞𝐢𝐧𝐠 𝐭𝐡𝐚𝐭 𝐜𝐚𝐧𝐧𝐨𝐭 𝐞𝐱𝐢𝐬𝐭 𝐢𝐧 𝐧𝐚𝐭𝐮𝐫𝐞. 𝐓𝐡𝐢𝐬 𝐜𝐨𝐧𝐭𝐫𝐚𝐝𝐢𝐜𝐭𝐢𝐨𝐧 𝐦𝐞𝐚𝐧𝐬 𝐭𝐡𝐚𝐭 𝐚𝐧 𝐚𝐜𝐭𝐮𝐚𝐥 𝐢𝐧𝐟𝐢𝐧𝐢𝐭𝐞 𝐢𝐬 𝐢𝐦𝐩𝐨𝐬𝐬𝐢𝐛𝐥𝐞.
𝐓𝐡𝐞 𝐢𝐧𝐟𝐢𝐧𝐢𝐭𝐞 𝐦𝐨𝐧𝐤𝐞𝐲 𝐭𝐡𝐞𝐨𝐫𝐞𝐦 𝐢𝐬 𝐩𝐫𝐞𝐝𝐢𝐜𝐚𝐭𝐞𝐝 𝐨𝐧 𝐭𝐡𝐞 𝐢𝐧𝐜𝐨𝐫𝐫𝐞𝐜𝐭 𝐚𝐬𝐬𝐮𝐦𝐩𝐭𝐢𝐨𝐧 𝐭𝐡𝐚𝐭 𝐭𝐡𝐞 𝐦𝐨𝐧𝐤𝐞𝐲 𝐜𝐚𝐧 𝐜𝐨𝐦𝐩𝐥𝐞𝐭𝐞 𝐚𝐧 𝐚𝐜𝐭𝐮𝐚𝐥𝐥𝐲 𝐢𝐧𝐟𝐢𝐧𝐢𝐭𝐞 𝐬𝐞𝐫𝐢𝐞𝐬 𝐨𝐟 𝐤𝐞𝐲 𝐩𝐫𝐞𝐬𝐬𝐞𝐬. 𝐇𝐨𝐰𝐞𝐯𝐞𝐫, 𝐭𝐡𝐞 𝐦𝐨𝐧𝐤𝐞𝐲 𝐜𝐚𝐧 𝐧𝐞𝐯𝐞𝐫 𝐫𝐞𝐚𝐜𝐡 𝐢𝐧𝐟𝐢𝐧𝐢𝐭𝐞 𝐛𝐞𝐜𝐚𝐮𝐬𝐞 𝐡𝐞 𝐜𝐚𝐧 𝐚𝐥𝐰𝐚𝐲𝐬 𝐩𝐫𝐞𝐬𝐬 𝐨𝐧𝐞 𝐦𝐨𝐫𝐞 𝐤𝐞𝐲.
𝐓𝐡𝐞 𝐦𝐨𝐧𝐤𝐞𝐲 𝐢𝐬 𝐨𝐧𝐥𝐲 𝐚 𝐩𝐨𝐭𝐞𝐧𝐭𝐢𝐚𝐥𝐥𝐲 𝐢𝐧𝐟𝐢𝐧𝐢𝐭𝐞, 𝐚𝐧 𝐢𝐦𝐚𝐠𝐢𝐧𝐚𝐫𝐲 𝐧𝐮𝐦𝐛𝐞𝐫 𝐭𝐡𝐚𝐭 𝐡𝐚𝐬 𝐧𝐨 𝐛𝐚𝐬𝐢𝐬 𝐢𝐧 𝐜𝐨𝐧𝐜𝐫𝐞𝐭𝐞 𝐫𝐞𝐚𝐥𝐢𝐭𝐲. 𝐓𝐡𝐞 𝐮𝐧𝐢𝐯𝐞𝐫𝐬𝐞 𝐬𝐢𝐦𝐩𝐥𝐲 𝐜𝐚𝐧𝐧𝐨𝐭 𝐜𝐨𝐧𝐭𝐚𝐢𝐧 𝐚𝐧 𝐚𝐜𝐭𝐮𝐚𝐥 𝐢𝐧𝐟𝐢𝐧𝐢𝐭𝐞, 𝐧𝐨𝐫 𝐜𝐚𝐧 𝐢𝐭 𝐛𝐞 𝐨𝐧𝐞 𝐢𝐭𝐬𝐞𝐥𝐟.
𝐌𝐨𝐫𝐞𝐨𝐯𝐞𝐫, 𝐭𝐡𝐞 𝐢𝐧𝐟𝐢𝐧𝐢𝐭𝐞 𝐦𝐨𝐧𝐤𝐞𝐲 𝐭𝐡𝐞𝐨𝐫𝐞𝐦 𝐢𝐬 𝐟𝐮𝐫𝐭𝐡𝐞𝐫 𝐢𝐧𝐯𝐚𝐥𝐢𝐝𝐚𝐭𝐞𝐝 𝐰𝐡𝐞𝐧 𝐨𝐧𝐞 𝐜𝐨𝐧𝐬𝐢𝐝𝐞𝐫𝐬 𝐭𝐡𝐞 𝐩𝐫𝐚𝐜𝐭𝐢𝐜𝐚𝐥 𝐦𝐚𝐠𝐧𝐢𝐭𝐮𝐝𝐞 𝐨𝐟 𝐭𝐡𝐞 𝐫𝐚𝐧𝐝𝐨𝐦𝐧𝐞𝐬𝐬 𝐢𝐧𝐯𝐨𝐥𝐯𝐞𝐝. 𝐓𝐡𝐞 𝐟𝐢𝐫𝐬𝐭 𝐩𝐚𝐠𝐞 𝐨𝐟 𝐒𝐡𝐚𝐤𝐞𝐬𝐩𝐞𝐚𝐫𝐞'𝐬 𝐟𝐚𝐦𝐨𝐮𝐬 𝐩𝐥𝐚𝐲 𝐑𝐨𝐦𝐞𝐨 & 𝐉𝐮𝐥𝐢𝐞𝐭 𝐜𝐨𝐧𝐭𝐚𝐢𝐧𝐬 𝟏,𝟗𝟕𝟐 𝐜𝐡𝐚𝐫𝐚𝐜𝐭𝐞𝐫𝐬 𝐢𝐧𝐜𝐥𝐮𝐝𝐢𝐧𝐠 𝐬𝐩𝐚𝐜𝐞𝐬 𝐚𝐧𝐝 𝐩𝐮𝐧𝐜𝐭𝐮𝐚𝐭𝐢𝐨𝐧.
𝐀𝐧 𝐄𝐧𝐠𝐥𝐢𝐬𝐡 𝐭𝐲𝐩𝐞𝐰𝐫𝐢𝐭𝐞𝐫 𝐡𝐚𝐬 𝟐𝟔 𝐥𝐞𝐭𝐭𝐞𝐫𝐬, 𝐚 𝐜𝐨𝐦𝐦𝐚, 𝐚 𝐩𝐞𝐫𝐢𝐨𝐝, 𝐚 𝐬𝐞𝐦𝐢𝐜𝐨𝐥𝐨𝐧, 𝐭𝐰𝐨 𝐛𝐫𝐚𝐜𝐤𝐞𝐭𝐬, 𝐚𝐧𝐝 𝐭𝐡𝐞 𝐬𝐩𝐚𝐜𝐞 𝐤𝐞𝐲, 𝐟𝐨𝐫 𝐚 𝐭𝐨𝐭𝐚𝐥 𝐨𝐟 𝟑𝟐 𝐜𝐡𝐚𝐫𝐚𝐜𝐭𝐞𝐫𝐬, 𝐚𝐥𝐥 𝐨𝐟 𝐰𝐡𝐢𝐜𝐡 𝐚𝐫𝐞 𝐮𝐬𝐞𝐝 𝐨𝐧 𝐭𝐡𝐞 𝐟𝐢𝐫𝐬𝐭 𝐩𝐚𝐠𝐞 𝐨𝐟 𝐑𝐨𝐦𝐞𝐨 & 𝐉𝐮𝐥𝐢𝐞𝐭.
𝐓𝐡𝐞 𝐨𝐝𝐝𝐬 𝐨𝐟 𝐭𝐡𝐞 𝐦𝐨𝐧𝐤𝐞𝐲 𝐩𝐫𝐞𝐬𝐬𝐢𝐧𝐠 𝐭𝐡𝐞 𝐜𝐨𝐫𝐫𝐞𝐜𝐭 𝐤𝐞𝐲 𝐨𝐧 𝐭𝐡𝐞 𝐟𝐢𝐫𝐬𝐭 𝐚𝐭𝐭𝐞𝐦𝐩𝐭 𝐢𝐬 𝟏 𝐨𝐮𝐭 𝐨𝐟 𝟑𝟐, 𝐭𝐡𝐞 𝐬𝐞𝐜𝐨𝐧𝐝 𝐚𝐭𝐭𝐞𝐦𝐩𝐭 𝐢𝐬 𝟏 𝐨𝐮𝐭 𝐨𝐟 𝟏,𝟎𝟐𝟒 (𝟏/𝟑𝟐 𝐱 𝟏/𝟑𝟐), 𝐚𝐧𝐝 𝐭𝐡𝐞 𝐭𝐡𝐢𝐫𝐝 𝐚𝐭𝐭𝐞𝐦𝐩𝐭 𝐢𝐬 𝟏 𝐨𝐮𝐭 𝐨𝐟 𝟑𝟐,𝟕𝟔𝟖 (𝟏/𝟑𝟐 𝐱 𝟏/𝟑𝟐 𝐱 𝟏/𝟑𝟐). 𝐈𝐧 𝐨𝐭𝐡𝐞𝐫 𝐰𝐨𝐫𝐝𝐬, 𝐭𝐡𝐞 𝐦𝐨𝐧𝐤𝐞𝐲 𝐰𝐢𝐥𝐥 𝐟𝐚𝐢𝐥 𝟑𝟐,𝟕𝟔𝟕 𝐭𝐢𝐦𝐞𝐬 𝐭𝐨 𝐠𝐞𝐭 𝐞𝐯𝐞𝐧 𝐭𝐡𝐞 𝐟𝐢𝐫𝐬𝐭 𝐭𝐡𝐫𝐞𝐞 𝐜𝐡𝐚𝐫𝐚𝐜𝐭𝐞𝐫𝐬 𝐜𝐨𝐫𝐫𝐞𝐜𝐭. 𝐓𝐡𝐞 𝐨𝐝𝐝𝐬 𝐨𝐟 𝐟𝐚𝐢𝐥𝐮𝐫𝐞 𝐢𝐧𝐜𝐫𝐞𝐚𝐬𝐞 𝐞𝐱𝐩𝐨𝐧𝐞𝐧𝐭𝐢𝐚𝐥𝐥𝐲 𝐰𝐢𝐭𝐡 𝐞𝐚𝐜𝐡 𝐬𝐮𝐛𝐬𝐞𝐪𝐮𝐞𝐧𝐭 𝐜𝐡𝐚𝐫𝐚𝐜𝐭𝐞𝐫.
𝐈𝐟 𝐰𝐞 𝐞𝐱𝐭𝐫𝐚𝐩𝐨𝐥𝐚𝐭𝐞 𝐭𝐡𝐢𝐬 𝐨𝐮𝐭 𝐭𝐨 𝐭𝐡𝐞 𝟏,𝟗𝟕𝟐 𝐜𝐡𝐚𝐫𝐚𝐜𝐭𝐞𝐫𝐬 𝐨𝐧 𝐭𝐡𝐞 𝐟𝐢𝐫𝐬𝐭 𝐩𝐚𝐠𝐞, 𝐭𝐡𝐞 𝐨𝐝𝐝𝐬 𝐨𝐟 𝐭𝐡𝐞 𝐦𝐨𝐧𝐤𝐞𝐲 𝐠𝐞𝐭𝐭𝐢𝐧𝐠 𝐢𝐭 𝐫𝐢𝐠𝐡𝐭 𝐚𝐫𝐞 𝐥𝐞𝐬𝐬 𝐭𝐡𝐚𝐧 𝐫𝐨𝐮𝐠𝐡𝐥𝐲 𝟏 𝐨𝐮𝐭 𝐨𝐟 𝟏𝟎 𝐭𝐡𝐞 𝟏𝟎𝟎𝟎𝐭𝐡 𝐩𝐨𝐰𝐞𝐫.
𝐓𝐨 𝐩𝐮𝐭 𝐭𝐡𝐢𝐬 𝐢𝐧 𝐩𝐞𝐫𝐬𝐩𝐞𝐜𝐭𝐢𝐯𝐞, 𝐭𝐡𝐞 𝐦𝐨𝐧𝐤𝐞𝐲 𝐰𝐢𝐥𝐥 𝐨𝐧𝐥𝐲 𝐩𝐫𝐨𝐝𝐮𝐜𝐞 𝐭𝐡𝐞 𝐟𝐢𝐫𝐬𝐭 𝐩𝐚𝐠𝐞 𝐨𝐟 𝐑𝐨𝐦𝐞𝐨 & 𝐉𝐮𝐥𝐢𝐞𝐭 𝐨𝐧𝐞 𝐭𝐢𝐦𝐞 𝐚𝐟𝐭𝐞𝐫 𝟏𝟎¹°°° 𝐚𝐭𝐭𝐞𝐦𝐩𝐭𝐬, 𝐰𝐡𝐢𝐜𝐡 𝐢𝐬 𝟏 𝐟𝐨𝐥𝐥𝐨𝐰𝐞𝐝 𝐛𝐲 𝐚 𝐭𝐡𝐨𝐮𝐬𝐚𝐧𝐝 𝐳𝐞𝐫𝐨𝐞𝐬. 𝐓𝐡𝐢𝐬 𝐧𝐮𝐦𝐛𝐞𝐫 𝐢𝐬 𝐬𝐨 𝐦𝐢𝐧𝐮𝐬𝐜𝐮𝐥𝐞 𝐭𝐡𝐚𝐭 𝐭𝐡𝐞𝐫𝐞 𝐞𝐱𝐢𝐬𝐭𝐬 𝐧𝐨 𝐰𝐨𝐫𝐝 𝐢𝐧 𝐨𝐮𝐫 𝐬𝐜𝐢𝐞𝐧𝐭𝐢𝐟𝐢𝐜 𝐥𝐚𝐧𝐠𝐮𝐚𝐠𝐞 𝐭𝐨 𝐝𝐞𝐬𝐜𝐫𝐢𝐛𝐞 𝐢𝐭, 𝐛𝐞𝐜𝐚𝐮𝐬𝐞 𝐧𝐨𝐭𝐡𝐢𝐧𝐠 𝐢𝐧 𝐭𝐡𝐞 𝐮𝐧𝐢𝐯𝐞𝐫𝐬𝐞 𝐦𝐚𝐧𝐢𝐟𝐞𝐬𝐭𝐬 𝐚𝐭 𝐭𝐡𝐢𝐬 𝐥𝐞𝐯𝐞𝐥 𝐨𝐟 𝐦𝐚𝐠𝐧𝐢𝐭𝐮𝐝𝐞. 𝐒𝐜𝐢𝐞𝐧𝐭𝐢𝐬𝐭𝐬 𝐞𝐬𝐭𝐢𝐦𝐚𝐭𝐞 𝐭𝐡𝐚𝐭 𝐭𝐡𝐞𝐫𝐞 𝐚𝐫𝐞 𝐚𝐛𝐨𝐮𝐭 𝟑.𝟐𝟖 𝐱 𝟏𝟎⁸° 𝐩𝐚𝐫𝐭𝐢𝐜𝐥𝐞𝐬 (𝐩𝐫𝐨𝐭𝐨𝐧𝐬, 𝐞𝐥𝐞𝐜𝐭𝐫𝐨𝐧𝐬, 𝐞𝐭𝐜.) 𝐢𝐧 𝐭𝐡𝐞 𝐞𝐧𝐭𝐢𝐫𝐞 𝐯𝐢𝐬𝐢𝐛𝐥𝐞 𝐮𝐧𝐢𝐯𝐞𝐫𝐬𝐞 (𝟒𝟔.𝟓 𝐛𝐢𝐥𝐥𝐢𝐨𝐧 𝐥𝐢𝐠𝐡𝐭-𝐲𝐞𝐚𝐫𝐬 𝐚𝐜𝐫𝐨𝐬𝐬).
𝐖𝐞 𝐬𝐢𝐦𝐩𝐥𝐲 𝐤𝐧𝐨𝐰 𝐨𝐟 𝐧𝐨 𝐬𝐦𝐚𝐥𝐥𝐞𝐫 𝐨𝐫𝐝𝐞𝐫 𝐨𝐟 𝐦𝐚𝐠𝐧𝐢𝐭𝐮𝐝𝐞 𝐭𝐡𝐚𝐧 𝐭𝐡𝐢𝐬, 𝐛𝐮𝐭 𝐢𝐭 𝐢𝐬 𝐧𝐨𝐭 𝐞𝐯𝐞𝐧 𝐫𝐞𝐦𝐨𝐭𝐞𝐥𝐲 𝐜𝐥𝐨𝐬𝐞 𝐭𝐨 𝐭𝐡𝐞 𝐜𝐡𝐚𝐧𝐜𝐞𝐬 𝐨𝐟 𝐭𝐡𝐞 𝐦𝐨𝐧𝐤𝐞𝐲 𝐭𝐲𝐩𝐢𝐧𝐠 𝐚 𝐬𝐢𝐧𝐠𝐥𝐞 𝐩𝐚𝐠𝐞 𝐨𝐟 𝐒𝐡𝐚𝐤𝐞𝐬𝐩𝐞𝐚𝐫𝐞. 𝐈𝐧 𝐦𝐚𝐭𝐡𝐞𝐦𝐚𝐭𝐢𝐜𝐬, 𝐚 𝐧𝐮𝐦𝐛𝐞𝐫 𝐬𝐨 𝐢𝐧𝐟𝐢𝐧𝐢𝐭𝐞𝐬𝐢𝐦𝐚𝐥𝐥𝐲 𝐬𝐦𝐚𝐥𝐥 𝐢𝐬 𝐜𝐨𝐧𝐬𝐢𝐝𝐞𝐫𝐞𝐝 𝐧𝐞𝐠𝐥𝐢𝐠𝐢𝐛𝐥𝐞 𝐢𝐧 𝐚𝐧𝐲 𝐟𝐨𝐫𝐦𝐮𝐥𝐚, 𝐰𝐡𝐢𝐜𝐡 𝐦𝐞𝐚𝐧𝐬 𝐢𝐭 𝐟𝐮𝐧𝐜𝐭𝐢𝐨𝐧𝐬 𝐚𝐬 𝐢𝐟 𝐢𝐭 𝐰𝐞𝐫𝐞 𝐳𝐞𝐫𝐨 𝐨𝐫 𝐧𝐨𝐭𝐡𝐢𝐧𝐠.
𝐓𝐡𝐞 𝐟𝐚𝐜𝐭 𝐢𝐬 𝐭𝐡𝐚𝐭 𝐭𝐡𝐞 𝐦𝐨𝐧𝐤𝐞𝐲 𝐰𝐢𝐥𝐥 𝐧𝐞𝐯𝐞𝐫 𝐫𝐞𝐚𝐜𝐡 𝐢𝐧𝐟𝐢𝐧𝐢𝐭𝐞 𝐢𝐧 𝐭𝐡𝐞 𝐫𝐞𝐚𝐥 𝐰𝐨𝐫𝐥𝐝 𝐚𝐧𝐝 𝐡𝐞 𝐰𝐢𝐥𝐥 𝐧𝐞𝐯𝐞𝐫 𝐫𝐚𝐧𝐝𝐨𝐦𝐥𝐲 𝐩𝐫𝐨𝐝𝐮𝐜𝐞 𝐭𝐡𝐞 𝐜𝐨𝐦𝐩𝐥𝐞𝐱𝐢𝐭𝐲 𝐧𝐞𝐞𝐝𝐞𝐝 𝐭𝐨 𝐰𝐫𝐢𝐭𝐞 𝐞𝐯𝐞𝐧 𝐨𝐧𝐞 𝐩𝐚𝐠𝐞 𝐨𝐟 𝐒𝐡𝐚𝐤𝐞𝐬𝐩𝐞𝐚𝐫𝐞, 𝐥𝐞𝐭 𝐚𝐥𝐨𝐧𝐞 𝐡𝐢𝐬 𝐞𝐧𝐭𝐢𝐫𝐞 𝐜𝐨𝐫𝐩𝐮𝐬. 𝐈𝐟 𝐭𝐡𝐞 𝐰𝐨𝐫𝐝𝐬 𝐨𝐟 𝐚 𝐦𝐚𝐧 𝐜𝐚𝐧𝐧𝐨𝐭 𝐛𝐞 𝐜𝐫𝐞𝐚𝐭𝐞𝐝 𝐛𝐲 𝐜𝐡𝐚𝐧𝐜𝐞, 𝐡𝐨𝐰 𝐜𝐚𝐧 𝐢𝐭 𝐛𝐞 𝐭𝐫𝐮𝐞 𝐟𝐨𝐫 𝐭𝐡𝐞 𝐞𝐧𝐭𝐢𝐫𝐞 𝐮𝐧𝐢𝐯𝐞𝐫𝐬𝐞 𝐢𝐧 𝐚𝐥𝐥 𝐨𝐟 𝐢𝐭𝐬 𝐠𝐥𝐨𝐫𝐲, 𝐢𝐭𝐬 𝐜𝐞𝐥𝐞𝐬𝐭𝐢𝐚𝐥 𝐛𝐨𝐝𝐢𝐞𝐬, 𝐢𝐭𝐬 𝐜𝐫𝐞𝐚𝐭𝐮𝐫𝐞𝐬, 𝐚𝐧𝐝 𝐢𝐭𝐬 𝐞𝐧𝐝𝐥𝐞𝐬𝐬 𝐰𝐨𝐧𝐝𝐞𝐫𝐬?
𝐓𝐡𝐞 𝐩𝐡𝐢𝐥𝐨𝐬𝐨𝐩𝐡𝐞𝐫𝐬 𝐚𝐧𝐝 𝐚𝐭𝐡𝐞𝐢𝐬𝐭𝐬 𝐰𝐢𝐥𝐥 𝐚𝐥𝐬𝐨 𝐜𝐨𝐮𝐧𝐭𝐞𝐫 𝐭𝐡𝐞 𝐭𝐞𝐥𝐞𝐨𝐥𝐨𝐠𝐢𝐜𝐚𝐥 𝐚𝐫𝐠𝐮𝐦𝐞𝐧𝐭 𝐟𝐫𝐨𝐦 𝐚𝐧𝐨𝐭𝐡𝐞𝐫 𝐚𝐧𝐠𝐥𝐞, 𝐛𝐲 𝐩𝐫𝐨𝐩𝐨𝐬𝐢𝐧𝐠 𝐩𝐮𝐫𝐞𝐥𝐲 𝐧𝐚𝐭𝐮𝐫𝐚𝐥𝐢𝐬𝐭𝐢𝐜 𝐜𝐚𝐮𝐬𝐞𝐬 𝐭𝐨 𝐞𝐱𝐩𝐥𝐚𝐢𝐧 𝐜𝐥𝐞𝐚𝐫 𝐢𝐧𝐬𝐭𝐚𝐧𝐜𝐞𝐬 𝐨𝐟 𝐝𝐞𝐬𝐢𝐠𝐧 𝐢𝐧 𝐜𝐫𝐞𝐚𝐭𝐢𝐨𝐧. 𝐓𝐡𝐚𝐭 𝐢𝐬, 𝐭𝐡𝐞𝐲 𝐰𝐢𝐥𝐥 𝐜𝐥𝐚𝐢𝐦 𝐭𝐡𝐚𝐭 𝐞𝐢𝐭𝐡𝐞𝐫 𝐭𝐡𝐞 𝐮𝐧𝐢𝐯𝐞𝐫𝐬𝐞 𝐰𝐚𝐬 𝐢𝐧𝐝𝐞𝐞𝐝 𝐝𝐞𝐬𝐢𝐠𝐧𝐞𝐝, 𝐛𝐮𝐭 𝐛𝐲 '𝐧𝐚𝐭𝐮𝐫𝐞' 𝐚𝐧𝐝 𝐧𝐨𝐭 𝐀𝐥𝐥𝐚𝐡, 𝐨𝐫 𝐭𝐡𝐚𝐭 𝐭𝐡𝐞 𝐮𝐧𝐢𝐯𝐞𝐫𝐬𝐞 𝐰𝐚𝐬 𝐧𝐨𝐭 𝐝𝐞𝐬𝐢𝐠𝐧𝐞𝐝 𝐚𝐭 𝐚𝐥𝐥.
𝐈𝐛𝐧 𝐚𝐥-𝐐𝐚𝐲𝐲𝐢𝐦 𝐫𝐞𝐬𝐩𝐨𝐧𝐝𝐬 𝐭𝐨 𝐭𝐡𝐞 𝐟𝐢𝐫𝐬𝐭 𝐩𝐨𝐢𝐧𝐭 𝐢𝐧 𝐭𝐡𝐢𝐬 𝐦𝐚𝐧𝐧𝐞𝐫:
اخبريني عَن هَذِه الطبيعة اهي ذَات قَائِمَة بِنَفسِهَا لَهَا علم وقدرة على هَذِه الافعال العجيبة ام لَيست كَذَلِك بل عرض وَصفَة قَائِمَة بالمطبوع تَابِعَة لَهُ مَحْمُولَة فِيهِ فَإِن قَالَت لَك بل هِيَ ذَات قَائِمَة بِنَفسِهَا لَهَا الْعلم التَّام وَالْقُدْرَة والارادة وَالْحكمَة فَقل لَهَا هَذَا هُوَ الْخَالِق البارئ المصور فَلم تسمينه طبيعية
𝐓𝐞𝐥𝐥 𝐦𝐞 𝐚𝐛𝐨𝐮𝐭 𝐭𝐡𝐢𝐬 𝐧𝐚𝐭𝐮𝐫𝐞: 𝐃𝐨𝐞𝐬 𝐢𝐭 𝐬𝐮𝐬𝐭𝐚𝐢𝐧 𝐢𝐭𝐬𝐞𝐥𝐟? 𝐃𝐨𝐞𝐬 𝐢𝐭 𝐡𝐚𝐯𝐞 𝐤𝐧𝐨𝐰𝐥𝐞𝐝𝐠𝐞 𝐚𝐧𝐝 𝐩𝐨𝐰𝐞𝐫 𝐨𝐯𝐞𝐫 𝐭𝐡𝐞𝐬𝐞 𝐰𝐨𝐧𝐝𝐫𝐨𝐮𝐬 𝐚𝐜𝐭𝐢𝐨𝐧𝐬? 𝐎𝐫 𝐢𝐬 𝐢𝐭 𝐧𝐨𝐭 𝐥𝐢𝐤𝐞 𝐭𝐡𝐚𝐭 𝐛𝐮𝐭 𝐫𝐚𝐭𝐡𝐞𝐫 𝐢𝐭 𝐨𝐧𝐥𝐲 𝐚𝐩𝐩𝐞𝐚𝐫𝐬 𝐭𝐨 𝐢𝐧𝐡𝐞𝐫𝐞𝐧𝐭𝐥𝐲 𝐬𝐮𝐬𝐭𝐚𝐢𝐧 𝐢𝐭𝐬𝐞𝐥𝐟? 𝐈𝐟 𝐭𝐡𝐞𝐲 𝐬𝐚𝐲 𝐢𝐭 𝐬𝐮𝐫𝐞𝐥𝐲 𝐬𝐮𝐬𝐭𝐚𝐢𝐧𝐬 𝐢𝐭𝐬𝐞𝐥𝐟 𝐚𝐧𝐝 𝐡𝐚𝐬 𝐜𝐨𝐦𝐩𝐥𝐞𝐭𝐞 𝐤𝐧𝐨𝐰𝐥𝐞𝐝𝐠𝐞, 𝐩𝐨𝐰𝐞𝐫, 𝐰𝐢𝐥𝐥, 𝐚𝐧𝐝 𝐰𝐢𝐬𝐝𝐨𝐦, 𝐭𝐡𝐞𝐧 𝐬𝐚𝐲 𝐭𝐨 𝐭𝐡𝐞𝐦 𝐭𝐡𝐚𝐭 𝐭𝐡𝐢𝐬 𝐢𝐬 𝐭𝐡𝐞 𝐂𝐫𝐞𝐚𝐭𝐨𝐫, 𝐭𝐡𝐞 𝐃𝐞𝐬𝐢𝐠𝐧𝐞𝐫, 𝐭𝐡𝐞 𝐅𝐚𝐬𝐡𝐢𝐨𝐧𝐞𝐫, 𝐬𝐨 𝐰𝐡𝐲 𝐝𝐨 𝐲𝐨𝐮 𝐫𝐞𝐟𝐞𝐫 𝐭𝐨 𝐇𝐢𝐦 𝐚𝐬 𝐧𝐚𝐭𝐮𝐫𝐞?
𝐒𝐨𝐮𝐫𝐜𝐞: 𝐌𝐢𝐟𝐭𝐚̄𝐡̣ 𝐃𝐚̄𝐫 𝐚𝐥-𝐒𝐚'𝐚̄𝐝𝐚𝐡 𝟏/𝟐𝟔𝟏
𝐈𝐟 𝐭𝐡𝐞𝐲 𝐬𝐚𝐲 '𝐧𝐚𝐭𝐮𝐫𝐞' 𝐞𝐱𝐡𝐢𝐛𝐢𝐭𝐬 𝐭𝐡𝐞 𝐚𝐭𝐭𝐫𝐢𝐛𝐮𝐭𝐞𝐬 𝐨𝐟 𝐀𝐥𝐥𝐚𝐡, 𝐬𝐮𝐜𝐡 𝐚𝐬 𝐚𝐛𝐬𝐨𝐥𝐮𝐭𝐞 𝐰𝐢𝐥𝐥, 𝐤𝐧𝐨𝐰𝐥𝐞𝐝𝐠𝐞, 𝐩𝐨𝐰𝐞𝐫, 𝐚𝐧𝐝 𝐰𝐢𝐬𝐝𝐨𝐦, 𝐭𝐡𝐞𝐧 𝐭𝐡𝐞𝐲 𝐚𝐫𝐞 𝐬𝐢𝐦𝐩𝐥𝐲 𝐝𝐞𝐬𝐜𝐫𝐢𝐛𝐢𝐧𝐠 𝐭𝐡𝐞 𝐫𝐞𝐚𝐥𝐢𝐭𝐲 𝐨𝐟 𝐀𝐥𝐥𝐚𝐡 𝐰𝐢𝐭𝐡𝐨𝐮𝐭 𝐜𝐫𝐞𝐝𝐢𝐭𝐢𝐧𝐠 𝐇𝐢𝐦 𝐚𝐬 𝐭𝐡𝐞 𝐂𝐫𝐞𝐚𝐭𝐨𝐫. 𝐈𝐛𝐧 𝐓𝐚𝐲𝐦𝐢𝐲𝐲𝐚𝐡 𝐧𝐨𝐭𝐞𝐬 𝐭𝐡𝐚𝐭 𝐭𝐡𝐞 𝐩𝐫𝐞𝐬𝐞𝐧𝐜𝐞 𝐨𝐟 𝐭𝐡𝐞𝐬𝐞 𝐚𝐭𝐭𝐫𝐢𝐛𝐮𝐭𝐞𝐬 𝐢𝐧 𝐜𝐫𝐞𝐚𝐭𝐢𝐨𝐧 𝐫𝐞𝐟𝐥𝐞𝐜𝐭𝐬 𝐭𝐡𝐞𝐢𝐫 𝐩𝐞𝐫𝐟𝐞𝐜𝐭 𝐞𝐱𝐢𝐬𝐭𝐞𝐧𝐜𝐞 𝐰𝐢𝐭𝐡𝐢𝐧 𝐭𝐡𝐞 𝐂𝐫𝐞𝐚𝐭𝐨𝐫:
وَمَا ثَبَتَ لِلْمَخْلُوقِ مِنْ الْكَمَالِ الَّذِي لَا نَقْصَ فِيهِ كَالْحَيَاةِ وَالْعِلْمِ وَالْقُدْرَةِ فَالْخَالِقُ أَوْلَى بِذَلِكَ مِنْهُ
𝐖𝐡𝐚𝐭𝐞𝐯𝐞𝐫 𝐢𝐬 𝐚𝐟𝐟𝐢𝐫𝐦𝐞𝐝 𝐢𝐧 𝐭𝐡𝐞 𝐜𝐫𝐞𝐚𝐭𝐢𝐨𝐧 𝐨𝐟 𝐢𝐧𝐭𝐚𝐜𝐭 𝐚𝐭𝐭𝐫𝐢𝐛𝐮𝐭𝐞𝐬, 𝐰𝐡𝐢𝐜𝐡 𝐡𝐚𝐯𝐞 𝐧𝐨 𝐝𝐞𝐟𝐢𝐜𝐢𝐞𝐧𝐜𝐲, 𝐬𝐮𝐜𝐡 𝐚𝐬 𝐥𝐢𝐟𝐞, 𝐤𝐧𝐨𝐰𝐥𝐞𝐝𝐠𝐞, 𝐚𝐧𝐝 𝐚𝐛𝐢𝐥𝐢𝐭𝐲, 𝐭𝐡𝐞𝐧 𝐭𝐡𝐞 𝐂𝐫𝐞𝐚𝐭𝐨𝐫 𝐢𝐬 𝐦𝐨𝐫𝐞 𝐰𝐨𝐫𝐭𝐡𝐲 𝐨𝐟 𝐭𝐡𝐞𝐬𝐞 𝐭𝐡𝐚𝐧 𝐭𝐡𝐞𝐦.
𝐒𝐨𝐮𝐫𝐜𝐞: 𝐌𝐚𝐣𝐦𝐮̄' 𝐚𝐥-𝐅𝐚𝐭𝐚̄𝐰𝐚́ 𝟏/𝟒𝟖
𝐓𝐡𝐞 𝐟𝐞𝐚𝐭𝐮𝐫𝐞𝐬 𝐨𝐟 𝐝𝐞𝐬𝐢𝐠𝐧 𝐢𝐧 𝐜𝐫𝐞𝐚𝐭𝐢𝐨𝐧 𝐥𝐞𝐚𝐝 𝐮𝐬 𝐭𝐨 𝐥𝐨𝐠𝐢𝐜𝐚𝐥𝐥𝐲 𝐢𝐧𝐟𝐞𝐫 𝐭𝐡𝐚𝐭 𝐭𝐡𝐞𝐲 𝐰𝐞𝐫𝐞 𝐝𝐞𝐬𝐢𝐠𝐧𝐞𝐝 𝐛𝐲 𝐭𝐡𝐞 𝐧𝐞𝐜𝐞𝐬𝐬𝐚𝐫𝐲 𝐛𝐞𝐢𝐧𝐠 (𝐰𝐚𝐣𝐢𝐛 𝐚𝐥-𝐰𝐮𝐣𝐮𝐝) 𝐰𝐡𝐨 𝐝𝐞𝐦𝐨𝐧𝐬𝐭𝐫𝐚𝐭𝐞𝐬 𝐮𝐧𝐦𝐚𝐭𝐜𝐡𝐞𝐝 𝐩𝐨𝐰𝐞𝐫 𝐚𝐧𝐝 𝐢𝐧𝐭𝐞𝐥𝐥𝐢𝐠𝐞𝐧𝐜𝐞. 𝐂𝐥𝐚𝐢𝐦𝐢𝐧𝐠 𝐭𝐡𝐚𝐭 '𝐧𝐚𝐭𝐮𝐫𝐞' 𝐡𝐚𝐬 𝐭𝐡𝐞𝐬𝐞 𝐚𝐭𝐭𝐫𝐢𝐛𝐮𝐭𝐞𝐬, 𝐛𝐮𝐭 𝐬𝐡𝐨𝐮𝐥𝐝 𝐧𝐨𝐭 𝐛𝐞 𝐰𝐨𝐫𝐬𝐡𝐢𝐩𝐞𝐝, 𝐢𝐬 𝐚 𝐦𝐞𝐫𝐞𝐥𝐲 𝐫𝐡𝐞𝐭𝐨𝐫𝐢𝐜𝐚𝐥 𝐬𝐡𝐢𝐟𝐭.
𝐎𝐧 𝐭𝐡𝐞 𝐨𝐭𝐡𝐞𝐫 𝐡𝐚𝐧𝐝, 𝐢𝐟 𝐭𝐡𝐞𝐲 𝐬𝐚𝐲 𝐭𝐡𝐚𝐭 '𝐧𝐚𝐭𝐮𝐫𝐞' 𝐡𝐚𝐬 𝐧𝐨𝐧𝐞 𝐨𝐟 𝐭𝐡𝐞𝐬𝐞 𝐪𝐮𝐚𝐥𝐢𝐭𝐢𝐞𝐬 𝐚𝐭 𝐚𝐥𝐥, 𝐭𝐡𝐞𝐧 𝐢𝐭 𝐢𝐬 𝐟𝐥𝐚𝐭𝐥𝐲 𝐜𝐨𝐮𝐧𝐭𝐞𝐫-𝐢𝐧𝐭𝐮𝐢𝐭𝐢𝐯𝐞 𝐭𝐨 𝐩𝐞𝐨𝐩𝐥𝐞 𝐨𝐟 𝐬𝐨𝐮𝐧𝐝 𝐦𝐢𝐧𝐝. 𝐄𝐯𝐞𝐫𝐲𝐨𝐧𝐞 𝐤𝐧𝐨𝐰𝐬 𝐭𝐡𝐚𝐭 𝐬𝐨𝐦𝐞𝐭𝐡𝐢𝐧𝐠 𝐰𝐢𝐭𝐡 𝐭𝐡𝐞 𝐟𝐞𝐚𝐭𝐮𝐫𝐞𝐬 𝐨𝐟 𝐝𝐞𝐬𝐢𝐠𝐧 𝐦𝐮𝐬𝐭 𝐡𝐚𝐯𝐞 𝐚 𝐝𝐞𝐬𝐢𝐠𝐧𝐞𝐫. 𝐈𝐛𝐧 𝐚𝐥-𝐐𝐚𝐲𝐲𝐢𝐦 𝐜𝐨𝐧𝐭𝐢𝐧𝐮𝐞𝐬:
وَإِن قَالَت تِلْكَ بل الطبيعة عرض مَحْمُول مفتقر الى حَامِل وَهَذَا كُله فعلهَا بِغَيْر علم مِنْهَا وَلَا إِرَادَة وَلَا قدرَة وَلَا شُعُور اصلا وَقد شوهد من آثارها مَا شوهد فَقل لَهَا هَذَا مَالا يصدقهُ ذُو عقل سليم كَيفَ تصدر هَذِه الافعال العجيبة وَالْحكم الدقيقة الَّتِي تعجز عقول الْعُقَلَاء عَن مَعْرفَتهَا وَعَن الْقُدْرَة عَلَيْهَا مِمَّن لَا عقل لَهُ وَلَا قدرَة وَلَا حِكْمَة وَلَا شُعُور
𝐈𝐟 𝐭𝐡𝐞𝐲 𝐬𝐚𝐲 𝐧𝐨, 𝐫𝐚𝐭𝐡𝐞𝐫 𝐧𝐚𝐭𝐮𝐫𝐞 𝐢𝐬 𝐚 𝐪𝐮𝐚𝐥𝐢𝐭𝐲 𝐥𝐚𝐜𝐤𝐢𝐧𝐠 𝐚𝐠𝐞𝐧𝐜𝐲 𝐚𝐧𝐝 𝐚𝐥𝐥 𝐨𝐟 𝐢𝐭𝐬 𝐚𝐜𝐭𝐢𝐨𝐧𝐬 𝐚𝐫𝐞 𝐰𝐢𝐭𝐡𝐨𝐮𝐭 𝐤𝐧𝐨𝐰𝐥𝐞𝐝𝐠𝐞, 𝐰𝐢𝐥𝐥, 𝐩𝐨𝐰𝐞𝐫, 𝐨𝐫 𝐚𝐰𝐚𝐫𝐞𝐧𝐞𝐬𝐬 𝐚𝐭 𝐢𝐭𝐬 𝐬𝐨𝐮𝐫𝐜𝐞 𝐚𝐧𝐝 𝐨𝐧𝐥𝐲 𝐢𝐭𝐬 𝐞𝐟𝐟𝐞𝐜𝐭𝐬 𝐜𝐚𝐧 𝐛𝐞 𝐰𝐢𝐭𝐧𝐞𝐬𝐬𝐞𝐝, 𝐭𝐡𝐞𝐧 𝐬𝐚𝐲 𝐭𝐨 𝐭𝐡𝐞𝐦 𝐭𝐡𝐚𝐭 𝐭𝐡𝐢𝐬 𝐜𝐚𝐧𝐧𝐨𝐭 𝐛𝐞 𝐛𝐞𝐥𝐢𝐞𝐯𝐞𝐝 𝐛𝐲 𝐚𝐧𝐲 𝐩𝐞𝐫𝐬𝐨𝐧 𝐨𝐟 𝐬𝐨𝐮𝐧𝐝 𝐫𝐞𝐚𝐬𝐨𝐧.
𝐇𝐨𝐰 𝐝𝐨 𝐭𝐡𝐞𝐬𝐞 𝐰𝐨𝐧𝐝𝐫𝐨𝐮𝐬 𝐚𝐜𝐭𝐢𝐨𝐧𝐬 𝐚𝐧𝐝 𝐩𝐞𝐫𝐟𝐞𝐜𝐭 𝐬𝐮𝐛𝐭𝐥𝐞𝐭𝐢𝐞𝐬, 𝐰𝐡𝐢𝐜𝐡 𝐜𝐚𝐧𝐧𝐨𝐭 𝐛𝐞 𝐟𝐮𝐥𝐥𝐲 𝐤𝐧𝐨𝐰𝐧 𝐨𝐫 𝐦𝐞𝐚𝐬𝐮𝐫𝐞𝐝 𝐛𝐲 𝐭𝐡𝐞 𝐛𝐫𝐢𝐠𝐡𝐭𝐞𝐬𝐭 𝐨𝐟 𝐦𝐢𝐧𝐝𝐬, 𝐩𝐫𝐨𝐜𝐞𝐞𝐝 𝐟𝐫𝐨𝐦 𝐨𝐧𝐞 𝐰𝐢𝐭𝐡𝐨𝐮𝐭 𝐬𝐞𝐧𝐬𝐞, 𝐩𝐨𝐰𝐞𝐫, 𝐰𝐢𝐬𝐝𝐨𝐦, 𝐨𝐫 𝐚𝐰𝐚𝐫𝐞𝐧𝐞𝐬𝐬?
𝐒𝐨𝐮𝐫𝐜𝐞: 𝐌𝐢𝐟𝐭𝐚̄𝐡̣ 𝐃𝐚̄𝐫 𝐚𝐥-𝐒𝐚'𝐚̄𝐝𝐚𝐡 𝟏/𝟐𝟔𝟏
𝐈𝐭 𝐢𝐬 𝐞𝐧𝐭𝐢𝐫𝐞𝐥𝐲 𝐮𝐧𝐫𝐞𝐚𝐬𝐨𝐧𝐚𝐛𝐥𝐞 𝐭𝐨 𝐚𝐬𝐬𝐮𝐦𝐞 𝐭𝐡𝐚𝐭 𝐭𝐡𝐞 𝐮𝐧𝐢𝐯𝐞𝐫𝐬𝐞 𝐚𝐩𝐩𝐞𝐚𝐫𝐞𝐝 𝐛𝐲 𝐜𝐡𝐚𝐧𝐜𝐞, 𝐰𝐢𝐭𝐡𝐨𝐮𝐭 𝐚𝐧 𝐚𝐠𝐞𝐧𝐭 𝐨𝐫 𝐝𝐞𝐬𝐢𝐠𝐧𝐞𝐫. 𝐎𝐮𝐫 𝐢𝐧𝐬𝐭𝐢𝐧𝐜𝐭 𝐢𝐬 𝐭𝐨 𝐚𝐜𝐤𝐧𝐨𝐰𝐥𝐞𝐝𝐠𝐞 𝐭𝐡𝐞 𝐝𝐞𝐬𝐢𝐠𝐧𝐬 𝐨𝐟 𝐚 𝐝𝐞𝐬𝐢𝐠𝐧𝐞𝐫, 𝐰𝐡𝐞𝐭𝐡𝐞𝐫 𝐢𝐭 𝐢𝐬 𝐦𝐞𝐫𝐞𝐥𝐲 𝐚 𝐩𝐨𝐜𝐤𝐞𝐭 𝐰𝐚𝐭𝐜𝐡 𝐨𝐫 𝐭𝐡𝐞 𝐞𝐧𝐭𝐢𝐫𝐞 𝐞𝐚𝐫𝐭𝐡 𝐢𝐧 𝐚𝐥𝐥 𝐨𝐟 𝐢𝐭𝐬 𝐬𝐩𝐥𝐞𝐧𝐝𝐨𝐫. 𝐀𝐧𝐲𝐭𝐡𝐢𝐧𝐠 𝐞𝐥𝐬𝐞 𝐢𝐬 𝐚 𝐝𝐞𝐧𝐢𝐚𝐥 𝐨𝐟 𝐡𝐮𝐦𝐚𝐧 𝐧𝐚𝐭𝐮𝐫𝐞 𝐚𝐧𝐝 𝐫𝐚𝐭𝐢𝐨𝐧𝐚𝐥 𝐭𝐡𝐢𝐧𝐤𝐢𝐧𝐠.
𝐈𝐧 𝐬𝐮𝐦, 𝐭𝐡𝐞 𝐭𝐞𝐥𝐞𝐨𝐥𝐨𝐠𝐢𝐜𝐚𝐥 𝐚𝐫𝐠𝐮𝐦𝐞𝐧𝐭 𝐢𝐬 𝐬𝐭𝐫𝐨𝐧𝐠 𝐩𝐫𝐨𝐨𝐟 𝐨𝐟 𝐭𝐡𝐞 𝐞𝐱𝐢𝐬𝐭𝐞𝐧𝐜𝐞 𝐚𝐧𝐝 𝐚𝐠𝐞𝐧𝐜𝐲 𝐨𝐟 𝐭𝐡𝐞 𝐂𝐫𝐞𝐚𝐭𝐨𝐫. 𝐈𝐭 𝐢𝐬 𝐭𝐡𝐞 𝐩𝐫𝐞𝐟𝐞𝐫𝐫𝐞𝐝 𝐦𝐞𝐭𝐡𝐨𝐝 𝐨𝐟 𝐢𝐧𝐬𝐩𝐢𝐫𝐢𝐧𝐠 𝐟𝐚𝐢𝐭𝐡 𝐢𝐧 𝐀𝐥𝐥𝐚𝐡, 𝐛𝐞𝐟𝐨𝐫𝐞 𝐫𝐞𝐬𝐨𝐫𝐭𝐢𝐧𝐠 𝐭𝐨 𝐦𝐨𝐫𝐞 𝐩𝐡𝐢𝐥𝐨𝐬𝐨𝐩𝐡𝐢𝐜𝐚𝐥 𝐦𝐞𝐭𝐡𝐨𝐝𝐬 𝐨𝐟 𝐫𝐞𝐚𝐬𝐨𝐧𝐢𝐧𝐠.
𝐓𝐡𝐞 '𝐢𝐧𝐟𝐢𝐧𝐢𝐭𝐞 𝐦𝐨𝐧𝐤𝐞𝐲 𝐭𝐡𝐞𝐨𝐫𝐞𝐦' 𝐩𝐮𝐭 𝐟𝐨𝐫𝐭𝐡 𝐛𝐲 𝐚𝐭𝐡𝐞𝐢𝐬𝐭𝐬 𝐢𝐬 𝐢𝐧𝐯𝐚𝐥𝐢𝐝 𝐚𝐜𝐜𝐨𝐫𝐝𝐢𝐧𝐠 𝐭𝐨 𝐭𝐡𝐞𝐨𝐫𝐞𝐭𝐢𝐜𝐚𝐥 𝐚𝐧𝐝 𝐩𝐫𝐚𝐜𝐭𝐢𝐜𝐚𝐥 𝐦𝐚𝐭𝐡𝐞𝐦𝐚𝐭𝐢𝐜𝐬. 𝐓𝐡𝐞 𝐩𝐮𝐫𝐞𝐥𝐲 𝐧𝐚𝐭𝐮𝐫𝐚𝐥𝐢𝐬𝐭 𝐞𝐱𝐩𝐥𝐚𝐧𝐚𝐭𝐢𝐨𝐧𝐬 𝐨𝐟 𝐝𝐞𝐬𝐢𝐠𝐧 𝐢𝐧 𝐜𝐫𝐞𝐚𝐭𝐢𝐨𝐧 𝐚𝐥𝐬𝐨 𝐟𝐚𝐢𝐥 𝐭𝐨 𝐚𝐜𝐤𝐧𝐨𝐰𝐥𝐞𝐝𝐠𝐞 𝐭𝐡𝐞 𝐝𝐢𝐯𝐢𝐧𝐞 𝐚𝐭𝐭𝐫𝐢𝐛𝐮𝐭𝐞𝐬 (𝐰𝐢𝐥𝐥, 𝐤𝐧𝐨𝐰𝐥𝐞𝐝𝐠𝐞, 𝐩𝐨𝐰𝐞𝐫, 𝐞𝐭𝐜.) 𝐭𝐡𝐚𝐭 𝐥𝐨𝐠𝐢𝐜𝐚𝐥𝐥𝐲 𝐦𝐮𝐬𝐭 𝐫𝐞𝐬𝐢𝐝𝐞 𝐰𝐢𝐭𝐡𝐢𝐧 𝐭𝐡𝐞 𝐂𝐫𝐞𝐚𝐭𝐨𝐫.
𝐒𝐮𝐜𝐜𝐞𝐬𝐬 𝐜𝐨𝐦𝐞𝐬 𝐟𝐫𝐨𝐦 𝐀𝐥𝐥𝐚𝐡, 𝐚𝐧𝐝 𝐀𝐥𝐥𝐚𝐡 𝐤𝐧𝐨𝐰𝐬 𝐛𝐞𝐬𝐭.
The Scientific Miracles of the Qur'an