𝐃𝐢𝐝 𝐂𝐡𝐫𝐢𝐬𝐭𝐢𝐚𝐧𝐢𝐭𝐲 𝐬𝐩𝐫𝐞𝐚𝐝 𝐛𝐲 𝐭𝐡𝐞 𝐬𝐰𝐨𝐫𝐝?


Mohamad Mostafa Nassar
Twitter:@NassarMohamadMR
𝐀𝐧𝐬𝐰𝐞𝐫 𝐢𝐬:
𝐍𝐨, 𝐭𝐡𝐞𝐧 𝐲𝐞𝐬, 𝐭𝐡𝐞𝐧 𝐧𝐨.
𝐃𝐨 𝐧𝐨𝐭 𝐬𝐮𝐩𝐩𝐨𝐬𝐞 𝐭𝐡𝐚𝐭 𝐈 𝐡𝐚𝐯𝐞 𝐜𝐨𝐦𝐞 𝐭𝐨 𝐛𝐫𝐢𝐧𝐠 𝐩𝐞𝐚𝐜𝐞 𝐭𝐨 𝐭𝐡𝐞 𝐞𝐚𝐫𝐭𝐡. 𝐈 𝐝𝐢𝐝 𝐧𝐨𝐭 𝐜𝐨𝐦𝐞 𝐭𝐨 𝐛𝐫𝐢𝐧𝐠 𝐩𝐞𝐚𝐜𝐞, 𝐛𝐮𝐭 𝐚 𝐬𝐰𝐨𝐫𝐝. (𝐌𝐚𝐭𝐭𝐡𝐞𝐰 𝟏𝟎:𝟑𝟒)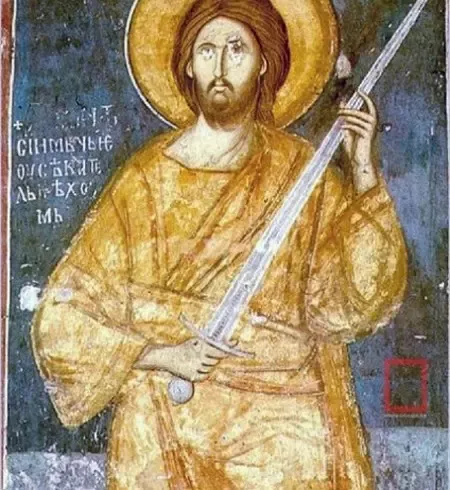 𝐂𝐨𝐧𝐯𝐞𝐫𝐬𝐢𝐨𝐧 𝐛𝐲 𝐭𝐡𝐞 𝐬𝐰𝐨𝐫𝐝 𝐢𝐬 𝐟𝐨𝐫𝐜𝐞𝐝 𝐜𝐨𝐧𝐯𝐞𝐫𝐬𝐢𝐨𝐧 𝐮𝐬𝐢𝐧𝐠 𝐚 𝐩𝐡𝐲𝐬𝐢𝐜𝐚𝐥 𝐭𝐡𝐫𝐞𝐚𝐭 𝐚𝐧𝐝/𝐨𝐫 𝐭𝐡𝐞 𝐭𝐡𝐫𝐞𝐚𝐭 𝐨𝐟 𝐝𝐞𝐚𝐭𝐡: 𝐜𝐨𝐧𝐯𝐞𝐫𝐭 𝐨𝐫 𝐝𝐢𝐞. 𝐅𝐫𝐨𝐦 𝐨𝐮𝐫 𝐦𝐨𝐝𝐞𝐫𝐧 𝐩𝐞𝐫𝐬𝐩𝐞𝐜𝐭𝐢𝐯𝐞, 𝐭𝐡𝐢𝐬 𝐢𝐬 𝐚 𝐟𝐨𝐫𝐦 𝐨𝐟 𝐩𝐞𝐫𝐬𝐞𝐜𝐮𝐭𝐢𝐨𝐧, 𝐚𝐧𝐝 𝐰𝐡𝐞𝐧 𝐢𝐭 𝐰𝐚𝐬 𝐡𝐚𝐩𝐩𝐞𝐧𝐢𝐧𝐠, 𝐚𝐧𝐝 𝐢𝐭 𝐝𝐢𝐝 𝐡𝐚𝐩𝐩𝐞𝐧, 𝐦𝐚𝐧𝐲 𝐨𝐭𝐡𝐞𝐫 𝐭𝐲𝐩𝐞𝐬 𝐨𝐟 𝐩𝐞𝐫𝐬𝐞𝐜𝐮𝐭𝐢𝐨𝐧 𝐰𝐞𝐫𝐞 𝐚𝐥𝐬𝐨 𝐭𝐚𝐤𝐢𝐧𝐠 𝐩𝐥𝐚𝐜𝐞.
𝐂𝐡𝐫𝐢𝐬𝐭𝐢𝐚𝐧𝐢𝐭𝐲 𝐝𝐢𝐝𝐧'𝐭 𝐬𝐭𝐚𝐫𝐭 𝐭𝐡𝐚𝐭 𝐰𝐚𝐲. 𝐓𝐡𝐞 𝐦𝐚𝐣𝐨𝐫𝐢𝐭𝐲 𝐨𝐟 𝐡𝐢𝐬𝐭𝐨𝐫𝐢𝐚𝐧𝐬 𝐚𝐠𝐫𝐞𝐞 𝐭𝐡𝐚𝐭 𝐭𝐡𝐞 𝐭𝐡𝐢𝐫𝐭𝐞𝐞𝐧𝐭𝐡 𝐜𝐞𝐧𝐭𝐮𝐫𝐲 𝐰𝐚𝐬 𝐚 𝐭𝐮𝐫𝐧𝐢𝐧𝐠 𝐩𝐨𝐢𝐧𝐭. 𝐅𝐫𝐨𝐦 𝐭𝐡𝐞 𝐞𝐥𝐞𝐯𝐞𝐧𝐭𝐡 (𝐚𝐟𝐭𝐞𝐫 𝟏𝟎𝟓𝟎) 𝐭𝐨 𝐭𝐡𝐞 𝐭𝐡𝐢𝐫𝐭𝐞𝐞𝐧𝐭𝐡 (𝐜.𝟏𝟐𝟓𝟎) 𝐜𝐞𝐧𝐭𝐮𝐫𝐢𝐞𝐬, 𝐭𝐡𝐢𝐧𝐠𝐬 𝐜𝐡𝐚𝐧𝐠𝐞𝐝 𝐚𝐜𝐫𝐨𝐬𝐬 𝐭𝐡𝐞 𝐛𝐨𝐚𝐫𝐝. 𝐂𝐡𝐮𝐫𝐜𝐡 𝐚𝐧𝐝 𝐬𝐨𝐜𝐢𝐞𝐭𝐲 𝐛𝐞𝐜𝐚𝐦𝐞 𝐦𝐨𝐫𝐞 𝐢𝐧𝐭𝐨𝐥𝐞𝐫𝐚𝐧𝐭 𝐚𝐧𝐝 𝐦𝐨𝐫𝐞 𝐚𝐮𝐭𝐡𝐨𝐫𝐢𝐭𝐚𝐫𝐢𝐚𝐧 𝐚𝐧𝐝 𝐦𝐨𝐫𝐞 𝐰𝐢𝐥𝐥𝐢𝐧𝐠 𝐭𝐨 𝐩𝐞𝐫𝐬𝐞𝐜𝐮𝐭𝐞 "𝐨𝐮𝐭𝐬𝐢𝐝𝐞𝐫𝐬." 𝐓𝐡𝐢𝐬 𝐢𝐬 𝐚𝐧 𝐚𝐜𝐜𝐞𝐩𝐭𝐞𝐝 𝐟𝐚𝐜𝐭 𝐚𝐦𝐨𝐧𝐠 𝐡𝐢𝐬𝐭𝐨𝐫𝐢𝐚𝐧𝐬.
𝐓𝐡𝐞𝐫𝐞 𝐰𝐚𝐬 𝐚 𝐝𝐫𝐚𝐬𝐭𝐢𝐜 𝐜𝐡𝐚𝐧𝐠𝐞 𝐢𝐧 𝐚𝐥𝐦𝐨𝐬𝐭 𝐞𝐯𝐞𝐫𝐲 𝐫𝐞𝐚𝐥𝐦 𝐨𝐟 𝐥𝐢𝐟𝐞. 𝐓𝐡𝐞 𝐜𝐫𝐮𝐬𝐚𝐝𝐞𝐬 𝐛𝐞𝐠𝐚𝐧, 𝐥𝐞𝐚𝐝𝐞𝐫𝐬 𝐥𝐞𝐟𝐭, 𝐭𝐡𝐞 𝐜𝐡𝐮𝐫𝐜𝐡 𝐛𝐞𝐜𝐚𝐦𝐞 𝐦𝐢𝐥𝐢𝐭𝐚𝐫𝐢𝐳𝐞𝐝, 𝐭𝐫𝐚𝐝𝐞 𝐨𝐩𝐞𝐧𝐞𝐝 𝐭𝐨 𝐭𝐡𝐞 𝐄𝐚𝐬𝐭, 𝐚 𝐜𝐚𝐬𝐡 𝐞𝐜𝐨𝐧𝐨𝐦𝐲 𝐝𝐞𝐯𝐞𝐥𝐨𝐩𝐞𝐝, 𝐮𝐫𝐛𝐚𝐧 𝐯𝐚𝐥𝐮𝐞𝐬 𝐫𝐨𝐬𝐞 𝐭𝐡𝐚𝐭 𝐫𝐞𝐩𝐥𝐚𝐜𝐞𝐝 𝐚𝐧𝐝 𝐜𝐡𝐚𝐥𝐥𝐞𝐧𝐠𝐞𝐝 𝐩𝐫𝐞𝐯𝐢𝐨𝐮𝐬 𝐯𝐚𝐥𝐮𝐞𝐬, 𝐥𝐢𝐭𝐞𝐫𝐚𝐜𝐲 𝐫𝐨𝐬𝐞 𝐚𝐧𝐝 𝐭𝐡𝐞 𝐥𝐢𝐭𝐞𝐫𝐚𝐭𝐞 𝐬𝐨𝐦𝐞𝐭𝐢𝐦𝐞𝐬 𝐮𝐬𝐞𝐝 𝐭𝐡𝐞𝐢𝐫 𝐢𝐧𝐟𝐥𝐮𝐞𝐧𝐜𝐞 𝐢𝐧 𝐬𝐮𝐩𝐩𝐨𝐫𝐭 𝐨𝐟 𝐩𝐞𝐫𝐬𝐞𝐜𝐮𝐭𝐢𝐨𝐧 𝐨𝐟 𝐦𝐢𝐧𝐨𝐫𝐢𝐭𝐢𝐞𝐬, 𝐭𝐡𝐞 𝐥𝐚𝐰 𝐜𝐡𝐚𝐧𝐠𝐞𝐝, 𝐭𝐡𝐞 𝐬𝐨𝐜𝐢𝐚𝐥 𝐬𝐭𝐫𝐮𝐜𝐭𝐮𝐫𝐞 𝐜𝐡𝐚𝐧𝐠𝐞𝐝, 𝐬𝐨𝐜𝐢𝐚𝐥 𝐢𝐝𝐞𝐚𝐥𝐬 𝐜𝐡𝐚𝐧𝐠𝐞𝐝: 𝐥𝐢𝐟𝐞, 𝐩𝐞𝐨𝐩𝐥𝐞, 𝐯𝐚𝐥𝐮𝐞𝐬 𝐚𝐧𝐝 𝐠𝐨𝐚𝐥𝐬, 𝐚𝐥𝐥 𝐛𝐞𝐠𝐚𝐧 𝐦𝐨𝐯𝐢𝐧𝐠 𝐭𝐨𝐰𝐚𝐫𝐝 𝐭𝐡𝐞 𝐬𝐞𝐜𝐮𝐥𝐚𝐫 𝐚𝐧𝐝 𝐭𝐡𝐞 𝐬𝐞𝐜𝐮𝐥𝐚𝐫 𝐒𝐭𝐚𝐭𝐞 𝐚𝐧𝐝 𝐚𝐰𝐚𝐲 𝐟𝐫𝐨𝐦 𝐭𝐡𝐞 𝐟𝐞𝐮𝐝𝐚𝐥 𝐚𝐧𝐝 𝐫𝐞𝐥𝐢𝐠𝐢𝐨𝐮𝐬. 𝐖𝐢𝐭𝐡𝐨𝐮𝐭 𝐚 𝐝𝐨𝐮𝐛𝐭 𝐭𝐡𝐢𝐬 "𝐝𝐢𝐬𝐥𝐨𝐜𝐚𝐭𝐢𝐨𝐧" 𝐝𝐢𝐬𝐨𝐫𝐢𝐞𝐧𝐭𝐞𝐝 𝐦𝐚𝐧𝐲.
𝐓𝐡𝐞 𝐠𝐫𝐨𝐰𝐭𝐡 𝐨𝐟 𝐬𝐞𝐜𝐮𝐥𝐚𝐫 𝐩𝐨𝐥𝐢𝐭𝐢𝐜𝐚𝐥 𝐩𝐨𝐰𝐞𝐫, 𝐚𝐧𝐝 𝐢𝐭𝐬 𝐜𝐞𝐧𝐭𝐫𝐚𝐥𝐢𝐳𝐚𝐭𝐢𝐨𝐧, 𝐰𝐞𝐫𝐞 𝐭𝐡𝐞 𝐝𝐫𝐢𝐯𝐢𝐧𝐠 𝐟𝐨𝐫𝐜𝐞𝐬 𝐛𝐞𝐡𝐢𝐧𝐝 𝐭𝐡𝐞 𝐝𝐞𝐯𝐞𝐥𝐨𝐩𝐦𝐞𝐧𝐭 𝐨𝐟 𝐩𝐞𝐫𝐬𝐞𝐜𝐮𝐭𝐢𝐨𝐧 𝐚𝐬 𝐚 𝐭𝐨𝐨𝐥 𝐨𝐟 𝐞𝐧𝐟𝐨𝐫𝐜𝐞𝐦𝐞𝐧𝐭, 𝐰𝐢𝐭𝐡 𝐭𝐡𝐞 𝐜𝐡𝐮𝐫𝐜𝐡, 𝐰𝐡𝐢𝐜𝐡 𝐰𝐚𝐬 𝐚𝐥𝐬𝐨 𝐛𝐞𝐜𝐨𝐦𝐢𝐧𝐠 𝐚 𝐜𝐞𝐧𝐭𝐫𝐚𝐥𝐢𝐳𝐞𝐝 𝐩𝐨𝐰𝐞𝐫, 𝐩𝐥𝐚𝐲𝐢𝐧𝐠 𝐚 𝐬𝐢𝐠𝐧𝐢𝐟𝐢𝐜𝐚𝐧𝐭 𝐫𝐨𝐥𝐞, 𝐛𝐮𝐭 𝐧𝐨𝐭 𝐭𝐡𝐞 𝐥𝐞𝐚𝐝𝐢𝐧𝐠 𝐨𝐧𝐞.[𝟏] [𝟐]
𝐍𝐞𝐯𝐞𝐫𝐭𝐡𝐞𝐥𝐞𝐬𝐬, 𝐭𝐡𝐞𝐫𝐞 𝐚𝐫𝐞 𝐞𝐠𝐫𝐞𝐠𝐢𝐨𝐮𝐬 𝐞𝐱𝐚𝐦𝐩𝐥𝐞𝐬 𝐨𝐟 𝐜𝐨𝐧𝐯𝐞𝐫𝐬𝐢𝐨𝐧 𝐛𝐲 𝐭𝐡𝐞 𝐬𝐰𝐨𝐫𝐝 𝐛𝐞𝐢𝐧𝐠 𝐮𝐬𝐞𝐝 𝐛𝐲 𝐭𝐡𝐞 𝐜𝐡𝐮𝐫𝐜𝐡 𝐨𝐟 𝐭𝐡𝐞 𝐌𝐢𝐝𝐝𝐥𝐞 𝐀𝐠𝐞𝐬 𝐢𝐧𝐯𝐨𝐥𝐯𝐢𝐧𝐠 𝐌𝐮𝐬𝐥𝐢𝐦𝐬, 𝐭𝐡𝐞 𝐉𝐞𝐰𝐬, 𝐭𝐡𝐞 𝐀𝐥𝐛𝐢𝐠𝐞𝐧𝐬𝐢𝐚𝐧 𝐚𝐧𝐝 𝐍𝐨𝐫𝐭𝐡𝐞𝐫𝐧 𝐂𝐫𝐮𝐬𝐚𝐝𝐞𝐬, 𝐭𝐡𝐞 𝐈𝐧𝐪𝐮𝐢𝐬𝐢𝐭𝐢𝐨𝐧, 𝐚𝐧𝐝 𝐭𝐡𝐞 𝐟𝐨𝐫𝐜𝐞𝐝 𝐜𝐨𝐧𝐯𝐞𝐫𝐬𝐢𝐨𝐧 𝐨𝐟 𝐧𝐚𝐭𝐢𝐯𝐞𝐬 𝐝𝐮𝐫𝐢𝐧𝐠 𝐜𝐨𝐥𝐨𝐧𝐢𝐳𝐚𝐭𝐢𝐨𝐧.
Forced conversions of Muslims in Spain
𝐓𝐡𝐞𝐧 𝐭𝐡𝐞 𝐜𝐡𝐮𝐫𝐜𝐡 𝐬𝐭𝐨𝐩𝐩𝐞𝐝. 𝐓𝐡𝐞 𝐬𝐞𝐜𝐮𝐥𝐚𝐫 𝐒𝐭𝐚𝐭𝐞 𝐝𝐢𝐝 𝐧𝐨𝐭.
---
𝐓𝐡𝐫𝐨𝐮𝐠𝐡𝐨𝐮𝐭 𝐢𝐭𝐬 𝐟𝐢𝐫𝐬𝐭 𝐦𝐢𝐥𝐥𝐞𝐧𝐧𝐢𝐮𝐦, 𝐂𝐡𝐫𝐢𝐬𝐭𝐢𝐚𝐧𝐢𝐭𝐲 𝐬𝐩𝐫𝐞𝐚𝐝 𝐚𝐥𝐦𝐨𝐬𝐭 𝐞𝐱𝐜𝐥𝐮𝐬𝐢𝐯𝐞𝐥𝐲 𝐛𝐲 𝐧𝐨𝐧-𝐯𝐢𝐨𝐥𝐞𝐧𝐭 𝐦𝐢𝐬𝐬𝐢𝐨𝐧𝐚𝐫𝐲 𝐚𝐜𝐭𝐢𝐯𝐢𝐭𝐲. 𝐓𝐡𝐞𝐫𝐞 𝐚𝐫𝐞 𝐡𝐮𝐧𝐝𝐫𝐞𝐝𝐬 𝐨𝐟 𝐞𝐱𝐚𝐦𝐩𝐥𝐞𝐬:[𝟑] 𝐭𝐡𝐞 𝐆𝐫𝐞𝐠𝐨𝐫𝐢𝐚𝐧 𝐦𝐢𝐬𝐬𝐢𝐨𝐧 𝐭𝐨 𝐭𝐡𝐞 𝐀𝐧𝐠𝐥𝐨-𝐒𝐚𝐱𝐨𝐧𝐬,[𝟒] 𝐭𝐡𝐞 𝐦𝐢𝐬𝐬𝐢𝐨𝐧 𝐭𝐨 𝐭𝐡𝐞 𝐏𝐢𝐜𝐭𝐬 𝐚𝐭 𝐈𝐨𝐧𝐚 𝐛𝐲 𝐂𝐨𝐥𝐮𝐦𝐛𝐚,[𝟓] 𝐒𝐭. 𝐁𝐨𝐧𝐢𝐟𝐚𝐜𝐞 𝐚𝐧𝐝 𝐭𝐡𝐞 𝐒𝐚𝐱𝐨𝐧𝐬 [𝟔] 𝐭𝐨 𝐦𝐞𝐧𝐭𝐢𝐨𝐧 𝐚 𝐟𝐞𝐰.[𝟕] 𝐀𝐧𝐲 𝐯𝐢𝐨𝐥𝐞𝐧𝐜𝐞 𝐢𝐧𝐯𝐨𝐥𝐯𝐞𝐝 𝐰𝐚𝐬 𝐝𝐢𝐫𝐞𝐜𝐭𝐞𝐝 𝐚𝐭 𝐭𝐡𝐞 𝐦𝐢𝐬𝐬𝐢𝐨𝐧𝐚𝐫𝐢𝐞𝐬,[𝟖][𝟗] 𝐧𝐨𝐭 𝐛𝐲 𝐭𝐡𝐞𝐦. 𝐅𝐨𝐫 𝐜𝐞𝐧𝐭𝐮𝐫𝐢𝐞𝐬, 𝐝𝐢𝐬𝐚𝐠𝐫𝐞𝐞𝐦𝐞𝐧𝐭 𝐚𝐦𝐨𝐧𝐠 𝐂𝐡𝐫𝐢𝐬𝐭𝐢𝐚𝐧𝐬 𝐰𝐚𝐬 𝐬𝐞𝐭𝐭𝐥𝐞𝐝 𝐛𝐲 𝐂𝐨𝐮𝐧𝐜𝐢𝐥𝐬—𝐧𝐨𝐭 𝐬𝐰𝐨𝐫𝐝𝐬.
𝐓𝐡𝐞 𝐂𝐡𝐫𝐢𝐬𝐭𝐢𝐚𝐧 𝐜𝐡𝐮𝐫𝐜𝐡 𝐦𝐢𝐠𝐡𝐭 𝐜𝐥𝐚𝐢𝐦 𝐭𝐨 𝐡𝐚𝐯𝐞 𝐧𝐨 𝐜𝐨𝐦𝐩𝐚𝐫𝐚𝐛𝐥𝐞 𝐝𝐨𝐜𝐭𝐫𝐢𝐧𝐞 𝐭𝐨 𝐣𝐢𝐡𝐚𝐝 (𝐰𝐡𝐢𝐜𝐡 𝐢𝐬 𝐦𝐚𝐢𝐧𝐥𝐲 𝐟𝐨𝐫 𝐬𝐞𝐥𝐟-𝐝𝐞𝐟𝐞𝐧𝐬𝐞 𝐢𝐧 𝐈𝐬𝐥𝐚𝐦) 𝐚𝐧𝐝 𝐝𝐢𝐝 𝐧𝐨𝐭, 𝐚𝐬 𝐚 𝐫𝐮𝐥𝐞, 𝐩𝐫𝐚𝐜𝐭𝐢𝐜𝐞 𝐜𝐨𝐧𝐯𝐞𝐫𝐬𝐢𝐨𝐧 𝐛𝐲 𝐭𝐡𝐞 𝐬𝐰𝐨𝐫𝐝 𝐨𝐫 𝐞𝐯𝐞𝐧 𝐮𝐬𝐞 𝐯𝐢𝐨𝐥𝐞𝐧𝐜𝐞 𝐢𝐧 𝐬𝐞𝐥𝐟-𝐝𝐞𝐟𝐞𝐧𝐬𝐞 𝐟𝐨𝐫 𝐜𝐞𝐧𝐭𝐮𝐫𝐢𝐞𝐬. (𝐓𝐡𝐚𝐭 𝐢𝐬 𝐧𝐨𝐭 𝐭𝐨 𝐬𝐚𝐲 𝐭𝐡𝐞𝐫𝐞 𝐚𝐫𝐞 𝐧𝐨 𝐚𝐥𝐥𝐞𝐠𝐞𝐝 𝐚𝐜𝐭𝐬 𝐨𝐟 𝐯𝐢𝐨𝐥𝐞𝐧𝐜𝐞 𝐛𝐲 𝐦𝐨𝐛𝐬 𝐨𝐫 𝐥𝐨𝐜𝐚𝐥𝐬 𝐚𝐜𝐭𝐢𝐧𝐠 𝐨𝐧 𝐭𝐡𝐞𝐢𝐫 𝐨𝐰𝐧 𝐰𝐢𝐭𝐡𝐨𝐮𝐭 𝐜𝐡𝐮𝐫𝐜𝐡 𝐚𝐩𝐩𝐫𝐨𝐯𝐚𝐥.)
𝐁𝐮𝐭 𝐬𝐮𝐜𝐡 𝐜𝐥𝐚𝐢𝐦 𝐛𝐲 𝐭𝐡𝐞 𝐜𝐡𝐮𝐫𝐜𝐡 𝐝𝐨𝐞𝐬 𝐧𝐨𝐭 𝐦𝐞𝐚𝐧 𝐭𝐡𝐚𝐭 𝐭𝐡𝐞 𝐁𝐢𝐛𝐥𝐢𝐜𝐚𝐥 𝐭𝐞𝐱𝐭𝐬 𝐚𝐫𝐞 𝐢𝐧𝐧𝐨𝐜𝐞𝐧𝐭 𝐟𝐫𝐨𝐦 𝐢𝐧𝐜𝐢𝐭𝐢𝐧𝐠 𝐫𝐚𝐩𝐞 𝐚𝐧𝐝 𝐦𝐮𝐫𝐝𝐞𝐫.
𝐓𝐡𝐞 𝐟𝐚𝐥𝐬𝐞 𝐩𝐫𝐞𝐭𝐞𝐧𝐭𝐢𝐨𝐮𝐬 𝐜𝐨𝐧𝐯𝐢𝐜𝐭𝐢𝐨𝐧 𝐭𝐡𝐚𝐭 𝐂𝐡𝐫𝐢𝐬𝐭𝐢𝐚𝐧𝐢𝐭𝐲 𝐰𝐚𝐬 𝐢𝐧𝐜𝐨𝐦𝐩𝐚𝐭𝐢𝐛𝐥𝐞 𝐰𝐢𝐭𝐡 𝐭𝐡𝐞 𝐰𝐢𝐥𝐥𝐟𝐮𝐥 𝐬𝐡𝐞𝐝𝐝𝐢𝐧𝐠 𝐨𝐟 𝐛𝐥𝐨𝐨𝐝 𝐰𝐚𝐬 𝐦𝐚𝐢𝐧𝐭𝐚𝐢𝐧𝐞𝐝 𝐚𝐧𝐝 𝐝𝐞𝐟𝐞𝐧𝐝𝐞𝐝 𝐛𝐲 𝐞𝐦𝐢𝐧𝐞𝐧𝐭 𝐢𝐧𝐝𝐢𝐯𝐢𝐝𝐮𝐚𝐥𝐬 𝐥𝐢𝐤𝐞 𝐓𝐞𝐫𝐭𝐮𝐥𝐥𝐢𝐚𝐧 𝐨𝐟 𝐂𝐚𝐫𝐭𝐡𝐚𝐠𝐞, 𝐇𝐢𝐩𝐩𝐨𝐥𝐲𝐭𝐮𝐬 𝐨𝐟 𝐑𝐨𝐦𝐞, 𝐚𝐧𝐝 𝐎𝐫𝐢𝐠𝐞𝐧 𝐨𝐟 𝐏𝐚𝐥𝐞𝐬𝐭𝐢𝐧𝐞 𝐚𝐧𝐝 𝐄𝐠𝐲𝐩𝐭, 𝐬𝐮𝐜𝐡 𝐟𝐚𝐥𝐬𝐞 𝐩𝐫𝐞𝐭𝐞𝐧𝐭𝐢𝐨𝐮𝐬 𝐜𝐨𝐧𝐯𝐢𝐜𝐭𝐢𝐨𝐧 𝐰𝐨𝐮𝐥𝐝 𝐛𝐞 𝐭𝐡𝐞 𝐨𝐭𝐡𝐞𝐫𝐰𝐢𝐬𝐞 𝐢𝐟 𝐭𝐡𝐞𝐲 𝐡𝐚𝐝 𝐭𝐡𝐞 𝐦𝐢𝐠𝐡𝐭 𝐚𝐧𝐝 𝐩𝐨𝐰𝐞𝐫 𝐚𝐭 𝐭𝐡𝐞 𝐭𝐢𝐦𝐞, 𝐰𝐡𝐢𝐜𝐡 𝐥𝐚𝐭𝐞𝐫 𝐭𝐡𝐞 𝐰𝐢𝐥𝐥𝐟𝐮𝐥 𝐬𝐡𝐞𝐝𝐝𝐢𝐧𝐠 𝐨𝐟 𝐛𝐥𝐨𝐨𝐝 𝐨𝐜𝐜𝐮𝐫𝐫𝐞𝐝.
𝐓𝐡𝐞 𝐟𝐚𝐥𝐬𝐞 𝐩𝐫𝐞𝐭𝐞𝐧𝐭𝐢𝐨𝐮𝐬 𝐜𝐨𝐧𝐯𝐢𝐜𝐭𝐢𝐨𝐧 𝐭𝐡𝐚𝐭 𝐂𝐡𝐫𝐢𝐬𝐭𝐢𝐚𝐧𝐢𝐭𝐲 𝐰𝐚𝐬 𝐢𝐧𝐜𝐨𝐦𝐩𝐚𝐭𝐢𝐛𝐥𝐞 𝐰𝐢𝐭𝐡 𝐭𝐡𝐞 𝐰𝐢𝐥𝐥𝐟𝐮𝐥 𝐬𝐡𝐞𝐝𝐝𝐢𝐧𝐠 𝐨𝐟 𝐛𝐥𝐨𝐨𝐝 𝐰𝐚𝐬 𝐚 𝐰𝐢𝐝𝐞𝐥𝐲 𝐡𝐞𝐥𝐝 𝐩𝐫𝐢𝐧𝐜𝐢𝐩𝐥𝐞 𝐭𝐡𝐚𝐭 𝐰𝐚𝐬 𝐛𝐞𝐥𝐢𝐞𝐯𝐞𝐝 𝐚𝐧𝐝 𝐚𝐜𝐭𝐞𝐝 𝐨𝐧 𝐢𝐧 𝐭𝐡𝐞 𝐂𝐡𝐮𝐫𝐜𝐡𝐞𝐬 𝐮𝐩 𝐚𝐧𝐝 𝐝𝐨𝐰𝐧 𝐂𝐡𝐫𝐢𝐬𝐭𝐞𝐧𝐝𝐨𝐦.[𝟏𝟎]
𝐓𝐡𝐢𝐬 𝐰𝐚𝐬 𝐝𝐞𝐦𝐨𝐧𝐬𝐭𝐫𝐚𝐭𝐞𝐝 𝐚 𝐟𝐞𝐰 𝐜𝐞𝐧𝐭𝐮𝐫𝐢𝐞𝐬 𝐥𝐚𝐭𝐞𝐫 𝐢𝐧 𝐭𝐡𝐞 𝐟𝐨𝐫𝐦 𝐨𝐟 𝐦𝐚𝐬𝐬 𝐬𝐥𝐚𝐮𝐠𝐡𝐭𝐞𝐫𝐢𝐧𝐠 𝐨𝐟 𝐭𝐡𝐞 𝐧𝐚𝐭𝐢𝐯𝐞𝐬 𝐚𝐧𝐝 𝐚𝐛𝐨𝐫𝐢𝐠𝐢𝐧𝐚𝐥𝐬 𝐨𝐟 𝐍𝐞𝐰 𝐙𝐞𝐚𝐥𝐚𝐧𝐝, 𝐀𝐮𝐬𝐭𝐫𝐚𝐥𝐢𝐚, 𝐂𝐚𝐧𝐚𝐝𝐚, 𝐭𝐡𝐞 𝐔𝐧𝐢𝐭𝐞𝐝 𝐒𝐭𝐚𝐭𝐞𝐬, 𝐭𝐡𝐞 𝐒𝐮𝐛-𝐈𝐧𝐝𝐢𝐚𝐧 𝐜𝐨𝐧𝐭𝐢𝐧𝐞𝐧𝐭, 𝐚𝐧𝐝 𝐦𝐚𝐧𝐲 𝐨𝐭𝐡𝐞𝐫 𝐀𝐟𝐫𝐢𝐜𝐚𝐧, 𝐀𝐫𝐚𝐛𝐢𝐜, 𝐚𝐧𝐝 𝐈𝐬𝐥𝐚𝐦𝐢𝐜 𝐜𝐨𝐮𝐧𝐭𝐫𝐢𝐞𝐬.
---
Then
𝐭𝐡𝐢𝐧𝐠𝐬 𝐛𝐞𝐠𝐚𝐧 𝐭𝐨 𝐜𝐡𝐚𝐧𝐠𝐞.
𝐏𝐨𝐰𝐞𝐫 𝐚𝐧𝐝 𝐏𝐞𝐫𝐬𝐨𝐧𝐚𝐥 𝐆𝐚𝐢𝐧
𝐁𝐞𝐭𝐰𝐞𝐞𝐧 𝐭𝐡𝐞 𝐞𝐥𝐞𝐯𝐞𝐧𝐭𝐡 𝐚𝐧𝐝 𝐭𝐡𝐢𝐫𝐭𝐞𝐞𝐧𝐭𝐡 𝐜𝐞𝐧𝐭𝐮𝐫𝐢𝐞𝐬, 𝐚 𝐧𝐞𝐰 𝐜𝐥𝐚𝐬𝐬 𝐨𝐟 𝐦𝐢𝐝𝐝𝐥𝐞-𝐦𝐚𝐧𝐚𝐠𝐞𝐦𝐞𝐧𝐭 𝐟𝐮𝐧𝐜𝐭𝐢𝐨𝐧𝐚𝐫𝐢𝐞𝐬 𝐢𝐧 𝐛𝐨𝐭𝐡 𝐜𝐡𝐮𝐫𝐜𝐡 𝐚𝐧𝐝 𝐬𝐭𝐚𝐭𝐞 𝐚𝐩𝐩𝐞𝐚𝐫𝐞𝐝: 𝐜𝐥𝐞𝐫𝐢𝐜𝐬 𝐚𝐧𝐝 𝐜𝐨𝐮𝐫𝐭𝐢𝐞𝐫𝐬. 𝐓𝐡𝐞𝐢𝐫 𝐩𝐫𝐢𝐦𝐚𝐫𝐲 𝐟𝐨𝐜𝐮𝐬 𝐫𝐞𝐯𝐨𝐥𝐯𝐞𝐝 𝐚𝐫𝐨𝐮𝐧𝐝 𝐞𝐱𝐭𝐞𝐧𝐝𝐢𝐧𝐠 𝐭𝐡𝐞 𝐩𝐨𝐥𝐢𝐭𝐢𝐜𝐚𝐥 𝐩𝐨𝐰𝐞𝐫 𝐨𝐟 𝐭𝐡𝐞𝐢𝐫 𝐦𝐚𝐬𝐭𝐞𝐫𝐬 𝐢𝐧 𝐨𝐫𝐝𝐞𝐫 𝐭𝐨 𝐜𝐨𝐧𝐬𝐨𝐥𝐢𝐝𝐚𝐭𝐞 𝐭𝐡𝐞𝐢𝐫 𝐨𝐰𝐧 𝐩𝐨𝐬𝐢𝐭𝐢𝐨𝐧 𝐚𝐧𝐝 𝐮𝐧𝐝𝐞𝐫𝐦𝐢𝐧𝐞 𝐭𝐡𝐞𝐢𝐫 𝐫𝐢𝐯𝐚𝐥𝐬.
𝐈𝐭 𝐰𝐚𝐬 𝐭𝐡𝐢𝐬 𝐠𝐫𝐨𝐮𝐩 𝐨𝐟 𝐩𝐞𝐨𝐩𝐥𝐞 𝐰𝐡𝐨 𝐩𝐫𝐨𝐜𝐥𝐚𝐢𝐦𝐞𝐝 𝐭𝐡𝐞 𝐝𝐚𝐧𝐠𝐞𝐫𝐬 𝐨𝐟 𝐦𝐢𝐧𝐨𝐫𝐢𝐭𝐲 𝐠𝐫𝐨𝐮𝐩𝐬; 𝐚𝐧𝐝 𝐢𝐭 𝐰𝐚𝐬 𝐭𝐡𝐢𝐬 𝐠𝐫𝐨𝐮𝐩 𝐰𝐡𝐨 𝐫𝐞𝐜𝐨𝐦𝐦𝐞𝐧𝐝𝐞𝐝 𝐭𝐡𝐞 𝐫𝐞𝐦𝐞𝐝𝐢𝐞𝐬 𝐢𝐧𝐯𝐨𝐥𝐯𝐢𝐧𝐠 𝐩𝐞𝐫𝐬𝐞𝐜𝐮𝐭𝐢𝐨𝐧 𝐚𝐧𝐝 𝐭𝐡𝐞 𝐬𝐰𝐨𝐫𝐝.
𝐓𝐡𝐞 𝐋𝐢𝐭𝐞𝐫𝐚𝐭𝐢 𝐰𝐫𝐨𝐭𝐞 𝐚𝐠𝐚𝐢𝐧𝐬𝐭 𝐌𝐢𝐧𝐨𝐫𝐢𝐭𝐢𝐞𝐬
𝐓𝐡𝐞 𝐫𝐨𝐥𝐞 𝐨𝐟 𝐭𝐡𝐞 𝐥𝐢𝐭𝐞𝐫𝐚𝐭𝐢 𝐰𝐚𝐬 𝐜𝐞𝐧𝐭𝐫𝐚𝐥.
… 𝐇𝐨𝐰𝐞𝐯𝐞𝐫, 𝐭𝐡𝐞 𝐭𝐫𝐞𝐦𝐞𝐧𝐝𝐨𝐮𝐬 𝐞𝐱𝐭𝐞𝐧𝐬𝐢𝐨𝐧 𝐨𝐟 𝐭𝐡𝐞 𝐩𝐨𝐰𝐞𝐫 𝐚𝐧𝐝 𝐢𝐧𝐟𝐥𝐮𝐞𝐧𝐜𝐞 𝐨𝐟 𝐭𝐡𝐞 𝐥𝐢𝐭𝐞𝐫𝐚𝐭𝐞 𝐢𝐬 𝐝𝐞𝐬𝐜𝐫𝐢𝐛𝐞𝐝, 𝐭𝐡𝐞 𝐝𝐞𝐯𝐞𝐥𝐨𝐩𝐦𝐞𝐧𝐭 𝐨𝐟 𝐩𝐞𝐫𝐬𝐞𝐜𝐮𝐭𝐢𝐨𝐧 𝐢𝐧 𝐚𝐥𝐥 𝐢𝐭𝐬 𝐟𝐨𝐫𝐦𝐬 𝐰𝐚𝐬 𝐩𝐚𝐫𝐭 𝐨𝐟 𝐢𝐭, 𝐚𝐧𝐝 𝐭𝐡𝐞𝐫𝐞𝐟𝐨𝐫𝐞 𝐢𝐧𝐬𝐞𝐩𝐚𝐫𝐚𝐛𝐥𝐞 𝐟𝐫𝐨𝐦 𝐭𝐡𝐞 𝐠𝐫𝐞𝐚𝐭 𝐚𝐧𝐝 𝐩𝐨𝐬𝐢𝐭𝐢𝐯𝐞 𝐚𝐜𝐡𝐢𝐞𝐯𝐞𝐦𝐞𝐧𝐭 𝐰𝐢𝐭𝐡 𝐰𝐡𝐢𝐜𝐡 𝐢𝐭 𝐢𝐬 𝐚𝐥𝐬𝐨 𝐚𝐬𝐬𝐨𝐜𝐢𝐚𝐭𝐞𝐝.
𝐏𝐨𝐰𝐞𝐫 𝐖𝐚𝐬 𝐂𝐞𝐧𝐭𝐫𝐚𝐥𝐢𝐳𝐞𝐝 𝐚𝐧𝐝 𝐓𝐡𝐞 𝐋𝐚𝐰 𝐂𝐡𝐚𝐧𝐠𝐞𝐝
𝐈𝐧 𝐭𝐡𝐞 𝐞𝐚𝐫𝐥𝐲 𝐦𝐞𝐝𝐢𝐞𝐯𝐚𝐥 𝐩𝐞𝐫𝐢𝐨𝐝 (𝟖𝟎𝟎𝐬), 𝐥𝐞𝐠𝐚𝐥 𝐜𝐨𝐝𝐞𝐬 𝐝𝐞𝐚𝐥𝐭 𝐝𝐢𝐫𝐞𝐜𝐭𝐥𝐲 𝐰𝐢𝐭𝐡 𝐭𝐡𝐞 𝐢𝐧𝐝𝐢𝐯𝐢𝐝𝐮𝐚𝐥 𝐨𝐟𝐟𝐞𝐧𝐝𝐞𝐫. 𝐏𝐮𝐧𝐢𝐬𝐡𝐦𝐞𝐧𝐭 𝐟𝐨𝐫 𝐜𝐫𝐢𝐦𝐢𝐧𝐚𝐥 𝐚𝐜𝐭𝐢𝐯𝐢𝐭𝐲 𝐰𝐚𝐬 𝐠𝐞𝐧𝐞𝐫𝐚𝐥𝐥𝐲 𝐫𝐞𝐬𝐨𝐥𝐯𝐞𝐝 𝐛𝐞𝐭𝐰𝐞𝐞𝐧 𝐭𝐡𝐞 𝐩𝐚𝐫𝐭𝐢𝐞𝐬 𝐢𝐧𝐯𝐨𝐥𝐯𝐞𝐝 𝐚𝐧𝐝, 𝐢𝐧 𝐭𝐡𝐞 𝐆𝐞𝐫𝐦𝐚𝐧𝐢𝐜 𝐦𝐚𝐧𝐧𝐞𝐫, 𝐨𝐟𝐭𝐞𝐧 𝐫𝐞𝐬𝐮𝐥𝐭𝐞𝐝 𝐢𝐧 𝐬𝐨𝐦𝐞 𝐟𝐨𝐫𝐦 𝐨𝐟 𝐦𝐨𝐧𝐞𝐭𝐚𝐫𝐲 𝐩𝐚𝐲𝐦𝐞𝐧𝐭.
𝐎𝐫𝐝𝐞𝐫 𝐰𝐚𝐬 𝐦𝐚𝐢𝐧𝐭𝐚𝐢𝐧𝐞𝐝 𝐛𝐲 𝐭𝐡𝐞 𝐜𝐨𝐦𝐦𝐮𝐧𝐢𝐭𝐲, 𝐟𝐚𝐦𝐢𝐥𝐲, 𝐚𝐧𝐝 𝐜𝐥𝐚𝐧.
𝐖𝐡𝐞𝐧 𝐭𝐡𝐞 𝐞𝐦𝐞𝐫𝐠𝐢𝐧𝐠 𝐧𝐚𝐭𝐢𝐨𝐧-𝐬𝐭𝐚𝐭𝐞𝐬 𝐨𝐟 𝐖𝐞𝐬𝐭𝐞𝐫𝐧 𝐄𝐮𝐫𝐨𝐩𝐞, 𝐚𝐧𝐝 𝐭𝐡𝐞 𝐩𝐚𝐩𝐚𝐜𝐲, 𝐛𝐞𝐠𝐚𝐧 𝐭𝐨 𝐜𝐞𝐧𝐭𝐫𝐚𝐥𝐢𝐳𝐞 𝐭𝐡𝐞𝐢𝐫 𝐩𝐨𝐰𝐞𝐫, 𝐭𝐚𝐤𝐢𝐧𝐠 𝐦𝐨𝐫𝐞 𝐚𝐧𝐝 𝐦𝐨𝐫𝐞 𝐨𝐟 𝐢𝐭 𝐟𝐨𝐫 𝐭𝐡𝐞𝐦𝐬𝐞𝐥𝐯𝐞𝐬 𝐚𝐧𝐝 𝐚𝐰𝐚𝐲 𝐟𝐫𝐨𝐦 𝐨𝐭𝐡𝐞𝐫𝐬, 𝐭𝐡𝐞𝐲 𝐝𝐞𝐯𝐞𝐥𝐨𝐩𝐞𝐝 𝐚 𝐬𝐲𝐬𝐭𝐞𝐦 𝐭𝐡𝐚𝐭 𝐢𝐧𝐜𝐥𝐮𝐝𝐞𝐝 𝐚𝐧 𝐚𝐩𝐩𝐚𝐫𝐚𝐭𝐮𝐬 𝐨𝐟 𝐬𝐩𝐞𝐜𝐢𝐚𝐥𝐢𝐳𝐞𝐝 𝐠𝐫𝐨𝐮𝐩𝐬 𝐬𝐮𝐜𝐡 𝐚𝐬 𝐩𝐨𝐥𝐢𝐜𝐞 𝐟𝐨𝐫𝐜𝐞𝐬 𝐚𝐧𝐝 𝐜𝐨𝐮𝐫𝐭𝐬 𝐨𝐟 𝐢𝐧𝐪𝐮𝐢𝐬𝐢𝐭𝐢𝐨𝐧 𝐮𝐬𝐞𝐝 𝐟𝐨𝐫 𝐭𝐡𝐞 𝐞𝐧𝐟𝐨𝐫𝐜𝐞𝐦𝐞𝐧𝐭 𝐨𝐟 𝐭𝐡𝐞𝐢𝐫 𝐧𝐞𝐰 𝐩𝐨𝐰𝐞𝐫.
𝐓𝐡𝐞 𝐨𝐫𝐝𝐞𝐫 𝐛𝐞𝐜𝐚𝐦𝐞 𝐢𝐦𝐩𝐨𝐬𝐞𝐝 𝐟𝐫𝐨𝐦 𝐚𝐛𝐨𝐯𝐞.
𝐓𝐡𝐢𝐬 𝐭𝐫𝐚𝐧𝐬𝐢𝐭𝐢𝐨𝐧 𝐡𝐚𝐝 𝐬𝐞𝐯𝐞𝐫𝐞 𝐫𝐞𝐩𝐞𝐫𝐜𝐮𝐬𝐬𝐢𝐨𝐧𝐬 𝐟𝐨𝐫 𝐦𝐢𝐧𝐨𝐫𝐢𝐭𝐢𝐞𝐬.
𝐕𝐢𝐜𝐭𝐢𝐦𝐥𝐞𝐬𝐬 𝐂𝐫𝐢𝐦𝐞𝐬 𝐖𝐞𝐫𝐞 𝐈𝐧𝐯𝐞𝐧𝐭𝐞𝐝
𝐓𝐡𝐞 𝐭𝐫𝐚𝐧𝐬𝐢𝐭𝐢𝐨𝐧 𝐟𝐫𝐨𝐦 𝐚 𝐩𝐚𝐬𝐬𝐢𝐯𝐞 𝐭𝐨 𝐚 𝐩𝐞𝐫𝐬𝐞𝐜𝐮𝐭𝐢𝐧𝐠 𝐬𝐨𝐜𝐢𝐞𝐭𝐲 𝐜𝐚𝐧 𝐛𝐞 𝐬𝐞𝐞𝐧 𝐢𝐧 𝐭𝐡𝐞 𝐢𝐧𝐜𝐫𝐞𝐚𝐬𝐞 𝐢𝐧 𝐛𝐨𝐭𝐡 𝐬𝐞𝐜𝐮𝐥𝐚𝐫 𝐚𝐧𝐝 𝐩𝐚𝐩𝐚𝐥 𝐥𝐞𝐠𝐢𝐬𝐥𝐚𝐭𝐢𝐨𝐧 𝐚𝐢𝐦𝐞𝐝 𝐚𝐭 𝐦𝐢𝐧𝐨𝐫𝐢𝐭𝐢𝐞𝐬. 𝐌𝐞𝐝𝐢𝐞𝐯𝐚𝐥 𝐫𝐮𝐥𝐞𝐫𝐬 𝐛𝐞𝐠𝐚𝐧 𝐭𝐨 𝐚𝐬𝐬𝐞𝐫𝐭 𝐭𝐡𝐞𝐢𝐫 𝐟𝐥𝐞𝐝𝐠𝐥𝐢𝐧𝐠 𝐚𝐮𝐭𝐡𝐨𝐫𝐢𝐭𝐲 𝐛𝐲 𝐜𝐫𝐞𝐚𝐭𝐢𝐧𝐠 𝐯𝐢𝐜𝐭𝐢𝐦𝐥𝐞𝐬𝐬 𝐜𝐫𝐢𝐦𝐞𝐬 𝐰𝐡𝐢𝐜𝐡 𝐰𝐞𝐫𝐞, 𝐢𝐧 𝐞𝐬𝐬𝐞𝐧𝐜𝐞, 𝐜𝐫𝐢𝐦𝐞𝐬 𝐚𝐠𝐚𝐢𝐧𝐬𝐭 𝐬𝐨𝐜𝐢𝐞𝐭𝐲, 𝐬𝐭𝐚𝐭𝐞, 𝐚𝐧𝐝 𝐦𝐨𝐫𝐚𝐥𝐢𝐭𝐲. 𝐓𝐡𝐞𝐬𝐞 𝐜𝐫𝐢𝐦𝐞𝐬 𝐰𝐞𝐫𝐞 𝐚𝐜𝐭𝐢𝐯𝐞𝐥𝐲 𝐬𝐨𝐮𝐠𝐡𝐭 𝐨𝐮𝐭 𝐚𝐧𝐝 𝐭𝐡𝐞 𝐚𝐥𝐥𝐞𝐠𝐞𝐝 𝐜𝐫𝐢𝐦𝐢𝐧𝐚𝐥𝐬 𝐰𝐞𝐫𝐞 𝐩𝐮𝐧𝐢𝐬𝐡𝐞𝐝: 𝐭𝐡𝐞𝐫𝐞 𝐰𝐚𝐬 𝐧𝐨 𝐢𝐧𝐝𝐢𝐯𝐢𝐝𝐮𝐚𝐥 𝐨𝐟𝐟𝐞𝐧𝐝𝐞𝐝 𝐩𝐚𝐫𝐭𝐲 𝐚𝐛𝐥𝐞 𝐭𝐨 𝐚𝐜𝐜𝐞𝐩𝐭 𝐫𝐞𝐬𝐭𝐢𝐭𝐮𝐭𝐢𝐨𝐧 𝐨𝐫 𝐫𝐞𝐜𝐨𝐦𝐩𝐞𝐧𝐬𝐞.
𝐁𝐲 𝟏𝟐𝟎𝟖, 𝐭𝐡𝐞𝐫𝐞 𝐰𝐚𝐬 𝐢𝐧𝐜𝐫𝐞𝐚𝐬𝐢𝐧𝐠𝐥𝐲 𝐬𝐞𝐯𝐞𝐫𝐞 𝐚𝐧𝐝 𝐰𝐢𝐝𝐞-𝐫𝐚𝐧𝐠𝐢𝐧𝐠 𝐥𝐚𝐰 𝐚𝐠𝐚𝐢𝐧𝐬𝐭 '𝐡𝐞𝐫𝐞𝐭𝐢𝐜𝐬.' 𝐈𝐧 𝟏𝟐𝟐𝟔, 𝐋𝐨𝐮𝐢𝐬 𝐕𝐈𝐈𝐈 𝐛𝐚𝐫𝐫𝐞𝐝 𝐡𝐞𝐫𝐞𝐭𝐢𝐜𝐬 𝐟𝐫𝐨𝐦 𝐩𝐮𝐛𝐥𝐢𝐜 𝐨𝐟𝐟𝐢𝐜𝐞 𝐚𝐧𝐝 𝐜𝐨𝐧𝐟𝐢𝐬𝐜𝐚𝐭𝐞𝐝 𝐭𝐡𝐞𝐢𝐫 𝐥𝐚𝐧𝐝𝐬. 𝐅𝐫𝐞𝐝𝐞𝐫𝐢𝐜𝐤 𝐈𝐈 𝐥𝐚𝐢𝐝 𝐝𝐨𝐰𝐧 𝐝𝐫𝐚𝐜𝐨𝐧𝐢𝐚𝐧 𝐦𝐞𝐚𝐬𝐮𝐫𝐞𝐬 𝐟𝐨𝐫 𝐡𝐢𝐬 𝐄𝐦𝐩𝐢𝐫𝐞, 𝐚𝐧𝐝 𝐢𝐧 𝟏𝟐𝟑𝟑, 𝐉𝐚𝐢𝐦𝐞 𝐭𝐡𝐞 𝐂𝐨𝐧𝐪𝐮𝐞𝐫𝐨𝐫 𝐨𝐟 𝐀𝐫𝐚𝐠𝐨𝐧 𝐦𝐨𝐯𝐞𝐝 𝐫𝐞𝐦𝐨𝐫𝐬𝐞𝐥𝐞𝐬𝐬𝐥𝐲 𝐚𝐠𝐚𝐢𝐧𝐬𝐭 𝐭𝐡𝐞 "𝐞𝐧𝐞𝐦𝐢𝐞𝐬 𝐨𝐟 𝐆𝐨𝐝" 𝐰𝐢𝐭𝐡 𝐭𝐡𝐞 𝐟𝐨𝐫𝐜𝐞 𝐨𝐟 𝐥𝐚𝐰.
𝐁𝐲 𝐭𝐡𝐞 𝟏𝟑𝟎𝟎𝐬, 𝐭𝐡𝐞𝐫𝐞 𝐰𝐚𝐬 𝐚 𝐟𝐨𝐫𝐦𝐢𝐝𝐚𝐛𝐥𝐞 𝐚𝐫𝐫𝐚𝐲 𝐨𝐟 𝐥𝐞𝐠𝐚𝐥 𝐬𝐚𝐧𝐜𝐭𝐢𝐨𝐧𝐬 𝐛𝐞𝐢𝐧𝐠 𝐮𝐬𝐞𝐝 𝐚𝐠𝐚𝐢𝐧𝐬𝐭 𝐦𝐢𝐧𝐨𝐫𝐢𝐭𝐢𝐞𝐬 𝐨𝐟 𝐚𝐥𝐥 𝐭𝐲𝐩𝐞𝐬.
𝐁𝐲 𝟏𝟒𝟕𝟖, 𝐊𝐢𝐧𝐠 𝐅𝐞𝐫𝐝𝐢𝐧𝐚𝐧𝐝 𝐨𝐟 𝐒𝐩𝐚𝐢𝐧 𝐛𝐞𝐜𝐚𝐦𝐞 𝐭𝐡𝐞 𝐫𝐨𝐥𝐞 𝐦𝐨𝐝𝐞𝐥 𝐟𝐨𝐫 𝐌𝐚𝐜𝐡𝐢𝐚𝐯𝐞𝐥𝐥𝐢'𝐬 "𝐓𝐡𝐞 𝐏𝐫𝐢𝐧𝐜𝐞." 𝐁𝐥𝐚𝐜𝐤𝐦𝐚𝐢𝐥𝐢𝐧𝐠 𝐭𝐡𝐞 𝐏𝐨𝐩𝐞, (𝐰𝐡𝐨 𝐭𝐫𝐢𝐞𝐝 𝐭𝐨 𝐬𝐡𝐮𝐭 𝐝𝐨𝐰𝐧 𝐭𝐡𝐞 𝐈𝐧𝐪𝐮𝐢𝐬𝐢𝐭𝐢𝐨𝐧 𝐢𝐧 𝐒𝐩𝐚𝐢𝐧 𝐛𝐞𝐜𝐚𝐮𝐬𝐞 𝐢𝐭 𝐮𝐬𝐞𝐝 𝐭𝐨𝐫𝐭𝐮𝐫𝐞), 𝐅𝐞𝐫𝐝𝐢𝐧𝐚𝐧𝐝 𝐭𝐨𝐨𝐤 𝐜𝐨𝐧𝐭𝐫𝐨𝐥 𝐨𝐟 𝐭𝐡𝐞 𝐒𝐩𝐚𝐧𝐢𝐬𝐡 𝐈𝐧𝐪𝐮𝐢𝐬𝐢𝐭𝐢𝐨𝐧 𝐟𝐨𝐫 𝐭𝐡𝐞 𝐜𝐫𝐨𝐰𝐧 𝐚𝐥𝐥𝐨𝐰𝐢𝐧𝐠 𝐡𝐢𝐦 𝐭𝐡𝐞 𝐟𝐮𝐥𝐥 𝐰𝐞𝐢𝐠𝐡𝐭 𝐨𝐟 𝐋𝐚𝐰 𝐚𝐧𝐝 𝐂𝐡𝐮𝐫𝐜𝐡 𝐜𝐨𝐦𝐛𝐢𝐧𝐞𝐝 𝐭𝐨 𝐮𝐧𝐢𝐟𝐲 𝐡𝐢𝐬 𝐧𝐞𝐰 𝐤𝐢𝐧𝐠𝐝𝐨𝐦 𝐚𝐧𝐝 𝐞𝐥𝐢𝐦𝐢𝐧𝐚𝐭𝐞 𝐚𝐥𝐥 𝐦𝐢𝐧𝐨𝐫𝐢𝐭𝐢𝐞𝐬.
𝐓𝐡𝐞 𝐅𝐨𝐮𝐫𝐭𝐡 𝐋𝐚𝐭𝐞𝐫𝐚𝐧 𝐜𝐨𝐮𝐧𝐜𝐢𝐥 𝐨𝐟 𝟏𝟐𝟏𝟓
𝐖𝐢𝐭𝐡𝐢𝐧 𝐭𝐡𝐞 𝐜𝐡𝐮𝐫𝐜𝐡, 𝐭𝐡𝐞 𝐅𝐨𝐫𝐭𝐡 𝐋𝐚𝐭𝐞𝐫𝐚𝐧 𝐂𝐨𝐮𝐧𝐜𝐢𝐥 𝐨𝐟 𝟏𝟐𝟏𝟓 𝐥𝐚𝐢𝐝 𝐝𝐨𝐰𝐧 𝐭𝐡𝐞 𝐦𝐞𝐜𝐡𝐚𝐧𝐢𝐬𝐦 𝐨𝐟 𝐩𝐞𝐫𝐬𝐞𝐜𝐮𝐭𝐢𝐨𝐧 𝐚𝐧𝐝 𝐜𝐫𝐞𝐚𝐭𝐞𝐝 𝐚 𝐫𝐚𝐧𝐠𝐞 𝐨𝐟 𝐬𝐚𝐧𝐜𝐭𝐢𝐨𝐧𝐬, 𝐰𝐡𝐢𝐜𝐡 𝐩𝐫𝐨𝐯𝐞𝐝 𝐭𝐨 𝐛𝐞 𝐚𝐝𝐚𝐩𝐭𝐚𝐛𝐥𝐞 𝐭𝐨 𝐚 𝐰𝐢𝐝𝐞 𝐯𝐚𝐫𝐢𝐞𝐭𝐲 𝐨𝐟 𝐯𝐢𝐜𝐭𝐢𝐦𝐬. 𝐓𝐡𝐞 𝐬𝐚𝐧𝐜𝐭𝐢𝐨𝐧𝐬 𝐨𝐫𝐢𝐠𝐢𝐧𝐚𝐥𝐥𝐲 𝐝𝐞𝐬𝐢𝐠𝐧𝐞𝐝 𝐟𝐨𝐫 𝐡𝐞𝐫𝐞𝐭𝐢𝐜𝐬, 𝐰𝐞𝐫𝐞 𝐞𝐚𝐬𝐢𝐥𝐲 𝐚𝐝𝐚𝐩𝐭𝐞𝐝 𝐟𝐨𝐫 𝐉𝐞𝐰𝐬, 𝐌𝐮𝐬𝐥𝐢𝐦𝐬, "𝐬𝐨𝐝𝐨𝐦𝐢𝐭𝐞𝐬", 𝐩𝐫𝐨𝐬𝐭𝐢𝐭𝐮𝐭𝐞𝐬, 𝐚𝐧𝐝 𝐚𝐧𝐲 𝐨𝐭𝐡𝐞𝐫 𝐦𝐢𝐧𝐨𝐫𝐢𝐭𝐲 𝐠𝐫𝐨𝐮𝐩𝐬 𝐭𝐡𝐚𝐭 𝐝𝐢𝐝 𝐧𝐨𝐭 𝐟𝐢𝐭 𝐢𝐧.
𝐈𝐧 𝐥𝐚𝐭𝐞𝐫 𝐜𝐞𝐧𝐭𝐮𝐫𝐢𝐞𝐬, 𝐭𝐚𝐫𝐠𝐞𝐭𝐬 𝐦𝐮𝐥𝐭𝐢𝐩𝐥𝐢𝐞𝐝. 𝐈𝐧 𝟏𝟔𝐭𝐡 𝐂𝐞𝐧𝐭𝐮𝐫𝐲 𝐆𝐞𝐫𝐦𝐚𝐧𝐲, 𝐛𝐞𝐠𝐠𝐚𝐫𝐬, 𝐠𝐲𝐩𝐬𝐢𝐞𝐬, 𝐬𝐩𝐞𝐧𝐝𝐭𝐡𝐫𝐢𝐟𝐭𝐬, 𝐝𝐢𝐬𝐜𝐡𝐚𝐫𝐠𝐞𝐝 𝐬𝐨𝐥𝐝𝐢𝐞𝐫𝐬, 𝐚𝐧𝐝 𝐨𝐭𝐡𝐞𝐫𝐬, 𝐰𝐞𝐫𝐞 𝐦𝐚𝐝𝐞 𝐯𝐮𝐥𝐧𝐞𝐫𝐚𝐛𝐥𝐞 𝐛𝐲 𝐛𝐞𝐢𝐧𝐠 𝐜𝐥𝐚𝐬𝐬𝐢𝐟𝐢𝐞𝐝 𝐚𝐬 𝐨𝐮𝐭𝐬𝐢𝐝𝐞𝐫𝐬; 𝐭𝐡𝐞 𝐰𝐢𝐭𝐜𝐡 𝐡𝐮𝐧𝐭𝐬 𝐨𝐟 𝐭𝐡𝐞 𝐬𝐢𝐱𝐭𝐞𝐞𝐧𝐭𝐡 𝐚𝐧𝐝 𝐬𝐞𝐯𝐞𝐧𝐭𝐞𝐞𝐧𝐭𝐡 𝐜𝐞𝐧𝐭𝐮𝐫𝐢𝐞𝐬 𝐰𝐞𝐫𝐞 𝐩𝐞𝐫𝐬𝐞𝐜𝐮𝐭𝐢𝐨𝐧𝐬 𝐛𝐚𝐬𝐞𝐝 𝐨𝐧 𝐠𝐞𝐧𝐝𝐞𝐫; 𝐚𝐧𝐝 𝐭𝐡𝐞 𝐭𝐨𝐭𝐚𝐥𝐢𝐭𝐚𝐫𝐢𝐚𝐧𝐢𝐬𝐦 𝐨𝐟 𝐭𝐡𝐞 𝐭𝐰𝐞𝐧𝐭𝐢𝐞𝐭𝐡 𝐜𝐞𝐧𝐭𝐮𝐫𝐲 𝐜𝐚𝐧 𝐛𝐞 𝐬𝐞𝐞𝐧 𝐚𝐬 𝐚𝐧 𝐨𝐮𝐭𝐠𝐫𝐨𝐰𝐭𝐡 𝐨𝐟 𝐭𝐡𝐞 𝐦𝐢𝐧𝐝𝐬𝐞𝐭 𝐭𝐡𝐚𝐭 𝐛𝐞𝐠𝐚𝐧 𝐢𝐧 𝐭𝐡𝐞 𝐌𝐢𝐝𝐝𝐥𝐞 𝐀𝐠𝐞𝐬 𝐭𝐨𝐰𝐚𝐫𝐝 𝐦𝐢𝐧𝐨𝐫𝐢𝐭𝐢𝐞𝐬 𝐚𝐧𝐝 𝐨𝐮𝐭𝐬𝐢𝐝𝐞𝐫𝐬.
𝐓𝐡𝐞 𝐅𝐨𝐮𝐫𝐭𝐡 𝐋𝐚𝐭𝐞𝐫𝐚𝐧 𝐂𝐨𝐮𝐧𝐜𝐢𝐥 𝐢𝐧𝐜𝐥𝐮𝐝𝐞𝐝 𝐚 𝐫𝐞𝐠𝐮𝐥𝐚𝐭𝐢𝐨𝐧 𝐭𝐡𝐚𝐭 𝐉𝐞𝐰𝐬 𝐦𝐮𝐬𝐭 𝐰𝐞𝐚𝐫 𝐚 𝐬𝐩𝐞𝐜𝐢𝐚𝐥 𝐝𝐫𝐞𝐬𝐬 𝐭𝐨 𝐝𝐢𝐬𝐭𝐢𝐧𝐠𝐮𝐢𝐬𝐡 𝐭𝐡𝐞𝐦 𝐟𝐫𝐨𝐦 𝐂𝐡𝐫𝐢𝐬𝐭𝐢𝐚𝐧𝐬: 𝐚 𝐲𝐞𝐥𝐥𝐨𝐰 𝐛𝐚𝐝𝐠𝐞.
---
𝐏𝐞𝐫𝐬𝐞𝐜𝐮𝐭𝐢𝐨𝐧 𝐛𝐞𝐠𝐚𝐧 𝐢𝐧 𝐭𝐡𝐞 𝐌𝐢𝐝𝐝𝐥𝐞 𝐀𝐠𝐞𝐬, 𝐚𝐧𝐝 𝐭𝐡𝐞 𝐄𝐧𝐥𝐢𝐠𝐡𝐭𝐞𝐧𝐦𝐞𝐧𝐭 𝐛𝐥𝐚𝐦𝐞𝐝 𝐭𝐡𝐞 𝐜𝐡𝐮𝐫𝐜𝐡. 𝐈𝐭 𝐬𝐞𝐞𝐦𝐞𝐝 𝐬𝐢𝐦𝐩𝐥𝐞 𝐞𝐧𝐨𝐮𝐠𝐡. 𝐁𝐮𝐭 𝐭𝐡𝐞 𝐝𝐞𝐜𝐞𝐧𝐭𝐫𝐚𝐥𝐢𝐳𝐚𝐭𝐢𝐨𝐧 𝐨𝐟 𝐭𝐡𝐞 𝐜𝐡𝐮𝐫𝐜𝐡, 𝐭𝐡𝐞 𝐜𝐥𝐨𝐬𝐢𝐧𝐠 𝐨𝐟 𝐜𝐨𝐮𝐫𝐭𝐬 𝐨𝐟 𝐢𝐧𝐪𝐮𝐢𝐬𝐢𝐭𝐢𝐨𝐧, 𝐚𝐧𝐝 𝐭𝐡𝐞 𝐞𝐥𝐢𝐦𝐢𝐧𝐚𝐭𝐢𝐨𝐧 𝐨𝐟 𝐜𝐡𝐮𝐫𝐜𝐡 𝐬𝐨𝐥𝐝𝐢𝐞𝐫𝐬, 𝐝𝐢𝐝 𝐧𝐨𝐭 𝐬𝐭𝐨𝐩 𝐭𝐡𝐞 𝐩𝐞𝐫𝐬𝐞𝐜𝐮𝐭𝐢𝐨𝐧 𝐚𝐧𝐝 𝐚𝐛𝐮𝐬𝐞𝐬 𝐨𝐟 𝐦𝐢𝐧𝐨𝐫𝐢𝐭𝐢𝐞𝐬 𝐢𝐧 𝐄𝐮𝐫𝐨𝐩𝐞𝐚𝐧 𝐬𝐨𝐜𝐢𝐞𝐭𝐢𝐞𝐬 𝐚𝐧𝐝 𝐭𝐡𝐞𝐢𝐫 𝐜𝐨𝐥𝐨𝐧𝐢𝐚𝐥 𝐨𝐟𝐟𝐬𝐡𝐨𝐨𝐭𝐬.
𝐏𝐞𝐫𝐬𝐞𝐜𝐮𝐭𝐢𝐨𝐧 𝐡𝐚𝐬 𝐜𝐨𝐧𝐭𝐢𝐧𝐮𝐞𝐝 𝐭𝐨 𝐛𝐞 𝐮𝐬𝐞𝐝 𝐛𝐲 𝐯𝐚𝐫𝐢𝐨𝐮𝐬 𝐒𝐭𝐚𝐭𝐞 𝐚𝐮𝐭𝐡𝐨𝐫𝐢𝐭𝐢𝐞𝐬 𝐭𝐡𝐫𝐨𝐮𝐠𝐡𝐨𝐮𝐭 𝐭𝐡𝐞 𝐭𝐰𝐞𝐧𝐭𝐢𝐞𝐭𝐡 𝐜𝐞𝐧𝐭𝐮𝐫𝐲, 𝐚𝐧𝐝 𝐨𝐧 𝐢𝐧𝐭𝐨 𝐭𝐡𝐞 𝐭𝐰𝐞𝐧𝐭𝐲-𝐟𝐢𝐫𝐬𝐭, 𝐭𝐨 𝐝𝐢𝐬𝐩𝐥𝐚𝐜𝐞 𝐩𝐨𝐩𝐮𝐥𝐚𝐫 𝐢𝐧𝐬𝐭𝐢𝐭𝐮𝐭𝐢𝐨𝐧𝐬 𝐚𝐧𝐝 𝐭𝐨 𝐢𝐧𝐭𝐞𝐫𝐟𝐞𝐫𝐞 𝐝𝐢𝐫𝐞𝐜𝐭𝐥𝐲 𝐢𝐧 𝐞𝐯𝐞𝐫𝐲 𝐚𝐬𝐩𝐞𝐜𝐭 𝐨𝐟 𝐝𝐚𝐢𝐥𝐲 𝐥𝐢𝐟𝐞. 𝐓𝐡𝐞 𝐦𝐨𝐝𝐞𝐫𝐧 𝐬𝐭𝐚𝐭𝐞 𝐡𝐚𝐬 𝐚𝐜𝐪𝐮𝐢𝐫𝐞𝐝 𝐚 𝐜𝐚𝐩𝐚𝐜𝐢𝐭𝐲 𝐭𝐨 𝐩𝐞𝐫𝐬𝐞𝐜𝐮𝐭𝐞 𝐛𝐞𝐲𝐨𝐧𝐝 𝐭𝐡𝐞 𝐝𝐫𝐞𝐚𝐦𝐬 𝐨𝐟 𝐞𝐯𝐞𝐧 𝐭𝐡𝐞 𝐦𝐨𝐬𝐭 𝐚𝐦𝐛𝐢𝐭𝐢𝐨𝐮𝐬 𝐦𝐞𝐝𝐢𝐞𝐯𝐚𝐥 𝐫𝐮𝐥𝐞𝐫. 𝐀𝐮𝐭𝐡𝐨𝐫𝐢𝐭𝐲 𝐢𝐬 𝐬𝐭𝐢𝐥𝐥 𝐢𝐦𝐩𝐨𝐬𝐞𝐝 𝐟𝐫𝐨𝐦 𝐭𝐡𝐞 𝐭𝐨𝐩-𝐝𝐨𝐰𝐧 𝐛𝐲 𝐬𝐩𝐞𝐜𝐢𝐚𝐥𝐢𝐳𝐞𝐝 𝐠𝐫𝐨𝐮𝐩𝐬 𝐰𝐢𝐭𝐡 𝐩𝐨𝐰𝐞𝐫 𝐟𝐫𝐨𝐦 𝐭𝐡𝐞 𝐒𝐭𝐚𝐭𝐞.
𝐒𝐢𝐧𝐜𝐞 𝐖𝐨𝐫𝐥𝐝 𝐖𝐚𝐫 𝐈𝐈, 𝐬𝐨𝐜𝐢𝐞𝐭𝐲 𝐡𝐚𝐬 𝐛𝐞𝐠𝐮𝐧 𝐫𝐞𝐜𝐨𝐠𝐧𝐢𝐳𝐢𝐧𝐠 𝐭𝐡𝐞 𝐧𝐞𝐞𝐝 𝐟𝐨𝐫 𝐬𝐨𝐦𝐞 𝐛𝐚𝐬𝐢𝐜 𝐜𝐡𝐚𝐧𝐠𝐞𝐬 𝐧𝐞𝐜𝐞𝐬𝐬𝐚𝐫𝐲 𝐭𝐨 𝐜𝐨𝐩𝐞 𝐰𝐢𝐭𝐡 𝐭𝐡𝐢𝐬. 𝐓𝐡𝐞𝐫𝐞 𝐡𝐚𝐬 𝐛𝐞𝐞𝐧 𝐚 𝐮𝐧𝐢𝐯𝐞𝐫𝐬𝐚𝐥 𝐦𝐨𝐯𝐞 𝐭𝐨 𝐚𝐟𝐟𝐢𝐫𝐦 𝐭𝐡𝐞 𝐢𝐧𝐚𝐥𝐢𝐞𝐧𝐚𝐛𝐥𝐞 𝐧𝐚𝐭𝐮𝐫𝐞 𝐨𝐟 𝐡𝐮𝐦𝐚𝐧 𝐫𝐢𝐠𝐡𝐭𝐬. 𝐃𝐢𝐬𝐜𝐮𝐬𝐬𝐢𝐨𝐧 𝐨𝐟 𝐭𝐡𝐞 𝐧𝐚𝐭𝐮𝐫𝐞 𝐨𝐟 𝐭𝐫𝐮𝐞 𝐝𝐞𝐦𝐨𝐜𝐫𝐚𝐜𝐲 𝐢𝐬 𝐛𝐞𝐢𝐧𝐠 𝐫𝐞𝐨𝐩𝐞𝐧𝐞𝐝. 𝐓𝐡𝐞𝐫𝐞 𝐡𝐚𝐬 𝐛𝐞𝐞𝐧 𝐚 𝐫𝐞𝐜𝐨𝐠𝐧𝐢𝐭𝐢𝐨𝐧 𝐨𝐟 𝐭𝐡𝐞 𝐧𝐞𝐜𝐞𝐬𝐬𝐢𝐭𝐲 𝐨𝐟 𝐭𝐡𝐞 𝐫𝐮𝐥𝐞 𝐨𝐟 𝐥𝐚𝐰 𝐭𝐨 𝐛𝐞 𝐞𝐪𝐮𝐚𝐥𝐥𝐲 𝐚𝐩𝐩𝐥𝐢𝐞𝐝 𝐟𝐨𝐫 "𝐜𝐢𝐯𝐢𝐥𝐢𝐳𝐚𝐭𝐢𝐨𝐧" 𝐭𝐨 𝐞𝐱𝐢𝐬𝐭.
𝐀𝐫𝐛𝐢𝐭𝐫𝐚𝐫𝐲 𝐚𝐫𝐫𝐞𝐬𝐭𝐬, 𝐢𝐦𝐩𝐫𝐢𝐬𝐨𝐧𝐦𝐞𝐧𝐭 𝐰𝐢𝐭𝐡𝐨𝐮𝐭 𝐭𝐫𝐢𝐚𝐥, 𝐭𝐨𝐫𝐭𝐮𝐫𝐞, 𝐢𝐧𝐯𝐚𝐬𝐢𝐨𝐧 𝐨𝐟 𝐩𝐫𝐢𝐯𝐚𝐜𝐲 𝐛𝐲 𝐭𝐡𝐞 𝐒𝐭𝐚𝐭𝐞, 𝐚𝐫𝐞 𝐛𝐞𝐢𝐧𝐠 𝐫𝐞𝐣𝐞𝐜𝐭𝐞𝐝 𝐨𝐧 𝐦𝐨𝐫𝐚𝐥 𝐠𝐫𝐨𝐮𝐧𝐝𝐬, 𝐛𝐮𝐭 𝐚𝐥𝐬𝐨 𝐨𝐧 𝐩𝐫𝐚𝐜𝐭𝐢𝐜𝐚𝐥 𝐨𝐧𝐞𝐬: 𝐞𝐜𝐨𝐧𝐨𝐦𝐢𝐞𝐬 𝐬𝐮𝐟𝐟𝐞𝐫 𝐰𝐡𝐞𝐧 𝐩𝐞𝐫𝐬𝐞𝐜𝐮𝐭𝐢𝐨𝐧 𝐢𝐬 𝐚𝐥𝐥𝐨𝐰𝐞𝐝. 𝐏𝐞𝐨𝐩𝐥𝐞 𝐬𝐮𝐟𝐟𝐞𝐫. 𝐓𝐡𝐞𝐬𝐞 𝐚𝐫𝐞 𝐭𝐡𝐞 𝐩𝐫𝐚𝐜𝐭𝐢𝐜𝐞𝐬 𝐭𝐡𝐚𝐭 𝐫𝐞𝐟𝐥𝐞𝐜𝐭 𝐚 𝐩𝐞𝐫𝐬𝐞𝐜𝐮𝐭𝐢𝐧𝐠 𝐬𝐨𝐜𝐢𝐞𝐭𝐲.
𝐌𝐢𝐧𝐨𝐫𝐢𝐭𝐢𝐞𝐬 𝐚𝐫𝐞 𝐭𝐡𝐞 𝐦𝐨𝐬𝐭 𝐯𝐮𝐥𝐧𝐞𝐫𝐚𝐛𝐥𝐞, 𝐛𝐮𝐭 𝐧𝐨 𝐨𝐧𝐞 𝐢𝐬 𝐬𝐚𝐟𝐞 𝐰𝐡𝐞𝐧 𝐚 𝐜𝐞𝐧𝐭𝐫𝐚𝐥𝐢𝐳𝐞𝐝 𝐩𝐨𝐰𝐞𝐫 𝐨𝐟 𝐚𝐧𝐲 𝐤𝐢𝐧𝐝—𝐫𝐞𝐥𝐢𝐠𝐢𝐨𝐮𝐬 𝐨𝐫 𝐬𝐞𝐜𝐮𝐥𝐚𝐫—𝐦𝐢𝐬𝐮𝐬𝐞𝐬 𝐢𝐭𝐬 𝐩𝐨𝐰𝐞𝐫 𝐭𝐨 𝐟𝐮𝐫𝐭𝐡𝐞𝐫 𝐢𝐭𝐬 𝐩𝐨𝐬𝐢𝐭𝐢𝐨𝐧 𝐚𝐭 𝐭𝐡𝐞 𝐞𝐱𝐩𝐞𝐧𝐬𝐞 𝐨𝐟 𝐢𝐭𝐬 𝐩𝐞𝐨𝐩𝐥𝐞.
---
𝐂𝐨𝐧𝐯𝐞𝐫𝐬𝐢𝐨𝐧 𝐛𝐲 𝐭𝐡𝐞 𝐬𝐰𝐨𝐫𝐝 𝐬𝐞𝐞𝐦𝐬 𝐢𝐦𝐩𝐨𝐬𝐬𝐢𝐛𝐥𝐞 𝐭𝐨 𝐜𝐨𝐦𝐩𝐫𝐞𝐡𝐞𝐧𝐝. 𝐈𝐭'𝐬 𝐦𝐨𝐫𝐞 𝐭𝐡𝐚𝐧 𝐣𝐮𝐬𝐭 𝐡𝐚𝐫𝐝 𝐭𝐨 𝐢𝐦𝐚𝐠𝐢𝐧𝐞, 𝐟𝐨𝐫 𝐭𝐡𝐞 𝐦𝐨𝐫𝐞 𝐰𝐞 𝐥𝐞𝐚𝐫𝐧 𝐚𝐛𝐨𝐮𝐭 𝐢𝐭, 𝐭𝐡𝐞 𝐦𝐨𝐫𝐞 𝐢𝐭 𝐛𝐞𝐜𝐨𝐦𝐞𝐬 𝐚 𝐭𝐫𝐮𝐞 𝐜𝐨𝐧𝐮𝐧𝐝𝐫𝐮𝐦. 𝐓𝐡𝐞 𝐄𝐧𝐥𝐢𝐠𝐡𝐭𝐞𝐧𝐦𝐞𝐧𝐭 𝐭𝐡𝐢𝐧𝐤𝐞𝐫𝐬 𝐛𝐥𝐚𝐦𝐞𝐝 𝐩𝐞𝐫𝐬𝐞𝐜𝐮𝐭𝐢𝐨𝐧 𝐨𝐧 𝐭𝐡𝐨𝐬𝐞 𝐰𝐢𝐭𝐡 𝐫𝐞𝐥𝐢𝐠𝐢𝐨𝐮𝐬 𝐜𝐨𝐧𝐯𝐢𝐜𝐭𝐢𝐨𝐧𝐬 𝐰𝐡𝐢𝐜𝐡, 𝐢𝐭 𝐢𝐬 𝐧𝐨𝐰 𝐮𝐧𝐢𝐯𝐞𝐫𝐬𝐚𝐥𝐥𝐲 𝐚𝐜𝐤𝐧𝐨𝐰𝐥𝐞𝐝𝐠𝐞𝐝, 𝐢𝐧𝐬𝐩𝐢𝐫𝐞𝐝 𝐭𝐡𝐞 𝐧𝐨𝐛𝐥𝐞𝐬𝐭 𝐦𝐢𝐧𝐝𝐬 𝐚𝐧𝐝 𝐡𝐢𝐠𝐡𝐞𝐬𝐭 𝐚𝐜𝐡𝐢𝐞𝐯𝐞𝐦𝐞𝐧𝐭𝐬 𝐨𝐟 𝐖𝐞𝐬𝐭𝐞𝐫𝐧 𝐡𝐢𝐬𝐭𝐨𝐫𝐲.
𝐇𝐨𝐰 𝐜𝐚𝐧 𝐛𝐨𝐭𝐡 𝐭𝐡𝐨𝐬𝐞 𝐭𝐡𝐢𝐧𝐠𝐬 𝐛𝐞 𝐭𝐫𝐮𝐞?
𝐒𝐢𝐧𝐜𝐞 𝐡𝐢𝐬𝐭𝐨𝐫𝐲 𝐧𝐨𝐰 𝐬𝐡𝐨𝐰𝐬 𝐯𝐢𝐨𝐥𝐞𝐧𝐜𝐞 𝐜𝐨𝐧𝐭𝐢𝐧𝐮𝐞𝐝 𝐥𝐨𝐧𝐠 𝐚𝐟𝐭𝐞𝐫 𝐭𝐡𝐞 𝐜𝐡𝐮𝐫𝐜𝐡 𝐥𝐨𝐬𝐭 𝐢𝐭𝐬 𝐞𝐧𝐟𝐨𝐫𝐜𝐞𝐫𝐬 𝐚𝐧𝐝 𝐢𝐭𝐬 𝐩𝐨𝐬𝐢𝐭𝐢𝐨𝐧 𝐚𝐬 𝐚 𝐜𝐞𝐧𝐭𝐫𝐚𝐥𝐢𝐳𝐞𝐝 𝐩𝐨𝐰𝐞𝐫, 𝐦𝐨𝐝𝐞𝐫𝐧 𝐬𝐜𝐡𝐨𝐥𝐚𝐫𝐬 𝐡𝐚𝐯𝐞 𝐥𝐨𝐨𝐤𝐞𝐝 𝐞𝐥𝐬𝐞𝐰𝐡𝐞𝐫𝐞 𝐟𝐨𝐫 𝐞𝐱𝐩𝐥𝐚𝐧𝐚𝐭𝐢𝐨𝐧, 𝐩𝐫𝐢𝐦𝐚𝐫𝐢𝐥𝐲 𝐛𝐥𝐚𝐦𝐢𝐧𝐠 𝐭𝐡𝐞 𝐯𝐢𝐨𝐥𝐞𝐧𝐜𝐞 𝐧𝐚𝐭𝐮𝐫𝐚𝐥 𝐭𝐨 𝐭𝐡𝐞 '𝐜𝐨𝐦𝐦𝐨𝐧' 𝐦𝐚𝐧 𝐨𝐟 𝐭𝐡𝐞 𝐌𝐢𝐝𝐝𝐥𝐞 𝐀𝐠𝐞𝐬 𝐢𝐧𝐬𝐭𝐞𝐚𝐝 𝐨𝐟 𝐭𝐡𝐞 𝐜𝐡𝐮𝐫𝐜𝐡. 𝐁𝐮𝐭 𝐡𝐨𝐰 𝐢𝐬 𝐢𝐭 𝐭𝐡𝐞 '𝐩𝐨𝐰𝐞𝐫𝐬 𝐭𝐡𝐚𝐭 𝐰𝐞𝐫𝐞' 𝐝𝐢𝐝 𝐰𝐡𝐚𝐭 𝐭𝐡𝐞 𝐦𝐚𝐬𝐬𝐞𝐬 𝐰𝐚𝐧𝐭𝐞𝐝?
𝐀𝐬 𝐢𝐭 𝐭𝐮𝐫𝐧𝐬 𝐨𝐮𝐭, 𝐭𝐡𝐞𝐬𝐞 𝐚 𝐩𝐫𝐢𝐨𝐫𝐢 𝐩𝐨𝐬𝐢𝐭𝐢𝐨𝐧𝐬 𝐚𝐫𝐞 𝐧𝐨𝐭 𝐰𝐞𝐥𝐥 𝐟𝐨𝐮𝐧𝐝𝐞𝐝 𝐢𝐧 𝐟𝐚𝐜𝐭. 𝐈𝐧𝐬𝐭𝐞𝐚𝐝, 𝐭𝐡𝐞𝐲 𝐚𝐫𝐞 𝐥𝐚𝐫𝐠𝐞𝐥𝐲 𝐚 𝐫𝐞𝐬𝐮𝐥𝐭 𝐨𝐟 𝐡𝐚𝐭𝐫𝐞𝐝 𝐨𝐟 𝐭𝐡𝐞 𝐜𝐡𝐮𝐫𝐜𝐡 𝐚𝐧𝐝 𝐭𝐡𝐞 𝐄𝐧𝐥𝐢𝐠𝐡𝐭𝐞𝐧𝐦𝐞𝐧𝐭 𝐛𝐞𝐥𝐢𝐞𝐟 𝐭𝐡𝐚𝐭 𝐥𝐢𝐛𝐞𝐫𝐭𝐲 𝐚𝐧𝐝 𝐩𝐫𝐨𝐠𝐫𝐞𝐬𝐬 𝐠𝐨 𝐡𝐚𝐧𝐝 𝐢𝐧 𝐡𝐚𝐧𝐝.
𝐓𝐡𝐞 𝐭𝐰𝐞𝐧𝐭𝐢𝐞𝐭𝐡 𝐜𝐞𝐧𝐭𝐮𝐫𝐲 𝐡𝐚𝐬 𝐩𝐫𝐞𝐭𝐭𝐲 𝐦𝐮𝐜𝐡 𝐩𝐮𝐭 𝐩𝐚𝐢𝐝 𝐭𝐨 𝐭𝐡𝐞 𝐄𝐧𝐥𝐢𝐠𝐡𝐭𝐞𝐧𝐦𝐞𝐧𝐭 𝐛𝐞𝐥𝐢𝐞𝐟 𝐭𝐡𝐚𝐭 "𝐛𝐚𝐫𝐛𝐚𝐫𝐨𝐮𝐬" 𝐬𝐨𝐜𝐢𝐞𝐭𝐢𝐞𝐬 𝐰𝐢𝐥𝐥 𝐢𝐧𝐞𝐯𝐢𝐭𝐚𝐛𝐥𝐲 𝐠𝐢𝐯𝐞 𝐰𝐚𝐲 𝐭𝐨 "𝐜𝐢𝐯𝐢𝐥𝐢𝐳𝐚𝐭𝐢𝐨𝐧," 𝐚𝐧𝐝 𝐚𝐥𝐬𝐨 𝐦𝐚𝐝𝐞 𝐢𝐭 𝐜𝐥𝐞𝐚𝐫 𝐭𝐡𝐚𝐭 𝐭𝐡𝐞 𝐫𝐞𝐦𝐨𝐯𝐚𝐥 𝐨𝐟 𝐭𝐡𝐞 𝐜𝐡𝐮𝐫𝐜𝐡 𝐚𝐬 𝐚 𝐜𝐞𝐧𝐭𝐫𝐚𝐥𝐢𝐳𝐞𝐝 𝐩𝐨𝐰𝐞𝐫 𝐝𝐢𝐝 𝐧𝐨𝐭 𝐬𝐭𝐨𝐩 𝐩𝐞𝐫𝐬𝐞𝐜𝐮𝐭𝐢𝐨𝐧.
𝐈𝐧 𝐭𝐡𝐞 𝐭𝐰𝐞𝐧𝐭𝐲-𝐟𝐢𝐫𝐬𝐭 𝐜𝐞𝐧𝐭𝐮𝐫𝐲, 𝐭𝐡𝐞 𝐪𝐮𝐞𝐬𝐭𝐢𝐨𝐧 𝐨𝐟 𝐜𝐚𝐮𝐬𝐚𝐥𝐢𝐭𝐲 𝐫𝐞𝐦𝐚𝐢𝐧𝐬 𝐨𝐩𝐞𝐧.
"… 𝐭𝐡𝐞 𝐡𝐨𝐧𝐨𝐫𝐚𝐛𝐥𝐞 𝐚𝐧𝐝 𝐩𝐫𝐨𝐩𝐞𝐫 𝐬𝐭𝐫𝐮𝐠𝐠𝐥𝐞 𝐨𝐟 𝐬𝐞𝐫𝐢𝐨𝐮𝐬 𝐡𝐢𝐬𝐭𝐨𝐫𝐢𝐚𝐧𝐬 𝐨𝐟 𝐚𝐥𝐥 𝐫𝐞𝐥𝐢𝐠𝐢𝐨𝐮𝐬 𝐩𝐞𝐫𝐬𝐮𝐚𝐬𝐢𝐨𝐧𝐬 𝐚𝐧𝐝 𝐧𝐨𝐧𝐞, 𝐢𝐬 𝐭𝐨 𝐚𝐜𝐡𝐢𝐞𝐯𝐞 𝐚 𝐬𝐲𝐦𝐩𝐚𝐭𝐡𝐞𝐭𝐢𝐜 𝐜𝐨𝐦𝐩𝐫𝐞𝐡𝐞𝐧𝐬𝐢𝐨𝐧 𝐨𝐟 𝐚 𝐝𝐢𝐬𝐭𝐚𝐧𝐭 𝐜𝐢𝐯𝐢𝐥𝐢𝐳𝐚𝐭𝐢𝐨𝐧 𝐚𝐧𝐝 𝐢𝐭𝐬 𝐢𝐧𝐬𝐭𝐢𝐭𝐮𝐭𝐢𝐨𝐧𝐬. … 𝐭𝐨 𝐬𝐞𝐝𝐮𝐥𝐨𝐮𝐬𝐥𝐲 𝐬𝐭𝐫𝐢𝐯𝐞, 𝐰𝐢𝐭𝐡 𝐒𝐩𝐢𝐧𝐨𝐳𝐚, 𝐧𝐨𝐭 𝐭𝐨 𝐫𝐢𝐝𝐢𝐜𝐮𝐥𝐞 𝐦𝐞𝐧'𝐬 𝐚𝐜𝐭𝐢𝐨𝐧𝐬, 𝐨𝐫 𝐛𝐞𝐰𝐚𝐢𝐥 𝐭𝐡𝐞𝐦, 𝐨𝐫 𝐝𝐞𝐬𝐩𝐢𝐬𝐞 𝐭𝐡𝐞𝐦, 𝐛𝐮𝐭 𝐭𝐨 𝐮𝐧𝐝𝐞𝐫𝐬𝐭𝐚𝐧𝐝." 𝐑.𝐈.𝐌𝐨𝐨𝐫𝐞
𝐋𝐞𝐭 𝐮𝐬 𝐬𝐭𝐫𝐢𝐯𝐞 𝐭𝐨 𝐮𝐧𝐝𝐞𝐫𝐬𝐭𝐚𝐧𝐝.
---
𝐀𝐃𝐃𝐈𝐓𝐈𝐎𝐍𝐀𝐋 𝐑𝐄𝐀𝐃𝐈𝐍𝐆
𝐑𝐨𝐦𝐚𝐧 𝐂𝐡𝐫𝐢𝐬𝐭𝐢𝐚𝐧𝐢𝐭𝐲
𝐅𝐨𝐫𝐦𝐞𝐫𝐥𝐲 𝐚 𝐩𝐞𝐫𝐬𝐞𝐜𝐮𝐭𝐞𝐝 𝐚𝐧𝐝 𝐯𝐨𝐥𝐮𝐧𝐭𝐚𝐫𝐲 𝐜𝐨𝐦𝐦𝐮𝐧𝐢𝐭𝐲, 𝐭𝐡𝐞 𝐂𝐡𝐮𝐫𝐜𝐡 𝐚𝐟𝐭𝐞𝐫 𝐂𝐨𝐧𝐬𝐭𝐚𝐧𝐭𝐢𝐧𝐞 𝐞𝐧𝐣𝐨𝐲𝐞𝐝, 𝐧𝐨𝐭 𝐣𝐮𝐬𝐭 𝐫𝐞𝐥𝐢𝐞𝐟, 𝐛𝐮𝐭 𝐞𝐯𝐞𝐧𝐭𝐮𝐚𝐥𝐥𝐲, 𝐟𝐚𝐯𝐨𝐫. 𝐋𝐚𝐭𝐞𝐫 𝐄𝐦𝐩𝐞𝐫𝐨𝐫𝐬 𝐞𝐢𝐭𝐡𝐞𝐫 𝐭𝐨𝐥𝐞𝐫𝐚𝐭𝐞𝐝 𝐨𝐫 𝐞𝐦𝐛𝐫𝐚𝐜𝐞𝐝 𝐂𝐡𝐫𝐢𝐬𝐭𝐢𝐚𝐧𝐢𝐭𝐲, 𝐰𝐡𝐢𝐜𝐡 𝐜𝐨𝐧𝐭𝐢𝐧𝐮𝐞𝐝 𝐭𝐨 𝐠𝐫𝐨𝐰 𝐢𝐧 𝐩𝐨𝐩𝐮𝐥𝐚𝐫𝐢𝐭𝐲, 𝐮𝐧𝐭𝐢𝐥 𝐢𝐧 𝟑𝟖𝟎 𝐀𝐃 𝐄𝐦𝐩𝐞𝐫𝐨𝐫 𝐓𝐡𝐞𝐨𝐝𝐨𝐬𝐢𝐮𝐬 𝐈 𝐦𝐚𝐝𝐞 𝐢𝐭 𝐭𝐡𝐞 𝐨𝐟𝐟𝐢𝐜𝐢𝐚𝐥 𝐬𝐭𝐚𝐭𝐞 𝐫𝐞𝐥𝐢𝐠𝐢𝐨𝐧 𝐨𝐟 𝐭𝐡𝐞 𝐑𝐨𝐦𝐚𝐧 𝐄𝐦𝐩𝐢𝐫𝐞.
𝐓𝐡𝐢𝐬 𝐧𝐞𝐰 𝐬𝐨𝐜𝐢𝐚𝐥 𝐬𝐢𝐭𝐮𝐚𝐭𝐢𝐨𝐧 𝐩𝐫𝐞𝐜𝐢𝐩𝐢𝐭𝐚𝐭𝐞𝐝 𝐟𝐮𝐧𝐝𝐚𝐦𝐞𝐧𝐭𝐚𝐥 𝐬𝐡𝐢𝐟𝐭𝐬 𝐢𝐧 𝐂𝐡𝐫𝐢𝐬𝐭𝐢𝐚𝐧 𝐞𝐭𝐡𝐢𝐜𝐚𝐥 𝐭𝐡𝐢𝐧𝐤𝐢𝐧𝐠. 𝐓𝐡𝐞 𝐭𝐫𝐚𝐧𝐬𝐢𝐭𝐢𝐨𝐧 𝐟𝐫𝐨𝐦 𝐞𝐚𝐫𝐥𝐲 𝐂𝐡𝐫𝐢𝐬𝐭𝐢𝐚𝐧 𝐩𝐚𝐜𝐢𝐟𝐢𝐬𝐦 𝐭𝐨 𝐭𝐡𝐞 𝐥𝐚𝐭𝐞𝐫 𝐂𝐡𝐫𝐢𝐬𝐭𝐢𝐚𝐧 𝐞𝐦𝐛𝐫𝐚𝐜𝐞 𝐨𝐟 𝐬𝐨𝐥𝐝𝐢𝐞𝐫𝐢𝐧𝐠 𝐚𝐬 𝐚 𝐩𝐫𝐨𝐩𝐞𝐫 𝐂𝐡𝐫𝐢𝐬𝐭𝐢𝐚𝐧 𝐝𝐮𝐭𝐲 𝐜𝐨𝐧𝐜𝐫𝐞𝐭𝐞𝐥𝐲 𝐞𝐩𝐢𝐭𝐨𝐦𝐢𝐳𝐞𝐬 𝐭𝐡𝐢𝐬. 𝐇𝐨𝐰𝐞𝐯𝐞𝐫, 𝐭𝐡𝐢𝐬 𝐬𝐡𝐢𝐟𝐭 𝐝𝐢𝐝 𝐧𝐨𝐭 𝐢𝐧𝐜𝐥𝐮𝐝𝐞 𝐞𝐦𝐛𝐫𝐚𝐜𝐢𝐧𝐠 𝐜𝐨𝐧𝐯𝐞𝐫𝐬𝐢𝐨𝐧 𝐛𝐲 𝐭𝐡𝐞 𝐬𝐰𝐨𝐫𝐝.
𝐓𝐡𝐞𝐨𝐝𝐨𝐬𝐢𝐮𝐬' 𝐄𝐝𝐢𝐜𝐭 𝐨𝐟 𝐓𝐡𝐞𝐬𝐬𝐚𝐥𝐨𝐧𝐢𝐜𝐚 𝐰𝐚𝐬 𝐝𝐞𝐬𝐢𝐠𝐧𝐞𝐝 𝐚𝐬 𝐭𝐡𝐞 𝐟𝐢𝐧𝐚𝐥 𝐰𝐨𝐫𝐝 𝐨𝐧 𝐜𝐨𝐧𝐭𝐫𝐨𝐯𝐞𝐫𝐬𝐢𝐞𝐬 𝐰𝐢𝐭𝐡𝐢𝐧 𝐭𝐡𝐞 𝐞𝐚𝐫𝐥𝐲 𝐜𝐡𝐮𝐫𝐜𝐡. 𝐖𝐢𝐭𝐡 𝐢𝐭, 𝐭𝐡𝐞 𝐨𝐥𝐝 𝐩𝐚𝐠𝐚𝐧 𝐫𝐞𝐥𝐢𝐠𝐢𝐨𝐧𝐬 𝐰𝐞𝐫𝐞 𝐧𝐨𝐰 𝐬𝐮𝐩𝐩𝐫𝐞𝐬𝐬𝐞𝐝. 𝐓𝐞𝐦𝐩𝐥𝐞𝐬 𝐰𝐞𝐫𝐞 𝐝𝐞𝐬𝐭𝐫𝐨𝐲𝐞𝐝, 𝐦𝐨𝐧𝐞𝐭𝐚𝐫𝐲 𝐬𝐮𝐩𝐩𝐨𝐫𝐭 𝐰𝐚𝐬 𝐰𝐢𝐭𝐡𝐝𝐫𝐚𝐰𝐧, 𝐚𝐧𝐝 𝐯𝐚𝐫𝐢𝐨𝐮𝐬 𝐨𝐭𝐡𝐞𝐫 𝐫𝐞𝐩𝐫𝐞𝐬𝐬𝐢𝐯𝐞 𝐦𝐞𝐚𝐬𝐮𝐫𝐞𝐬 𝐰𝐞𝐫𝐞 𝐭𝐚𝐤𝐞𝐧, 𝐛𝐮𝐭 𝐭𝐡𝐞𝐫𝐞 𝐰𝐞𝐫𝐞 𝐧𝐨 𝐦𝐚𝐬𝐬 𝐦𝐮𝐫𝐝𝐞𝐫𝐬 𝐨𝐟 𝐩𝐚𝐠𝐚𝐧𝐬. 𝐂𝐡𝐫𝐢𝐬𝐭𝐢𝐚𝐧 𝐥𝐞𝐚𝐝𝐞𝐫𝐬 𝐝𝐢𝐝 𝐧𝐨𝐭 𝐬𝐮𝐩𝐩𝐨𝐫𝐭 𝐜𝐨𝐧𝐯𝐞𝐫𝐬𝐢𝐨𝐧 𝐛𝐲 𝐭𝐡𝐞 𝐬𝐰𝐨𝐫𝐝. 𝐀𝐦𝐛𝐫𝐨𝐬𝐞'𝐬 𝐫𝐞𝐬𝐩𝐨𝐧𝐬𝐞 𝐭𝐨 𝐭𝐡𝐞 𝐌𝐚𝐬𝐬𝐚𝐜𝐫𝐞 𝐚𝐭 𝐓𝐡𝐞𝐬𝐬𝐚𝐥𝐨𝐧𝐢𝐜𝐚 𝐢𝐬 𝐬𝐮𝐟𝐟𝐢𝐜𝐢𝐞𝐧𝐭 𝐩𝐫𝐨𝐨𝐟.[𝟏𝟏] 𝐓𝐡𝐞𝐨𝐝𝐨𝐬𝐢𝐮𝐬 𝐤𝐢𝐥𝐥𝐞𝐝 𝟕𝟎𝟎𝟎 𝐩𝐚𝐠𝐚𝐧𝐬 𝐰𝐡𝐨 𝐫𝐢𝐨𝐭𝐞𝐝 𝐨𝐯𝐞𝐫 𝐚 𝐥𝐨𝐜𝐚𝐥 𝐩𝐨𝐰𝐞𝐫 𝐬𝐭𝐫𝐮𝐠𝐠𝐥𝐞. 𝐀𝐦𝐛𝐫𝐨𝐬𝐞 𝐰𝐚𝐬 𝐚𝐩𝐩𝐚𝐥𝐥𝐞𝐝 𝐚𝐧𝐝 𝐫𝐞𝐟𝐮𝐬𝐞𝐝 𝐭𝐨 𝐞𝐯𝐞𝐧 𝐬𝐞𝐞 𝐡𝐢𝐦 𝐮𝐧𝐭𝐢𝐥 𝐡𝐞 𝐫𝐞𝐩𝐞𝐧𝐭𝐞𝐝 𝐚𝐧𝐝 𝐦𝐚𝐝𝐞 𝐚 𝐥𝐚𝐰 𝐭𝐨 𝐩𝐫𝐞𝐯𝐞𝐧𝐭 𝐢𝐭 𝐞𝐯𝐞𝐫 𝐡𝐚𝐩𝐩𝐞𝐧𝐢𝐧𝐠 𝐚𝐠𝐚𝐢𝐧.
𝐀𝐦𝐛𝐫𝐨𝐬𝐞 𝐫𝐞𝐟𝐮𝐬𝐞𝐝 𝐭𝐨 𝐚𝐥𝐥𝐨𝐰 𝐓𝐡𝐞𝐨𝐝𝐨𝐬𝐢𝐮𝐬 𝐭𝐨 𝐞𝐧𝐭𝐞𝐫 𝐭𝐡𝐞 𝐜𝐡𝐮𝐫𝐜𝐡 𝐮𝐧𝐭𝐢𝐥 𝐡𝐞 𝐫𝐞𝐩𝐞𝐧𝐭𝐞𝐝 𝐨𝐟 𝐭𝐡𝐞 𝐝𝐞𝐚𝐭𝐡𝐬 𝐢𝐧 𝐓𝐡𝐞𝐬𝐬𝐚𝐥𝐨𝐧𝐢𝐜𝐚.
---
𝐓𝐡𝐞 𝐃𝐨𝐧𝐚𝐭𝐢𝐬𝐭 𝐂𝐨𝐧𝐭𝐫𝐨𝐯𝐞𝐫𝐬𝐲
𝐀𝐧𝐨𝐭𝐡𝐞𝐫 𝐞𝐱𝐚𝐦𝐩𝐥𝐞 𝐬𝐨𝐦𝐞𝐭𝐢𝐦𝐞𝐬 𝐮𝐬𝐞𝐝 𝐭𝐨 𝐜𝐥𝐚𝐢𝐦 𝐑𝐨𝐦𝐚𝐧 𝐂𝐡𝐫𝐢𝐬𝐭𝐢𝐚𝐧𝐬 𝐬𝐮𝐩𝐩𝐨𝐫𝐭𝐞𝐝 𝐯𝐢𝐨𝐥𝐞𝐧𝐜𝐞 𝐭𝐨 𝐜𝐨𝐧𝐯𝐞𝐫𝐭 𝐨𝐭𝐡𝐞𝐫𝐬 𝐢𝐬 𝐚𝐜𝐭𝐮𝐚𝐥𝐥𝐲 𝐬𝐨𝐦𝐞𝐰𝐡𝐚𝐭 𝐨𝐟 𝐚 𝐠𝐫𝐚𝐲 𝐚𝐫𝐞𝐚: 𝐭𝐡𝐞 𝐜𝐨𝐧𝐟𝐥𝐢𝐜𝐭 𝐰𝐚𝐬 𝐚𝐧 𝐢𝐧𝐭𝐞𝐫𝐧𝐚𝐥 𝐨𝐧𝐞, 𝐛𝐞𝐭𝐰𝐞𝐞𝐧 𝐂𝐡𝐫𝐢𝐬𝐭𝐢𝐚𝐧𝐬, 𝐭𝐡𝐞 𝐯𝐢𝐨𝐥𝐞𝐧𝐭 𝐜𝐨𝐞𝐫𝐜𝐢𝐨𝐧 𝐰𝐚𝐬 𝐝𝐨𝐧𝐞 𝐛𝐲 𝐭𝐡𝐞 𝐑𝐨𝐦𝐚𝐧 𝐠𝐨𝐯𝐞𝐫𝐧𝐦𝐞𝐧𝐭, 𝐚𝐧𝐝 𝐭𝐡𝐞𝐫𝐞 𝐰𝐚𝐬 𝐜𝐚𝐮𝐬𝐞 𝐟𝐨𝐫 𝐚𝐜𝐭𝐢𝐨𝐧, 𝐰𝐡𝐢𝐜𝐡 𝐜𝐨𝐮𝐥𝐝 𝐦𝐞𝐚𝐧 𝐭𝐡𝐢𝐬 𝐢𝐬 𝐦𝐨𝐫𝐞 𝐚𝐛𝐨𝐮𝐭 '𝐩𝐨𝐥𝐢𝐜𝐢𝐧𝐠' 𝐭𝐡𝐚𝐧 𝐜𝐨𝐧𝐯𝐞𝐫𝐭𝐢𝐧𝐠.
𝐈𝐭 𝐬𝐭𝐚𝐫𝐭𝐞𝐝 𝐢𝐧 𝐭𝐡𝐞 𝐥𝐚𝐬𝐭 𝐝𝐞𝐜𝐚𝐝𝐞 𝐨𝐟 𝐭𝐡𝐞 𝟑𝐫𝐝 𝐜𝐞𝐧𝐭𝐮𝐫𝐲 𝐰𝐡𝐞𝐧 𝐄𝐦𝐩𝐞𝐫𝐨𝐫 𝐃𝐢𝐨𝐜𝐥𝐞𝐭𝐢𝐚𝐧 𝐨𝐫𝐝𝐞𝐫𝐞𝐝 𝐭𝐡𝐞 𝐩𝐞𝐫𝐬𝐞𝐜𝐮𝐭𝐢𝐨𝐧 𝐨𝐟 𝐂𝐡𝐫𝐢𝐬𝐭𝐢𝐚𝐧𝐬. 𝐒𝐨𝐦𝐞 𝐫𝐞𝐬𝐢𝐬𝐭𝐞𝐝 𝐚𝐧𝐝 𝐰𝐞𝐫𝐞 𝐦𝐚𝐫𝐭𝐲𝐫𝐞𝐝, 𝐛𝐮𝐭 𝐬𝐨𝐦𝐞 𝐫𝐞𝐧𝐨𝐮𝐧𝐜𝐞𝐝 𝐂𝐡𝐫𝐢𝐬𝐭𝐢𝐚𝐧𝐢𝐭𝐲 𝐚𝐧𝐝 𝐰𝐞𝐫𝐞 𝐬𝐩𝐚𝐫𝐞𝐝. 𝐖𝐡𝐚𝐭 𝐰𝐚𝐬 𝐭𝐡𝐞 𝐜𝐡𝐮𝐫𝐜𝐡 𝐭𝐨 𝐝𝐨 𝐚𝐛𝐨𝐮𝐭 𝐭𝐡𝐨𝐬𝐞 𝐰𝐡𝐨 𝐡𝐚𝐝 𝐫𝐞𝐜𝐚𝐧𝐭𝐞𝐝 𝐚𝐧𝐝 𝐭𝐡𝐞𝐧 𝐰𝐚𝐧𝐭𝐞𝐝 𝐭𝐨 𝐫𝐞𝐭𝐮𝐫𝐧?
𝐃𝐨𝐧𝐚𝐭𝐢𝐬𝐭𝐬 𝐫𝐞𝐟𝐮𝐬𝐞𝐝 𝐭𝐨 𝐚𝐜𝐜𝐞𝐩𝐭 𝐭𝐡𝐞𝐦 𝐛𝐚𝐜𝐤 𝐚𝐬 𝐜𝐥𝐞𝐫𝐠𝐲 𝐚𝐧𝐝 𝐫𝐞𝐦𝐚𝐢𝐧𝐞𝐝 𝐫𝐞𝐬𝐞𝐧𝐭𝐟𝐮𝐥 𝐭𝐨𝐰𝐚𝐫𝐝 𝐭𝐡𝐞 𝐑𝐨𝐦𝐚𝐧 𝐠𝐨𝐯𝐞𝐫𝐧𝐦𝐞𝐧𝐭. 𝐂𝐚𝐭𝐡𝐨𝐥𝐢𝐜𝐬 𝐰𝐚𝐧𝐭𝐞𝐝 𝐭𝐨 𝐰𝐢𝐩𝐞 𝐭𝐡𝐞 𝐬𝐥𝐚𝐭𝐞 𝐜𝐥𝐞𝐚𝐧 𝐚𝐧𝐝 𝐚𝐜𝐜𝐨𝐦𝐦𝐨𝐝𝐚𝐭𝐞 𝐭𝐡𝐞 𝐠𝐨𝐯𝐞𝐫𝐧𝐦𝐞𝐧𝐭. 𝐀𝐭𝐭𝐞𝐦𝐩𝐭𝐬 𝐭𝐨 𝐫𝐞𝐜𝐨𝐧𝐜𝐢𝐥𝐞, 𝐦𝐚𝐝𝐞 𝐛𝐲 𝐂𝐨𝐧𝐬𝐭𝐚𝐧𝐭𝐢𝐧𝐞, 𝐚 𝐧𝐮𝐦𝐛𝐞𝐫 𝐨𝐟 𝐏𝐨𝐩𝐞𝐬 𝐚𝐧𝐝 𝐜𝐨𝐮𝐧𝐜𝐢𝐥𝐬, 𝐚𝐧𝐝 𝐫𝐞𝐬𝐩𝐞𝐜𝐭𝐞𝐝 𝐟𝐢𝐠𝐮𝐫𝐞𝐬 𝐬𝐮𝐜𝐡 𝐚𝐬 𝐀𝐮𝐠𝐮𝐬𝐭𝐢𝐧𝐞 𝐨𝐟 𝐇𝐢𝐩𝐩𝐨, 𝐚𝐥𝐥 𝐟𝐚𝐢𝐥𝐞𝐝. 𝐃𝐨𝐧𝐚𝐭𝐢𝐬𝐭𝐬 𝐟𝐨𝐦𝐞𝐧𝐭𝐞𝐝 𝐩𝐫𝐨𝐭𝐞𝐬𝐭𝐬 𝐚𝐧𝐝 𝐬𝐭𝐫𝐞𝐞𝐭 𝐯𝐢𝐨𝐥𝐞𝐧𝐜𝐞, 𝐫𝐞𝐟𝐮𝐬𝐞𝐝 𝐜𝐨𝐦𝐩𝐫𝐨𝐦𝐢𝐬𝐞, 𝐚𝐭𝐭𝐚𝐜𝐤𝐞𝐝 𝐫𝐚𝐧𝐝𝐨𝐦 𝐂𝐚𝐭𝐡𝐨𝐥𝐢𝐜𝐬 𝐰𝐢𝐭𝐡𝐨𝐮𝐭 𝐰𝐚𝐫𝐧𝐢𝐧𝐠, 𝐝𝐨𝐢𝐧𝐠 𝐬𝐞𝐫𝐢𝐨𝐮𝐬 𝐚𝐧𝐝 𝐮𝐧𝐩𝐫𝐨𝐯𝐨𝐤𝐞𝐝 𝐛𝐨𝐝𝐢𝐥𝐲 𝐡𝐚𝐫𝐦 𝐭𝐨 𝐩𝐞𝐨𝐩𝐥𝐞 𝐰𝐡𝐨 𝐰𝐞𝐫𝐞 𝐠𝐮𝐢𝐥𝐭𝐲 𝐨𝐟 𝐧𝐨𝐭𝐡𝐢𝐧𝐠 𝐛𝐮𝐭 𝐛𝐞𝐢𝐧𝐠 𝐨𝐧 𝐭𝐡𝐞 𝐨𝐭𝐡𝐞𝐫 𝐬𝐢𝐝𝐞 𝐨𝐟 𝐭𝐡𝐞 𝐚𝐫𝐠𝐮𝐦𝐞𝐧𝐭.
𝐀𝐟𝐭𝐞𝐫 𝐝𝐞𝐜𝐚𝐝𝐞𝐬 𝐨𝐟 𝐯𝐢𝐨𝐥𝐞𝐧𝐜𝐞 𝐚𝐧𝐝 𝐟𝐚𝐢𝐥𝐮𝐫𝐞, 𝐀𝐮𝐠𝐮𝐬𝐭𝐢𝐧𝐞 𝐨𝐟 𝐇𝐢𝐩𝐩𝐨 𝐫𝐞𝐯𝐞𝐫𝐬𝐞𝐝 𝐡𝐢𝐦𝐬𝐞𝐥𝐟 𝐚𝐧𝐝 𝐡𝐢𝐬 𝐩𝐫𝐞𝐯𝐢𝐨𝐮𝐬 𝐭𝐞𝐚𝐜𝐡𝐢𝐧𝐠𝐬 𝐚𝐠𝐚𝐢𝐧𝐬𝐭 𝐭𝐡𝐞 𝐮𝐬𝐞 𝐨𝐟 𝐟𝐨𝐫𝐜𝐞 𝐚𝐧𝐝 𝐢𝐧𝐬𝐭𝐞𝐚𝐝 𝐰𝐫𝐨𝐭𝐞 𝐚 𝐣𝐮𝐬𝐭𝐢𝐟𝐢𝐜𝐚𝐭𝐢𝐨𝐧 𝐟𝐨𝐫 𝐮𝐬𝐢𝐧𝐠 𝐟𝐨𝐫𝐜𝐞 𝐭𝐨 "𝐞𝐝𝐮𝐜𝐚𝐭𝐞" 𝐭𝐡𝐞 𝐃𝐨𝐧𝐚𝐭𝐢𝐬𝐭𝐬. 𝐀𝐮𝐠𝐮𝐬𝐭𝐢𝐧𝐞 𝐰𝐚𝐬 𝐭𝐡𝐞 𝐛𝐢𝐬𝐡𝐨𝐩, 𝐚𝐧𝐝 𝐡𝐢𝐬 𝐩𝐞𝐨𝐩𝐥𝐞'𝐬 𝐬𝐚𝐟𝐞𝐭𝐲 𝐰𝐚𝐬 𝐡𝐢𝐬 𝐥𝐞𝐠𝐢𝐭𝐢𝐦𝐚𝐭𝐞 𝐜𝐨𝐧𝐜𝐞𝐫𝐧: 𝐰𝐚𝐬 𝐡𝐢𝐬 𝐫𝐞𝐬𝐩𝐨𝐧𝐬𝐞 𝐣𝐮𝐬𝐭𝐢𝐟𝐢𝐚𝐛𝐥𝐞, 𝐨𝐫 𝐝𝐨𝐞𝐬 𝐢𝐭 𝐪𝐮𝐚𝐥𝐢𝐟𝐲 𝐚𝐬 𝐚𝐧 𝐞𝐱𝐚𝐦𝐩𝐥𝐞 𝐨𝐟 𝐮𝐬𝐢𝐧𝐠 𝐭𝐡𝐞 𝐬𝐰𝐨𝐫𝐝 𝐟𝐨𝐫 𝐫𝐞𝐥𝐢𝐠𝐢𝐨𝐮𝐬 𝐜𝐨𝐧𝐯𝐞𝐫𝐬𝐢𝐨𝐧?
𝐖𝐡𝐢𝐜𝐡𝐞𝐯𝐞𝐫 𝐢𝐭 𝐰𝐚𝐬, 𝐭𝐡𝐞 𝐑𝐨𝐦𝐚𝐧 𝐠𝐨𝐯𝐞𝐫𝐧𝐦𝐞𝐧𝐭 𝐫𝐚𝐧 𝐰𝐢𝐭𝐡 𝐢𝐭. 𝐓𝐡𝐞 𝐃𝐨𝐧𝐚𝐭𝐢𝐬𝐭𝐬 𝐰𝐞𝐫𝐞 𝐭𝐡𝐞𝐧 𝐩𝐞𝐫𝐬𝐞𝐜𝐮𝐭𝐞𝐝 𝐭𝐨 𝐬𝐮𝐜𝐡 𝐚 𝐝𝐞𝐠𝐫𝐞𝐞 𝐭𝐡𝐚𝐭 𝐀𝐮𝐠𝐮𝐬𝐭𝐢𝐧𝐞 𝐥𝐚𝐭𝐞𝐫 𝐩𝐫𝐨𝐭𝐞𝐬𝐭𝐞𝐝 𝐭𝐡𝐞𝐢𝐫 𝐭𝐫𝐞𝐚𝐭𝐦𝐞𝐧𝐭.[𝟏𝟐]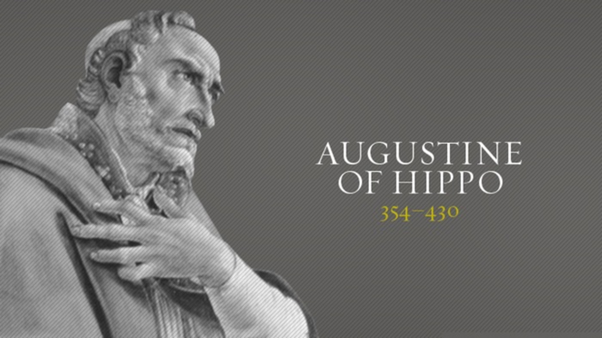 𝐂𝐡𝐚𝐫𝐥𝐞𝐦𝐚𝐠𝐧𝐞
𝐓𝐡𝐞 𝐟𝐢𝐫𝐬𝐭 𝐫𝐞𝐚𝐥 𝐢𝐧𝐬𝐭𝐚𝐧𝐜𝐞 𝐨𝐟 𝐜𝐨𝐧𝐯𝐞𝐫𝐬𝐢𝐨𝐧 𝐛𝐲 𝐭𝐡𝐞 𝐬𝐰𝐨𝐫𝐝 𝐦𝐢𝐠𝐡𝐭 𝐛𝐞 𝐰𝐡𝐚𝐭 𝐭𝐨𝐨𝐤 𝐩𝐥𝐚𝐜𝐞 𝐚𝐭 𝐭𝐡𝐞 𝐌𝐚𝐬𝐬𝐚𝐜𝐫𝐞 𝐨𝐟 𝐕𝐞𝐫𝐝𝐞𝐧 𝐢𝐧 𝐭𝐡𝐞 𝐲𝐞𝐚𝐫 𝟕𝟖𝟐.
𝐃𝐢𝐝 𝐭𝐡𝐞 '𝐌𝐚𝐬𝐬𝐚𝐜𝐫𝐞 𝐨𝐟 𝐕𝐞𝐫𝐝𝐞𝐧' 𝐚𝐜𝐭𝐮𝐚𝐥𝐥𝐲 𝐡𝐚𝐩𝐩𝐞𝐧 𝐰𝐢𝐭𝐡 𝟒𝟓𝟎𝟎 𝐩𝐞𝐨𝐩𝐥𝐞 𝐛𝐞𝐢𝐧𝐠 𝐤𝐢𝐥𝐥𝐞𝐝 𝐢𝐧 𝐚 𝐬𝐢𝐧𝐠𝐥𝐞 𝐝𝐚𝐲? 𝐖𝐚𝐬 𝐭𝐡𝐞 𝐂𝐚𝐫𝐨𝐥𝐢𝐧𝐠𝐢𝐚𝐧 𝐫𝐮𝐥𝐞𝐫 (𝐚𝐧𝐝 𝐥𝐚𝐭𝐞𝐫 𝐇𝐨𝐥𝐲 𝐑𝐨𝐦𝐚𝐧 𝐄𝐦𝐩𝐞𝐫𝐨𝐫) 𝐣𝐮𝐬𝐭𝐢𝐟𝐢𝐞𝐝 𝐢𝐧 𝐡𝐢𝐬 𝐚𝐜𝐭𝐢𝐨𝐧𝐬? 𝐎𝐫 𝐰𝐚𝐬 𝐭𝐡𝐢𝐬 𝐚 𝐛𝐫𝐮𝐭𝐚𝐥 𝐚𝐜𝐭 𝐨𝐟 𝐞𝐭𝐡𝐧𝐢𝐜 𝐜𝐥𝐞𝐚𝐧𝐬𝐢𝐧𝐠 𝐭𝐡𝐚𝐭 𝐡𝐚𝐬 𝐥𝐞𝐟𝐭 𝐚 𝐭𝐞𝐫𝐫𝐢𝐛𝐥𝐞 𝐦𝐚𝐫𝐤 𝐨𝐧 𝐭𝐡𝐞 𝐦𝐚𝐧 𝐰𝐡𝐨 𝐢𝐬 𝐜𝐫𝐞𝐝𝐢𝐭𝐞𝐝 𝐰𝐢𝐭𝐡 𝐫𝐞-𝐞𝐬𝐭𝐚𝐛𝐥𝐢𝐬𝐡𝐢𝐧𝐠 𝐖𝐞𝐬𝐭𝐞𝐫𝐧 𝐄𝐮𝐫𝐨𝐩𝐞 𝐚𝐟𝐭𝐞𝐫 𝐭𝐡𝐞 𝐟𝐚𝐥𝐥 𝐨𝐟 𝐭𝐡𝐞 𝐑𝐨𝐦𝐚𝐧 𝐄𝐦𝐩𝐢𝐫𝐞?
𝐂𝐡𝐚𝐫𝐥𝐞𝐦𝐚𝐠𝐧𝐞'𝐬 𝐫𝐞𝐢𝐠𝐧 (𝟕𝟔𝟖-𝟖𝟏𝟒) 𝐰𝐚𝐬 𝐨𝐧𝐞 𝐨𝐟 𝐚𝐥𝐦𝐨𝐬𝐭 𝐜𝐨𝐧𝐭𝐢𝐧𝐮𝐨𝐮𝐬 𝐰𝐚𝐫𝐟𝐚𝐫𝐞, 𝐛𝐮𝐭 𝐡𝐢𝐬 𝐥𝐨𝐧𝐠𝐞𝐬𝐭 𝐚𝐧𝐝 𝐦𝐨𝐬𝐭 𝐝𝐢𝐟𝐟𝐢𝐜𝐮𝐥𝐭 𝐰𝐚𝐫 𝐰𝐚𝐬 𝐚𝐠𝐚𝐢𝐧𝐬𝐭 𝐭𝐡𝐞 𝐒𝐚𝐱𝐨𝐧𝐬 𝐰𝐡𝐨𝐦 𝐡𝐞 𝐟𝐨𝐮𝐠𝐡𝐭 𝐟𝐨𝐫 𝐭𝐡𝐢𝐫𝐭𝐲 𝐲𝐞𝐚𝐫𝐬. 𝐇𝐢𝐬 𝐟𝐚𝐭𝐡𝐞𝐫 𝐡𝐚𝐝 𝐟𝐨𝐮𝐠𝐡𝐭 𝐭𝐡𝐞 𝐒𝐚𝐱𝐨𝐧𝐬. 𝐇𝐢𝐬 𝐠𝐫𝐚𝐧𝐝𝐟𝐚𝐭𝐡𝐞𝐫 𝐡𝐚𝐝 𝐟𝐨𝐮𝐠𝐡𝐭 𝐭𝐡𝐞 𝐒𝐚𝐱𝐨𝐧𝐬. 𝐓𝐡𝐞 𝐒𝐚𝐱𝐨𝐧𝐬 𝐡𝐚𝐝 𝐫𝐚𝐢𝐝𝐞𝐝 𝐅𝐫𝐚𝐧𝐤𝐢𝐬𝐡 𝐛𝐨𝐫𝐝𝐞𝐫𝐬 𝐟𝐨𝐫 𝐚 𝐜𝐞𝐧𝐭𝐮𝐫𝐲. 𝐖𝐚𝐫𝐟𝐚𝐫𝐞 𝐛𝐞𝐭𝐰𝐞𝐞𝐧 𝐭𝐡𝐞𝐬𝐞 𝐭𝐰𝐨 𝐠𝐫𝐨𝐮𝐩𝐬 𝐰𝐚𝐬 𝐟𝐞𝐫𝐨𝐜𝐢𝐨𝐮𝐬, 𝐚𝐬 𝐂𝐡𝐚𝐫𝐥𝐞𝐦𝐚𝐠𝐧𝐞—𝐚𝐧𝐝 𝐡𝐢𝐬 𝐞𝐧𝐞𝐦𝐢𝐞𝐬—𝐜𝐨𝐮𝐥𝐝 𝐟𝐢𝐞𝐥𝐝 𝐚𝐫𝐦𝐢𝐞𝐬 𝐢𝐧 𝐭𝐡𝐞 𝐭𝐞𝐧𝐬 𝐨𝐟 𝐭𝐡𝐨𝐮𝐬𝐚𝐧𝐝𝐬.
𝐓𝐡𝐞 𝐞𝐯𝐞𝐧𝐭𝐬 𝐨𝐟 𝟕𝟖𝟐 𝐬𝐭𝐚𝐫𝐭𝐞𝐝 𝐰𝐡𝐞𝐧 𝐖𝐢𝐝𝐮𝐤𝐢𝐧𝐝, 𝐭𝐡𝐞 𝐒𝐚𝐱𝐨𝐧 𝐥𝐞𝐚𝐝𝐞𝐫, 𝐩𝐞𝐫𝐬𝐮𝐚𝐝𝐞𝐝 𝐚 𝐠𝐫𝐨𝐮𝐩 𝐨𝐟 𝐒𝐚𝐱𝐨𝐧𝐬 𝐰𝐡𝐨 𝐡𝐚𝐝 𝐬𝐮𝐛𝐦𝐢𝐭𝐭𝐞𝐝 𝐭𝐨 𝐂𝐡𝐚𝐫𝐥𝐞𝐦𝐚𝐠𝐧𝐞, 𝐭𝐨 𝐫𝐞𝐛𝐞𝐥. 𝐓𝐡𝐞𝐲 𝐰𝐞𝐧𝐭 𝐭𝐨 𝐛𝐚𝐭𝐭𝐥𝐞 𝐰𝐢𝐭𝐡 𝐚 𝐅𝐫𝐚𝐧𝐤𝐢𝐬𝐡 𝐚𝐫𝐦𝐲 𝐚𝐧𝐝 𝐚𝐧𝐧𝐢𝐡𝐢𝐥𝐚𝐭𝐞𝐝 𝐢𝐭, 𝐤𝐢𝐥𝐥𝐢𝐧𝐠 𝐭𝐰𝐨 𝐨𝐟 𝐭𝐡𝐞 𝐊𝐢𝐧𝐠'𝐬 𝐜𝐡𝐢𝐞𝐟 𝐥𝐢𝐞𝐮𝐭𝐞𝐧𝐚𝐧𝐭𝐬, 𝐬𝐨𝐦𝐞 𝐨𝐟 𝐭𝐡𝐞 𝐤𝐢𝐧𝐠'𝐬 𝐜𝐥𝐨𝐬𝐞𝐬𝐭 𝐜𝐨𝐦𝐩𝐚𝐧𝐢𝐨𝐧𝐬 𝐚𝐧𝐝 𝐜𝐨𝐮𝐧𝐬𝐞𝐥𝐨𝐫𝐬, 𝐡𝐢𝐬 𝐭𝐞𝐧𝐭-𝐬𝐡𝐚𝐫𝐞𝐫𝐬, 𝐚𝐧𝐝 𝐭𝐡𝐞 𝐦𝐞𝐧 𝐨𝐟 𝐡𝐢𝐬 𝐡𝐚𝐥𝐥. 𝐁𝐲 𝐭𝐡𝐞 𝐬𝐭𝐚𝐧𝐝𝐚𝐫𝐝𝐬 𝐨𝐟 𝐭𝐡𝐞 𝐝𝐚𝐲, 𝐚 𝐠𝐨𝐨𝐝 𝐥𝐨𝐫𝐝 𝐜𝐨𝐮𝐥𝐝 𝐧𝐨𝐭 𝐟𝐚𝐢𝐥 𝐭𝐨 𝐫𝐞𝐬𝐩𝐨𝐧𝐝. 𝐂𝐡𝐚𝐫𝐥𝐞𝐦𝐚𝐠𝐧𝐞 𝐫𝐞𝐬𝐩𝐨𝐧𝐝𝐞𝐝. 𝐇𝐞 𝐠𝐚𝐭𝐡𝐞𝐫𝐞𝐝 𝐡𝐢𝐬 𝐟𝐨𝐫𝐜𝐞𝐬, 𝐫𝐞𝐭𝐮𝐫𝐧𝐞𝐝 𝐭𝐨 𝐒𝐚𝐱𝐨𝐧𝐲, 𝐚𝐧𝐝 𝐮𝐧𝐥𝐞𝐚𝐬𝐡𝐞𝐝 𝐡𝐢𝐬 𝐦𝐚𝐬𝐬𝐚𝐜𝐫𝐞 𝐚𝐭 𝐕𝐞𝐫𝐝𝐞𝐧, 𝐠𝐢𝐯𝐢𝐧𝐠 𝐭𝐡𝐞 𝐜𝐚𝐩𝐭𝐮𝐫𝐞𝐝 𝐫𝐞𝐛𝐞𝐥𝐬 𝐭𝐡𝐞 𝐨𝐩𝐭𝐢𝐨𝐧, 𝐭𝐨 𝐜𝐨𝐧𝐯𝐞𝐫𝐭 𝐨𝐫 𝐝𝐢𝐞, 𝐚𝐥𝐥𝐞𝐠𝐞𝐝𝐥𝐲 𝐤𝐢𝐥𝐥𝐢𝐧𝐠 𝟒𝟓𝟎𝟎 𝐩𝐞𝐨𝐩𝐥𝐞 𝐢𝐧 𝐨𝐧𝐞 𝐝𝐚𝐲.
𝐖𝐚𝐬 𝐢𝐭 𝐣𝐮𝐬𝐭𝐢𝐟𝐢𝐞𝐝? 𝐖𝐚𝐬 𝐢𝐭 𝐜𝐨𝐧𝐯𝐞𝐫𝐬𝐢𝐨𝐧 𝐛𝐲 𝐭𝐡𝐞 𝐬𝐰𝐨𝐫𝐝?
𝐓𝐨𝐝𝐚𝐲 𝐲𝐨𝐮 𝐰𝐢𝐥𝐥 𝐟𝐢𝐧𝐝 𝐭𝐡𝐚𝐭 𝐭𝐡𝐢𝐬 𝐭𝐨𝐩𝐢𝐜 𝐠𝐞𝐭𝐬 𝐚 𝐰𝐢𝐝𝐞 𝐫𝐚𝐧𝐠𝐞 𝐨𝐟 𝐭𝐫𝐞𝐚𝐭𝐦𝐞𝐧𝐭, 𝐰𝐢𝐭𝐡 𝐬𝐨𝐦𝐞 𝐛𝐨𝐨𝐤𝐬 𝐛𝐚𝐫𝐞𝐥𝐲 𝐦𝐞𝐧𝐭𝐢𝐨𝐧𝐢𝐧𝐠 𝐭𝐡𝐞 𝐞𝐯𝐞𝐧𝐭𝐬 𝐨𝐟 𝟕𝟖𝟐, 𝐰𝐡𝐢𝐥𝐞 𝐨𝐭𝐡𝐞𝐫𝐬 𝐨𝐟𝐟𝐞𝐫 𝐬𝐭𝐚𝐫𝐤 𝐣𝐮𝐝𝐠𝐦𝐞𝐧𝐭𝐬 𝐮𝐩𝐨𝐧 𝐢𝐭.[𝟏𝟑]
𝐂𝐡𝐚𝐫𝐥𝐞𝐦𝐚𝐠𝐧𝐞 𝐫𝐞𝐜𝐞𝐢𝐯𝐢𝐧𝐠 𝐭𝐡𝐞 𝐬𝐮𝐫𝐫𝐞𝐧𝐝𝐞𝐫 𝐨𝐟 𝐖𝐢𝐝𝐢𝐤𝐮𝐧𝐝.
𝐓𝐡𝐞 𝐉𝐞𝐰𝐬
𝐏𝐚𝐩𝐚𝐥 𝐏𝐨𝐥𝐢𝐜𝐲
𝐀𝐟𝐭𝐞𝐫 𝐑𝐨𝐦𝐚𝐧 𝐄𝐦𝐩𝐢𝐫𝐞 𝐟𝐞𝐥𝐥, 𝐉𝐞𝐰𝐬 𝐚𝐧𝐝 𝐆𝐞𝐧𝐭𝐢𝐥𝐞𝐬 𝐦𝐨𝐬𝐭𝐥𝐲 𝐥𝐢𝐯𝐞𝐝 𝐚𝐭 𝐩𝐞𝐚𝐜𝐞 𝐚𝐥𝐨𝐧𝐠𝐬𝐢𝐝𝐞 𝐞𝐚𝐜𝐡 𝐨𝐭𝐡𝐞𝐫. 𝐀𝐧𝐲 𝐟𝐨𝐫𝐜𝐞𝐝 𝐜𝐨𝐧𝐯𝐞𝐫𝐬𝐢𝐨𝐧 𝐨𝐟 𝐭𝐡𝐞 𝐉𝐞𝐰𝐬 𝐠𝐞𝐧𝐞𝐫𝐚𝐥𝐥𝐲 𝐭𝐨𝐨𝐤 𝐩𝐥𝐚𝐜𝐞 𝐝𝐮𝐫𝐢𝐧𝐠 𝐫𝐢𝐨𝐭𝐬 𝐛𝐲 𝐦𝐨𝐛𝐬, 𝐥𝐨𝐜𝐚𝐥 𝐥𝐞𝐚𝐝𝐞𝐫𝐬 𝐚𝐧𝐝 𝐥𝐨𝐰𝐞𝐫-𝐥𝐞𝐯𝐞𝐥 𝐜𝐥𝐞𝐫𝐠𝐲 𝐰𝐢𝐭𝐡𝐨𝐮𝐭 𝐬𝐮𝐩𝐩𝐨𝐫𝐭 𝐨𝐟 𝐜𝐡𝐮𝐫𝐜𝐡 𝐥𝐞𝐚𝐝𝐞𝐫𝐬.
𝐔𝐩 𝐮𝐧𝐭𝐢𝐥 𝟏𝟐𝟒𝟒, 𝐭𝐡𝐞 𝐜𝐡𝐮𝐫𝐜𝐡 𝐰𝐚𝐬 𝐠𝐮𝐢𝐝𝐞𝐝 𝐛𝐲 𝐭𝐡𝐞 𝐭𝐞𝐚𝐜𝐡𝐢𝐧𝐠𝐬 𝐨𝐟 𝐀𝐮𝐠𝐮𝐬𝐭𝐢𝐧𝐞 𝐨𝐟 𝐇𝐢𝐩𝐩𝐨 (𝟑𝟓𝟒 𝐀𝐃-𝟒𝟑𝟎 𝐀𝐃) 𝐜𝐨𝐧𝐜𝐞𝐫𝐧𝐢𝐧𝐠 𝐭𝐡𝐞 𝐉𝐞𝐰𝐬. 𝐀𝐮𝐠𝐮𝐬𝐭𝐢𝐧𝐞 𝐡𝐚𝐝 𝐫𝐞𝐣𝐞𝐜𝐭𝐞𝐝 𝐭𝐡𝐨𝐬𝐞 𝐰𝐡𝐨 𝐚𝐫𝐠𝐮𝐞𝐝 𝐭𝐡𝐞 𝐉𝐞𝐰𝐬 𝐬𝐡𝐨𝐮𝐥𝐝 𝐛𝐞 𝐤𝐢𝐥𝐥𝐞𝐝, 𝐨𝐫 𝐟𝐨𝐫𝐜𝐢𝐛𝐥𝐲 𝐜𝐨𝐧𝐯𝐞𝐫𝐭𝐞𝐝, 𝐬𝐚𝐲𝐢𝐧𝐠 𝐉𝐞𝐰𝐬 𝐬𝐡𝐨𝐮𝐥𝐝 𝐛𝐞 𝐚𝐥𝐥𝐨𝐰𝐞𝐝 𝐭𝐨 𝐥𝐢𝐯𝐞 𝐢𝐧 𝐂𝐡𝐫𝐢𝐬𝐭𝐢𝐚𝐧 𝐬𝐨𝐜𝐢𝐞𝐭𝐢𝐞𝐬 𝐚𝐧𝐝 𝐩𝐫𝐚𝐜𝐭𝐢𝐜𝐞 𝐉𝐮𝐝𝐚𝐢𝐬𝐦 𝐰𝐢𝐭𝐡𝐨𝐮𝐭 𝐢𝐧𝐭𝐞𝐫𝐟𝐞𝐫𝐞𝐧𝐜𝐞 𝐛𝐞𝐜𝐚𝐮𝐬𝐞 𝐨𝐟 𝐭𝐡𝐞𝐢𝐫 𝐫𝐞𝐯𝐞𝐫𝐞𝐧𝐜𝐞 𝐟𝐨𝐫 𝐭𝐡𝐞 𝐎𝐥𝐝 𝐓𝐞𝐬𝐭𝐚𝐦𝐞𝐧𝐭. 𝐓𝐡𝐢𝐬 𝐛𝐞𝐜𝐚𝐦𝐞 𝐭𝐡𝐞 𝐨𝐟𝐟𝐢𝐜𝐢𝐚𝐥 𝐩𝐨𝐥𝐢𝐜𝐲 𝐨𝐟 𝐭𝐡𝐞 𝐩𝐨𝐩𝐞𝐬. 𝐈𝐧 𝟓𝟗𝟎, 𝐏𝐨𝐩𝐞 𝐆𝐫𝐞𝐠𝐨𝐫𝐲 𝐈 𝐝𝐞𝐟𝐞𝐧𝐝𝐞𝐝 𝐭𝐡𝐞 𝐉𝐞𝐰𝐬 𝐚𝐠𝐚𝐢𝐧𝐬𝐭 𝐟𝐨𝐫𝐜𝐞𝐝 𝐜𝐨𝐧𝐯𝐞𝐫𝐬𝐢𝐨𝐧. 𝐈𝐧 𝟖𝟐𝟖, 𝐆𝐫𝐞𝐠𝐨𝐫𝐲 𝐈𝐕 𝐝𝐢𝐝 𝐭𝐡𝐞 𝐬𝐚𝐦𝐞.
𝐁𝐮𝐭 𝐢𝐭 𝐰𝐚𝐬 𝐀𝐫𝐜𝐡𝐛𝐢𝐬𝐡𝐨𝐩𝐬 𝐚𝐧𝐝 𝐁𝐢𝐬𝐡𝐨𝐩𝐬 𝐰𝐡𝐨 𝐡𝐚𝐝 𝐣𝐮𝐫𝐢𝐬𝐝𝐢𝐜𝐭𝐢𝐨𝐧 𝐨𝐧 𝐭𝐡𝐞 𝐥𝐨𝐜𝐚𝐥 𝐥𝐞𝐯𝐞𝐥, 𝐚𝐧𝐝 𝐭𝐡𝐞 𝐝𝐞𝐠𝐫𝐞𝐞 𝐨𝐟 𝐭𝐨𝐥𝐞𝐫𝐚𝐧𝐜𝐞 𝐨𝐫 𝐩𝐞𝐫𝐬𝐞𝐜𝐮𝐭𝐢𝐨𝐧 𝐝𝐞𝐩𝐞𝐧𝐝𝐞𝐝 𝐨𝐧 𝐭𝐡𝐞𝐦 𝐦𝐨𝐫𝐞 𝐭𝐡𝐚𝐧 𝐨𝐧 𝐭𝐡𝐞 𝐏𝐨𝐩𝐞. 𝐓𝐡𝐞𝐢𝐫 𝐫𝐞𝐜𝐨𝐫𝐝 𝐢𝐬 𝐦𝐢𝐱𝐞𝐝. 𝐓𝐡𝐞𝐫𝐞 𝐰𝐞𝐫𝐞 𝐁𝐢𝐬𝐡𝐨𝐩𝐬 𝐰𝐡𝐨 𝐝𝐢𝐬𝐜𝐫𝐢𝐦𝐢𝐧𝐚𝐭𝐞𝐝 𝐚𝐠𝐚𝐢𝐧𝐬𝐭 𝐉𝐞𝐰𝐬. 𝐓𝐡𝐞𝐫𝐞 𝐰𝐞𝐫𝐞 𝐚𝐥𝐬𝐨 𝐁𝐢𝐬𝐡𝐨𝐩𝐬 𝐬𝐮𝐜𝐡 𝐚𝐬 𝐑𝐮𝐝𝐢𝐠𝐞𝐫 𝐇𝐮𝐳𝐦𝐚𝐧𝐧, 𝐁𝐢𝐬𝐡𝐨𝐩 𝐨𝐟 𝐒𝐩𝐞𝐲𝐞𝐫, (𝟏𝟎𝟖𝟒), 𝐉𝐨𝐡𝐚𝐧𝐧 𝐯𝐨𝐧 𝐊𝐫𝐚𝐢𝐜𝐡𝐠𝐚𝐮 𝐈, (𝟏𝟎𝟗𝟓), 𝐀𝐫𝐜𝐡𝐛𝐢𝐬𝐡𝐨𝐩 𝐑𝐮𝐭𝐡𝐚𝐫𝐝, 𝐁𝐢𝐬𝐡𝐨𝐩 𝐀𝐝𝐚𝐥𝐛𝐞𝐫𝐭, 𝐚𝐧𝐝 𝐀𝐫𝐜𝐡𝐛𝐢𝐬𝐡𝐨𝐩 𝐇𝐞𝐫𝐦𝐚𝐧𝐧 𝐈𝐈𝐈, (𝐚𝐢𝐝𝐞𝐝 𝐛𝐲 𝐮𝐧𝐧𝐚𝐦𝐞𝐝 𝐂𝐡𝐫𝐢𝐬𝐭𝐢𝐚𝐧 𝐩𝐞𝐚𝐬𝐚𝐧𝐭𝐬), 𝐰𝐡𝐨 𝐫𝐢𝐬𝐤𝐞𝐝 𝐭𝐡𝐞𝐢𝐫 𝐥𝐢𝐯𝐞𝐬 𝐭𝐨 𝐩𝐫𝐨𝐭𝐞𝐜𝐭 𝐭𝐡𝐞 𝐉𝐞𝐰𝐢𝐬𝐡 𝐩𝐞𝐨𝐩𝐥𝐞 𝐨𝐟 𝐭𝐡𝐞𝐢𝐫 𝐭𝐨𝐰𝐧𝐬. 𝐍𝐨𝐧𝐞 𝐨𝐟 𝐭𝐡𝐞𝐦 𝐩𝐫𝐚𝐜𝐭𝐢𝐜𝐞𝐝 𝐜𝐨𝐧𝐯𝐞𝐫𝐬𝐢𝐨𝐧 𝐛𝐲 𝐭𝐡𝐞 𝐬𝐰𝐨𝐫𝐝.
𝐈𝐭'𝐬 𝐢𝐦𝐩𝐨𝐫𝐭𝐚𝐧𝐭 𝐧𝐨𝐭 𝐭𝐨 𝐟𝐨𝐫𝐠𝐞𝐭 𝐭𝐡𝐚𝐭 𝐛𝐞𝐟𝐨𝐫𝐞 𝐭𝐡𝐞 𝐭𝐡𝐢𝐫𝐭𝐞𝐞𝐧𝐭𝐡 𝐜𝐞𝐧𝐭𝐮𝐫𝐲, 𝐉𝐞𝐰𝐬 𝐰𝐞𝐫𝐞 𝐬𝐨𝐦𝐞𝐭𝐢𝐦𝐞𝐬 𝐭𝐫𝐞𝐚𝐭𝐞𝐝 𝐯𝐞𝐫𝐲 𝐛𝐚𝐝𝐥𝐲, 𝐞𝐯𝐞𝐧 𝐢𝐟 𝐭𝐡𝐚𝐭 𝐭𝐫𝐞𝐚𝐭𝐦𝐞𝐧𝐭 𝐝𝐢𝐝 𝐧𝐨𝐭 𝐡𝐚𝐯𝐞 𝐨𝐟𝐟𝐢𝐜𝐢𝐚𝐥 𝐬𝐚𝐧𝐜𝐭𝐢𝐨𝐧. 𝐓𝐡𝐞𝐲 𝐰𝐞𝐫𝐞 𝐬𝐮𝐩𝐩𝐨𝐬𝐞𝐝 𝐭𝐨 𝐛𝐞 𝐮𝐧𝐝𝐞𝐫 𝐭𝐡𝐞 𝐣𝐮𝐫𝐢𝐬𝐝𝐢𝐜𝐭𝐢𝐨𝐧 𝐚𝐧𝐝 𝐩𝐫𝐨𝐭𝐞𝐜𝐭𝐢𝐨𝐧 𝐨𝐟 𝐭𝐡𝐞 𝐬𝐞𝐜𝐮𝐥𝐚𝐫 𝐫𝐮𝐥𝐞𝐫𝐬. 𝐈𝐧 𝐫𝐞𝐚𝐥𝐢𝐭𝐲, 𝐢𝐭 𝐰𝐚𝐬 𝐭𝐡𝐞 𝐤𝐢𝐧𝐠𝐬 𝐚𝐧𝐝 𝐩𝐫𝐢𝐧𝐜𝐞𝐬 𝐰𝐡𝐨 𝐞𝐱𝐩𝐞𝐥𝐥𝐞𝐝 𝐭𝐡𝐞 𝐉𝐞𝐰𝐬 𝐟𝐫𝐨𝐦 𝐭𝐡𝐞𝐢𝐫 𝐥𝐚𝐧𝐝𝐬, 𝐮𝐬𝐮𝐚𝐥𝐥𝐲 𝐟𝐨𝐫 𝐞𝐜𝐨𝐧𝐨𝐦𝐢𝐜 𝐚𝐧𝐝 𝐩𝐨𝐥𝐢𝐭𝐢𝐜𝐚𝐥 𝐫𝐞𝐚𝐬𝐨𝐧𝐬.
𝐘𝐞𝐭 𝐭𝐡𝐞 𝐦𝐚𝐣𝐨𝐫𝐢𝐭𝐲 𝐨𝐟 𝐡𝐢𝐬𝐭𝐨𝐫𝐢𝐚𝐧𝐬 𝐚𝐠𝐫𝐞𝐞 𝐭𝐡𝐚𝐭 𝐭𝐡𝐞 𝐭𝐡𝐢𝐫𝐭𝐞𝐞𝐧𝐭𝐡 𝐜𝐞𝐧𝐭𝐮𝐫𝐲 𝐰𝐚𝐬 𝐚 𝐭𝐮𝐫𝐧𝐢𝐧𝐠 𝐩𝐨𝐢𝐧𝐭 𝐢𝐧 𝐉𝐞𝐰𝐢𝐬𝐡-𝐂𝐡𝐮𝐫𝐜𝐡 𝐫𝐞𝐥𝐚𝐭𝐢𝐨𝐧𝐬.
𝐈𝐧 𝐭𝐡𝐞 𝐰𝐨𝐫𝐝𝐬 𝐨𝐟 𝐇𝐞𝐛𝐫𝐞𝐰 𝐔𝐧𝐢𝐯𝐞𝐫𝐬𝐢𝐭𝐲 𝐡𝐢𝐬𝐭𝐨𝐫𝐢𝐚𝐧 𝐁𝐞𝐧𝐳𝐢𝐨𝐧 𝐃𝐢𝐧𝐮𝐫, 𝐟𝐫𝐨𝐦 𝟏𝟐𝟒𝟒 𝐨𝐧, 𝐭𝐡𝐞 𝐬𝐭𝐚𝐭𝐞 𝐚𝐧𝐝 𝐭𝐡𝐞 𝐂𝐡𝐮𝐫𝐜𝐡 𝐰𝐨𝐮𝐥𝐝 "𝐜𝐨𝐧𝐬𝐢𝐝𝐞𝐫 𝐭𝐡𝐞 𝐉𝐞𝐰𝐬 𝐚𝐬 𝐩𝐞𝐨𝐩𝐥𝐞 𝐨𝐟 𝐧𝐨 𝐫𝐞𝐥𝐢𝐠𝐢𝐨𝐧 (𝐛𝐞𝐧𝐞𝐢 𝐛𝐥𝐢 𝐝𝐚𝐭) 𝐰𝐡𝐨 𝐡𝐚𝐯𝐞 𝐧𝐨 𝐩𝐥𝐚𝐜𝐞 𝐢𝐧 𝐭𝐡𝐞 𝐂𝐡𝐫𝐢𝐬𝐭𝐢𝐚𝐧 𝐰𝐨𝐫𝐥𝐝."
𝐂𝐨𝐧𝐯𝐞𝐫𝐬𝐢𝐨𝐧 𝐛𝐲 𝐭𝐡𝐞 𝐬𝐰𝐨𝐫𝐝? 𝐋𝐞𝐭 𝐭𝐡𝐞 𝐫𝐞𝐚𝐝𝐞𝐫 𝐝𝐞𝐜𝐢𝐝𝐞.
𝐃𝐮𝐫𝐢𝐧𝐠 𝐂𝐡𝐫𝐢𝐬𝐭𝐢𝐚𝐧𝐢𝐭𝐲'𝐬 𝐟𝐢𝐫𝐬𝐭 𝐦𝐢𝐥𝐥𝐞𝐧𝐧𝐢𝐮𝐦 𝐨𝐧 𝐭𝐡𝐞 𝐄𝐮𝐫𝐨𝐩𝐞𝐚𝐧 𝐜𝐨𝐧𝐭𝐢𝐧𝐞𝐧𝐭, 𝐭𝐡𝐞𝐫𝐞 𝐚𝐫𝐞 𝐭𝐡𝐫𝐞𝐞 𝐚𝐥𝐥𝐞𝐠𝐞𝐝 𝐟𝐨𝐫𝐜𝐞𝐝 𝐜𝐨𝐧𝐯𝐞𝐫𝐬𝐢𝐨𝐧𝐬 𝐨𝐟 𝐭𝐡𝐞 𝐉𝐞𝐰𝐬.
𝐓𝐡𝐞 𝐟𝐢𝐫𝐬𝐭 𝐢𝐬 𝐢𝐧 𝟐𝟐𝟒, 𝐛𝐮𝐭 𝐧𝐨 𝐨𝐧𝐞 𝐢𝐬 𝐬𝐮𝐫𝐞 𝐞𝐱𝐚𝐜𝐭𝐥𝐲 𝐰𝐡𝐞𝐫𝐞, 𝐨𝐫 𝐰𝐡𝐚𝐭 𝐭𝐨𝐨𝐤 𝐩𝐥𝐚𝐜𝐞, 𝐨𝐫 𝐛𝐲 𝐰𝐡𝐨𝐦 𝐢𝐭 𝐰𝐚𝐬 𝐩𝐞𝐫𝐩𝐞𝐭𝐫𝐚𝐭𝐞𝐝, 𝐚𝐬 𝐭𝐡𝐞𝐫𝐞 𝐚𝐫𝐞 𝐧𝐨 𝐤𝐧𝐨𝐰𝐧 𝐝𝐞𝐭𝐚𝐢𝐥𝐬 𝐨𝐫 𝐫𝐞𝐜𝐨𝐫𝐝𝐬. 𝐈𝐭 𝐢𝐬 𝐢𝐦𝐩𝐨𝐬𝐬𝐢𝐛𝐥𝐞 𝐭𝐨 𝐯𝐞𝐫𝐢𝐟𝐲 𝐚𝐬 𝐦𝐨𝐫𝐞 𝐭𝐡𝐚𝐧 𝐥𝐞𝐠𝐞𝐧𝐝.
𝐓𝐡𝐞 𝐜𝐨𝐧𝐬𝐞𝐧𝐬𝐮𝐬 𝐨𝐟 𝐦𝐨𝐝𝐞𝐫𝐧 𝐡𝐢𝐬𝐭𝐨𝐫𝐢𝐚𝐧𝐬 𝐜𝐨𝐧𝐜𝐞𝐫𝐧𝐢𝐧𝐠 𝐭𝐡𝐞 𝐬𝐮𝐩𝐩𝐨𝐬𝐞𝐝 𝐟𝐨𝐫𝐜𝐞𝐝 𝐜𝐨𝐧𝐯𝐞𝐫𝐬𝐢𝐨𝐧𝐬 𝐮𝐧𝐝𝐞𝐫 𝐭𝐡𝐞 𝐌𝐞𝐫𝐨𝐯𝐢𝐧𝐠𝐢𝐚𝐧𝐬 𝐢𝐧 𝟓𝟗𝟐 𝐢𝐬 𝐭𝐡𝐚𝐭 𝐭𝐡𝐞𝐲 𝐰𝐞𝐫𝐞 𝐩𝐨𝐥𝐢𝐭𝐢𝐜𝐚𝐥.
𝐈𝐧 𝟏𝟎𝟏𝟎, 𝐢𝐧 𝐋𝐢𝐦𝐨𝐠𝐞𝐬, 𝐢𝐭 𝐢𝐬 𝐚𝐥𝐥𝐞𝐠𝐞𝐝 𝐭𝐡𝐚𝐭 𝐁𝐢𝐬𝐡𝐨𝐩 𝐀𝐥𝐝𝐮𝐢𝐧 𝐠𝐚𝐯𝐞 𝐉𝐞𝐰𝐬 𝐭𝐡𝐞 𝐨𝐩𝐭𝐢𝐨𝐧 𝐨𝐟 𝐛𝐚𝐩𝐭𝐢𝐬𝐦 𝐨𝐫 𝐞𝐱𝐢𝐥𝐞. 𝐓𝐡𝐞 𝐬𝐭𝐨𝐫𝐲 𝐠𝐨𝐞𝐬 𝐭𝐡𝐚𝐭 𝐭𝐡𝐞 𝐉𝐞𝐰𝐬 𝐫𝐞𝐬𝐩𝐨𝐧𝐝𝐞𝐝 𝐭𝐨 𝐭𝐡𝐢𝐬 𝐭𝐡𝐫𝐞𝐚𝐭 𝐛𝐲 𝐬𝐞𝐧𝐝𝐢𝐧𝐠 𝐚𝐧 𝐞𝐦𝐢𝐬𝐬𝐚𝐫𝐲, 𝐉𝐚𝐜𝐨𝐛 𝐛𝐚𝐫 𝐘𝐮𝐤𝐮𝐭𝐢𝐞𝐥, 𝐭𝐨 𝐭𝐡𝐞 𝐏𝐨𝐩𝐞. 𝐓𝐡𝐞 𝐏𝐨𝐩𝐞 𝐫𝐞𝐬𝐩𝐨𝐧𝐝𝐞𝐝 𝐛𝐲 𝐬𝐞𝐧𝐝𝐢𝐧𝐠 𝐚𝐧 𝐞𝐧𝐯𝐨𝐲 𝐭𝐨 𝐀𝐥𝐝𝐮𝐢𝐧 𝐰𝐢𝐭𝐡 𝐚 𝐩𝐚𝐩𝐚𝐥 𝐨𝐫𝐝𝐞𝐫 "𝐧𝐨𝐭 𝐭𝐨 𝐤𝐢𝐥𝐥, 𝐢𝐧𝐣𝐮𝐫𝐞 𝐨𝐫 𝐫𝐨𝐛 𝐉𝐞𝐰𝐬, 𝐧𝐨𝐫 𝐭𝐨 𝐝𝐞𝐩𝐫𝐢𝐯𝐞 𝐭𝐡𝐞𝐦 𝐨𝐟 𝐭𝐡𝐞𝐢𝐫 𝐫𝐞𝐥𝐢𝐠𝐢𝐨𝐧."
𝐓𝐡𝐞 𝐉𝐞𝐰𝐬 𝐢𝐧 𝐕𝐢𝐬𝐢𝐠𝐨𝐭𝐡 𝐒𝐩𝐚𝐢𝐧
𝐃𝐮𝐫𝐢𝐧𝐠 𝐭𝐡𝐞 𝟕𝐭𝐡 𝐚𝐧𝐝 𝟖𝐭𝐡 𝐜𝐞𝐧𝐭𝐮𝐫𝐢𝐞𝐬, 𝐈𝐛𝐞𝐫𝐢𝐚 (𝐰𝐡𝐚𝐭 𝐢𝐬 𝐧𝐨𝐰 𝐒𝐩𝐚𝐢𝐧 𝐚𝐧𝐝 𝐏𝐨𝐫𝐭𝐮𝐠𝐚𝐥) 𝐰𝐚𝐬 𝐚 𝐝𝐢𝐯𝐢𝐝𝐞𝐝 𝐤𝐢𝐧𝐠𝐝𝐨𝐦 𝐫𝐮𝐥𝐞𝐝 𝐛𝐲 𝐭𝐡𝐞 𝐂𝐚𝐭𝐡𝐨𝐥𝐢𝐜 𝐕𝐢𝐬𝐢𝐠𝐨𝐭𝐡𝐬. 𝐇𝐢𝐬𝐭𝐨𝐫𝐢𝐜𝐚𝐥 𝐦𝐚𝐭𝐞𝐫𝐢𝐚𝐥 𝐢𝐬 𝐡𝐚𝐫𝐝 𝐭𝐨 𝐜𝐨𝐦𝐞 𝐛𝐲, 𝐚𝐧𝐝 𝐰𝐡𝐚𝐭 𝐭𝐡𝐞𝐫𝐞 𝐢𝐬, 𝐢𝐬 𝐦𝐨𝐬𝐭𝐥𝐲 𝐟𝐫𝐨𝐦 𝐭𝐡𝐞 𝐂𝐨𝐮𝐧𝐜𝐢𝐥𝐬, 𝐰𝐡𝐢𝐜𝐡 𝐠𝐢𝐯𝐞 𝐚 𝐫𝐞𝐜𝐨𝐫𝐝 𝐨𝐟 𝐨𝐟𝐟𝐢𝐜𝐢𝐚𝐥 𝐫𝐮𝐥𝐢𝐧𝐠𝐬 𝐛𝐮𝐭 𝐧𝐨 𝐢𝐧𝐝𝐢𝐜𝐚𝐭𝐢𝐨𝐧 𝐡𝐨𝐰—𝐨𝐫 𝐢𝐟—𝐭𝐡𝐨𝐬𝐞 𝐫𝐮𝐥𝐢𝐧𝐠𝐬 𝐰𝐞𝐫𝐞 𝐢𝐦𝐩𝐥𝐞𝐦𝐞𝐧𝐭𝐞𝐝. [𝟏𝟒]
𝐓𝐡𝐞 𝐂𝐨𝐮𝐧𝐜𝐢𝐥'𝐬 𝐫𝐞𝐜𝐨𝐫𝐝𝐬 𝐢𝐧𝐝𝐢𝐜𝐚𝐭𝐞 𝐉𝐞𝐰𝐬 𝐰𝐡𝐨 𝐜𝐨𝐧𝐯𝐞𝐫𝐭𝐞𝐝 𝐭𝐨 𝐂𝐡𝐫𝐢𝐬𝐭𝐢𝐚𝐧𝐢𝐭𝐲 𝐭𝐡𝐞𝐧 '𝐫𝐞𝐥𝐚𝐩𝐬𝐞𝐝' 𝐛𝐚𝐜𝐤 𝐢𝐧𝐭𝐨 𝐉𝐮𝐝𝐚𝐢𝐬𝐦—(𝐭𝐡𝐞 "𝐫𝐞𝐥𝐚𝐩𝐬𝐢")— 𝐰𝐞𝐫𝐞 𝐚 𝐩𝐫𝐞𝐨𝐜𝐜𝐮𝐩𝐚𝐭𝐢𝐨𝐧 𝐨𝐟 𝐭𝐡𝐞 𝐂𝐨𝐮𝐧𝐜𝐢𝐥𝐬 𝐢𝐧 𝐭𝐡𝐞 𝐲𝐞𝐚𝐫𝐬 𝟓𝟎𝟔, 𝟔𝟑𝟑, 𝟔𝟑𝟖, 𝟔𝟓𝟒, 𝟔𝟓𝟓, 𝟔𝟖𝟏 𝐚𝐧𝐝 𝟔𝟗𝟑. 𝐁𝐚𝐩𝐭𝐢𝐬𝐦 𝐢𝐧 𝐨𝐧𝐞 𝐰𝐚𝐲 𝐨𝐫 𝐚𝐧𝐨𝐭𝐡𝐞𝐫 𝐰𝐚𝐬 𝐨𝐫𝐝𝐞𝐫𝐞𝐝 𝐟𝐨𝐮𝐫 𝐭𝐢𝐦𝐞𝐬 (𝐢𝐧 𝟓𝟖𝟗, 𝟔𝟏𝟐, 𝟔𝟑𝟖 𝐚𝐧𝐝 𝟔𝟖𝟏). 𝐇𝐨𝐰𝐞𝐯𝐞𝐫, 𝐨𝐧 𝐭𝐡𝐞 𝐰𝐡𝐨𝐥𝐞 𝐭𝐡𝐞𝐬𝐞 𝐜𝐨𝐧𝐯𝐞𝐫𝐬𝐢𝐨𝐧 𝐞𝐟𝐟𝐨𝐫𝐭𝐬 𝐰𝐞𝐫𝐞 𝐮𝐧𝐬𝐮𝐜𝐜𝐞𝐬𝐬𝐟𝐮𝐥. 𝐉𝐞𝐰𝐬 𝐰𝐞𝐫𝐞 𝐩𝐫𝐞𝐬𝐬𝐮𝐫𝐞𝐝, 𝐚𝐧𝐝 𝐭𝐡𝐫𝐞𝐚𝐭𝐞𝐧𝐞𝐝, 𝐚𝐧𝐝 𝐞𝐱𝐢𝐥𝐞𝐝, 𝐛𝐮𝐭 𝐧𝐨𝐭 𝐜𝐨𝐧𝐯𝐞𝐫𝐭𝐞𝐝 𝐛𝐲 𝐭𝐡𝐞 𝐬𝐰𝐨𝐫𝐝. 𝐈𝐭 𝐰𝐚𝐬 𝐚 𝐝𝐢𝐫𝐞 𝐜𝐡𝐨𝐢𝐜𝐞, 𝐛𝐮𝐭 𝐦𝐚𝐧𝐲 𝐝𝐢𝐝 𝐜𝐡𝐨𝐨𝐬𝐞 𝐭𝐨 𝐥𝐞𝐚𝐯𝐞, 𝐚𝐧𝐝 𝐰𝐞𝐫𝐞 𝐚𝐥𝐥𝐨𝐰𝐞𝐝 𝐭𝐨 𝐝𝐨 𝐬𝐨.
𝐂𝐡𝐫𝐢𝐬𝐭𝐢𝐚𝐧𝐢𝐭𝐲 𝐜𝐞𝐫𝐭𝐚𝐢𝐧𝐥𝐲 𝐬𝐩𝐫𝐞𝐚𝐝 𝐛𝐲 𝐦𝐢𝐥𝐢𝐭𝐚𝐫𝐲 𝐦𝐢𝐠𝐡𝐭, 𝐭𝐡𝐞 𝐬𝐰𝐨𝐫𝐝 𝐨𝐫 𝐰𝐡𝐚𝐭𝐞𝐯𝐞𝐫 𝐰𝐚𝐬 𝐭𝐡𝐞 𝐰𝐞𝐚𝐩𝐨𝐧 𝐨𝐟 𝐭𝐡𝐞 𝐝𝐚𝐲. 𝐈𝐭 𝐰𝐚𝐬 𝐡𝐨𝐰 𝐏𝐞𝐭𝐞𝐫 𝐭𝐡𝐞 𝐆𝐫𝐞𝐚𝐭 𝐂𝐡𝐫𝐢𝐬𝐭𝐢𝐚𝐧𝐢𝐳𝐞𝐝 𝐑𝐮𝐬𝐬𝐢𝐚. 𝐈𝐭 𝐰𝐚𝐬 𝐡𝐨𝐰 𝐭𝐡𝐞 𝐩𝐚𝐠𝐚𝐧𝐬 𝐨𝐟 𝐄𝐮𝐫𝐨𝐩𝐞 𝐰𝐞𝐫𝐞 𝐂𝐡𝐫𝐢𝐬𝐭𝐢𝐚𝐧𝐢𝐳𝐞𝐝. 𝐀𝐬 𝐰𝐞𝐥𝐥 𝐚𝐬 𝐭𝐡𝐞 𝐍𝐚𝐭𝐢𝐯𝐞𝐬 𝐨𝐟 𝐭𝐡𝐞 𝐀𝐦𝐞𝐫𝐢𝐜𝐚𝐬. 𝐁𝐚𝐜𝐤𝐢𝐧𝐠 𝐮𝐩 𝐭𝐨 𝐭𝐡𝐞 𝐞𝐚𝐫𝐥𝐲 𝐌𝐢𝐝𝐝𝐥𝐞 𝐀𝐠𝐞𝐬, 𝐚𝐟𝐭𝐞𝐫 𝐂𝐨𝐧𝐬𝐭𝐚𝐧𝐭𝐢𝐧𝐞 𝐥𝐞𝐠𝐚𝐥𝐢𝐳𝐞𝐝 𝐂𝐡𝐫𝐢𝐬𝐭𝐢𝐚𝐧𝐢𝐭𝐲
𝐚𝐧𝐝 𝐩𝐨𝐩𝐞𝐬 𝐚𝐧𝐚𝐭𝐡𝐞𝐦𝐚𝐭𝐢𝐳𝐞𝐝 𝐨𝐭𝐡𝐞𝐫 𝐫𝐞𝐥𝐢𝐠𝐢𝐨𝐧𝐬, 𝐂𝐡𝐫𝐢𝐬𝐭𝐢𝐚𝐧𝐢𝐭𝐲 𝐛𝐮𝐫𝐧𝐞𝐝 𝐛𝐨𝐨𝐤𝐬 𝐨𝐟 𝐧𝐨𝐧-𝐂𝐡𝐫𝐢𝐬𝐭𝐢𝐚𝐧𝐬 𝐚𝐬 𝐰𝐞𝐥𝐥 𝐚𝐬 𝐡𝐞𝐫𝐞𝐭𝐢𝐜𝐬, 𝐚𝐧𝐝 𝐟𝐞𝐝 𝐭𝐡𝐞 𝐚𝐮𝐭𝐡𝐨𝐫𝐬 𝐚𝐧𝐝 𝐭𝐡𝐞𝐢𝐫 𝐟𝐨𝐥𝐥𝐨𝐰𝐞𝐫𝐬 𝐭𝐨 𝐭𝐡𝐞 𝐥𝐢𝐨𝐧𝐬. 𝐂𝐡𝐫𝐢𝐬𝐭𝐢𝐚𝐧𝐬 𝐝𝐞𝐬𝐭𝐫𝐨𝐲𝐞𝐝 𝐭𝐞𝐦𝐩𝐥𝐞𝐬 𝐚𝐧𝐝 𝐬𝐭𝐚𝐭𝐮𝐞𝐬, 𝐟𝐨𝐫𝐛𝐢𝐝𝐝𝐢𝐧𝐠 𝐚𝐧𝐲𝐨𝐧𝐞 𝐚𝐧𝐲𝐰𝐡𝐞𝐫𝐞 𝐭𝐨 𝐛𝐞𝐥𝐢𝐞𝐯𝐞 𝐚𝐧𝐲𝐭𝐡𝐢𝐧𝐠 𝐨𝐭𝐡𝐞𝐫 𝐭𝐡𝐚𝐧 𝐨𝐫𝐭𝐡𝐨𝐝𝐨𝐱 𝐂𝐡𝐫𝐢𝐬𝐭𝐢𝐚𝐧𝐢𝐭𝐲 𝐚𝐬 𝐞𝐦𝐛𝐫𝐚𝐜𝐞𝐝 𝐛𝐲 𝐄𝐮𝐬𝐞𝐛𝐢𝐮𝐬, 𝐁𝐢𝐬𝐡𝐨𝐩 𝐨𝐟 𝐂𝐚𝐞𝐬𝐚𝐫𝐞𝐚, 𝐟𝐫𝐢𝐞𝐧𝐝 𝐨𝐟 𝐂𝐨𝐧𝐬𝐭𝐚𝐧𝐭𝐢𝐧𝐞.
𝐈𝐧 𝐑𝐮𝐬𝐬𝐢𝐚, 𝐂𝐡𝐫𝐢𝐬𝐭𝐢𝐚𝐧𝐢𝐳𝐚𝐭𝐢𝐨𝐧 𝐰𝐚𝐬 𝐚 𝐦𝐢𝐥𝐢𝐭𝐚𝐫𝐲 𝐩𝐫𝐨𝐣𝐞𝐜𝐭. 𝐎𝐮𝐫 𝐫𝐮𝐥𝐞𝐫 𝐕𝐥𝐚𝐝𝐢𝐦𝐢𝐫 𝐭𝐡𝐞 𝐆𝐫𝐞𝐚𝐭 𝐚𝐧𝐝 𝐡𝐢𝐬 𝐦𝐞𝐧, 𝐚𝐜𝐜𝐨𝐫𝐝𝐢𝐧𝐠 𝐭𝐨 𝐨𝐥𝐝 𝐜𝐡𝐫𝐨𝐧𝐢𝐜𝐥𝐞𝐬, 𝐝𝐢𝐥𝐢𝐠𝐞𝐧𝐭𝐥𝐲 𝐮𝐬𝐞𝐝 𝐛𝐨𝐭𝐡 𝐟𝐢𝐫𝐞 𝐚𝐧𝐝 𝐬𝐰𝐨𝐫𝐝 𝐢𝐧 𝐨𝐫𝐝𝐞𝐫 𝐭𝐨 𝐛𝐫𝐢𝐧𝐠 𝐆𝐨𝐝'𝐬 𝐰𝐨𝐫𝐝 𝐭𝐨 𝐊𝐢𝐞𝐯 𝐚𝐧𝐝 𝐍𝐨𝐯𝐠𝐨𝐫𝐨𝐝, 𝐭𝐡𝐞 𝐭𝐰𝐨 𝐦𝐚𝐢𝐧 𝐜𝐞𝐧𝐭𝐞𝐫𝐬 𝐨𝐟 𝐡𝐢𝐬 𝐑𝐮𝐬 𝐤𝐢𝐧𝐠𝐝𝐨𝐦.
𝐃𝐨𝐢𝐧𝐠 𝐭𝐡𝐞 𝐋𝐨𝐫𝐝'𝐬 𝐰𝐨𝐫𝐤 𝐬𝐞𝐞𝐦𝐞𝐝 𝐭𝐨 𝐛𝐞 𝐢𝐧𝐬𝐭𝐫𝐮𝐦𝐞𝐧𝐭𝐚𝐥 𝐟𝐨𝐫 𝐡𝐢𝐦 𝐢𝐧 𝐠𝐞𝐭𝐭𝐢𝐧𝐠 𝐫𝐢𝐝 𝐨𝐟 𝐭𝐡𝐞 𝐨𝐥𝐝 𝐭𝐫𝐢𝐛𝐚𝐥 𝐚𝐫𝐢𝐬𝐭𝐨𝐜𝐫𝐚𝐜𝐲. 𝐀𝐟𝐭𝐞𝐫 𝐡𝐞 𝐩𝐮𝐭 𝐬𝐨𝐦𝐞 𝐭𝐰𝐨 𝐝𝐨𝐳𝐞𝐧𝐬 𝐨𝐟 𝐡𝐢𝐬 𝐬𝐜𝐢𝐨𝐧𝐬 𝐚𝐧𝐝 𝐨𝐭𝐡𝐞𝐫 𝐜𝐥𝐨𝐬𝐞 𝐟𝐚𝐦𝐢𝐥𝐲 𝐚𝐬 𝐡𝐞𝐚𝐝𝐬 𝐨𝐟 𝐝𝐢𝐟𝐟𝐞𝐫𝐞𝐧𝐭 𝐟𝐢𝐞𝐟𝐝𝐨𝐦𝐬 𝐢𝐧 𝐭𝐡𝐞 𝐩𝐫𝐨𝐯𝐢𝐧𝐜𝐞𝐬, 𝐚𝐧𝐲 𝐦𝐞𝐧𝐭𝐢𝐨𝐧𝐬 𝐨𝐟 𝐭𝐨𝐩 𝐚𝐫𝐢𝐬𝐭𝐨𝐜𝐫𝐚𝐭𝐬 𝐧𝐨𝐭 𝐫𝐞𝐥𝐚𝐭𝐞𝐝 𝐭𝐨 𝐑𝐮𝐫𝐢𝐤𝐢𝐝𝐬 𝐚𝐫𝐞 𝐚𝐛𝐬𝐞𝐧𝐭 𝐢𝐧 𝐨𝐮𝐫 𝐜𝐡𝐫𝐨𝐧𝐢𝐜𝐥𝐞𝐬.
𝐋𝐮𝐜𝐤𝐢𝐥𝐲, 𝐭𝐡𝐞 𝐩𝐫𝐨𝐬𝐞𝐥𝐲𝐭𝐢𝐳𝐢𝐧𝐠 𝐳𝐞𝐚𝐥 𝐚𝐦𝐨𝐧𝐠 𝐑𝐮𝐬 𝐫𝐮𝐥𝐞𝐫𝐬 𝐰𝐚𝐧𝐞𝐝 𝐚𝐟𝐭𝐞𝐫 𝐕𝐥𝐚𝐝𝐢𝐦𝐢𝐫'𝐬 𝐝𝐞𝐚𝐭𝐡 𝐟𝐨𝐫𝐞𝐯𝐞𝐫. 𝐂𝐡𝐫𝐢𝐬𝐭𝐞𝐧𝐝𝐨𝐦 𝐥𝐨𝐧𝐠 𝐫𝐞𝐦𝐚𝐢𝐧𝐞𝐝 𝐭𝐡𝐞 𝐝𝐨𝐦𝐚𝐢𝐧 𝐨𝐟 𝐭𝐡𝐞 𝐫𝐮𝐥𝐢𝐧𝐠 𝐜𝐥𝐚𝐬𝐬, 𝐚𝐧𝐝 𝐨𝐧𝐥𝐲 𝐝𝐮𝐫𝐢𝐧𝐠 𝐭𝐡𝐞 𝐫𝐮𝐥𝐞 𝐨𝐟 𝐭𝐡𝐞 𝐆𝐨𝐥𝐝𝐞𝐧 𝐇𝐨𝐫𝐝𝐞, 𝐭𝐡𝐞 𝐂𝐡𝐫𝐢𝐬𝐭𝐢𝐚𝐧 𝐟𝐚𝐢𝐭𝐡 𝐬𝐭𝐚𝐫𝐭𝐞𝐝 𝐭𝐨 𝐠𝐫𝐚𝐝𝐮𝐚𝐥𝐥𝐲 𝐬𝐮𝐩𝐩𝐥𝐚𝐧𝐭 𝐨𝐥𝐝 𝐩𝐚𝐠𝐚𝐧 𝐭𝐫𝐚𝐝𝐢𝐭𝐢𝐨𝐧𝐬 𝐚𝐦𝐨𝐧𝐠 𝐑𝐮𝐬 𝐚𝐧𝐝 𝐓𝐮𝐫𝐤𝐢𝐜 𝐩𝐞𝐚𝐬𝐚𝐧𝐭𝐬.
𝐁𝐞𝐥𝐨𝐰, 𝐚 𝐦𝐨𝐝𝐞𝐫𝐧 𝐚𝐫𝐭𝐢𝐬𝐭'𝐬 𝐯𝐢𝐬𝐢𝐨𝐧 𝐨𝐟 𝐕𝐥𝐚𝐝𝐢𝐦𝐢𝐫 𝐭𝐡𝐞 𝐆𝐫𝐞𝐚𝐭 𝐭𝐚𝐤𝐢𝐧𝐠 𝐚 𝐩𝐚𝐠𝐚𝐧𝐢𝐜 𝐨𝐚𝐭𝐡 𝐚𝐭 𝐡𝐢𝐬 𝐚𝐜𝐜𝐞𝐬𝐬𝐢𝐨𝐧 𝐭𝐨 𝐭𝐡𝐞 𝐭𝐡𝐫𝐨𝐧𝐞 𝐢𝐧 𝐊𝐢𝐞𝐯.
𝐉𝐮𝐬𝐭 𝐥𝐢𝐤𝐞 𝐡𝐢𝐬 𝐠𝐫𝐞𝐚𝐭 𝐜𝐨𝐥𝐥𝐞𝐚𝐠𝐮𝐞 𝐚𝐧𝐝 𝐧𝐚𝐦𝐞𝐬𝐚𝐤𝐞 𝐕𝐥𝐚𝐝𝐢𝐦𝐢𝐫 𝐏𝐮𝐭𝐢𝐧, 𝐭𝐡𝐞 𝐝𝐮𝐤𝐞 𝐬𝐨𝐥𝐞𝐦𝐧𝐥𝐲 𝐩𝐫𝐨𝐦𝐢𝐬𝐞𝐝 𝐭𝐨 𝐬𝐞𝐫𝐯𝐞 𝐭𝐡𝐞 𝐢𝐝𝐨𝐥𝐬 𝐰𝐡𝐨 𝐛𝐥𝐞𝐬𝐬𝐞𝐝 𝐡𝐢𝐦 𝐰𝐢𝐭𝐡 𝐩𝐨𝐰𝐞𝐫, 𝐨𝐧𝐥𝐲 𝐭𝐨 𝐥𝐚𝐭𝐞𝐫 𝐠𝐞𝐭 𝐫𝐢𝐝 𝐨𝐟 𝐭𝐡𝐞𝐦 𝐚𝐭 𝐭𝐡𝐞 𝐭𝐢𝐦𝐞 𝐨𝐟 𝐡𝐢𝐬 𝐜𝐡𝐨𝐨𝐬𝐢𝐧𝐠. 𝐑𝐮𝐬𝐬𝐢𝐚𝐧 𝐚𝐫𝐭𝐢𝐬𝐭𝐬 𝐰𝐡𝐨 𝐝𝐞𝐩𝐢𝐜𝐭 𝐭𝐡𝐞 𝐜𝐨𝐧𝐯𝐞𝐫𝐬𝐢𝐨𝐧 𝐨𝐟 𝐕𝐥𝐚𝐝𝐢𝐦𝐢𝐫'𝐬 𝐬𝐮𝐛𝐣𝐞𝐜𝐭𝐬, 𝐮𝐬𝐮𝐚𝐥𝐥𝐲 𝐟𝐨𝐜𝐮𝐬 𝐨𝐧 𝐭𝐡𝐞 𝐩𝐫𝐨𝐜𝐞𝐬𝐬 𝐨𝐟 𝐭𝐨𝐩𝐩𝐥𝐢𝐧𝐠 𝐭𝐡𝐞 𝐨𝐥𝐝 𝐠𝐨𝐝𝐬 𝐚𝐧𝐝 𝐭𝐡𝐞𝐢𝐫 𝐫𝐢𝐭𝐮𝐚𝐥 𝐝𝐞𝐬𝐞𝐜𝐫𝐚𝐭𝐢𝐨𝐧. 𝐌𝐞𝐧 𝐰𝐢𝐭𝐡 𝐰𝐞𝐚𝐩𝐨𝐧 𝐚𝐛𝐨𝐮𝐧𝐝 𝐚𝐧𝐝 𝐕𝐥𝐚𝐝𝐢𝐦𝐢𝐫 𝐢𝐧 𝐟𝐮𝐥𝐥 𝐚𝐫𝐦𝐨𝐫 𝐢𝐬 𝐚𝐥𝐦𝐨𝐬𝐭 𝐧𝐞𝐯𝐞𝐫 𝐝𝐢𝐬𝐦𝐨𝐮𝐧𝐭𝐞𝐝 𝐟𝐫𝐨𝐦 𝐡𝐢𝐬 𝐡𝐨𝐫𝐬𝐞—𝐭𝐡𝐮𝐬 𝐬𝐞𝐧𝐝𝐢𝐧𝐠 𝐮𝐬 𝐚 𝐦𝐞𝐬𝐬𝐚𝐠𝐞 𝐭𝐡𝐚𝐭 𝐞𝐯𝐞𝐧 𝐰𝐢𝐭𝐡 𝐆𝐨𝐝 𝐨𝐧 𝐲𝐨𝐮𝐫 𝐬𝐢𝐝𝐞, 𝐢𝐧 𝐨𝐮𝐫 𝐥𝐚𝐧𝐝𝐬 𝐲𝐨𝐮 𝐧𝐞𝐞𝐝 𝐚 𝐥𝐨𝐭 𝐨𝐟 𝐚𝐫𝐦𝐞𝐝 𝐦𝐮𝐬𝐜𝐥𝐞 𝐟𝐨𝐫 𝐠𝐨𝐨𝐝 𝐭𝐡𝐢𝐧𝐠𝐬 𝐭𝐨 𝐡𝐚𝐩𝐩𝐞𝐧.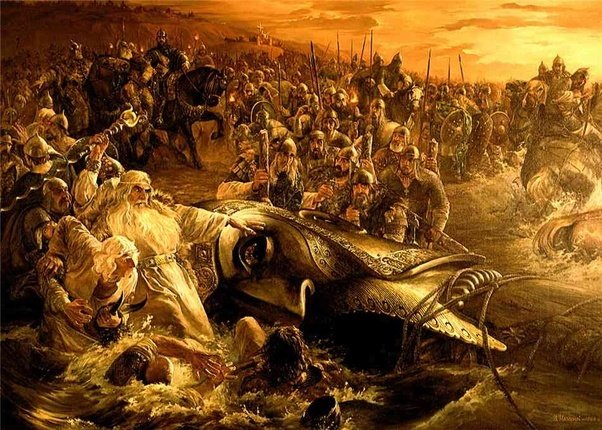 𝐏𝐫𝐞𝐬𝐢𝐝𝐞𝐧𝐭 𝐏𝐮𝐭𝐢𝐧, 𝐞𝐯𝐞𝐫 𝐩𝐞𝐫𝐜𝐞𝐩𝐭𝐢𝐯𝐞 𝐚𝐧𝐝 𝐩𝐞𝐫𝐟𝐞𝐜𝐭𝐥𝐲 𝐏𝐑-𝐚𝐰𝐚𝐫𝐞, 𝐡𝐚𝐬 𝐦𝐚𝐝𝐞 𝐚𝐧 𝐚𝐭𝐭𝐞𝐦𝐩𝐭 𝐭𝐨 𝐚𝐥𝐥𝐞𝐯𝐢𝐚𝐭𝐞 𝐭𝐡𝐞 𝐮𝐧𝐧𝐞𝐜𝐞𝐬𝐬𝐚𝐫𝐲 𝐟𝐨𝐜𝐮𝐬 𝐨𝐧 𝐭𝐡𝐞 𝐟𝐨𝐫𝐜𝐢𝐛𝐥𝐞 𝐚𝐬𝐩𝐞𝐜𝐭 𝐨𝐟 𝐨𝐮𝐫 𝐂𝐡𝐫𝐢𝐬𝐭𝐢𝐚𝐧𝐢𝐳𝐚𝐭𝐢𝐨𝐧. 𝐀 𝐜𝐨𝐮𝐩𝐥𝐞 𝐲𝐞𝐚𝐫𝐬 𝐛𝐚𝐜𝐤, 𝐡𝐞 𝐡𝐚𝐝 𝐚 𝐡𝐮𝐠𝐞 𝐬𝐭𝐚𝐭𝐮𝐞 𝐨𝐟 𝐕𝐥𝐚𝐝𝐢𝐦𝐢𝐫 𝐭𝐡𝐞 𝐆𝐫𝐞𝐚𝐭 ("𝐕𝐥𝐚𝐝𝐢𝐦𝐢𝐫 𝐭𝐡𝐞 𝐒𝐩𝐥𝐞𝐧𝐝𝐢𝐝 𝐒𝐮𝐧" 𝐢𝐧 𝐑𝐮𝐬𝐬𝐢𝐚𝐧 𝐭𝐫𝐚𝐝𝐢𝐭𝐢𝐨𝐧) 𝐫𝐚𝐢𝐬𝐞𝐝 𝐚 𝐬𝐭𝐨𝐧𝐞'𝐬 𝐭𝐡𝐫𝐨𝐰 𝐟𝐫𝐨𝐦 𝐡𝐢𝐬 𝐨𝐟𝐟𝐢𝐜𝐞 𝐢𝐧 𝐭𝐡𝐞 𝐊𝐫𝐞𝐦𝐥𝐢𝐧. 𝐃𝐞𝐬𝐩𝐢𝐭𝐞 𝐚𝐧 𝐚𝐥𝐚𝐫𝐦𝐞𝐝 𝐟𝐚𝐜𝐞, 𝐭𝐡𝐢𝐬 𝐝𝐮𝐤𝐞 𝐕𝐥𝐚𝐝𝐢𝐦𝐢𝐫 𝐡𝐨𝐥𝐝𝐬 𝐡𝐢𝐬 𝐬𝐰𝐨𝐫𝐝 𝐬𝐡𝐞𝐚𝐭𝐡𝐞𝐝, 𝐚𝐧𝐝 𝐦𝐨𝐧𝐤-𝐥𝐢𝐤𝐞 𝐫𝐨𝐛𝐞𝐬 𝐜𝐨𝐯𝐞𝐫 𝐚𝐥𝐦𝐨𝐬𝐭 𝐚𝐥𝐥 𝐡𝐢𝐬 𝐚𝐫𝐦𝐨𝐫.
𝐘𝐞𝐬. 𝐍𝐨𝐭 𝐣𝐮𝐬𝐭 𝐭𝐡𝐞 𝐬𝐰𝐨𝐫𝐝, 𝐂𝐡𝐫𝐢𝐬𝐭𝐢𝐚𝐧𝐢𝐭𝐲 𝐥𝐞𝐟𝐭 𝐧𝐨 𝐬𝐭𝐨𝐧𝐞 𝐮𝐧𝐭𝐮𝐫𝐧𝐞𝐝 𝐭𝐨 𝐬𝐩𝐫𝐞𝐚𝐝 𝐚𝐜𝐫𝐨𝐬𝐬 𝐭𝐡𝐞 𝐰𝐨𝐫𝐥𝐝. 𝐀 𝐫𝐞𝐥𝐢𝐠𝐢𝐨𝐧 𝐭𝐡𝐚𝐭 𝐬𝐭𝐚𝐫𝐭𝐞𝐝 𝐰𝐢𝐭𝐡 𝐣𝐮𝐬𝐭 𝐚 𝐡𝐚𝐧𝐝𝐟𝐮𝐥 𝐨𝐟 𝐩𝐞𝐨𝐩𝐥𝐞 𝐡𝐚𝐬 𝐧𝐨𝐰 𝐫𝐞𝐚𝐜𝐡𝐞𝐝 𝐨𝐯𝐞𝐫 𝟐.𝟒 𝐛𝐢𝐥𝐥𝐢𝐨𝐧 𝐠𝐥𝐨𝐛𝐚𝐥𝐥𝐲, 𝐚𝐥𝐦𝐨𝐬𝐭 𝟑𝟏% 𝐨𝐟 𝐭𝐡𝐞 𝐰𝐨𝐫𝐥𝐝 𝐩𝐨𝐩𝐮𝐥𝐚𝐭𝐢𝐨𝐧. 𝐓𝐡𝐢𝐬 𝐜𝐨𝐮𝐥𝐝 𝐧𝐨𝐭 𝐡𝐚𝐯𝐞 𝐛𝐞𝐞𝐧 𝐝𝐨𝐧𝐞 𝐰𝐢𝐭𝐡 𝐬𝐢𝐦𝐩𝐥𝐞 𝐩𝐫𝐚𝐲𝐞𝐫𝐬 𝐚𝐧𝐝 𝐩𝐞𝐫𝐬𝐮𝐚𝐬𝐢𝐨𝐧. 𝐍𝐨𝐭 𝐞𝐯𝐞𝐧 𝐉𝐞𝐬𝐮𝐬 𝐡𝐢𝐦𝐬𝐞𝐥𝐟 𝐰𝐨𝐮𝐥𝐝 𝐡𝐚𝐯𝐞 𝐢𝐦𝐚𝐠𝐢𝐧𝐞𝐝 𝐬𝐮𝐜𝐡 𝐚 𝐦𝐚𝐬𝐬𝐢𝐯𝐞 𝐢𝐦𝐩𝐚𝐜𝐭 𝐨𝐟 𝐡𝐢𝐬 𝐭𝐞𝐚𝐜𝐡𝐢𝐧𝐠𝐬. 𝐁𝐮𝐭 𝐚 𝐥𝐨𝐭 𝐨𝐟 𝐭𝐢𝐦𝐞𝐬, 𝐡𝐞 𝐡𝐚𝐬 𝐛𝐞𝐞𝐧 𝐫𝐞𝐢𝐭𝐞𝐫𝐚𝐭𝐢𝐧𝐠 𝐭𝐡𝐞 𝐢𝐝𝐞𝐚 𝐨𝐟 𝐬𝐩𝐫𝐞𝐚𝐝𝐢𝐧𝐠 𝐂𝐡𝐫𝐢𝐬𝐭𝐢𝐚𝐧𝐢𝐭𝐲 𝐚𝐜𝐫𝐨𝐬𝐬 𝐭𝐡𝐞 𝐠𝐥𝐨𝐛𝐞 𝐢𝐧 𝐭𝐡𝐞 𝐁𝐢𝐛𝐥𝐞.
𝐌𝐚𝐭𝐭𝐡𝐞𝐰 𝟐𝟖:𝟏𝟗
"𝐆𝐨 𝐭𝐡𝐞𝐫𝐞𝐟𝐨𝐫𝐞 𝐚𝐧𝐝 𝐦𝐚𝐤𝐞 𝐝𝐢𝐬𝐜𝐢𝐩𝐥𝐞𝐬 𝐨𝐟 𝐚𝐥𝐥 𝐧𝐚𝐭𝐢𝐨𝐧𝐬, 𝐛𝐚𝐩𝐭𝐢𝐳𝐢𝐧𝐠 𝐭𝐡𝐞𝐦 𝐢𝐧 𝐭𝐡𝐞 𝐧𝐚𝐦𝐞 𝐨𝐟 𝐭𝐡𝐞 𝐅𝐚𝐭𝐡𝐞𝐫 𝐚𝐧𝐝 𝐨𝐟 𝐭𝐡𝐞 𝐒𝐨𝐧 𝐚𝐧𝐝 𝐨𝐟 𝐭𝐡𝐞 𝐇𝐨𝐥𝐲 𝐒𝐩𝐢𝐫𝐢𝐭."
𝐌𝐚𝐫𝐤 𝟏𝟔:𝟏𝟓
𝐀𝐧𝐝 𝐡𝐞 𝐬𝐚𝐢𝐝 𝐭𝐨 𝐭𝐡𝐞𝐦, "𝐆𝐨 𝐢𝐧𝐭𝐨 𝐚𝐥𝐥 𝐭𝐡𝐞 𝐰𝐨𝐫𝐥𝐝 𝐚𝐧𝐝 𝐩𝐫𝐨𝐜𝐥𝐚𝐢𝐦 𝐭𝐡𝐞 𝐠𝐨𝐬𝐩𝐞𝐥 𝐭𝐨 𝐭𝐡𝐞 𝐰𝐡𝐨𝐥𝐞 𝐜𝐫𝐞𝐚𝐭𝐢𝐨𝐧.
𝐁𝐮𝐭 𝐭𝐡𝐞 𝐢𝐧𝐢𝐭𝐢𝐚𝐥 𝐬𝐭𝐚𝐠𝐞 𝐨𝐟 𝐞𝐱𝐩𝐚𝐧𝐬𝐢𝐨𝐧 𝐰𝐚𝐬 𝐧𝐨𝐭 𝐭𝐡𝐫𝐨𝐮𝐠𝐡 𝐟𝐨𝐫𝐜𝐞; 𝐢𝐭 𝐰𝐚𝐬 𝐦𝐨𝐫𝐞 𝐨𝐟 𝐜𝐨𝐧𝐬𝐨𝐥𝐢𝐝𝐚𝐭𝐢𝐨𝐧 𝐚𝐠𝐚𝐢𝐧𝐬𝐭 𝐭𝐡𝐞 𝐑𝐨𝐦𝐚𝐧 𝐄𝐦𝐩𝐢𝐫𝐞. 𝐄𝐯𝐞𝐧 𝐢𝐧 𝐭𝐡𝐢𝐬 𝐦𝐚𝐧𝐧𝐞𝐫, 𝐛𝐲 𝟔𝟎𝟎 𝐀𝐃, 𝟏𝟎% 𝐨𝐟 𝐭𝐡𝐞 𝐑𝐨𝐦𝐚𝐧 𝐄𝐦𝐩𝐢𝐫𝐞 𝐰𝐚𝐬 𝐂𝐡𝐫𝐢𝐬𝐭𝐢𝐚𝐧. 𝐎𝐧𝐜𝐞 𝐢𝐭 𝐰𝐚𝐬 𝐝𝐞𝐜𝐥𝐚𝐫𝐞𝐝 𝐚𝐬 𝐭𝐡𝐞 𝐨𝐟𝐟𝐢𝐜𝐢𝐚𝐥 𝐫𝐞𝐥𝐢𝐠𝐢𝐨𝐧, 𝐢𝐭 𝐪𝐮𝐢𝐜𝐤𝐥𝐲 𝐭𝐨𝐨𝐤 𝐨𝐯𝐞𝐫 𝐭𝐡𝐞 𝐞𝐧𝐭𝐢𝐫𝐞 𝐑𝐨𝐦𝐚𝐧 𝐞𝐦𝐩𝐢𝐫𝐞. 𝐖𝐡𝐚𝐭 𝐢𝐬 𝐢𝐧𝐭𝐞𝐫𝐞𝐬𝐭𝐢𝐧𝐠 𝐭𝐨 𝐤𝐧𝐨𝐰 𝐢𝐬 𝐡𝐨𝐰 𝐢𝐭 𝐞𝐱𝐩𝐚𝐧𝐝𝐞𝐝 𝐢𝐧 𝐨𝐭𝐡𝐞𝐫 𝐥𝐨𝐜𝐚𝐭𝐢𝐨𝐧𝐬.
𝐈𝐧 𝐄𝐮𝐫𝐨𝐩𝐞, 𝐢𝐭 𝐬𝐩𝐫𝐞𝐚𝐝 𝐫𝐚𝐩𝐢𝐝𝐥𝐲 𝐚𝐧𝐝 𝐰𝐚𝐬 𝐩𝐚𝐬𝐬𝐞𝐝 𝐝𝐨𝐰𝐧 𝐚𝐬 𝐭𝐡𝐞 𝐟𝐚𝐦𝐢𝐥𝐲 𝐫𝐞𝐥𝐢𝐠𝐢𝐨𝐧. 𝐅𝐨𝐫𝐜𝐞 𝐰𝐚𝐬 𝐮𝐬𝐞𝐝 𝐚𝐠𝐚𝐢𝐧𝐬𝐭 𝐍𝐨𝐫𝐬𝐞, 𝐒𝐥𝐚𝐯𝐬, 𝐅𝐢𝐧𝐧𝐢𝐬𝐡, 𝐚𝐧𝐝 𝐁𝐚𝐥𝐭𝐢𝐜 𝐩𝐞𝐨𝐩𝐥𝐞𝐬. 𝐀𝐩𝐚𝐫𝐭 𝐟𝐫𝐨𝐦 𝐭𝐡𝐚𝐭, 𝐂𝐡𝐫𝐢𝐬𝐭𝐢𝐚𝐧 𝐰𝐢𝐯𝐞𝐬 𝐰𝐞𝐫𝐞 𝐞𝐱𝐩𝐨𝐫𝐭𝐞𝐝 𝐭𝐨 𝐩𝐚𝐠𝐚𝐧 𝐤𝐢𝐧𝐠𝐬 𝐨𝐟 𝐭𝐡𝐞 𝐧𝐨𝐫𝐭𝐡, 𝐚𝐢𝐝𝐢𝐧𝐠 𝐢𝐧 𝐜𝐨𝐧𝐯𝐞𝐫𝐬𝐢𝐨𝐧.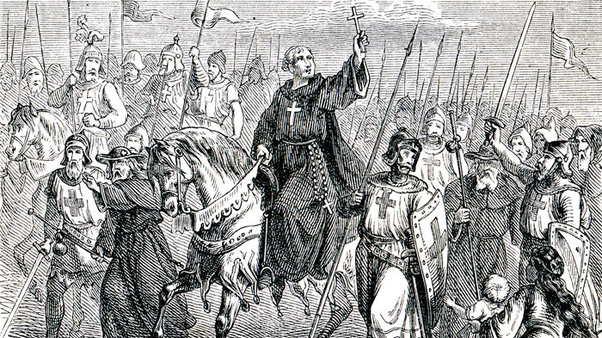 𝐈𝐧 𝐋𝐚𝐭𝐢𝐧 𝐀𝐦𝐞𝐫𝐢𝐜𝐚, 𝐭𝐡𝐞 𝐟𝐨𝐫𝐜𝐞 𝐰𝐚𝐬 𝐭𝐡𝐞 𝐦𝐨𝐬𝐭 𝐩𝐫𝐞𝐟𝐞𝐫𝐫𝐞𝐝 𝐦𝐞𝐭𝐡𝐨𝐝 𝐟𝐨𝐫 𝐜𝐨𝐧𝐯𝐞𝐫𝐭𝐢𝐧𝐠 𝐭𝐡𝐞 𝐧𝐚𝐭𝐢𝐯𝐞𝐬 𝐭𝐨 𝐂𝐡𝐫𝐢𝐬𝐭𝐢𝐚𝐧𝐢𝐭𝐲. 𝐓𝐡𝐞 𝐜𝐨𝐧𝐪𝐮𝐞𝐬𝐭 𝐨𝐟 𝐒𝐨𝐮𝐭𝐡 𝐚𝐧𝐝 𝐂𝐞𝐧𝐭𝐫𝐚𝐥 𝐀𝐦𝐞𝐫𝐢𝐜𝐚 𝐛𝐲 𝐭𝐡𝐞 𝐒𝐩𝐚𝐧𝐢𝐬𝐡 𝐚𝐧𝐝 𝐏𝐨𝐫𝐭𝐮𝐠𝐮𝐞𝐬𝐞 𝐰𝐚𝐬 𝐚 𝐛𝐥𝐨𝐨𝐝𝐲 𝐚𝐟𝐟𝐚𝐢𝐫. 𝐂𝐨𝐧𝐪𝐮𝐢𝐬𝐭𝐚𝐝𝐨𝐫𝐬 𝐮𝐬𝐞𝐝 𝐂𝐡𝐫𝐢𝐬𝐭𝐢𝐚𝐧𝐢𝐭𝐲 𝐚𝐬 𝐚 𝐭𝐨𝐨𝐥 𝐨𝐟 𝐨𝐩𝐩𝐫𝐞𝐬𝐬𝐢𝐨𝐧 𝐚𝐧𝐝 𝐜𝐨𝐧𝐪𝐮𝐞𝐬𝐭 𝐭𝐡𝐫𝐨𝐮𝐠𝐡𝐨𝐮𝐭 𝐭𝐡𝐞 𝐜𝐨𝐧𝐭𝐢𝐧𝐞𝐧𝐭.
𝐍𝐚𝐭𝐢𝐯𝐞𝐬 𝐰𝐞𝐫𝐞 𝐞𝐧𝐬𝐥𝐚𝐯𝐞𝐝 𝐚𝐧𝐝 𝐨𝐟𝐭𝐞𝐧 𝐛𝐚𝐩𝐭𝐢𝐳𝐞𝐝 𝐚𝐠𝐚𝐢𝐧𝐬𝐭 𝐭𝐡𝐞𝐢𝐫 𝐰𝐢𝐥𝐥. 𝐈𝐧 𝐀𝐟𝐫𝐢𝐜𝐚, 𝐭𝐡𝐞 𝐬𝐚𝐦𝐞 𝐩𝐚𝐭𝐭𝐞𝐫𝐧 𝐟𝐨𝐥𝐥𝐨𝐰𝐞𝐝 𝐛𝐮𝐭 𝐢𝐧 𝐚 𝐦𝐨𝐫𝐞 𝐨𝐫𝐠𝐚𝐧𝐢𝐳𝐞𝐝 𝐟𝐨𝐫𝐦. 𝐂𝐡𝐫𝐢𝐬𝐭𝐢𝐚𝐧 𝐄𝐮𝐫𝐨𝐩𝐞𝐚𝐧 𝐧𝐚𝐭𝐢𝐨𝐧𝐬 𝐡𝐚𝐝 𝐚𝐥𝐫𝐞𝐚𝐝𝐲 𝐞𝐬𝐭𝐚𝐛𝐥𝐢𝐬𝐡𝐞𝐝 𝐭𝐡𝐞𝐢𝐫 𝐜𝐨𝐥𝐨𝐧𝐢𝐞𝐬, 𝐦𝐚𝐤𝐢𝐧𝐠 𝐢𝐭 𝐚 𝐥𝐨𝐭 𝐞𝐚𝐬𝐢𝐞𝐫 𝐟𝐨𝐫 𝐭𝐡𝐞𝐦 𝐭𝐨 𝐬𝐩𝐫𝐞𝐚𝐝 𝐂𝐡𝐫𝐢𝐬𝐭𝐢𝐚𝐧𝐢𝐭𝐲 𝐭𝐨 𝐭𝐡𝐞𝐢𝐫 𝐬𝐮𝐛𝐣𝐞𝐜𝐭𝐬.
𝐓𝐡𝐞 𝐬𝐚𝐦𝐞 𝐰𝐚𝐬 𝐭𝐡𝐞 𝐜𝐚𝐬𝐞 𝐢𝐧 𝐭𝐡𝐞 𝐈𝐧𝐝𝐢𝐚𝐧 𝐬𝐮𝐛𝐜𝐨𝐧𝐭𝐢𝐧𝐞𝐧𝐭 𝐚𝐧𝐝 𝐞𝐯𝐞𝐧 𝐢𝐧 𝐭𝐡𝐞 𝐊𝐨𝐫𝐞𝐚𝐧 𝐏𝐞𝐧𝐢𝐧𝐬𝐮𝐥𝐚. 𝐀𝐩𝐚𝐫𝐭 𝐟𝐫𝐨𝐦 𝐟𝐨𝐫𝐜𝐞𝐝 𝐜𝐨𝐧𝐯𝐞𝐫𝐬𝐢𝐨𝐧, 𝐭𝐡𝐞𝐲 𝐚𝐥𝐬𝐨 𝐝𝐞𝐦𝐨𝐥𝐢𝐬𝐡𝐞𝐝 𝐭𝐞𝐦𝐩𝐥𝐞𝐬 𝐚𝐧𝐝 𝐨𝐭𝐡𝐞𝐫 𝐩𝐥𝐚𝐜𝐞𝐬 𝐨𝐟 𝐟𝐚𝐢𝐭𝐡 𝐰𝐡𝐞𝐫𝐞𝐯𝐞𝐫 𝐭𝐡𝐞𝐲 𝐰𝐞𝐫𝐞 𝐢𝐧 𝐩𝐨𝐰𝐞𝐫.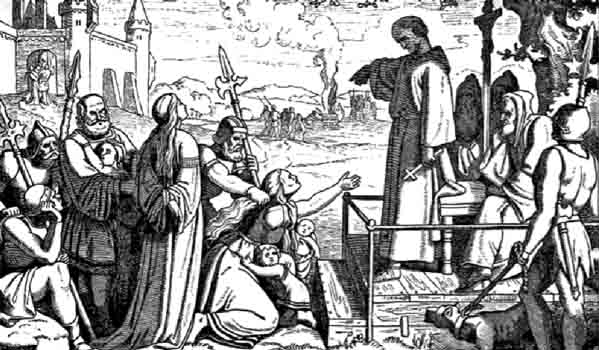 𝐓𝐡𝐞𝐫𝐞 𝐡𝐚𝐯𝐞 𝐛𝐞𝐞𝐧 𝐦𝐚𝐧𝐲 𝐜𝐡𝐚𝐦𝐩𝐢𝐨𝐧𝐬 𝐢𝐧 𝐭𝐡𝐞 𝐂𝐡𝐫𝐢𝐬𝐭𝐢𝐚𝐧 𝐞𝐱𝐩𝐚𝐧𝐬𝐢𝐨𝐧: 𝐂𝐡𝐚𝐫𝐥𝐞𝐦𝐚𝐠𝐧𝐞, 𝐊𝐢𝐧𝐠 𝐨𝐟 𝐭𝐡𝐞 𝐅𝐫𝐚𝐧𝐤𝐬 𝐢𝐧 𝐭𝐡𝐞 𝐒𝐚𝐱𝐨𝐧 𝐰𝐚𝐫𝐬, 𝐦𝐚𝐬𝐬𝐚𝐜𝐫𝐞𝐝 𝐨𝐯𝐞𝐫 𝟒𝟓𝟎𝟎 𝐩𝐞𝐨𝐩𝐥𝐞 𝐟𝐨𝐫 𝐫𝐞𝐟𝐮𝐬𝐢𝐧𝐠 𝐭𝐨 𝐜𝐨𝐧𝐯𝐞𝐫𝐭. 𝐓𝐡𝐞 𝐑𝐡𝐢𝐧𝐞𝐥𝐚𝐧𝐝 𝐦𝐚𝐬𝐬𝐚𝐜𝐫𝐞𝐬, 𝐚𝐧𝐝 𝐭𝐡𝐞 𝐖𝐨𝐫𝐦𝐬 𝐦𝐚𝐬𝐬𝐚𝐜𝐫𝐞, 𝐟𝐨𝐥𝐥𝐨𝐰𝐞𝐝 𝐭𝐡𝐞𝐬𝐞. 𝐈𝐧 𝐭𝐡𝐞 𝟏𝟒𝟎𝟎𝐬, 𝐒𝐩𝐚𝐢𝐧 𝐚𝐧𝐝 𝐏𝐨𝐫𝐭𝐮𝐠𝐚𝐥 𝐦𝐚𝐝𝐞 𝐭𝐡𝐞 𝐦𝐨𝐬𝐭 𝐨𝐟 𝐭𝐡𝐞 𝐞𝐧𝐝 𝐨𝐟 𝐭𝐡𝐞 𝐈𝐬𝐥𝐚𝐦𝐢𝐜 𝐑𝐮𝐥𝐞 𝐢𝐧 𝐭𝐡𝐞 𝐫𝐞𝐠𝐢𝐨𝐧 𝐚𝐧𝐝 𝐞𝐢𝐭𝐡𝐞𝐫 𝐛𝐚𝐩𝐭𝐢𝐳𝐞𝐝 𝐭𝐡𝐞𝐦 𝐨𝐫 𝐦𝐚𝐬𝐬𝐚𝐜𝐫𝐞𝐝 𝐭𝐡𝐞𝐦.
𝐇𝐨𝐰𝐞𝐯𝐞𝐫, 𝐭𝐡𝐞 𝐮𝐬𝐞 𝐨𝐟 𝐭𝐡𝐞 𝐬𝐰𝐨𝐫𝐝 𝐡𝐚𝐬 𝐬𝐭𝐢𝐥𝐥 𝐧𝐨𝐭 𝐞𝐧𝐝𝐞𝐝. 𝐄𝐯𝐞𝐧 𝐭𝐨𝐝𝐚𝐲, 𝐢𝐧 𝐀𝐬𝐬𝐚𝐦, 𝐈𝐧𝐝𝐢𝐚, 𝐚 𝐦𝐢𝐥𝐢𝐭𝐚𝐧𝐭 𝐠𝐫𝐨𝐮𝐩 𝐧𝐚𝐦𝐞𝐝 𝐌𝐚𝐧𝐦𝐚𝐬𝐢 𝐍𝐚𝐭𝐢𝐨𝐧𝐚𝐥 𝐂𝐡𝐫𝐢𝐬𝐭𝐢𝐚𝐧 𝐀𝐫𝐦𝐲 𝐟𝐨𝐫𝐜𝐞𝐬 𝐭𝐡𝐞 𝐢𝐧𝐝𝐢𝐠𝐞𝐧𝐨𝐮𝐬 𝐩𝐞𝐨𝐩𝐥𝐞 𝐭𝐨 𝐜𝐨𝐧𝐯𝐞𝐫𝐭 𝐭𝐨 𝐂𝐡𝐫𝐢𝐬𝐭𝐢𝐚𝐧𝐢𝐭𝐲 𝐚𝐭 𝐠𝐮𝐧𝐩𝐨𝐢𝐧𝐭. 𝐓𝐡𝐞 𝐫𝐞𝐚𝐬𝐨𝐧𝐬 𝐟𝐨𝐫 𝐭𝐡𝐢𝐬 𝐚𝐧𝐝 𝐭𝐡𝐞 𝐩𝐡𝐢𝐥𝐨𝐬𝐨𝐩𝐡𝐲 𝐩𝐫𝐨𝐦𝐨𝐭𝐢𝐧𝐠 𝐭𝐡𝐢𝐬 𝐬𝐨𝐥𝐢𝐝 𝐝𝐫𝐢𝐯𝐞 𝐟𝐨𝐫 𝐬𝐩𝐫𝐞𝐚𝐝𝐢𝐧𝐠 𝐂𝐡𝐫𝐢𝐬𝐭𝐢𝐚𝐧𝐢𝐭𝐲 𝐡𝐚𝐯𝐞 𝐛𝐞𝐞𝐧 𝐯𝐞𝐫𝐲 𝐰𝐞𝐥𝐥 𝐞𝐱𝐩𝐥𝐚𝐢𝐧𝐞𝐝 𝐢𝐧 𝐭𝐡𝐞 𝐛𝐨𝐨𝐤 𝐄𝐯𝐢𝐥 𝐑𝐞𝐥𝐢𝐠𝐢𝐨𝐧𝐬 𝐔𝐧𝐦𝐚𝐬𝐤𝐞𝐝 𝐛𝐲 𝐄𝐥𝐨𝐲 𝐂𝐨𝐥𝐨𝐦𝐛𝐨. 𝐈𝐭 𝐢𝐬 𝐚 𝐬𝐡𝐨𝐫𝐭 𝐛𝐮𝐭 𝐡𝐢𝐠𝐡𝐥𝐲 𝐜𝐨𝐦𝐩𝐫𝐞𝐡𝐞𝐧𝐬𝐢𝐯𝐞 𝐫𝐞𝐚𝐝 𝐨𝐧 𝐡𝐨𝐰 𝐀𝐛𝐫𝐚𝐡𝐚𝐦𝐢𝐜 𝐫𝐞𝐥𝐢𝐠𝐢𝐨𝐧𝐬, 𝐢𝐧𝐜𝐥𝐮𝐝𝐢𝐧𝐠 𝐂𝐡𝐫𝐢𝐬𝐭𝐢𝐚𝐧𝐢𝐭𝐲, 𝐚𝐫𝐞 𝐩𝐞𝐫𝐬𝐨𝐧𝐢𝐟𝐲𝐢𝐧𝐠 𝐞𝐯𝐢𝐥 𝐢𝐧 𝐭𝐡𝐞 𝐧𝐚𝐦𝐞 𝐨𝐟 𝐫𝐞𝐥𝐢𝐠𝐢𝐨𝐧.
---
𝐖𝐚𝐬 𝐂𝐡𝐫𝐢𝐬𝐭𝐢𝐚𝐧𝐢𝐭𝐲 𝐬𝐩𝐫𝐞𝐚𝐝 𝐭𝐡𝐫𝐨𝐮𝐠𝐡 𝐯𝐢𝐨𝐥𝐞𝐧𝐭 𝐦𝐞𝐚𝐧𝐬?
𝐅𝐨𝐫 𝐦𝐨𝐬𝐭 𝐨𝐟 𝐢𝐭𝐬 𝐡𝐢𝐬𝐭𝐨𝐫𝐲, 𝐲𝐞𝐬.
𝐒𝐨𝐦𝐞 𝐩𝐞𝐨𝐩𝐥𝐞 𝐰𝐢𝐥𝐥 𝐭𝐫𝐲 𝐭𝐨 𝐫𝐚𝐭𝐢𝐨𝐧𝐚𝐥𝐢𝐳𝐞 𝐭𝐡𝐞 𝐞𝐱𝐭𝐫𝐞𝐦𝐞 𝐯𝐢𝐨𝐥𝐞𝐧𝐜𝐞 𝐜𝐨𝐦𝐦𝐢𝐭𝐭𝐞𝐝 𝐛𝐲 𝐂𝐡𝐫𝐢𝐬𝐭𝐢𝐚𝐧𝐬 𝐭𝐨 𝐬𝐩𝐫𝐞𝐚𝐝 𝐂𝐡𝐫𝐢𝐬𝐭𝐢𝐚𝐧𝐢𝐭𝐲 𝐛𝐲 𝐬𝐚𝐲𝐢𝐧𝐠 '𝐩𝐞𝐨𝐩𝐥𝐞 𝐢𝐧 𝐩𝐨𝐰𝐞𝐫 𝐰𝐞𝐫𝐞 𝐜𝐨𝐫𝐫𝐮𝐩𝐭,' 𝐛𝐮𝐭 𝐭𝐡𝐞 𝐚𝐧𝐬𝐰𝐞𝐫 𝐨𝐟 '𝐍𝐎' 𝐢𝐬 𝐣𝐮𝐬𝐭 𝐛𝐥𝐚𝐭𝐚𝐧𝐭𝐥𝐲 𝐰𝐫𝐨𝐧𝐠, 𝐚𝐧𝐝 𝐭𝐡𝐚𝐭 𝐫𝐚𝐭𝐢𝐨𝐧𝐚𝐥𝐢𝐳𝐚𝐭𝐢𝐨𝐧 𝐢𝐬 𝐭𝐫𝐮𝐞 𝐟𝐨𝐫 𝐥𝐢𝐭𝐞𝐫𝐚𝐥𝐥𝐲 𝐞𝐯𝐞𝐫𝐲 𝐬𝐢𝐧𝐠𝐥𝐞 𝐢𝐝𝐞𝐨𝐥𝐨𝐠𝐲 𝐨𝐧 𝐭𝐡𝐞 𝐞𝐧𝐭𝐢𝐫𝐞 𝐩𝐥𝐚𝐧𝐞𝐭.
"𝐍𝐚𝐳𝐢𝐬𝐦 𝐰𝐚𝐬 𝐬𝐩𝐫𝐞𝐚𝐝 𝐭𝐡𝐫𝐨𝐮𝐠𝐡 𝐯𝐢𝐨𝐥𝐞𝐧𝐜𝐞 𝐛𝐞𝐜𝐚𝐮𝐬𝐞 𝐭𝐡𝐞 𝐩𝐞𝐨𝐩𝐥𝐞 𝐢𝐧 𝐩𝐨𝐰𝐞𝐫 𝐰𝐞𝐫𝐞 𝐜𝐨𝐫𝐫𝐮𝐩𝐭" 𝐢𝐬 𝐧𝐨𝐭 𝐚 𝐣𝐮𝐬𝐭𝐢𝐟𝐢𝐜𝐚𝐭𝐢𝐨𝐧 𝐟𝐨𝐫 𝐍𝐚𝐳𝐢𝐬𝐦 𝐨𝐫 𝐢𝐭𝐬 𝐢𝐦𝐦𝐞𝐧𝐬𝐞𝐥𝐲 𝐩𝐫𝐨𝐟𝐨𝐮𝐧𝐝 𝐢𝐦𝐩𝐚𝐜𝐭 𝐨𝐧 𝐡𝐢𝐬𝐭𝐨𝐫𝐲 𝐭𝐡𝐫𝐨𝐮𝐠𝐡 𝐢𝐭𝐬 𝐯𝐢𝐨𝐥𝐞𝐧𝐜𝐞. 𝐋𝐢𝐤𝐞𝐰𝐢𝐬𝐞, 𝐣𝐮𝐬𝐭𝐢𝐟𝐲𝐢𝐧𝐠 𝐭𝐡𝐞 𝐬𝐮𝐟𝐟𝐞𝐫𝐢𝐧𝐠 𝐚𝐧𝐝 𝐨𝐩𝐩𝐫𝐞𝐬𝐬𝐢𝐨𝐧 𝐨𝐟 𝐦𝐢𝐥𝐥𝐢𝐨𝐧𝐬 𝐮𝐧𝐝𝐞𝐫 𝐂𝐡𝐫𝐢𝐬𝐭𝐢𝐚𝐧-𝐝𝐨𝐦𝐢𝐧𝐚𝐭𝐞𝐝 𝐦𝐨𝐧𝐚𝐫𝐜𝐡𝐢𝐞𝐬 𝐚𝐧𝐝 𝐭𝐡𝐞𝐨𝐜𝐫𝐚𝐜𝐢𝐞𝐬 𝐭𝐡𝐫𝐨𝐮𝐠𝐡𝐨𝐮𝐭 𝐄𝐮𝐫𝐨𝐩𝐞 𝐛𝐲 𝐬𝐚𝐲𝐢𝐧𝐠 "𝐭𝐡𝐞 𝐥𝐞𝐚𝐝𝐞𝐫𝐬 𝐰𝐞𝐫𝐞 𝐛𝐚𝐝" 𝐝𝐨𝐞𝐬𝐧'𝐭 𝐜𝐡𝐚𝐧𝐠𝐞 𝐭𝐡𝐚𝐭 𝐭𝐡𝐞 𝐫𝐞𝐥𝐢𝐠𝐢𝐨𝐧 𝐰𝐚𝐬 𝐬𝐩𝐫𝐞𝐚𝐝 𝐭𝐡𝐫𝐨𝐮𝐠𝐡 𝐯𝐢𝐨𝐥𝐞𝐧𝐭 𝐦𝐞𝐚𝐧𝐬.
𝐈𝐧 𝐟𝐚𝐜𝐭, 𝐈 𝐝𝐚𝐫𝐞 𝐬𝐚𝐲 𝐭𝐡𝐚𝐭 𝐭𝐫𝐲𝐢𝐧𝐠 𝐭𝐨 𝐣𝐮𝐬𝐭𝐢𝐟𝐲 𝐚𝐧𝐲 𝐡𝐨𝐫𝐫𝐞𝐧𝐝𝐨𝐮𝐬 𝐚𝐜𝐭𝐢𝐨𝐧 𝐭𝐡𝐚𝐭 𝐚 𝐥𝐚𝐫𝐠𝐞 𝐦𝐚𝐬𝐬 𝐨𝐟 𝐩𝐞𝐨𝐩𝐥𝐞 𝐚𝐫𝐞 𝐜𝐨𝐦𝐩𝐥𝐢𝐜𝐢𝐭 𝐢𝐧 𝐨𝐫 𝐞𝐯𝐞𝐧 𝐩𝐚𝐫𝐭𝐢𝐜𝐢𝐩𝐚𝐭𝐞 𝐢𝐧 𝐛𝐲 𝐬𝐚𝐲𝐢𝐧𝐠 '𝐭𝐡𝐞 𝐥𝐞𝐚𝐝𝐞𝐫 𝐰𝐚𝐬 𝐛𝐚𝐝' 𝐢𝐬 𝐚𝐧 𝐢𝐧𝐬𝐮𝐥𝐭 𝐭𝐨 𝐚𝐧𝐲𝐨𝐧𝐞 𝐰𝐡𝐨 𝐬𝐮𝐟𝐟𝐞𝐫𝐞𝐝 𝐟𝐫𝐨𝐦 𝐭𝐡𝐚𝐭 𝐡𝐨𝐫𝐫𝐞𝐧𝐝𝐨𝐮𝐬 𝐚𝐜𝐭𝐢𝐨𝐧 𝐭𝐡𝐚𝐭 𝐨𝐜𝐜𝐮𝐫𝐫𝐞𝐝.
𝐍𝐨𝐰, 𝐰𝐡𝐲 𝐨𝐧𝐞 𝐰𝐨𝐮𝐥𝐝 𝐚𝐬𝐤 𝐭𝐡𝐢𝐬 𝐪𝐮𝐞𝐬𝐭𝐢𝐨𝐧 𝐰𝐡𝐢𝐥𝐞 𝐬𝐢𝐦𝐮𝐥𝐭𝐚𝐧𝐞𝐨𝐮𝐬𝐥𝐲 𝐥𝐢𝐧𝐤𝐢𝐧𝐠 𝐚 𝐖𝐢𝐤𝐢𝐩𝐞𝐝𝐢𝐚 𝐚𝐫𝐭𝐢𝐜𝐥𝐞 𝐭𝐡𝐚𝐭 𝐞𝐱𝐩𝐥𝐢𝐜𝐢𝐭𝐥𝐲 𝐞𝐱𝐩𝐥𝐚𝐢𝐧𝐬 𝐭𝐡𝐞 𝐨𝐫𝐢𝐠𝐢𝐧𝐬 𝐨𝐟 𝐂𝐡𝐫𝐢𝐬𝐭𝐢𝐚𝐧𝐢𝐭𝐲 𝐩𝐞𝐫𝐬𝐞𝐜𝐮𝐭𝐢𝐧𝐠 𝐢𝐬 𝐛𝐞𝐲𝐨𝐧𝐝 𝐦𝐞. 𝐓𝐡𝐚𝐭 𝐚𝐫𝐭𝐢𝐜𝐥𝐞 𝐚𝐥𝐨𝐧𝐞 𝐜𝐨𝐧𝐟𝐢𝐫𝐦𝐬 𝐭𝐡𝐚𝐭 𝐭𝐡𝐞 𝐚𝐧𝐬𝐰𝐞𝐫 𝐢𝐬 𝐚𝐧 𝐨𝐛𝐯𝐢𝐨𝐮𝐬 𝐲𝐞𝐬. 𝐈𝐭 𝐰𝐚𝐬 𝐬𝐩𝐫𝐞𝐚𝐝 𝐚𝐫𝐨𝐮𝐧𝐝 𝐭𝐡𝐞 𝐰𝐨𝐫𝐥𝐝 𝐭𝐡𝐫𝐨𝐮𝐠𝐡 𝐯𝐢𝐨𝐥𝐞𝐧𝐭 𝐦𝐞𝐚𝐧𝐬.
𝐓𝐡𝐞 𝐟𝐚𝐜𝐭 𝐭𝐡𝐚𝐭 𝐢𝐭 𝐡𝐚𝐝 𝐩𝐫𝐨𝐩𝐨𝐧𝐞𝐧𝐭𝐬 𝐰𝐡𝐨 𝐡𝐞𝐥𝐩𝐞𝐝 𝐬𝐩𝐫𝐞𝐚𝐝 𝐢𝐭 𝐭𝐡𝐫𝐨𝐮𝐠𝐡 𝐯𝐢𝐨𝐥𝐞𝐧𝐜𝐞 𝐝𝐨𝐞𝐬𝐧'𝐭 𝐧𝐞𝐠𝐚𝐭𝐞 𝐭𝐡𝐞 𝐟𝐚𝐜𝐭 𝐭𝐡𝐚𝐭 𝐭𝐡𝐞 𝐛𝐞𝐥𝐢𝐞𝐟 𝐰𝐚𝐬 𝐬𝐩𝐫𝐞𝐚𝐝 𝐭𝐡𝐫𝐨𝐮𝐠𝐡 𝐯𝐢𝐨𝐥𝐞𝐧𝐭 𝐦𝐞𝐚𝐧𝐬. 𝐒𝐨 𝐭𝐡𝐞 𝐨𝐧𝐥𝐲 𝐨𝐛𝐯𝐢𝐨𝐮𝐬 𝐚𝐧𝐬𝐰𝐞𝐫 𝐭𝐨 𝐭𝐡𝐢𝐬 𝐪𝐮𝐞𝐬𝐭𝐢𝐨𝐧 𝐢𝐬 𝐲𝐞𝐬.
𝐍𝐨𝐰, 𝐭𝐨 𝐛𝐞 𝐟𝐚𝐢𝐫-𝐦𝐢𝐧𝐝𝐞𝐝, 𝐈 𝐦𝐮𝐬𝐭 𝐬𝐚𝐲 𝐚 𝐟𝐞𝐰 𝐭𝐡𝐢𝐧𝐠𝐬:
𝐓𝐡𝐞 𝐟𝐚𝐜𝐭 𝐢𝐭 𝐰𝐚𝐬 𝐬𝐩𝐫𝐞𝐚𝐝 𝐭𝐡𝐫𝐨𝐮𝐠𝐡 𝐯𝐢𝐨𝐥𝐞𝐧𝐜𝐞 𝐝𝐨𝐞𝐬𝐧'𝐭 𝐢𝐧𝐯𝐚𝐥𝐢𝐝𝐚𝐭𝐞 𝐭𝐡𝐞 𝐨𝐫𝐢𝐠𝐢𝐧𝐚𝐥 𝐦𝐞𝐬𝐬𝐚𝐠𝐞 𝐨𝐟 𝐭𝐡𝐞 𝐫𝐞𝐥𝐢𝐠𝐢𝐨𝐧 𝐢𝐭𝐬𝐞𝐥𝐟, 𝐢𝐭'𝐬 𝐬𝐢𝐦𝐩𝐥𝐲 𝐚 𝐭𝐫𝐮𝐞 𝐟𝐚𝐜𝐭. 𝐖𝐡𝐞𝐭𝐡𝐞𝐫 𝐨𝐫 𝐧𝐨𝐭 𝐢𝐭𝐬 𝐭𝐫𝐮𝐞 𝐡𝐚𝐬 𝐧𝐨𝐭𝐡𝐢𝐧𝐠 𝐭𝐨 𝐝𝐨 𝐰𝐢𝐭𝐡 𝐡𝐨𝐰 𝐯𝐢𝐨𝐥𝐞𝐧𝐭 𝐢𝐭 𝐰𝐚𝐬 𝐢𝐧 𝐭𝐡𝐞 𝐩𝐚𝐬𝐭.
𝐓𝐡𝐞 𝐨𝐫𝐢𝐠𝐢𝐧𝐬 𝐨𝐟 𝐂𝐡𝐫𝐢𝐬𝐭𝐢𝐚𝐧𝐢𝐭𝐲 𝐚𝐫𝐞 𝐫𝐞𝐥𝐚𝐭𝐢𝐯𝐞𝐥𝐲 𝐧𝐨𝐧𝐯𝐢𝐨𝐥𝐞𝐧𝐭 ( 𝐫𝐞𝐟𝐞𝐫𝐫𝐢𝐧𝐠 𝐡𝐞𝐫𝐞 𝐭𝐨 𝐭𝐡𝐞 𝐨𝐫𝐢𝐠𝐢𝐧𝐚𝐥 𝐩𝐮𝐫𝐞 𝐦𝐞𝐬𝐬𝐚𝐠𝐞 𝐨𝐟 𝐏𝐫𝐨𝐩𝐡𝐞𝐭 𝐉𝐞𝐬𝐮𝐬 𝐬𝐨𝐧 𝐨𝐟 𝐌𝐚𝐫𝐲 𝐩𝐞𝐚𝐜𝐞 𝐛𝐞 𝐮𝐩𝐨𝐧 𝐡𝐢𝐦) 𝐚𝐧𝐝 𝐂𝐡𝐫𝐢𝐬𝐭𝐢𝐚𝐧𝐬 𝐰𝐞𝐫𝐞 𝐩𝐞𝐫𝐬𝐞𝐜𝐮𝐭𝐞𝐝 𝐪𝐮𝐢𝐭𝐞 𝐚 𝐛𝐢𝐭 𝐝𝐮𝐫𝐢𝐧𝐠 𝐢𝐭𝐬 𝐞𝐚𝐫𝐥𝐲 𝐡𝐢𝐬𝐭𝐨𝐫𝐲. 𝐈𝐭 𝐰𝐚𝐬 𝐨𝐧𝐥𝐲 𝐰𝐢𝐭𝐡 𝐂𝐨𝐧𝐬𝐭𝐚𝐧𝐭𝐢𝐧𝐞'𝐬 𝐚𝐜𝐜𝐞𝐩𝐭𝐚𝐧𝐜𝐞 𝐨𝐟 𝐭𝐡𝐞 𝐫𝐞𝐥𝐢𝐠𝐢𝐨𝐧 𝐭𝐡𝐚𝐭 𝐢𝐭 𝐠𝐚𝐢𝐧𝐞𝐝 𝐚𝐧𝐲 𝐧𝐨𝐭𝐨𝐫𝐢𝐞𝐭𝐲.
𝐌𝐲 𝐚𝐧𝐬𝐰𝐞𝐫 𝐢𝐬 𝐧𝐨𝐭 𝐰𝐫𝐢𝐭𝐭𝐞𝐧 𝐭𝐨 𝐭𝐫𝐲 𝐝𝐢𝐬𝐩𝐚𝐫𝐚𝐠𝐢𝐧𝐠 𝐨𝐫 𝐨𝐟𝐟𝐞𝐧𝐝𝐢𝐧𝐠 𝐚𝐧𝐲 𝐂𝐡𝐫𝐢𝐬𝐭𝐢𝐚𝐧𝐬, 𝐢𝐭'𝐬 𝐰𝐫𝐢𝐭𝐭𝐞𝐧 𝐚𝐬 𝐚 𝐟𝐚𝐜𝐭𝐮𝐚𝐥 𝐩𝐢𝐞𝐜𝐞 𝐨𝐟 𝐢𝐧𝐟𝐨𝐫𝐦𝐚𝐭𝐢𝐨𝐧 𝐦𝐞𝐚𝐧𝐭 𝐭𝐨 𝐚𝐧𝐬𝐰𝐞𝐫 𝐭𝐡𝐞 𝐪𝐮𝐞𝐬𝐭𝐢𝐨𝐧: 𝐖𝐚𝐬 𝐂𝐡𝐫𝐢𝐬𝐭𝐢𝐚𝐧𝐢𝐭𝐲 𝐬𝐩𝐫𝐞𝐚𝐝 𝐛𝐲 𝐯𝐢𝐨𝐥𝐞𝐧𝐜𝐞?
𝐂𝐡𝐫𝐢𝐬𝐭𝐢𝐚𝐧𝐢𝐭𝐲, 𝐥𝐢𝐤𝐞 𝐢𝐭 𝐨𝐫 𝐧𝐨𝐭, 𝐰𝐚𝐬 𝐢𝐧𝐝𝐞𝐞𝐝 𝐬𝐩𝐫𝐞𝐚𝐝 𝐭𝐡𝐫𝐨𝐮𝐠𝐡 𝐚 𝐜𝐨𝐦𝐛𝐢𝐧𝐚𝐭𝐢𝐨𝐧 𝐨𝐟 𝐜𝐨𝐧𝐪𝐮𝐞𝐬𝐭 𝐚𝐧𝐝 𝐜𝐞𝐧𝐬𝐨𝐫𝐬𝐡𝐢𝐩 𝐨𝐟 '𝐡𝐞𝐫𝐞𝐭𝐢𝐜𝐬' 𝐰𝐡𝐨 𝐝𝐢𝐝 𝐧𝐨𝐭 𝐟𝐨𝐥𝐥𝐨𝐰 𝐭𝐡𝐞 𝐛𝐞𝐥𝐢𝐞𝐟. 𝐓𝐡𝐢𝐬 𝐢𝐬 𝐚𝐧 𝐮𝐧𝐚𝐯𝐨𝐢𝐝𝐚𝐛𝐥𝐞 𝐟𝐚𝐜𝐭 𝐚𝐧𝐝 𝐬𝐚𝐲𝐢𝐧𝐠 𝐭𝐡𝐢𝐬 𝐝𝐨𝐞𝐬 𝐧𝐨𝐭 𝐚𝐧𝐝 𝐬𝐡𝐨𝐮𝐥𝐝 𝐧𝐨𝐭 𝐢𝐧 𝐚𝐧𝐲 𝐰𝐚𝐲 𝐨𝐟𝐟𝐞𝐧𝐝 𝐦𝐨𝐝𝐞𝐫𝐧-𝐝𝐚𝐲 𝐂𝐡𝐫𝐢𝐬𝐭𝐢𝐚𝐧𝐬.
𝐈𝐧 𝐀𝐦𝐞𝐫𝐢𝐜𝐚, 𝐬𝐨𝐦𝐞 𝐀𝐦𝐞𝐫𝐢𝐜𝐚𝐧𝐬 𝐰𝐢𝐥𝐥 𝐨𝐩𝐞𝐧𝐥𝐲 𝐚𝐝𝐦𝐢𝐭 𝐭𝐡𝐚𝐭 𝐭𝐡𝐞𝐢𝐫 𝐚𝐧𝐜𝐞𝐬𝐭𝐨𝐫𝐬 𝐜𝐨𝐦𝐦𝐢𝐭𝐭𝐞𝐝 𝐰𝐡𝐚𝐭 𝐢𝐬 𝐞𝐬𝐬𝐞𝐧𝐭𝐢𝐚𝐥𝐥𝐲 𝐠𝐞𝐧𝐨𝐜𝐢𝐝𝐞 𝐚𝐠𝐚𝐢𝐧𝐬𝐭 𝐭𝐡𝐞 𝐍𝐚𝐭𝐢𝐯𝐞 𝐀𝐦𝐞𝐫𝐢𝐜𝐚𝐧𝐬. 𝐓𝐡𝐢𝐬 𝐝𝐨𝐞𝐬𝐧'𝐭 𝐦𝐚𝐤𝐞 𝐚𝐥𝐥 𝐀𝐦𝐞𝐫𝐢𝐜𝐚𝐧𝐬 𝐛𝐚𝐝 𝐩𝐞𝐨𝐩𝐥𝐞. 𝐓𝐡𝐢𝐬 𝐚𝐧𝐚𝐥𝐨𝐠𝐲 𝐚𝐥𝐬𝐨 𝐰𝐨𝐫𝐤𝐬 𝐢𝐧 𝐫𝐞𝐠𝐚𝐫𝐝 𝐭𝐨 𝐂𝐡𝐫𝐢𝐬𝐭𝐢𝐚𝐧𝐢𝐭𝐲.
𝐅𝐨𝐨𝐭𝐧𝐨𝐭𝐞𝐬
[1] Amazon.com: The Formation of a Persecuting Society: Authority and Deviance in Western Europe 950-1250 (9781405129640): Robert I. Moore: Books
[2] http://www.nnet.gr/historein/historeinfiles/histvolumes/hist06/historein6-benveniste.pdf
[3] Timeline of Christian missions – Wikipedia
[4] Gregorian mission – Wikipedia
[5] St Columba and the Isle of Iona – Historic UK
[6] Saint Boniface | English missionary
[7] Christianization of Scandinavia – Wikipedia
[10] Nonviolence in the Ancient Church and Christian Obedience
[11] Massacre of Thessalonica – Wikipedia
[12] CATHOLIC ENCYCLOPEDIA: Donatists
[13] Was Charlemagne a Mass Murderer?