Biblical Rules for Selling your daughter as a sex slave


Mohamad Mostafa Nassar
Twitter:@NassarMohamadMR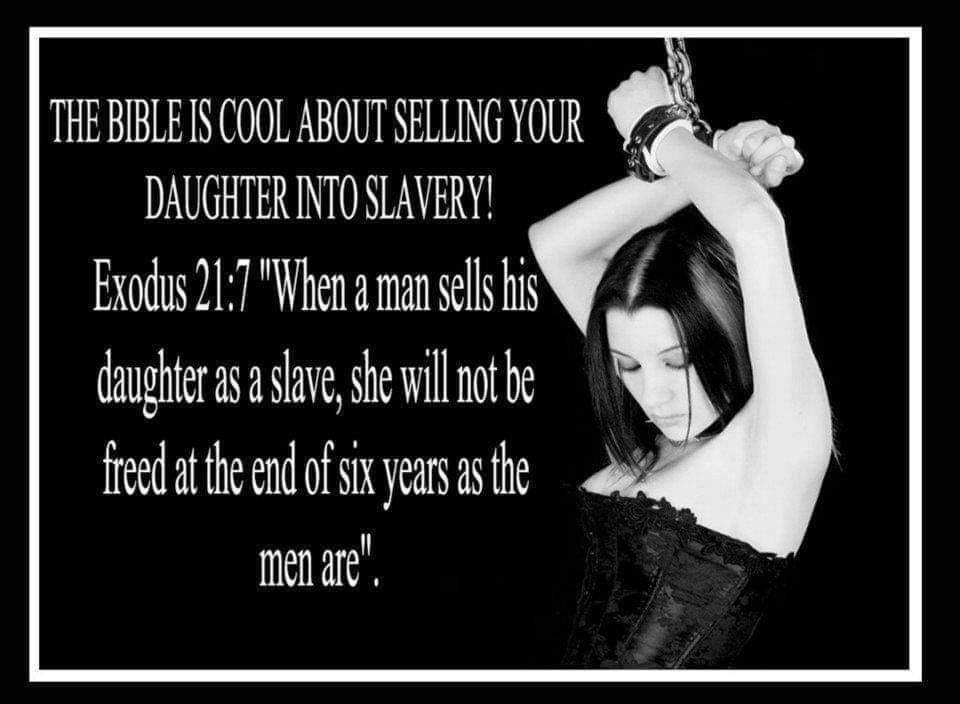 Exodus 21:7-11 ESV
"WHEN A MAN SELLS HIS DAUGHTER AS A SLAVE, she shall not go out as the male slaves do. If she does not, please her master, who has designated her for himself, then he shall let her be redeemed. He shall have no right to sell her to a foreign people, since he has broken faith with her.
If he designates her for his son, he shall deal with her as with a daughter. If he takes another wife to himself, he shall not diminish her food, her clothing, or her marital rights. And if he does not do these three things for her, she shall go out for nothing, without payment of money.
Slave Trading /Indentured Servant
Exodus 21:1-36 ESV
"Now these are the rules that you shall set before them. WHEN YOU BUY A HEBREW SLAVE, he shall serve six years, and in the seventh he shall go out free, for nothing. If he comes in single, he shall go out single; if he comes in married, then his wife shall go out with him. If his master gives him a wife and she bears him sons or daughters, the wife and her children shall be her master's, and he shall go out alone. But if the slave plainly says, 'I love my master, my wife, and my children; I will not go out free,' …
Leviticus 25:44-46 ESV
As for your male and female slaves whom you may have: YOU MAY BUY MALE AND FEMALE SLAVES FROM AMONG THE NATIONS THAT ARE AROUND YOU. You may also buy from among the strangers who sojourn with you and their clans that are with you, who have been born in your land, and they may be your property.
You may bequeath them to your sons after you to inherit as a possession forever. You may make slaves of them, but over your brothers the people of Israel you shall not rule, one over another ruthlessly.
Biblical Rules/Contractual Agreement Between Slaves and Masters
1 Peter 2:18 ESV
Servants, be subject to your masters with all respect, not only to the good and gentle but also to the unjust.
Ephesians 6:5 ESV
Slaves, obey your earthly masters with fear and trembling, with a sincere heart, as you would Christ,
Colossians 4:1 ESV
Masters, treat your slaves justly and fairly, knowing that you also have a Master in heaven.
Colossians 3:22 ESV
Slaves, obey in everything those who are your earthly masters, not by way of eye-service, as people-pleasers, but with sincerity of heart, fearing the Lord.
Titus 2:9-10 ESV
Slaves are to be submissive to their own masters in everything; they are to be well-pleasing, not argumentative, not pilfering, but showing all good faith, so that in everything they may adorn the doctrine of God our Savior.
Exodus 21:20-21 ESV
"When a man strikes his slave, male or female, with a rod and the slave dies under his hand, he shall be avenged. But if the slave survives a day or two, he is not to be avenged, for the slave is his money.
Exodus 21:26-27 ESV
"When a man strikes the eye of his slave, male or female, and destroys it, he shall let the slave go free because of his eye. If he knocks out the tooth of his slave, male or female, he shall let the slave go free because of his tooth.